Lemon Bars Recipe
Lemons, lemons everywhere. No, I don't live in a balmy climate next to a lemon grove, I just keep buying bags of lemons from Ocado every week. I always think I need them and then when I add yet another bag to the lemon heavy fruit bowl, I mentally kick myself. Subsequently, lemon recipes are always in the forefront of my mind, and I have a lot of friends who love lemon and are always happy to sample my creations, generous/greedy souls that they are. I had seen Lemon Bars a plenty on Pinterest, but never got around to making them. What a travesty that is, as I now discover Lemon Bars are my new best friends. I hope you feel the same kinship as I do, now I've finally got around to sharing them.
Lemon Bars are a super simple baked goods. They have a crisp shortbread base with a layer of lemon curd-like topping. A buttery bottom with a tart top, feel free to insert an appropriate pun here if you like. I adore lemon curd so these Lemon Bars are a complete diet nemesis for me. I couldn't stop eating them and gave a large portion of these to a lovely slender friend who had recently had  a birthday in order to get them away from my grabbing hands. They are easy too, so can be whipped up with the use of a food processor or biceps in less than an hour. So you are never terribly far away from a batch of this sweet, sour citrus biscuit bars. My inspiration for these came from my utter food blogging heroine, the Pioneer Woman, with constant adoration, thanks and love.
After the indulgent bank holiday weekend, I am back on the wagon and trying to avoid sweet things during the week, so seeing these photos is making my mouth water in a very immodest way. Should I be singing my own bakings praises in such an unBritish way? Yes, because they are bloody luscious, and if I can make them look this good, so can you.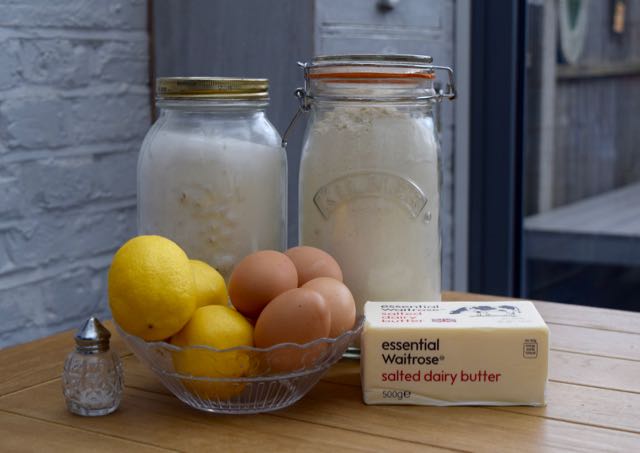 Did I mention there are only 5 ingredients in these Lemon Bars *if you ignore the salt as 6 sounds like a lot of ingredients* so that makes them even simpler to make. And what lovely simple ingredients they are. Featuring 4 lemons only leaving approximately 10 left mouldering away in my fruit bowl.
Start by pre heating your oven to 160 degrees fan assisted and lining a 9 x 13 inch rectangular tray or for fatter bars use an 8 x 10 inch tray. I don't know what these measurements are in centimetres because I am old and grimbly. Then, in either your food processor or by hand in a large bowl, measure in the butter, flour and caster sugar.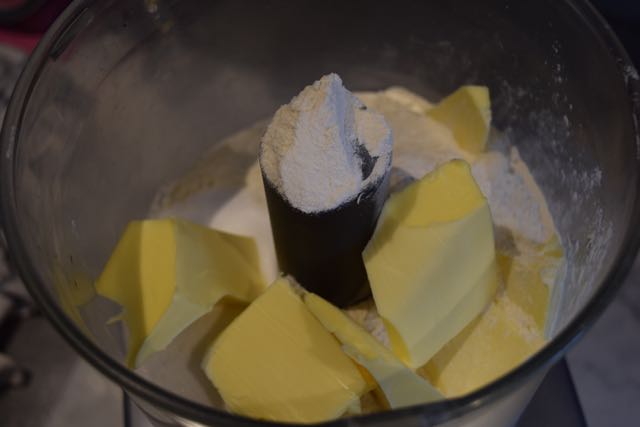 Add the salt then process or blend with your fingers until the mixture forms sandy crumbs then a soft dough like ball.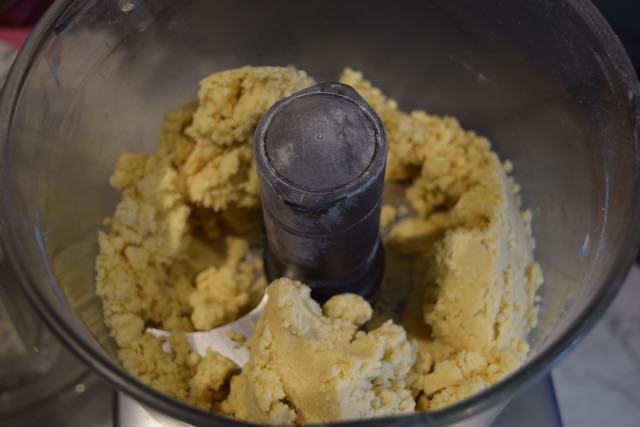 Tip the tasty crumbs into the lined tin then press this shortbread like dough well into the edges. This is quite tricky to do in a larger tin size but just keep pressing and pushing it and you get an even layer in the end. As long as you don't eat big mouthfuls of it *who would do that for goodness sake*.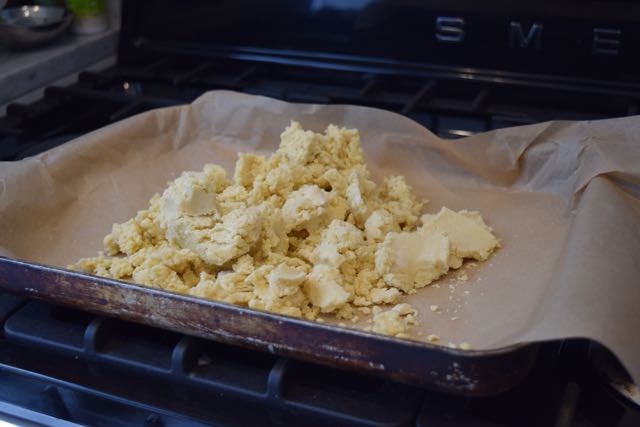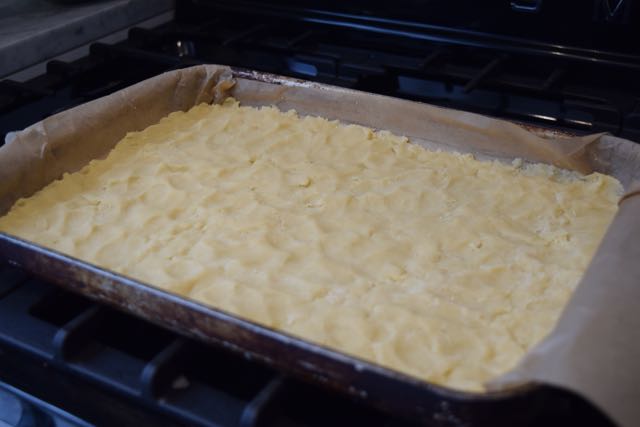 Pop this into the oven for 15 to 20 minutes or until the base is just turning golden and crisping at the edges. While this is cooking, go to the no trouble at all of making the filling.
Whisk together the flour and sugar in a large jug or bowl.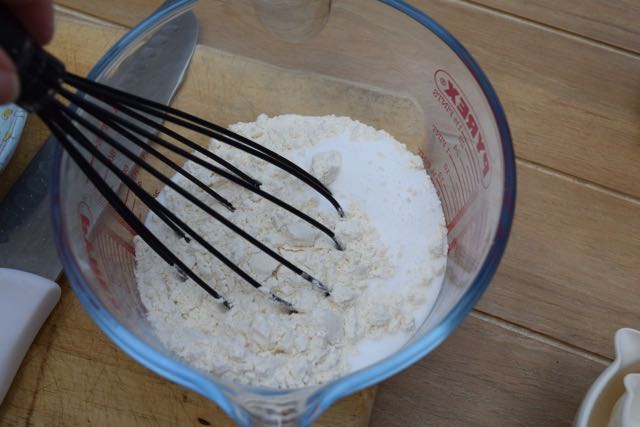 Whisk in the eggs then zest and juice the 4 lemons over flowing from your fruit bowl and add them to the jug and whisk again until you have a smooth batter like consistency.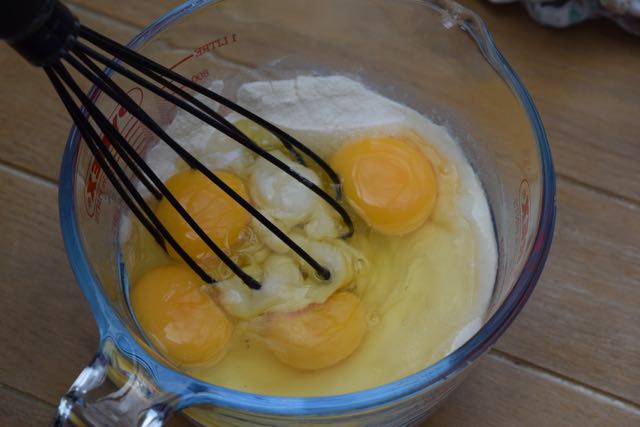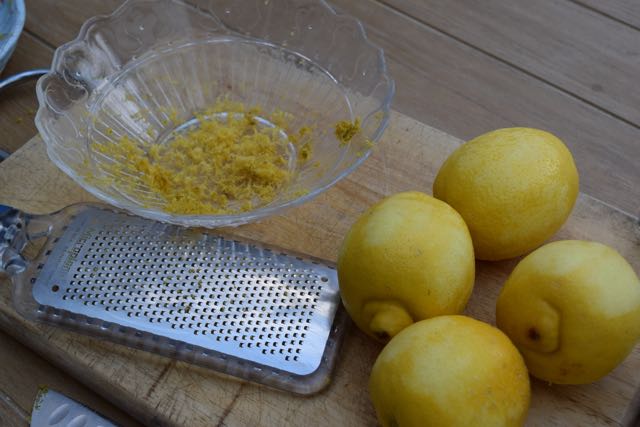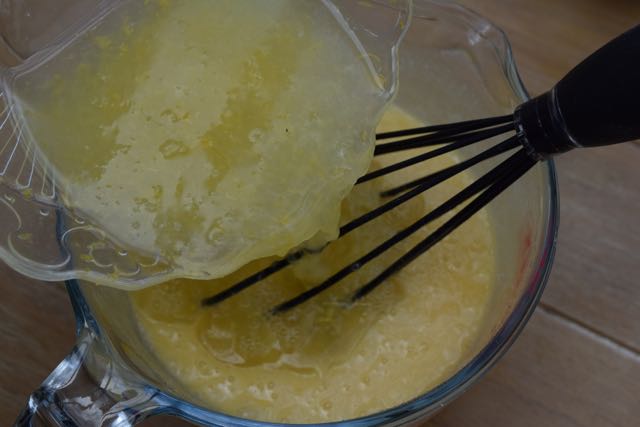 When your shortbread base is ready, remove from the oven and pour on the lemon batter.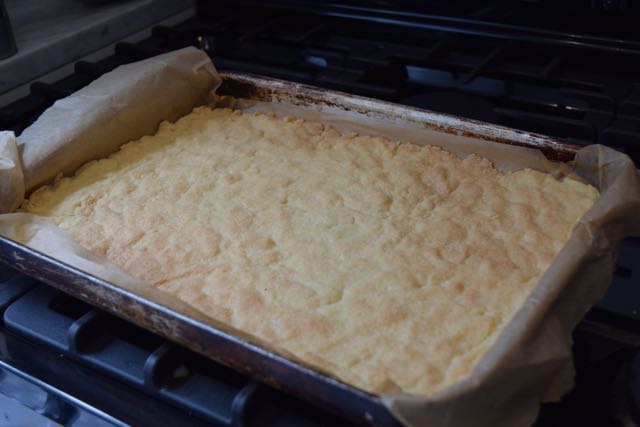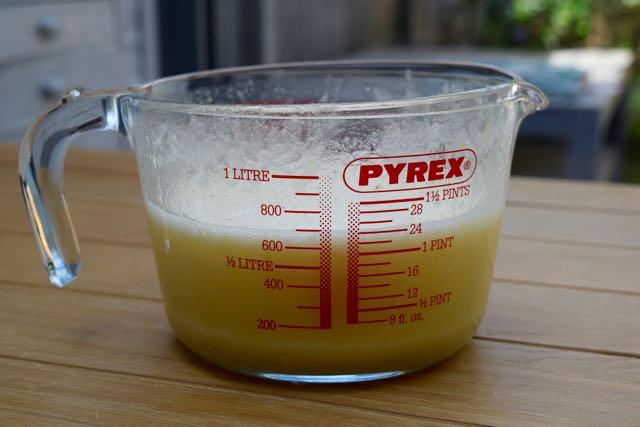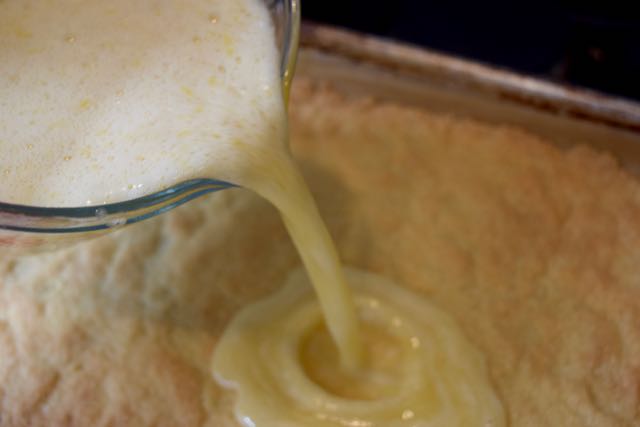 Carefully place the huge lemon bar into the oven for a further 15 to 20 minutes. You want the sweet and sour topping to be just set with a tiny wobble in the middle and just browning at the edges.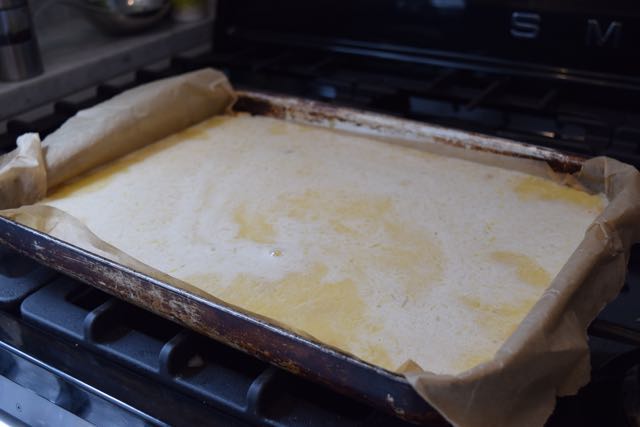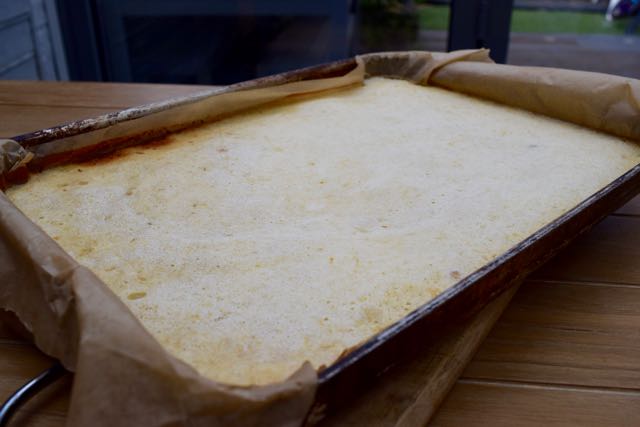 Leave this wonderful tray of lemony tastiness to cool, then chill, preferably in the fridge, for at least a couple of hours before slicing. Dust with icing sugar in a flourish of powder, which also covers up any slight imperfections.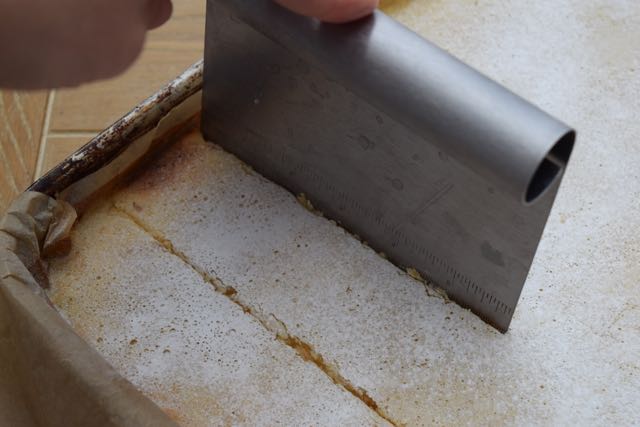 In another moment of brilliance from the Pioneer Woman, she suggests using a dough scraper to cut the bars into even shapes. I actually cut mine into quite impressive uniform sizes, so would definitely recommend using one if you have one.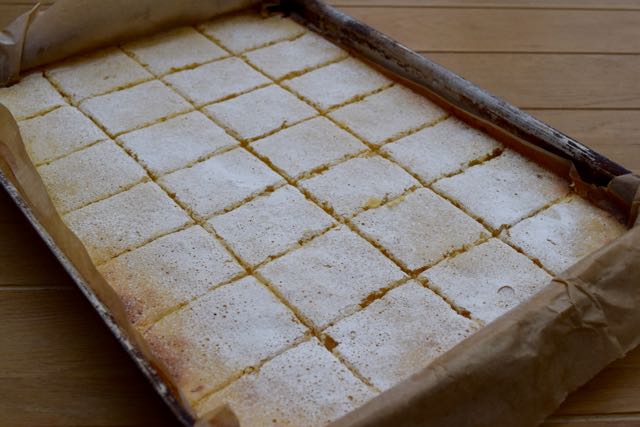 Garnish with crystallised violets if you have them or candied lemon slices or just more icing sugar, these tart bites need no real embellishment.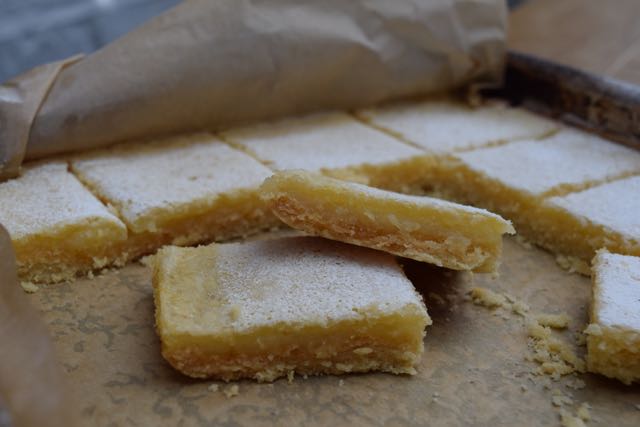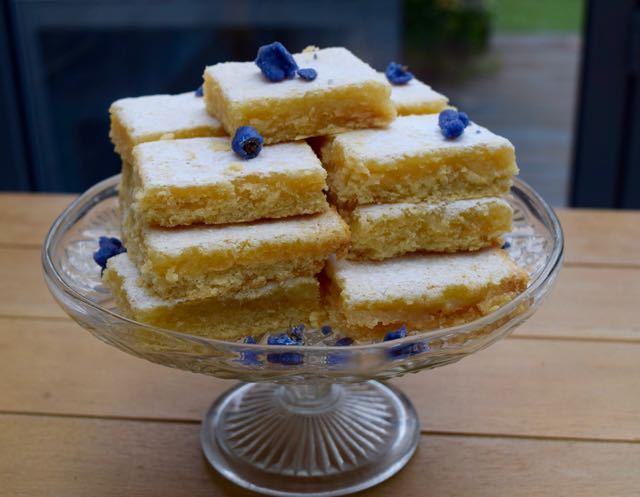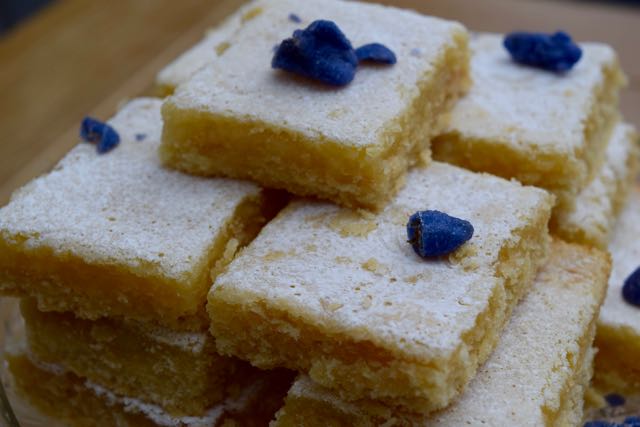 Crumbly soft bottom, sour curd like top. You can't have enough lemon recipes in your repertoire and this should be fast tracked to the top of your list. Using the bigger tin may mean thinner bars, but it does mean more of them. You can then play the philanthropist by bagging some up as gifts, whilst still snaffling quite a few back as a lemon based gift to yourself.
Lucy x
Lemon Bars Recipe
Makes 25 to 30-ish dependent on how big or small you cut them
You will need a 9inch x 13inch or 8 x 10inch rectangular baking tin, lined
Base
260g plain flour
100g caster sugar
1/4 teaspoon salt
225g butter, softened
Lemon Topping
300g caster sugar
35g flour
4 eggs
Juice and zest 4 medium lemons
Icing sugar for dusting
Line or butter, extremely well, a 9inch by 13inch baking tray or dish and pre heat your oven to 160 degrees fan assisted. If you like your layers a little thicker, use a 8inch x 10 inch baking tray.
In your food processor or by hand in a large bowl, add the flour, sugar and soft butter, along with the salt. Either process, or rub together until the mixture resembles sandy crumbs, but holds together in a dough-like way.
Press this into your lined tin or dish, trying to get an even layer and pressing well into the edges. Pop this into the pre heated oven for 15 to 20 minutes or until just starting to turn golden brown and crisping up at the edges.
For the lemon filling, take a large bowl or jug and whisk together the flour and caster sugar. Beat in the eggs then mix in the lemon zest and juice to form a smooth batter.
Pour this onto the pre cooked base then return to the oven for a further 15 to 20 minutes. The lemon bars are cooked when the mixture is just set and just starting to colour at the edges. Leave to cool completely, preferably in the fridge for at least 2 hours before cutting into small squares or generous slabs.