Night Sky Chocolate Bark Recipe
Compared to Hallowe'en these days, Bonfire Night was much more of a big deal when I was a child. We went to numerous local fireworks extravaganzas, had sparklers at home and my sister and I would lean out of our bedroom window watching other peoples displays. The smells, the chill in the air and the food all conjure up wonderful memories. I do still get quite excited about Bonfire Night, so to celebrate I decided to create this Night Sky Bark.
This is based on Galaxy Bark, a popular idea on Pinterest, this one came via the jauntily entitled Life with the Crust Cut Off. I love bark. It's basically a slab of chocolate with things stuck in it, but on this occasion features different coloured chocolates embedded with colourful stars and glitter to recreate a beautiful night sky. I got my blue candy buttons from the Cake Craft Shop and as they didn't sell purple ones, fashioned my own purple chocolate from white chocolate with purple food colouring added. The rest is up to you. Decorate your bark with any sparkly stars and glitter you have to hand, go mad, be creative.
Leave this chocolate bark to set in the fridge then break or chop into large chunks and devour. This makes a pretty post firework display treat to nibble on with your warming hot chocolate or mulled wine. This is colourful, glittery and above all super delicious. This would also make an elegant petit four to have after dinner with coffee. I can confirm, having eaten a great deal of this chocolate bark, it is as tasty as it is beautiful.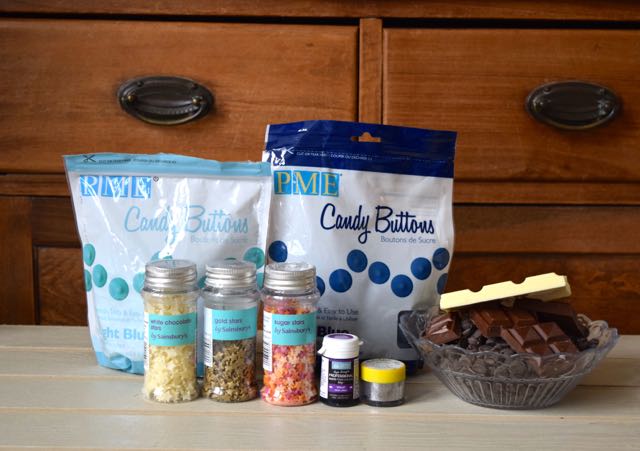 Here's my creative line up for this Night Sky Bark. The original recipe called for black candy buttons, but I opted to use dark and milk chocolate as I can imagine eating black chocolate would make my mouth look like I had been eating coal.
Make a start on this by lining a small rectangular baking tray with baking paper. I spray oiled mine too just to ensure it didn't stick, but use melted butter if you don't have the spray oil. Measure out your chocolates in separate bowls and melt, either in the microwave or over a pan of simmering water.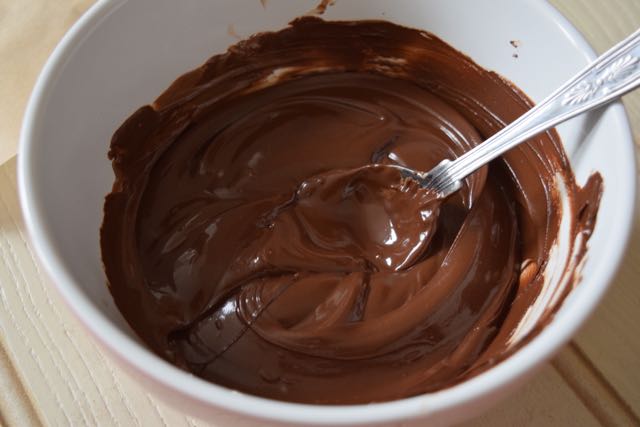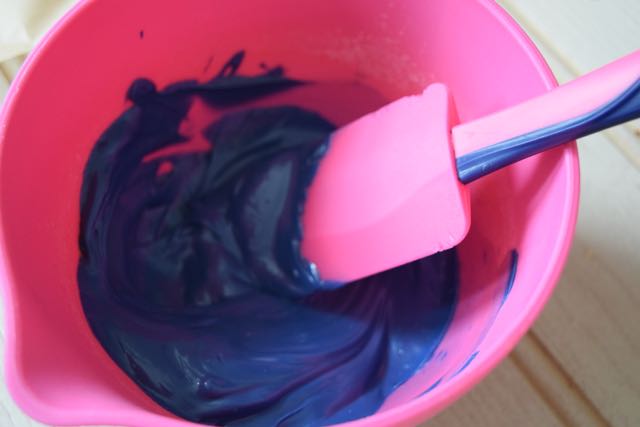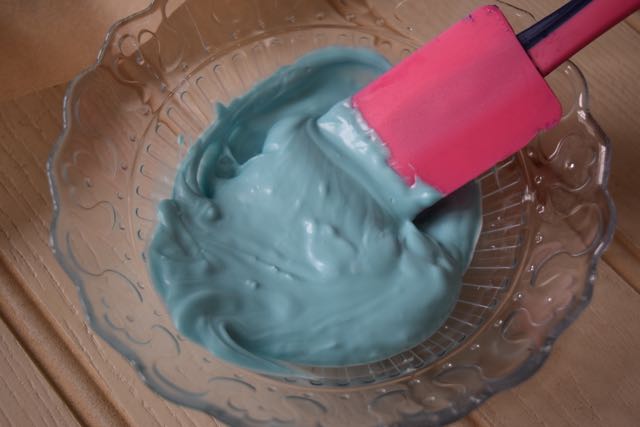 I used the microwave and melted the chocolates carefully in 30 second bursts. You don't want them to go grainy so be careful. For my purple chocolate I melted white chocolate and used purple food colouring. You could do this with all the colours if you can't get hold of the coloured buttons.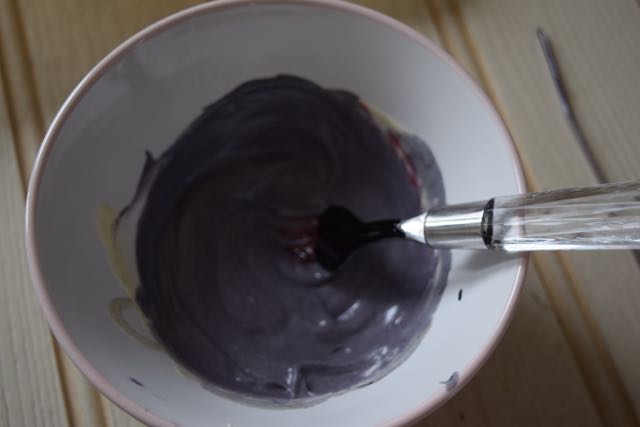 It wasn't the most vivid purple I've ever seen so ended up having to add some pink to it. I am sure Jackson Pollock didn't have to put up with this sort of thing.
Pour the dark chocolate onto the lined baking tray and smooth it into an even-ish layer.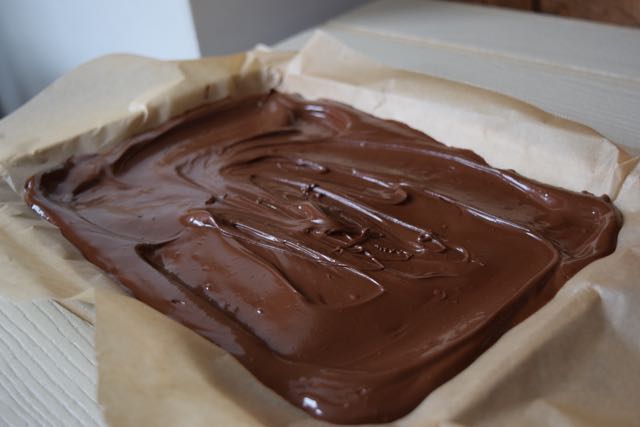 Next, blob on teaspoons of the coloured chocolate in random fashion over the dark chocolate.
Swirl the chocolate around with a skewer or a knife to create a marbled effect.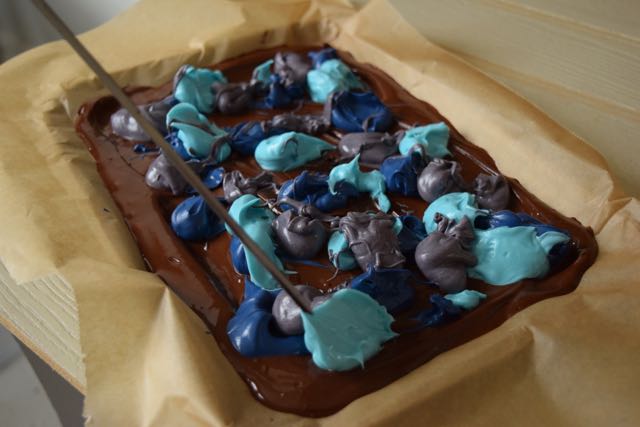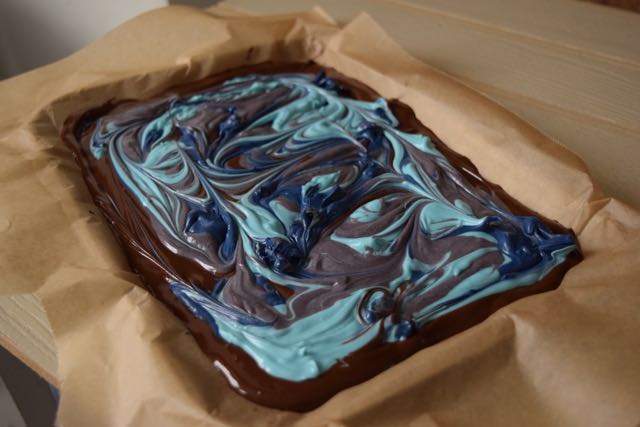 Sprinkle with your chosen adornments, mine being stars of various colours and silver edible glitter.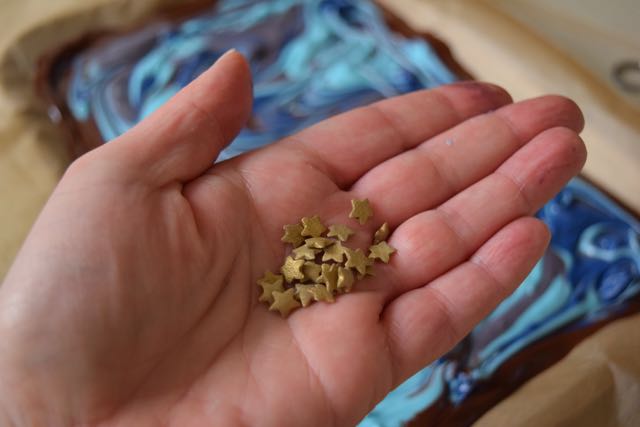 What a nasty surprise hand shot, apologies for the lack of warning.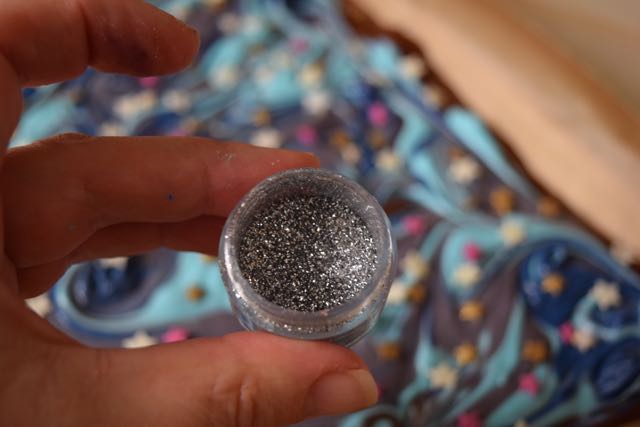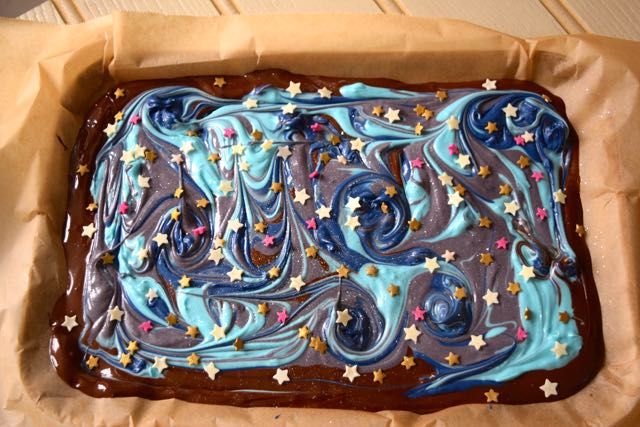 Leave this wonderful artistic creation to cool before putting in the fridge to set for at least an hour, or until firm enough to cut.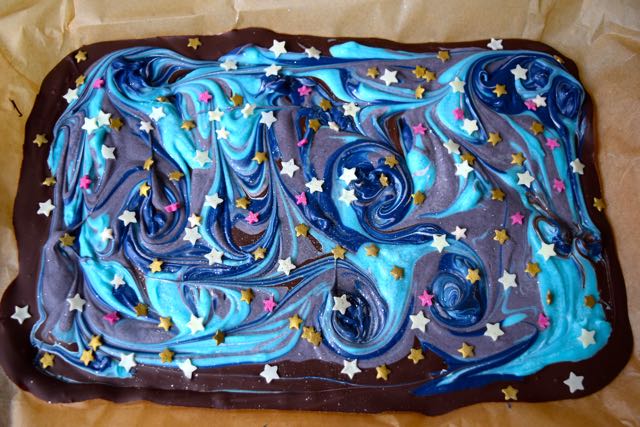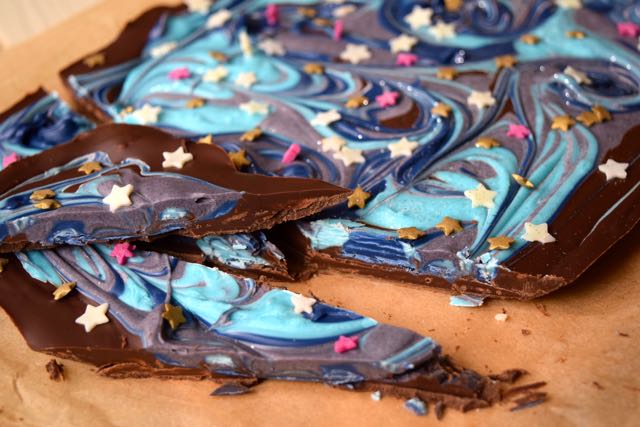 Cut or break into chunks or slabs and devour. Preferably whilst leaning out of your bedroom window watching the local firework displays.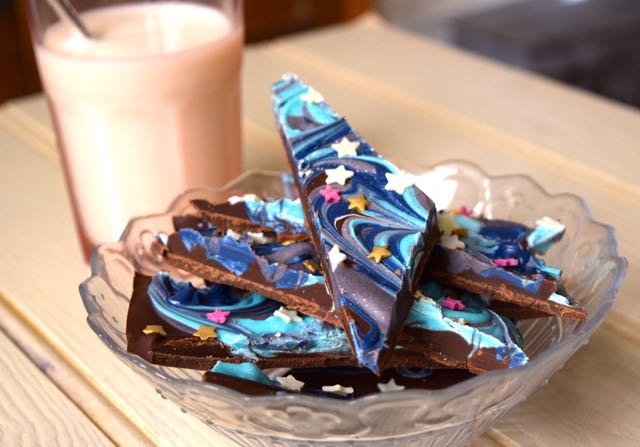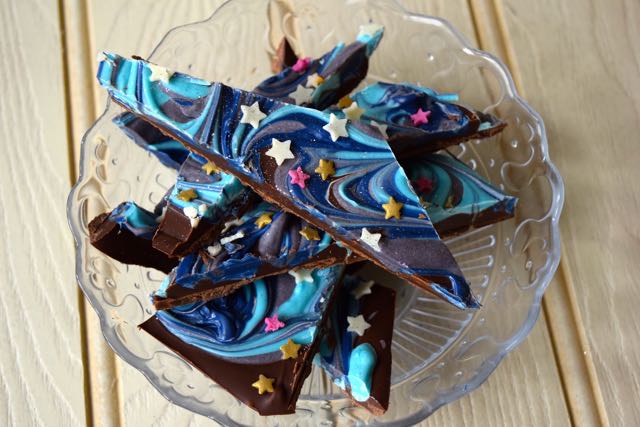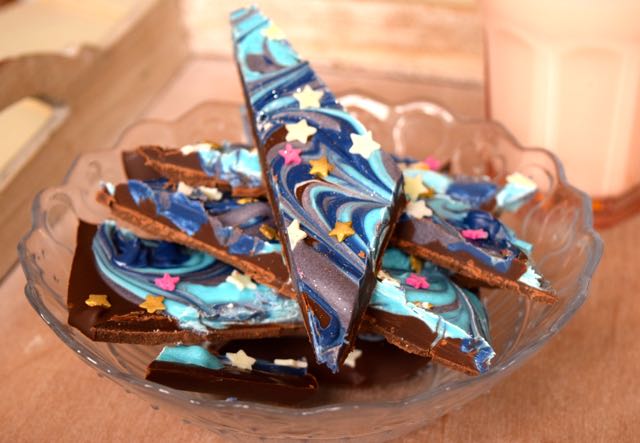 I hope you enjoy your Bonfire Night celebrations, safely and in good company. We go to the boys school display which is amazing, and is usually the venue for my first glass of mulled wine of the year. I shall look forward to washing down my Night Sky Chocolate Bark with my lovely wine.
Lucy x
Night Sky Chocolate Bark Recipe
You will need a lined baking sheet, approx 33cm x 23cm
Makes a lovely big slab
400g chocolate, I used a mixture of dark and milk, but you want the chocolate to look quite dark
150g each dark blue and light blue candy melts, if you can't get this just use more white chocolate and colour with two different blue food dyes
100g white chocolate – I couldn't find purple candy melts, if you can you won't need the white chocolate or purple colouring
Purple food colouring
Gold stars, white chocolate stars, coloured stars and glitter to decorate
Line a small baking sheet with greaseproof paper and lightly oil or butter to prevent sticking.
Measure out your chocolates into separate bowls and melt, either in the microwave in 30 second bursts or over a pan of simmering water until the chocolates have just melted.
If you are using white chocolate and food colourings, colour the chocolate until you have one dark blue, one light blue and one purple batch.
Firstly, pour the melted dark chocolate onto the baking paper and smooth into a large rectangle. Dot on spoonfuls of the dark blue, then light blue then purple coloured chocolates.
Swirl the colours together creating a sort of night sky effect. Sprinkle on your sugar stars and dust with edible glitter. Leave to cool before refrigerating for at least an hour. Cut into wedges and serve as a bonfire night treat. This will keep, covered, in the fridge for a week or two.