One Pot Chorizo Pasta Recipe
As you probably know if you follow Lucy Loves on any of my social media bits and bobs, Ben is off to University this week *cue tears streaming down my face*. I know, everyone keeps saying, it's so exciting for him, he's ready to go, he'll have the best time, you'll still see him, he's only an hour and a half away, you can face time, but I am ever so slightly inconsolable. He is my first born and I won't see him everyday, as I have done for the last nearly 19 years and I am sad about it. Once I get through this week, Clyde and I will drop him in his fab new halls, I will neck a large gin and tonic and maybe have a fag, then yes, I will be fine, it's just getting used to the new regime. Ben, too, will have to get used to the new regime. No food and drink on tap, 24 hours a day. No in-house serviced launderette facilities and no Mum on hand ready to listen to various ramblings or to watch something 'amusing' on YouTube. But we will all get used to it *maybe* and Ben, of course, will have the time of his life. In the meantime, he needs to bloody eat something. And this One Pot Chorizo Pasta dish, may just be being served on a loop in his halls of residence kitchen for the next 3 years.
A few years back I wrote a little article about Freshers Food and most of my waffling still stands. Lucy Loves has grown a bit since then and there are tons of student friendly recipes, utilising little of their precious funds and precious energy supplies. Recipes using mince are fab, Beef and Bacon Burgers, Korean Beef and Sloppy Joes to name a few. It's cheap and cheerful and super easy to fashion into something tasty. I have been passing my wisdom *bullshit* onto Ben with such tips as boned chicken thighs are cheaper than breasts and tastier, buy tons of pasta, pesto and tinned tomatoes and a fried egg sandwich and a sweet tea will cure most hangovers. With my eldest son and his pals in mind, this One Pot Chorizo pasta will put to good use that one large sauce pan with a lid I am sending him off with. The recipe includes good value store cupboard ingredients and it can be tailored to suit how much of your maintenance grant you have left after you've bought the beers. Chorizo is an amazing fridge standby ingredient, along with some cream cheese, or mascarpone if you can stretch to it, or have someone to impress. Keep dried herbs on hand, these add flavour and interest to your dishes, don't bother with the fresh basil if you are skint, add some spinach instead to stop your mother nagging you to eat some vegetables. The inspiration for this came via Fuss Free Flavours, with thanks to you, Helen.
Either way, student or not, this is a bloody delicious dish, it's light on washing up and on the table in less than 20 minutes. Meddle with it according to your own needs, and if you aren't sharing this with another roomy or can't eat it all in one go, this will be fab the next day, reheated. Stick it between two bits of sliced white bread if your Snakebite induced hangover is particularly evil.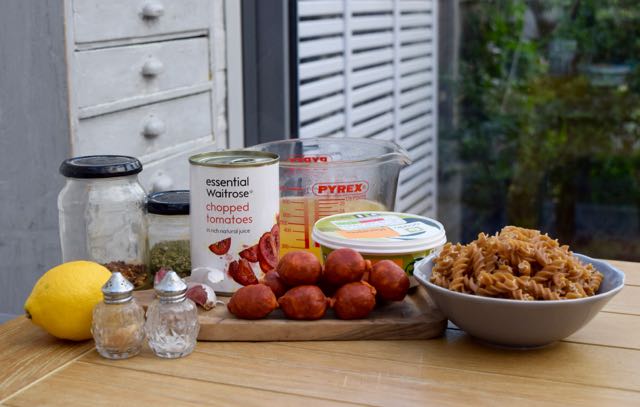 As I mentioned, don't bother with the fresh herb garnish if you are a struggling student, focus more on the chorizo and it's wonderful flavour adding skills. You can get it pretty cheaply these days, try your local Aldi for all things cooked meat based, they have a fab range, and it's great value.
Make a start on this dinner just 20 minutes before you're ready to sit down, it's almost instant. Take a large frying pan with a lid or a good sized saucepan also with a lid and heat over a medium heat. Add the chopped chorizo and cook for a couple of minutes until starting to brown.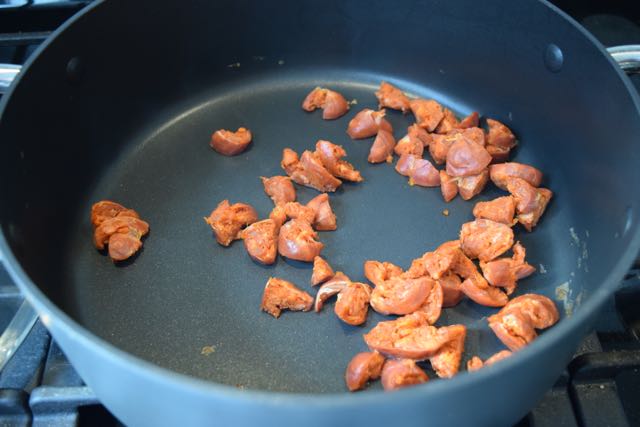 You shouldn't need oil for this as the chorizo will give off some lovely spiced juices. Add the chopped garlic and cook off for another minute until just starting to brown.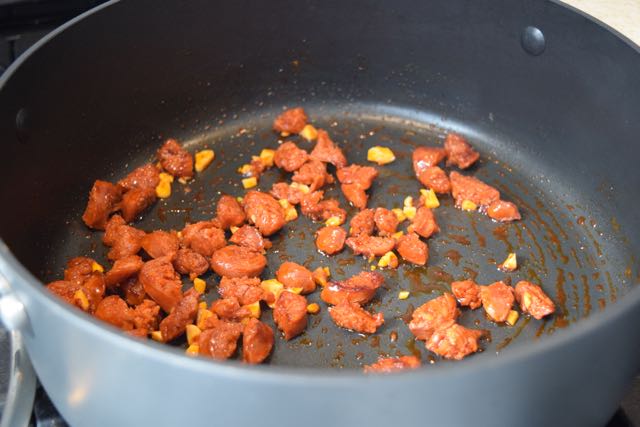 Now, simply pour in the stock, chopped tomatoes, chilli flakes, oregano, sugar and pasta and give the whole business a good stir. Bring up to a simmer.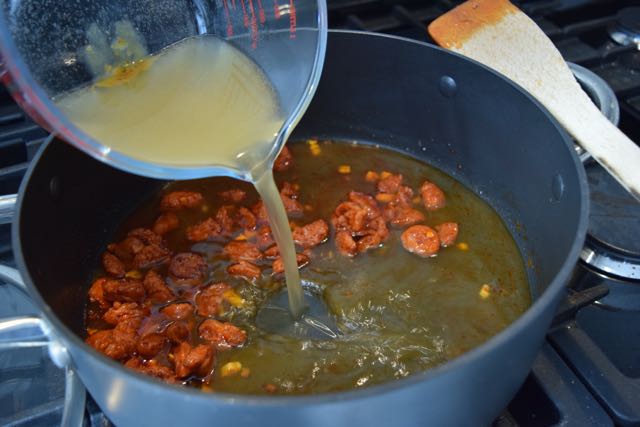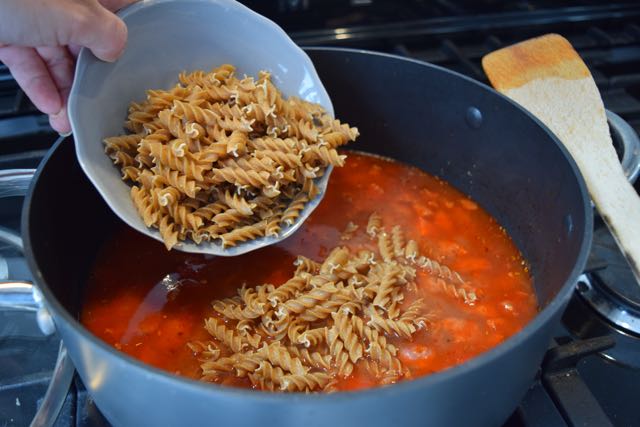 Once simmering, pop a lid on and cook for around 10 minutes, but keep an eye on it towards the end of the cooking time.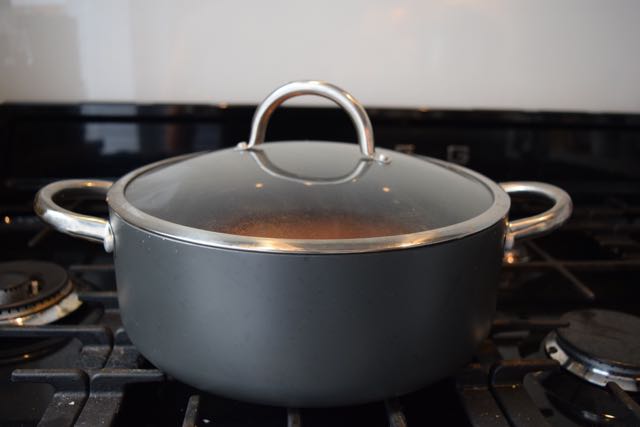 Once the cooking time is up, remove the lid and add a squeeze of lemon juice, the tablespoon of mascarpone or soft cheese and some fresh basil if using. Or stir in some spinach leaves here, around 100g, if you are looking to up your veg levels *students who have been drinking too much*.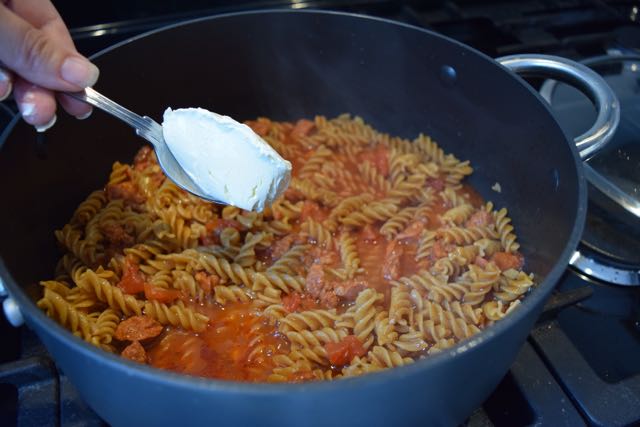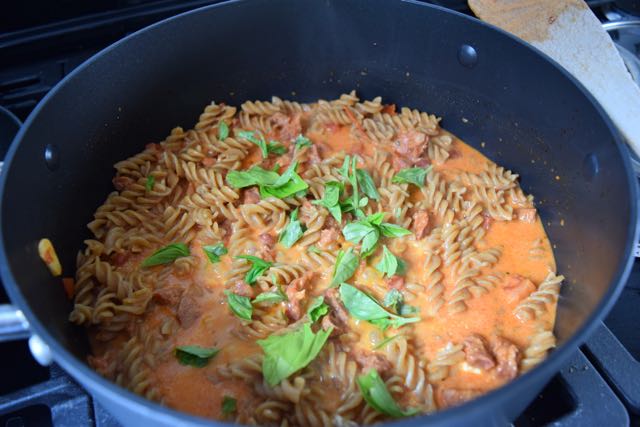 Cook this pot of utter deliciousness for a further 5 minutes or until most of the liquid has been absorbed and the pasta is fully cooked through.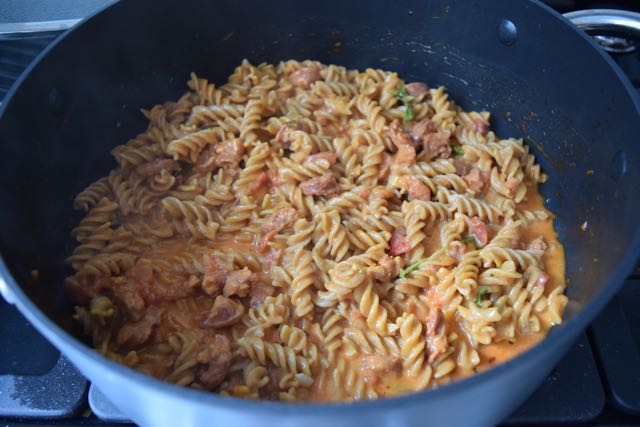 Serve, piping hot, with a beer, or some bread and butter if you are carb loading/lining your stomach. Or some tender stem broccoli, all these things are up to you.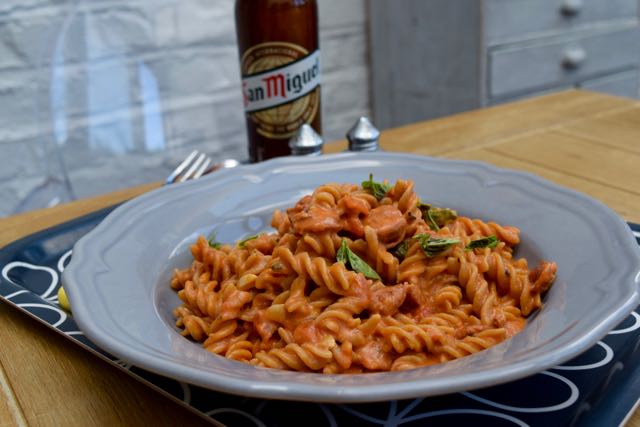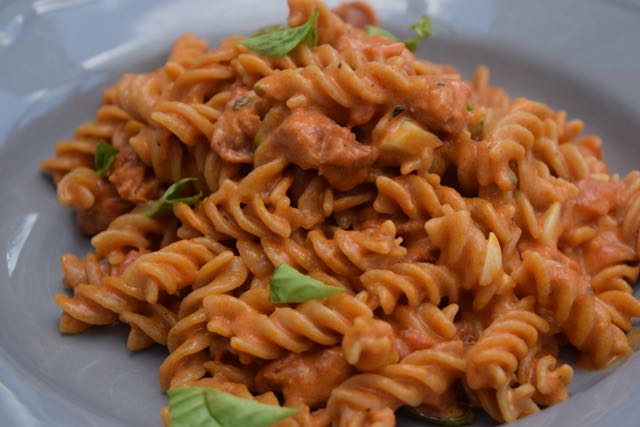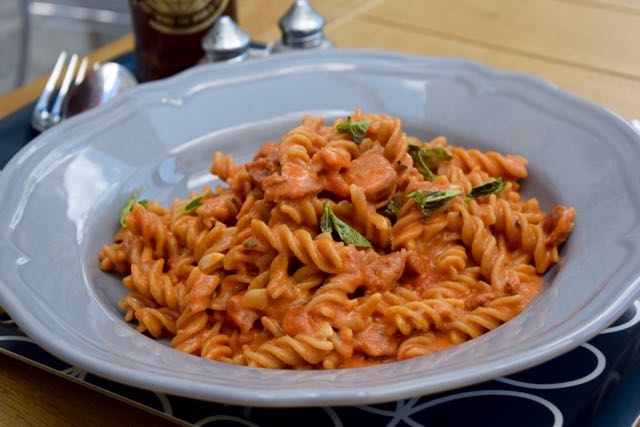 This slightly spiced, creamy rich pasta should not be reserved for students, those lucky bastards with their whole lives ahead of them. This is a full flavoured, beyond simple dish and you won't even have to bribe any remaining children to wash up, as there's only one pot and it could probably fit in the dishwasher.
Lots of love to you if you do have one of your offspring off to uni this week. Tissues at the ready.
Lucy x
One Pot Chorizo Pasta Recipe
Serves 2, or one enormous 18 year old, the recipe is easily doubled for a bigger crowd
You will need a large high sided frying pan with a lid or large lidded saucepan
150g chorizo, roughly chopped
2 cloves garlic, finely chopped, or use a teaspoon of lazy garlic from a jar
170g pasta, the choice is yours, I went with wholemeal for added goodness
1/2 x 400g tin chopped tomatoes
pinch chilli flakes
a pinch sugar
1 teaspoon dried oregano
500ml chicken or vegetable stock
1 heaped tablespoon mascarpone or cream cheese
A squeeze fresh lemon juice
salt and pepper to taste, some grated parmesan if you like and more fresh basil to garnish
Take your large pan, heat over a medium heat and add the chopped chorizo. You shouldn't need any extra oil as the chorizo will give some off. Cook for a couple of minutes or until just starting to brown. Add the chopped or lazy garlic and cook for another minute. Now pour on the stock, tinned toms, pinch of sugar, chilli flakes and oregano then tip in the pasta. Bring up to the simmer then pop a lid on and cook for around 10 minutes. At this point most of the liquid should have been absorbed and the pasta will have softened. Stir through the lemon juice and either mascarpone or cream cheese, season to taste then let simmer for another couple of minutes or until the dish is piping hot.
Serve immediately with chopped fresh basil and some grated cheese if you like.
SaveSave
SaveSave
SaveSave
SaveSave
SaveSave
SaveSave