Pineapple with Mint Sugar Recipe
I have been making this dish for years. It's a total last minute classic, using just 3 simple ingredients. I decided to share it with you because I recently bought my first Oddbox and it contained a lovely, super ripe pineapple and a bunch of fresh mint. The pineapple was literally so ready to eat, I photographed this post almost as soon as I opened the box. Being a frugal soul, Pineapple with Mint Sugar fills me with joy as it's simple, delicious and bloody cheap to make.
A weekday dessert is a rarity in our house. If you're lucky there's some ice cream leftover from a dinner party at the weekend or a pot of Greek yoghurt. This Pineapple with Mint Sugar can be served with both these standby's or as a stand alone treat. It's fresh, not too sweet, juicy and fragrant. You could eat this as a pudding of course, but, it would also make the most tempting breakfast with some yoghurt and a sprinkle of granola. Whip this up at the last minute and serve it at the table, sprinkled with the minty sugar and some extra mint leaves for luck. This recipe is courtesy of the lovely Jamie Oliver; I hope this cheers him up after the relatively crap week he's had.
This is literally just a chopping and bashing based recipe. No cooking, no kerfuffle, and no food waste. If you do have an overripe pineapple to hand, this recipe will appeal to your conscience as well as your tastebuds.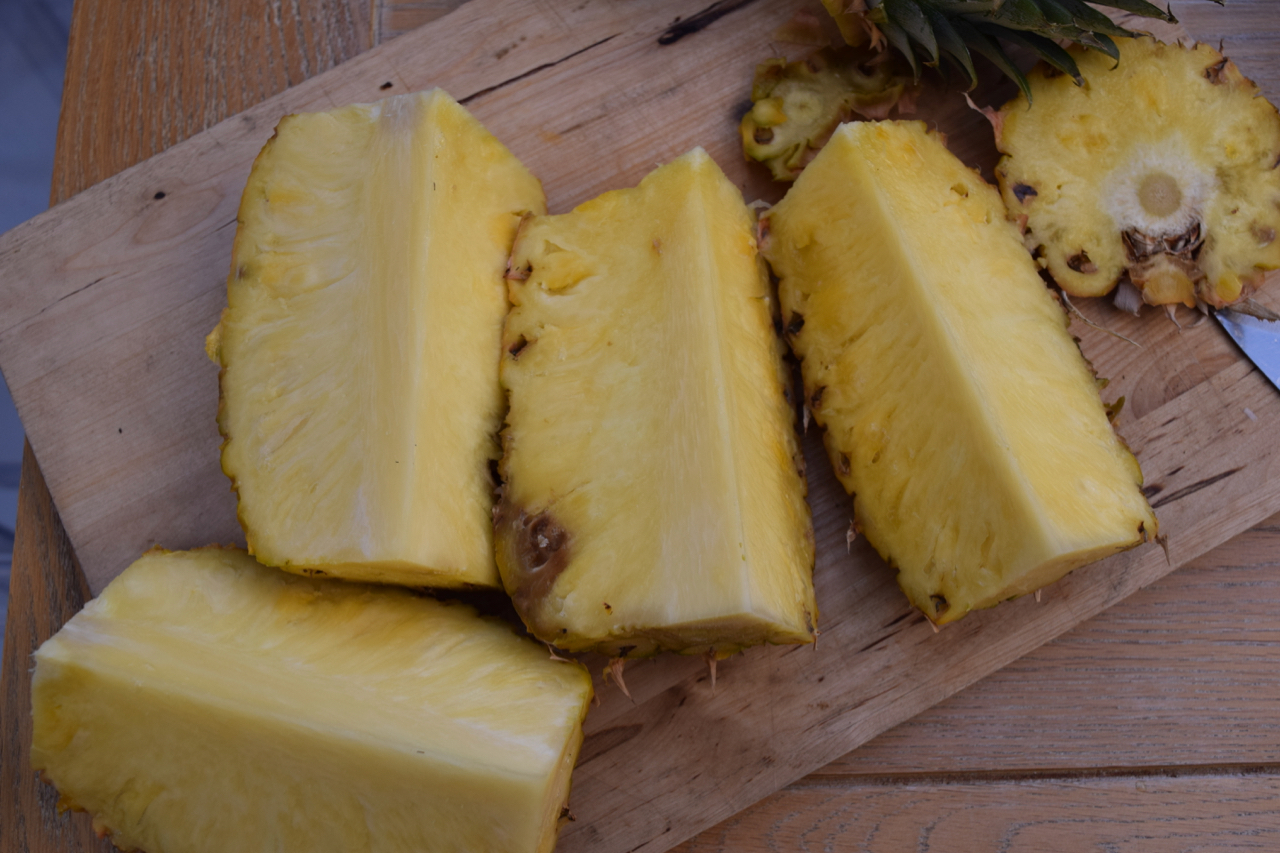 Make a start on this simpleness with your super ripe pineapple. Peel and slice it however you prefer to; I cut mine into quarters then cut the top core bit out using a worryingly sharp knife.  Then use said knife to cut under the skin. See ugly trotter hands doing so below.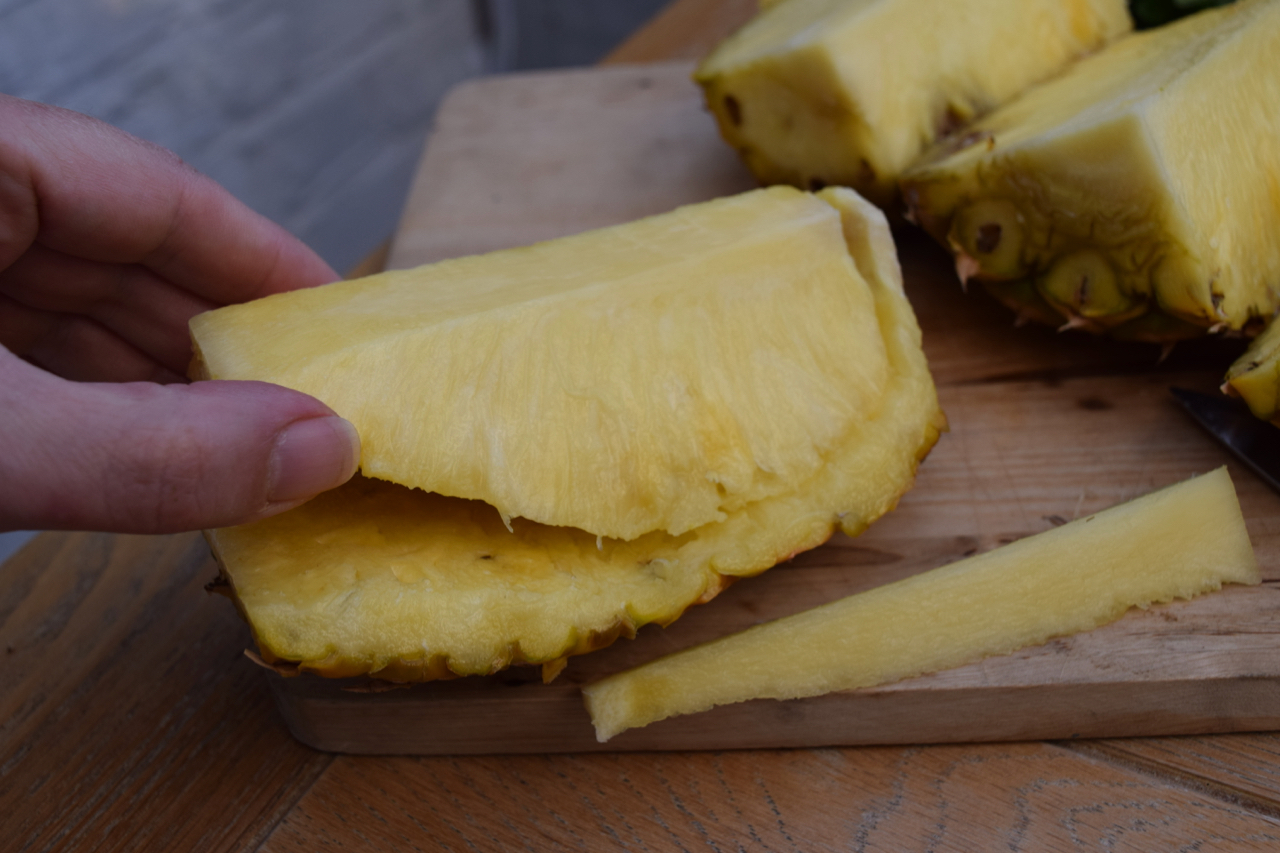 Slice the pineapple into thin-ish slivers *mine were rustic* and lay onto an attractive plate. Repeat with the other quarters.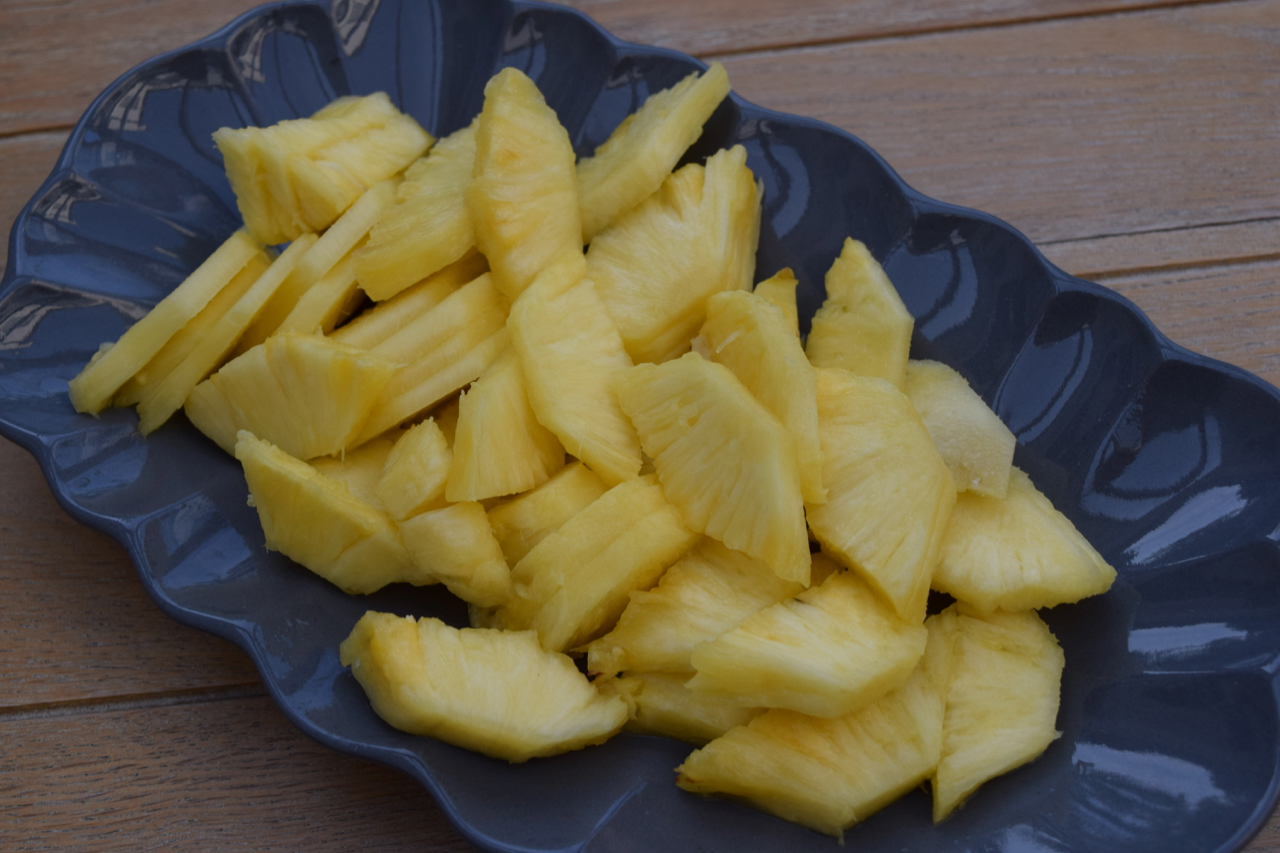 Next, dig out your pestle and mortar and measure in the caster sugar. Add your handful of mint leaves, minus the stalks.
In the words of Jamie, give it a good bashing, until you have fragrant, green sugar. If it's too soggy looking, just add an extra teaspoon or two of sugar.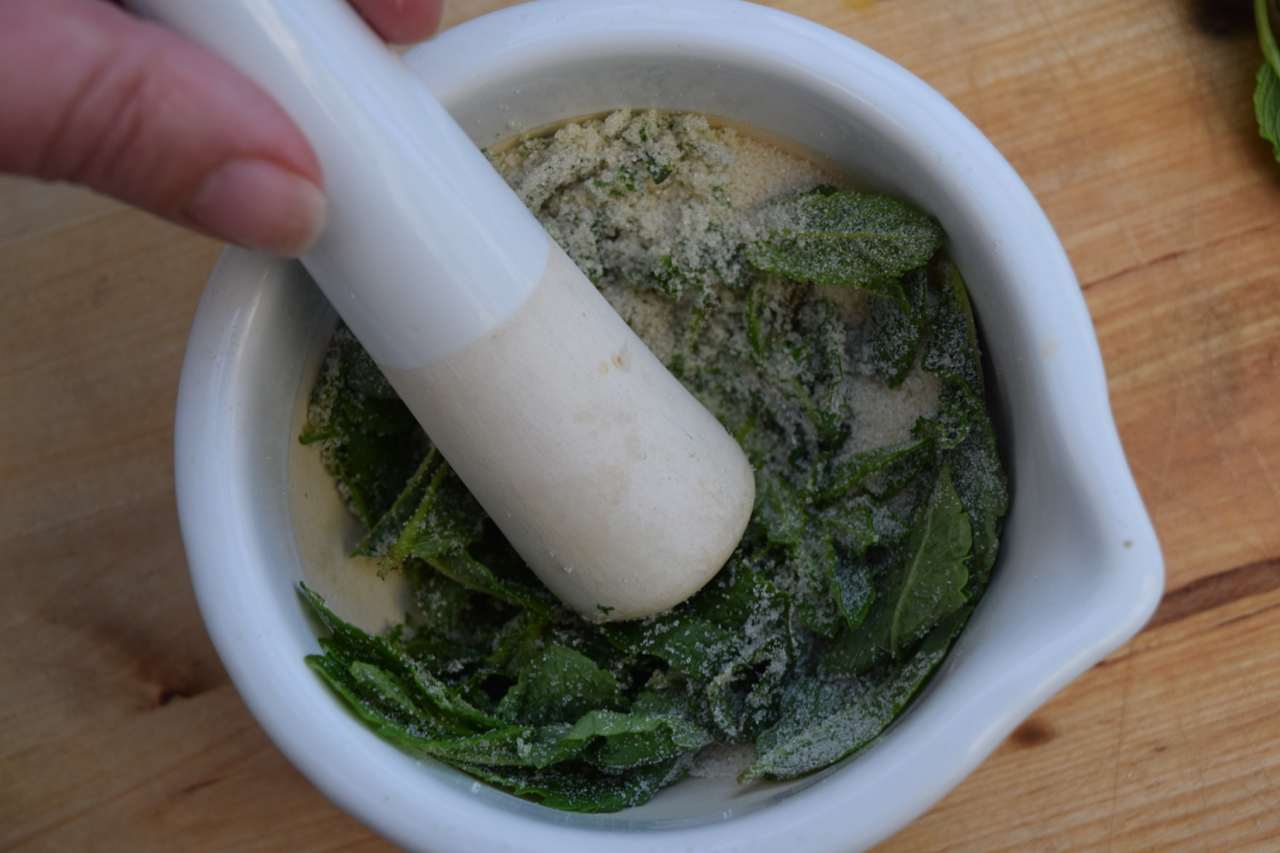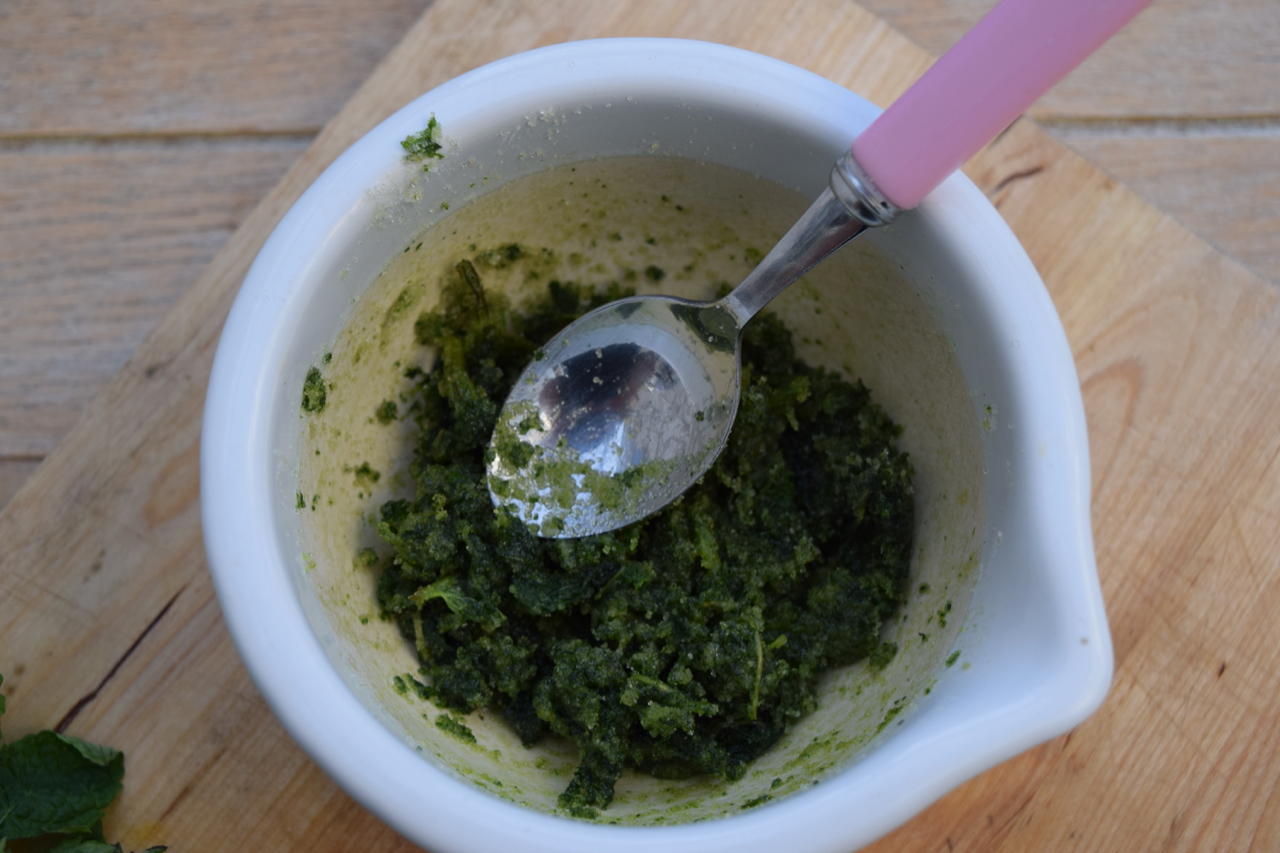 Sprinkle the mint over your pineapple then take to the table garnished with some extra mint leaves. This is beautiful served alone, with thick yoghurt, ice cream or just a lake of double cream.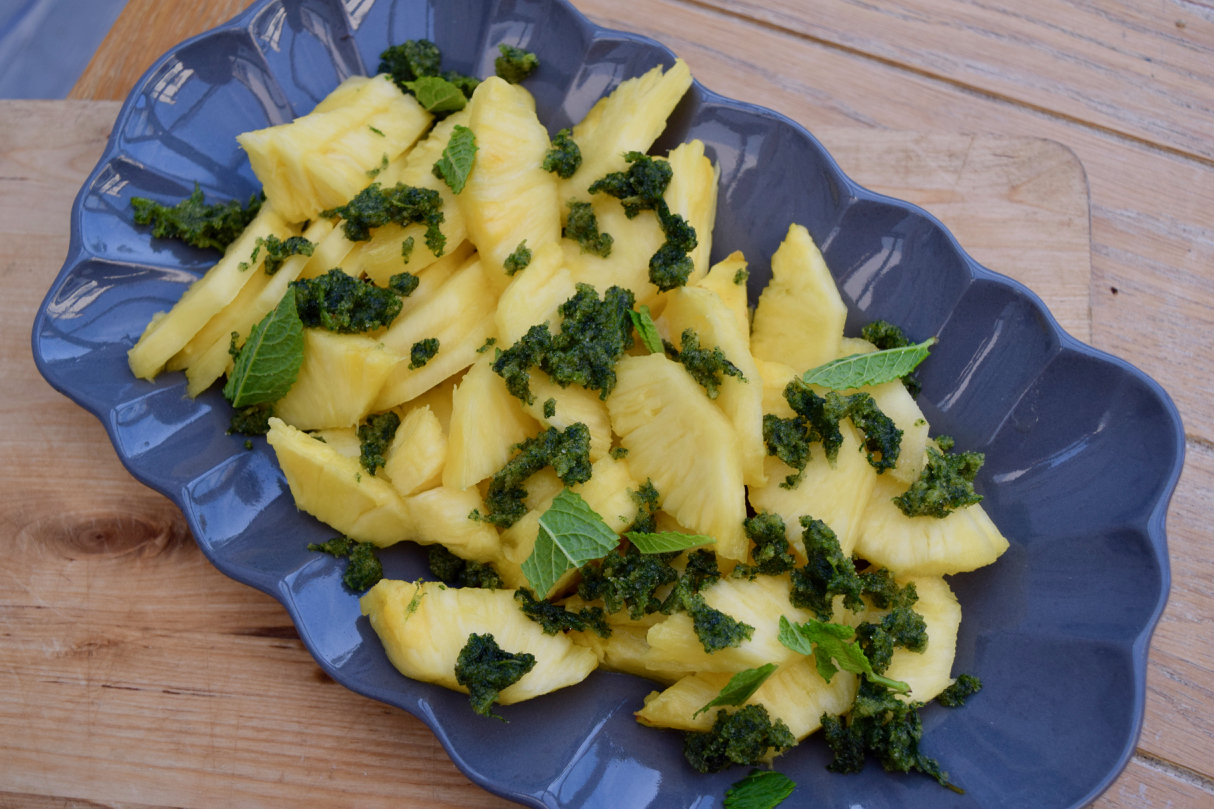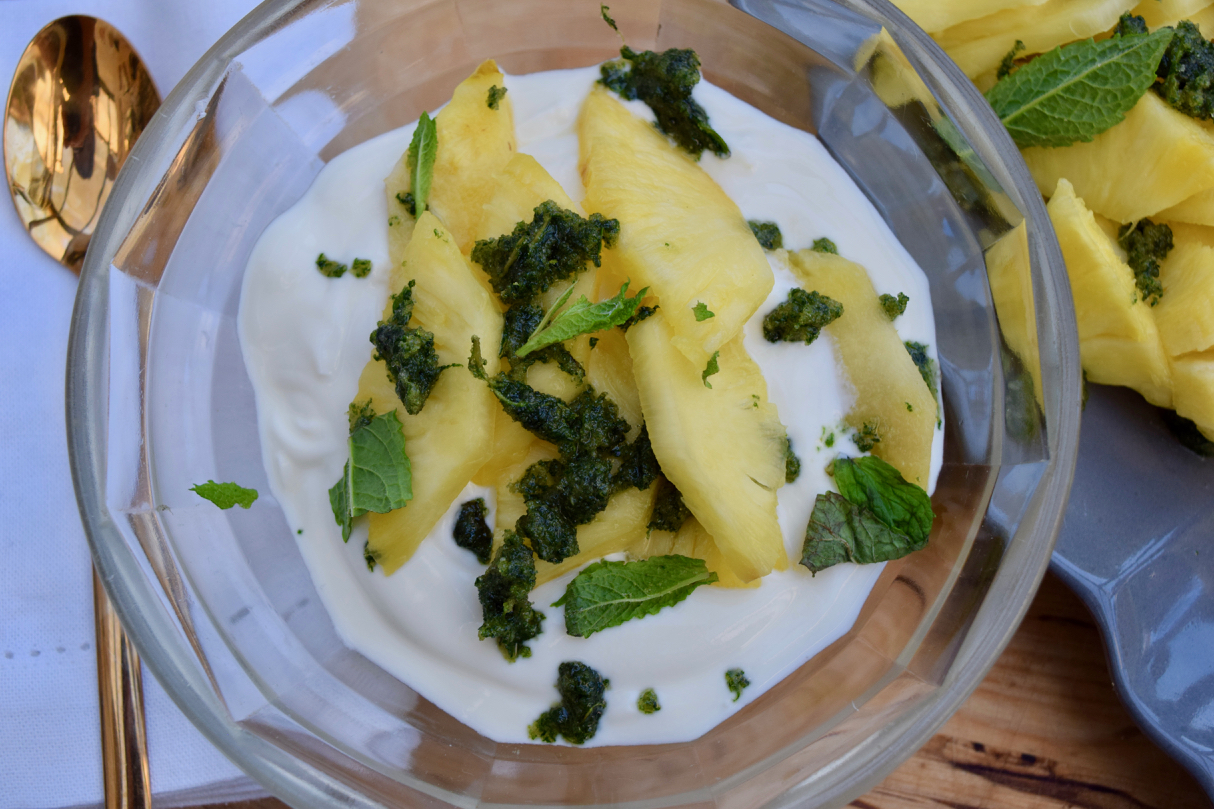 Fresh, fragrant, frugal. And ridiculously quick and simple, but neither of those words begin with 'f'. This is a brilliant summer dessert, when, and if the bloody summer ever shows it's face *weeps over bank holiday weekend weather forecast*.
Lucy x
Pineapple with Mint Sugar Recipe
Serves 4, if your pineapple is big enough
You will need a sharp knife, pestle and mortar and a serving plate
1 pineapple
2 tablespoons caster sugar
A handful of mint leaves
Greek yoghurt to serve and extra mint to garnish
Take your pineapple and cut into quarters. Cut the ends off each quarter then slice off the core. Run the knife under the skin and remove. Using a sharp knife, slice the pineapple quarters into thin pieces. Lay them onto a plate and continue with the rest of the pineapple.
For the mint sugar, take your pestle and mortar and add the caster sugar. Remove the mint leaves from the stalks and add to the sugar. Grind the two together until you have a fragrant, bright green sugar. If it's too damp, add a little more caster sugar.
Sprinkle this mint sugar onto your pineapple slices and served garnish with some more fresh mint. This goes so well with a big bowl of thick, Greek yoghurt.