Spiced Rainbow Chard with Peanut and Kidney Beans Recipe
I love trying new things but I seem to cook the same dishes week in week out. I am fairly adventurous but the rest of the family are not. George would eat the same bloody meal every day given half the chance, and that meal would be ramen noodles. Clyde likes what he likes and that is usually pretty meat based, so any mention of cooking a vegan dish would be met with utter disdain from all present family members. Ben is at university, so he would eat anything, especially if its a) free and b) cooked by someone else so c) he doesn't count. A friend of mine at my exercise class mentioned she had made a delicious vegan dish using rainbow chard and peanut butter, so some extensive research *a speedy Google session* unearthed this rather divine Spiced Rainbow Chard with Peanut and Kidney Beans recipe. I decided to cook it and I didn't really care if anyone else other than me ate it.
God only knows if this is the actual recipe my friend was talking about but something drew me to it when I read the ingredients and it wasn't just he inclusion of 4 tablespoons of peanut butter. Come on, no recipe is going to be horrid when it has peanut butter in it, unless *sorry Hannah* you are allergic to peanuts that is. This Rainbow Chard with Peanut and Kidney Beans is a sort of hybrid of a vegetable curry and a stir fry. It's hard to describe, looks a little brown on the plate, but is indescribably delicious. The vegetables are crisp, the beans soft and filling and the sauce is spiked with cumin, garlic, chilli and ginger. The peanut butter adds sweetness and the tomatoes add sharpness so it's the perfect balanced meal. And it's vegan which is an alien concept for my family to take on board, but even Clyde had to agree this dish is incredibly tasty and he really enjoyed it. Many thanks to Katy Bescow via cooked.com for the plant based inspiration.
I am certainly not becoming vegan or even vegetarian, but a bit of plant based amaziness doesn't hurt anyone. And this is a really moreish recipe, I ate the bowl I was photographing then proceeded to revisit the pan as the afternoon wore on. But because it's vegan, that was fine right?
Look at that. So colourful, so beautiful, nothing this photogenic is going to taste anything but amazing.  This recipe would probably work with normal chard or some sort of cabbage if you can't get hold of the rainbow variety.
Make a start by adding your oil to a large frying pan and sautéing the chopped onion and chopped and rinsed rainbow chard. It's so pretty it's almost a shame to pop it in the pan.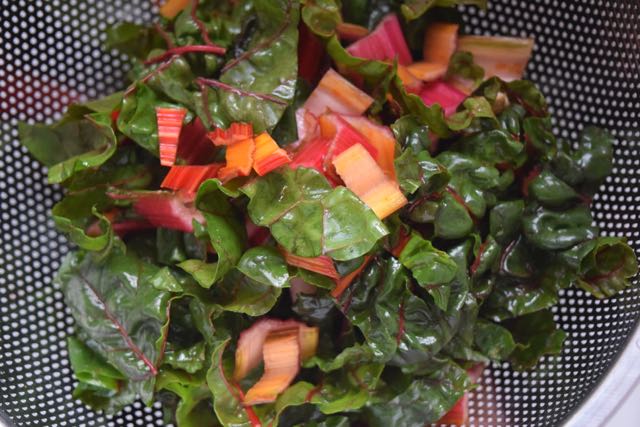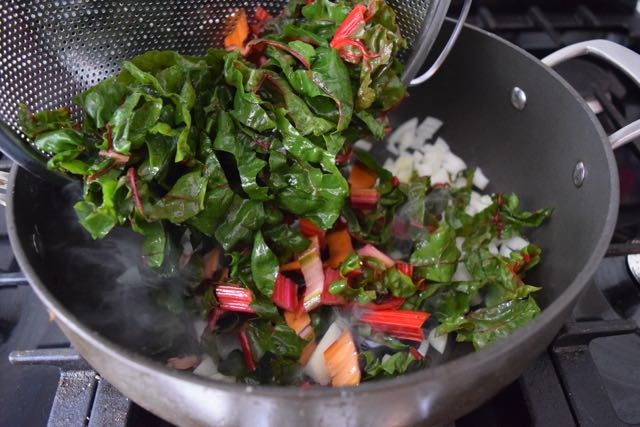 Cook this off for a couple of minutes until just starting to soften then next in is the garlic and the mixed spices which include cumin, ginger and dried chilli flakes.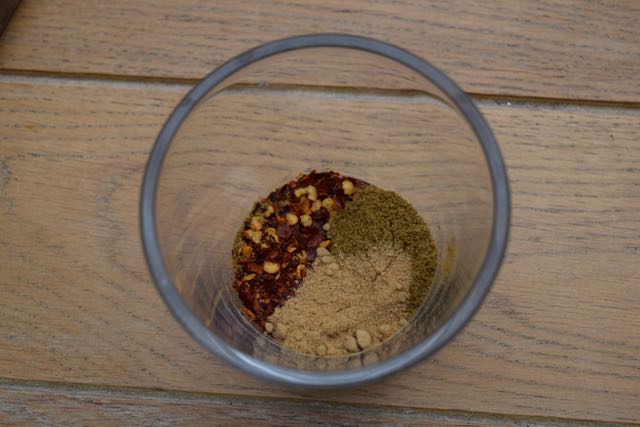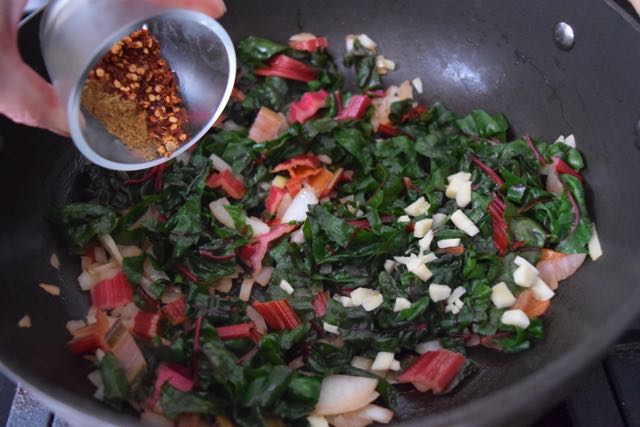 Cook off for another minute or two then stir in the tinned tomatoes and the peanut butter. I had half smooth and half crunchy, either would work here.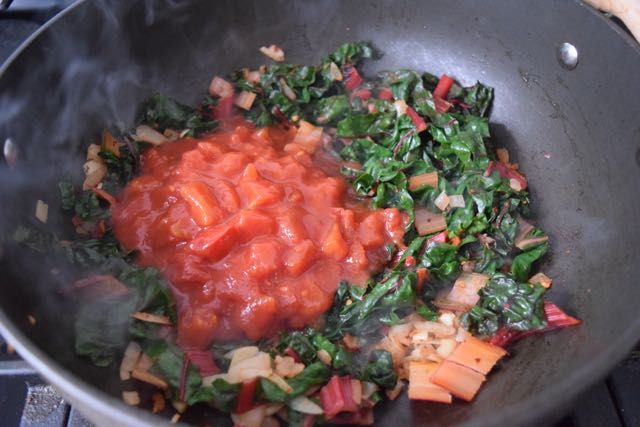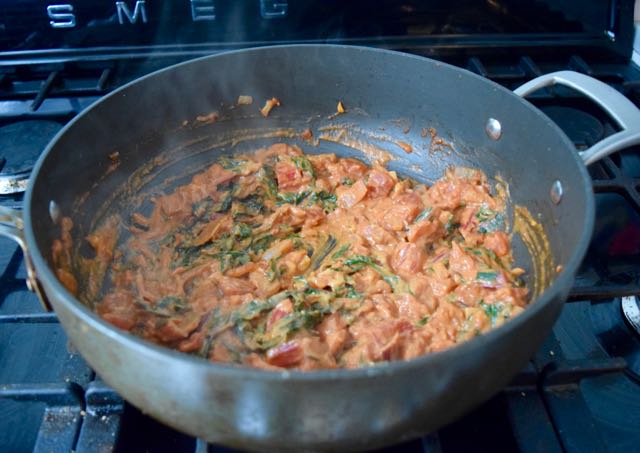 Give your kidney beans a rinse then tip these into the mix along with the soy sauce and give it all a good stir.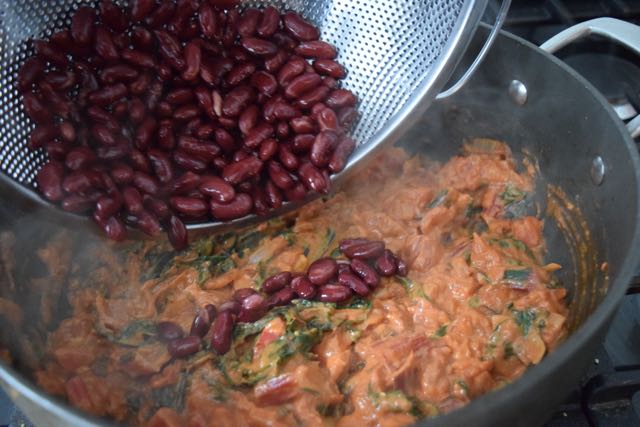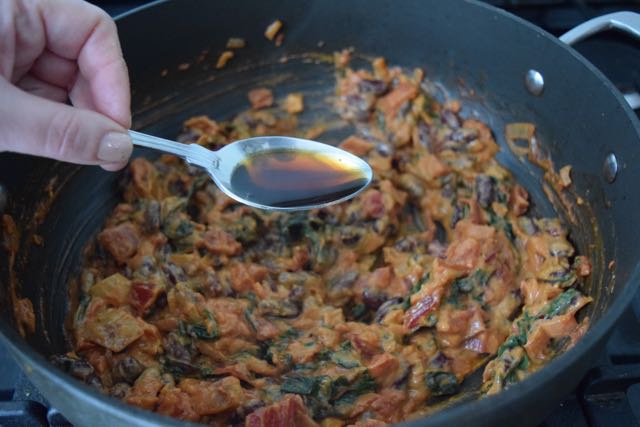 Let this all simmer away for another 8 minutes or so, keeping it moving so it doesn't stick to the bottom of the pan. Finally check for seasoning and add a good handful of freshly chopped coriander.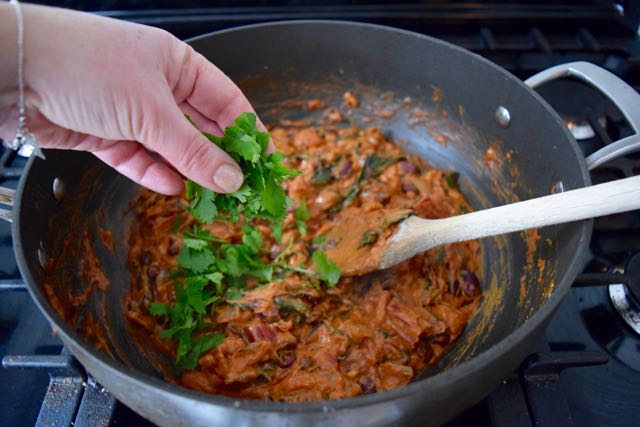 This wholesome, flavour filled vegan dish can be served with rice or noodles, dependent upon your requirements. I went additional carb free but then my waistline needs a little encouragement at the moment.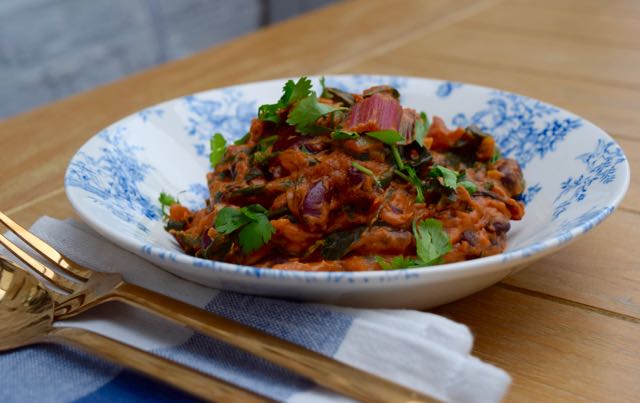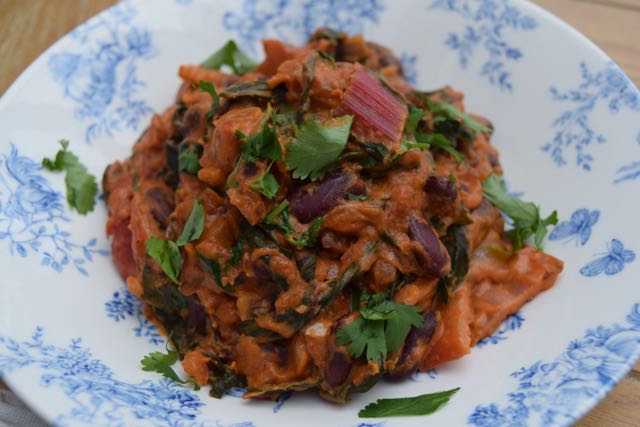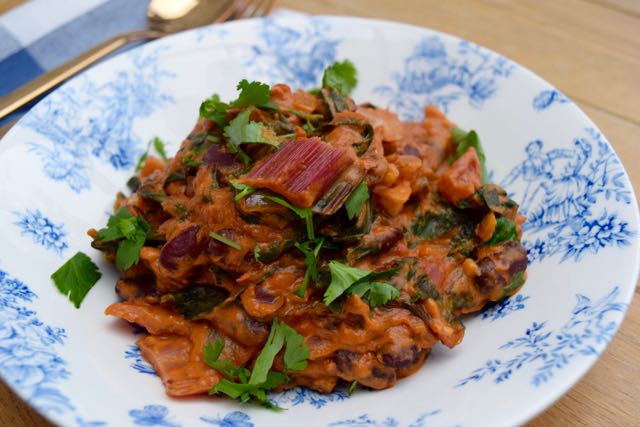 This doesn't exactly look Michelin starred, but it tastes so good. And it's full of plant based goodness, so this is a big deal of a recipe. A meat free meal which my family were willing to eat without a piece of chicken on the side – this must be a keeper.
Lucy x
Spiced Rainbow Chard with Peanut and Kidney Beans Recipe
Serves 3 to 4, appetite dependent
You will need a large frying pan or wok
1 tablespoon oil
1 onion, finely chopped
150g rainbow chard, washed and chopped
2 cloves garlic, chopped
1/2 teaspoon dried chilli flakes
1 teaspoon cumin
1/2 teaspoon ground ginger
4 heaped tablespoons peanut butter, smooth or crunchy
1 x 400g chopped tomatoes
1 x 400g kidney beans, rinsed and drained
1 tablespoon soy sauce
Generous handful chopped, fresh coriander, plus extra to garnish
Salt and pepper
Serve with rice or noodles, if you like
Take your large frying pan and add a tablespoon of oil. Heat over a medium flame and add the chopped onion and rainbow chard. Cook for around 2 minutes until softening. Next, add the garlic and dried chilli, cumin and ginger, stir through the chard and cook for another minute.
Lower the heat and add the peanut butter and tinned toms and give it all a good stir. Finally tip in the rinsed kidney beans and measure in the soy then simmer for around 8 minutes. Keep stirring so the mixture doesn't burn. Finally stir through the handful of freshly chopped coriander then check for any additional salt and pepper requirements.
Once piping hot, serve with noodles or rice, or not. Garnish with a little extra chopped coriander. Any leftovers are delicious re-heated for the next day or two.
SaveSave
SaveSave
SaveSave