Watermelon and Lime Cooler Recipe
A Cooler, really Lucy? More appropriate would be a Watermelon and Lime Cardi as it's an August long weekend. It's been a dismal summer here in London and I can't see myself being surprised by the weather this weekend either. We are off to the seaside for a bit of rest and I will be packing clothes for all four seasons. Rain coat, bobble hat, shorts and flip flops, I will not be caught out being inappropriately dressed. Or freezing to death whilst main-lining rosé at a beach barbecue. Should you live somewhere warmer than the South Coast of the UK, then this Watermelon and Lime Cooler is the Friday Cocktail for you.
Whilst on holiday in Corfu this year, after our main courses the lovely tavernas would bring us plates of super refreshing watermelon. Prior to this I could really take or leave watermelon, but now I love its cool refreshing taste and sweetness. So when I discovered it blitzed with lime, mint and ice then mixed with vodka, my love for watermelon became even stronger. This fruity, fresh iced cocktail is divine, it doesn't even matter if it's pissing with rain, you will still love it, I can assure you. I am terminally lazy so I left the seeds in my watermelon, but your cocktail will look less muddy if you remove them. I kidded myself that if I left them in they would provide some sort of roughage.
Cardi on or cardi off, it's the final bank holiday of the year so make the most of it. Down a few Watermelon and Lime Coolers regardless, and while you're at it, say a little prayer for an Indian Summer.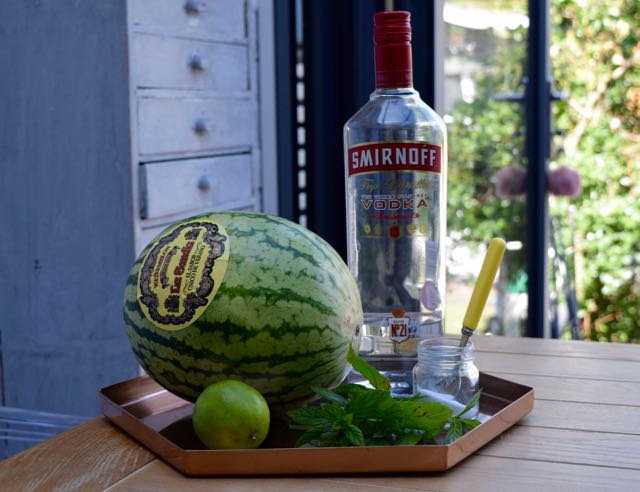 This was such a beautiful looking melon, I was loathe to cut it. I was glad I did, however, as it was sweet, crisp and delicious and made this cocktail so fresh tasting.
Make a start by taking your blender or NutriBullet and adding a big handful of ice. Follow in with a good leafy sprig of mint.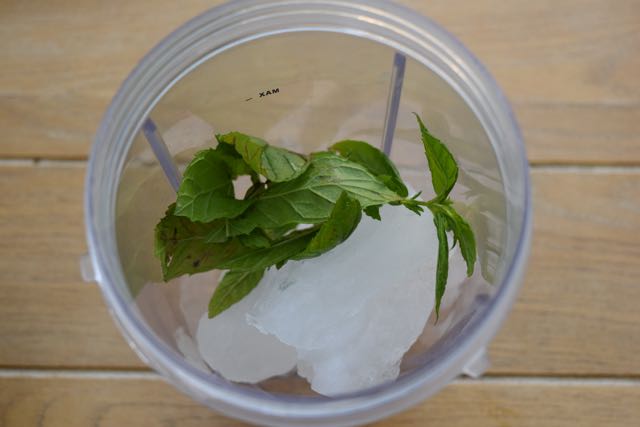 Now, hack into your watermelon and remove the skin from around a quarter of it. Chop this into cubes and remove the seeds, if you like. I really couldn't be arsed so left them in.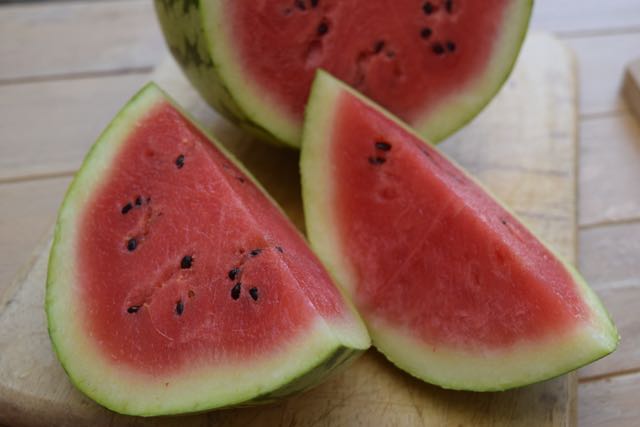 Squeeze in the juice of half a juicy lime or a whole slightly more barren lime. Add a final teaspoon of caster sugar then blitz the whole business until smooth and icy.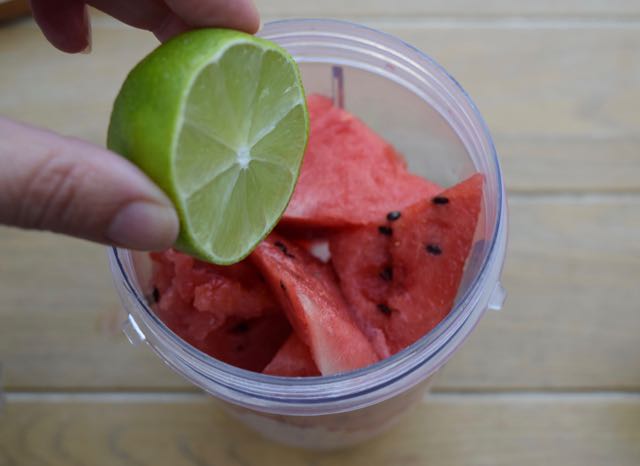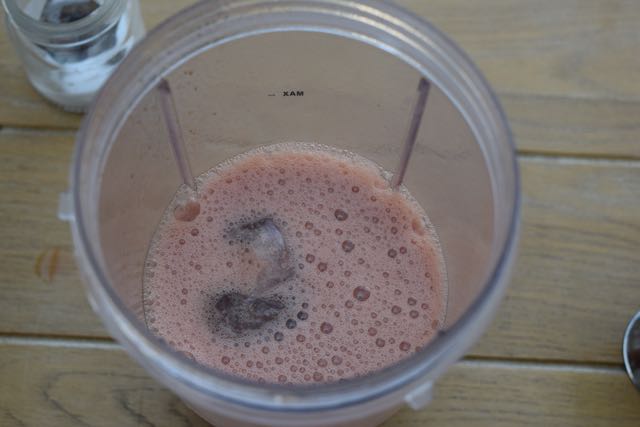 Add some more ice to a fancy, festive looking glass then pour in a bloody great big shot of vodka.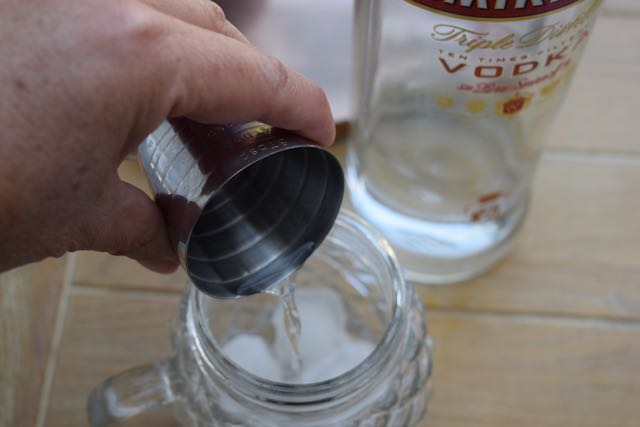 Top the drink up with half of the watermelon and lime juice and give it a good stir.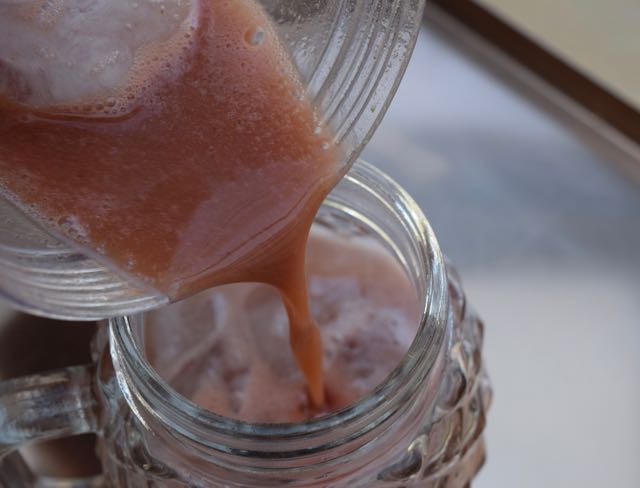 Garnish with an additional chunk of watermelon and sip away to your hearts content. Then make another to share, or not.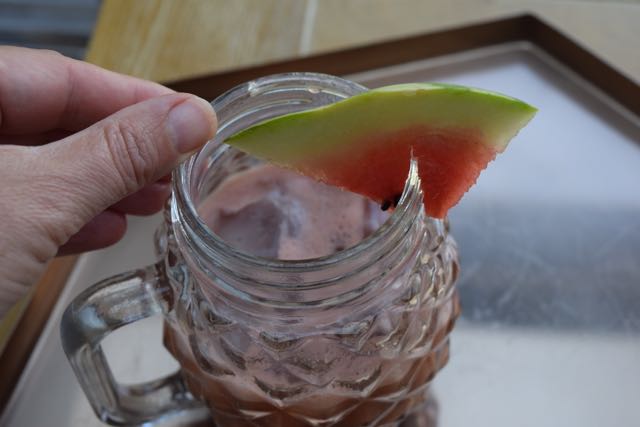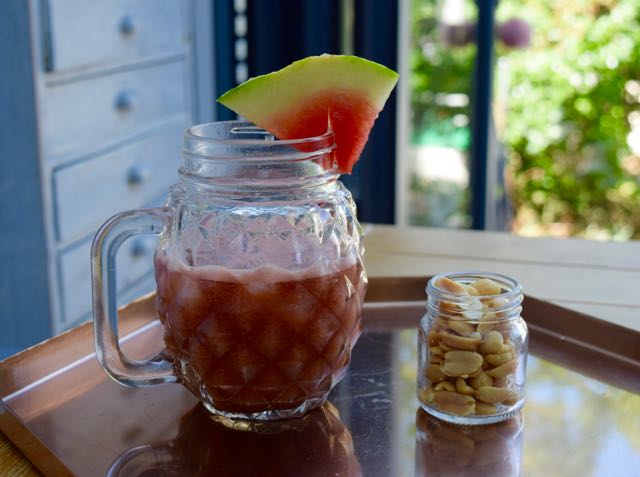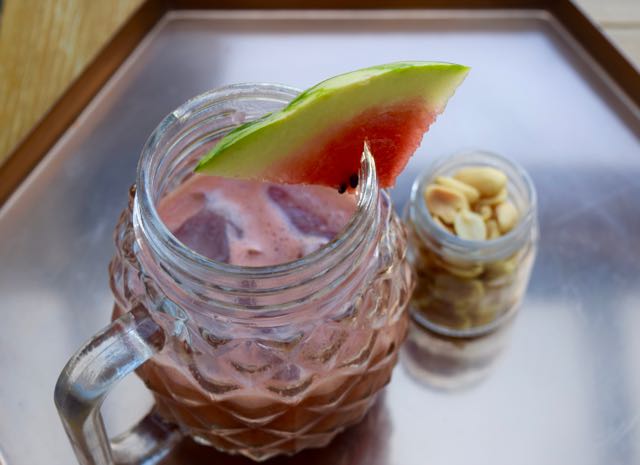 I've said it before and it does make me feel better about drinking the whole batch, this Watermelon and Lime Cooler surely covers at least one of your five a day. So it's a Friday Cocktail gift that keeps on giving.
Have a restful weekend and enjoy the extra day off, even if you only see it from under an umbrella.
Lucy x
Watermelon and Lime Cooler Recipe
You will need a blender or Nutribullet
Makes 2
A quarter of watermelon, skinned – mine was a small watermelon so if yours is huge, you may need less than a quarter
A handful of ice
A good sprig of fresh mint
Juice of half a juicy lime, use a whole one if small
1 teaspoon caster sugar
50ml vodka per cocktail
Ice to serve and a watermelon slice to garnish
Take your blender and add a handful of ice and a leafy sprig of mint. Add the cubed and skinned watermelon, with the seeds removed if you can be arsed, then add the teaspoon of sugar. Squeeze in the lime juice then blitz until super smooth.
Take a nice big glass and add another handful of ice. Pour in 50ml vodka per cocktail then top up with the watermelon and lime juice. Stir well then garnish with a slice of watermelon. Sip and feel hugely refreshed.
SaveSave
SaveSave
SaveSave
SaveSave