Black Rice and Salmon Salad Recipe
Current mood is can't be arsed with dieting, all I want to do is eat nibbles and drink rosé. Not ideal, I know, but I have been quite restrained for a prolonged period of time, and now I am just not in the mood to be good. I am still exercising as normal with my lovely bootcamps and showing a modicum of discipline during the week, but come Thursday all bets are off. I think it's this lovely spell of prolonged good weather we have been having; it puts one in a holiday frame of mind and I, for one, feel quite cheerful. This Black Rice and Salmon Salad is fresh tasting and perfect for picnics while the warm weather holds. It's semi healthy too, so will make up for all that rosé.
My super kind friend treated me to the beautiful ScandiKitchen Summer book by Bronté Aurell when she came to dinner last week and since I picked it up, I haven't been able to put it down. Such a wonderful book, I love all the recipes and that's quite rare when I get a new cookery book. So it is with thanks and joy I present Brontés Black Rice and Salmon Salad recipe today. It's fresh tasting, tart, with soft smoked fish and the bite of shallot with a lemon and honey laced dressing. The black rice is nutty, filling and photogenic. The salad is easy too, thrown together and it can be kept in the fridge until needed. I have been taking bowls to work as this makes a stylish desk lunch or it can be easily packed up and taken to any balmy afternoon picnic. A huge thank you to my friend Victoria for the book and to Bronté Aurell for brilliant recipe.
Scandi is everything at the moment with all things hygge and series 4 of The Bridge, however, we had Danish au pairs as a child so I have been all over the remoulade, rye bread and herrings since way back. All my favourite flavours are in this recipe and in the rest of the book,  so stand by for more things Nordic based.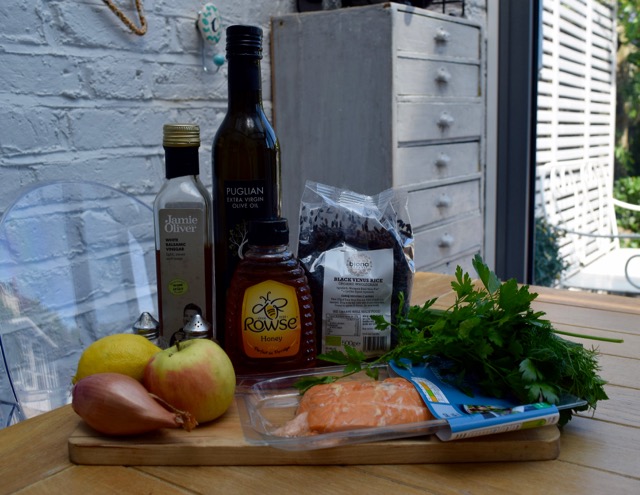 Not a hugely Scandi looking line up at first glance, however, the herbs are a lovely nod to regional flavours. The hot smoked salmon is quite pricey, however, you only need 150g so a little goes a long way. I can imagine it would also be good with smoked mackerel too, which is a good deal cheaper.
Make a start with a large saucepan and your black rice, which you will have rinsed first *if you can be arsed*.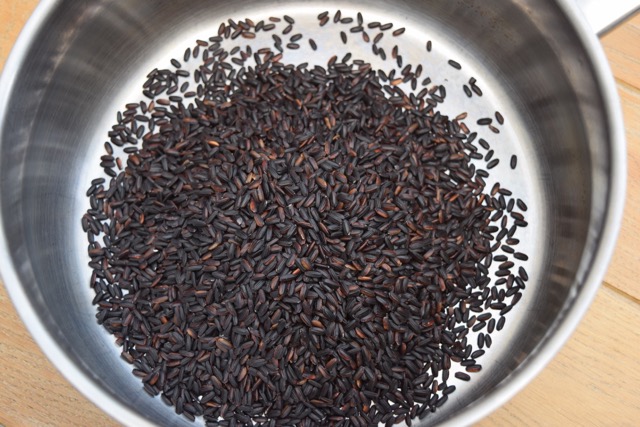 Cover with cold water and bring up to the boil, turn down to a simmer and cook for around 35 to 40 minutes, lid on. Keep an eye on the rice, it's ready when the rice is soft but still with a bit of bite. Turn off the heat, empty into a colander then rinse with more water, then leave to drain and cool while you make the dressing.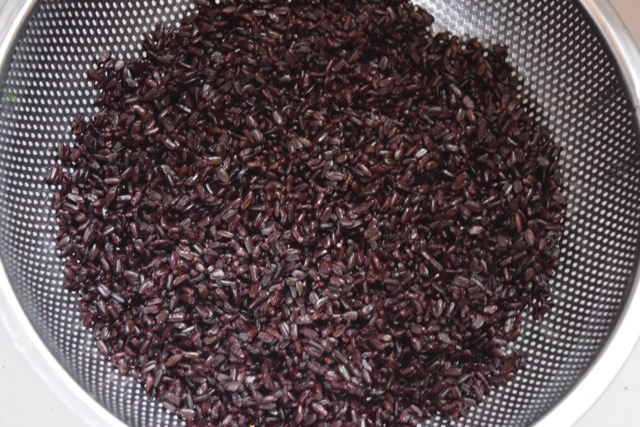 Now, turn your attention to the dressing. Take a jar or small bowl and measure in the vinegar and olive oil. I couldn't find my white wine vinegar, so I plumped for white balsamic which was just lovely.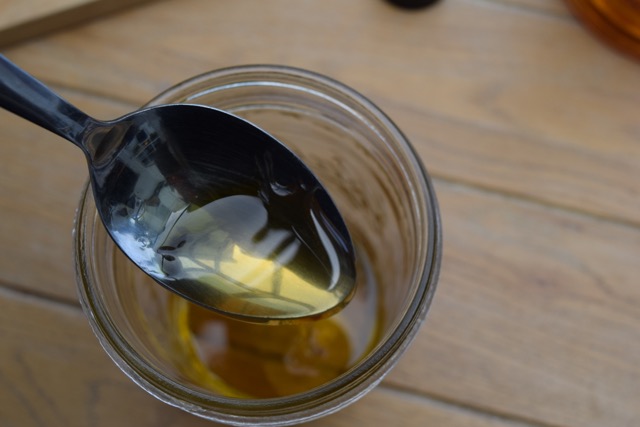 Add the honey and lemon juice, season well, then shake to combine these lovely ingredients.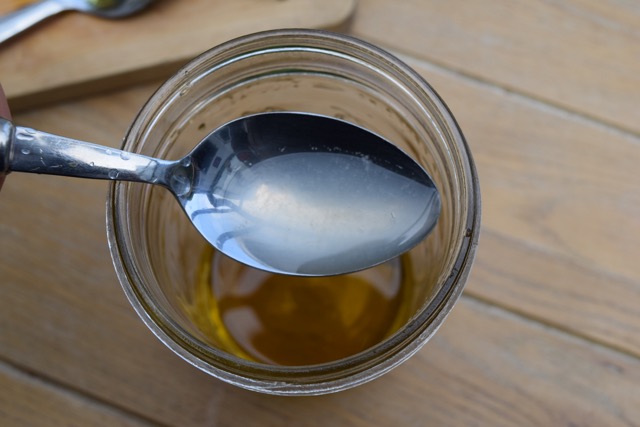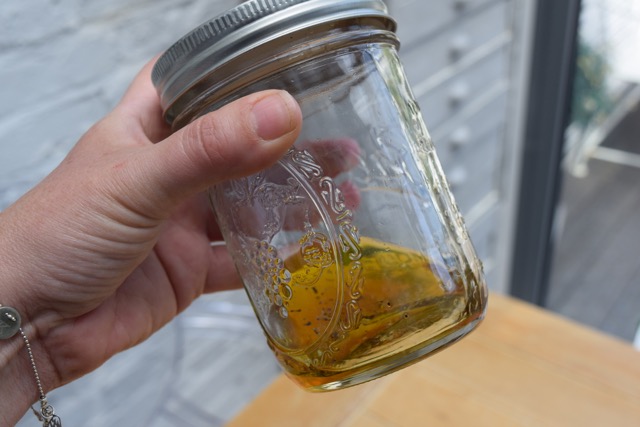 Now for the rest of the salad. Halve the cucumber and scoop the seeds out with a teaspoon, then chop into small half moons.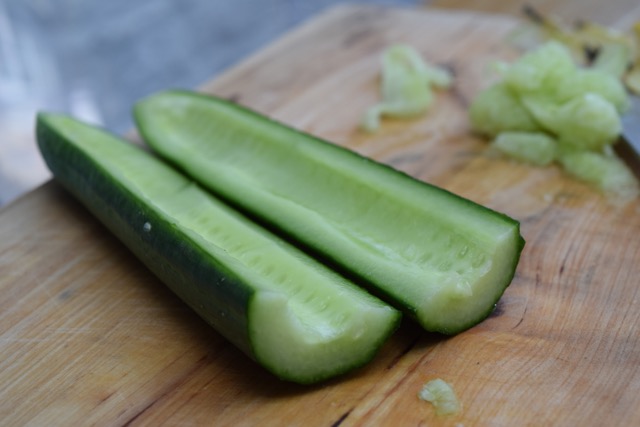 Add this to the bowl along with the cored, chopped apple and the finely chopped shallot and spritz with a good amount of lemon juice.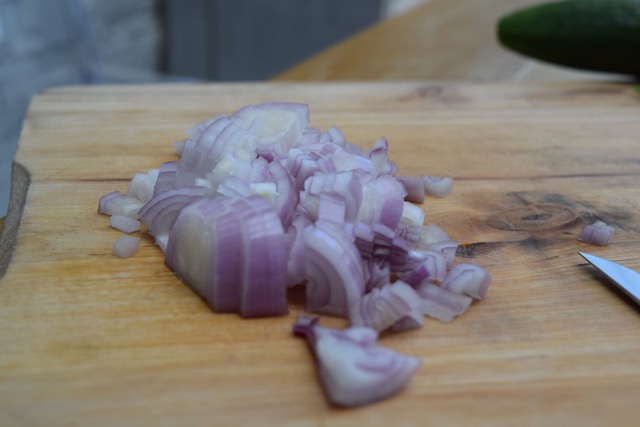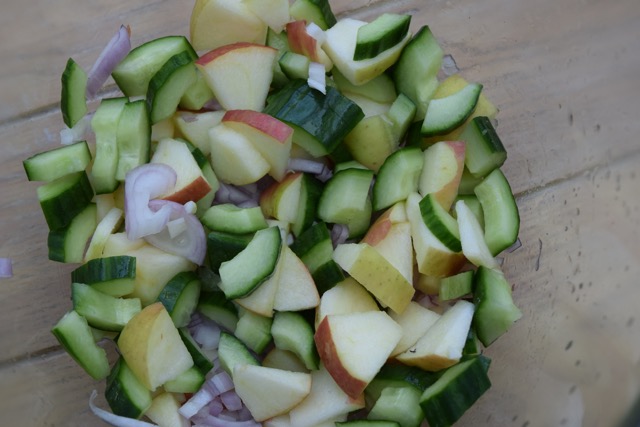 In a final flourish, add the cooled, drained rice, chopped fresh dill, parsley and mint with the flaked salmon or smoked mackerel. Pour on the lemon honey dressing and toss to coat.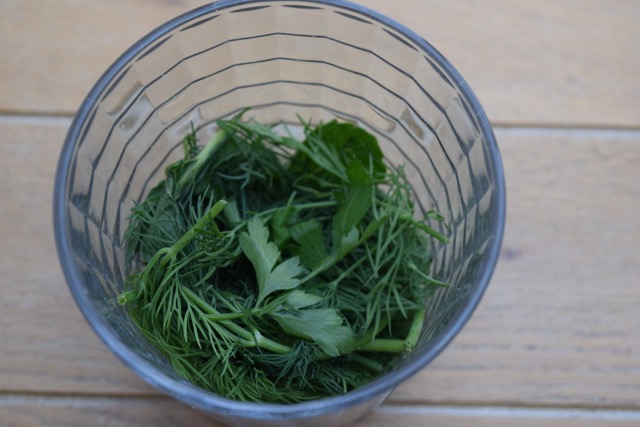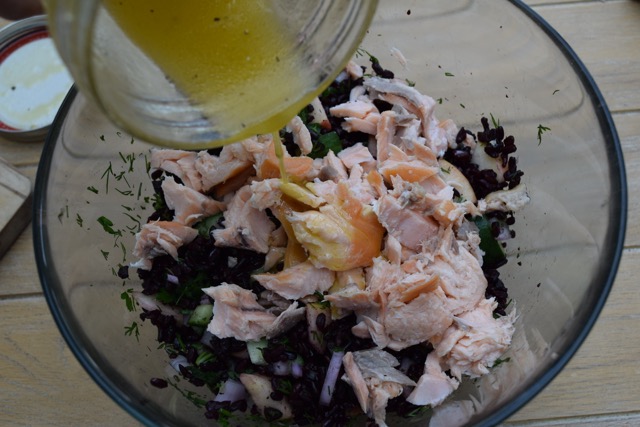 Check for any additional seasoning or another squeeze of lemon or lime juice *eat giant mouthfuls* then tip onto a serving plate or bowl.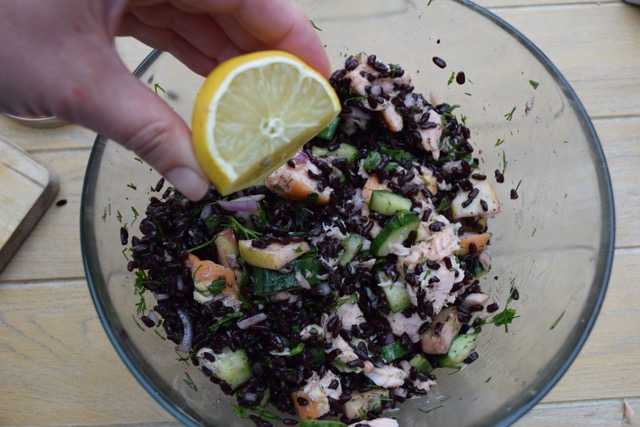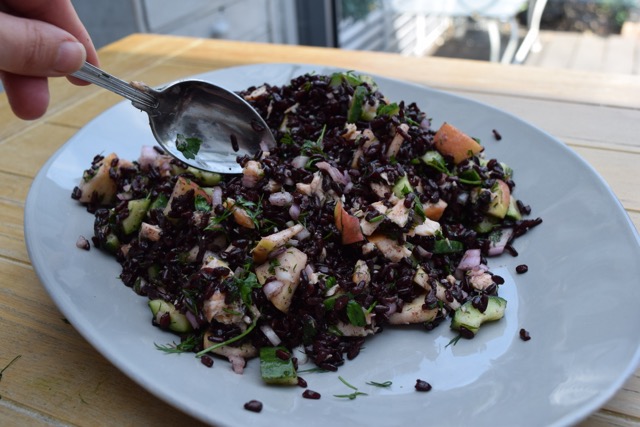 This makes such a delicious summer dish. Serve as a main course or as part of a picnic or buffet *cringey word* lunch.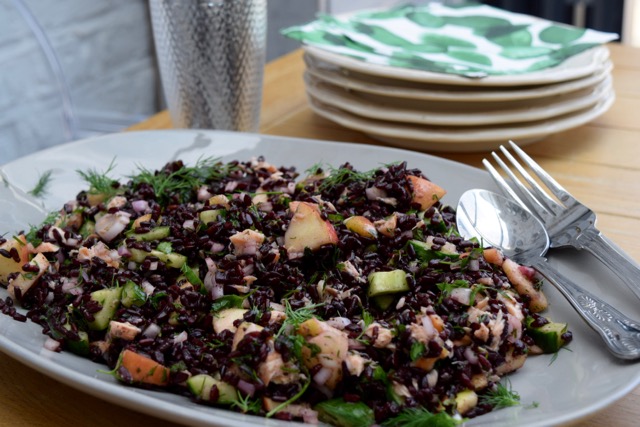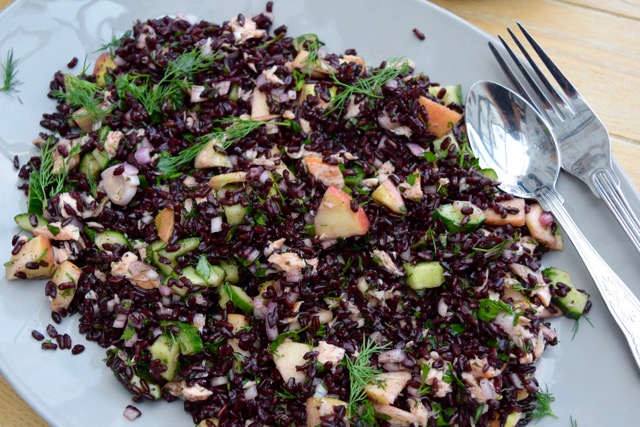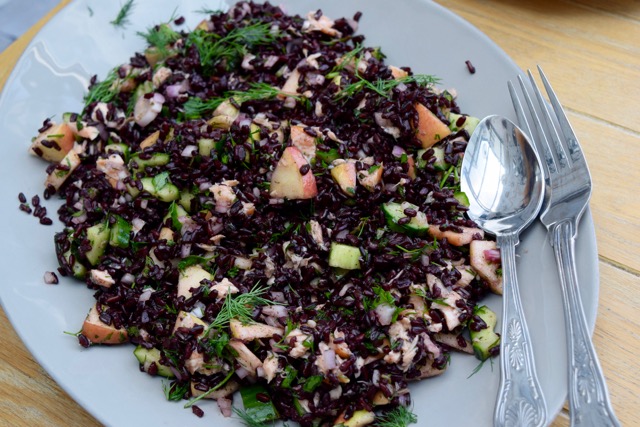 Packed with dill, parsley and just a touch of mint this colourful rice salad is so tempting. Sour apple and salty fish, I could eat this all week, and probably will this summer, thanks to the clever Bronté Aurell.
Lucy x
This post contains an affiliate link to Amazon. This means if you buy, via this link, Lucy Loves will receive a tiny commission, at no extra cost to you, to fund my hungry blogging.
Black Rice and Salmon Salad Recipe
Serves 4 as a main dish, more as a side
200g uncooked black rice, rinsed well, if you can be arsed
1/2 large cucumber, deseeded and chopped
1 apple, cored
1 shallot, finely chopped
Squeeze fresh lemon juice
1/2 bunch fresh dill, finely chopped
2 tablespoons fresh parsley, finely chopped
1 tablespoon fresh mint, finely chopped
150g hot smoked salmon, or smoked mackerel
Dressing
2 tablespoons white wine vinegar, I had white balsamic, which was just fine
2 tablespoons good olive oil
1 tablespoon honey
1 tablespoon freshly squeezed lemon or lime juice, you may need a little more
Salt and pepper to taste
Take a large saucepan and add the rinsed black rice. Cover with cold water then bring to the boil. Cover and simmer for around 35 to 40 minutes, or according to the instructions on the packet. The cooked rice will be soft but with a bit of bite. Drain, rinsing once more, then leave to cool in the colander while you crack on with the rest of the salad.
For the dressing take a small bowl or jar and add the white wine vinegar, olive oil, honey and lemon or lime juice. Season with salt and pepper then shake the jar or whisk to combine.
Take the cucumber, halve it and scoop out the seeds using a teaspoon. Chop into small pieces and add to a bowl, along with the apple, chopped into similar sized pieces. Finely chop the shallot then add to the bowl along with a good spritz of lemon juice and stir well.
Add the cooled black rice and chopped dill, parsley and mint and stir. Flake in the hot smoked salmon. Pour in the dressing and mix well without being too vigorous. Taste to check for any additional seasoning needs or a final spritz of lemon or lime. Serve at room temperature.
Any leftovers will keep well, covered, in the fridge for a good couple of days.
SaveSave
SaveSave
SaveSave