Beetroot and Butternut Soup Recipe
Once again the healthy eating bug has bitten me and with *brace yourself* Christmas not being too far off, I thought I had better get a purchase on my appalling eating habits. Working for a fantastic catering company does your waistline no favours and I have been showing complete lack of will power in the face of numerous recent canape tastings. So, to counter balance all this not entirely healthy, but amazing food, I decided to share with you a soup recipe you can eat, relatively guilt free. Take centre stage my Beetroot and Butternut Soup.
My lovely Dad recently sent me home with a bag of his home grown beetroot. They had been praying on my mind, sitting in the vegetable section of my fridge, so I decided to incorporate them in this colourful dish. Keeping the beetroot company was a butternut squash bought on a whim, so that was also given a starring role in my colourful soup. Roasting these both prior to cooking gives the soup a wonderful intense flavour, as does the addition of a hint of cumin and just a pinch of chilli. To garnish this bright pink soup, I took my frugality to a new level. I kept the seeds from the squash, gave them a rinse then toasted them to golden, crunchy perfection. This is an optional extra but worth it and I can assure you, you will feel particularly wholemeal for using every single part of the butternut squash. I based this elegant dish on a recipe from Dinner with Julie, with thanks to her.
This soup looks so beautiful, I wouldn't hesitate to serve it at a dinner party or as a lunch with tons of toasted seedy bread. As I am trying to be good this week, I am taking my Beetroot and Butternut Soup to work in a vain attempt to keep me away from our amazing lunches.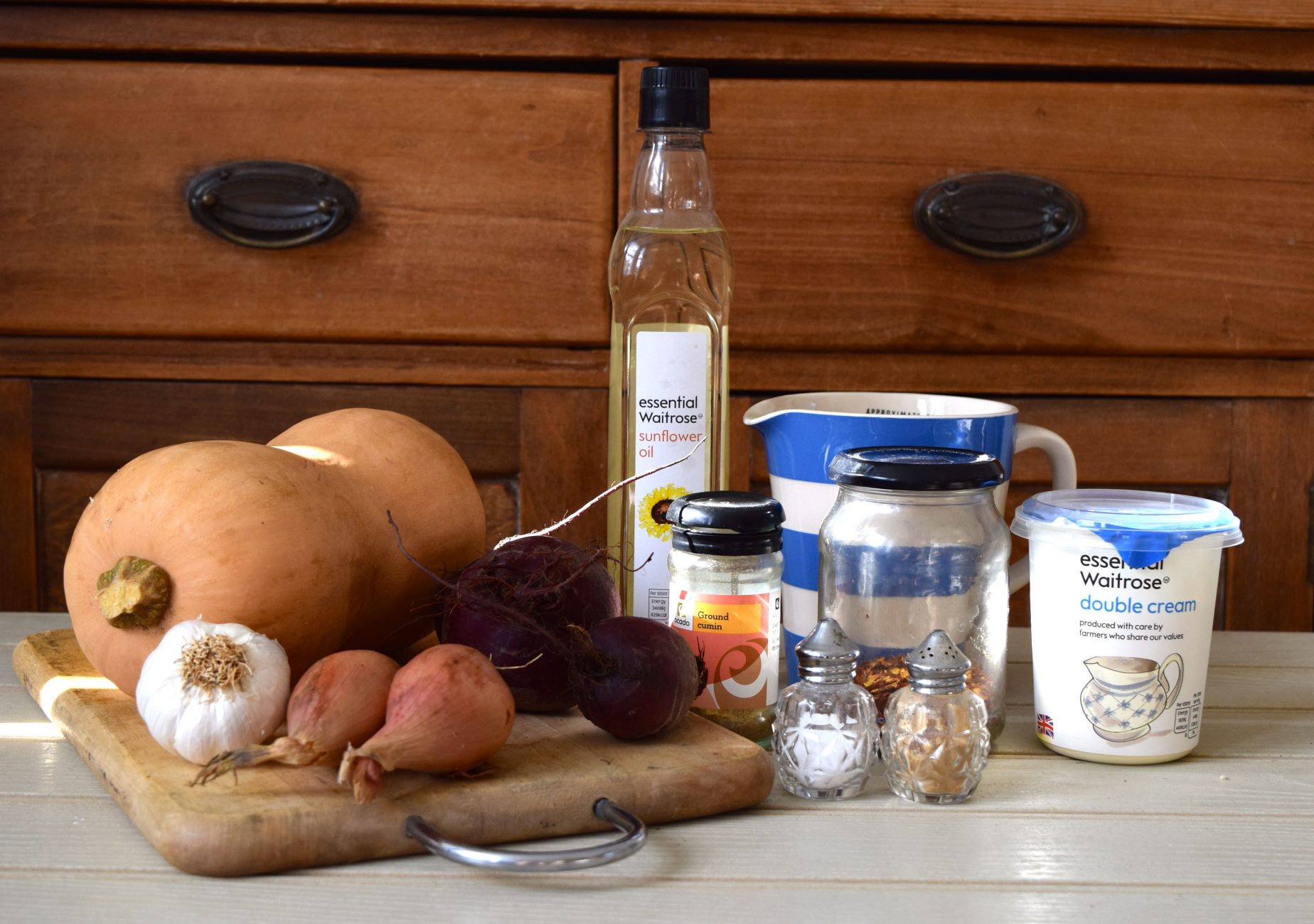 Here's the wonderful line up for my seasonal soup. I know, you spotted the double cream, it's not the healthiest of choices, however, it's only a splash, or if you prefer, do add Greek yoghurt, or as a vegan or diary free alternative, use coconut cream.
Make a start by pre heating your oven to 180 degrees fan assisted. Take your beetroot and cut the root ends off. You have a few choices now, you can either peel these before baking, peel them once they are cooked and cooled slightly, or my choice, don't peel them at all. My beetroots were grown organically in Dad's garden so I just gave them a good wash and didn't bother peeling them at all *bloody lazy*. Wrap the beetroot in foil with just a splash of oil and some salt and pepper then pop in the oven for an hour, or until soft and delicious.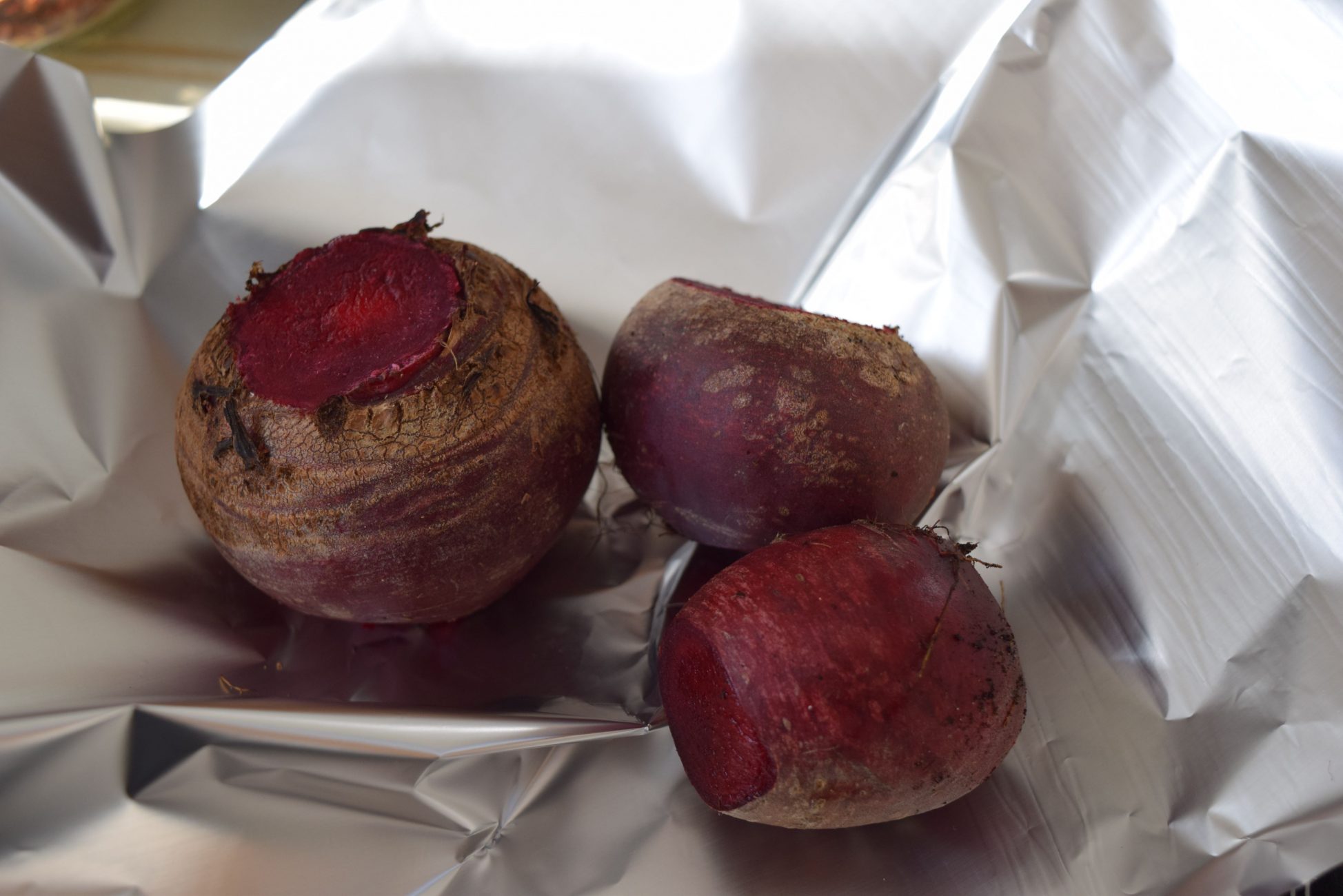 Next on your prep list is the squash. Peel, remove and save the seeds then cut into random chunks.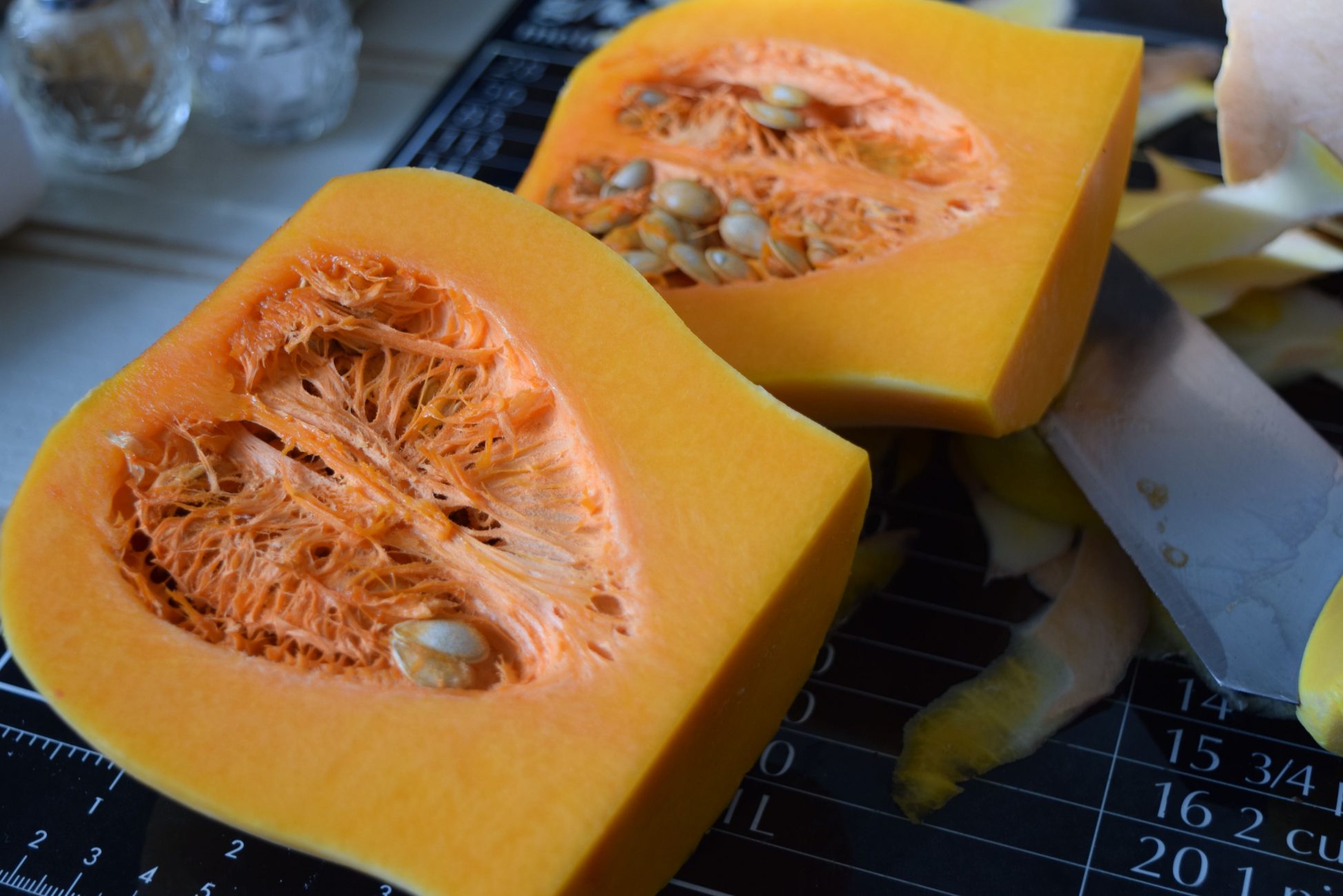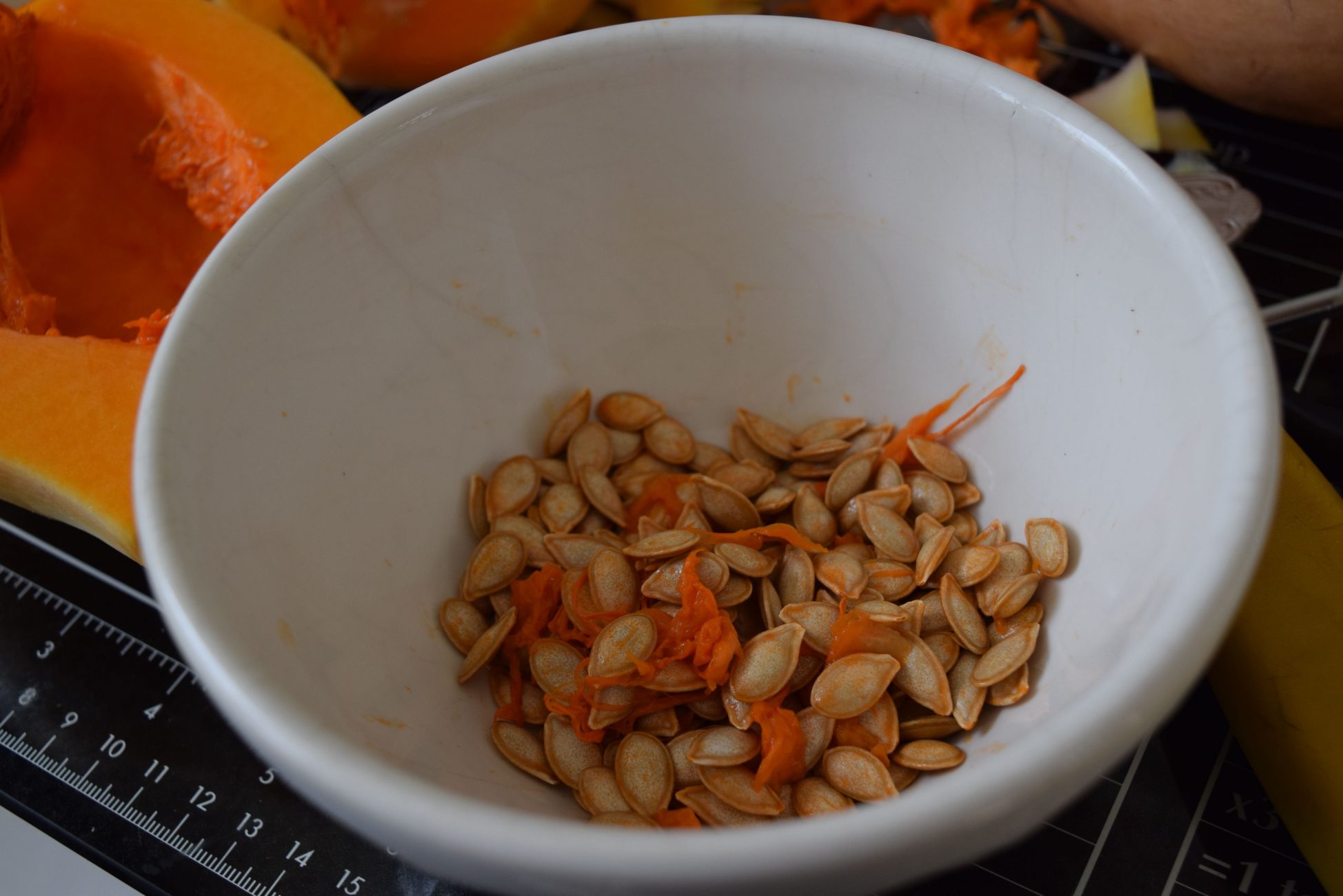 Dust your random butternut cubes with a teaspoon of cumin, drizzle with olive oil, season then pop into the oven, alongside the beetroot for 30 minutes or until softening and starting to brown on the edges.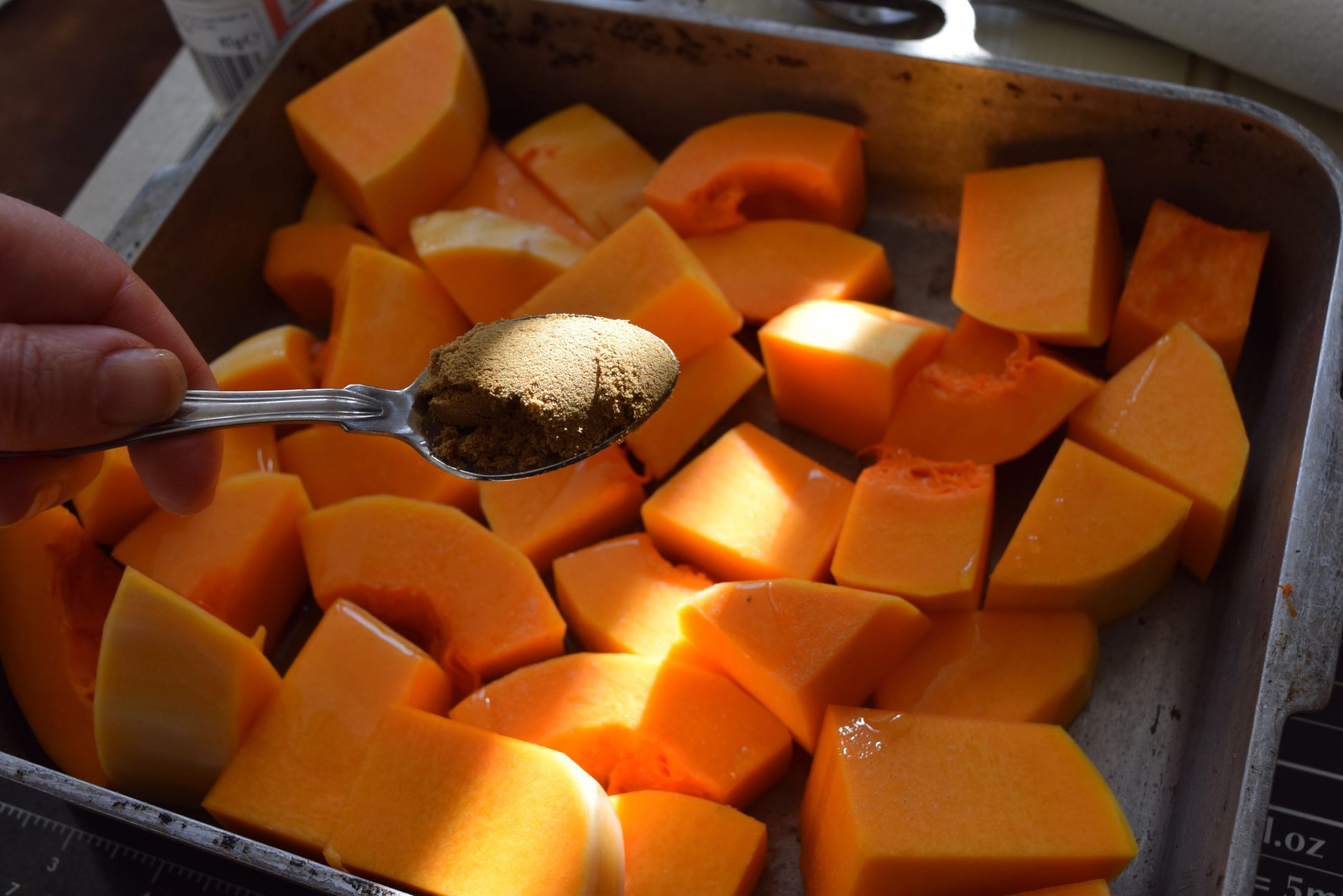 Autumnal vegetables complete with late afternoon sun.
While the oven's hot, crack on with your toasted seed garnish. If you are using your squash seeds, because using some from a packet is also an option, rinse them and pick out any bits of rogue squash strings. Dab with kitchen paper then place on a foil lined baking tray. Drizzle with a touch of olive oil, add a pinch of cumin or chilli flakes or both then place in the oven to toast for 10 to 15 minutes.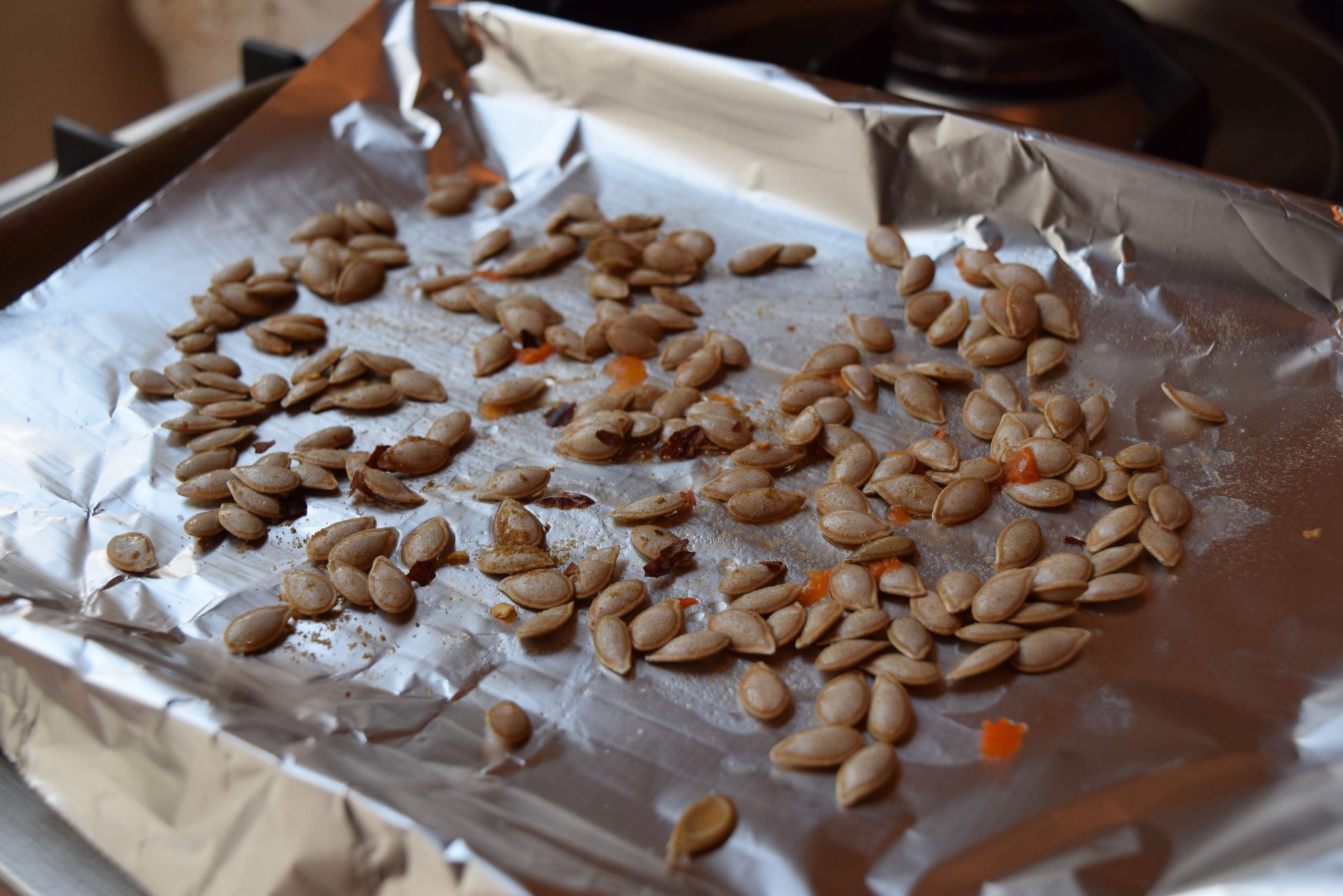 The seeds are ready when they are brown, crisp and quite addictive. I nibbled so many hot from the tray I barely had a spoonful left for my garnish.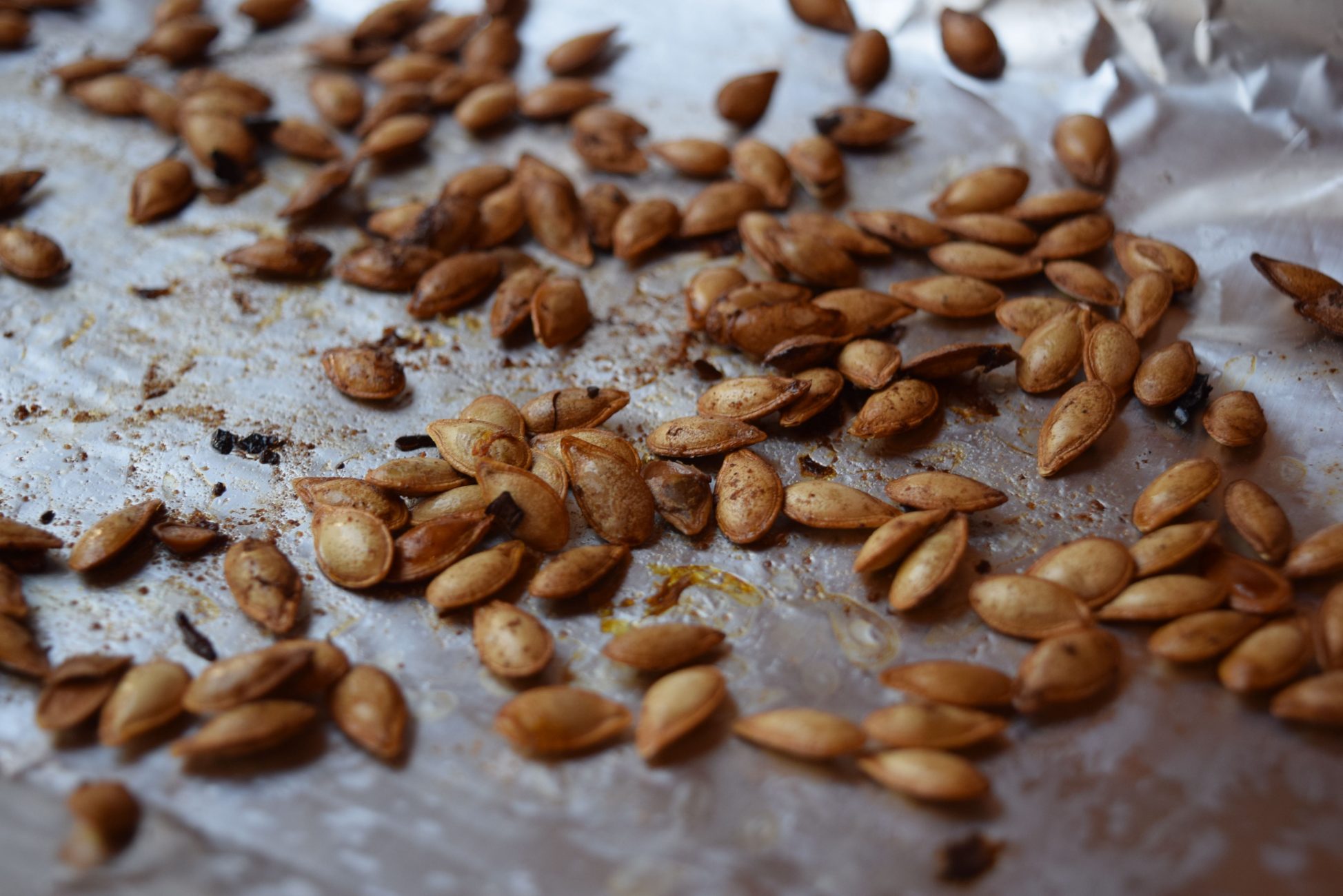 When your squash and beetroot are nearly ready, take a large saucepan and add two tablespoons of olive oil. Over a medium heat, sauté your chopped onion and garlic. You want softening and slight browning, not  burning. This should take about 3 to 4 minutes.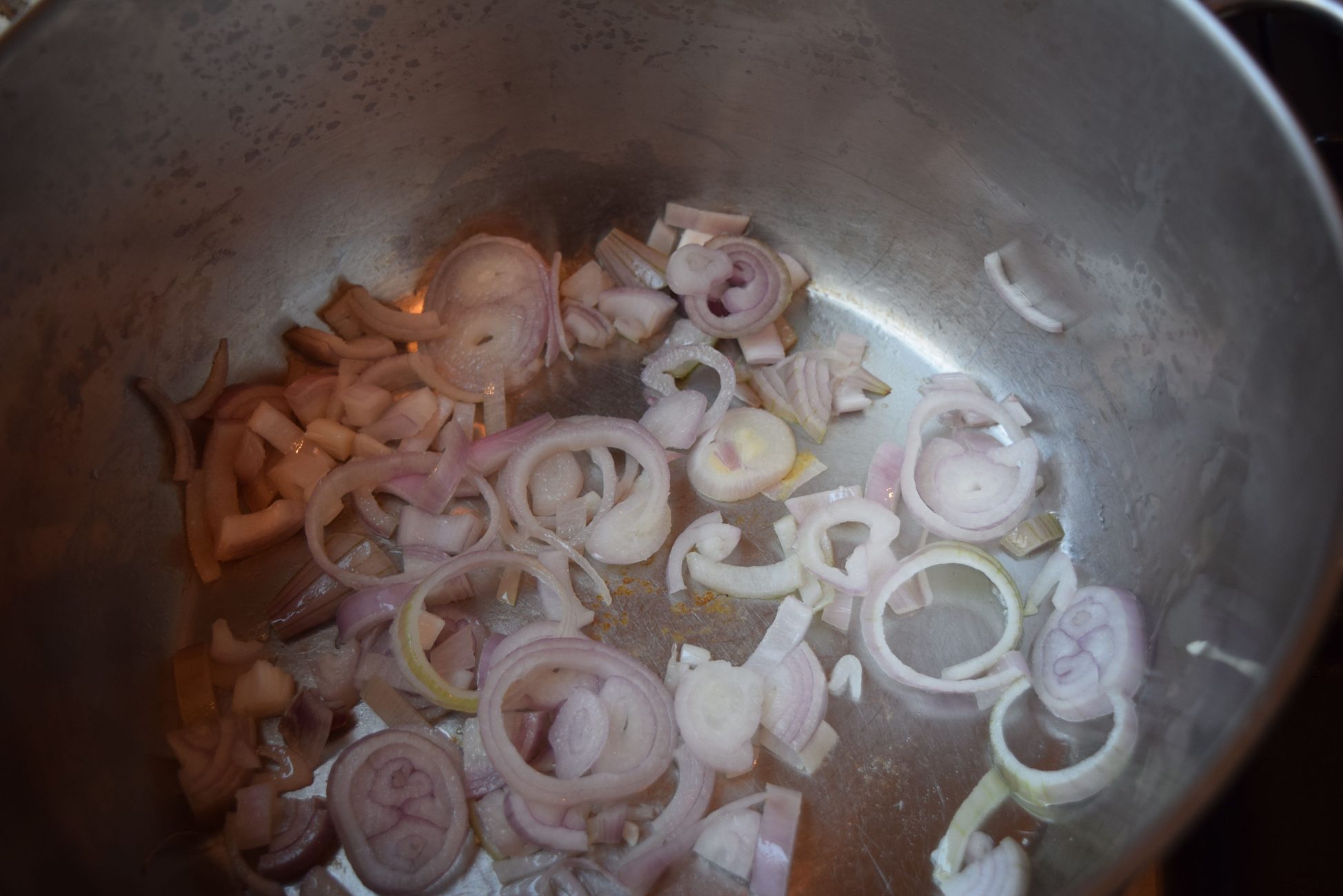 When your squash is ready, tip it into the large saucepan with the onions and garlic.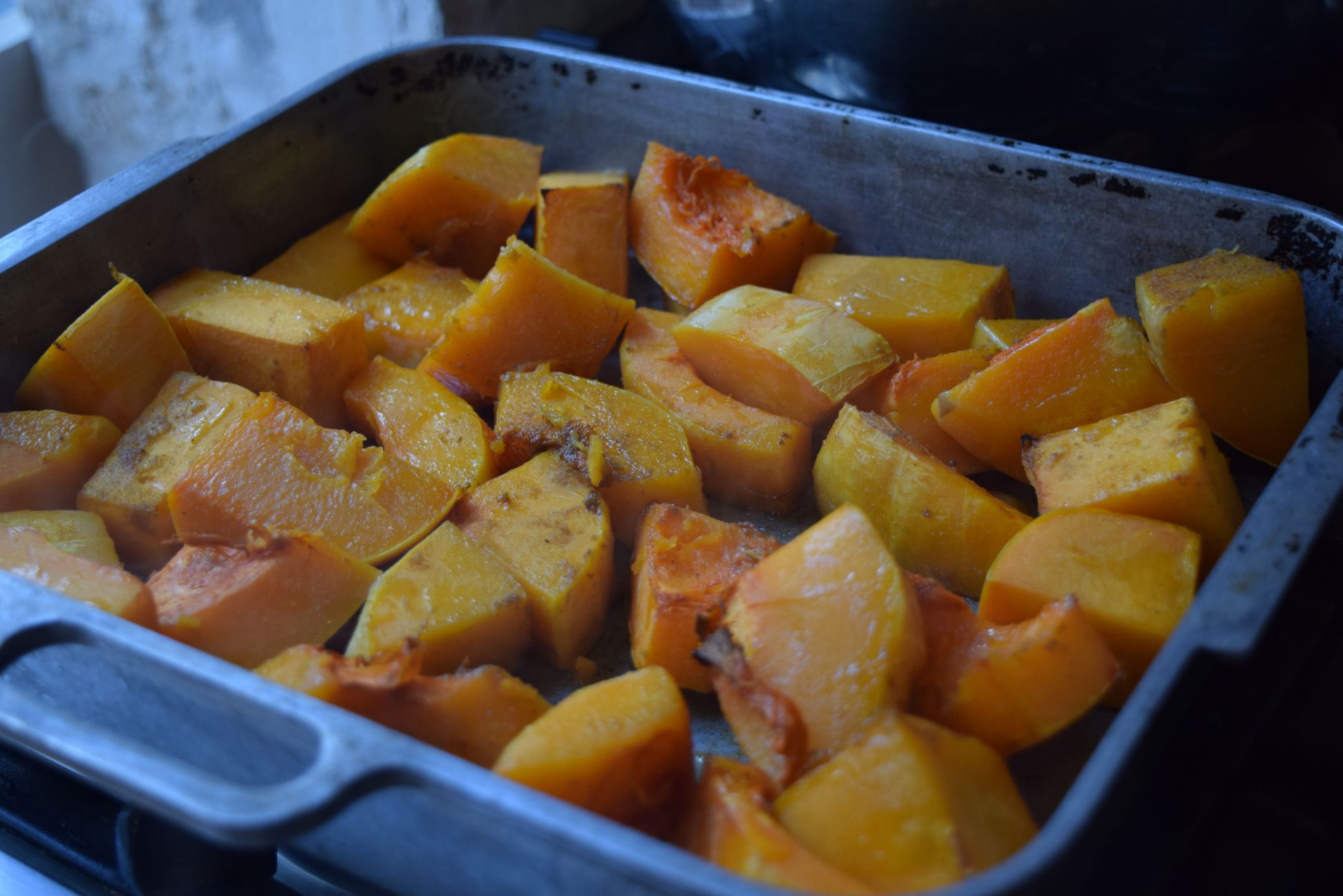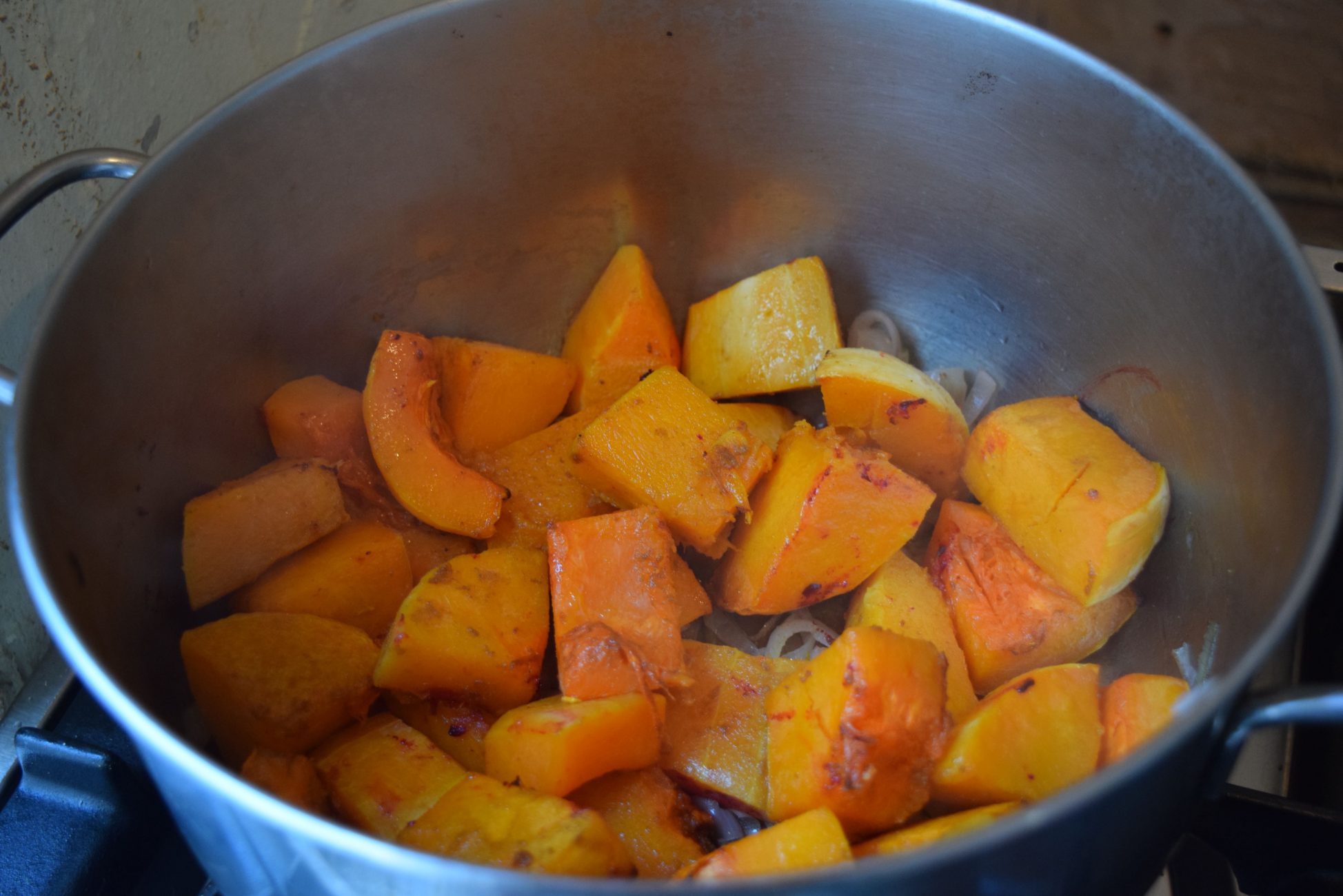 When your beetroot are cooked through, chop them into chunks then add them to the pan too.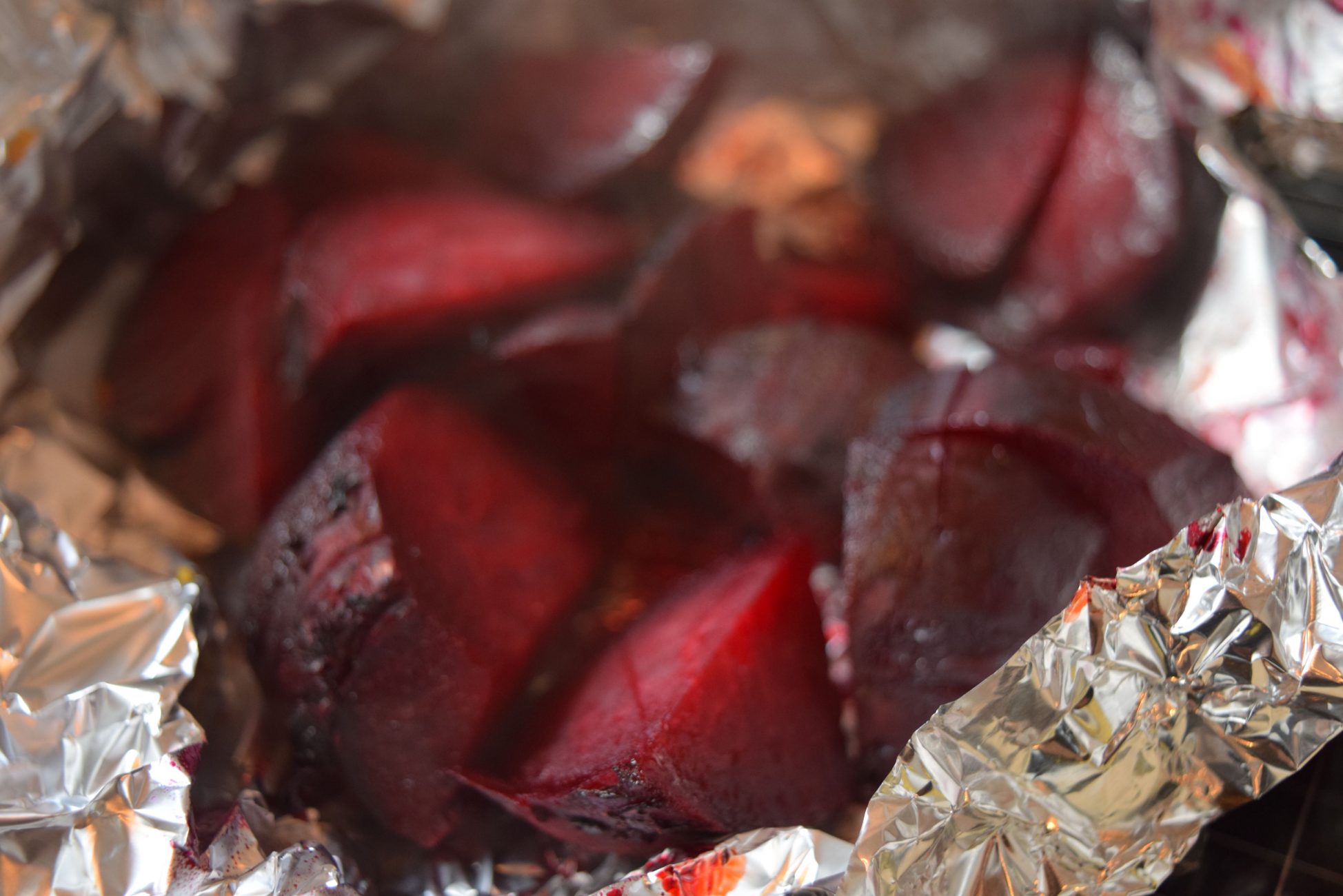 Lazy, lazy me and my unpeeled beetroot. The skins added vitamins and flavour may I add, so my slackness paid off.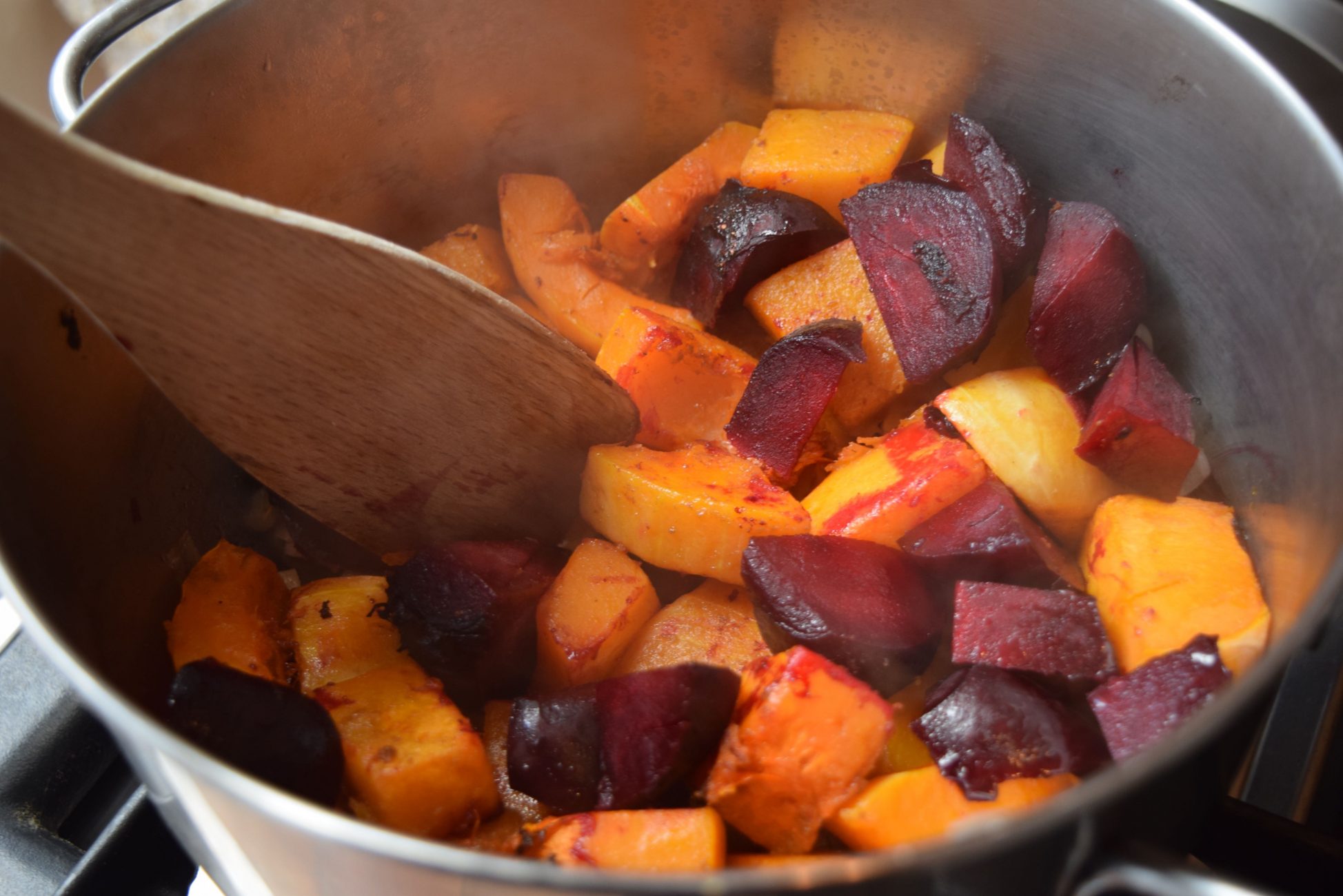 Season this colourful collection then pour on your chosen stock and stir well. Bring up to the simmer and cook for a further 10 minutes to ensure your vegetables are cooked through and the flavours all come together.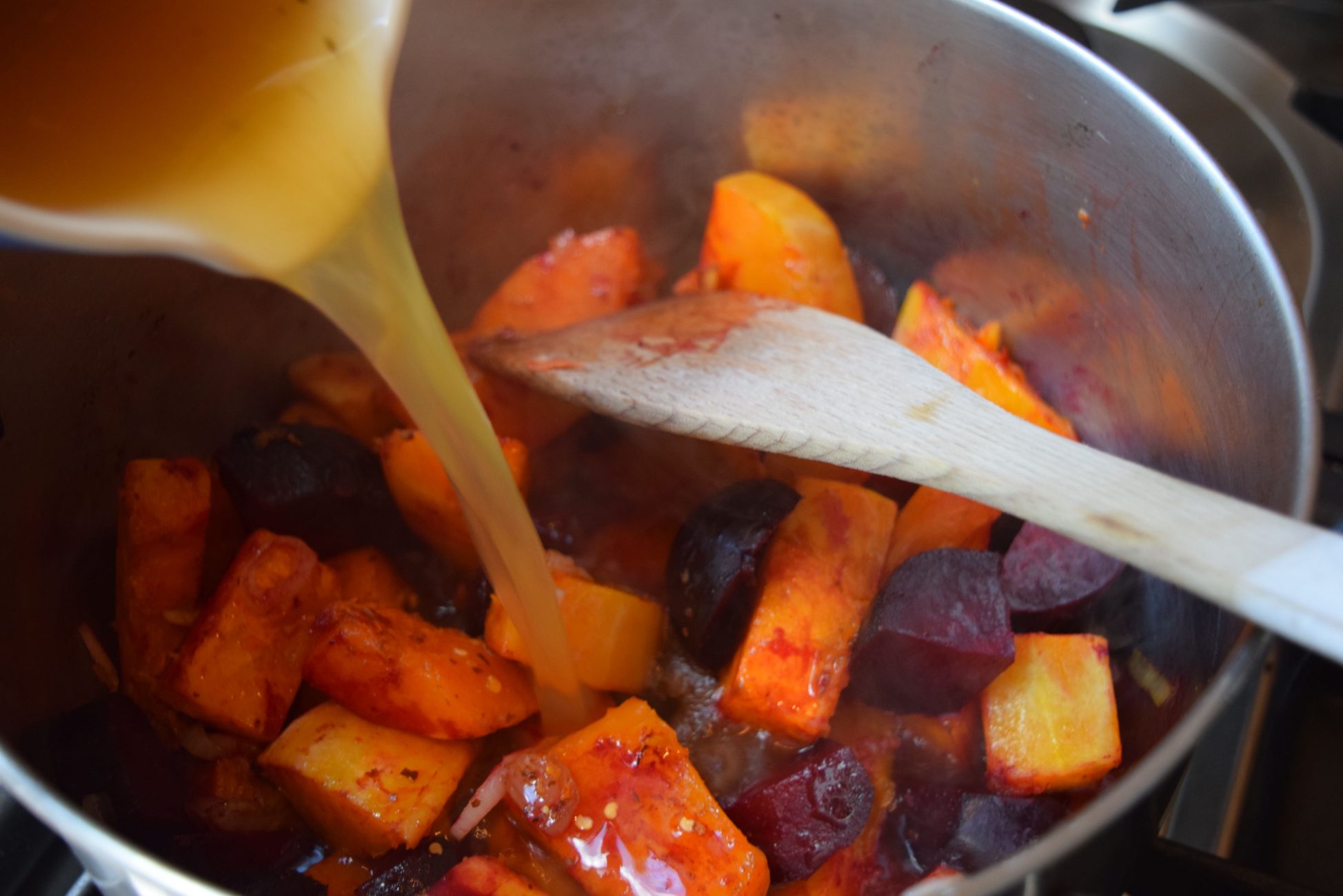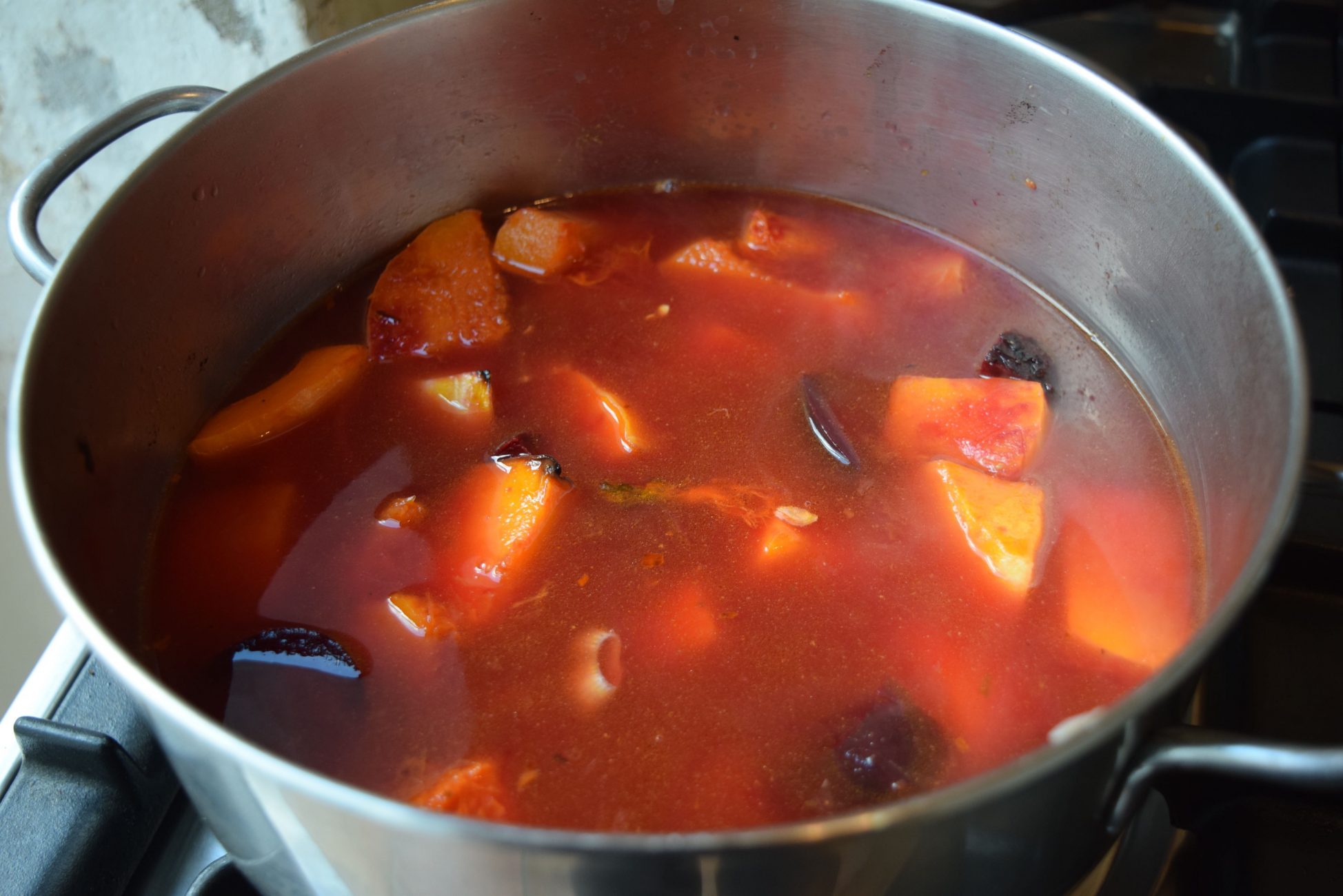 There's no filter on this soup, it genuinely is this colourful.
Blend this vibrant soup in your food processor or blender until smooth. You may have to do this in batches as it's quite a large volume.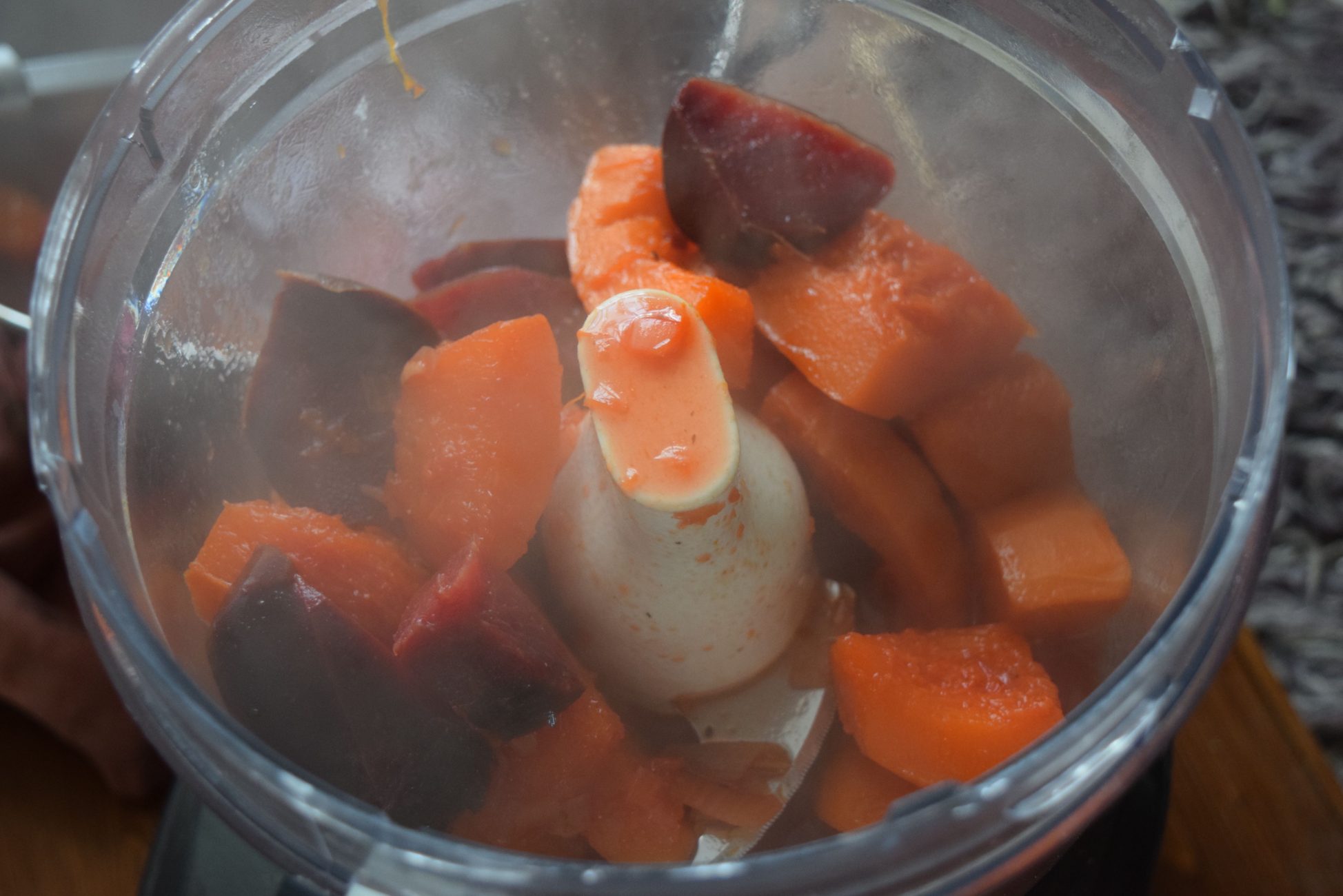 Return the pureed soup to the pan and stir through the cream, yogurt or coconut cream. Bring back up to the simmer, don't boil or it may curdle, then serve immediately sprinkled with your toasted seeds.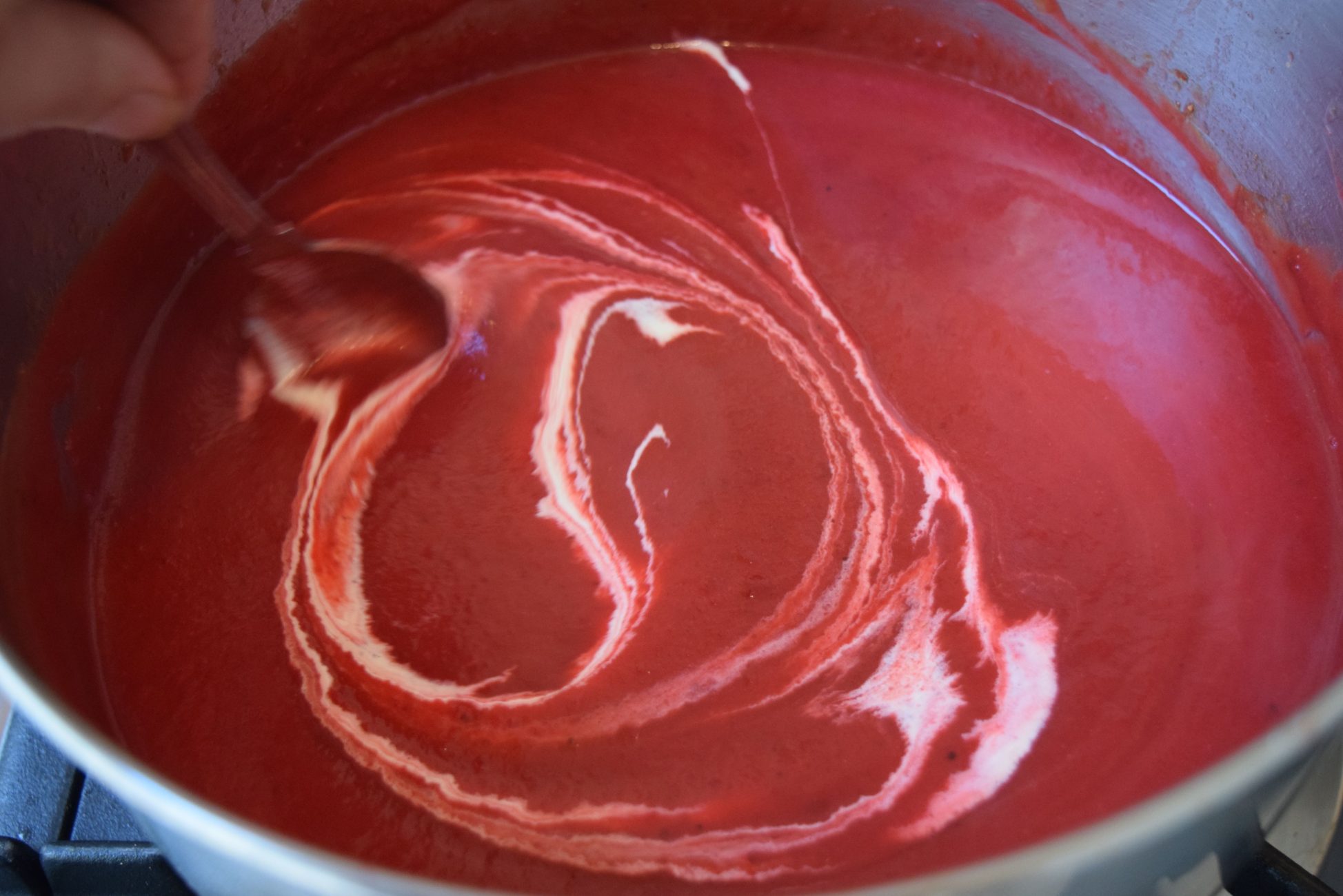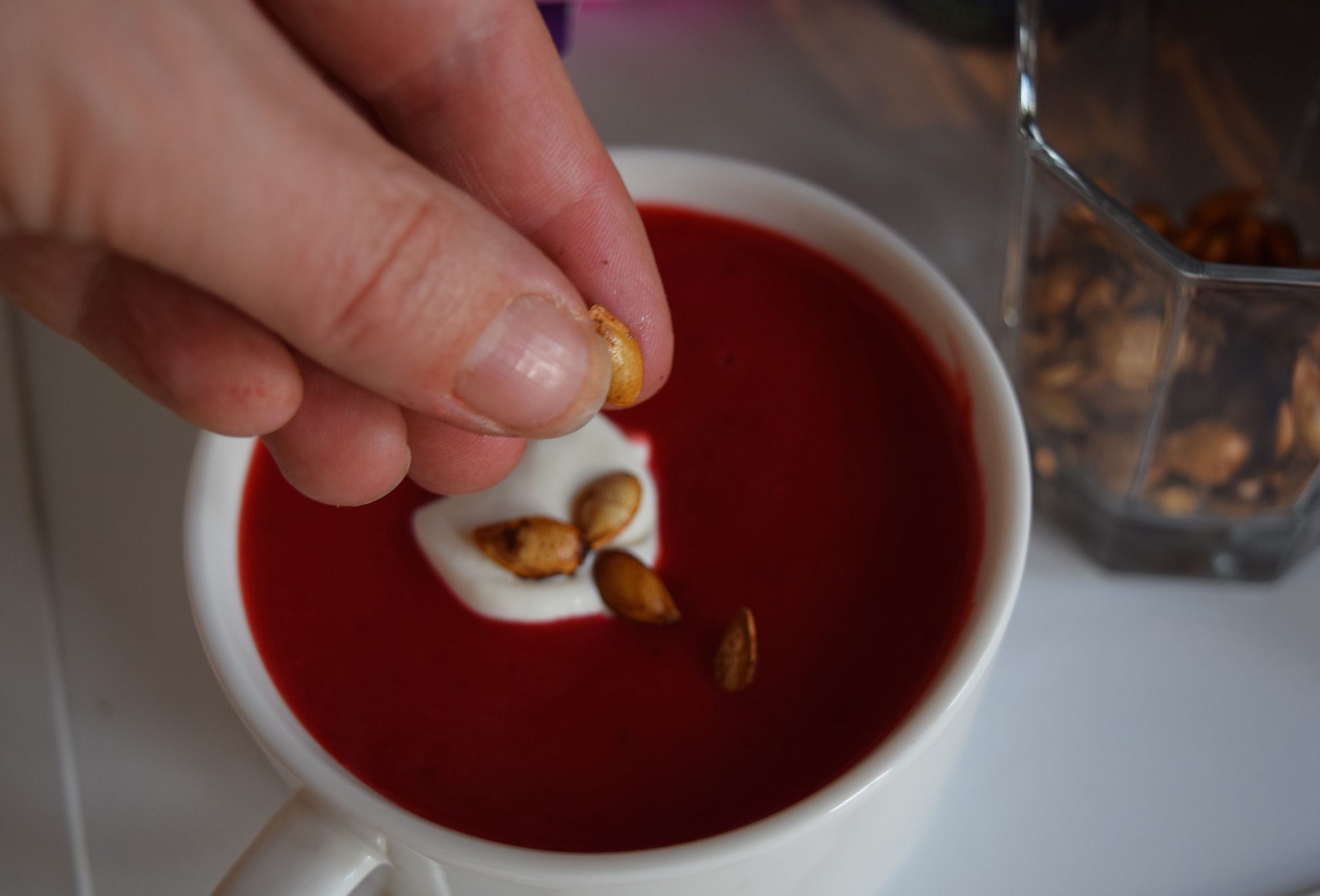 Enjoy this elegant, seasonal creation with plenty of toast, bread, crackers or just a large spoon.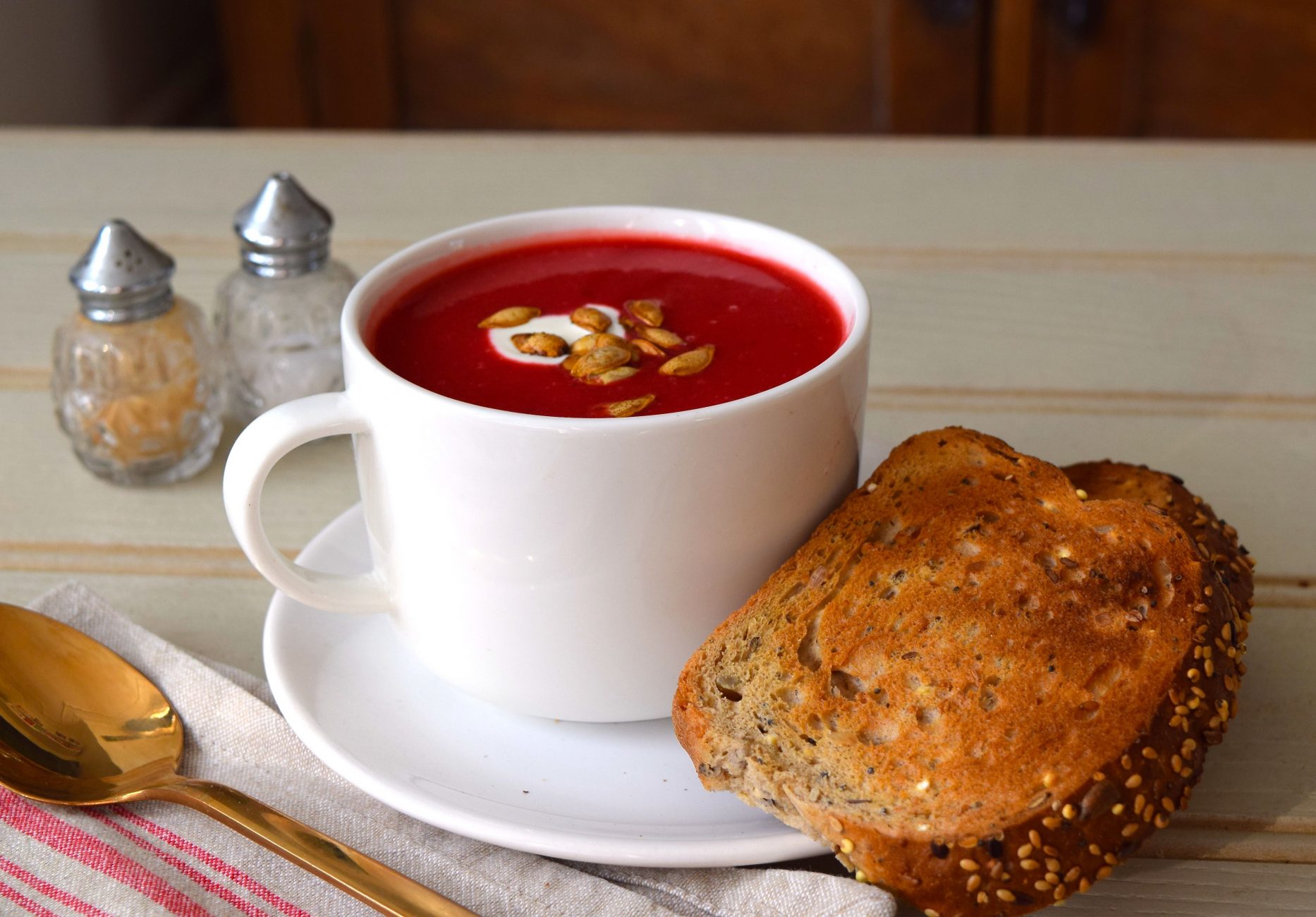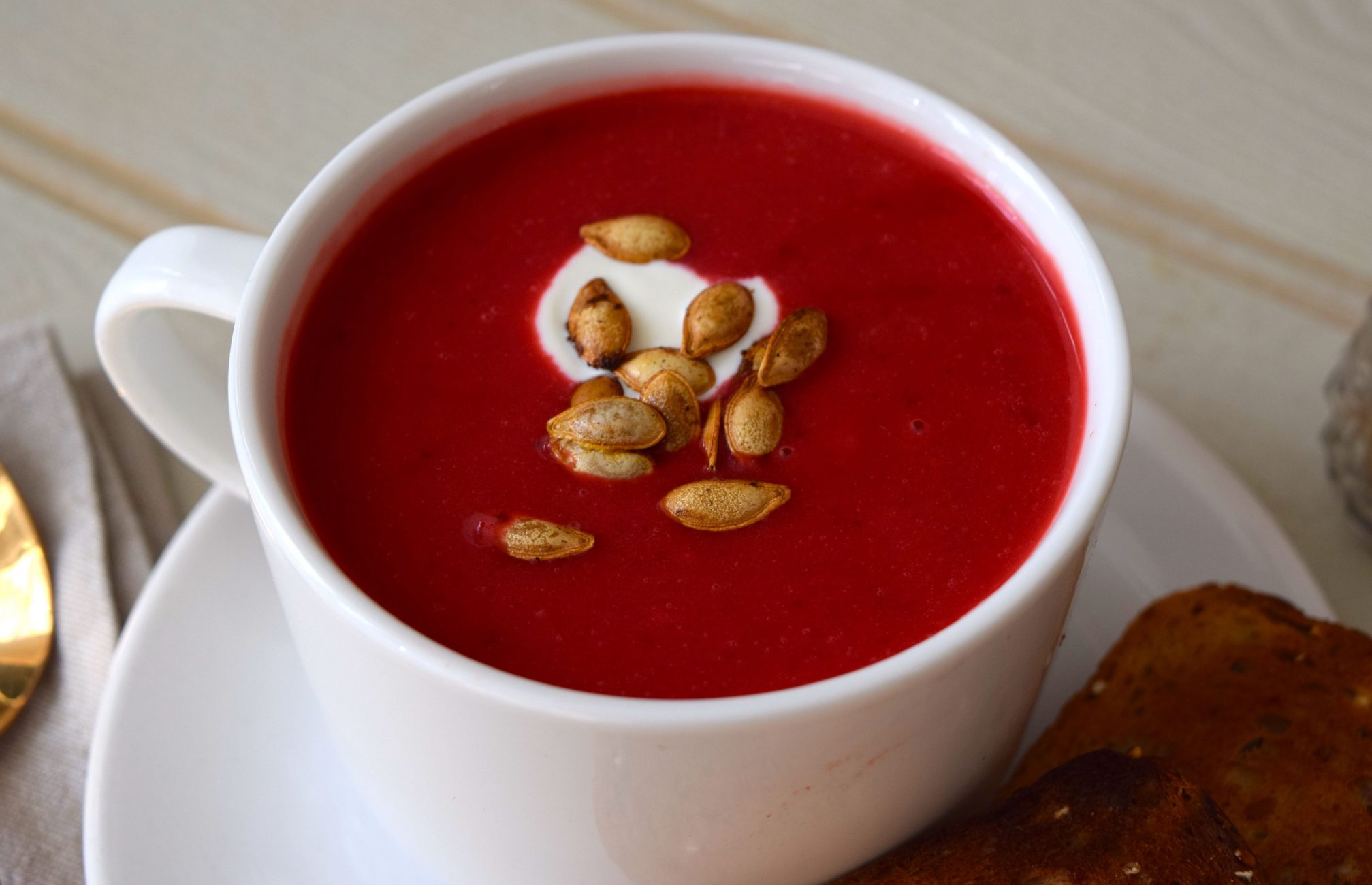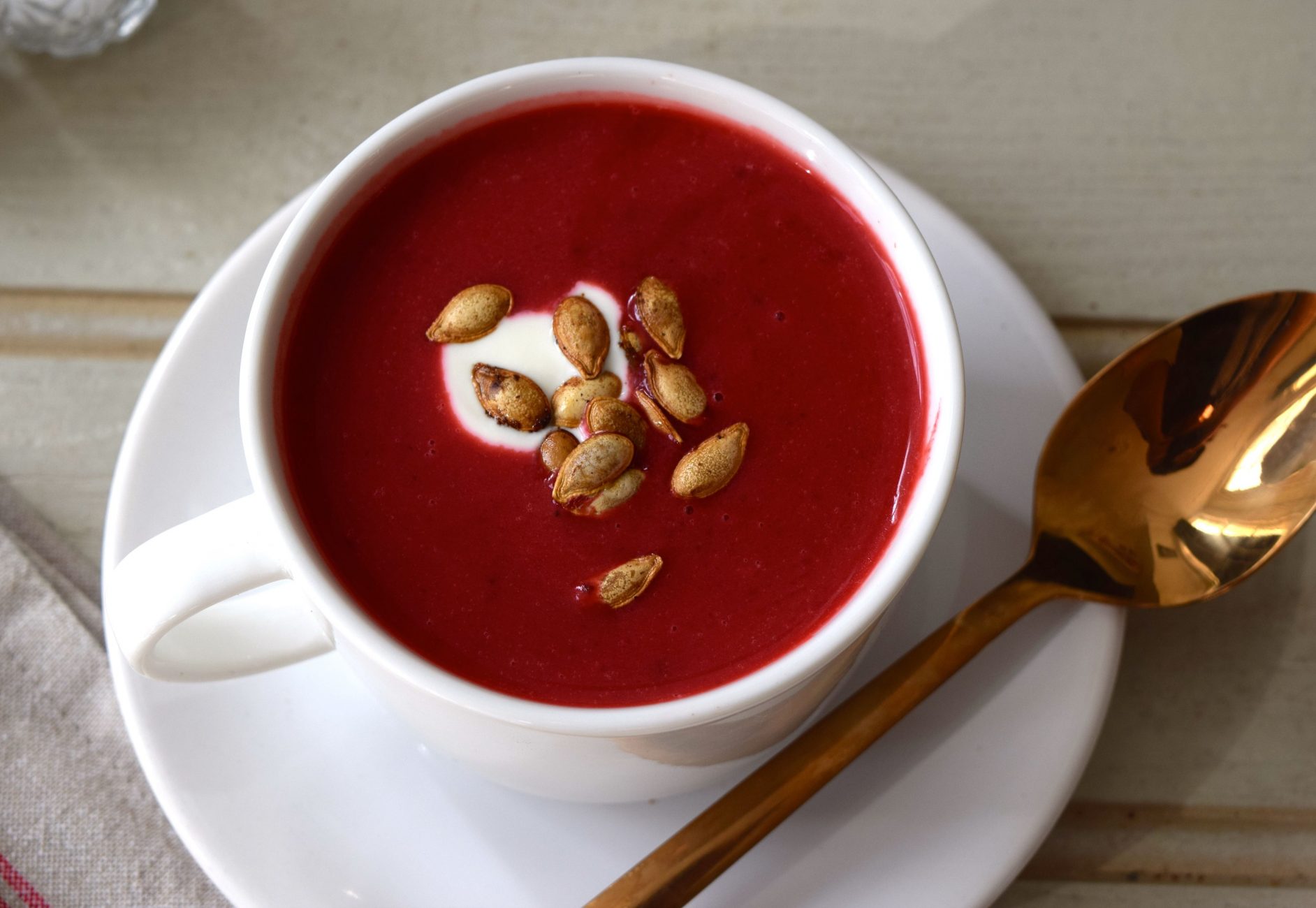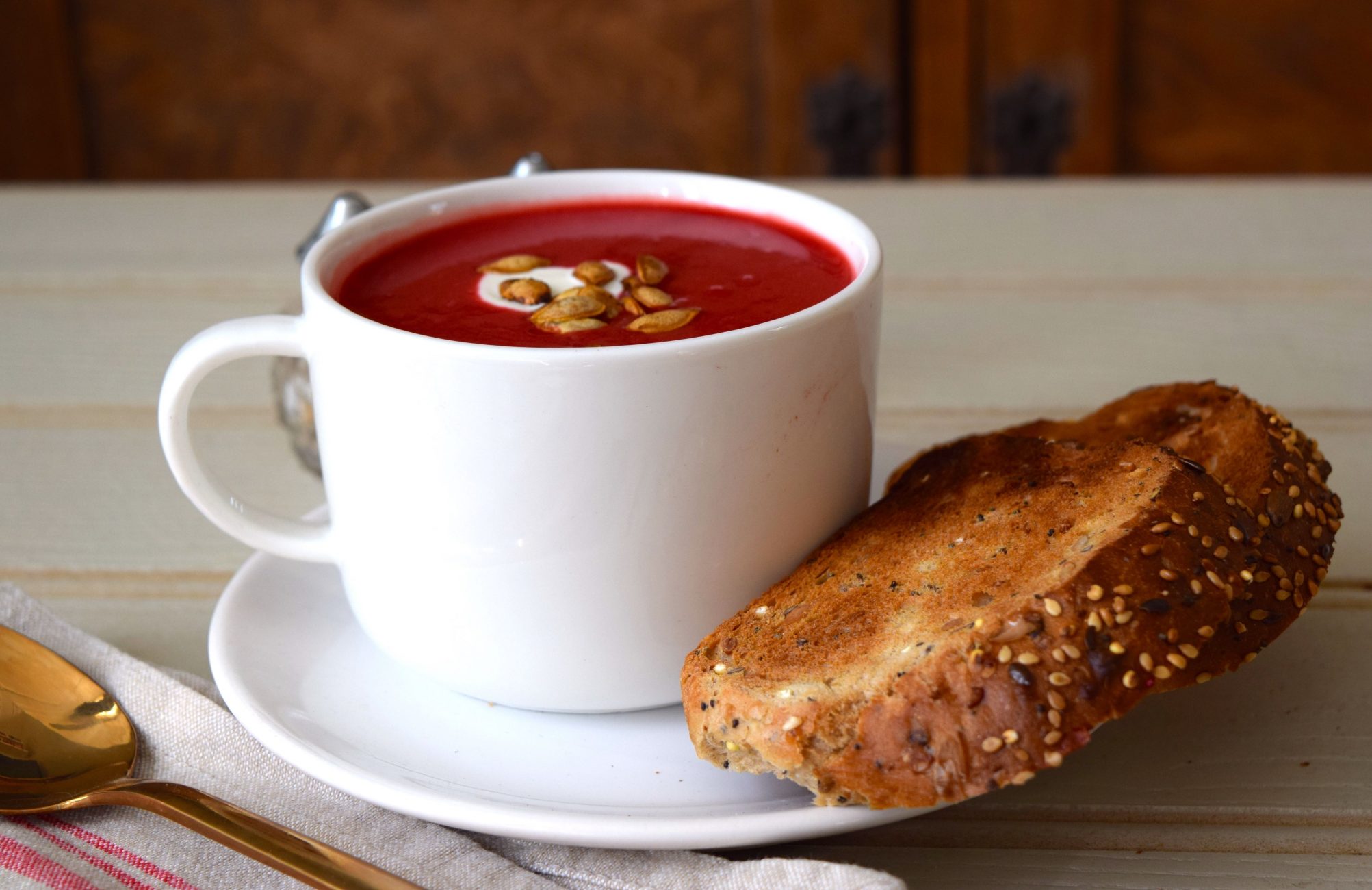 Soup is what autumn is all about for me. Holding a warm cup in your hands and wiping the bowl clean with your crusts. The earthy taste of beetroots, the sweetness of the squash and a hint of crunch, this soup has such an appealing flavour.  The fact it is packed with vitamins is an added bonus. You can legitimately eat this day in day out until spring, hooray.
Lucy x
Beetroot and Butternut Soup Recipe
Serves 6, at least
You will need a blender or food processor
2 to 3 beetroot, roots removed and peeled, or not
1 butternut squash, peeled and roughly chopped, keep the seeds
1 teaspoon ground cumin
4 tablespoons olive oil, 1 for the squash, 1 for the beetroot, 2 for the onions and garlic
1 onion or 2 shallots, peeled and roughly chopped
2 garlic cloves, roughly chopped
Pinch of chilli flakes
1250ml chicken or vegetable stock
60ml double cream, Greek yogurt or coconut cream for dairy free
Salt and pepper
Toasted Squash Seeds
Seeds from your butternut squash or two tablespoons pumpkin seeds from a packet
a drizzle olive oil
a pinch of cumin or chilli flakes, or both
Salt and pepper
Garnish with a blob of sour cream, Greek yogurt or coconut cream and sprinkled with your toasted seeds
Pre heat your oven to 180 degrees fan assisted.
Remove the roots and peel your beetroot, or not if you can't face it or peel them once cooked, drizzle with a tablespoon of oil then wrap tightly in foil. Place in the oven and cook for an hour, or until just soft.
Peel and chop your squash, reserving the seeds. Place the squash cubes in a baking dish, drizzle with 1 tablespoon of oil and a teaspoon of cumin then place in the oven for 30 to 40 minutes or until soft and starting to brown at the edges.
While the oven is hot, rinse your reserved squash seeds and remove any strands of squash. Place them on a tray lined with foil then drizzle with olive oil and add a pinch of chilli flakes or cumin or both. Bake for 10 to 15 minutes or until golden and starting to pop. Keep until you are ready to serve the soup.
In a large saucepan, add the remaining two tablespoons of olive oil and heat over a medium heat. Add your chopped onion or shallot and garlic and sauté for a couple of minutes or until starting to soften and caramelise. Once your squash is cooked, add this to the saucepan.
When the beetroot is cooked, chop into small pieces and add to the saucepan along with squash. Stir well then add a pinch of chilli flakes, salt and pepper then pour in the stock. Simmer for 10 minutes then leave to cool for a moment before processing or blending.
Return the soup to your saucepan and stir through the double cream, bring back to the simmer but don't boil, check for any additional salt and pepper needs then serve, piping hot, with a spoonful of sour cream, coconut cream or Greek yogurt. Sprinkle with your toasted squash seeds and devour.
Any leftovers can be kept in the fridge for 3 or 4 days or freeze for up to a month.