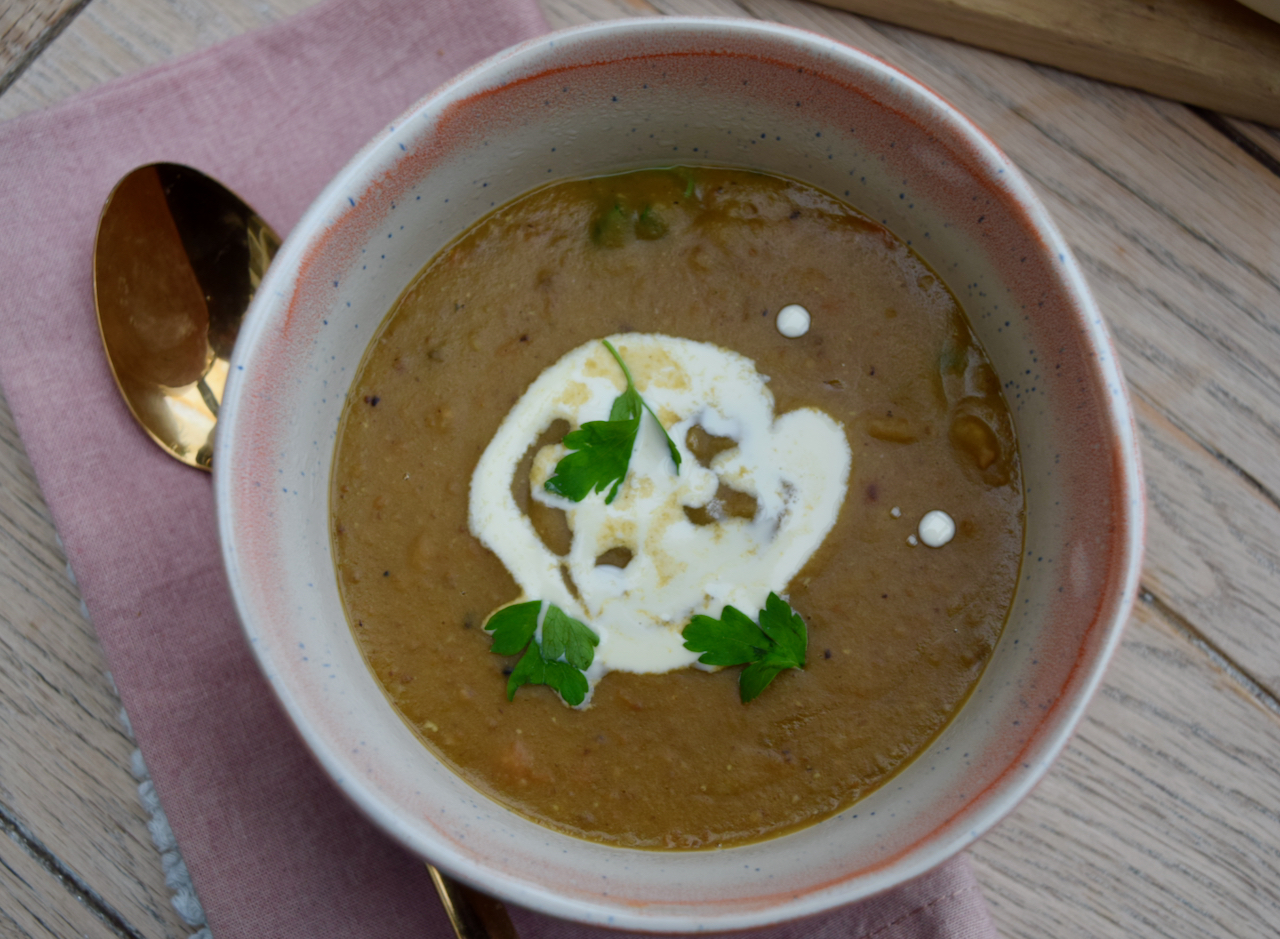 Lentil and Chestnut Soup recipe
I'm back from the sun and raring to go. Well, not exactly raring as I've got a bloody awful cold, but I'm excited to be back and cooking again. Not that it hasn't been amazing being fed by someone else for 10 days, but there's only so much sitting on your arse doing nothing one can take. So because a) I've got a cold and b) I still have a cupboard full of Christmas bits to use up, here's my Lentil and Chestnut Soup to soothe and restore.
Along with being a comforting, filling bowl of wholesomeness, this soup is vegan so for those partaking in Veganuary and running out of ideas, this is a lovely one to add to your list. I had everything I needed for this Lentil and Chestnut soup lurking in the either the back of the cupboard or hidden in the fridge. The boys had eaten us out of house and home while we were away, but needless to say there were plenty of vegetables left. This is made with a simple base of onions, carrots and celery for sweetness and flavour. The lentils and chestnuts add yet more sweetness and warmth and when blended down, a velvety bowl of soup. Ok so it's quite brown and never going to win any beauty competitions but this recipe is simple, frugal and really rather tasty. Thank you to Serious Eats for this great way to use up my festive chestnut glut.
Soup is what I need at the moment not only to feed my cold but to also help me lose the rather unattractive beer/cocktail belly I picked up in Barbados.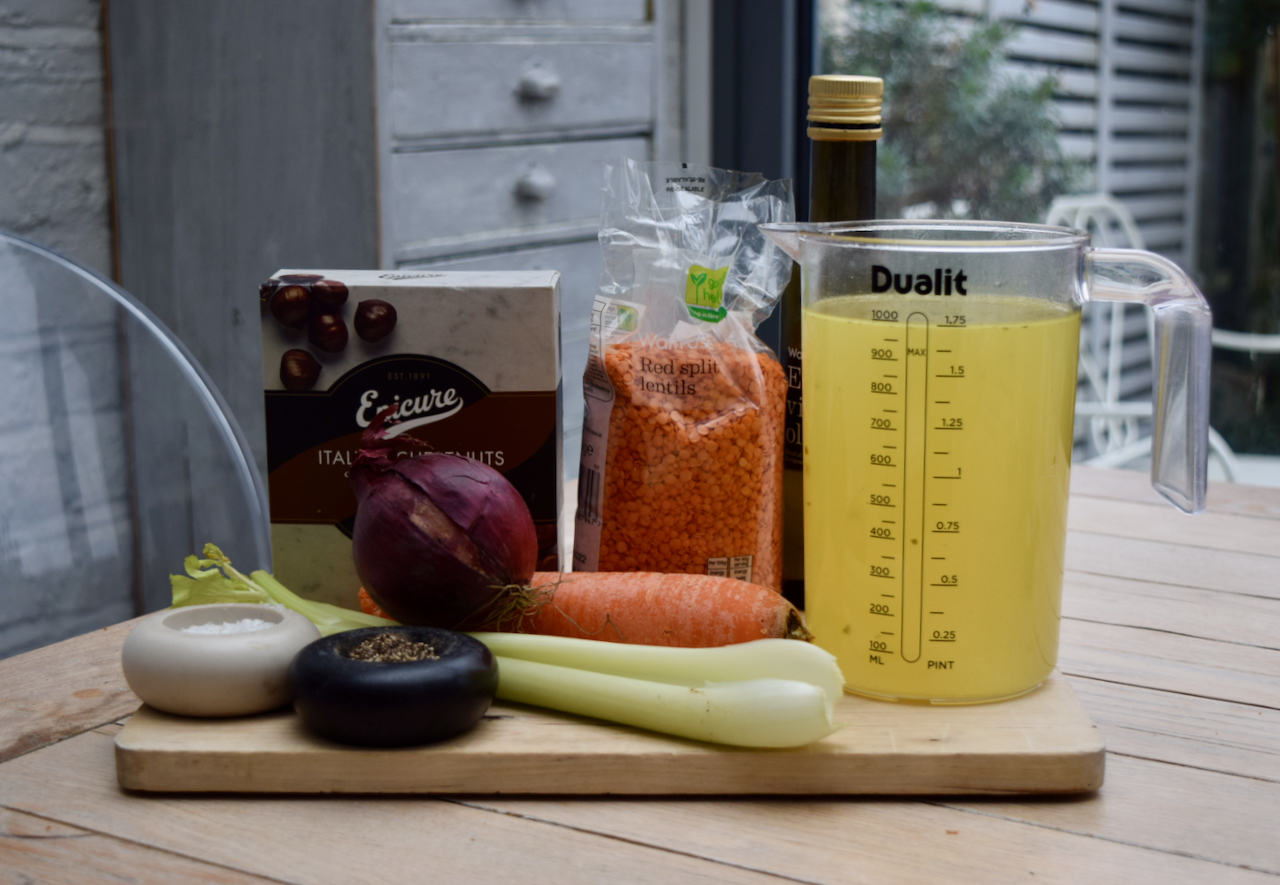 Simple and frugal is what I need at the moment. January is a lean month all round, so this recipe uses up what I had to hand in the most delicious way.
Make a start with a large pan and a couple of tablespoons of olive oil over a low heat. Add the roughly chopped onion, carrot and celery, season well, pop a lid on and cook until just starting to soften but not brown.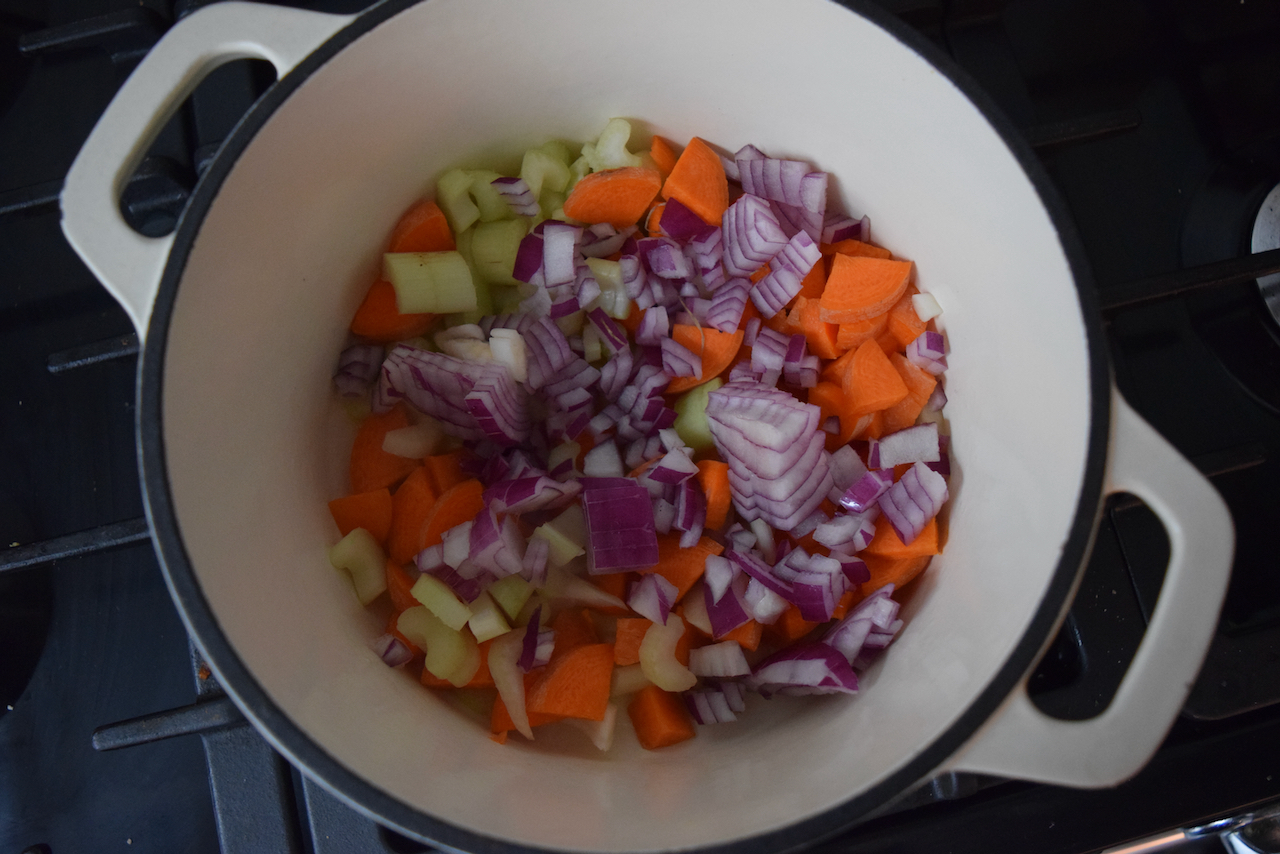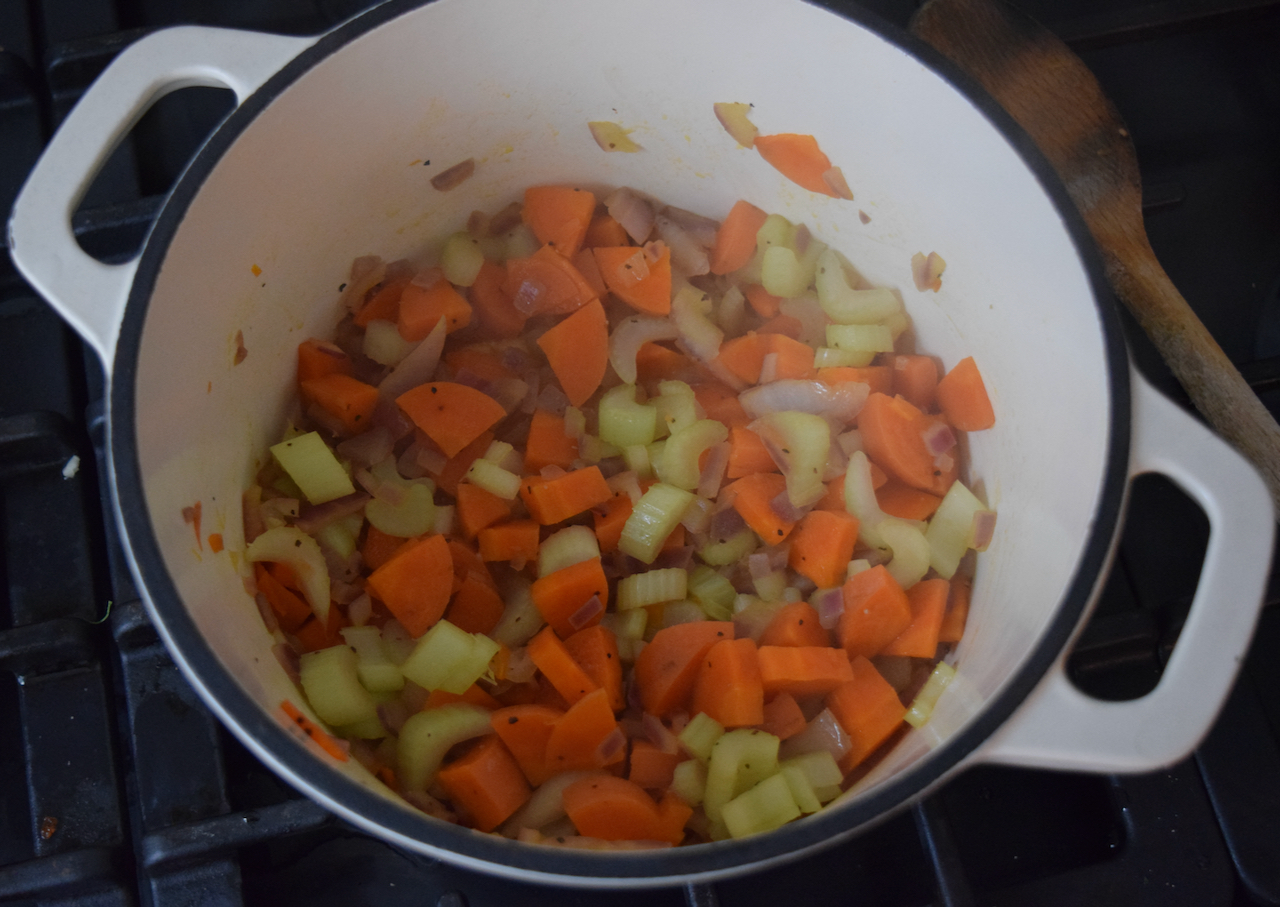 Stir through the lentils and chestnuts then pour on the stock. My chestnuts were the vac packed sort btw, so pre cooked.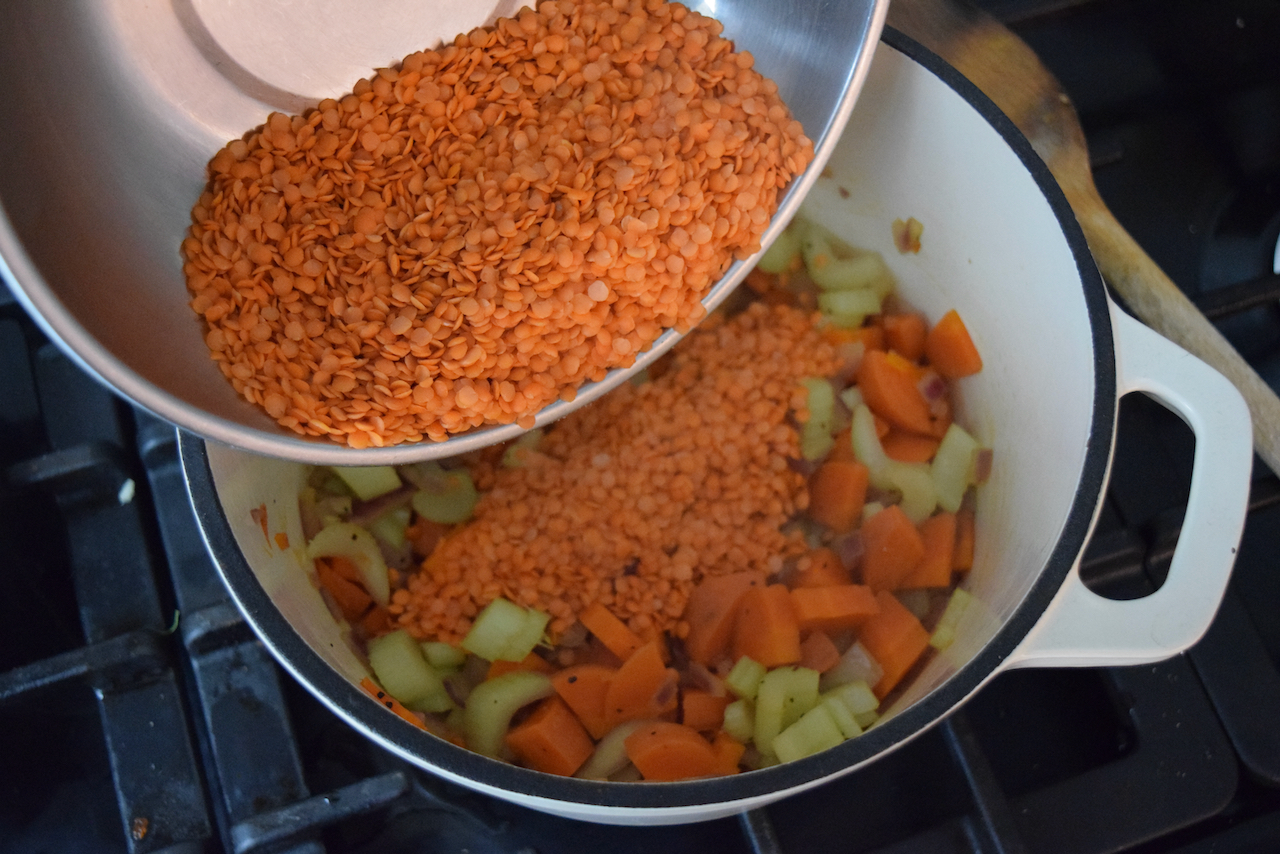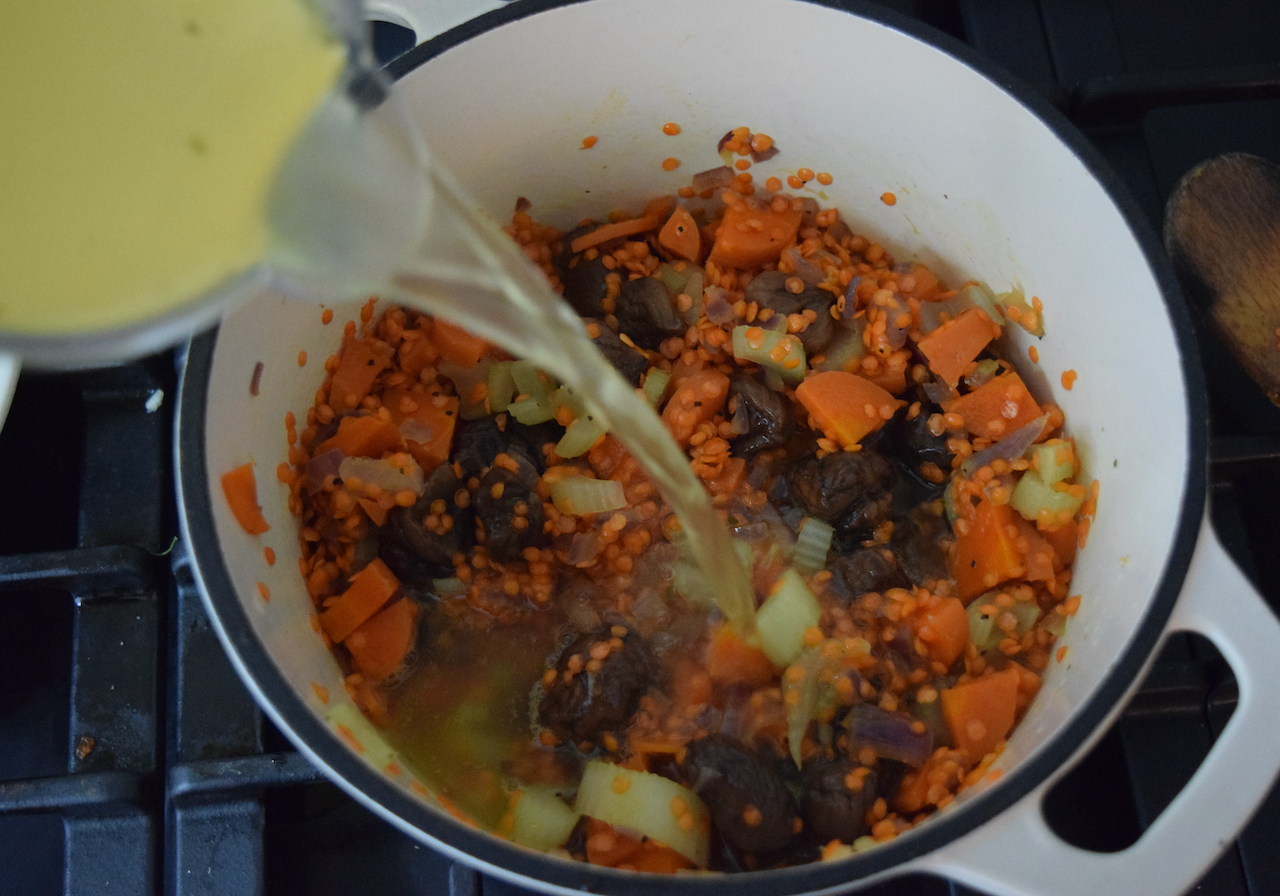 Stir again, bring up to the simmer then turn the heat down and cook with the lid on for around 25 minutes. You want the lentils and vegetables to be soft and tender.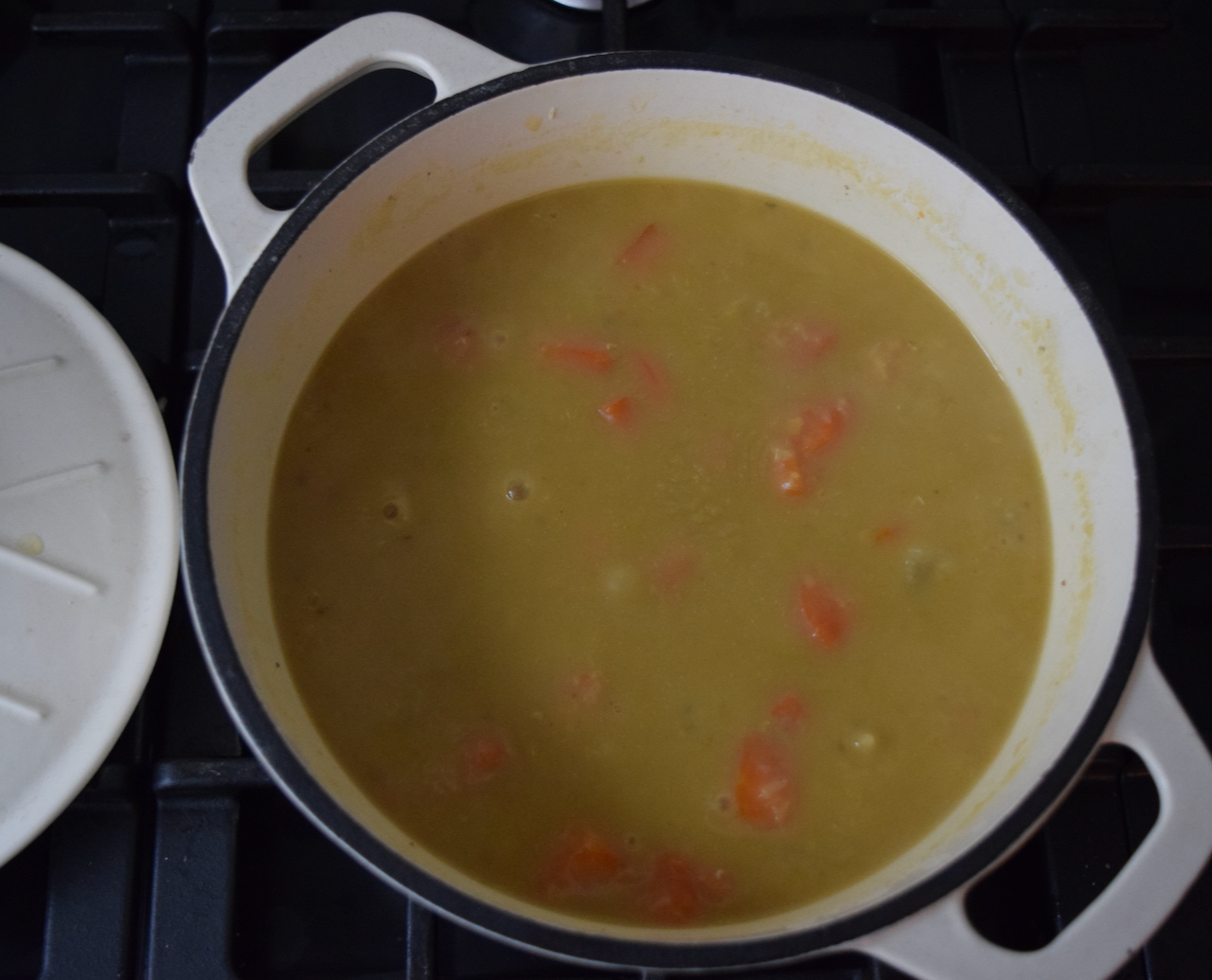 Now, leave to cool for a moment, then either go in with your stick blender, or ladle the soup into your blender in batches and process until smooth-ish.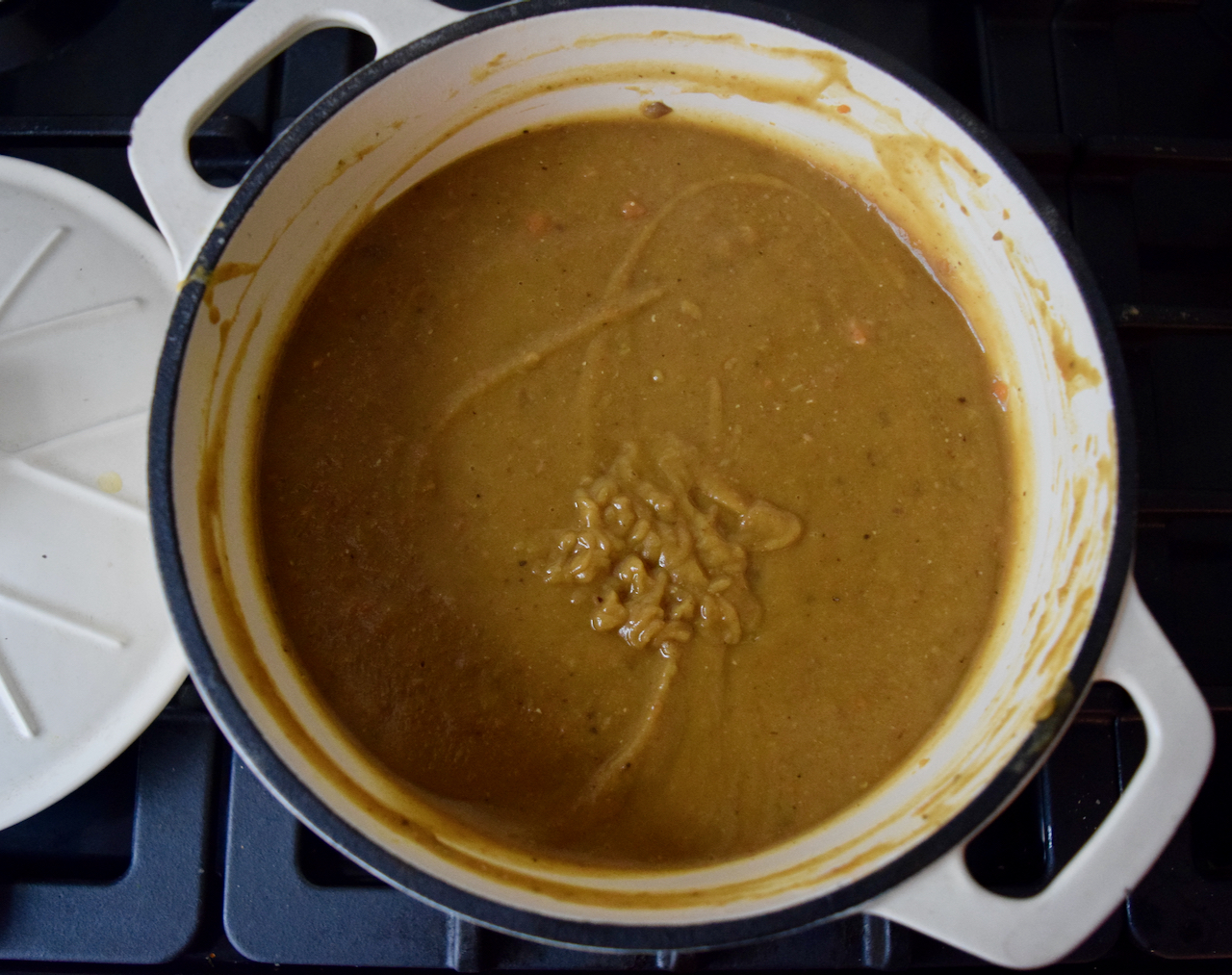 Now, eat a big mouthful to check for any additional seasoning needs then reheat until it's piping hot. Serve with a drizzle of cream or vegan cream alternative and a handful of freshly chopped parsley to brighten up the brown palette.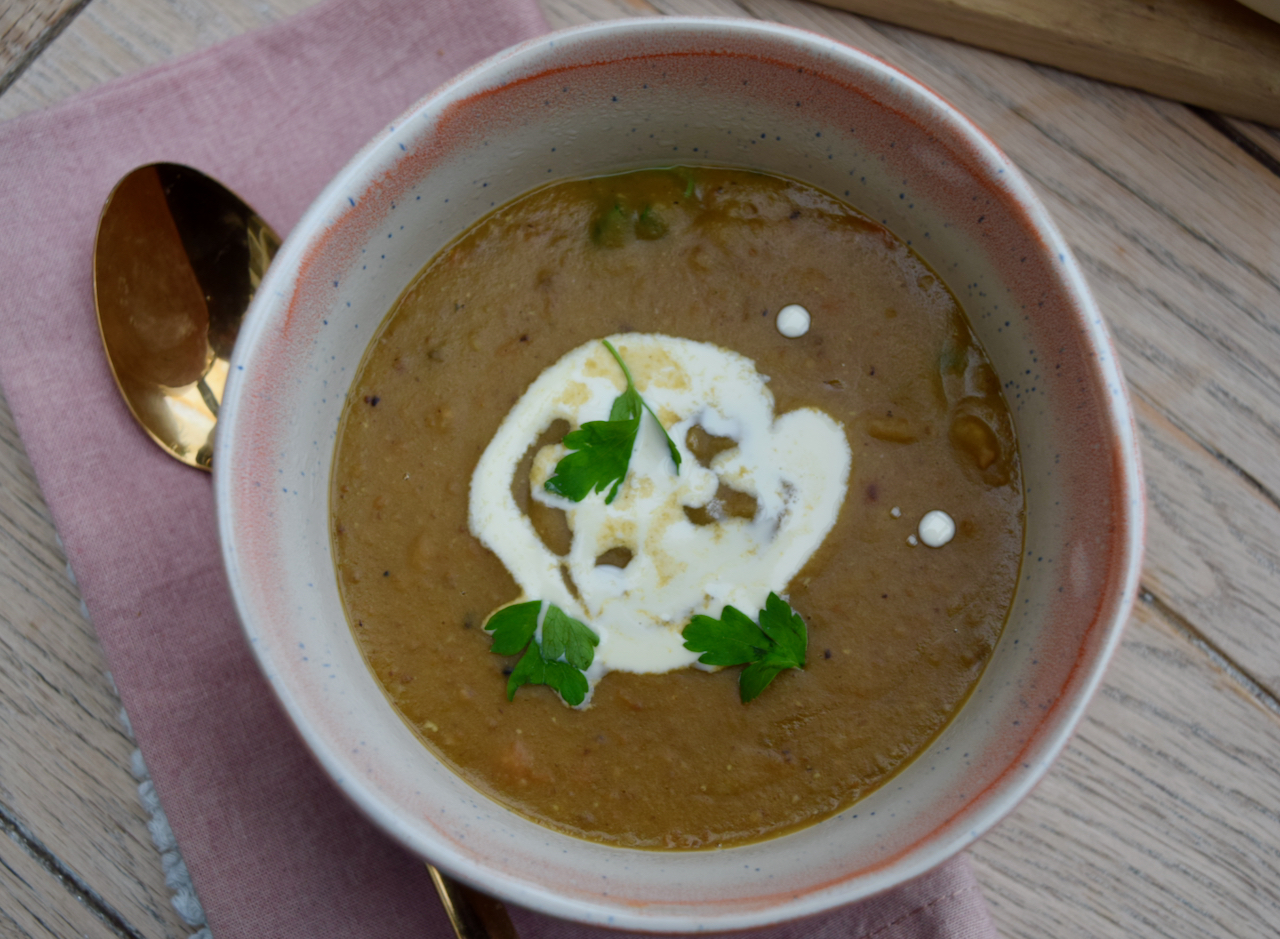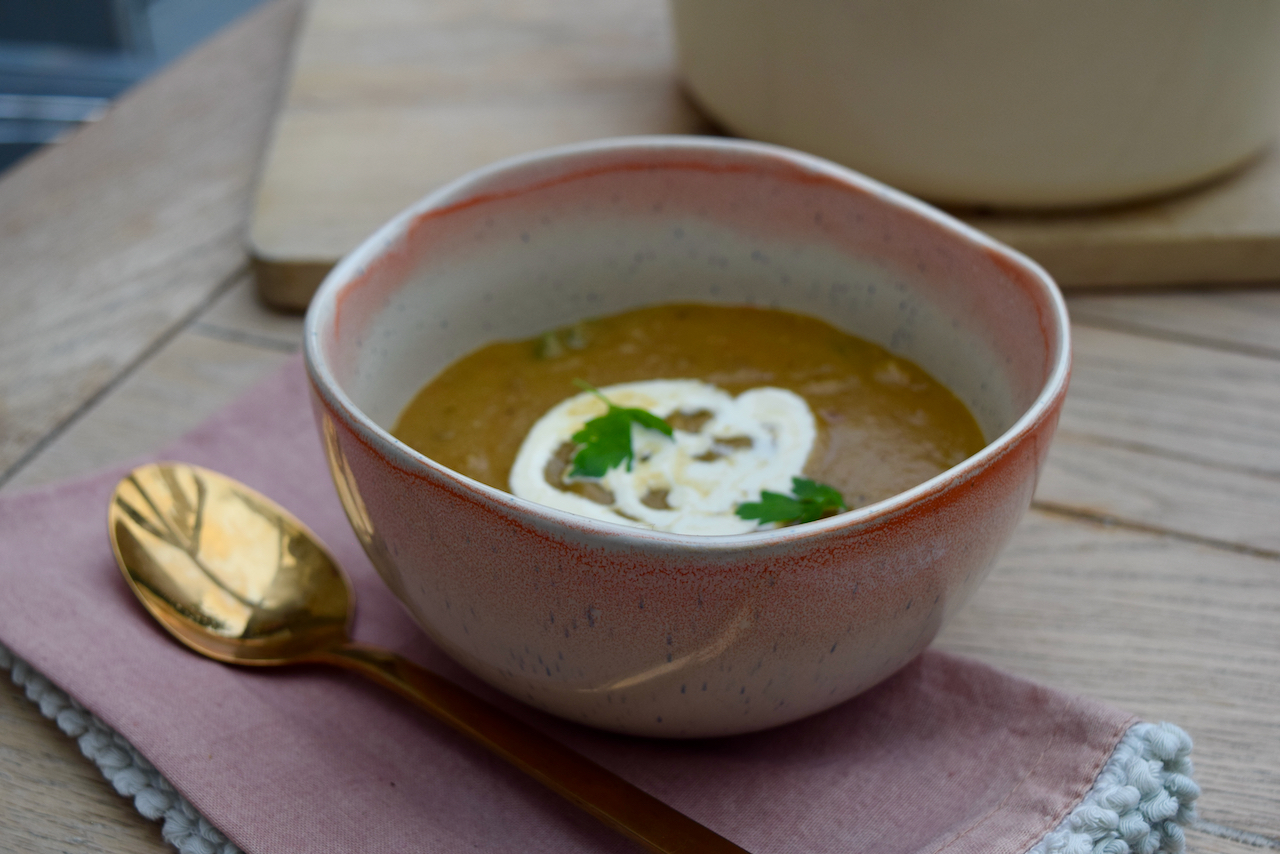 It's cold, it's still January and funds are running on empty. This Lentil and Chestnut soup, however, is not only a friend to your soul, it's also kind on your wallet.
Lucy x
Lentil and Chestnut Soup recipe
Serves a generous 4 to 6
You will just need a pan with a lid and some sort of stick blender or regular blender
2 tablespoons olive oil
1 large onion, roughly chopped
1 large carrot, roughly chopped
2 sticks celery, roughly chopped
175g red lentils
200g ready cooked chestnuts, mine were the vacuum packed type
1.25 litres vegetables stock
Salt and pepper, to taste
Cream, or vegan alternative and some chopped parsley, to serve
Take a large saucepan or casserole dish and heat 2 tablespoons of olive oil over a low flame. Add the chopped onion, carrot and celery, season with salt and pepper, then pop a lid on and cook until just starting to soften, but not colour. This should take around 5 to 10 minutes.
Remove the lid then stir in the lentils and chestnuts. Pour on the stock, stir again then bring up to the simmer. Turn the heat down to low then put a lid on and cook for around 25 minutes, or until the lentils and vegetables are soft.
Take off the heat and allow to cool slightly before pureeing with a stick blender until smooth or use your blender to do this in batches.
Reheat and serve with a drizzle of cream, or vegan alternative and a sprinkling of freshly chopped parsley. The soup will keep nicely in the fridge for a couple of days or freeze on the day it's made.