Coffee Granola Recipe
When I was offered some wonderful coffee pods to review from Real Coffee I leapt at the chance. Coffee is one of my passions, along with 80s films, pink roses and Salad Cream, so having to drink a lot of it seemed like a super treat. And it was a treat. Real Coffee pods are rich, extremely drinkable and Fair Trade to boot. Their huge variety of great value pods are compatible with both Nespresso and Dulce Gusto machines and come in both espresso and lungo sizes. I am working my way through my coffee stash, however, so far the single origin espresso Sumatra is my favourite. It was not enough to just drink their wonderful coffee, so I decided to cook with it too. What better idea to serve this Coffee Granola alongside a beautiful cup of morning espresso.
I have been trying to avoid too much sugar again, so my breakfast routine at the moment is to eat a large bowl of Greek yoghurt topped with some homemade granola. So when I stumbled upon this recipe from Vegetarian Ventures I decided to utilise my Real Coffee supplies. This Coffee Granola is so good; refined sugar free, with a hint of dark chocolate and almonds. The kick of coffee adds flavour without being overpowering. It's sweet but not overly so and is filling and satisfying, especially if you have this granola with tons of protein laden yoghurt. If you would rather swerve the chocolate, feel free to add some dried fruit, my favourite sour cherries would be lovely here. Of course, serve this alongside a large cup of your favourite coffee. Real coffee are well worth a try, being rich, classy and full of aroma.
Breakfast is always a tricky meal for me. The inclination to eat 4 pieces of toast and Marmite is strong, but my thighs tend to stop me. This Coffee Granola does not leave you feeling cheated. You will feel spoilt and treated and ready to face the day. Fingers Crossed.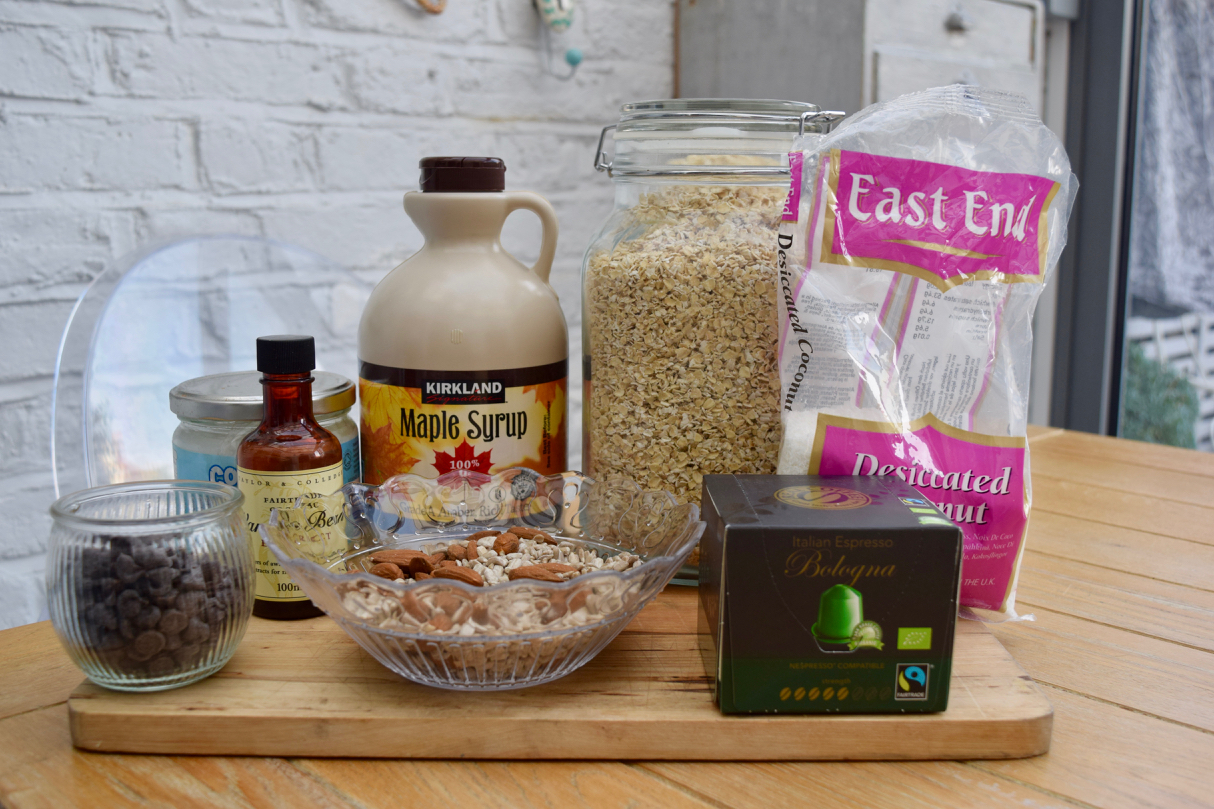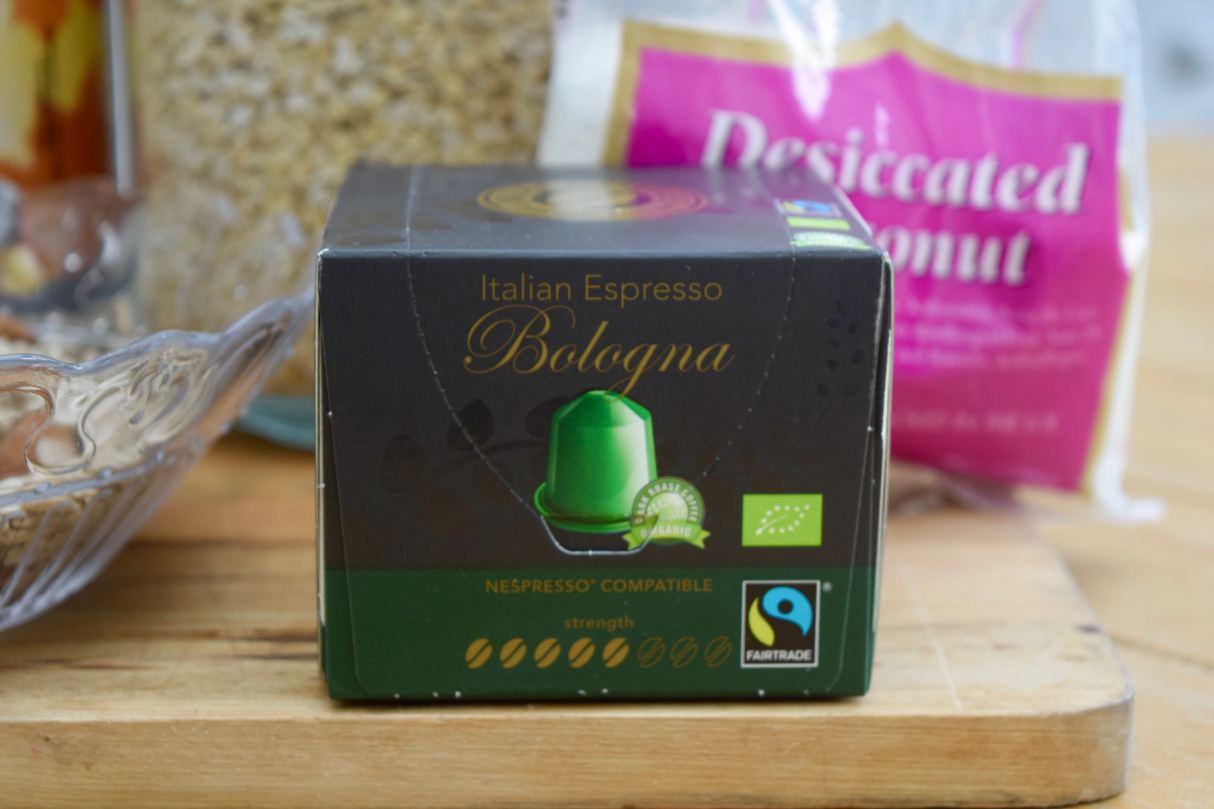 What a wholesome looking line up for my Coffee Granola. And here's my coffee of choice for this; the blend is rich but without any hint of sourness. I am working my way through this little selection and enjoying every minute of it.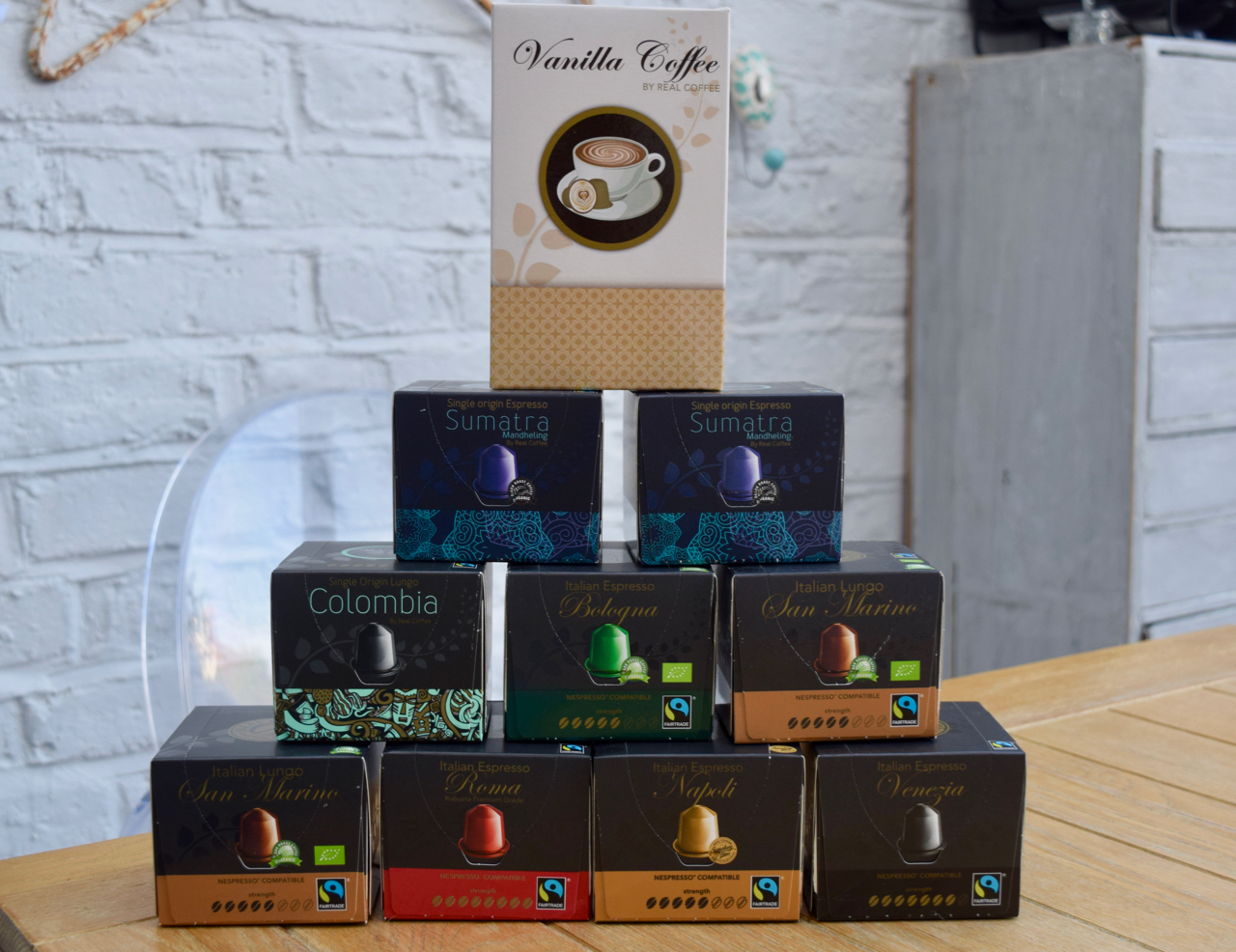 In preparation, line a baking tray with greaseproof paper and pre heat your oven to 150 degrees fan assisted. Then make a start on your granola by melting the coconut oil in a small pan or jug in the microwave. Then pour in your sweet maple syrup and vanilla extract.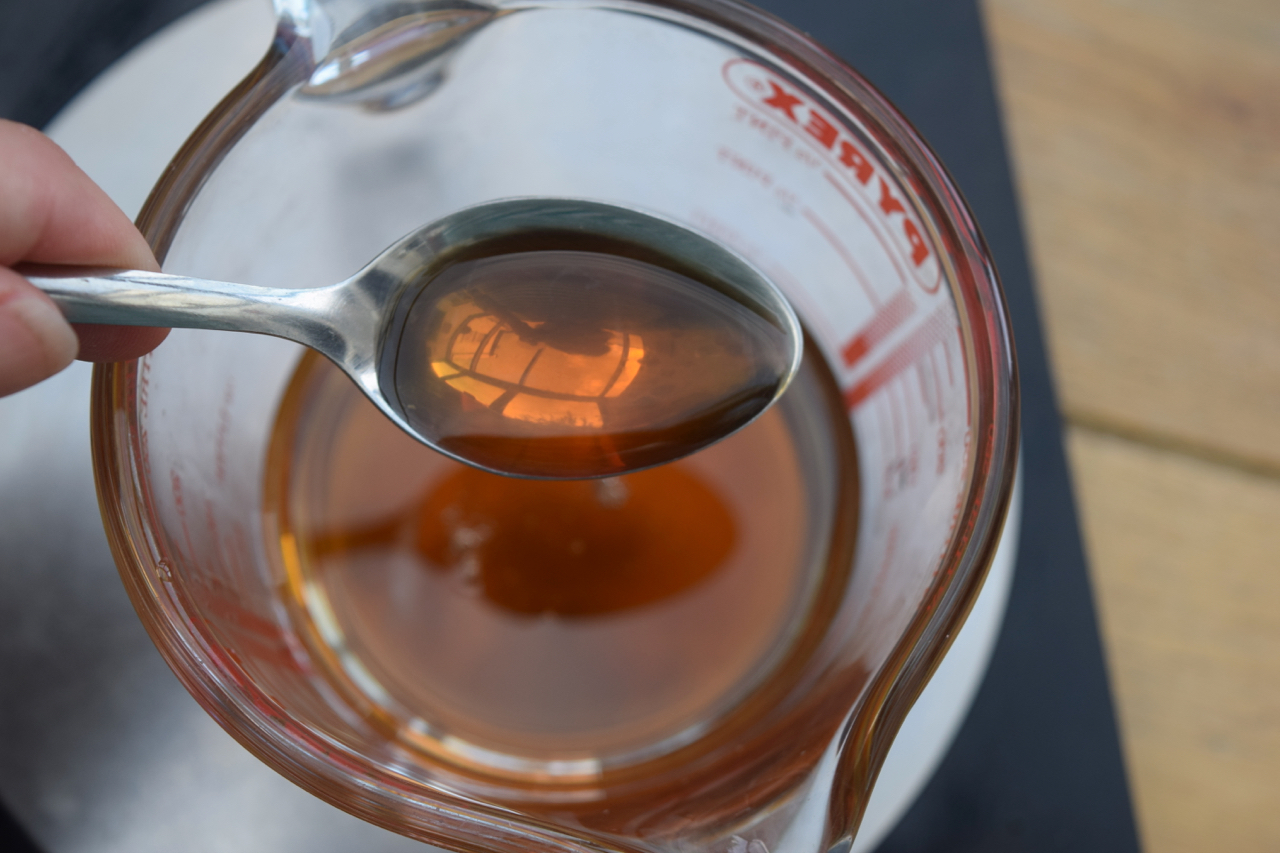 Next, measure in the 60ml of rich coffee. Drinking a good slurp as you go, to keep your strength up.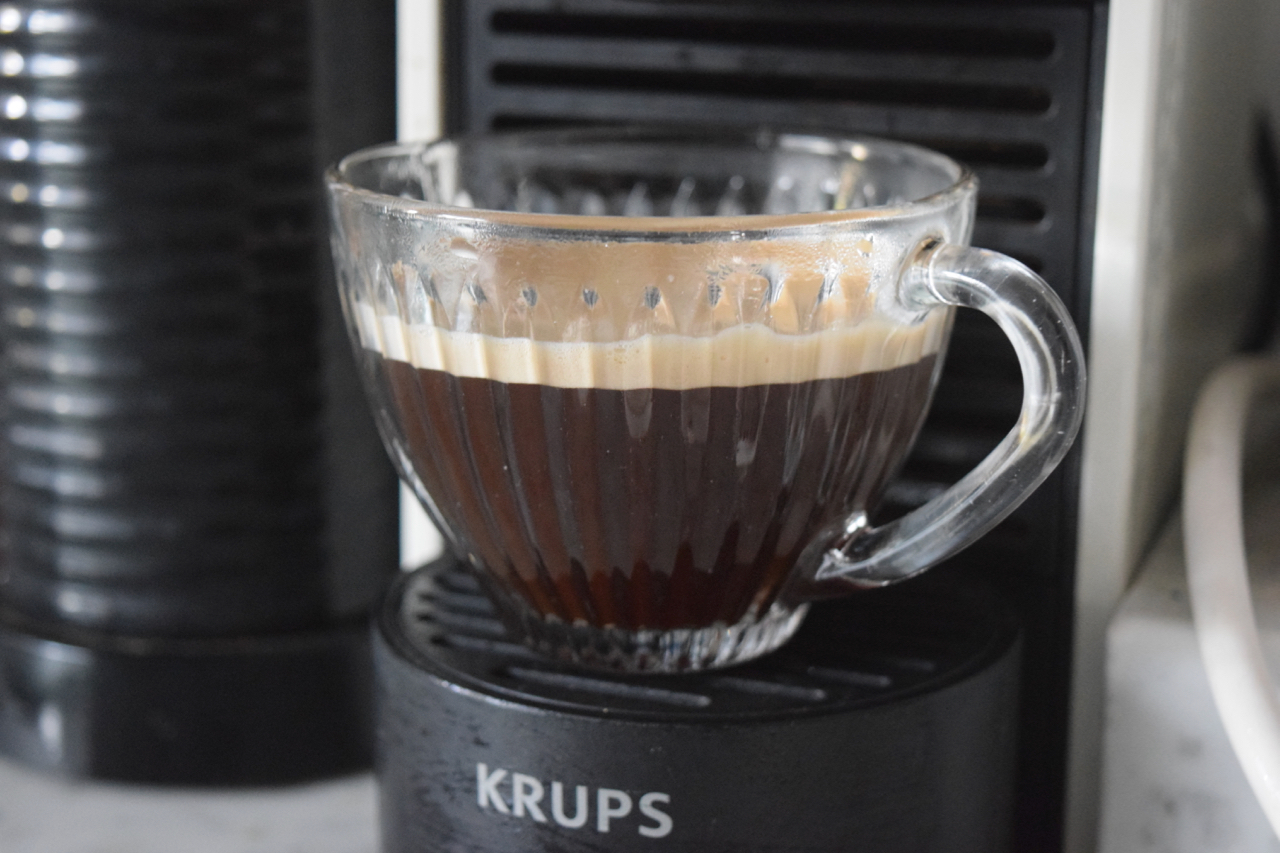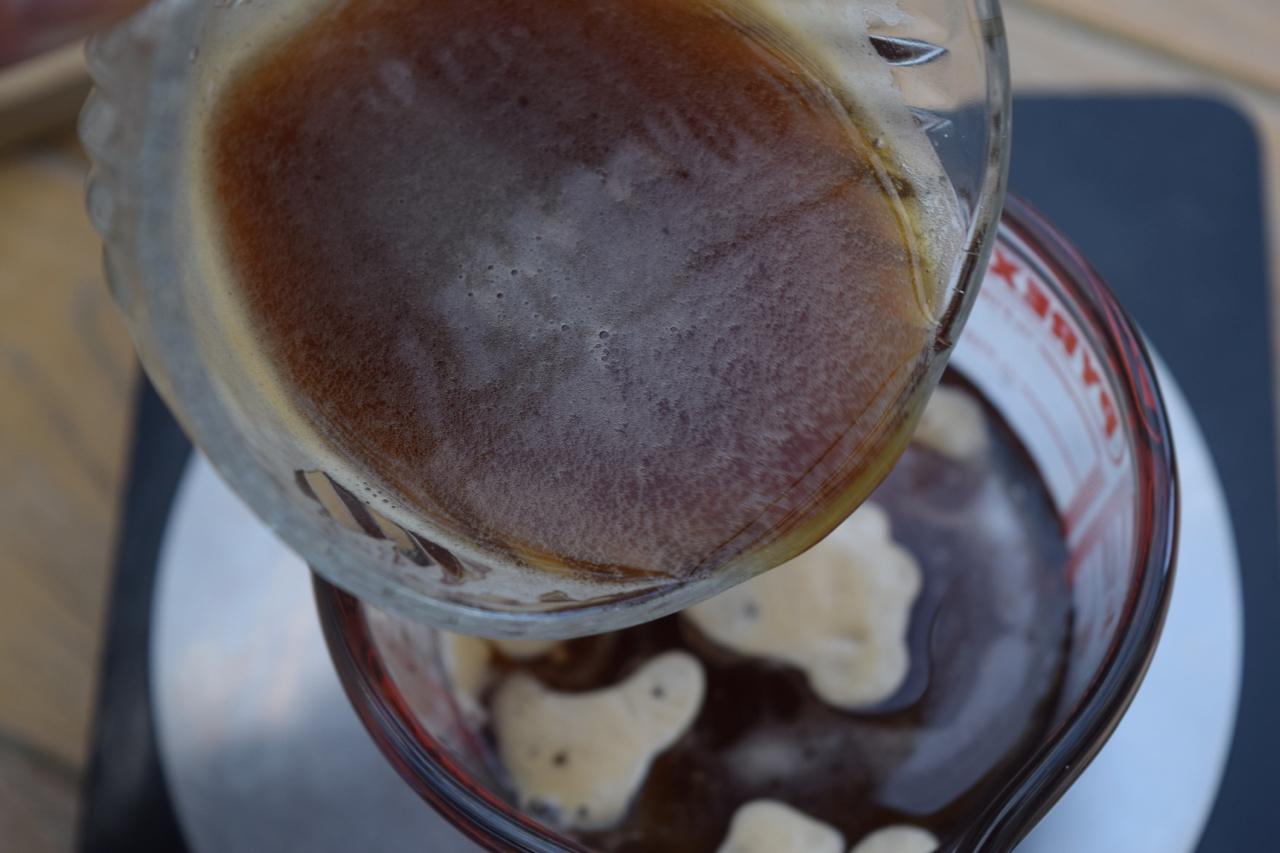 Give the liquid ingredients a good stir then move on to the dry ingredients. Measure in the porridge oats, desiccated coconut and chopped almonds. I decided to add some sunflower seeds too as I love their nuttiness. Choose the nuts and seeds you love best.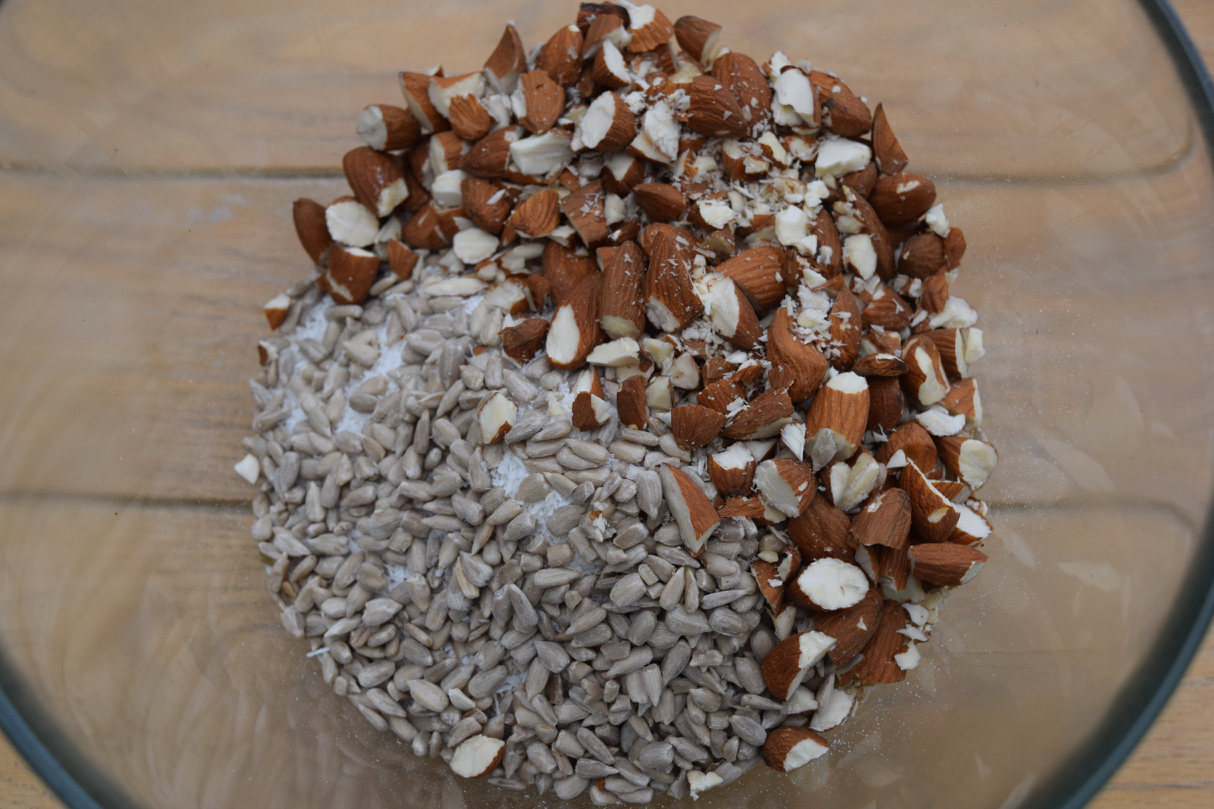 Mix your dry ingredients to combine then pour in your sweetened coffee, coconut oil mixture with a pinch of sea salt and stir well to ensure everything is coated.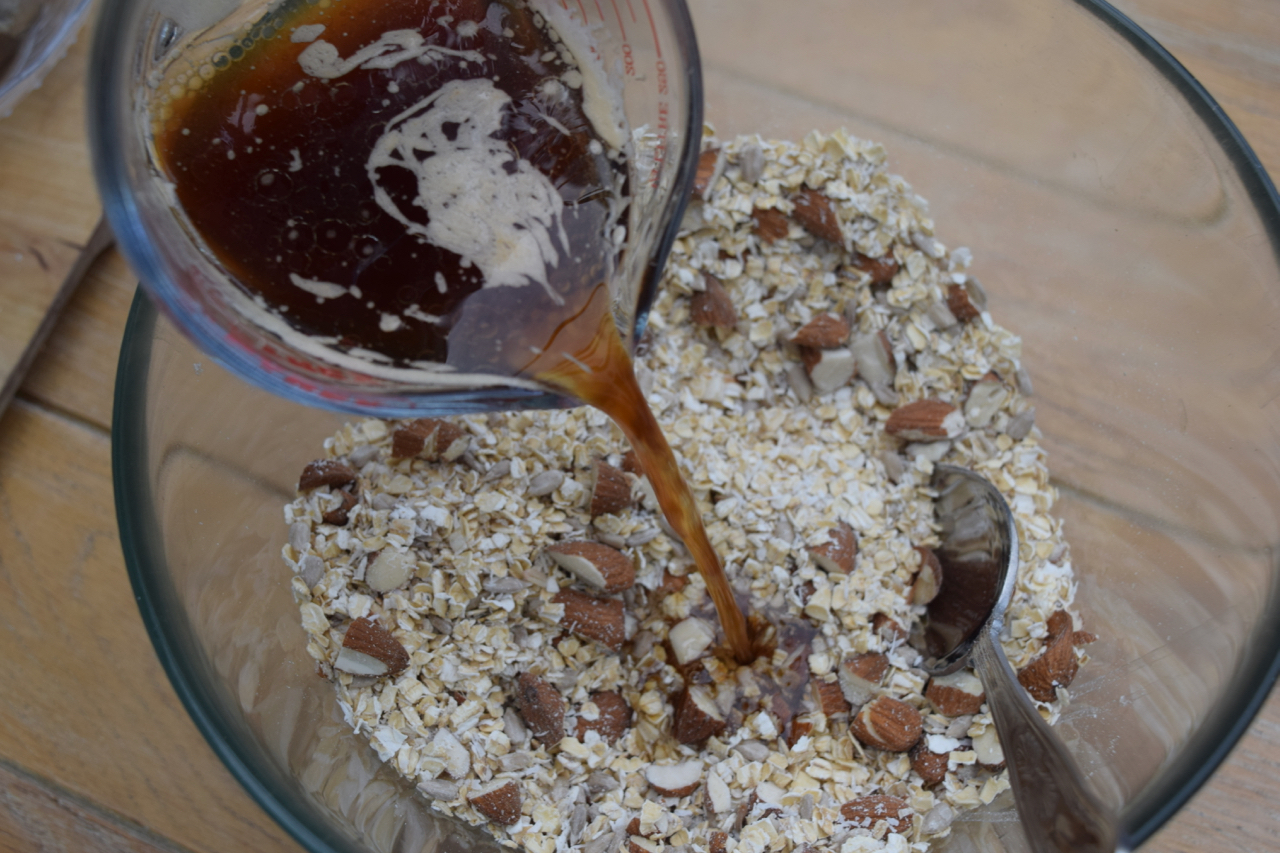 Spread your granola mixture in a single layer onto a lined baking sheet. Pop into your pre heated oven for 15 minutes. At this stage it will be starting to turn golden and smelling divine. Give it a gentle stir then pop back in the oven for a further 10 to 15 minutes.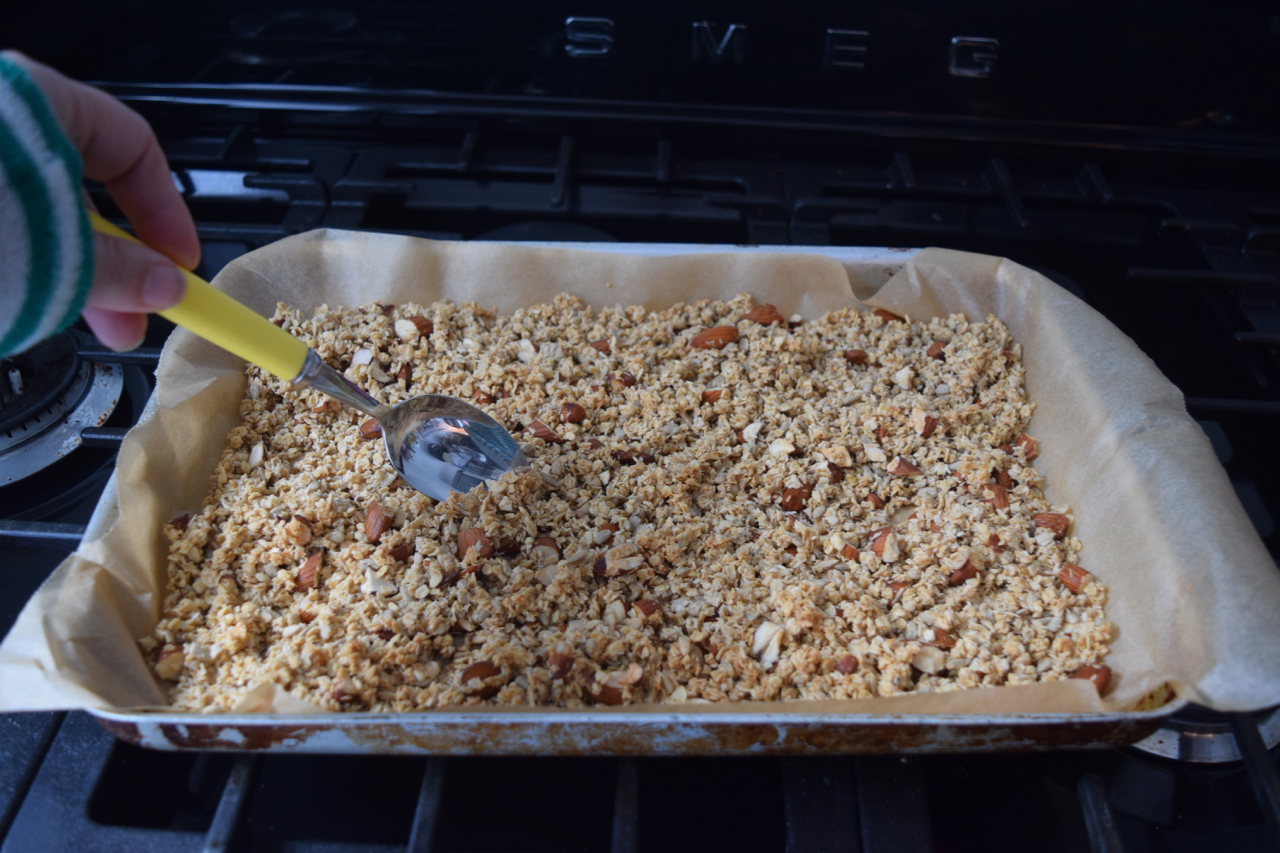 Once the time is up, your granola will be crisp and toasted. Leave it to cool fully before stirring through your chosen chocolate chips or dried fruits.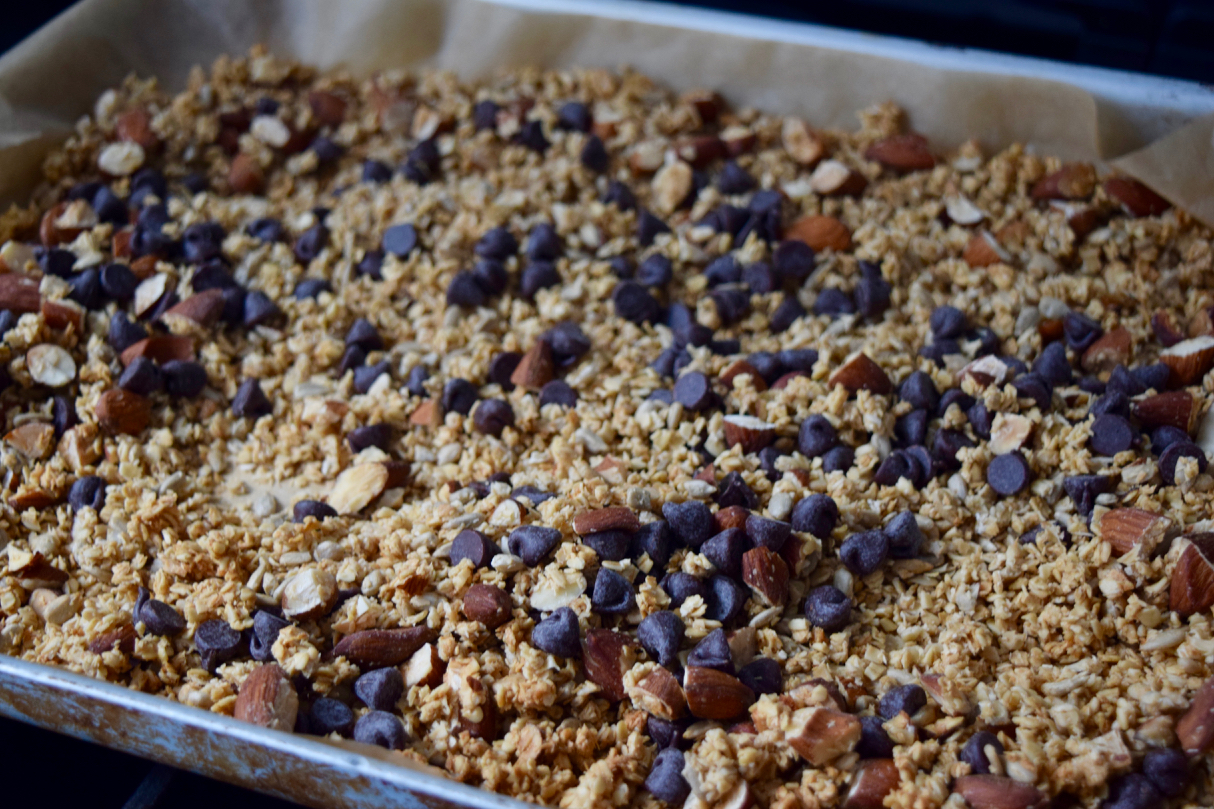 Now you can either eat this with a spoon straight from the baking tray or place in a decorative jar to be enjoyed however and whenever you choose. I have been inhaling mine in large quantities with yoghurt and extra maple syrup. With a beautiful Real Coffee alongside too, of course.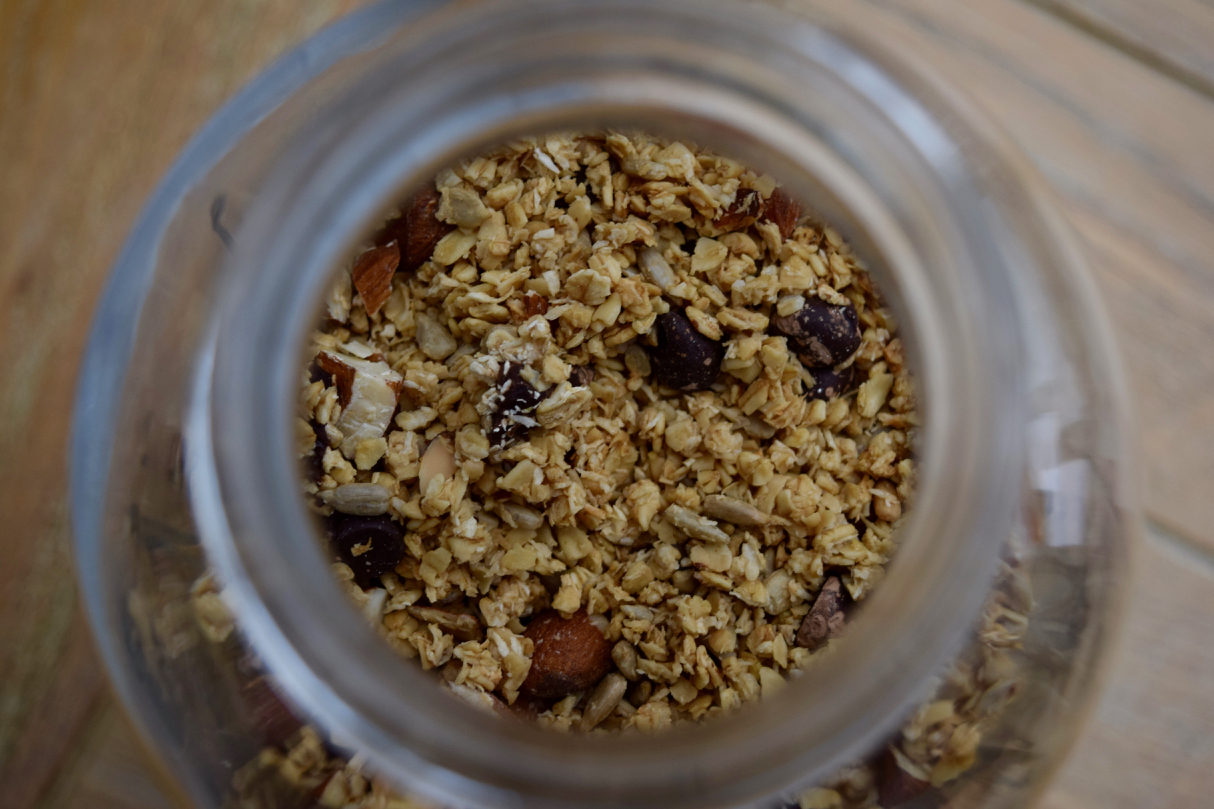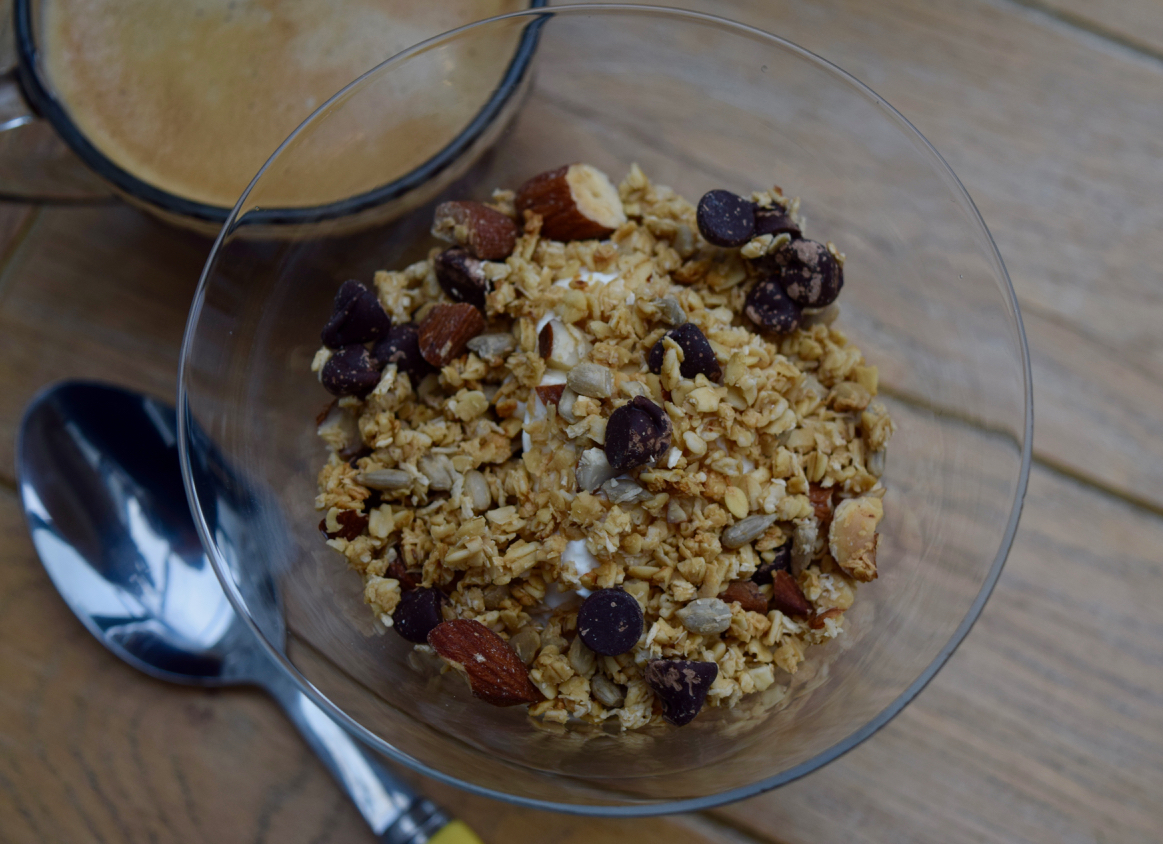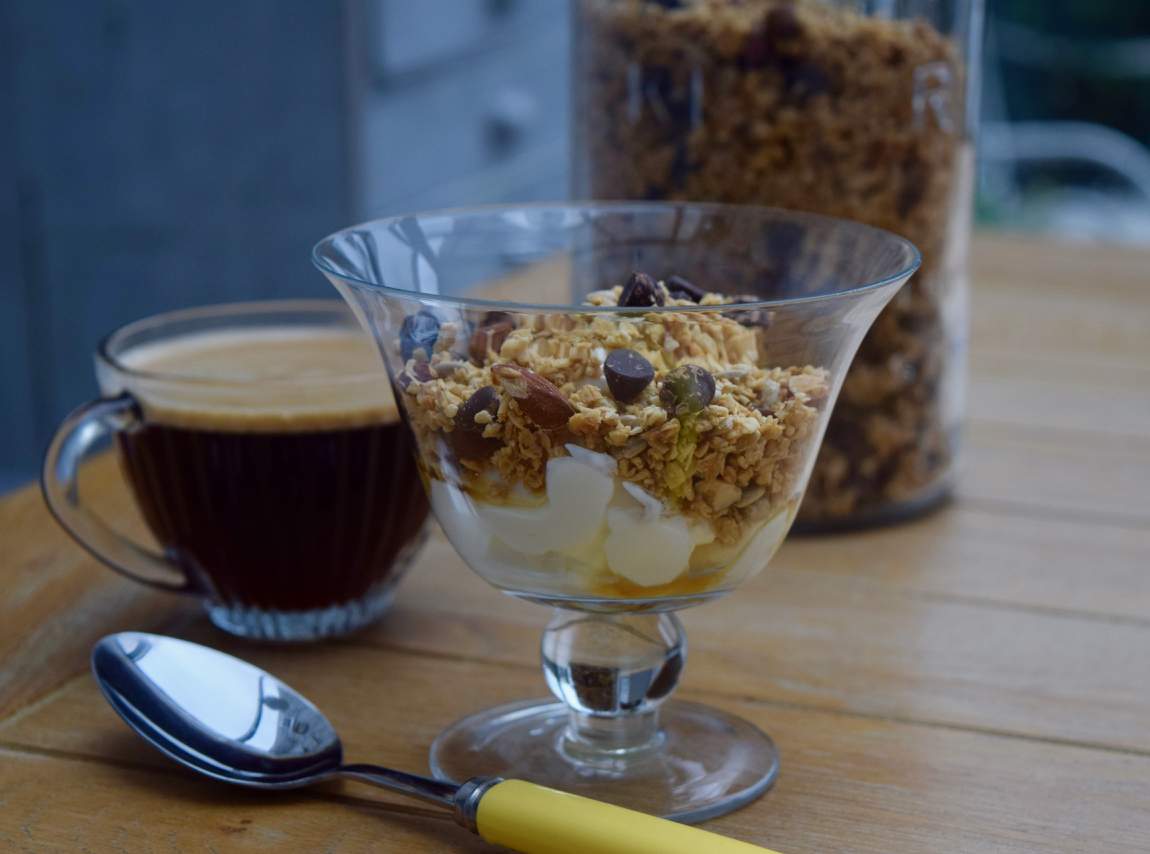 Coffee is a popular flavour choice in our house. Be it in a cup, in a cake or now sprinkled over yoghurt on our breakfast. I feel quite spoilt having all this Real Coffee to drink and enjoy. It's a delicious challenge, one which will keep me busy over the next few weeks. I can't wait.
Lucy x
Real Coffee kindly sent me a selection of coffee pods to review. However, all opinions and ramblings are, as always, my own.
Coffee Granola Recipe
Makes a good jarful
You will only need bowls, no excited equipment
60ml good espresso coffee, such as Real Coffee Fair Trade Espresso Bologna
2 tablespoons coconut oil, melted
4 tablespoons maple syrup
1 teaspoon vanilla extract
180g porridge oats
100g desiccated coconut
100g almonds, chopped, or cashews if you would prefer
50g sunflower seeds, or another seed of you choice
Pinch of sea salt
100g dark chocolate chips, or dried fruit if you would prefer
Enjoy with Greek yoghurt, maple syrup, milk or as a refined sugar free nibble
Pre heat your oven to 150 degrees fan assisted and line a large baking sheet with greaseproof paper.
Take a small bowl or jug and measure in the coconut oil. Melt in either the microwave or in a small pan on the stove. Pour in your freshly brewed Espresso coffee, maple syrup and vanilla extract. Stir well then pop to one side.
In a large bowl measure in the oats, desiccated coconut, chopped almonds and seeds.  Add a pinch of sea salt then stir well to mix. Pour in the coffee mixture, give everything another good stir to ensure the oats are coated, then tip onto a lined baking sheet.
Place into your pre heated oven for 15 minutes. When the time is up, stir gently, then place back in the oven for a final 10 to 15 minutes to finish. The cooked granola will be golden and crisp. Leave to cool completely before stirring through the dark chocolate chips. Store in a jar for 2 to 3 weeks.
Serve with thick yoghurt, milk or on its own as a snack. Definitely with a coffee on the side.