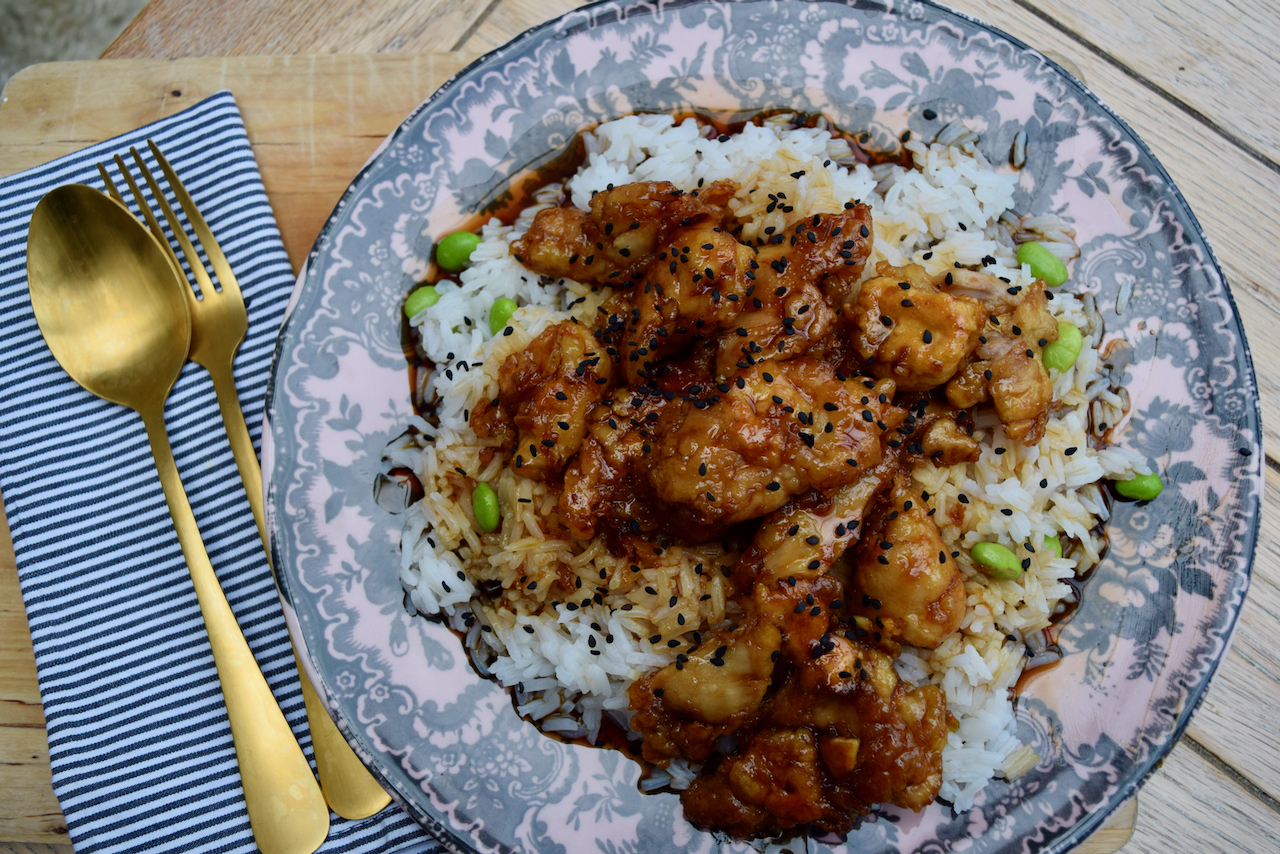 Sticky Marmite Chicken recipe
My eldest child is now 25, which surely makes me around 100 years old, or a child bride. To celebrate him being a fully fledged manchild we went out for an amazing dinner where I discovered the amazingness which is Sticky Marmite Chicken. For the next three days I thought of little else, and spent hours, when I should probably been asleep, researching the recipe. Herewith are my simple, bloody delicious findings.
This recipe falls into the very handy category of midweek meal/good enough for informal dinner guests. That said, Marmite can divide households, as well as fascinating and upsetting our European and American friends. In this simple chicken dish, the aforementioned yeast extract based spread brings amazing savoury vibes rather than overpowering Marmite flavour. When mixed with plenty of honey, a little sesame oil and light soy, the resulting sauce is sweet, rich and, as a word of warning, bloody addictive. I've made this 3 times in less than a week, and may continue to do so until I'm bored of it. Thanks to A Taste of Asian Food for the guidance on this one.
I'll go so far to say, even if you hate it, you'll love this.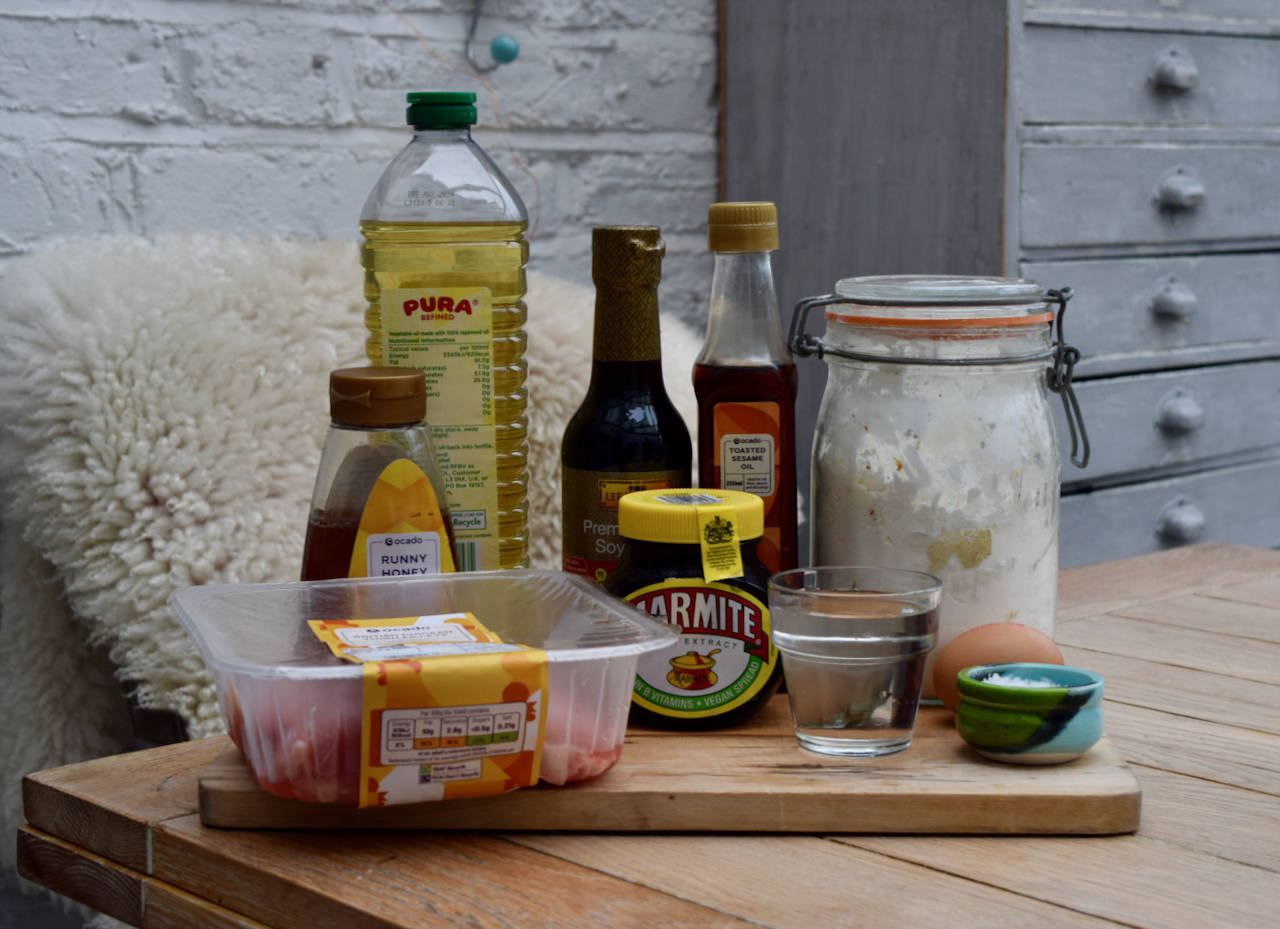 There it is, front and centre, the contentious spread. I love it; it adds such deep savouriness to everything it touches. Nothing else scary to see here, I used boneless chicken thighs, as they're so much more interesting than breasts. Definitely use light soy for this recipe, as the Marmite brings all the darkness you need.
Start by chopping your chosen chicken into bite sized pieces and giving it a stir with a tablespoon of vegetable oil and some salt. Leave this to sit for 10 to 20 minutes.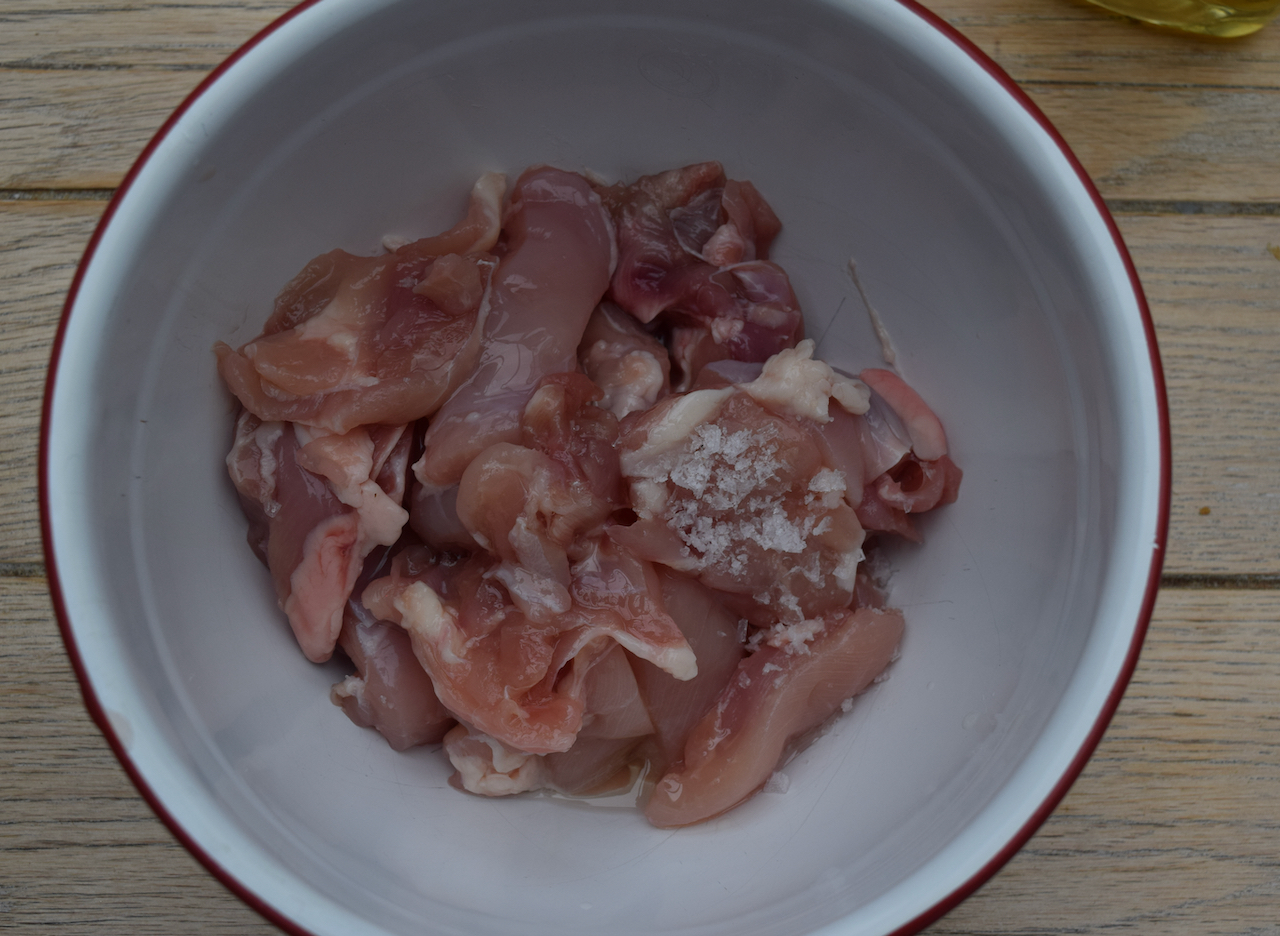 While this happens, make the Marmite sauce. In a small jug whisk together the honey, Marmite, sesame oil, water and light soy sauce. It's gloopy, so give it a good mix.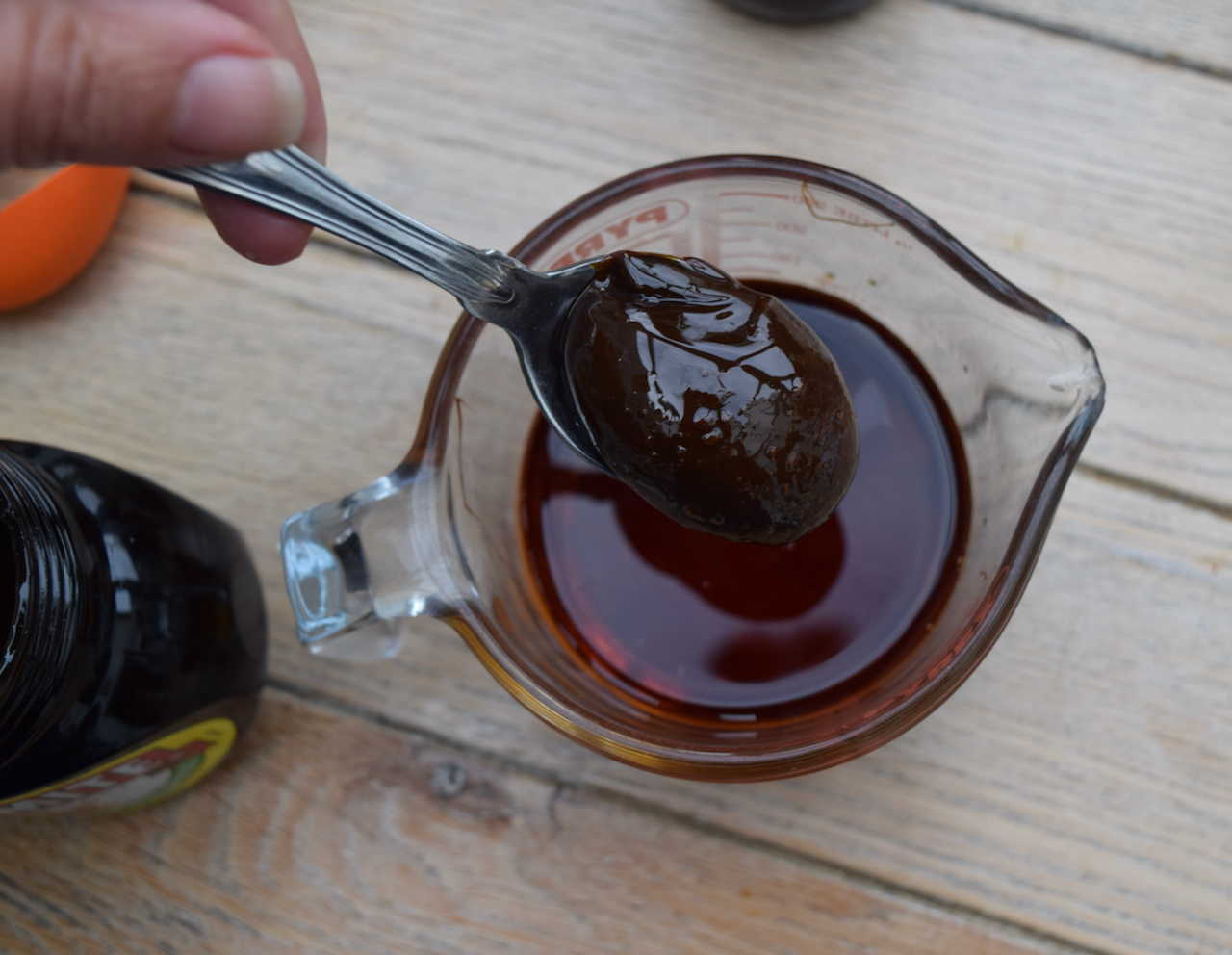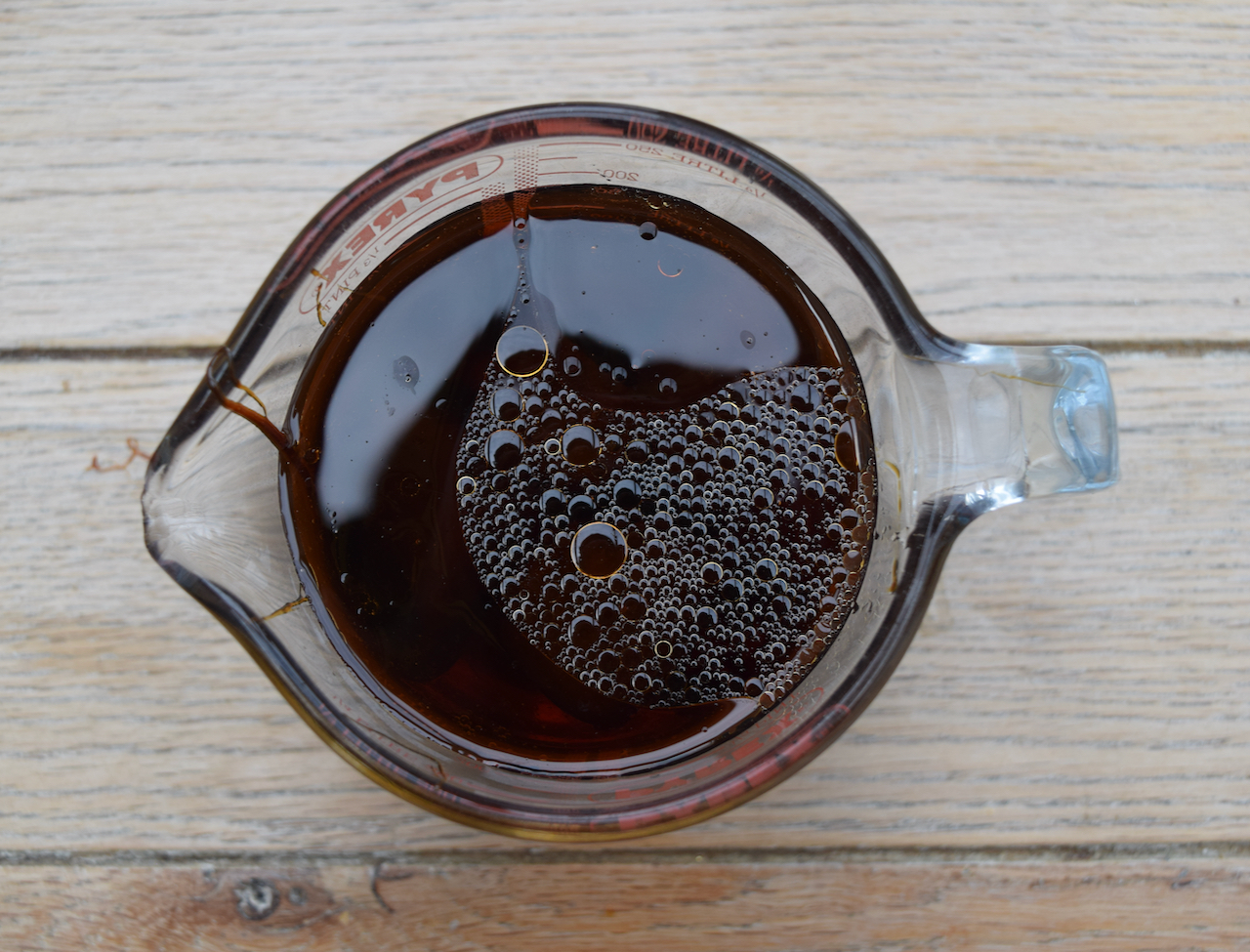 When you're ready to cook the chicken, heat around 3 tablespoons of vegetable oil in a large frying pan over a medium high heat.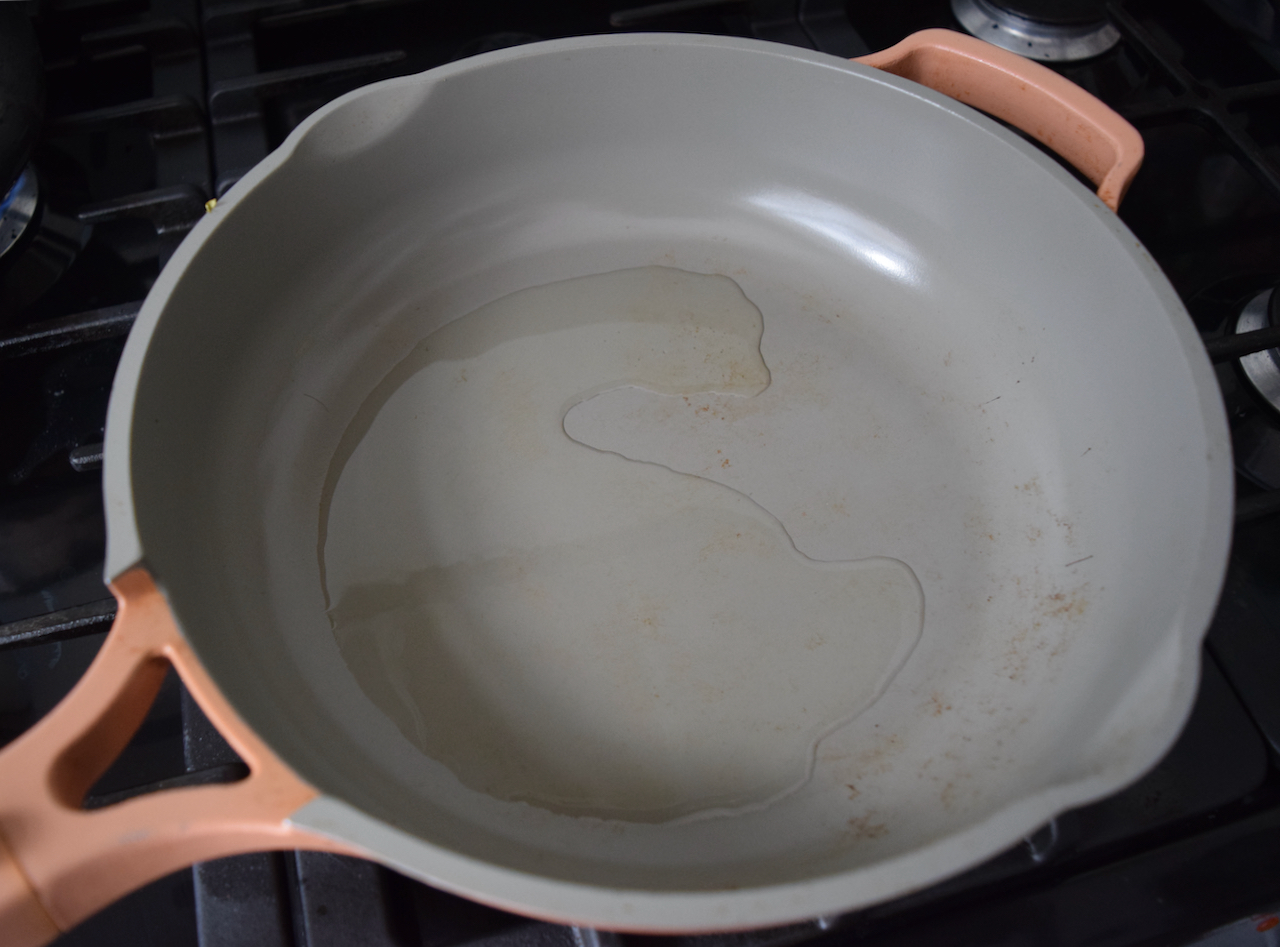 Stir the egg into the chopped chicken until coated, then sprinkle over the cornflour. Mix well until the chicken is coated in a sticky batter.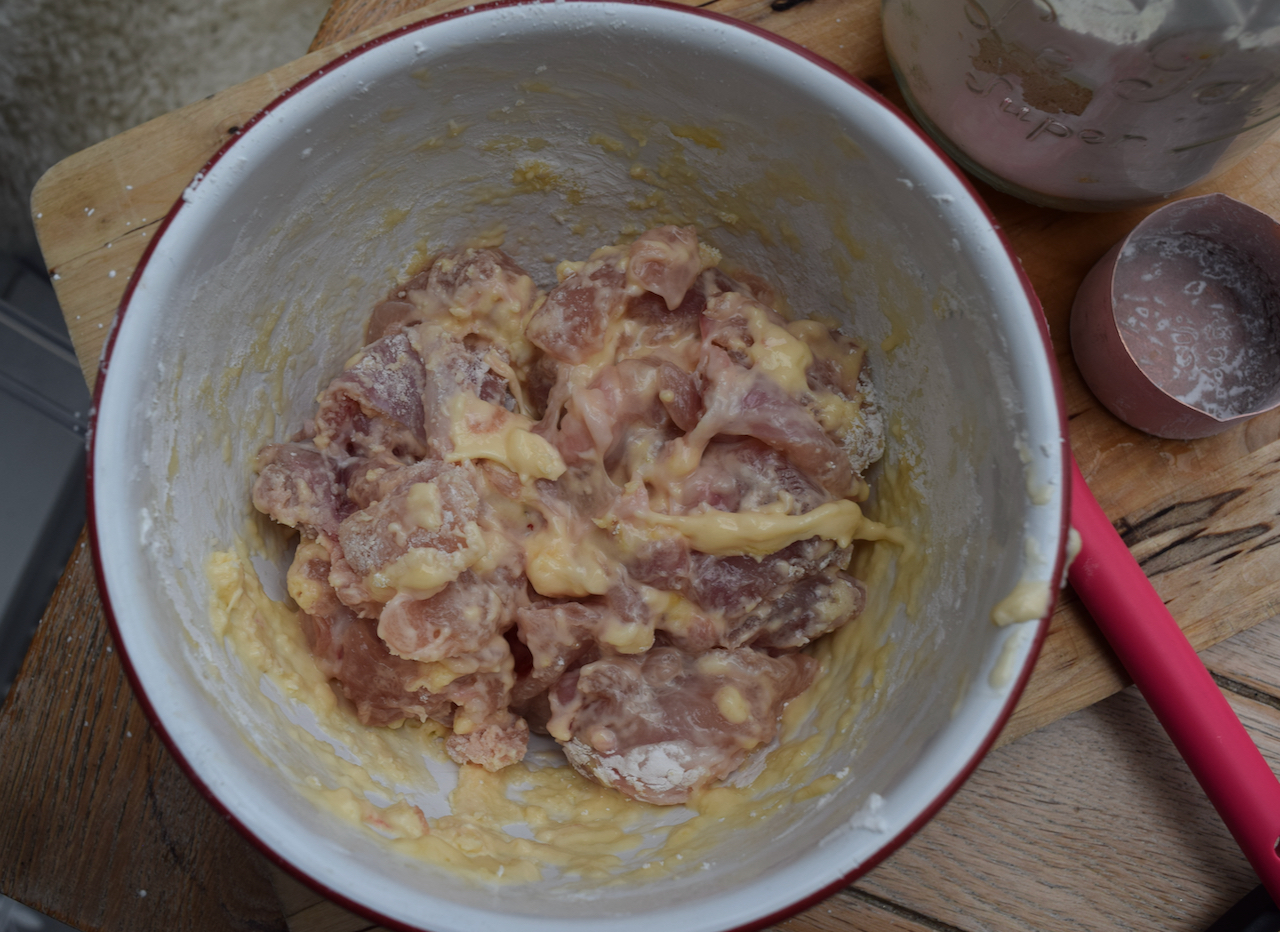 Add the chicken to the hot oil, in a single layer, separating the chicken pieces if they're stuck together. Cook, without moving for 3 to 4 minutes, or until the underside is crisp and golden.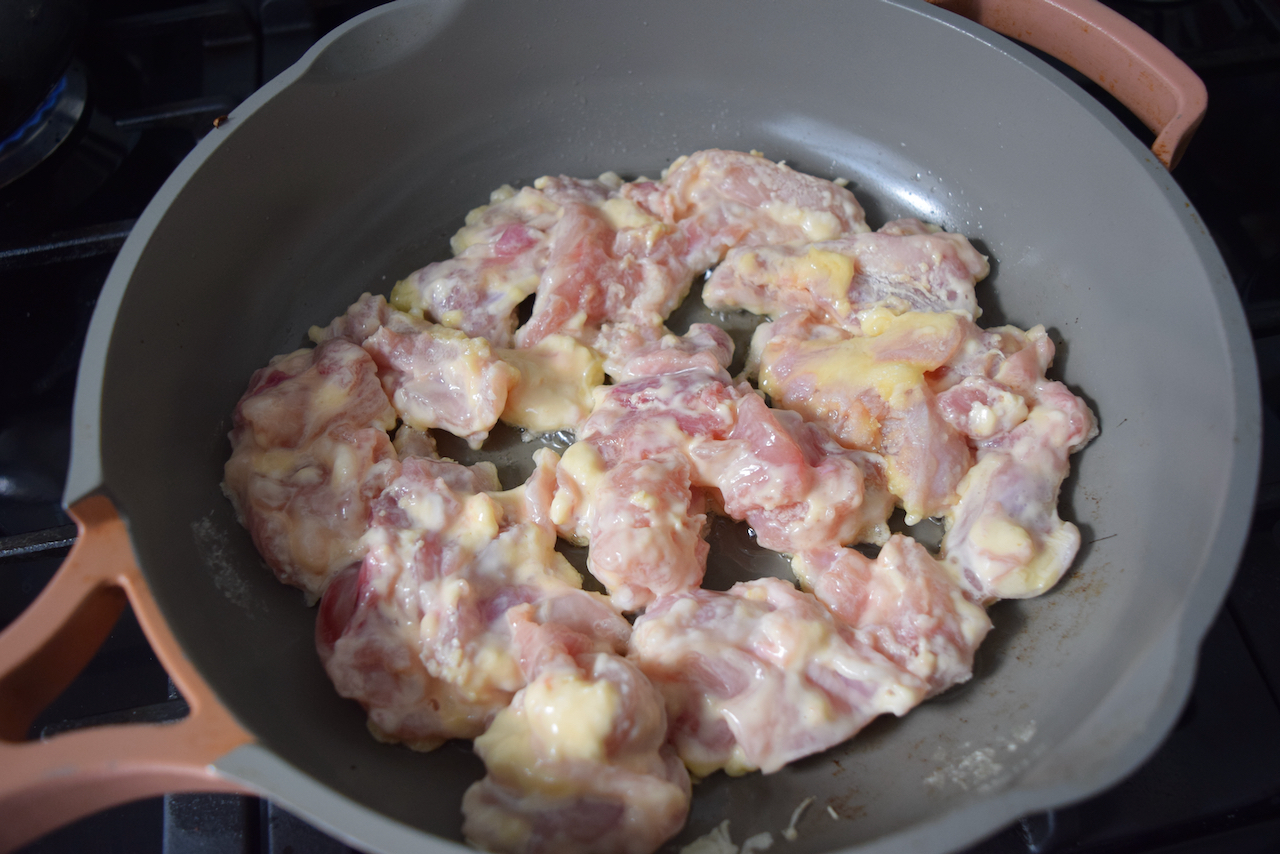 Turn the chicken pieces over and cook on the underside for a further 3 to 4 minutes, or until the chicken is cooked through and smelling amazing.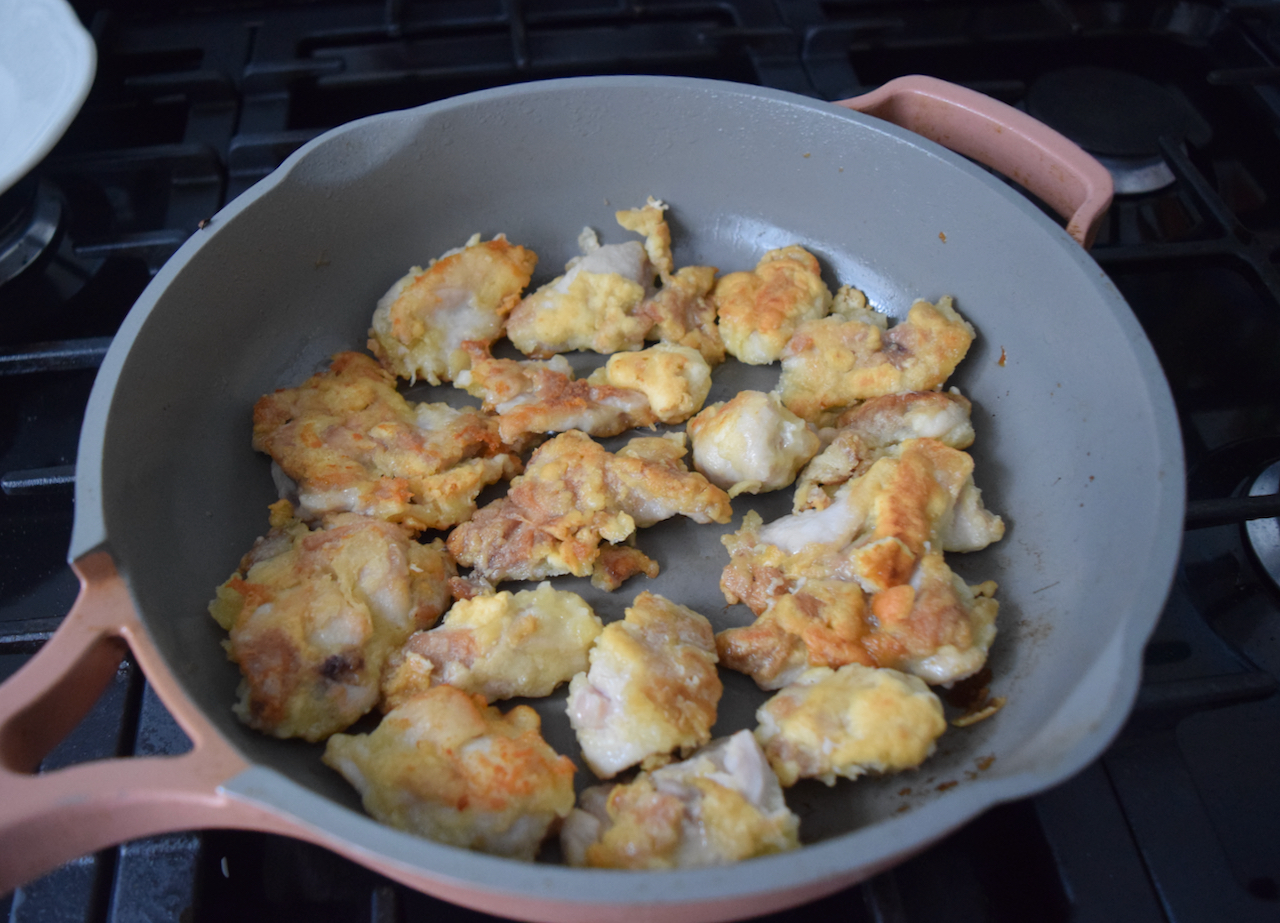 Remove the chicken to a plate for the moment, and wipe out the pan if there's any residual oil. Turn down the heat to low then pour in the sauce mixture and allow to simmer for a couple of minutes to reduce and become slightly thicker and slightly sticky.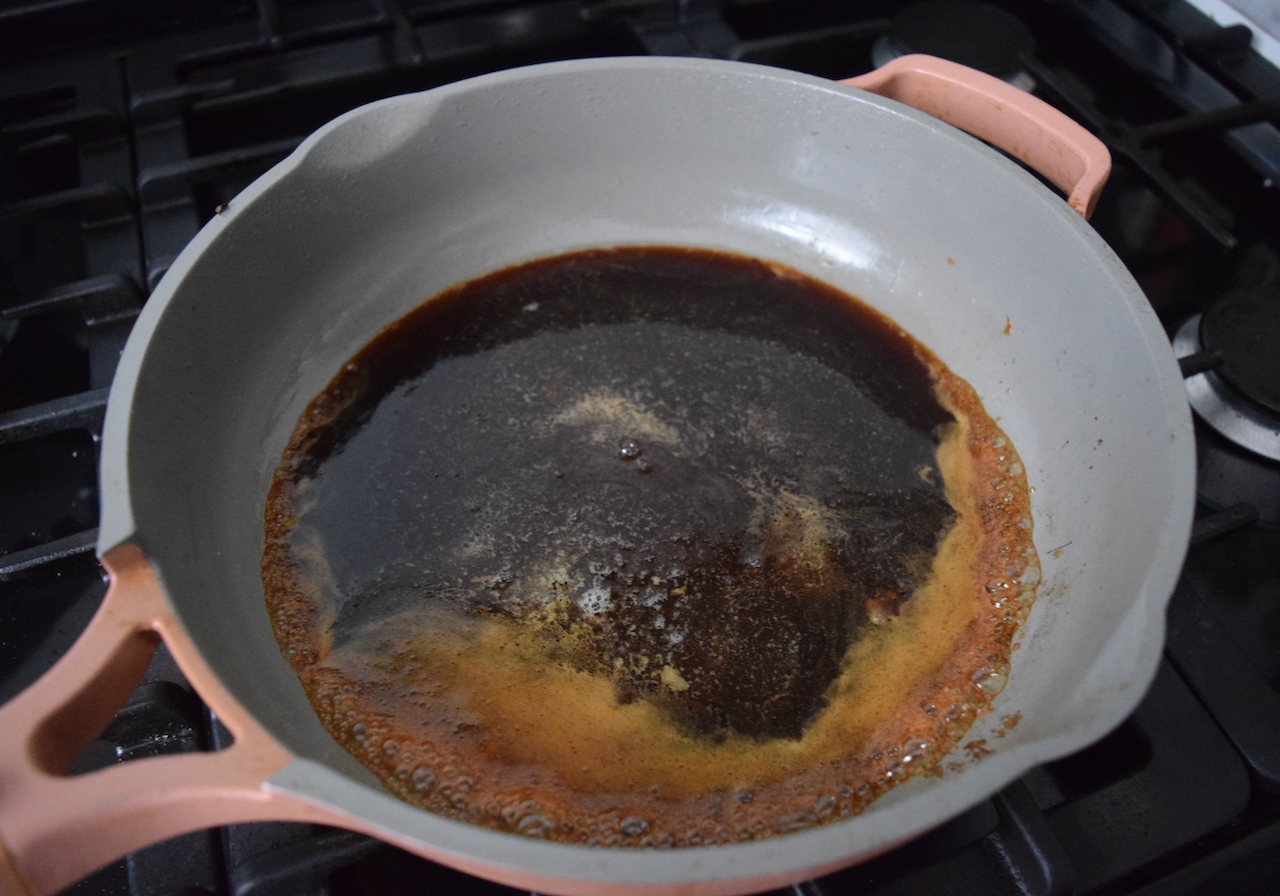 Tip the crispy chicken into the sauce, stir well to coat, then bring back up to the simmer and ensure the chicken is piping hot.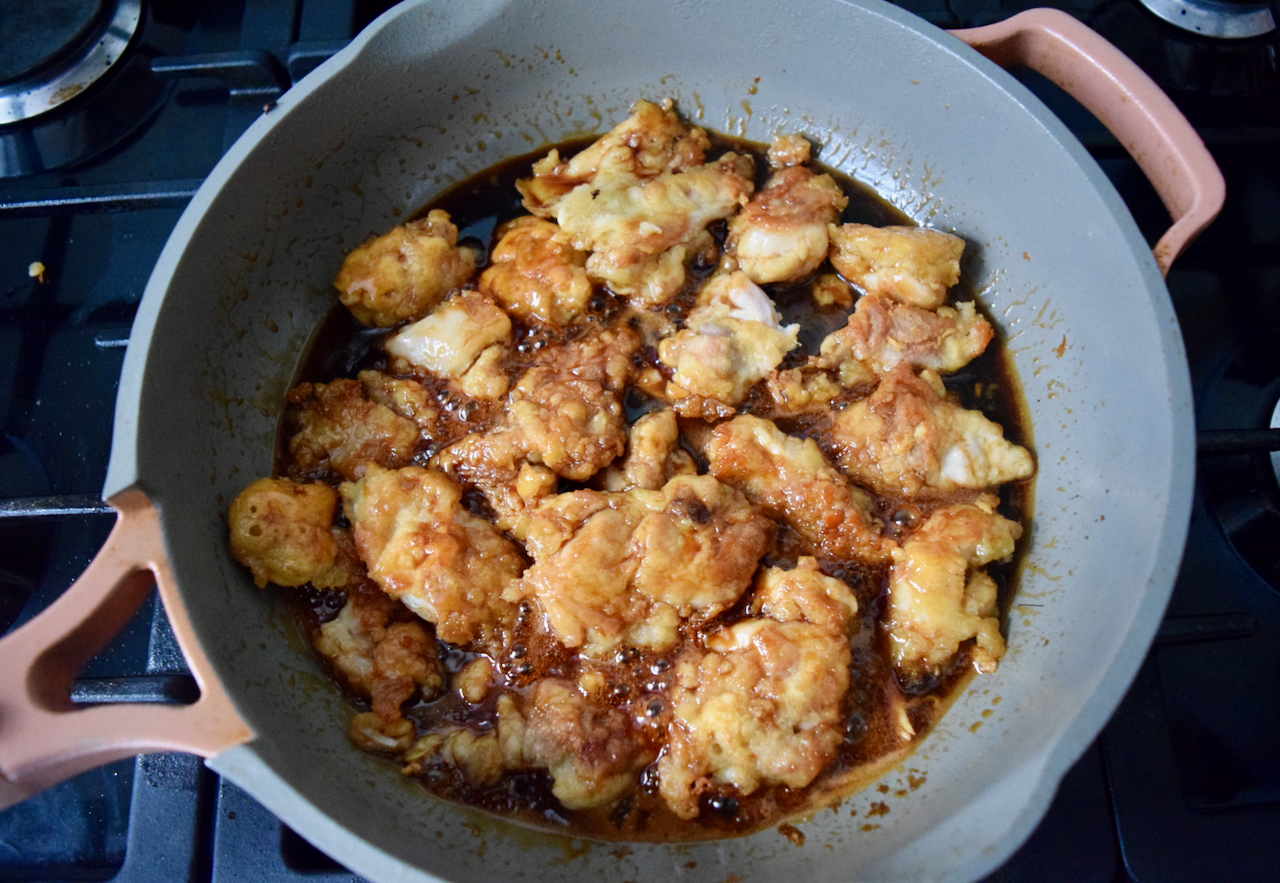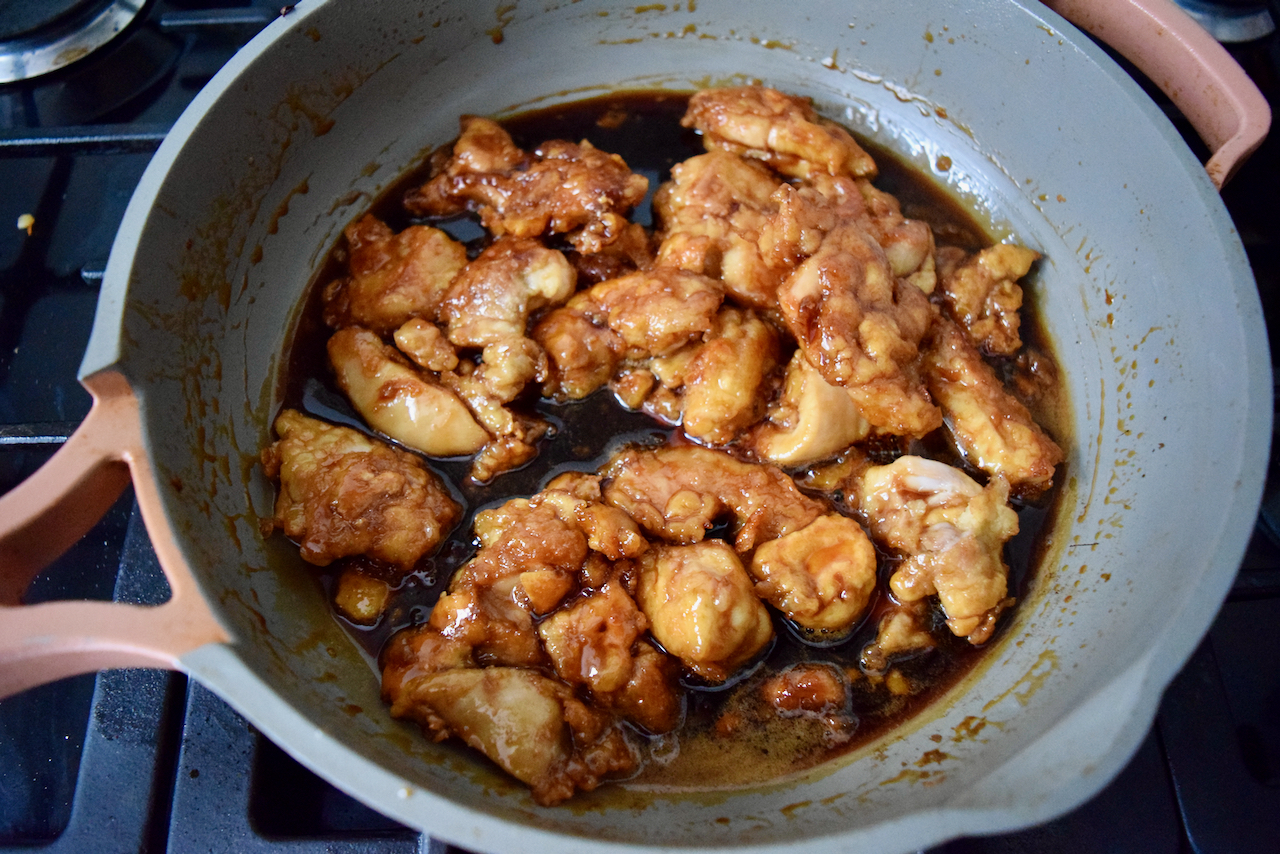 And that's it; serve over some rice with a sprinkling of sesame seeds. Devour your new favourite chicken based dish.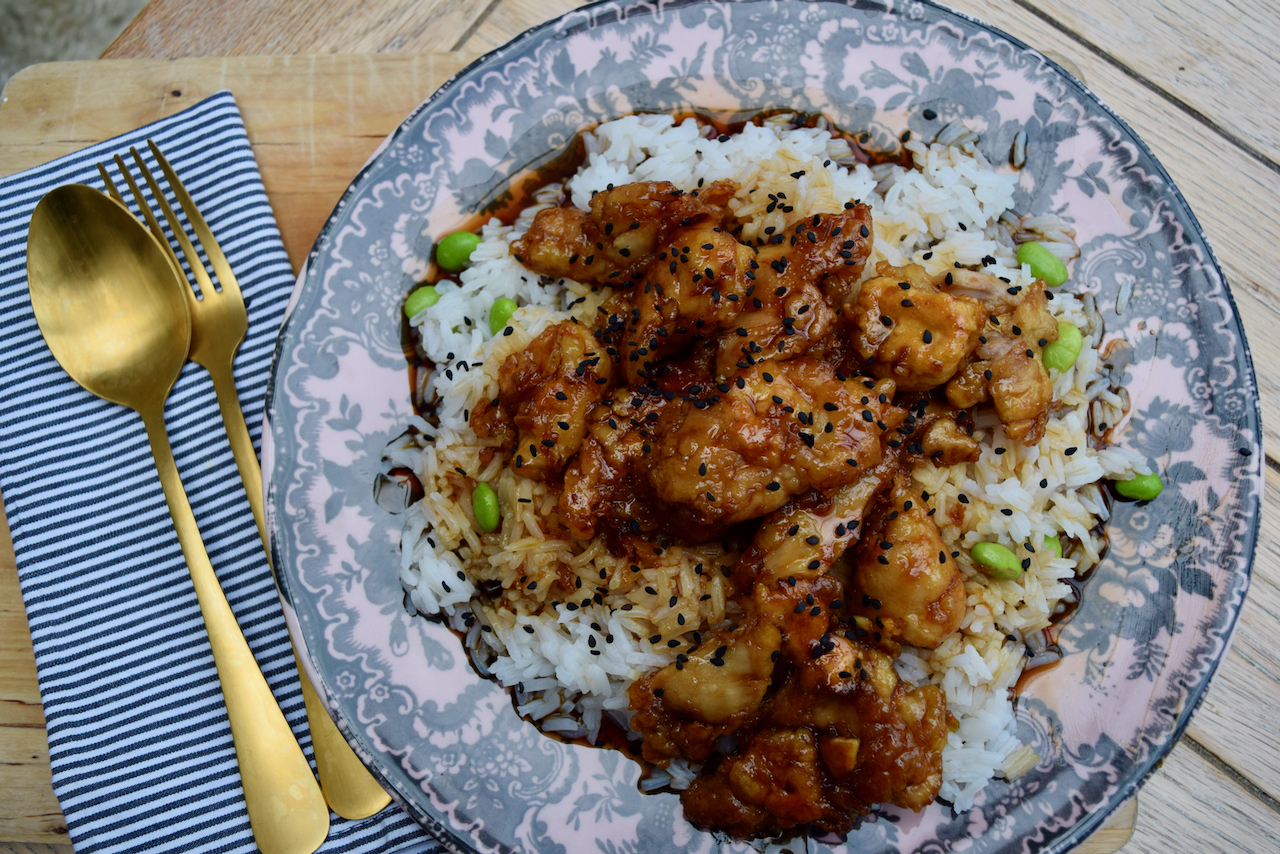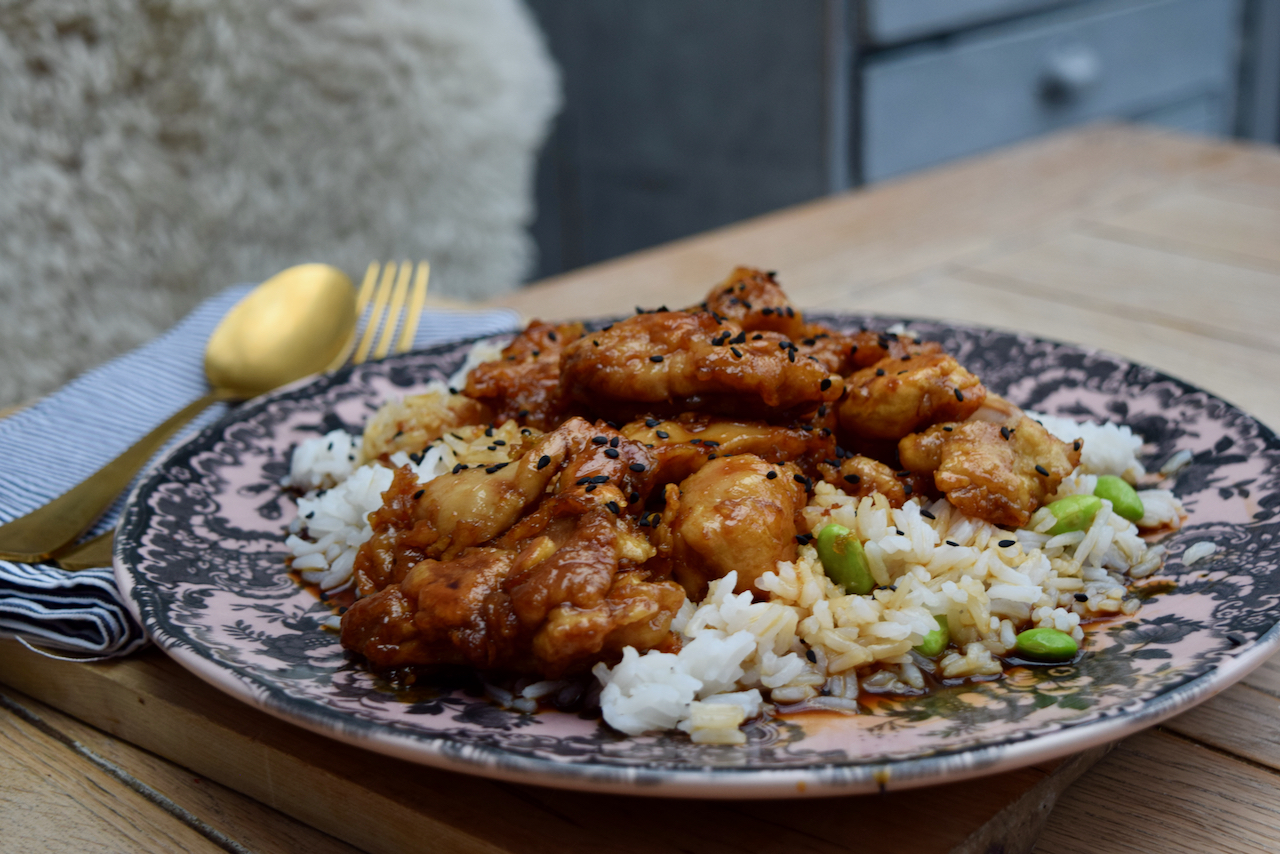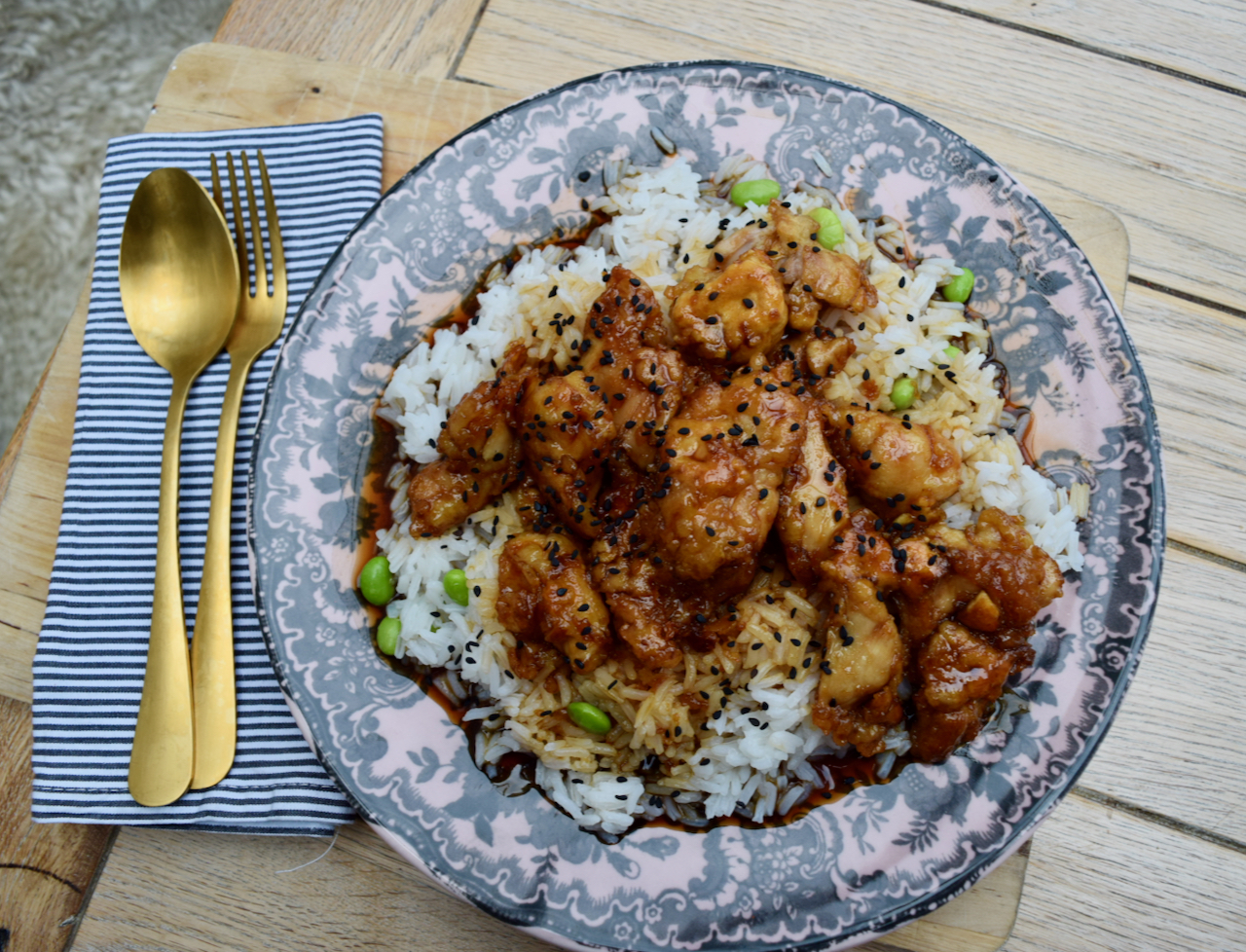 These days, it's rare to discover a dish which tastes new and exciting. This Sticky Marmite Chicken really caught my eye and has totally captured my heart. And suffice to say, it'll be on the menu again tomorrow if my Marmite stash hasn't been totally depleted.
Lucy x
Sticky Marmite Chicken recipe
You will just need bowls and a large frying pan for this
Serves 2, 3 or 4, appetite dependent
Crispy Chicken
500g boneless chicken thighs, or breast if you'd prefer
1 tablespoon vegetable oil
1/2 teaspoon salt
1 egg
80g cornflour
Vegetable oil for frying, about 3 tablespoons
Marmite Sauce
90ml runny honey
4 teaspoons Marmite
4 teaspoons light soy sauce
2 teaspoons sesame oil
50ml water
Sesame seeds, black or white and rice and a green vegetable to serve
Start with the chicken. Chop it into bite sized pieces then stir in a tablespoon of vegetable oil and half a teaspoon of salt. Leave to sit for 10 to 20 minutes.
Make the sauce by whisking together the honey, marmite, soy, sesame oil and water. Pop to one side while you fry the chicken.
Heat around 3 tablespoons of vegetable oil over a medium high flame. Stir the egg into the chicken then fold in the cornflour so the chicken is coated in a light batter. Add the chicken to the hot oil, separating the pieces into a single layer. Cook the chicken, without moving, for 3 to 4 minutes, or until golden and crisp on the bottom. Turn the chicken over and brown on the underside for another 3 to 4 minutes. Remove from the pan to a plate.
Turn the heat down to low, and if there's any oil left in the pan, wipe it with kitchen paper. Pour in the Marmite sauce and allow to simmer and thicken slightly for a couple of minutes.
Tip the crispy chicken back into the sauce and stir to coat. Bring back up to the simmer and cook gently for a minute or two to reheat and coat the chicken.
Serve, over rice, sprinkled with some sesame seeds. Devour whilst piping hot.