Salted Coffee Chocolate Biscuit Cake
I don't want to say the summer's over, but the summer's over. It's even raining to really seal the deal and to ensure I'm in full misery mode. The school holidays have raced by. It only seemed 5 minutes ago I was wondering how I was going to entertain George for 6 weeks and now here I am, hundreds of pounds poorer and almost totally bereft of a sense of humour and he's back to school again. The fridge is empty, as is my bank account and I can't wait to get back to normality and some sort of sense of routine. But before my vain attempts to get George to eat at least one vegetable a day start, lets all have a treat first. And my God, this Salted Coffee Chocolate Biscuit Cake is a huge treat.
Biscuit cake is a brilliant no bake treat at the best of times. It's quick, you don't need to switch the oven on and it keeps for at least a week in the fridge, if it's well enough hidden. This Salted Coffee Chocolate Biscuit Cake is wonderful, even if I do say so myself. It has a tiny hit of coffee, crisp biscuits and rich chocolate, all off set with a touch of sea salt. It's child friendly, but adults will be wrestling it out of their little felt tipped pen stained hands. I used Malted Milk Biscuits as I love them and they're good value, but a shortbread, rich tea or digestive would be as good. The coffee and salt are not over powering, they simply enhance the rich chocolate taste. I can vouch for it's amazingness as I have made it 3 times in 3 days and eaten an obscene amount of this tasty tray bake. This wonderful recipe inspiration came from Chatelaine, with huge thanks.
I know some parents will be weeping to see their little ones waving from the school gates, but I have to say, George really needs to get off the X-box and get back to reality, and I won't feel teary when I shove him out the door this Tuesday. The promise of a full fridge and a mess free house is keeping me going until then.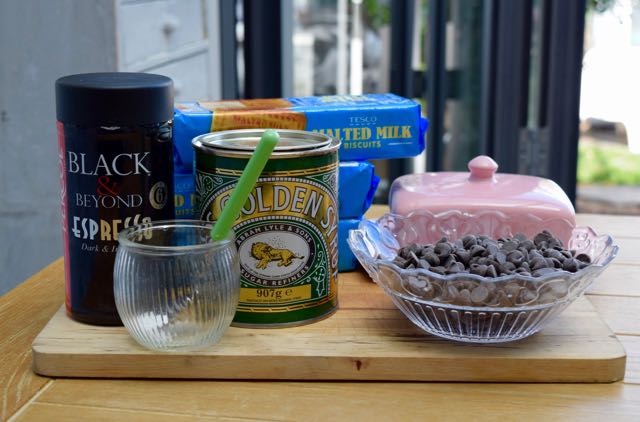 Love a tin of Lyles Golden Syrup, such a classic design and filled with sweet, sticky deliciousness. I used 50% cocoa dark chocolate to keep it relatively child friendly, but use a 70% if you like or half milk and half dark chocolate, or all milk. Make sure you have the instant espresso powder too, this works brilliantly or if you can't get it I would mix a tablespoon of regular instant coffee with boiling water and add that.
Make a start on your tray of chocolate/coffee/salty wonder by lining your rectangular baking tray with cling film or baking paper.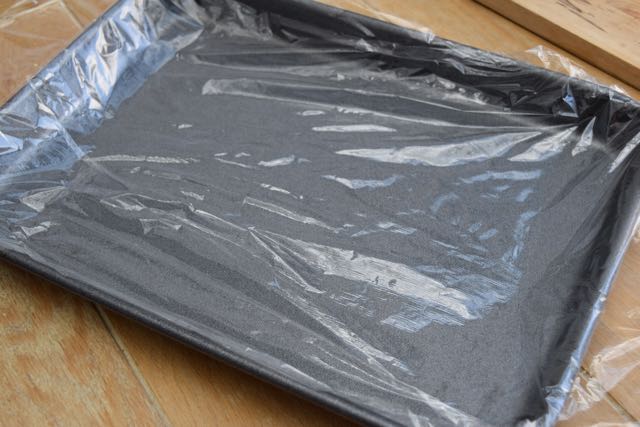 Take your biscuits of choice and add them to a sturdy resealable food bag, or add to your food processor. Bash them in the bag with a rolling pin or process until you have a chunky rubble texture rather than biscuit dust.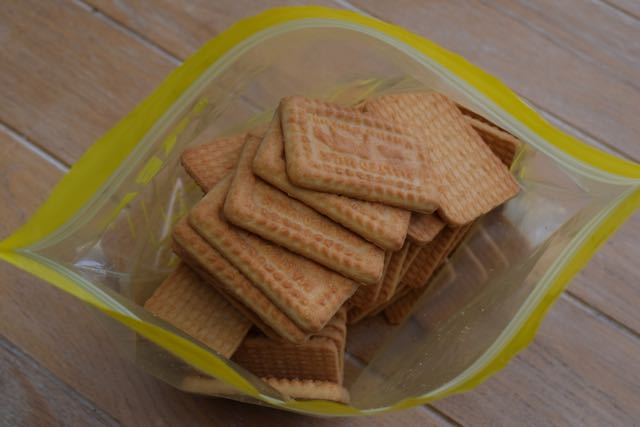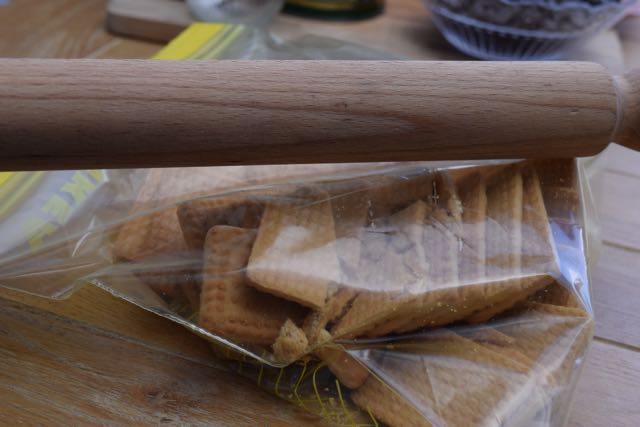 Pop the crumbs to one side while you prepare the chocolate element.
Take a medium sized bowl and add the chocolate, butter and golden syrup. Either pop this over a pan of simmering water or microwave until just starting to meld together. Please admire and lust after my wonderful enamel mixing bowl set from Aldi. They are a mere £9.99 for two and are part of some amazing baking Superbuys both on line and in store.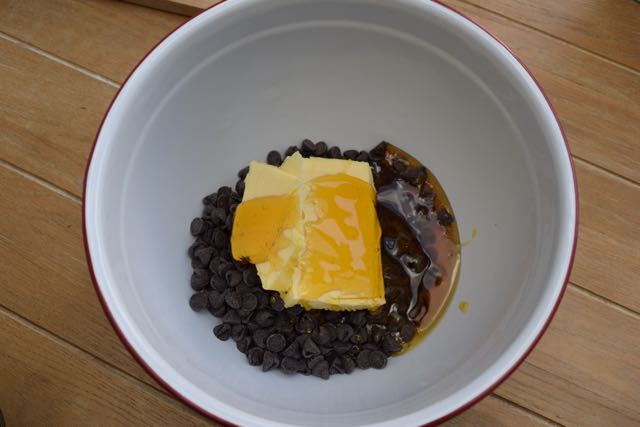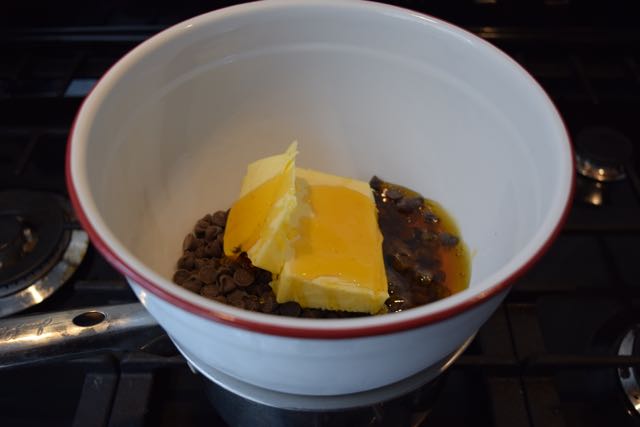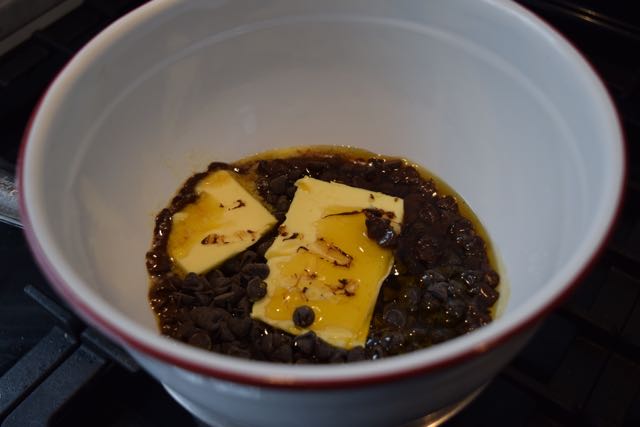 Remove the bowl from the heat or microwave and give the chocolatey mix a good stir until smooth and glossy. Now add the spoonful of instant espresso coffee powder, stir, then tip in the crushed biccies.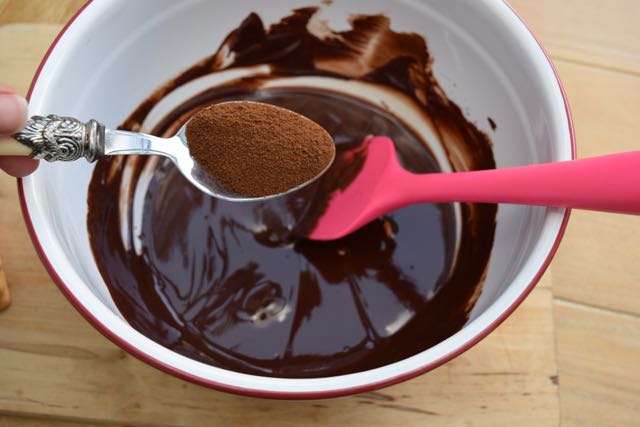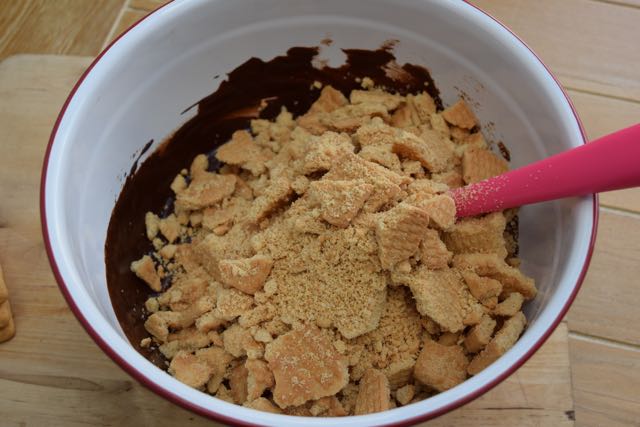 Stir in the sea salt then press into your lined tin.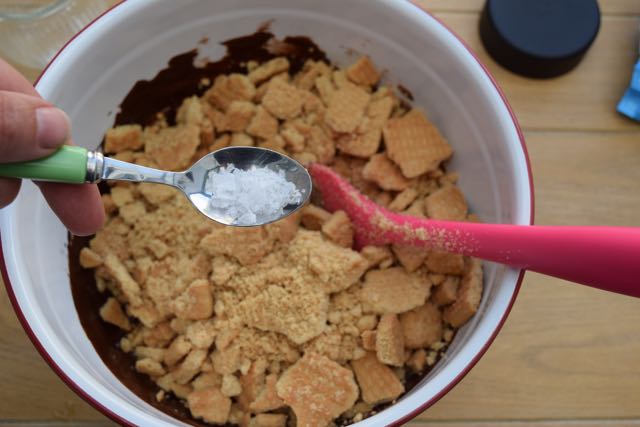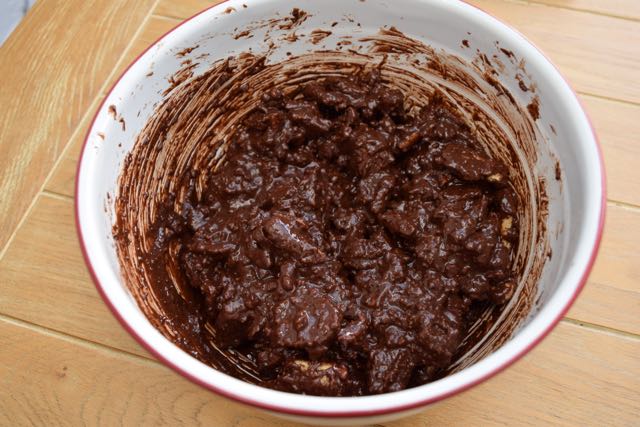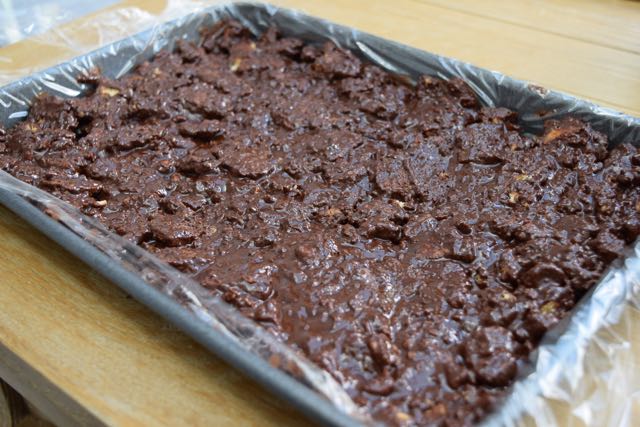 Crumble up the reserved two or three biscuits and sprinkle on the top along with some edible glitter if you fancy.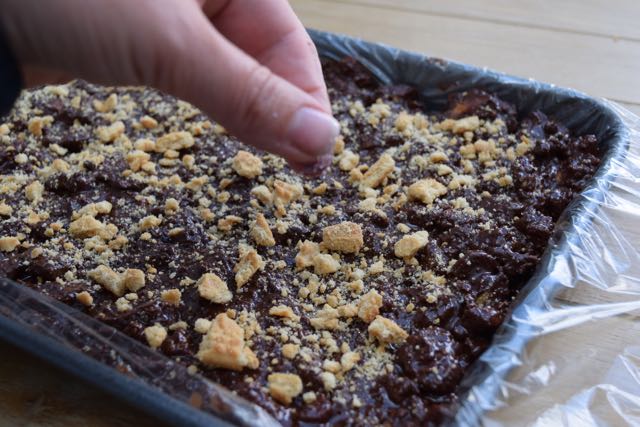 Pop in the fridge, for at least a couple of hours, to chill completely before slicing. This keeps beautifully, wrapped, in a cool place, well hidden from greedy people for at least a week.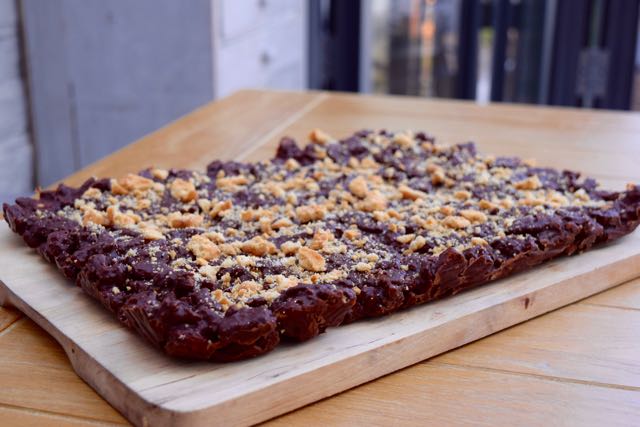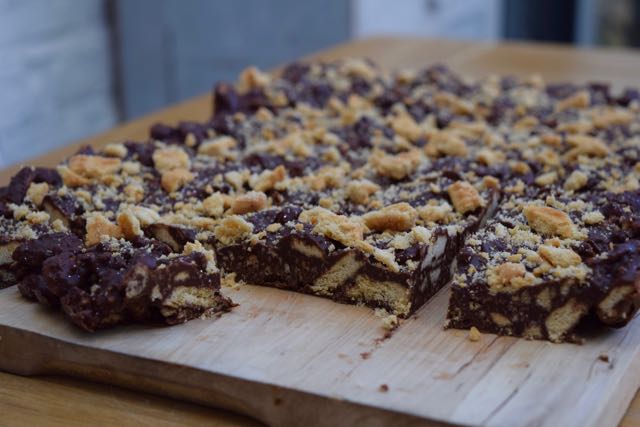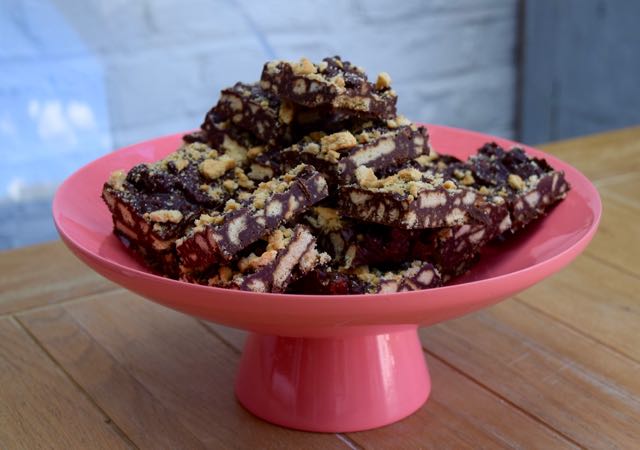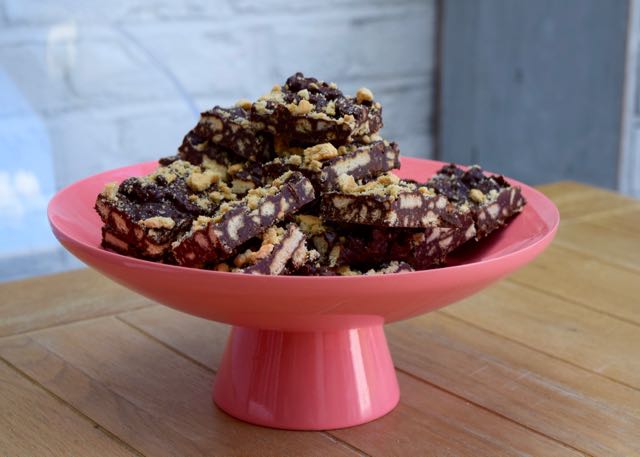 Ben is off to university in just under two weeks *sobs* and this is just the sort of treat I will be packing him off with. It keeps brilliantly in a lovely tin and will be an amazing way of wooing new friends. Back to school or not, this is a tray bake for all ages. It's a child-like treat with just a hint of maturity. That's me all over.
Lucy x
Aldi kindly gave me the enamel bowls in this post, but all ramblings and opinions are, as always, my own.
Salted Coffee Chocolate Biscuit Cake
You will need a rectangular swiss roll style tin, around 9 x12 inches, lined with cling film or baking paper
Makes a bloody great big slab, around 40 pieces
400g biscuits, plus 2 or 3 spare for crumbling on top – I love Malted Milk but use what you have to hand
300g chocolate, I used a cheap-ish dark but mix dark and milk or just milk if you prefer
120g butter
125ml golden syrup
1/2 teaspoon flaky sea salt, such as Maldon
1 tablespoon instant espresso powder
Edible glitter or sprinkles to decorate, if you like
Take your baking tin and line with cling film or baking paper.
In a food processor or a sealable food bag with a rolling pin, crush the biscuits until they are a sort of chunky rubble rather than dust, keep to one side.
Add your chocolate, butter and syrup to a bowl and either microwave until just starting to melt or place over a pan of simmering water, again, until just melting. Remove from the heat and stir well until everything is smooth and shiny. Stir in the tablespoon of espresso powder.
Tip in the crushed biscuits, add the sea salt then stir really well to ensure everything is evenly coated. Tip into the lined tin, pressing into the edges and levelling the top. Crush then sprinkle the 2 or 3 remaining biscuits over the top of the slab, add edible glitter if you are that way inclined then put in the fridge to chill for at least two hours, longer if you like.
Once set, cut into squares and devour. This will keep safely in the fridge for at least a week.
SaveSave
SaveSave
SaveSave
SaveSaveSaveSave
SaveSave
SaveSave
SaveSave