Tiny Eclairs Recipe
This year, for the first time in 33 years, Clyde and I have decided not to bother buying Valentine's cards. We have never gone down the flowers or dinner out path, but we have always exchanged cards. But this year, we have finally come to the conclusion that Valentine's is just not worth the £3 card each and that we'll continue to love each other as much *or as little* as we do every other day. This year, I am embracing Valentine's as a time to show your loved ones love, without the ridiculous expenditure and abundance of unnecessary frou frou. What better way to do this than with a bloody great big plate full of Tiny Eclairs.
Ok, so I couldn't quite leave the whole Valentine's thing alone completely. My Tiny Eclairs are pink, but that's more for me than anyone else, because, as you know, nothing is pink in my house. I have been wanting to make eclairs for ages, but time has not been a good friend recently. But, now, I have had plenty of practice and am happy to announce these Tiny Eclairs are almost perfect. A simple batch of choux pastry, and it is simple, just melting then beating; then some piping which is also simple, and quite therapeutic. And if you really can't be arsed to get a piping bag out, then these eclairs could oh so easily be choux buns by just spooning the pastry instead of piping.  You can then choose how to decorate your eclairs and if you don't have pink chocolate to hand, go milk, dark or white. Or if you prefer a simple glaze, then ice them with some glace icing. Eclairs are the one treat, which I actually buy from a shop. But no more, now I've nailed homemade Eclairs I can make/eat them whenever I want. And gift them whenever I want, which, I'll be honest will be less often then when I want to eat them. It is with huge thanks to a recipe in the Belfast Telegraph for these.
I made a lot of Tiny Eclairs today and gifted quite a few of them. Our house was busy, so at least 8 people ate these baked tokens of my love. They got great reviews from all, which has filled my heart with love, so much more than a tacky card would have.
This line up doesn't scream romance, or anything terribly exciting really, but from little acorns mighty oaks grow, or something similar.  I didn't include the chocolate for the topping, for two reasons: 1) you can top these with a variety of things, such as icing or melted chocolate and 2) I hadn't decided how I was topping mine so decided to keep my options open by unhelpfully showing you nothing.
That aside, these Tiny Eclairs are simple. So let's get going. Pre heat your oven to 200 degrees fan assisted and line two large baking sheets. Take a saucepan and measure in your butter, sugar and fizzy water. I imagine these would be perfectly fine with still tap water, so don't panic if you don't have fizzy.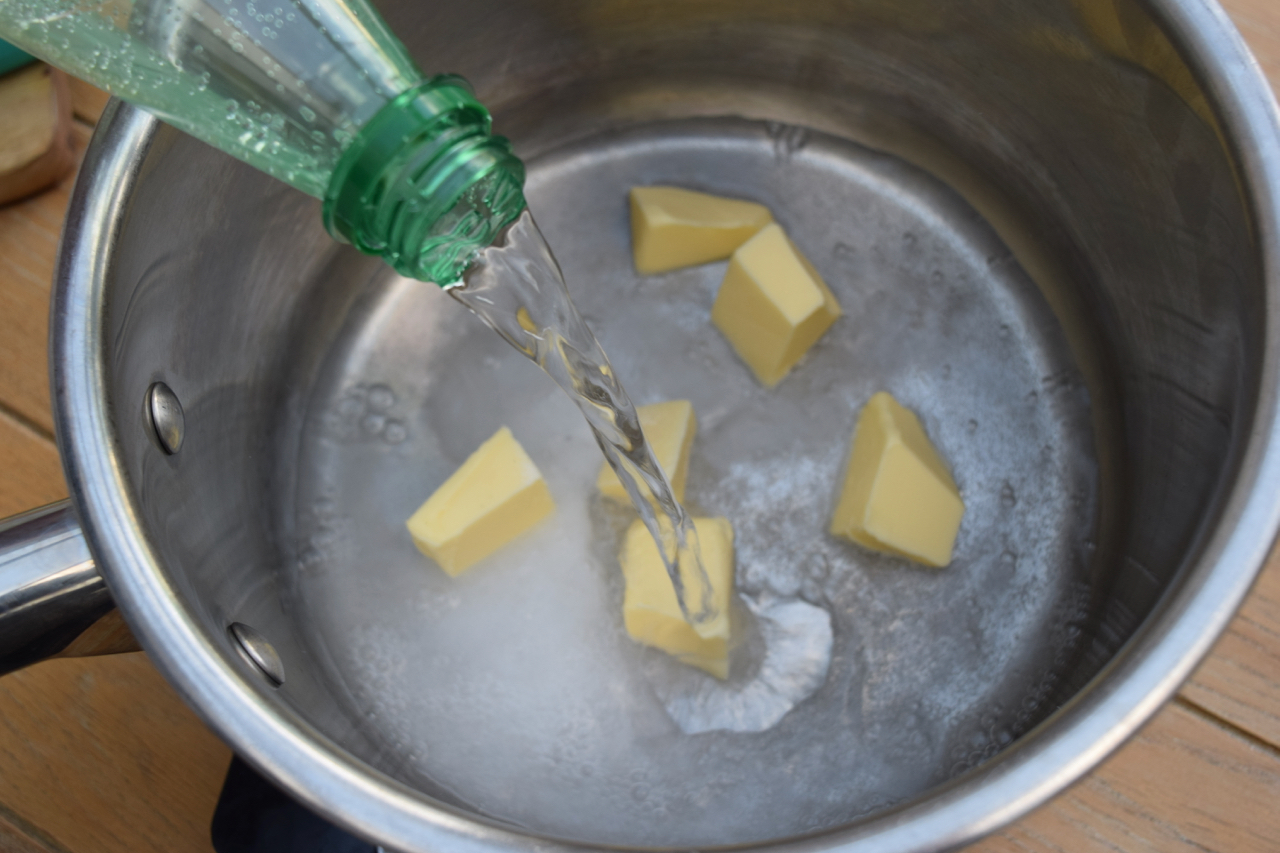 Bring this up to the boil over a low heat then take off the hob. While it's simmering measure out your flour and eggs.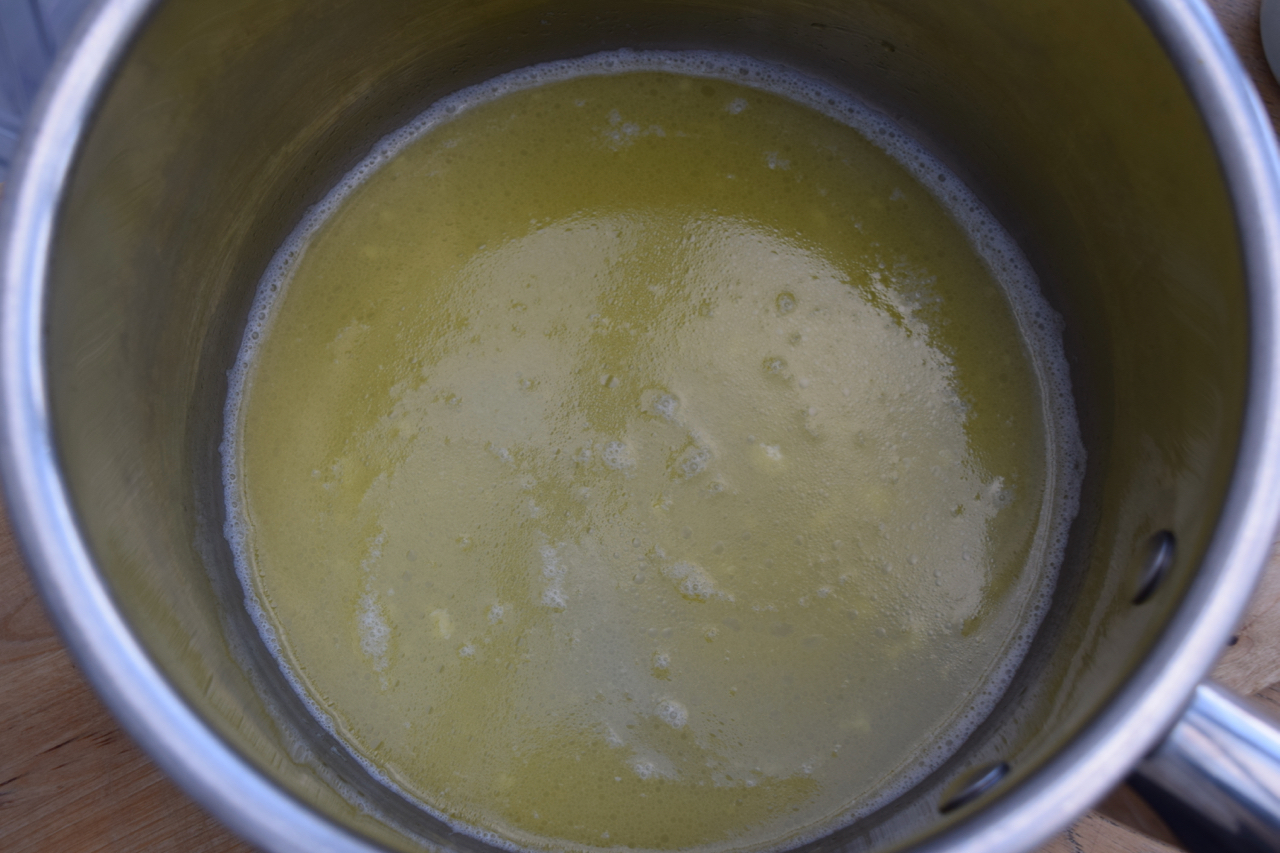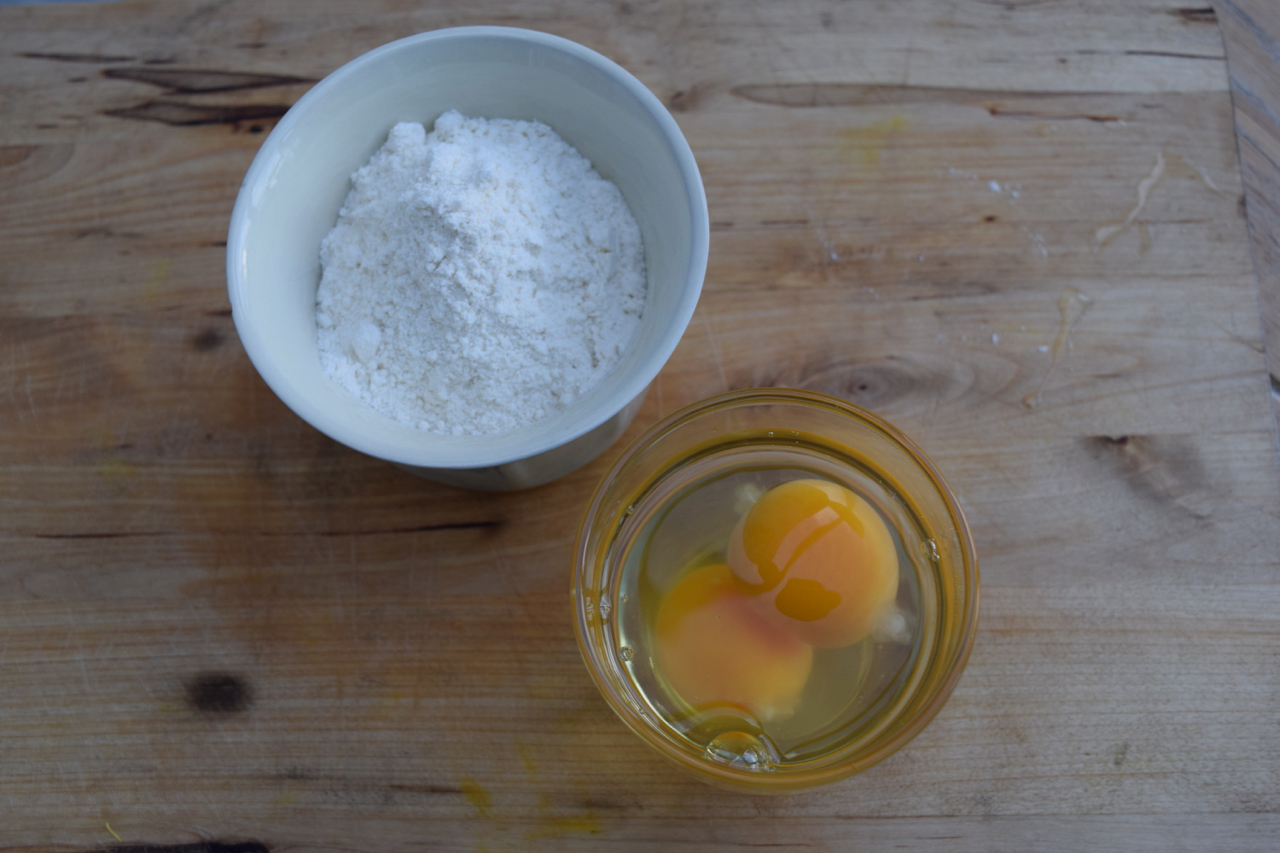 Remove the melted butter mix from the hob and quickly tip in the flour and beat well until smooth. Then leave to cool for 15 minutes.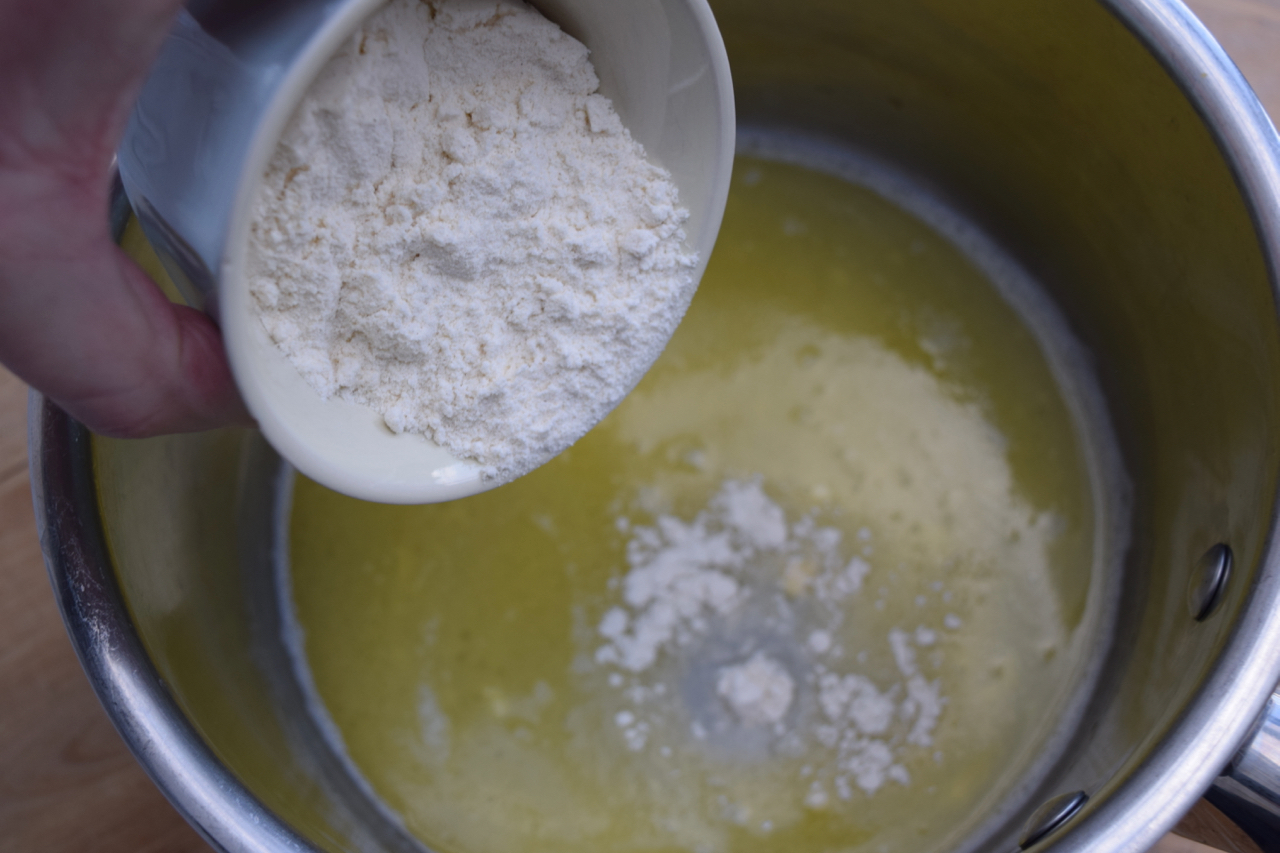 Whisk the two eggs and once the mixture is cool, beat in the egg, a little at a time. Beat well between additions until the mixture is smooth and a dropping consistency. You may not need all the egg, so add a little at a time.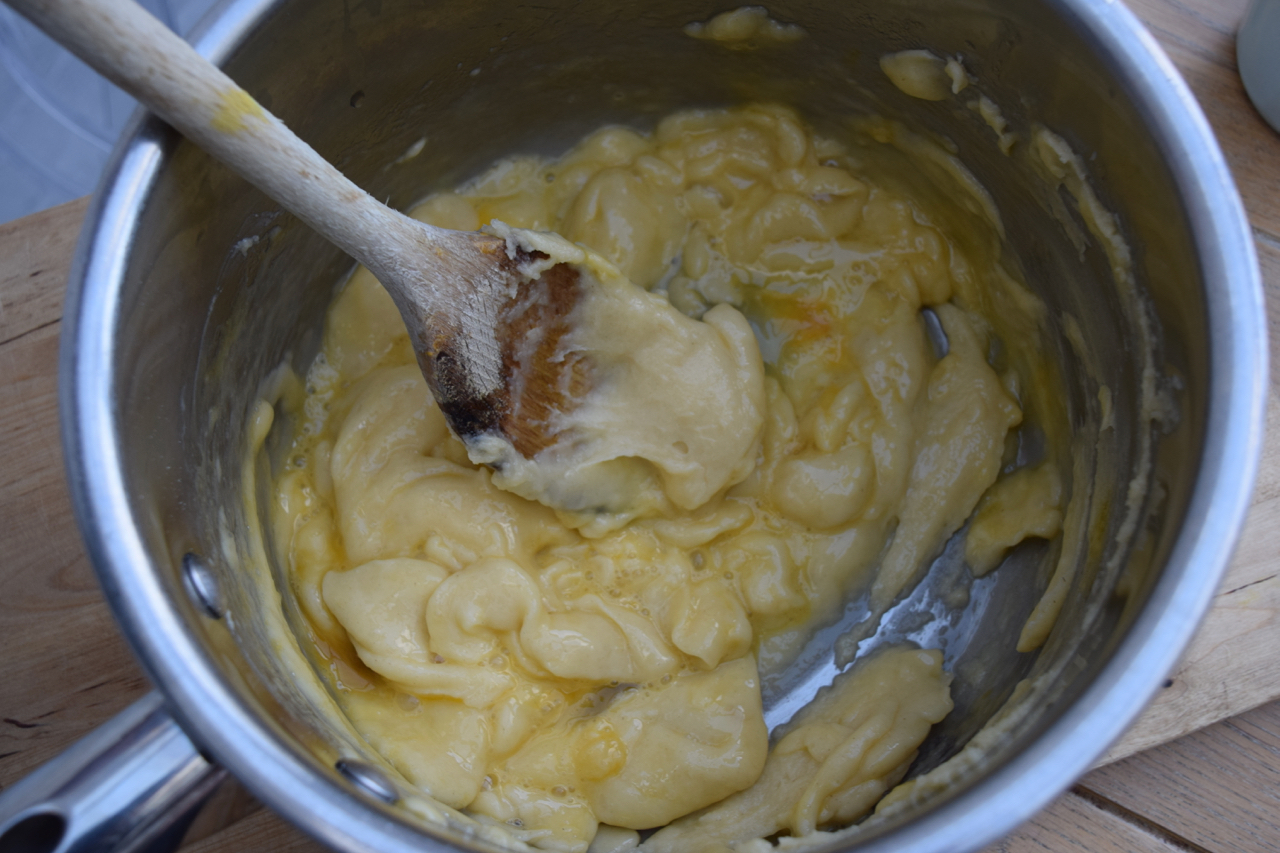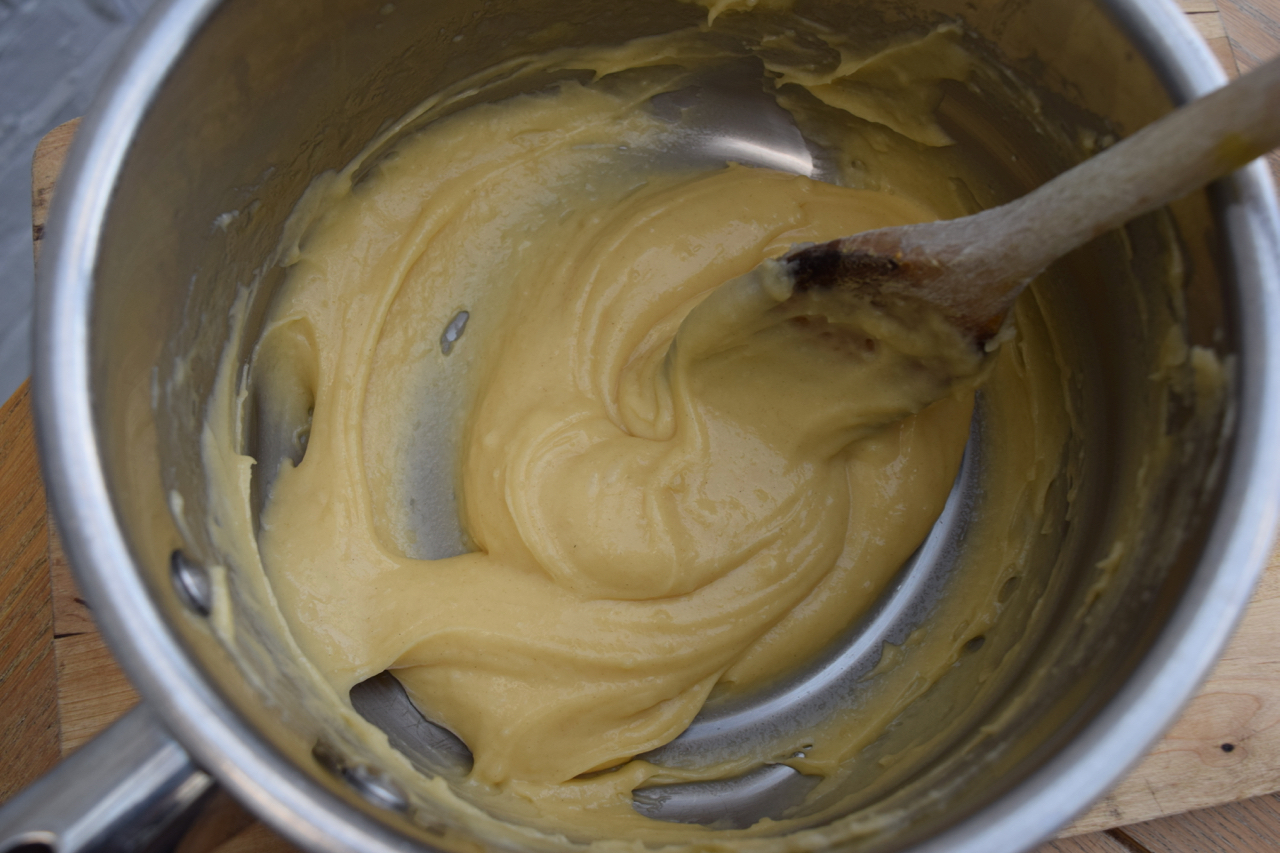 Now, fill a piping bag, either fitted with a 1cm plain nozzle or just cut the end off your bag. Sprinkle a little water onto your lined trays then pipe around 8cm/2 inch lengths of choux pastry onto the paper.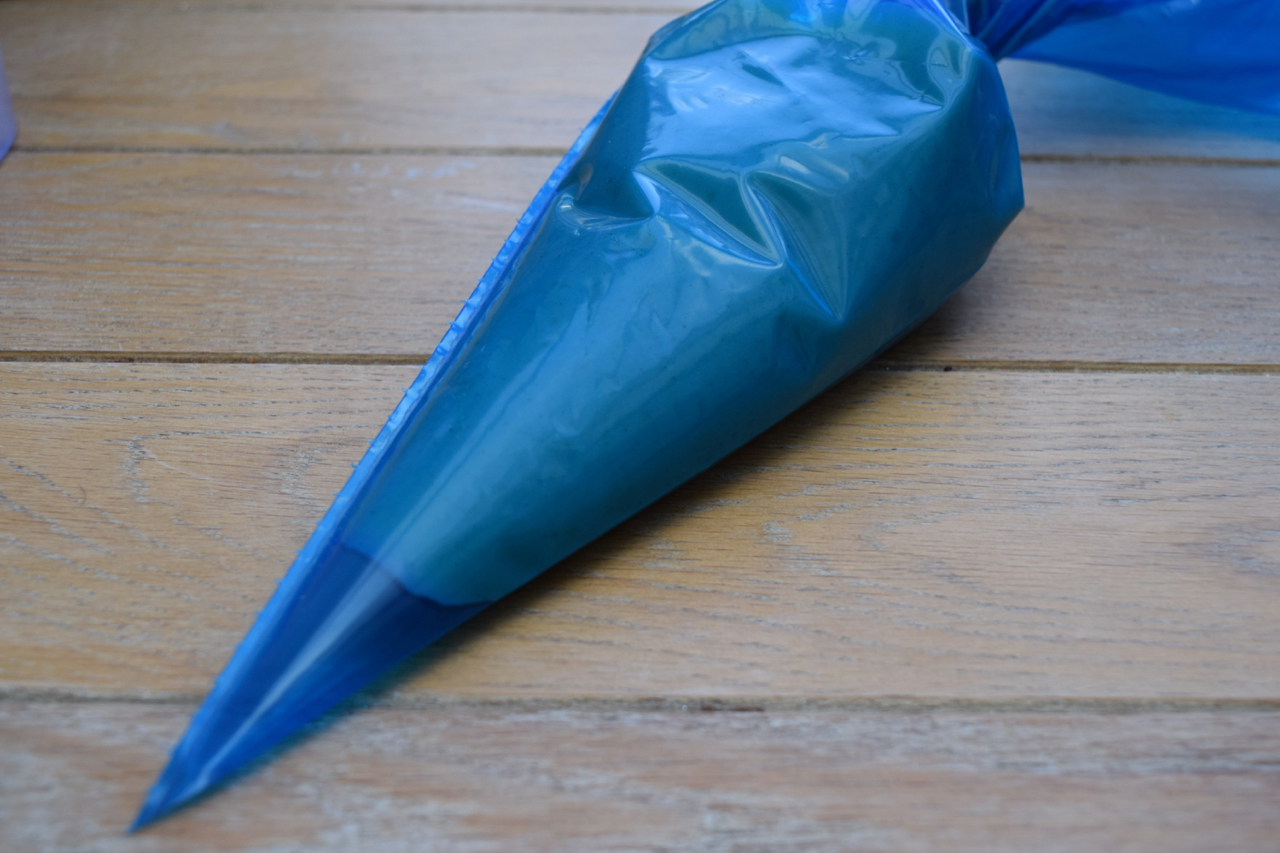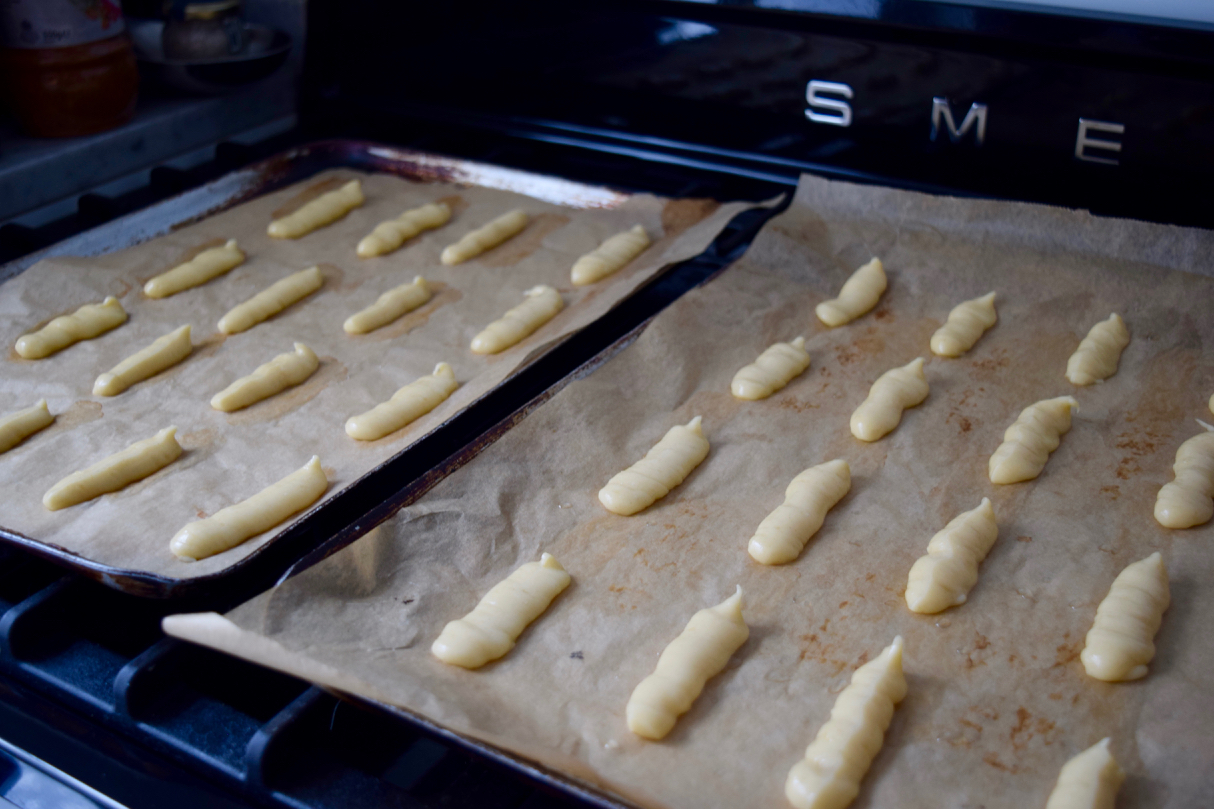 Bake these for 15 to 20 minutes or until golden brown and crisp. As soon as they are out of the oven, make a tiny slit in the side of each to release the steam and to stop them going soggy.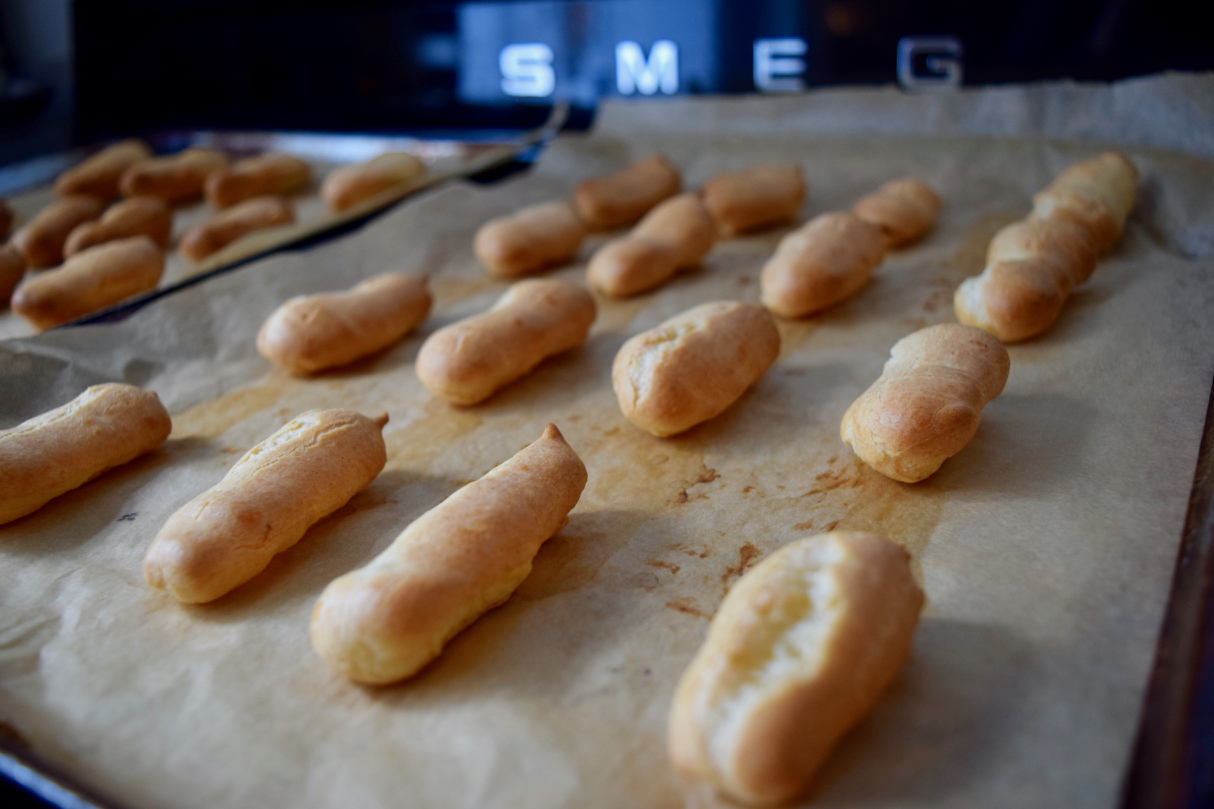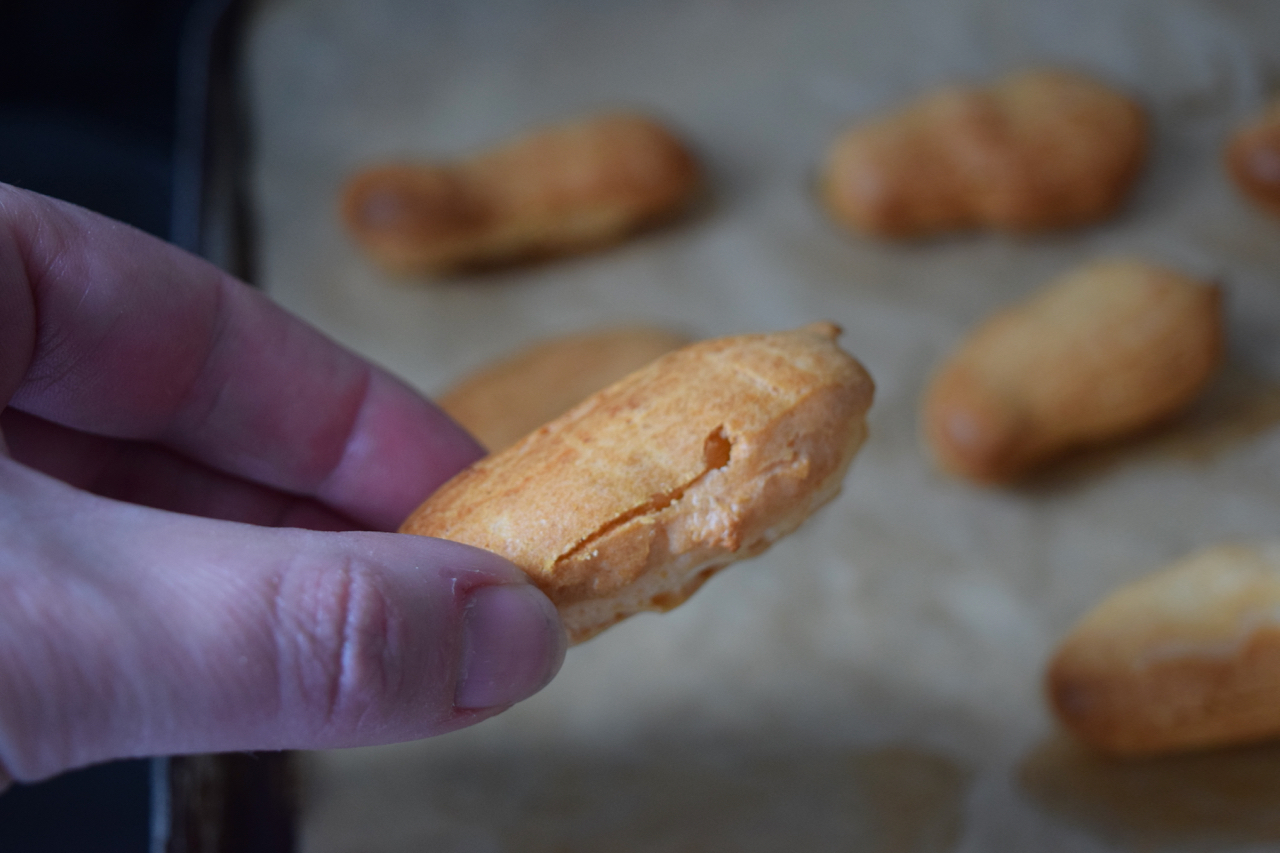 Leave these to cool on a wire rack then split in half ready for filling with cream.
Whip your double cream until it's holding soft peaks then, if you have another one, spoon it into a piping bag and cut off the end. Melt your chocolate of choice and give it a good stir.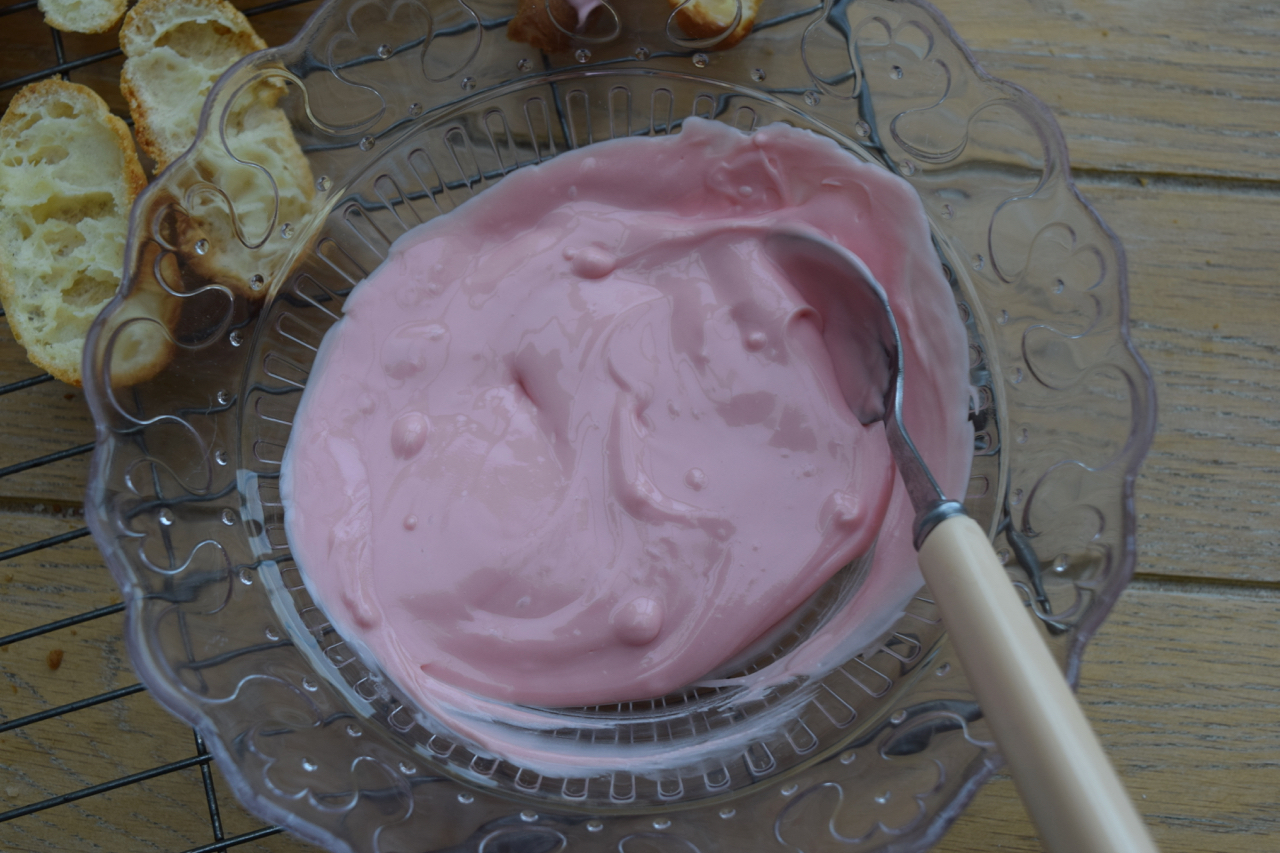 I couldn't resist the pink candy melts, but use whatever chocolate you have to hand for these.
For filling and topping, start with the tops, dipping them in your melted chocolate then leaving them to set while you pipe or spoon the cream, generously, onto the bottoms.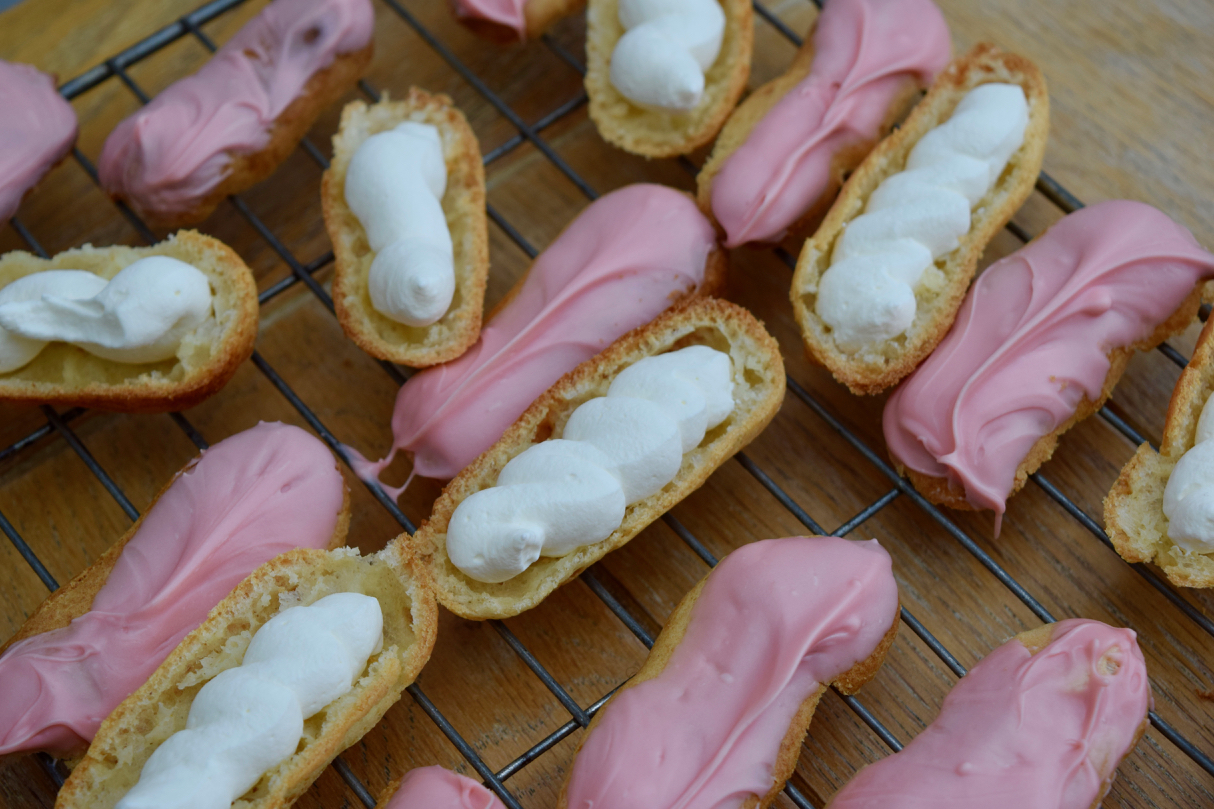 Sandwich the eclairs together then make a cup of tea and try not to eat them all in one sitting. OR, gift them to the loves of your life. I'd take the first scenario myself.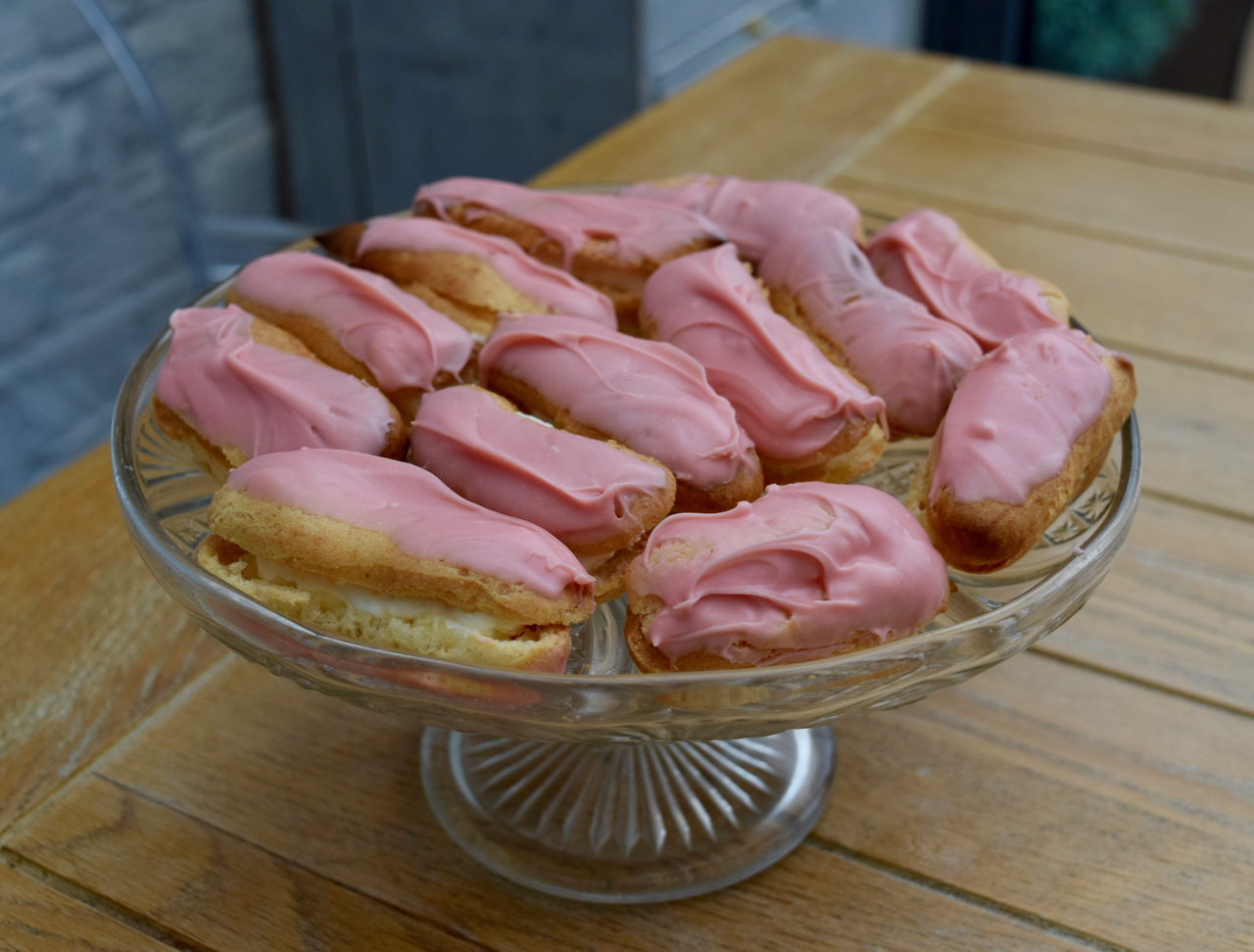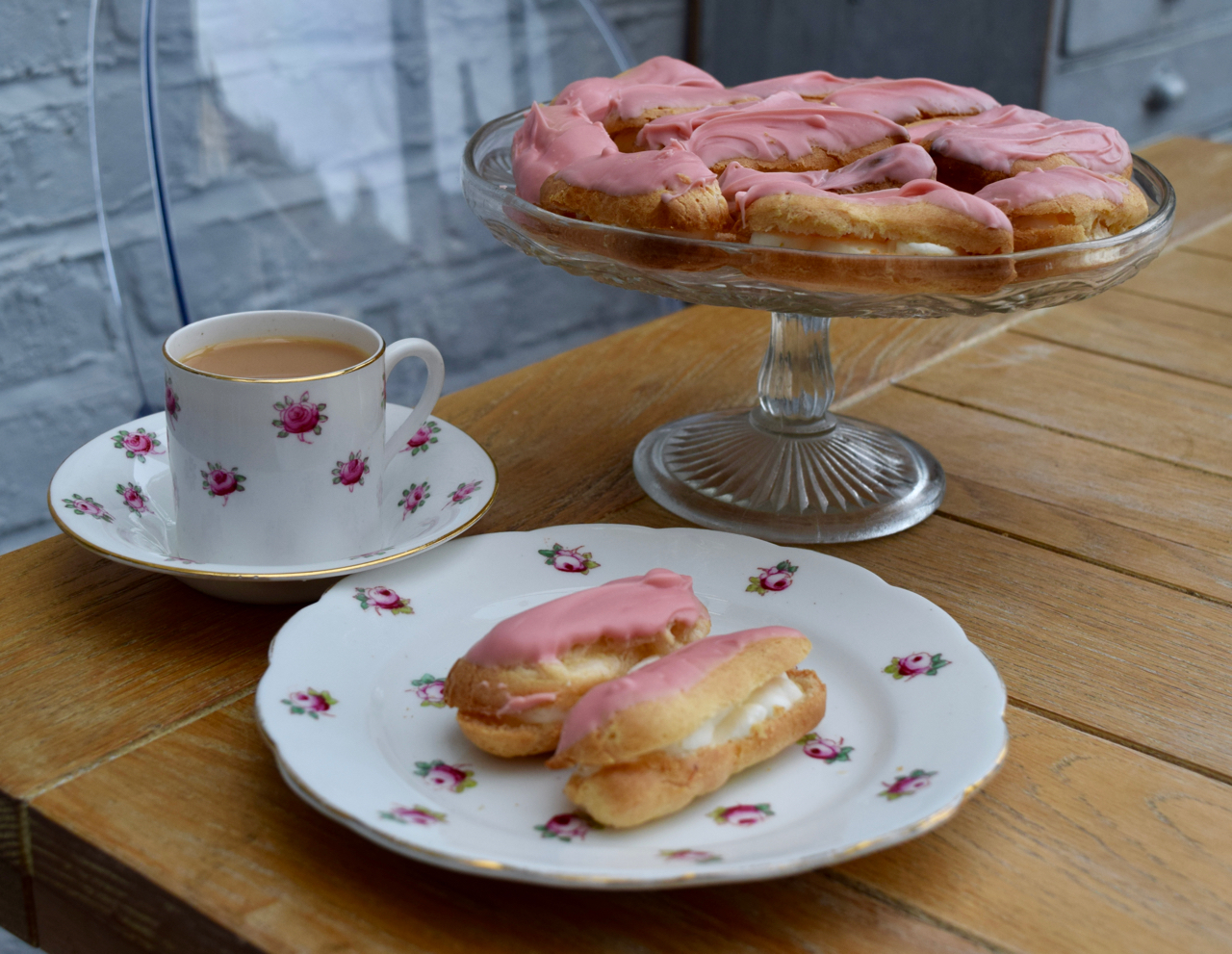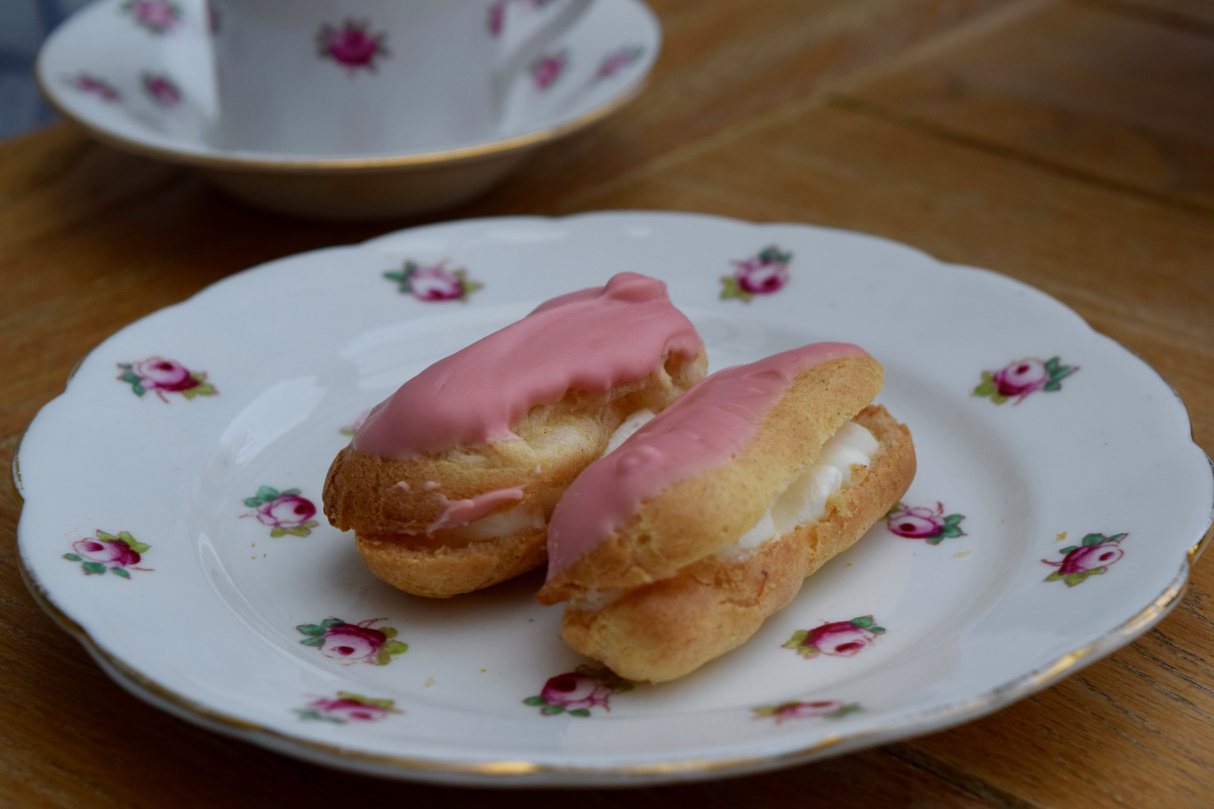 You could make these Tiny Eclairs full size, but where's the fun in that. And, you would only be able to eat one, whereas, I happily ate at least 10 tiny ones without even a backward glance.
Valentine's Day is really a lot of old nonsense, putting people under pressure to feel loved or to be in love. I am in love with these Tiny Eclairs and I think a plateful may be the only company you need this Thursday.
Lots of love from me to you.
Lucy x
Tiny Eclairs Recipe
Makes at least 30 mini eclairs, size dependent
You will just need a pan and lined baking sheets
Eclairs
65g plain flour
50g butter, cubed
150ml fizzy water, or just use tap if you don't have fizzy to hand
1 tablespoon caster sugar
2 eggs, beaten
Filling and topping
200ml double cream
100g chocolate, melted, I used some pink Candy Melts, but use dark, milk or white if you would rather
OR
150g icing sugar, sifted
2-3 tablespoons boiling water with food colouring, if you like
Pre heat your oven to 180 degrees fan assisted and line two large baking sheets.
Take a good sized saucepan and measure in the butter, sugar and fizzy water. Put on the hob over a low heat and bring up to the boil. Take off the heat then beat in the flour with a wooden spoon, until smooth. Leave to cool for 15 minutes.
Whisk the eggs then pour into the cooled mixture, a little at a time, beating as you add. You may not need all the egg, so add cautiously. Your finished dough will be a firm dropping consistency, and glossy. Spoon this into a piping bag using a 1cm plain nozzle, or when the bag's full cut the end off to create a 2cm-ish opening.
Drizzle a little water onto each lined baking sheet, then pipe 2 inch long lengths of choux pastry, leaving space to expand in between. Bake for around 20 minutes or until golden brown and crisp.
Once they're cooked, take them out of the oven and make a small slit in the side of each to release the steam. Leave to cool.
To fill and decorate these tiny eclairs, whip the double cream until you have soft peaks. Melt your chocolate until just starting a meld together. Or if using icing, mix the icing sugar with the water, using a couple of drops of food colouring if you like, until smooth.
When you are ready to assemble your eclairs, split each one in half then either using a small piping bag with the end cut off or with a teaspoon, fill the bottom half of your eclair with cream. For the tops, dip each one in either your melted chocolate or icing and leave to set on a rack.
Sandwich the two halves back together, and pop onto a lovely serving plate and try not to eat all 30 at once. These will keep in the fridge for a day, but are best enjoyed straight away.