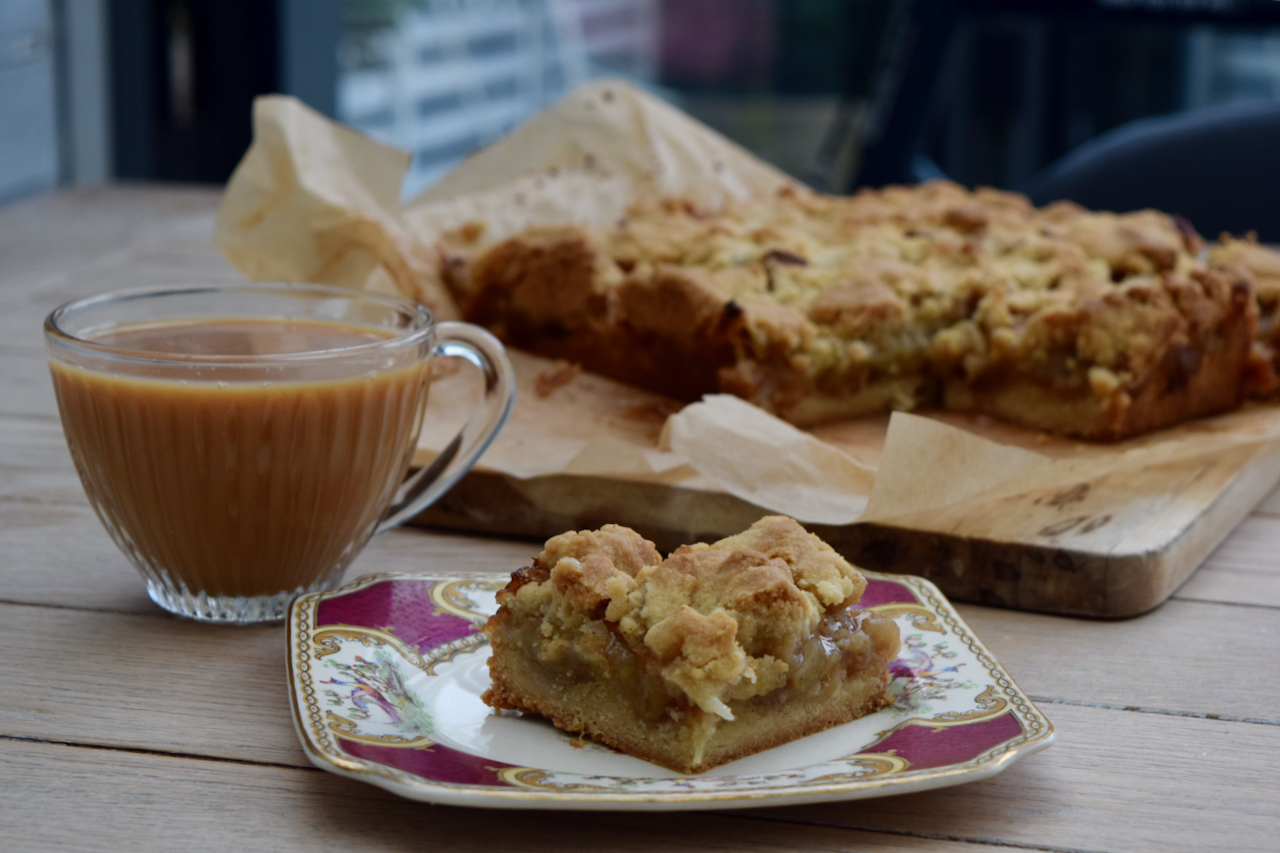 Brown Sugar Apple Shortbread recipe
Well, it's been quite the week. Her Majesty, Queen Elizabeth, after a long and magnificent life, has died and I'll admit, I've been feeling quite teary. She's been a constant in my life, as she has in so many lives, so her loss has left me feeling a little discombobulated. I've turned to baking, and drinking, for comfort and the result is this soft and autumnal Brown Sugar Apple Shortbread.
Apples scream autumn and there's only so much crumble one person can eat. These lightly spiced fruits are cooked on a layer of brown sugar shortbread with another layer scattered on the top. The shortbread is buttery, oh so buttery and just sweet enough to sit beautifully alongside the slightly sour apples. This can be served in hoofing great big tea time squares or if you prefer, bake this seasonal treat in a loose bottomed tart tin and make it a dessert.
Comfort food is the order of the day if you too are feeling sad. That said, I'll find any excuse to eat cake and to sip a little gin and Dubonnet.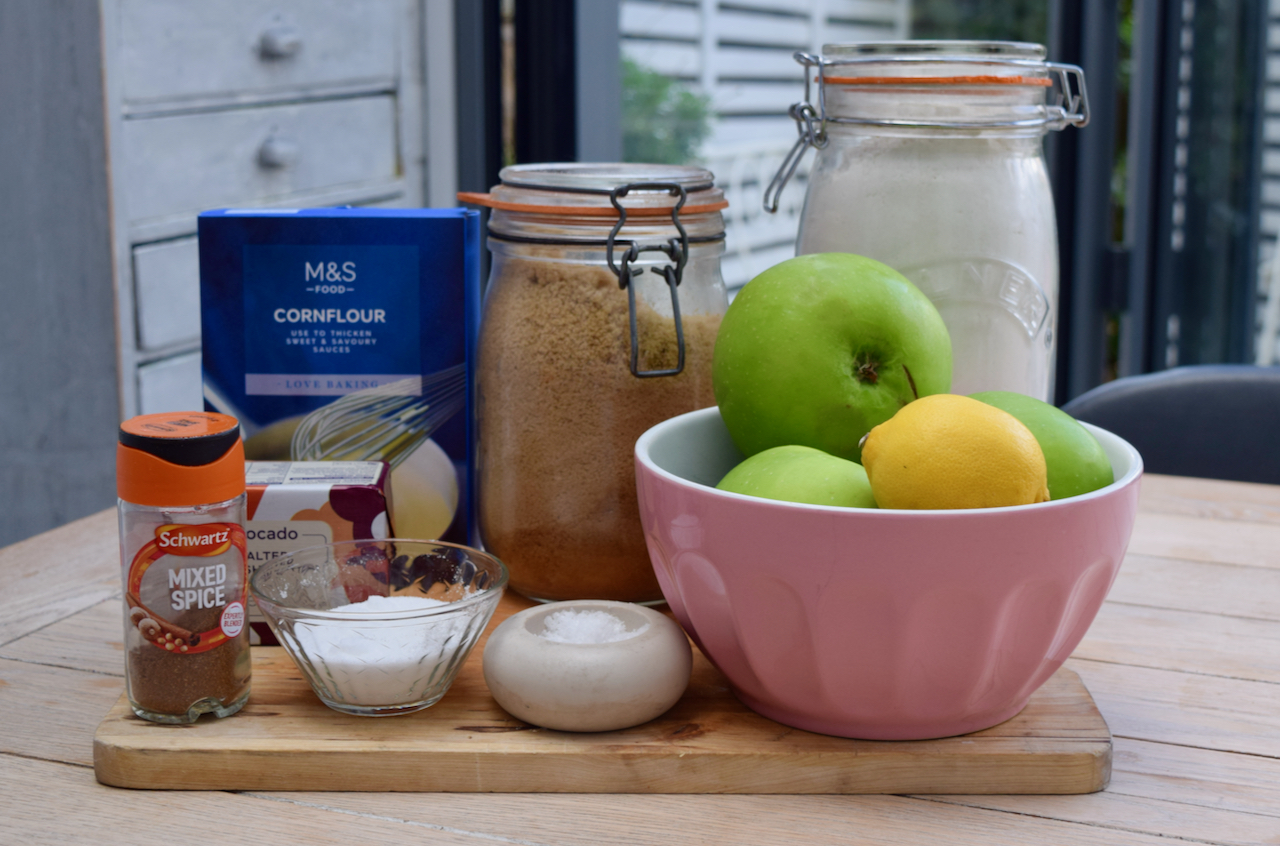 Nothing alarming to see here, just comforting late summer ingredients. You may only need two cooking apples, but I packed my shortbread with fruit, so went for three. Mixed spice is my favourite seasonal flavour, but if you are more of a straight cinnamon kind of person, then go for that.
Start with the apples. Peel, core and dice them *my most tedious job ever* then toss in the lemon juice, mixed spice, cornflour and pinch of salt and coat well.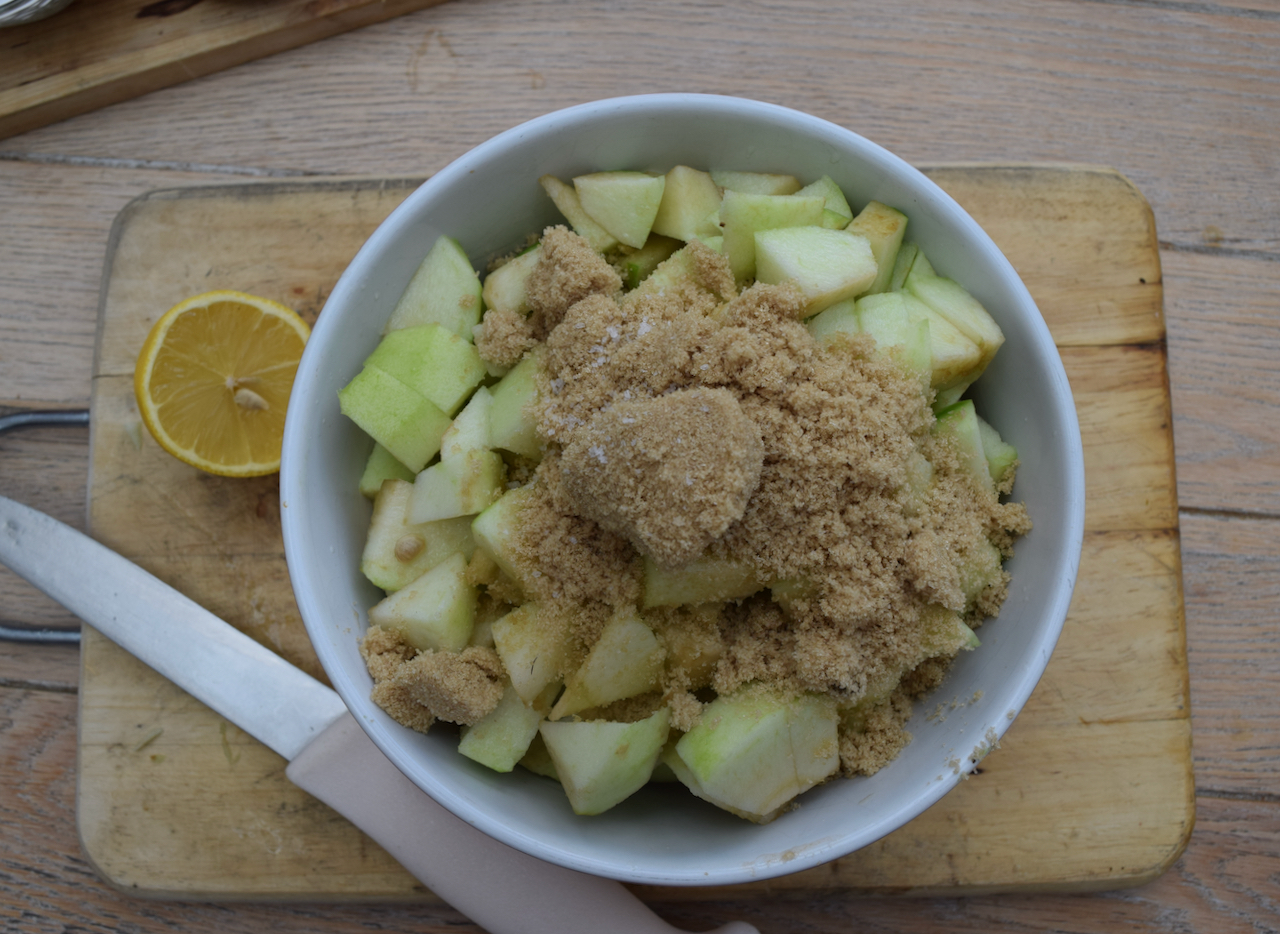 Pop the apples to one side while you make the brown sugar shortbread. Pre heat the oven to 160 degrees fan assisted and line your square baking tin with paper. Lazy bones that I am, I made my shortbread in my Magimix, but if you're feeling strong, cream the soft butter and caster and soft brown sugars together until light and creamy.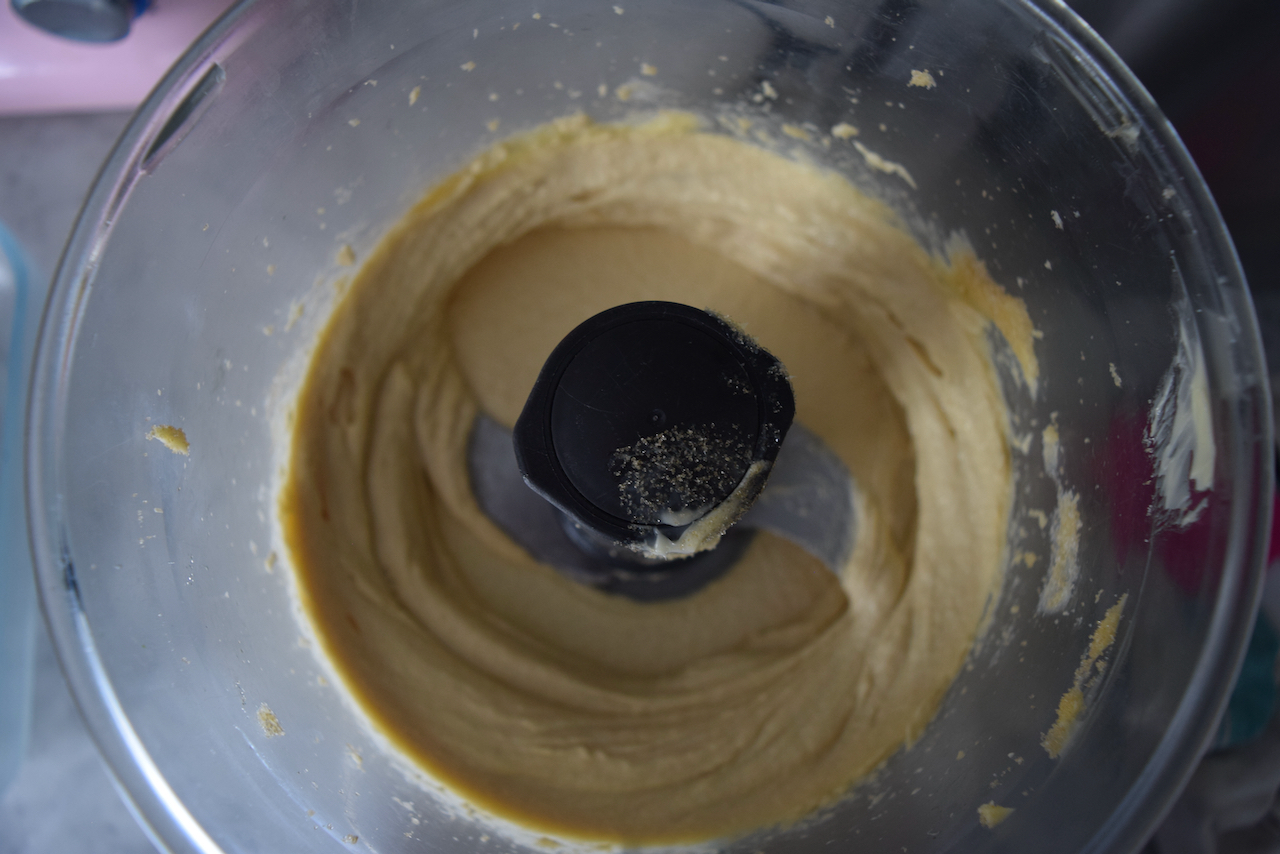 Tip in the flour and salt and mix until you have a soft, smooth dough.
Press two thirds of the dough into the base of your lined tin and create an even base layer.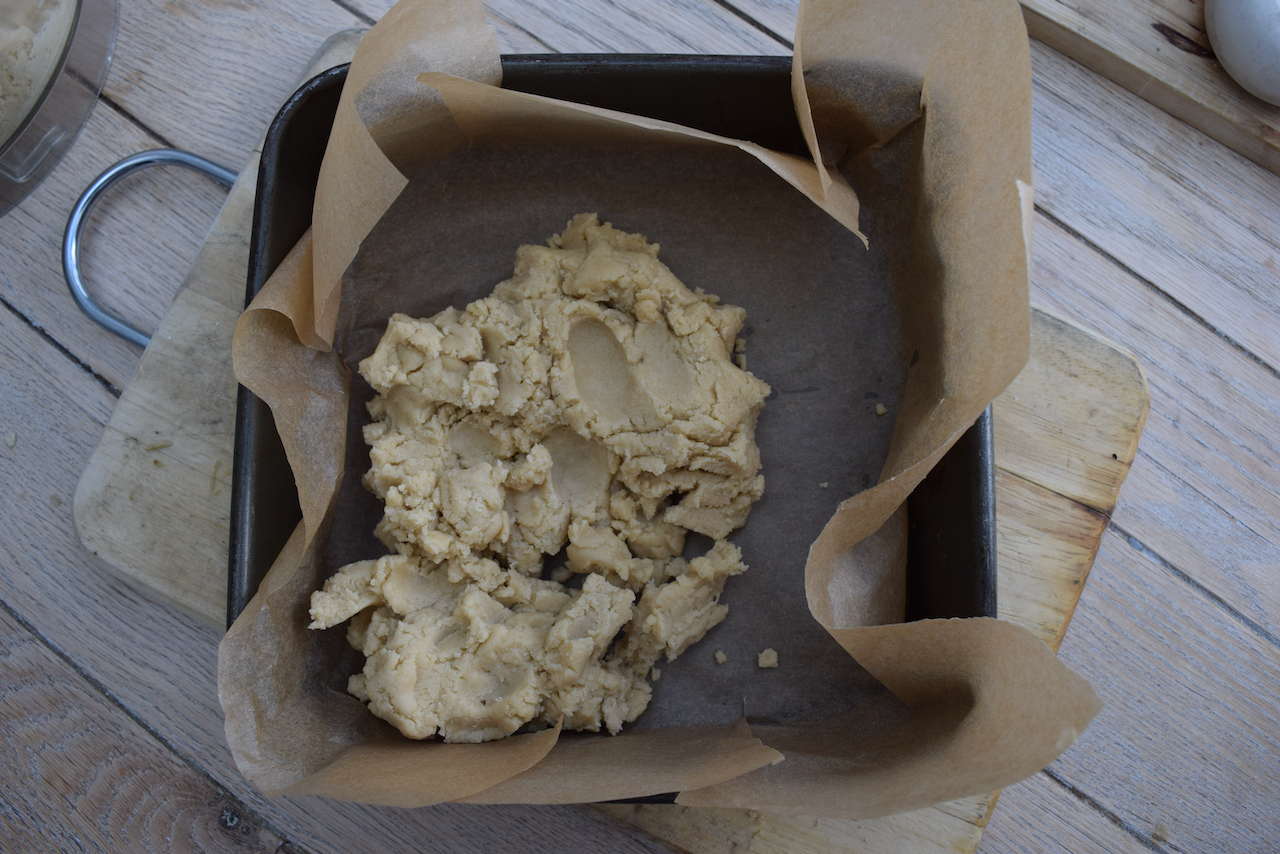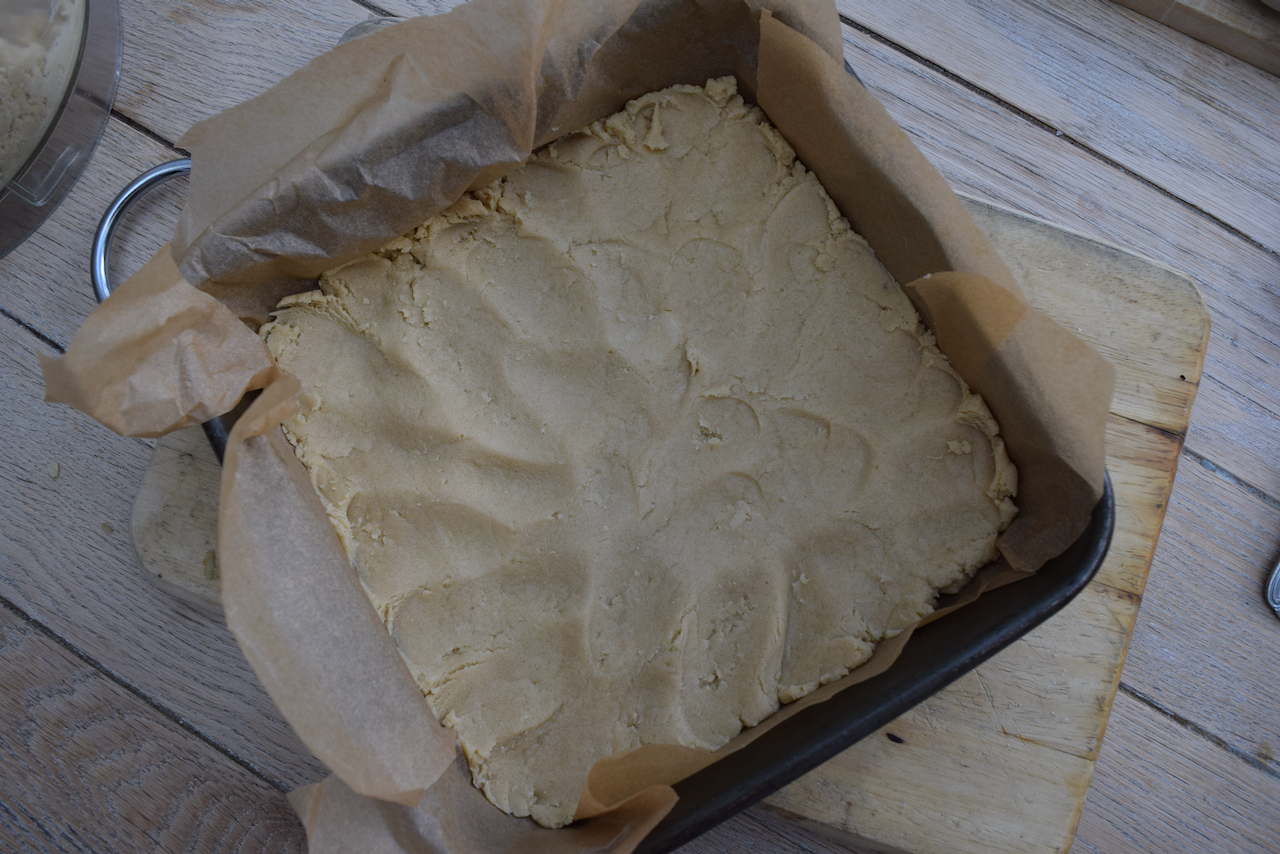 Now, spoon your coated apples onto the base. Avoid adding too much of the juice which will have gathered in the bottom of the bowl or you may have a soggy bottom situation.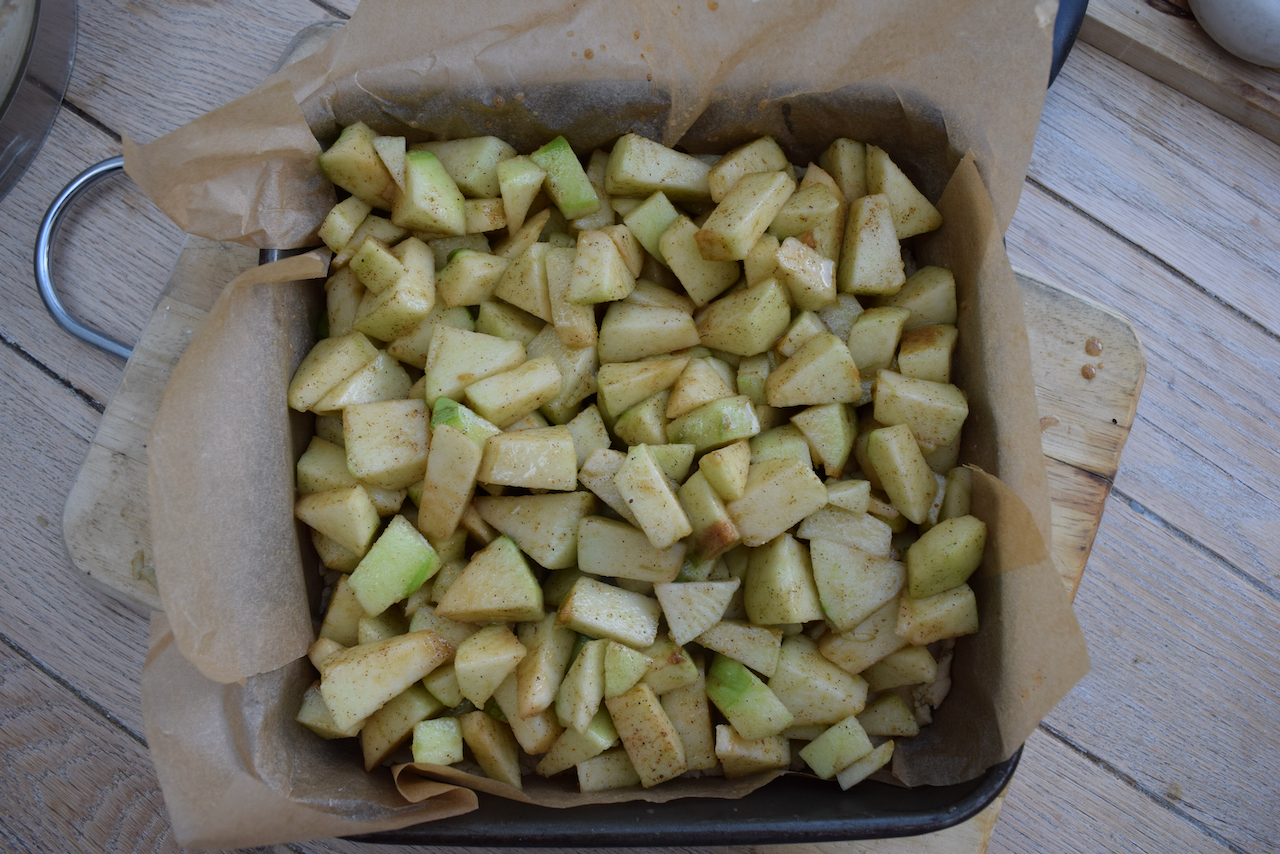 Crumble the rest of the brown sugar shortbread onto the apples in a random fashion.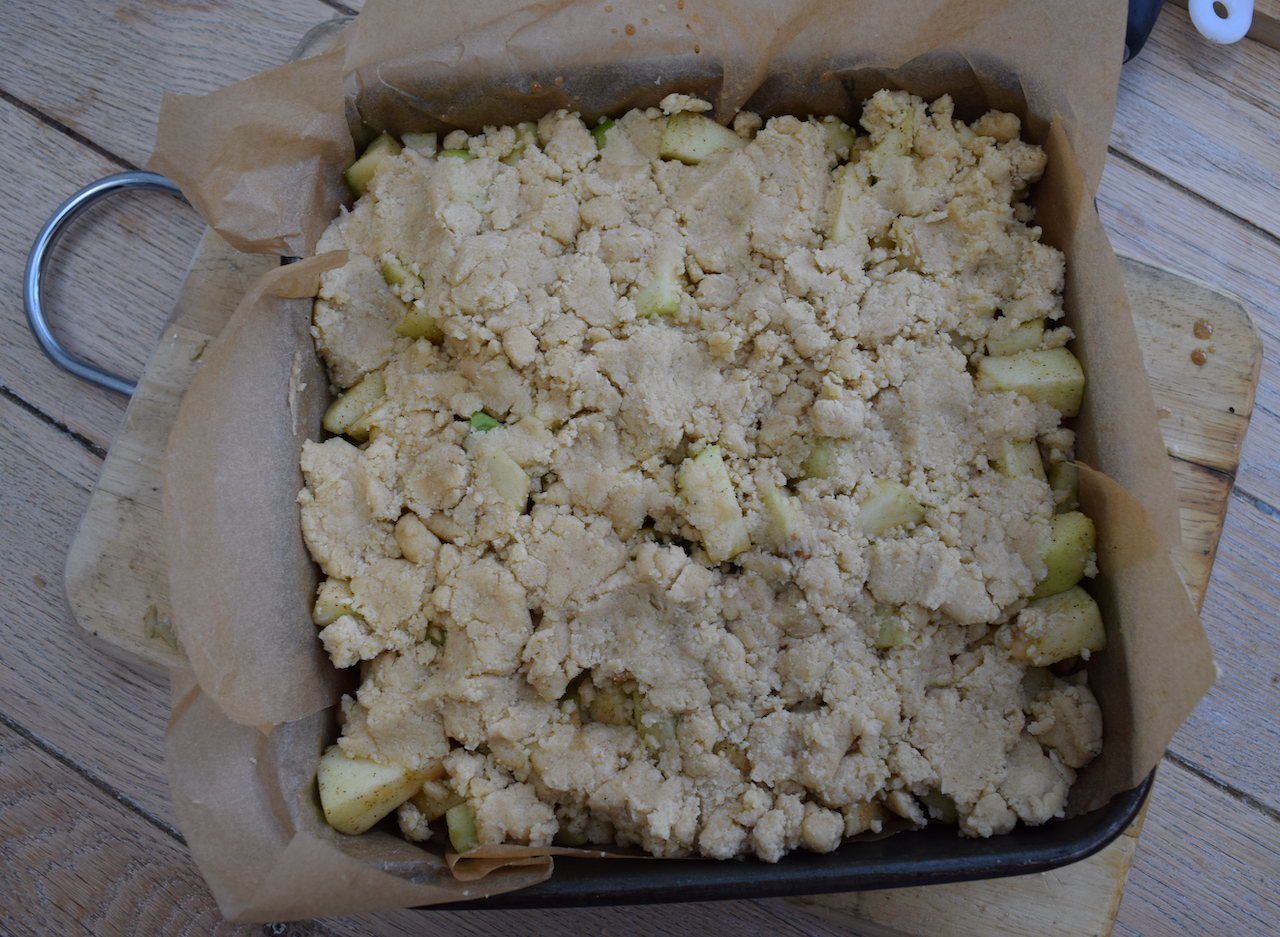 Now bake this beautiful example of seasonality for 45 to 50 minutes until it's golden, firm, with bubbling apples and a whiff of spices.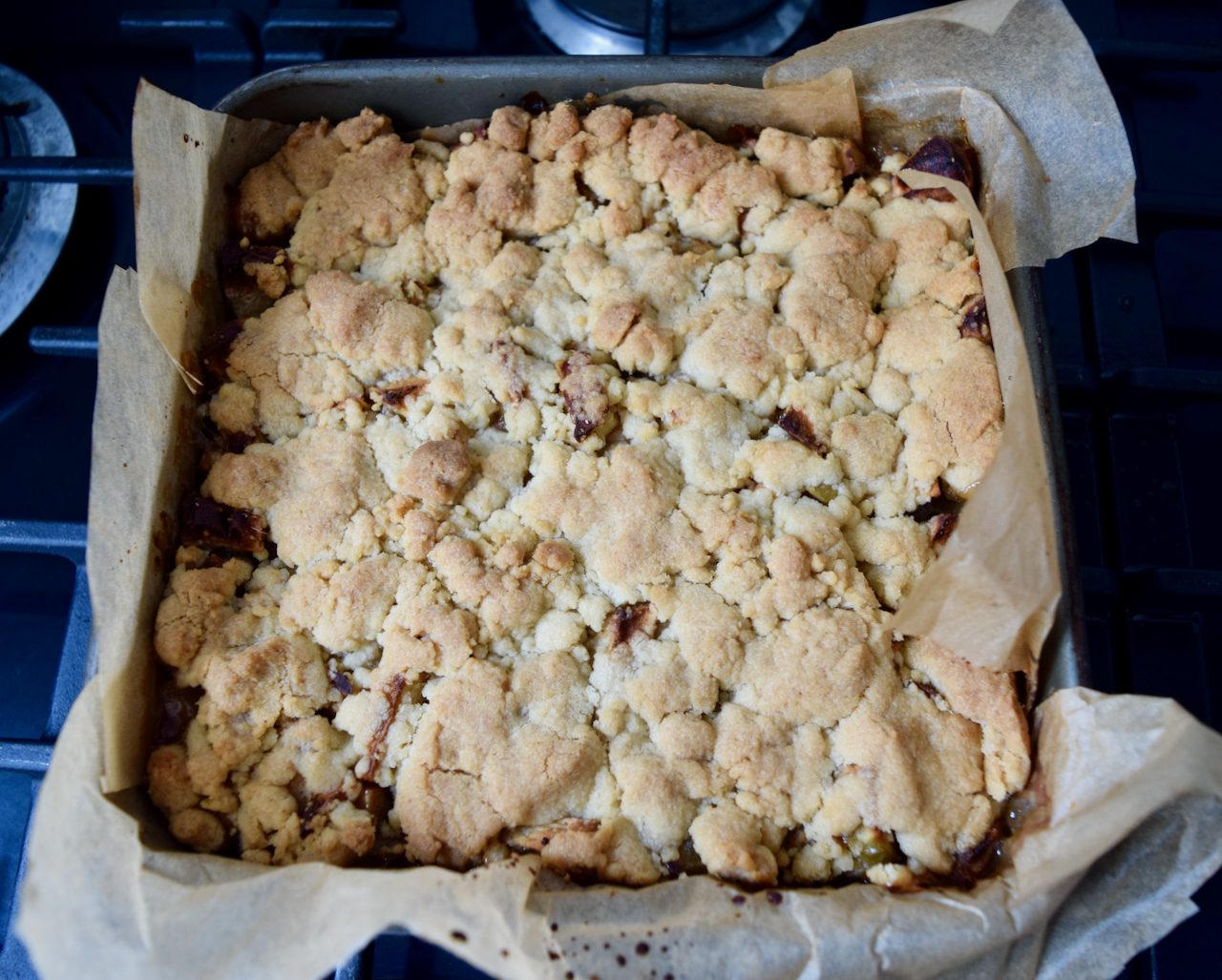 Now, you're best off leaving this to cool until just warm so it will be firm enough to cut without falling to pieces. However, if you're desperate, serve it hot in crumbly portions. If it's a pud option, cream and/or ice cream wouldn't be the worst idea you'd ever had.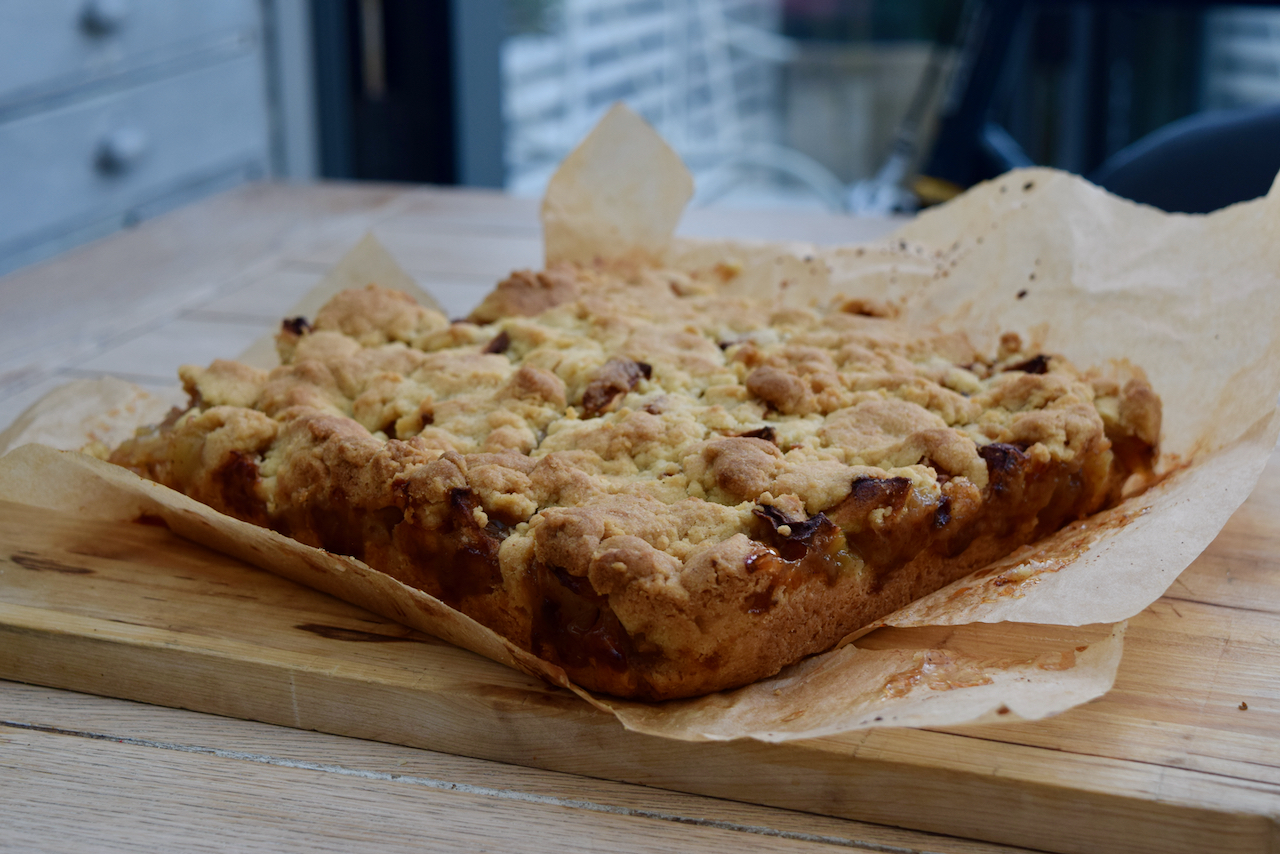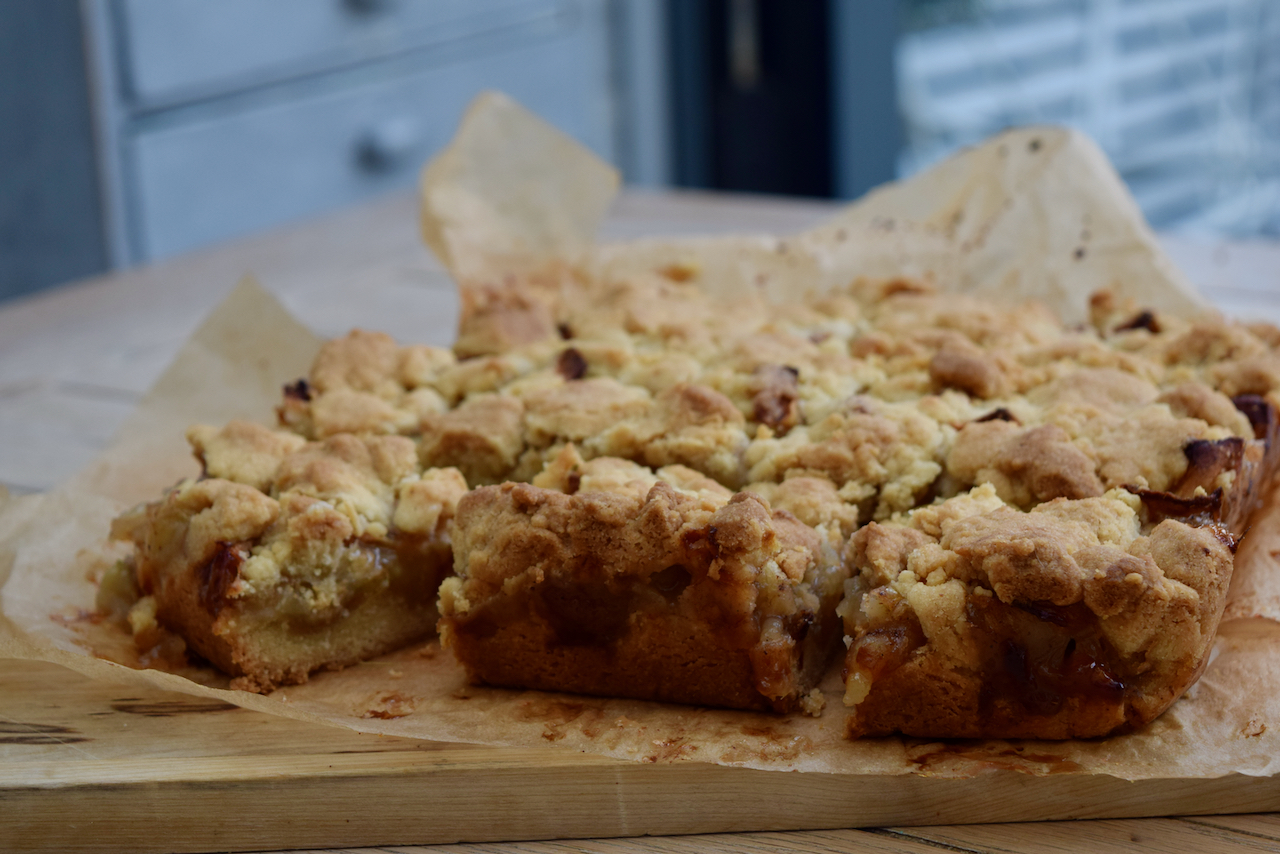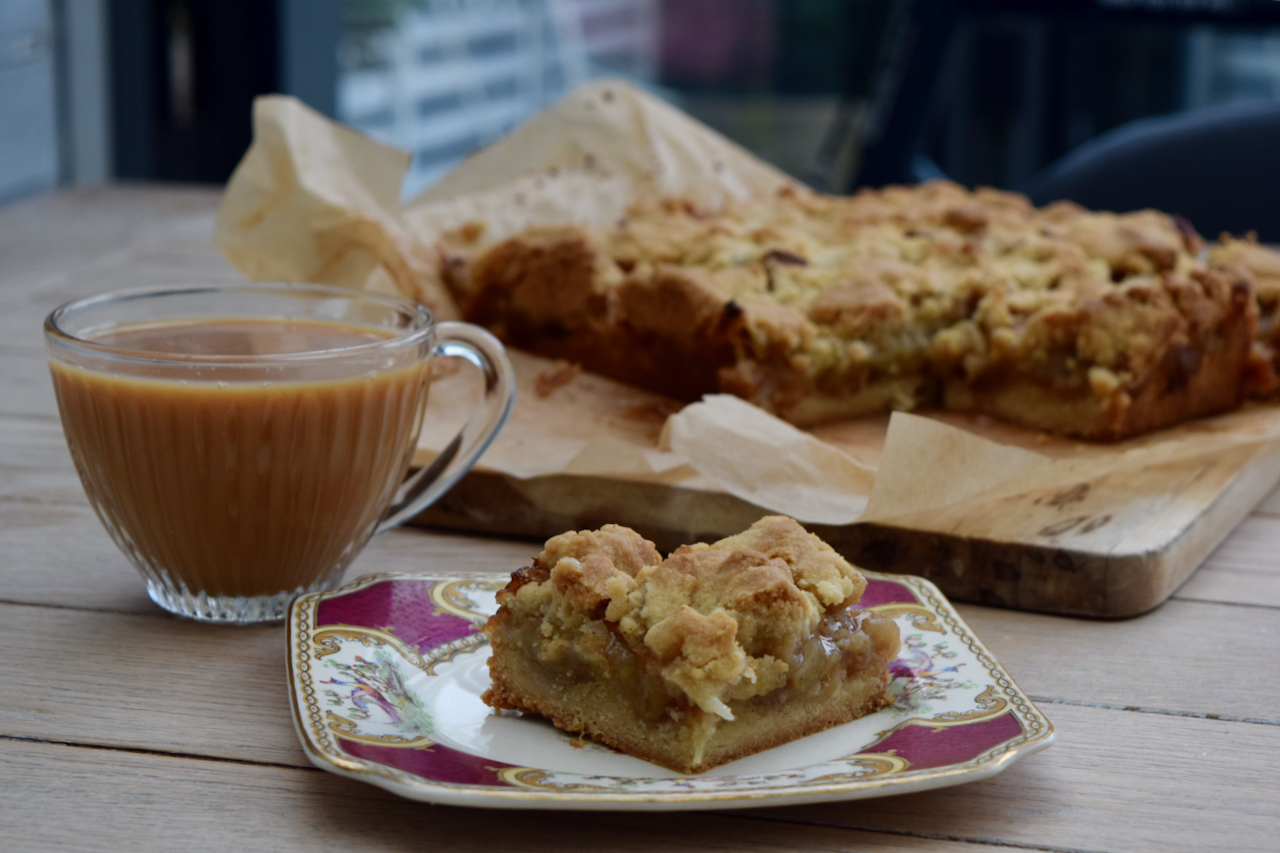 I think we all need a bit of old fashioned comfort at the moment. Whatever it is you're mourning; be it a passing Monarch, the end of summer, back to school blues or the rising cost of living, apple shortbread may just provide a moment of sweet sympathy.
Lots of love
Lucy x
Brown Sugar Apple Shortbread recipe
You will need a bowls or a food processor and a lined 20cm square tin for this
Makes 12 to 16 squares
Apples
2 to 3 cooking apples, size dependent, peeled, cored and diced
Juice of half a lemon
110g soft brown sugar
2 tablespoon cornflour
A pinch of salt
1 teaspoon mixed spice, or cinnamon if you prefer
Shortbread
230g soft butter
100g soft brown sugar
40g caster sugar
330g plain flour
1/2 teaspoon salt
Serve for tea, or as a pud with cream or ice cream
Pre heat your oven to 160 degrees fan assisted and line your square baking tin.
In a large bowl, add your diced apples and stir in the lemon juice, sugar, cornflour, salt and mixed spice. Pop to one side while you make the shortbread. In your food processor or a large bowl beat the soft butter and both sugars until lighter in colour and texture. Process or mix in the flour until you have a soft, smooth dough.
Press two thirds of the dough into your lined baking tin creating a smooth base. Carefully spoon the apple onto the base, leaving any juices in the bowl as you don't want a soggy bottom, and gently press into an even layer. Crumble the final third of dough on top of the apple.
Bake for 45 to 50 minutes or until the top is golden and crisp, the apples are bubbling and smelling divine. Leave to cool in the tin for the bake to firm up. Cut into generous squares and serve with a cup of tea or as a dessert with cream and ice cream. Left overs will keep for 3 to 4 days, well wrapped, in a cool place.