Grilled Caramel Apple Crumble Recipe
Autumn Sundays are made for a crumble. Actually I could eat crumble any day of the week, but it seems most appropriate on a Sunday after a comforting family meal. And by comforting family meal I mean me having to force George to join us at the table without his phone and me trying to engage all diners in a civil, interesting conversation. All this is quite stressful, as you can imagine, and not like I remember Sunday lunches as a child, although the olden days always seem to have a rosier glow. I am sure, looking back, I was itching to leave the table and watch the latest episode of Top of the Pops or spend 2 hours in the hall way on the phone to a school friend. Apples and caramel are an autumn treat and frankly a pairing that managed to keep my family lingering at the table while we finished the whole panful. This Grilled Caramel Apple Crumble is so good, I couldn't wait to share it with you.
Grilling a crumble was an idea I wanted to try and I love cooking and serving dishes in a cast iron pan at the table. Mainly because it saves washing up and people can help themselves. Also, if you are cooking a roast, the oven is often rammed full of all sorts of things, so you don't need to add to it with your dessert. Grilling this Caramel Apple Crumble makes for a super crisp, buttery topping, soft fruit and bubbling caramel. The end result is so good, we all spent the afternoon eating a spoonful of crumble every time we walked passed the dish. I can't usually get fruit desserts onto our family menu, but if you add big spoonfuls of dulce de leche into the the fruit, it becomes irresistible to everyone, even those younger members who are slightly fruit-a-phobic. This wonderful recipe is based on two different recipes, being one from Tesco and the other A Kitchen Addiction, with thanks to them both.
Grilling a crumble is a novelty but it's quick, tasty and so tempting. And it frees up the oven for an extra tray of roast potatoes or parsnips. And it has a big blog of dulce de leche with each mouthful, which makes it a winner in every way.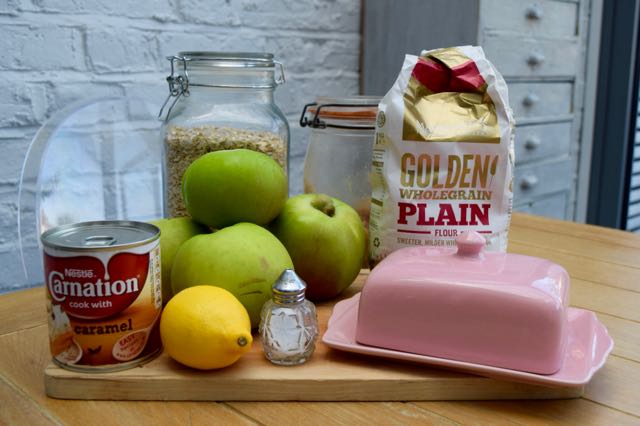 Nothing bad's coming out of this little line up. All wonderful, autumnal ingredients. And a lovely twist to grill this pud instead of baking it for a change.
Make a start on your apples. Peeling and coring a kilo of cooking apples is an arduous bloody task, especially as I keep meaning to buy an apple corer and always forget when I'm in the cook shop. However, the peeling is the only painful part of this recipe, the rest is plain sailing. Peel, core, slice, drink a gin and tonic, then put the apple slices in a large sauce pan.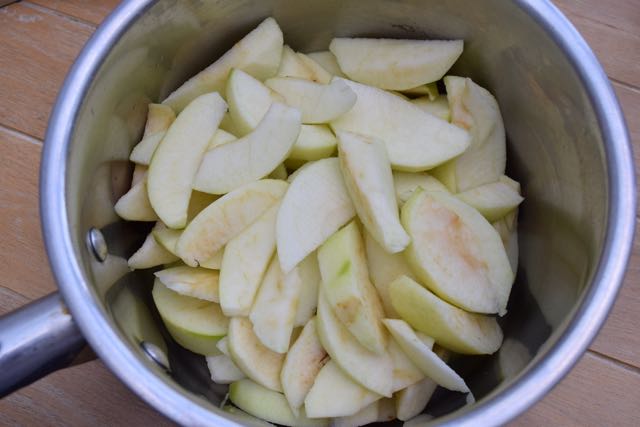 Add in the lemon juice, butter, soft brown sugar, to taste, and water. Give it all a good stir then pop on the stove over a low heat and bring up to the simmer.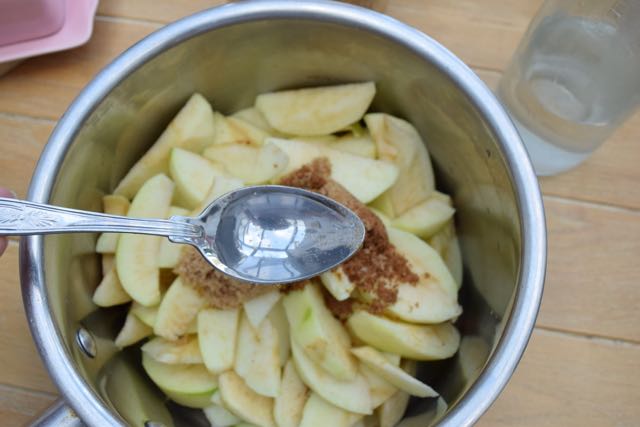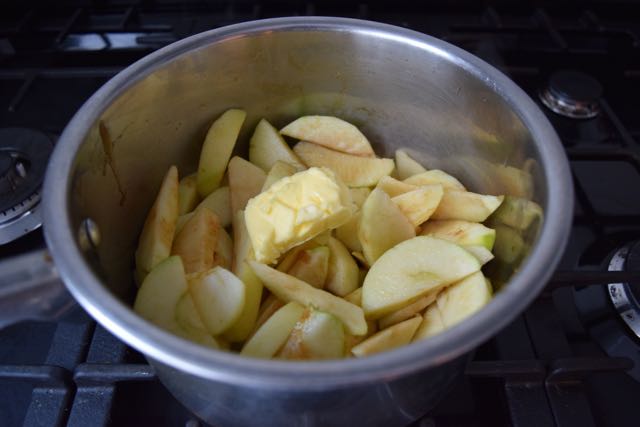 Cook the apples for around 10 to 15 minutes, with a lid on. You need them to be almost cooked through as they will only get a brief further cooking under the grill. Mine were quite woolly in texture, yours should retain a little more shape if they are better apples than mine were. Scoop your apples into a buttered cast iron pan or a grill proof dish and spread them over the base. Now's a good time to pre heat your grill to a medium heat.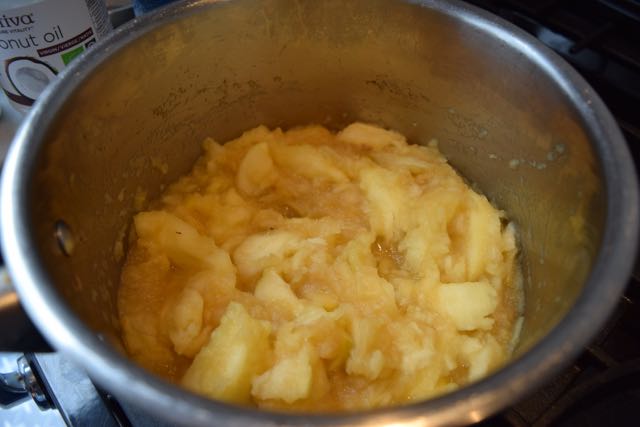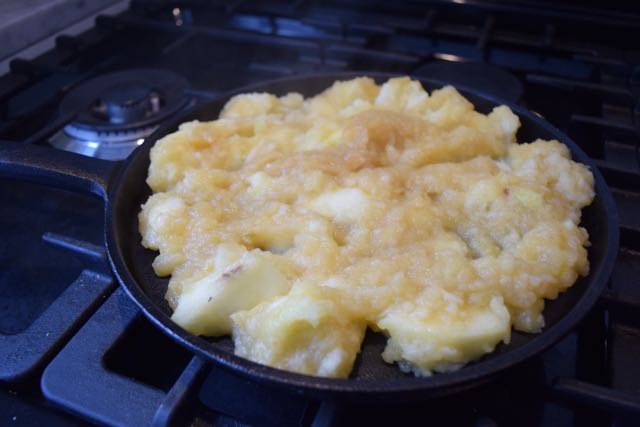 Now dot on blobs of your chosen caramel all over the apples, making sure you evenly space it out so everyone gets a mouthful when they eat their crumble.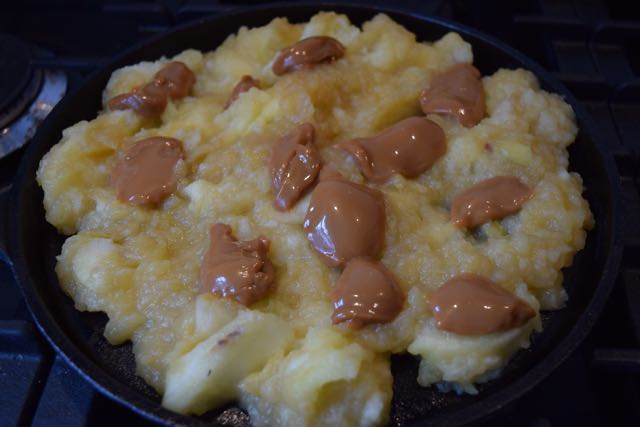 Now for the actual crumble. I made mine in the food processor, but you can make it by hand if you are feeling energised.
Add the flour, either plain and wholemeal or just plain, brown sugar, salt and butter. Blitz until you have a lovely breadcrumb-like texture. If making by hand, rub the butter into the flour until crumb-like then stir in the sugar and salt.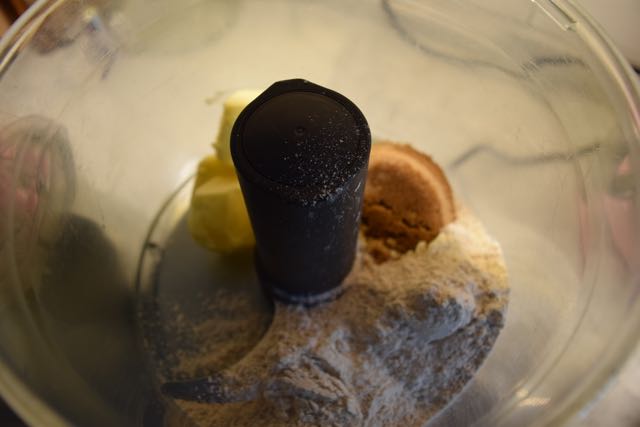 Feel free to add a pinch of cinnamon if you like, for added flavour.
Once crumb-like, blitz or stir through the oats, for a touch of texture and ballast.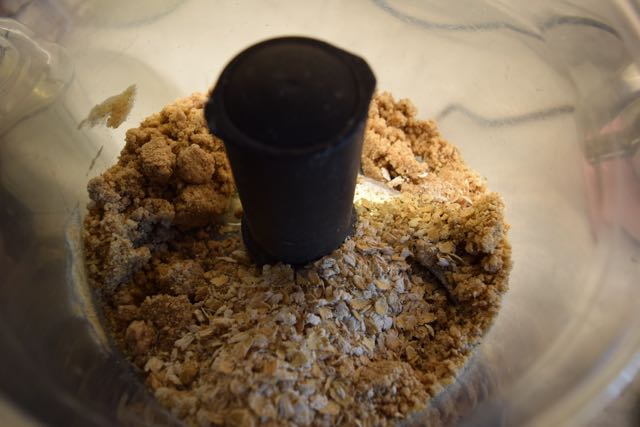 Tip this onto your apples and caramel and smooth it into an even-ish layer. It's not a super thick layer, just enough to cover the apples and to create a crisp topping.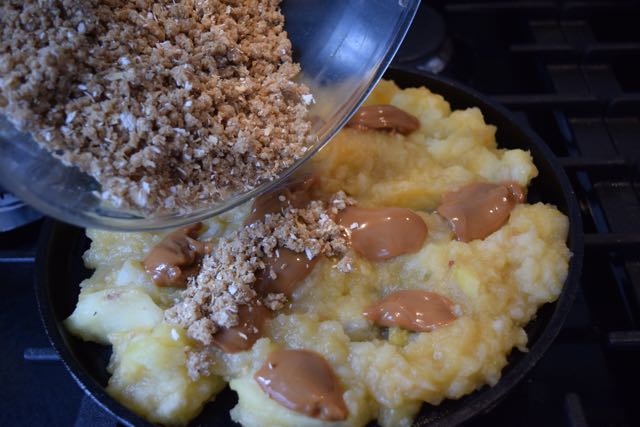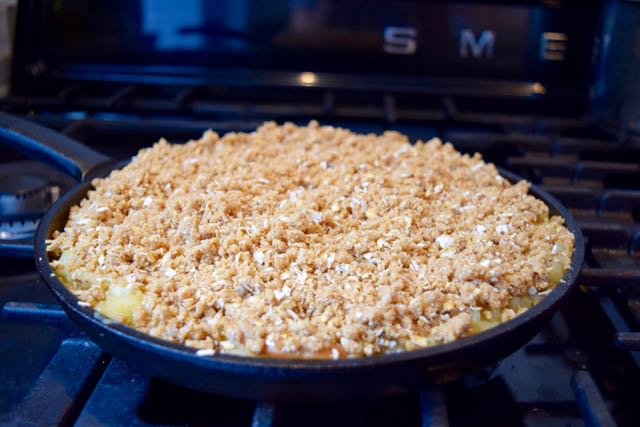 Put your pan under the pre heated medium hot grill and close the door, if your grill allows this, if not just half close the door. Grill for around 20 minutes or until the filling is bubbling and the top is golden, crisp and smelling amazing.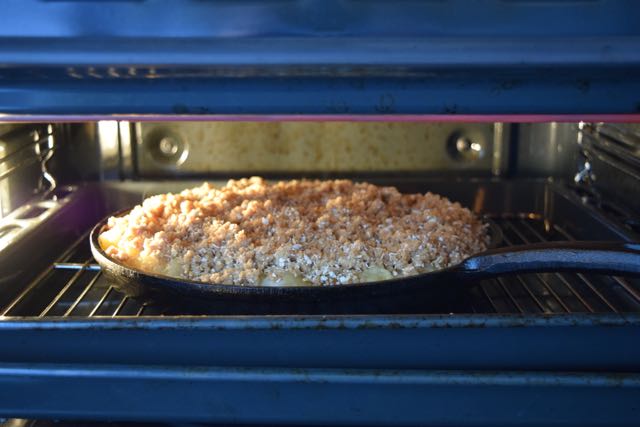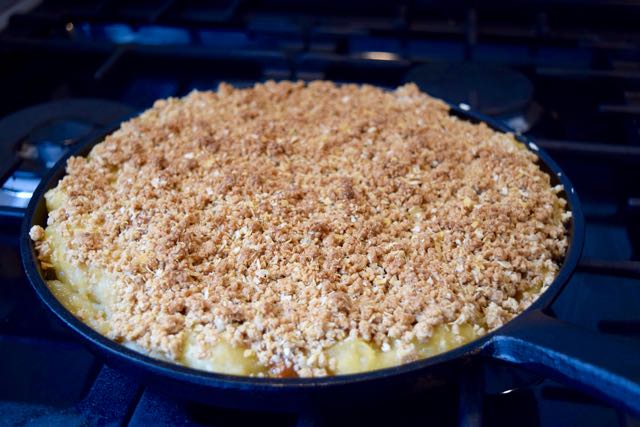 Leave the crumble to sit for 10 to 15 minutes before serving with cream, ice cream or custard. Or all of them, it's nearly the winter and we need ballast.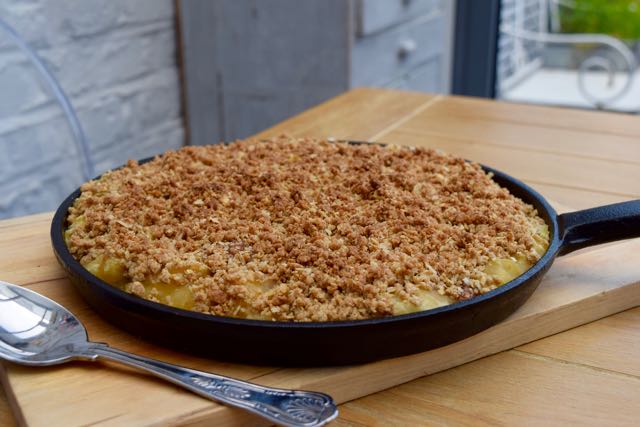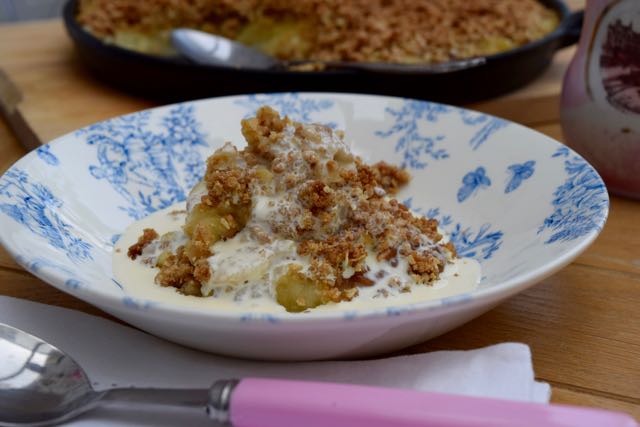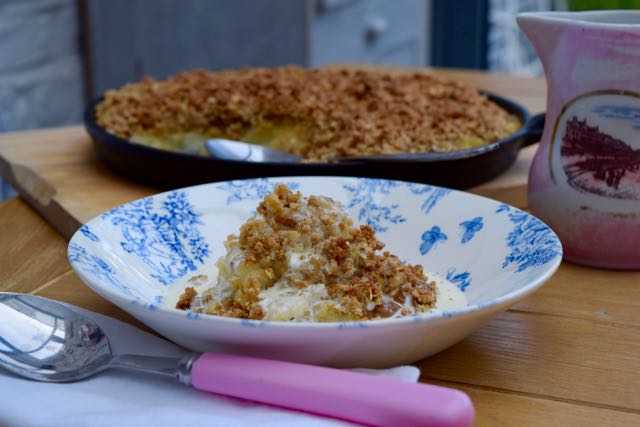 We could barely keep our hands off this grilled pudding treat. The addition of caramel made it everyone friendly in a way straight fruit crumble never really was. There was a scant mouthful left for each of us by the time it actually got to the table, such was the temptation every time we walked passed the griddle pan. As an extra tip to you, from my kitchen, cover the pan in foil if you aren't eating the Caramel Apple Crumble straight away, or your greedy bloody family will eat it before supper time.
Lucy x
Grilled Caramel Apple Crumble Recipe
Serves 4, generously
You will need a grill proof frying pan or dish
Filling
1 kg cooking apples, such as Bramleys, peeled, cored and sliced
Generous squeeze lemon juice
25g butter
3 tablespoons soft brown sugar, adjust as you may need more if apples particularly sour
2 tablespoons water
4 generous tablespoons dulce de leche or caramel sauce
Crumble
100g wholewheat or plain flour or half and half of each
65g soft brown sugar
1/4 teaspoon salt
90g butter, cubed
50g rolled or porridge oats
Pre heat your grill to a medium heat and butter a cast iron frying pan or grill proof dish.
Into a sauce pan, add your peeled, cored and sliced apples along with the lemon juice, butter, water and brown sugar. Over a low heat cook for around 10 to 15 minutes, with a lid on, until softened and almost cooked through. Tip the cooked apples into your buttered pan or dish and spread to cover the base.
Spoon on the dulce de leche or caramel sauce, dotting it around in even blobs so each portion of dessert will have caramel in it.
To make the crumble, either use your food processor, stand mixer or by hand in a large bowl with your hands.  If using a processor, add the flour, soft brown sugar, salt and butter. Process until you have a buttery crumb like texture. Stir or pulse through the oats then tip on top of the apples and caramel. Spread the crumble out until you have an even coverage.
Place the dish under the grill and cook for around 20 minutes or until the crumble is crisping and the apples are bubbling. Leave to settle for 10 to 15 minutes before serving with pouring or thick cream, ice cream or custard. Any leftovers can be eaten cold or reheated within a couple of days.
SaveSave
SaveSave
SaveSave
SaveSave