Sesame Chicken with Broccoli Recipe
When I first started cooking for myself in my late teens, I used to make a tempting Honey and Sesame Chicken dish. It was, if you will, my first signature dish and I used to make it at least once a week. I went on to discover and love other recipes and in an act of food infidelity, this chicken favourite and I fell out of love. When I spotted this Sesame Chicken with Broccoli, it bought back memories from the olden days and my recipe first love, when I used to cook with a Marlboro resting in the ashtray and a bottle of Hooch on the side. This quick and tasty chicken supper, however, is ripe for the sharing, right up to date and can be made in a matter of minutes.
This Sesame Chicken with Broccoli is sweet, spicy, crisp and fresh. Unlike my slightly gloopy 90's affair, this dish has a zing and feels it could have a whiff of health to it. The chicken is coated in cornflour and lightly stir fried then tossed, with the crisp broccoli, through the sesame spiked sauce. It's easy and is yet another recipe which can be filed under w for 'what to do with more bloody chicken'. This wonderful dish came to me via Epicurious, with thanks for the constant sources of inspiration. I served this with some cauliflower rice as I had never made it before. I wrestled with stuffing cauliflower in the NutriBullet but it took ages and it would be a much better idea to chop this in your food processor. I then just seasoned it, covered the bowl with cling and microwaved for 5 minutes, or until soft. It was tasty, and has tons less calories and carbs than rice, so that's a bonus.
Nostalgia plays a big part in mealtimes for me. I eat quite a few things based on the memories they evoke – Spam and Salad Cream being the least fashionable. This Sesame Chicken with Broccoli, however, holds no such shame. You can proudly eat this stylish supper, just choose a crisp glass of white wine, not boozy lemonade to accompany it.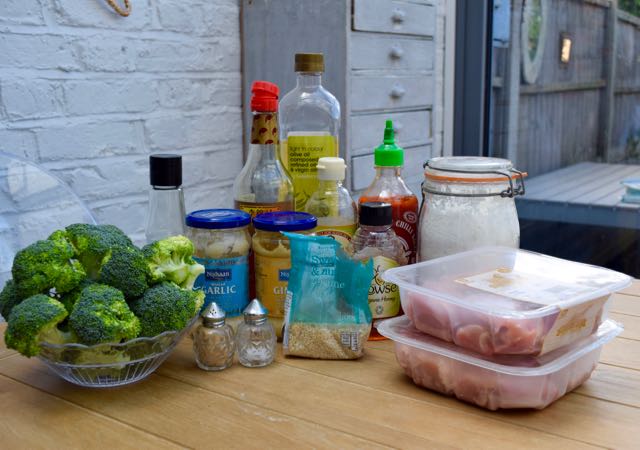 Don't be alarmed by the array of delicious ingredients for this winner winner chicken dinner. There's nothing too unusual here, and do feel free to use lazy versions of garlic and ginger from a jar. I did, my name's Lucy, and I am lazy.
Start with the sauce element of this feast. Take a small bowl and measure in the soy sauce, honey, rice wine vinegar and sriracha. I didn't have any rice wine vinegar so used some blended sushi vinegar, and it was just perfect and negated the need to beg/pay George to go to Waitrose.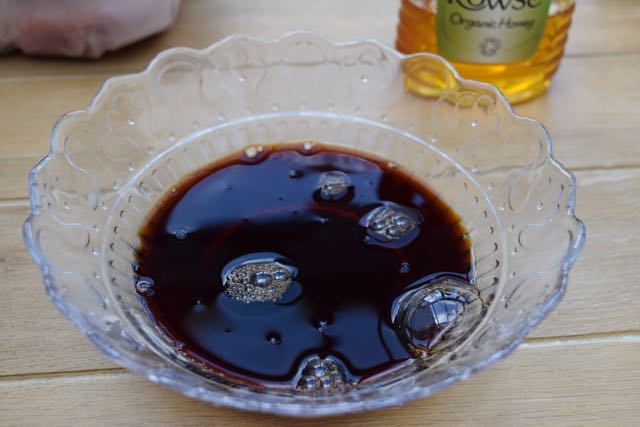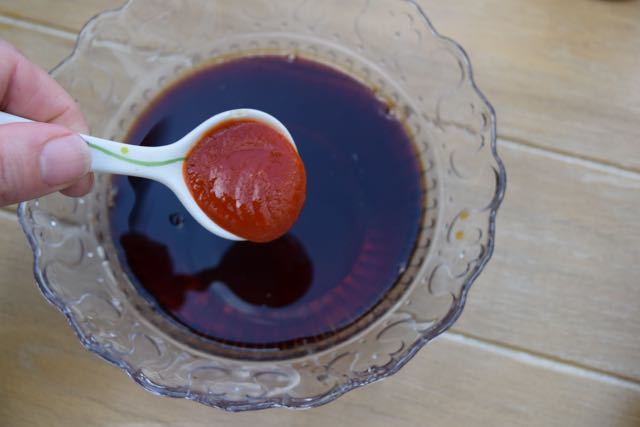 Now go in with your garlic, ginger, sesame oil and seeds and give this flavour laden sauce a stir.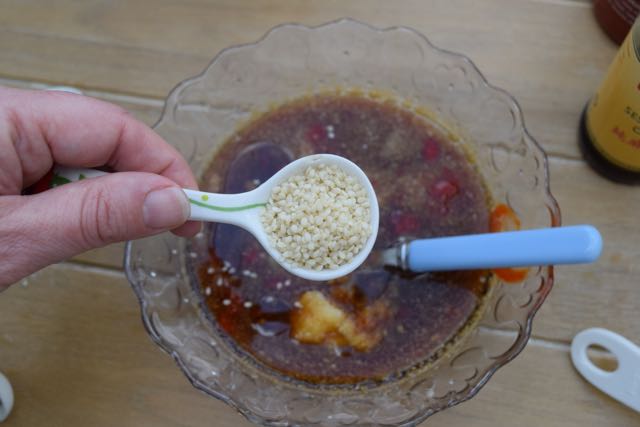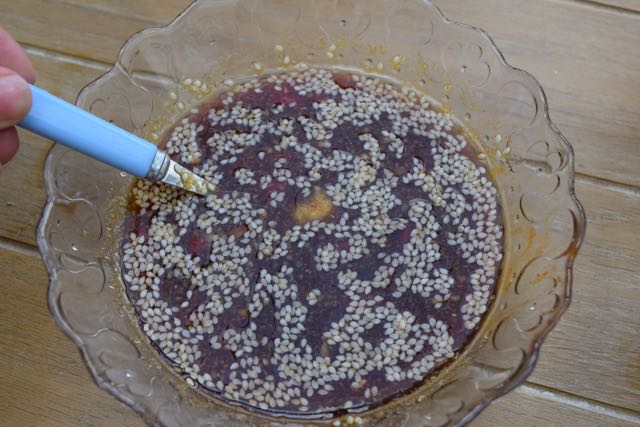 Leave this to one side while you crack on with the chicken.
Cut your thighs into bite sized pieces. I went for thighs as I love the flavour but if you are more of a breast fan, go breasts. Next add the cornflour and generous amounts of salt and pepper to a large bowl then toss the chicken in the floury mix.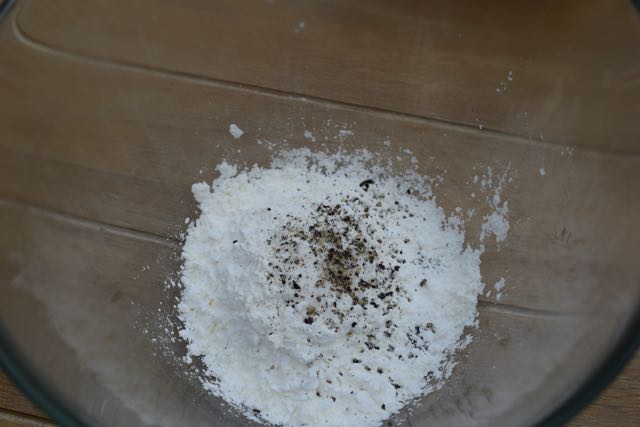 ]
Spoiler alert – ugly hand shot next. Sorry.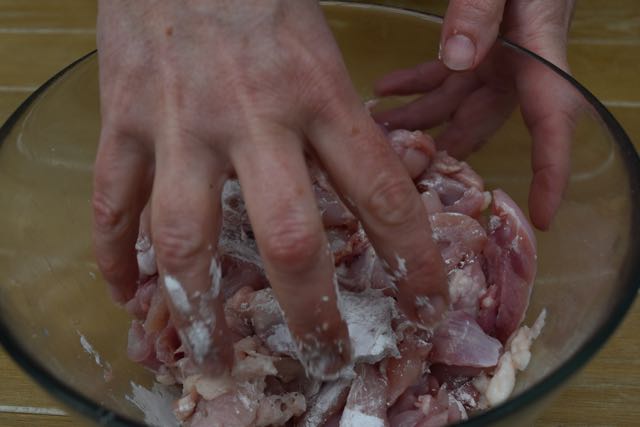 Ensure all the chicken is well coated then leave for a moment while you cook your broccoli.
Chop it into florets then cook in boiling water for 2 minutes. You want it to just soften slightly, not properly cooked and certainly not soggy.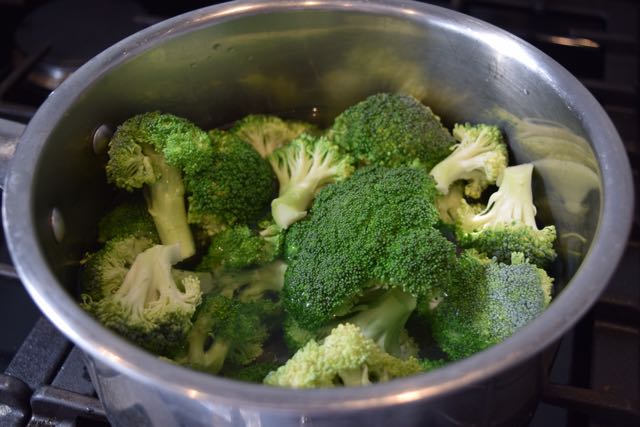 Once the 2 minutes is up, rinse in cold water then drain and leave in the colander.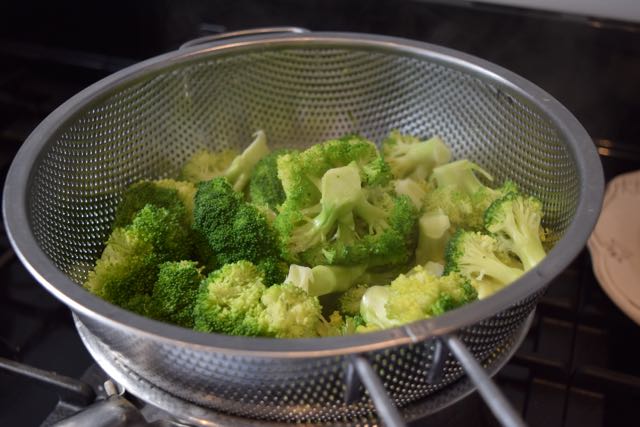 Now back to the chicken. Heat the oil in a large frying pan until sizzling, then drop in half the chicken and cook for 5 minutes or so, until crisp, golden and cooked through. Transfer to a plate while you cook the second batch.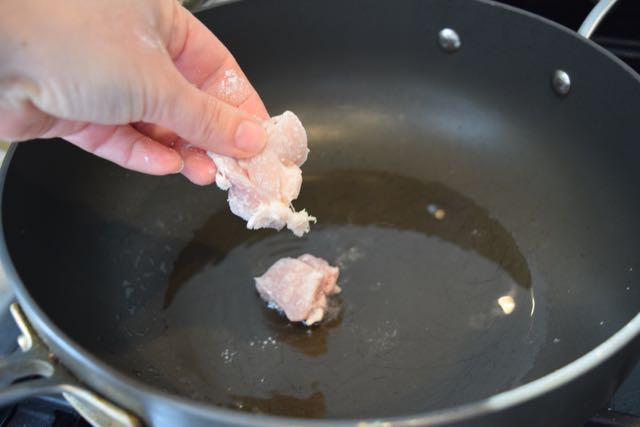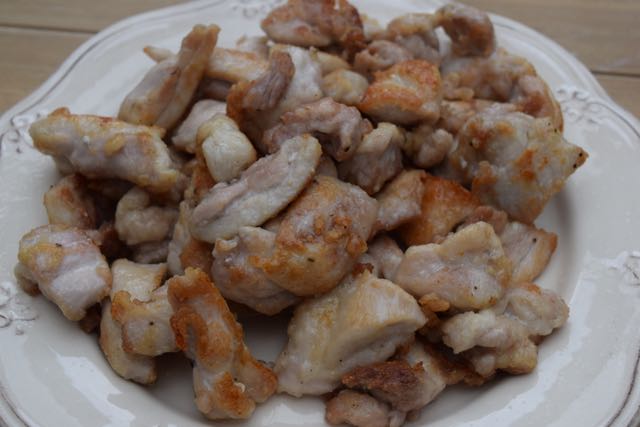 Once all the chicken is cooked through and smelling divine, wipe the frying pan to remove any excess oil then pour in the sauce ingredients and allow to simmer for a couple of minutes.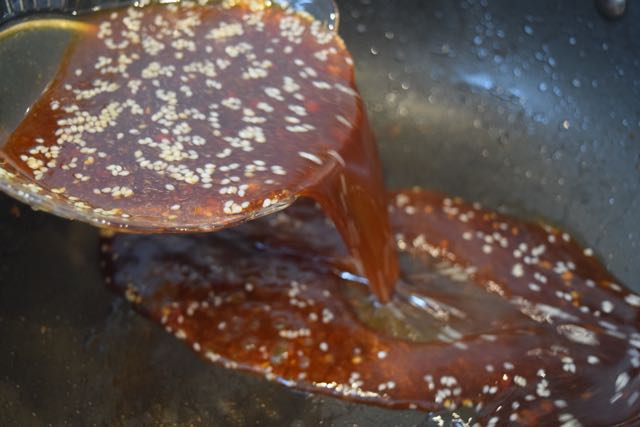 Plop in the chicken and stir well to coat, then add the broccoli and do the same.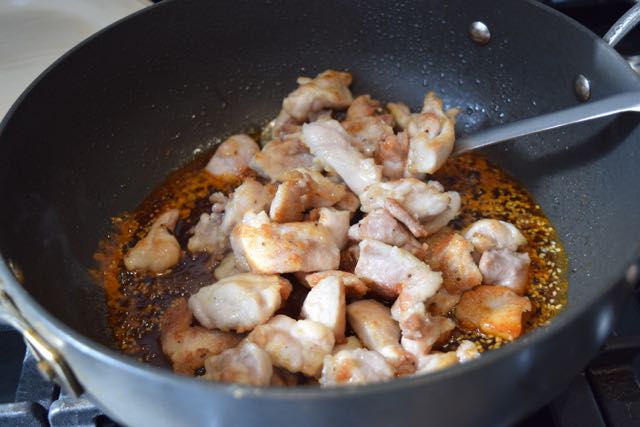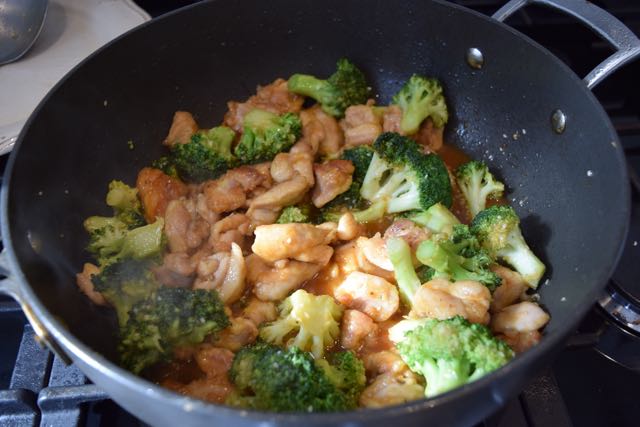 Ensure the dish is piping hot then serve with rice, cauliflower or the old fashioned sort or noodles. Garnish with the final tablespoon of sesame seeds and some leaves or herbs or chopped spring onions if you like them. I don't.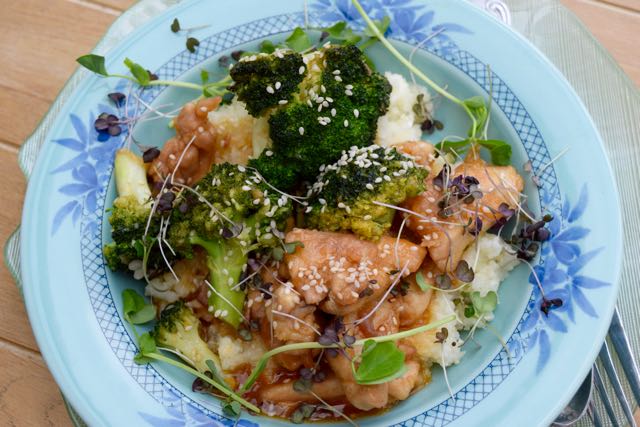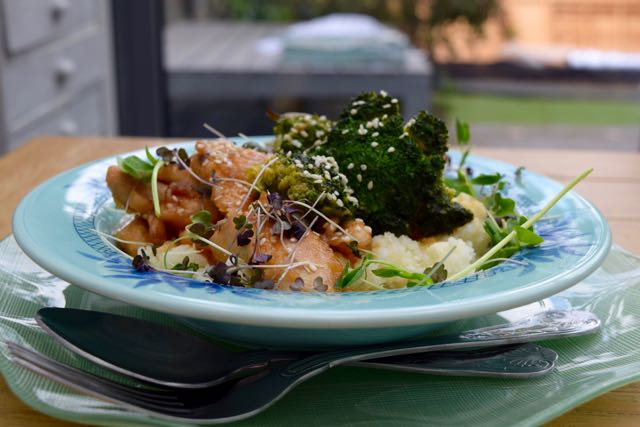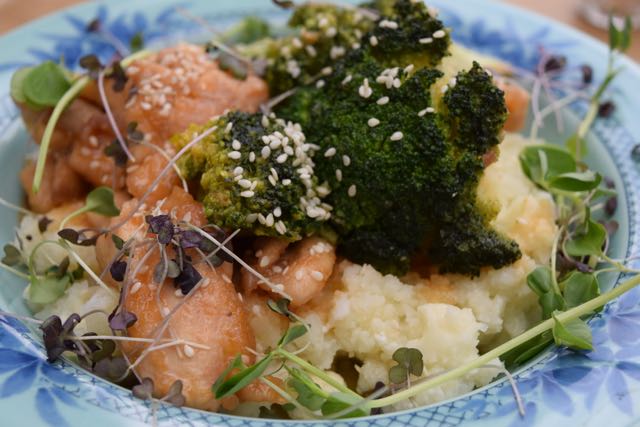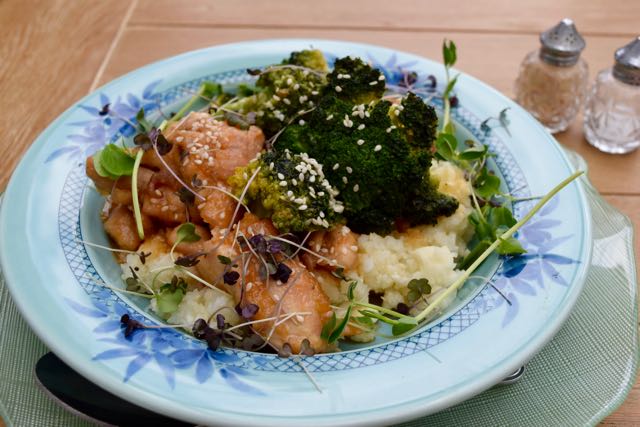 Soft chicken, spicy sweet and sour style sauce. This is light but so satisfying. And with so much broccoli on your plate who can deny you the fact this is a super healthy supper.
Lucy x
Sesame Chicken with Broccoli Recipe
Serves 4 to 6, appetite dependent
You will not need any exciting equipment for this dish, just pans
3 tablespoons oil, sunflower or something light
1kg chicken thigh fillets, chicken breast would be fine here too,
60g cornflour
1/2 teaspoon freshly ground black pepper
1 teaspoon salt
A head and a half of broccoli, stalks removed and cut into florets
75ml honey
60ml soy sauce
1 tablespoon Sriracha
3 tablespoons rice wine vinegar, I used a blended sushi vinegar as that was what I had
1 clove garlic, crushed, or a heaped teaspoon lazy garlic
1 teaspoon grated ginger, either fresh or from a jar
1 1/2 teaspoons sesame oil
2 tablespoons sesame seeds
Chopped spring onions or fresh herbs to garnish
Cook some rice to go with your chicken in your favourite way.
Take a medium sized bowl and add the sauce ingredients. Mix the honey, soy, sriracha, vinegar, garlic, ginger, sesame oil and a tablespoon of the sesame seeds. Season with salt and pepper then pop to one side.
Chop your chicken into bite sized pieces. In a large bowl, add the cornflour, salt and pepper, and give it a little mix. Add the chicken to this mix and toss around with your hands, ensuring all the chicken is covered in the flour.
Cut the broccoli into florets and add to a large saucepan with boiling, salted water. Cook for no more than 2 minutes, drain, rinse in cold water then leave in the colander.
In a large frying pan or wok heat over a medium flame 2 tablespoons of oil. When the oil is hot, add half the coated chicken and cook until starting to brown and cooked through. Remove to a plate while you cook the final batch of chicken, adding another tablespoon of oil if need be. When the chicken is cooked through, add to the plate with the rest of the chicken.
Wipe the pan you used for cooking the chicken if there is excess oil, then pour in the sauce ingredients and simmer for a minute. Add the cooked chicken back to the sauce, stirring well, then add the broccoli and stir again. Bring the whole pan up to the simmer, ensuring everything is piping hot and cooked through.
Serve on a bed of rice, garnished with the final tablespoon of sesame seeds and herbs or chopped spring onions.