Marzipan Chocolate Buns Recipe
I am not going to ramble on about how busy I am because I can imagine you're feeling exactly the same as me this week. I am out every night, with one of those nights being my work Christmas party, which will infinitely be a mucky affair. I am braced for several hangovers, at least a pre Christmas 5lb weight gain and by Friday, total sense of humour failure. One of the main things which will get me through this week is the prospect of two weeks off work and some relaxed family time. We will be spending Christmas with my whole family, all four cousins will be together, as will the dog cousins, and I just can't wait to stop and sit down.  I don't suppose for one minute that I will actually sit down, however, I will be taking some time out from working, and I will definitely be making my family a warm batch of Marzipan Chocolate Buns.
I have made a billion sausage rolls and mince pies, our Christmas cake and cranberry sauce *please see the Christmas category on Lucy Loves* and have a lengthy list of other prep to do before next week. But all I really want to do is to make delicious things like these Marzipan Chocolate Buns. I chose to make these for three reasons 1) I adore marzipan, it's so Christmassy 2) dough recipes are my favourite, warm sweet bread based items are so good and 3) this recipe gives me the best reason to use the expression 'Nigel Slater's buns'. My cookery crush on Nigel Slater continues, even more so now I have tasted his buns *thank you Nigel*. These baked treats are based around a soft, sweet dough encasing a filling of pistachios, marzipan, dark chocolate and flaked almonds. And they're simple, in classic Nigel style. The dough only has a short hour or so rise and the filling just involves a bit of chopping of divine ingredients. A brief baking results in a warm, sweet treat, best eaten straight from the oven. I can guarantee their perfection having eaten 3 by way of a taste testing them just for you.
Once you put the Christmas brakes on and slow down a little, these Marzipan Chocolate Buns will provide a moment of calm *hiding in the kitchen* and a festive gift for your family and friends to enjoy. If you can bear to share them, that is.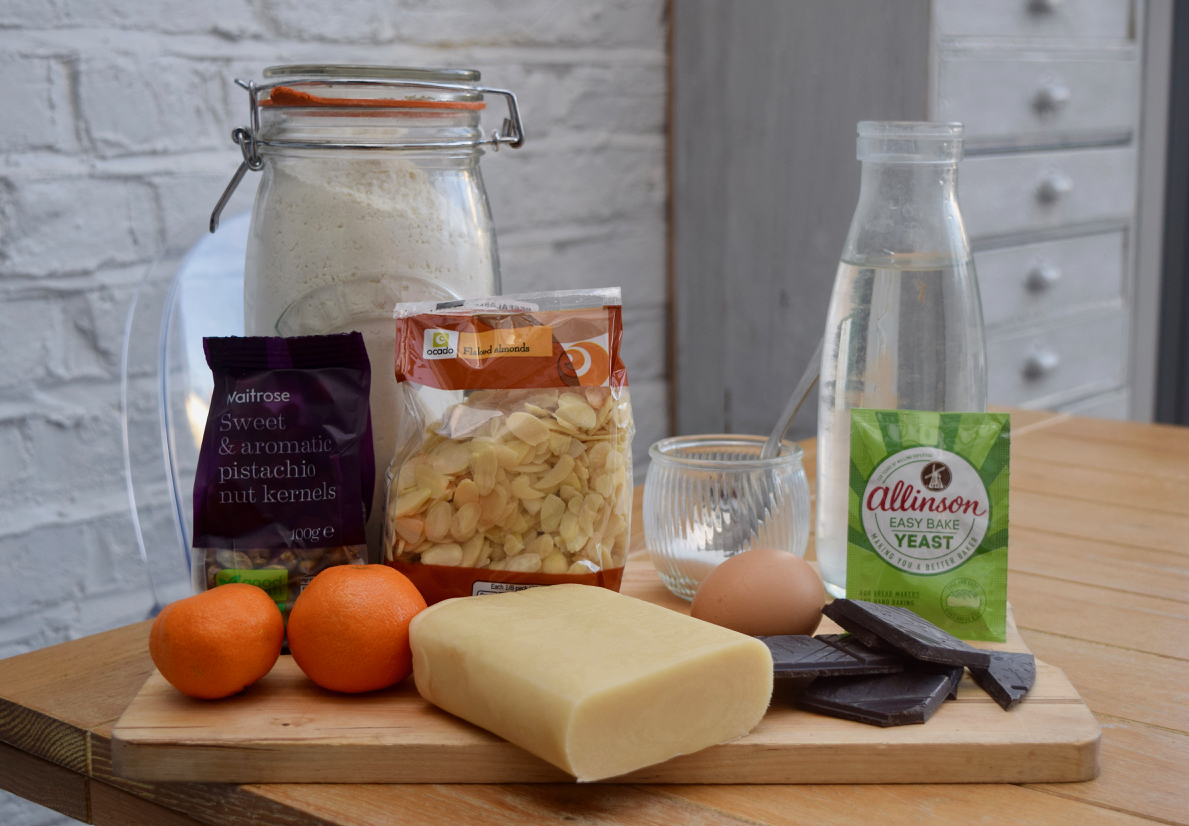 Yum bloody yum. All these ingredients go so well together to create the most perfect Christmas bun. And look at the great big slab of marzipan involved, I could eat the entire 400g in one sitting. Use strong bread flour if you have it, I didn't so just went for regular plain flour.
Start with the dough. Taking a large bowl, measure in the flour, sachet of yeast, 2 teaspoons of sugar and give these a gentle mix.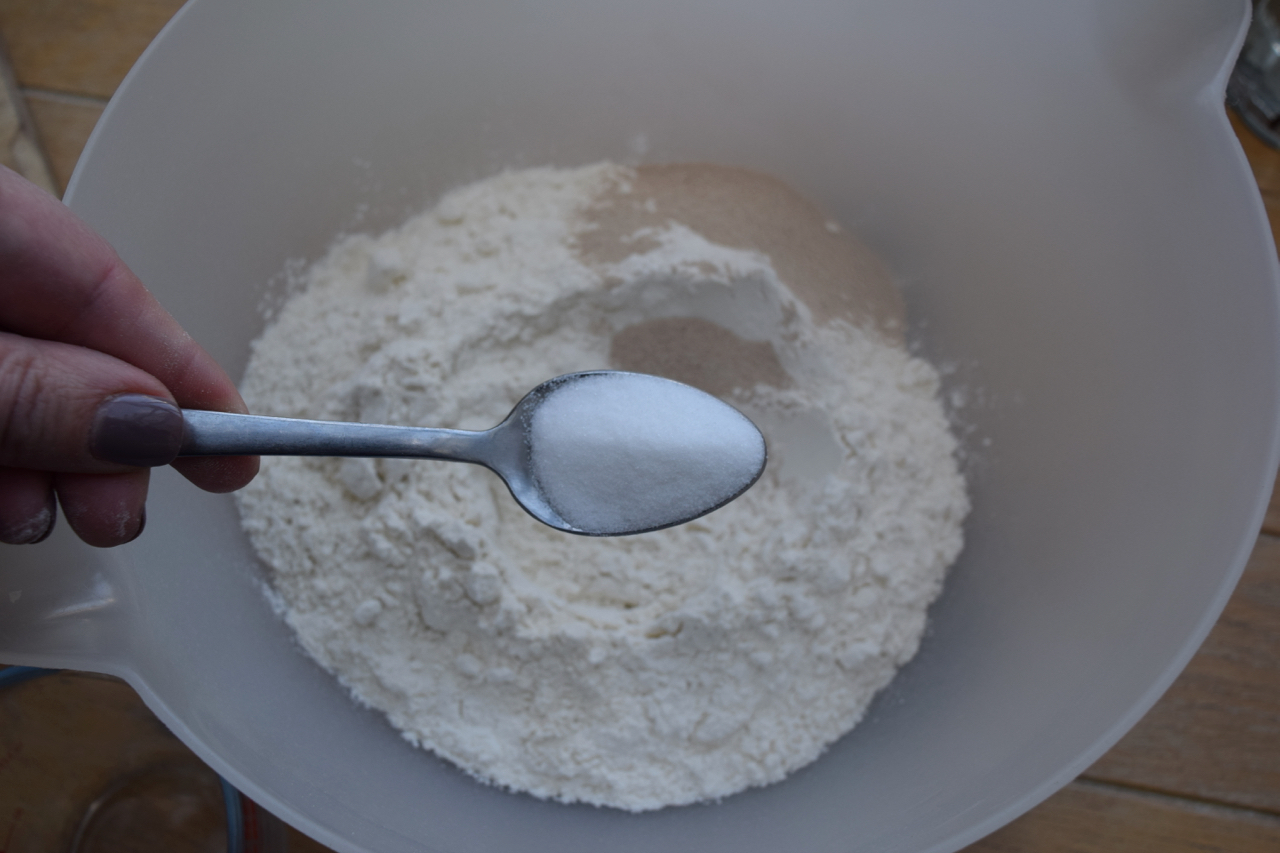 Pour in around 300ml of warm water and mix with your hands to create a shaggy dough.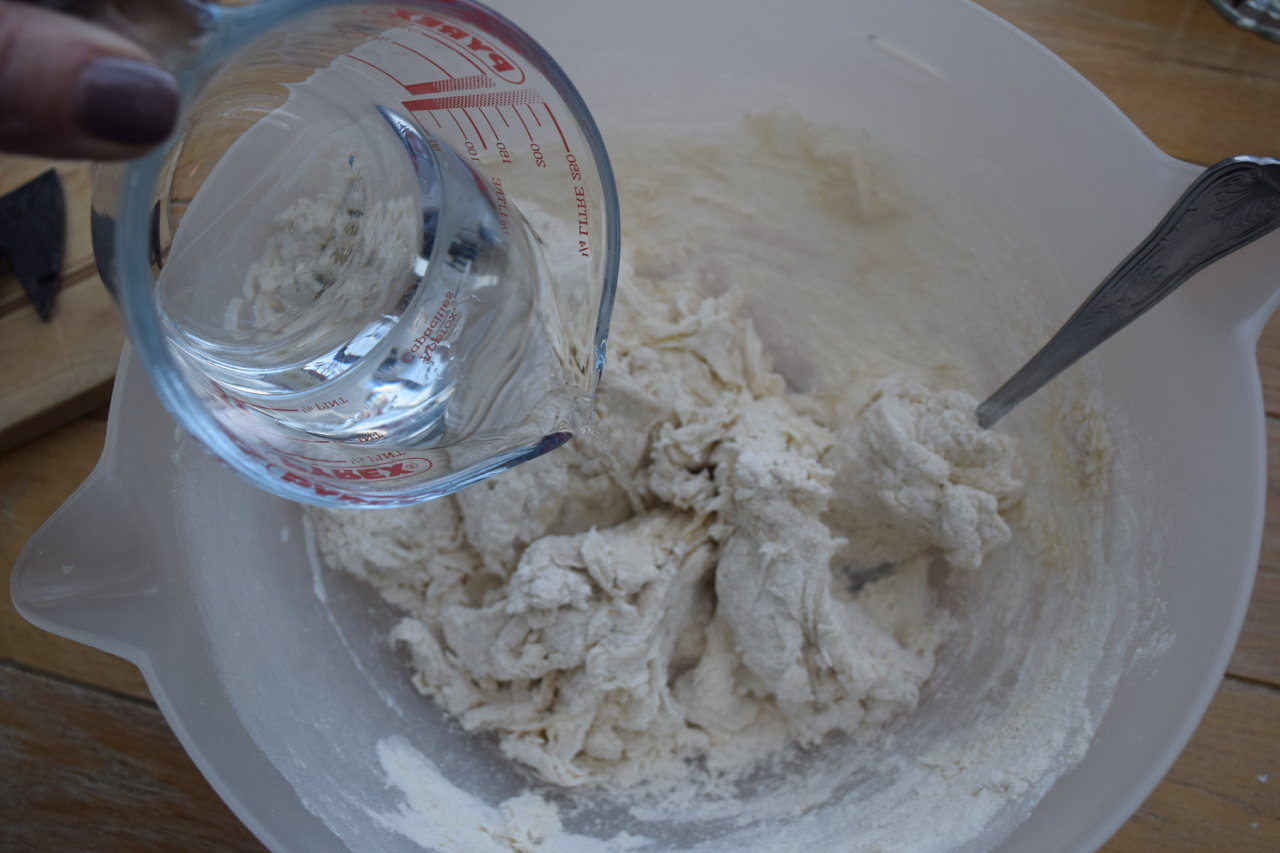 Pour in the rest of the water then bring the dough together into a soft but sticky ball and turn out onto a floured work surface.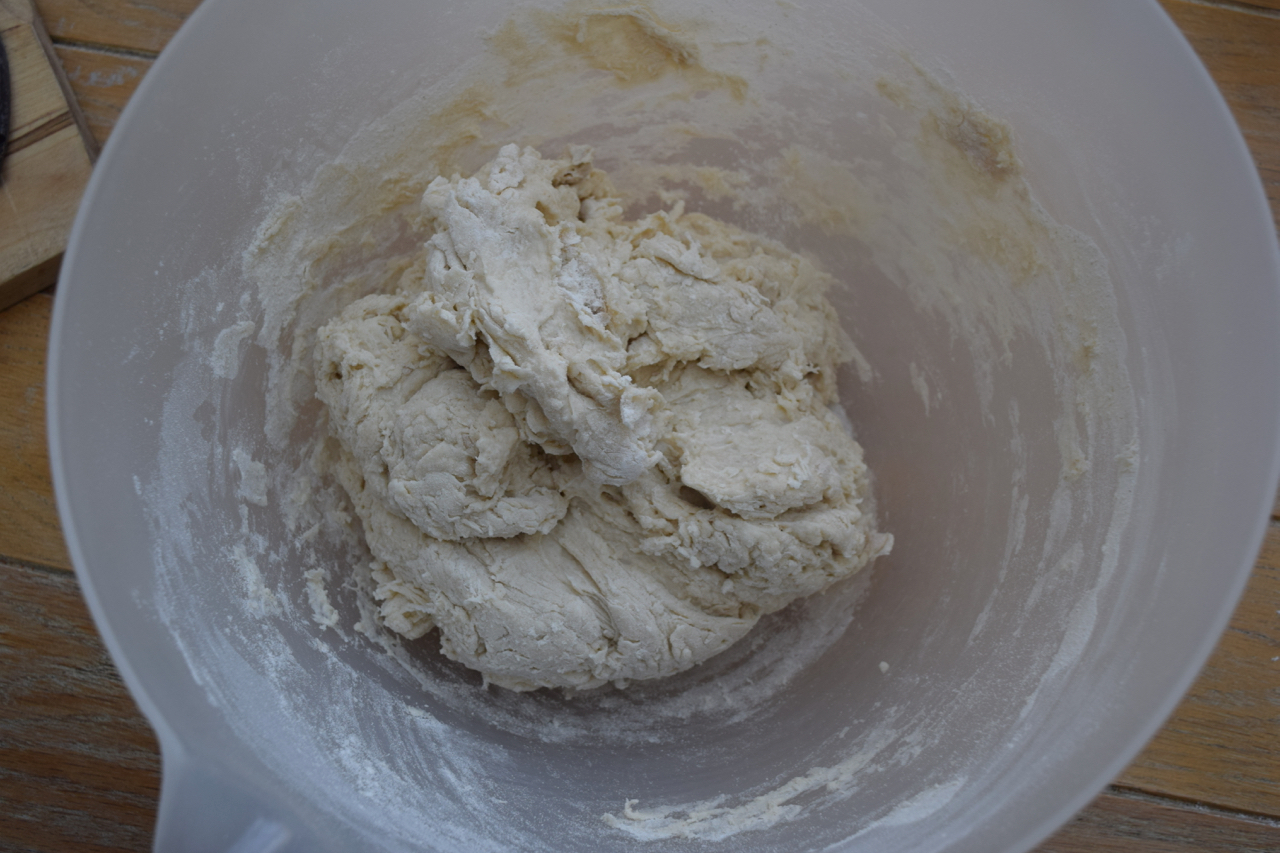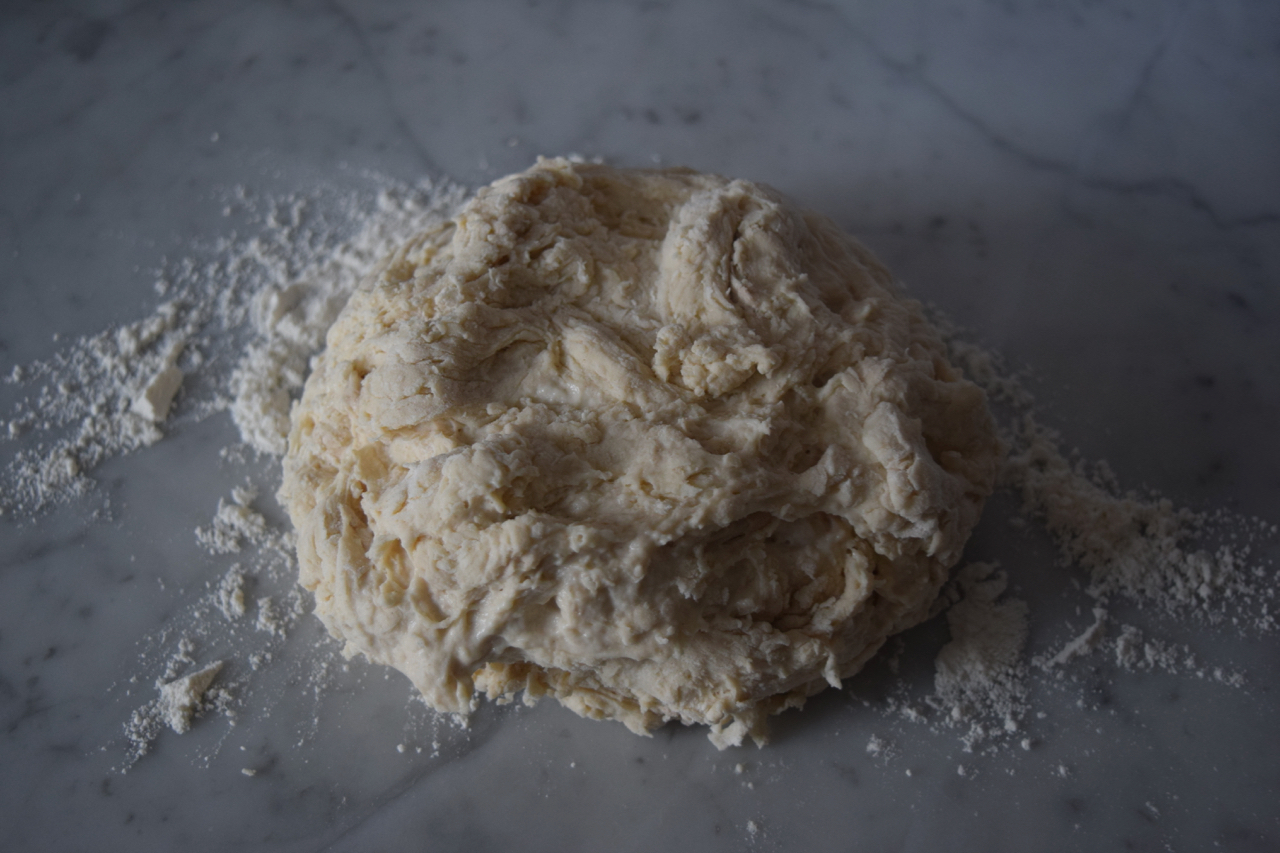 Knead your dough for around 6 minutes or until smooth to the touch, and less sticky. Don't add too much flour, just enough to stop it sticking to the counter.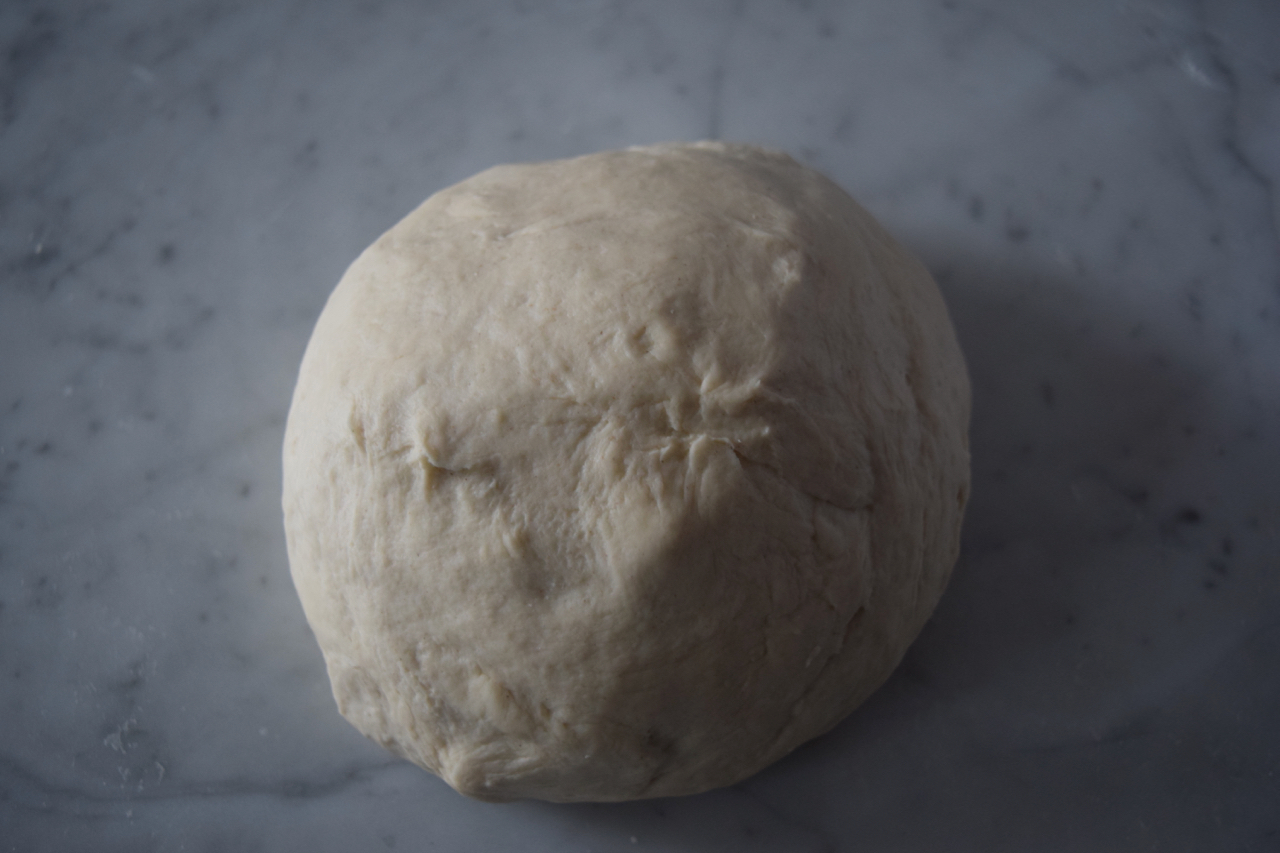 Put the dough back into your bowl, with a touch of oil to stop it sticking. Place a clean tea towel over the top and leave in a warm spot for around an hour, or until it's doubled in size.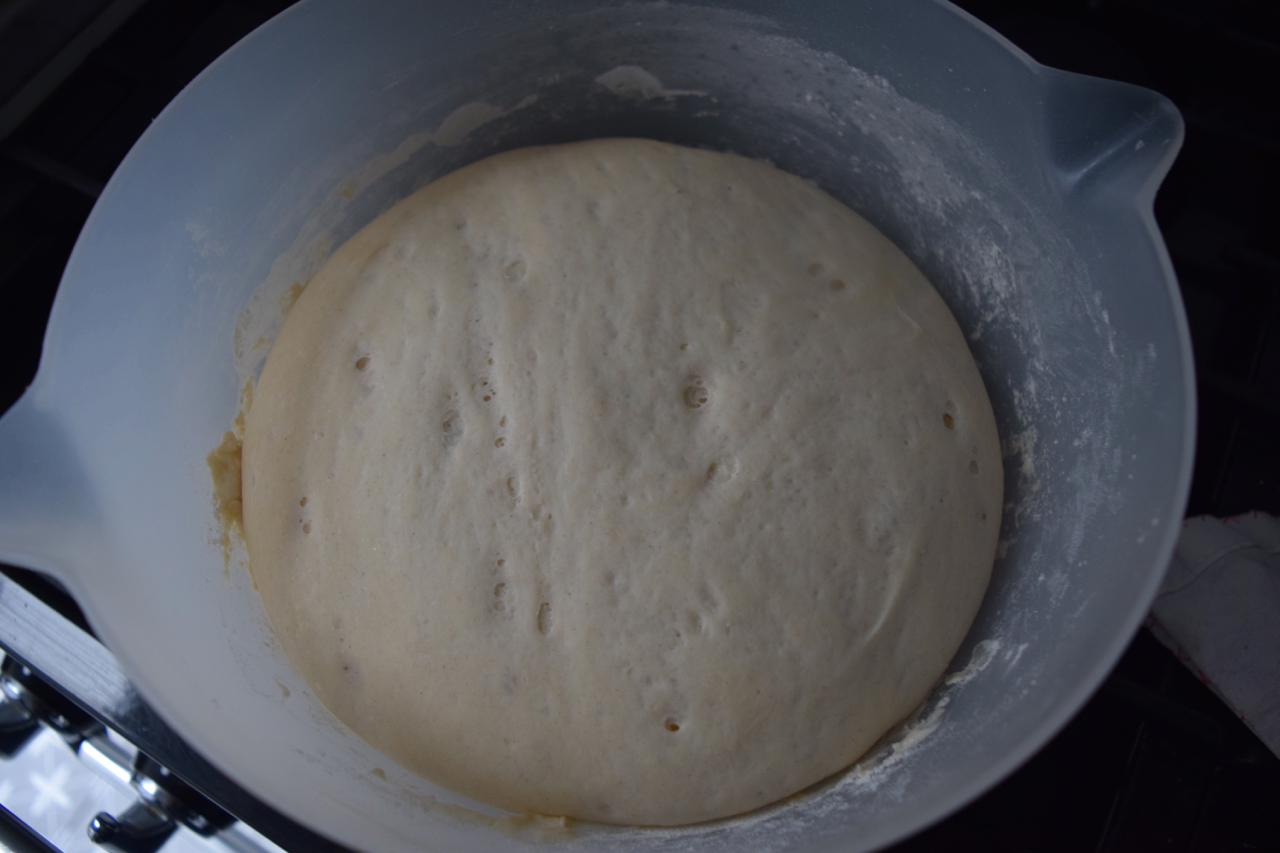 While the dough rises, crack on with the filling. Using a food processor or some mean chopping skills, chop the dark chocolate and pistachios until they have a rubble like texture.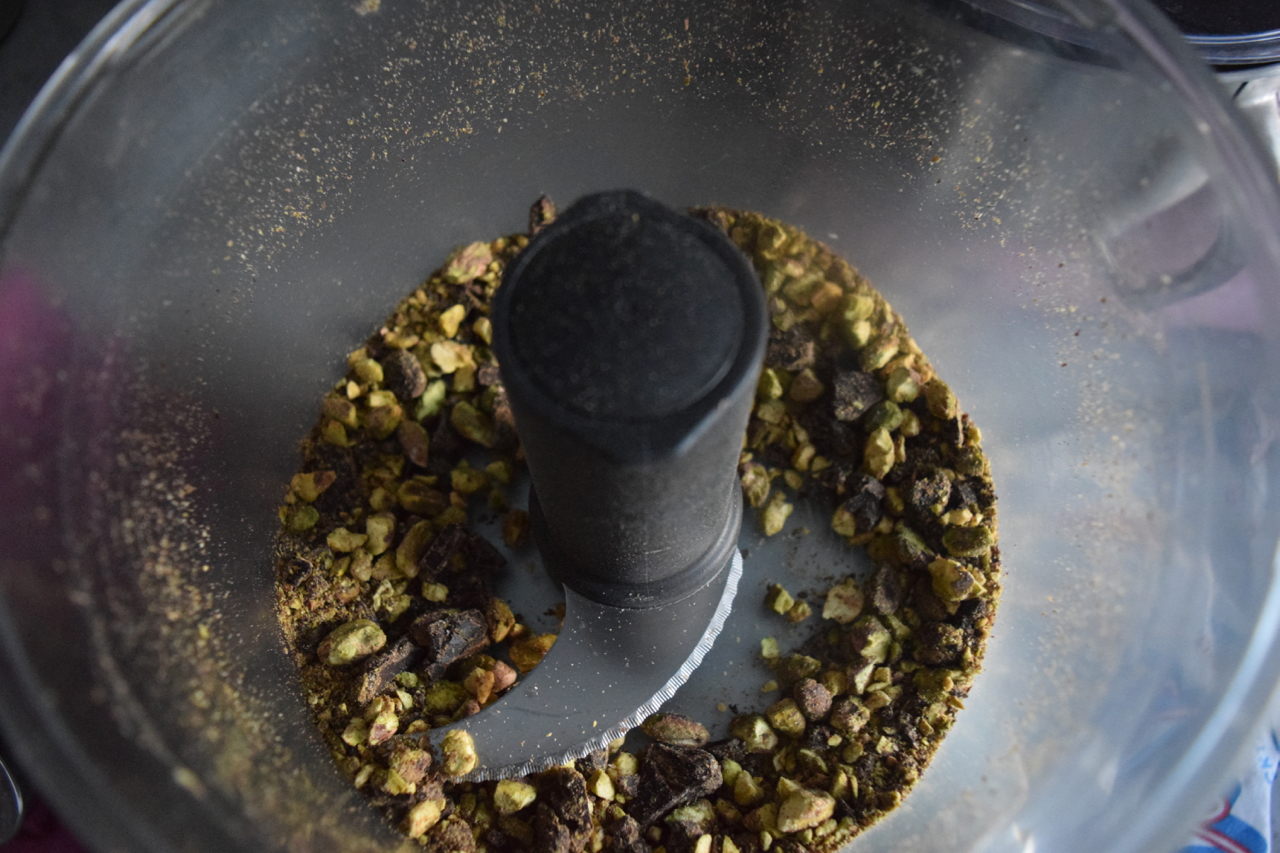 Next, break up the marzipan and drop into the processor with the clementine zest. Process again, briefly, then add the flaked almonds.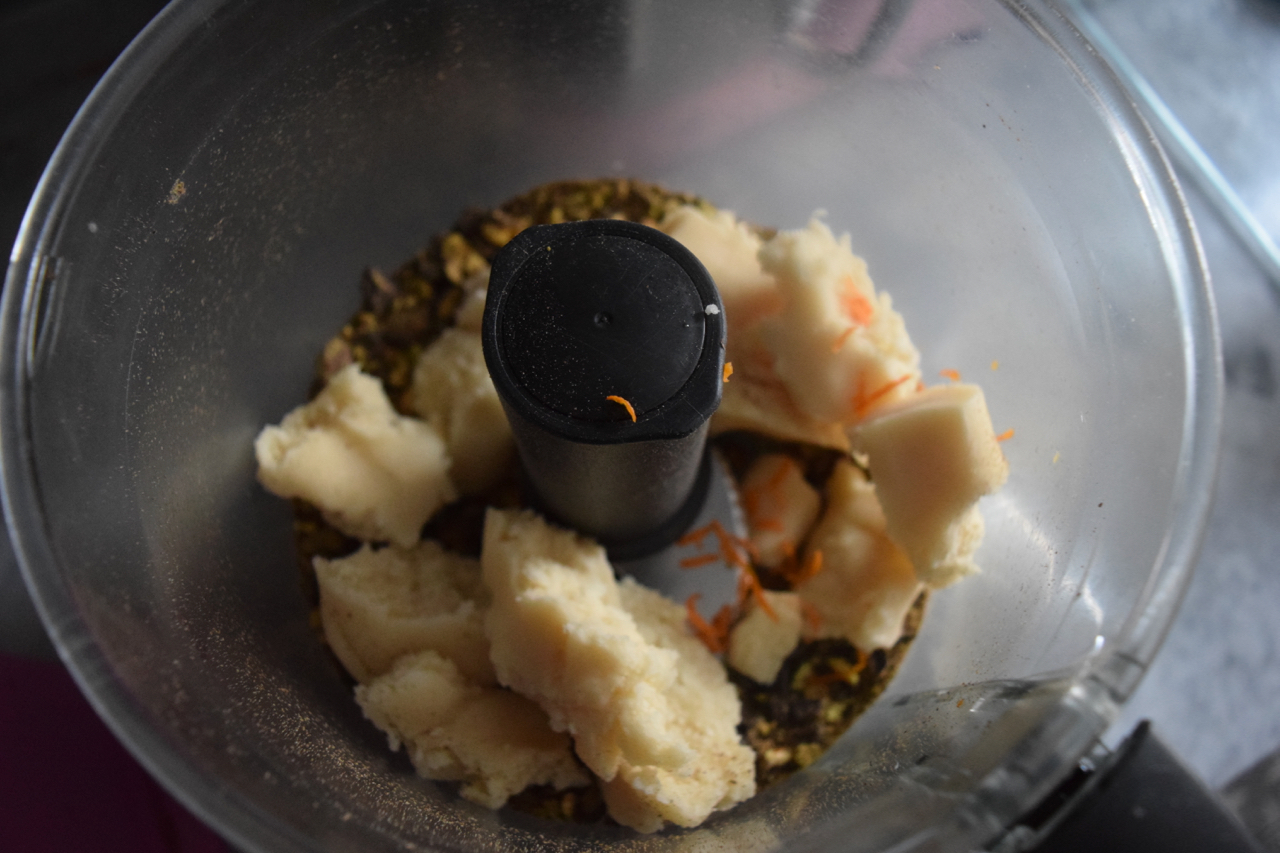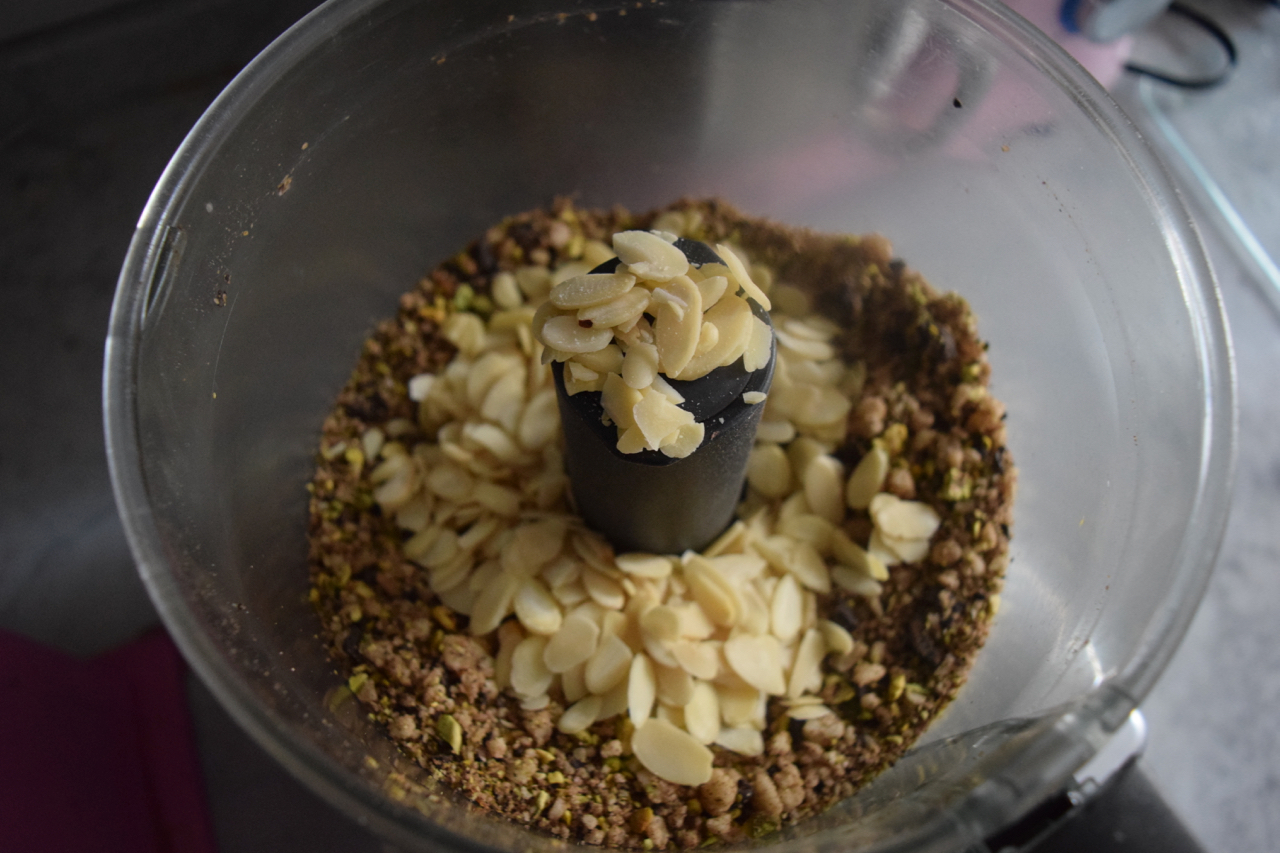 Give the mixture a final pulse, tip into a bowl then pop it to one side for a moment.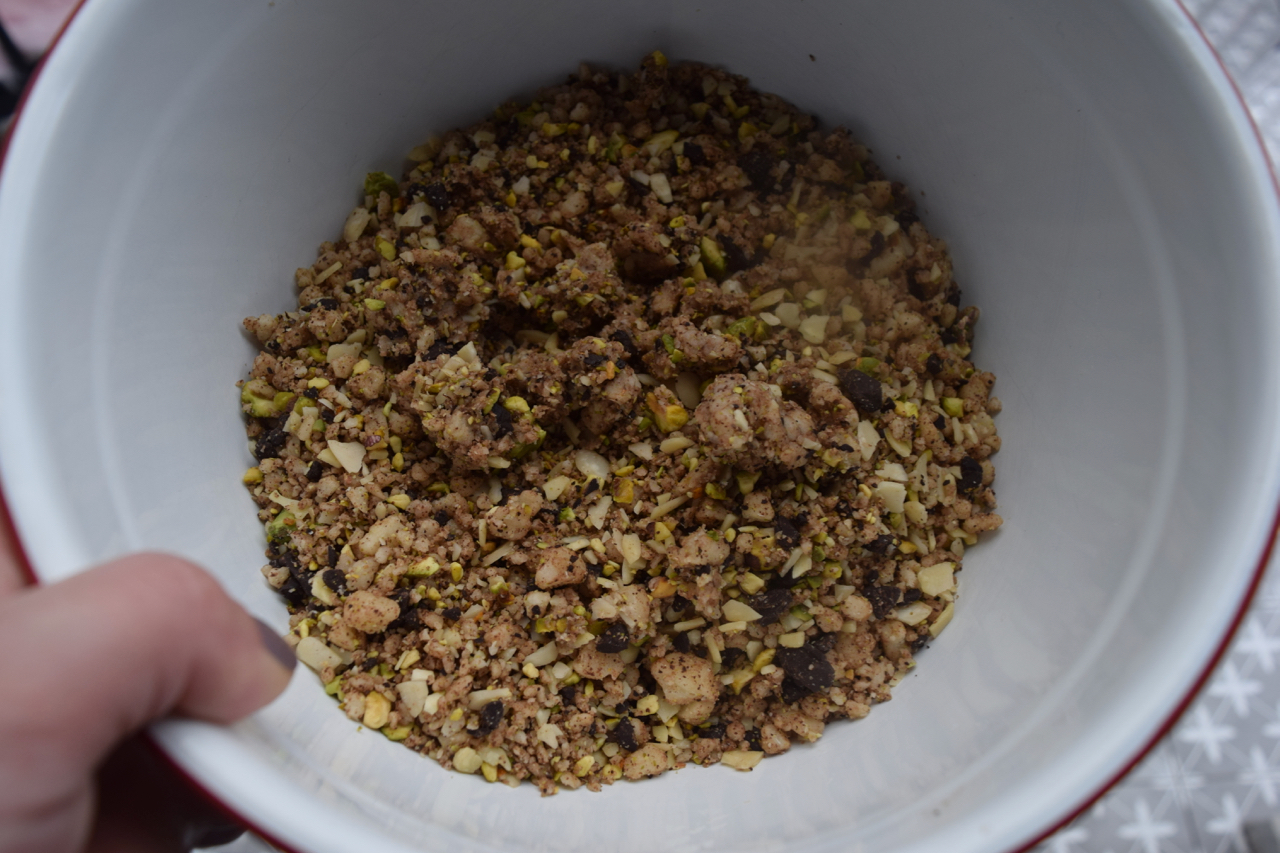 At this stage, butter your muffin tins and pre heat your oven to 170 degrees fan assisted.
Take your dough and tip it out onto a floured work surface again. Knock back with a brief knead then divide into 15 equal balls. Roll each one out into a rough circle around 8cm in diameter. Brush the edges with some beaten egg.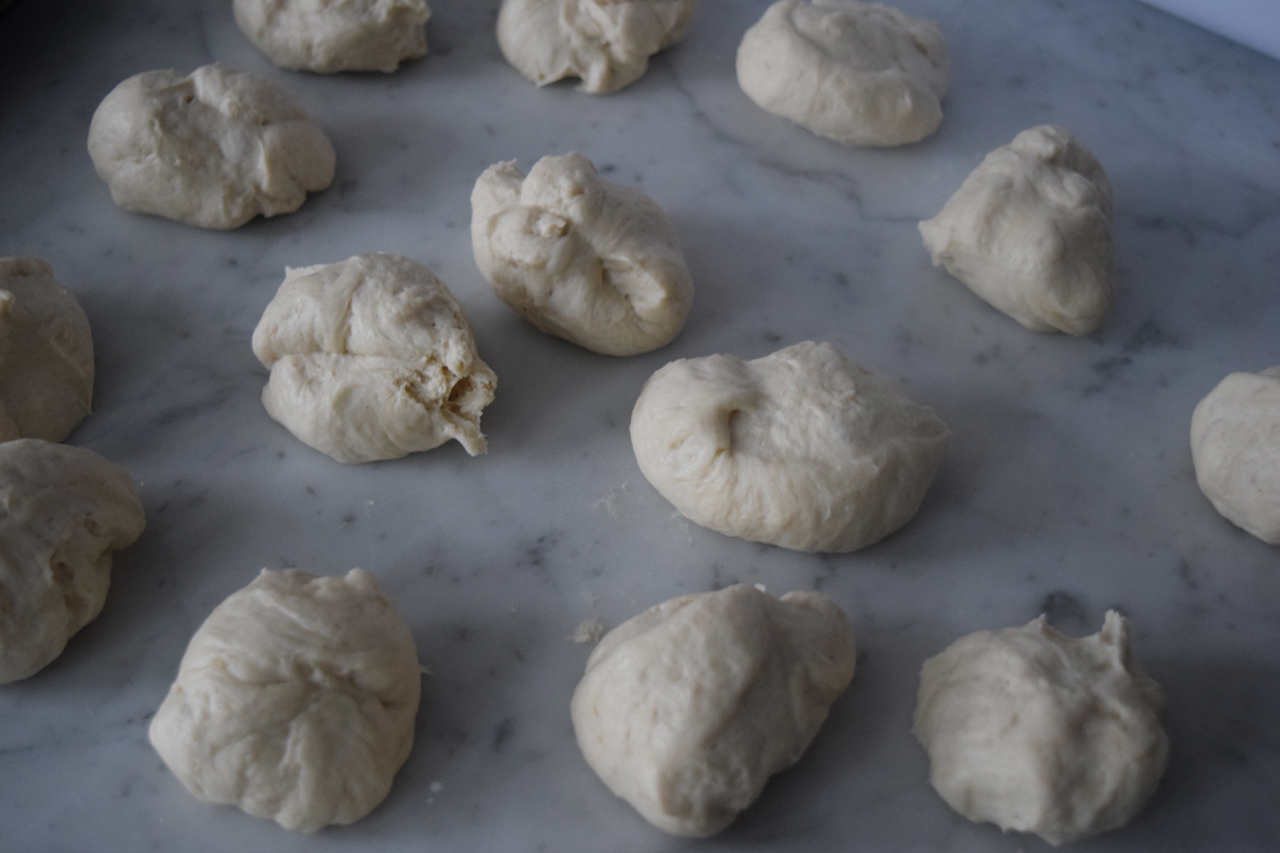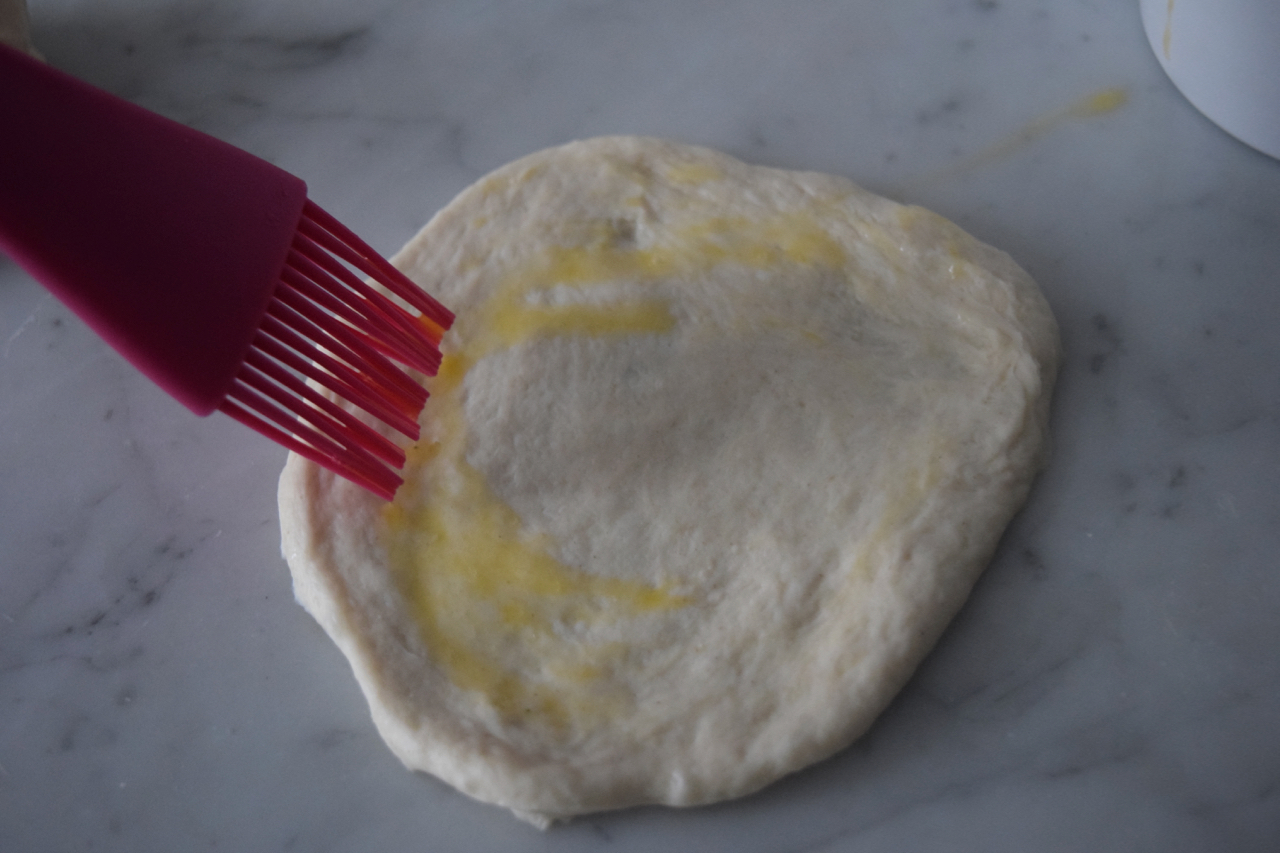 Take a heaped tablespoon of the chocolate marzipan mixture and form into a large walnut sized ball. Place the ball into the middle of the dough then pinch the edges together to seal the bun.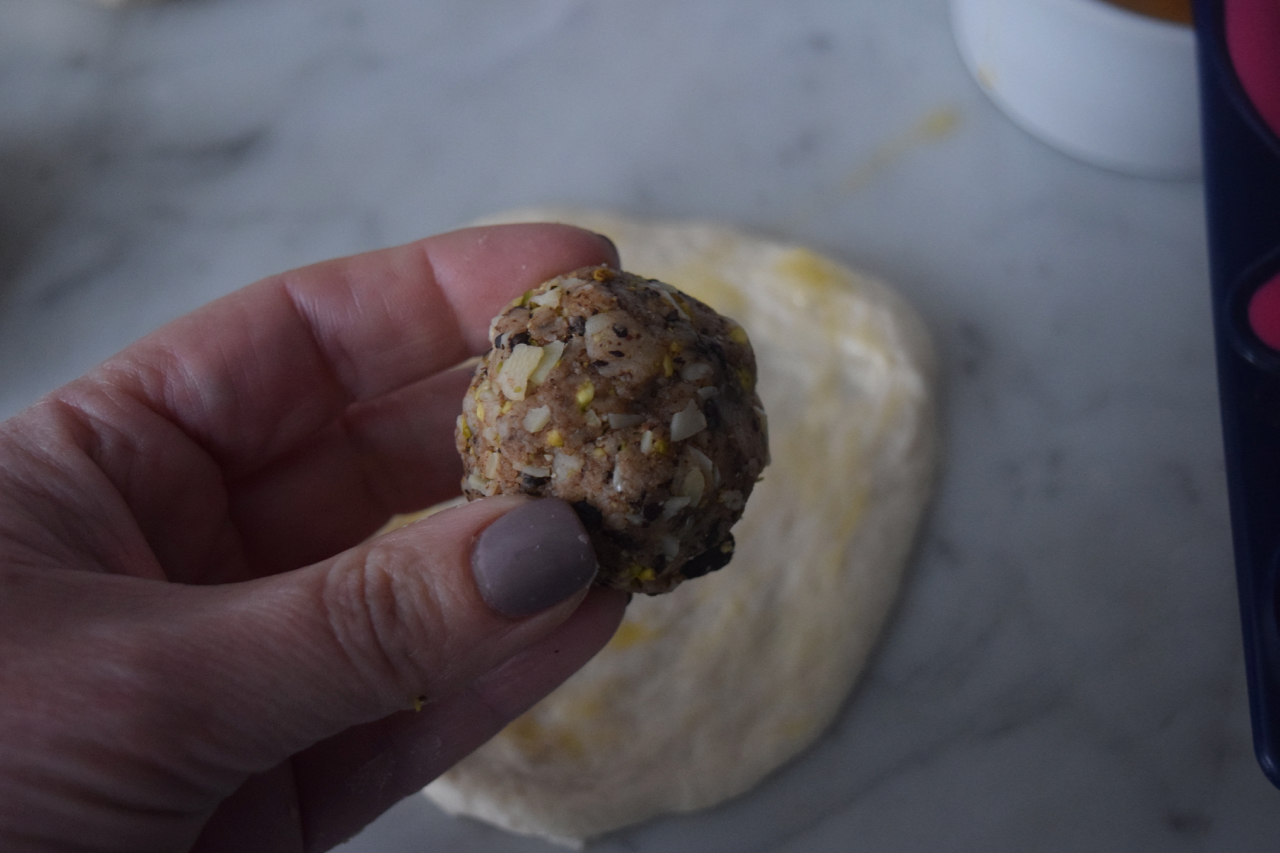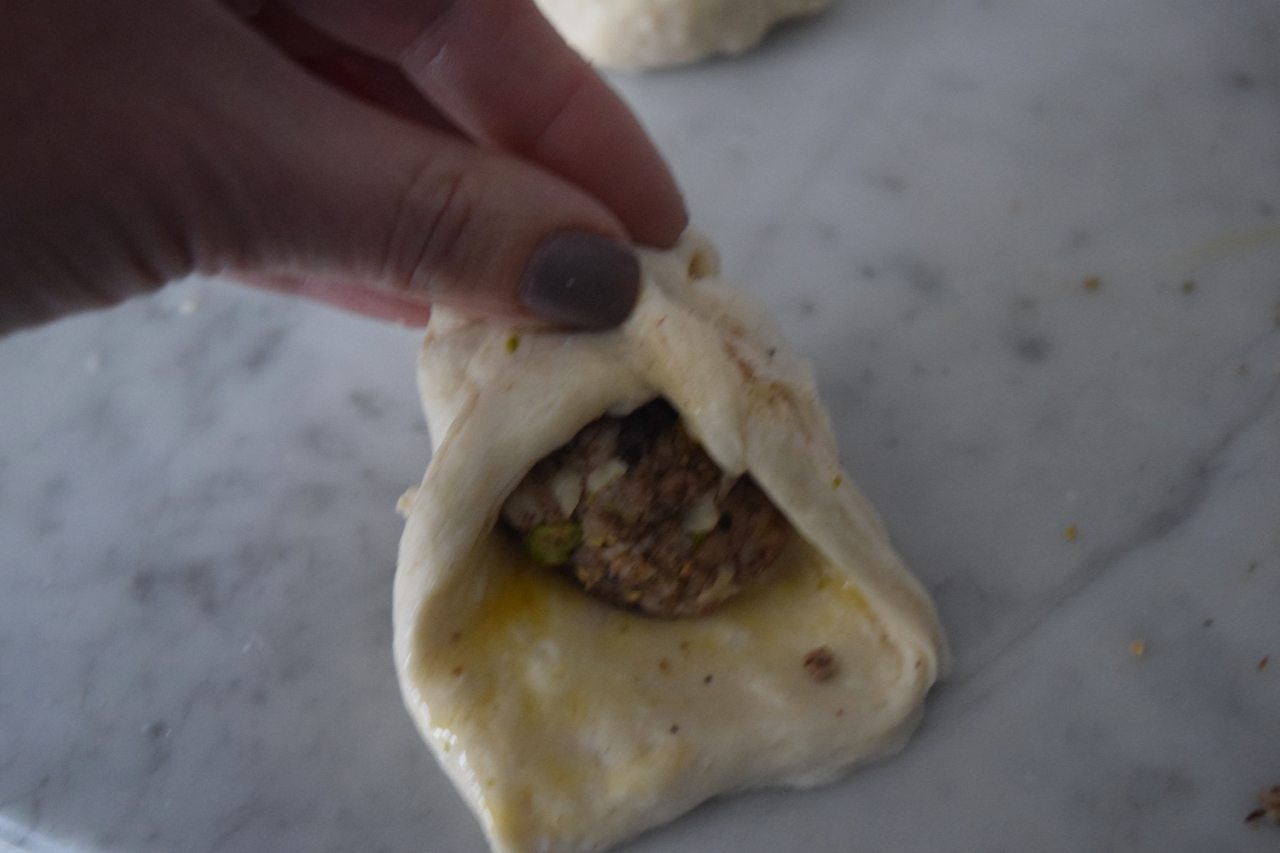 Pop the ball, seam side down, into the recess in your muffin tin and continue with the rest of the dough until you have 15 buns. I had some filling left which I kept and sprinkled on to some yoghurt *and ate it straight from the bowl of course*.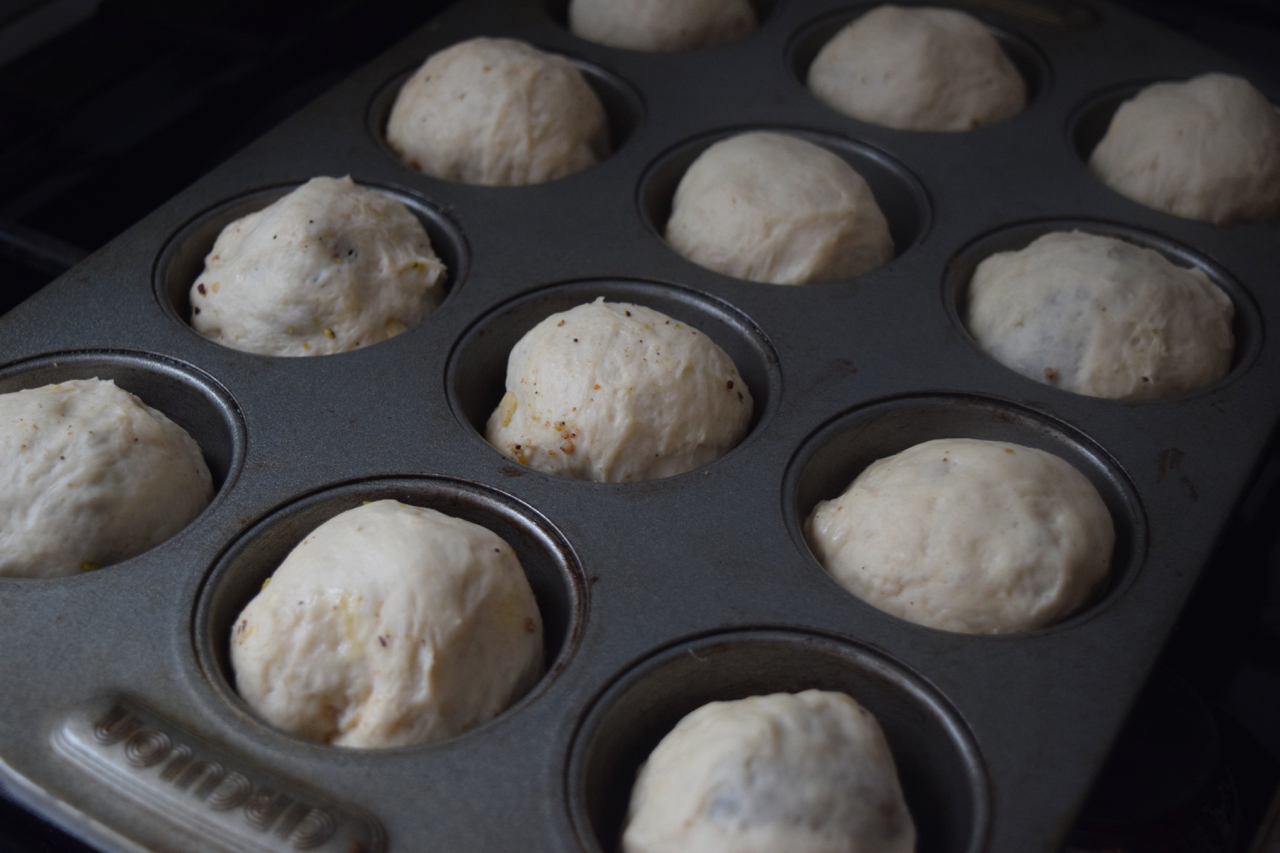 Brush each bun with the rest of the beaten egg, poke or snip a little hole in the top of each one, then bake these divine seasonal treats for around 15 minutes until golden, smelling so good and oozing a little bit.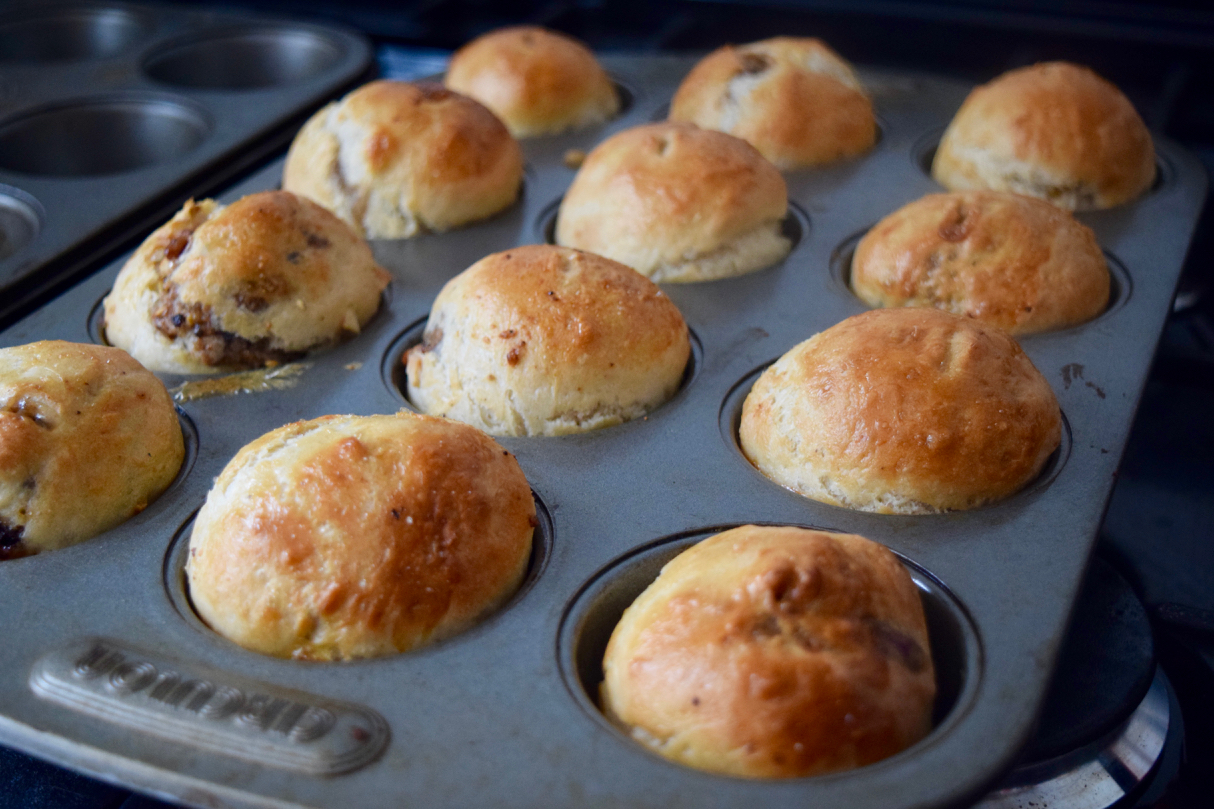 Ease the Marzipan Chocolate Buns from the muffin tins and leave to cool for long enough to not burn the roof of your mouth when you inadvertently eat 3 of them at once *me*.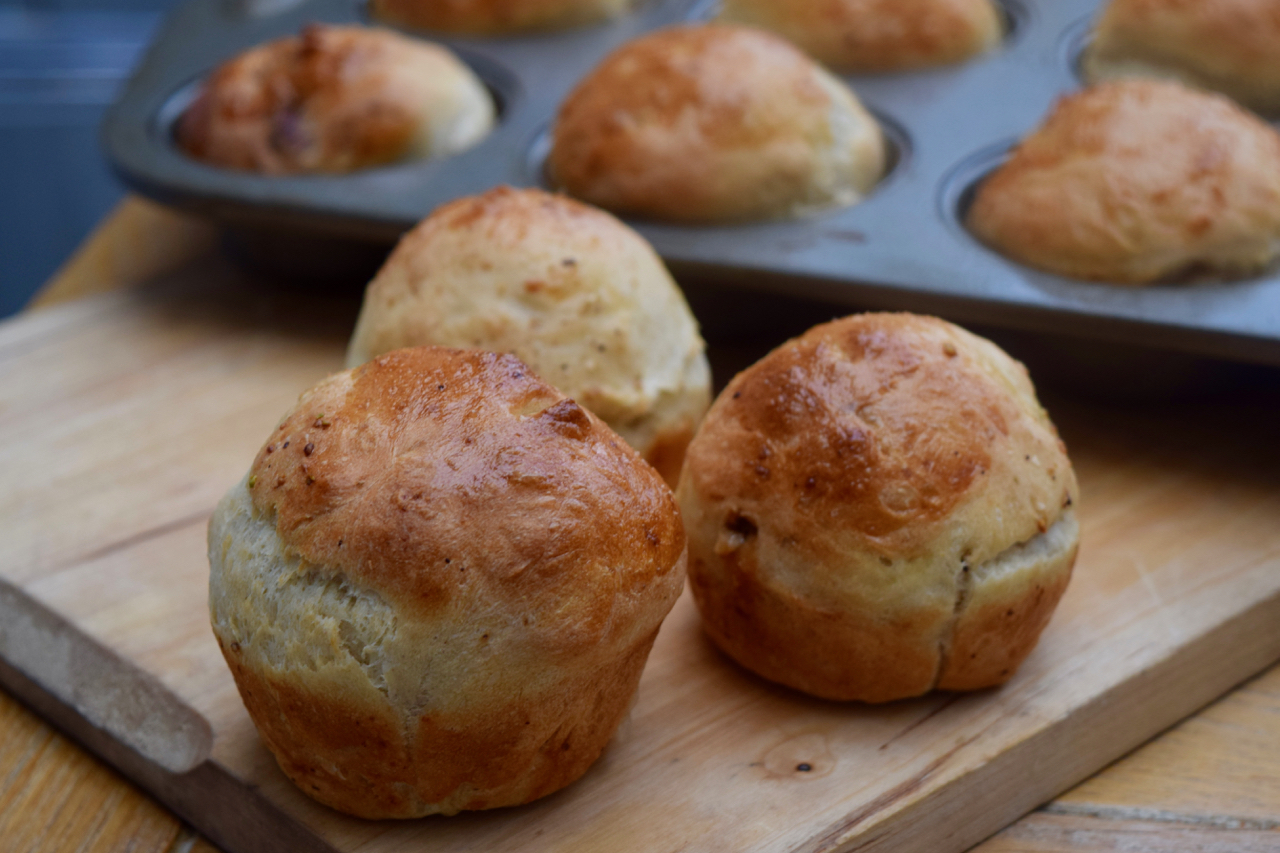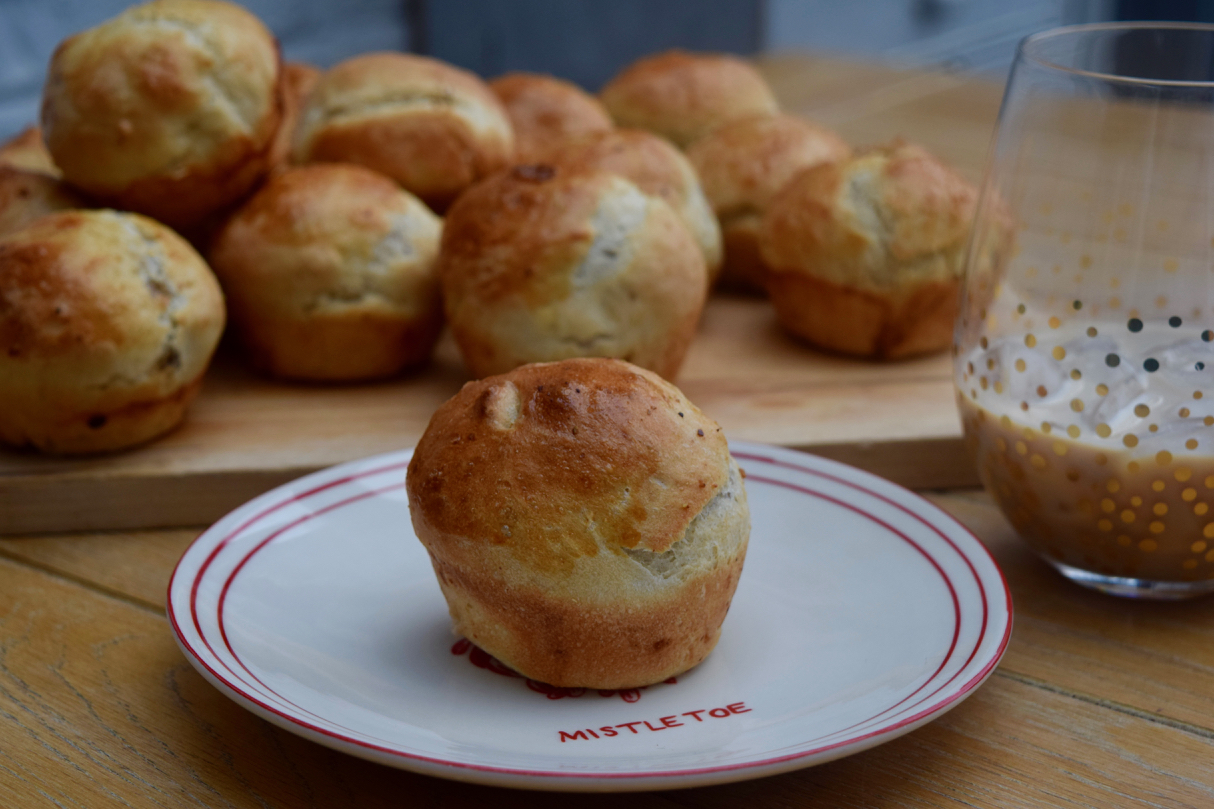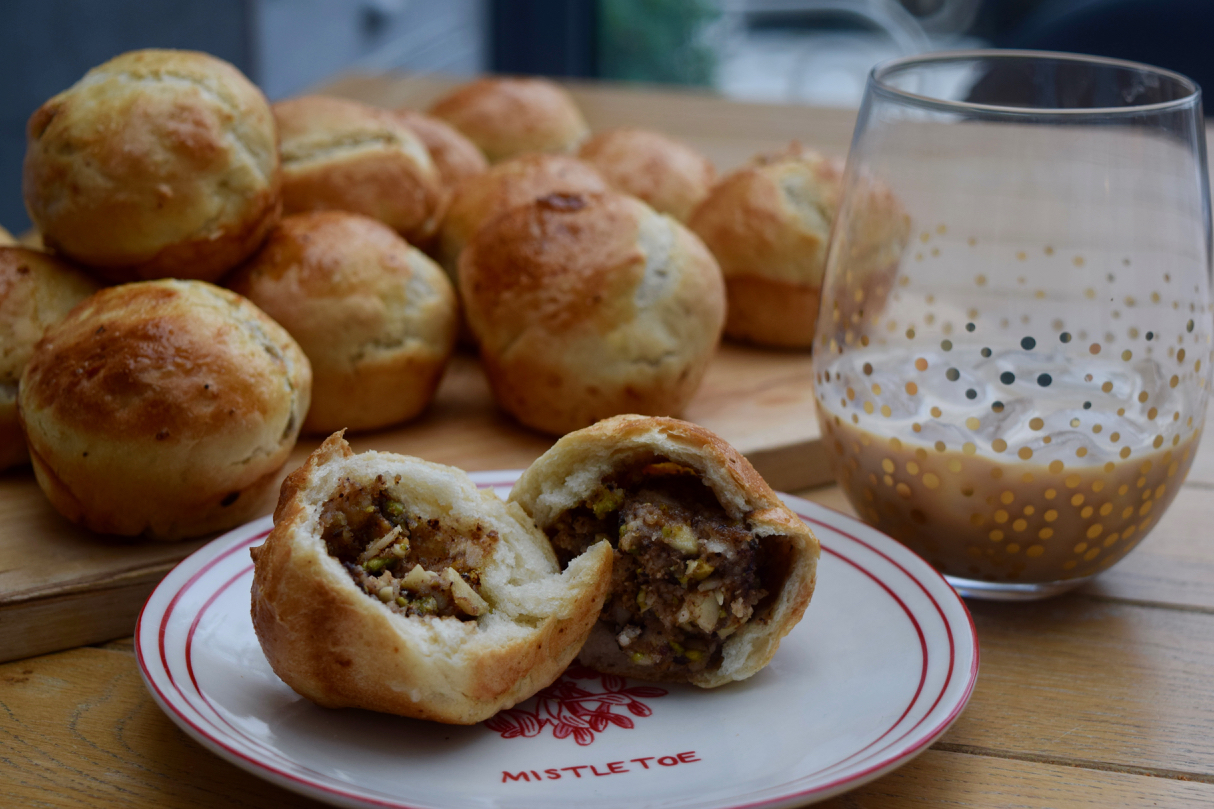 I enjoyed my Marzipan Chocolate Buns with a large glass of Baileys. Because, let's face it, with less than a week to go, it's almost bloody Christmas and Baileys is to be enjoyed with most meals.
Lucy x
Marzipan Chocolate Buns Recipe
Makes 15
You will need a food processor or blender for the filling and 2 muffin trays, buttered
450g plain flour, strong bread flour if you have it
7g sachet dried easy bake yeast
2 teaspoons caster sugar
350ml water, warm
Filling
400g marzipan
Zest 2 clementines
100g pistachios , chopped
75g flaked almonds
50g dark chocolate
1 egg, beaten for sealing and glazing
For the dough mix the flour, yeast and sugar in a large bowl then pour in around 300ml warm water. Bring it together with your hands into a shaggy dough. You may need the rest of the water to create a soft, slightly sticky dough.
Turn it out onto a floured surface and bring the dough together into a ball. Knead for around 6 minutes. You can do this in your stand mixer with a dough hook if you prefer. Your dough will be ready when it feels soft and less sticky.
Put it back into an oiled bowl, cover in tea towel and leave in a warm spot for around an hour, or until doubled in size.
For the filling, put the pistachios and dark chocolate into your food processor and pulse until well chopped, but not dust. Or you can do this by hand. Add the clementine zest and the marzipan, in lumps, and process briefly until a rubble like texture. Finally add the flaked almonds and give it a final burst. Feel free to chop everything by hand if you don't have a food processor.
Pre heat your oven to 170 degrees fan assisted and butter your muffin tins.
When your dough is well risen, pop it back onto your floured work surface and knock it back. Divide it into 15 even sized balls. Roll each ball into a rough circle, about 8cm in diameter. Take a large walnut sized ball of the filling and pop into the middle of the circle. Brush the edge of the dough with beaten egg then press the edges of the dough together to seal and fashion into a ball. Put the ball into your muffin tin recess. Continue with the rest of the dough and filling. I had a little filling left, this would be lovely sprinkled on yoghurt.
Glaze each bun with beaten egg. Make a tiny slit or hole in the top of each bun to allow any steam to escape. Place your 15 marzipan buns into the oven and bake for around 15 minutes or until golden and slightly oozing.
Devour whilst still warm. Any leftovers can be reheated either in the oven or microwave.