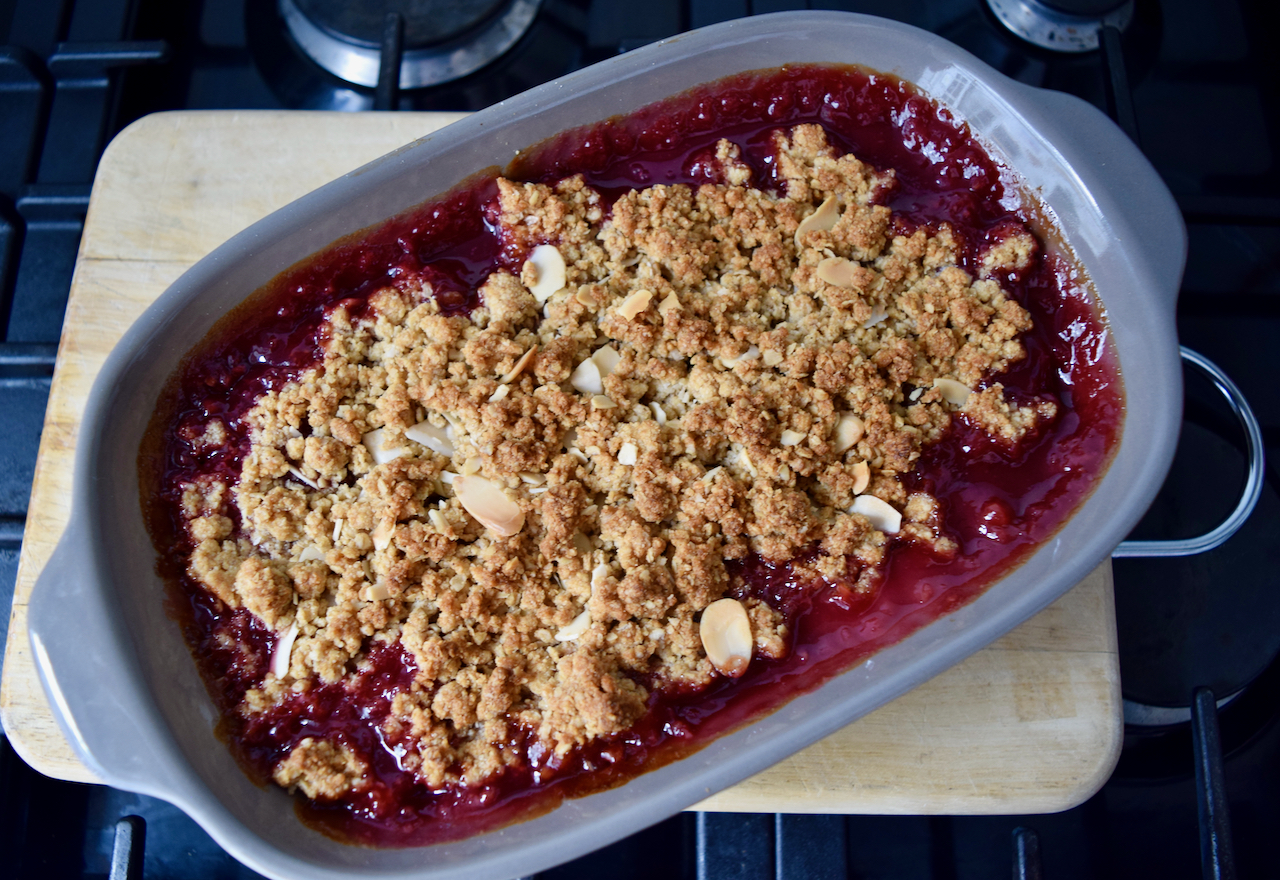 Plum, Cherry and Almond Crumble recipe
After a hot and steamy summer and two weeks in the sunshine, I am, and remind me of this when my gas bill's £1000 in November, quite keen to get a polo neck and my boots back on. The mornings are feeling a touch on the chilly side, which is a signal to get hot puddings back on the menu and my Plum, Cherry and Almond Crumble is a bloody good place to start.
If I'm going to make a pudding, I want it to be a) quick b) delicious and c) not particularly healthy. This plum, cherry and almond based affair is all of the above. The prerequisite for a crumble in our house is not much fruit and a ton of crumble, so this recipe caters for all our needs. The plums are cheap and plentiful at the mo and my cherries were frozen; the crumble top is oat and ground almond based making this a gluten free option *check your oats are GF*. The aforementioned fruit gets a light poaching in my cocktail trolley favourite, Amaretto, bringing the whole Bakewell vibe together.
The whole thing's thrown together and on the table, and in your mouth, in less than 45 minutes so it really is my best kind of dessert.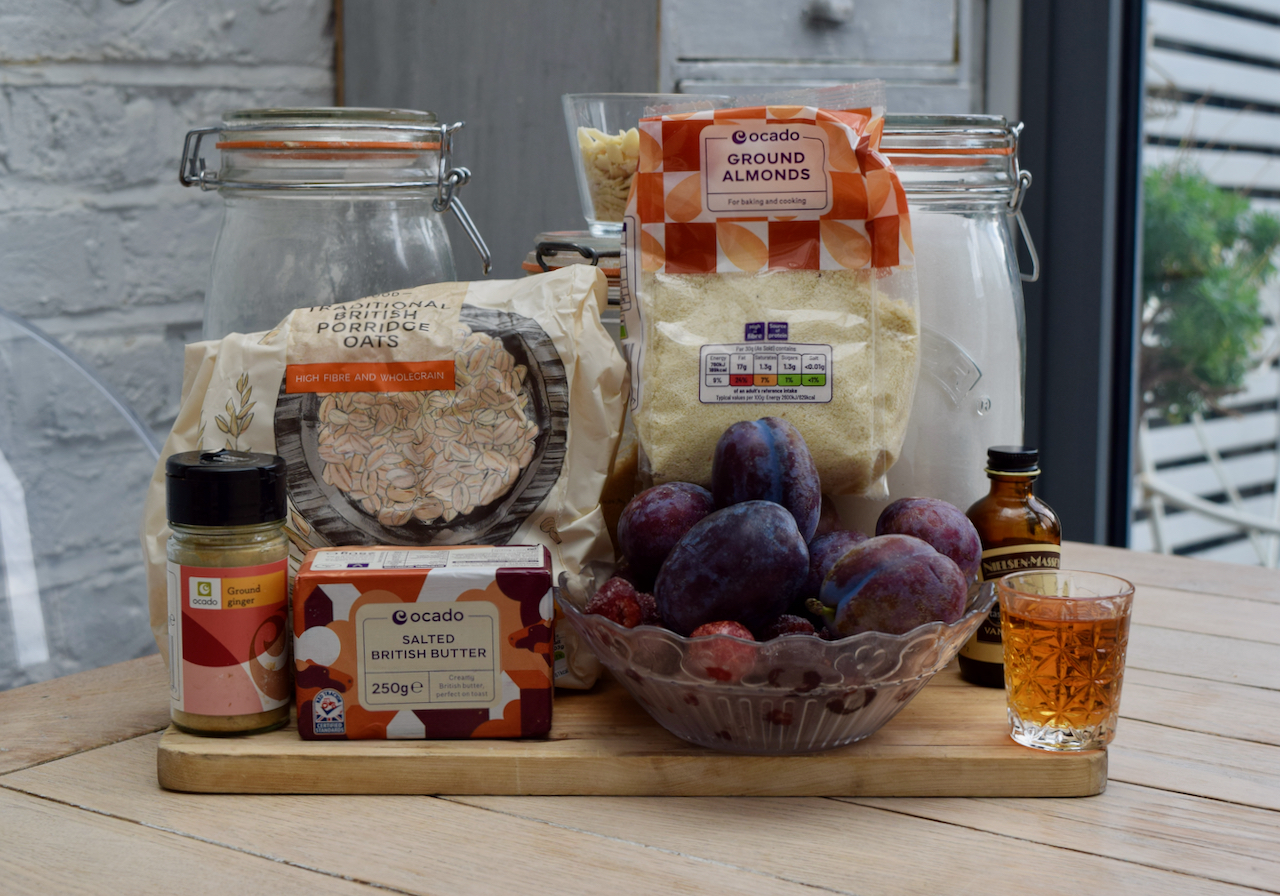 A mouthwatering line up for this autumnal pud. Nothing makes a dessert amazing like a bloody great big slug of Amaretto. I added just a touch of ginger to my crumble for a whiff of warmth, but you can add cinnamon if you prefer.
This is a quickie, so pre heat your oven to 160 degrees fan assisted and find a suitable crumble dish, nothing too big, a medium one will work here. Next, stone and slice the plums and add to a saucepan with the pitted cherries, caster sugar, vanilla and Amaretto.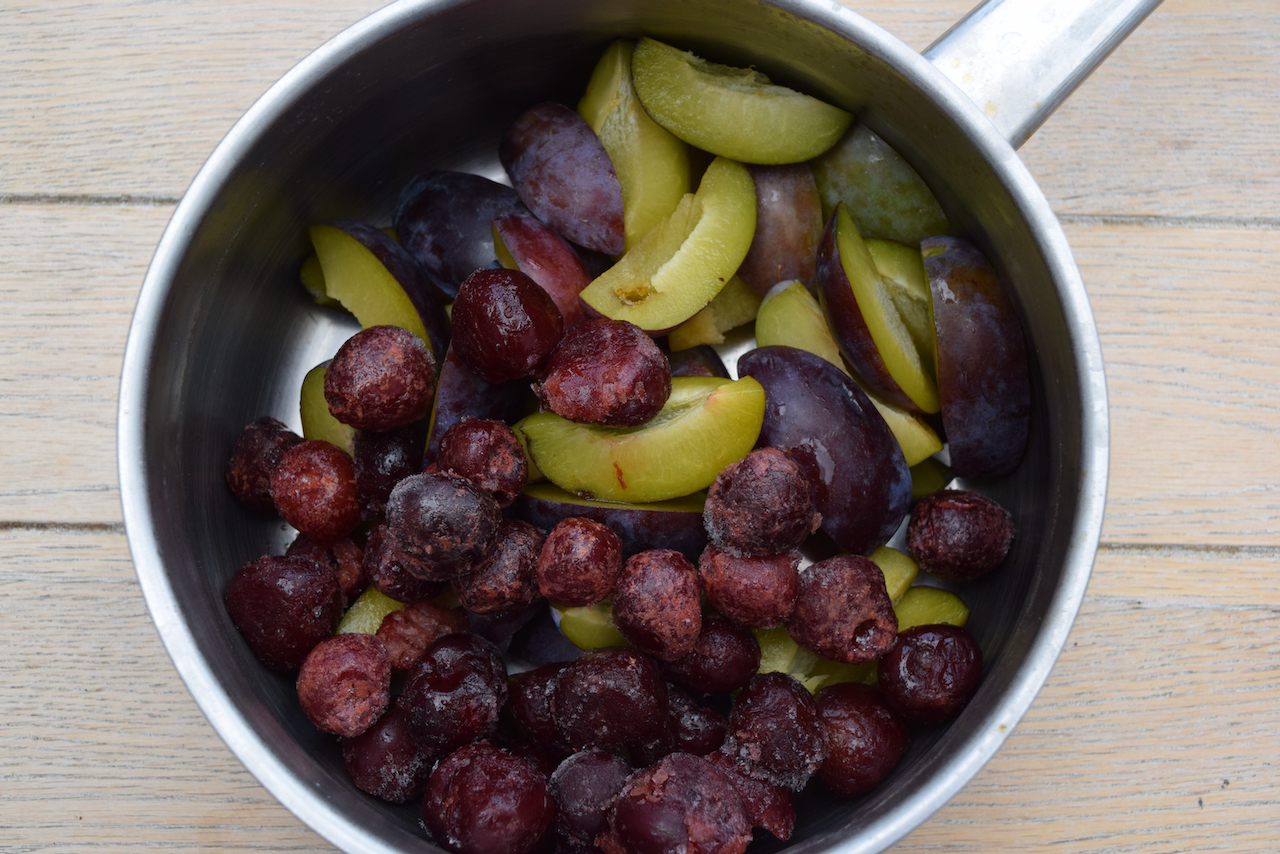 My plums were a tiny bit underripe, but they perked up beautifully once coupled with Amaretto. Put the pan on a low heat and, stirring occasionally, bring up to the simmer then turn down and cook for 5 to 6 minutes until the plums are softening.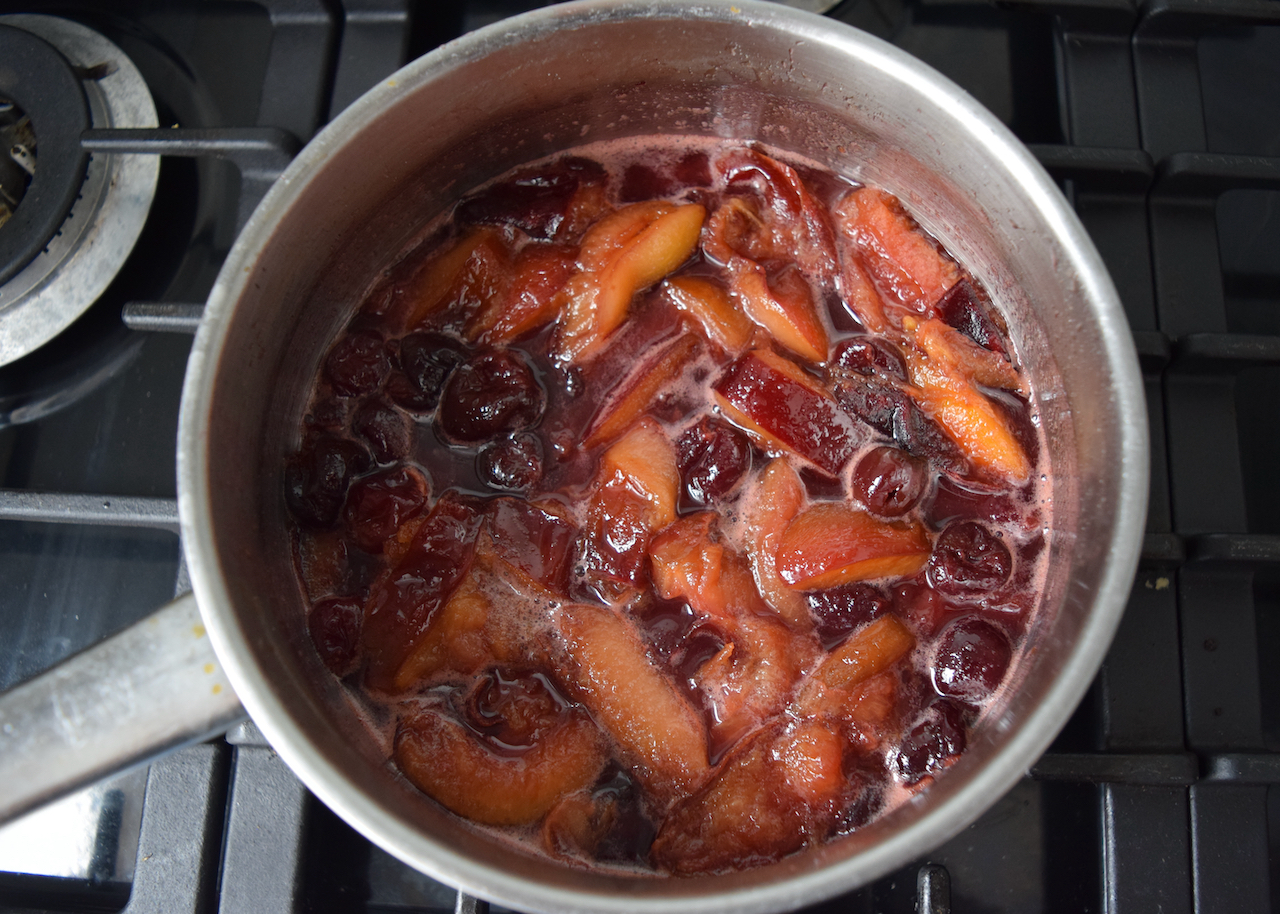 This will seem quite juicy, but don't panic, it will soak into the crumble and as my dear Grandad used to say 'the gravy's the best bit'.
Tip into your chosen dish and crack on with the almond crumble. I lazily used my food processor, but you can rub the butter into the ground almonds and oats if you would prefer. Either way, the resulting mixture should be a damp sandy texture.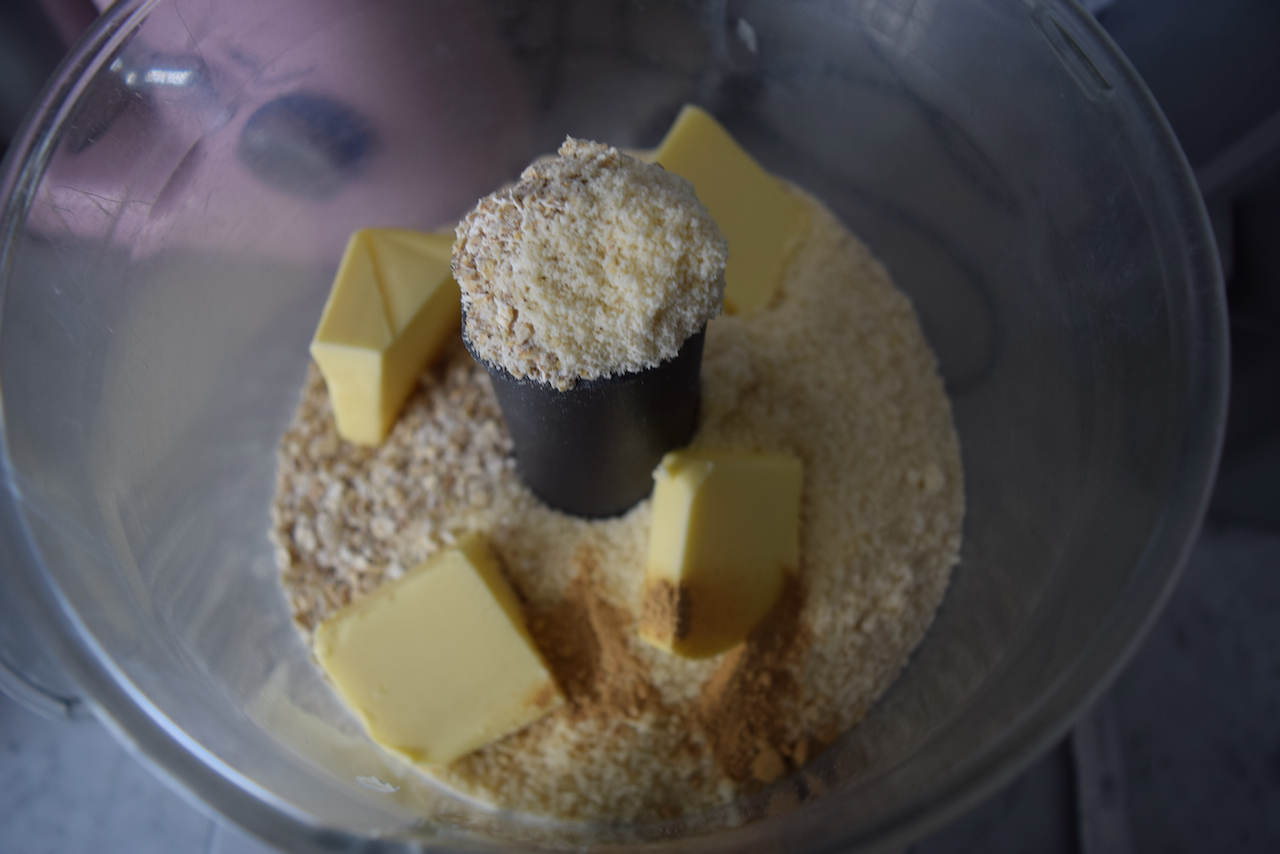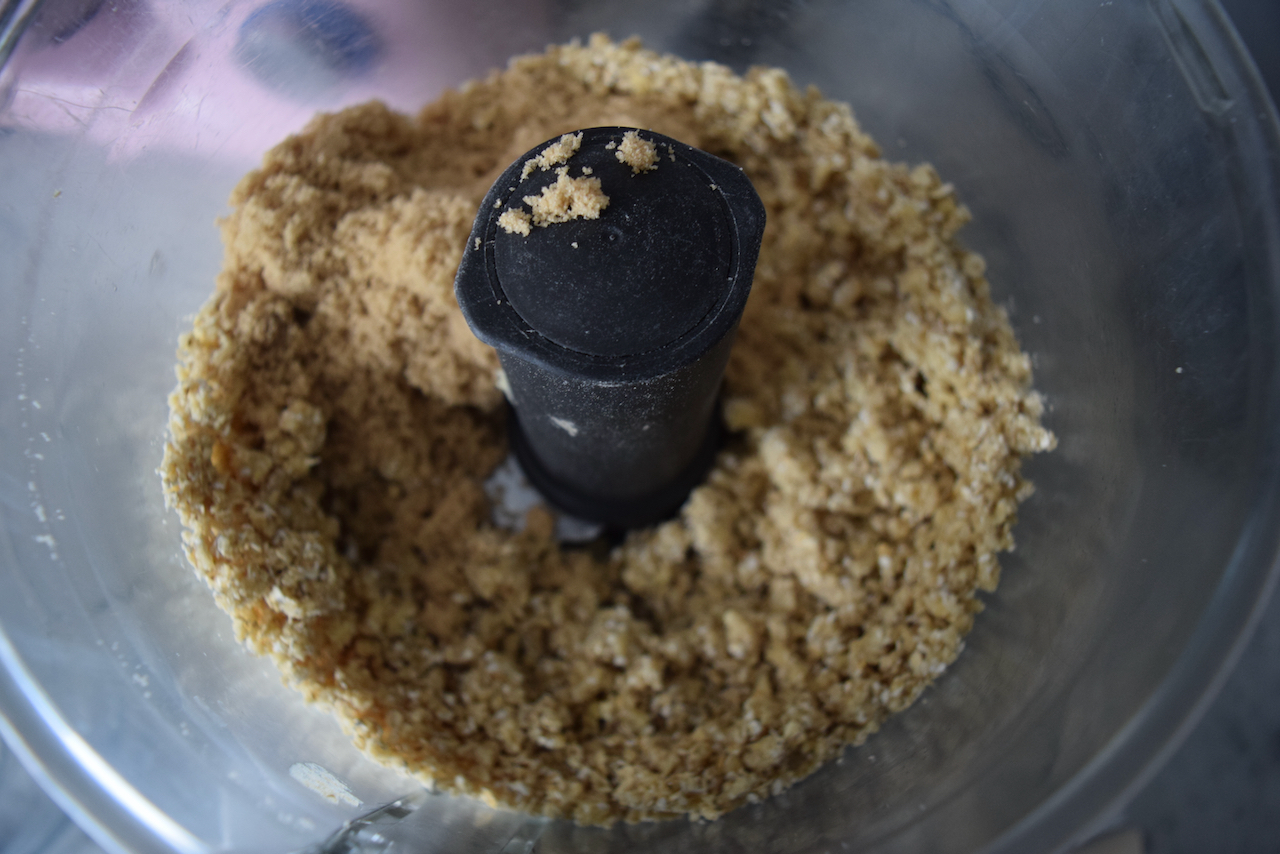 Add the sugar and mix in/process. Then, finally, stir through a handful of flaked almonds for nutty crunch.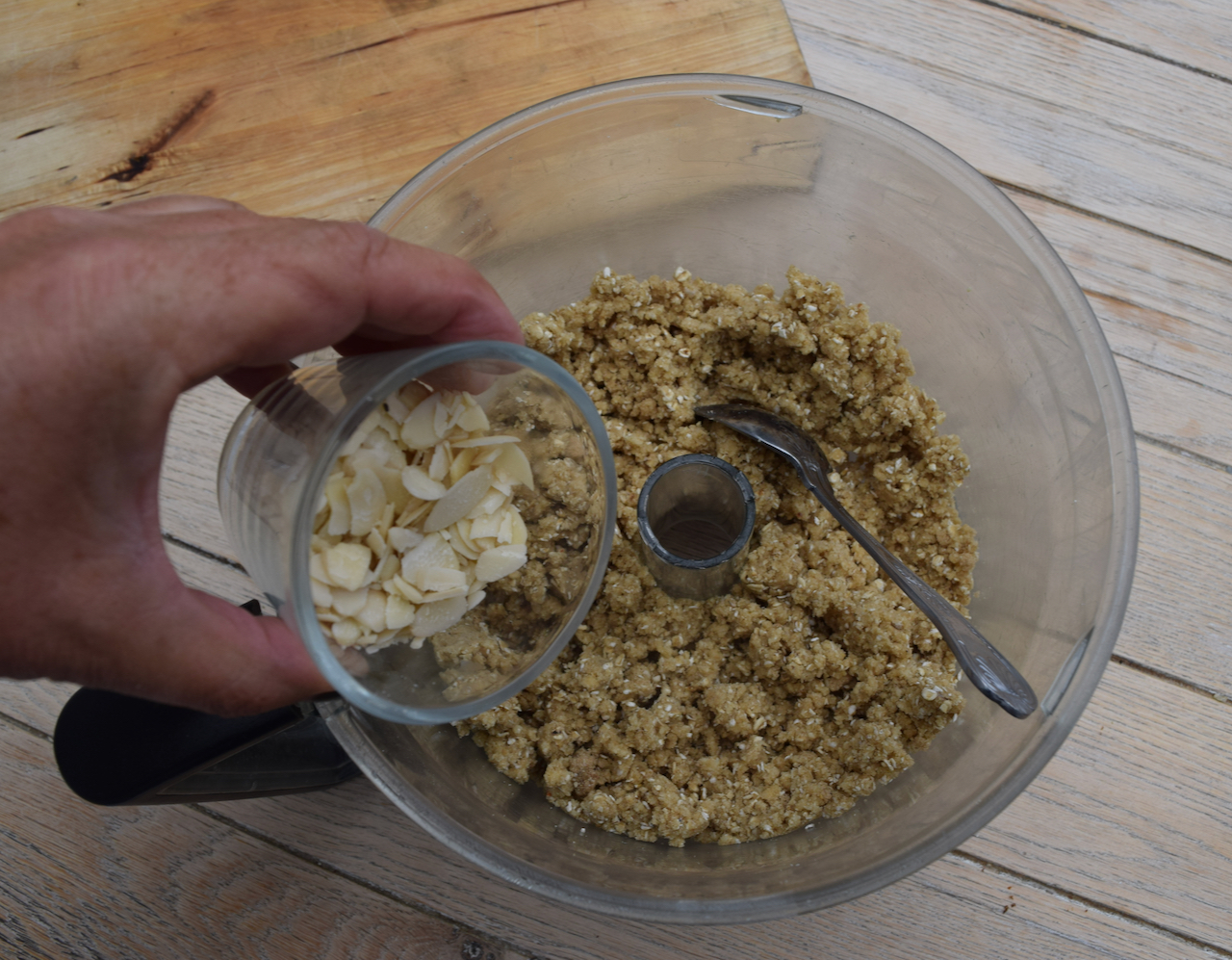 Tip this topping on top of the cooked fruit and spread roughly to cover.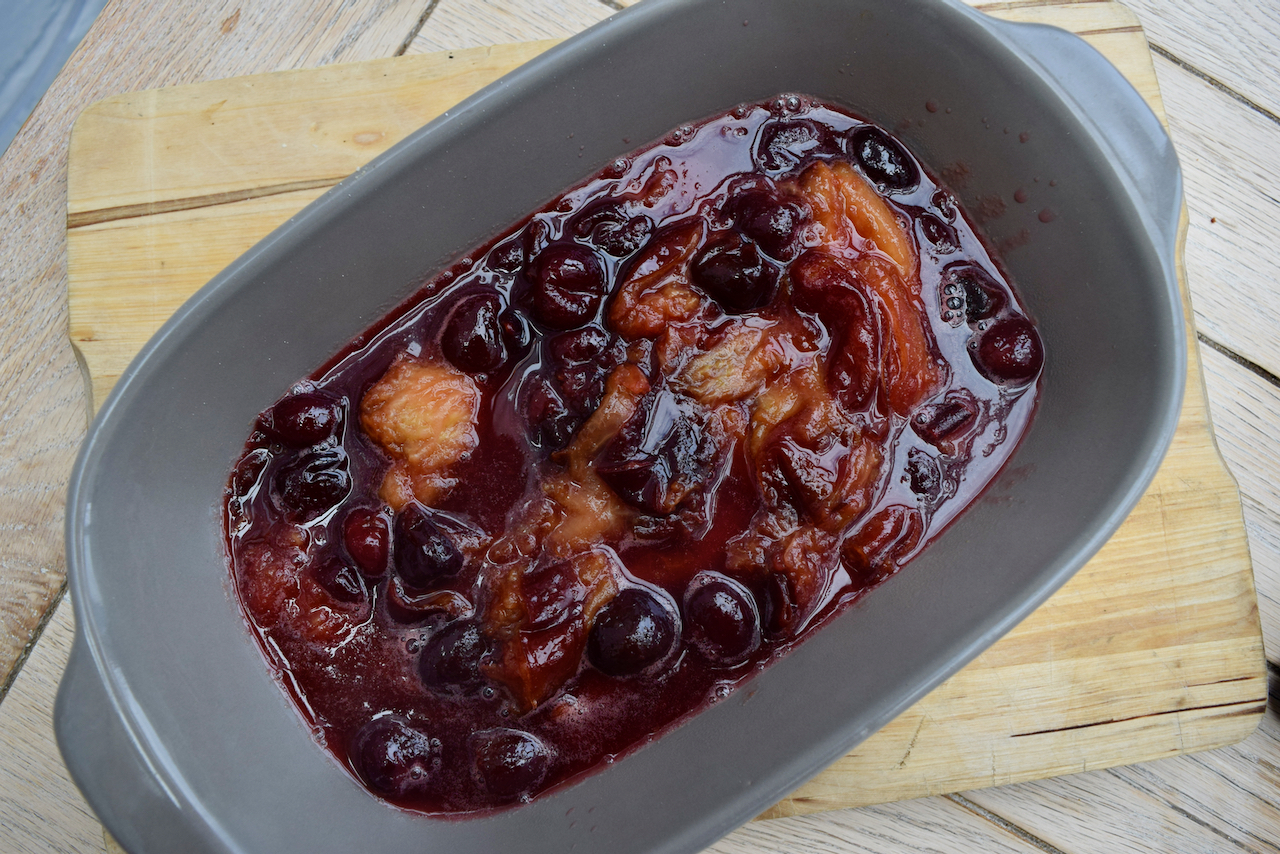 Bake for 25 to 30 minutes or until the fruit is bubbling and the crumble is crisp and golden.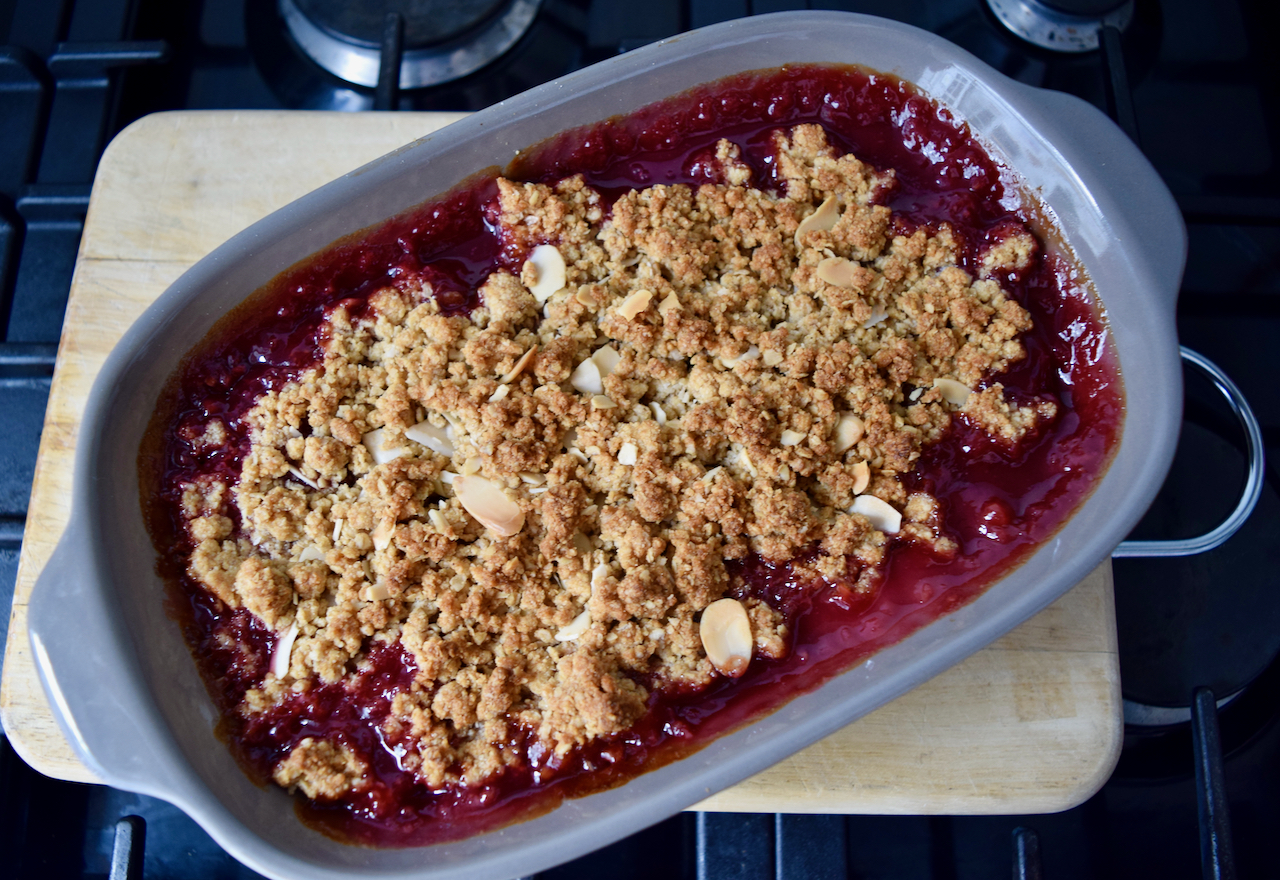 Resist the temptation to just eat the whole lot straight from the oven with a shovel and have the courtesy to serve in modest portions with cream, ice cream and custard *or all three*.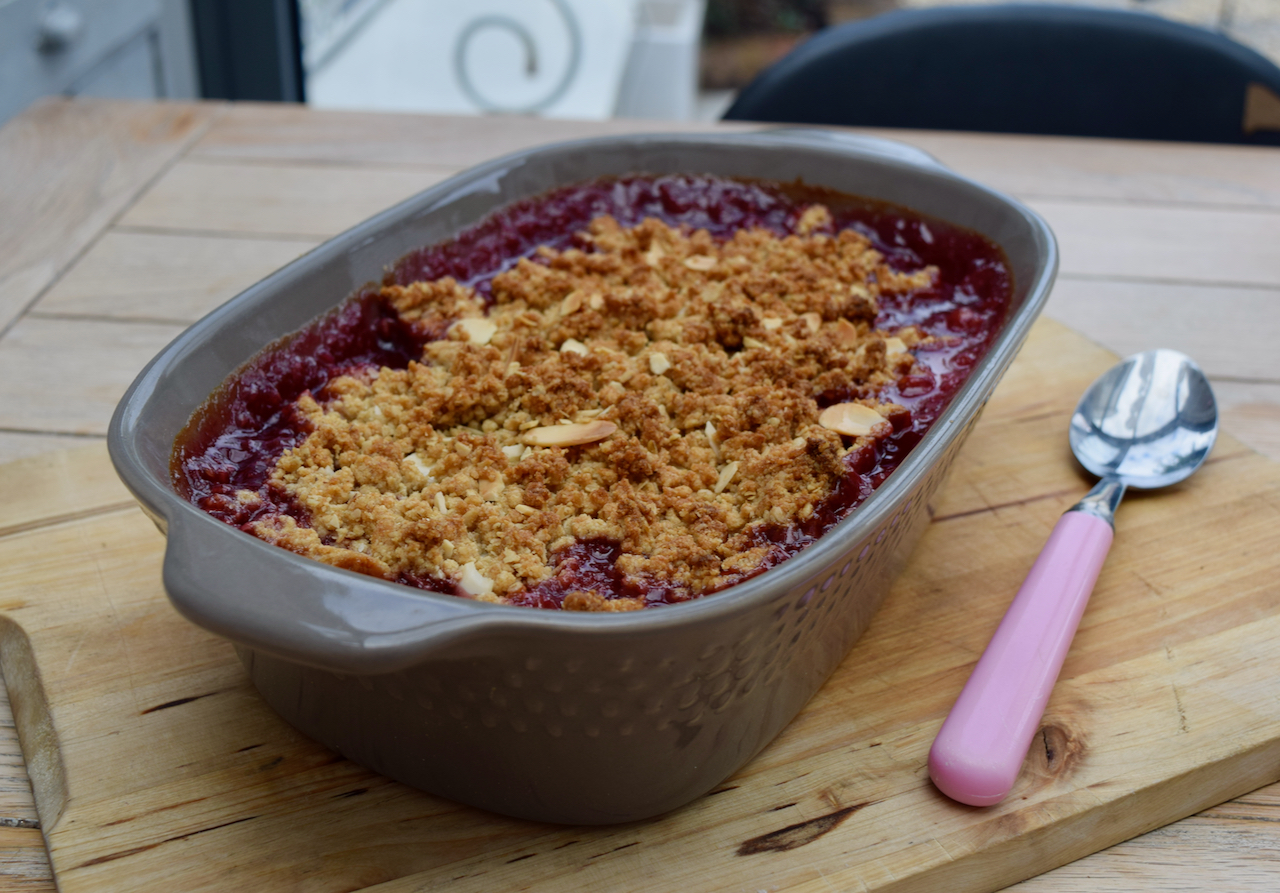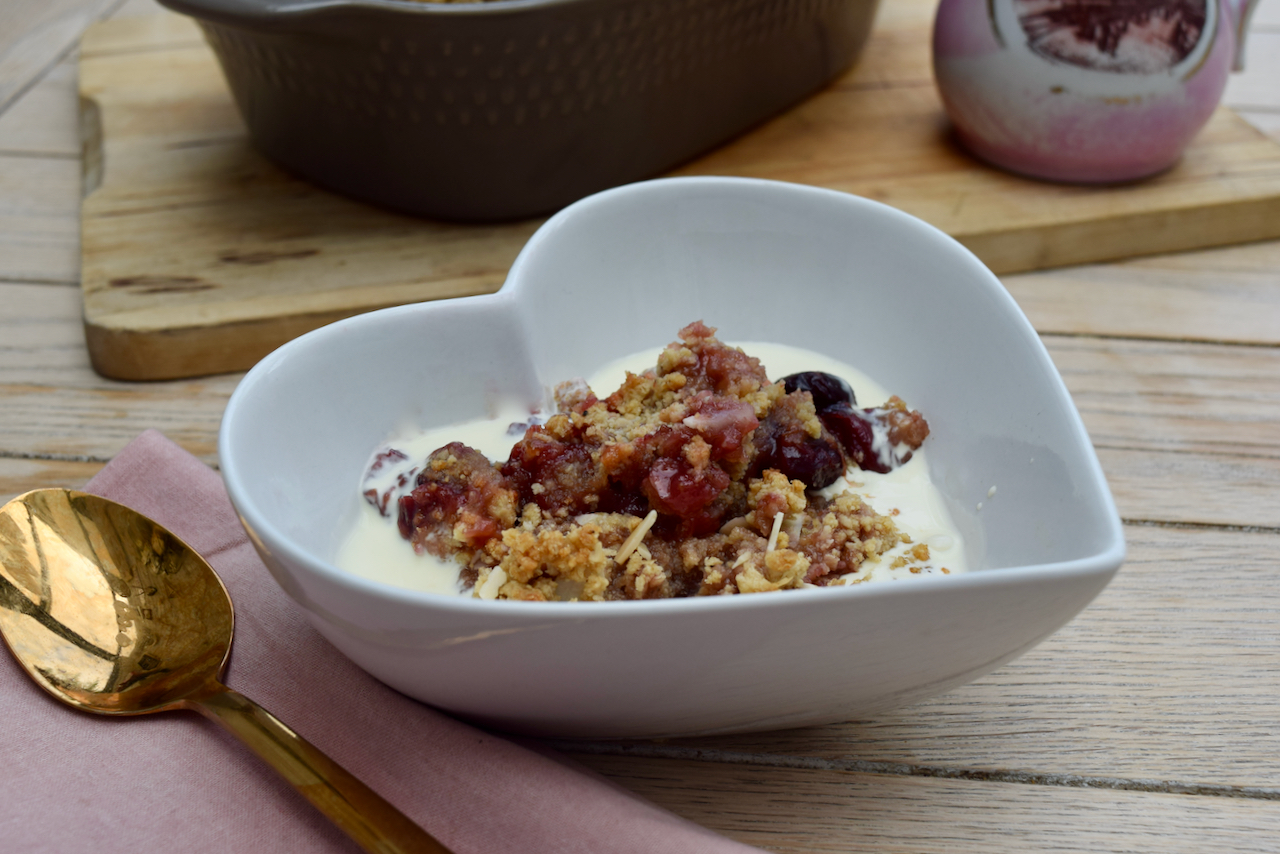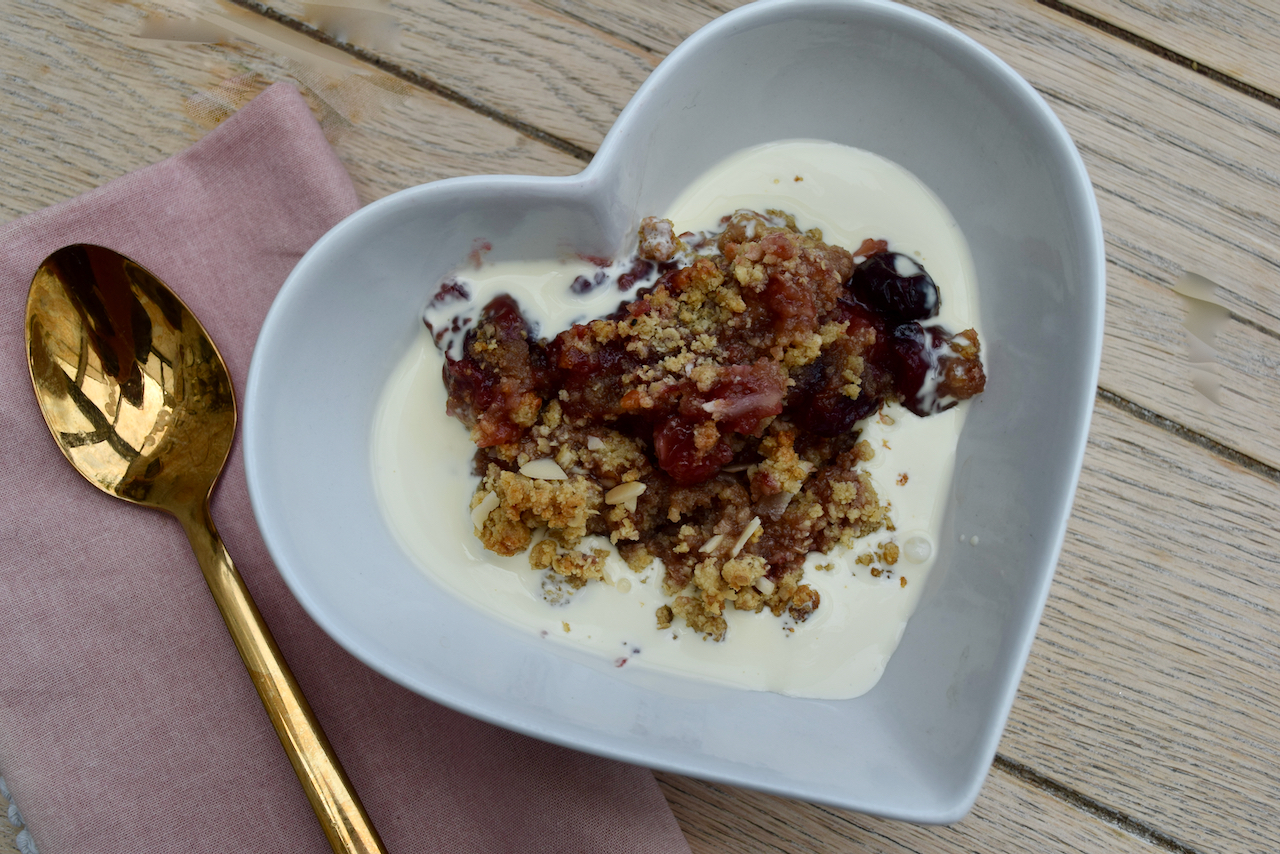 This crumble is so worth the shorter days and chillier nights. At least you'll be able to warm your hands on it when you can't afford to put the heating on.
Lucy x
Plum, Cherry and Almond Crumble recipe
Serves a hungry/greedy 4 or 6 more modest diners
You will need a medium sized baking dish and bowls/pans for this recipe
Fruit
400g plums, stoned and sliced
200g cherries, mine were frozen
1 teaspoon vanilla extract
100ml Amaretto liqueur
75g caster sugar
Crumble
125g ground almonds
125g porridge oats
125g cold butter
75g soft brown sugar
1/2 teaspoon ground ginger, optional, but a lovely addition, or use cinnamon if you'd prefer
A handful flaked almonds
Cream, ice cream or/and custard, to serve
Pre heat your oven to 160 degrees fan assisted and choose a suitable crumble dish.
In a medium saucepan add the stoned and sliced plums and pitted cherries. Measure in the caster sugar, vanilla and Amaretto. Put on the hob over a low heat and bring up to the simmer, stirring well. Turn down and simmer for 5 to 6 minutes or until the plums have softened and become juicy. Tip the cooked fruit into your chosen dish.
For the crumble you can make in a bowl by hand or use your food processor. Either way, measure in the ground almonds, oats, ground ginger (if using) and butter. Rub the butter in by hand or process until you have a rough sand-like texture. Stir through/mix in the sugar then stir in the flaked almonds.
Tip the crumble mixture on top of the fruit and bake in your pre heated oven for around 30 minutes, or until the top is golden and crisp and the fruit is bubbling up.
Serve, hot, warm or even cold the next day with plenty of cream, ice cream or custard, you decide.