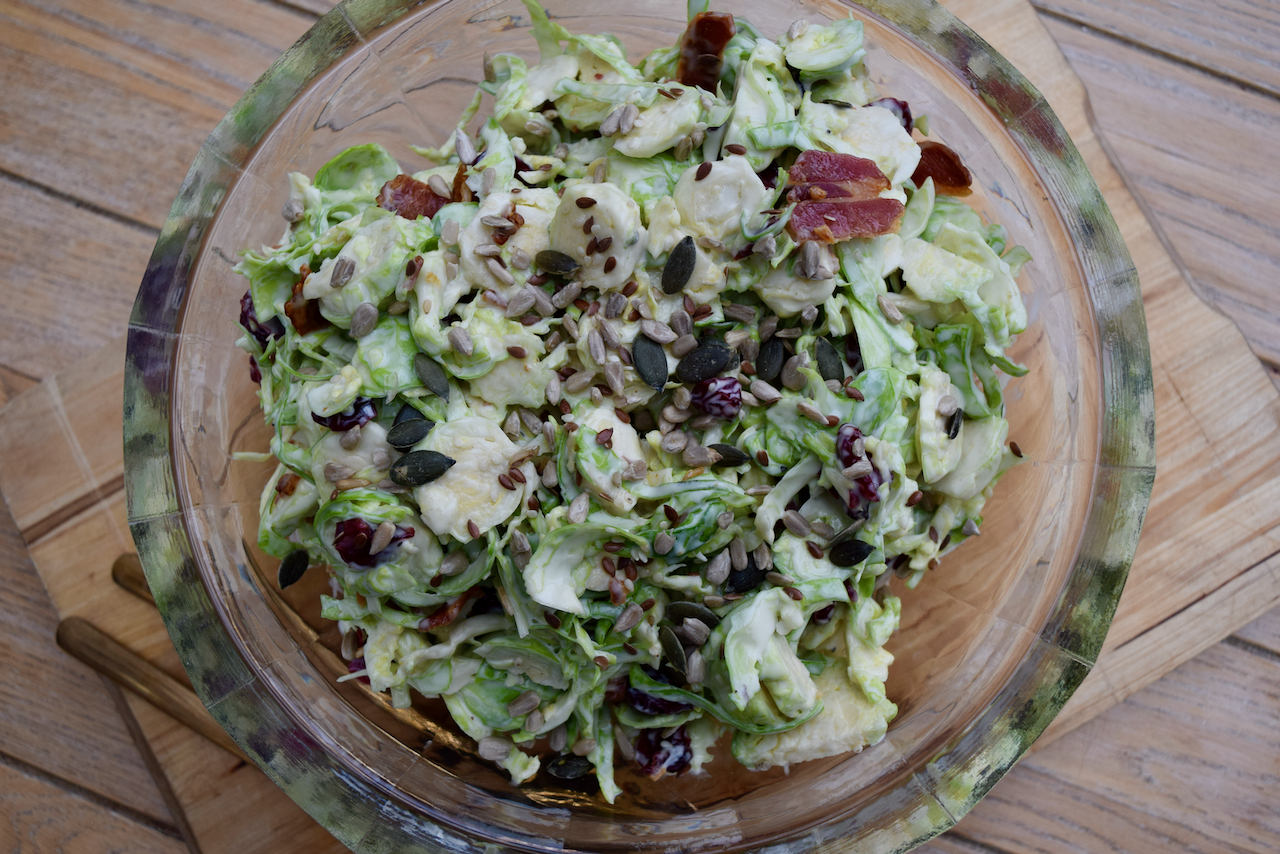 Sprout Slaw with Cranberries recipe
I find myself in the minority of people who bloody love Brussel sprouts. Their appearance on Christmas day sauteéd with bacon and chestnuts fills me with joy. Not so most of my family, who pick out the bacon and chestnuts and leave the sprouts for me to devour. This does usually mean there's always a sorry bag left, purposeless, in the fridge after the big day. Fear not; this bag is no longer going to go to waste, because now they are the star of my Sprout Slaw with Cranberries.
This year, in the our bubble based Christmas, my sister is hosting Christmas Day and I am on Boxing Day buffet duty. With this in mind I will be serving up a huge bowl of Sprout Slaw with Cranberries. It's crisp, sweet, salty and will pair amazingly with your cold turkey, ham and stuffing. Not having such leftovers to hand, I added it to a chicken and chutney sandwich. The tiny nibble I had was wonderful, before it was inhaled by Clyde who proclaimed it to be better than the Pret Christmas sandwich, which if you know him, is high, high praise indeed. This is an easy recipe, the only drama coming from the sprout slicing, so if you can palm that job off on a family member, it wouldn't be the worst idea you've ever had. The dressing is simple, tangy and fresh; I crumbled in some crispy bacon, but if you would rather this is vegetarian, then of course, leave it out.
Step into the light, Brussel sprouts, you are the star of my Christmas show. Well, apart from the turkey, bread sauce, pigs in blankets and roast potatoes that is.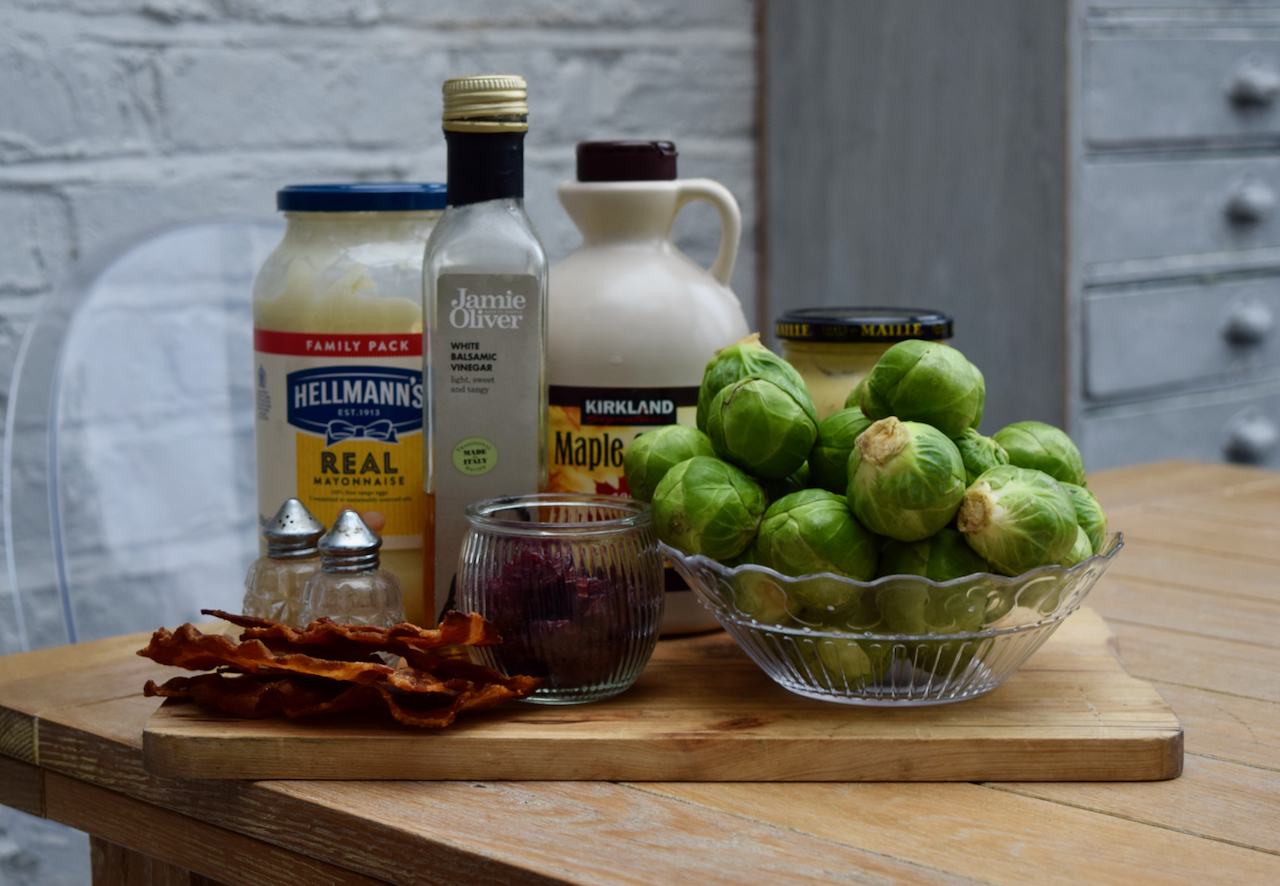 I am a fickle sprout eater, they're really only a Christmas based green for me. However, now I've discovered this slaw, that's going to change, this salad is for life, not just for Christmas. The crispy bacon is optional; however, if you're not vegetarian, it does add a lovely saltiness to this dish. I cooked mine using my fuss free method and left it to cool before adding.
This is a handy Christmas recipe, you can make it up to 3 days in advance, if need be; if not, make it on the day of eating. Start with the dressing, measuring in the mayo, water, vinegar and maple syrup.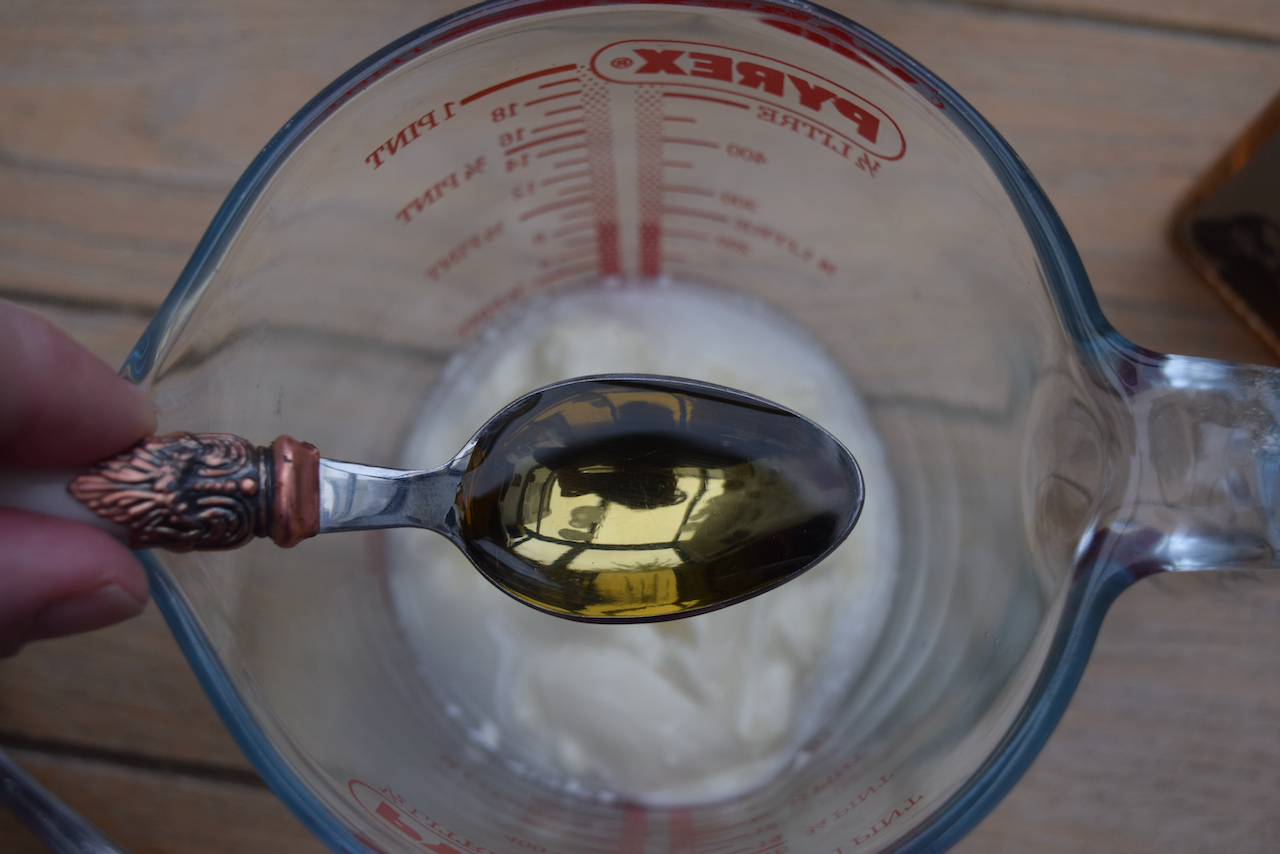 Plop in the Dijon mustard, season with salt and pepper to taste, then stir until smooth.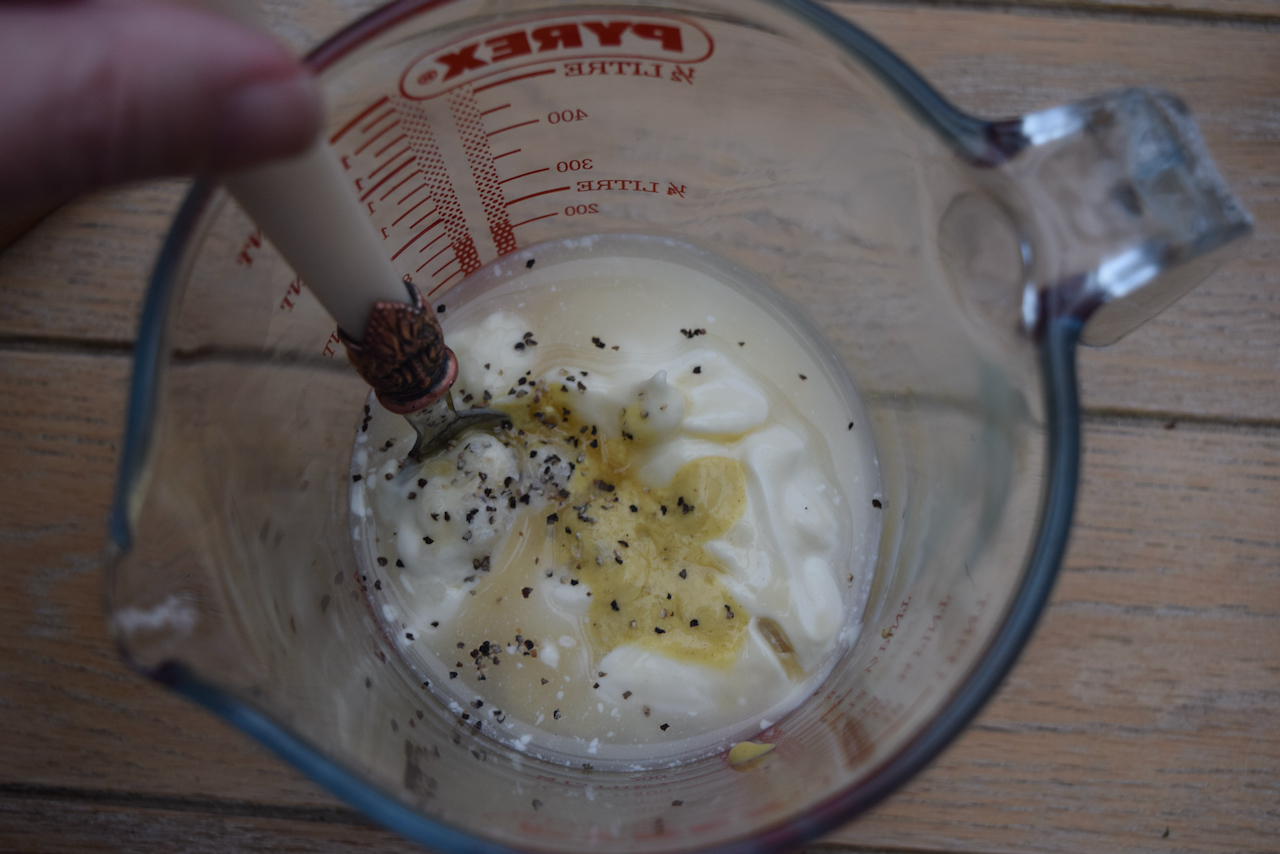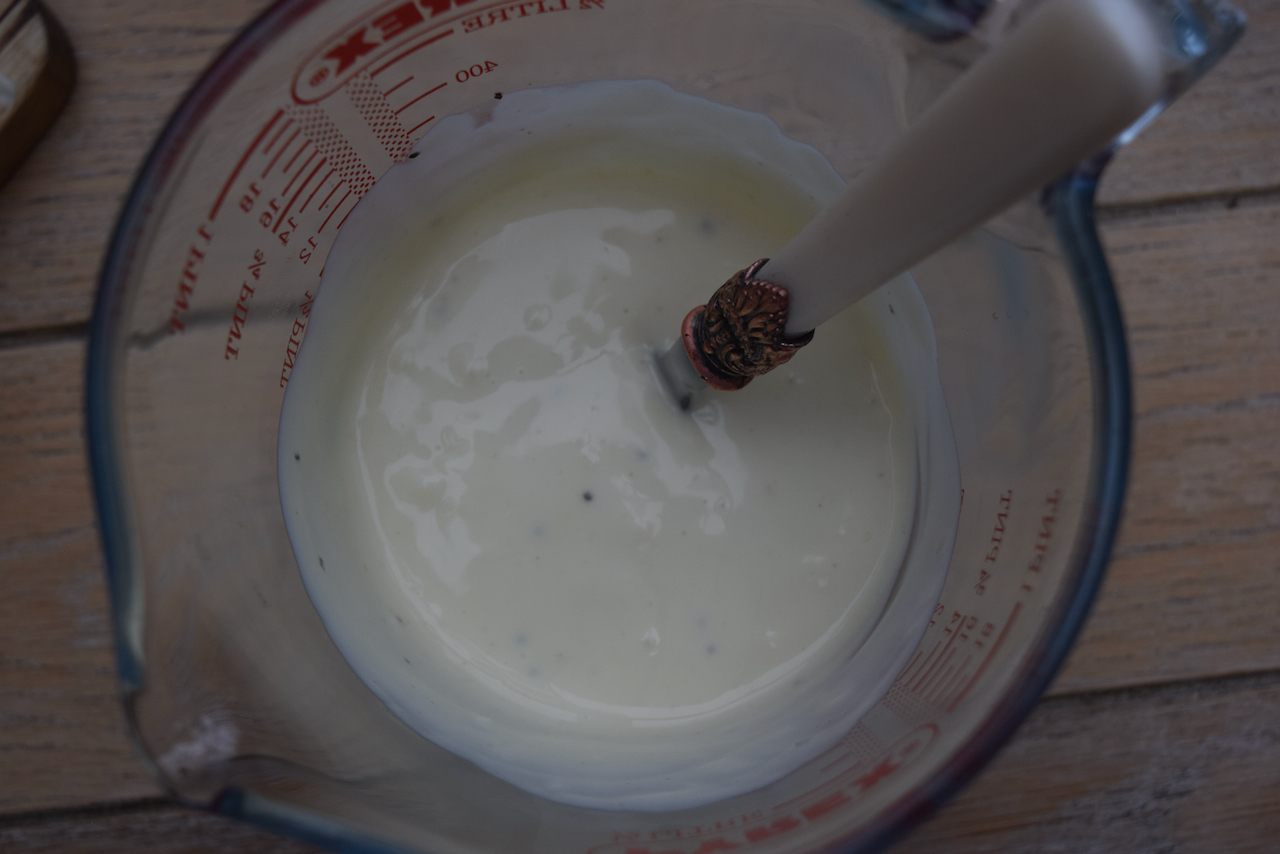 Pop this to one side whilst you prep the sprouts. Trim the bottom of your sprouts then remove the outer leaves. Thinly slice them then add to a large bowl.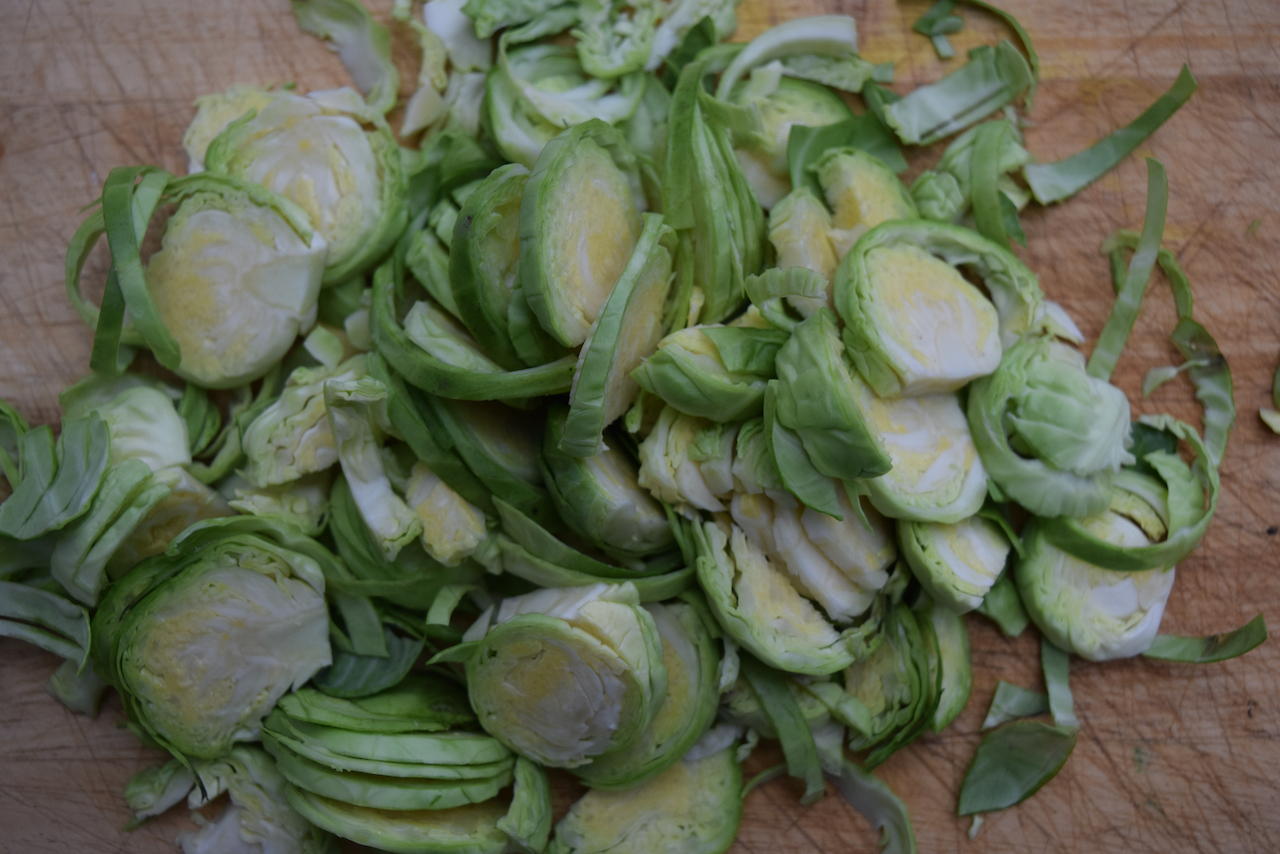 Tip in the cranberries then pour over the dressing.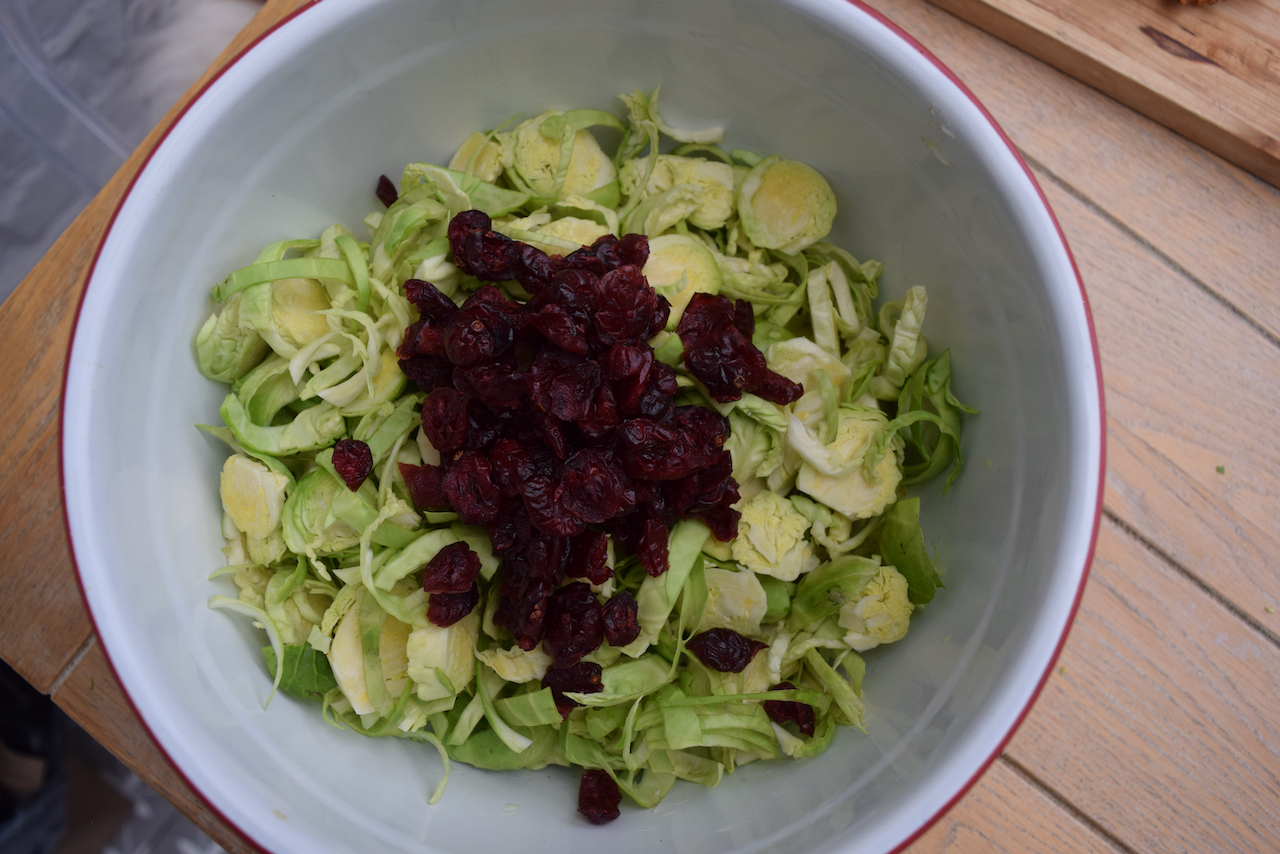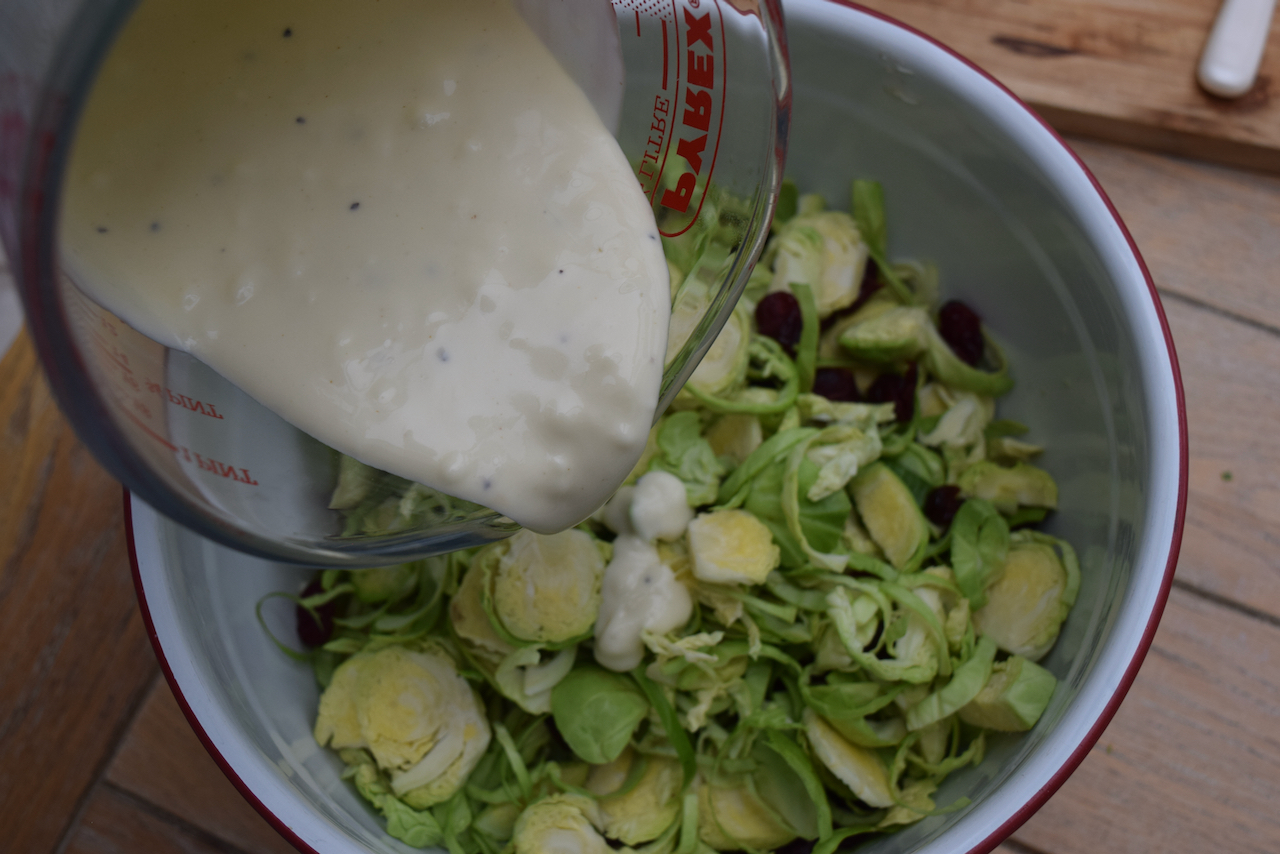 Stir well to ensure everything's well coated then add your crumbled cooked bacon and stir again.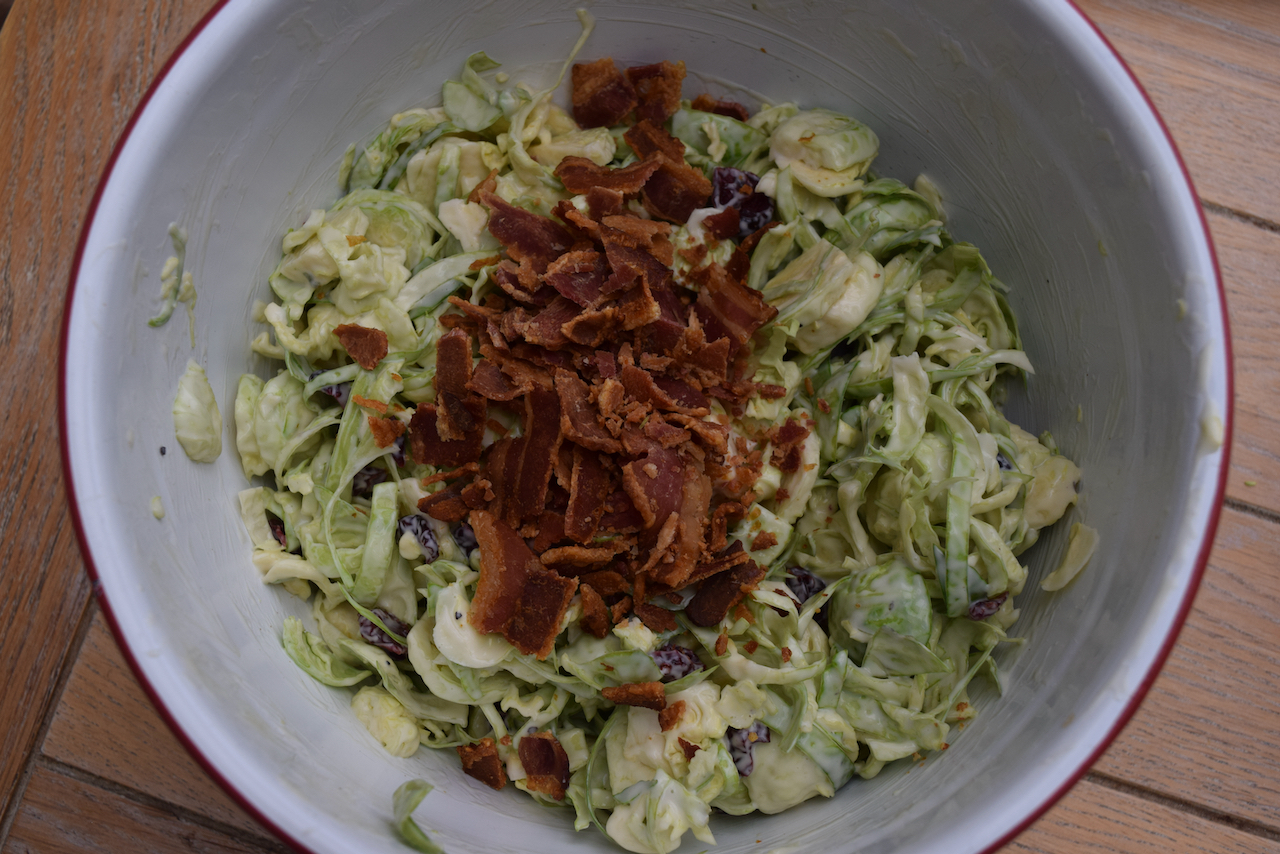 Decant into a serving dish and add a sprinkling of seeds for crunch, as well as an element of garnish. Then tuck in, either as part of your spread or in the traditional Christmas leftovers sandwich.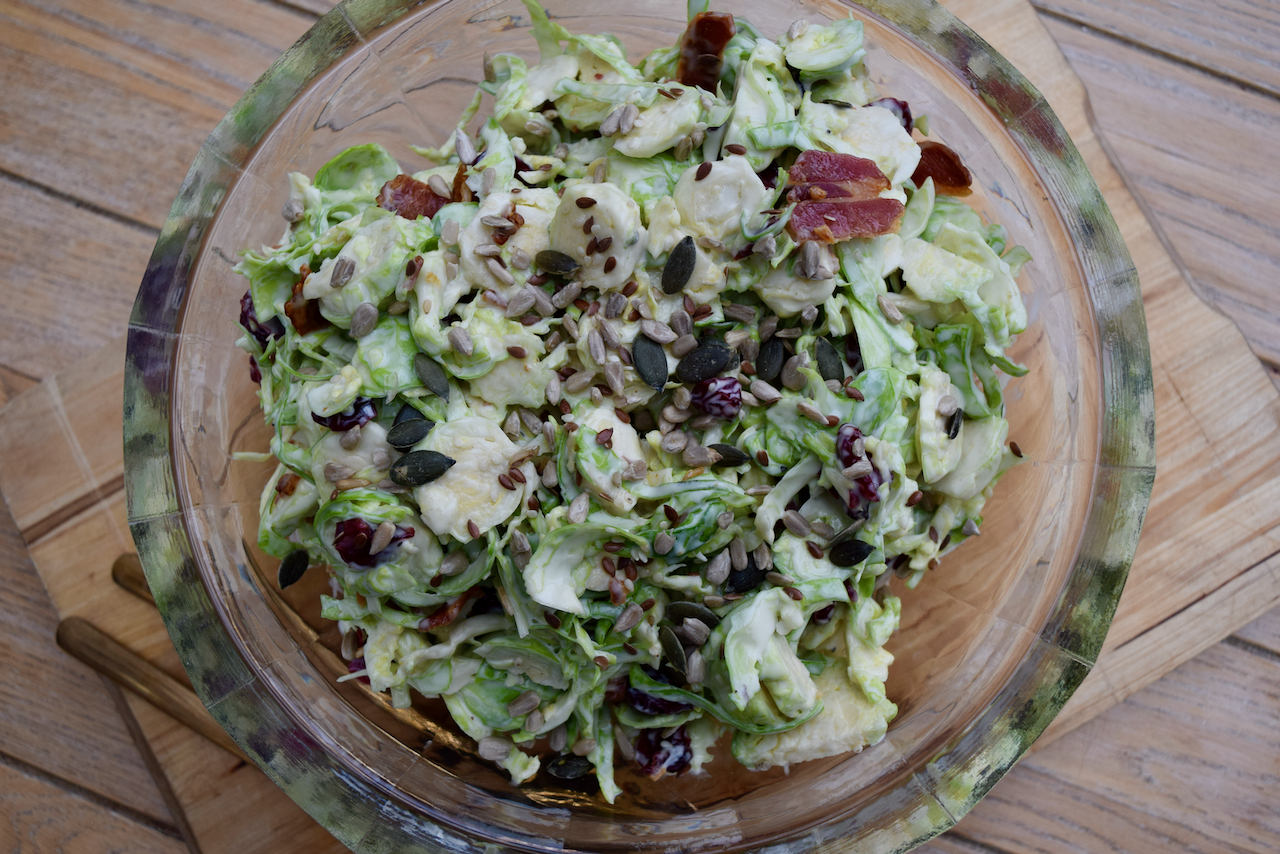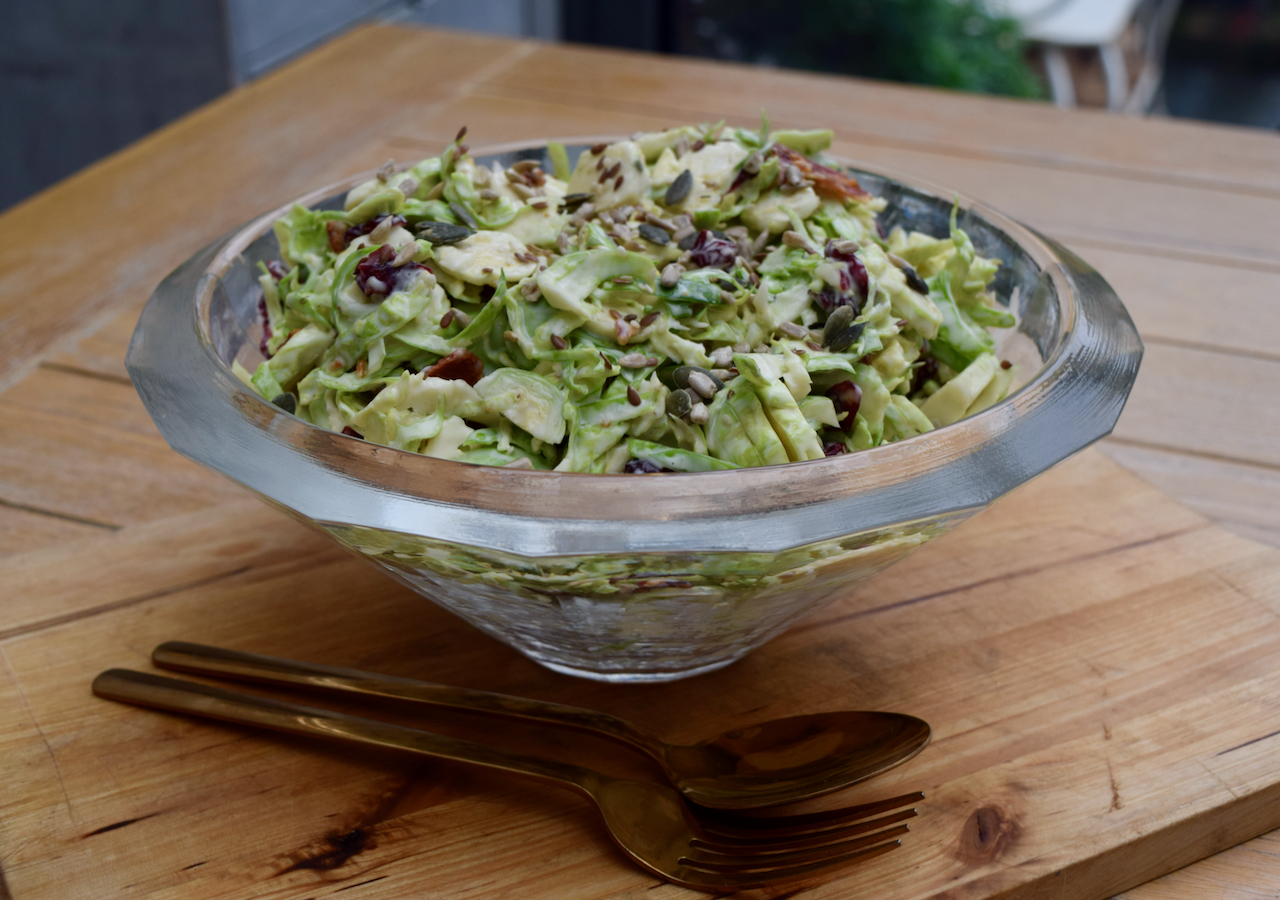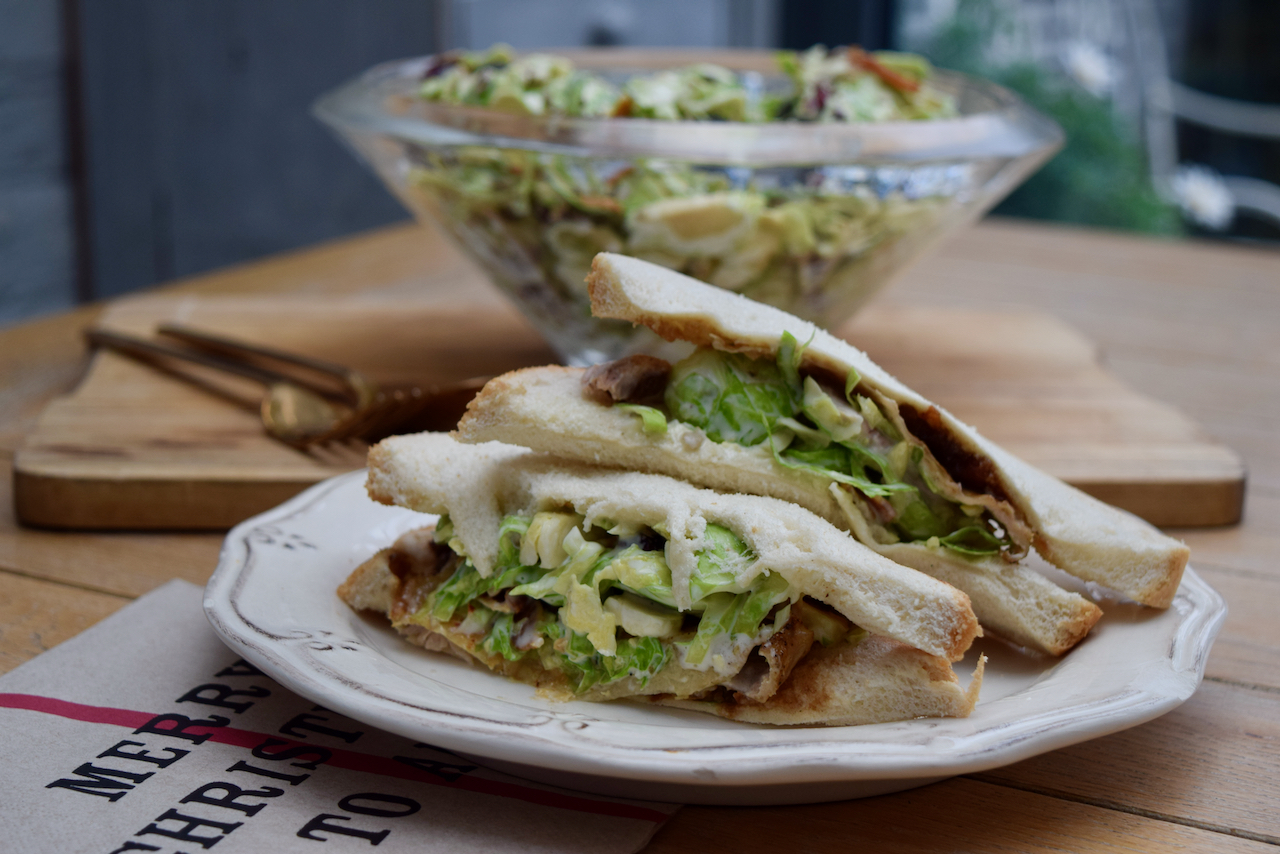 I have to say, I could eat this slaw straight from the bowl with a spoon, and probably will, on Boxing Day, whilst wearing my trousers with an elasticated waist.
Lucy x
Sprout Slaw with Cranberries
Served 4 to 6 as part of a spread
You will just need bowls for this
Slaw
500g Brussel sprouts
60g dried cranberries
6 rashers streaky bacon, cooked until crisp, leave out for a vegetarian slaw
Dressing
125ml mayonnaise
3 teaspoons water
2 teaspoons apple cider, white wine or white balsamic vinegar
1 teaspoon maple syrup
1 teaspoon Dijon mustard
Salt and pepper to taste
Seeds such as pumpkin, sunflower or a mix of your choice, to garnish
In a medium sized jug mix the mayonnaise, water, vinegar, maple syrup and mustard until smooth. Season well with salt and pepper to taste.
Chop the bottom off the sprouts and remove the outer leaves. Thinly slice and add to a large bowl along with the dried cranberries. Pour on the dressing and stir well to ensure everything is well coated.
Crumble in the crispy bacon, stir again then tip into a serving bowl. Sprinkle the top of the slaw with some seeds to garnish. Tuck in as part of your Boxing Day spread or this makes a wonderful addition to a Christmas leftovers sandwich.
The Sprout Slaw will keep for up to 3 days, well covered, in the fridge.