Pink Lady Cocktail Recipe
A cocktail which contains gin and is pink? Yes please and thank you for asking. I am always looking for new ways to drink gin and delved back in time for a pale pink pre Valentine's Day treat this Cocktail Friday. After my heavy hand with the pink food colouring on the Iced Sticky Buns this week, this elegant Pink Lady is much more subtle and stylish. But who needs style when you have freshness and balls, this drink is wonderful.
This Pink Lady is named after a play from 1912, apparently, but there is nothing ancient about this drink. Gin doesn't seem to be going out of fashion any time soon, however, and there's always time for a pink drink in my male dominated household. This is a ballsy little number but still has the freshness from the lemon and a touch of sweetness from the grenadine. I used to be squeamish about adding egg white to a cocktail, however, it just makes the cocktail nice and smooth and you should always use good eggs for this or buy the egg whites in a carton if you are at all worried. I doubled the amount of grenadine for both colour and to add a touch more fruitiness for my liking, but you can make it to taste.
This Pink Lady cocktail has a whiff of the dreaded V word to it, but I love gin all year round, not just on the 14th February. Cocktails are for life, not just for Valentine's Day.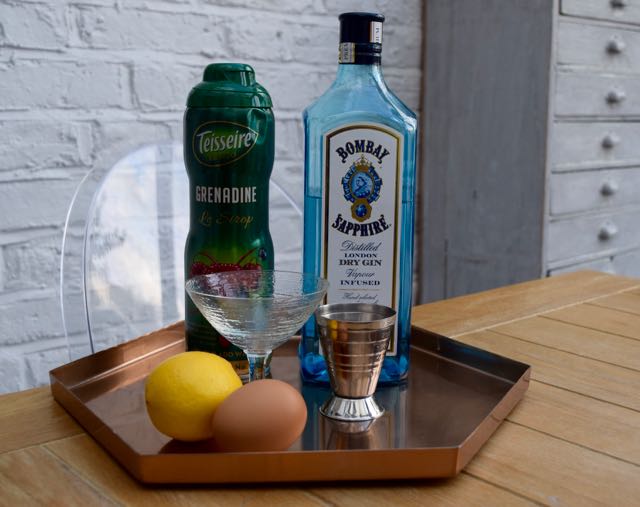 So simple, but so delicious. And there's my lovely fresh egg, but do use egg white from a carton if you prefer. I chose some Bombay Sapphire too from my gin collection. It was that or my glittery Hendricks which I am saving for a special occasion.
Make a start on your Pink Lady by adding the gin to an ice free cocktail shaker.
Follow on with the tablespoon of egg white, lemon juice and grenadine syrup.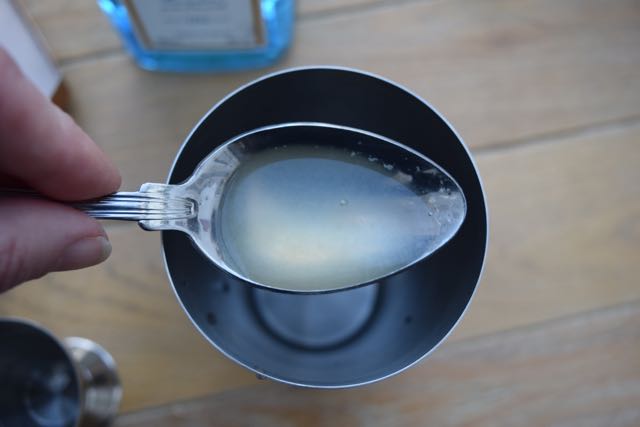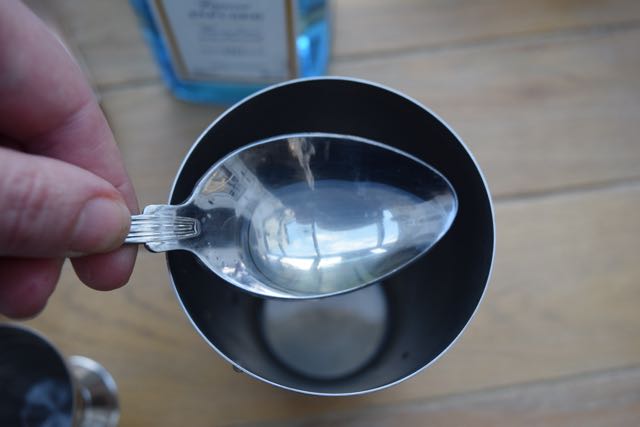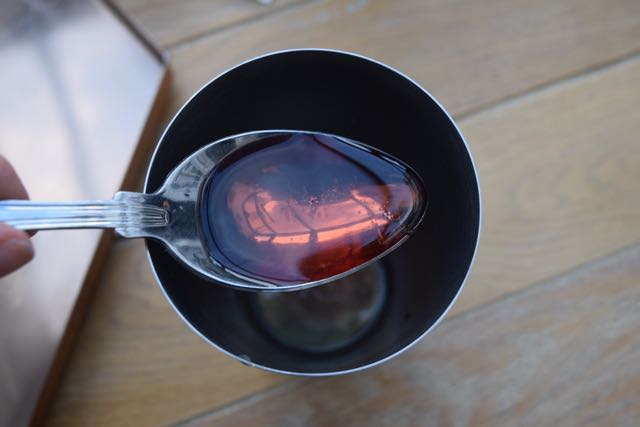 Shake this little lot in a dry shake *poncey expression for shaking without ice* to emulsify everything.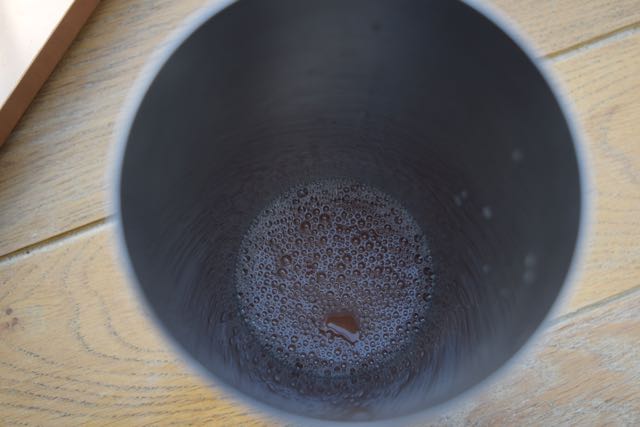 Now, add a handful of ice and shake again until fully chilled.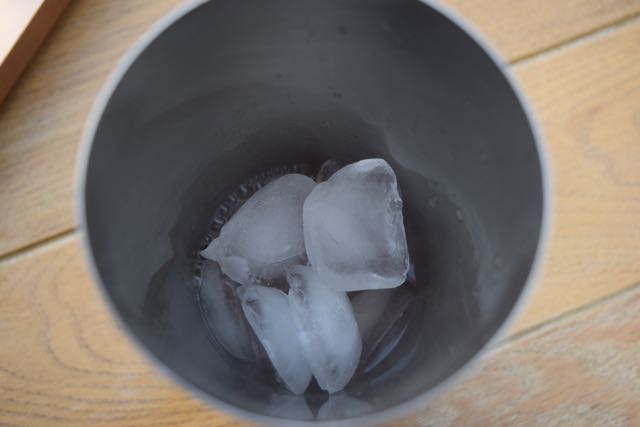 Once icy, strain into your martini style glass then finally garnish with a maraschino cherry. I splashed out on ones with stalks, they are pricey, but look lovely.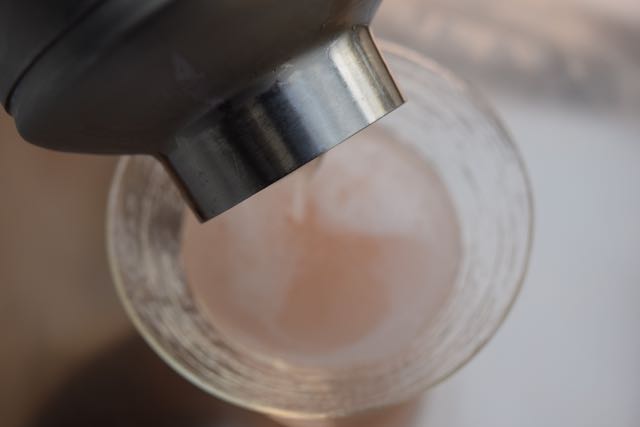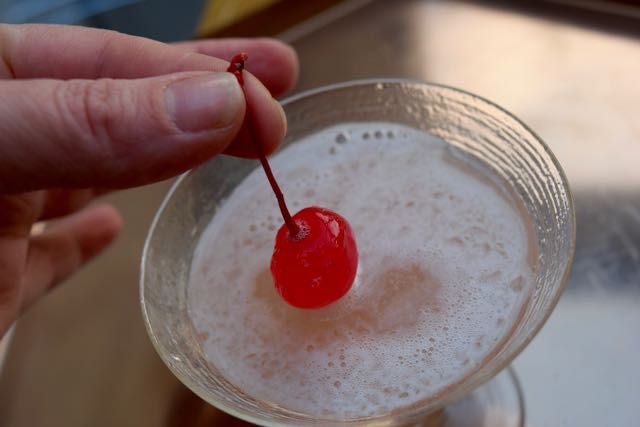 This is such a pretty in Pink Lady, sip it and fall in love. With gin, or anyone close by.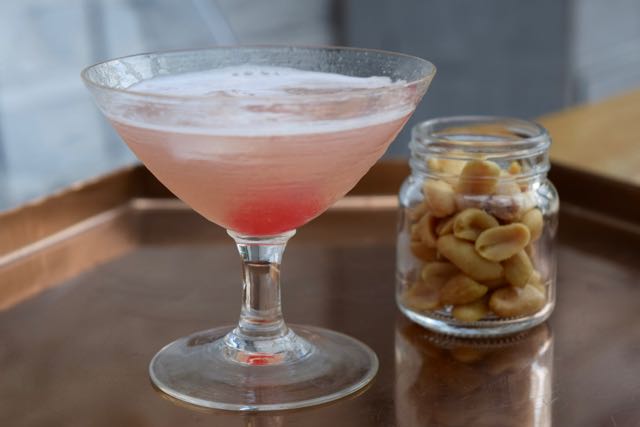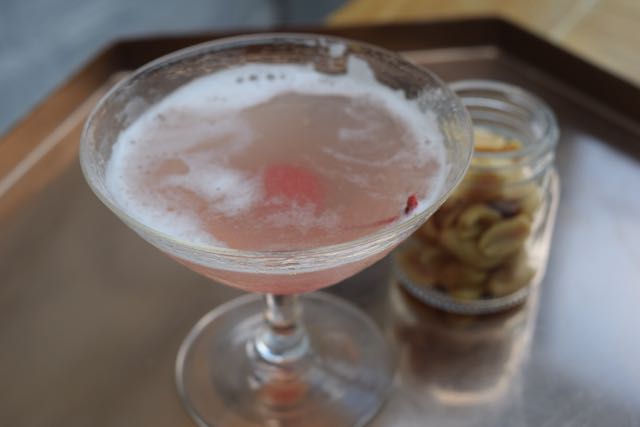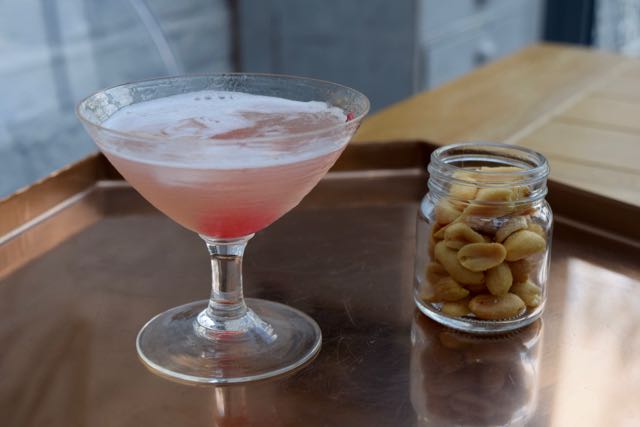 Love is in the air this cocktail Friday. Between me and the Pink Lady, of course. Clyde and I have been together for a thousand years so we are rather over Valentine's Day in our house. Romance isn't dead, it's just wearing tracksuit bottoms and a bobble hat.
Lots of love to you all.
Lucy x
Pink Lady Cocktail Recipe
Makes 1
You will need a cocktail shaker and a martini style glass
50ml gin
1 tablespoon egg white, pasteurised if you like
1 tablespoon fresh lemon juice
1/2 to 1 tablespoon grenadine syrup – I used 1 tablespoon as it was too tart for me otherwise
Ice
Maraschino cherry to garnish
Take your cocktail shaker, without ice, and add the gin, egg white, lemon juice and grenadine syrup. Shake vigorously to amalgamate all the ingredients. Remove the lid and add a handful of ice and shake again until nice and chilled.
Strain into your martini style glass and garnish with a maraschino cherry. Sip and feel elegant.
SaveSave
SaveSave
SaveSave