Chocolate Chip Rolls Recipe
I love to dabble in a bit of dough making. I went through a spell, one summer, when the children were on school holidays of making rolls everyday. I was the size of a small house from all the carb loading, but it became slightly addictive. There is something so wholemeal, even if it's white bread, about making bread or dough. You radiate mother-earthliness and basically put yourself forward for that Mum of the Year Award, which has so far eluded me, I don't know about you. I made these Chocolate Chip Rolls then, a lot, but promptly forgot about them, probably because I sickened myself with the amount I ate. They are brilliant, the boys loved and still love them and they are quite the treat to make if you have a bit of time on your hands. Like, say for example, over a soggy Bank Holiday Weekend in August. Lucy Loves is a well oiled machine you know, each post lovingly crafted to co-incide with world events. I think you all know that's bull shit and I just lurch from one recipe to the next just hoping you'll love them as much as I do. So without further ado, here's all the bumph you need for making your own Chocolate Chip Rolls and trying not to eat the whole bloody lot before someone else does.
These aren't a complete kerfuffle, but that said, dough making with all it's various stages does often appear drama-laden. If you have a stand mixer, then dust if off for these as it will save you a bit of elbow grease. If you don't have one, don't worry as you will burn off calories in preparation for eating a few when the rolls are cooked. The dough is soft and buttery, warm from the oven, with a melted chocolate filling. You could also spread them with Nutella instead of/as well as the chocolate chips or fill with jam, dried fruit, it's up to you. Or you could even leave them plain and serve with soup or a salad. The dough isn't overly sweet, it's brioche-like with a golden crust. Once you've got the hang of the rolling up process, it's a doddle. You will notice mine are all different though, as my cutting/rolling skills are a bit rubbish and elegance has never been my forte in any area of my life. This wonderful recipe is inspired by one from the aptly titled Cooking Classy, with huge thanks.
These are brilliant for a crowd too, if you feel like sharing, as the recipe makes 24. I would suggest you halve it for a smaller group, but you will only be kidding yourself that they won't get eaten. They will, I can assure you, get eaten. Even if your guests have will power, I am doubting you will have.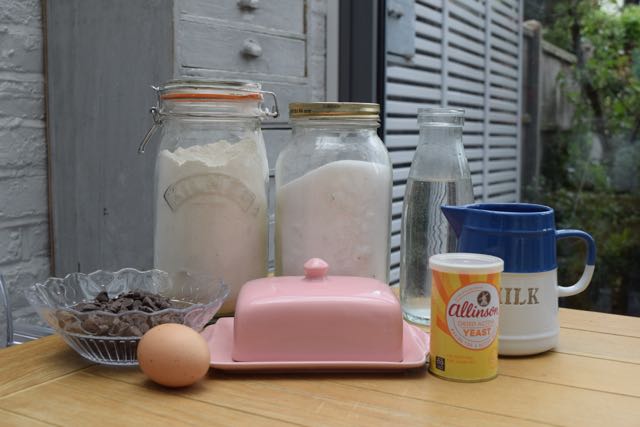 This doesn't look like a hugely inspirational line up, but looks can be be deceptive. These Chocolate Chip Rolls are basically a soft buttery dough, with added chocolatey bits. The sort of yeast you need for these is the one you add to warm water, not the one you add directly to flour, I hope that makes sense.
Make a start by taking a small jug or bowl and adding the yeast and the warm water and the 1/4 teaspoon of sugar. Give it a tiny whisk then leave it to do it's business for 5 to 10 minutes or until it has a foamy head.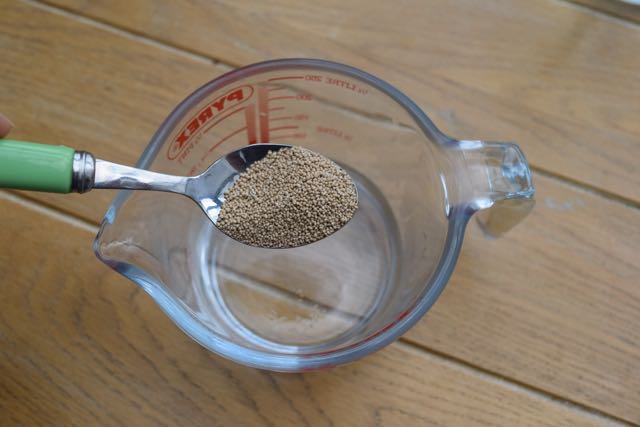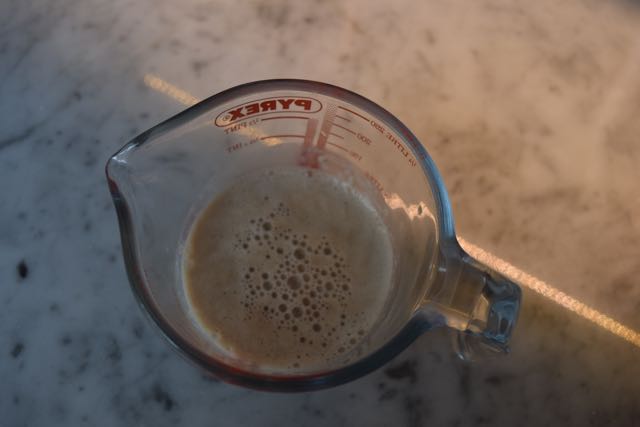 Once frothy, pour and scrape this into your stand mixer bowl or a large bowl. Heat up the milk either in the microwave or in a small saucepan until it's hot enough for you to still put your little finger in. Don't burn yourself here, be careful you only want it to be around hand hot-ish.
Now, pour the warm milk onto the yeast mixture, the 70g soft butter, 75g sugar, salt, egg and 250g of the flour allocation. Give this a whisk until smooth but probably still a little lumpy.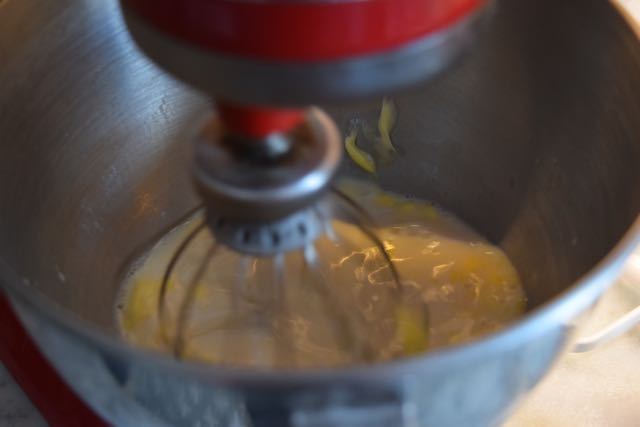 Now, if you are using a stand mixer, change to a dough hook and add the final 300g of flour. If you are doing this by hand, just add the flour and knead for 8 to 10 minutes. In your mixer knead for around 5 minutes. Your dough will be soft but not too sticky when it's ready. If it's too wet, just add a tablespoon more flour, but don't add too much, you don't want the dough to be dry.
Butter or oil your mixer bowl or a clean bowl then fashion the dough into a ball, pop in the bowl and leave to rise, covered in a tea towel for around an hour and a half or until about doubled in size.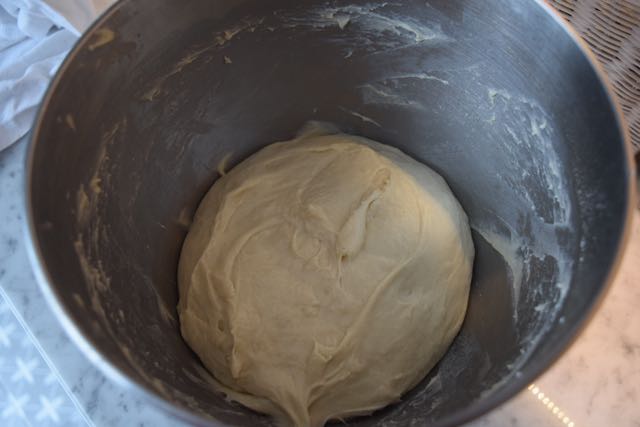 Like so.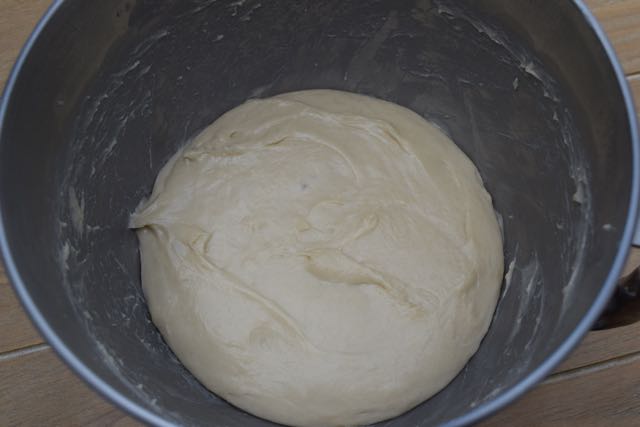 Now, tip the dough onto the flour covered counter and give it a little knead to knock the air out. Then cut the dough into two equal sized pieces.
Pop one to one side whilst you roll out the first into a sort of circle, approximately 13 inches in diameter.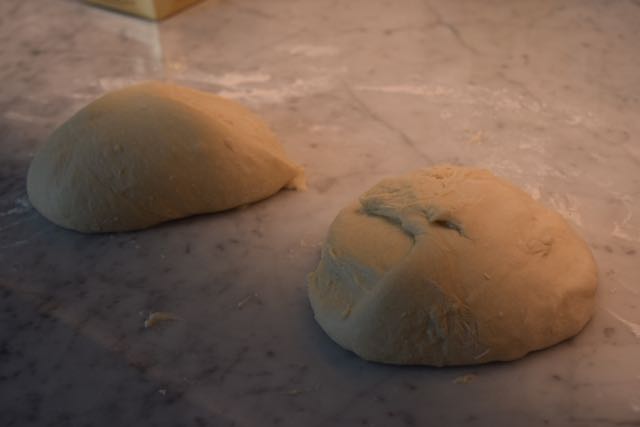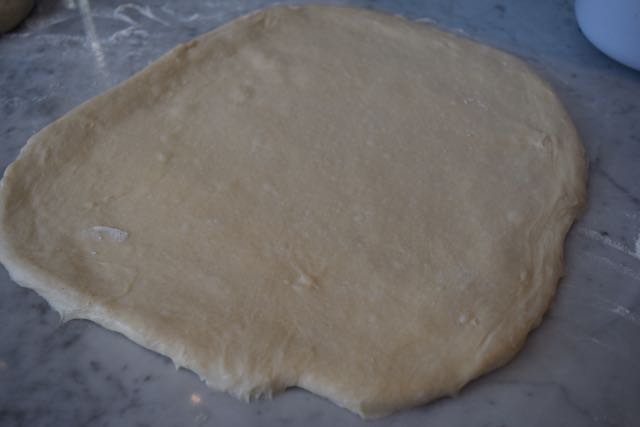 Circle is optimistic, I know. Spread the dough with 2 tablespoons of soft butter, roughly, then cut into quarters, then cut each quarter into three, making 12 triangles in total.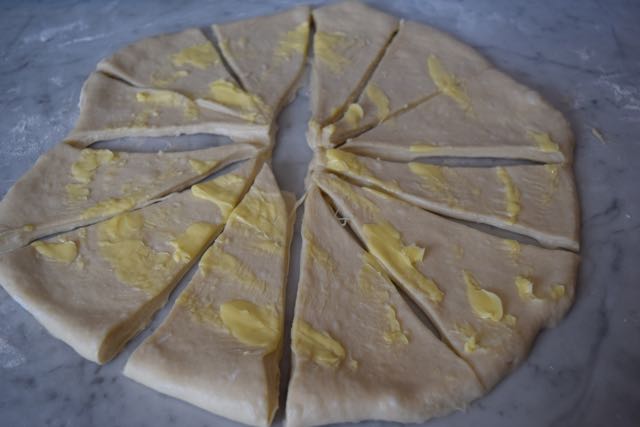 Place a spoonful of chocolate chips at the fat end of the triangle then roll up the triangle into a sort of crescent shape.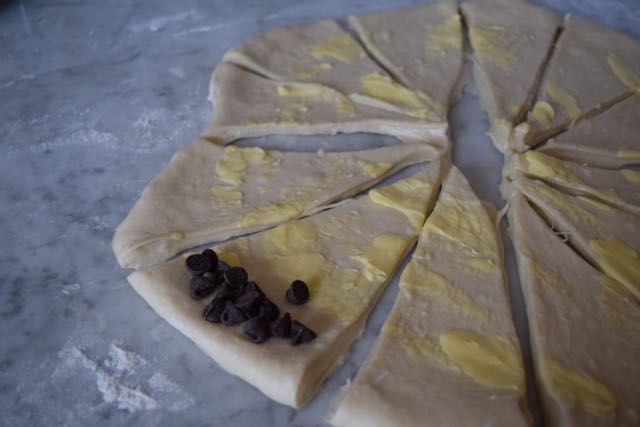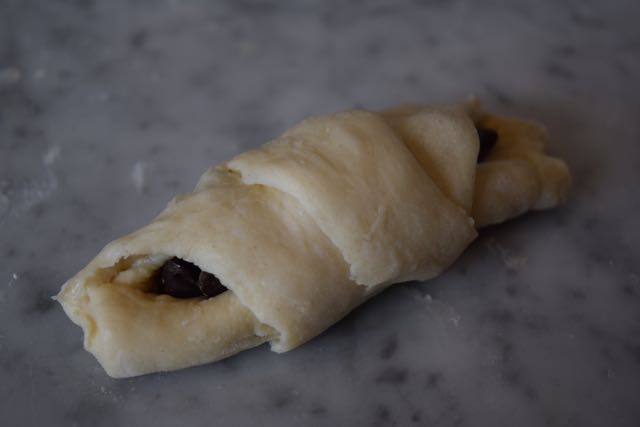 Continue until you've rolled up all the rolls, then repeat with the second ball of dough. Lay all the rolls onto lined sheets and cover with cling film or a clean tea towel for a further hour so they rise a little more.
In the last ten minutes of the final rising time, pre heat the oven to 160 degrees fan assisted. Once the rolls are risen, pop them in the oven for around 20 minutes.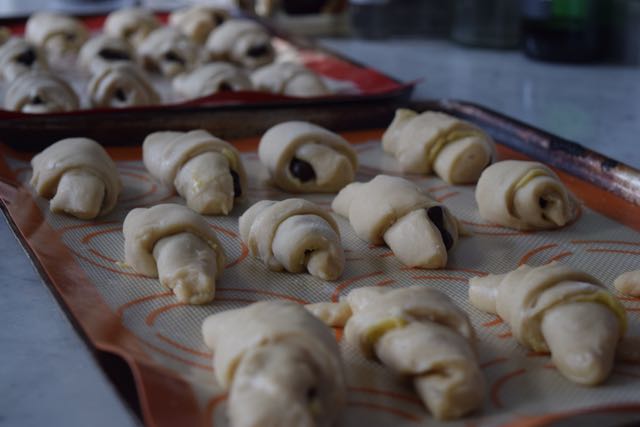 The Chocolate Chip Rolls are ready when they are golden, smelling amazing with the chocolate all soft and melty.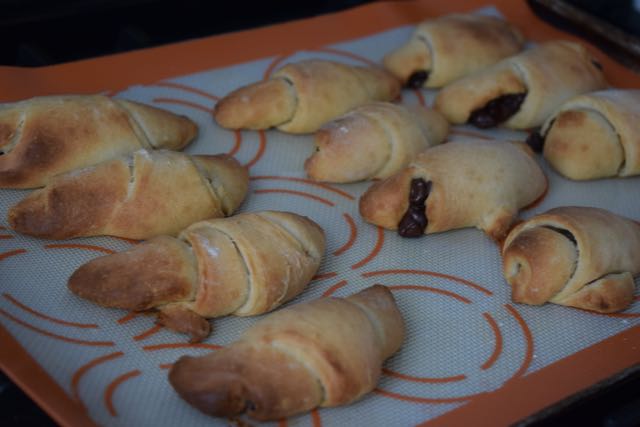 Give each one a light basting in melted butter then they are all yours. Well not all of them, although it would be bloody tempting. Let them cool for a moment before serving, you don't want to burn your chops on the hot chocolate.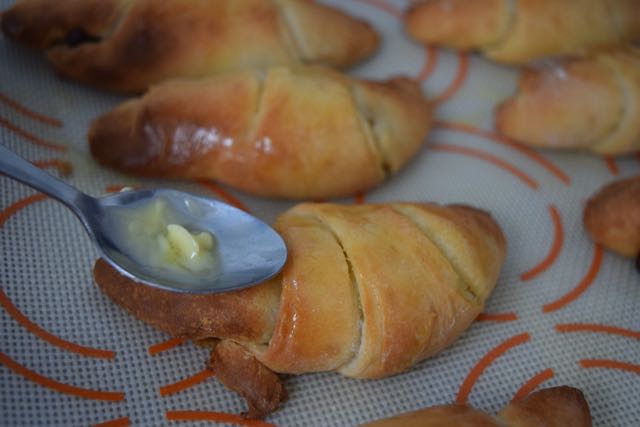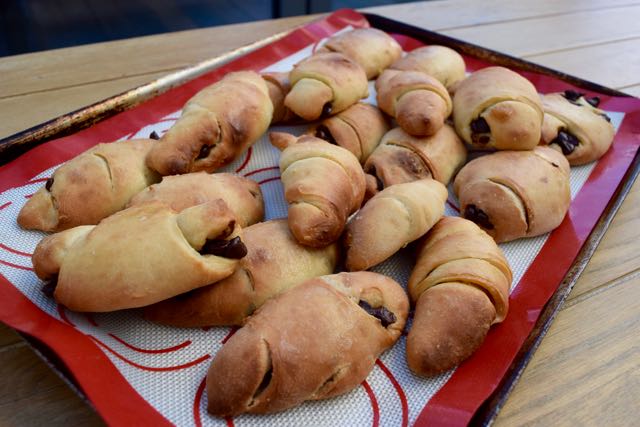 These, in a wonderful turn of events, are best enjoyed on the day of baking so don't hold back. Although you can always pop them back in the oven on the following day for a quick reheat.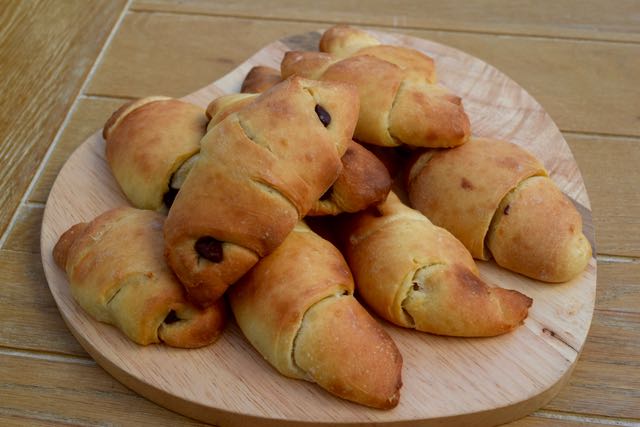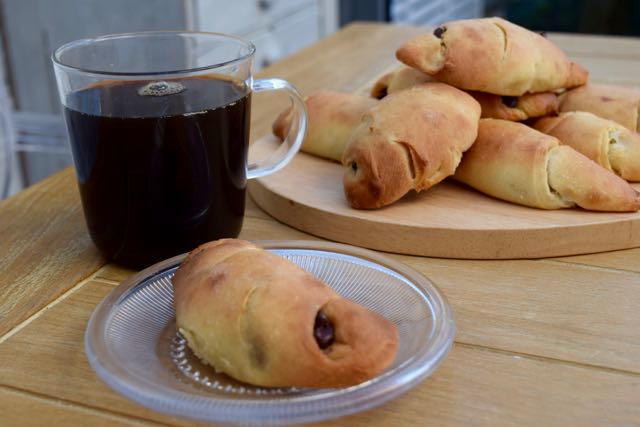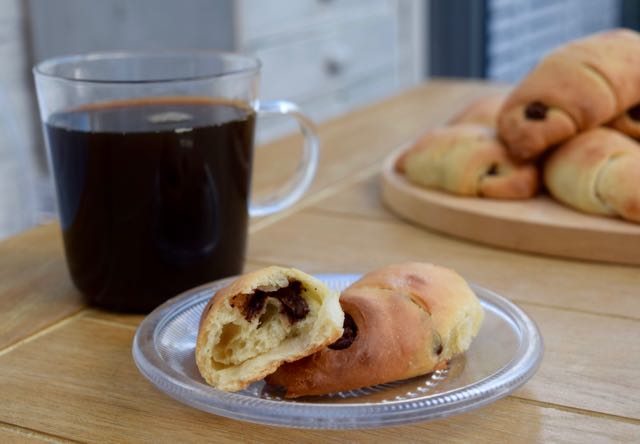 These make a brilliant breakfast treat, you could leave the rolls to rise then refrigerate overnight before bringing them back up to room temp and baking off in the morning. How divine to be woken up to wafts of chocolatey dough streaming from the kitchen. Only to find a scant 3 rolls left where I have inadvertently eaten 21 straight from the tray.
Lucy x
Chocolate Chip Rolls Recipe
Makes 24 rolls
You will need a stand mixer with a dough hook or good arm muscles 
80ml warm water
2 1/4 teaspoons active dried yeast, the sort you add to water, not to flour
1/4 teaspoon caster sugar
330ml milk, warmed to hot enough to still touch
70g very soft butter
75g caster sugar
1 egg
1 teaspoon salt
50g butter, v soft for spreading on the dough
550g plain flour
approx 100g chocolate chips, milk or dark
approx 50g melted butter to glaze rolls
Make a start by placing the yeast into a small jug or bowl with the 80ml of warm water and the 1/4 teaspoon of sugar and give it a little whisk. Leave it for around 5 to 10 minutes or until it looks foamy.
Warm your milk, either in the microwave or in a saucepan until it's around 110-115 degrees, or so you can still put your little finger into it without getting burnt. Once the yeast mixture is foaming, scrape this into the bowl of your stand mixer if using or into a large bowl otherwise, along with the warmed milk, soft butter, 75g caster sugar, salt, egg and just 250g of your flour. Give this a good whisk, it won't be smooth, but will be well blended, then exchange the whisk for the dough hook of your mixer, if using.
Gradually add in the remaining 300g of flour and then knead with the hook, or by hand until the dough is smooth, if still a little sticky. You don't want it to be dry, but if it's too sticky, add an additional tablespoon or two of flour. This should take around 5 minutes in your mixer or 8 or more by hand.
Scrape the sides of the bowl down and fashion the dough into a ball. Butter or oil either a clean bowl or the bowl of your mixer and leave the dough to rise, covered in a tea towel, for around an hour and a half or until it's almost doubled in size.
When the rising time is up, tip the dough out of the bowl onto a floured surface and give it a further knead to knock the air out of it, then divide the dough into two equal-ish sized pieces. Roll the first piece into a circle approx 13 inches in diameter. Spread the circle with around 25g soft butter, just roughly, don't be too precise. Then, with a sharp knife, halve then quarter the dough as if you are cutting a pizza. Cut each quarter into three so you have 12 triangles in total.
Place a few chocolate chips at the thick end of your triangle and then roll up towards the thin end, messy croissant style. Repeat with the rest of the circle then repeat the whole process using the second piece of dough.
Place the chocolate chip rolls onto a lined baking sheet and leave for around an hour to rise again, loosely covered in a tea towel or cling film. During the last ten minutes of the rise, pre heat your oven to around 160 degrees fan assisted.
Remove the cling or towel and pop the two trays of rolls into the pre heated oven for around 20 minutes. They are ready when turning golden brown, smelling amazing and well risen. Remove them from the oven and brush with a final layer of melted butter. Let them cool for a moment before devouring the whole lot. Or showing restraint and sharing with your family and friends. These are best eaten on the day but will keep in a tin for reheating for another 2 days at least.
SaveSave
SaveSave
SaveSave
SaveSave