Peanut Butter and Jam Slice
This recipe has been in my repertoire for a while now. It has quite a fan base amongst my friends and I am asked to make it on a pretty regular basis. I have decided to share it with you this week, particularly to mark American Independence Day, but also, so my friends can have the recipe and they can bloody well make it for themselves.
The recipe is simple, just creaming together a few ingredients, but the slice itself is addictive. The salty, savoury peanut butter paired with the sweet fruity jam really tests your levels of knowing when to stop. This recipe does use a whole large jar of peanut butter, but if this phases you, do halve the quantities, although in truth, it's a false economy, as you will make it again quite quickly after annihilating the first batch. The recipe is an adapted version of one from a hero of mine, The Barefoot Contessa. She is a wonderful American legend, whose recipes use a lot of butter, sugar and cream. She is a woman after my own heart, and I thank her for introducing me to this culinary delight, if not for the weight gain and undoubted rise in my cholesterol levels.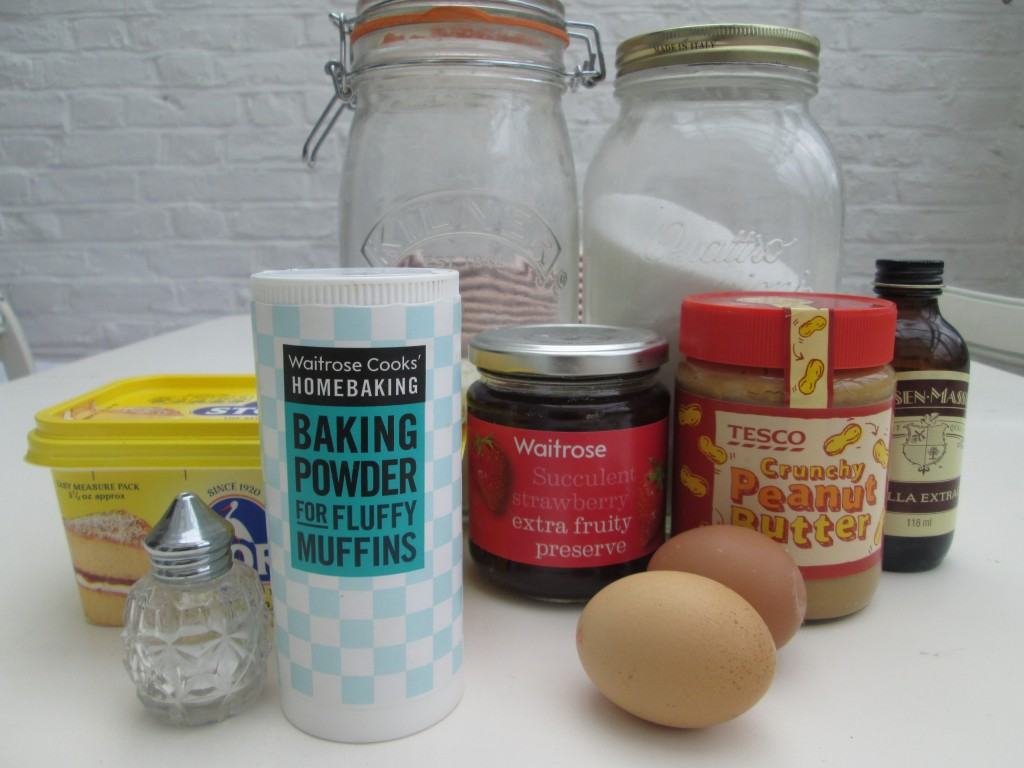 This is the array of goodies that go into the peanut butter and jam slice. I am defying the recipes' originator and using Stork in  place of the whole packet of butter the original recipe called for. It's a 'cost effective and no need to let the butter soften' thing for me, as well as it giving great baking results.
Line a swiss roll sized baking tin (9 x 13 inch) with greaseproof paper and pre heat the oven to 170 degrees fan assisted.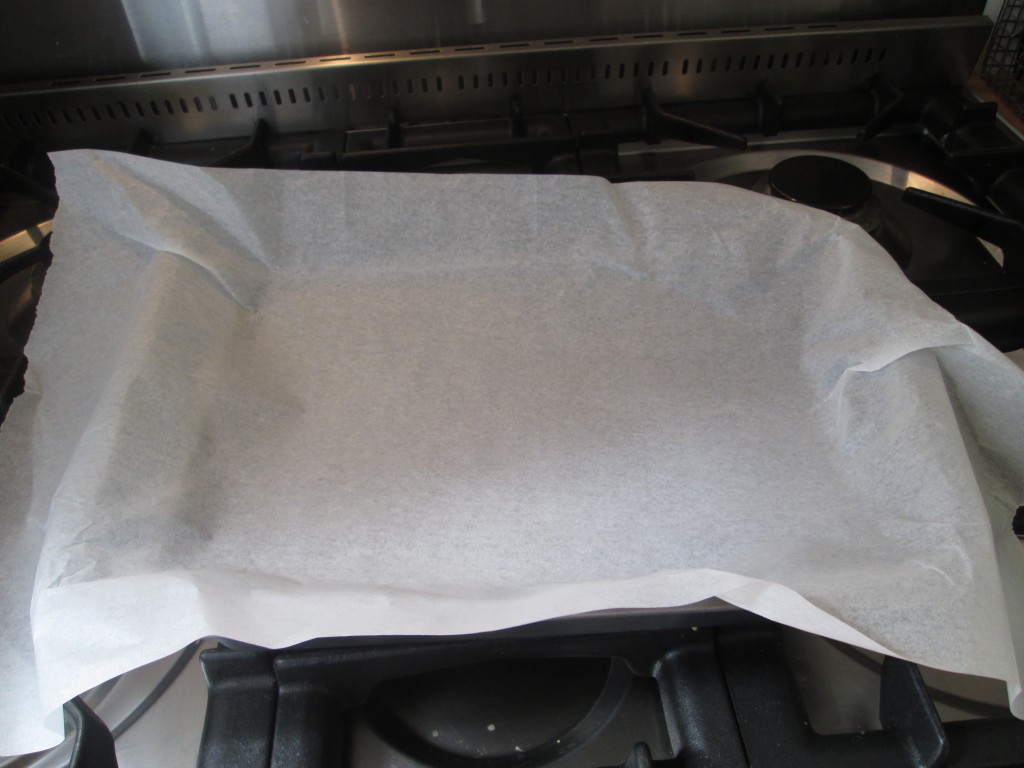 Take your Kitchen Aid, big bowl and electric whisk, Magimix or bowl and wooden spoon and add the Stork/softened butter and sugar. Beat until lighter in colour then add the eggs, vanilla and truck load of peanut butter.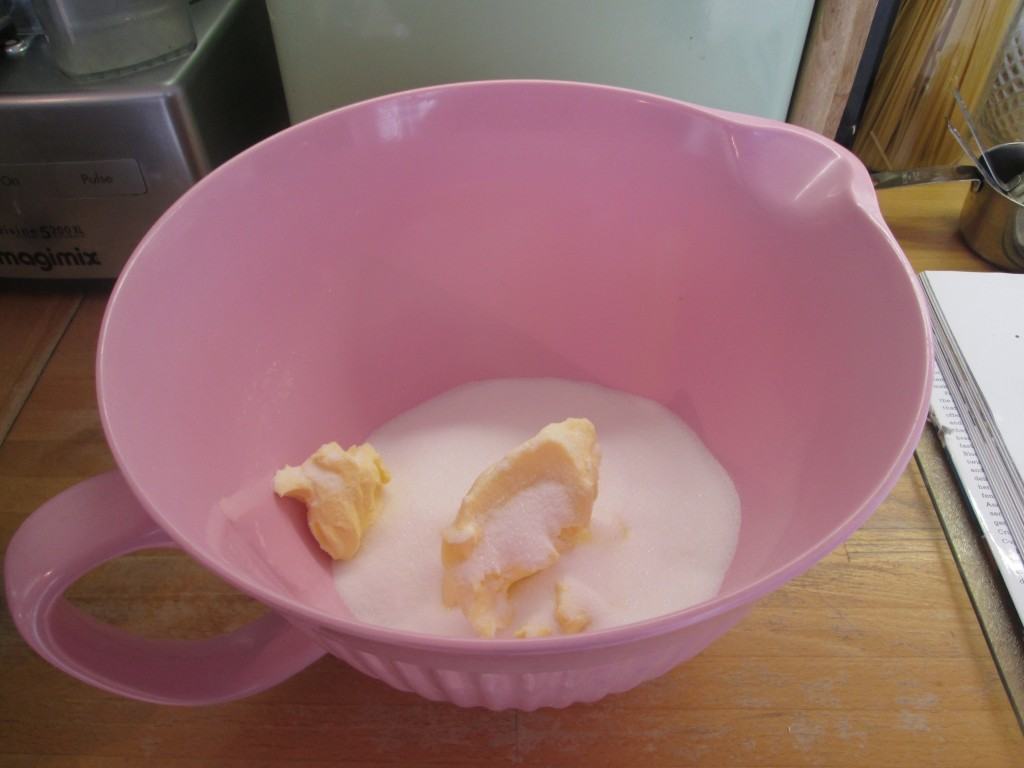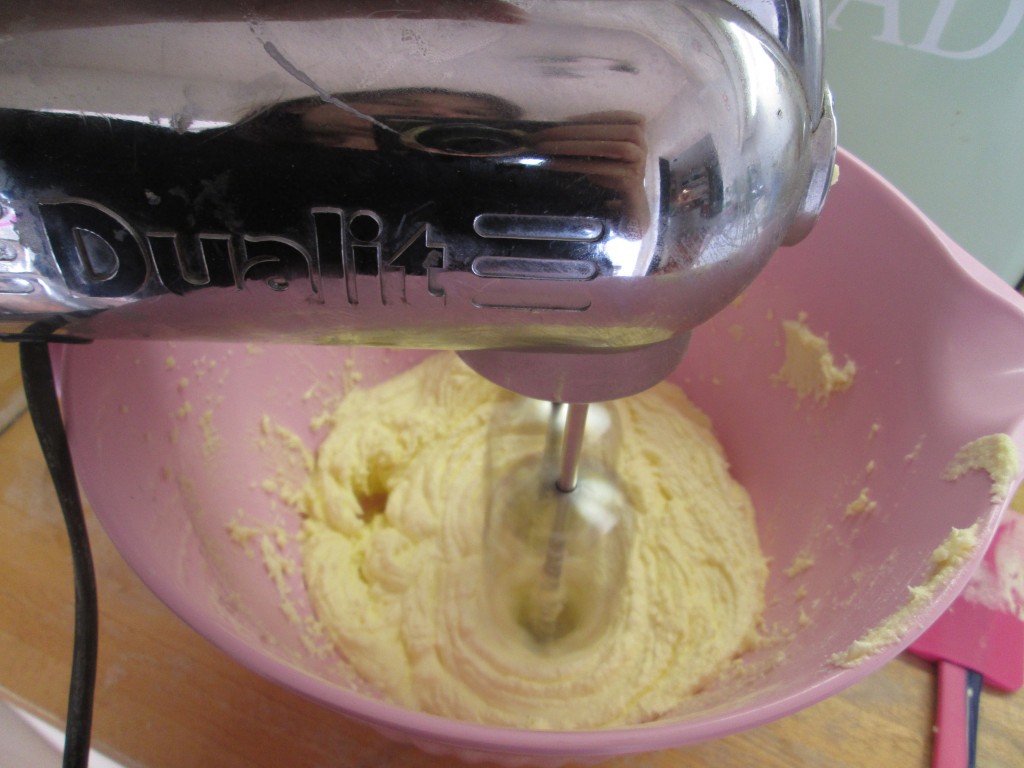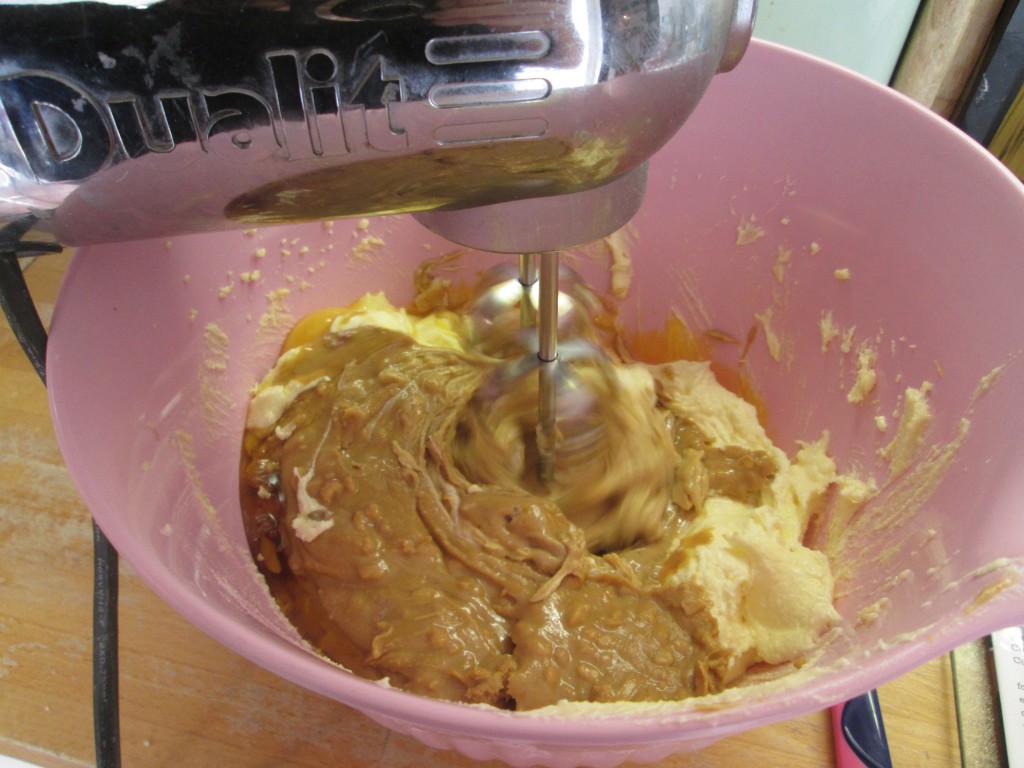 A note on the peanut butter. The original recipe calls for smooth peanut butter but I prefer the bit of texture in the slice you get with the crunchy variety. I have also slightly reduced the quantity to fit in with a large supermarket jar size of 454g. Mix these delicious, creamy ingredients together until well beaten and blended.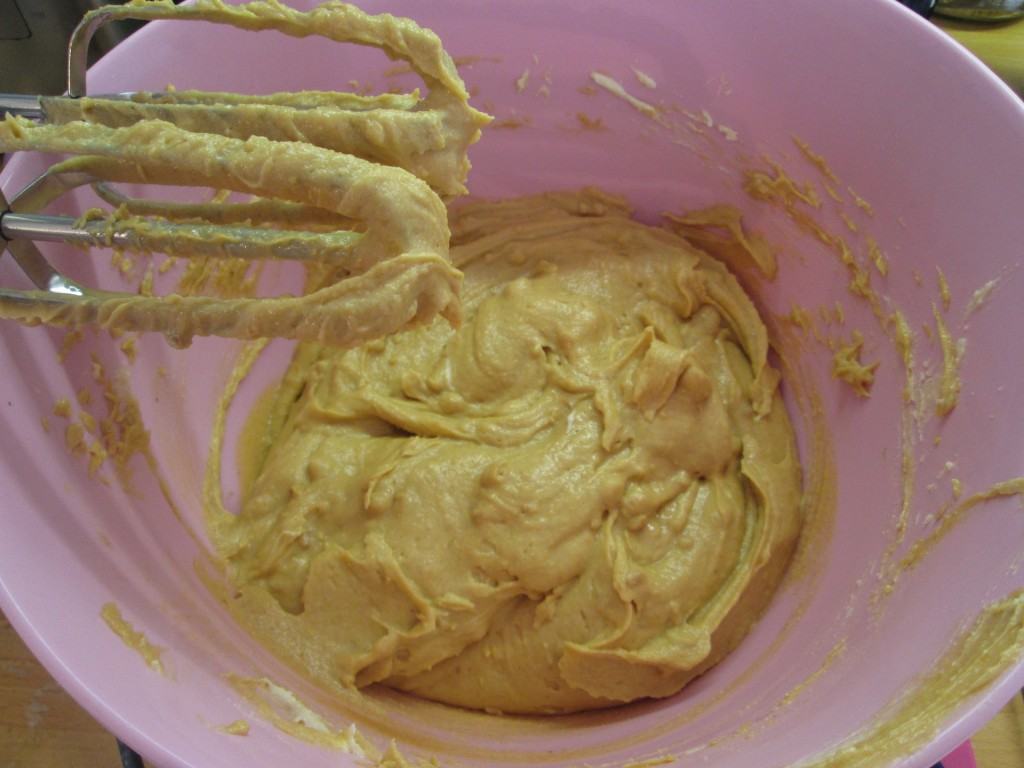 Those whisks are just crying out to be licked.
Weigh out the flour, baking powder and salt and then add this to the creamed ingredients.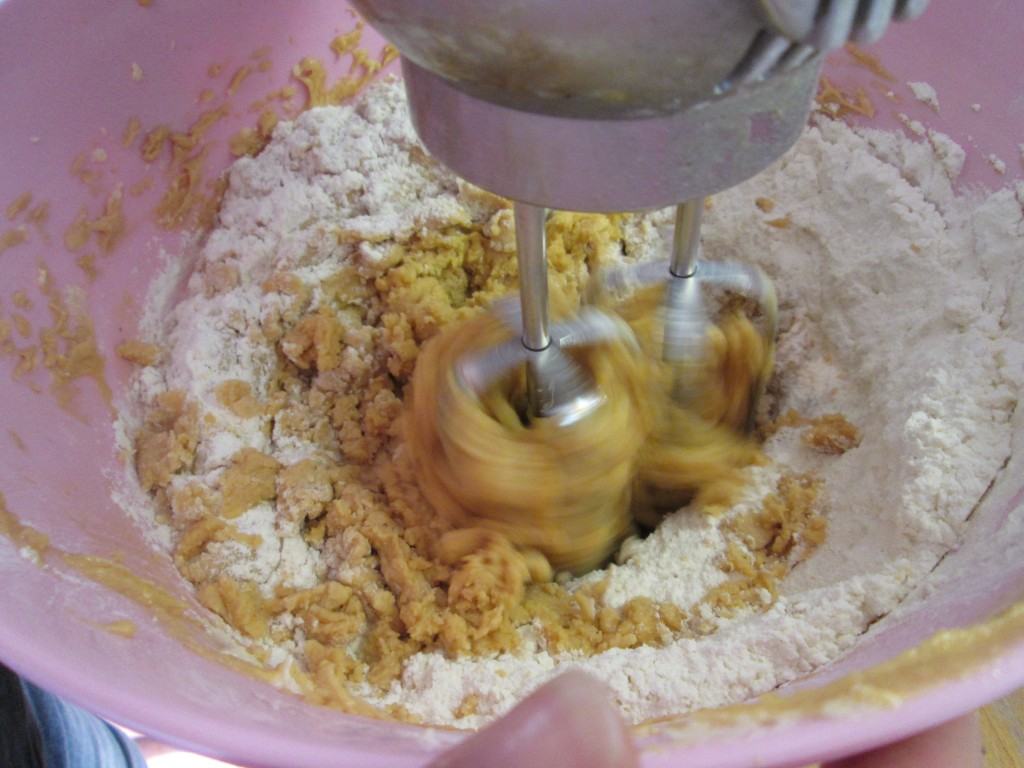 It does get quite hard work once the flour starts being incorporated so do abandon your whisk and go in with a spatula if need be. Lets face it, its just another utensil to lick before it goes it the dishwasher so its win win here.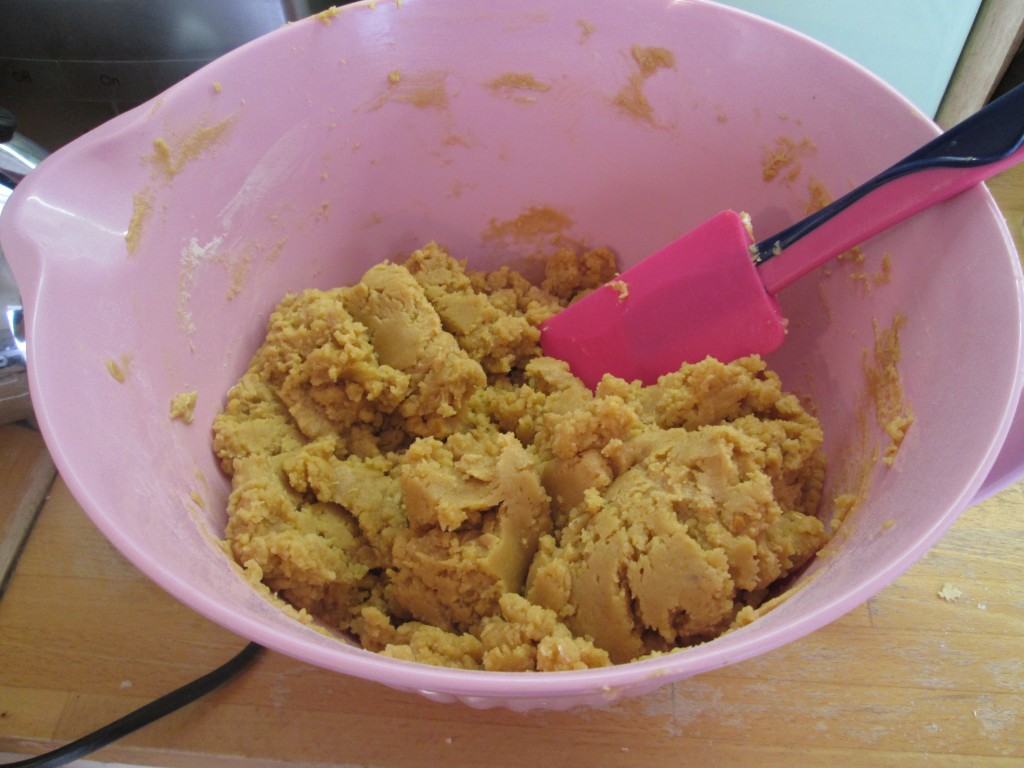 The result here is a peanutty, shortbread-ish mixture, ready to be assembled into your slice. Take your baking tray and add about two thirds of your mixture. Keep the remaining third in a cool place until needed.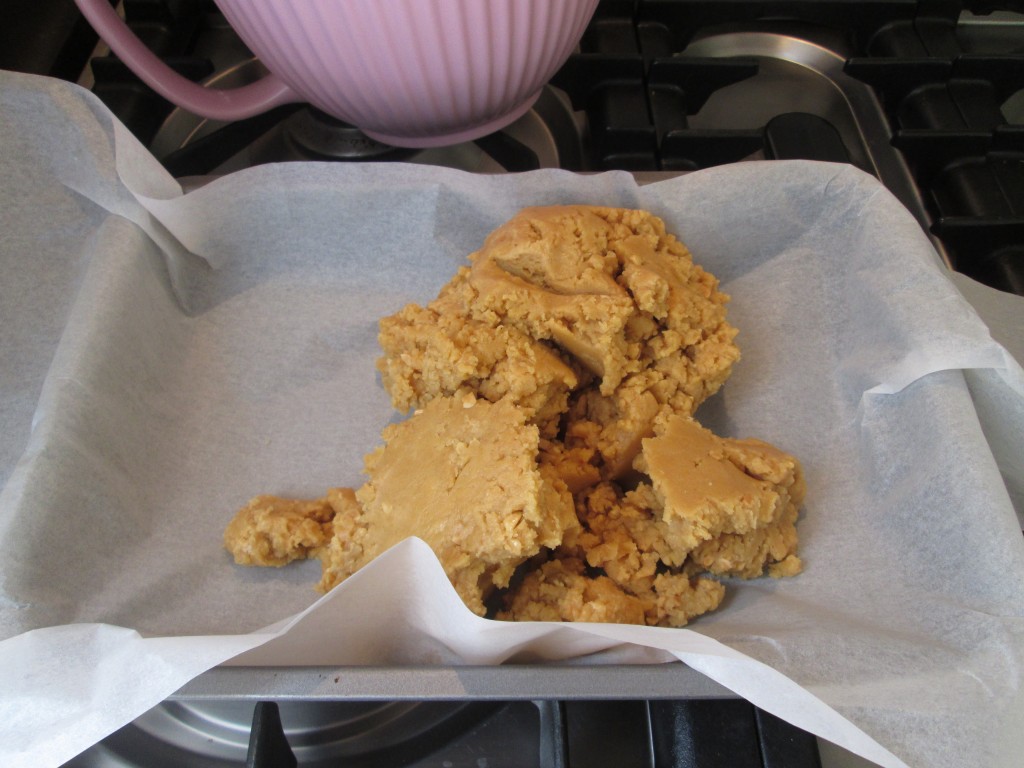 Then its a freshly washed hands on moment to press this into the base of your tin, making sure its evenly spread and pushed into the corners.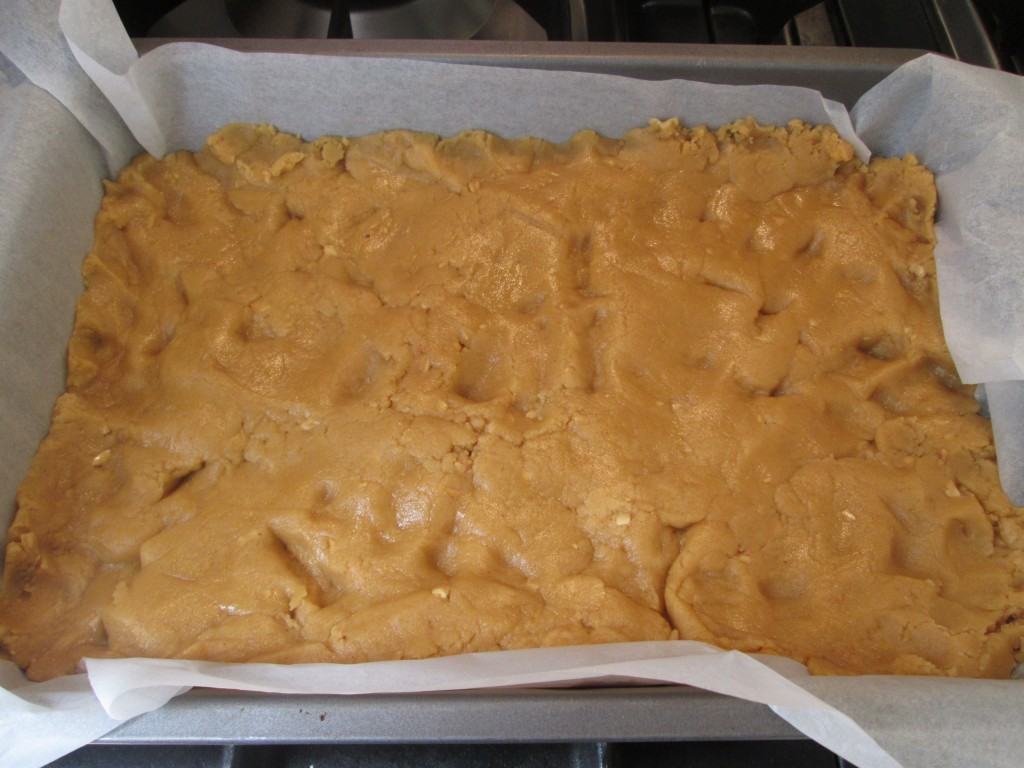 Look, its all shiny and calorie laden. Now add more delciousness by way of the jam. I had a rogue end of jar of raspberry jam to use up so added this along with a whole jar of strawberry jam. But do please feel free to use whichever jam you have to hand or prefer or needs using up. Spread this onto the base in an even-ish layer.
Now take the remaining third of mixture you'd put to one side and crumble over the jam in a random, topping type of affair.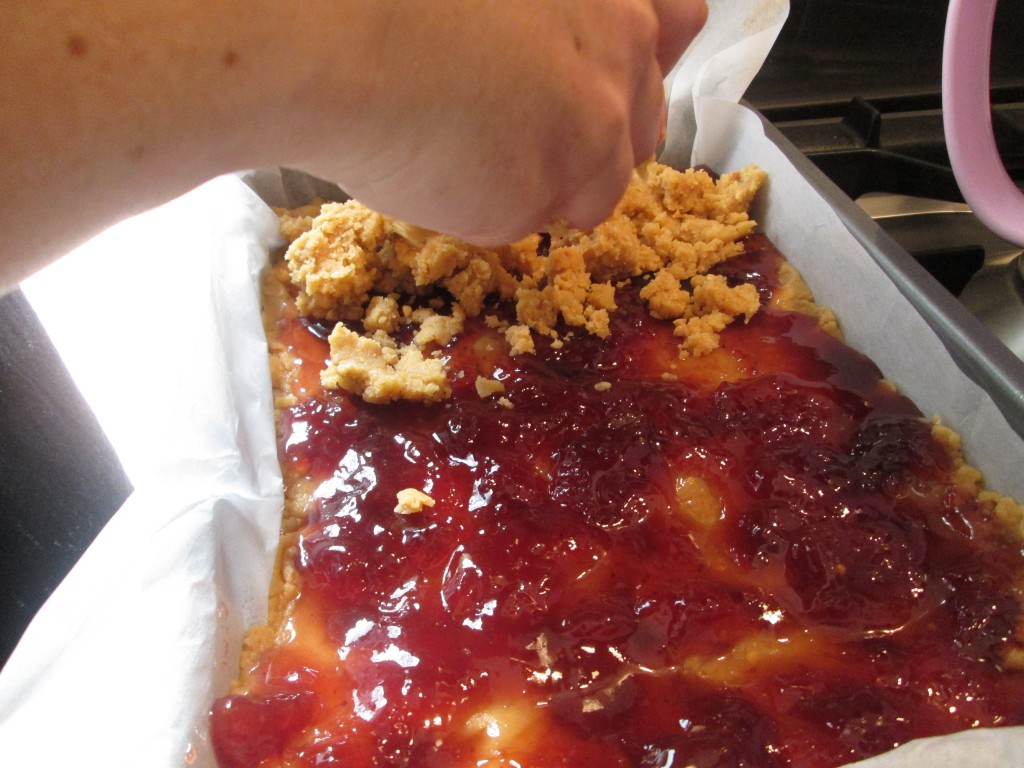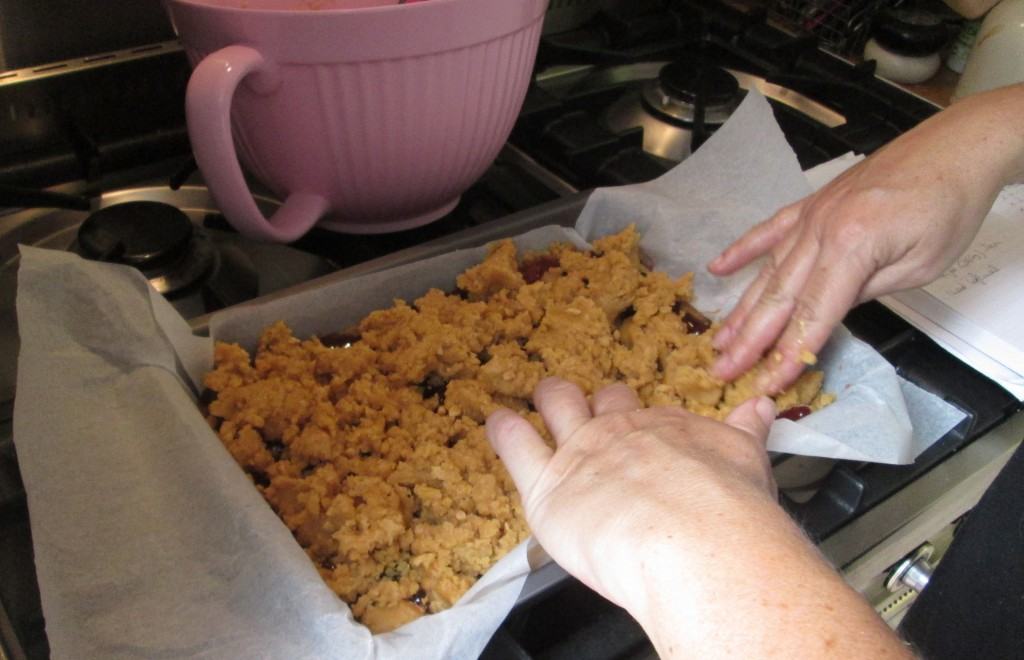 There should be plenty of mixture left to create a thick crumbly layer, almost completely covering the gleaming red jam. Put this in the pre-heated oven for 45 minutes, but check on it after 35 to make sure the top's not getting too brown.
Once the kitchen is filled with an amazing waft of warm, sweet peanut buttery smells, take the tray from the oven and leave to cool completely in the tin.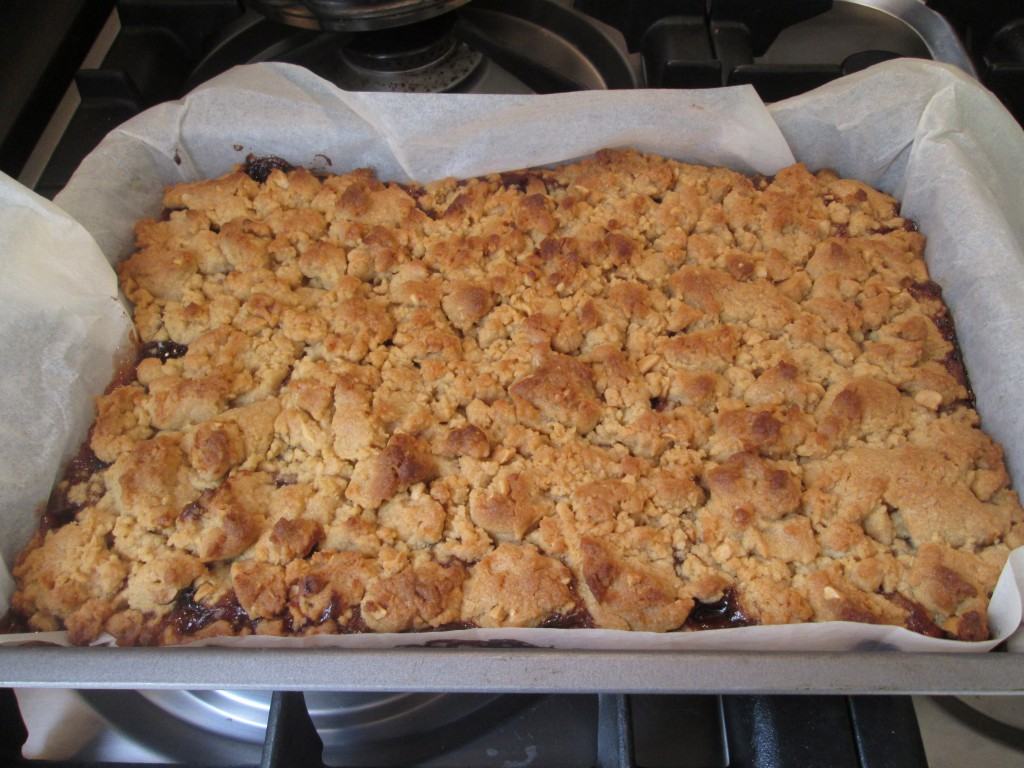 Once the bake is cooled, slice into generous squares and share wisely amongst your friends and family.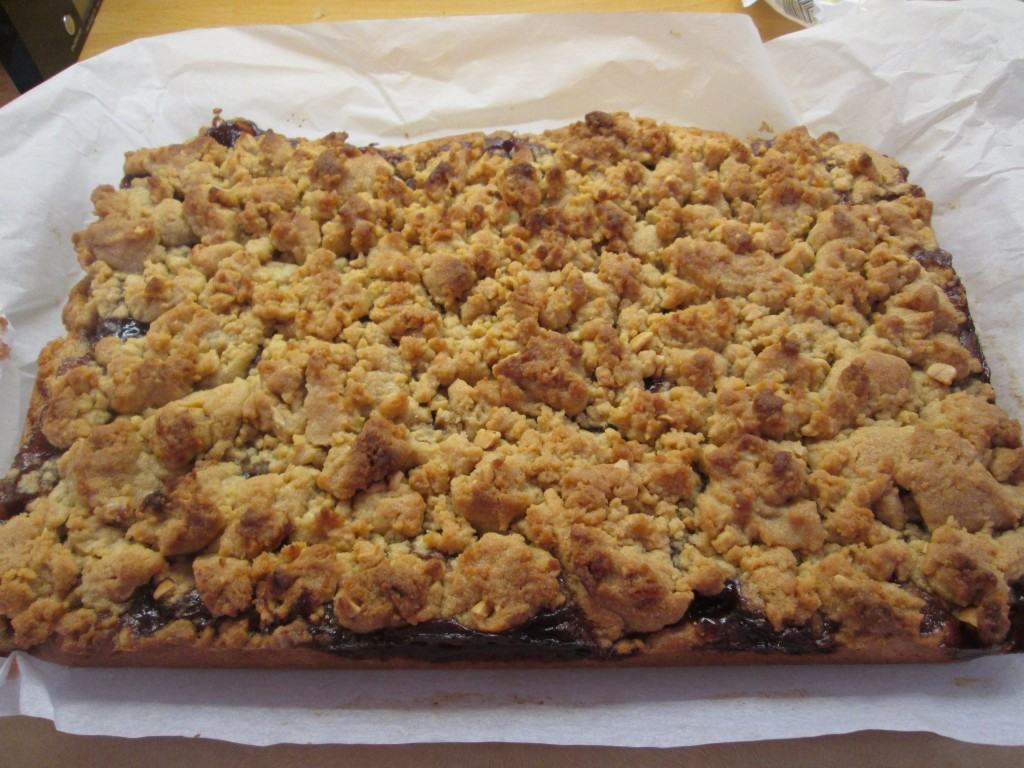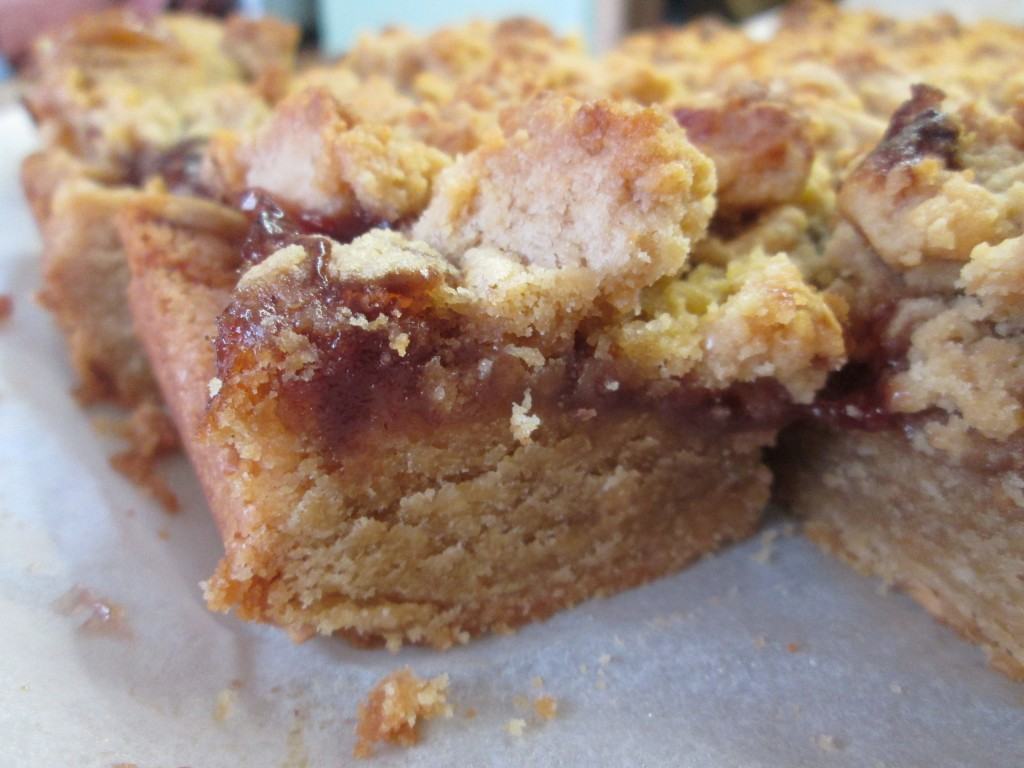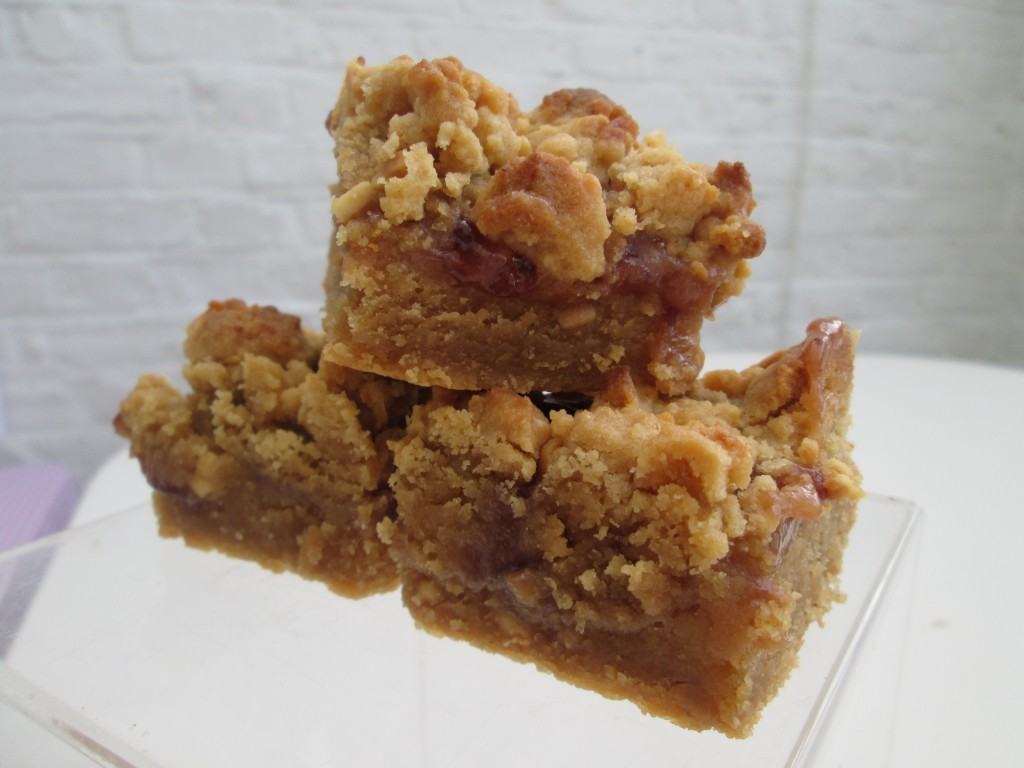 At least you can steer them towards this blog for the recipe so you won't have to keep sharing it with them, then you can eat it all yourself.
Lucy x
Peanut Butter and Jam Slice
 These quantities have been adapted from American cup measurements and it goes without saying, this recipe contains peanuts and should not be eaten by peanut allergy sufferers
Line a 9 x 13 inch baking tin and pre heat your oven to 170 degrees fan assisted
250g Stork or softened butter
330g caster sugar
1 teaspoon vanilla extract
2 eggs
454g jar of crunchie peanut butter
375g Plain flour
1 teaspoon baking powder
1.5 teaspoons salt
340g jar of jam, flavour of your choosing
Cream the butter and sugar in your mixer or in a bowl with a wooden spoon until a lighter yellow. Add the vanilla extract, eggs and peanut butter. Mix the flour, salt and baking powder, then add this to the peanut buttery mixture. This can get quite stiff so you may need to go in with a spatula if your mixer gets too slow.
Take two thirds of the mixture (keeping the final third to one side for later) and press this into the bottom of the lined baking tray, making sure it covers the base and reaches into the corners. Then add the jam layer onto this base mixture so you have an even coating. Then take the remaining third of peanutty mixture and crumble it onto the jam in an even layer, pretty much covering the top.
Put this in the oven for 40 to 45 minutes, but check after 35 minutes to ensure the top doesn't get too brown. Leave to cool completely then cut into generous squares. Keep in an airtight tin or freeze, well wrapped, where necessary.