Corndog Muffins Recipe
It's nearly Hallowe'en, well a week or so away, so I thought I would jump on the bandwagon and post this brilliant Corndog Muffins recipe. Hallowe'en is such an American phenomenon, so what better food to enjoy than these quintessentially US style treats. My boys/men are now way too old to go Trick or Treating, but we will still have pumpkins and sweets ready for the little ones who come to visit our cul de sac. Our way of celebrating All Hallows' Eve however, is to eat yummy food and then George will mine-sweep any Haribos which haven't been enjoyed by the youngsters. So get your napkins ready, these Corndog Muffins are finger food at it's finest.
I first made these Corndog Muffins for the boys one Hallowe'en about 10 years ago. They loved them, although Clyde couldn't get his head round the fact they weren't sweet muffins. We inhaled them, then, as so often happens, I got distracted by another recipe, and promptly forgot about this savoury bake. Until now, that is. This recipe is brilliant; the corn based muffins are packed with flavour. They're cheesy with a hint of chilli, soft but with a golden crust. All this and a hot dog hidden inside to boot. I found a tin of mini hot dogs randomly in a Co-op in Battersea, but you could always use full size franks and cut them into 4. The muffins have a hint of sweetness too, thanks to some sugar, the amount of which I cut back on from the original recipe care of the lovely a Night Owl Blog, with thanks.
If you want your trick or treaters to eat something other than sweeties on the 31st October, then maybe a batch of Corndog Muffins are the answer. Or, you could always treat yourself, it's not all about the children you know.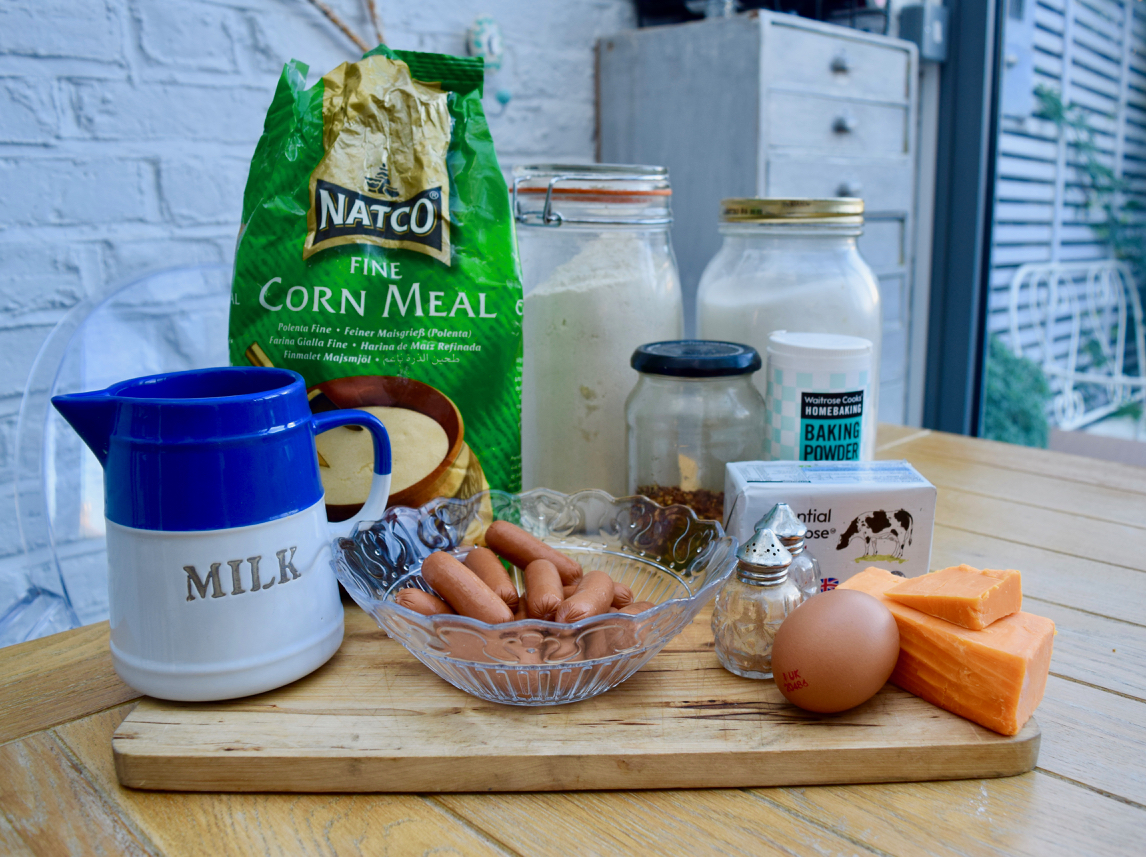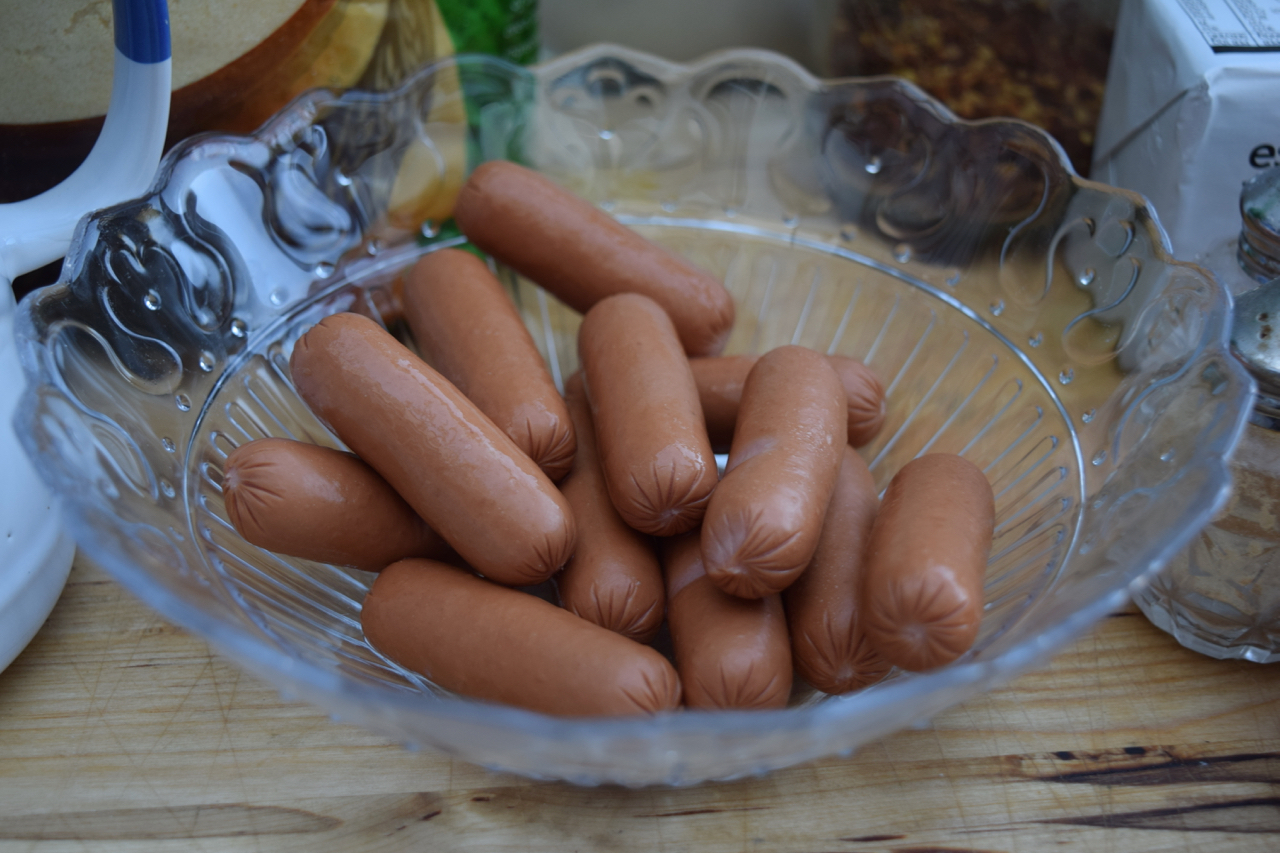 What a line up, please admire my industrial sized bag of cornmeal. I do love making cornbread when we have a chilli and a little definitely goes a long way. There's a super close up of my tiny hot dogs too. These happened to be chicken ones, so a good find all round. I don't know why but that makes them seem less unhealthy.
Make a start by either buttering your muffin tin recesses or lining them with muffin papers and pre heating the oven to around 160 degrees fan assisted. Next, take a large bowl and measure in the dry ingredients including the cornmeal, plain flour, sugar, baking powder and salt.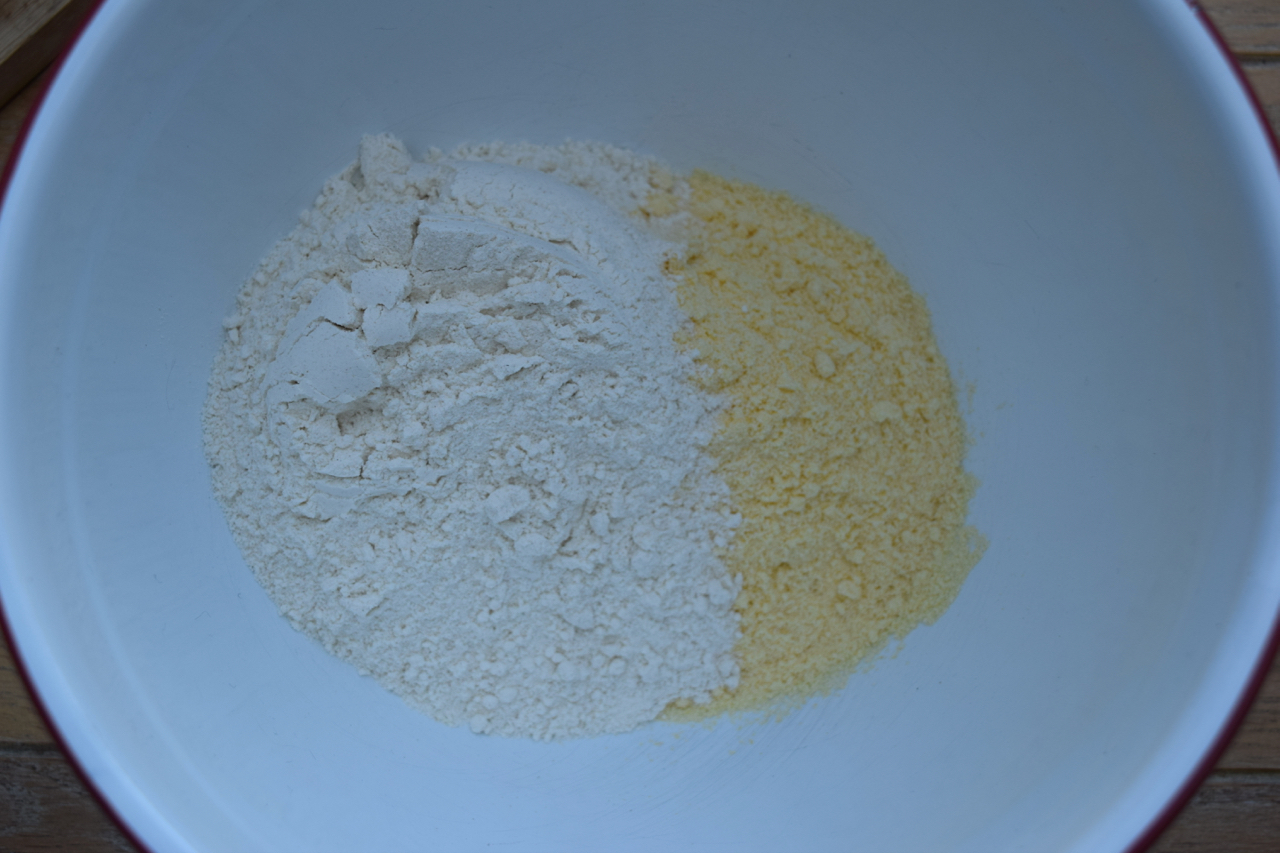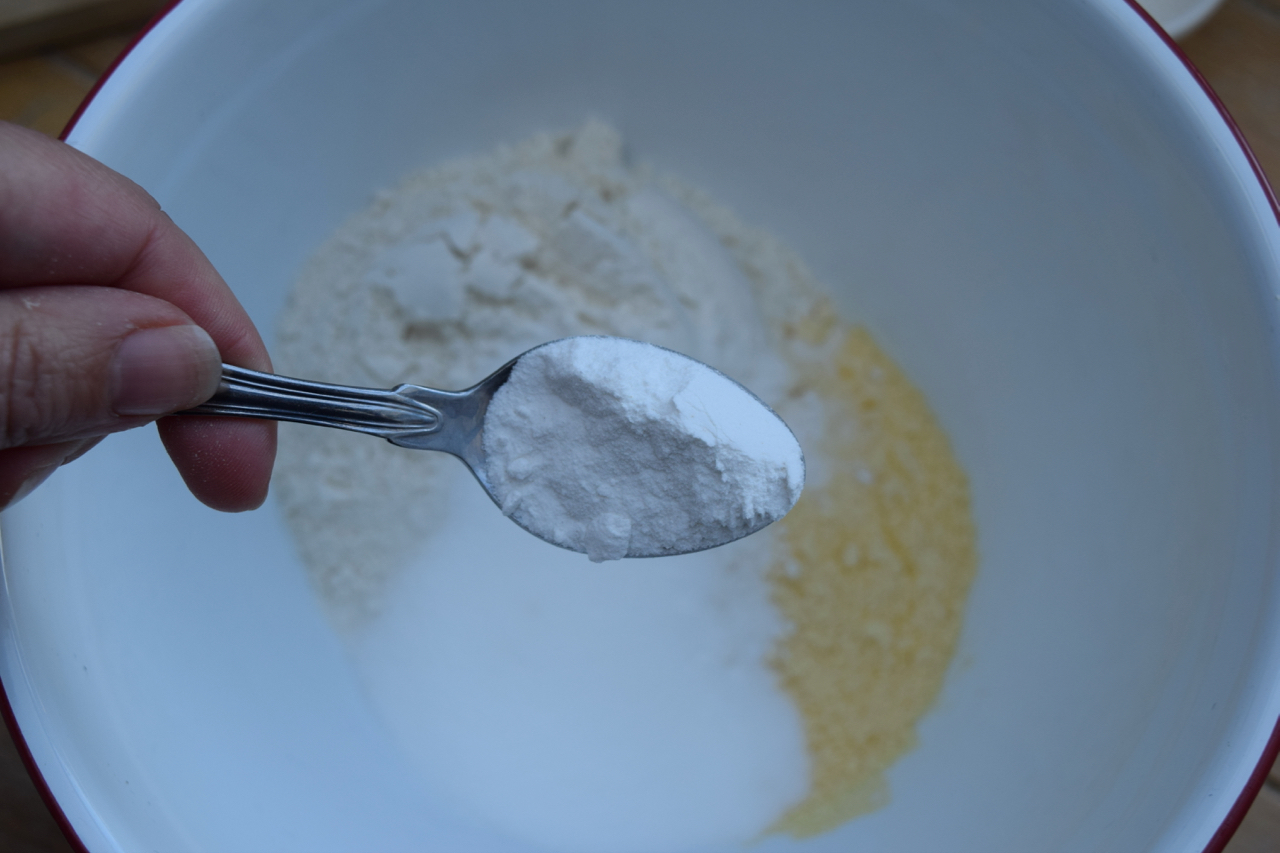 Give them a little stir to combine then pop to one side while you deal with the wet ingredients.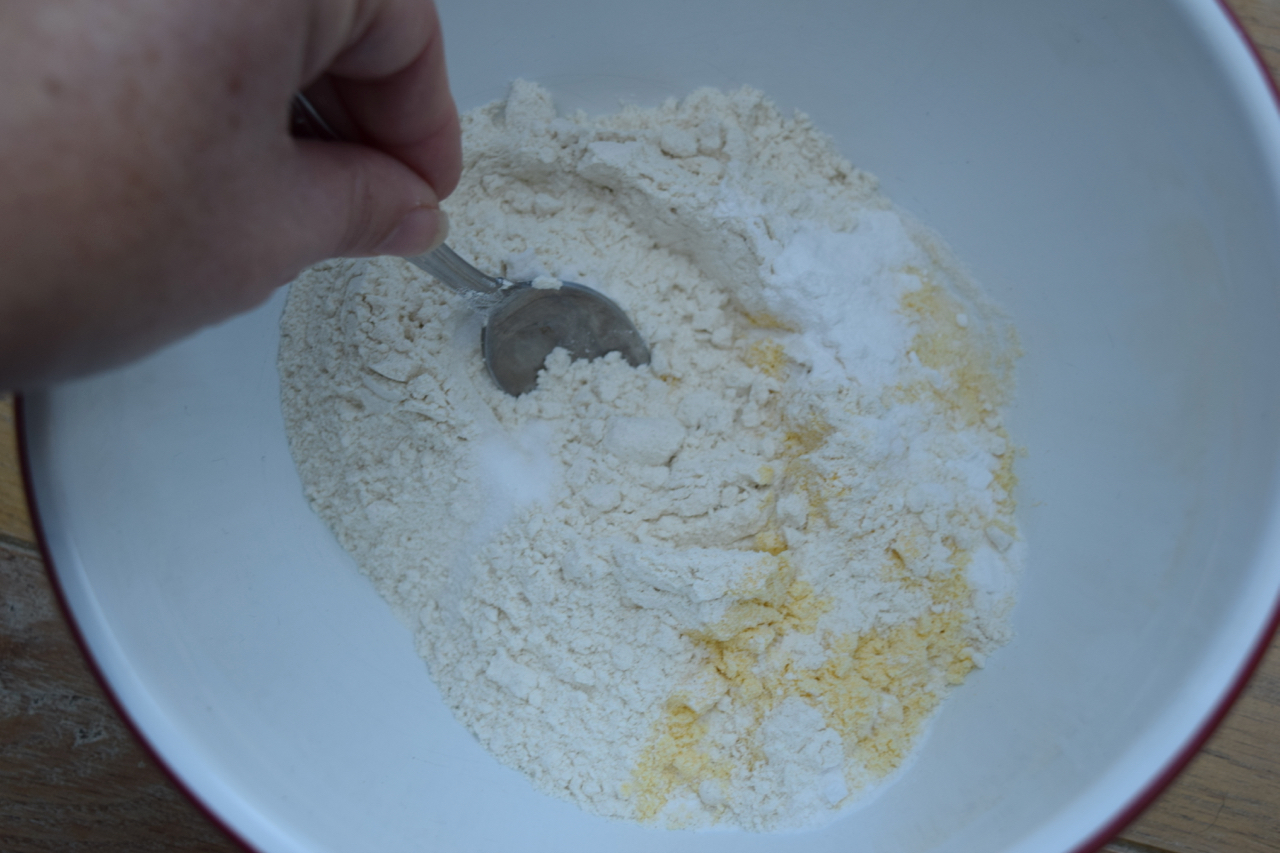 Next, melt the butter in the microwave or in a pan on the stove then add to a jug along with the milk and egg and give it all a good whisk.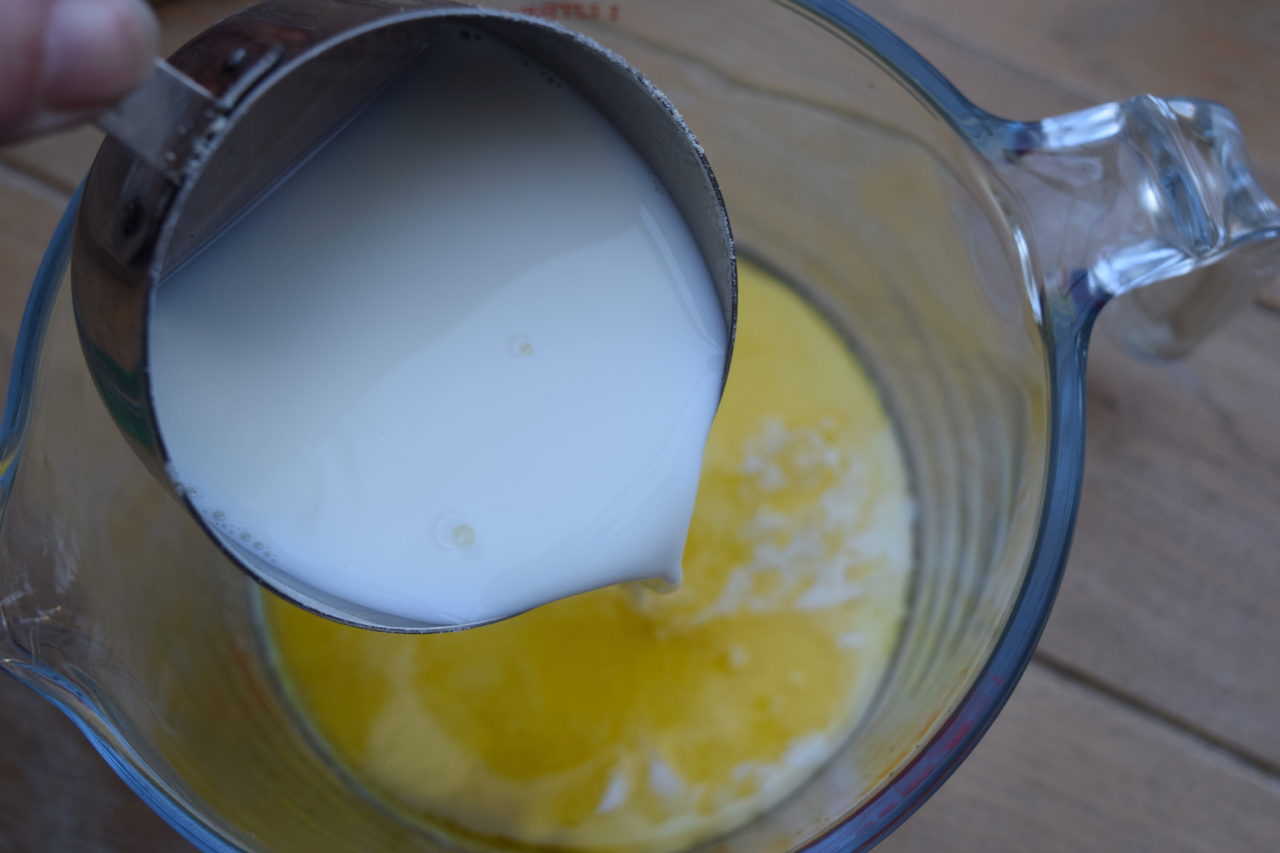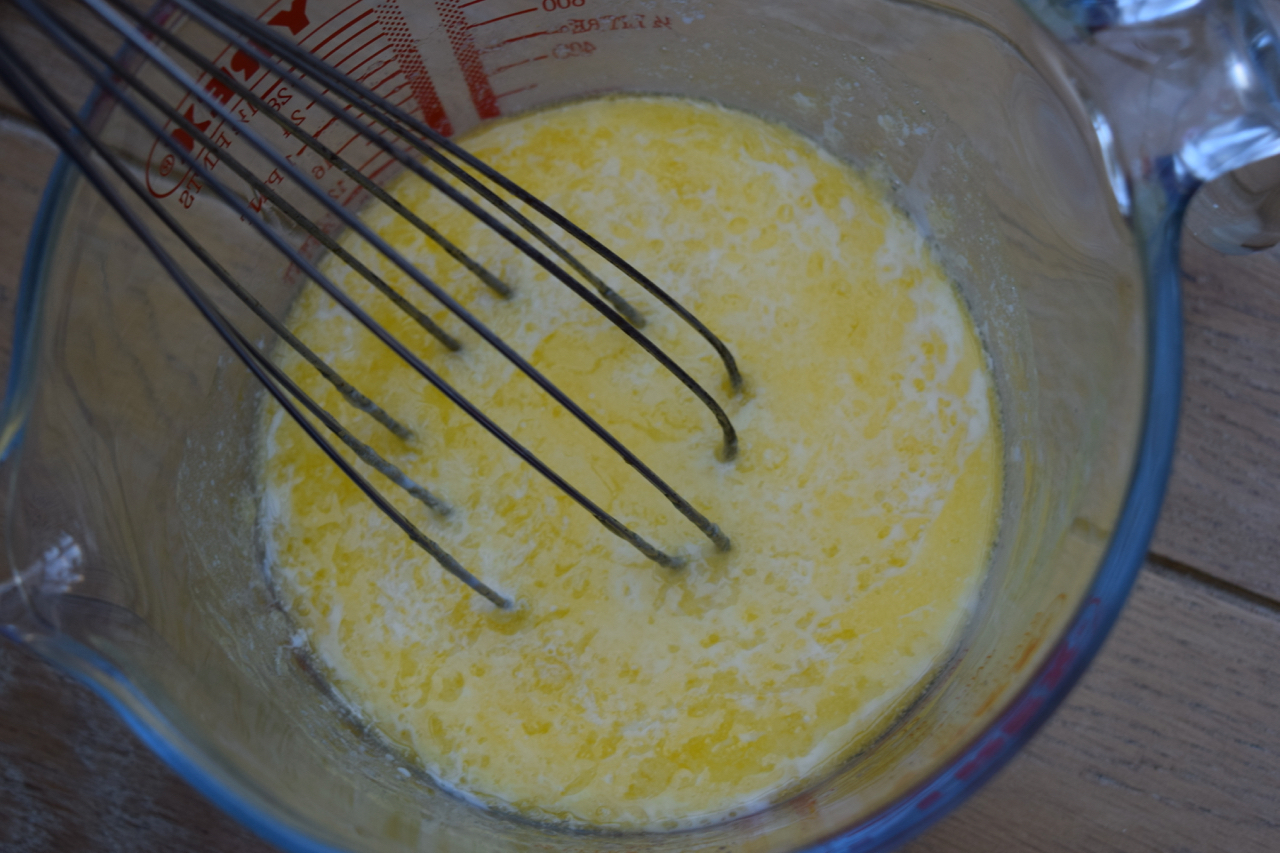 Pour this mixture into the dry ingredients and give it a good mix until just combined. Don't over do it.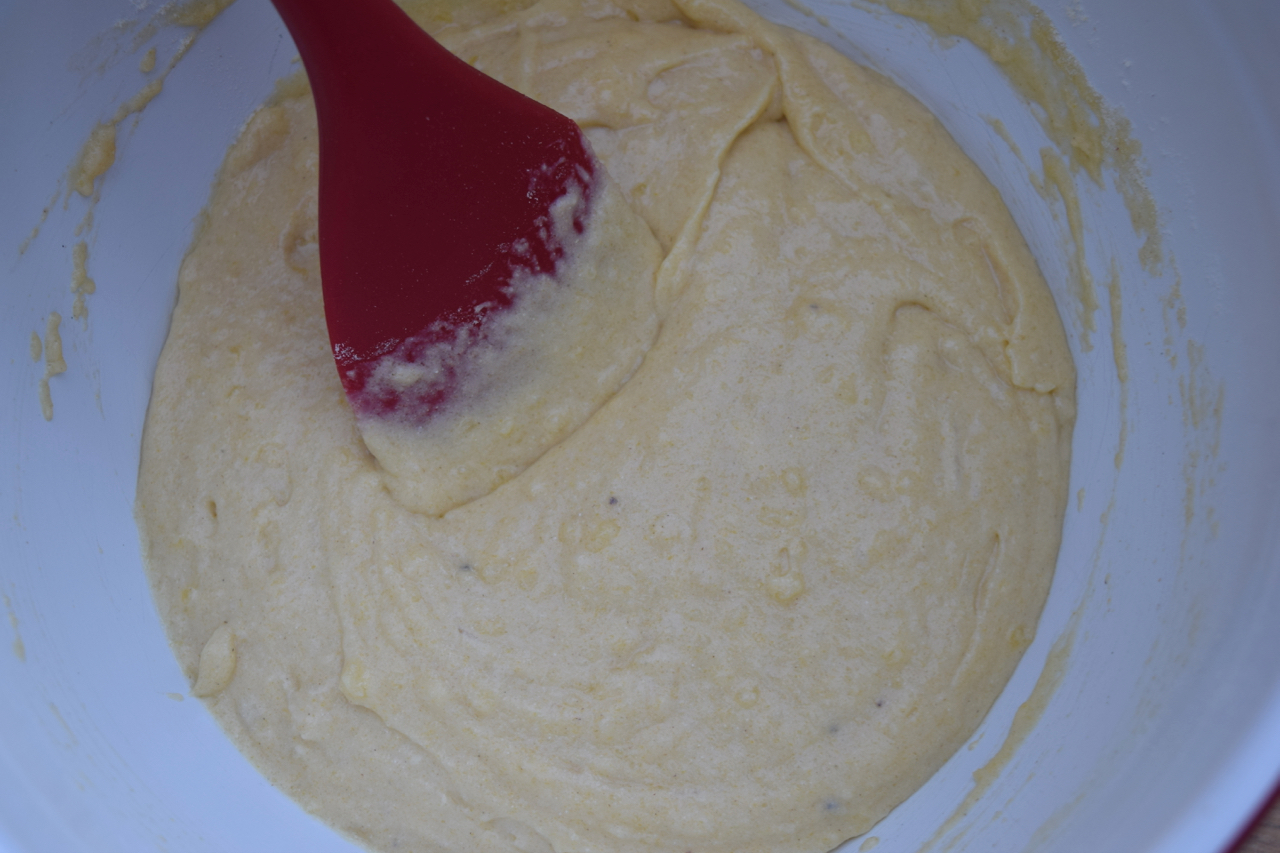 Now, fold in the generous pinch of chilli flakes, grated cheese and some black pepper, to taste.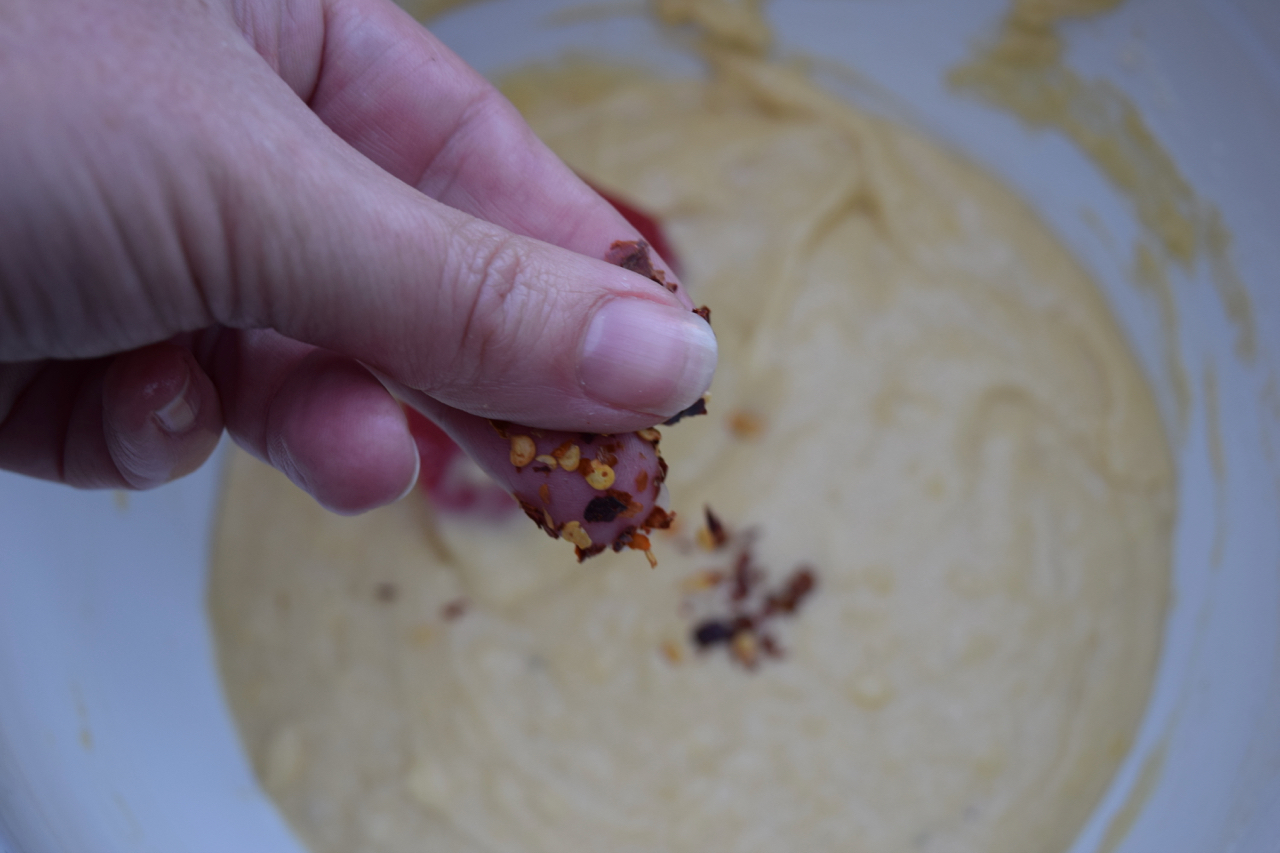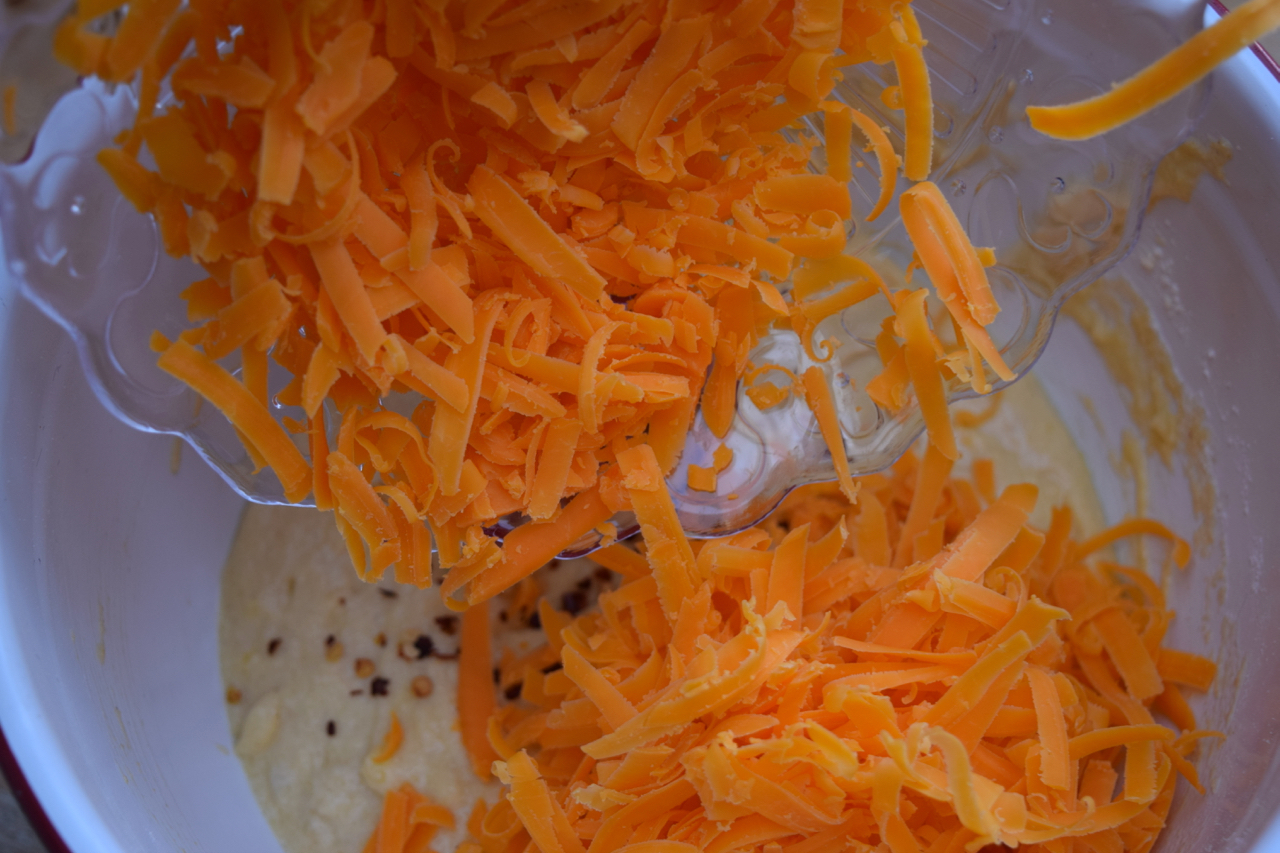 Spoon this cheesy corntastic mixture into each muffin recess, about a heaped tablespoon is enough then press in a tiny hot dog or cut up frankfurter.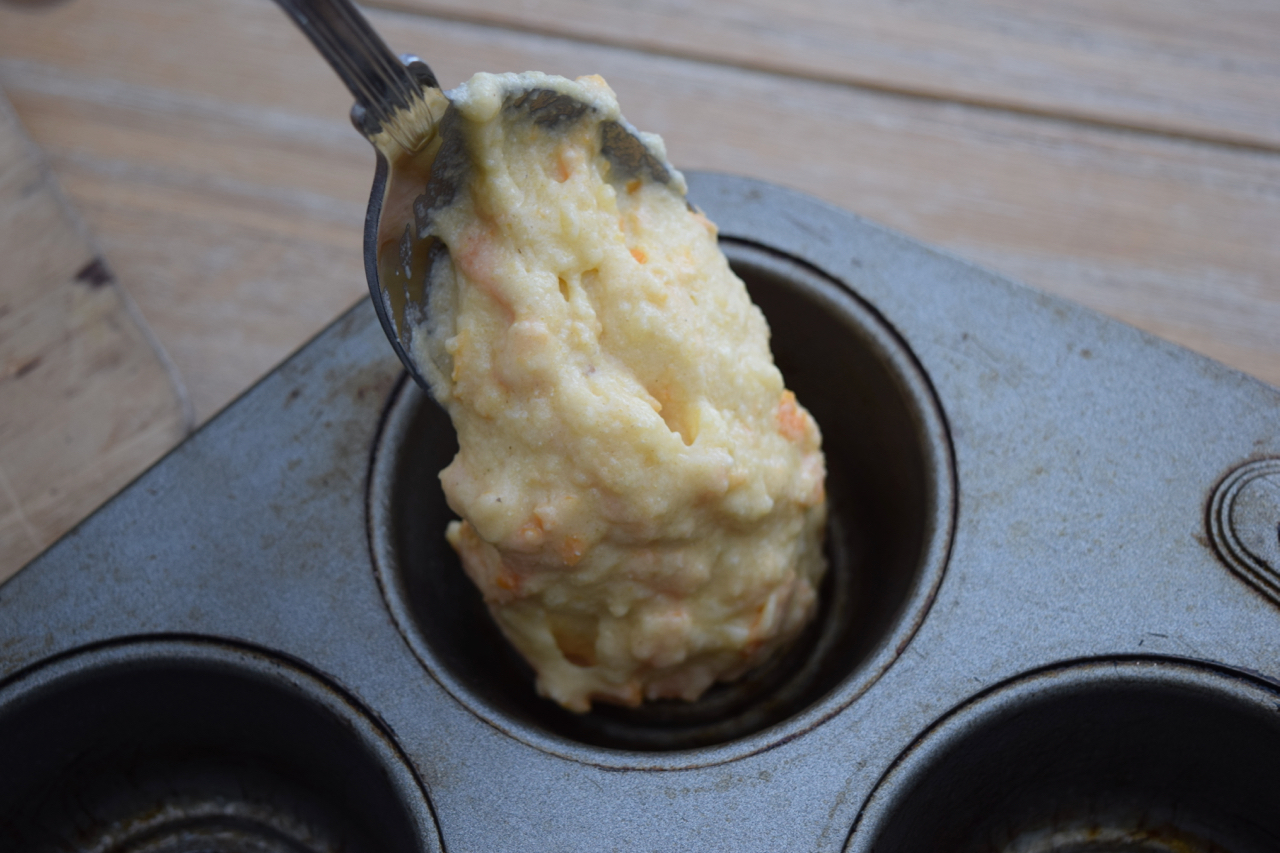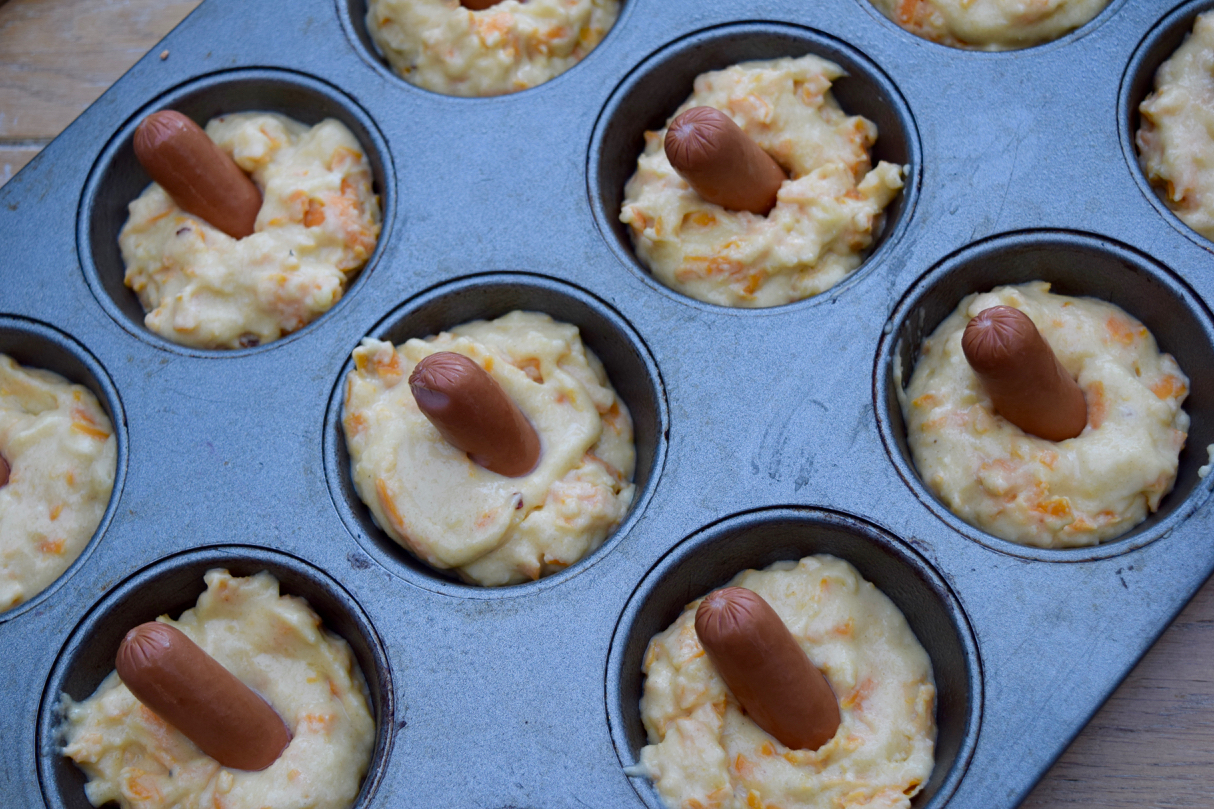 Bake these for 15 to 20 minutes or until firm to the touch, golden and smelling as though you could eat all 12 straight from the oven.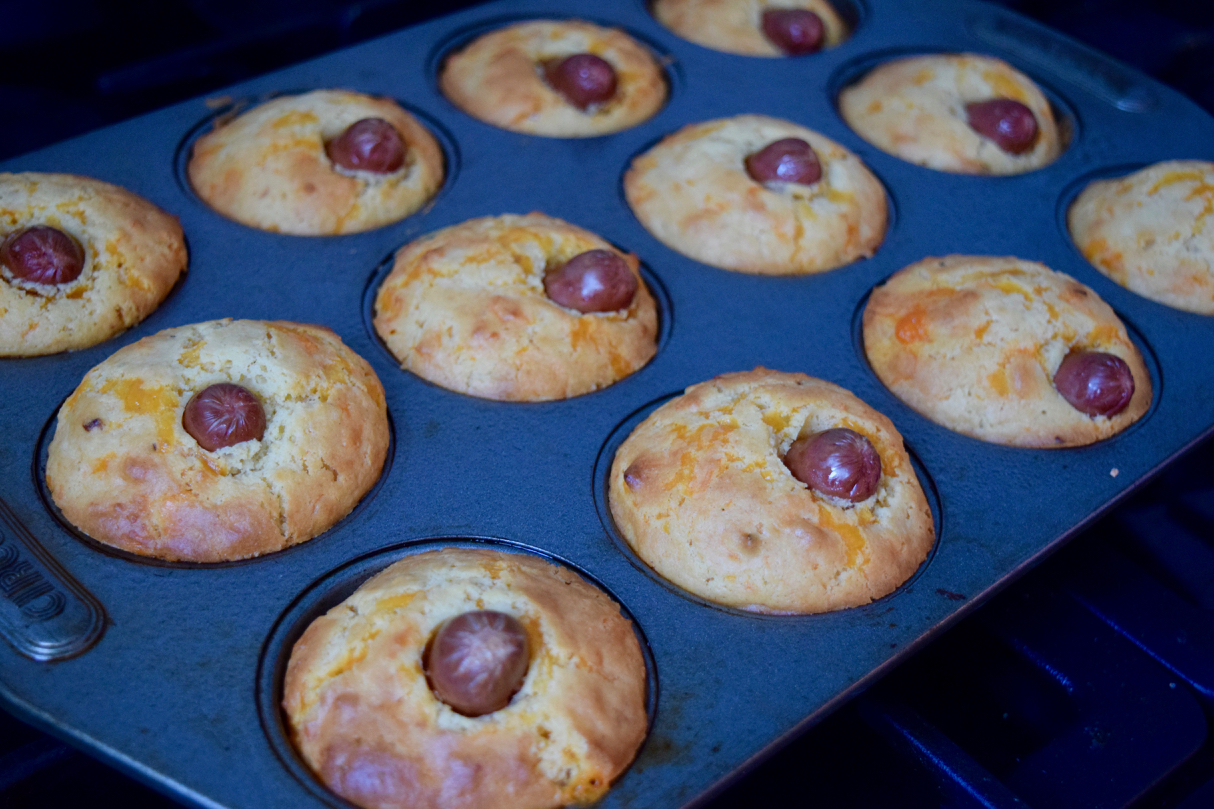 Leave them to cool slightly before carefully prising them from the muffin tin. Serve warm with the dipping sauce of your choice. I went for sriracha, but American mustard or ketchup are also divine.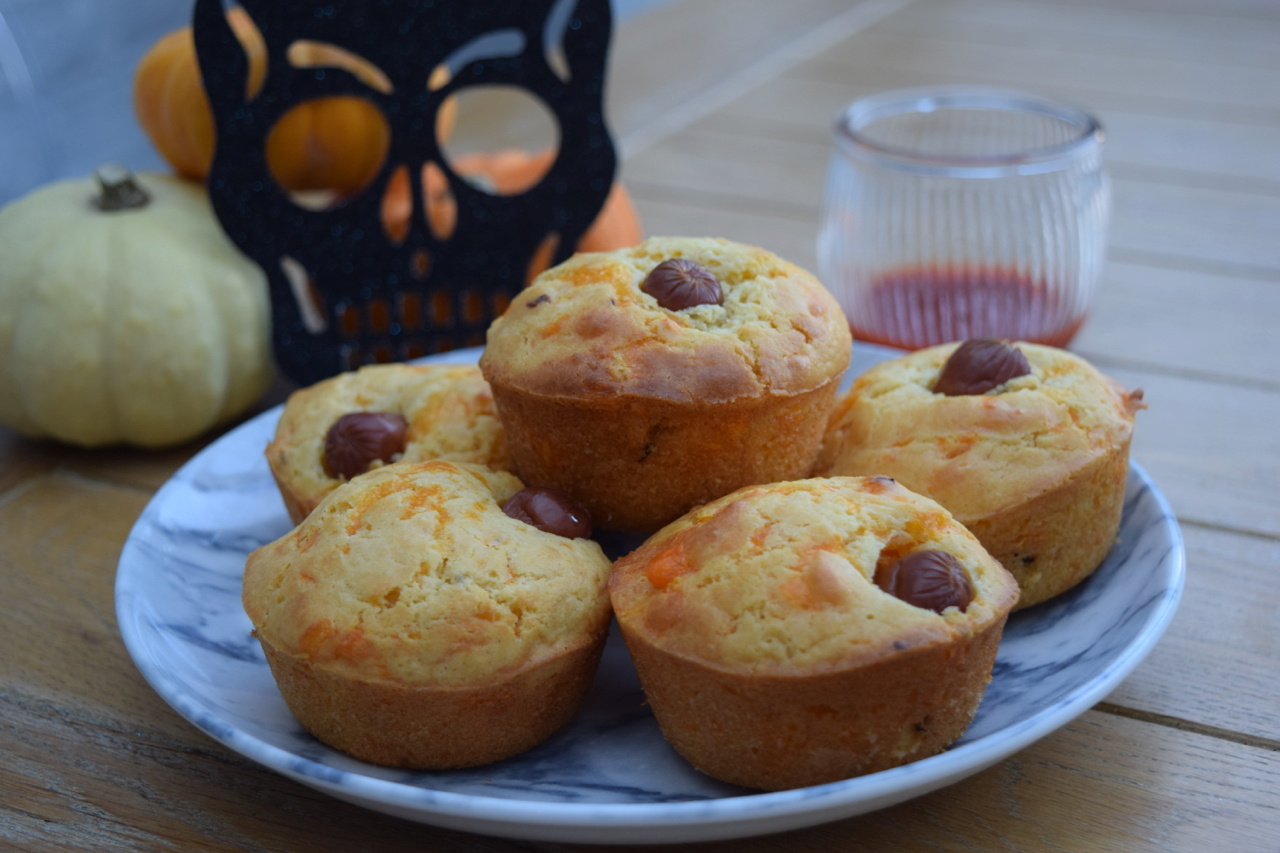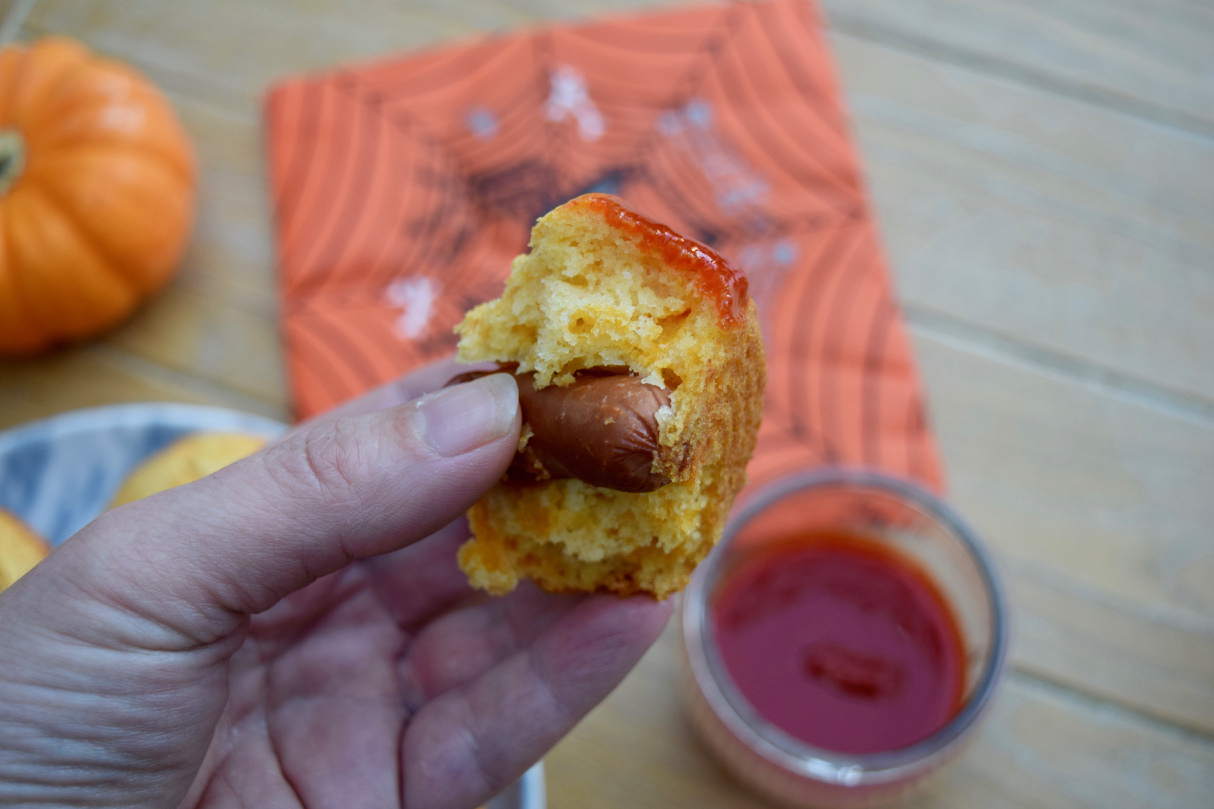 These are so tasty, and really shouldn't just be reserved for Hallowe'en or forgotten about for 10 years. I have been making up for lost time, however, but eating 3 from this particular batch without a backward glance.
Happy Hallowe'en for next week.
Lucy x
Corndog Muffins Recipe
Makes 12
You will need a bowl and a buttered or lined 12 cup deep muffin tin
150g cornmeal or polenta
140g plain flour
2 tablespoons caster sugar
2 teaspoons baking powder
1/2 teaspoon salt
1 egg
60g butter, melted
250ml milk
125g cheese, grated
1 large pinch dried chilli flakes
a good grinding black pepper
12 mini hot dogs or 4 regular sized ones, cut into quarters
Ketchup, mustard or Sriracha for dipping
Pre heat your oven to 160 degrees fan assisted and butter or line a 12 large hole muffin tin.
Take a large bowl and measure in your cornmeal, flour, baking powder, sugar and salt. Stir to combine.
Take a jug and add the melted butter. Pour in the milk then beat in the egg. Fold this into the flour/cornmeal mixture until just mixed. Fold in the cheese and chilli flakes and add some ground black pepper.
Spoon heaped tablespoons into each muffin section then poke a mini hot dog into the middle. Bake for 15 to 20 minutes until golden, firm and smelling ridiculously good.
Leave to cool slightly before prising out of the tin and serving warm with the dipping sauce of your choice. Leftovers should be kept in the fridge and reheated in the oven or microwave prior to enjoying. I can imagine these would also freeze well for another day.