Cod Piccata Recipe
This summer we have spent several wonderful weekends on the Isle of Wight at my sister's holiday home in Bembridge. It is a blissful place with an old world sense of charm and style. It also has the most delicious locally caught fish and seafood. I am sure I have piled on the pounds with trips to the fish shop and scoffing pub crab sandwiches.
As an homage to the Isle of Wight's fantastic haul, this week's dish is Cod Picatta. This recipe uses one from Paleo Grubs as a guide and involves pan fried fish with a lemon, caper and parsley sauce. So fresh tasting and piquant.
As a rule of thumb, I don't often cook fish as a) it's almost the same price as steak (although the cod loins I used were on offer) and b) I used to be scared of over cooking it. But being keen to cook more than the odd bit of salmon, I have conquered this fear.  It helps that this recipe is nigh on impossible to balls up, just have all your ingredients ready, and it will be on the table before you know it.

Lovely fresh ingredients for this, and not many of them. I am always put off a recipe if the ingredients list is endless.
Dependent on the size of your cod pieces, cut them into the portions you need. These two loins were quite big and more than enough for Clyde and I and our over zealous appetites.  Put the flour on a plate and add salt and pepper to season.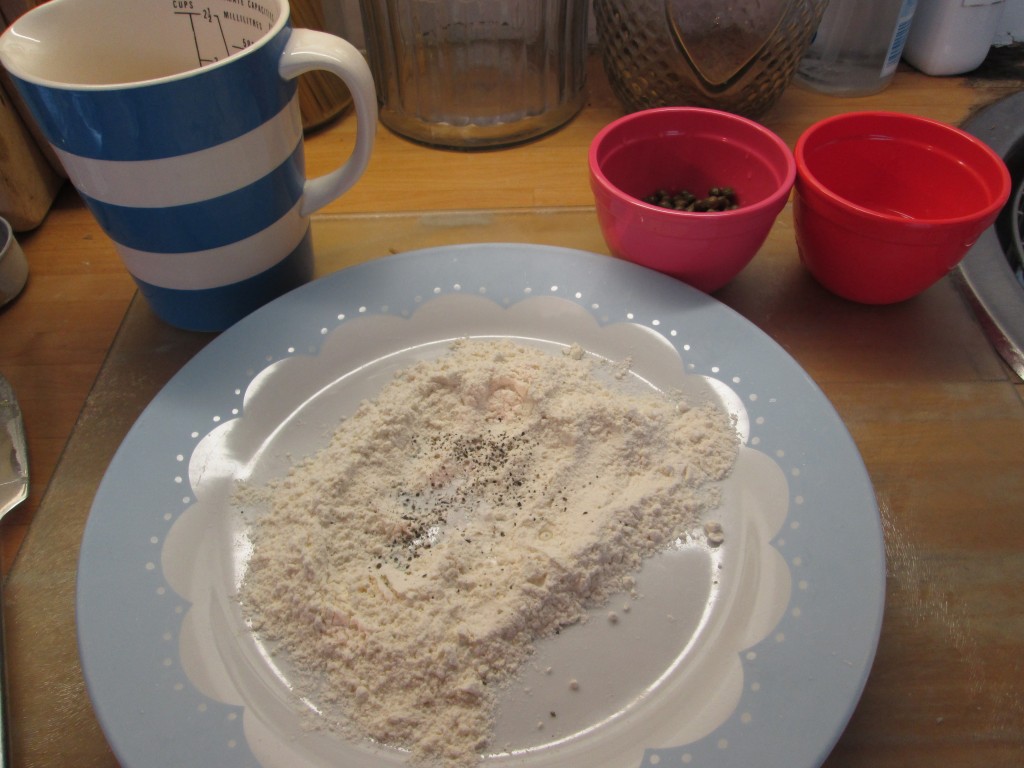 While you're at it, juice the lemon, make your chicken stock, then have the capers, parsley and butter ready, so you are all prepared for the off.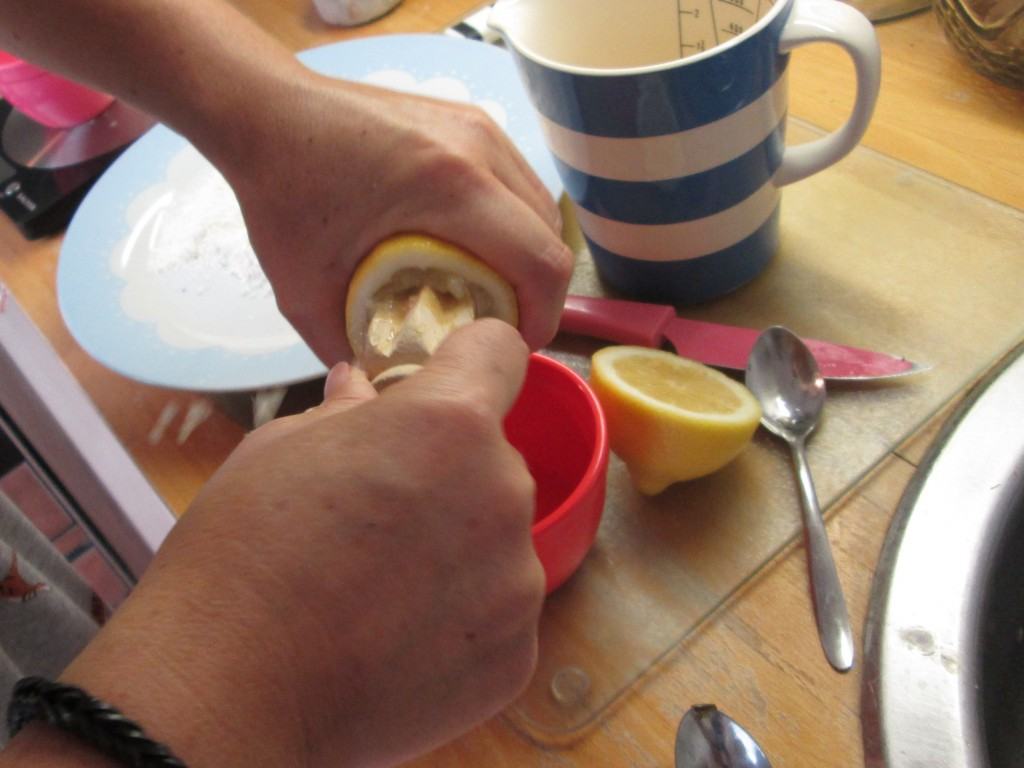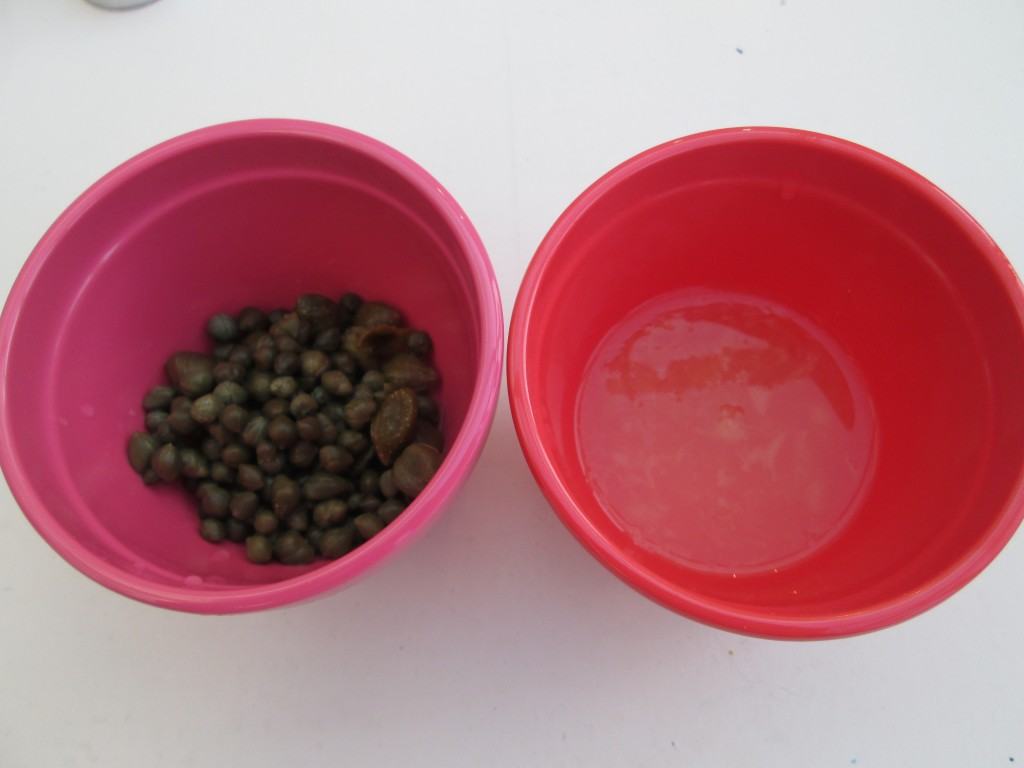 Take a frying pan, put on a medium heat and add the butter and olive oil until starting to foam.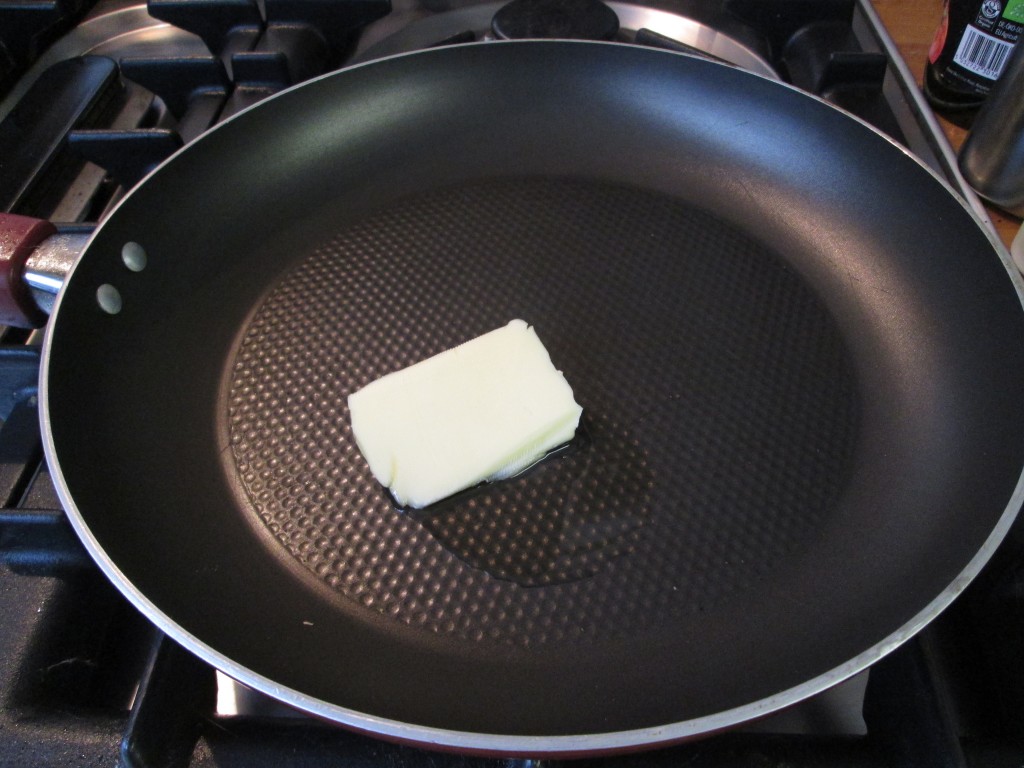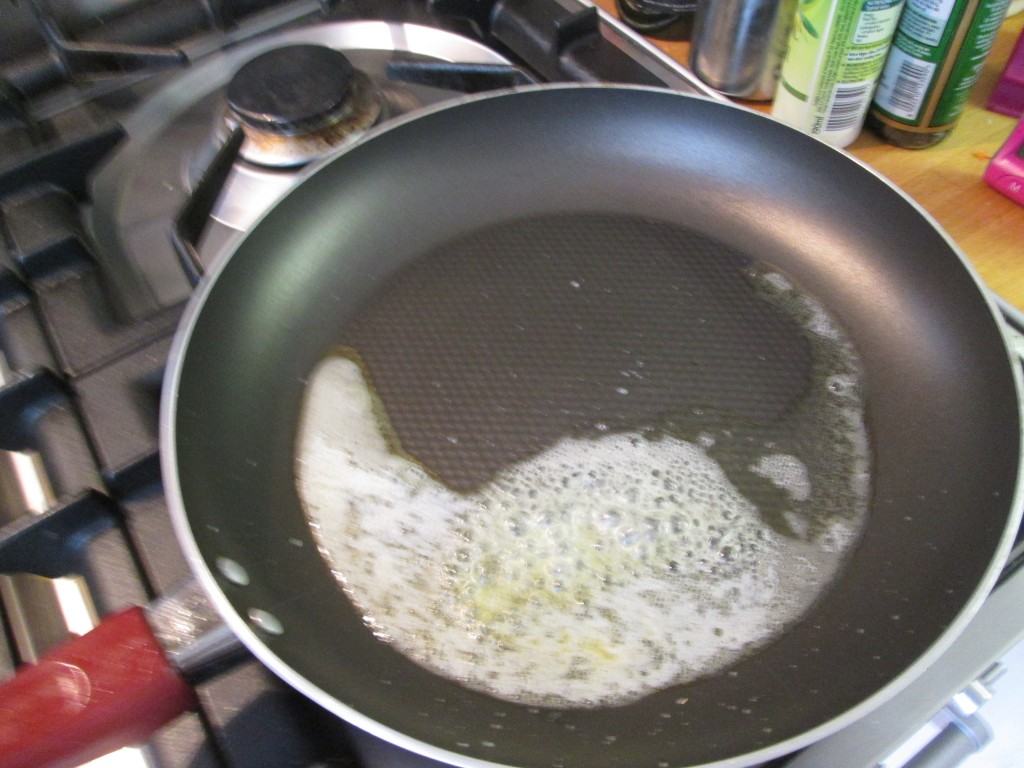 Sorry about the out of focus – I did say this was a speedy affair.
Dip your fish in the seasoned flour, and ensure both sides are well coated.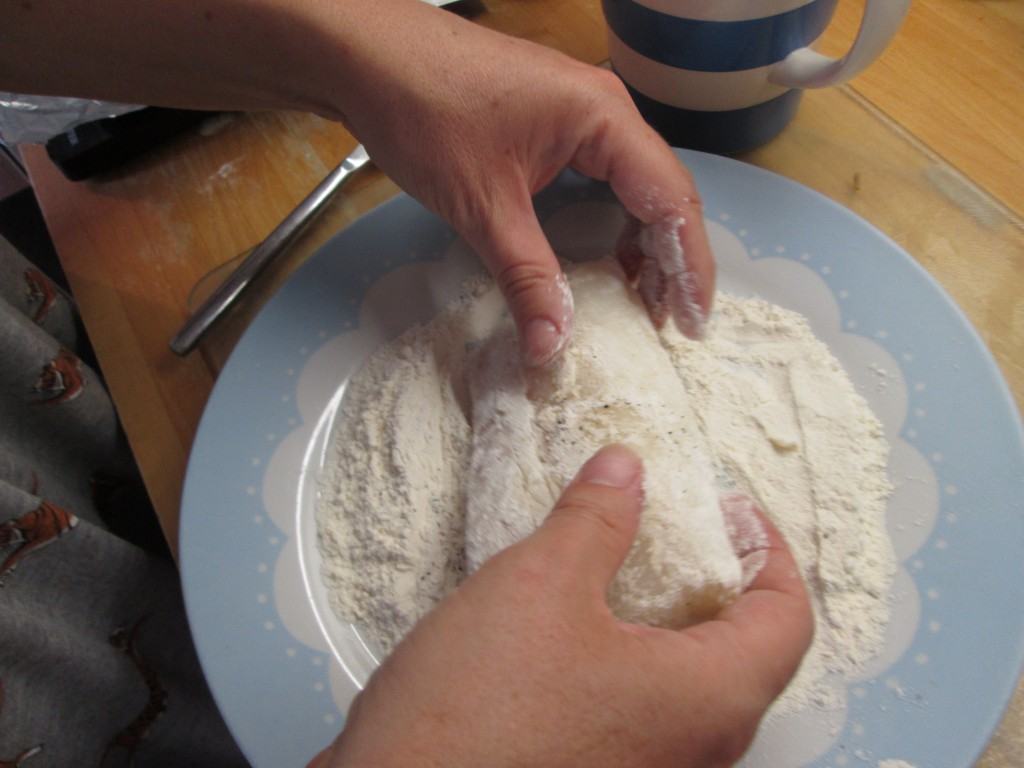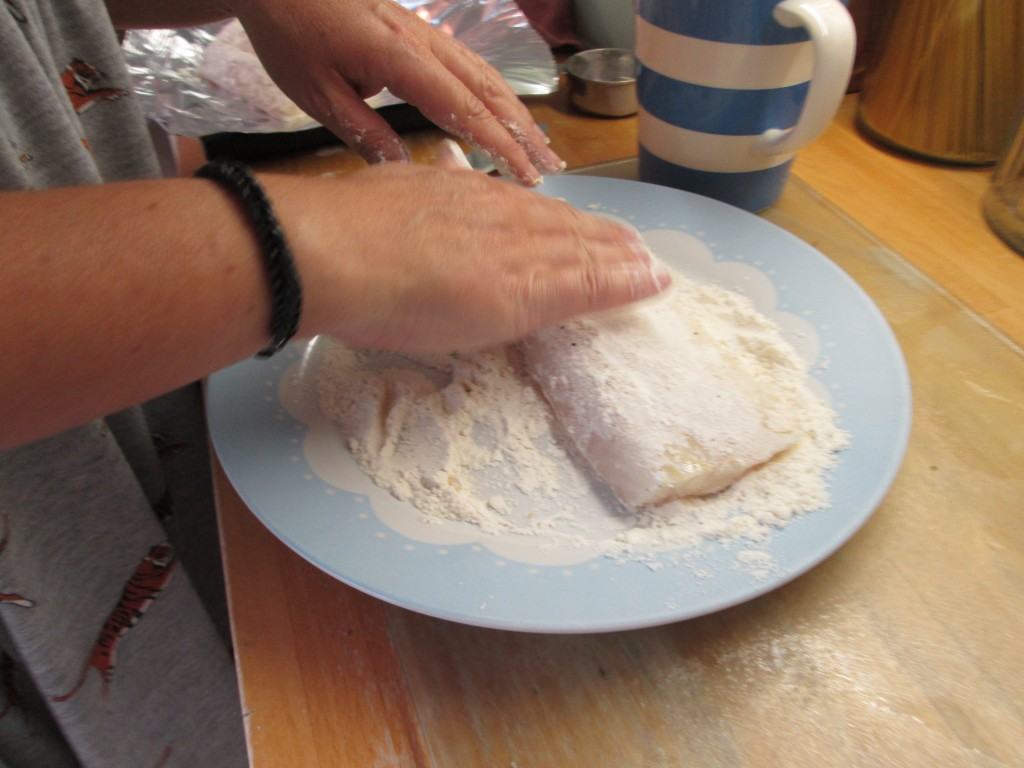 Then pop these wonderful pieces of cod into the sizzling pan, skin side down. Cook for around 3 to 4 minutes, then once the skin is starting to brown nicely, flip over.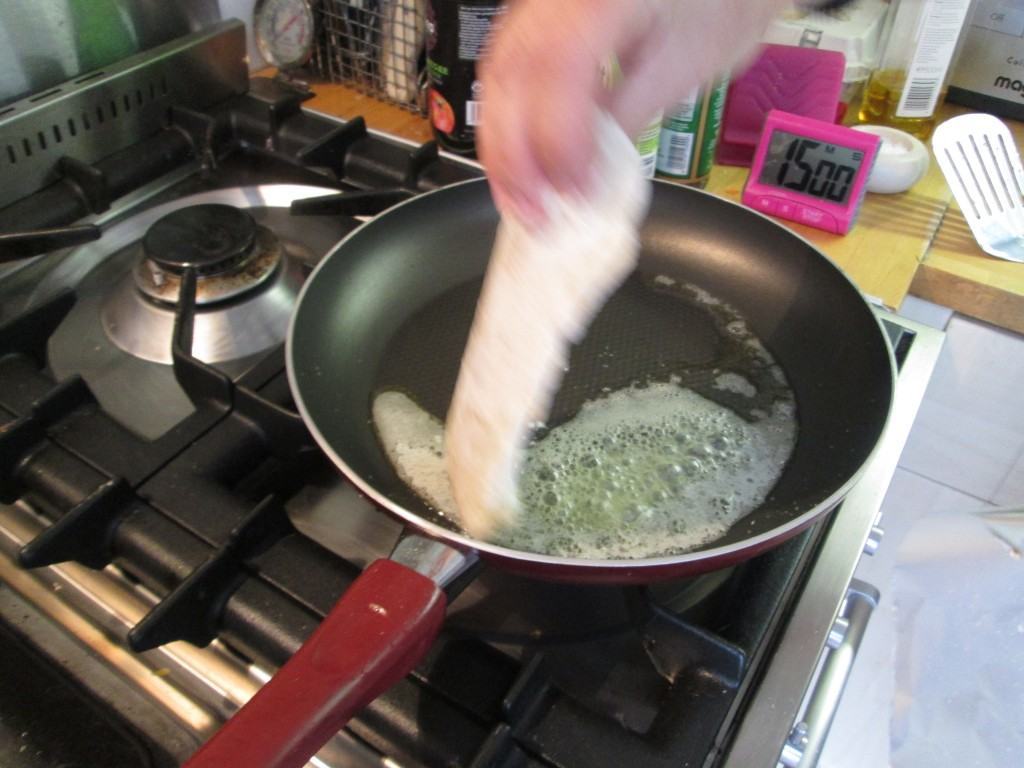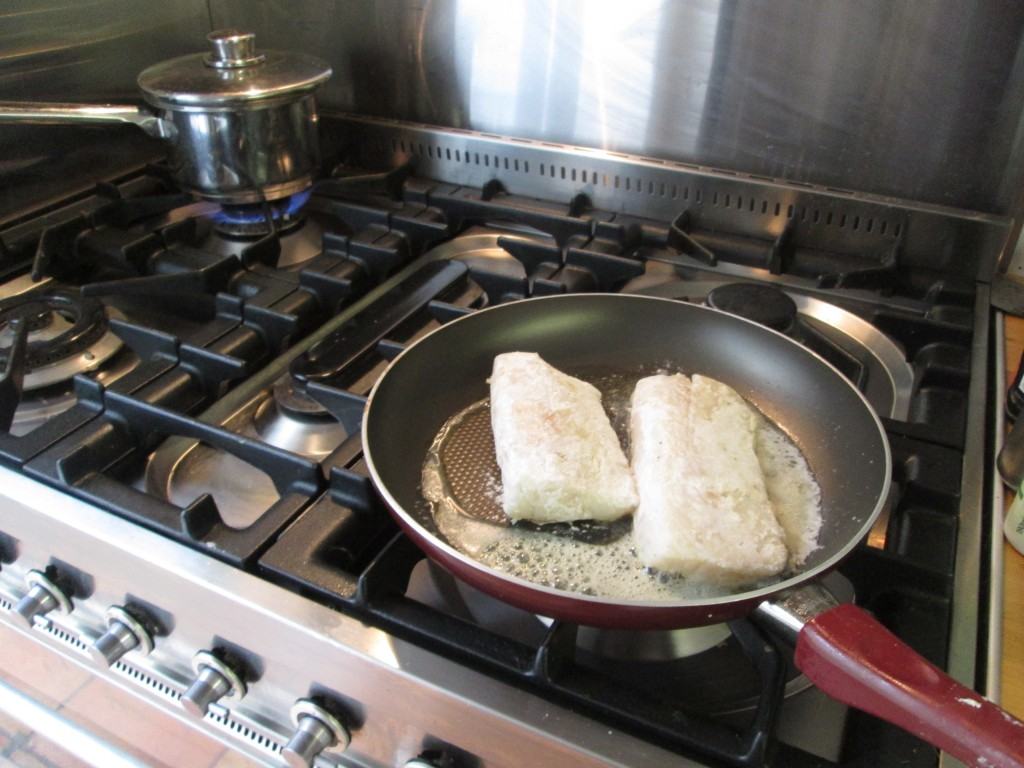 Give this side another 2 to 3 minutes until the fish is cooked through and browned on both sides. Now, add to a plate and cover with foil to keep warm. You could pop the fish in a warm oven at this point if you are a stickler for burning hot food (that means you, Mum).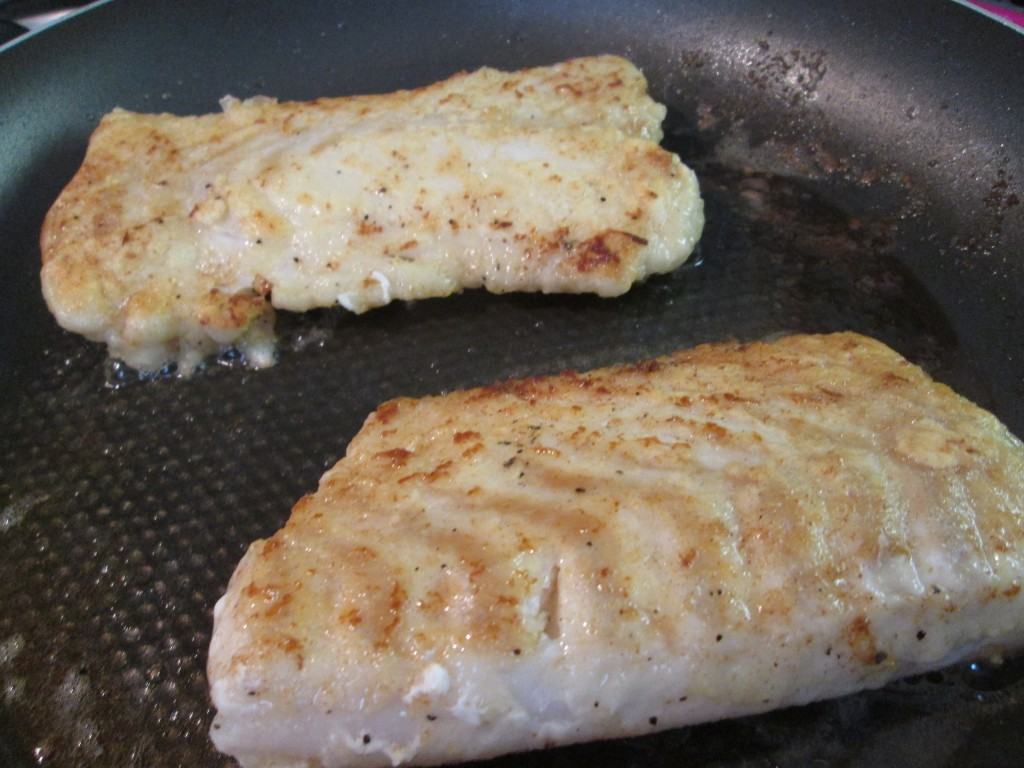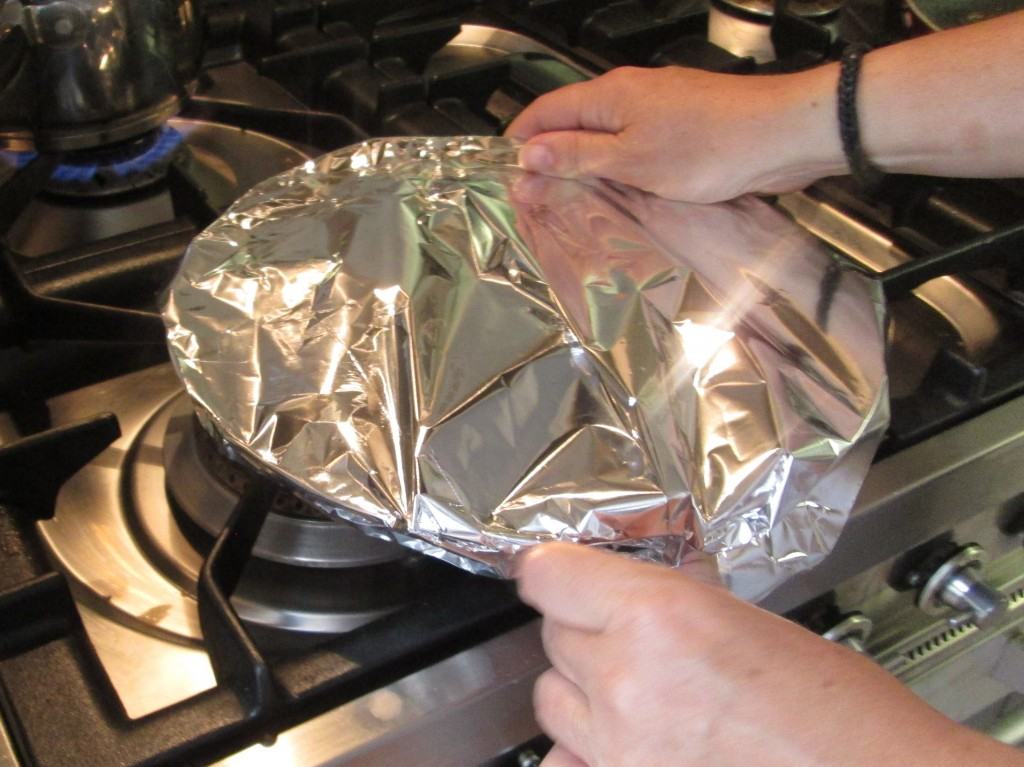 Then set to making the lemon scented sauce. Pour the chicken stock, lemon juice and capers into the pan. If there are any tasty crispy bits in the bottom of the pan, give them a good scrape and then reduce the liquid by half.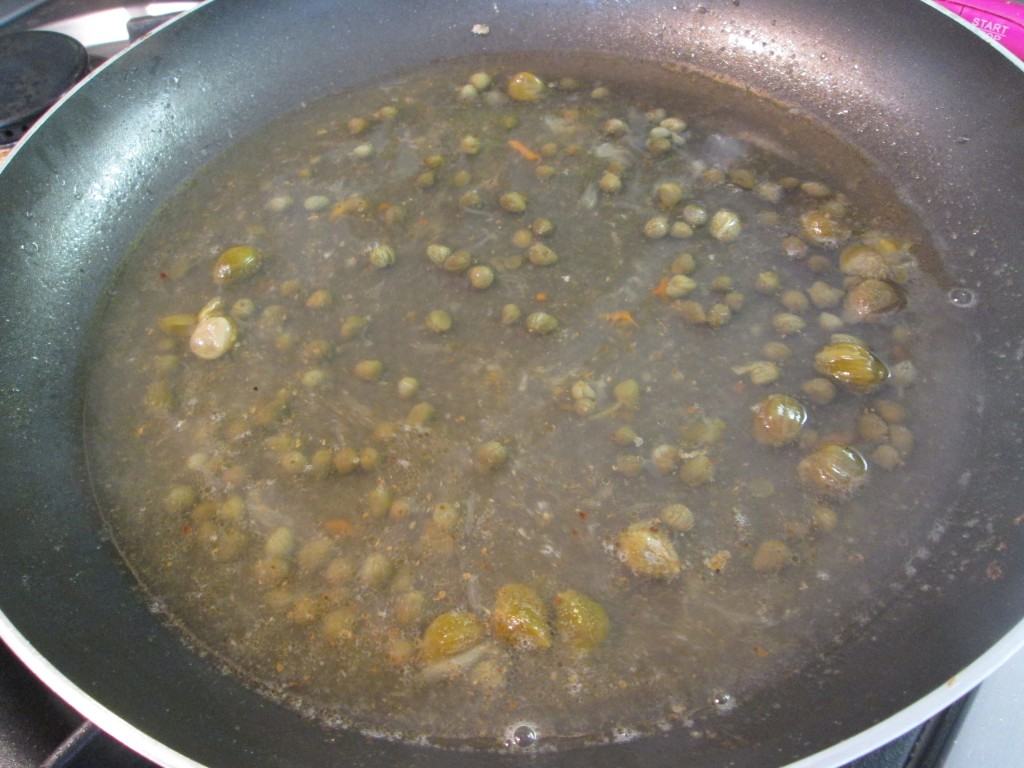 Add the additional butter, parsley and taste to see if you need any salt and pepper.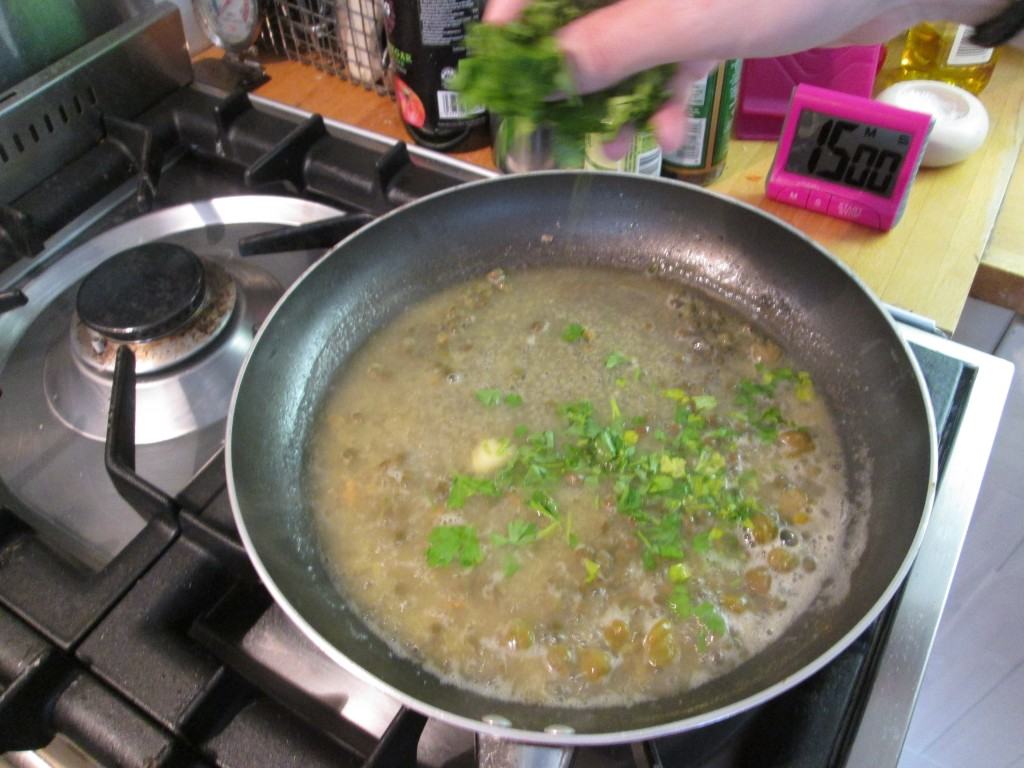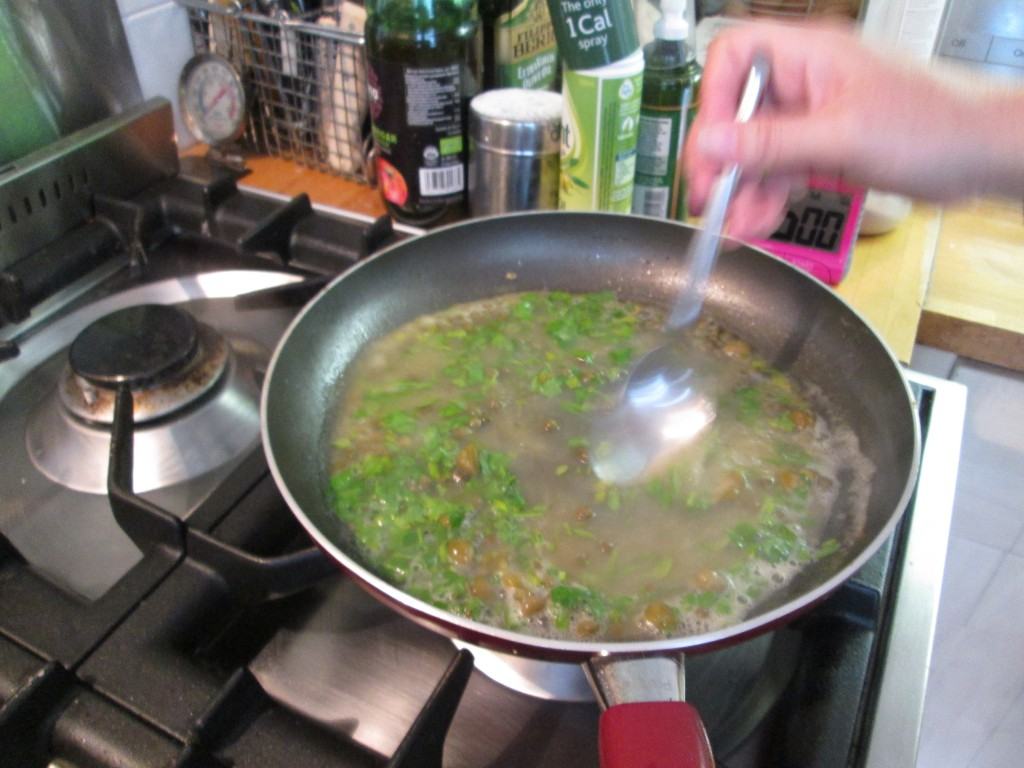 Your wonderful fish supper is now ready to serve. Find a pretty plate and arrange the fish and its accompaniments, then spoon on the aromatic sauce.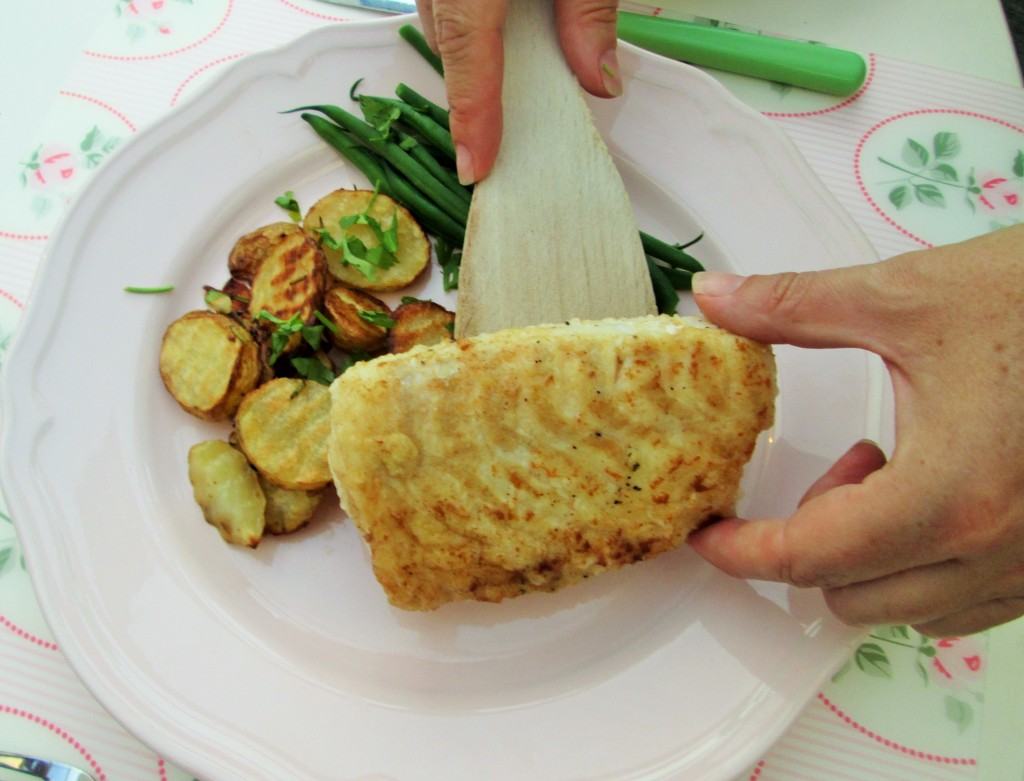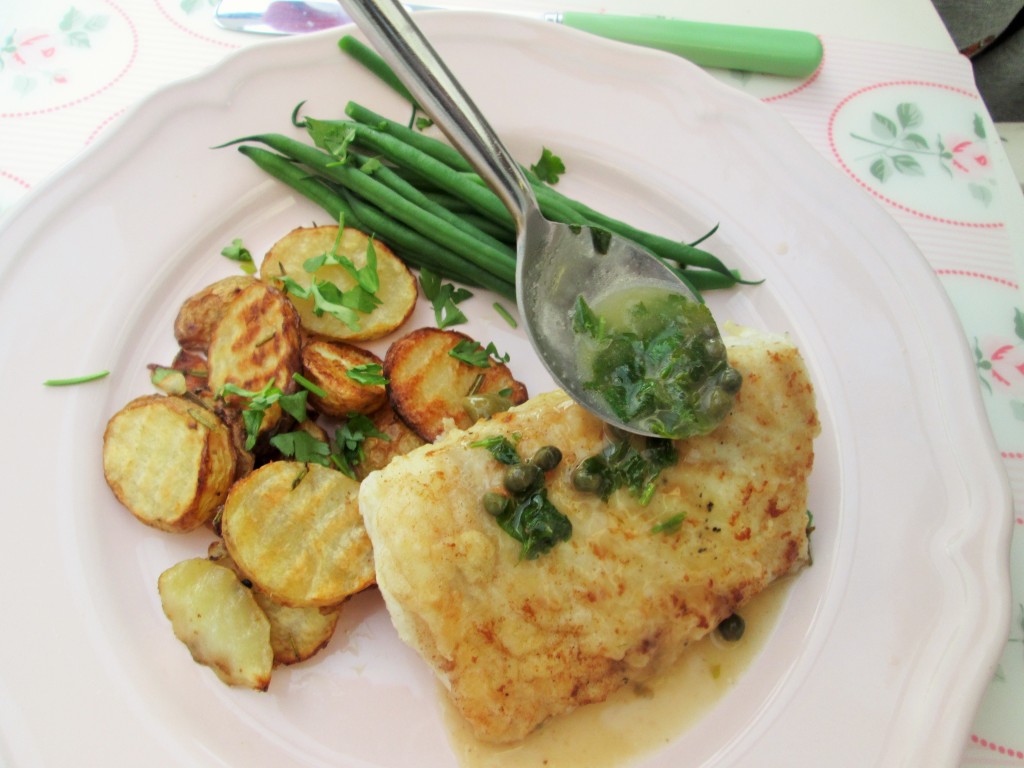 I love this dish served with sautés and a crisp green vegetable, but its your choice here. Mash, as the weather cools down, would also be wondeful .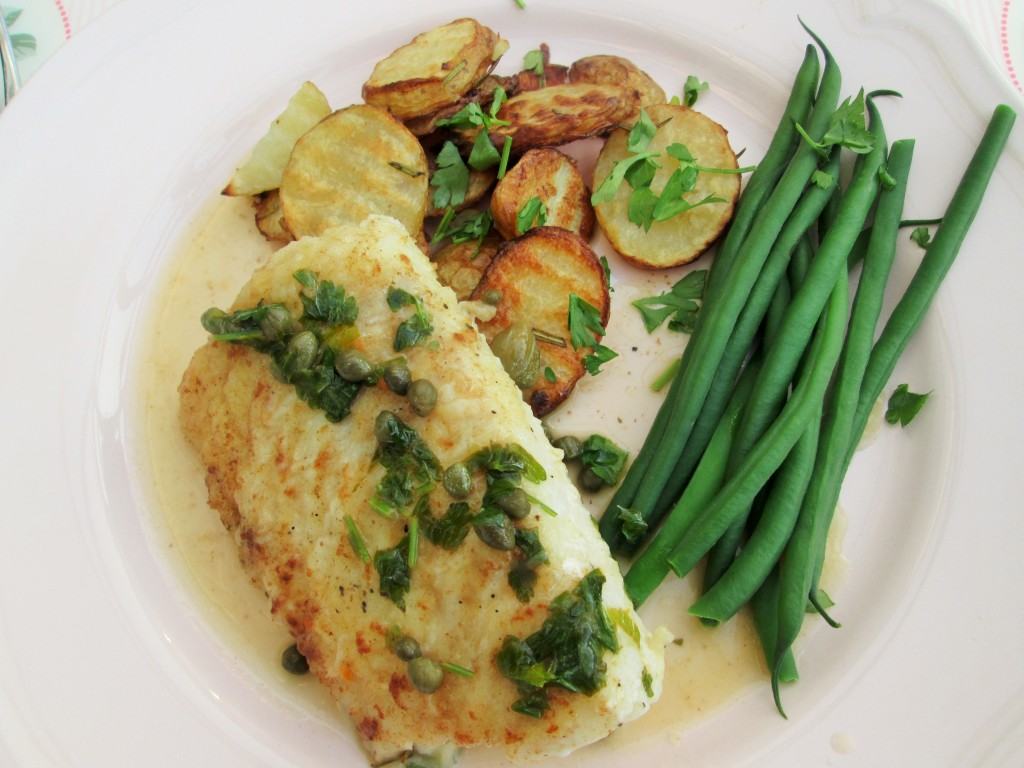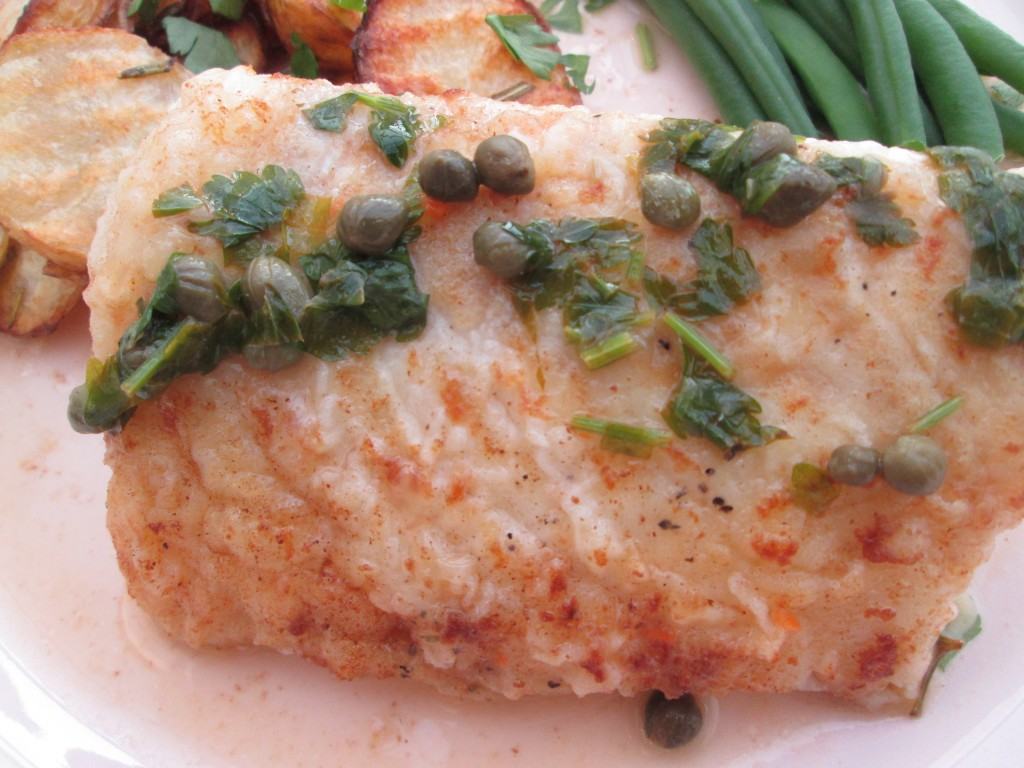 To summarise, this dish, by the sea or miles from the coast, is mouthwatering, and I hope you and your family agree.
Lucy x
Cod Piccata Recipe
Oven on around 100 degrees to keep fish warm, serves 2 to 3 (if the third person is small)
400g cod loins (or any white fish fillets I imagine would work as well)
40g plain flour
salt and pepper
1 tablespoon olive oil
25g butter
200ml chicken stock (made with a cube or liquid)
3 tablespoons lemon juice
40g capers, drained
2 tablespoons freshly chopped parsley
Additional slice of butter (around 10g) and salt and pepper to finish sauce
Sautéed potatoes and green vegetable to serve
Take your fish and divide into 2 or 3 pieces, dependent on your guest numbers. Put a medium sized frying pan on the hob and add oil and butter, heat until just starting to sizzle. Sprinkle the plain flour on a plate and add salt and pepper to season. Dip the pieces of fish into the flour and ensure both sides are well coated.
Place the fish into the sizzling pan, skin side down, and cook for 3 to 4 minutes. Turn the fish over and cook for an additional 2 to 3 minutes. Remove to a plate with a spatula and cover with foil to keep warm while you tend to the sauce. Add the chicken stock, lemon juice and capers. Increase the heat and reduce the sauce by half. Add the slice of butter and parsley and taste to check for any additional seasoning.
Put the fish onto a plate and spoon over the lemon caper sauce. Serve with crispy sautés and greens.