Iced Sticky Buns Recipe
When I was growing up, oh so long ago, my parents friends owned a patisserie. They sold a huge selection of 70's style cakes and buns and I loved it. Whenever we were dragged into town shopping, the trip was made mildly more bearable by a visit to their cake shop. Despite all the choice available to me I invariably chose a Sticky Bun. So simple, almost just a sweet bread roll finger, iced in white glacé icing, nothing fancy. In those days, we were allowed to ask for these treats by their real name – a Sticky Willy – however, I rather suspect asking for one of these in this day and age, also being aged 47, would be slightly less endearing. So, to show your love to whoever you like this Valentine's Day, why not make a batch of pink iced Sticky Buns *or willies* as a sign of your affection.
I often see yeast based recipes as a bit of a challenge, however, this recipe, based on one by the blue eyed boy himself, Paul Hollywood, is super simple and doesn't drag on all day. I didn't even use a stand mixer with the dough hook as I find the best results with bread making are when you use your hands. Also, I felt I had burnt off sufficient calories with all the kneading to justify eating several of the finished buns. To keep in the festive Valentine's Day spirits I iced my buns in pink, but you decide if you would prefer to stick to the old school white or go totally off piste with purple. These are best eaten on the day, which is no real hardship, as the icing turns a bit wet on day 2 but they do still taste amazing.
On another note, if you are looking for something to buy for a loved one, Aldi have a fab range of Special Buys, which include some rather stylish vases. Please note Clyde did not buy me these flowers, I had to buy my own *31 years together*.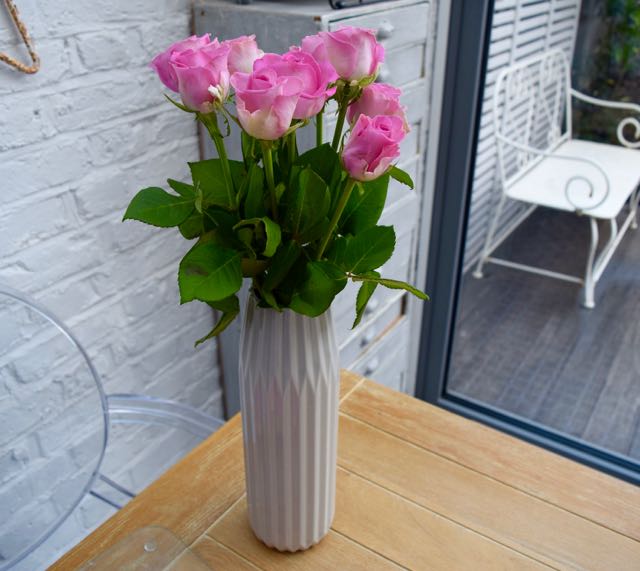 I would so fall in love and want to spend the rest of my life with someone who presented me with 12 pink iced Sticky Buns and I don't care if that makes me sound easily bought. Once you have tasted these, I am sure you will agree and there will be no further judging.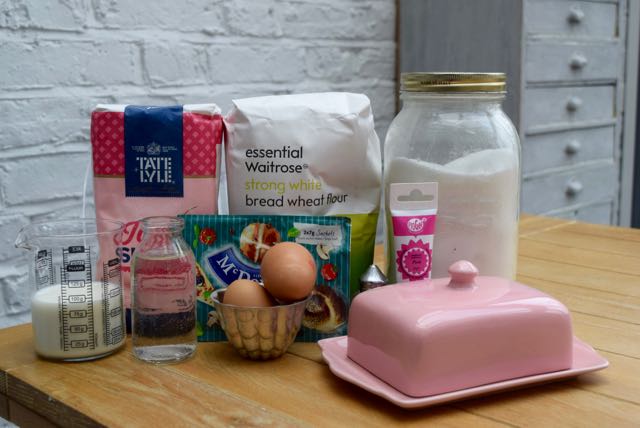 All rather simple and beautiful ingredients for my pink buns. Don't feel you have to stick to pink, these Progel colours come in a huge range, I just went for pink for a whiff of romance.
Make a start by taking a large bowl and adding in the strong bread flour, sugar, butter, eggs and yeast.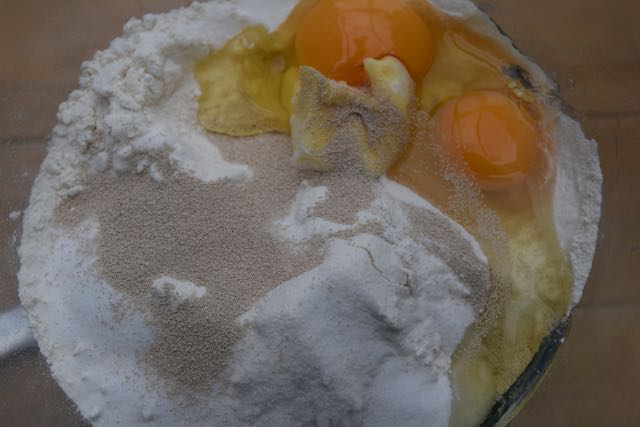 Now, add the salt, warm milk and all but 50mls of the water – keep that back for a moment.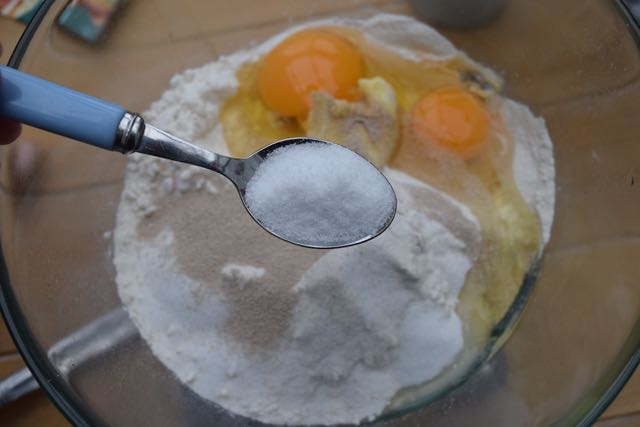 Bring the whole lot together with a spoon at first. It will be a wet sticky mess, but then go in with your hands and add the last of the water before kneading it, still in the bowl for 4 minutes. Very precise instructions from Paul Hollywood there with his steely blue eyes.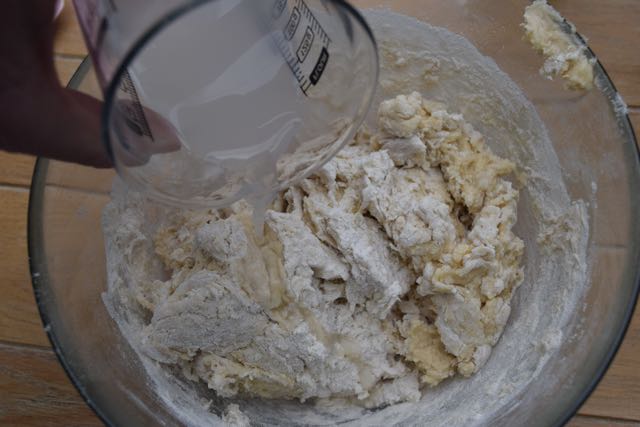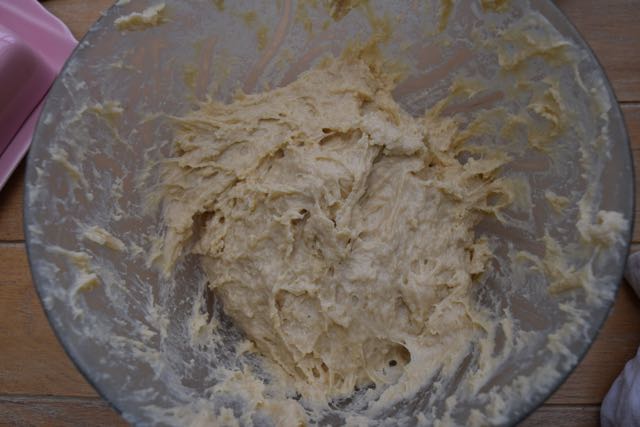 Turn this fairly unappealing looking dough out onto a floured work surface, scraping all the last bits and bobs out of the bowl.
Now, knead this well for 10 minutes. You will need to add more flour to stop it sticking, but don't go mad, the dough will get easier to knead the longer you do it, and you do want it to be slightly on the wet and sticky side.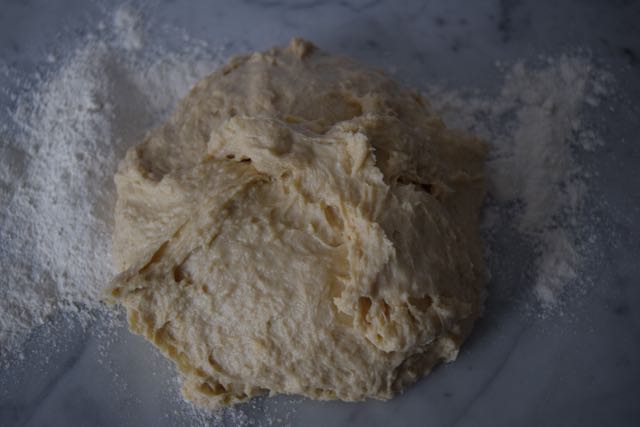 Brace yourself for an ugly trotter shot…..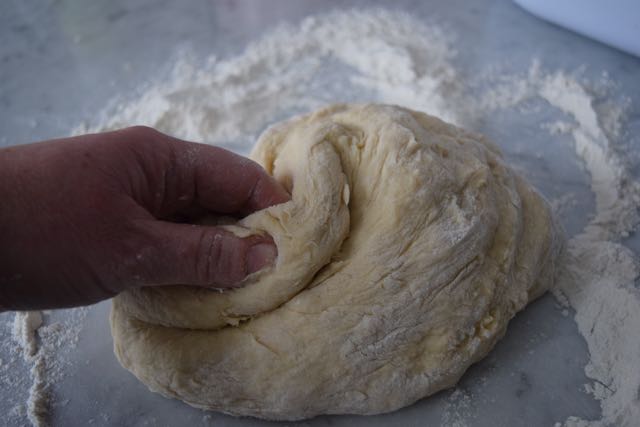 Once the 10 minutes is up and you have burnt off an untold amount of calories, place the soft but more elastic feeling dough into an oiled or buttered bowl, cover it with a tea towel and pop somewhere warm to double in size for an hour or so.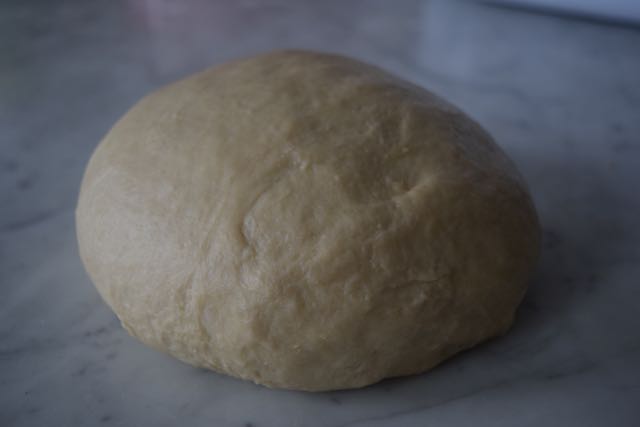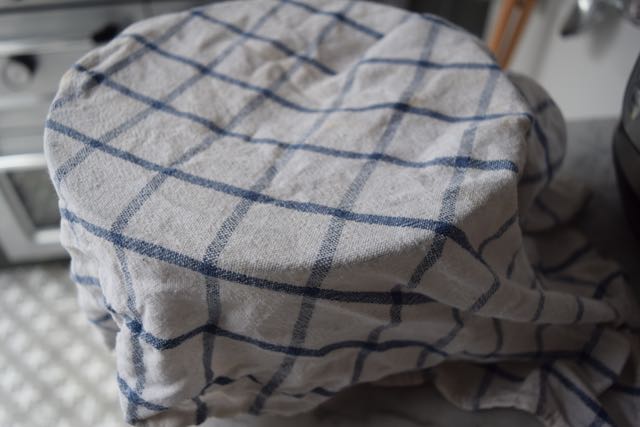 Ta-dah you'll have to imagine how it looks having risen because the only two shots I had were both out of focus *amateur hour*. But picture the lovely risen dough and then picture it tipped out onto your work surface being knocked back with a tiny further kneading before being weighed and cut into 12 equal-ish sized pieces. Mine weighed 970g so I had roughly 12 balls of dough weighing 80g each. And yes, I had to use a calculator for this. But don't worry too much, you don't have to be too precise.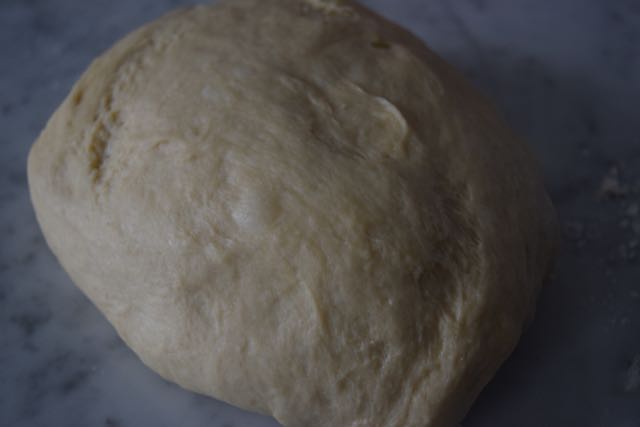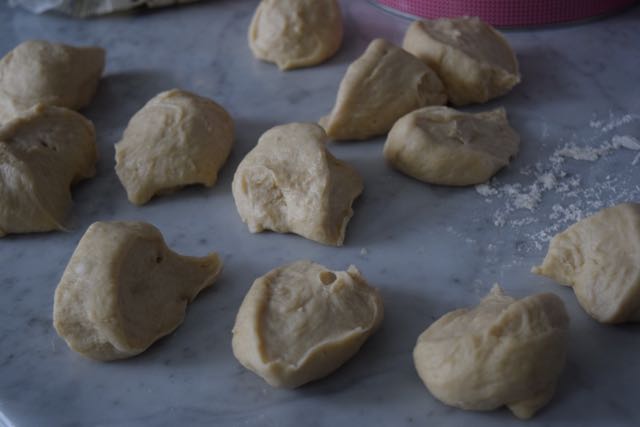 Roll each piece out into a sausage shape, about 10cm long then place them side by side and top to toe in a rectangular, well buttered baking tray. I can't imagine how these got their private part based nicknames?  Leave these willies to rise for a further 45 minutes, somewhere warm, covered with a towel or oiled cling film.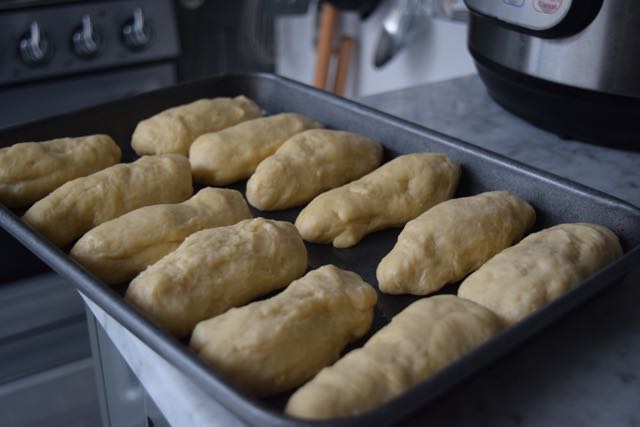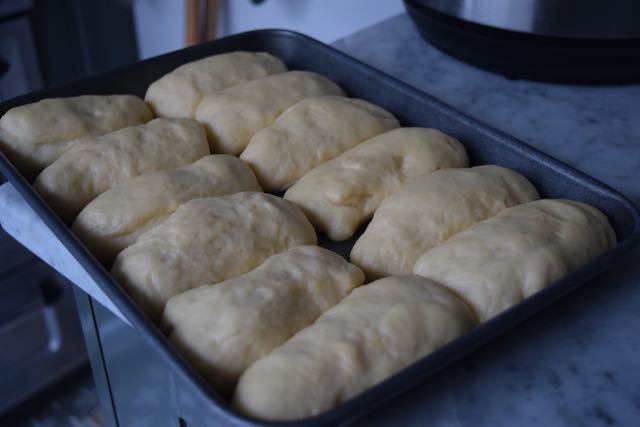 The buns will have risen nicely and stuck together. Now, pre heat your oven to a toasty 180 degrees fan assisted and put them in for 10 to 12 minutes, until golden and smelling divine. You may have to turn the tray around half way through the cooking time to make sure they cook evenly – my oven is annoyingly hotter on one side.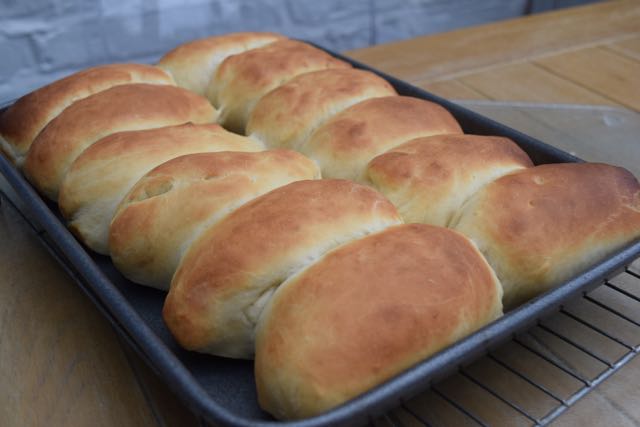 And there they are. In all their un-iced glory. It took all the willpower I own *not much* to not just rip these from the tray and tuck right in. But good manners and the fact I had to have some to photograph stopped me. Leave to cool on your wire rack and then pull apart.
For the icing, start with 200g icing sugar and 5 teaspoons of water. You may need more water, just add a little more at a time. You want a thickish paste or it will all just trickle off your buns. Colour it according to your style and good taste. Mine was slightly more lurid than I'd planned as the gel colours are quite powerful.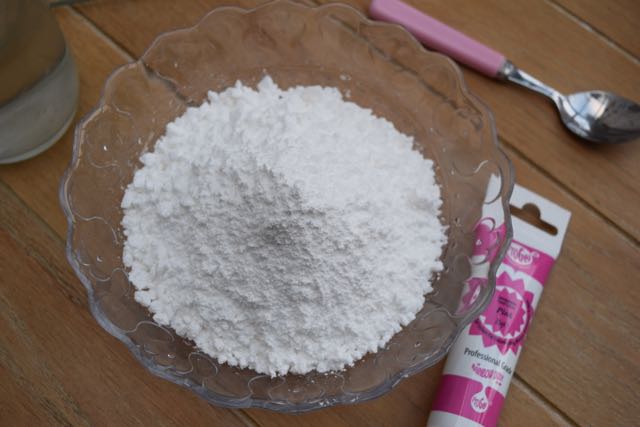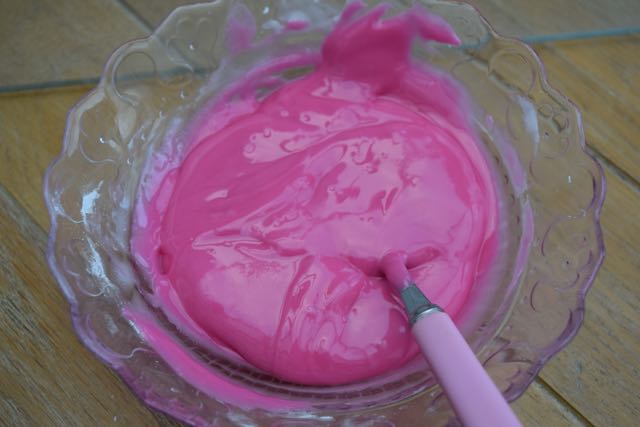 Spoon a generous teaspoon onto each bun and spread along the length of the Sticky Bun. There will be drippage so just leave to set on a wire tray.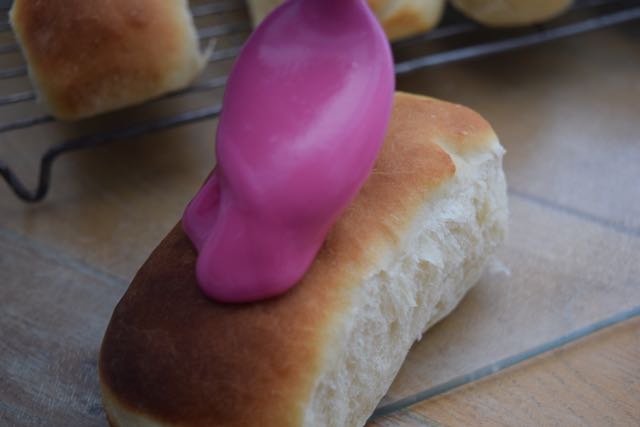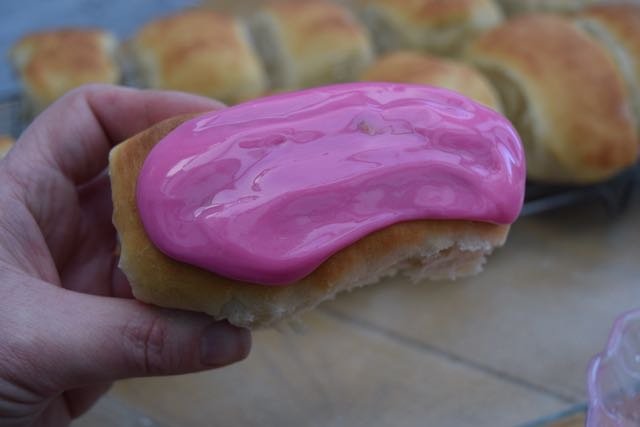 Once these have set, they are yours for the distribution. Give to the one or ones you love, or eat them all yourself. Or, and only if they are behaving really nicely, share them with your friends and family. Or your youngest son.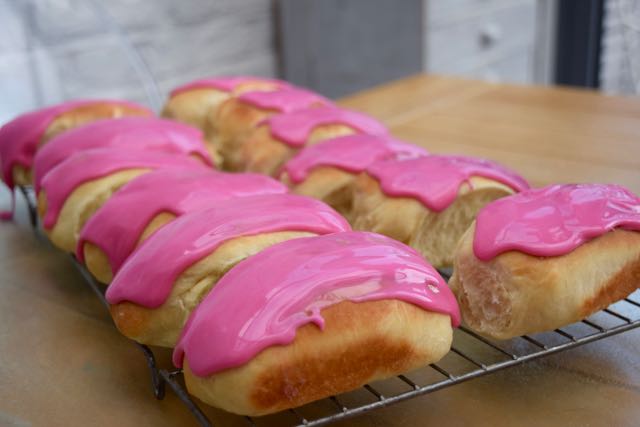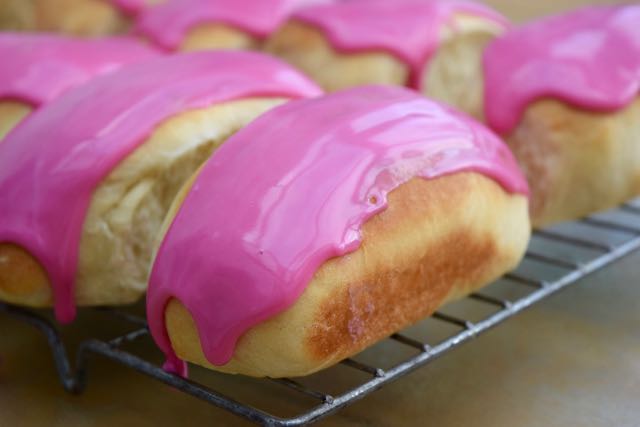 I lost count of how many George ate.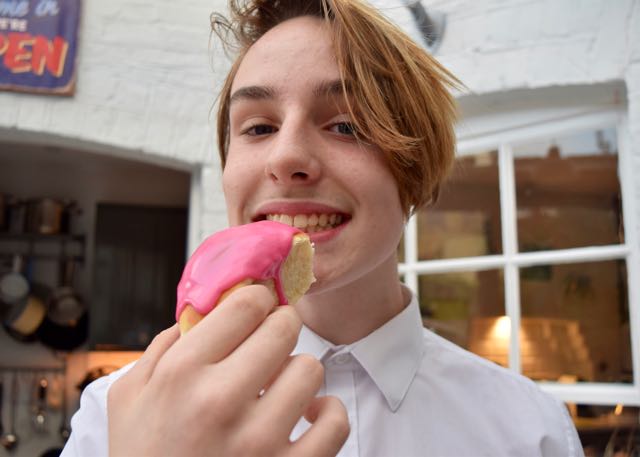 I know I made these myself and I should show a touch more modesty, but bloody hell, these Iced Sticky Buns are good. "Better than shop bought" was my panel of testers main comment. I couldn't comment because a) I am biased and b) I had my mouth full of pink buns.
Happy Gal/Pal or Valentine's Day next week to you all.
Lucy x
Aldi provided me with a lovely selection of Valentine's vases, however, all opinions and ramblings are, as always, my own.
Sticky Buns Recipe
Makes 12 lovely sized buns
You won't need any challenging equipment, just a buttered rectangular baking tray
Buns
500g strong white bread flour
50g caster sugar
40g butter, softened
2 eggs
2 x 7g sachets instant yeast
2 teaspoons salt
150ml warm milk
140ml water
Icing
200g icing sugar
5 (or more) teaspoons water
Food colouring of your choice – I used Pink Progel
Take a large bowl and add all the ingredients except 50ml of the water. Mix to a very soft dough, add the rest of the water, and knead in the bowl to bring together for 4 minutes. The dough will be very wet and sticky at this point.
Lightly flour a work surface then tip the slightly wet and shaggy dough out and knead for a further 10 minutes. Add more flour, but not loads as you want the dough to be quite soft. The dough will be ready once it has become less sticky and more elastic.
Put in a buttered/oiled bowl and leave covered in a warm place for an hour. In this time the dough should have doubled in size.
When the rising time is up, tip the dough out of the bowl and knock the air out of it with another quick knead on a floured surface. Weigh your dough and divide by 12 and weigh out 12 individual balls. Mine was around 970g so I made 12 x 80g balls. No need to be too precise, just do your best. Roll each ball into a sausage shape and lay side by side in a buttered/oiled rectangular baking tray – Swiss Roll size would be good here.
Once you have rolled all the dough into fingers, place a tea towel or oiled cling film over the tin and return to a warm place for a final 45 minute rise. They will rise and stick together at this stage.
Pre heat your oven to 180 degrees fan assisted. Place the risen finger buns into the oven and cook for around 10 to 12 minutes. Keep an eye on them as you may need to turn the tin around in the oven so they cook evenly.
Remove from the oven and separate into individual buns once they are cool and place on a wire rack.
For the icing, mix enough water to your icing sugar to allow for a thickish icing consistency. Add the food colouring of your preference and mix evenly. Spoon on a generous teaspoon of icing onto each bun and allow to set back on the rack.
These are best eaten and look at their best on the day of making, however, they still taste pretty good the day after if you have any left.
SaveSave
SaveSave
SaveSave