Nutella Muffins Recipe
As I write, it's pissing down with rain and the air is laden with all things autumnal. We have had a roast chicken for dinner, synonymous with chillier times, I am sipping red wine instead of the more seasonal rosé and if I've asked George to try on his new school trousers once, I have asked him a thousand times. Yes, I am suffering with end-of-summer-itus and am dreading the start of the new school year and all things wintery. Yes, I have missed my socks and polo necks, but I will miss the long, warm evenings too, although my waistline won't miss the holiday boozing. With all these ramblings in the forefront of my mind today I am posting these Nutella Muffins to ease us back into the routine of school or to keep us happy in this end of summer period.
When I found this recipe originally, via the curly haired king, Hugh Fearnley Whittingstall, with thanks, these muffins featured a lemon curd centre. I adore lemon curd but I am alone in this love in my house. So I plumped for a more family friendly Nutella Muffin. This is a great recipe, simple and delicious and quick to make. An easy fix when a sweet item is called for or a speedy project when you are looking for something to do to entertain bored children in the last week of the summer holidays. The resulting baked treat is soft, not too sweet with a melting Nutella centre. I could take or leave Nutella on toast, but in a baked scenario or straight from the jar with a spoon I'm all over it. In order to make lovely great big muffins, I used this recipe to make 9, but if your prefer a smaller muffin, fill 12 cases.
This summer has been such an amazing one, I never wanted it to end. But I can't hold back time any more than the next person, so let's just move on and embrace all things woolly and carby from here on in.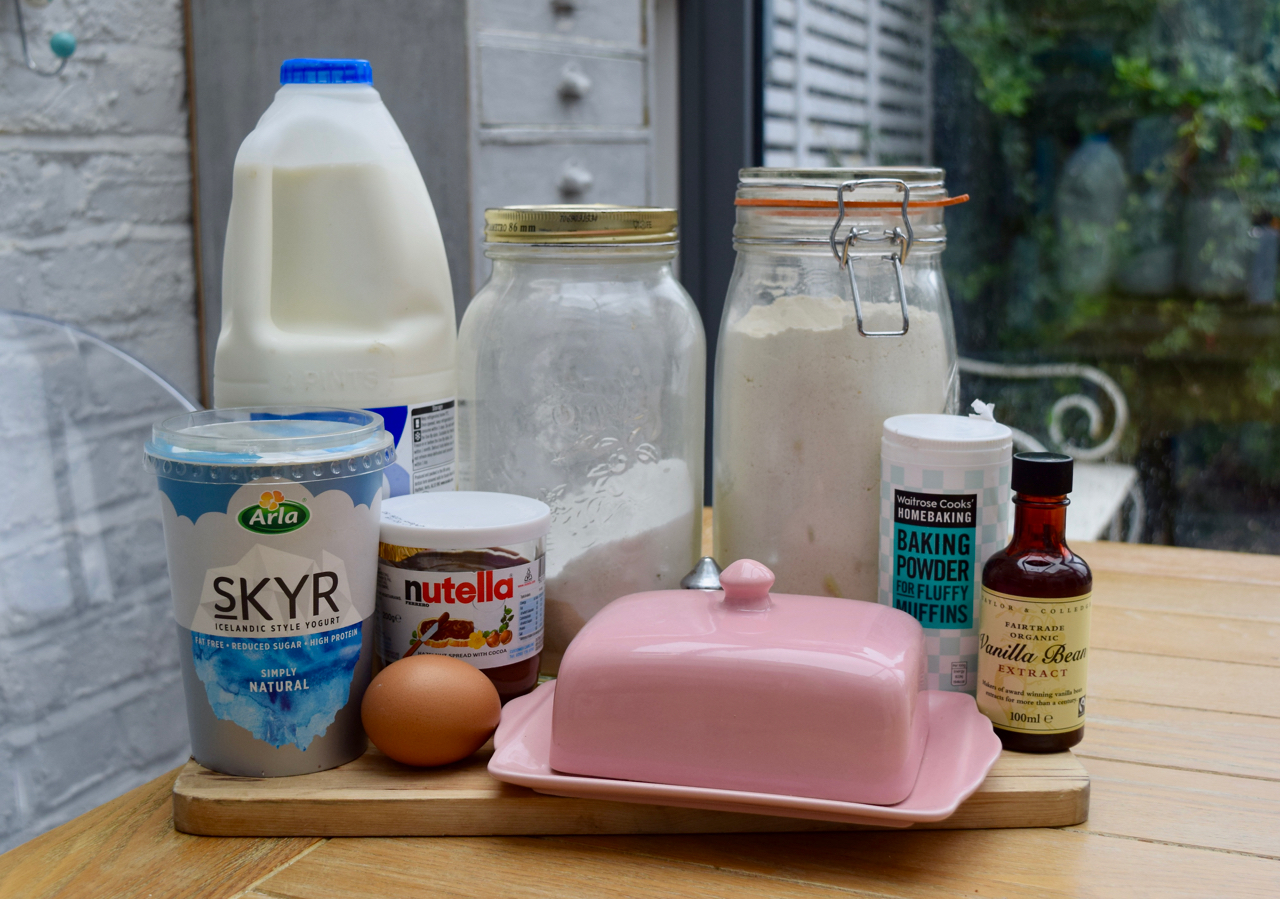 All the usual muffin garb for this recipe including a lovely little pot of Nutella.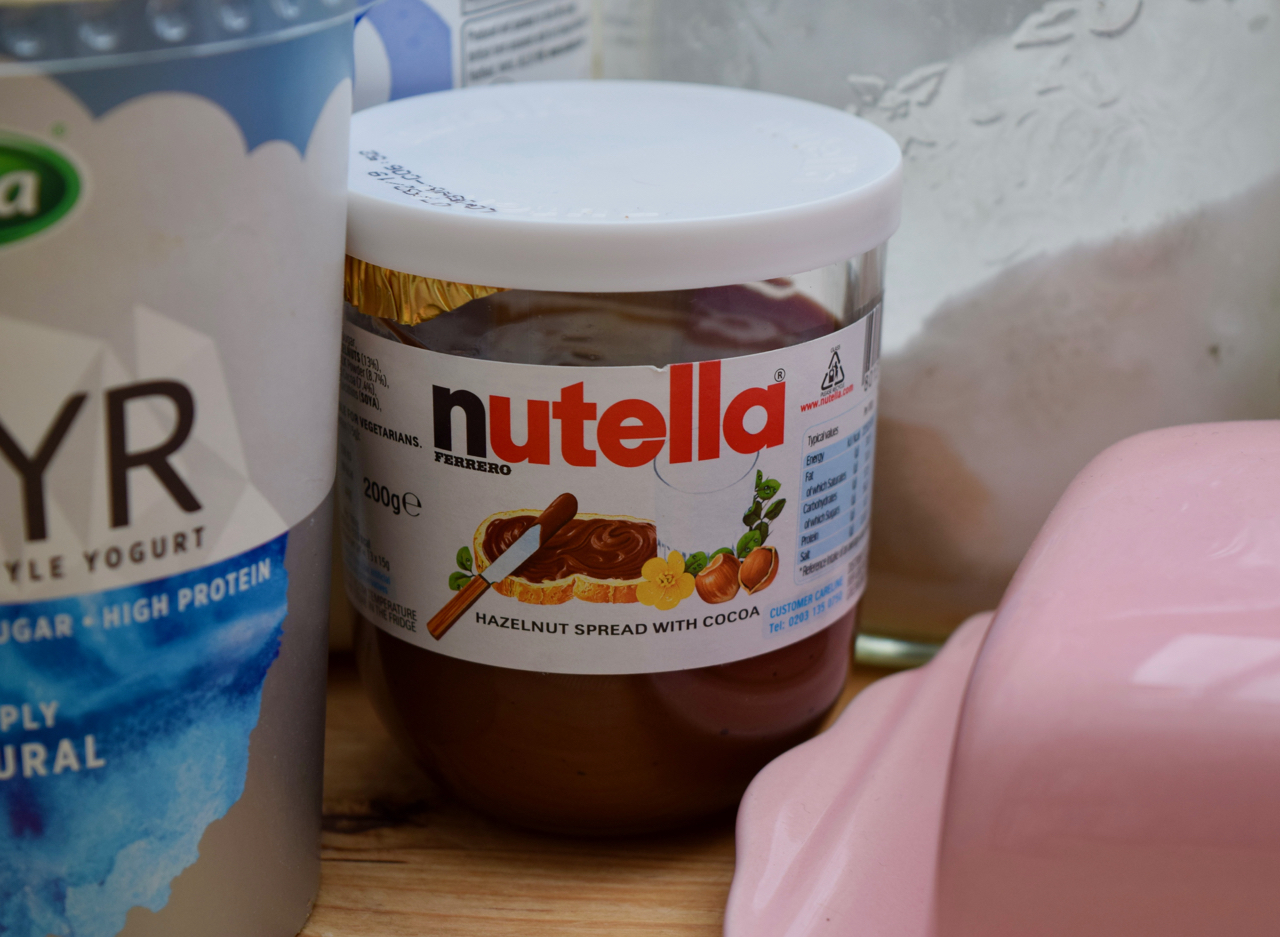 I could eat the whole jar in one sitting, but good grace and my thighs keep me from doing so.
Make a start on these treats by lining the tin with muffin papers, I only used 9, as I mentioned to ensure a good sized bake. Pre heat your oven to a hot 180 degrees fan assisted.  Next, take a bowl and measure in the flour, baking powder, sugar and salt.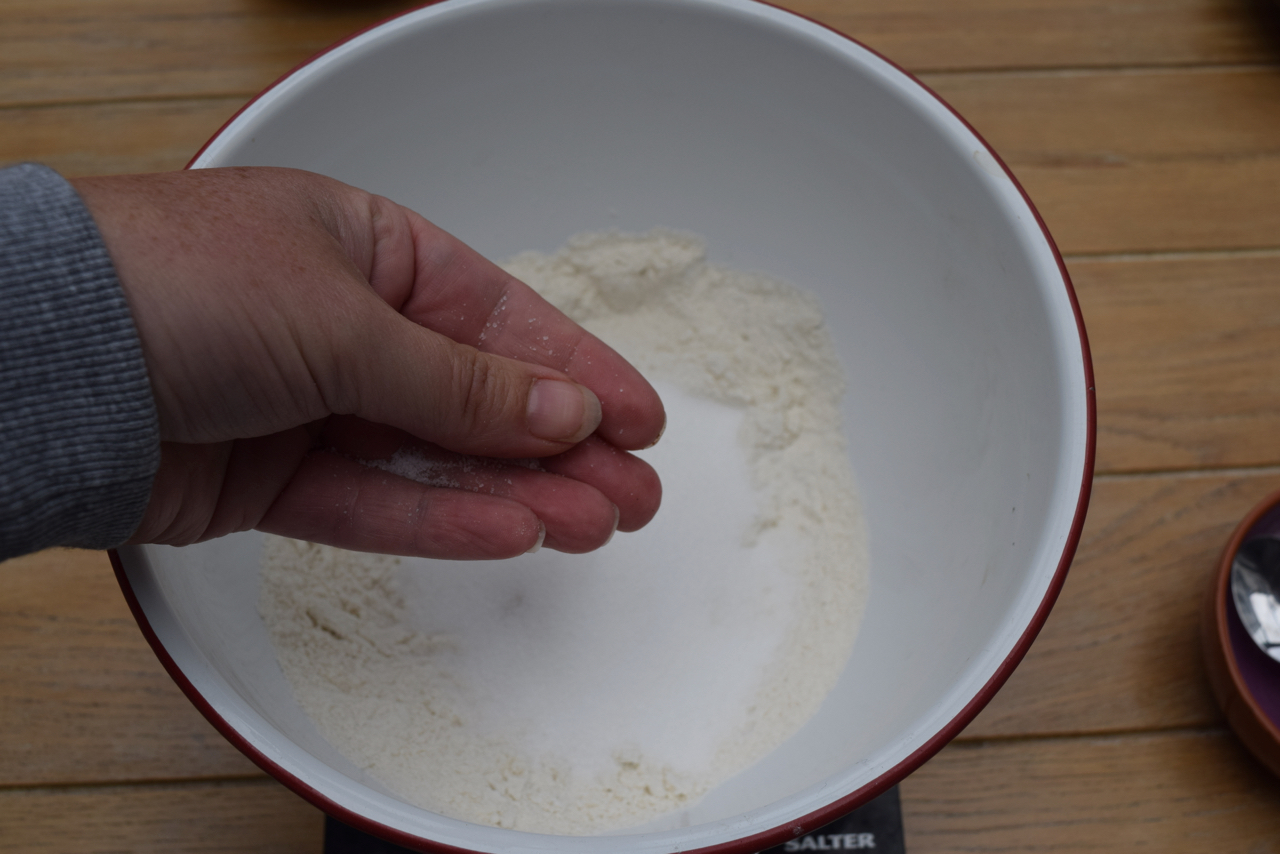 Trotter alert. Give this flour mix a little whisk then pop to one side.
Next, melt the butter in a pan on the hob or in the microwave. Leave to cool for a minute or two then pour in the milk and vanilla extract.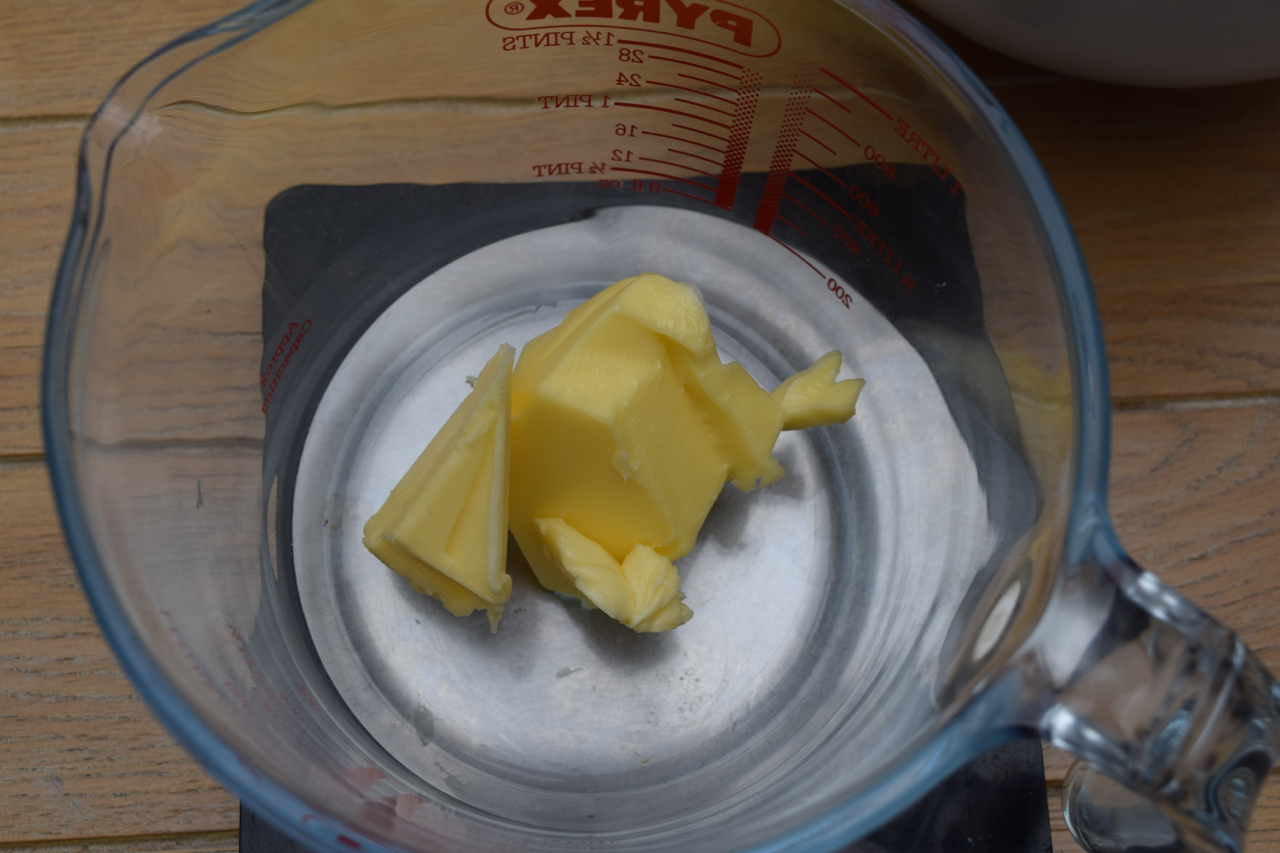 Next whisk in the yoghurt and egg until you have a smoothish batter.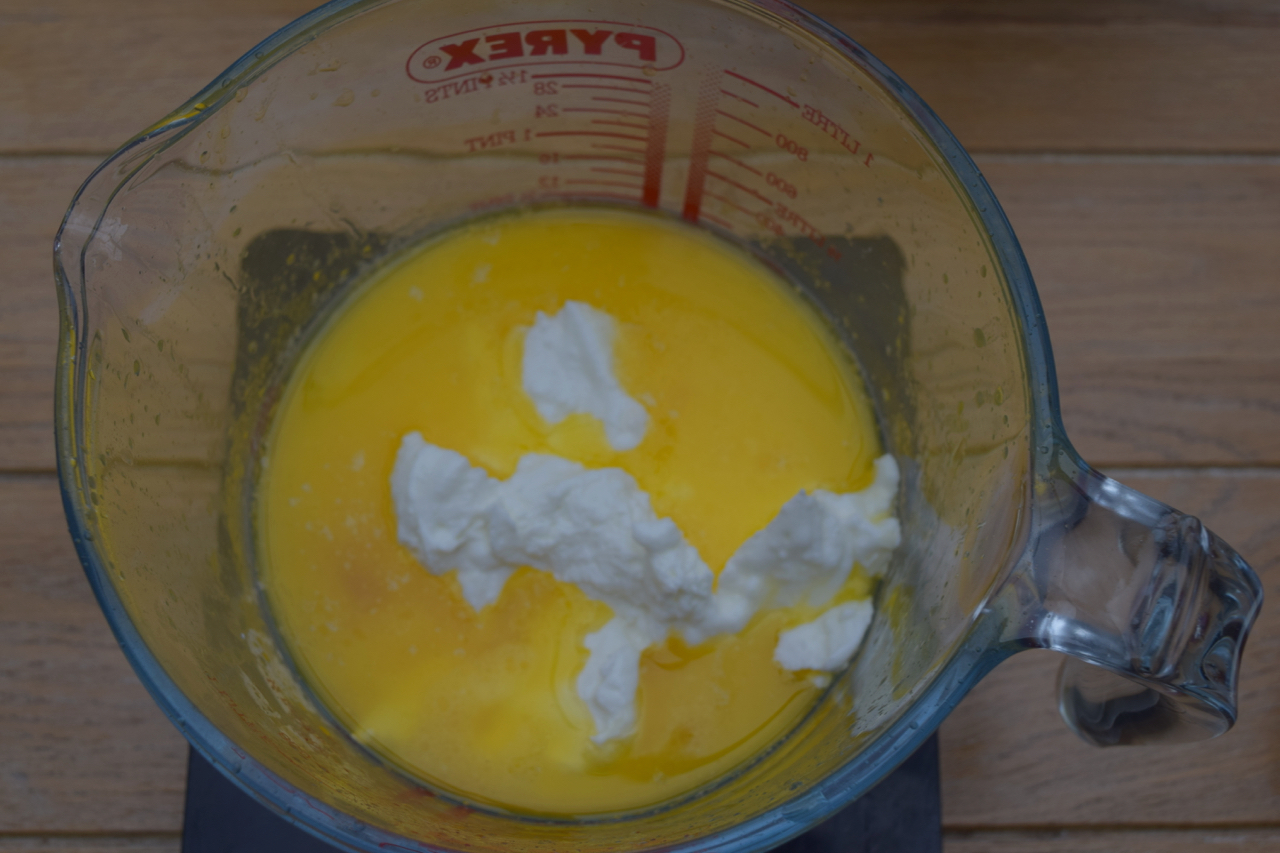 Now, in standard muffin practice, pour the liquid ingredients into the dry ones and fold together. Don't over beat this, just a gentle fold until all the flour is incorporated.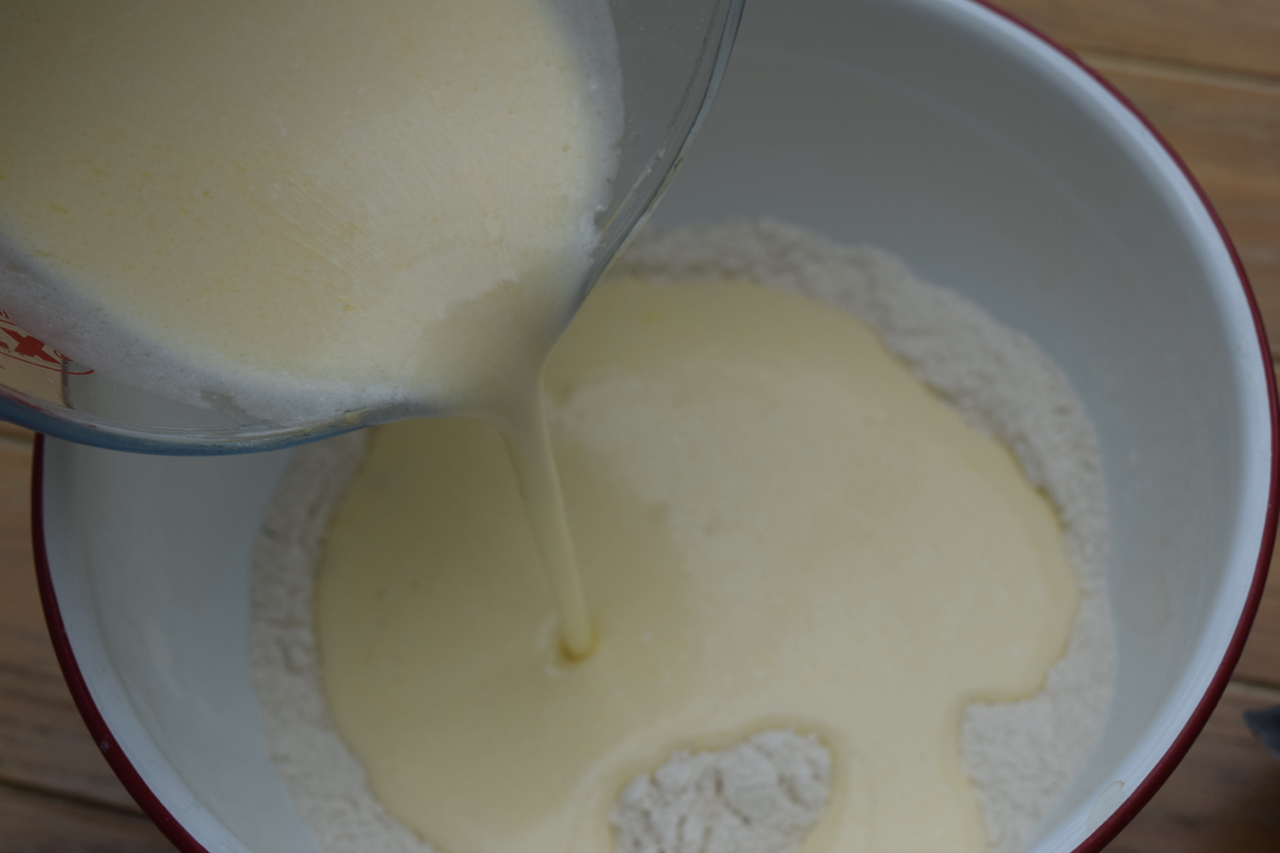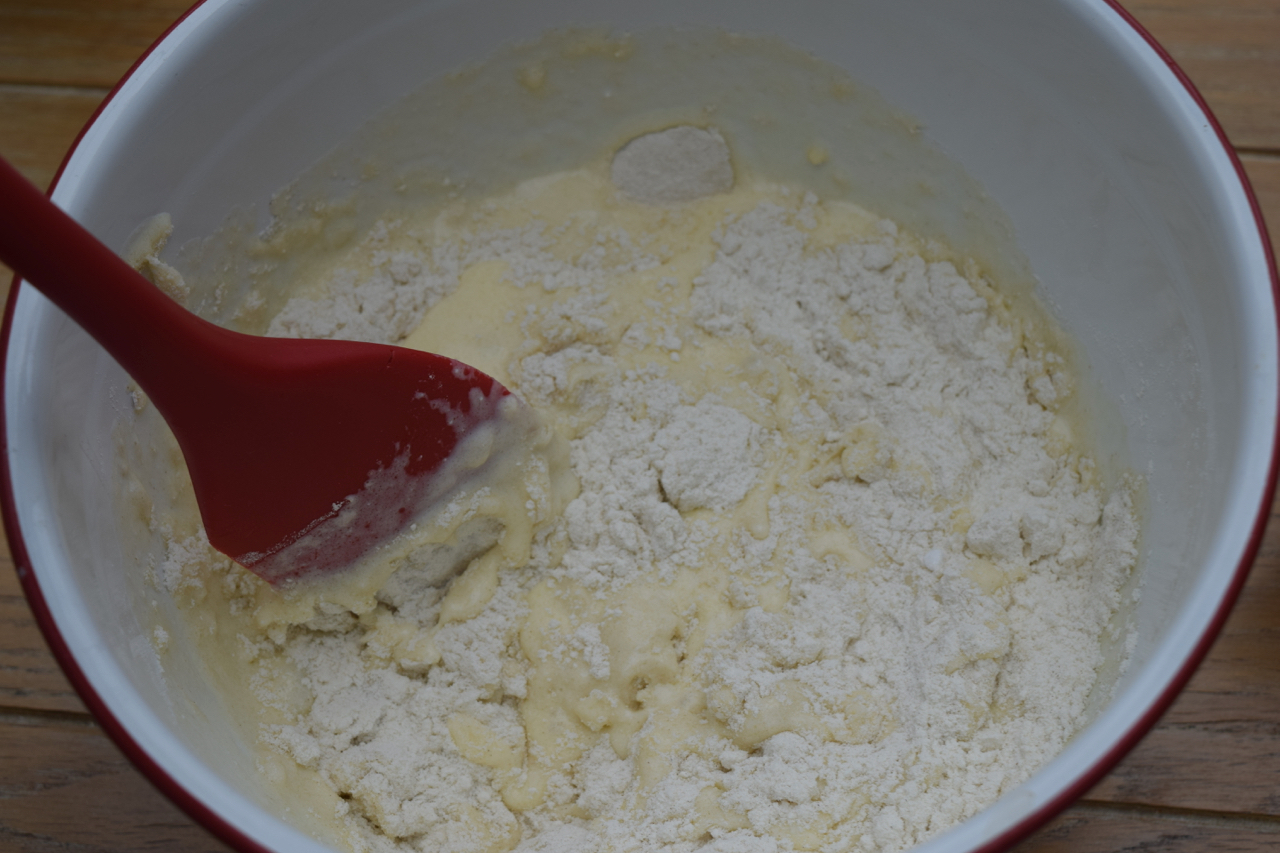 Now for the production line and work quickly here as you want to get the muffins into the oven as soon as possible. Spoon a tablespoon of the batter into each cup then follow in with a teaspoon of Nutella *and a teaspoon into your mouth*.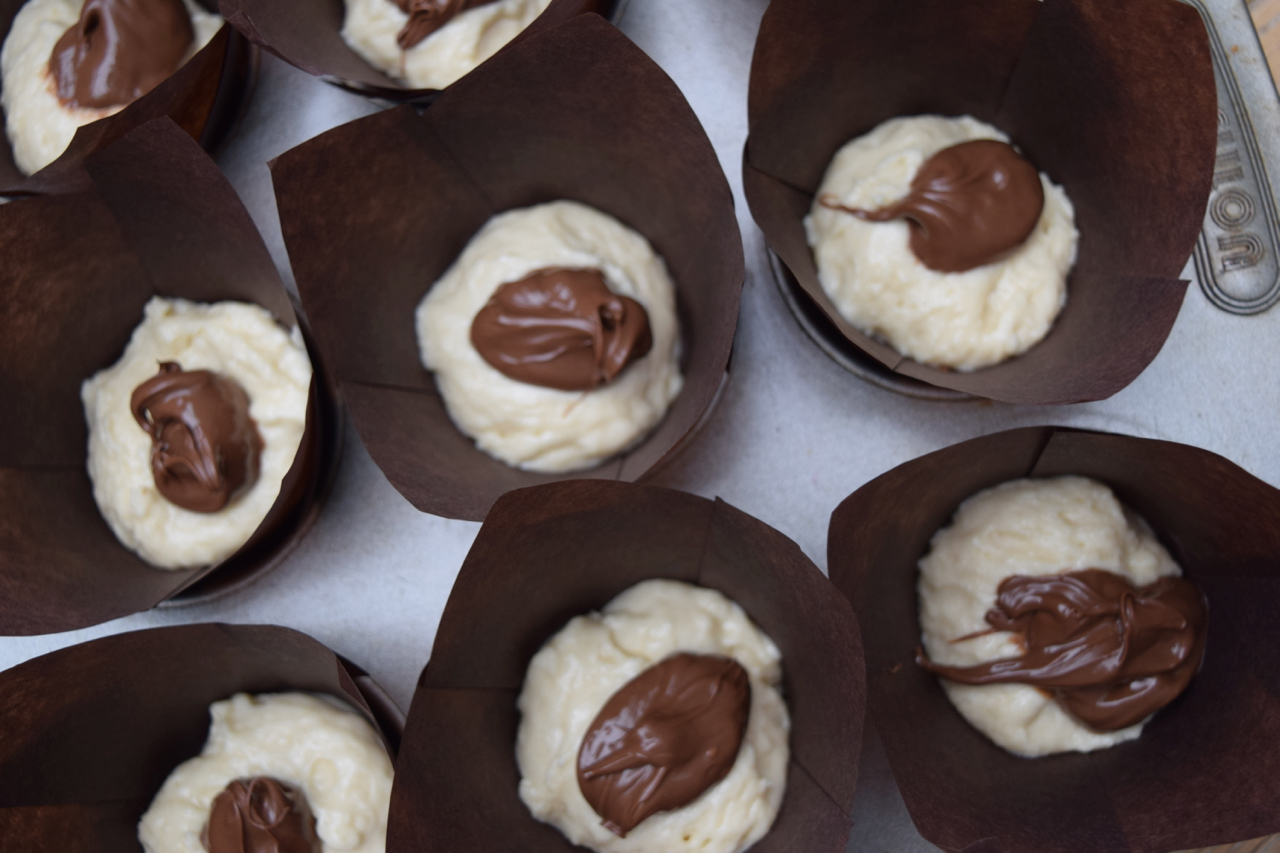 Finally, cover the Nutella centre with another tablespoon of muffin batter.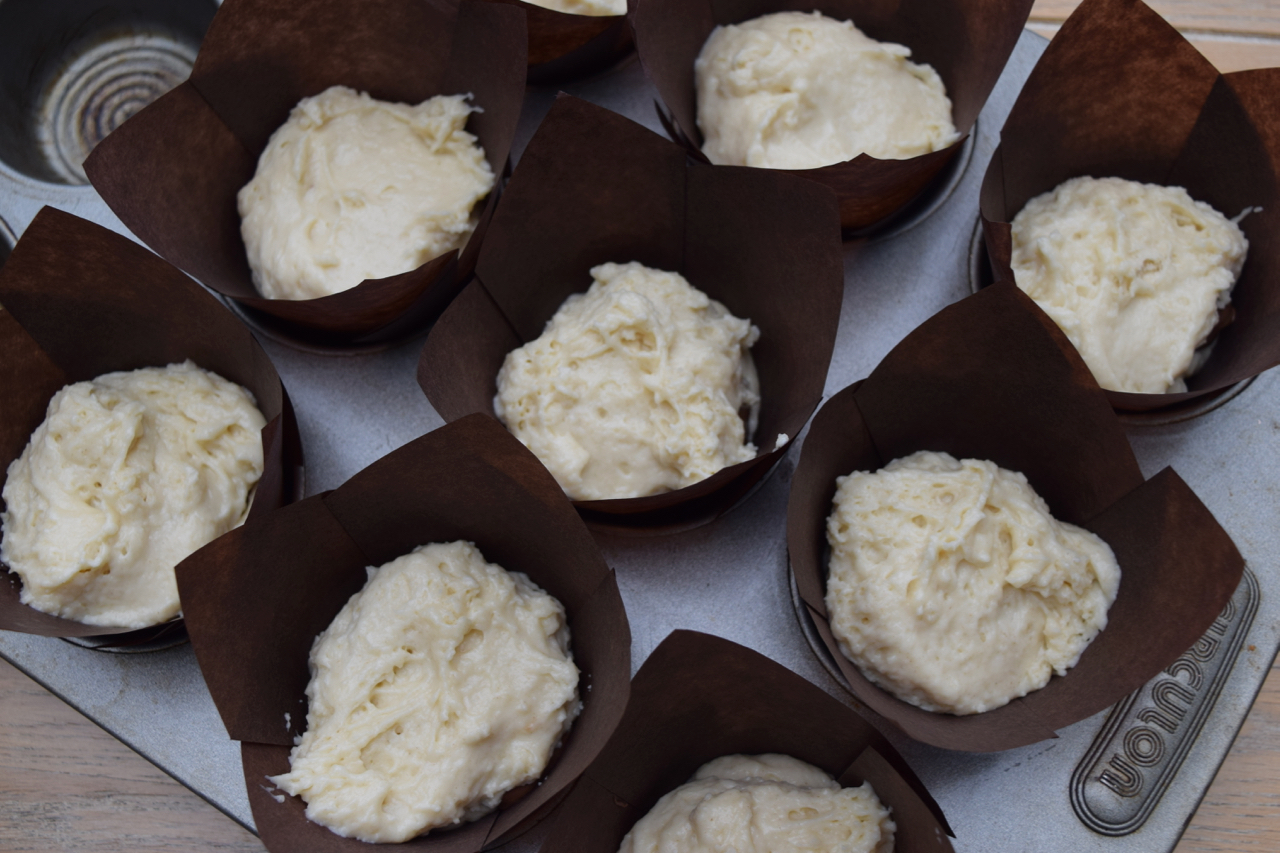 Bake these for 20 minutes or until golden brown, well risen and firm to the touch.
Leave the Nutella Muffins to cool then devour one or two, or more, with a big mug of hot chocolate, if you like.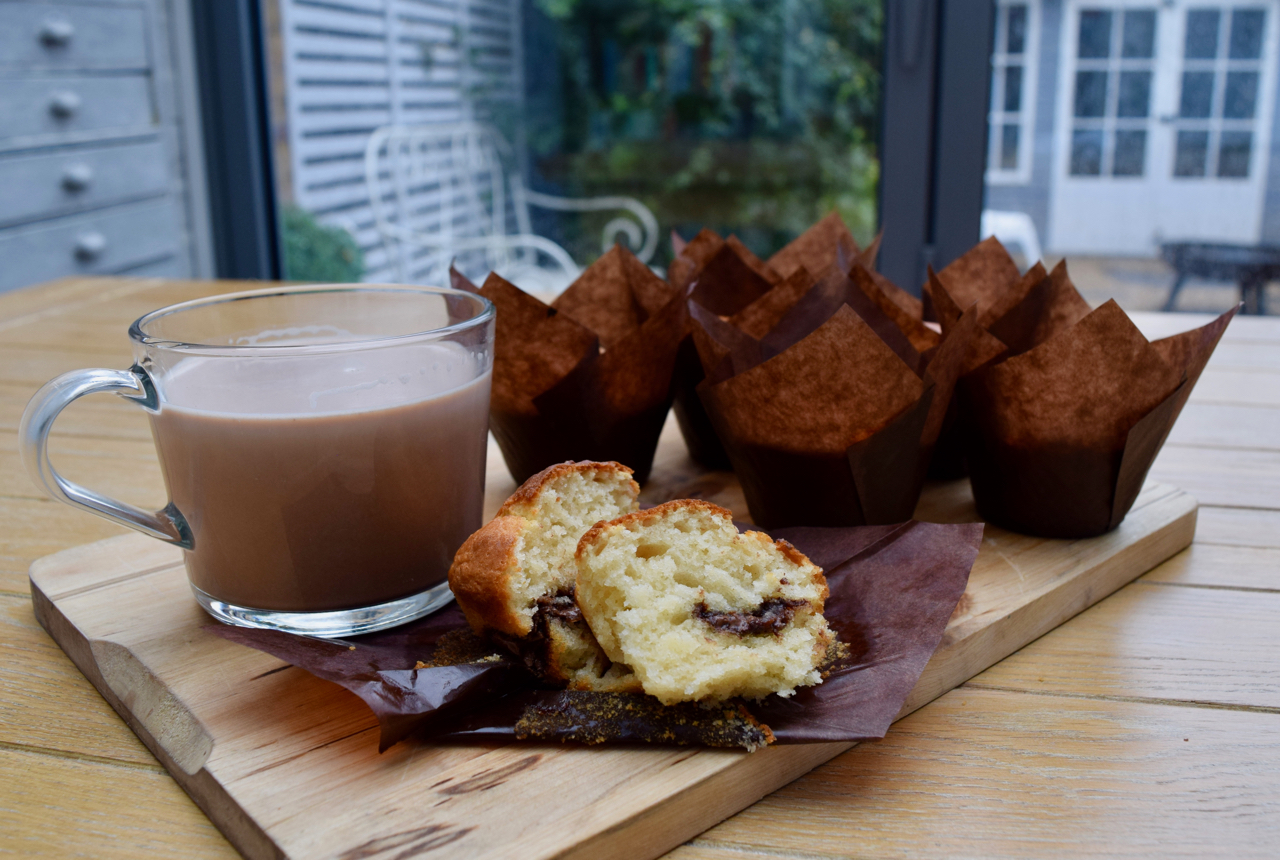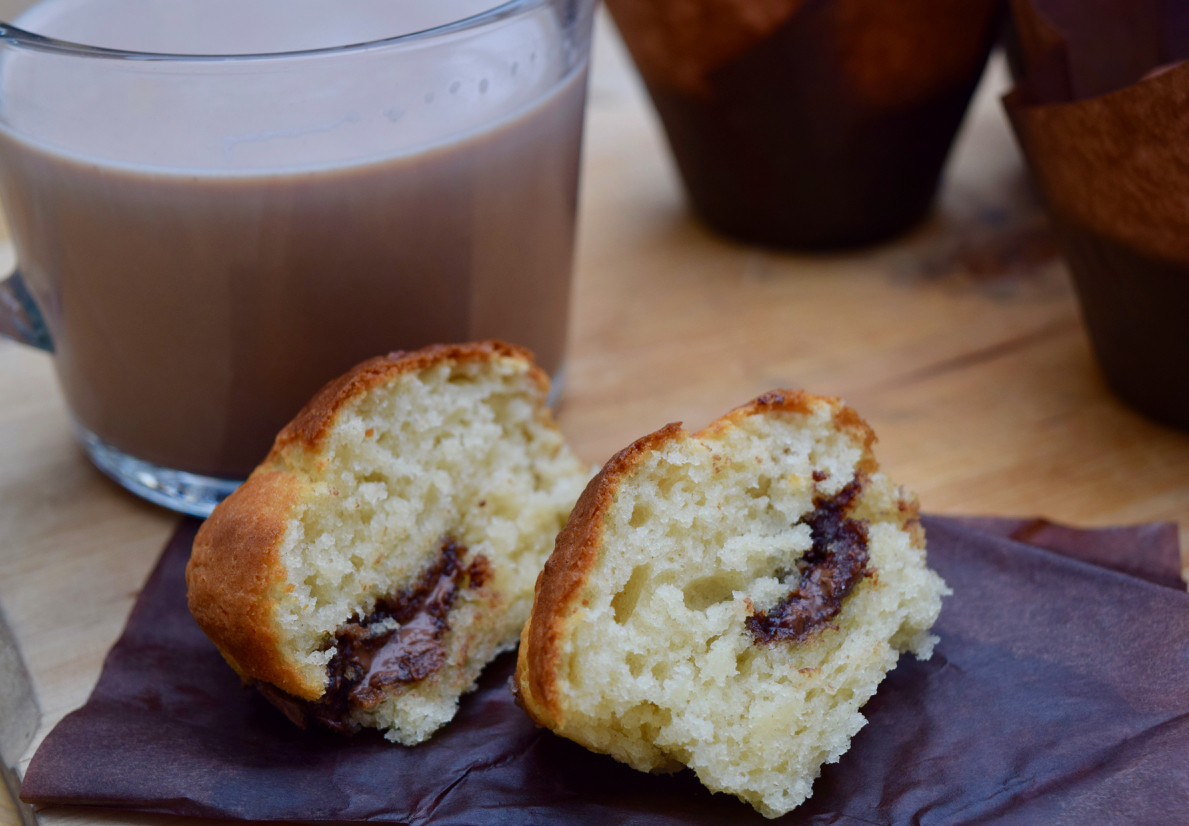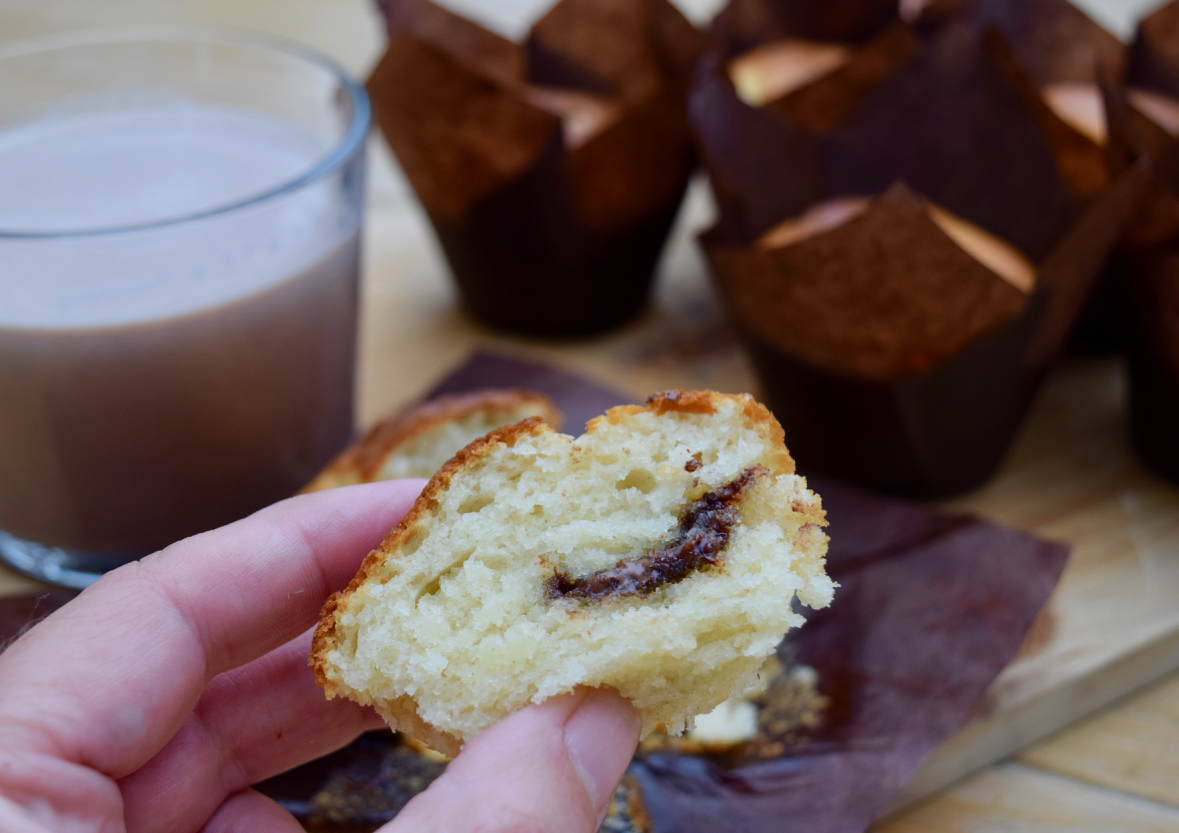 These simple muffins are soft, light with a squidgy Nutella filling. They're not rocket science, just a classic treat. One or two of these may make getting ready to go back to school slightly less rubbish.
Lucy x
Nutella Muffins Recipe
Makes 9
You will need just bowls and a 12 cup muffin tin
225g plain flour
2 teaspoons baking powder
a generous pinch salt
100g caster sugar
1 egg
125g plain yoghurt
125ml whole milk
75g butter, melted
1 teaspoon vanilla extract
9 to 12 teaspoons Nutella
Pre heat your oven to 180 degrees fan assisted and line your muffin tin with liners.
Take a bowl and measure in the flour, baking powder, salt and caster sugar. Give it a little whisk to combine then pop to one side.
In another bowl or jug, measure in the butter and melt in the microwave. If you don't have a microwave, melt separately in a pan on the stove. Leave the butter to cool a little then add the milk, egg, yoghurt and vanilla. Whisk to combine then pour into the flour mixture. Mix well, but don't overmix.
Working quickly, spoon a tablespoon of mixture into each cup then top with a teaspoon of Nutella. Add a final tablespoon of mixture then put in the oven for 20 minutes or until golden and risen and firm to the touch. Leave to cool before devouring. These will keep in an airtight tin for up to 3 days or freeze brilliantly.