Candy Cane Ice Cream Sandwiches and Festive Fudge
The dessert course of a dinner party is such an important one. It is the course which always takes me the longest to choose. Should you go for something chocolatey or fruity or creamy? Hot or chilled? The decisions to be made are endless. For my Nectar Luxury Christmas Dinner Party my menu brief contained such words as luxurious, extravagant and fun. Now, as you know if you are a regular Lucy Loves reader, I am not a huge fan of the word fun in conjunction with food, however, dare I say it, my choice of dessert for this menu is definitely fun.
These festive Candy Cane Ice Cream Sandwiches certainly tick boxes when it comes to a dessert. Crisp, dark chocolate shortbread encasing pale pink mint choc chip ice cream with a light dusting of crushed candy canes. Refreshing mint with dark chocolate, a perfect combination and almost a palette cleanser at the end of a rich meal. And a great dessert to serve over Christmas too, when you have had enough of all that dried fruit and brandy cream.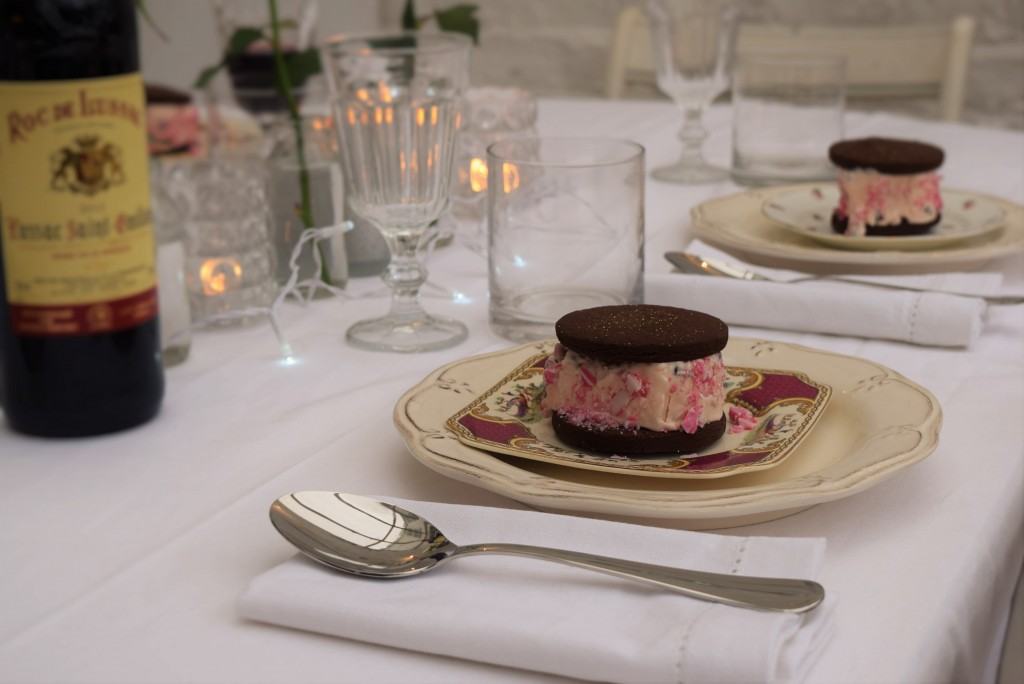 I loved dressing the table with my stash of brilliant Nectar points purloined treats. The elegant white linen and silver cutlery certainly gave our party table a grand feel. And the points gave me one of favourite red wines *and it was on offer, hooray*.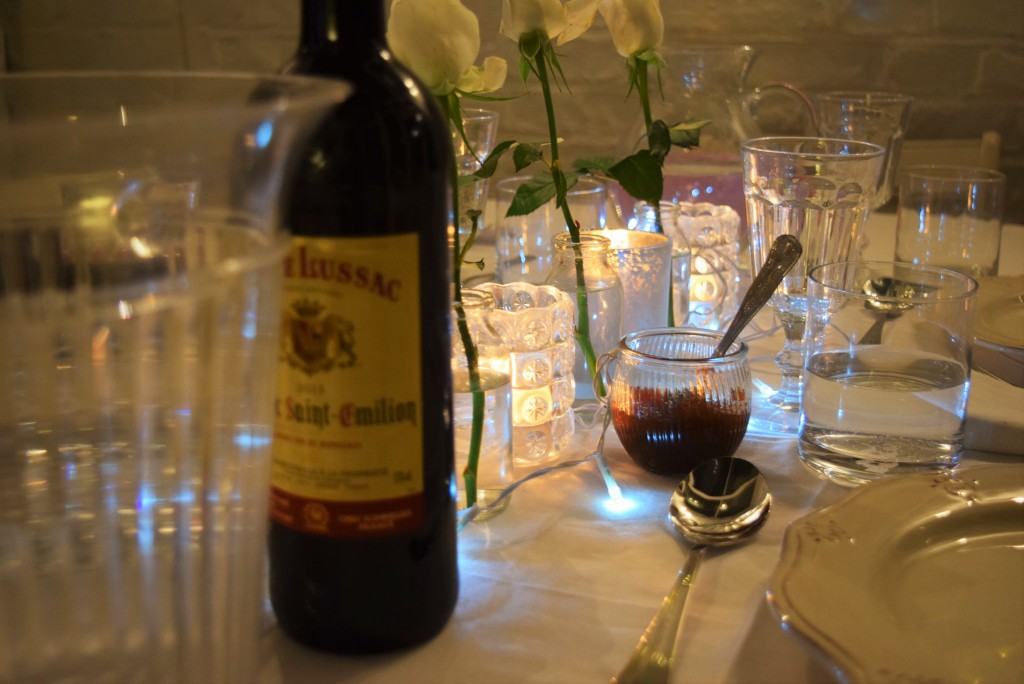 Lucy Loves dinner party tip #346 is to serve a little homemade treat with coffee. It doesn't have to be an intricately put together selection of petit fours, just something as simple as my new Festive Fudge can complete your dinner. This fudge proved quite addictive, the jar lasted barely a few hours in our house. It has all the taste of a Terry's Chocolate Orange, but in fudge form, it's delicious. Or just put a big jar or bowl of my Pretzel Bark or Peanut, Chocolate and Crunchie slab on the coffee tray and I fear your guests may never leave. If you have a few tipples to accompany this, such as Baileys or Zambucca, that wouldn't be the end of the world. Feel free to make your own Irish Cream, this makes a brilliant Christmas hostess gift too if you can bear to be parted from it.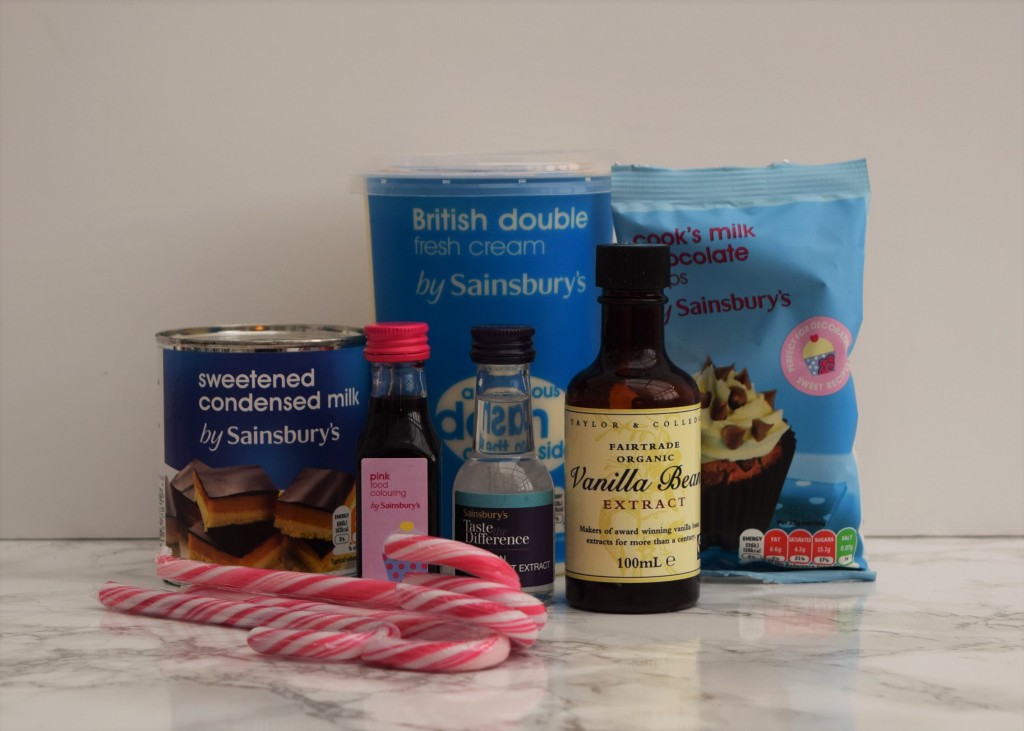 Here are the ingredients for making the Candy Cane Ice Cream. This in itself is delicious and super easy to make, even before it's sandwiched together with the biscuits. For these biscuits, I used my Vanilla Shortbread recipe, but substituted 50g of cocoa for 50g of the plain flour. This gives a nice dark chocolate flavour to counteract the sweet peppermint ice cream.
Start this witty dessert by making the ice cream. All nice and easy, using my Simple Ice Cream recipe, which doesn't require an ice cream machine or any drama laden whisking and freezing scenarios. Just whisk together the condensed milk and cream, with the vanilla and peppermint extracts until the mixture holds soft peaks. Add in a few drops of pink food colouring for extra comedy/aesthetic value.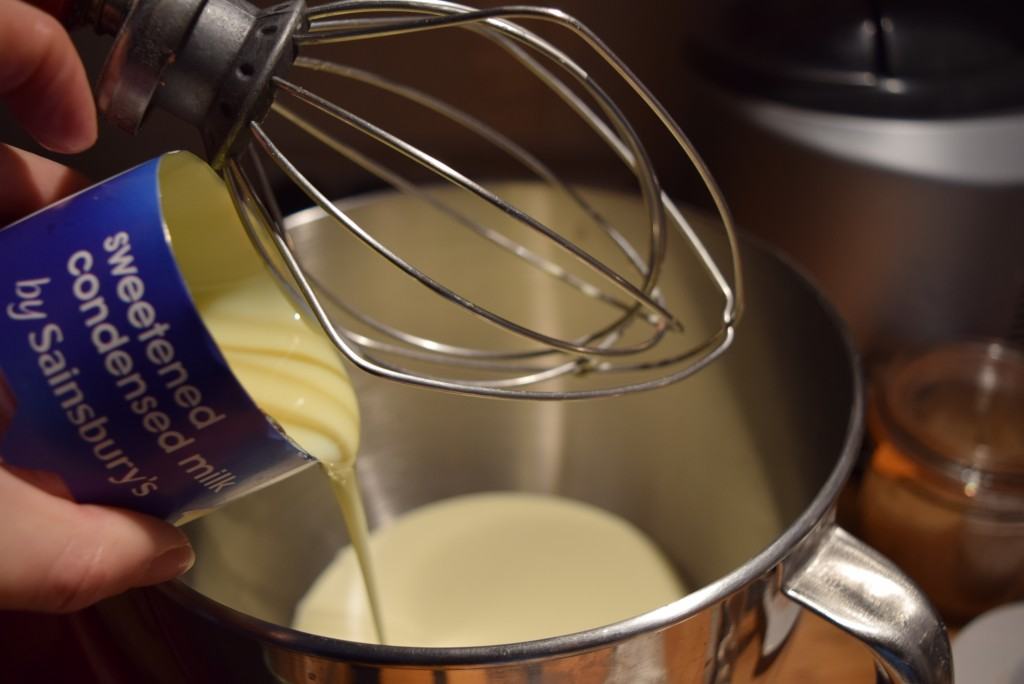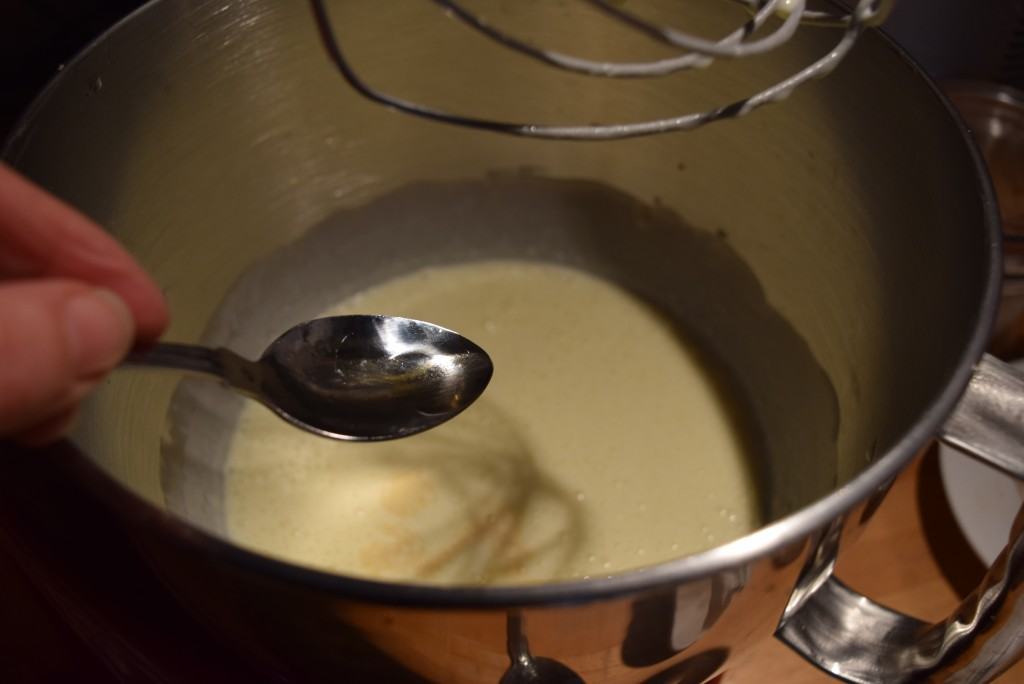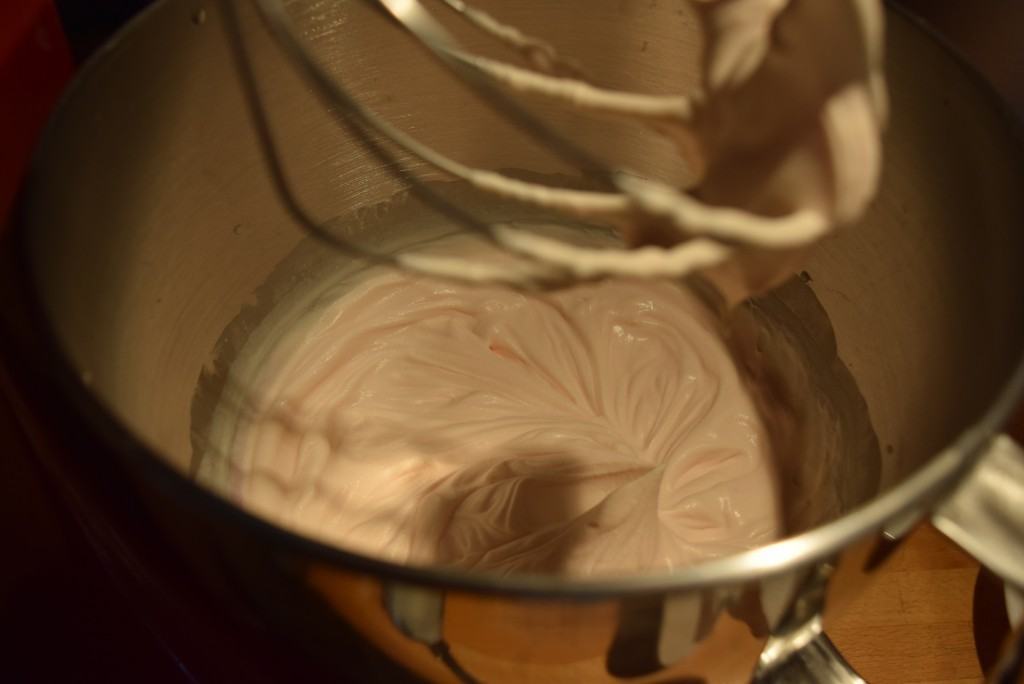 Stir through the chocolate chips to add a bit of crunch to the whole affair then pour the mixture into a clingfilm lined loaf tin. Fold the cling over the top of the tin and freeze until solid, around 4 hours.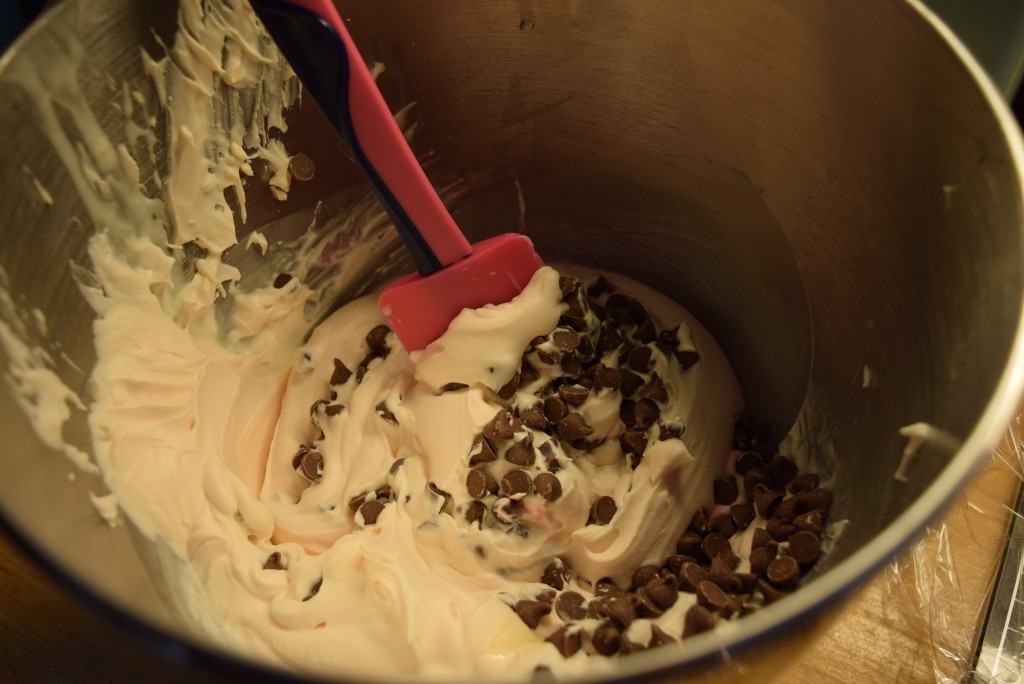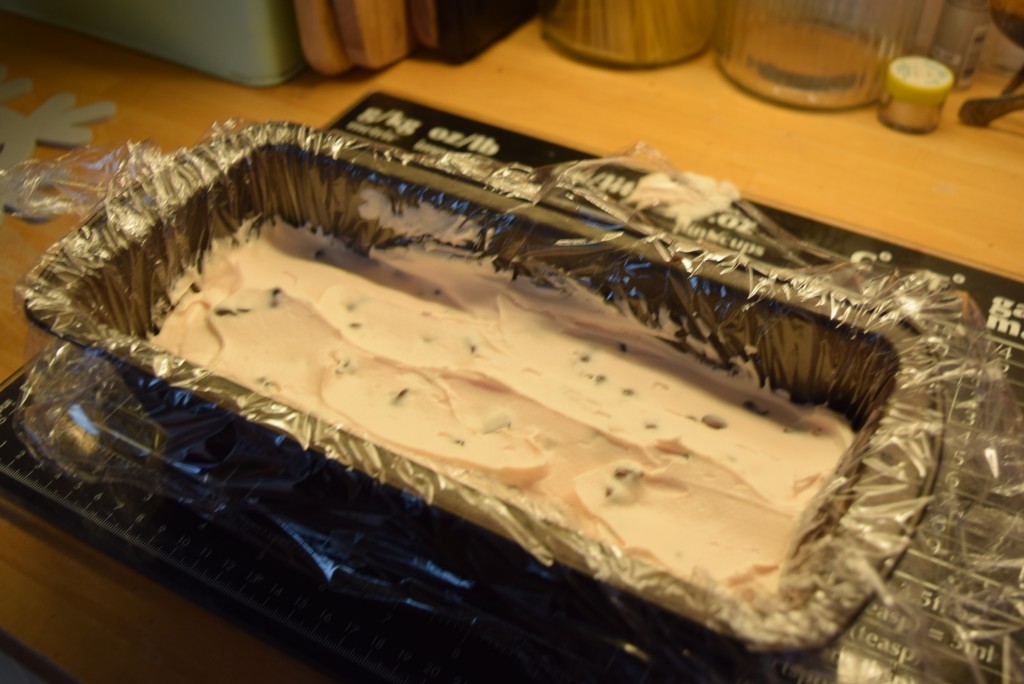 While the ice cream is doing it's freezing thing, crack on with the shortbread. The full picture method is here, but in brief, cream the butter, sugar and vanilla, then add the flour and cocoa and mix until a soft dough is formed.
Wrap the shortbread dough in cling and leave to rest in the fridge for about 20 minutes.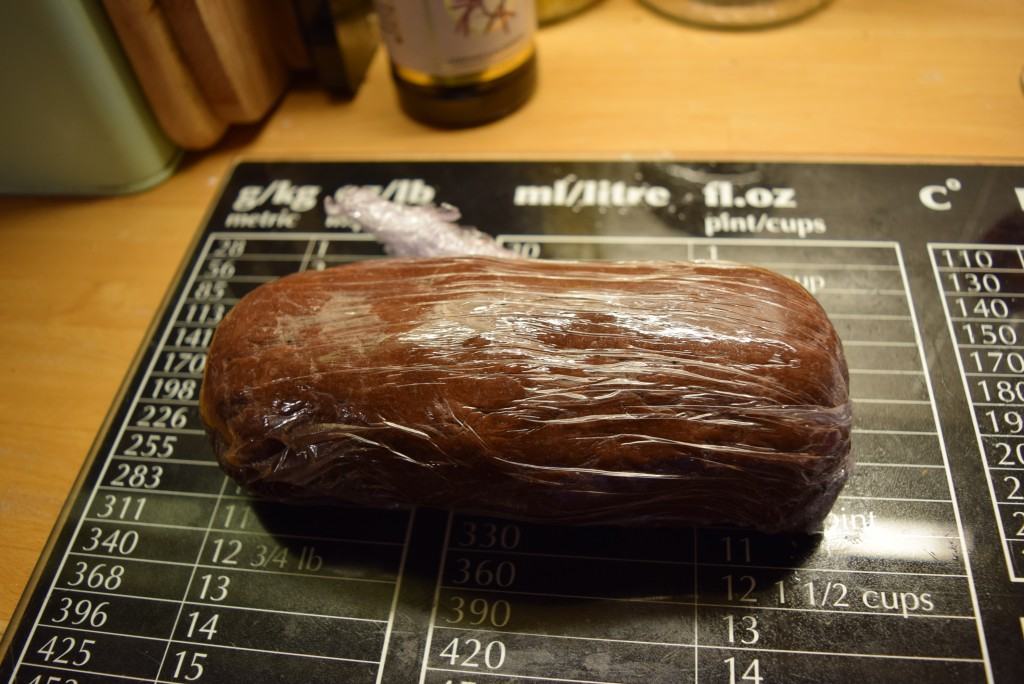 Roll out the dough on a well floured board to about the thickness of a pound coin. Cut into circles and place on a lined baking sheet.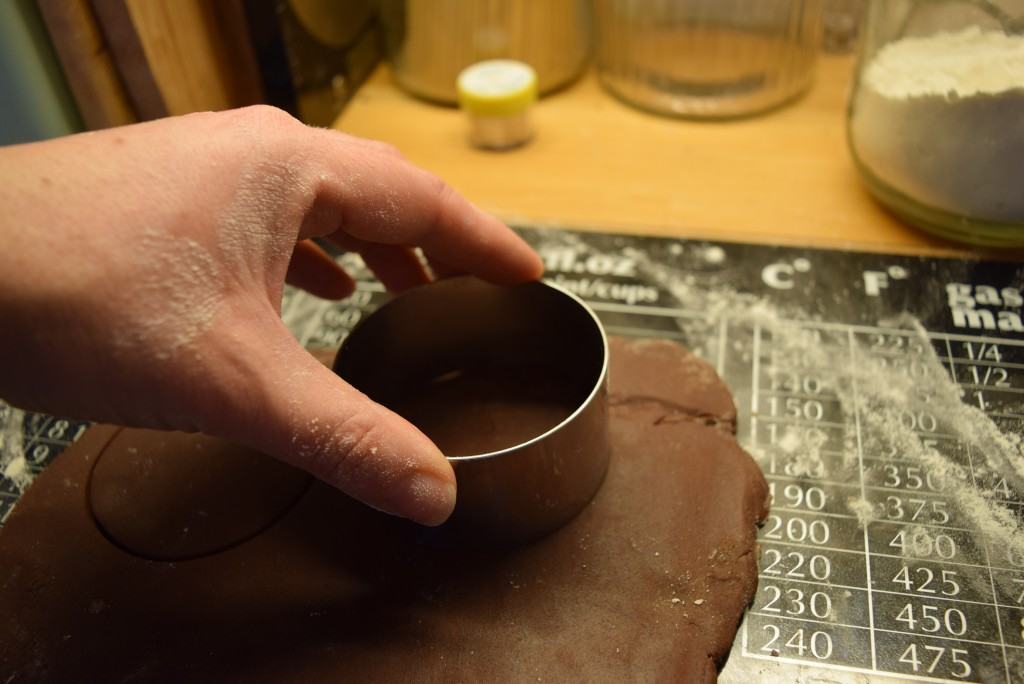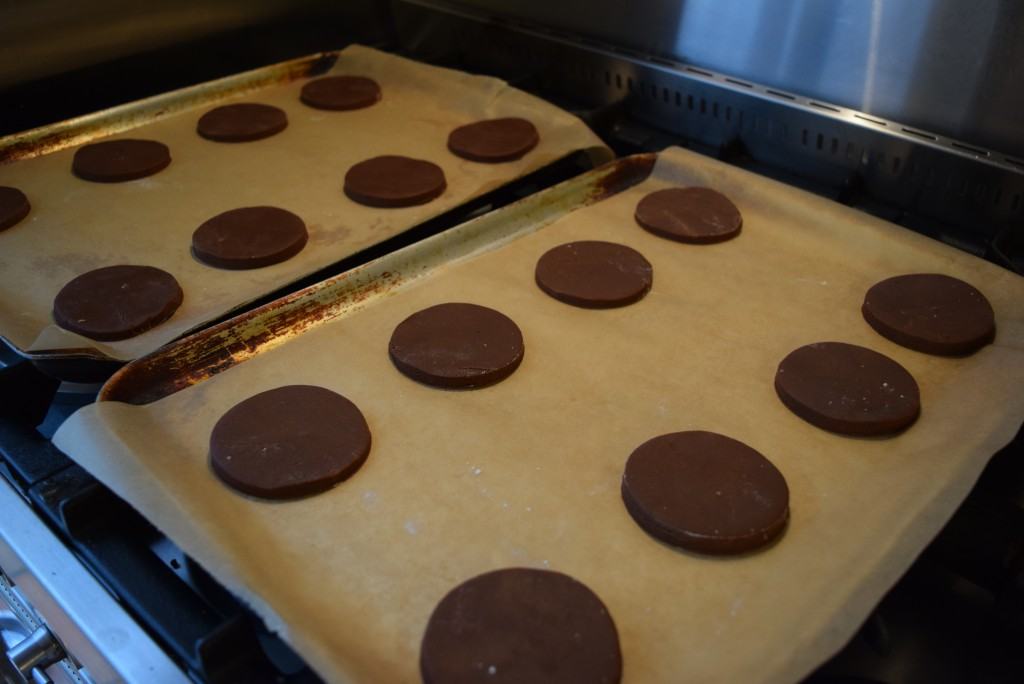 Pop these in the oven for 18 to 20 minutes until just crisp and starting to brown. Leave to cool until you are ready to assemble the sandwiches.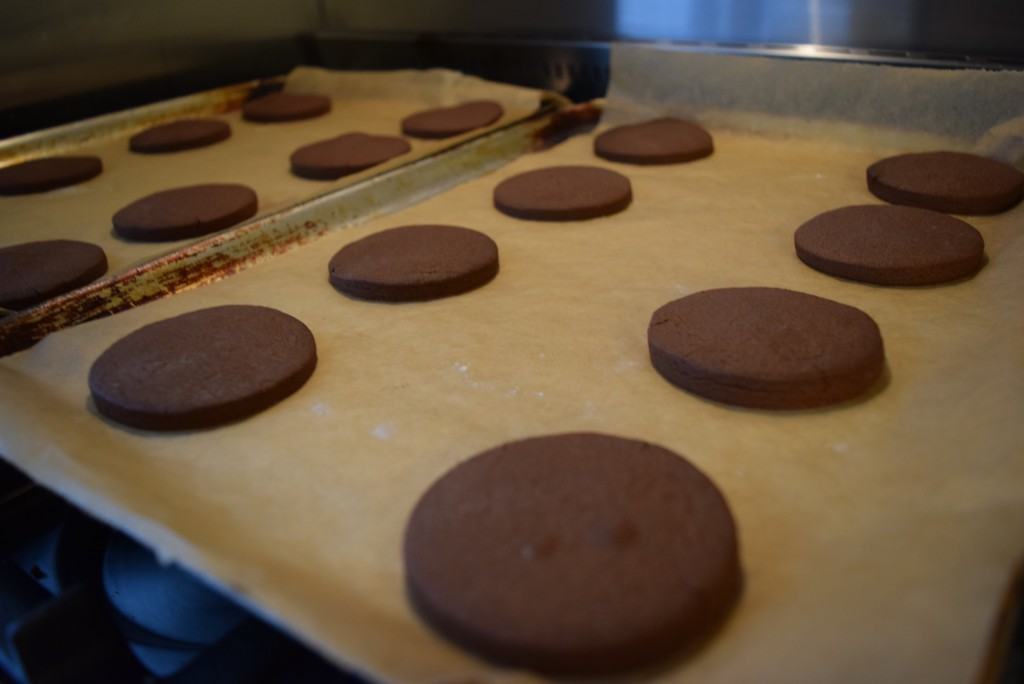 Once your ice cream has frozen, you need to take it out of the freezer to shape it into a log. Remove it from the loaf tin, still in the cling, and squeeze and roll it into a cylinder shape. You will need the diameter to be the same *roughly, mine was super rough* as your biscuits. Once you have a fashioned an ice cream log, wrap it, still in the cling, in some foil and put back in the freezer for at least an hour.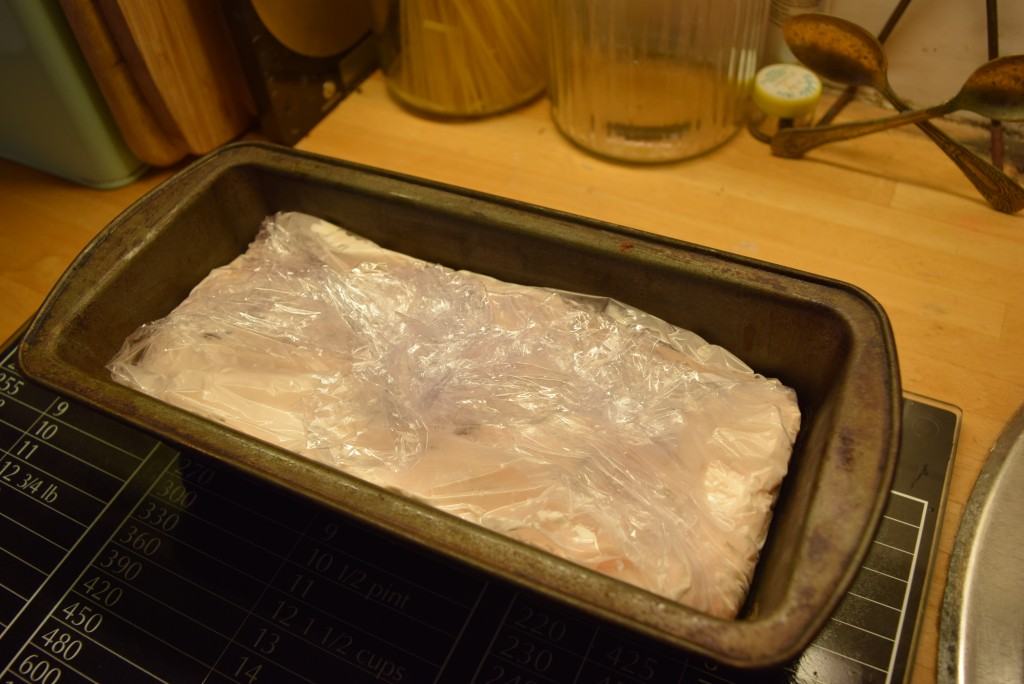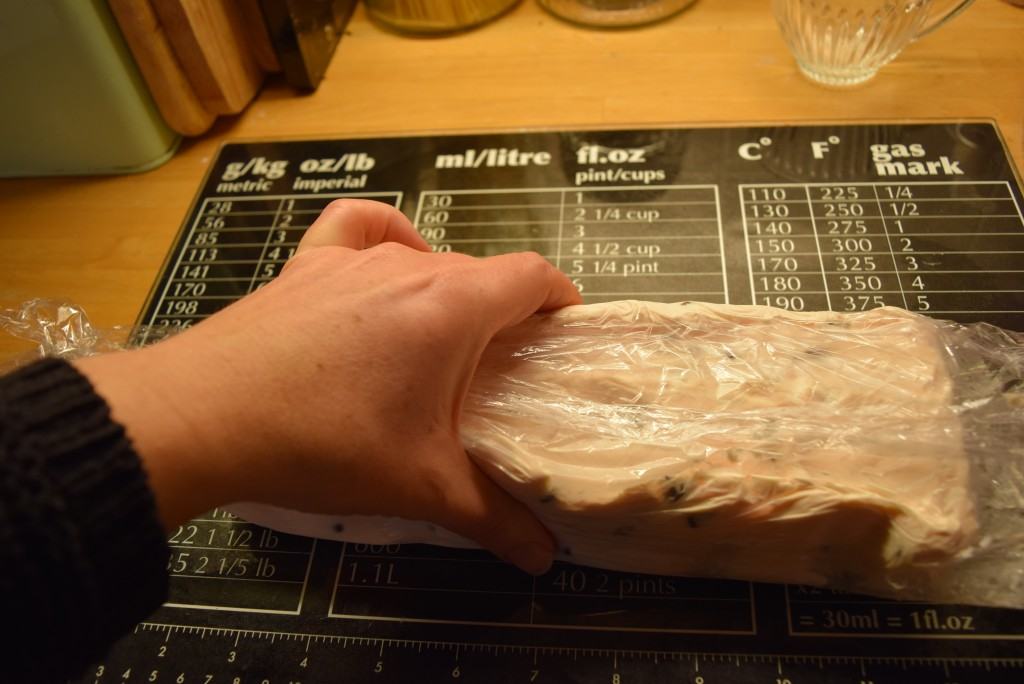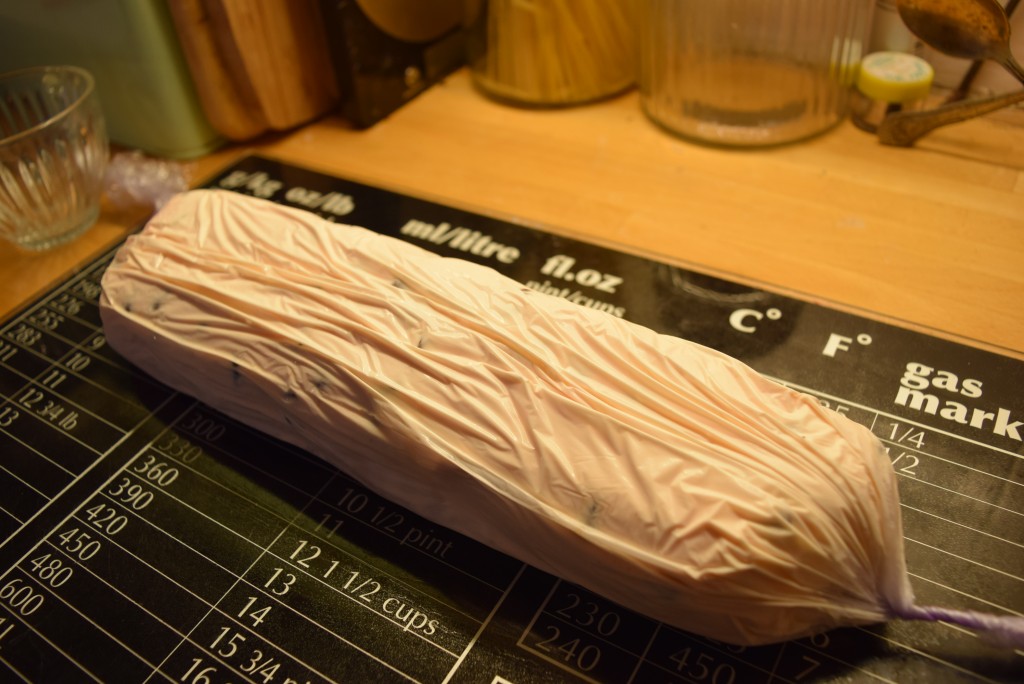 Then its time to make sandwiches. Take your biscuits and pair them up. Take your ice cream log out of the freezer, remove cling and foil and slice into 8 thick slices. Place one slice of ice cream between two biscuits, press together gently and pop on a lined baking sheet.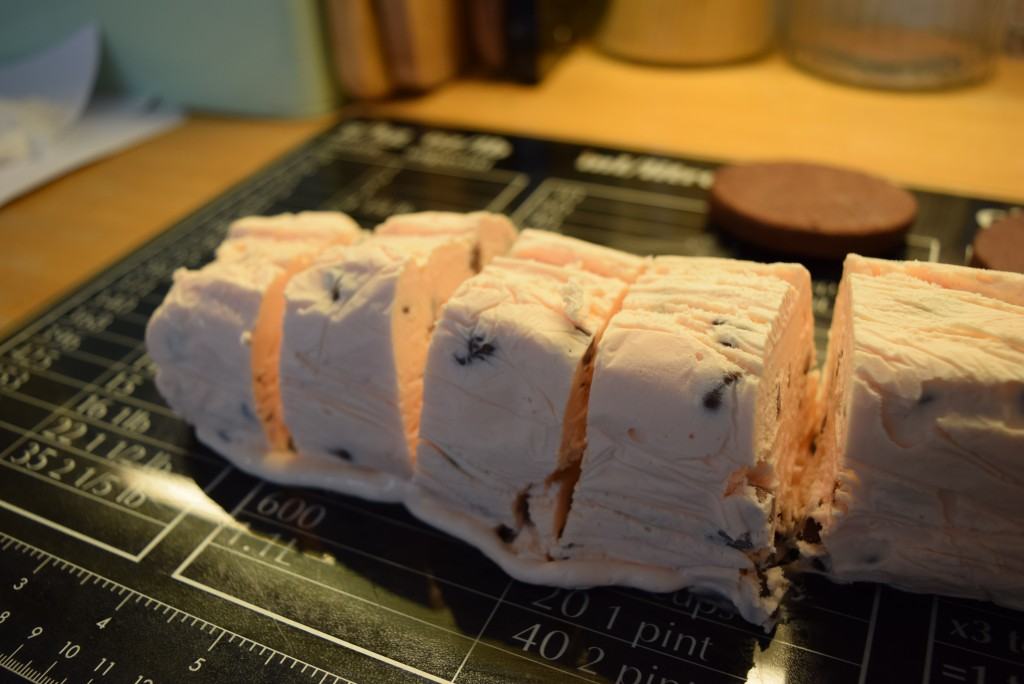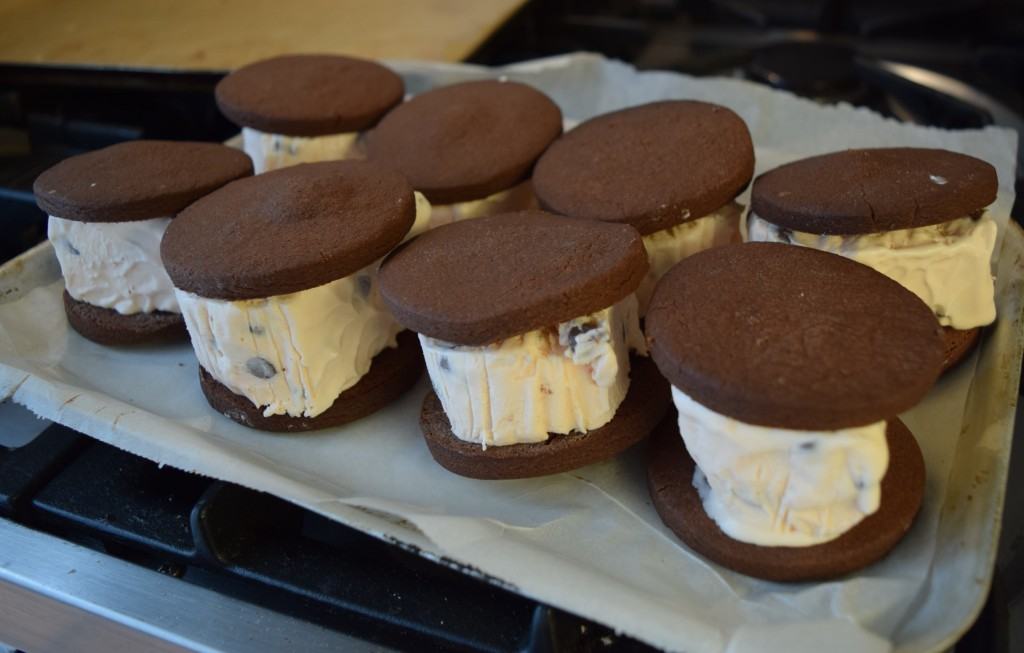 Crush your candy canes in a bag with a rolling pin then roll the exposed ice cream sandwich edges in the crushed candy cane crumbs.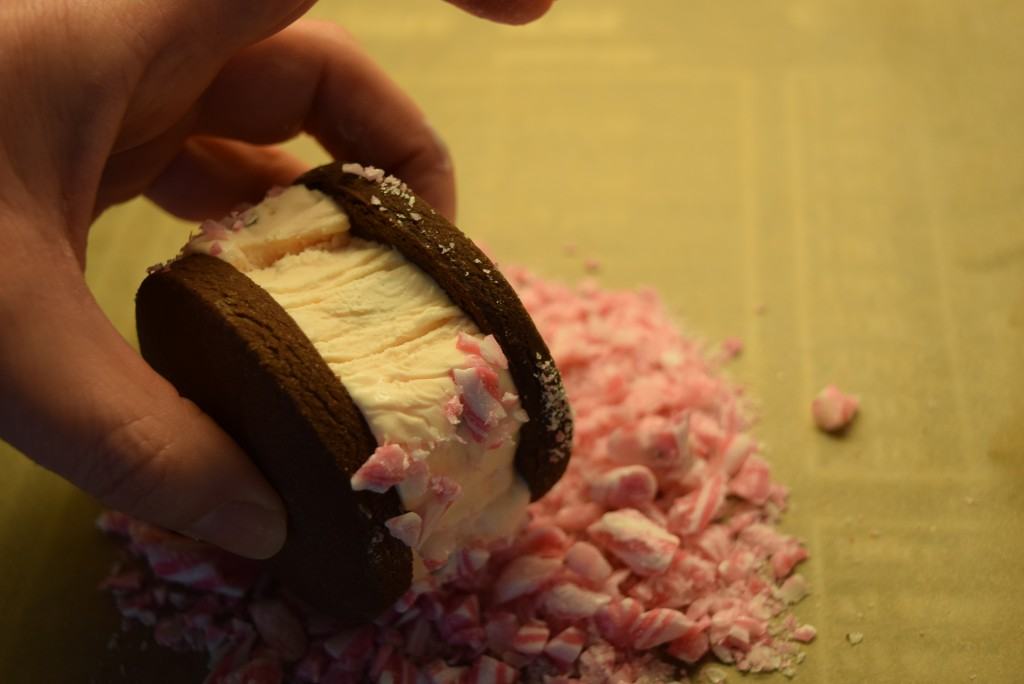 Place the sandwiches, covered on the tray, in the freezer until you are ready to serve them.
While they are having a final freeze, throw together the Festive Fudge. It couldn't be simpler. Place the butter, chocolate and milk in the microwave or over a pan of simmering water until the butter and chocolate have melted.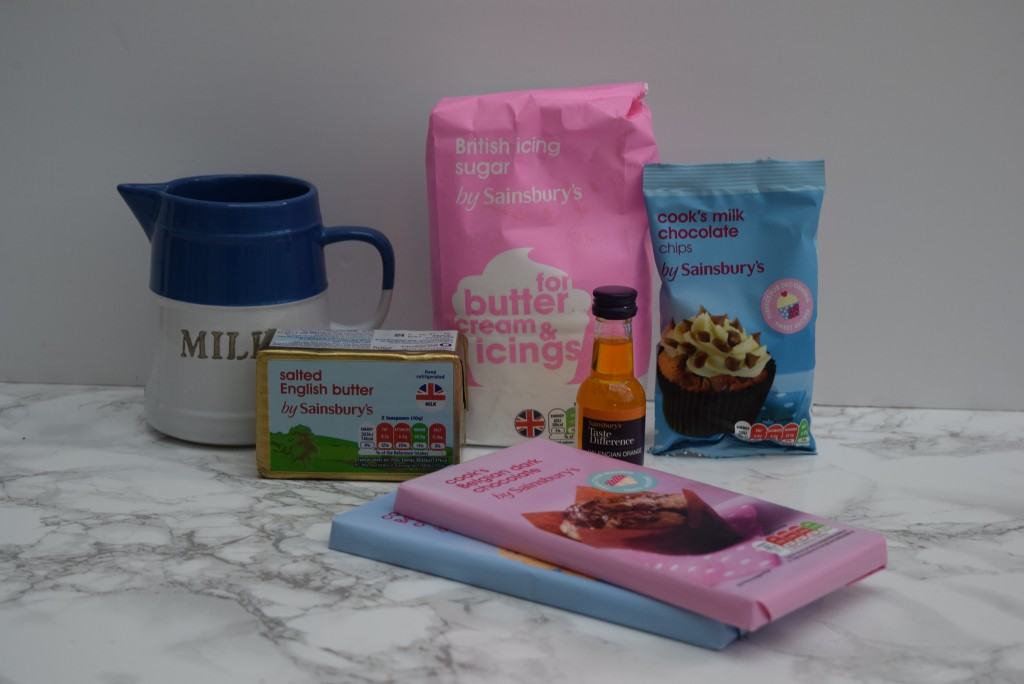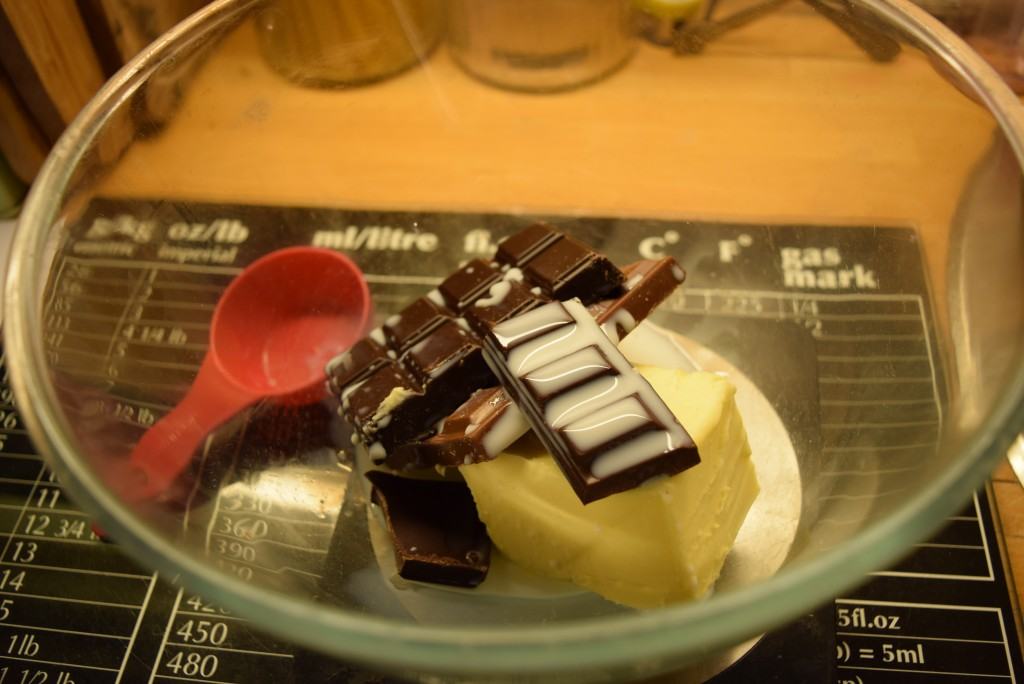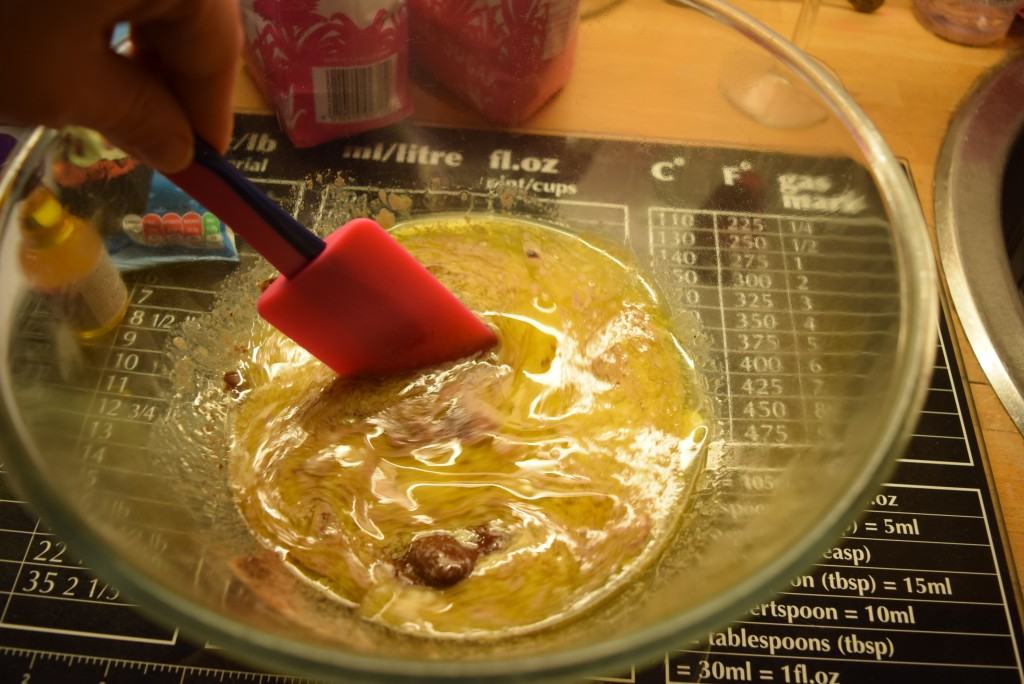 Add the orange extract, stir until glossy then sift in the icing sugar. Beat until smoother than me after two glasses of white wine.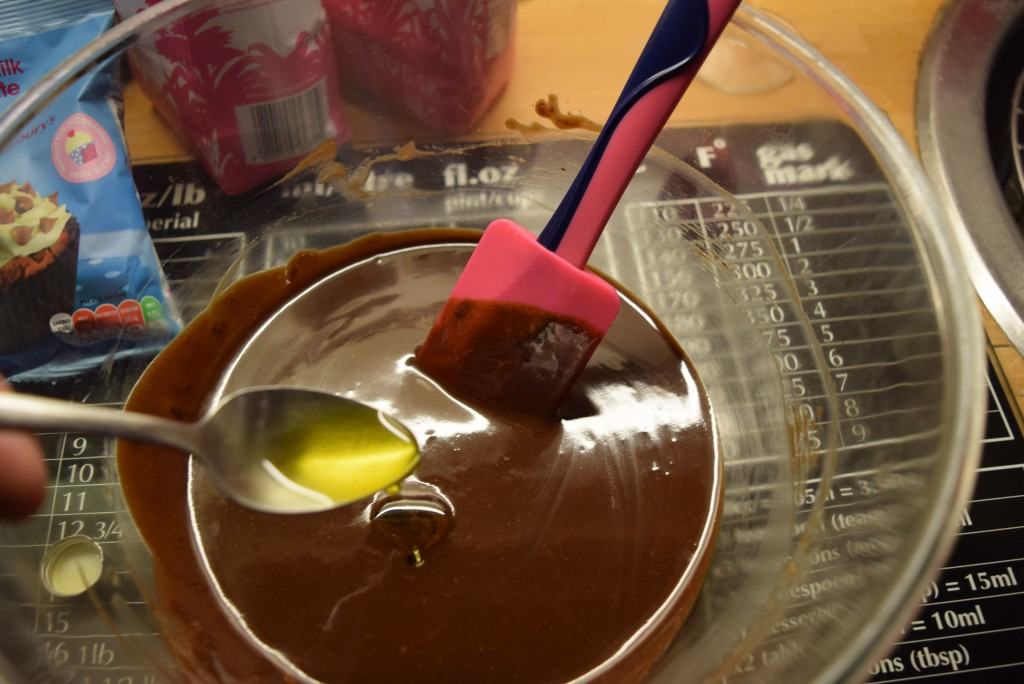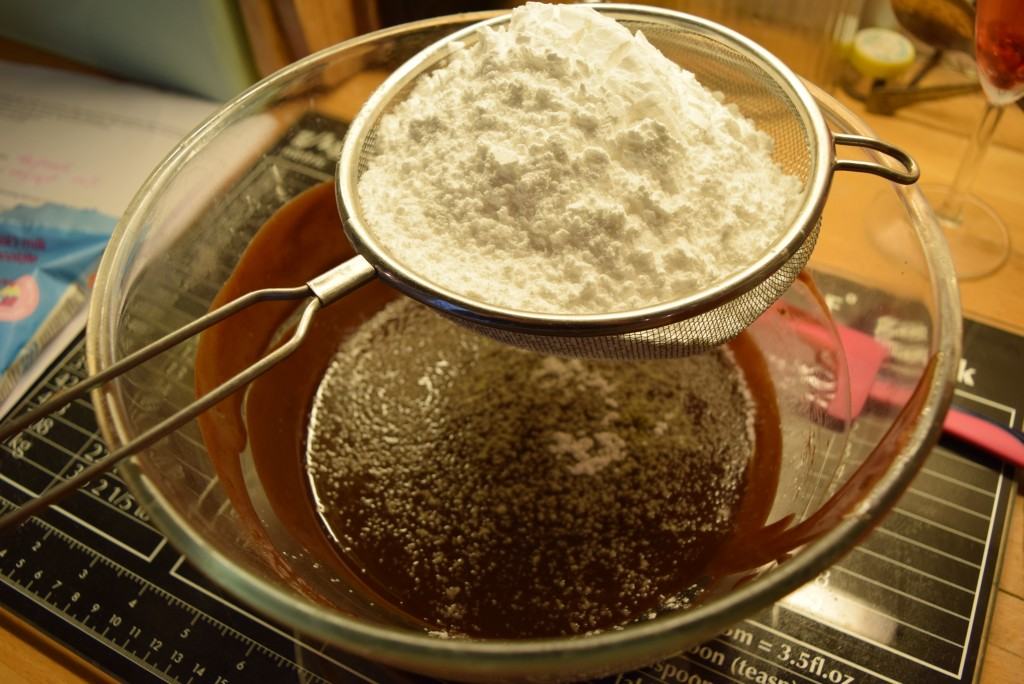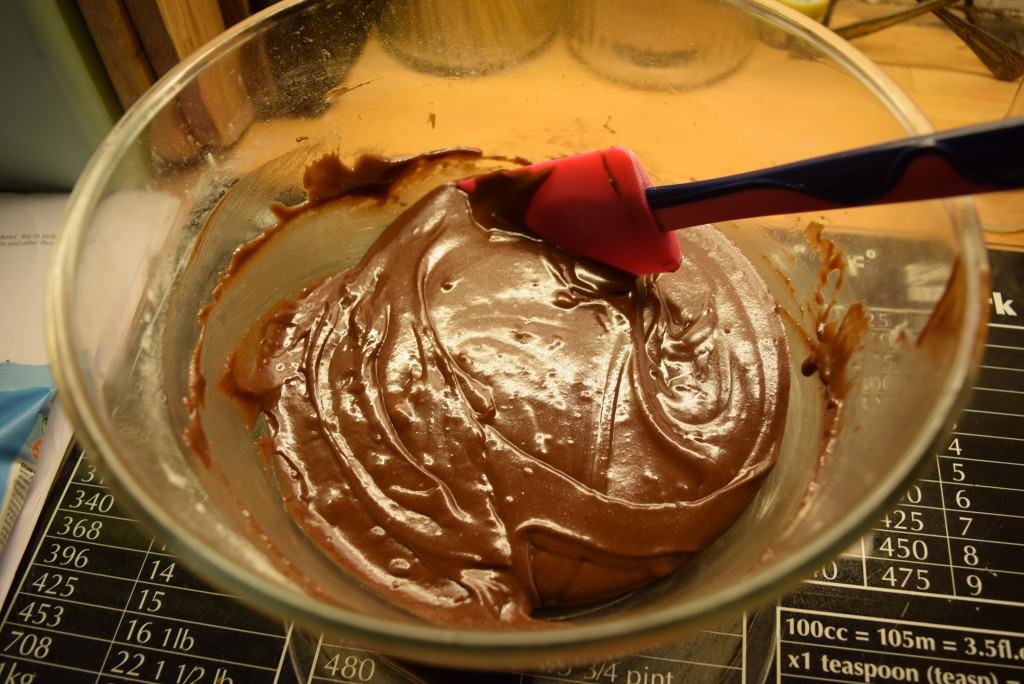 Stir in the chocolate chips, pour into a lined square tin and leave to chill in the fridge for around 2 hours. When you are ready to devour/share with your guests after dinner, cut into small squares and dust with these wonderful edible gold stars from Sainsbury's for extra festivity.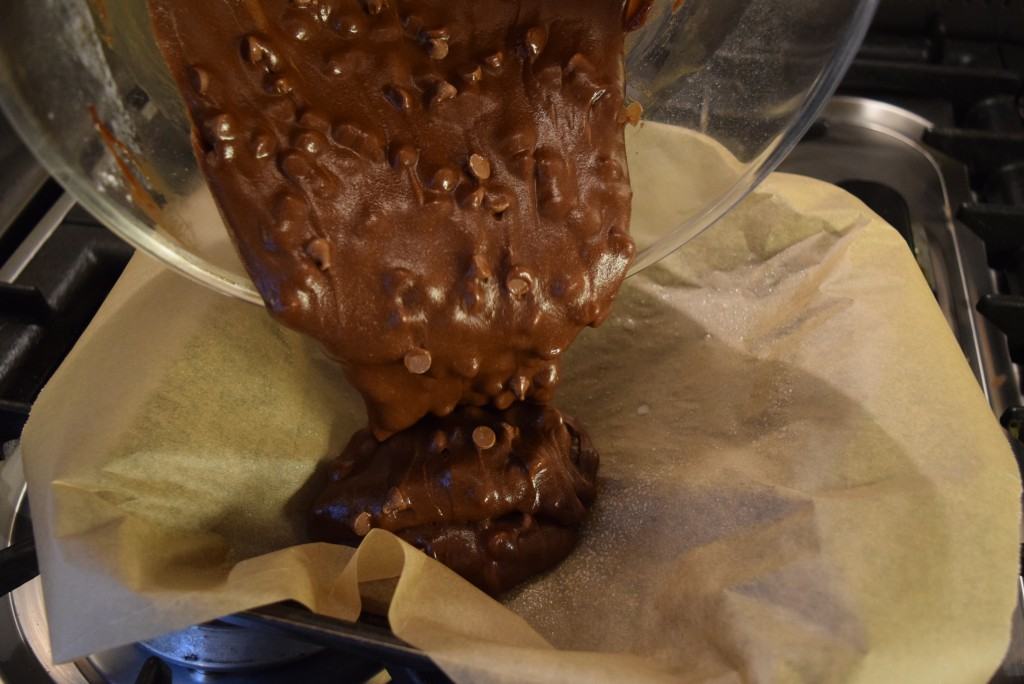 Fudge porn.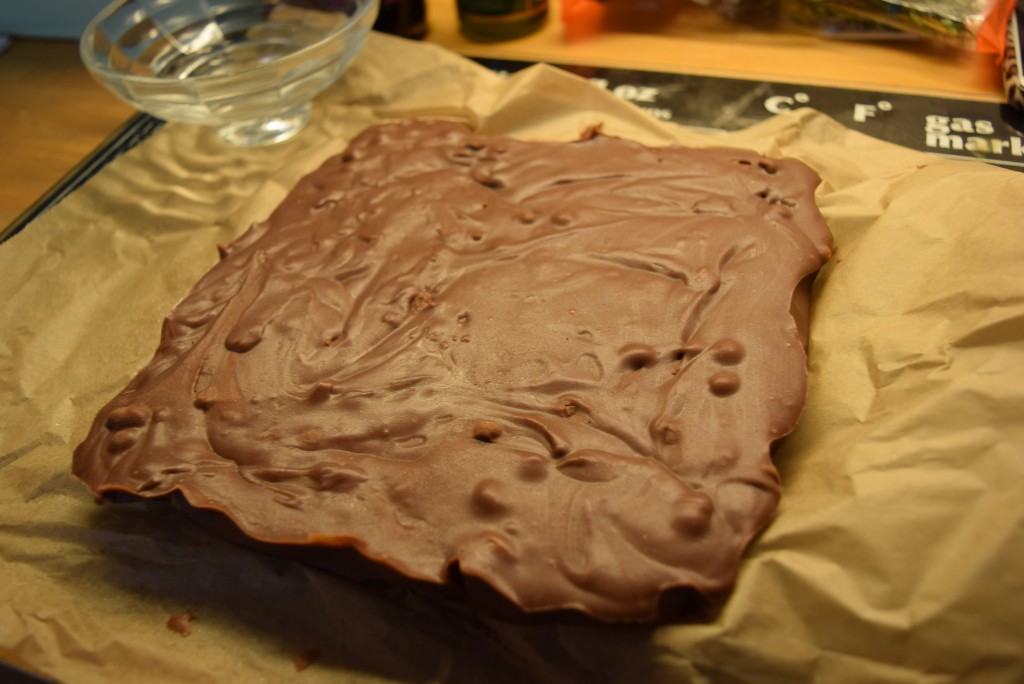 When it's time for dessert, take the Candy Cane Ice Cream Sandwiches from the freezer, dust with edible glitter and serve on pretty plates to the gasps of joy and wonder from your dinner guests.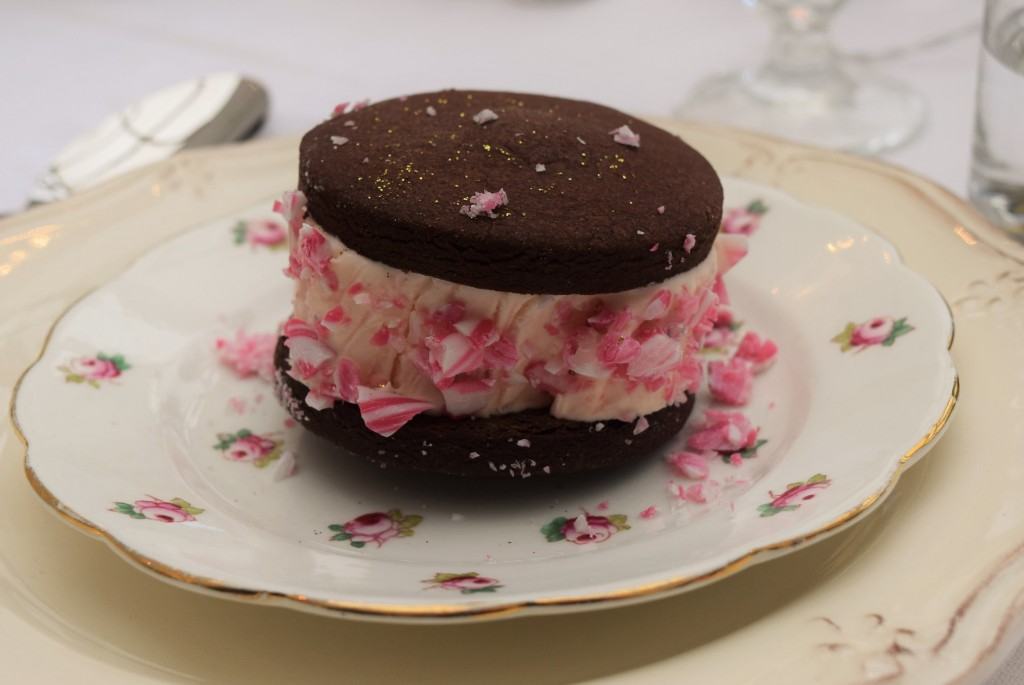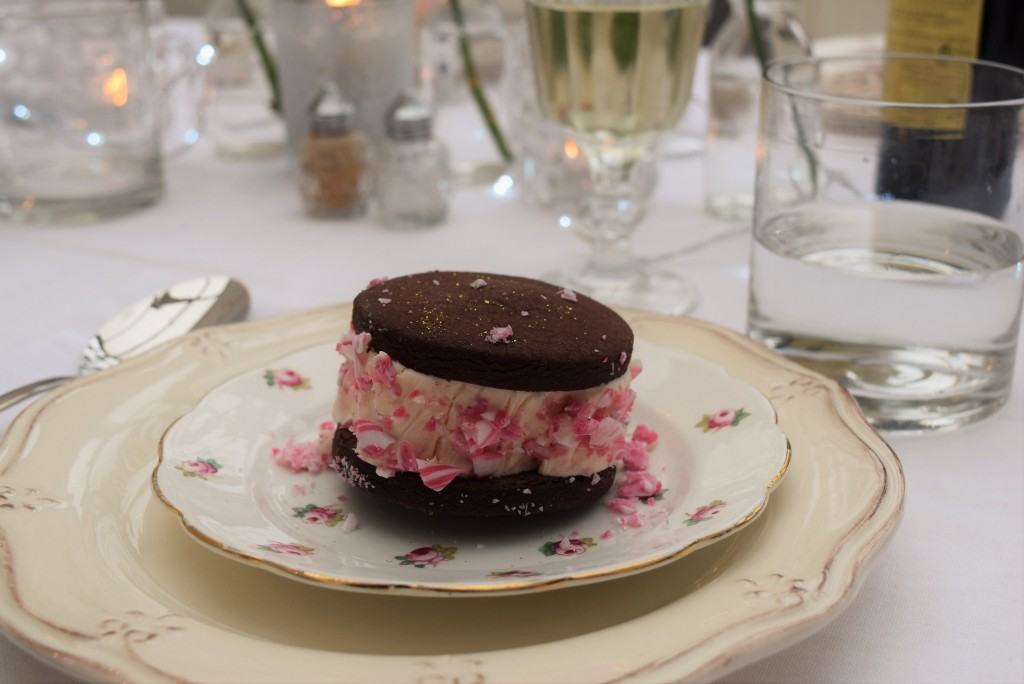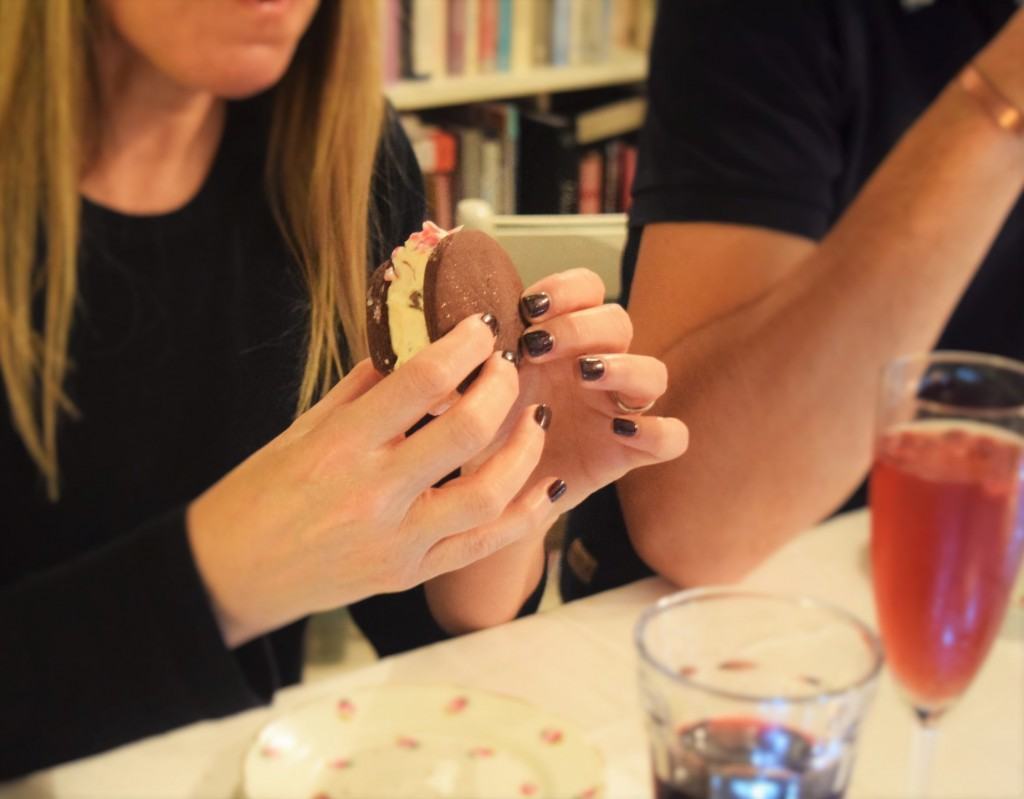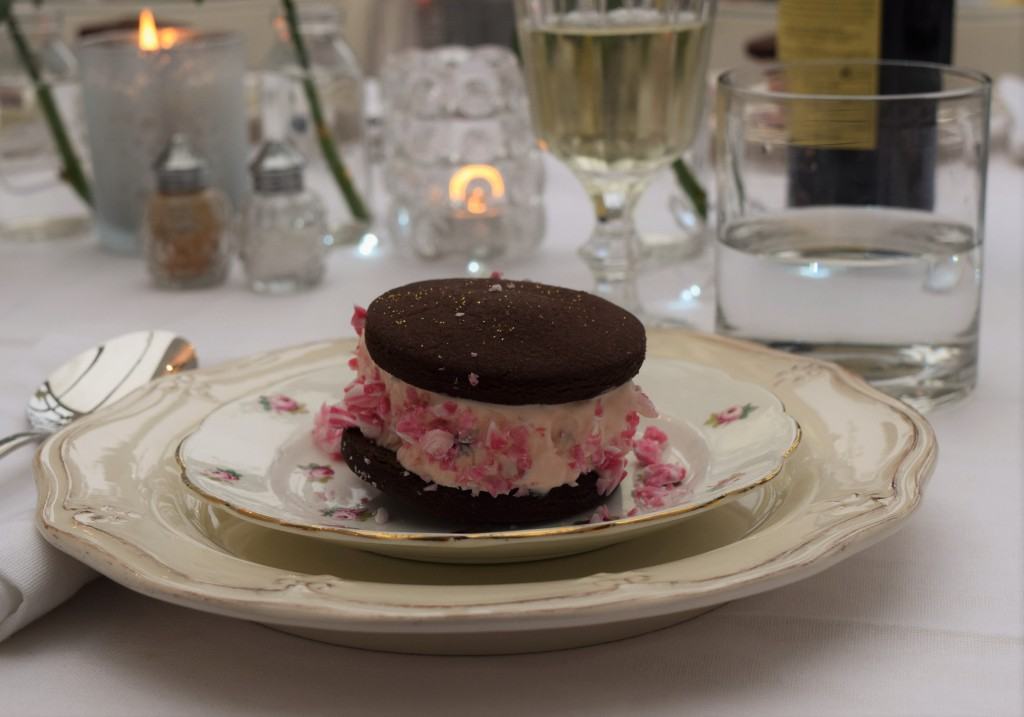 And if your guests aren't fit to burst, they will love you forever for introducing them to my wonderful Festive Fudge.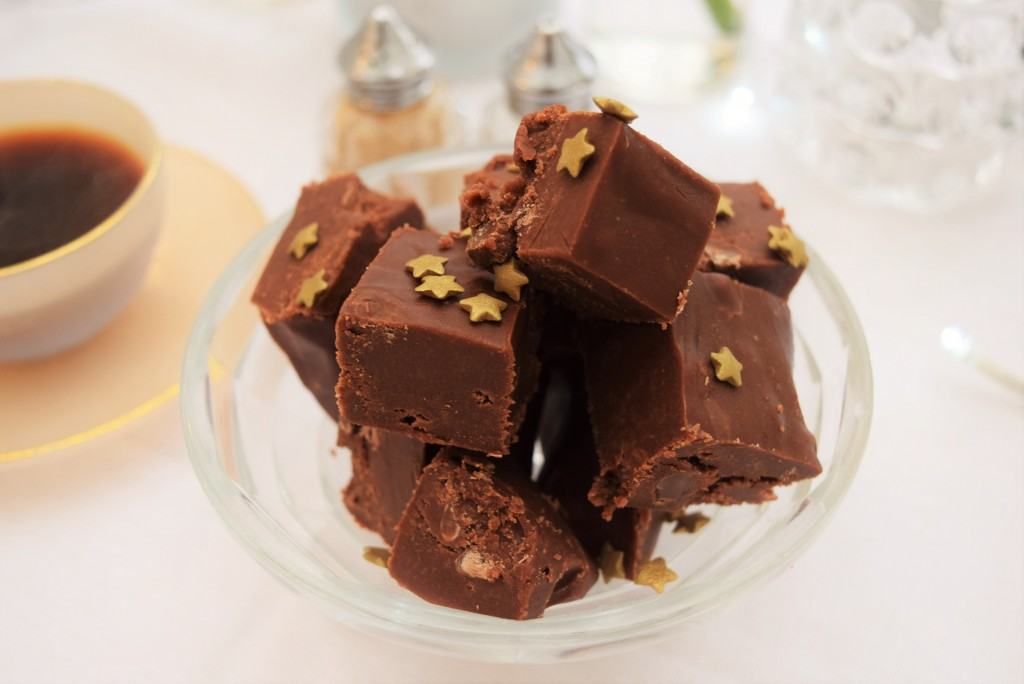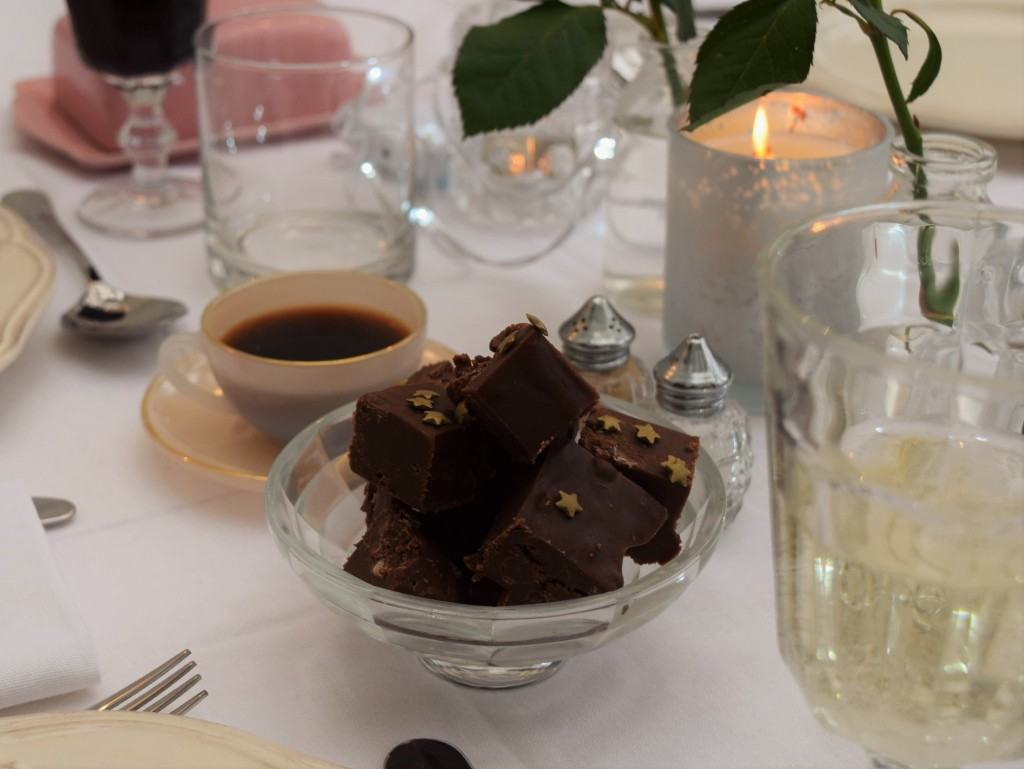 I have loved sharing my recipes, tips and photos from my Nectar Luxury Dinner Party for Less with you this week. I treated my guests like royalty, care of Nectar points, but on a modest budget. The table setting, care of my stylish purchases from Argos, Sainsbury's and Homebase, was more silver spoon than greasy spoon. I hope my ramblings have helped inspire you to host a luxury Christmas supper party of your own, or at worst, you can make some Festive Fudge and then eat it all up.
Lucy x
Nectar kindly gave me £120 of Nectar points for my luxury dinner party creations. But all opinions and ramblings are, of course, my own.
Candy Cane Ice Cream Sandwiches Recipe
Makes 8
Mint Choc Chip Ice Cream

Based on Lucy Loves Simple Ice Cream Recipe
175g (half a tin) condensed milk
300ml double cream
1 teaspoon vanilla extract
3 teaspoons peppermint extract
100g chocolate chips
Optional pink food colouring (I used about 8 drops)
3 crushed candy canes
Chocolate Shortbread
Based on Lucy Loves Vanilla Shortbread Recipe
225g soft butter
100g caster sugar
1 teaspoon vanilla extract
175g plain flour, plus extra for rolling out
100g cornflour
50g cocoa powder
In a stand whisk or by hand if you are feeling energetic, beat together the condensed milk, cream, vanilla and mint extracts until the mixture forms soft peaks. Add additional pink food colouring, then stir through the chocolate chips and pour into a cling film lined loaf tin. Cover the top loosely with the cling and put in the freezer for at least four hours.
For the shortbread, in a food processor or in a large bowl with a wooden spoon, beat together the butter and caster sugar until lighter in colour and texture. Add the vanilla extract, beat again, then add the flour, cornflour and cocoa powder and mix until a smooth dough is formed. Pop the dough, wrapped in cling into the fridge for 20 to 30 minutes to rest.
Pre heat your oven to 160 degrees fan assisted. Roll out your dough on a floured work surface to the thickness of about 1cm. Cut out circles to match the diameter of your log of ice cream and place on a lined baking sheet. You will need at least 16. Bake for 15 to 20 minutes until firm and just browning. Leave to cool thoroughly.
Once frozen, take the ice cream out of the freezer and squeeze it and roll it around to soften slightly and to form a cylinder approx 25cm long, but don't measure, just guess.  The log should be the diameter of your biscuit cutter ready to fit in the sandwiches. Tie the ends of the cling film and spin it around so it makes a log shape. Wrap this log in foil and put back in the freezer until well frozen.
Once firm, remove the foil and cling film from the ice cream and cut into 8 thick slices. Sandwich the slices between your chocolate shortbreads, press together gently, then roll the ice cream edges in crushed candy canes. Pop these back in the freezer, on a covered tray, until you are ready to serve. Devour with your fingers, or elegantly hack with a spoon. These will keep covered in the freezer for a couple of weeks.
Festive Chocolate Orange Fudge
Makes a lot, a big jar full
You will need a 20cm square tin, lined with baking paper
113g  Butter
60ml milk
180g chocolate, I used half milk and half dark
375g icing sugar
3 teaspoons orange extract, and you could add an optional zest of an orange
100g chocolate chips, or chopped chocolate
Line a 20cm square pan with baking paper.
Combine butter, milk and chocolate chips in large microwave safe bowl or saucepan. Microwave for 2 to 3 minutes or melt over a low heat until butter and chocolate chips are melted.
Stir in icing sugar and orange extract and optional zest, beat at a medium speed in a mixer or well by hand, scraping down the sides, until smooth. Add the chocolate chips, then pour into your tin and refrigerate for a couple of hours or until firm. Lift fudge from baking paper and cut into squares. Store in a jar in the fridge for at least a week if you don't inhale it all in one sitting.