One Bowl Sprinkle Cake Recipe
We are a house on the edge. We are 24 hours from finding out if Ben is off to university and it's tense. We are all taking the stance of what will be will be to reduce tension and, as he's my first born, I will be so much happier if Ben doesn't go away until next year. I don't feel ready for him to be so grown up yet, even though, given his hairy 6ft 2 nature, he so clearly is. So, with our shoulders up round our ears. and Ben's nerves frazzled there's only one thing for it. Time to make a massive bloody great big slab of cake. This is mainly for me and my nervous nibbling, but if the rest of the family are feeling stressed, I am sure they can have a tiny morsel. This One Bowl Sprinkle Cake should be available on prescription, such is it's soothing, calming qualities. That and the fact it takes barely any time to make and is super low on washing up, this cake is almost medicine.
This One Bowl Sprinkle Cake doesn't actually have to be laden with sprinkles. It's versatile vanilla base can be mixed with chocolate chips, fruit, nuts, or just left plain if you would prefer. I am lucky enough to have a boss who lives in America and regularly brings me the most lurid, brightly coloured sprinkles known to man, or woman. However, these days you can get some pretty impressive ones in the UK; I have bought some of these perky ones, available from Amazon. This vanilla flavoured sponge is firm, sweet, but not overly so, and keeps wonderfully in a tin for at least 4 to 5 days. You can adorn the sponge with a vanilla buttercream or I have included a fab icing recipe which can be made in a saucepan, again, saving you from having to wash up the bloody mixer for a second time in one day. The inspiration for this cake comes to me via the ever wonderful the Kitchn website, with huge thanks.
We will be eating cake and nervously glugging gin and tonics in anticipation of results day, but either way it's a win win situation, because cake is involved.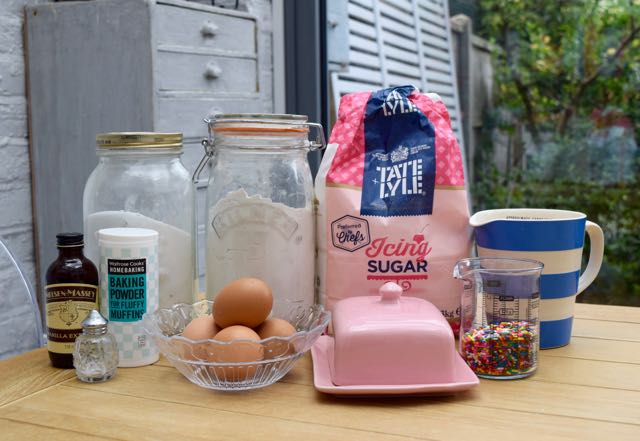 This One Bowl Sprinkle Cake has a lovely simple set of ingredients. And there are my alarmingly lurid sprinkles, I love them, they're so colourful. When I said this recipe was one bowl, I did use a touch of artistic licence as I did use a jug to measure my liquid ingredients. Shoot me a touch of ad libbing, but it does make life a little easier with the melting of butter and the like.
So, make a start on this wonderful slab of deliciousness by pre heating your oven to 160 degrees fan assisted and lining either a 9inch x 13inch rectangular cake tin or two 8inch round sandwich tins.
Then take your stand mixer or a large bowl and add the flour, sugar, baking powder and salt and give it a little mix.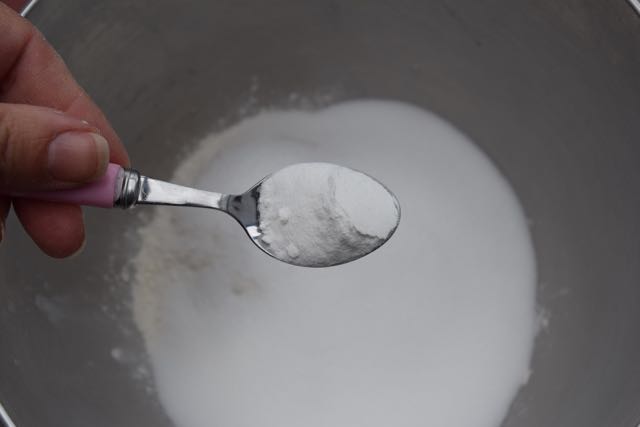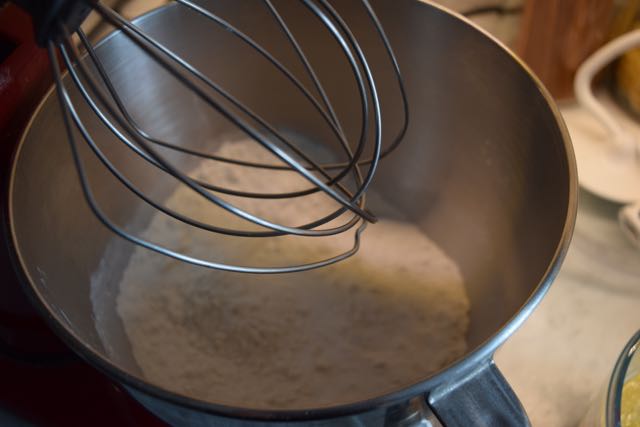 Now, take that illegal second bowl or jug and add the butter. Melt in the microwave or melt first on the stove in a small saucepan, or use oil instead.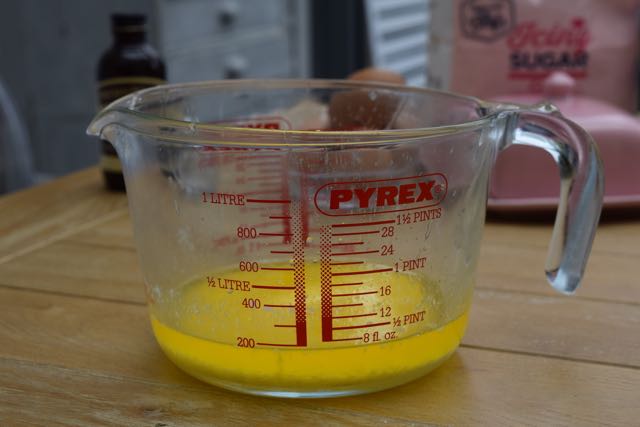 Add the milk, eggs and vanilla to this jug of butter/oil and give it all a gentle whisk.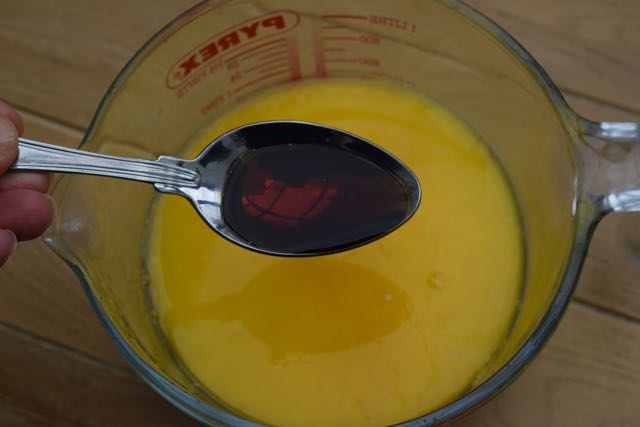 Once mixed, turn the whisk on and slowly pour the buttery liquid into the dry ingredients to fashion a smooth batter.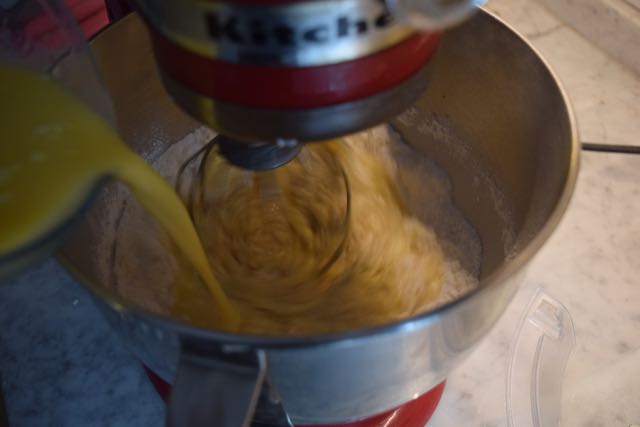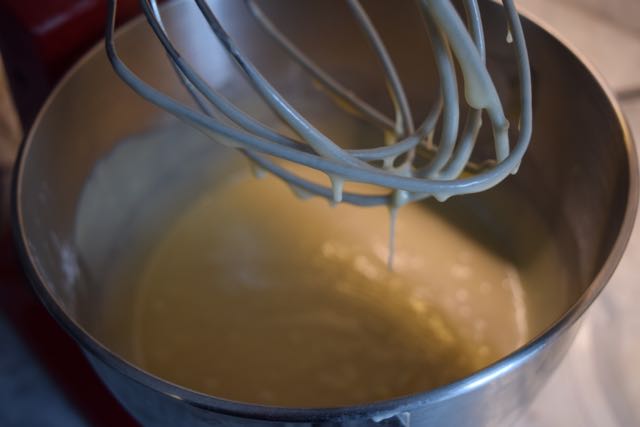 Whisk for an extra minute, or 3 minutes if you are doing this by hand with your hearty arm muscles, then slowly fold in the sprinkles, chocolate or nuts. Don't over mix the sprinkles as you don't want the colours to spoil and make your cake muddy.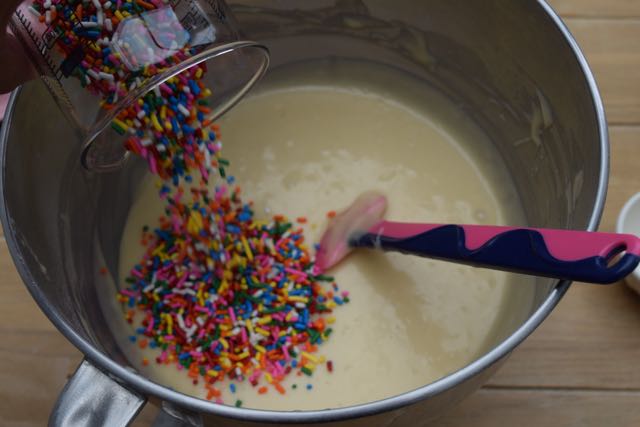 Pour the delicious batter into your lined tin or tins then place in the oven for 20 to 25 minutes for round cakes or nearer 40 to 45 minutes for a slab cake. The finished cake will be just turning golden and will be firm to the touch.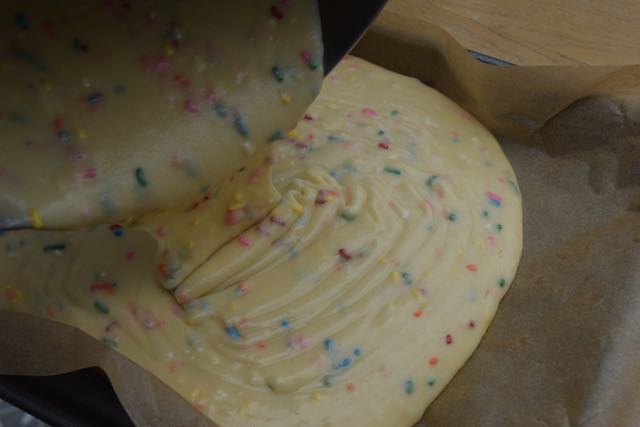 Ta-dah. Cake medicine.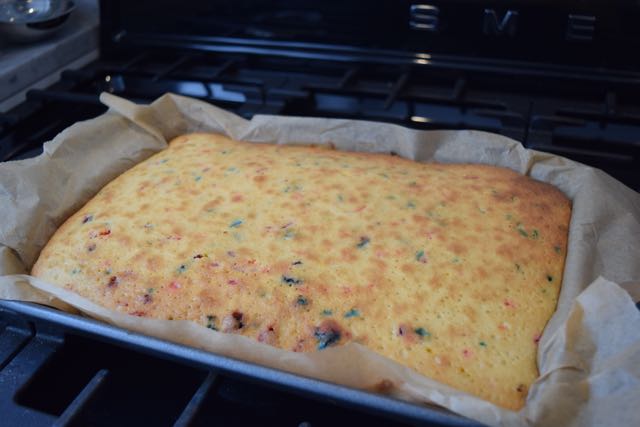 It looks a little cellulitey at this stage but don't worry the icing covers a multitude of sins. While this cools, crack on with the icing. You can make the standard, but no less delicious, Vanilla Buttercream. Or try this super simple vanilla icing made in a saucepan. Start by adding the butter and milk to the aforementioned saucepan and heating until the butter has just melted.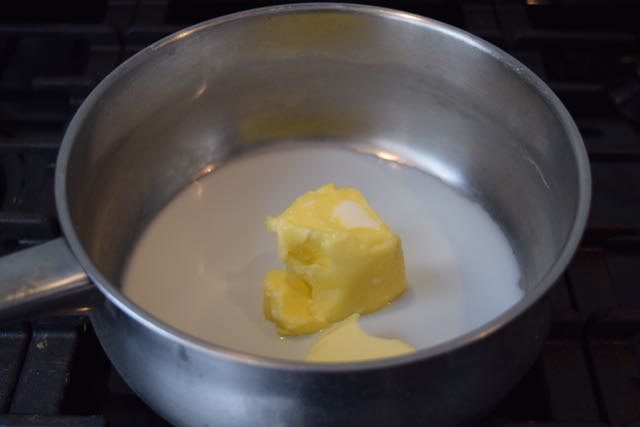 Now I know it's a complete ballache, but do sieve the icing sugar into the pan. Otherwise it will be lumpy and you'll be in all sorts of trouble.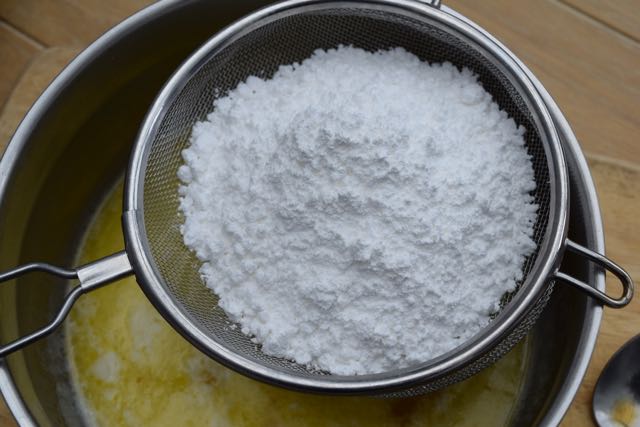 Beat until smooth, which may take a while, but do persevere then spoon onto your cooled cake and use a palette knife to make a level-ish surface.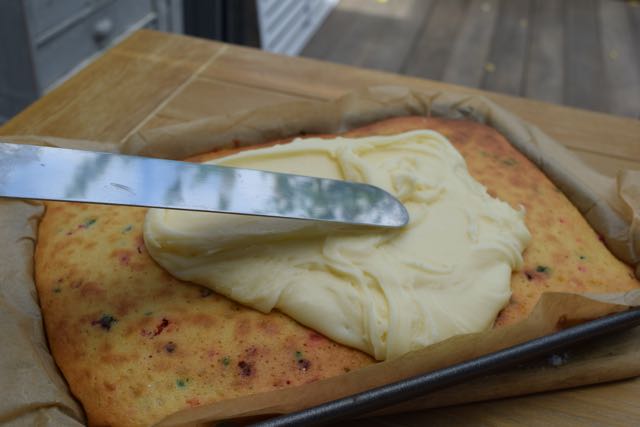 Finish with a final flourish of sprinkles and glitter if you like or chocolate or nuts if you prefer then serve in large squares of sweet delight.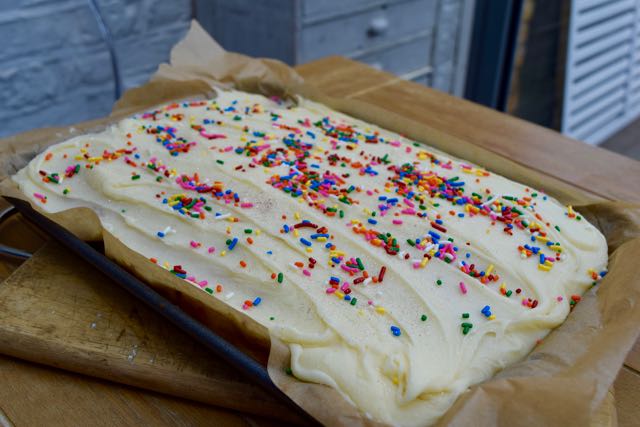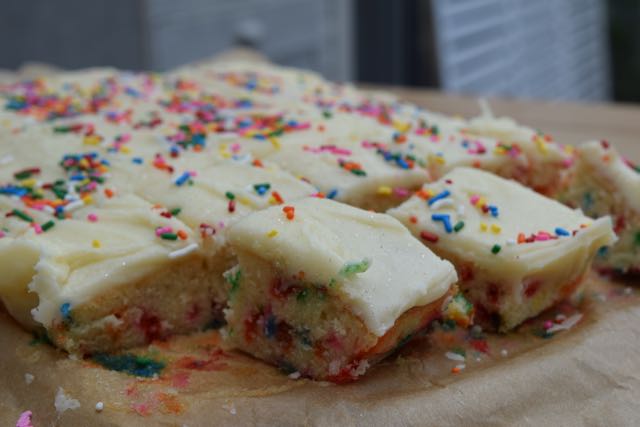 Note how the cake is photographed with a coffee not a large glass of gin, I have standards you know. I love sponge cake, and this is an absolute beauty. Simple, full of flavour and whether you add sprinkles, chocolate, fruit or whatever you fancy, it's still amazing. And it feeds a crowd, or one stressed out 18 year old and his mother.
Good luck to all those awaiting results over the next two weeks. I am thinking of you all and eating your share of this cake.
Lots of love
Lucy x
One Bowl Sprinkle Cake Recipe
Makes a bloody great big 9inch x 13inch slab cake or 2 x 8inch round cakes
You will need a stand mixer, or bowl and hand mixer
Cake
360g plain flour
350g caster sugar
1 1/2 teaspoons baking powder
3/4 teaspoon salt
4 eggs
170g butter, melted or use sunflower oil or another neutral tasting oil
250ml milk
1 tablespoon vanilla extract
100g sprinkles, brightly coloured ones are best, or use chocolate chips, dried fruit or an add in of your choice
Icing
150g butter
60ml milk
550g icing sugar, sieved
1 tablespoons vanilla extract
sprinkles and edible glitter to decorate
Or you could can use this vanilla buttercream
Pre heat your oven to 160 degrees fan assisted and line your cake tin/s with greaseproof paper.
Take a large bowl or bowl of your stand mixer and measure in the flour, sugar, baking powder and salt. Give it a quick mix.
Now, take a jug, if you don't mind the extra washing up, and measure in the butter and melt in a microwave. Alternatively melt in a small pan on the hob and pour into the jug or use oil. Measure in the milk, eggs and vanilla and give it all a good whisk.
Turn on your mixer and pour in the liquid ingredients and mix until smooth. Then give it an extra mix for around a minute or 3 minutes if whisking using your mighty biceps.
Gently fold in your sprinkles or chocolate or fruit, not over mixing or the colours will blend, then pour into your lined tin or tins and smooth the top. Place in the oven for around 25 minutes for the two round cakes or 40 to 45 minutes for the large slab of cake. The cooked cake is golden and firm to the touch.
Leave to cool before icing. Either slather on a rough layer of vanilla buttercream or prepare the pourable icing as follows.
Take a large saucepan and add the butter and milk. Melt over a low heat then remove from the stove and whisk in the sieved icing sugar and vanilla extract until smooth and lump free.
Pour over the top of your cooled cake, smoothing towards the edges to ensure an even later. Top with more sprinkles, glitter, chocolate, fruit, it's up to you.
The cake will keep, well wrapped, in a tin for up to 4 days.
SaveSave
SaveSave
SaveSave
SaveSave
SaveSave