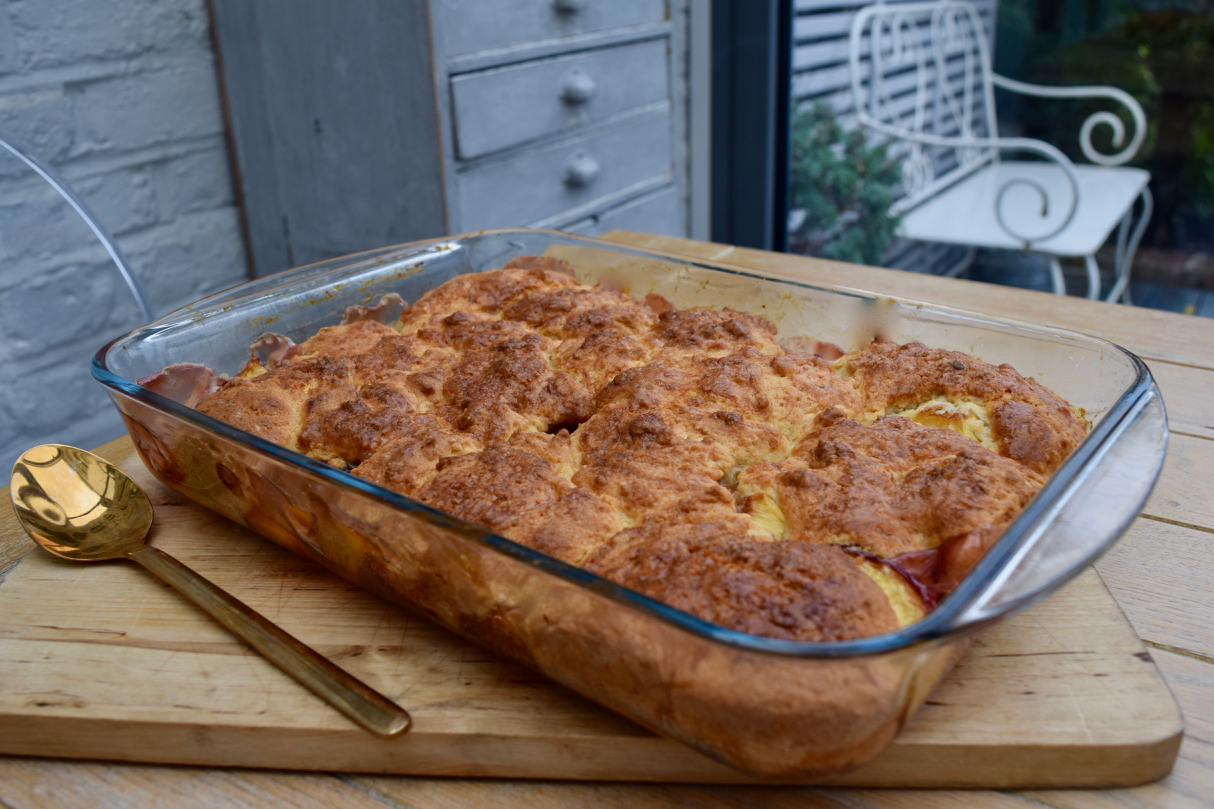 Peach Cobbler Recipe
When it comes to summer fruits, I am a bit fussy. I don't like furry fruits unless they're cooked. Raspberries, gooseberries, blackberries, peaches, they're all just a bit too fuzzy for my liking. But cook them, now that's a different story. The fur disappears and the fruit is suddenly right up my street. This Peach Cobbler may be a little late in the season, but the peaches were on offer and I do love a bargain.
79p for 4 peaches, almost free, thank you to the Co-op round the corner from me at work. I hastily snapped up two punnets with my mouth watering at the prospect of a Peach Cobbler. Late summer/autumn is the perfect time to reintroduce a hot pud into your diet. We've all had enough of ice cream and pavlova for the year, and are oh so ready for something hot to serve with custard. This Peach Cobbler is just the ticket, and it's easy to make. You don't even have to peel the peaches, which is a total win for me. The cobbler part is scone like made with buttermilk making it soft and tender. A tablespoon of demerara sugar, added as an afterthought, gives a bit of crunch. The peaches are succulent, not too sweet and they hold their shape so you're not left with a bowl of mush. A big thank you to the wonderful Sally's Baking Addiction for the recipe inspiration.
I always think a hot dessert is a bit of a kerfuffle. But not a cobbler; this is simple new season treat, with the peaches keeping the summer alive just a tiny bit longer.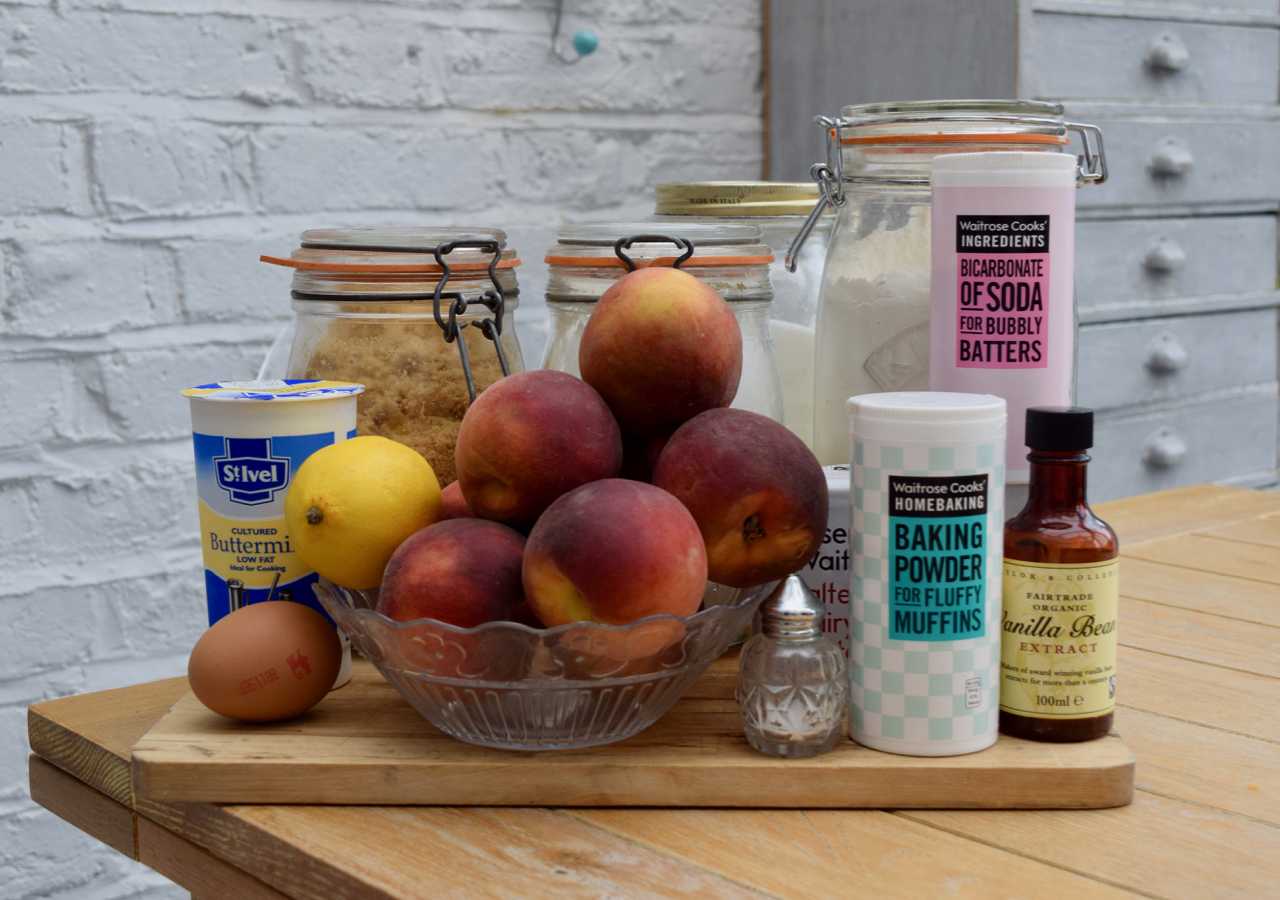 Look at those bargain peaches; all furry when they're raw, sweet and non furry when they're cooked. I used bought buttermilk in my cobbler but if you can't find any then use 110ml of milk with a tablespoon of lemon juice.
Make a start by buttering a large baking dish and pre-heating the oven to 160 degrees fan assisted. Next, chop your peaches into bite sized pieces, no need to peel, hooray for tiny victories.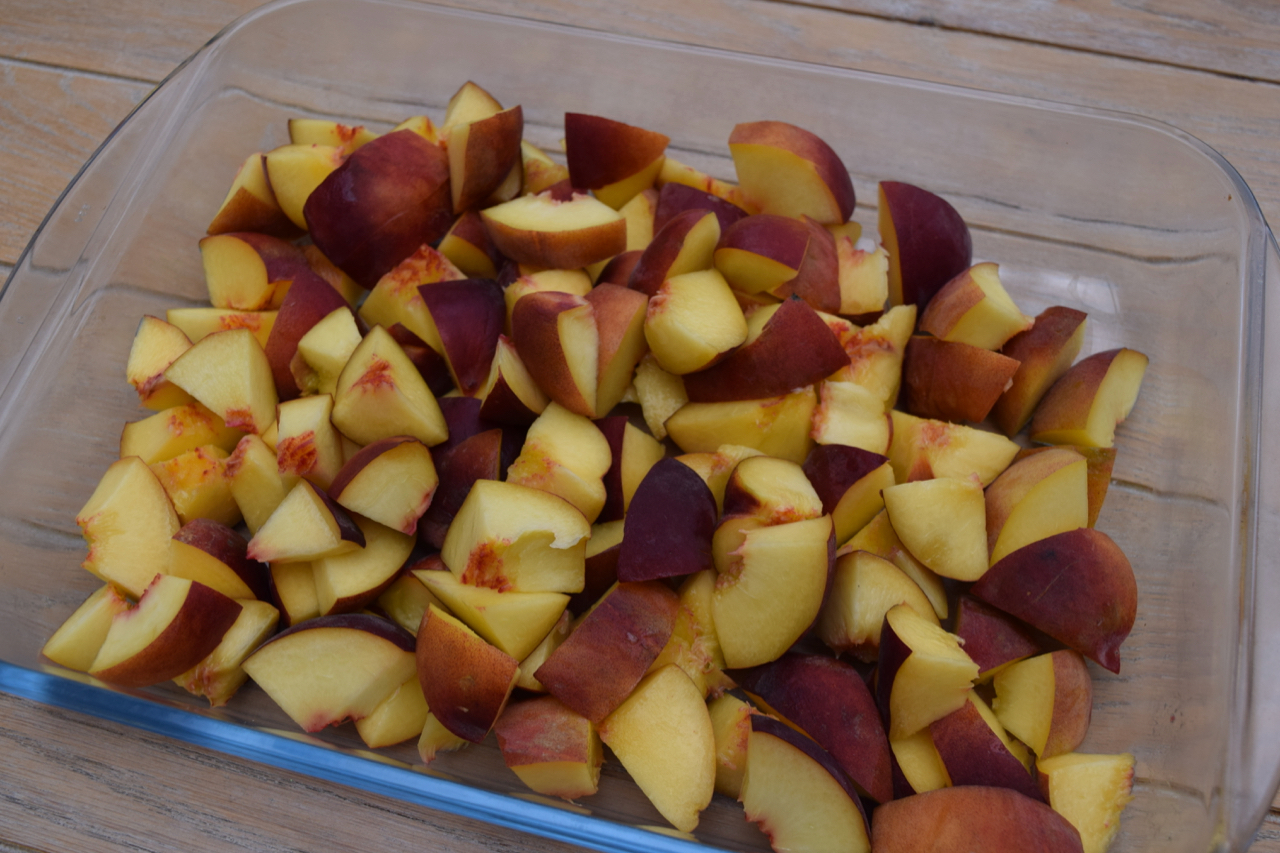 Next stir through the brown sugar, cornflour, lemon juice and optional cinnamon, mixing evenly.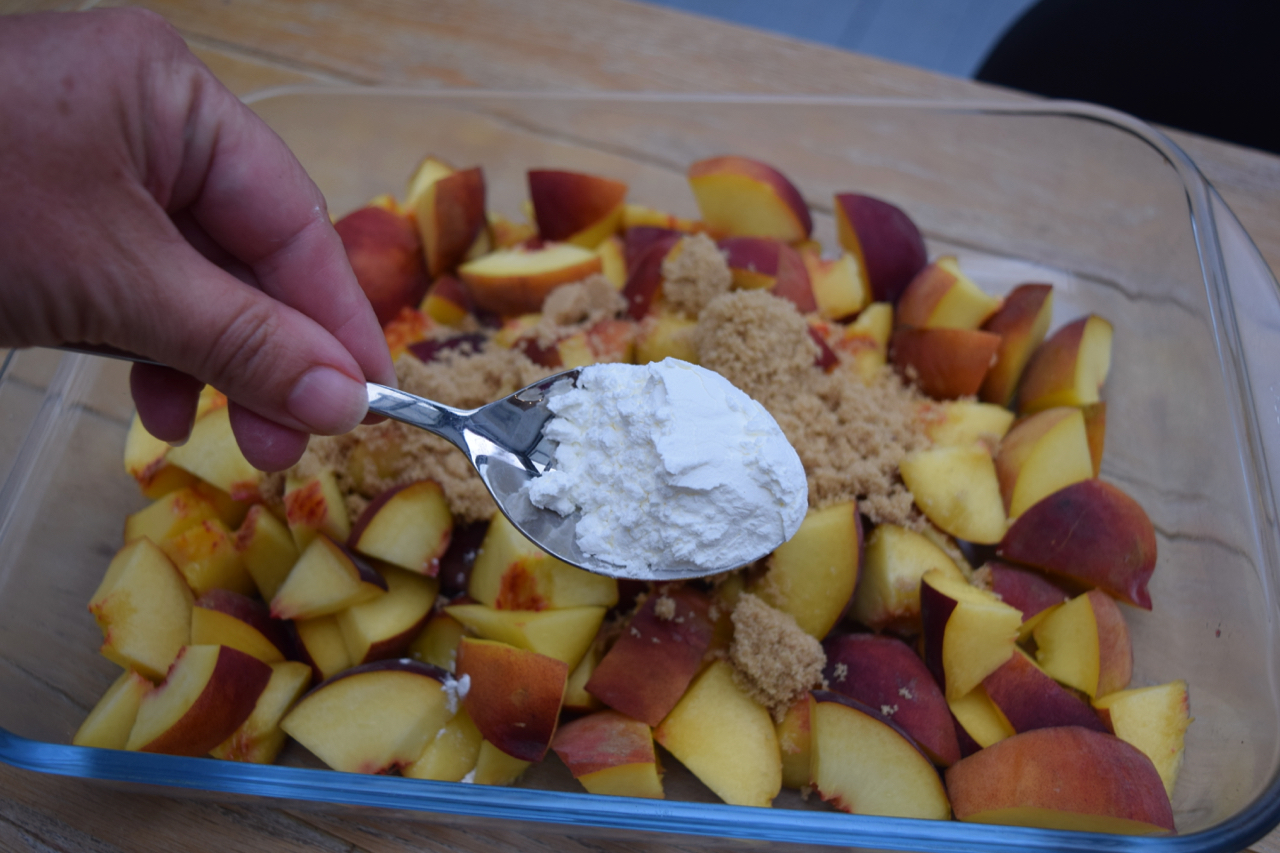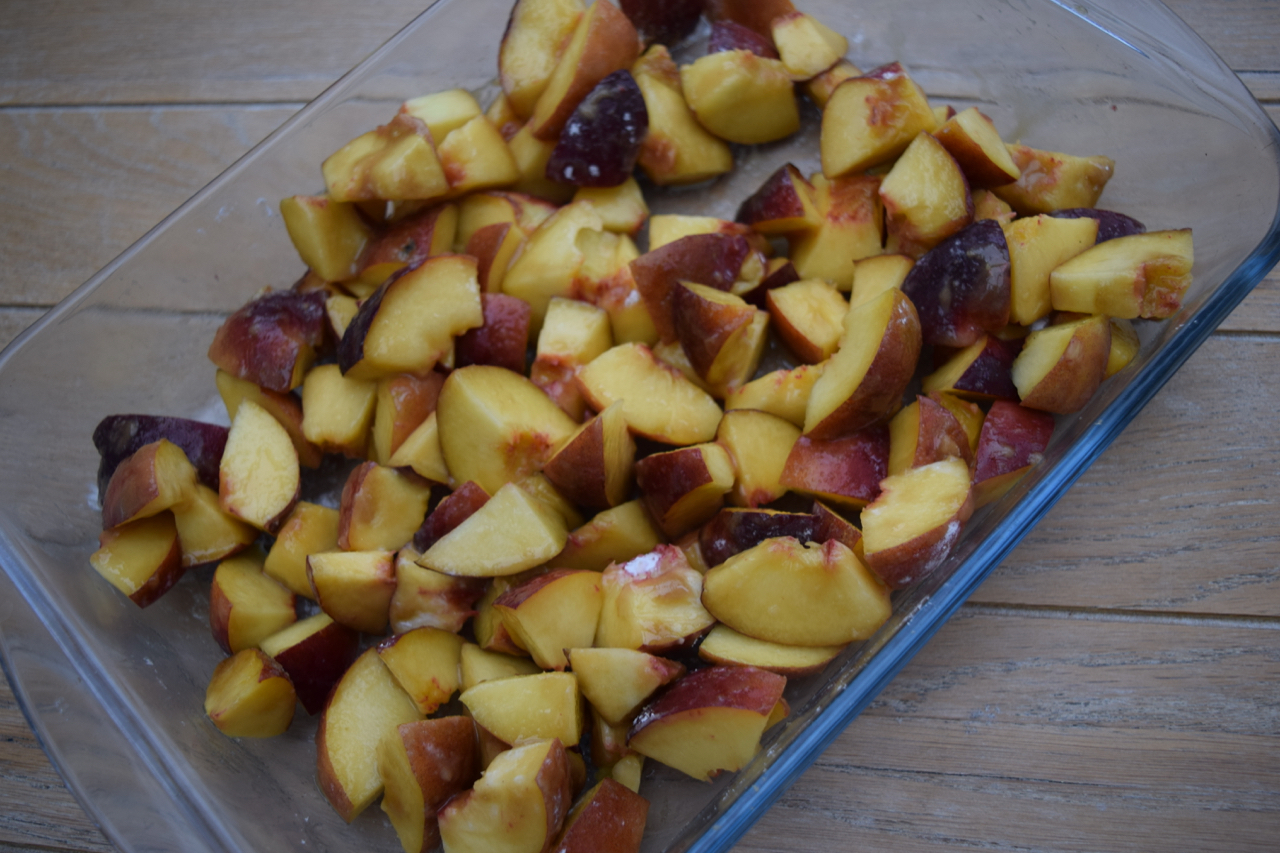 Pop this into your pre heated oven for ten minutes to give the fruit a head start. Now get on with the cobbler.
Either in a food processor or in a bowl measure in the flour, sugar, baking powder, bicarb, lemon zest and salt. Rub or process the chopped cold butter into the flour mix until the mixture looks like breadcrumbs.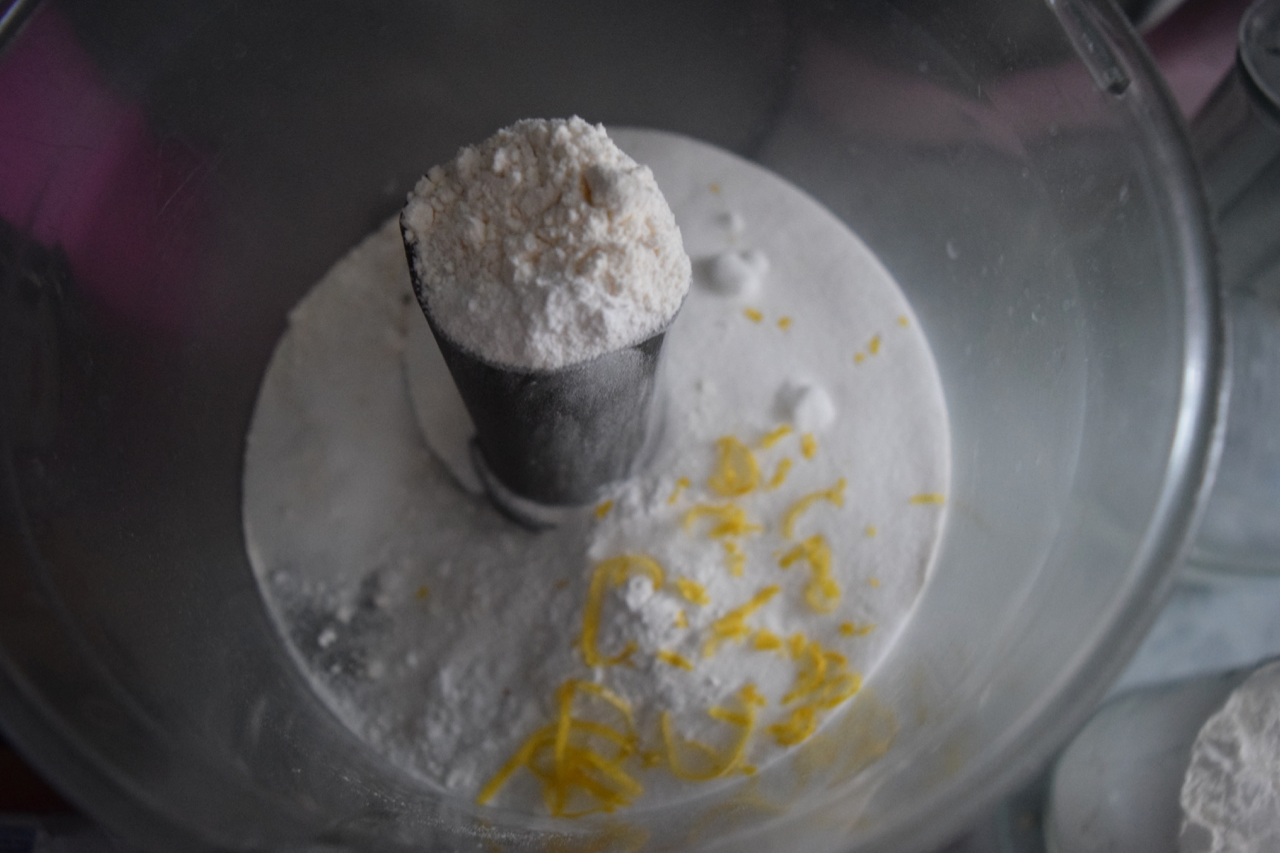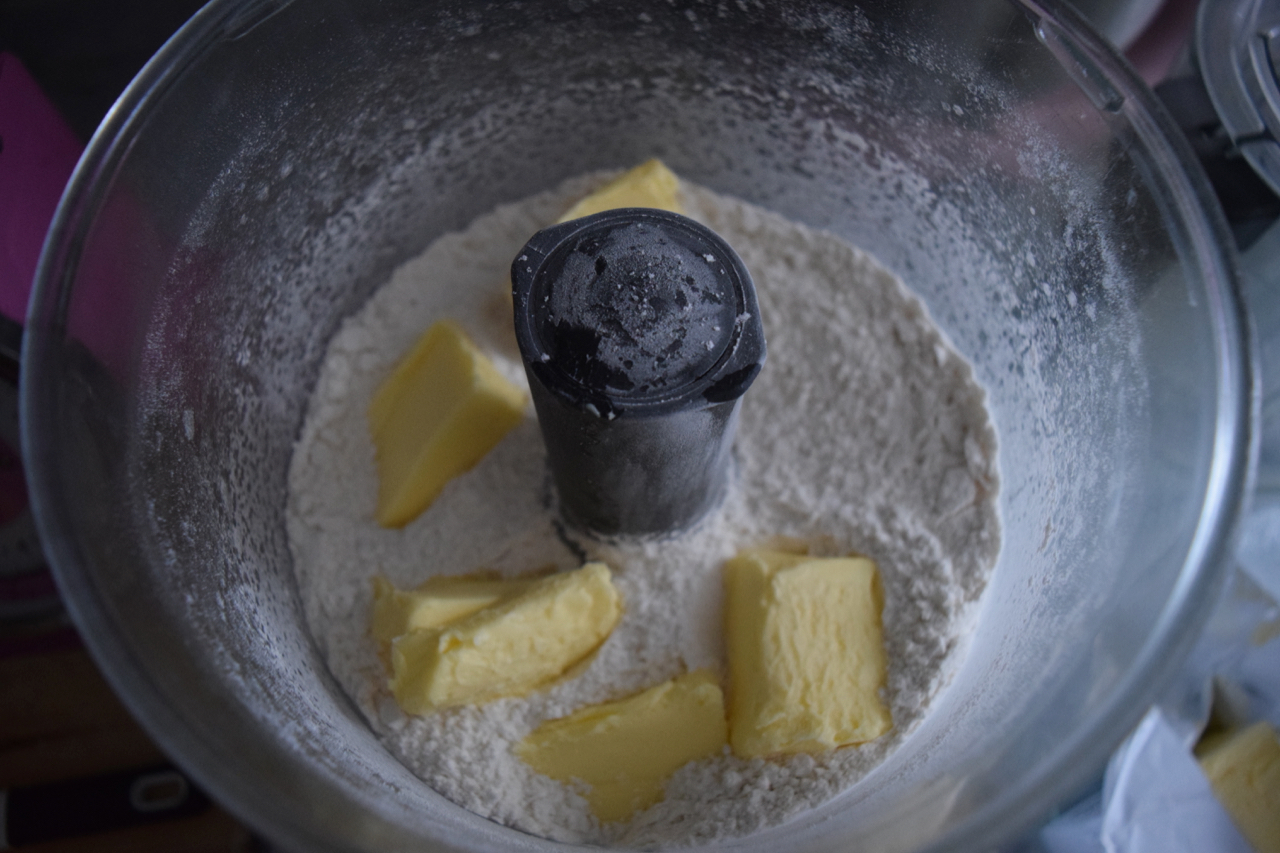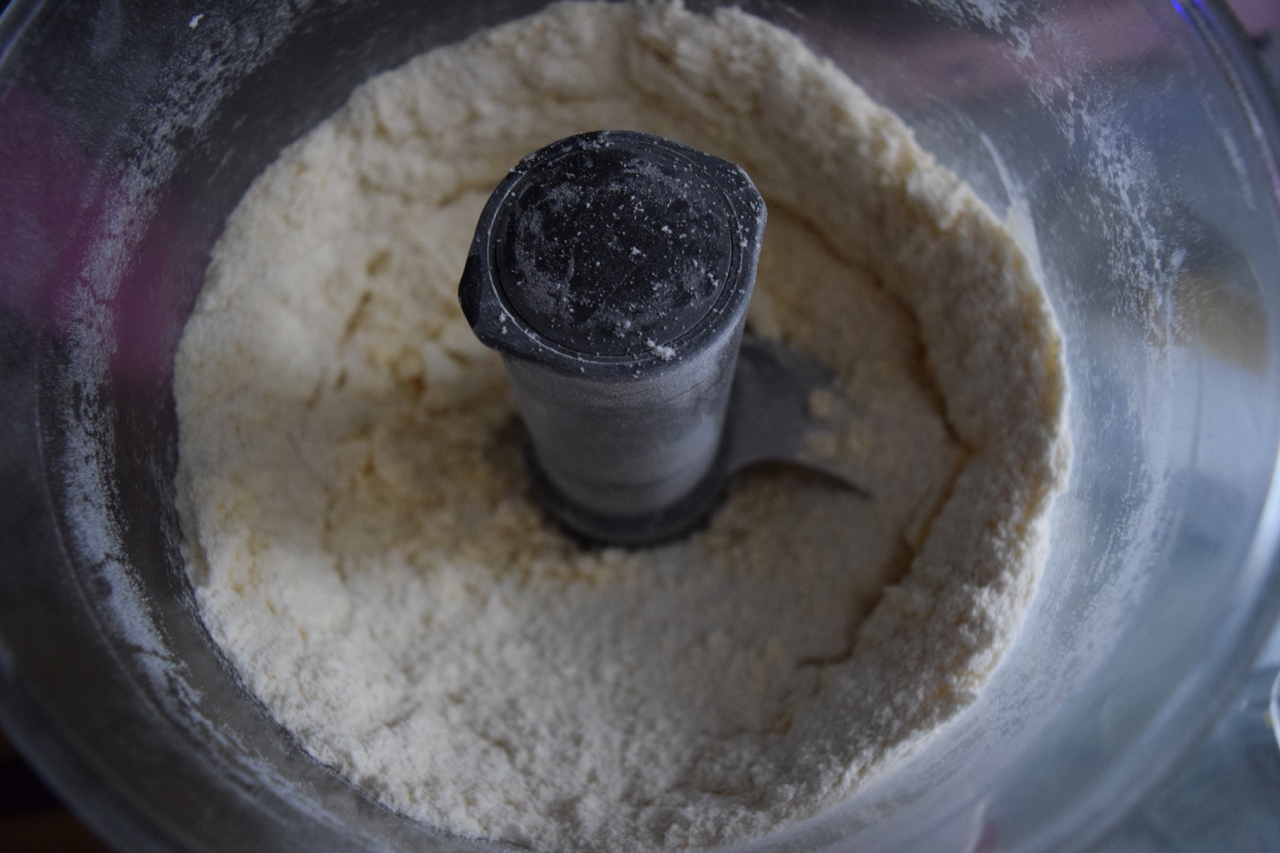 Pour in the buttermilk and process or mix until you have a soft dough.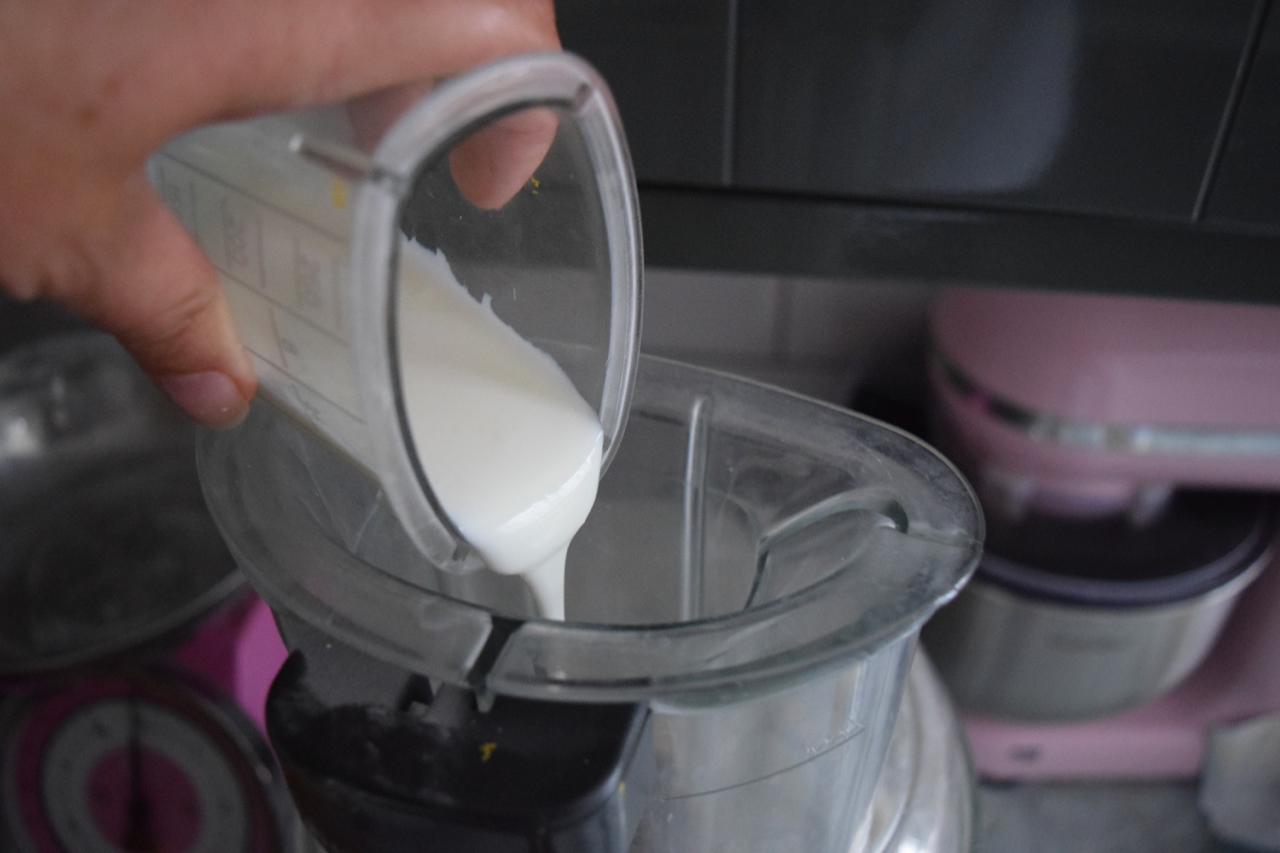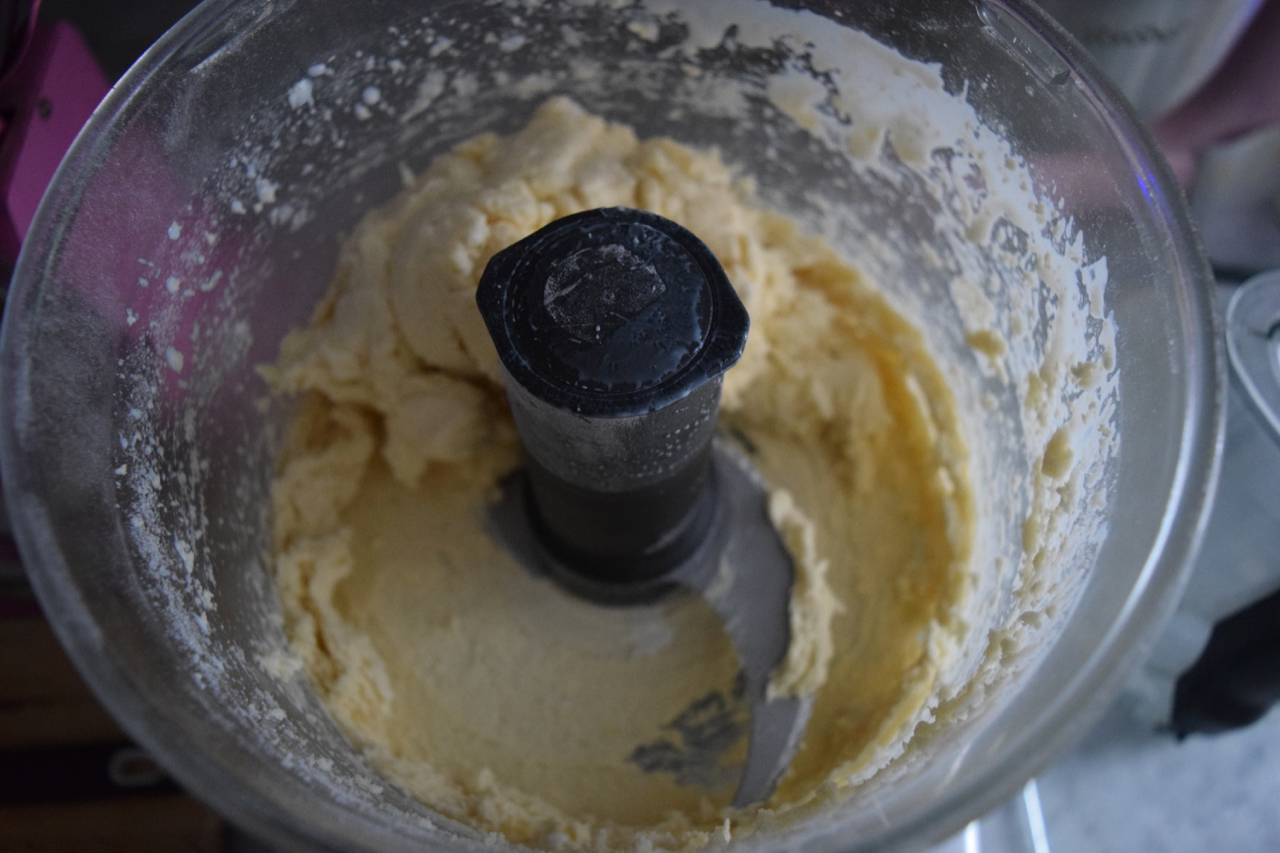 Take your partly cooked peaches out of the oven.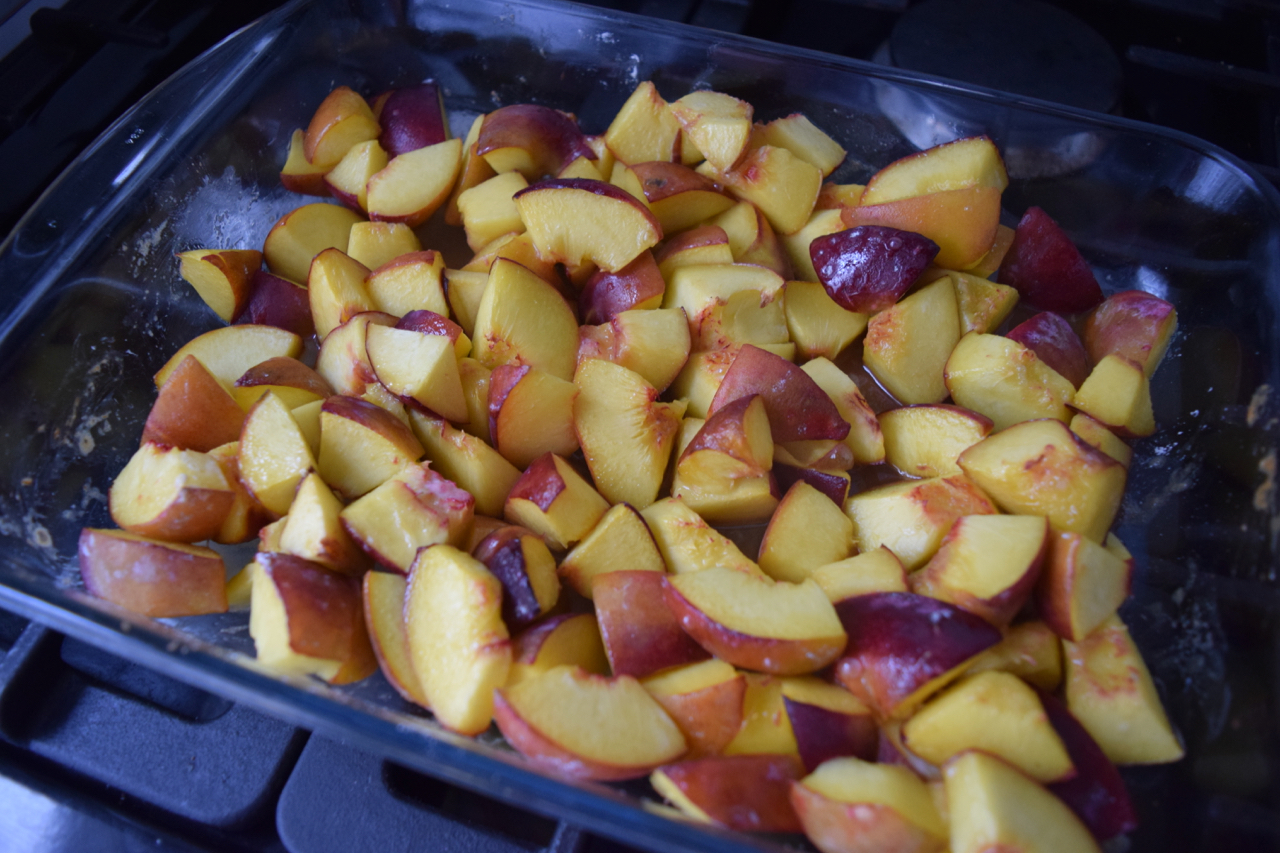 Tear off pieces of the dough and flatten them slightly; the dough is soft, don't panic if you just have blobs. Lay these onto the peaches, the mixture won't fully cover the fruit but it will spread during cooking.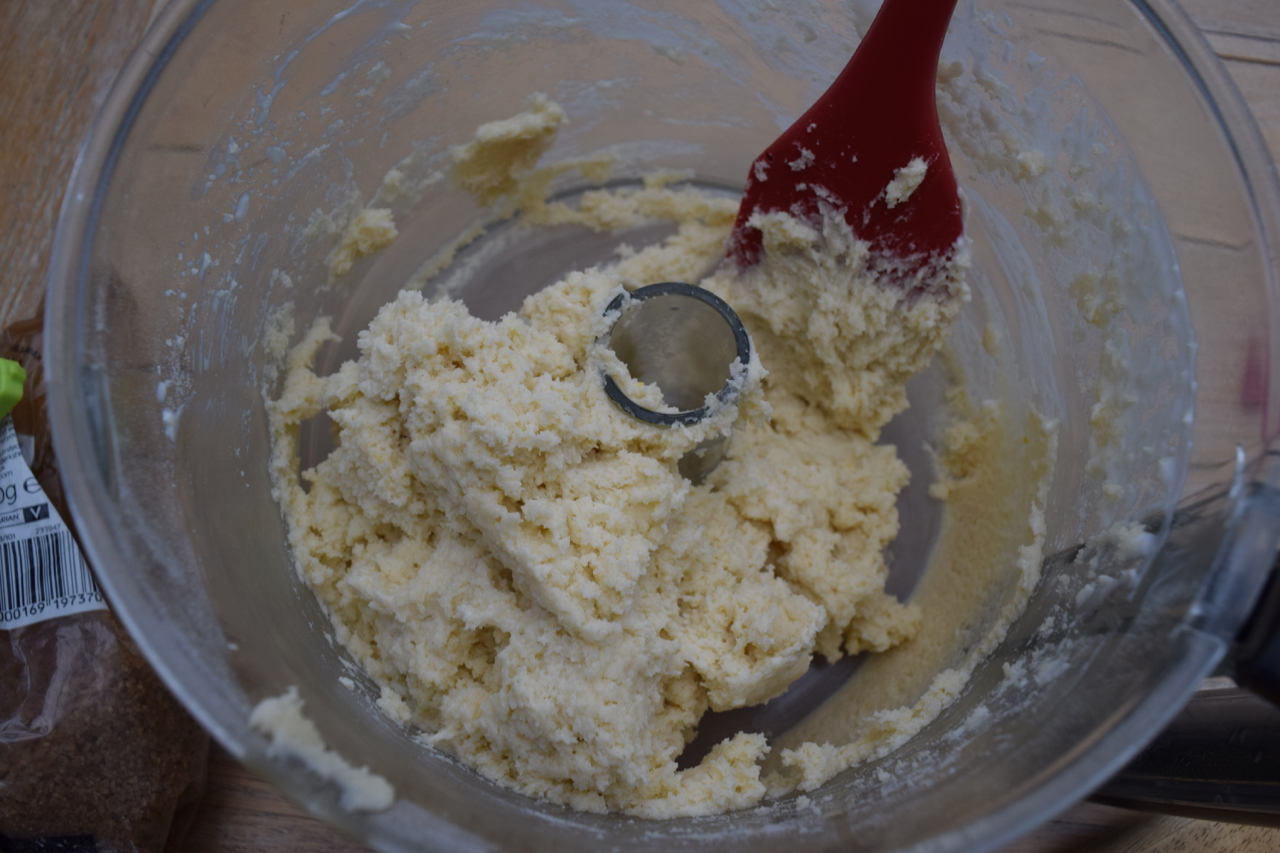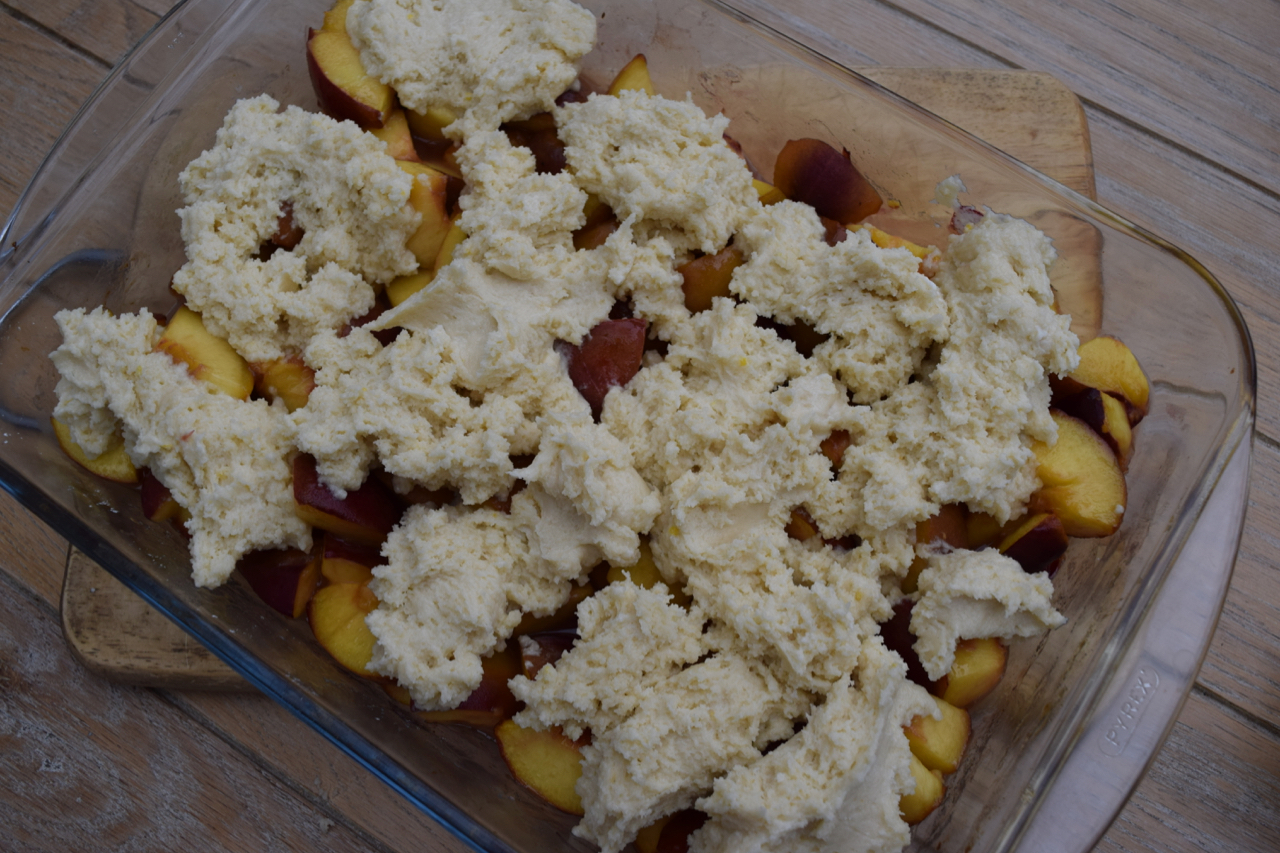 Brush the dough with beaten egg then sprinkle the top of the cobbler with either demerara or granulated sugar.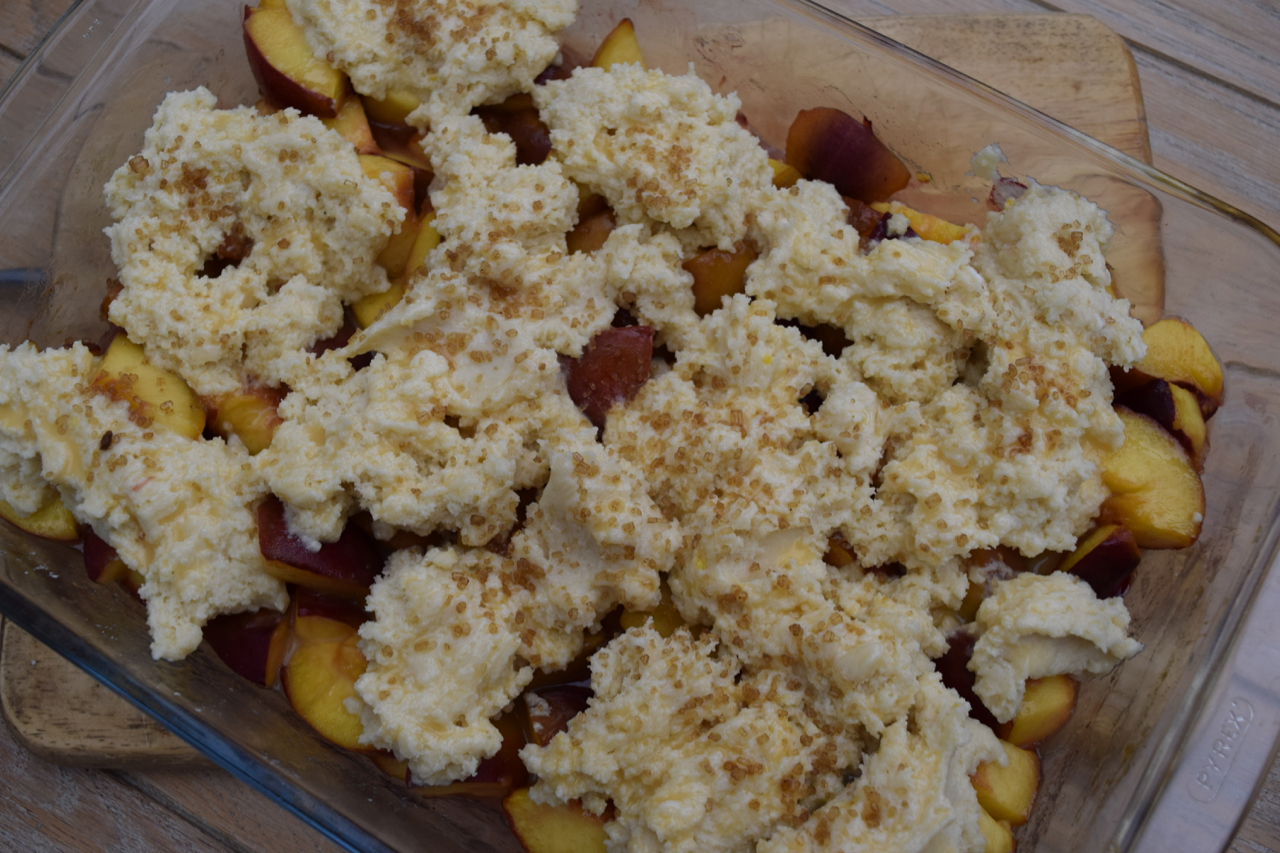 Bake in the oven for 35 to 40 minutes. The cooked Peach Cobbler will have bubbling fruit and a firm golden top.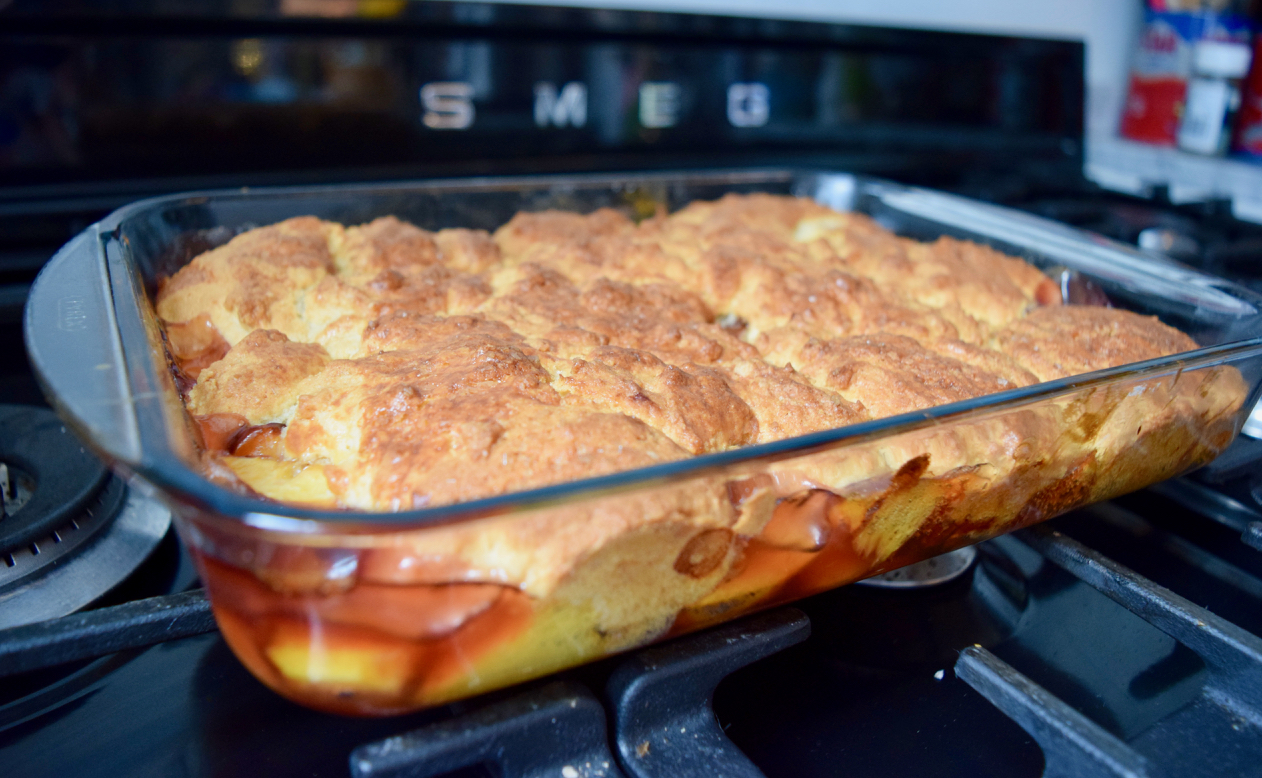 Serve piping hot with double cream, custard or ice cream. Or, as always, all three.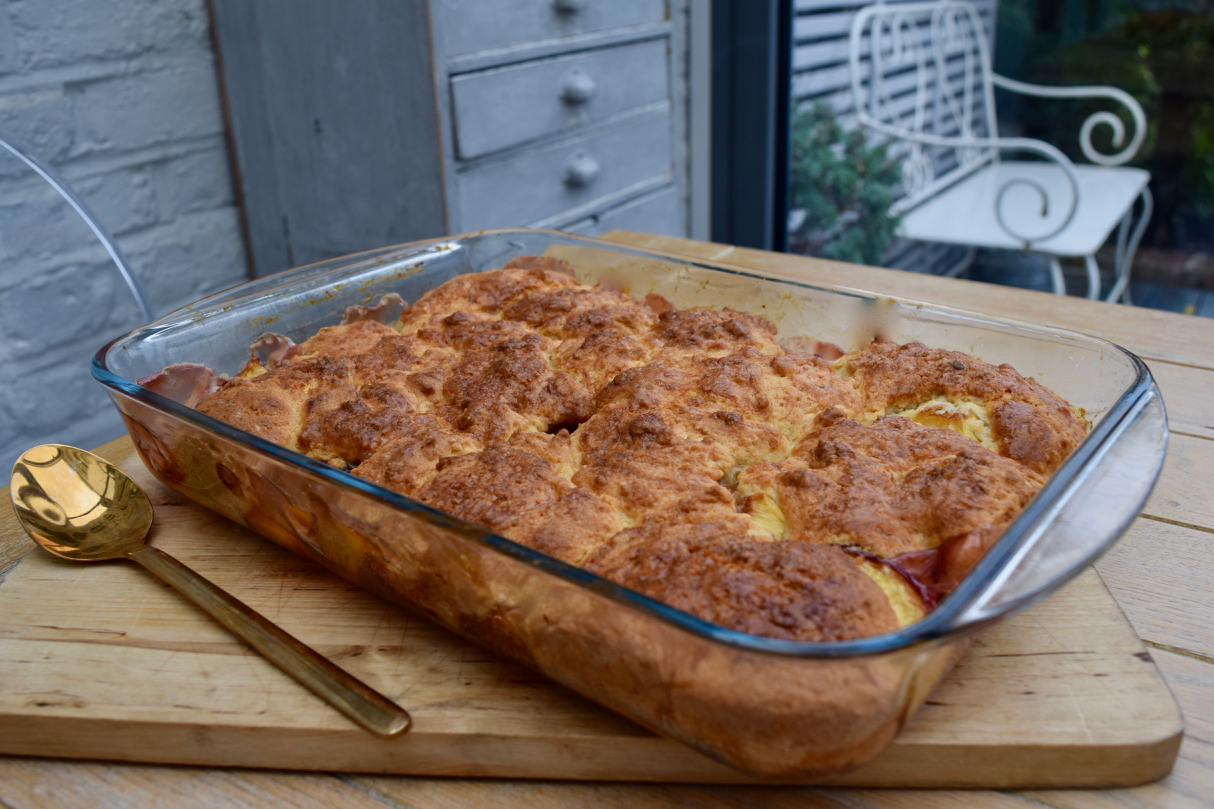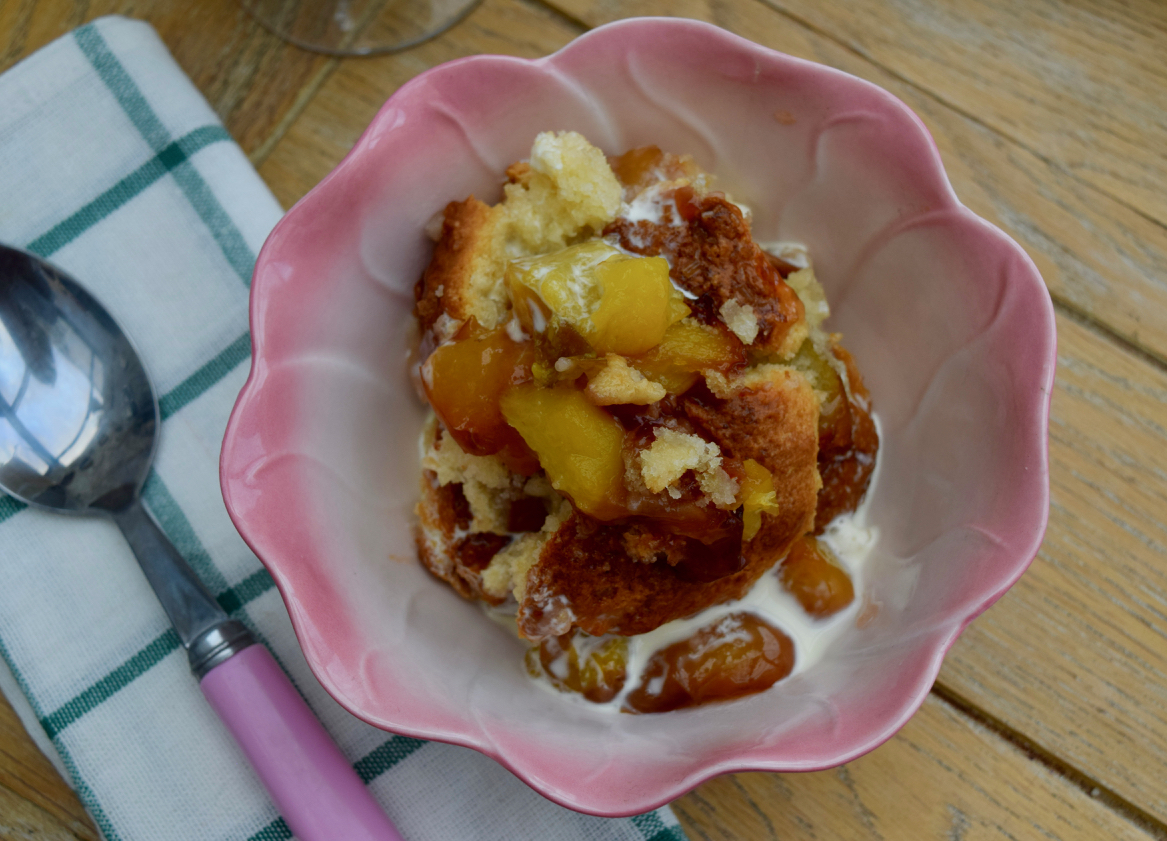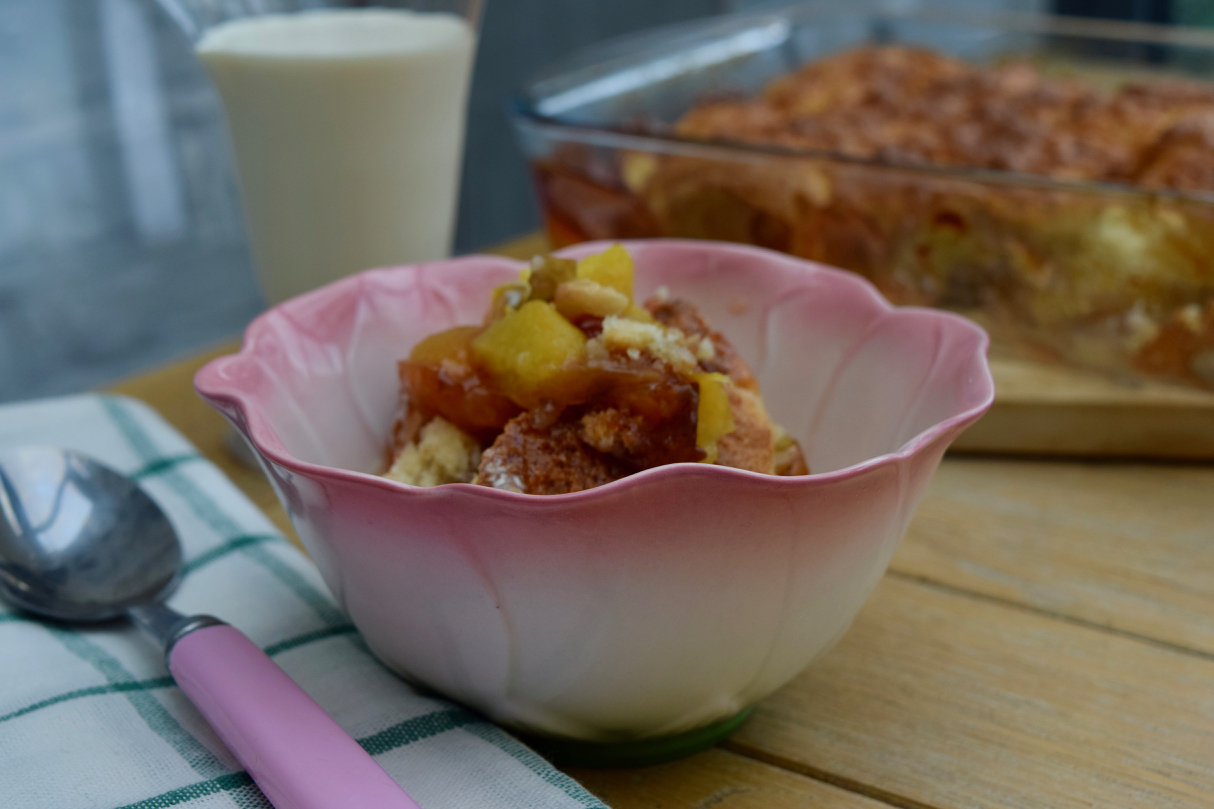 This is comfort food at it's best. A crisp, sweet top conceals soft, juicy peaches. All hot puddings are just a vehicle for litres of double cream for me. But it's always nice to find something this delicious underneath the cream lake.
Lucy x
Peach Cobbler Recipe
Serves a good 6, maybe more
You will need a large baking dish, buttered
8 good sized ripe peaches, chopped into bite sized pieces
50g soft brown sugar
1 tablespoon cornflour
1 tablespoon lemon juice
1 teaspoon vanilla extract
1/2 teaspoon cinnamon – optional
250g plain flour
100g caster sugar
1 1/2 teaspoon baking powder
1/4 teaspoon bicarbonate of soda
1/2 teaspoon salt
Zest of a lemon
115g cold butter, chopped
120ml buttermilk, or 110ml mixed with 1 tablespoon lemon juice
1 egg, beaten, to glaze
1 tablespoon granulated or demerara sugar
Double cream or custard or ice cream, or all of them, to serve
Pre-heat your oven to 160 degrees fan assisted and butter a large baking dish.
Chop the peaches into bite sized pieces, no need to peel. Tip these into your baking dish. Stir in the lemon juice, cornflour, vanilla and optional cinnamon. Then place into the oven for 10 minutes.
While the peaches are cooking crack on with the cobbler topping. In your food processor, or in a bowl, measure in the flour, sugar, baking powder, salt, lemon zest and bicarb. Give the mixture a good stir. Drop in the cold butter, and either process or rub into the flour until the mixture resembles breadcrumbs.
Pour in the buttermilk and mix until you have a soft dough. Remove the partially cooked peaches from the oven when the ten minutes is up.
Take handfuls of the dough and flatten slightly. It will be sticky, so just do your best. Put the pieces of dough onto the hot peaches, partially covering them. It won't cover all the peaches, don't worry, the cobbler will spread once cooked. Roughly brush the topping with the beaten egg then sprinkle with the sugar.
Place into the pre heated oven for 35 to 40 minutes, or until the top is golden brown and the peaches are bubbling.
Serve piping hot with cream, ice cream or custard, or all of the above. Any leftovers are just as good reheated the next day or the day after.