Nana's Chocolate Cake Recipe
Ever since I started baking, I have been slightly obsessed by cakes made using vinegar. This obsession began with this particular Chocolate Cake recipe and has gone on ever since. I am always slightly puzzled by the chemistry of adding vinegar to cake mixture, what it does to the cake and how the bloody hell it doesn't make the cake taste like your local fish and chip shop. In my constant quest to find yet another chocolate cake recipe, I discovered this Nana's Chocolate Cake recipe via the Bon Appetit website, with thanks, and fell in love with it instantly.
I do love a cake with a bit of history and this cake is not my Nana's Chocolate Cake but it belongs to the Alaina Sullivan's Nana, bless her, whoever she is. But I did think this would be a lovely Mother's Day recipe, especially as it had originated from someone's Mother, albeit not one with anything to do with me. On a side note, as a Mother myself, I would be extremely pleased if someone made me this cake as a sign of appreciation on Mother's Day, but, I shan't hold my breath waiting. This is a simple recipe, one bowl kind of, apart from ones used to weigh things, followed by an absolutely amazing new icing recipe, which I will now be covering pretty much everything in from here on in. This icing is made using chopped milk or dark, or both, chocolates, hot evaporated milk and butter, not a cloud of icing sugar in sight. This creates a shiny, smooth ganache style icing which can be swirled and slathered to your hearts content. On top of the beyond *aaaggghhh* moist and fudge-like chocolate cake, these two are a match made in heaven. You can use coffee or water in the recipe, the coffee adds a richness, but doesn't leave an overriding coffee flavour, in case you're worried.
I feel bad mugging in on someone else's Nana's recipe, but I couldn't help myself, it's such a good one. So treat the Mother in your life, this Sunday, to this divine Chocolate Cake, whoever she or he may be. Nothing says love like cake, especially one covered in so much shiny chocolate icing and sprinkles.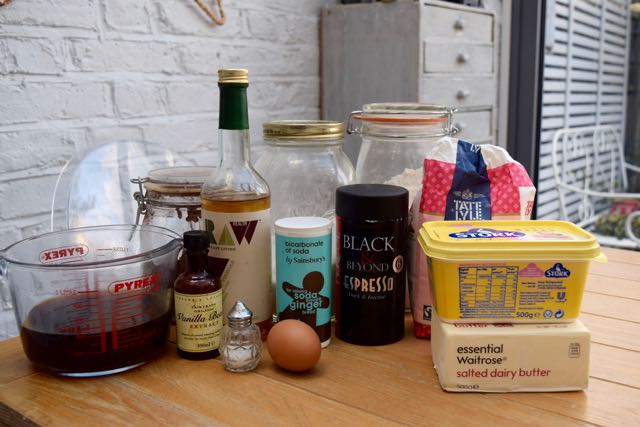 Ok, so here's the line up, but ignore the coffee and icing sugar in the photo. I made this cake for the first time a while ago and about 100 times since and have finally found the perfect icing. This world class icing is courtesy of the ever amazing Food 52, with thanks. This super find was after this original photo, so here's another one for your collection.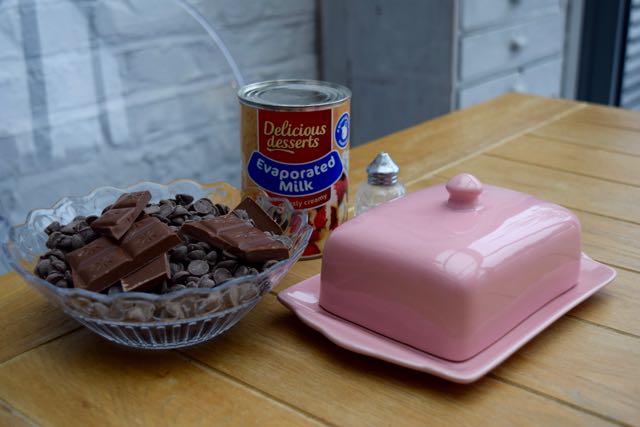 But first, back to the cake. Make a start by lining a swiss roll style rectangular tin with baking paper or buttering really well and pre heating your oven to 160 degrees fan assisted.
Now, in your stand mixer or in a large bowl with a hand whisk beat the soft butter or Stork *still nothing from bloody Unilever regarding my years worth of free PR I have given them*, caster sugar and the egg until both lighter in colour and texture.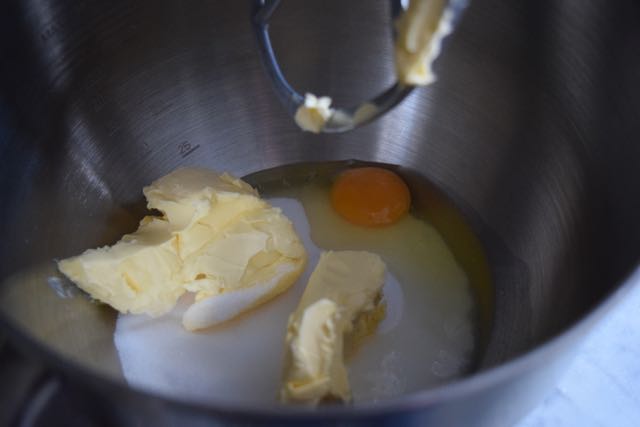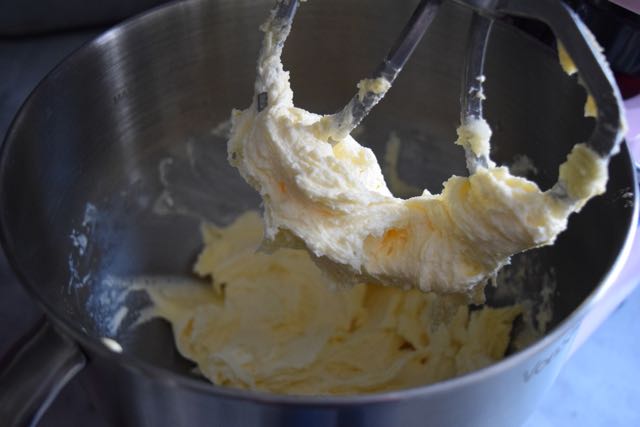 In another bowl measure out the flour, cocoa, bicarb and salt and lightly mix together.  Add this slowly to the butter and sugar and beat until mixed. It will be stiff, but don't add it all at once or your whole kitchen will be covered in flour and cocoa.
Now, whisking as you go, pour in the brewed coffee or water if you'd rather, vanilla and two tablespoons of the all important vinegar. Beat until you have a smooth, and quite liquid, batter.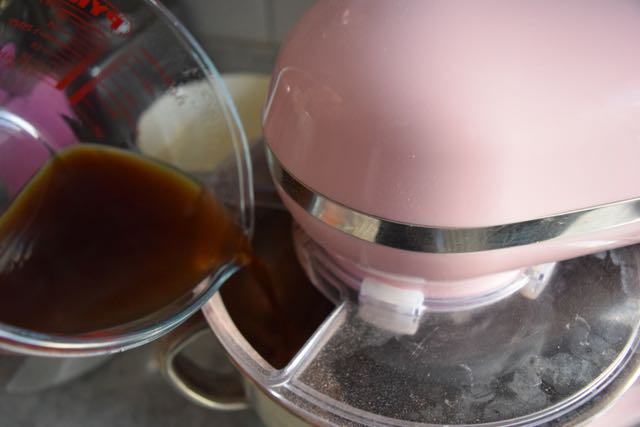 I used coffee as it adds a lovely depth, the cake doesn't really taste of coffee.
Now, when you've finished licking the spatula *health and safety caution thrown to the wind*, scrape the batter into your lined tin and level the top by giving the tin a tap on the work surface.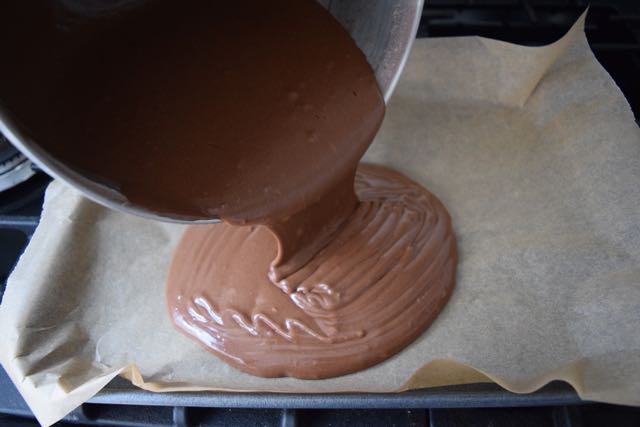 Pop this wonderful cake batter into the oven for around 25 minutes or until firm to the touch and a skewer comes out clean when poked in the middle.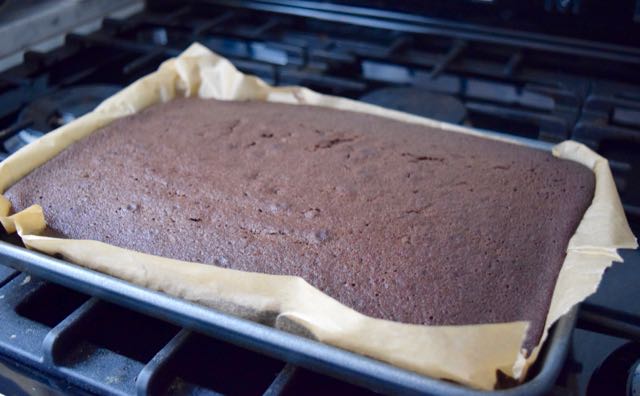 While this divine sponge is cooking, crack on with the crack like icing. For this you will need a food processor or some wonderful chocolate chopping skills. Chop your chosen chocolate or blitz to a rubble like texture in your food processor. I used half milk and half dark which was just perfect, not too sweet and not too bitter.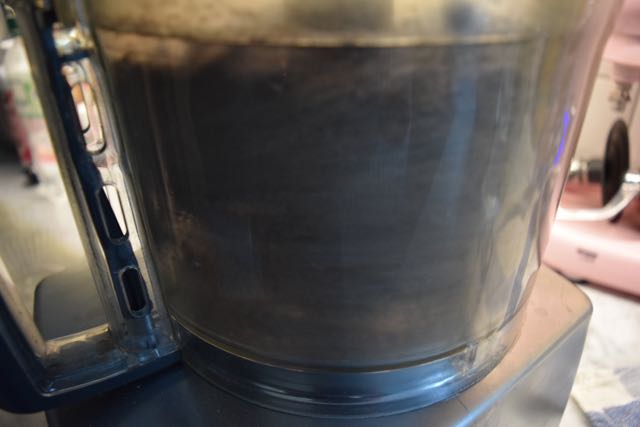 Heat the evaporated milk until just simmering either in the microwave or in a small saucepan. If you use all milk chocolate, you will probably only need 200ml of evap, so don't add it all at once.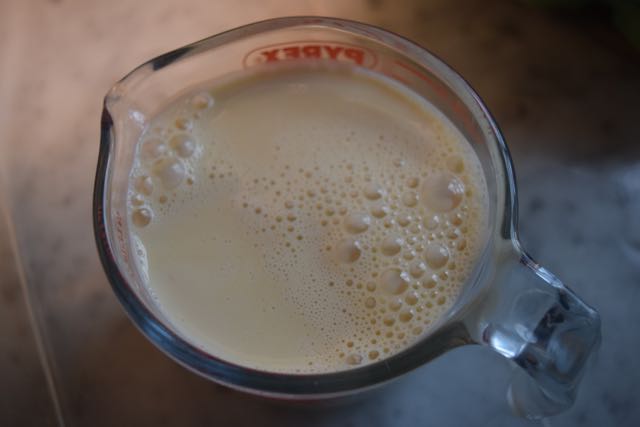 Now pour this onto the chopped chocolate along with the pinch of salt and chopped butter. Process until smooth and super shiny.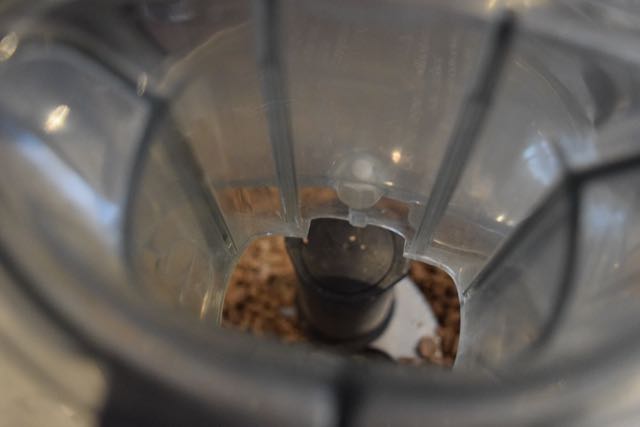 Pour this beautiful mixture into a bowl or jug to cool down and to firm up. This can take anywhere from 15 minutes to an hour, don't be tempted to put the icing in the fridge as it will lose it's sheen and become too hard to spread.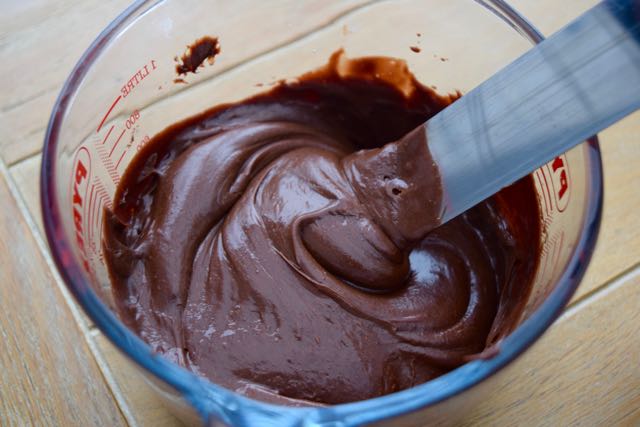 Now, slather this amazing mixture onto the cooled cake and sprinkle away to your hearts content.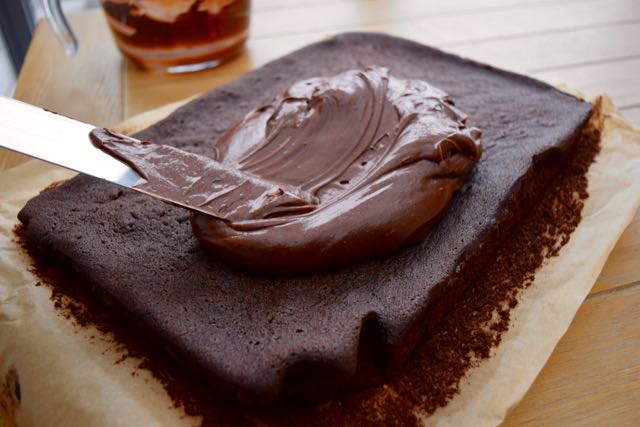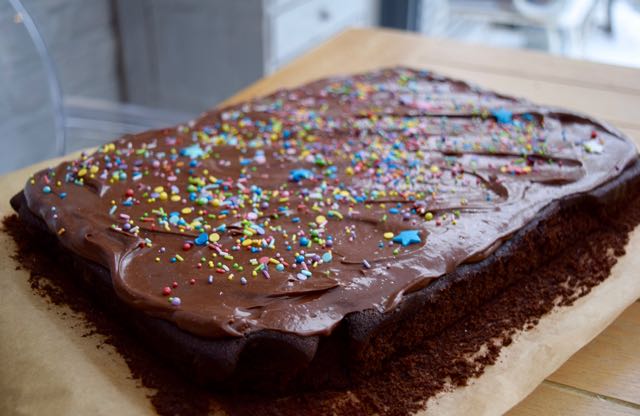 Serve this amazing cake, as always, in elegant slabs or discreet squares, with or without the glass of fizz.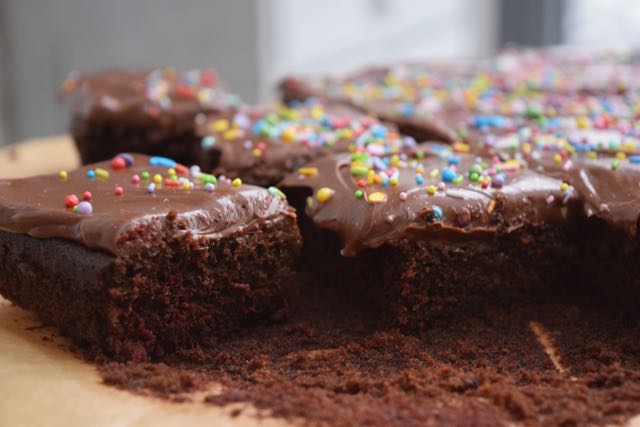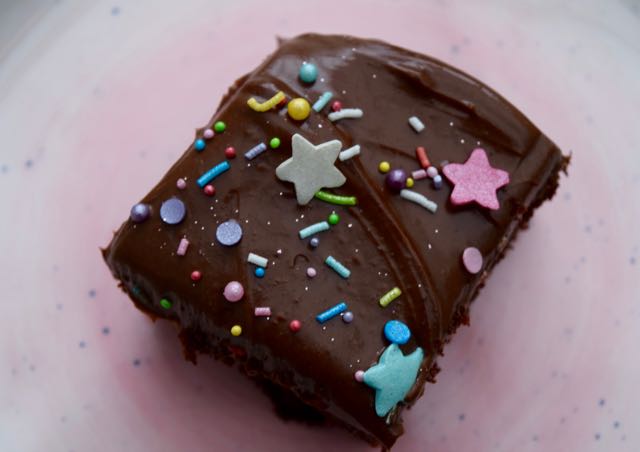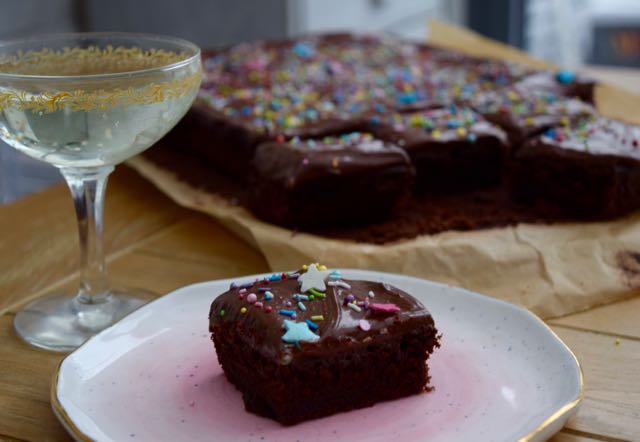 Mother's Day can be wonderful, a day to be appreciated, a day to show someone you love and care about them *that means you, Mum* but it can also be an emotional day for those who are not with their Mother's.  This cake is perfect for anyone you love and what better way to show them than with fudgey sponge slathered with glossy icing. I don't think I could spell this out any clearer to my family, do you?
Happy Mother's Day for Sunday, to all the Mother figures in your lives.
Lucy x
Nana's Chocolate Cake Recipe
Makes a large rectangular cake, about 24 squares
You will need a stand mixer or hand mixer and a large bowl
Cake
180g soft butter or Stork
400g caster sugar, it's a lot but this makes a big cake so don't panic
1 egg
325g plain flour
1 teaspoon bicarbonate of soda
50g cocoa
1/2 teaspoon salt
1 teaspoon vanilla extract
350ml brewed coffee or water
2 tablespoons vinegar
Icing
350g milk or dark chocolate, I used half of each
200ml to 240ml evaporated milk, you will need less if you use more milk chocolate than dark
60g butter, chopped
A pinch of salt
Sprinkles, glitter, rose petals to decorate
Pre heat your oven to 160 degrees fan assisted and line a rectangular swiss roll sized tray.
In your stand mixer or bowl and hand mixer beat the soft butter, caster sugar and the egg until lighter in colour and texture. In another bowl mix together the flour, bicarb, cocoa and salt.
Slowly add the dry ingredients to the butter and egg mixture then pour in the vanilla, brewed coffee or water and the two tablespoons of vinegar. Beat well until the batter is smooth. It will be quite a thinnish batter.
Pour this into your lined tin then bake for 25 to 30 minutes or until a skewer comes out clean when poked in the middle. Leave to cool before removing from the tin.
While the cake is baking crack on with the icing as it will need to set. In your food processor, blitz the chocolate/s until a rubble like texture. Heat the evaporated milk in a pan or in the microwave until just simmering then pour over the chocolate and process until smooth. Add the salt and the butter in pieces, process until smooth. Pour into a bowl or jug and leave to set. This will take anywhere from 15 minutes to an hour. You need it to be shiny and spreadable, don't be tempted to put in the fridge or it will be too hard to spread.
Spread your cooled cake with the smooth icing, swirl, then top with the sprinkle of your choice. Cut into decadent slabs. Keep the cake for up to 4 days in a cool place in an airtight tin.
SaveSave
SaveSave
SaveSave
SaveSave
SaveSave
SaveSave