Sausage, Beef and Ricotta Lasagne Recipe
When we have lunch guests, I often think I'll throw together a carefree Lasagne. But then I always regret it, as it turns into quite the bloody drama. Bolognese, white sauce, blah blah, really grotty saucepans to wash up, it becomes a full scale kerfuffle and I end up wishing the guests weren't coming. *not really, all my lovely friends*
But I have recently discovered the joys of this Sausage, Beef and Ricotta Lasagne which quite takes the drama out of a lasagne. No need for a roux based white sauce which genuinely makes this a quick and simple dish and it's on the table in just over an hour. And, did I mention, it's completely delicious. This is an American recipe, care of Baked by Rachel, with thanks, and I am led to believe the ricotta filling is quite de rigueur in an Italian American created lasagne. Throw in some spinach and this is a complete meal in one and quite the crowd pleaser as this recipe makes a bloody great big trough full. Enough for 6  really quite hungry people, even in our house.
So, with more and more mouths to feed over the next few weeks, this Sausage, Beef and Ricotta Lasagne could be just the recipe you need. Quick, simple and super delicious. And only a pan and a bowl to wash and no scouring, result. Leaving you more time to put your feet up and drink Christmas cocktails. Ha ha, more like extra time to run around buying presents, writing cards, making lists and generally creating a fabulous Christmas. Deep breaths, only 24 days to go.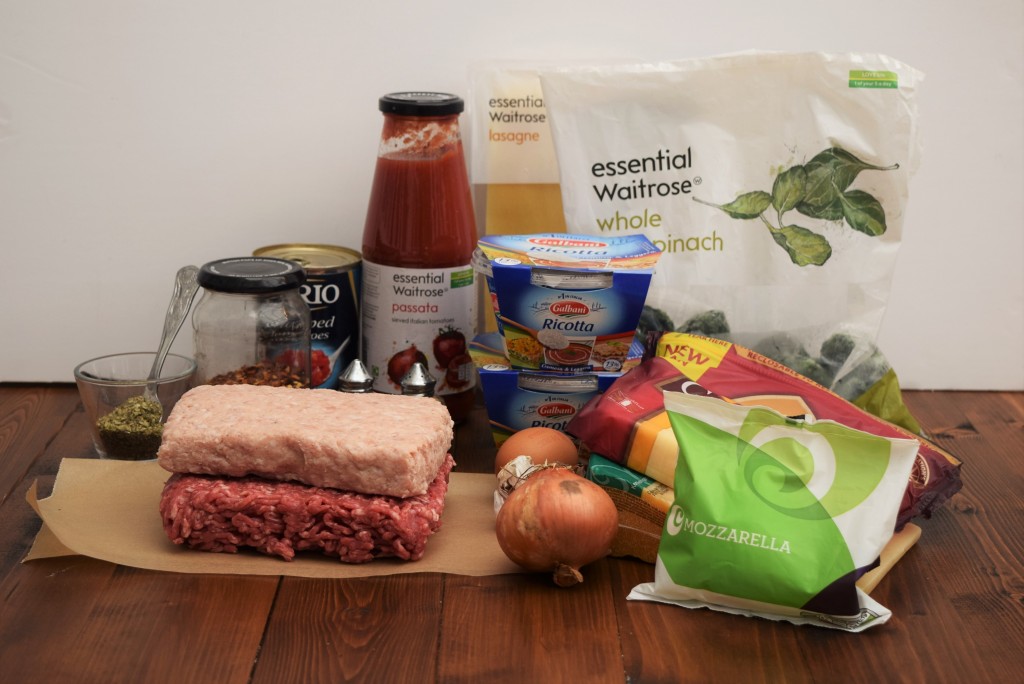 Here's the line up of ingredients for this lovely dish. Looks a bit of a jumble but there's really nothing here to be afraid of. Lots of cheese and meaty deliciousness.
Make a start with this bumper dish by pre heating your oven to 170 degrees, fan assisted. Then put a good sized frying pan on to heat up. Use one bigger than mine as mine was far too small and it all slopped over onto the hob, well done me. Add the sausage meat and beef to the hot pan and give it a good mash and stir so it browns evenly and starts to cook through.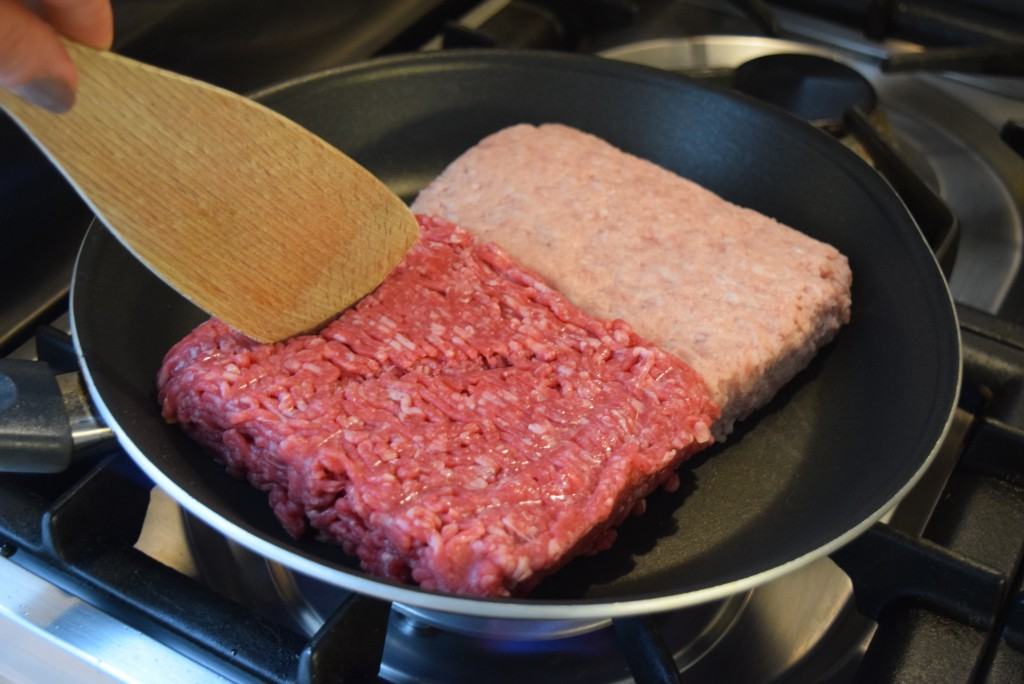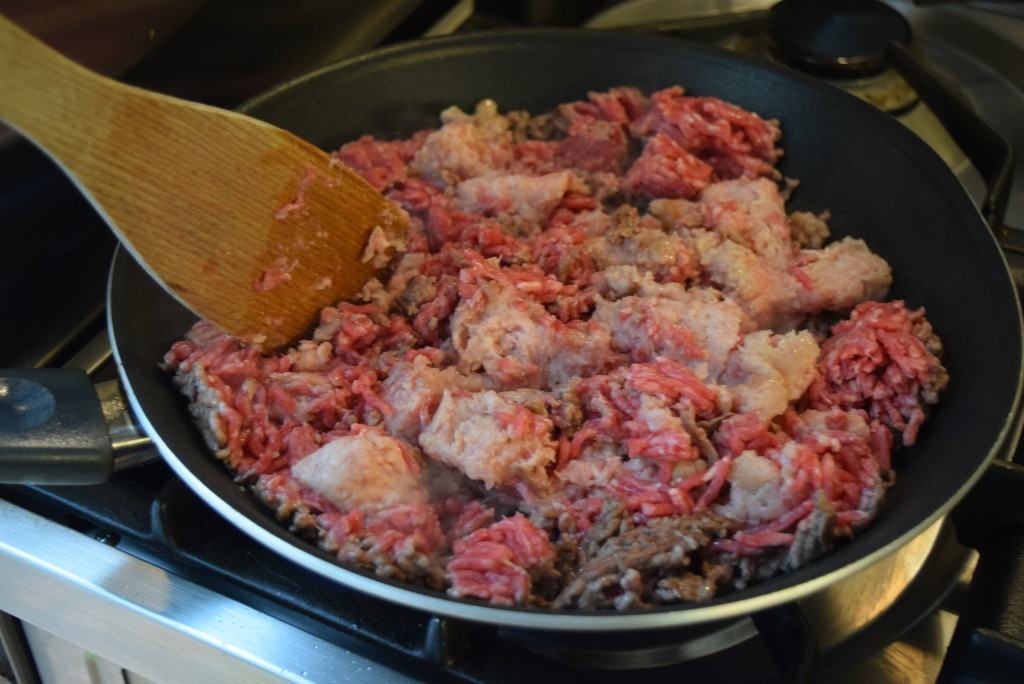 Once the meats are starting to cook, add your finely chopped onion *mine was less than fine*, crushed garlic, dried basil and oregano, salt and pepper and a pinch of chilli flakes for just a whiff of spice.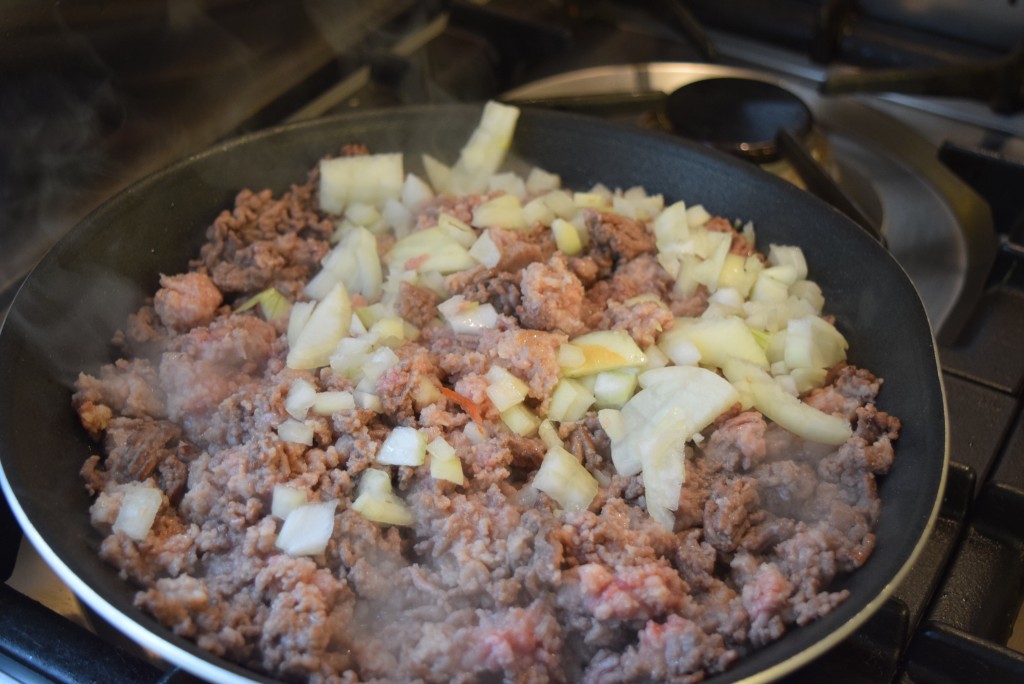 Not only was my onion chunky, I managed to include a bit of skin, so well done me.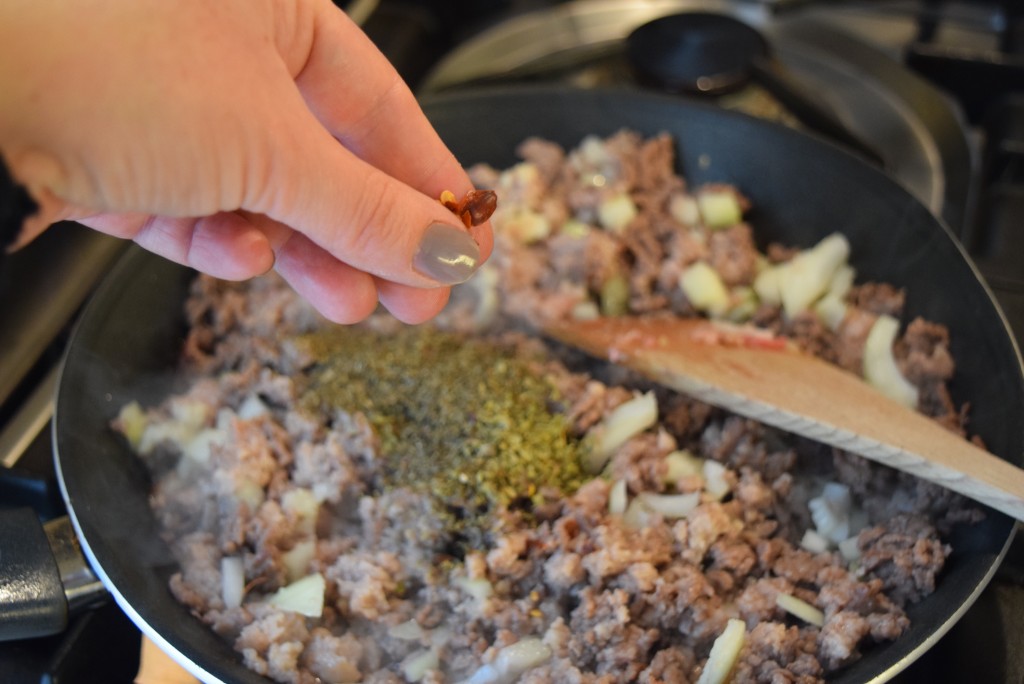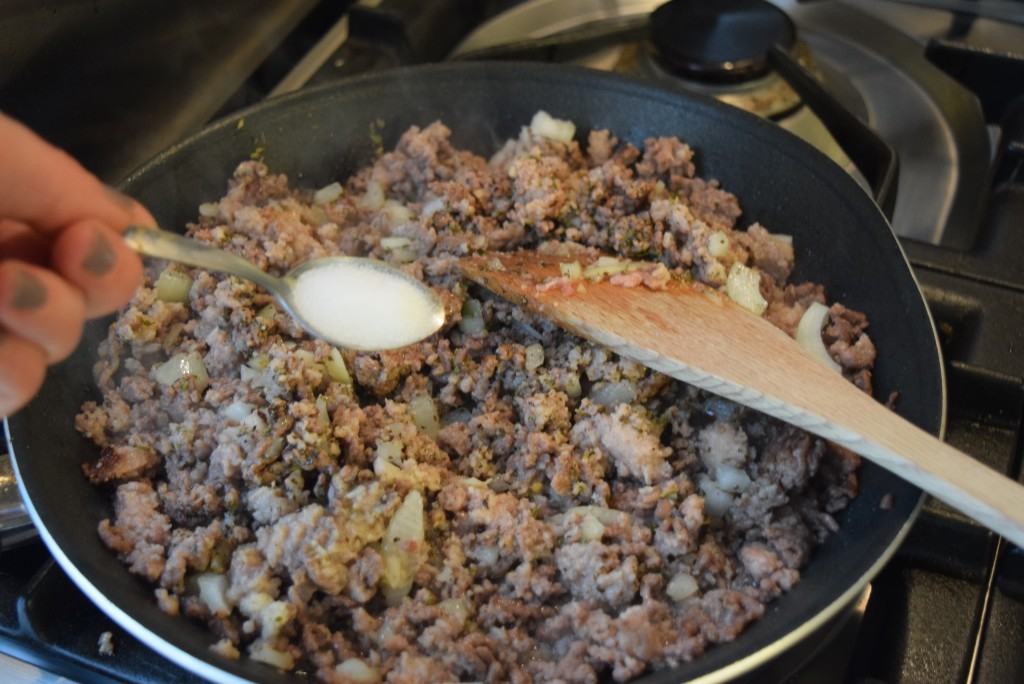 Give this all a good stir then next in is the tin of chopped toms and the whole jar of passata or pasta sauce. Add a pinch of sugar to counter act the acid in the tomatoes, then give this another mix. Hoping you've used a decent sized pan and it doesn't slop everywhere like mine.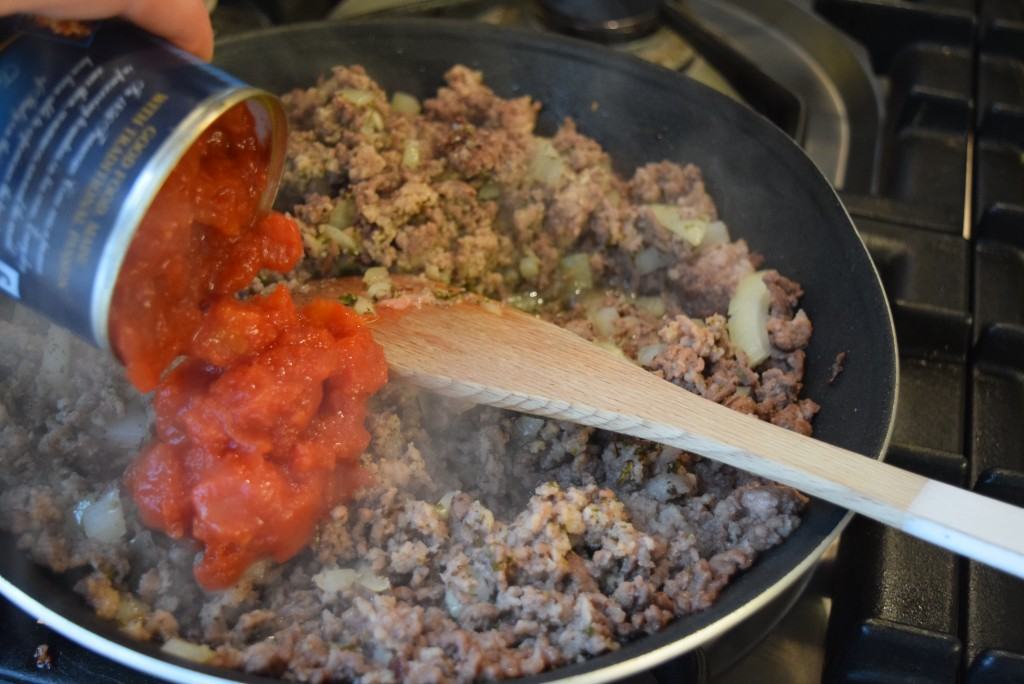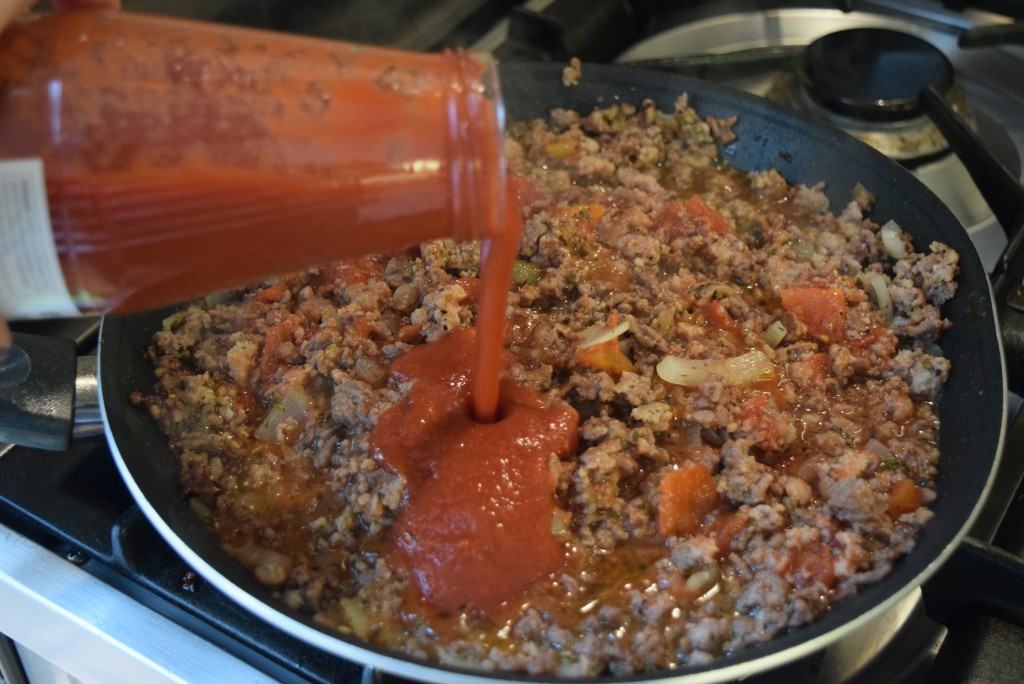 Why is that huge, badly chopped piece of onion centre-stage in every photo?
Let this panful of basil scented tomato loveliness simmer away with a lid on for 20 minutes.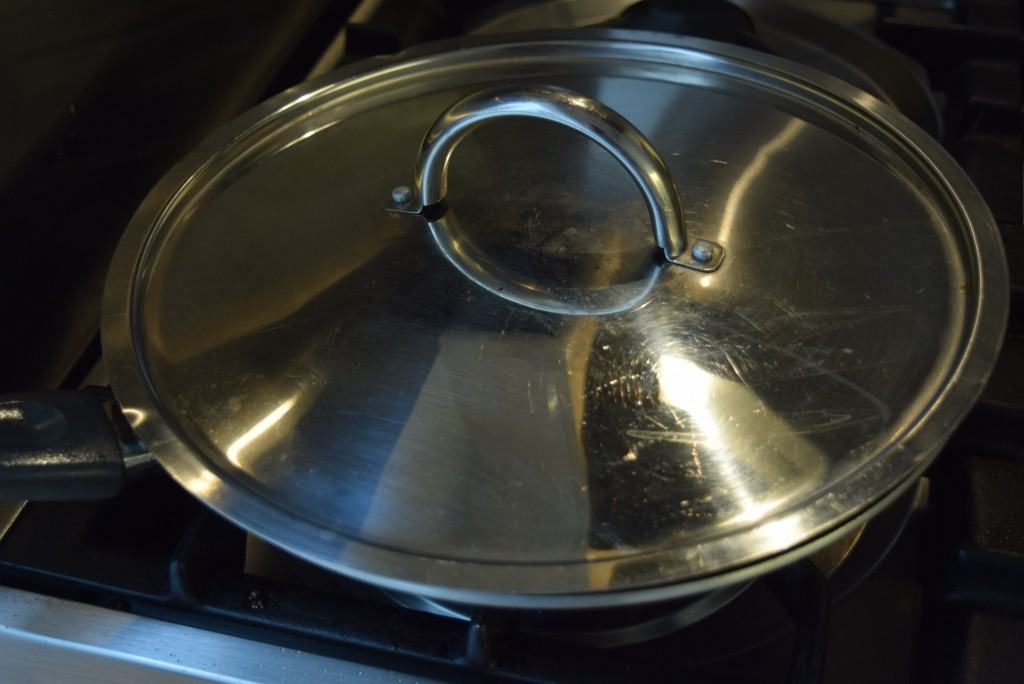 While this simmerage is going on, crack on with the cheese/white sauce element which hooray, is not roux based. Add the ricotta to a large bowl with an egg. Then grate on the parmesan, give it a really good fork up, then have a little taste to check for the need for any additional seasoning. Btw, it tastes really good.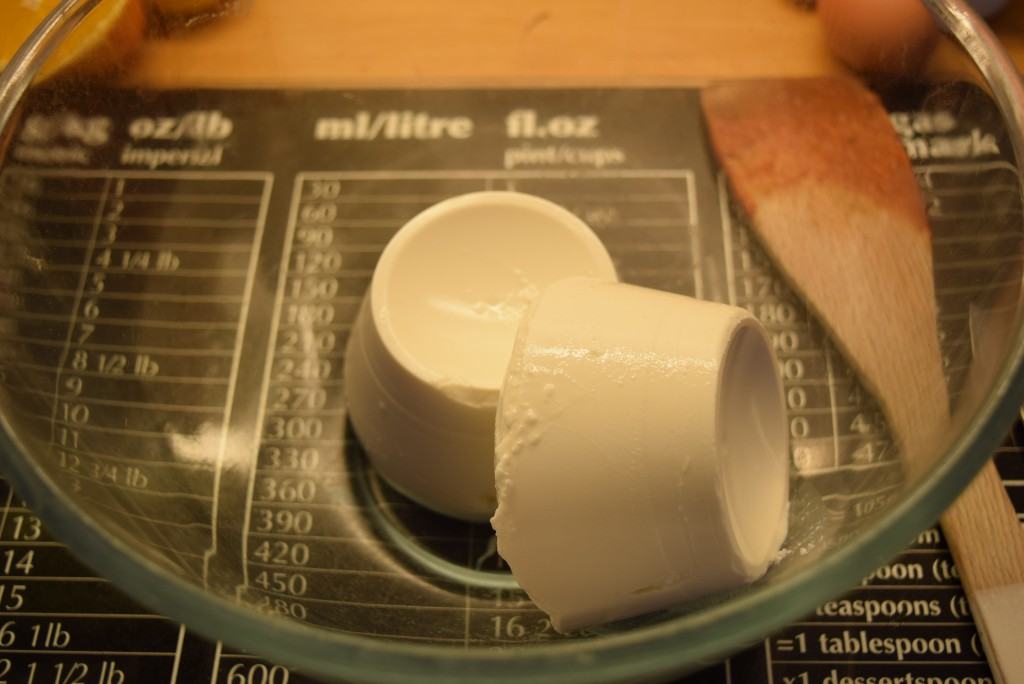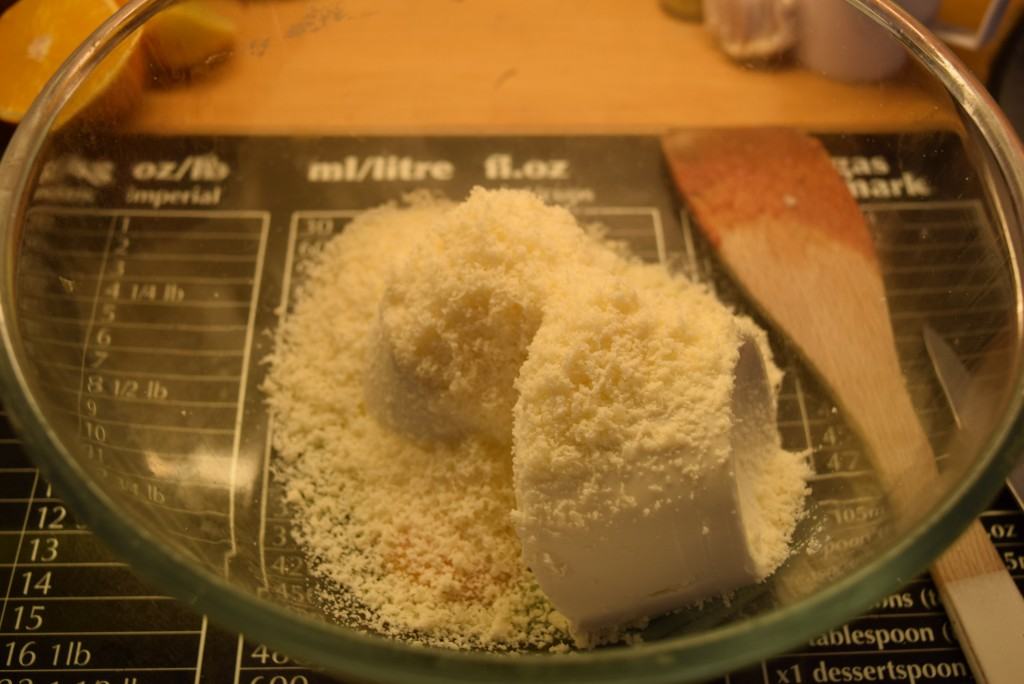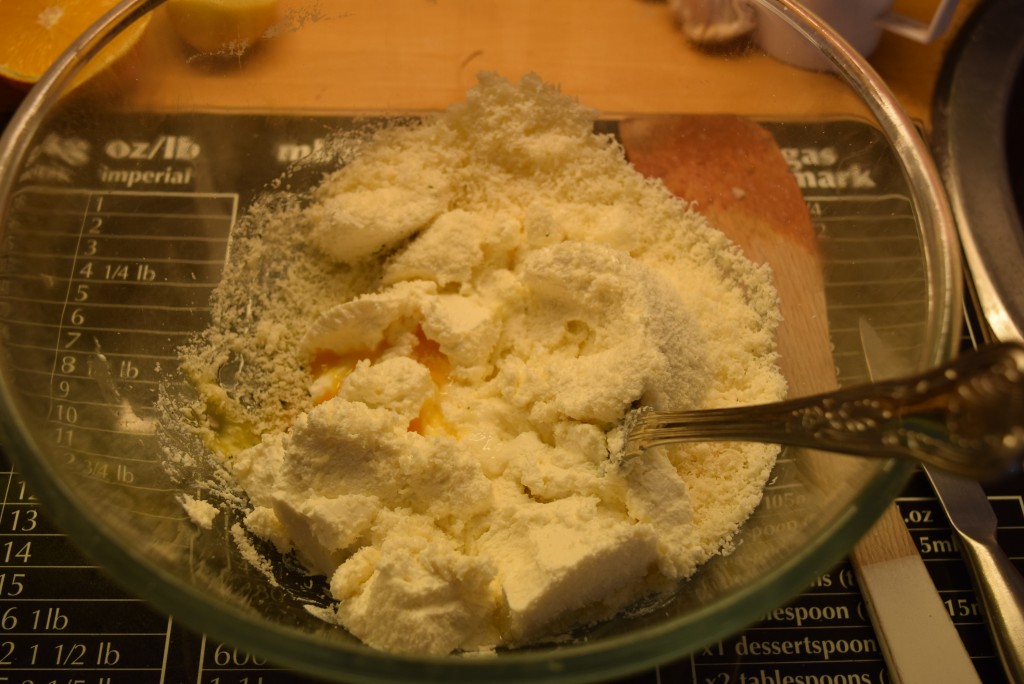 Make sure the mix is well forked.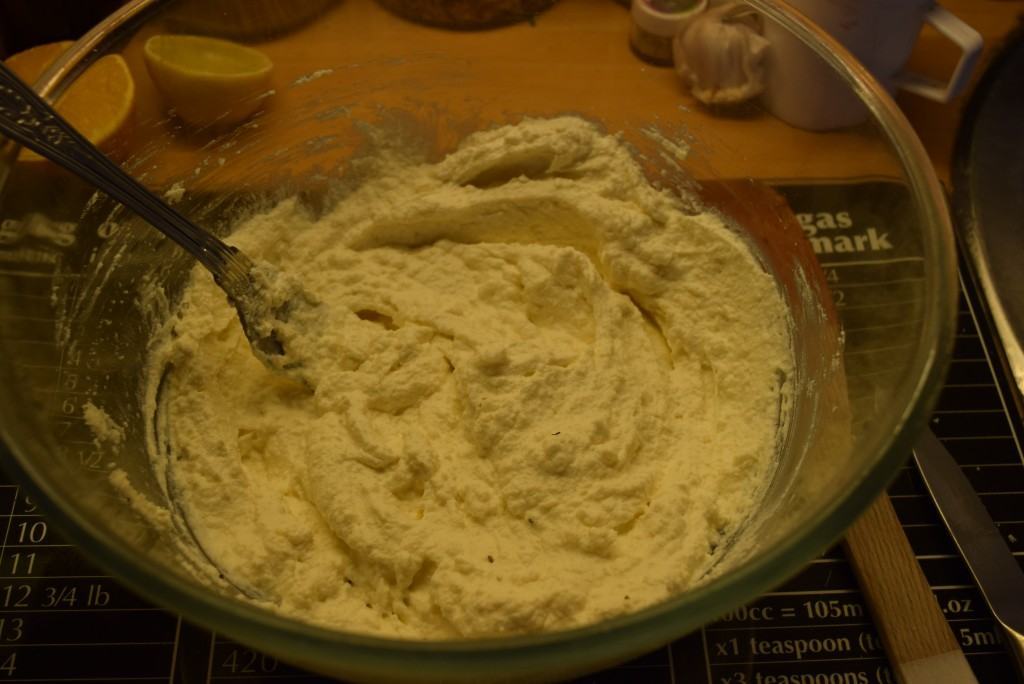 Once the simmering time is up, it's assembly time. Get all your components ready and prepare to layer. Start by oiling/spraying/buttering your chosen dish. Then add a good coverage of the sausage and beef sauce to the bottom of the dish. It's roughly a fifth of the mixture, but don't start weighing here, just roughly divvy it up.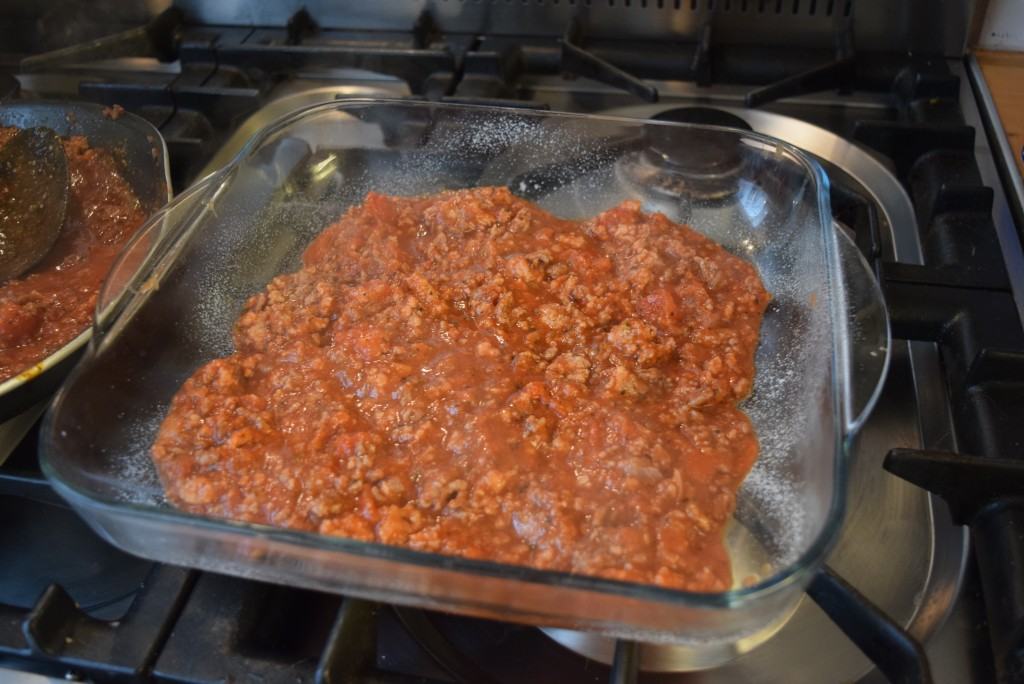 Next, lay three pieces of lasagne onto this sauce, or use just enough pieces to make sure the meat is covered. Next up it's more red sauce then daube on a third of the ricotta.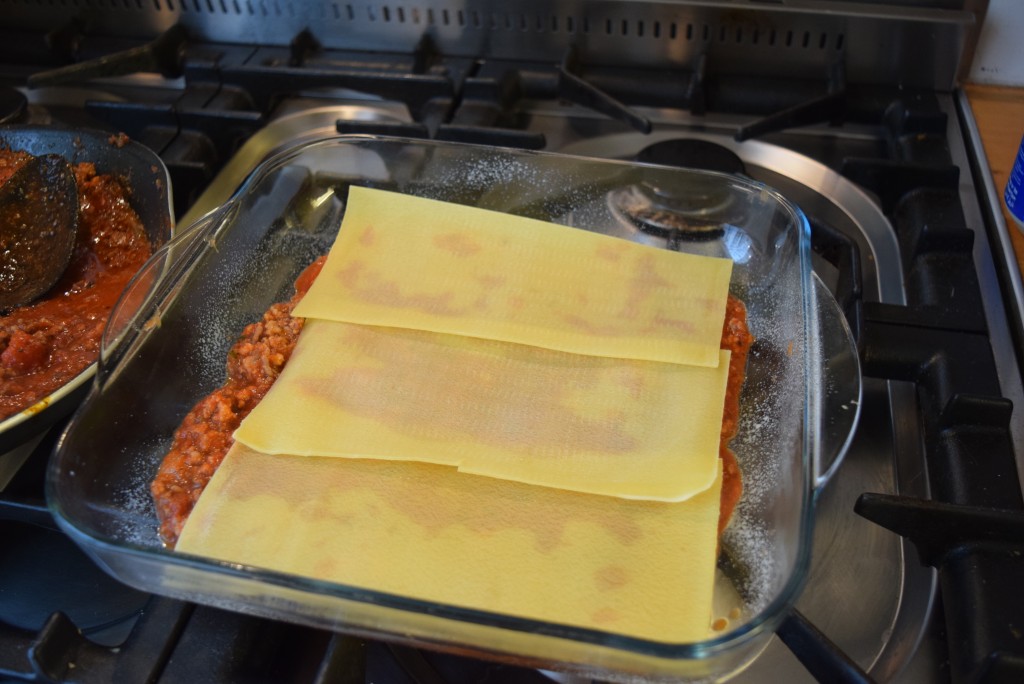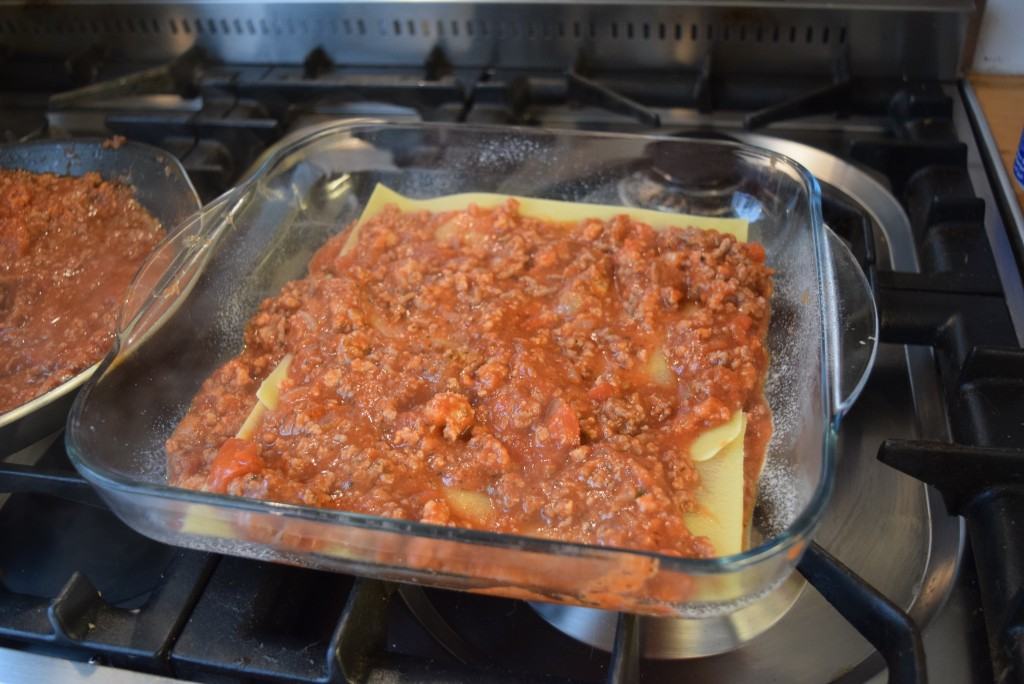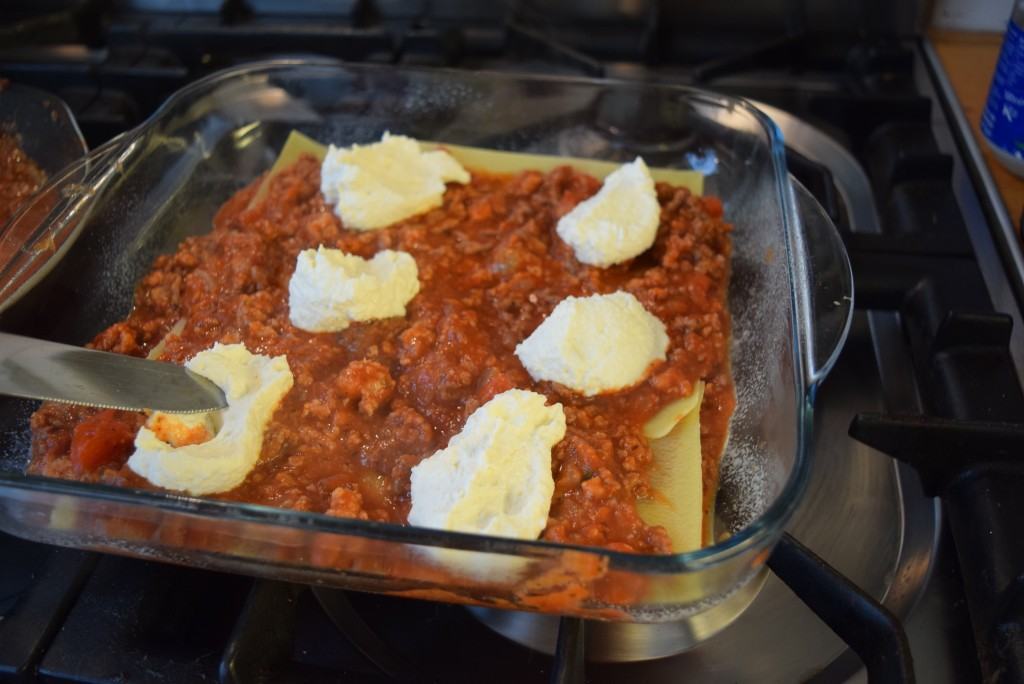 Roughly, meaning don't be too uptight about this, spread the ricotta out into a layer of sorts. Then add on some of your freshly wilted or defrosted frozen spinach.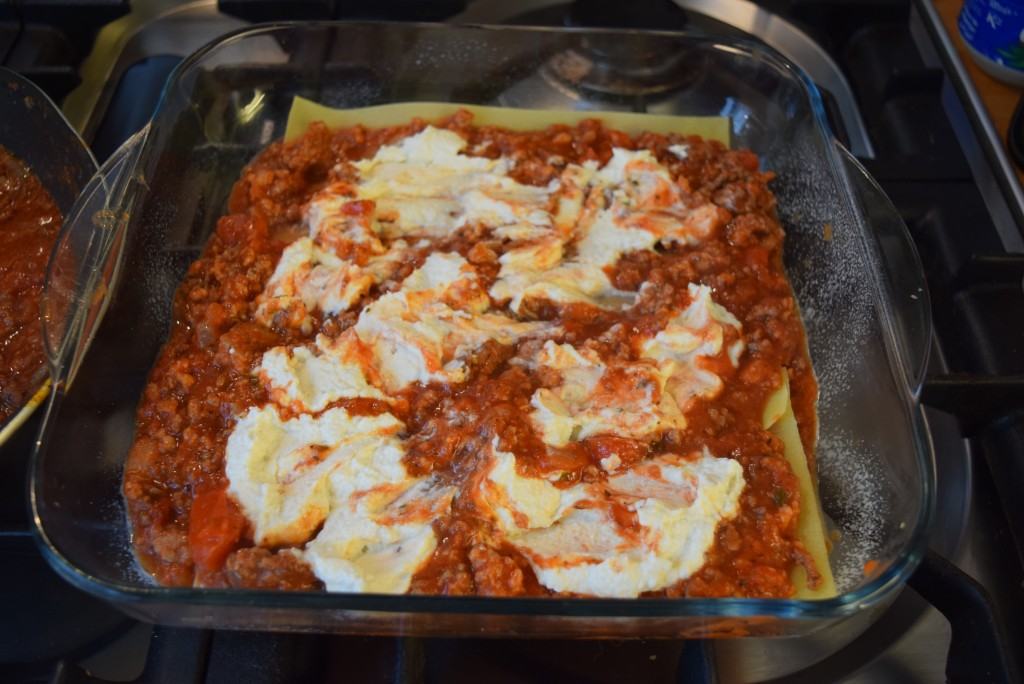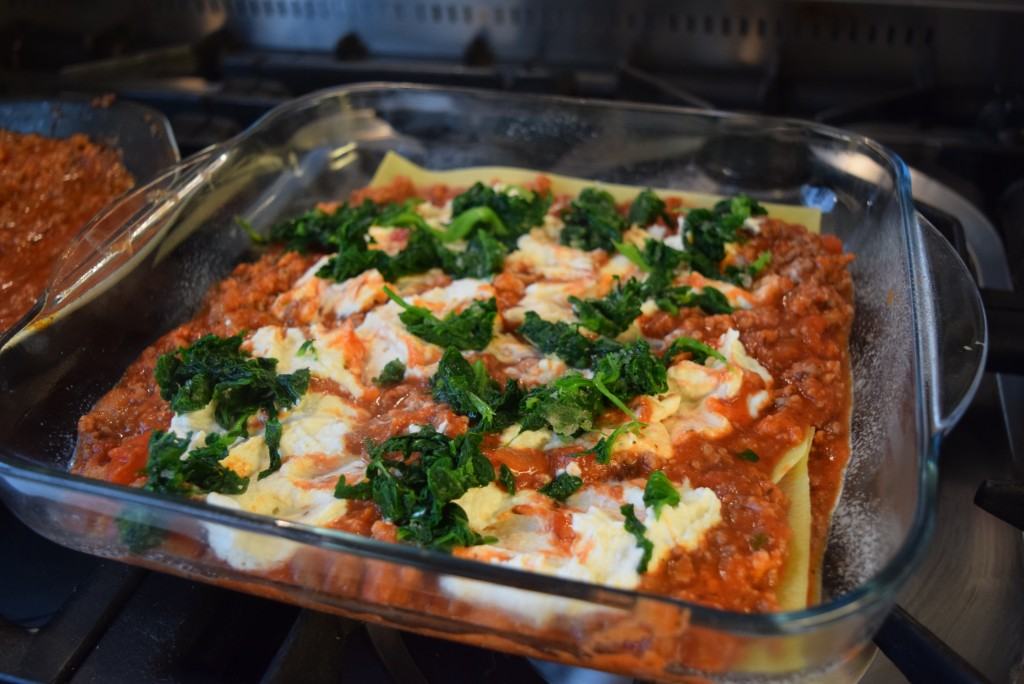 Repeat this layering twice more, then add on a final layer of pasta (four in total). Spoon onto this the last of the tomato sauce then top with the chopped mozzarella and grated cheese. Then that's that. Pop this large dish of lasagne into your oven for 30 to 35 minutes or until the cheese is bubbling and everything is piping hot.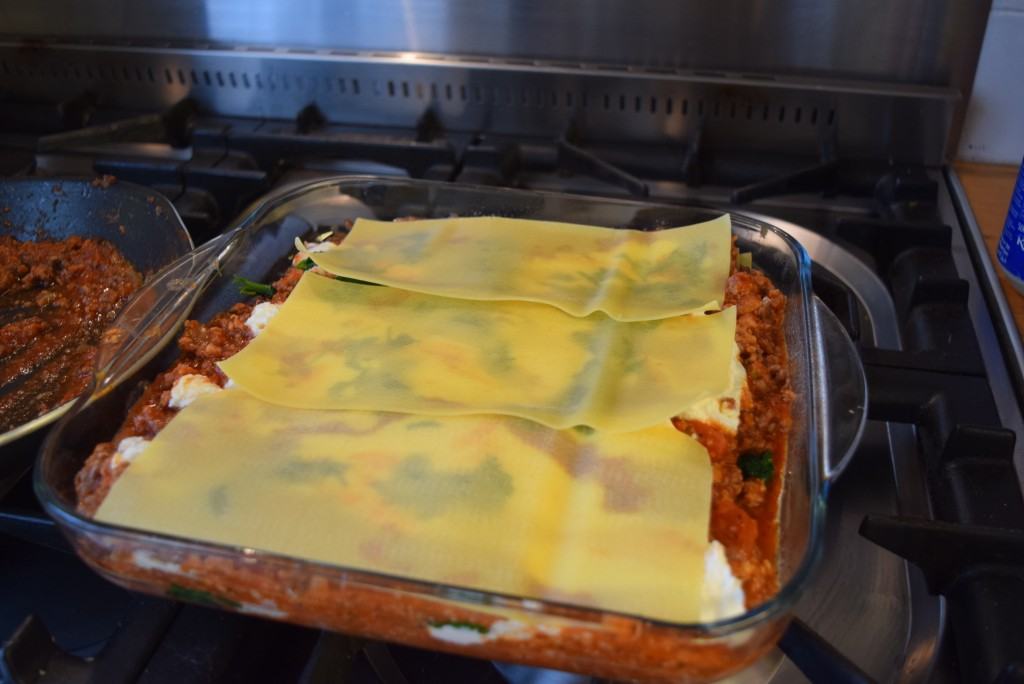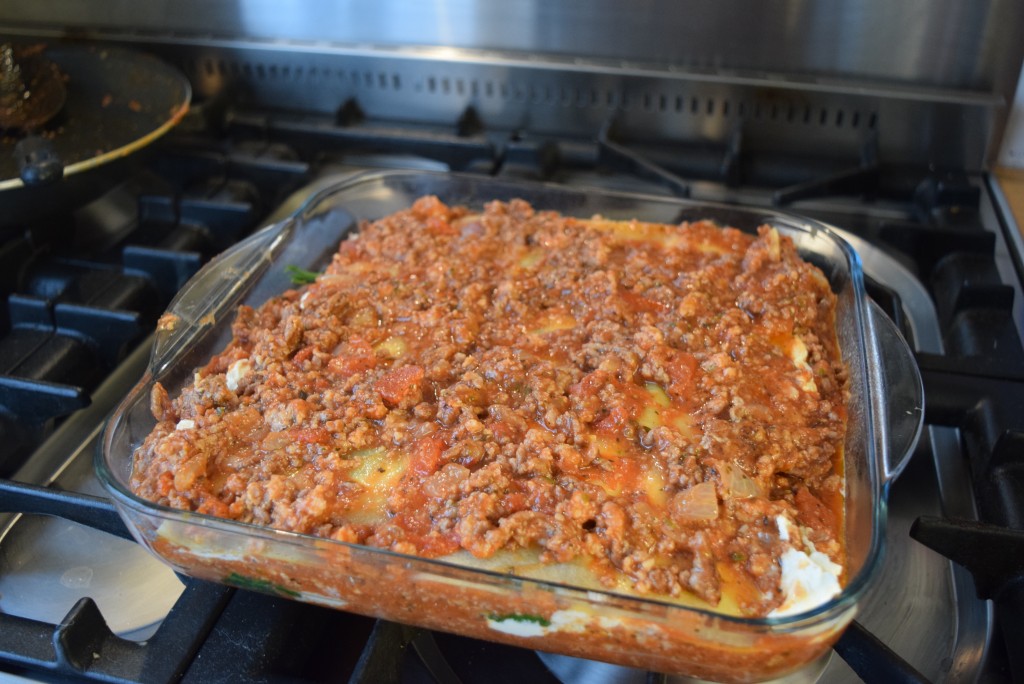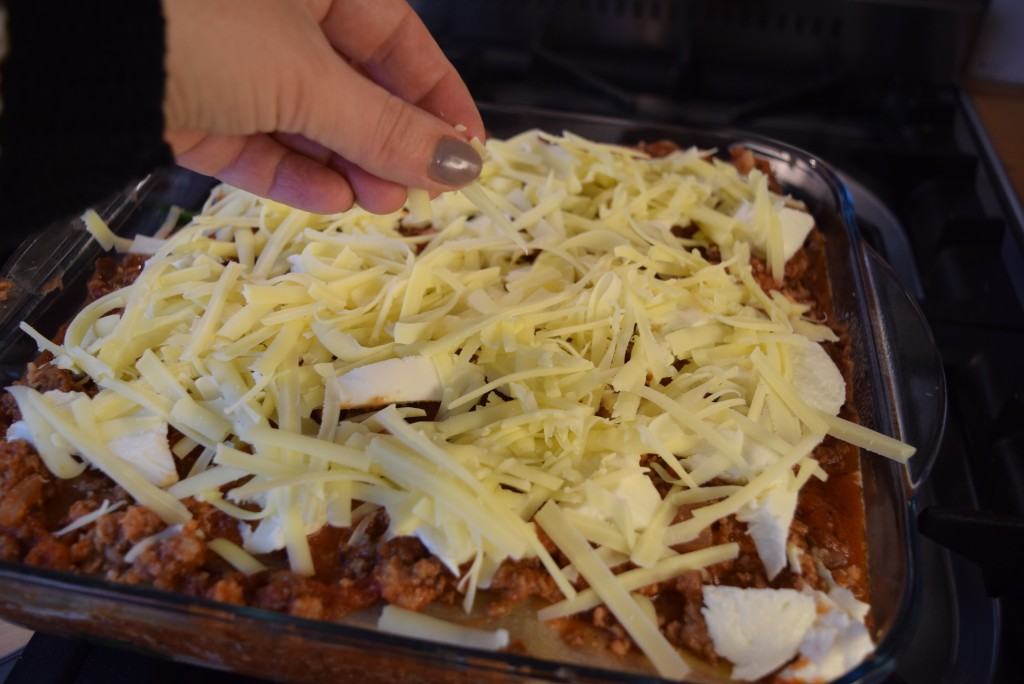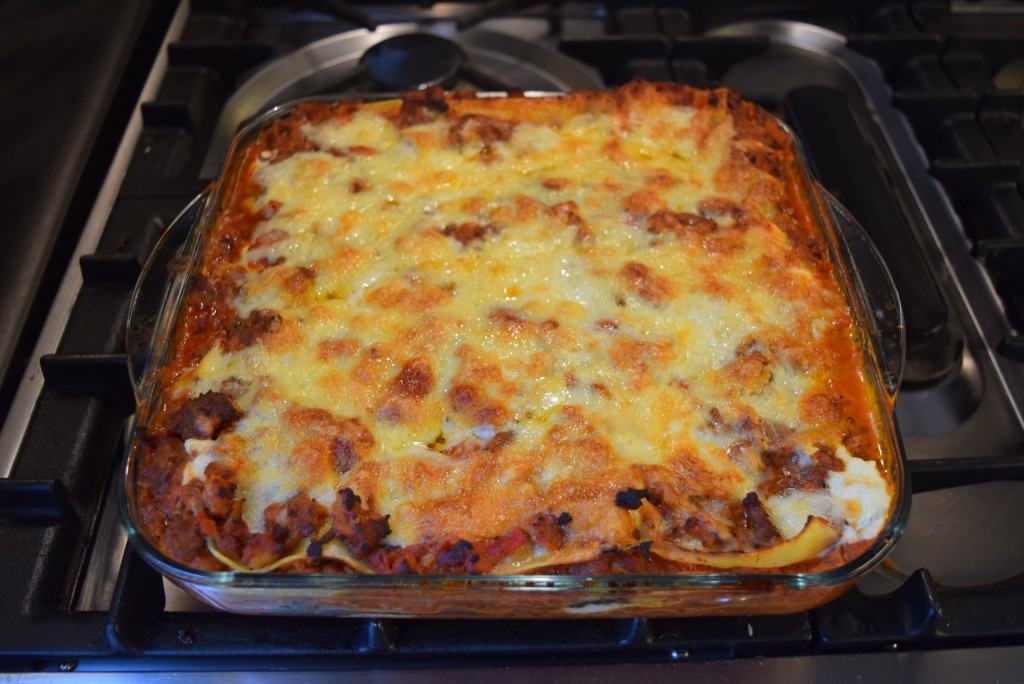 If you can bear it, leave this beauty of a dish to settle for five minutes before serving. Cut into large appetite fulfilling squares and serve with leaves or some tender stemmed broccoli.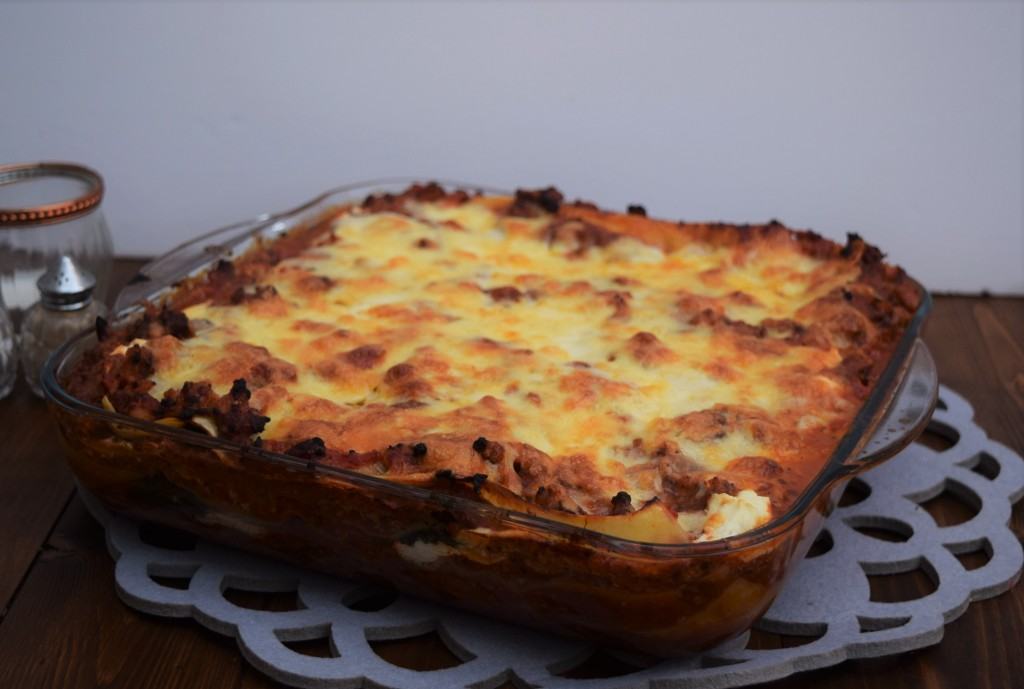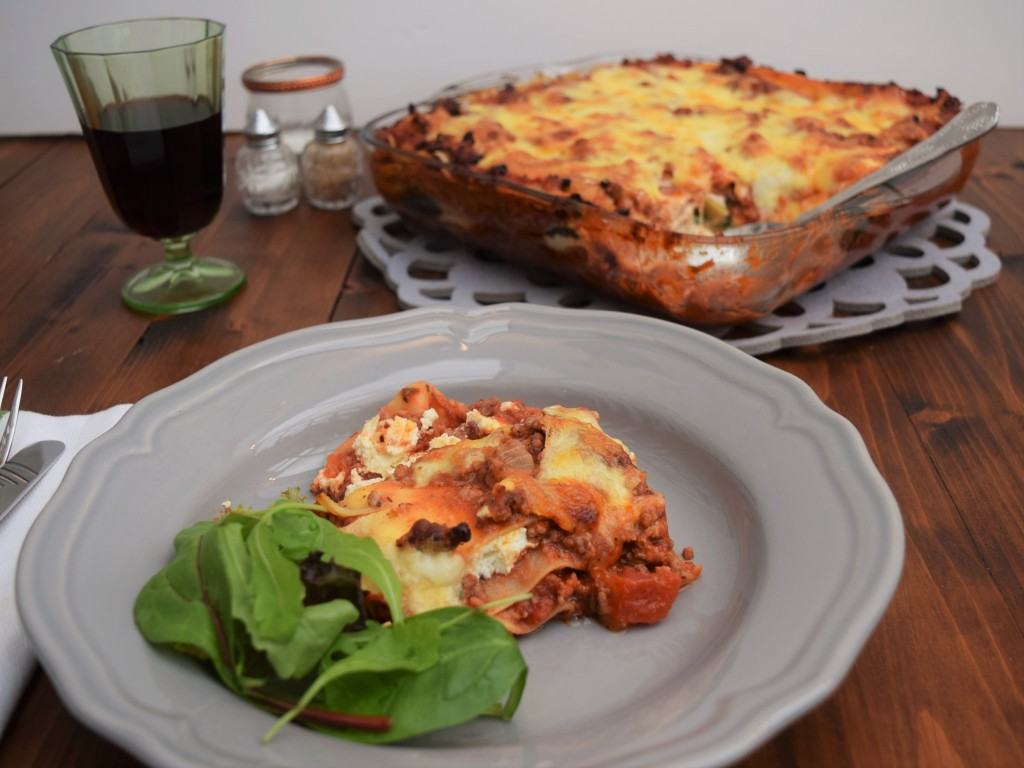 This is a large plate of warming comfort food, perfect for this time fo the year. It's not really rocket science, just good, simple flavour-filled ingredients fashioned into this brilliant lasagne. This is also a great one for the freezer, cook it in advance then cover and freeze for when you're balls to the wall over the next couple of weeks. You can whip it out to impress your diners at a moments notice. Those, lucky lucky people.
Lucy x
Sausage, Beef and Ricotta Lasagne Recipe
Serves 6 people, at least

You will need no particularly alarming kitchen equipment and a 9inch or 25cm square serving dish
500g beef mince
450g sausage meat (no need to be too precise, this was just the package size)
1 teaspoon salt
1 teaspoon black pepper
1 teaspoon dried basil
1 teaspoon dried oregano
1 onion, finely chopped
A good pinch dried chilli flakes
3 cloves garlic, crushed
410g tin chopped tomatoes, and juice
680g jar passata or pasta sauce – again, no need to be too precise, roughly this amount
a pinch of sugar
500g ricotta cheese
1 egg
50g grated parmesan
300g fresh or dried lasagne
approx 200g frozen spinach, defrosted and with the water squeezed out or fresh which has been lightly sautéed, optional
1 ball mozzarella, chopped or torn
125g strong cheese, grated
Pre heat the oven to 170 degrees fan assisted.
Take a large frying pan and heat over a medium to high heat. Add the beef and sausage meat together and fry off until starting to brown and losing their pink tinges. Add the basil, oregano, pinch of chilli flakes and salt and pepper then the finely chopped onion and garlic. Cook these for 5 minutes then add the tin of tomatoes, passata or pasta sauce and the pinch of sugar. Leave this to cook through, simmering, for 15 minutes with a lid on.
While this cooks, take a large bowl and tip in the ricotta. Crack in an egg then grate in the parmesan and mix well. Check for any additional seasoning then prepare the rest of your ingredients for assembling the lasagne.
Take your serving dish and oil it. Start by adding a fifth of the sausage ragu to the bottom of the dish. Then take your lasagne and lay on three sheets. Add another portion of ragu then a third of the ricotta mixture. Spread the ricotta into a rough layer and top with optional spinach. Repeat this process with the rest of the mixture, another two layers, finishing with a last layer of lasagne (four in total) and top with the last of the ragu. Finish this with the chopped mozzarella and grated cheese then put in the oven for 30 to 35 minutes. Leave to settle for five minutes before serving in vast squares with salad or a green vegetable.