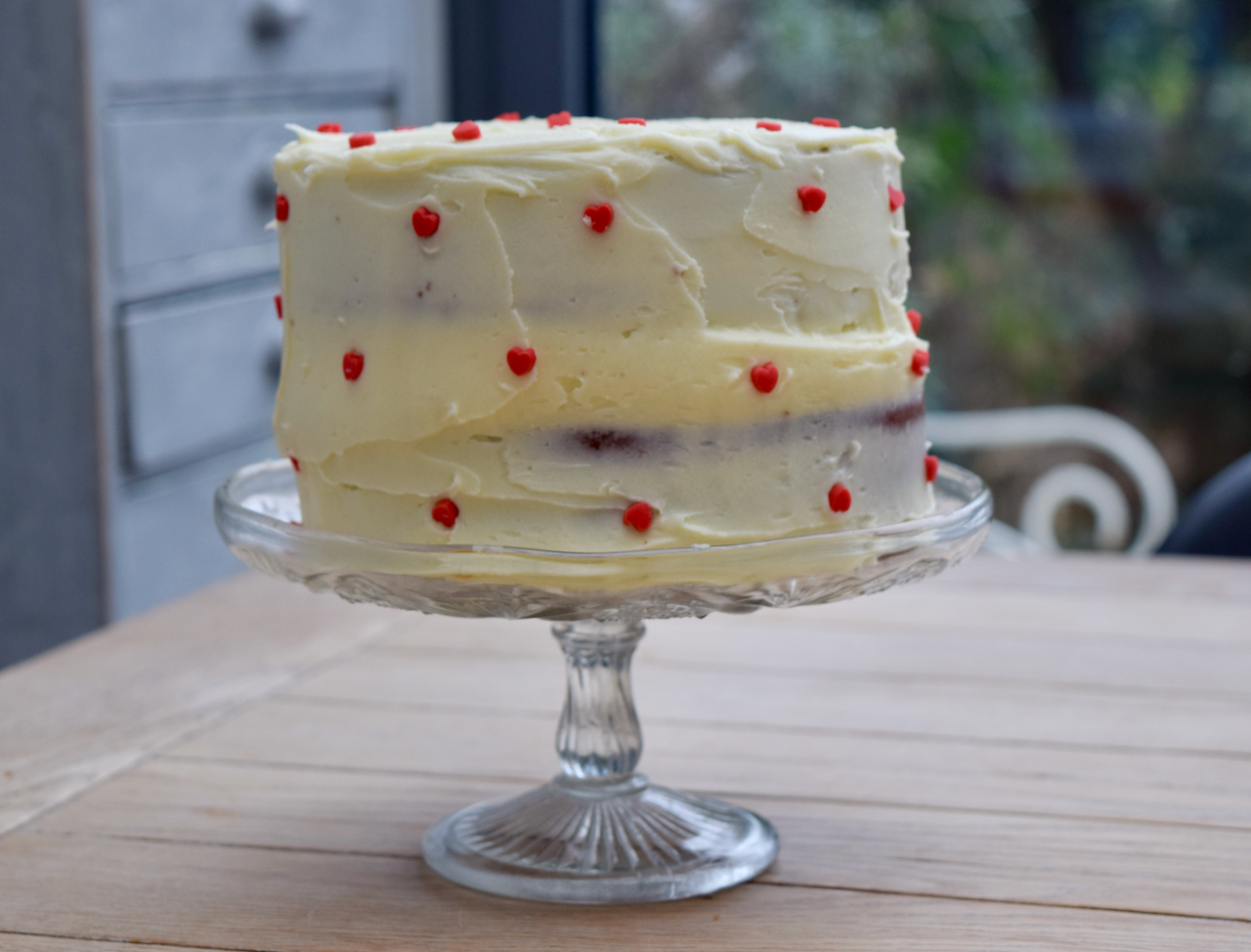 White Cake recipe
Valentines Day is all about love, I get that, it's just a bit naff. I love a lot of people, not in a tarty way; I love my family, so many of friends and, of course and probably far too much, the dog. But what I really love is sponge cake. Nothing fancy, no chocolate, no fruit, just bloody delicious White Cake, like this one.
I was introduced to a White Cake by an American friend who turned 50 last year. When I asked his wife what what his best cake was she said a White Cake. A what, I said? Apparently a white cake is a simple cake, often used for wedding cakes. It uses egg whites, no yolks, and features vanilla and almond extracts for a distinctive, sweet flavour. It's actually not that white, paler than a Vic sponge, but it tastes divine. It's firm but light, sweet, yes, but not cloying. My friend said it was the best one he'd ever tasted *and I hope he wasn't lying* so I've made it again and again and stuck with this brilliant recipe from I am Baker.
I am excited to take this opportunity to introduce the new cake based love of my life to you, and luckily, I'm happy to share the love with you on this occasion.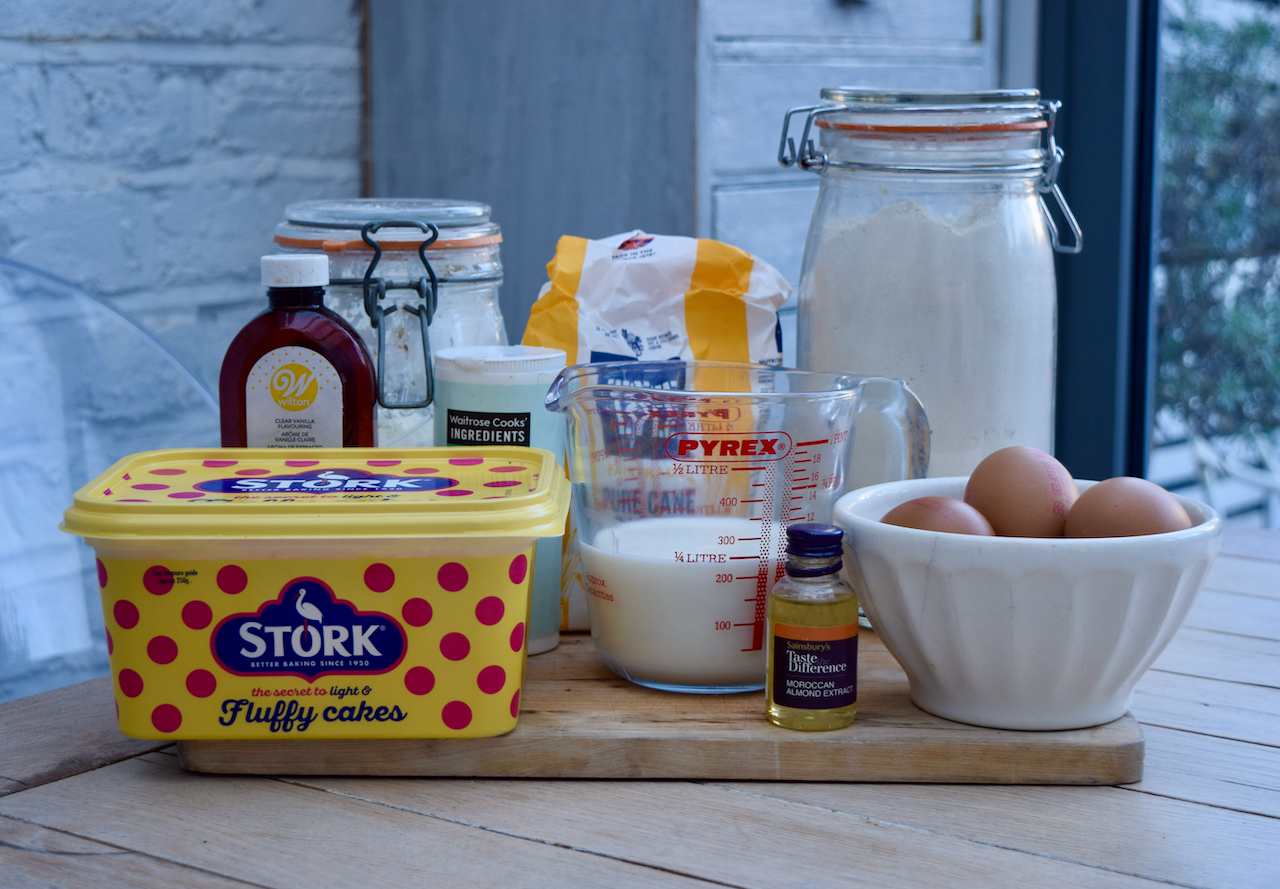 This is a great line up, classic cake fodder. The recipe called for cake flour, which is an American invention, so I fashioned my own version using plain flour with a little corn flour to lighten the whole business up. I even used a clear vanilla extract, which I love, it doesn't taste synthetic, and costs a good deal less than the good stuff.
Make a start by pre heating your oven to 160 degrees fan assisted and lining/buttering two cake tins of your choice. 20cm will make a standard sized sandwich cake, but I went for two 15cm tins, giving me a higher but slimmer cake. Next, in a jug, whisk the whole milk, egg whites and both vanilla and almond extracts together briefly.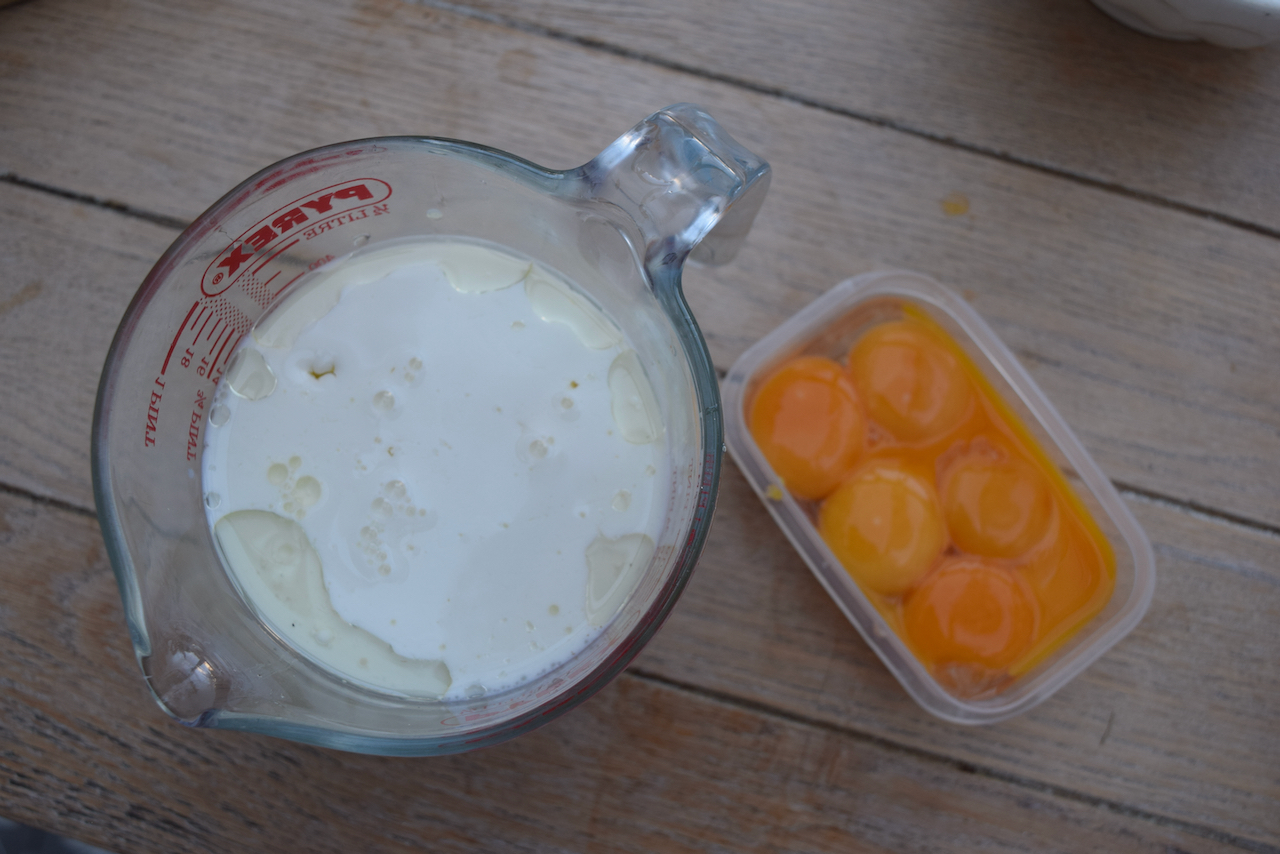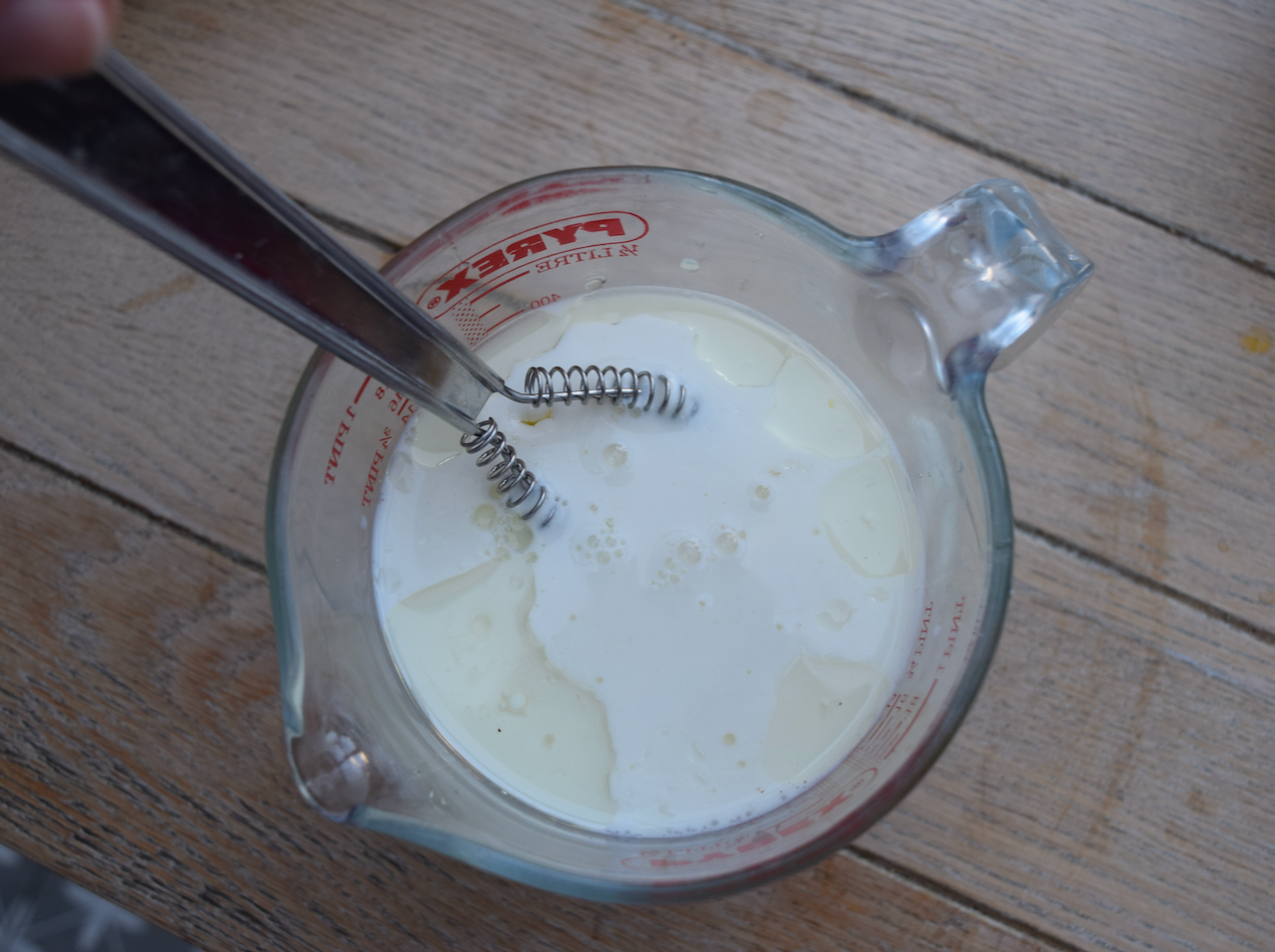 Freeze those egg yolks for another day, you know I hate waste.
Now, using a food processor, stand mixer or hand mixer mix the plain flour, corn flour, caster sugar, baking powder and salt briefly until just combined.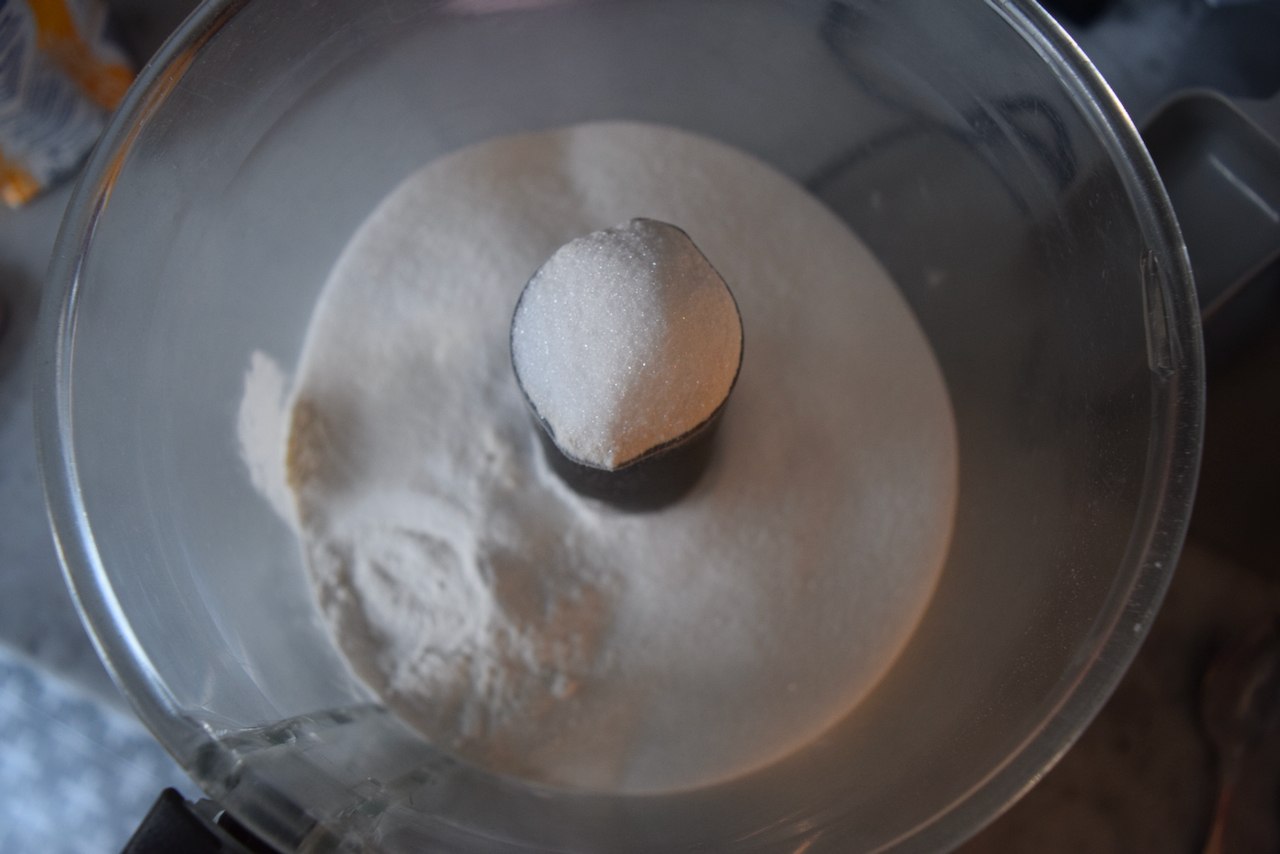 Next, mix in the soft butter or Stork, until you have a chunky breadcrumb consistency.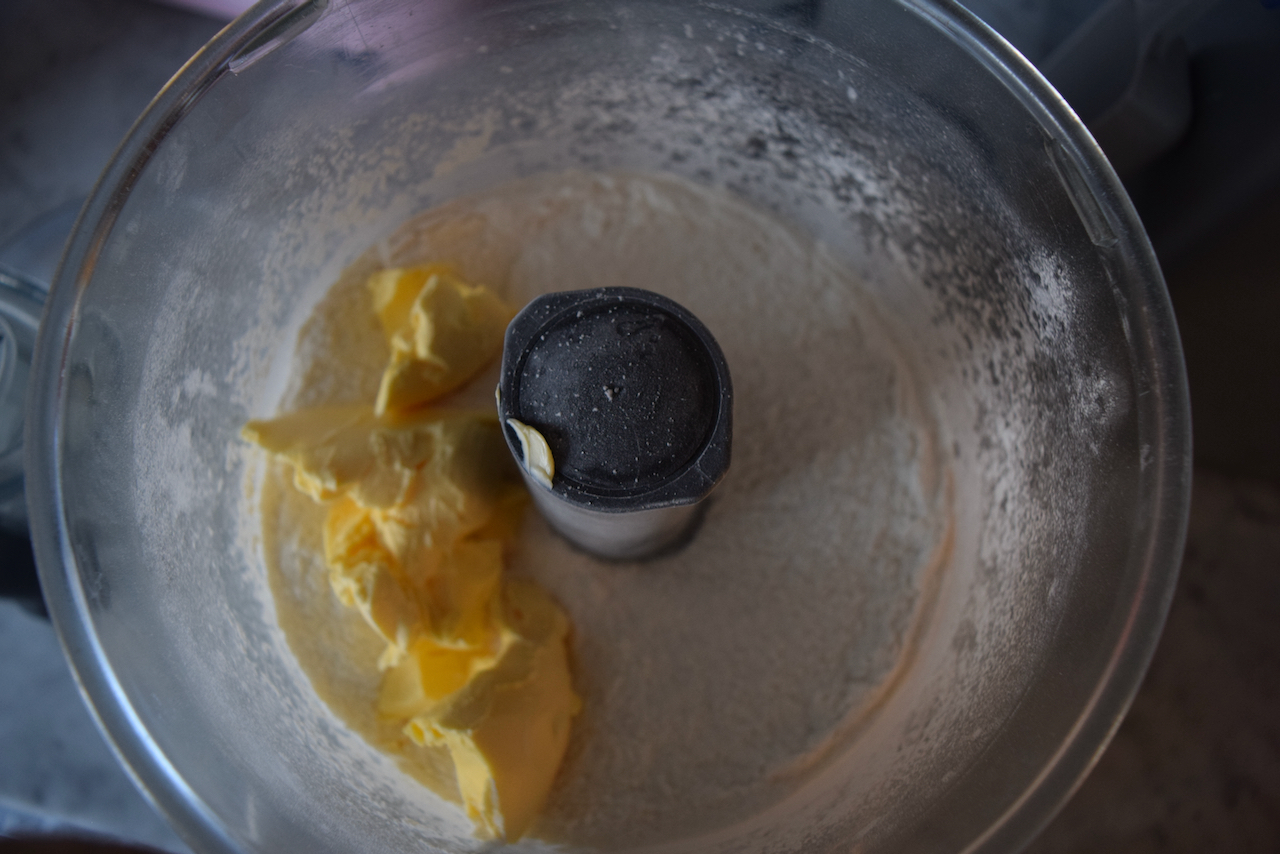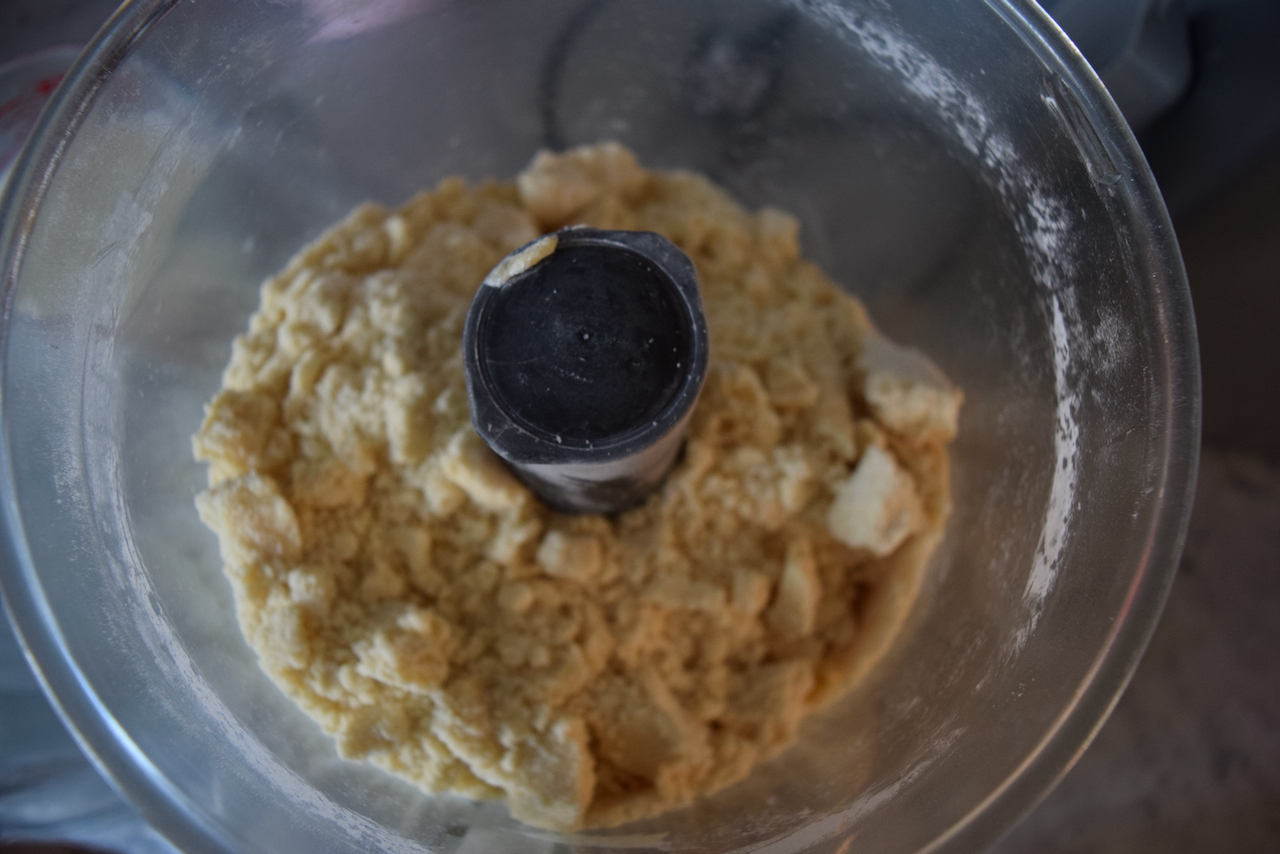 With your mixer running, pour three quarters of the milk and egg white business into the mix until you have a smooth, thick batter.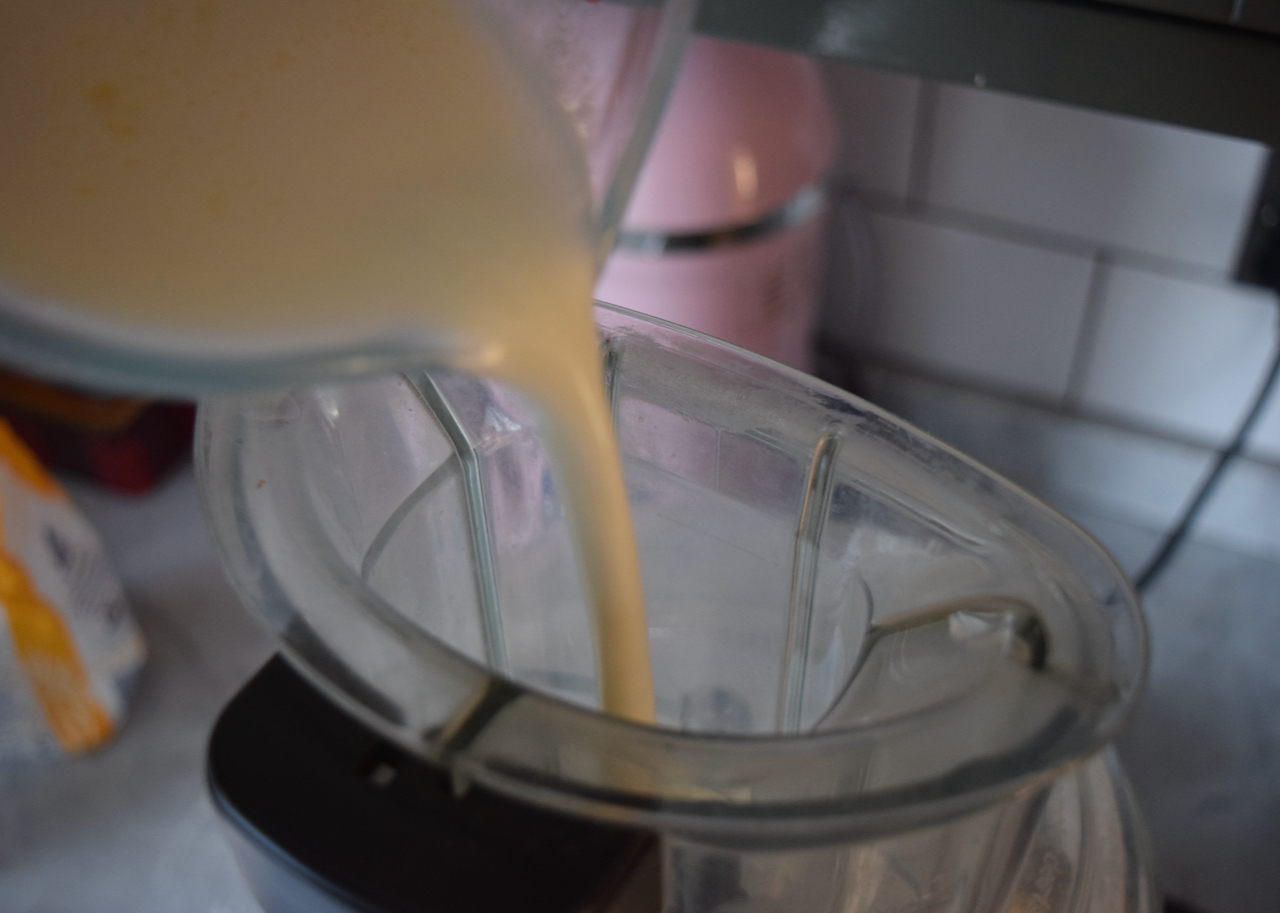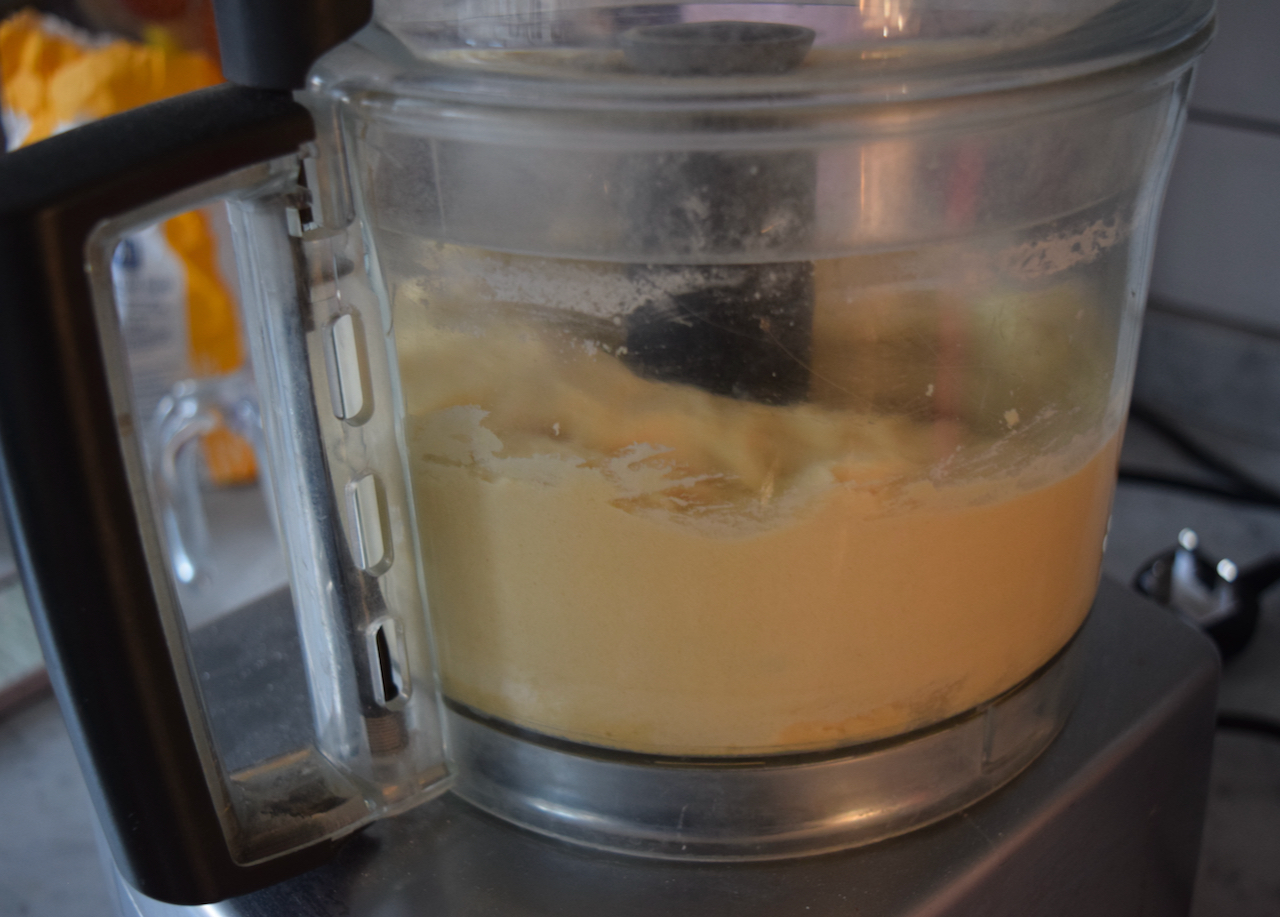 Pour in the last of the milk, mix thoroughly, so you have a thinner pale mixture.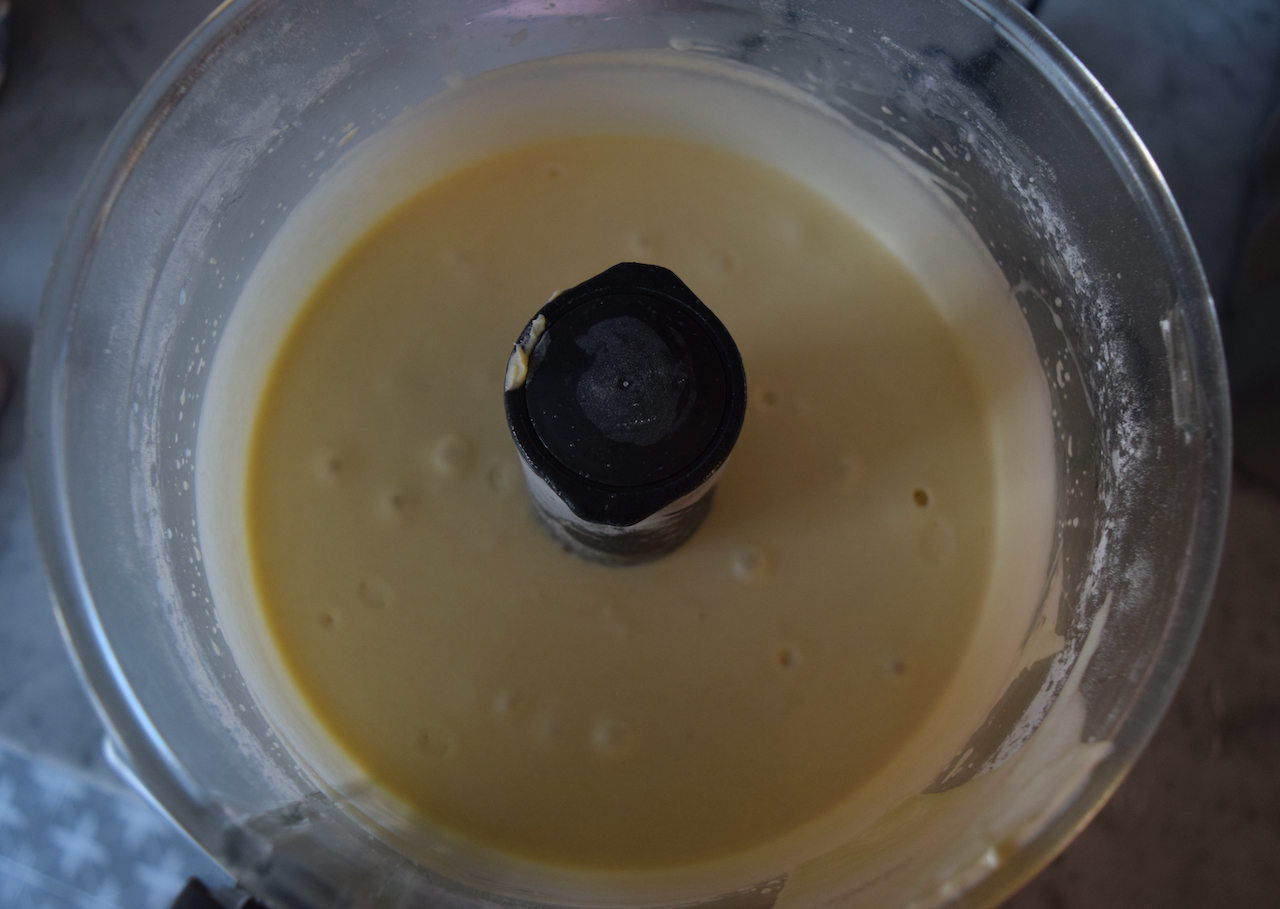 Pour and scrape this into your well buttered cake tins and cook for around 25 minutes, or until golden and firm to the touch, and the usual skewer poked in the middle comes out clean.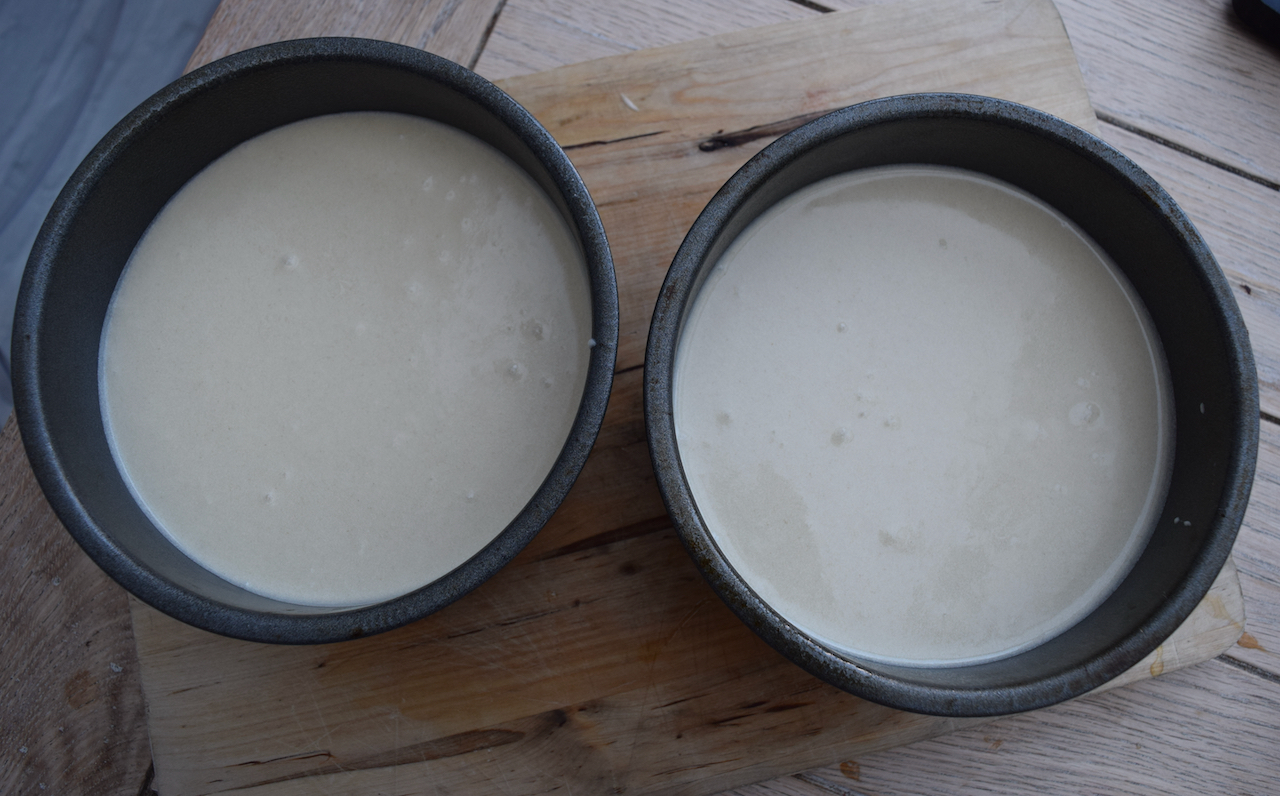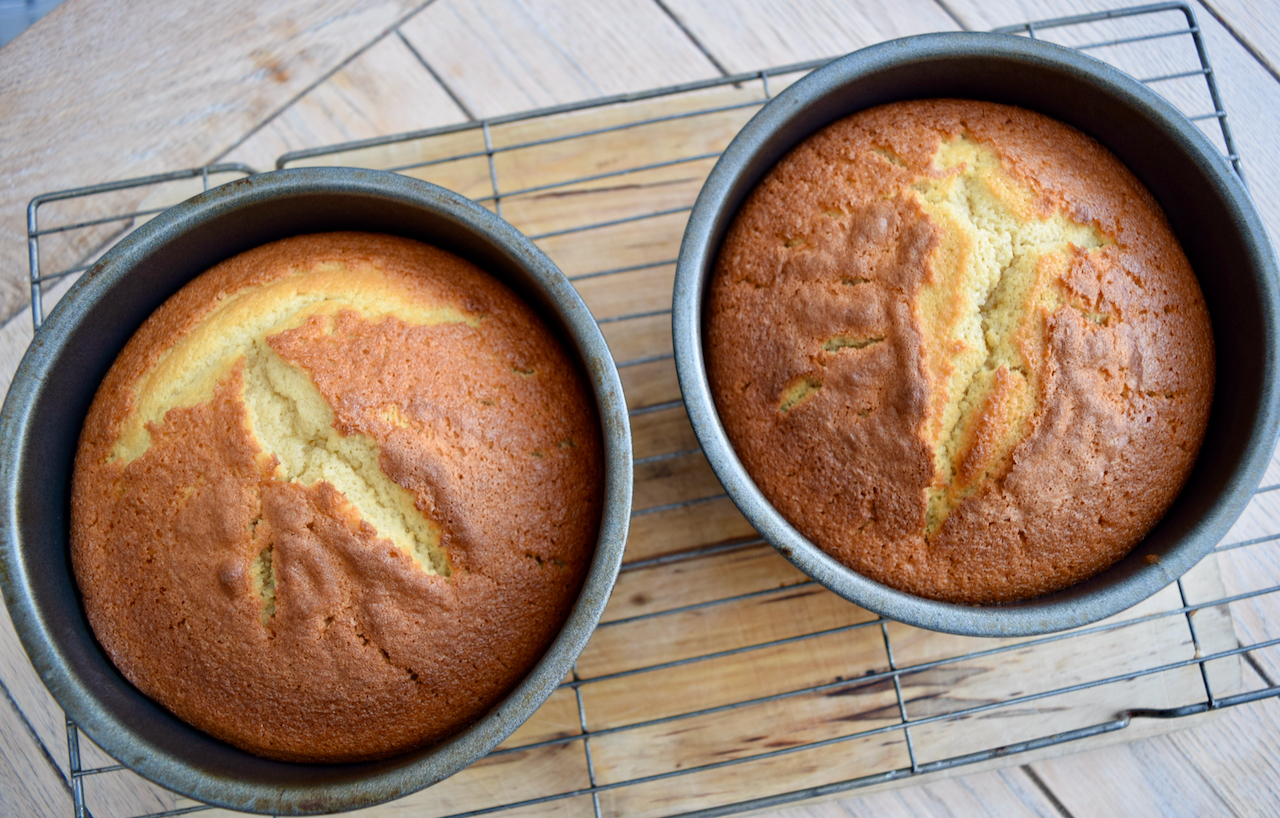 Ok, so they don't look that white, but the middle of the cake is paler.
Leave the cakes to cool then turn out onto a wire rack to cool completely.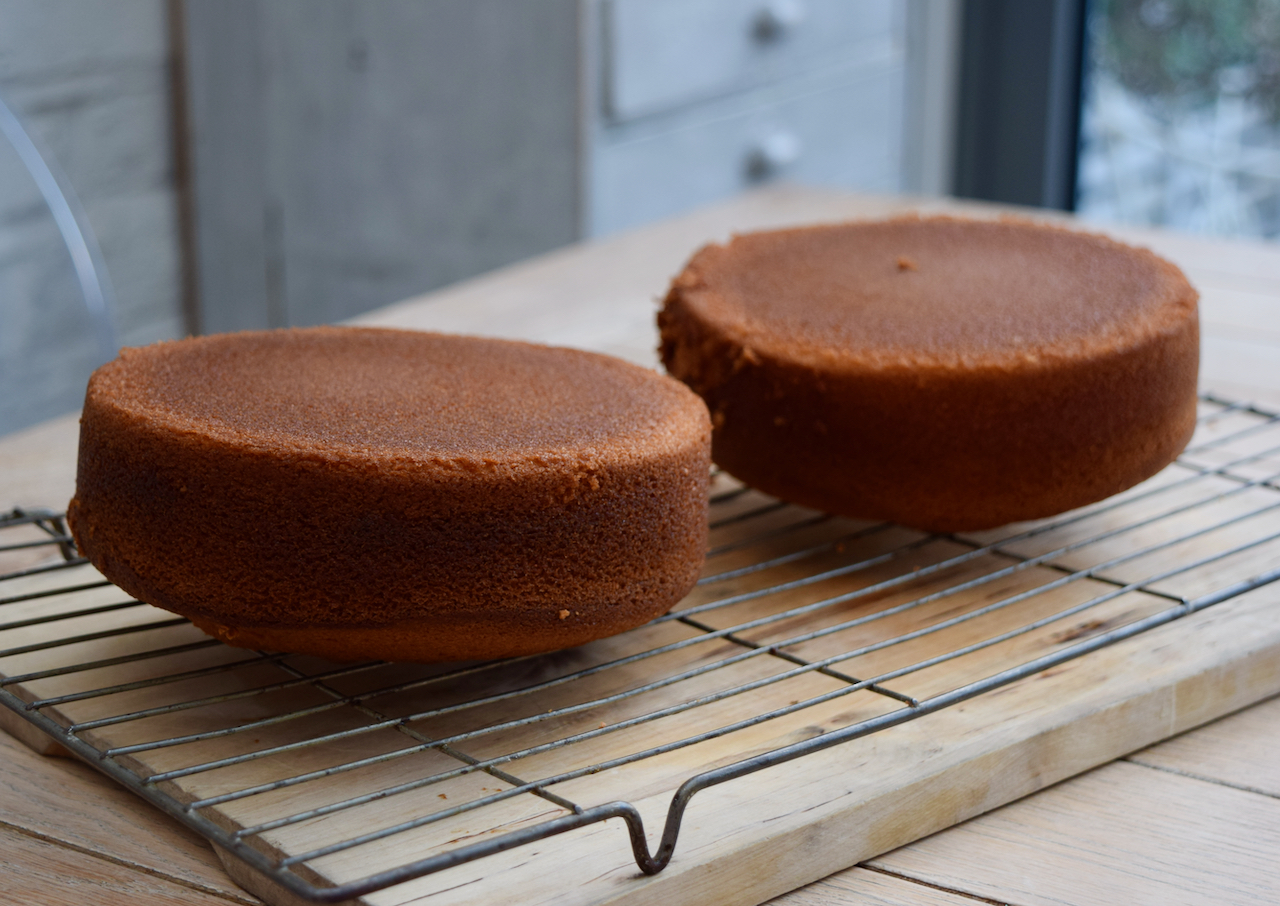 Now you can ice these however you like. I went for the standard bucket load of vanilla buttercream, badly applied, but you can do your artistic best. I trimmed a little domed slice from the top of the cake *and ate it* then sandwiched the two sponges together.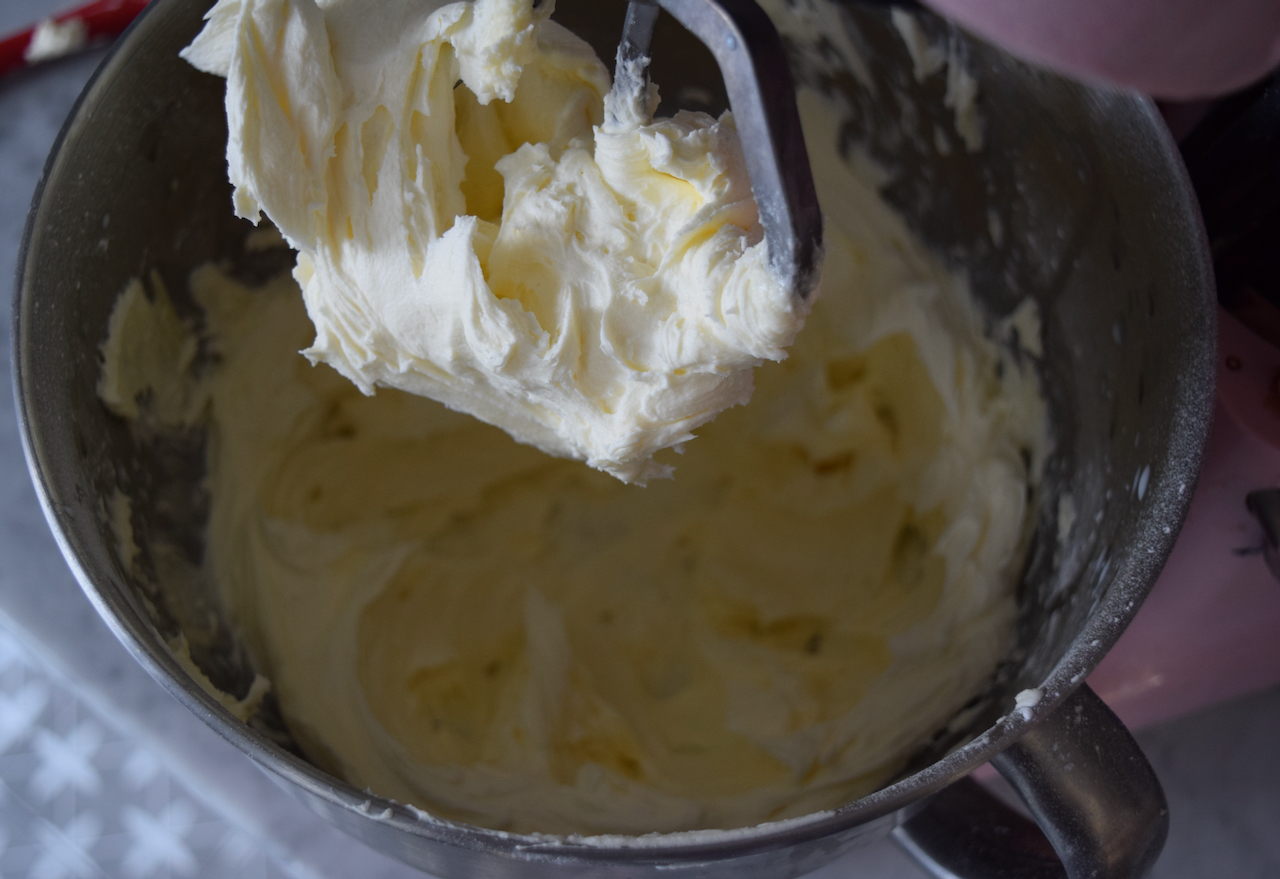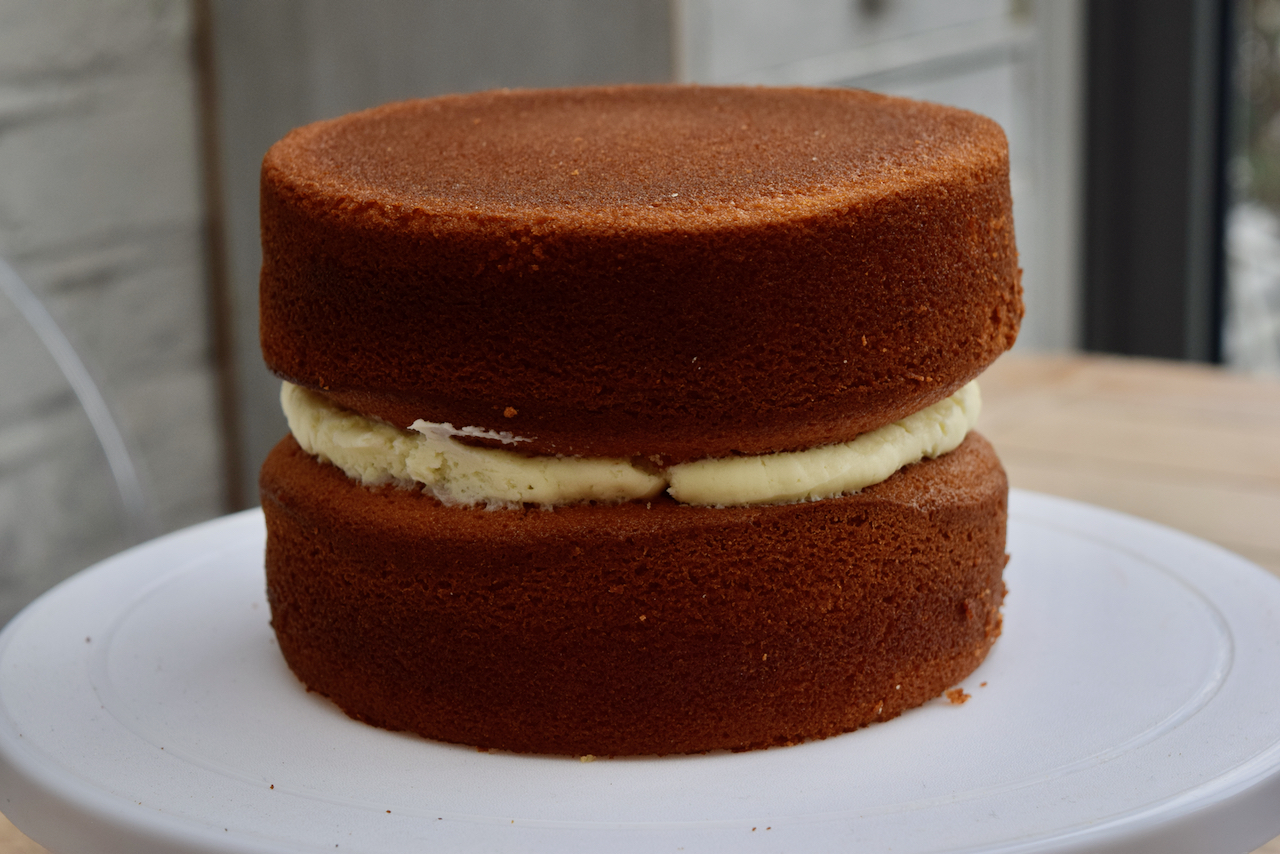 Apply a thin layer of buttercream first, then let it set, either in the fridge, or in a cool part of your kitchen. Then just slather it on with a palette knife as best you can once the crumb layer has set, generously covering your white cake.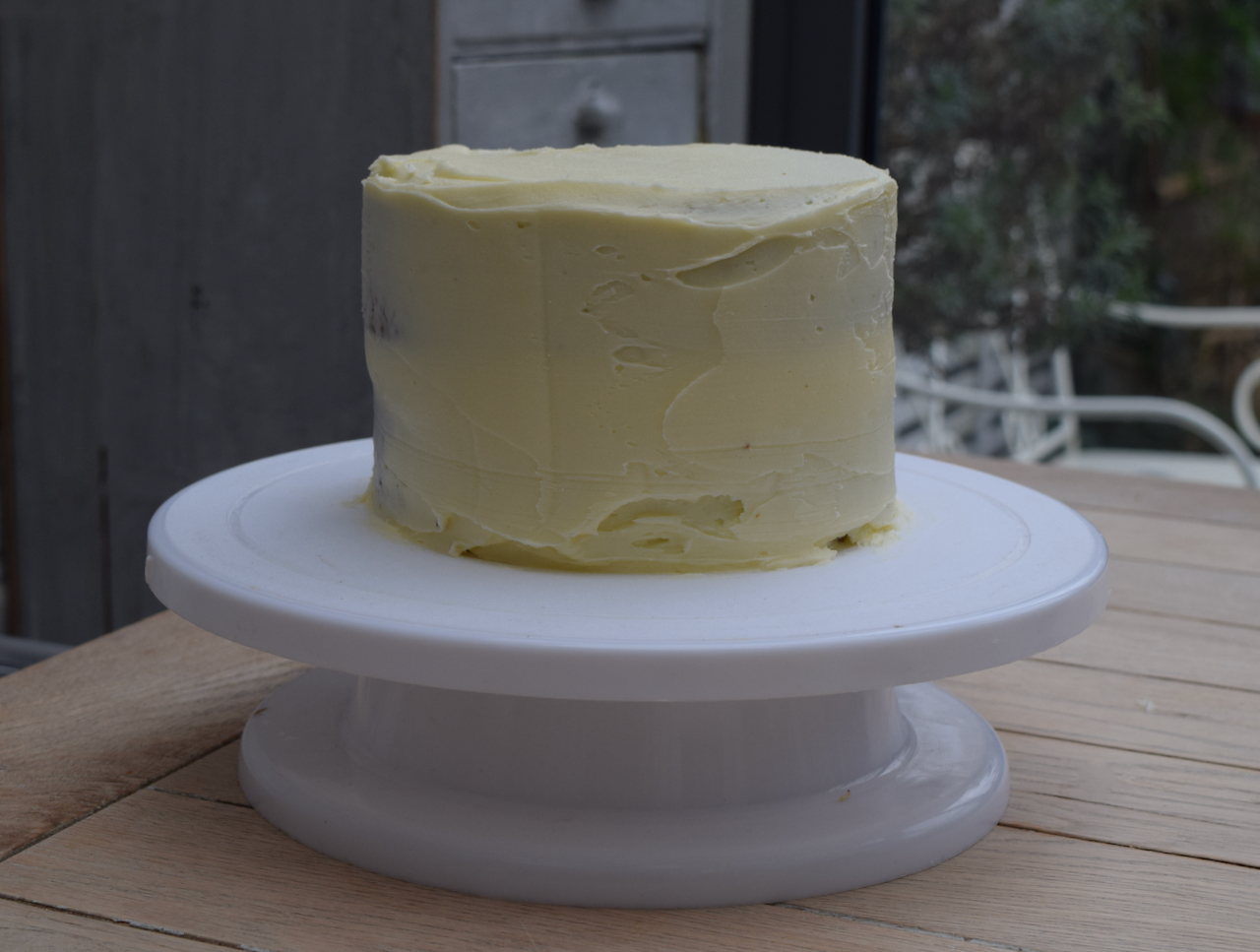 I made some tiny red fondant hearts to distract you from my appalling buttercream work and to celebrate my love for cake, and oh yes, for Clyde.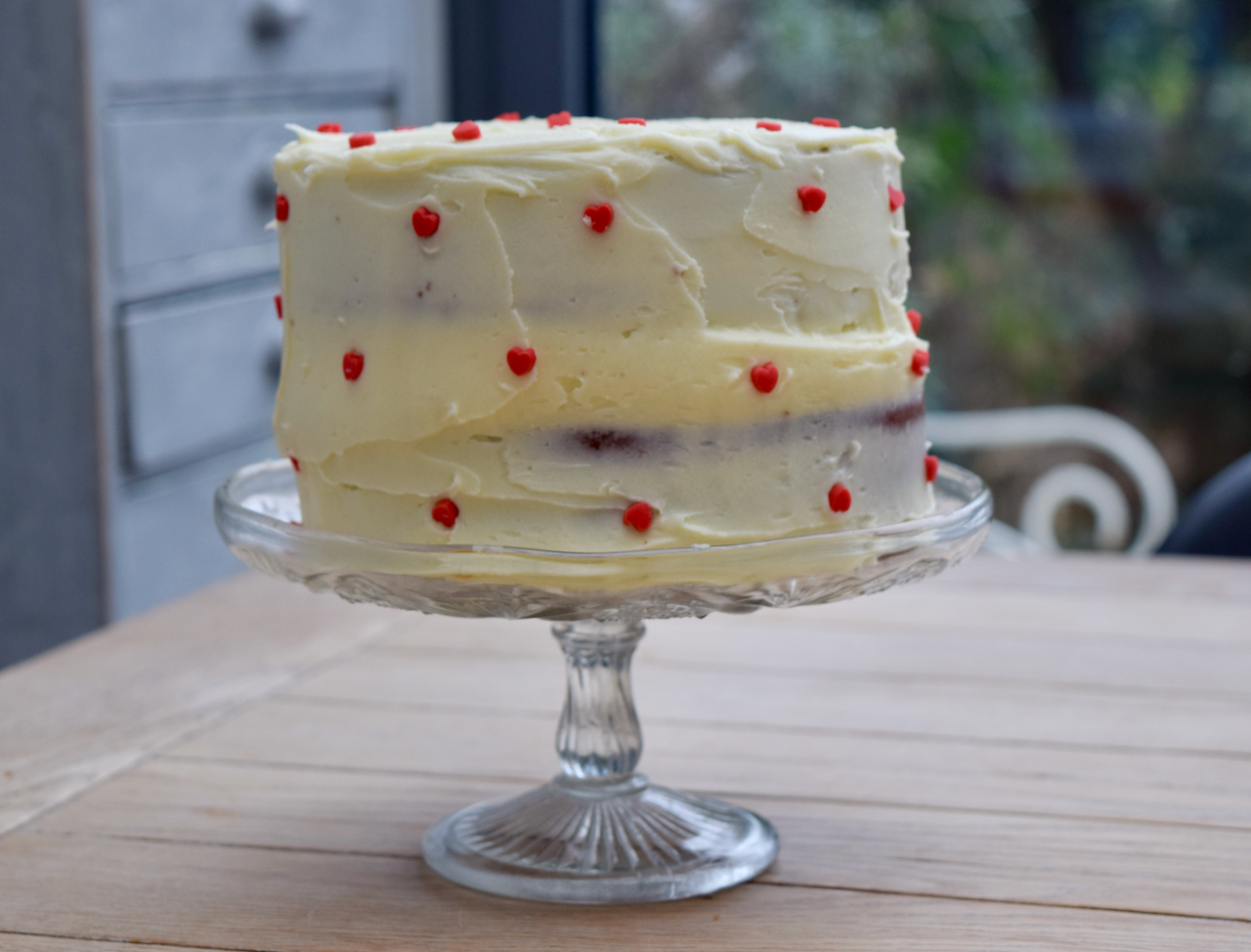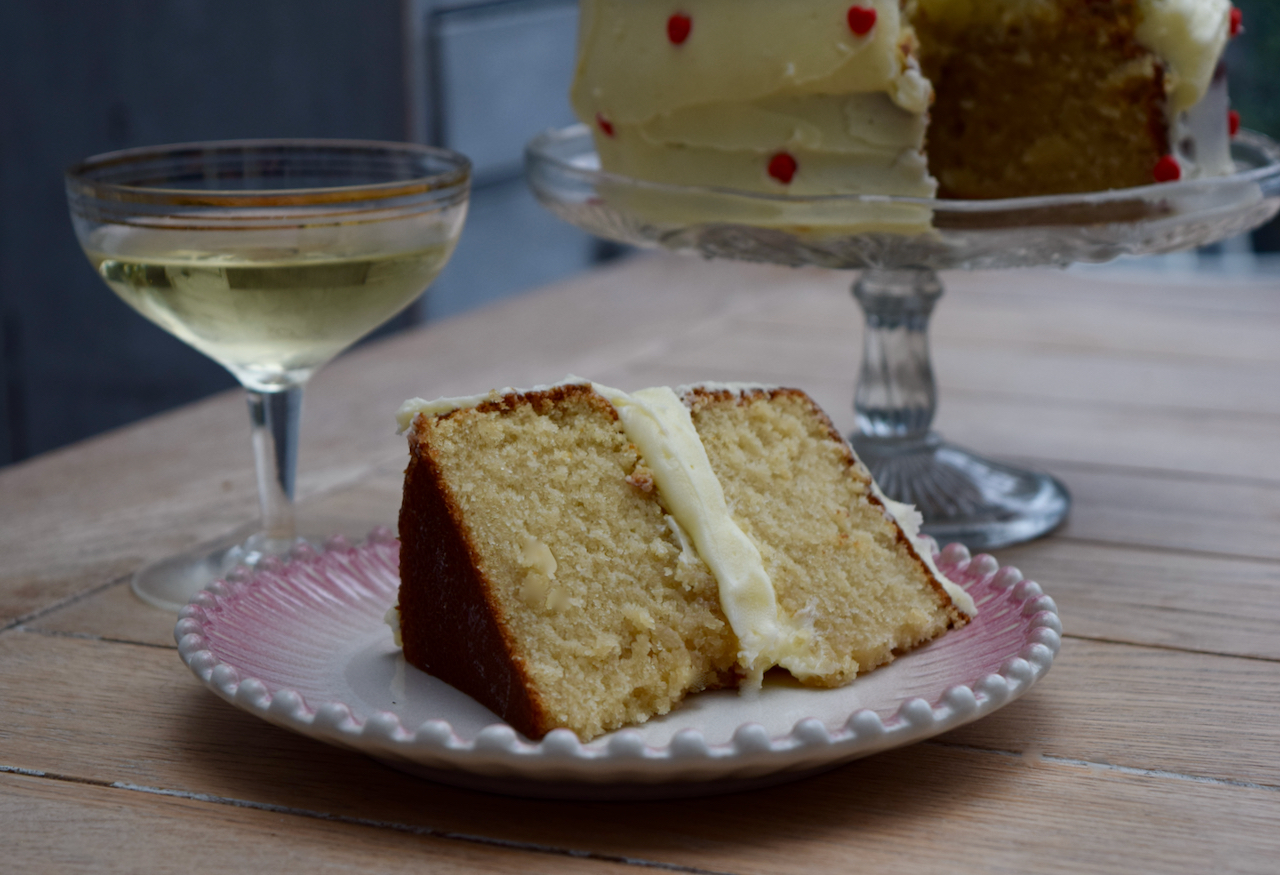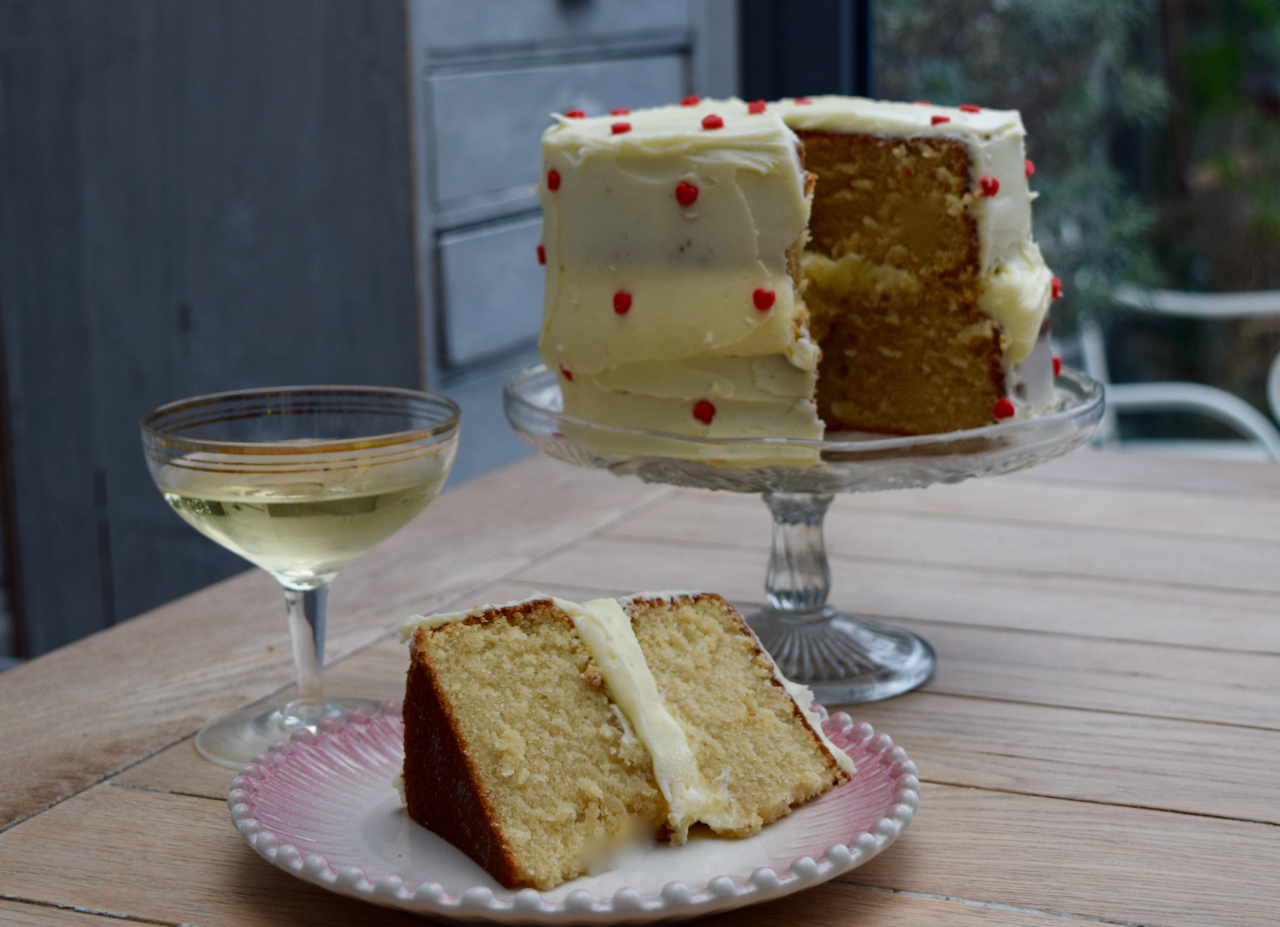 On the *allegedly* most romantic day of the year, you could do worse than fall in love with White Cake this year. You may love it as much as I love the dog.
Lucy x
This post contains an affiliate link to Amazon. Should you choose to buy through this link Lucy Loves will receive a tiny commission, at no extra cost to you, to help me make more cake. Thank you x
White Cake recipe
Makes a 20cm cake, 6 to 8 slices
You will need a food processor or mixer and two buttered baking tins, 2 x 20cm, or I used 2 x 15cm pans for a smaller, higher cake
White Cake
250ml whole milk
6 egg whites
1 teaspoon vanilla
2 teaspoons almond extract
230g plain flour
30g cornflour
350g caster sugar
4 teaspoons baking powder
1 teaspoon salt
170g soft butter, or Stork
Vanilla Buttercream – enough to generously ice the middle and outside of the cake
250g soft butter
500g icing sugar
1 teaspoon vanilla extract
A splash or two of milk to loosen the buttercream
Sprinkles, hearts, glitter, flowers or frippery of your choice, to decorate
Pre heat your oven to 160 degrees fan assisted and line your chosen cake tins.
In a jug, whisk together the milk, egg whites and almond and vanilla extracts. In the bowl of your chosen mixer combine the plain flour, cornflour, salt, baking powder and sugar briefly. Add the soft butter and process until the mixture is like chunky breadcrumbs.
Pour, as your mixer is switched on, all but 100ml of the milk and egg mixture, and beat/mix until smooth. Pour the rest of the milk in and beat again until you have a thin-ish batter. Scrape/pour the mixture, evenly, into the two tins. Bake for around 25 to 30 minutes or until the cake is golden, well risen and a skewer comes out clean when poked in the middle.
Leave the cake to cool in the tin before turning out onto a wire rack to cool fully.
To make the vanilla buttercream, beat the butter in your mixer then gradually add the icing sugar until you have a stiff smooth consistency. Measure in the vanilla and a splash of milk to soften the icing and beat again until smooth.
Trim any domed top off the cake to create a level surface then slather the tops of the cakes with buttercream and sandwich the two together. Cover the rest of the cake with the icing, using any artistic integrity you can muster then decorate with any sprinkles or other bits and bobs.
This wonderful cake, will keep, well covered, in a cool place for 3 to 4 days.