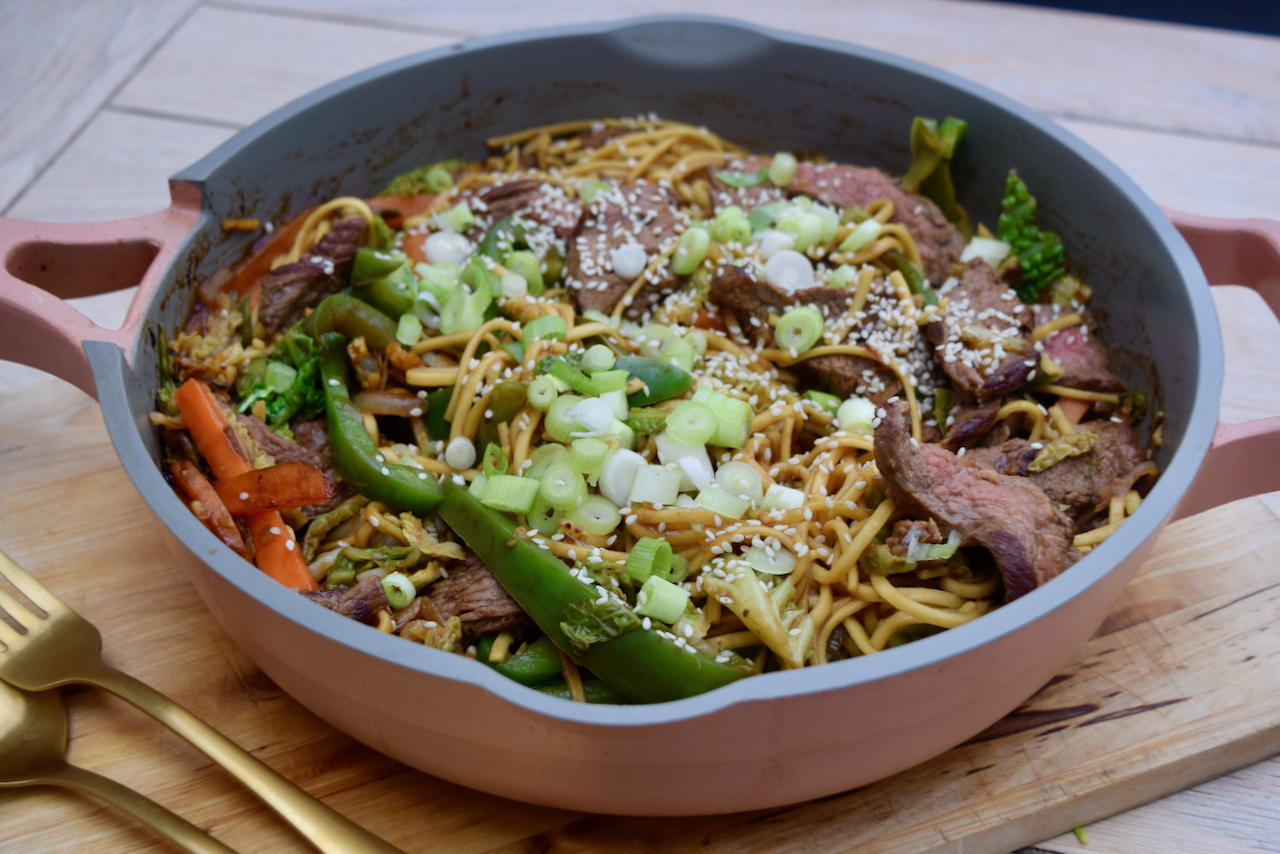 Beef Chow Mein recipe
I'm old school in thinking that steak is a bit of a treat; I feel the same about prawns and smoked salmon, it's a generational thing. But now I'm a 52 year old woman and if I want to eat steak mid week I bloody well will. However, this Beef Chow Mein, ensures one lovely big steak serves 4, so don't go thinking I've won the lottery or finally got a sponsorship deal with Stork.
I love a Chinese takeaway but don't love all the gloopiness or the raging thirst that come with it. Making your own Beef Chow Mein ensures fresh flavours, beef cooked to perfection and not a whiff of gloop. The sauce is a delicious mixture of some store cupboard staples such as soy, hoisin, sesame oil and sherry. The stir fry is a fragrant combination of onions, peppers, cabbage and carrots for bite. The steak star of the show is, well, the star of the show. I cook it in one whole piece to ensure it's cooked medium rare, then slice and add to the noodles and vegetables along with the sauce to bring the whole dish together.
This Beef Chow Mein has a lovely authentic taste, in fact, if you delivered it to your family in a foil tray and asked them for £15 they'd definitely pay up.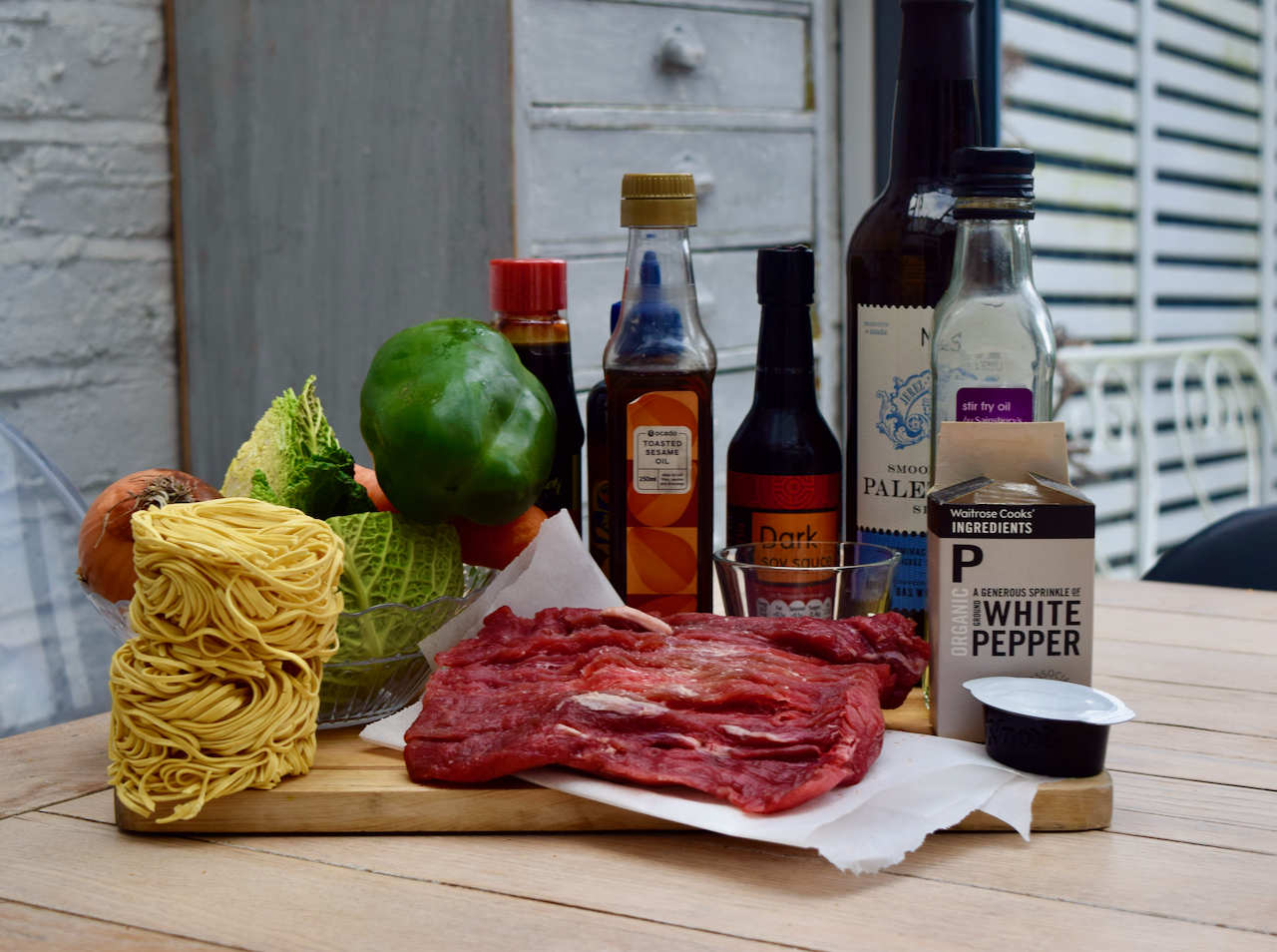 Thanks to the inspiration from Kitchen Sanctuary, this recipe is simple and quick, despite the array of bottles in this line up. If your kitchen's anything like mine, you'll have most of these to hand anyway. My steak was a brilliant, great value piece of flank from Costco I buy whenever I make the trip down the A316. It's perfect for this recipe, super tender, but do make sure you slice it against the grain. Use any steak you can find on offer or you have lurking in the freezer.
Start by cooking the aforementioned steak. Drizzle it with oil and season with salt and pepper on both sides. Heat a griddle pan or heavy frying pan to a medium high heat. Cook the whole piece of steak to your liking, ensuring it has a lovely brown crust and err on the under-cooked side, bearing in mind the beef will go back into the pan once sliced, so will get a further quick cook then.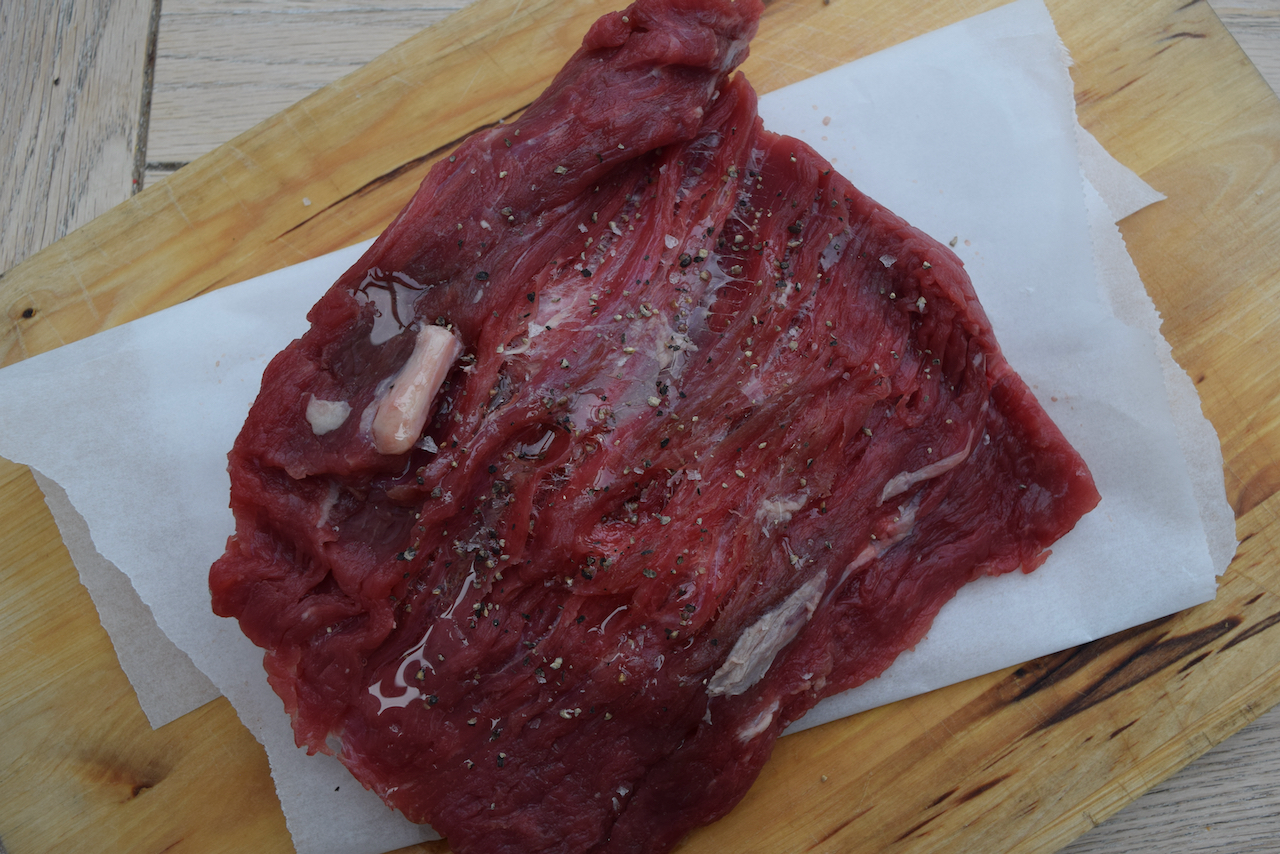 Remove from the pan and leave to rest for 5 minutes before slicing, against the grain. Pop to one side for the moment.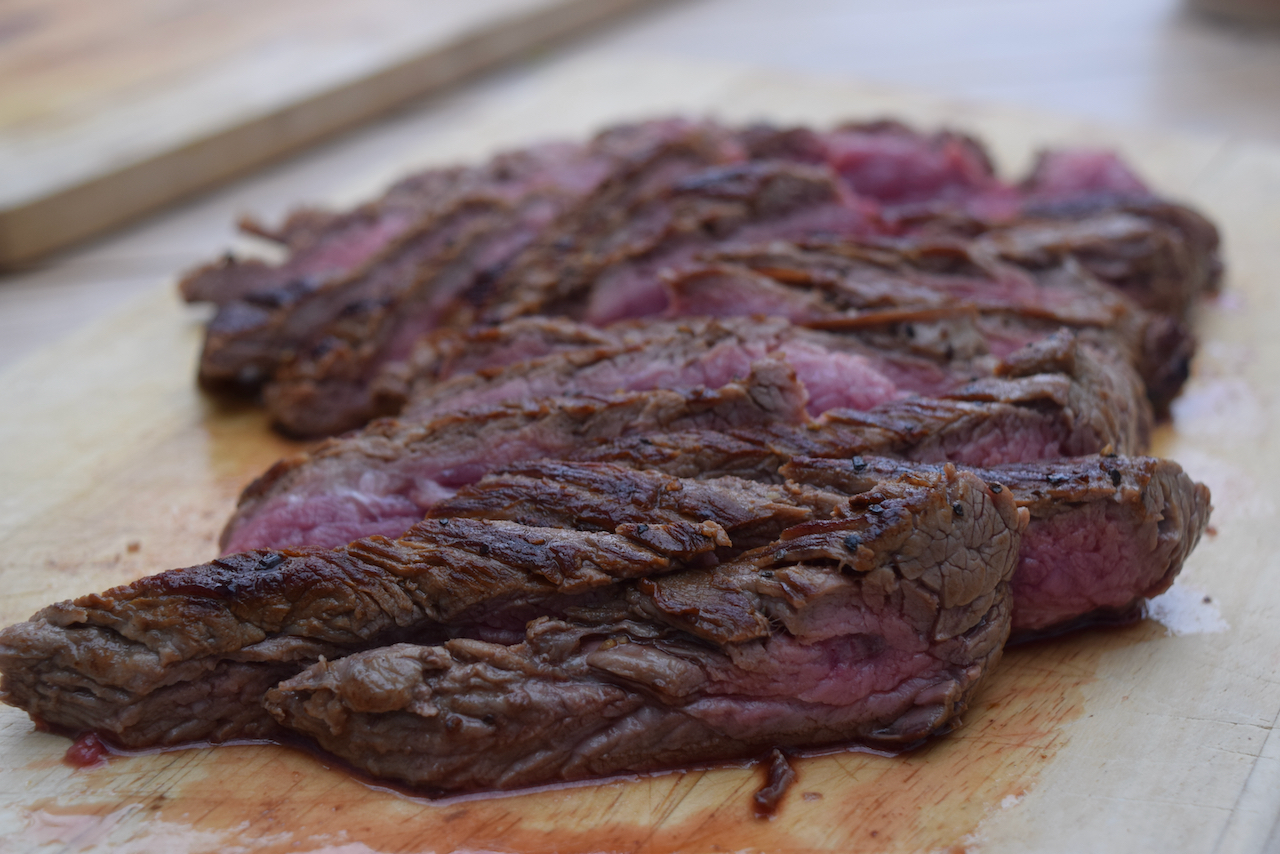 As you can see I like my steak very much on the medium rare side.
Now cook the noodles according to the instructions on the packet. Once cooked, rinse in cold water to stop them sticking and leave to drain.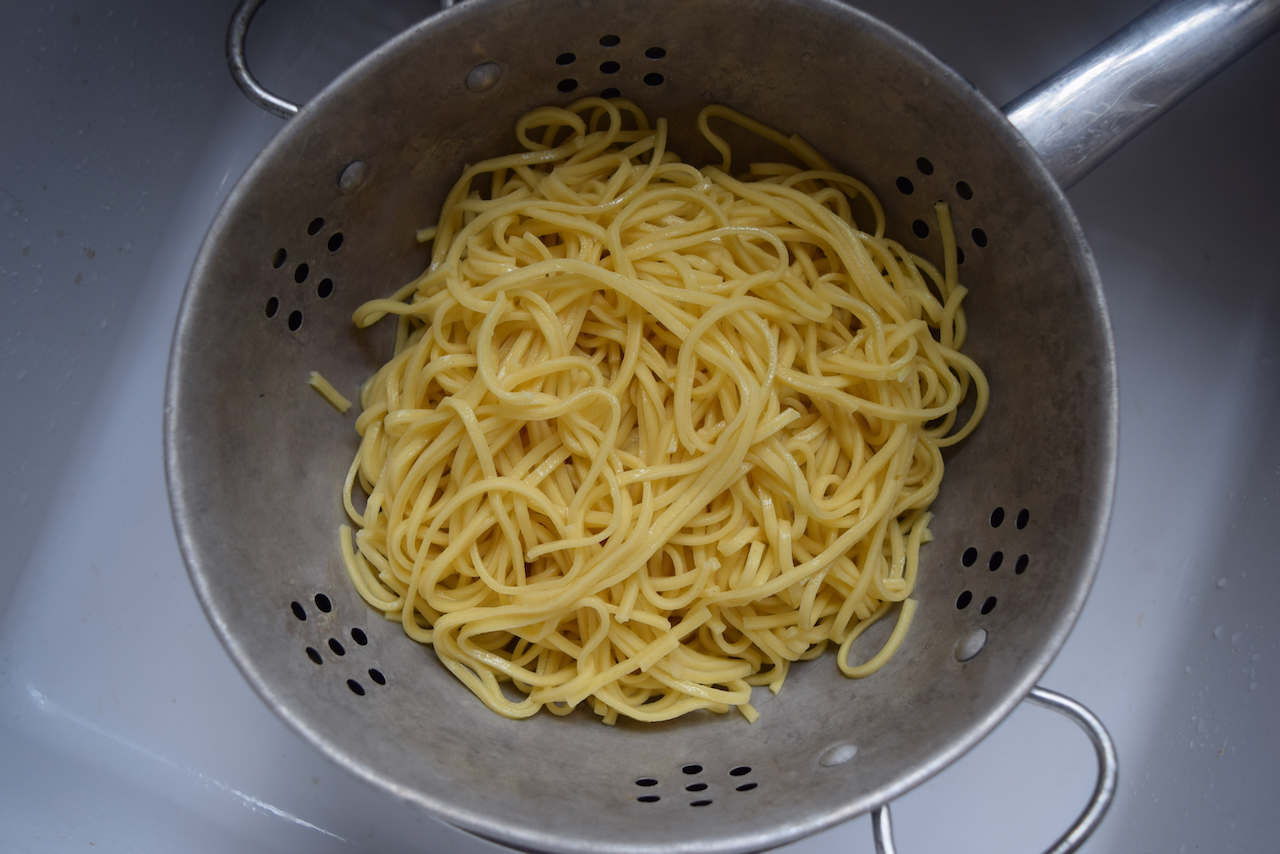 For the sauce, whisk together the stock, soy, hoisin, kecap manis, sherry, sesame oil and white pepper. Add the cornflour and whisk again until smooth.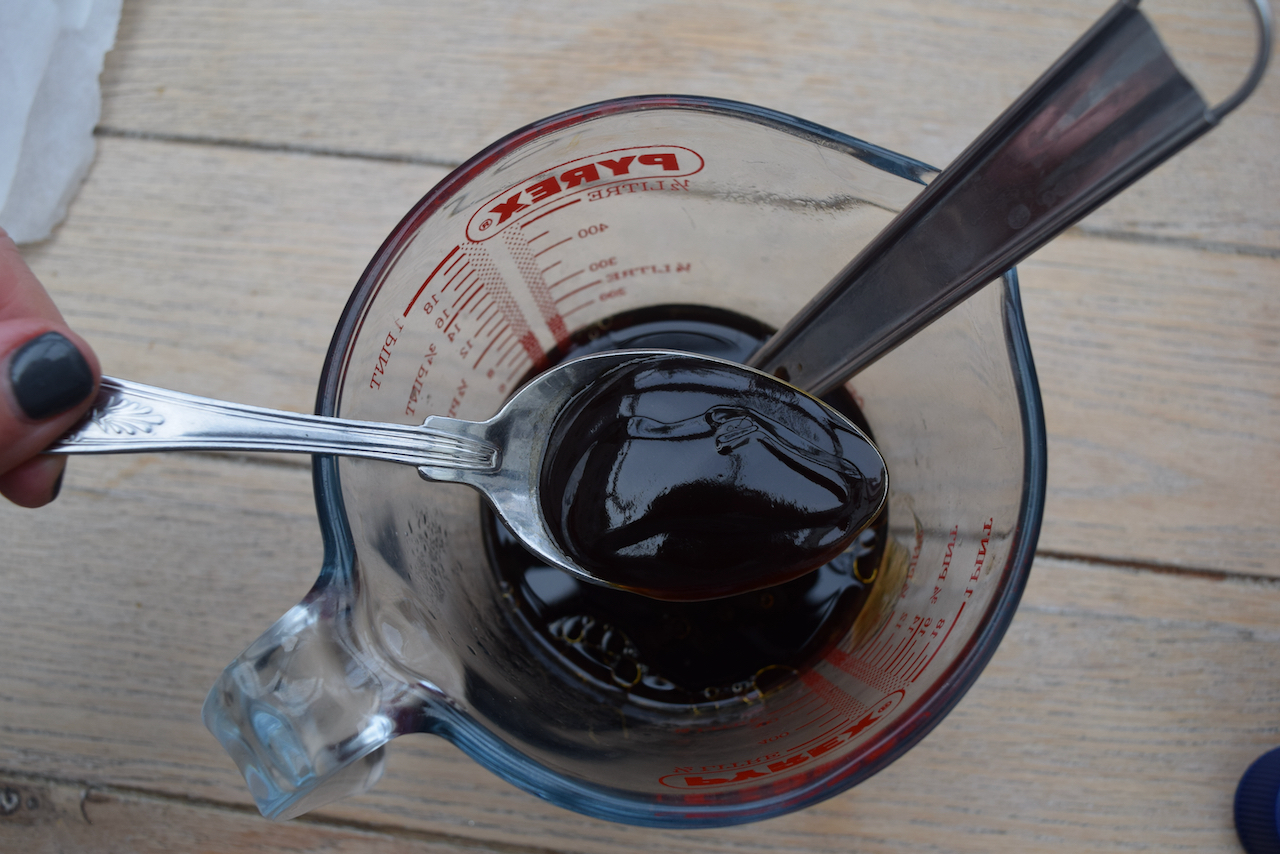 Prepare the onion, garlic and carrots as they're first into the pan. Prep the pepper and cabbage too, they're in second.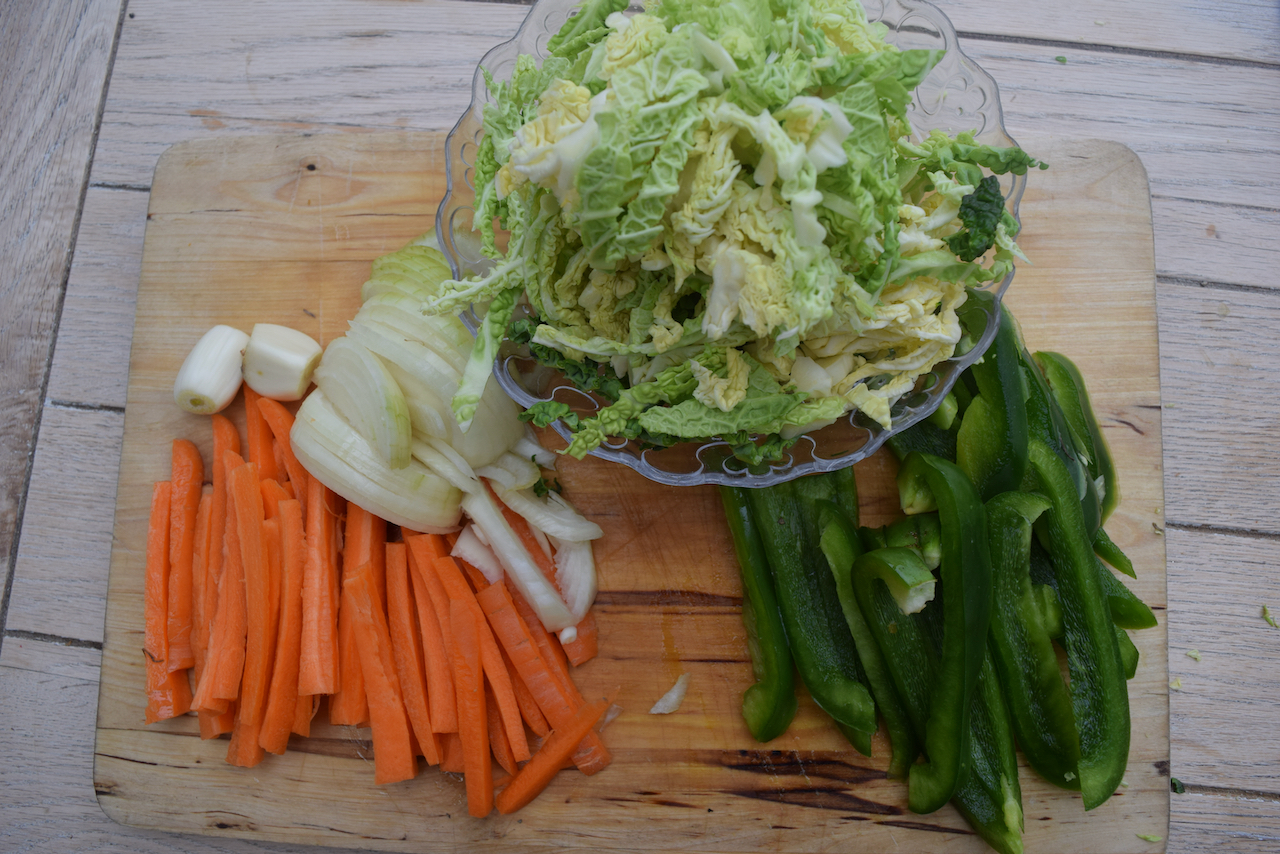 Now, with all your chow mein elements ready, it's time to crack on.
Add two tablespoons of oil to the pan you cooked your steak in and turn the heat down to medium. Add the onions, garlic and carrots and cook for 2 to 3 minutes until starting to soften and colour a little.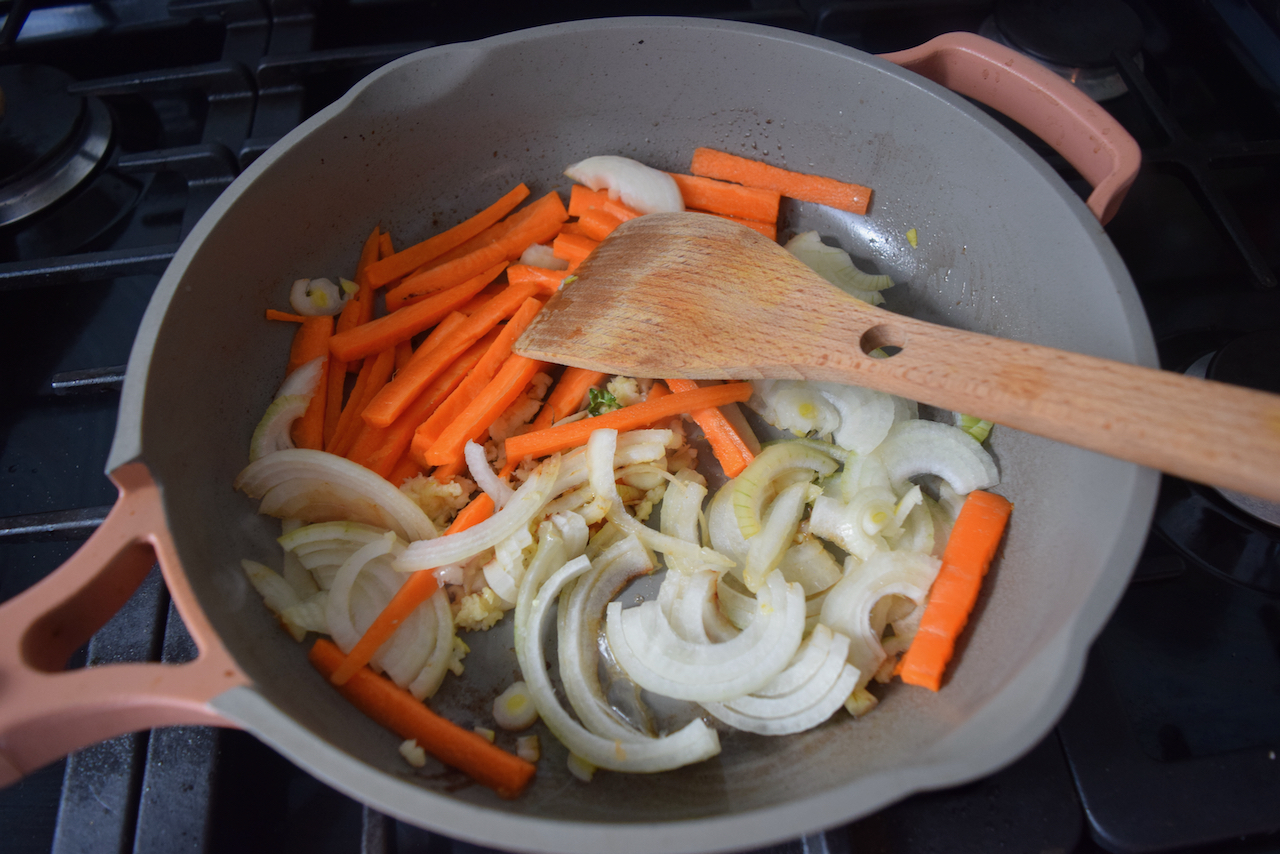 Next in is the cabbage and pepper. Cook them for another couple of minutes.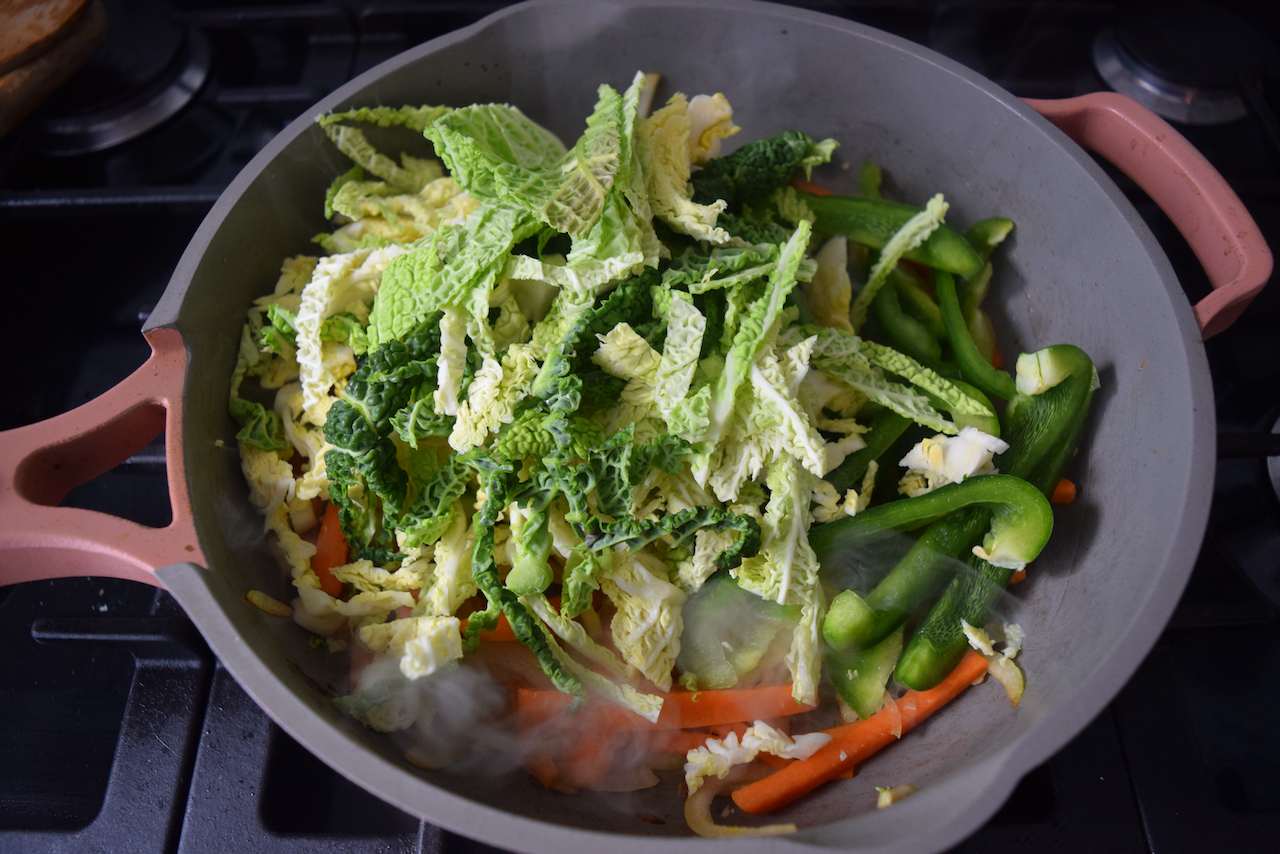 It's all moving at quite the pace now, so tip in the drained noodles and your wonderful sliced steak. Stir well to reheat everything evenly.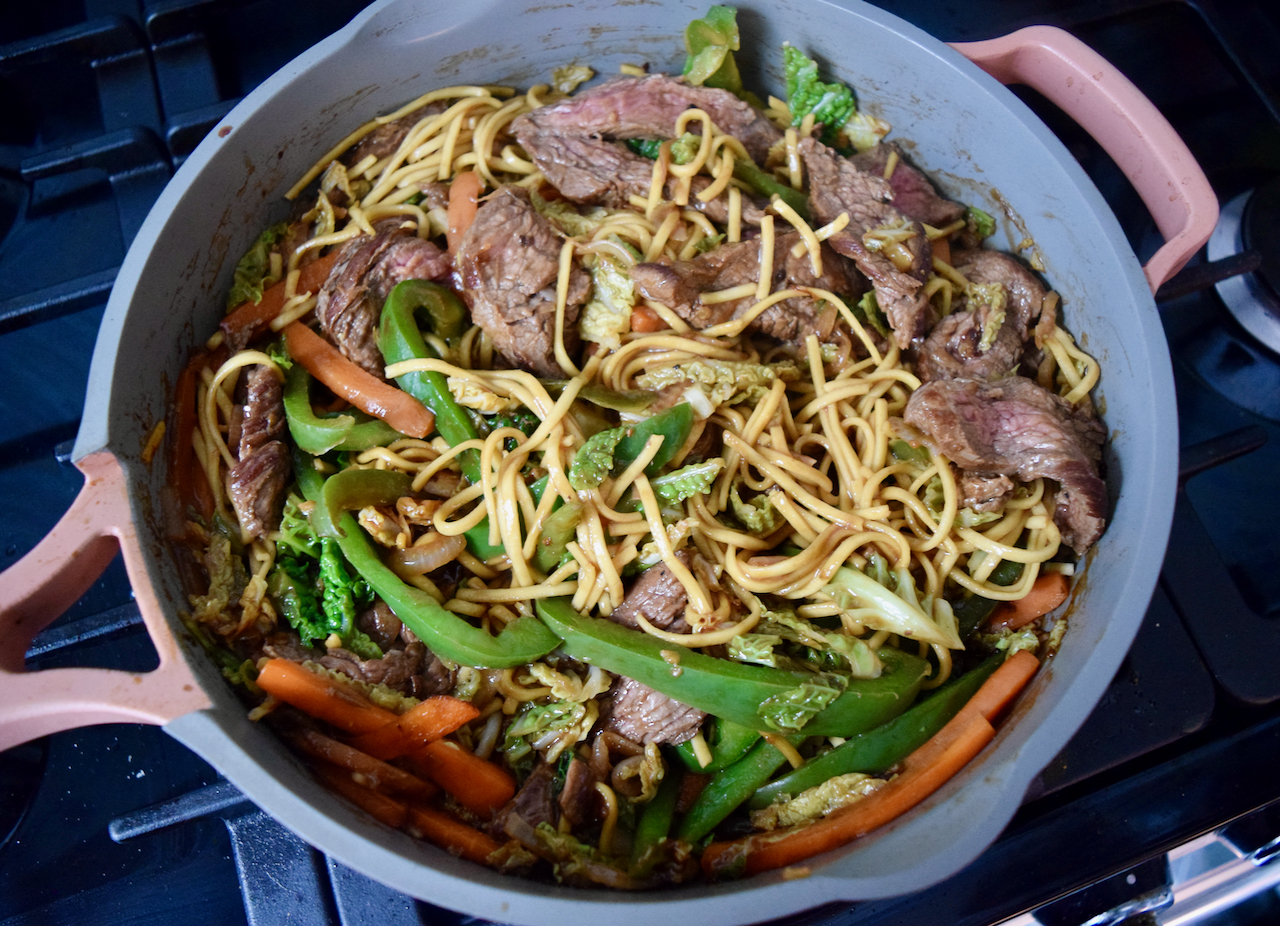 Pour on your prepared sauce, stirring well making sure all the bits and bobs are well coated.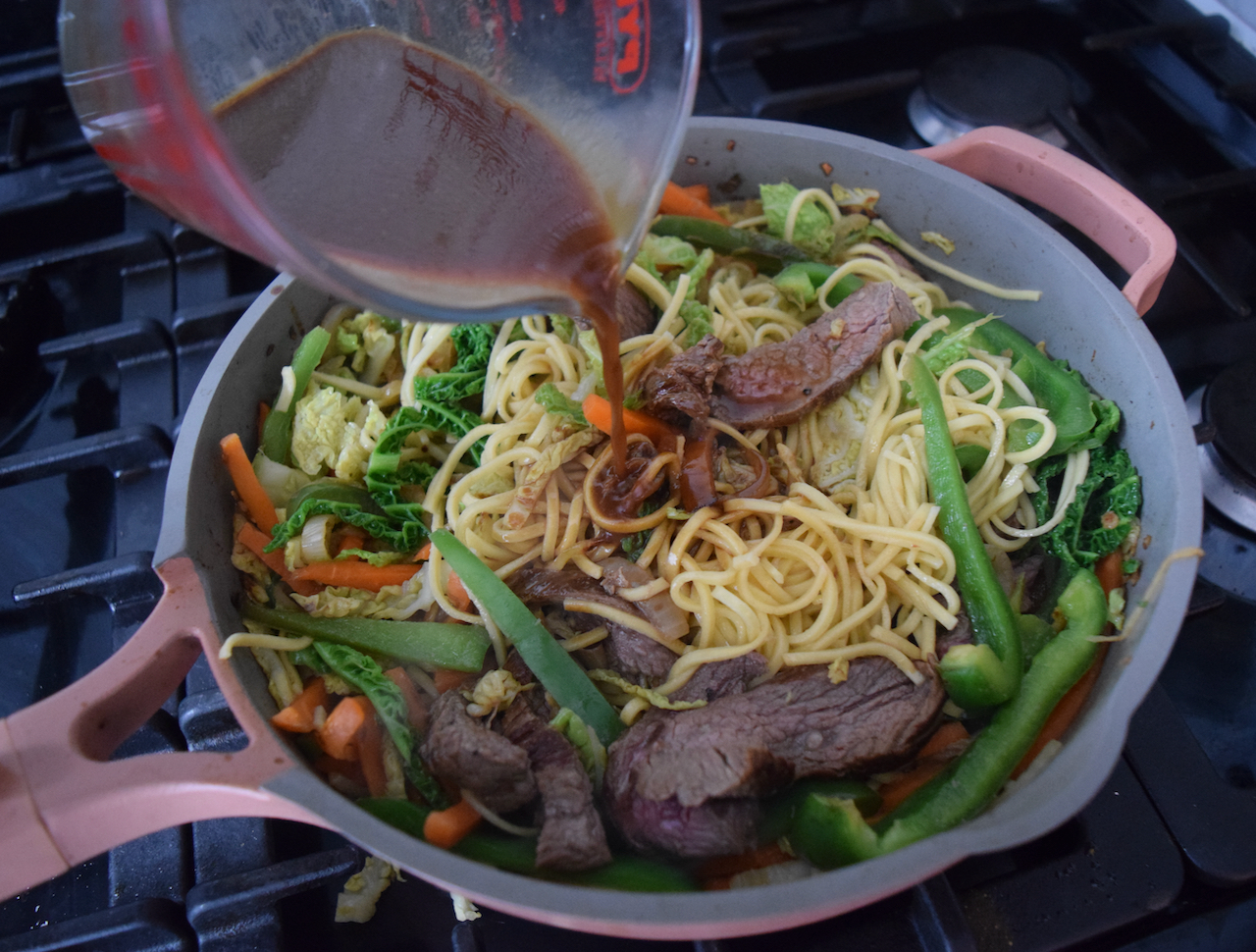 And that's it, almost as quick as some poor delivery driver on a bike, but hotter. Scatter with some chopped spring onions and sesame seeds and serve in bloody great big, piping hot bowlfuls.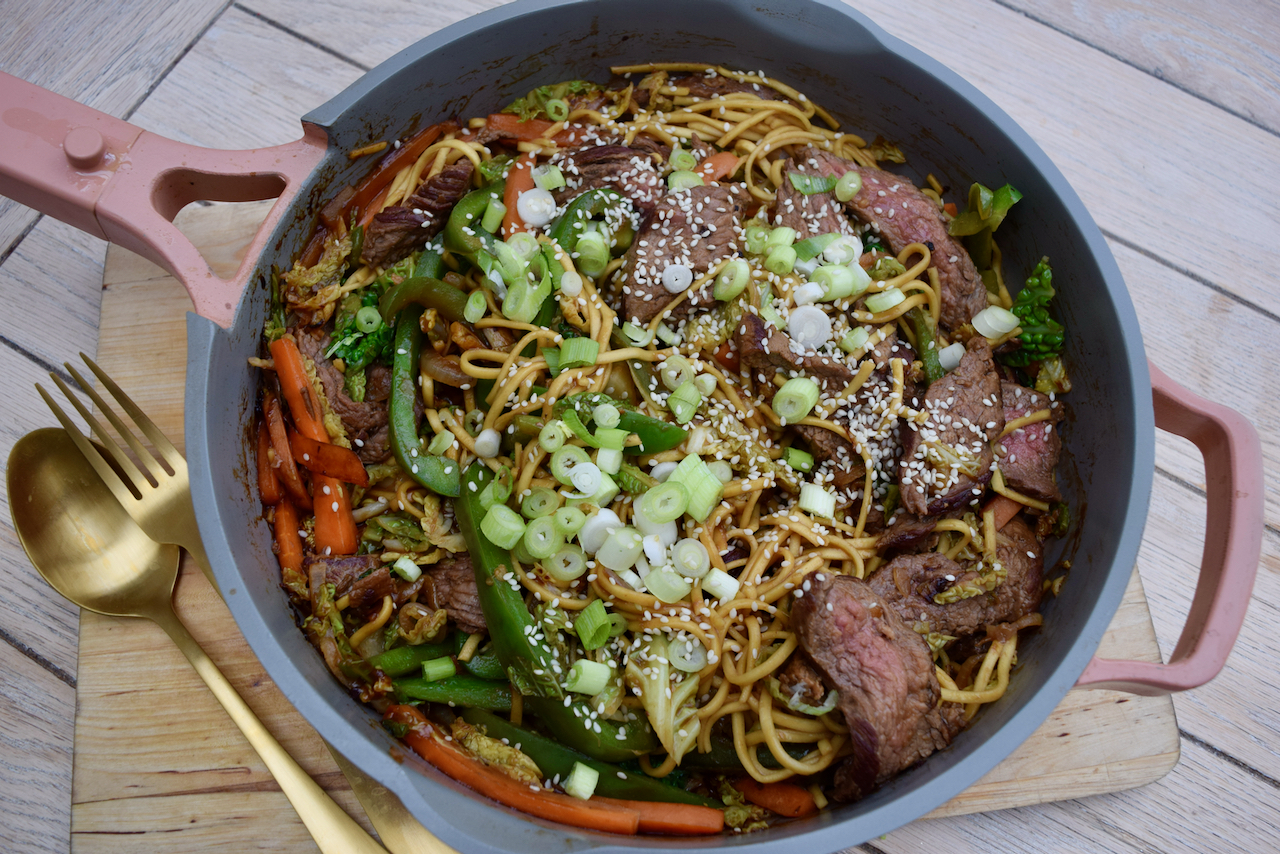 Please take a moment to appreciate my lovely new pan, before the boys get their hands on it and ruin it.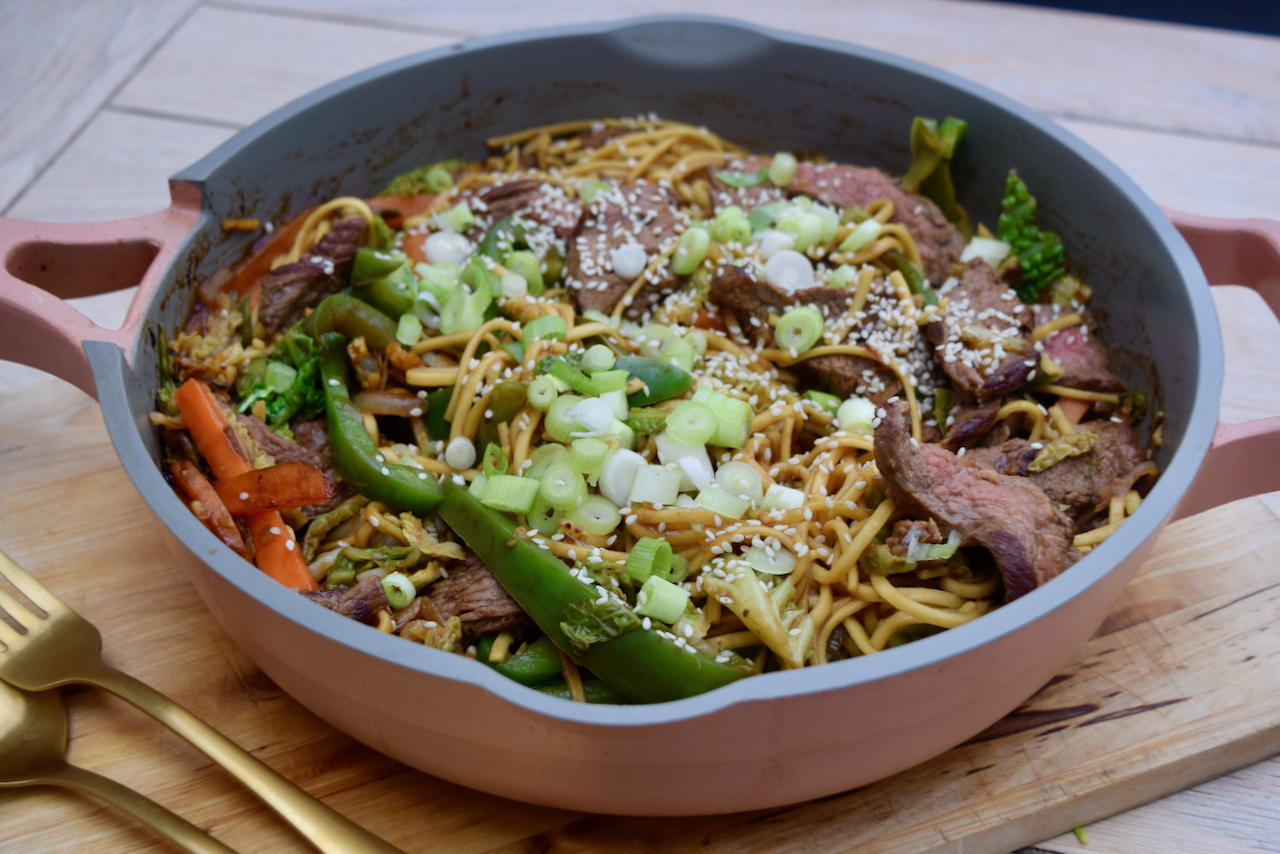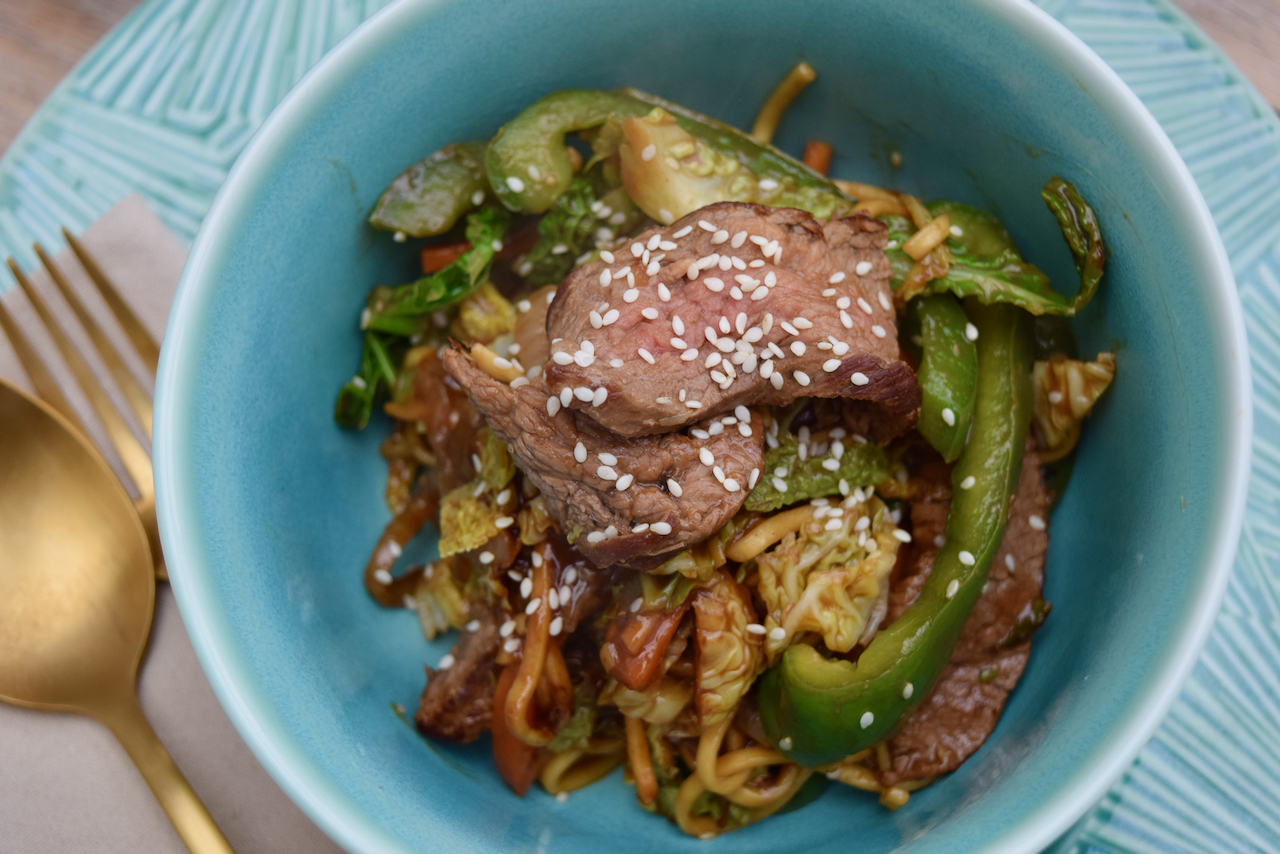 This dish feels special, but without all the kerfuffle that usually comes with 'special'. I'm drooling as I write, so I'm off to the freezer to see if there's a bit of steak lurking so we can have this for supper tomorrow.
Lucy x
Beef Chow Mein recipe
Serves 3 to 4 hungry souls
You will just need pots and pans for this
300g to 400g steak, mine was a lovely piece of flank steak
A drizzle of oil and salt and pepper for the steak
150g noodles, fine egg ones are great here
2 tablespoons oil, mine was seasoned stir fry oil
1 onion, sliced
2 cloves garlic, crushed
1 large carrot, cut into batons or strips
1 green pepper, cored and sliced
1/4 of a savoy cabbage, shredded
Sauce
2 tablespoons dark soy sauce
1 tablespoon rice wine, or sherry
2 tablespoons kecap manis, sweet soy sauce
2 tablespoons hoisin sauce
1 tablespoon sesame oil
90ml beef stock
1/4 teaspoon white pepper, if you have it, if not black's fine
1 tablespoon cornflour
A sprinkle of sesame seeds and some chopped spring onions, to serve
Start by cooking your steak. Heat a griddle or heavy frying pan to a medium high heat. Drizzle the steak with oil and season generously with salt and pepper. Cook the steak just how you like it, with a good colour, bearing in mind it will get another brief heating once sliced in the dish later. Leave to rest then slice, against the grain, and set aside.
Cook the noodles according to the instructions on the packet, drain, rinse in cold water to prevent them sticking together, then leave to one side.
For the sauce, mix the stock, soy, sherry, hoisin, kecap manis, pepper and sesame oil. Whisk in the cornflour until you have a smooth sauce.
Add two tablespoons of oil to the steak pan, turn the heat to medium then add the onion, garlic and carrot and stir fry for 2 to 3 minutes until taking on a little colour. Add the pepper strips and cabbage and cook for another 2 minutes. Tip in the noodles, stir well, then add the steak strips, along with any meat juices and stir again.
Pour on the sauce, stirring well, and over a low heat, ensure everything is piping hot. Garnish the pan with sesame seeds and chopped spring onions. Devour in huge bowlfuls.