Chocolate Mayonnaise Cake Recipe
I read an article recently which listed foods to eat when your feeling miserable. I am not necessarily miserable, just a bit flat *and fat* after the fun of Christmas and the dark mornings and evenings are leaving me starved of sunlight. This lovely list suggested such delights as brazil nuts and leafy greens, which I hastily ignored when I got to the section entitled Chocolate. It's no wonder chocolate lifts your mood; it's sweet, rich and delicious. The article probably meant 70% dark chocolate with it's antioxidants and theobromine, but balls to that. I heard mood lifting chocolate and ran with it to create this slightly bizarre sounding, but totally delicious, Chocolate Mayonnaise Cake.
I have been meaning to share this cake recipe with you for years. It's a family favourite and I love the secret *or not secret as I've called this a Chocolate Mayonnaise Cake* ingredient which no one will ever be able to guess the cake contains. This brilliant recipe comes via a very well thumbed copy of my Sue Lawrence – On Baking book, with huge thanks. It's such a soft crumbed, not too sweet, cake of joy. I've then slathered it in a fudgey chocolate icing for maximum mood lifting, but you could bake this in a square cake tin and serve warm from the oven with cream and fruit. Mayonnaise is really just oil, eggs and vinegar all of which feature in another of my favourite cake recipes, so there's nothing terribly scary about including a condiment in your cake mixture. I am genuinely cheered by this recipe, not least because it hardly creates much washing up. The easy to make cake is rich and soothing and the icing is sweet and thick; I feel this was the chocolate business the mood lifting article should have been referring to.
I have to confess I was more than a touch hungover which I photographed this post and am happy to report, this Chocolate Mayonnaise Cake is also a brilliant hangover cure. Along with several packets of crisps and about 3 litres of tea.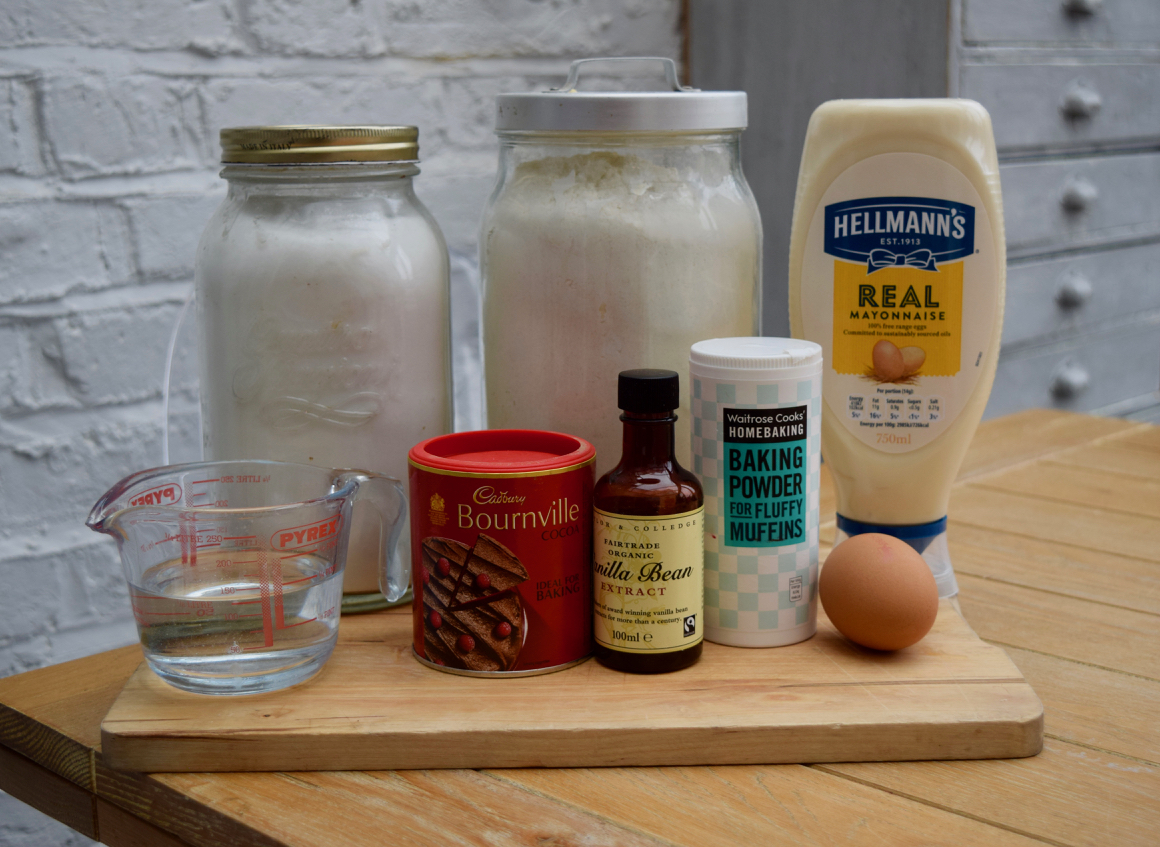 What a lovely store cupboard selection of ingredients for this Chocolate Mayonnaise Cake. Do use a good quality, full fat mayo here, this is not the time for anything fat free.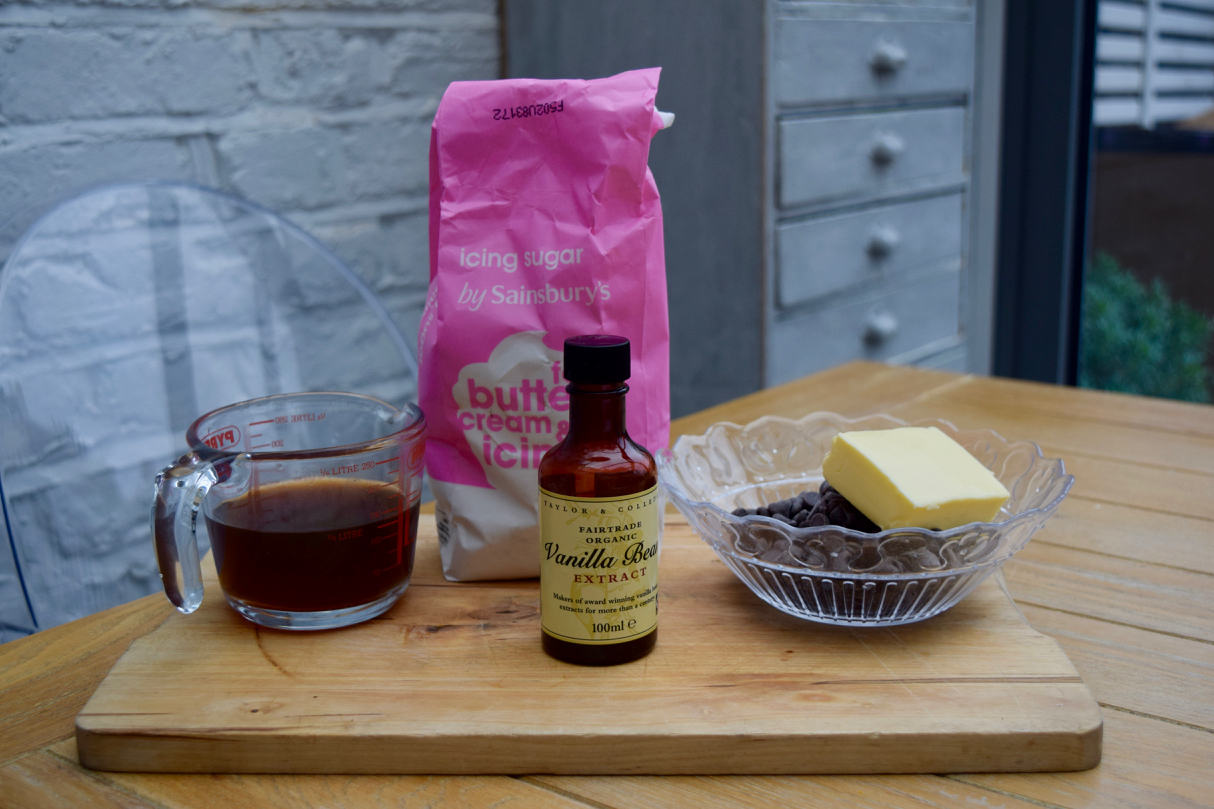 And here's the chocolate fudge icing ingredients. This is sort of optional, but if you are serving this as a cake cake rather than a pudding cake, I would certainly recommend slathering your cake in this.
Start on this cake by pre heating your oven to 160 degrees fan assisted and lining either two 20cm sandwich pans or one 20cm springform tin. Or, you could always use a square 20cm cake tin, this would be great if serving as a pud. Next, in a medium sized bowl measure in the flour, sugar, cocoa and baking powder.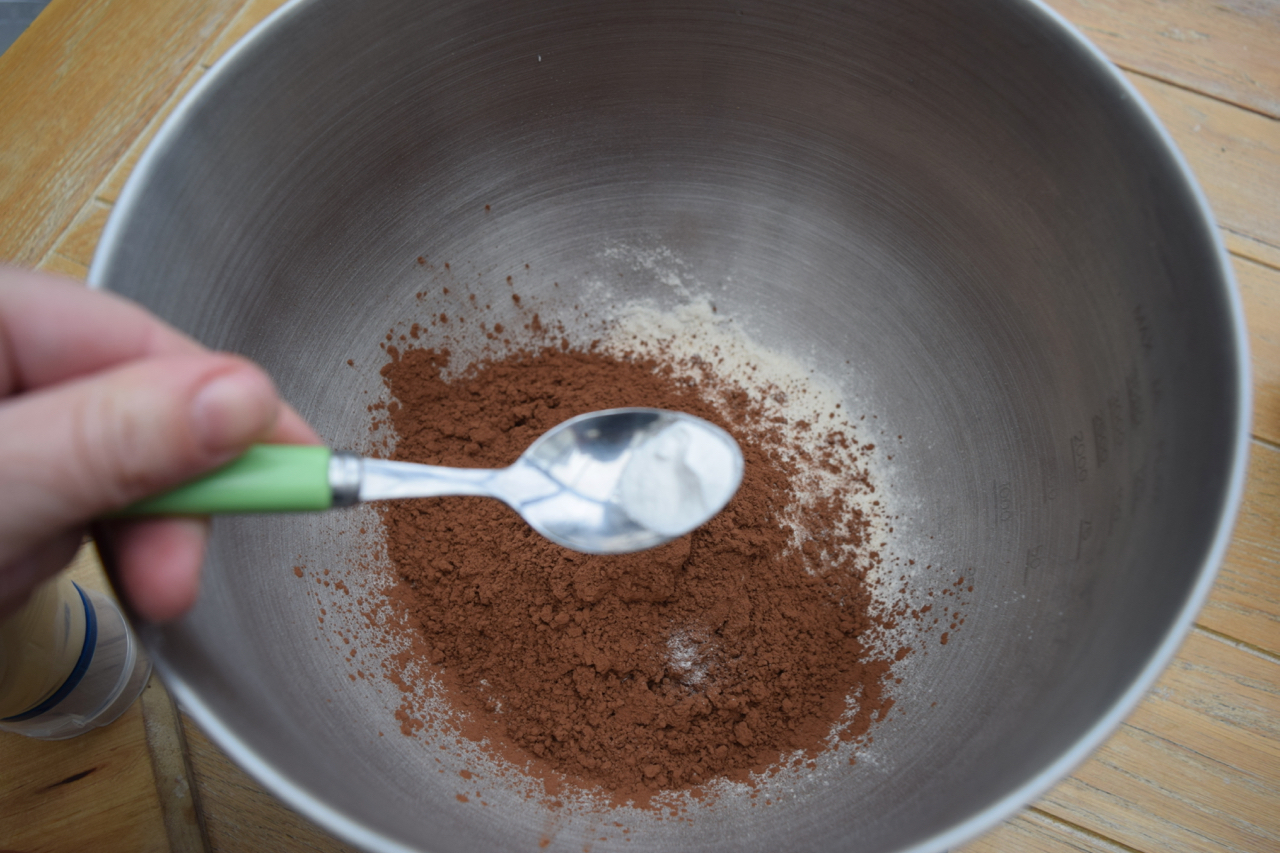 Give it all a good whisk then make a well in the centre of the mix.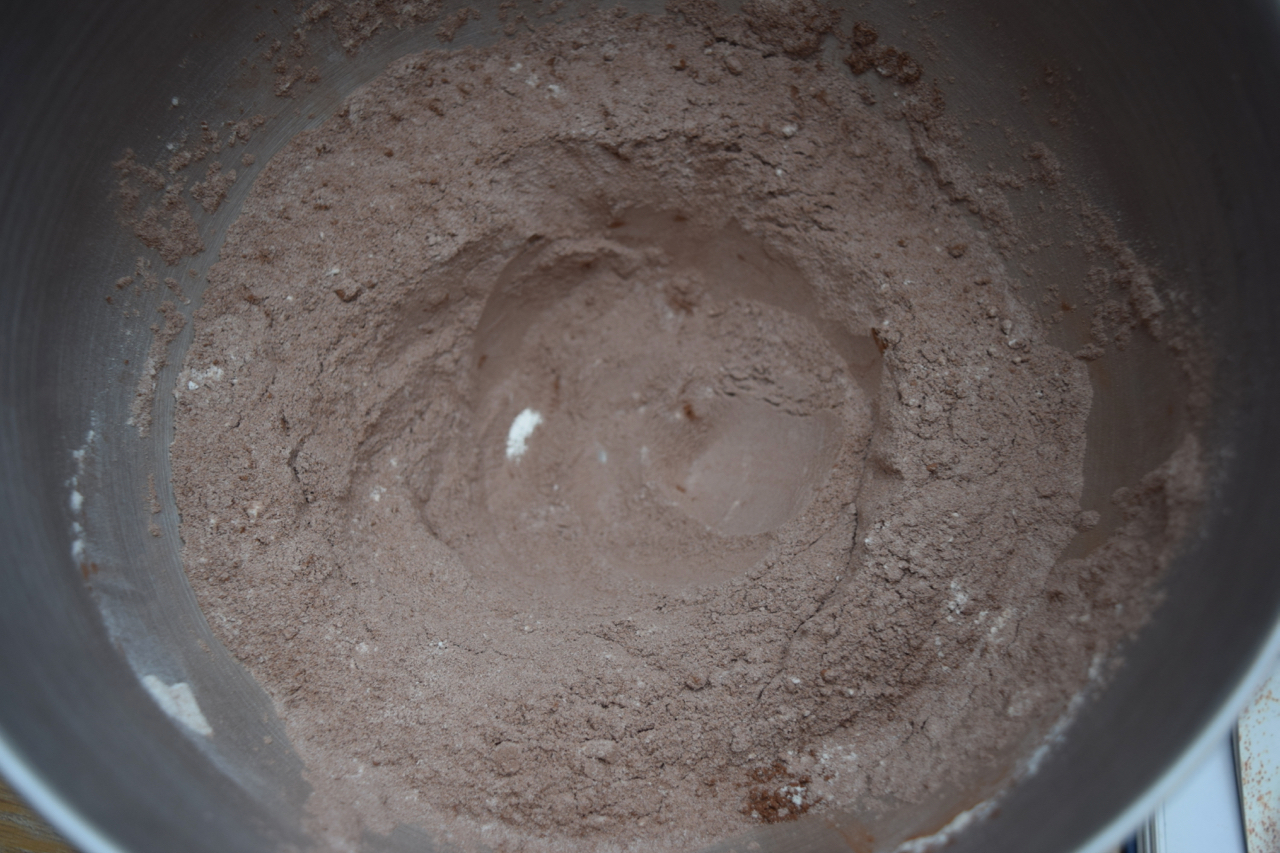 Pour the water, egg, vanilla and mayonnaise into the well.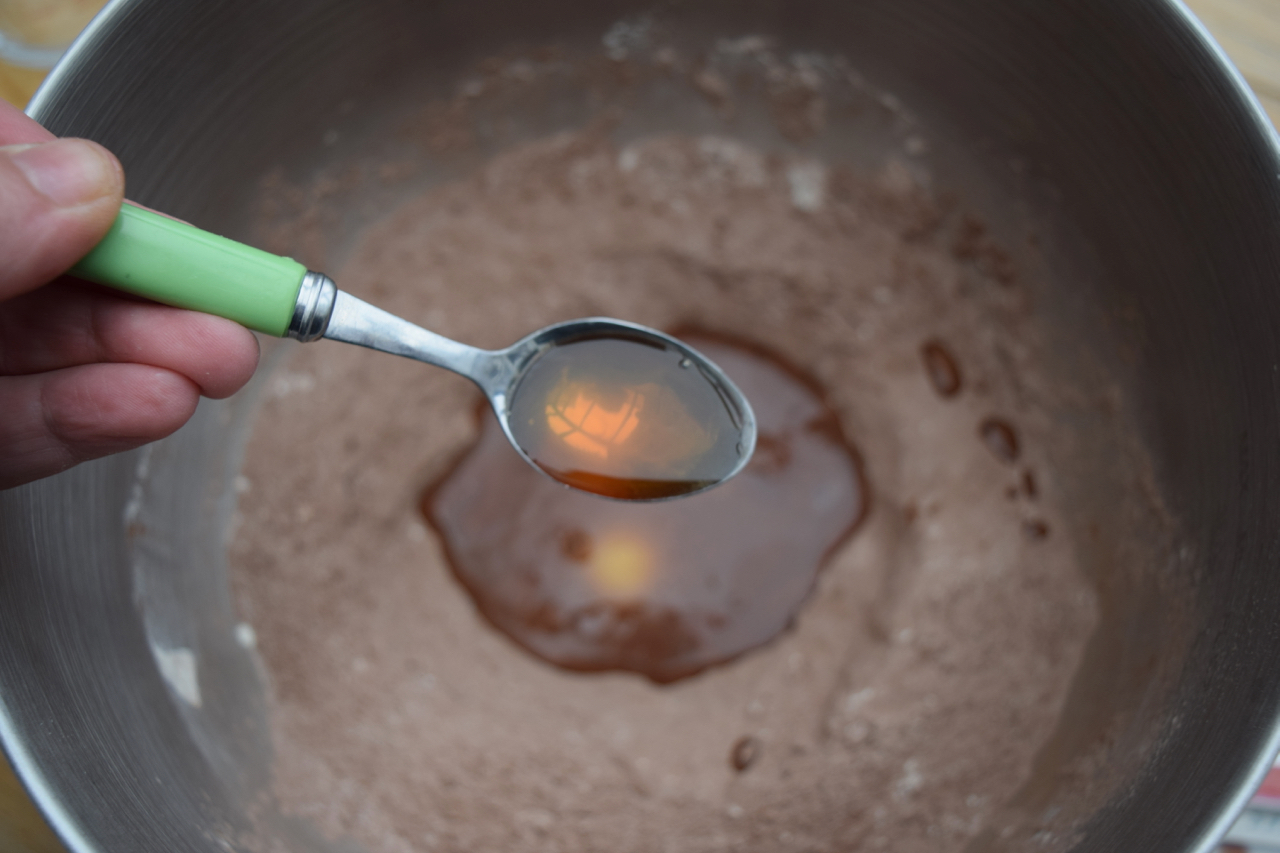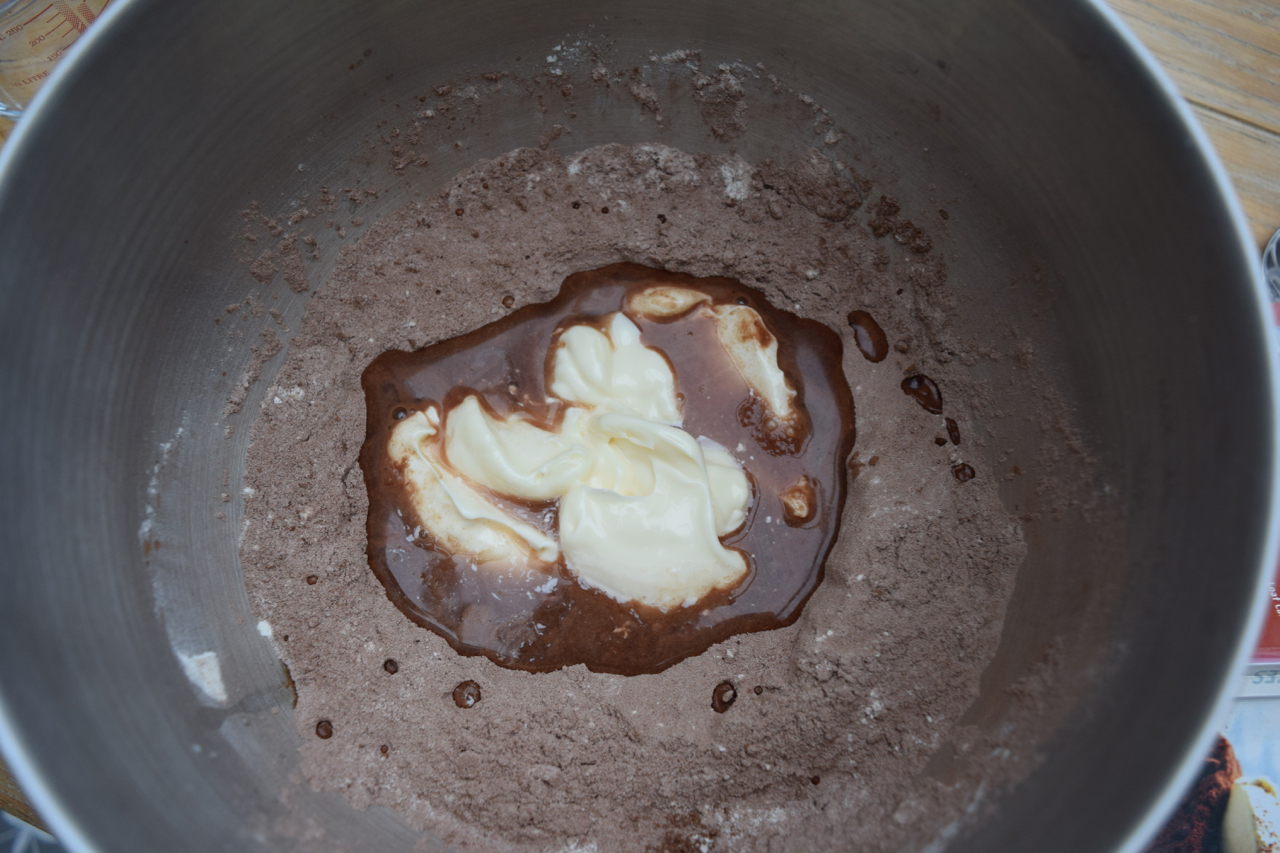 Now you can either whisk this by hand, with a hand whisk or in your stand mixer. Beat until smooth and unctuous.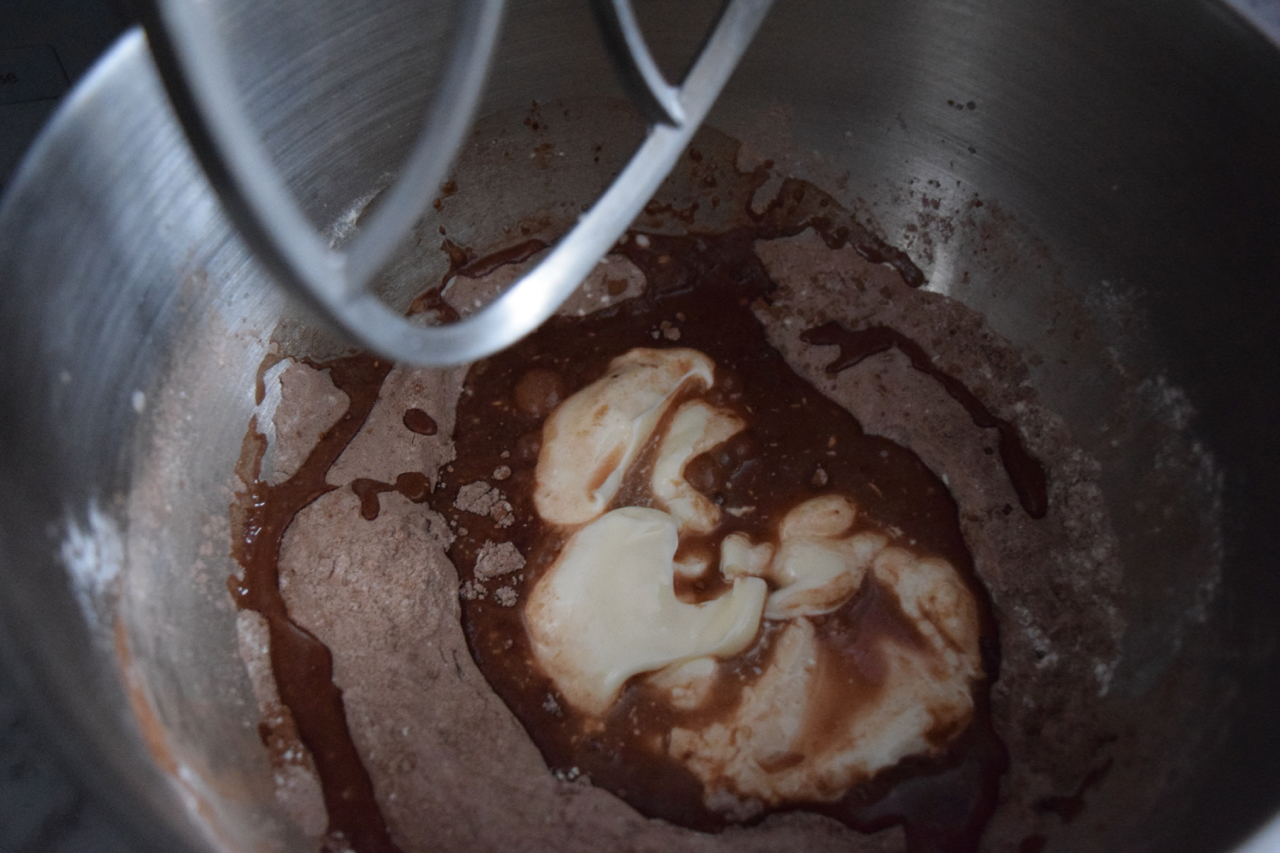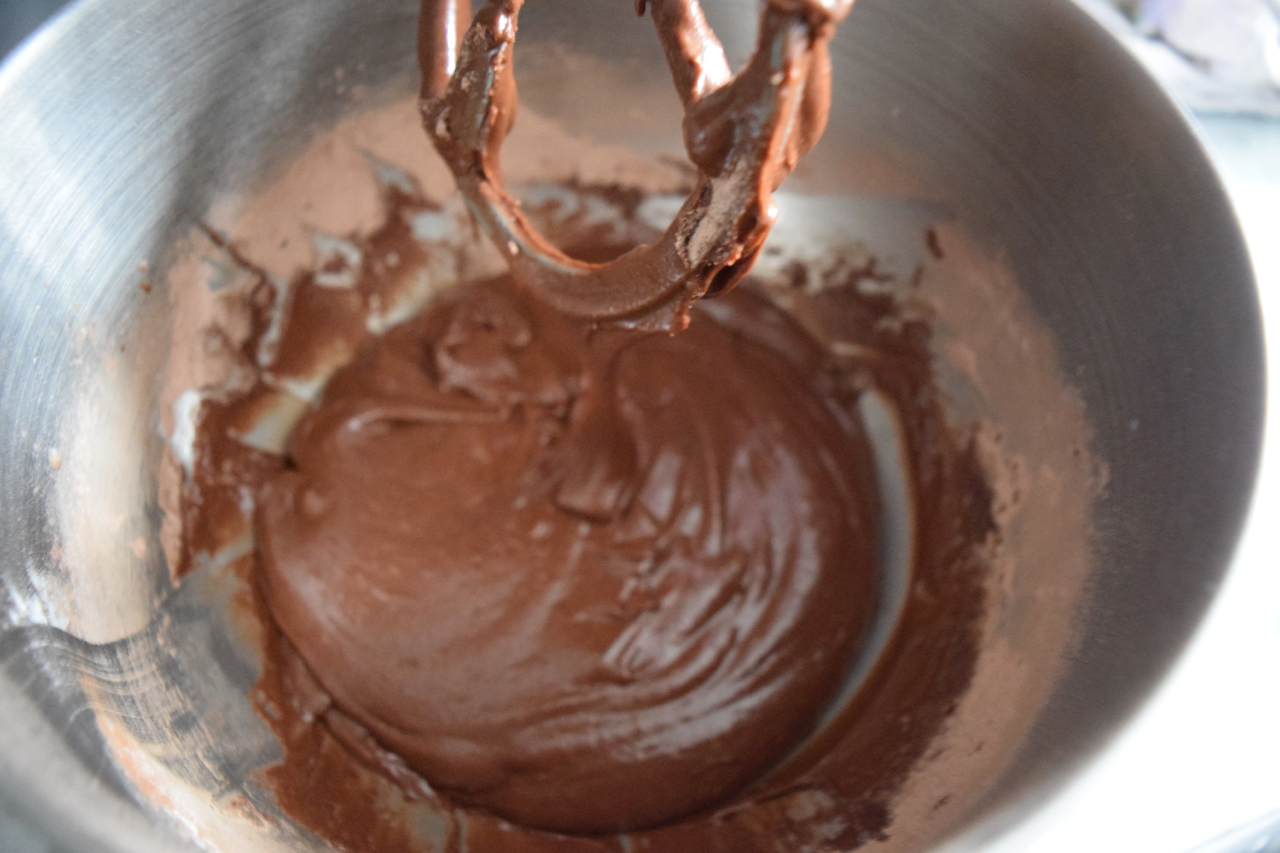 Scrape this amazing mixture into your chosen tins or tin and pop into the oven for 20 minutes for two sandwich pans or around 30 if using one deeper tin. Your cake will be ready when it's firm to the touch and a skewer comes out clean when poked into the middle of the cake.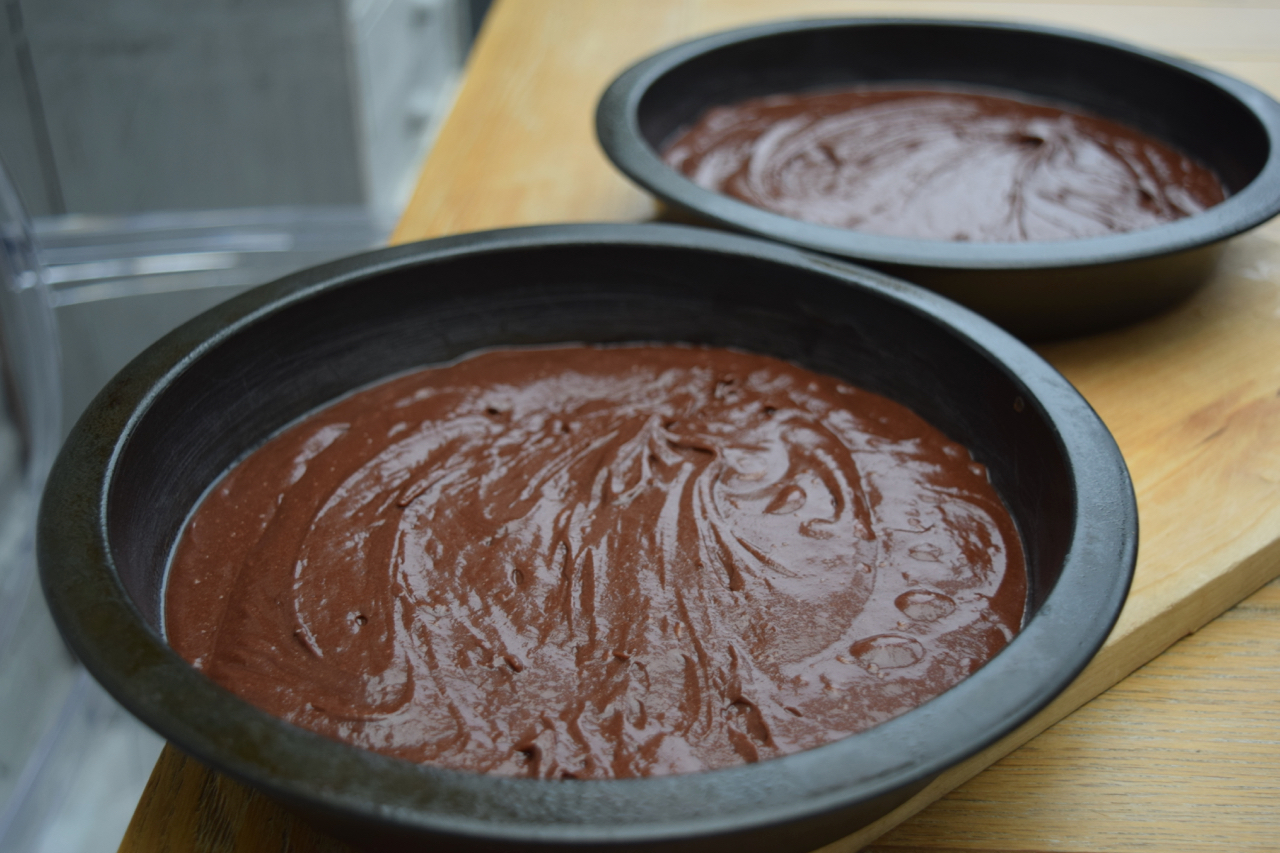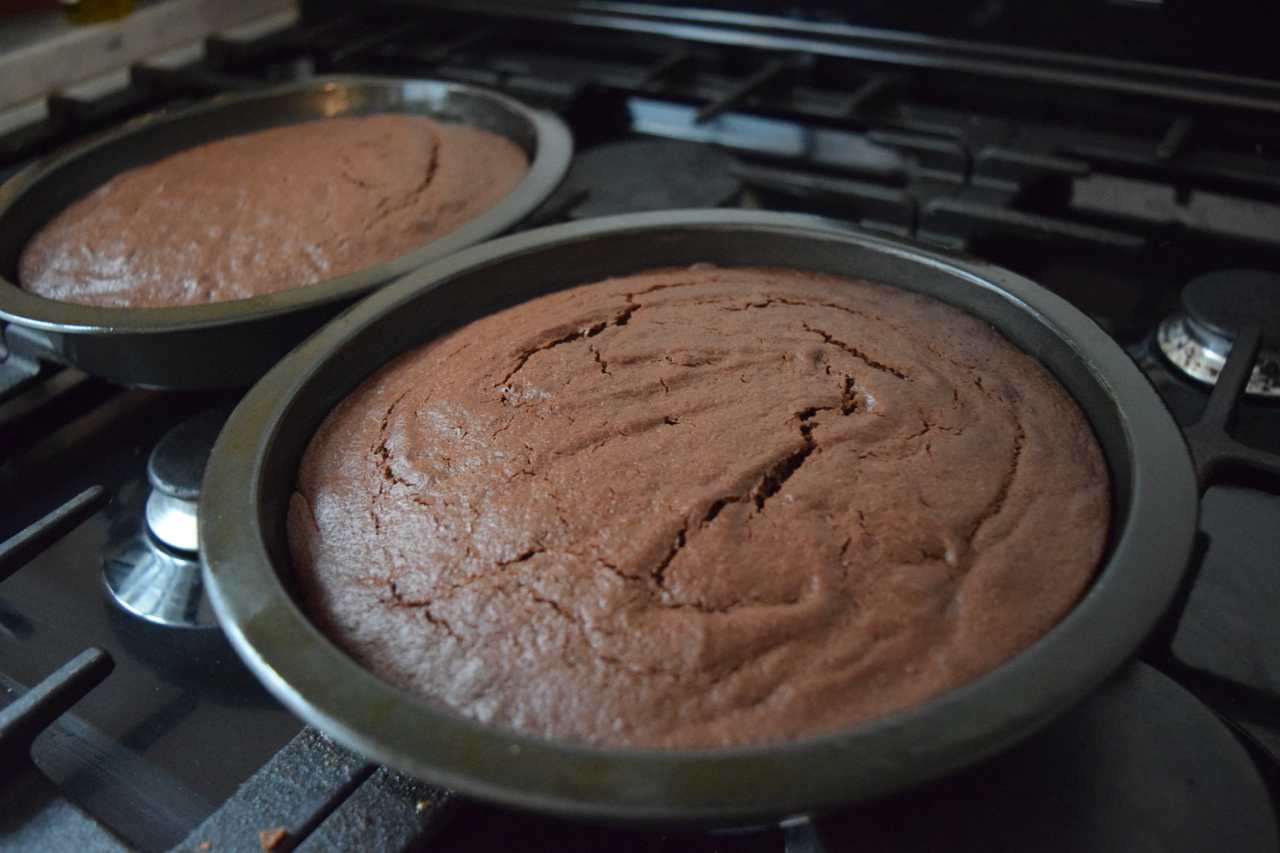 Now if you are icing this cake, my fudge icing takes a good couple of hours to set, so make sure you think about this in advance. It's super simple, however, make a start by taking your dark chocolate and butter and melting this either in the microwave or in a bowl over a pan of simmering water.
Stir the chocolate and butter together until smooth then pop to one side. In the bowl of your stand mixer or in a bowl with a hand whisk, add the icing sugar, coffee and vanilla.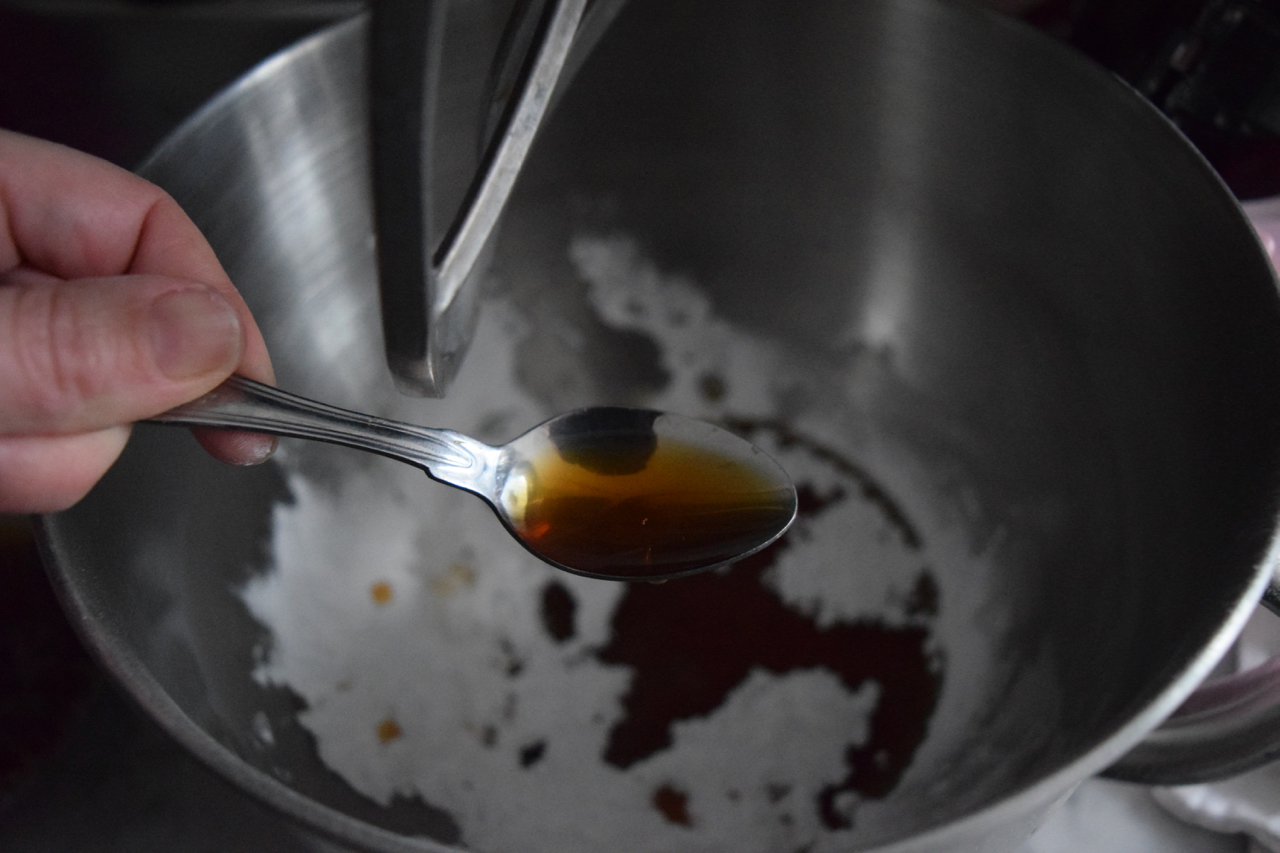 Pour in the melted chocolate and butter then mix the whole lot together until smooth. Btw, the icing doesn't taste of coffee, this just adds a richness with the chocolate.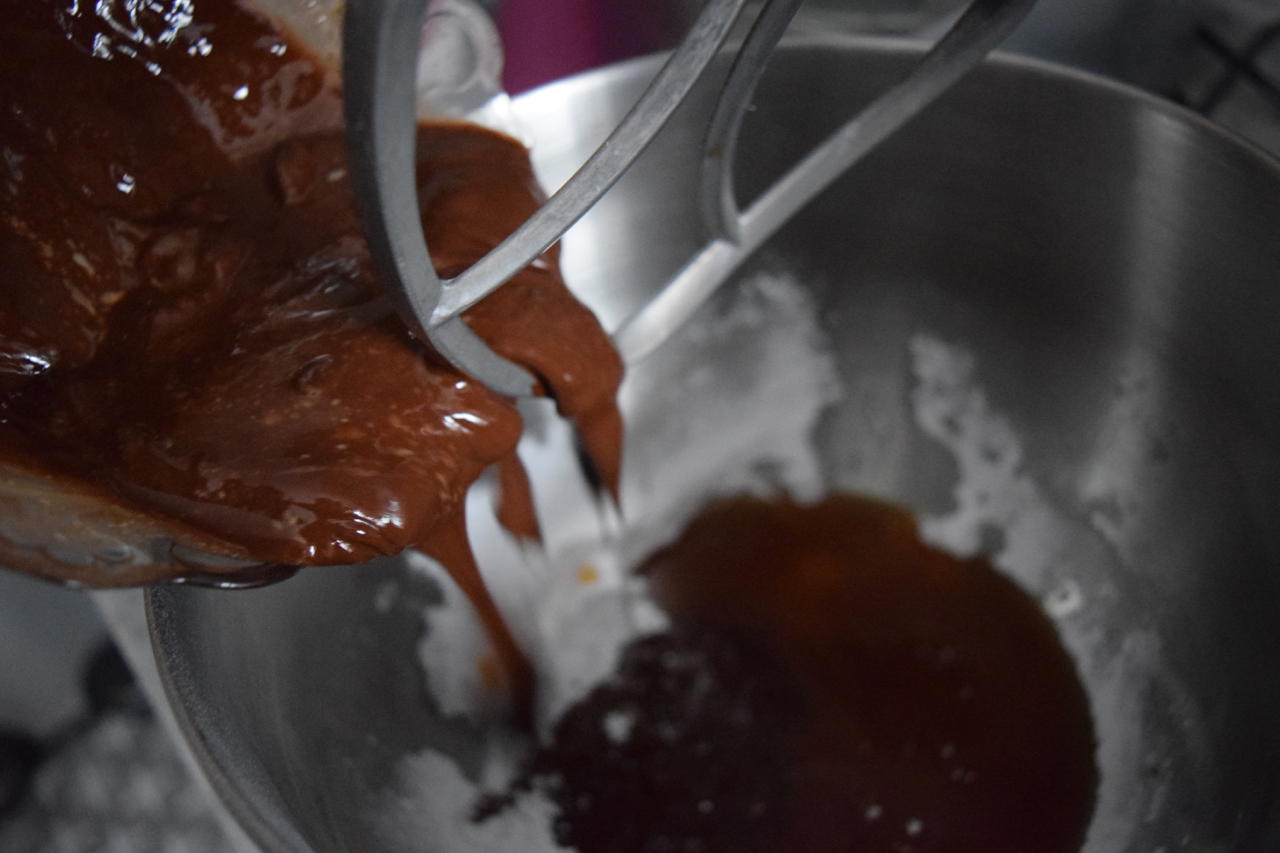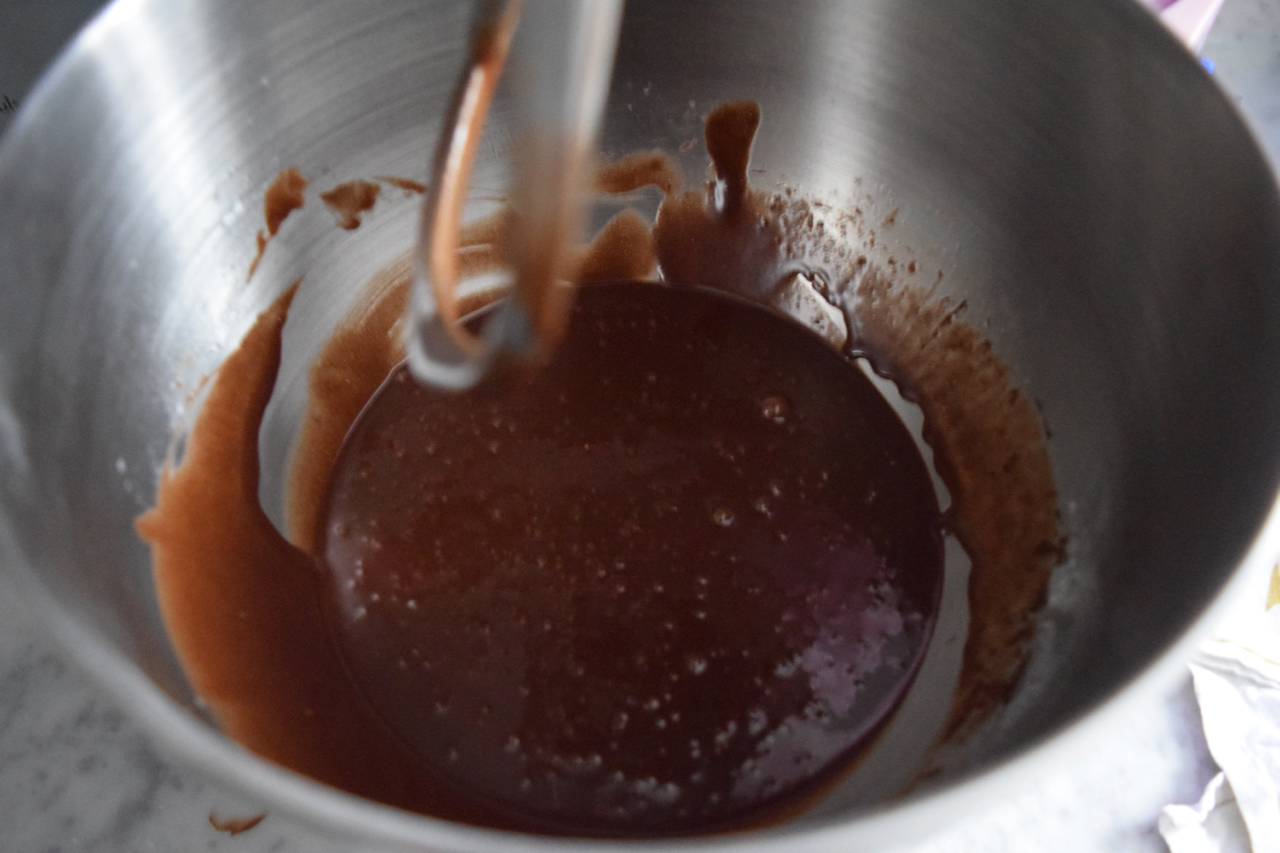 Don't worry, it will look sloppy, but just pour it into a bowl and leave somewhere cool for around 3 hours or in the fridge for a good 2 so it sets and becomes firm and fudgey. I was running super behind *hungover* so actually popped mine into the freezer to speed up the process.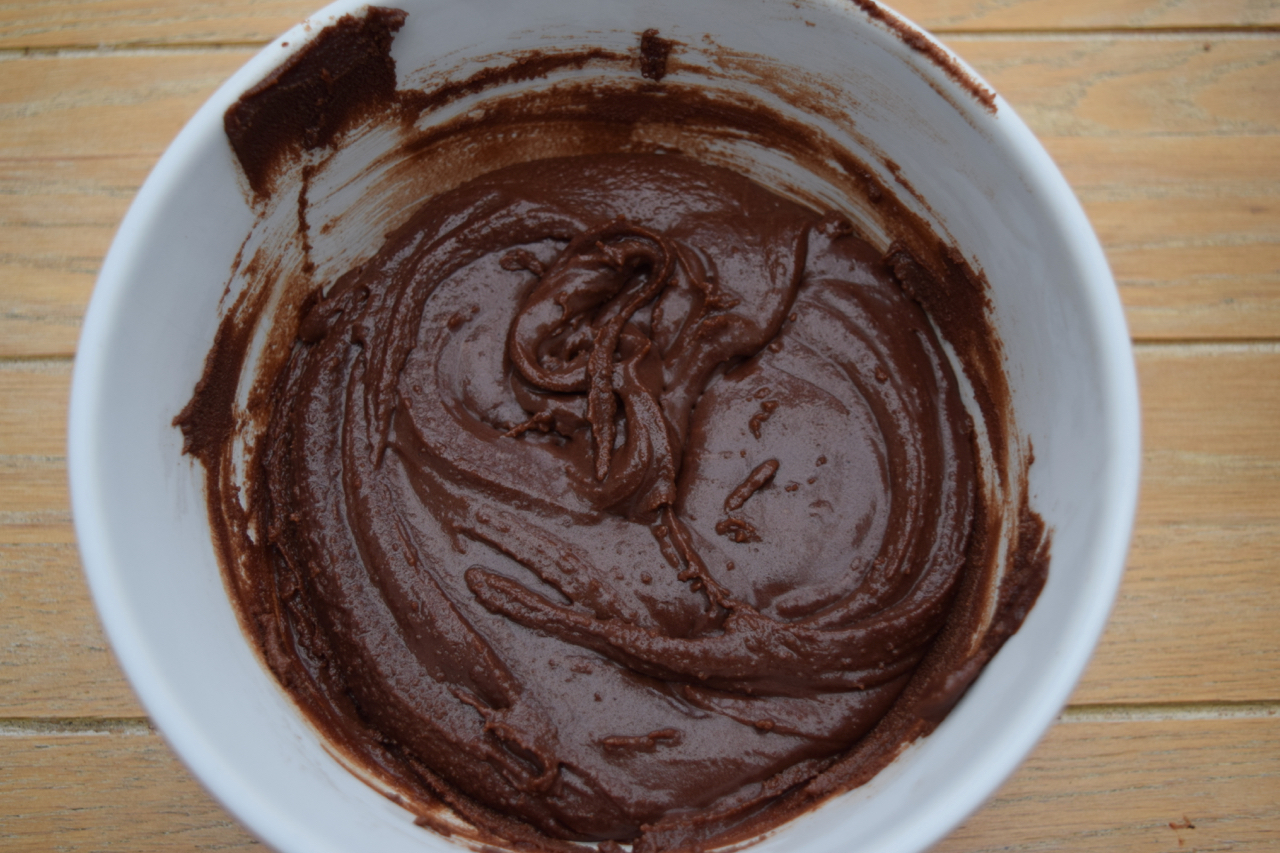 Ta-dah. Now it's time to ice your Chocolate Mayonnaise Cake. If you have used two pans then use a third of the icing for the middle of the two cakes. If you've used one you can either cut it in half and do the same or just cover the cake in the whole batch of icing.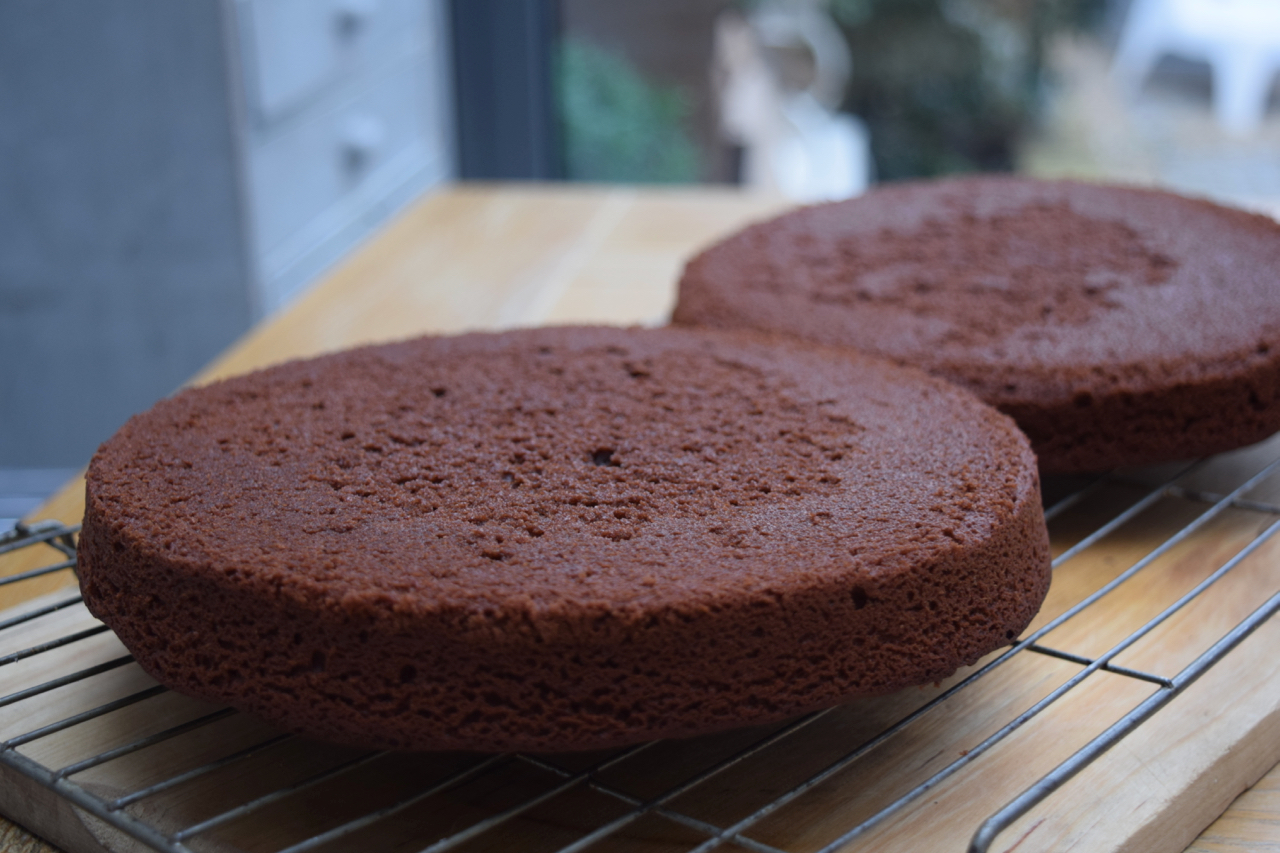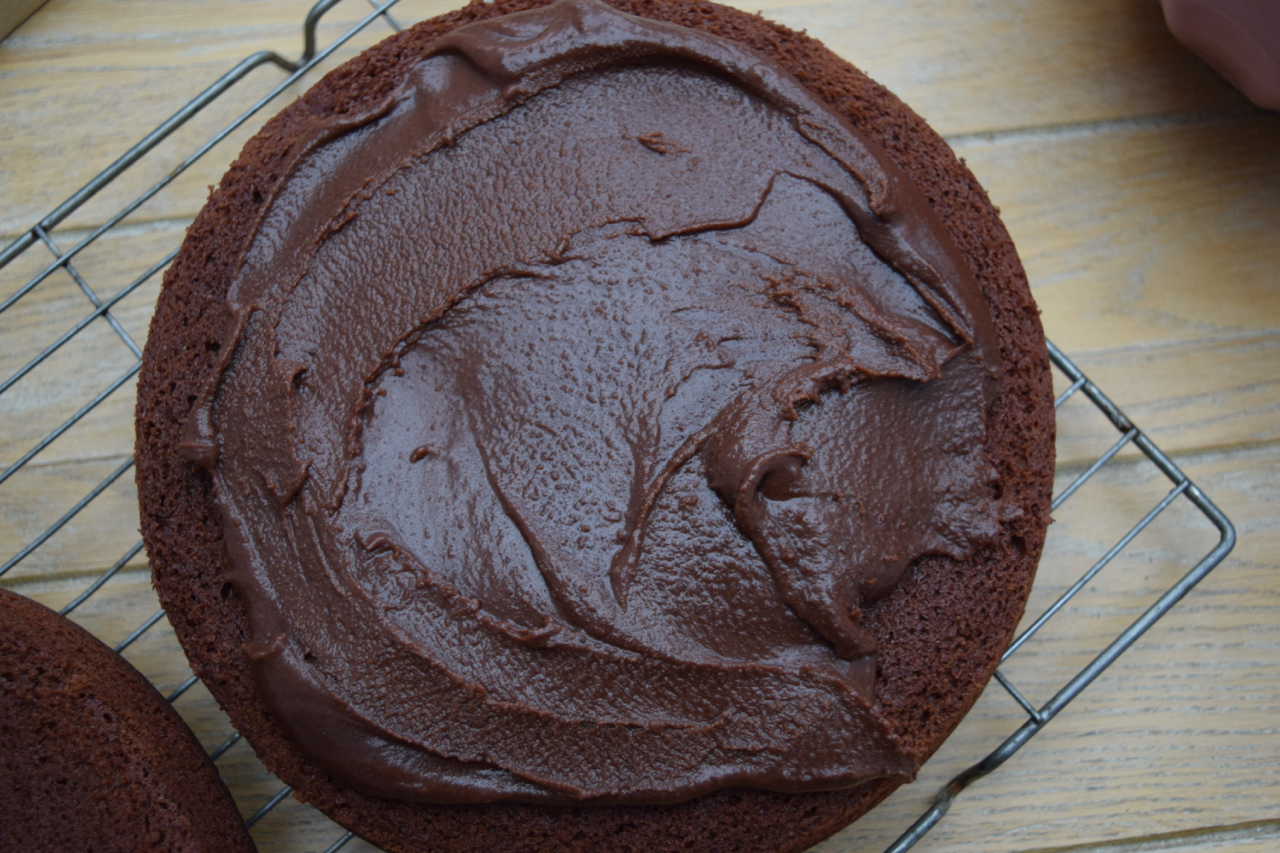 Then use the rest of the icing and elegantly slather in all over the top and the sides of your cake and smooth using a palette knife. What follows is a perfect example of why, even though I get asked on a weekly basis by my friends, I have never applied to go on the Great British Bake Off.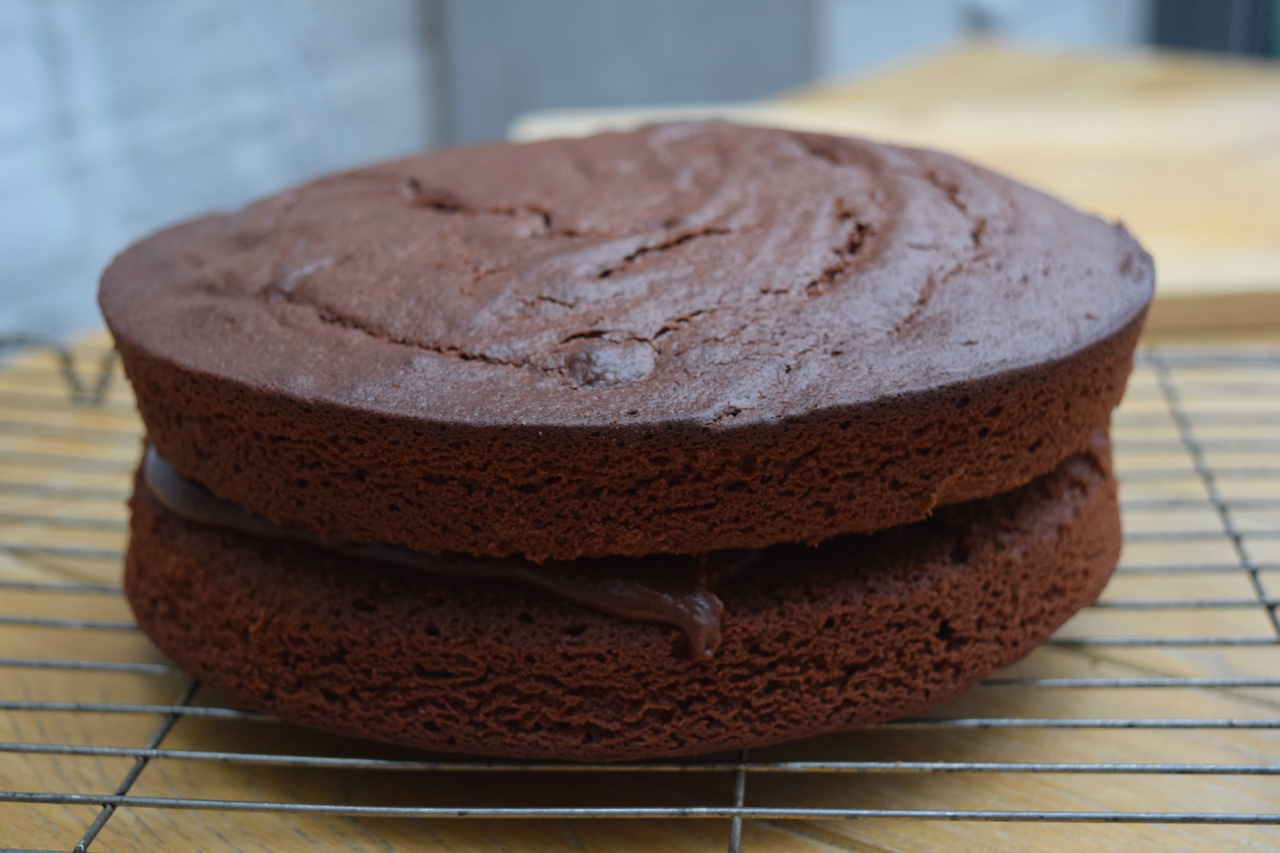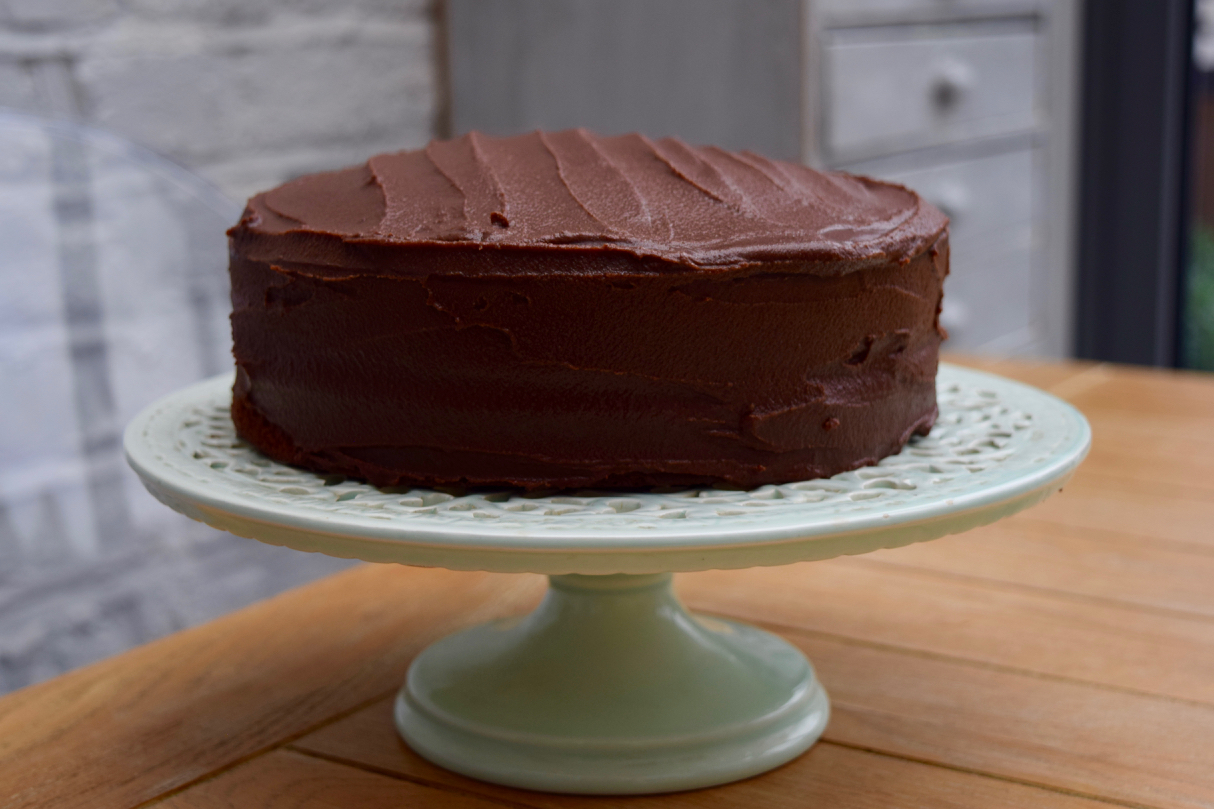 This cake is so delicious, so simple, the perfect mood enhancer.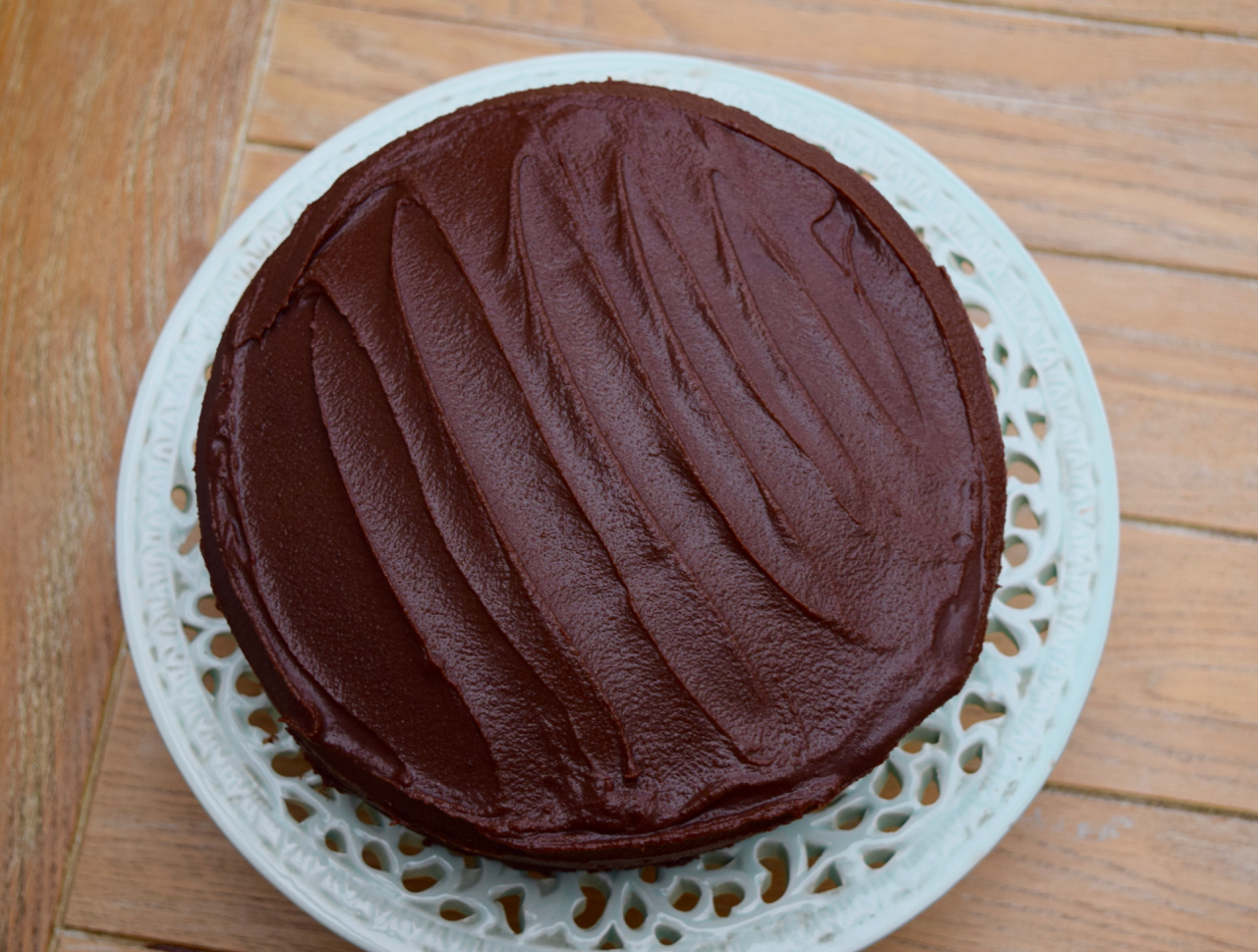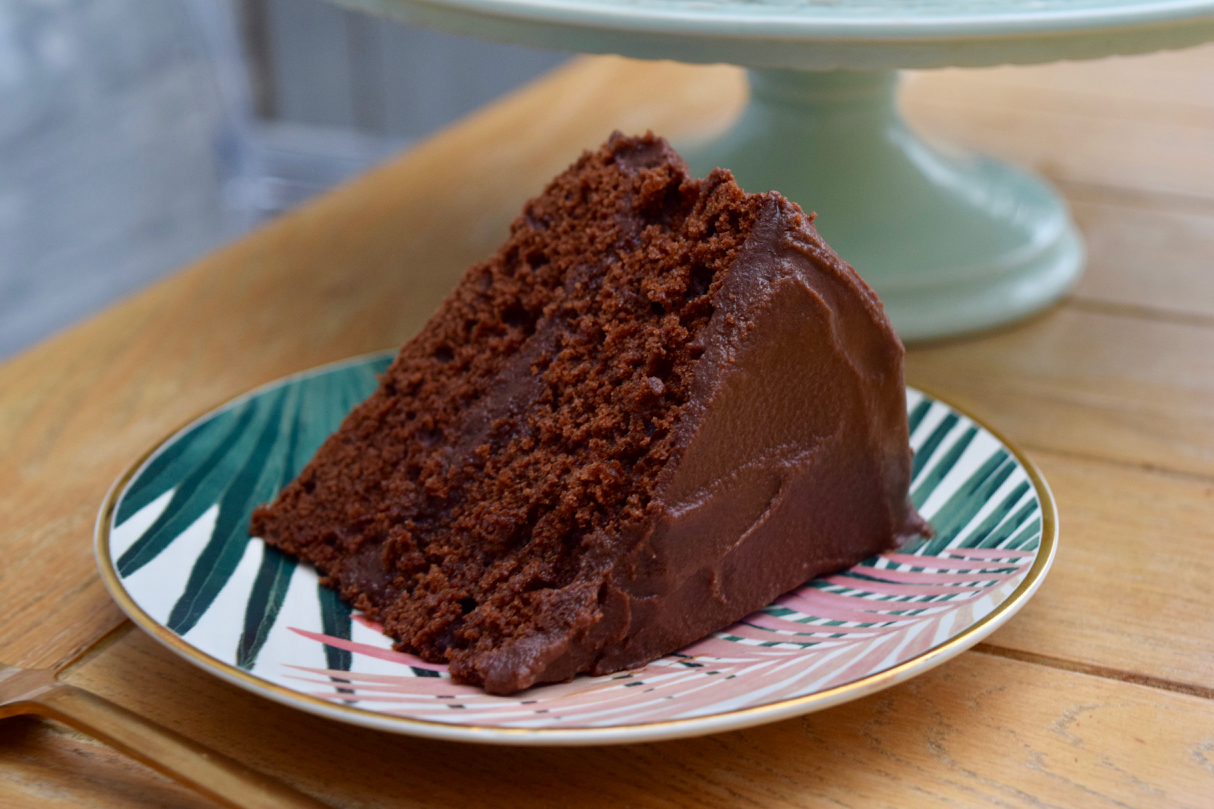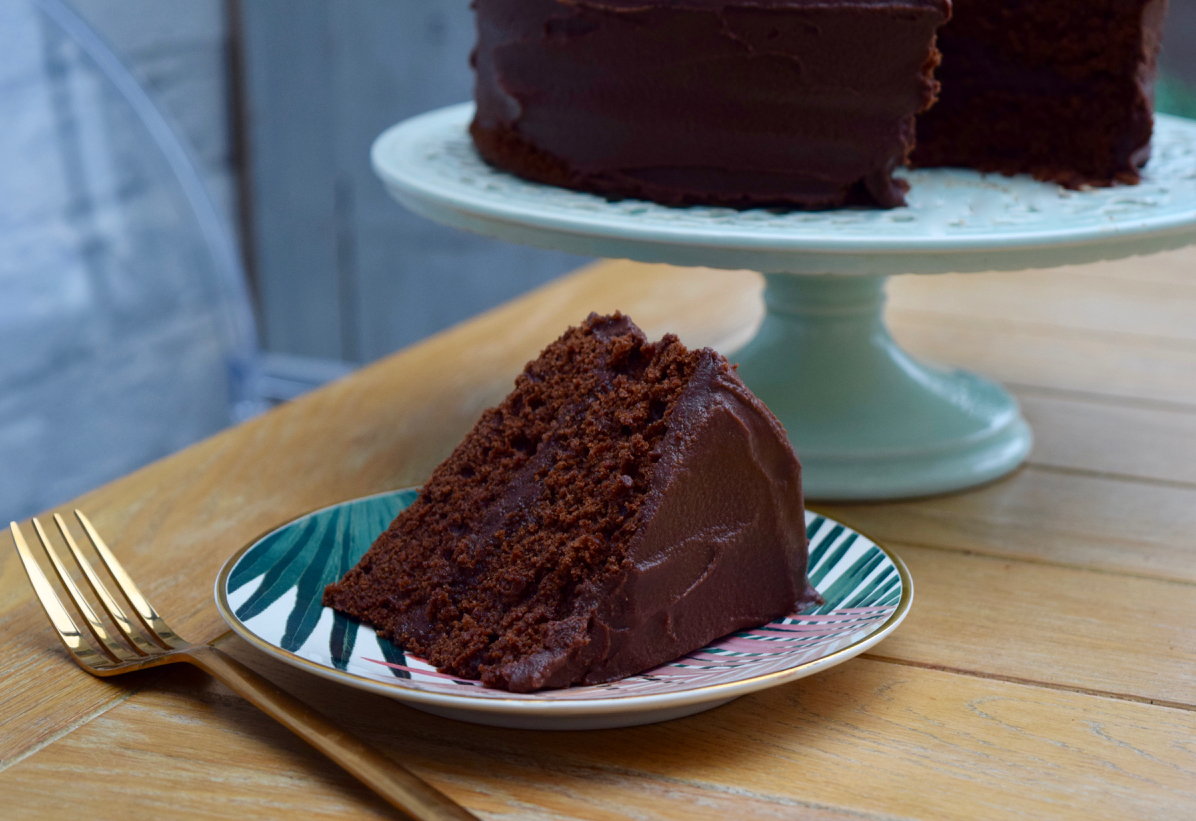 I think today's post has been quite informative. I have learnt a) chocolate can bring you cheer b) mayonnaise makes a cake tender and *eek* moist and c) if the Great British Bake Off is looking for someone with some slopping cake decorating skills, I'm the perfect candidate.
Lucy x
Chocolate Mayonnaise Cake Recipe
Serves at least 8 hungry cake eaters
You will need a hand or stand whisk or bowl and a whisk and two 8 inch (20cm) tins or one spring form 8 inch (20cm) tin
Cake
250g self raising flour
50g cocoa powder
1/4 teaspoon baking powder
200g caster sugar
2 teaspoons vanilla extract
200g mayonnaise
1 egg
160ml cold water
Fudge Icing
170g dark chocolate
50g butter, melted
150ml strong coffee
1 teaspoon vanilla
300g icing sugar
The icing will take time to firm up so make this in advance. Melt the butter and chocolate in a small bowl in the microwave or over a pan of simmering water until just starting to melt together. Stir to combine. In the bowl of your stand mixer weigh in the icing sugar, pour in the coffee and vanilla extract then scrape in the melted butter and chocolate mixture. Beat until smooth, the mixture will be quite liquid. Pour into a bowl and then leave to set for 3 to 4 hours, or in the fridge for around 2 hours.
For the cake, take your chosen tin or tins and butter well and pre heat the oven to 160 degrees fan assisted.
In the bowl of your stand mixer or a large bowl measure the self raising flour, sugar, cocoa and baking powder. Give it a little whisk. Make a well in the centre of the flour mixture and then pour in the water, vanilla, egg and mayonnaise.
Whisk in your stand mixer or in a bowl with your mixer or whisk. Beat until smooth then pour and scrape into your chosen cake tins. Bake for 20 minutes if you're using two pans or 30 minutes for one tin. The cake will be cooked when it's firm to the touch and a skewer comes out clean when poked into the middle of the cake. Leave on a wire rack to cool before removing the cakes from their tins. If you're serving as a pud, then serve in warm slabs with cream and fruit.
If your icing the cake then use a third of the icing to sandwich the two cakes together then use the remaining icing to cover the top and the sides of the cake, using a palette knife to smooth the surface. If you used one tin, just cover the whole cake with the icing.
Serve in large wedges. This cake will keep, well covered for around 3 days.