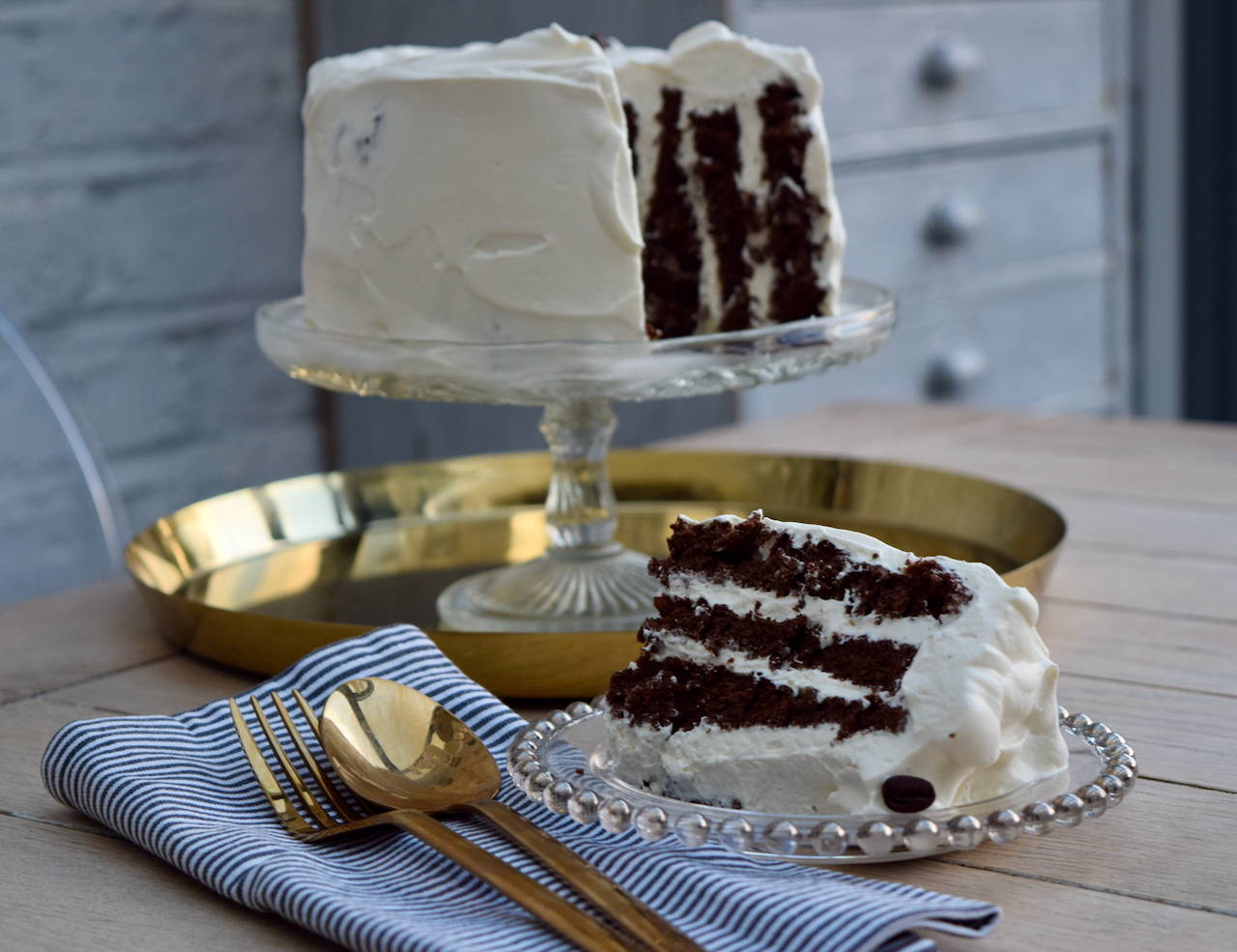 Espresso Martini Vertical Roulade recipe
Bloody Hell Christmas is only 5 days away and I couldn't be feeling any less festive if I tried. Sodding Omicron has pissed on everyones Christmas fire *my Mother will be ashamed of my language and I'm reining it in here too* so the festive season feels like a wet weekend all over again. The shopping's been done, all parties are cancelled so all that's left to do is eat and drink. Eating this Espresso Martini Vertical Roulade encompassing both those things, may be the only thing to put a smile on my face this week.
As is standard with our family Christmas, I'm on pudding duty. My sister isn't a huge fan of Christmas pud, so every year I seek to invent a new and delicious alternative. This roulade is amazing, it's a show stopper in every sense of the word. Not only does it taste divine, it looks pretty good too. Yes, it takes a tiny bit of effort, but hey, what else do we have to do since we don't have any parties to go to? And if I can make it look ok, so can you. This is just my standard roulade recipe but with a hint of espresso coffee powder. The cream to fill and coat this beauty is laced with coffee liqueur and is brilliant at covering up any cracks *I may put it on my face*. Instead of rolling your roulade, it gets cut into three pieces, which are then rolled and placed vertically on your cake stand so when cut, you get the brilliant striped effect. Don't panic, all will be revealed in my photos below; the stripes, not my brilliance.
Here we go again for another hug free Christmas, but at least we can still be together this year. Which is a shame as eating this alone wouldn't be awful.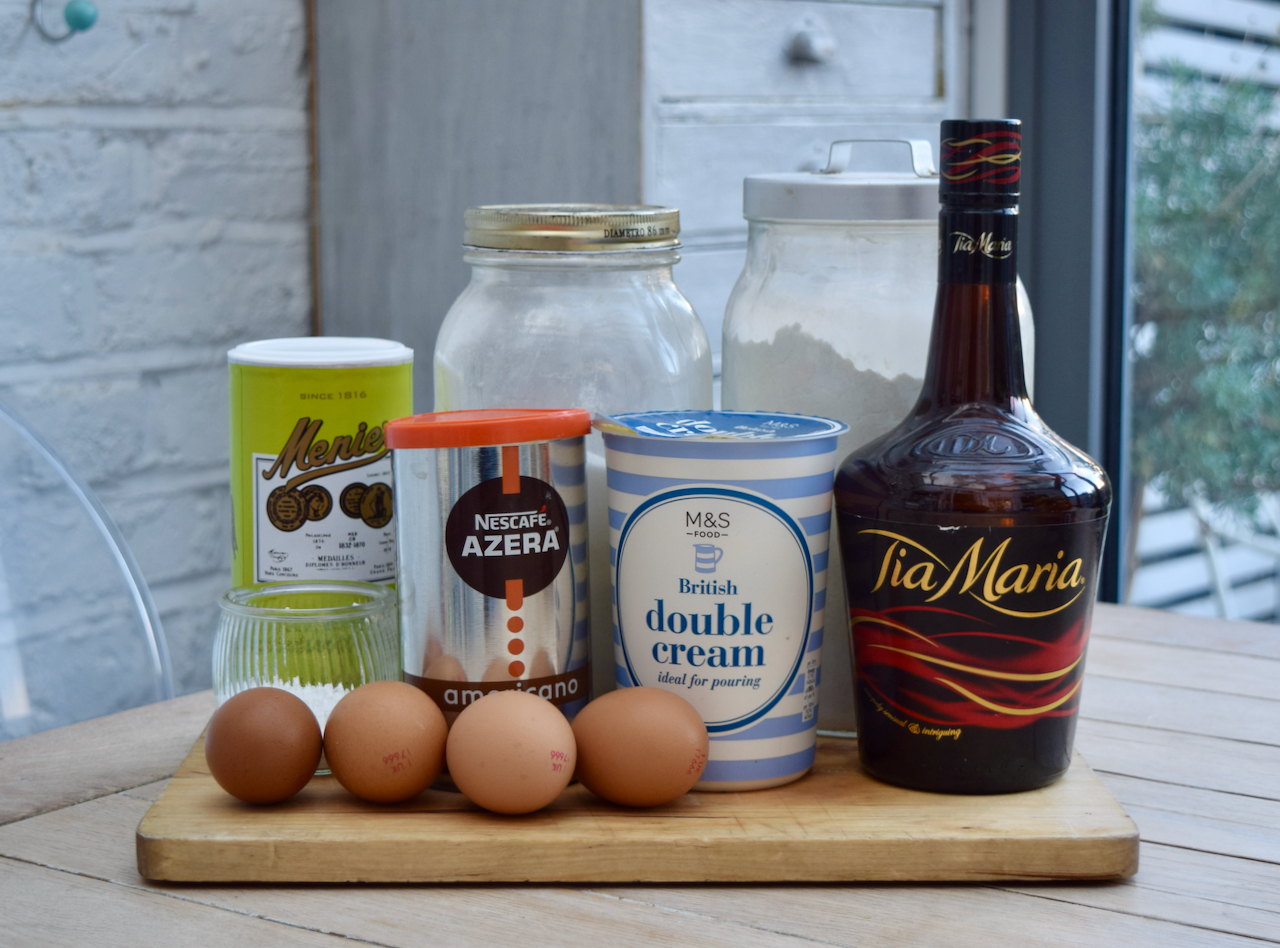 Nothing to fear from this line up; we always have litres of coffee liqueur on hand what with Clyde's favourite cocktail being an Espresso Martini. Likewise the double cream, as it's my favourite thing. The rest is store cupboard based, which is handy as the shops are shut over Christmas for a full two days.
Let's get going, as time's tight. Pre heat the oven to 170 degrees fan assisted and line your large rectangular baking tray. Now, whisk your eggs and caster sugar until they're lighter in colour and texture and hold a trail when you lift the whisk out.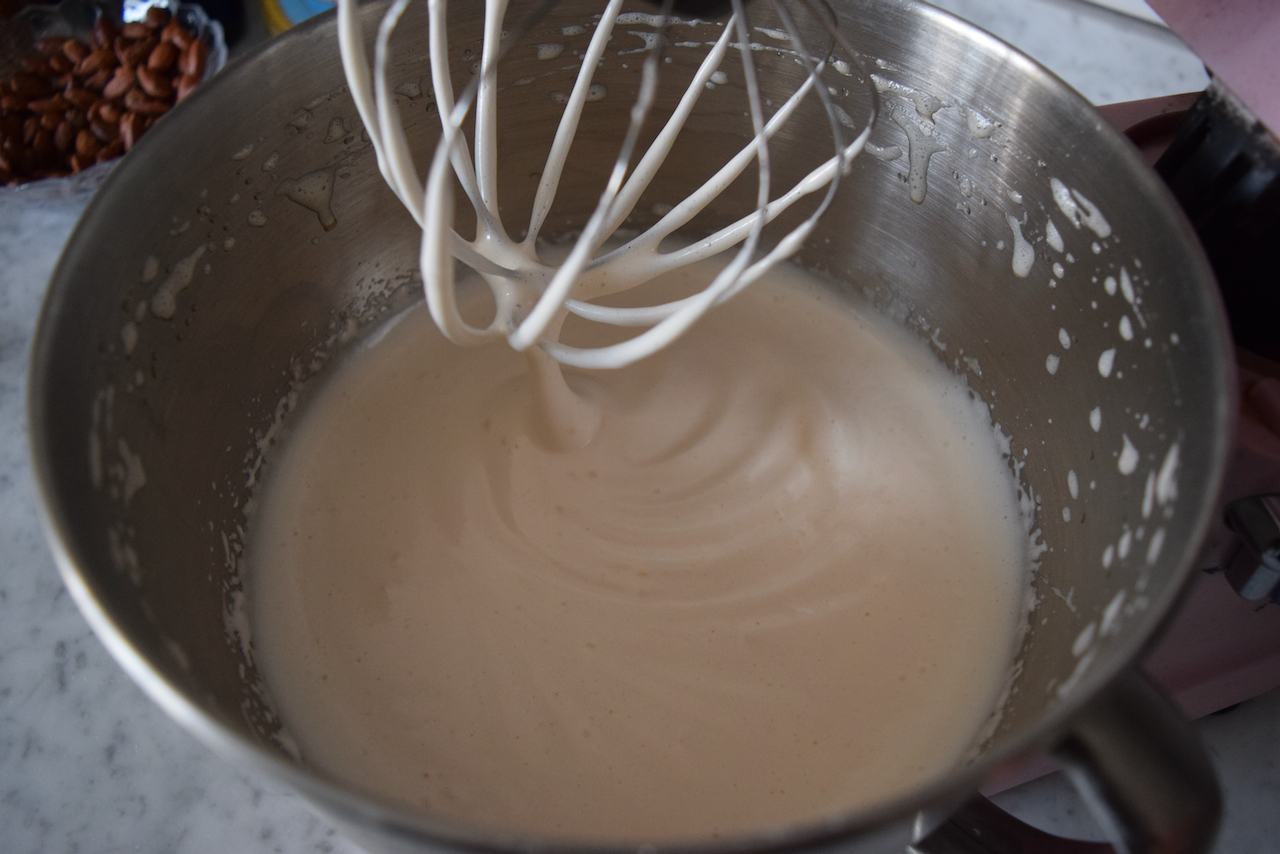 Now I hate to sieve things but this recipe is a sieving situation. Sieve the flour, cocoa and espresso into the egg mixture. Use a metal spoon here so you don't lose all the volume you've just created.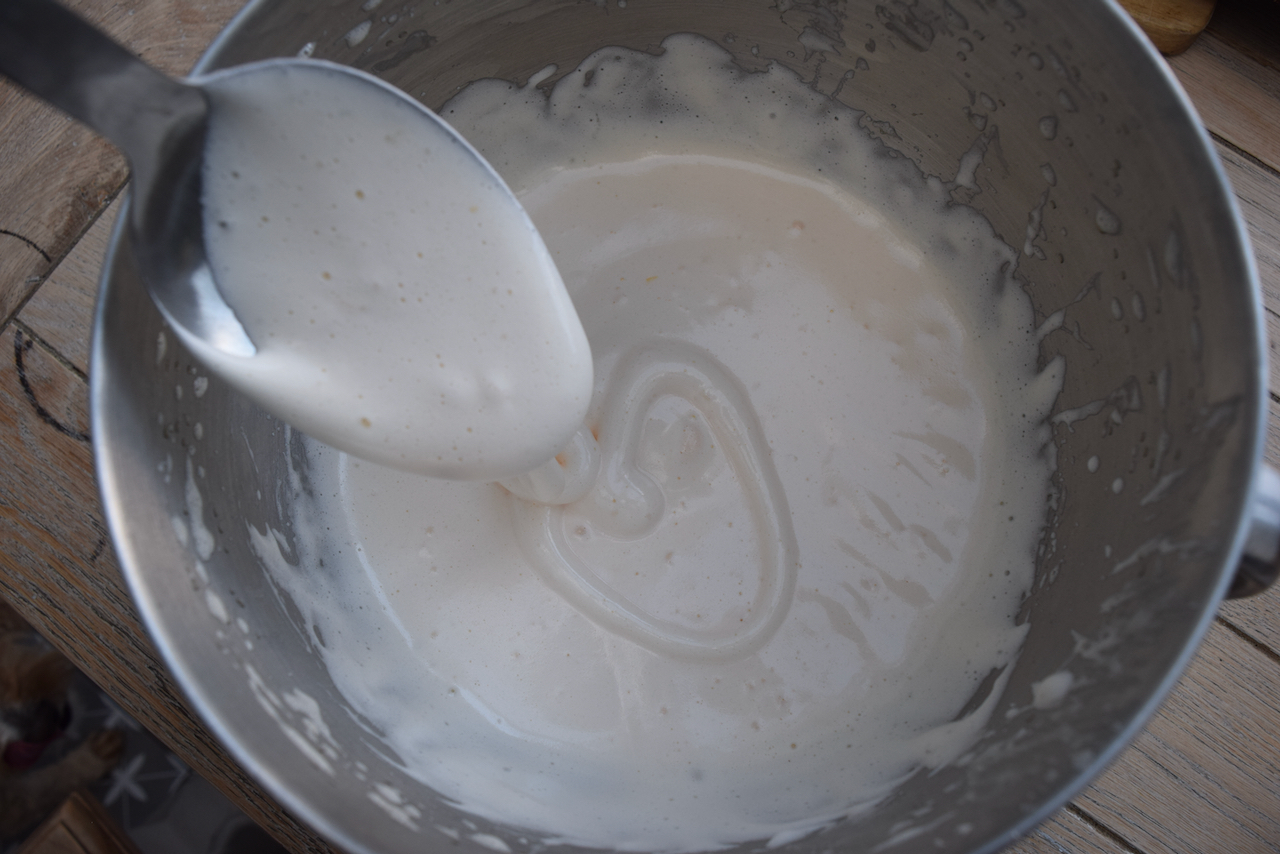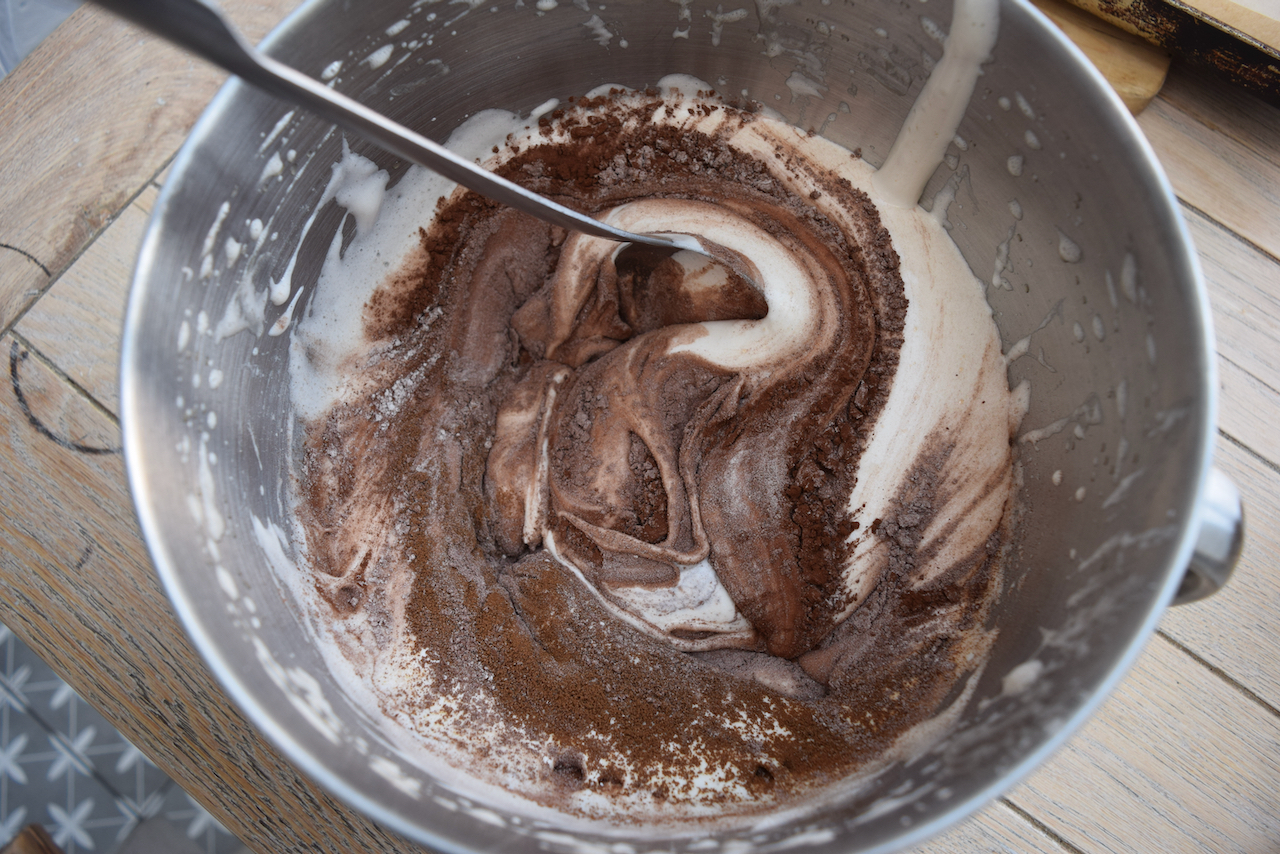 Fold until you can no longer see any flour then scrape into your lined tin and level the top *better than I did I'm hoping*.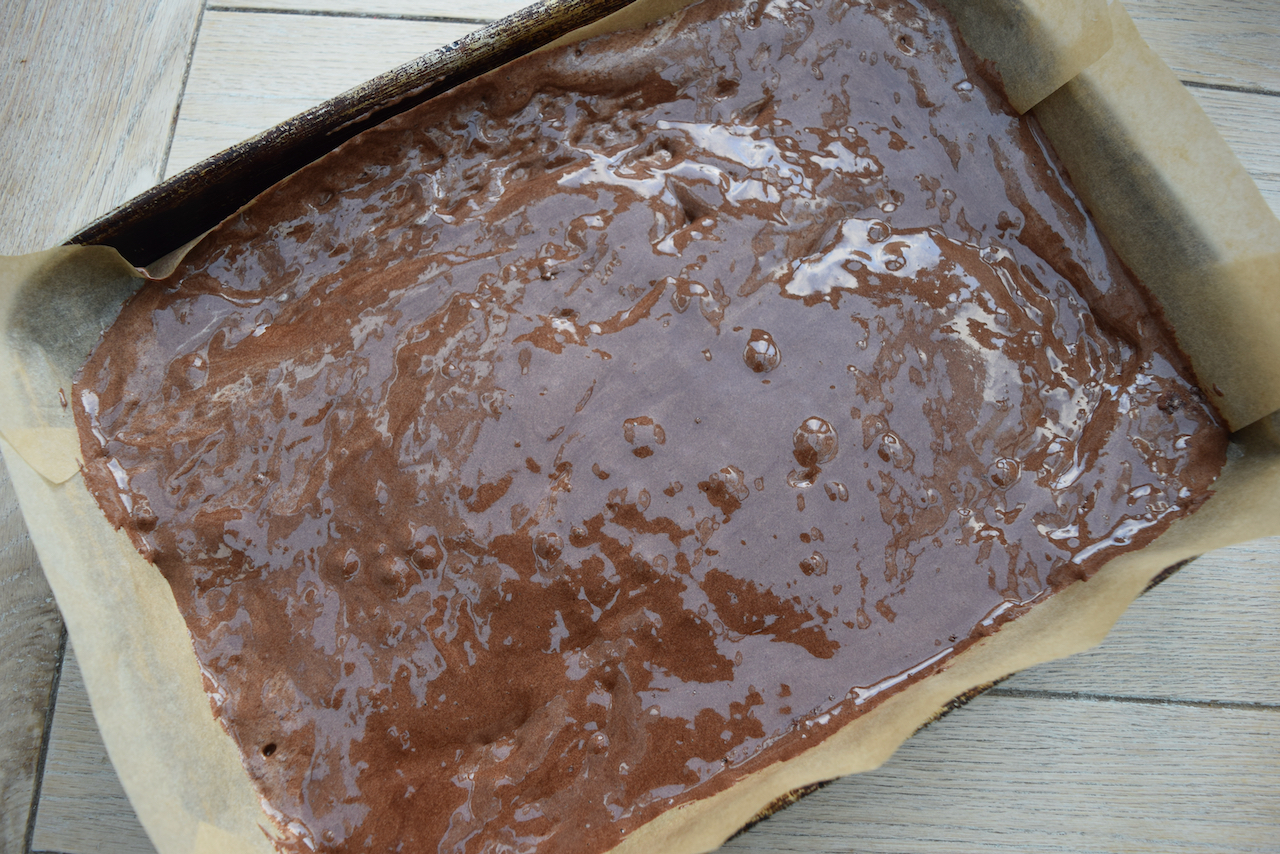 Bake your roulade for a scant 8 to 10 minutes or until the sponge is just cooked through and firm to the touch and smelling so good.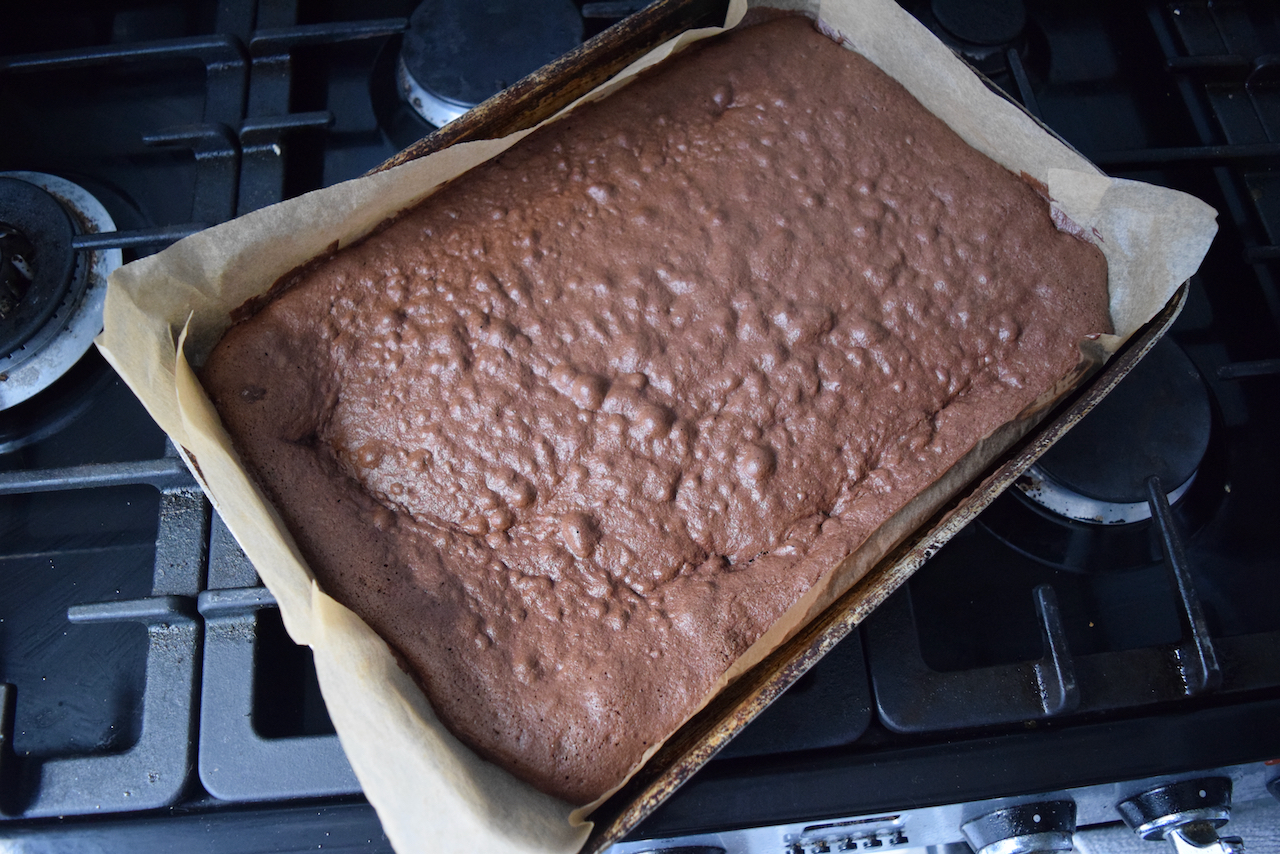 Take a large sheet of baking paper and sprinkle with icing sugar or cocoa. While the sponge is still warm, turn it out onto the sheet and peel off the baking paper. Tidy up any uneven edges and eat them.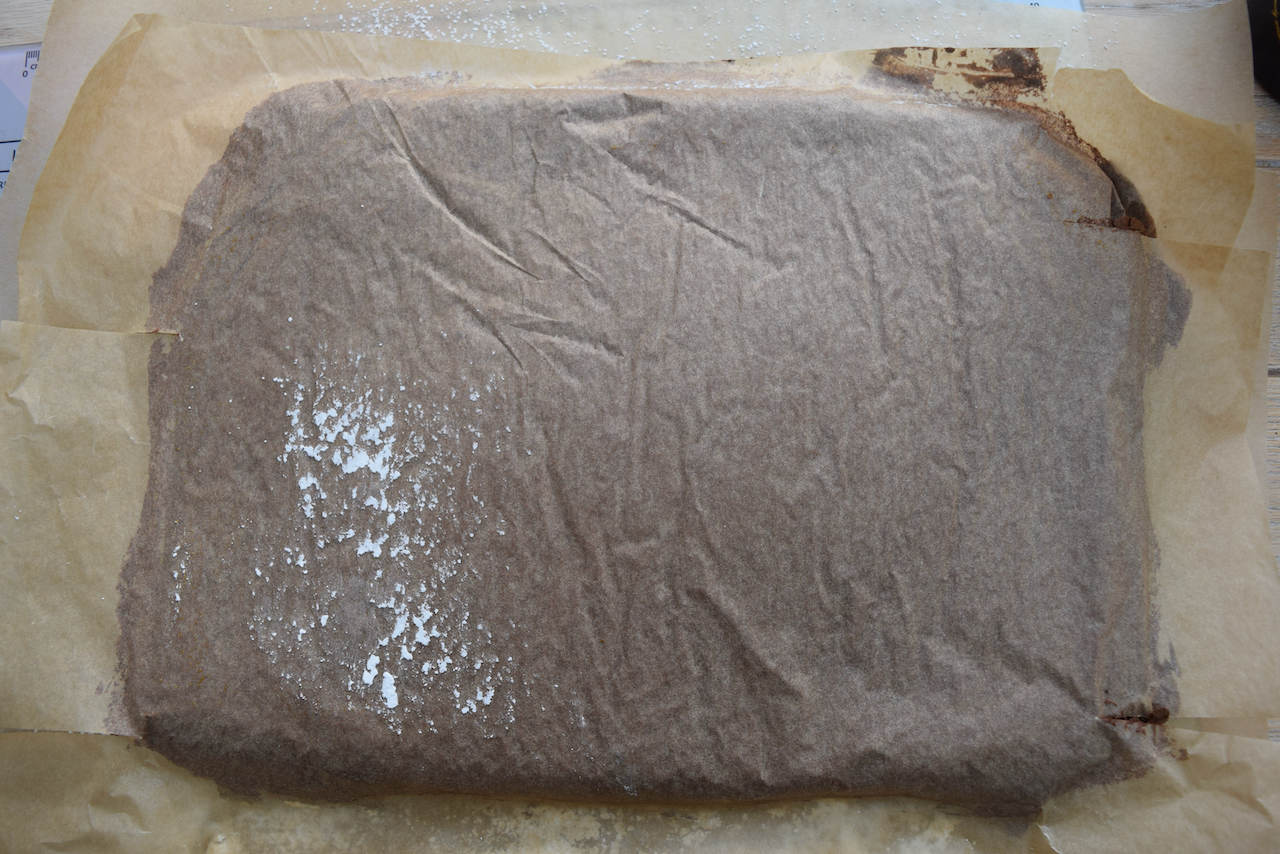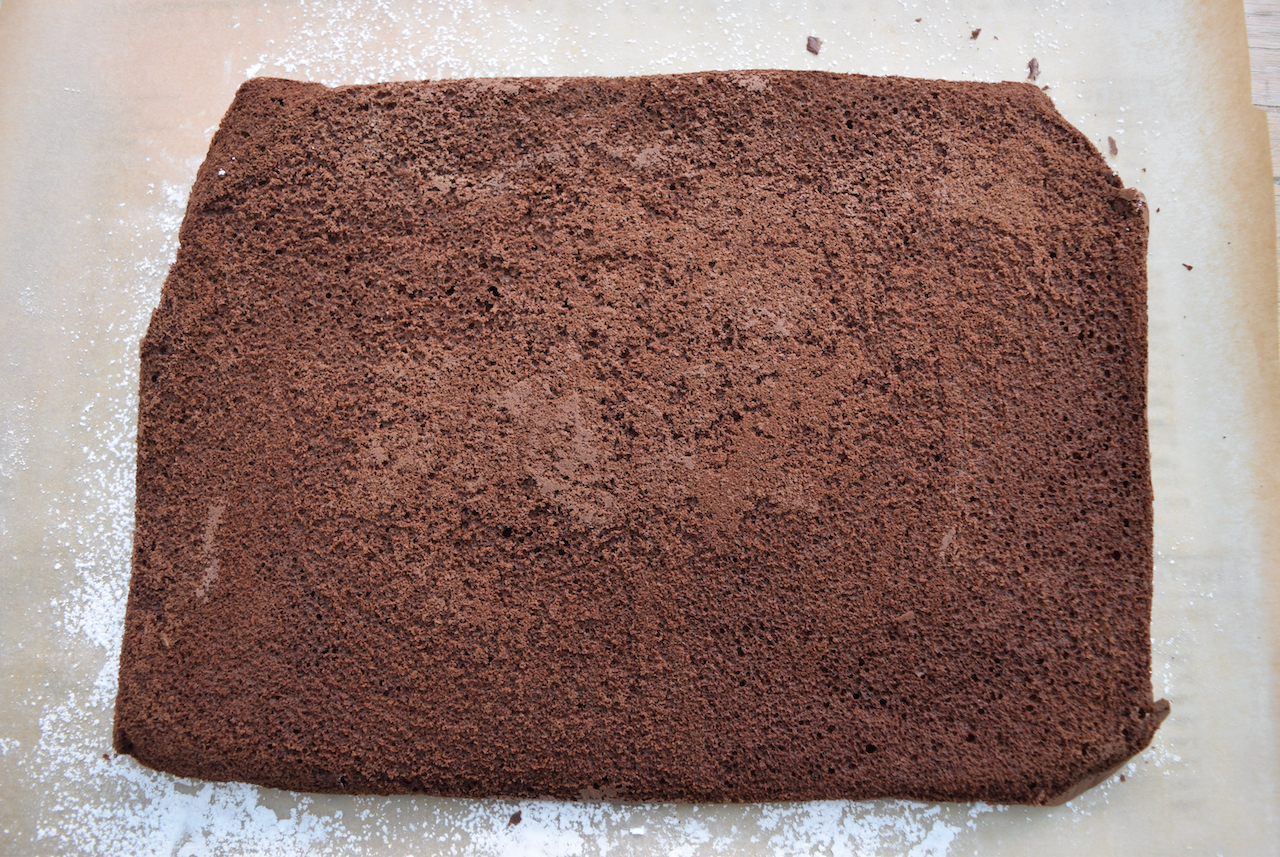 Now, starting at the short side, roll up the sponge with the paper inside, to form a tight roll. Leave to one side for the moment.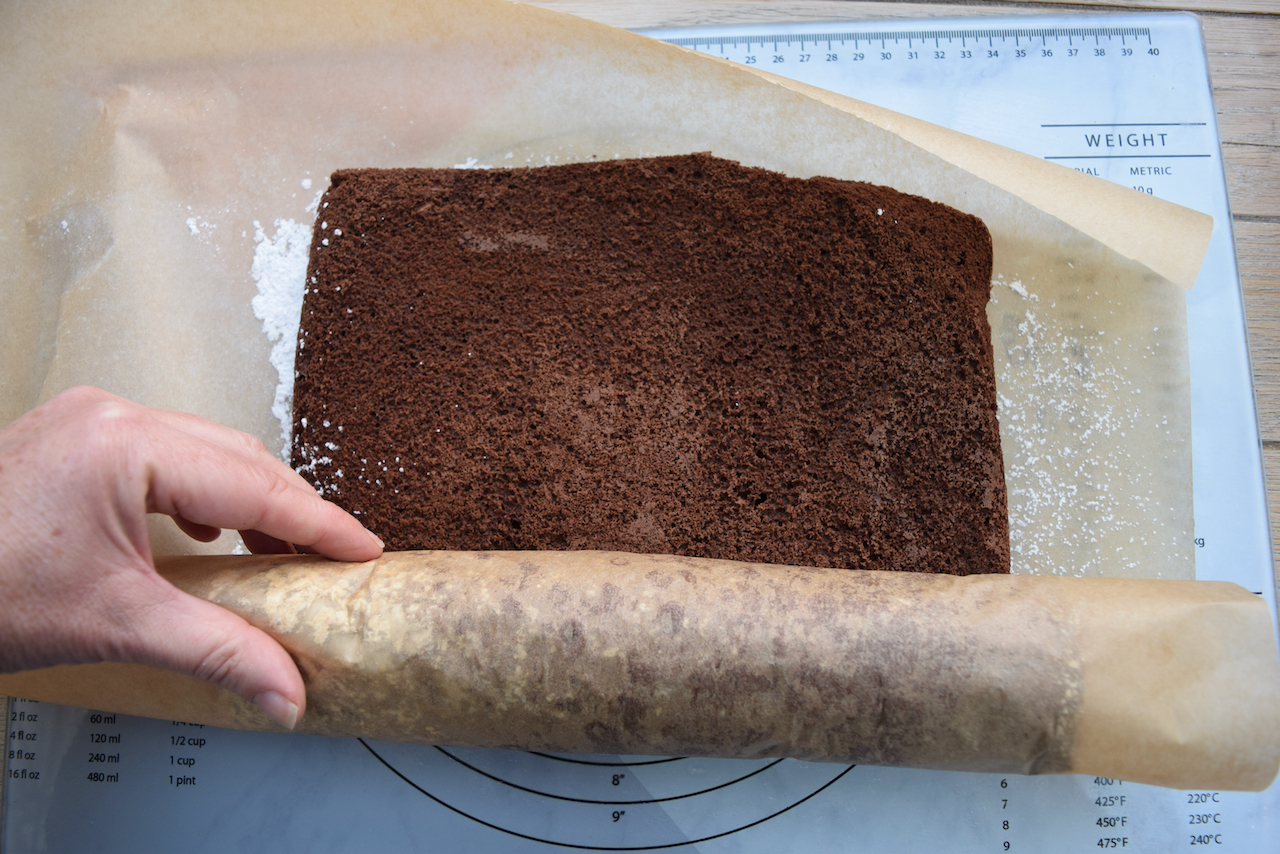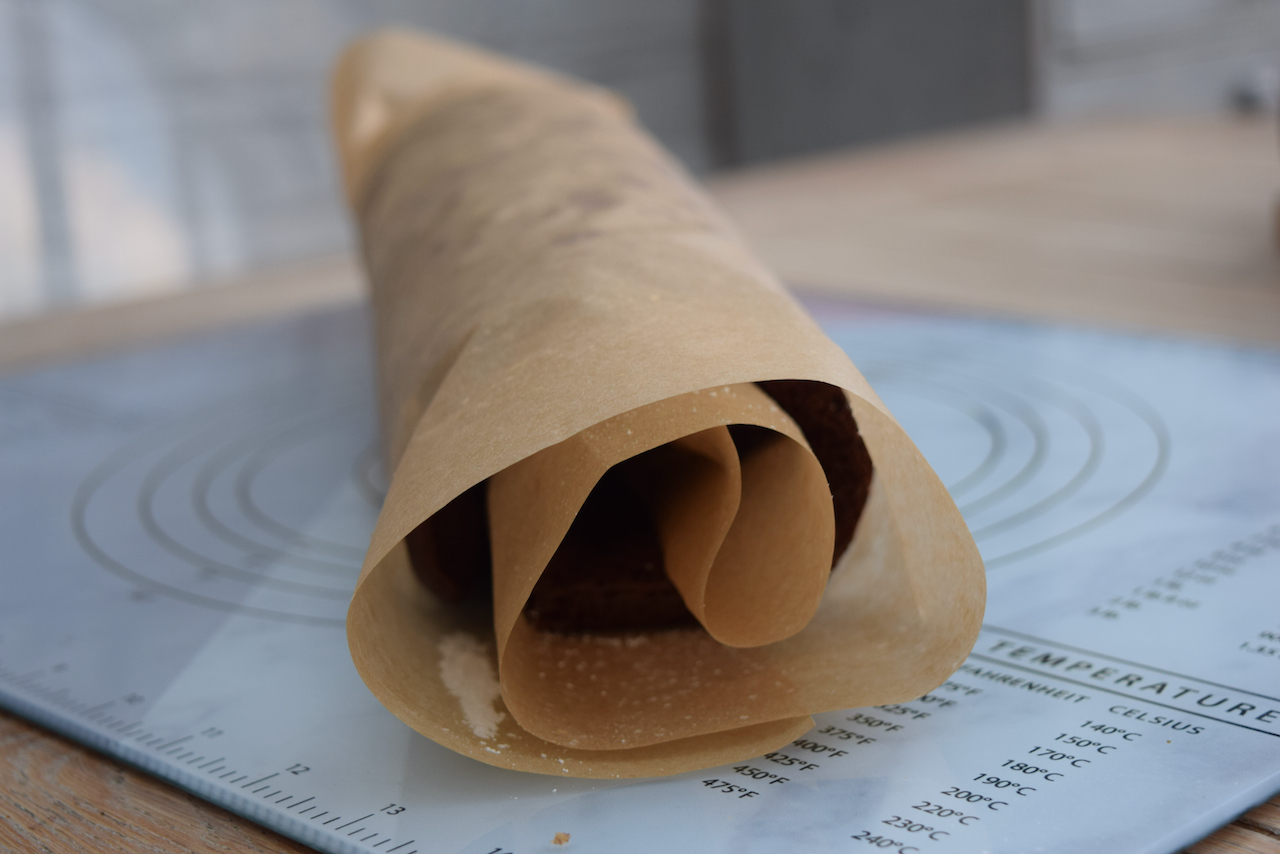 For the boozy whipped cream, whisk your cream, icing sugar and coffee liqueur until the cream holds soft peaks.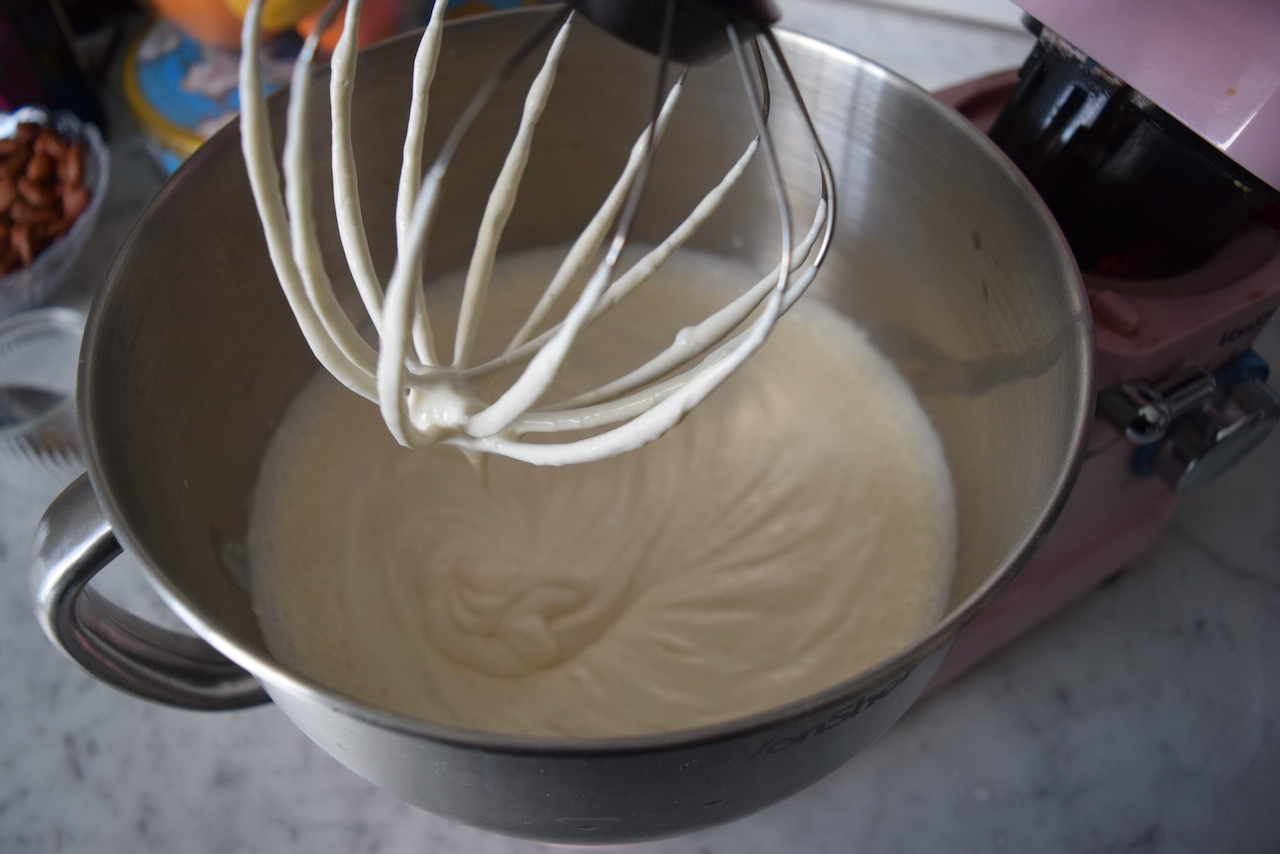 Unroll your roulade and spread with a thin layer of the whipped cream.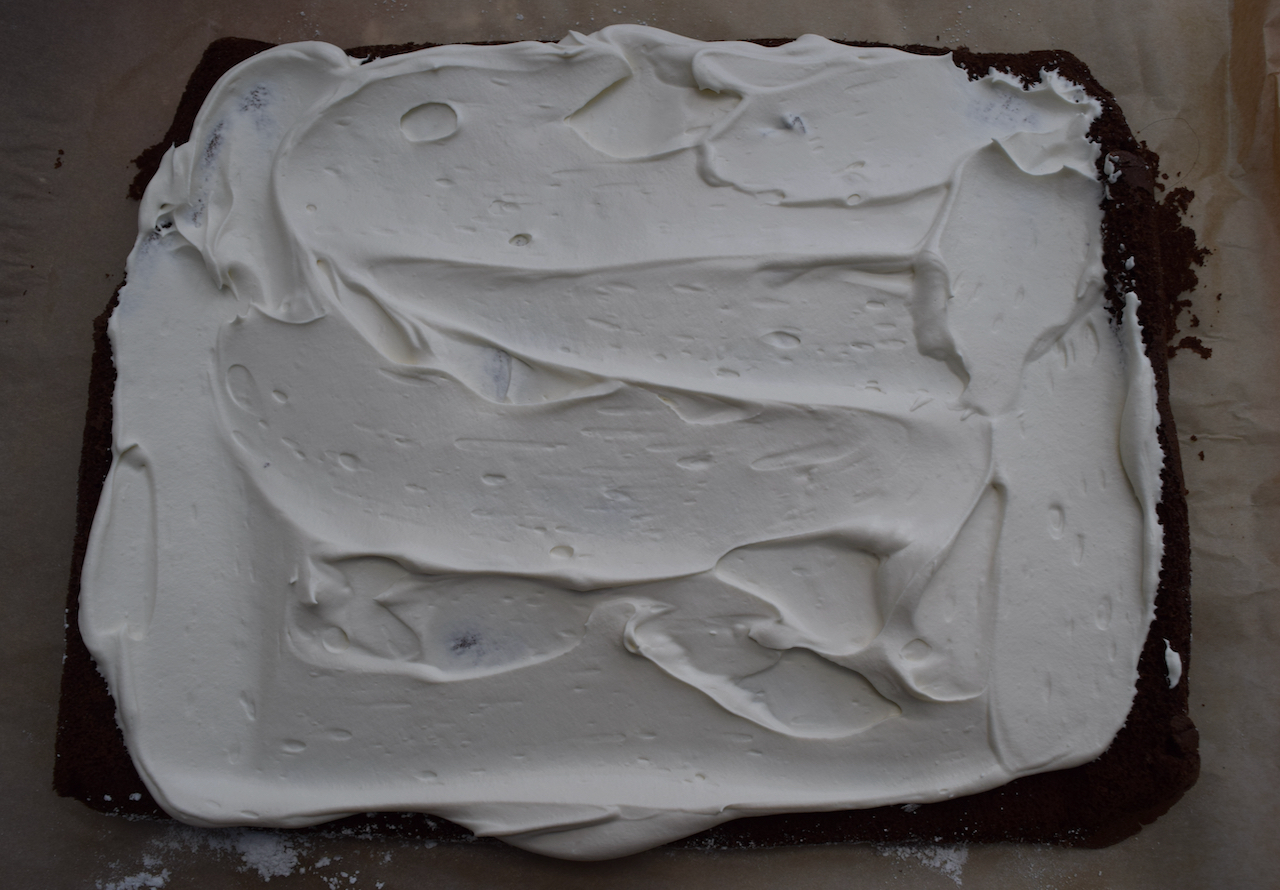 Next, cut your sponge into 3 slices. I did actually get the ruler out for this to ensure all three pieces were the same width, but don't panic unduly if you can't be arsed to measure.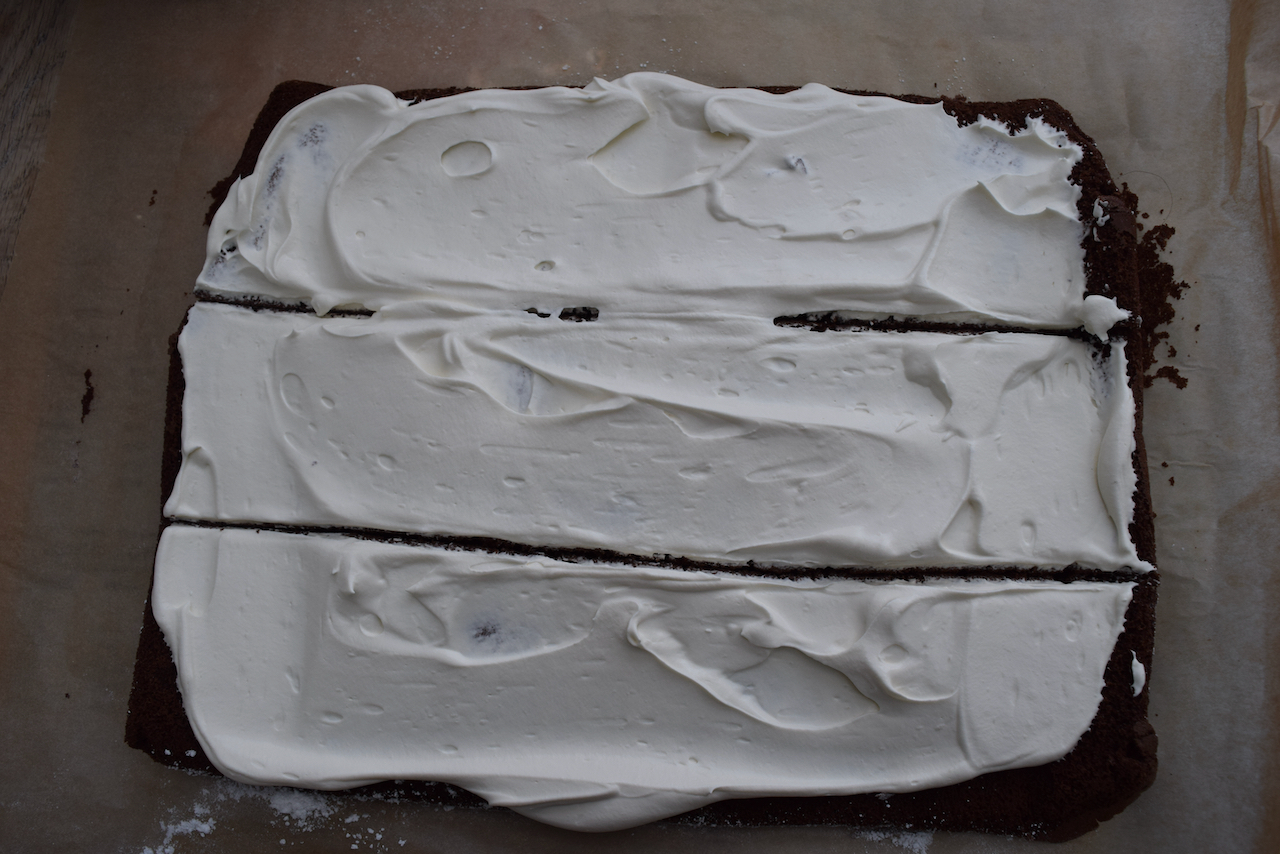 Take the first piece of sponge and roll up into a sort of Swiss roll style shape. Place, upright, onto your cake stand, or plate.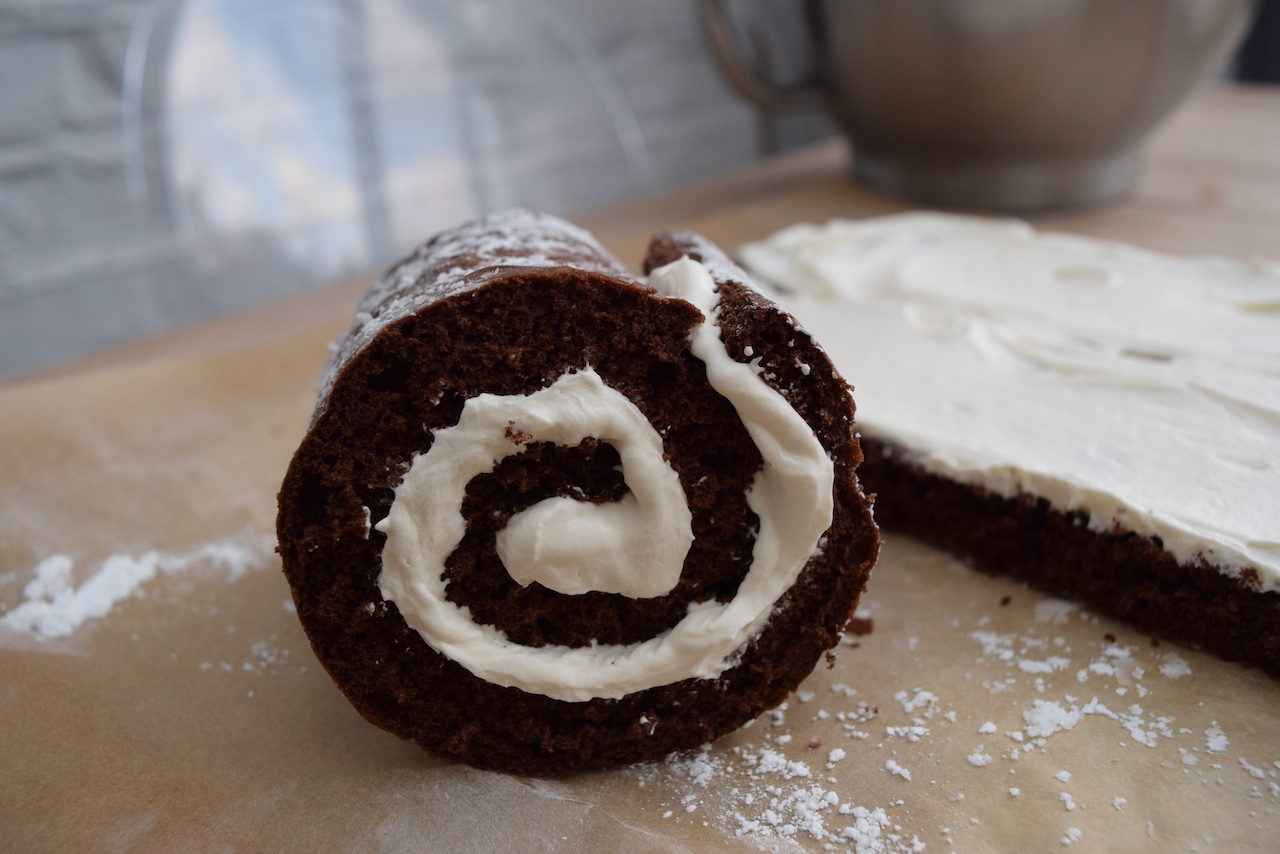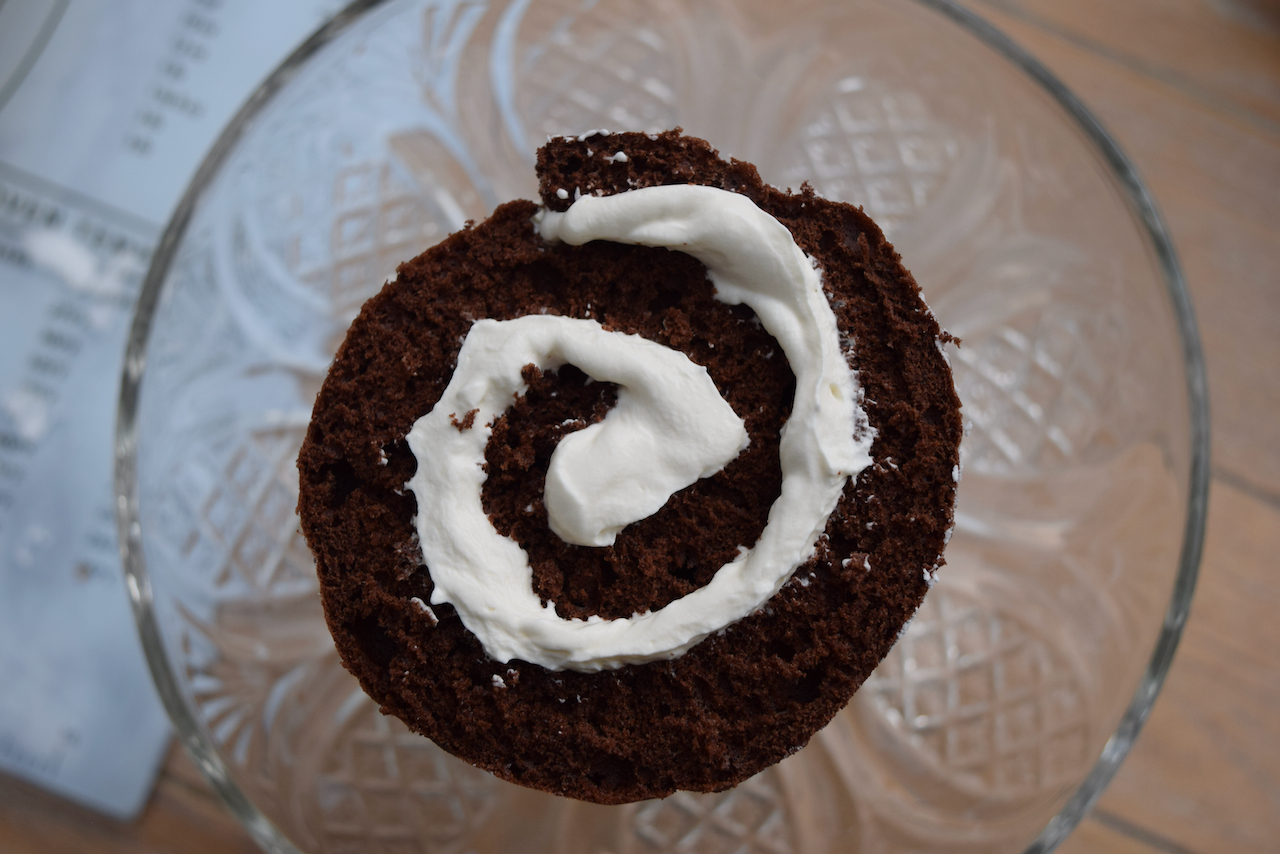 Take the next slice of sponge and, joining it where the last piece finished, roll it around the middle section.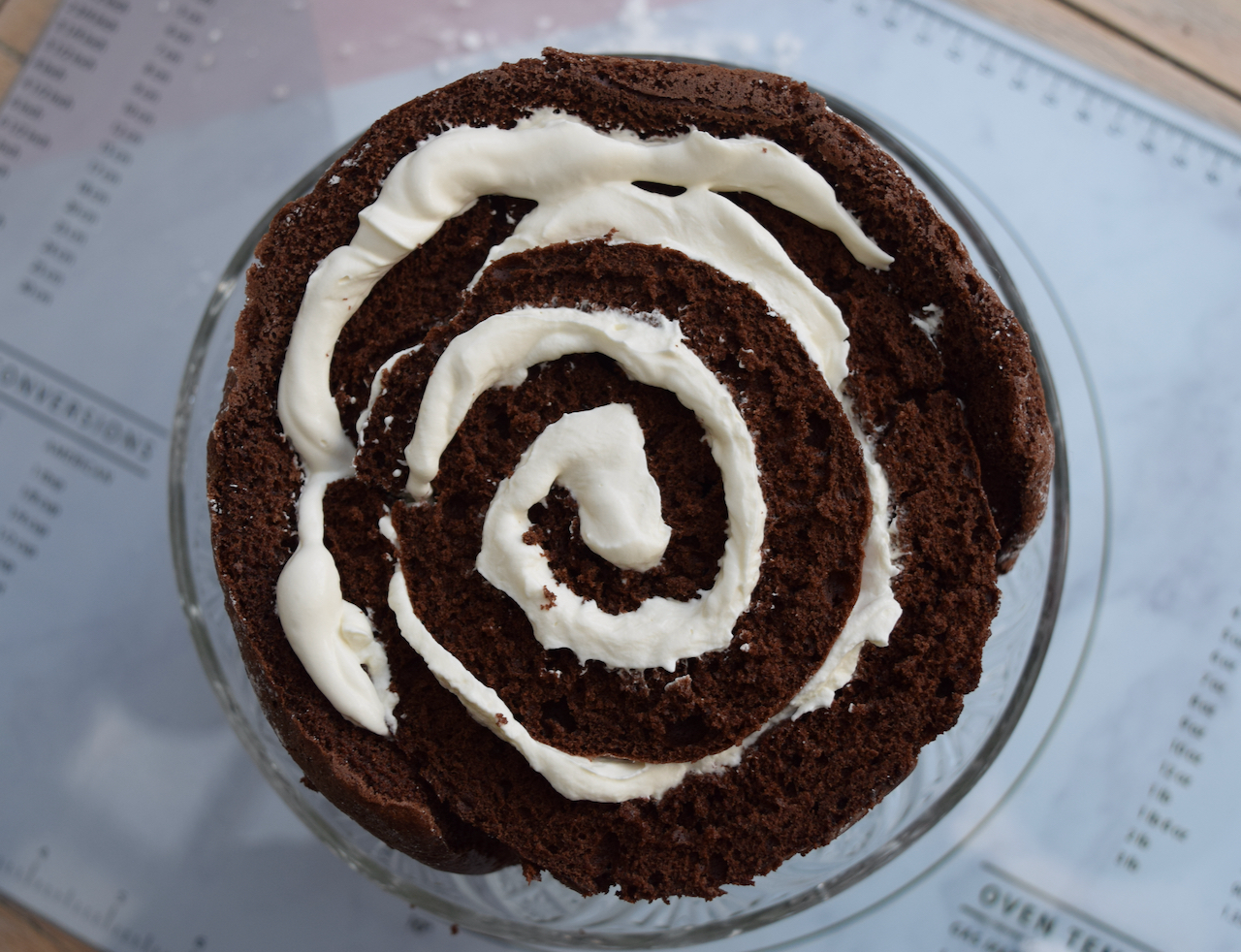 Repeat with the last slice, pressing it gently together to form a round.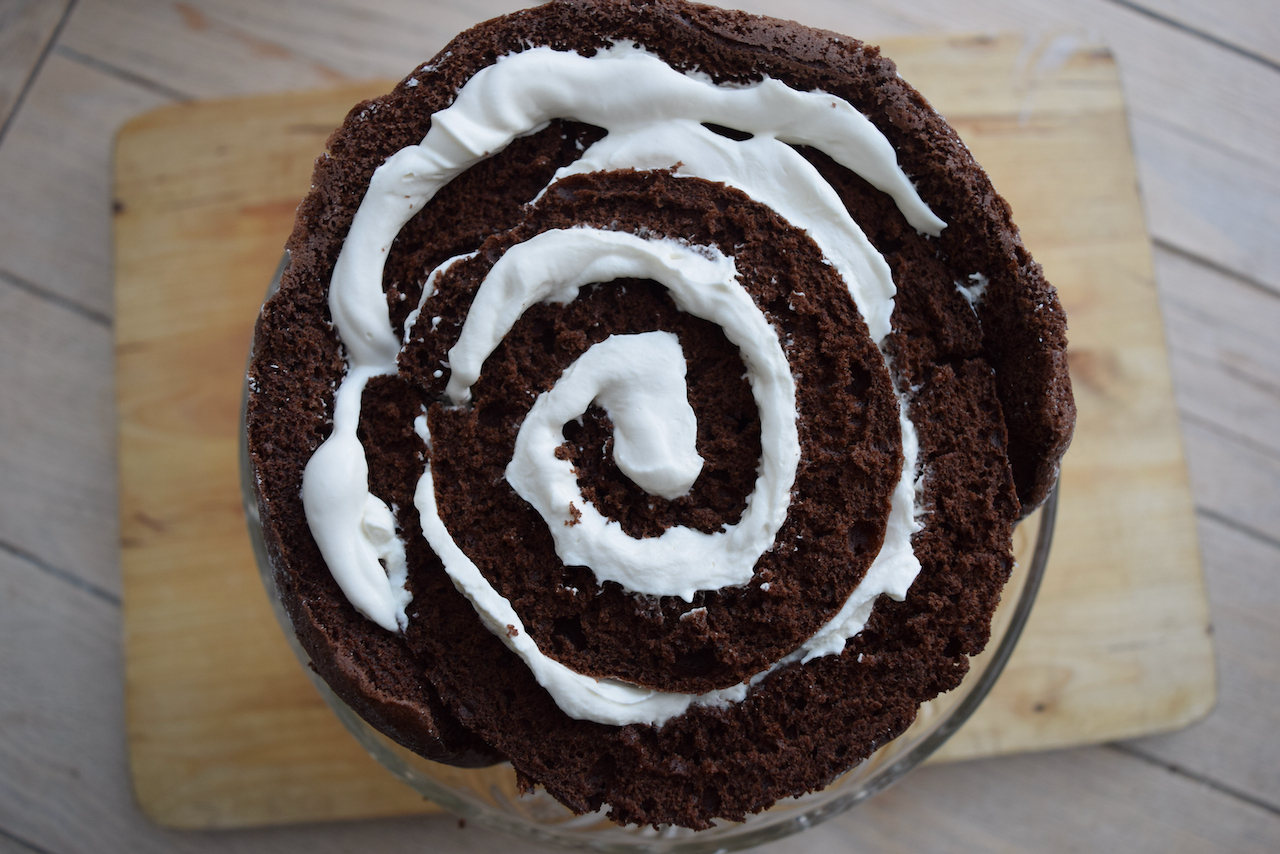 Now, using the rest of the cream, elegantly cover your vertical roulade. I went rustic, with some swirly palette knife action.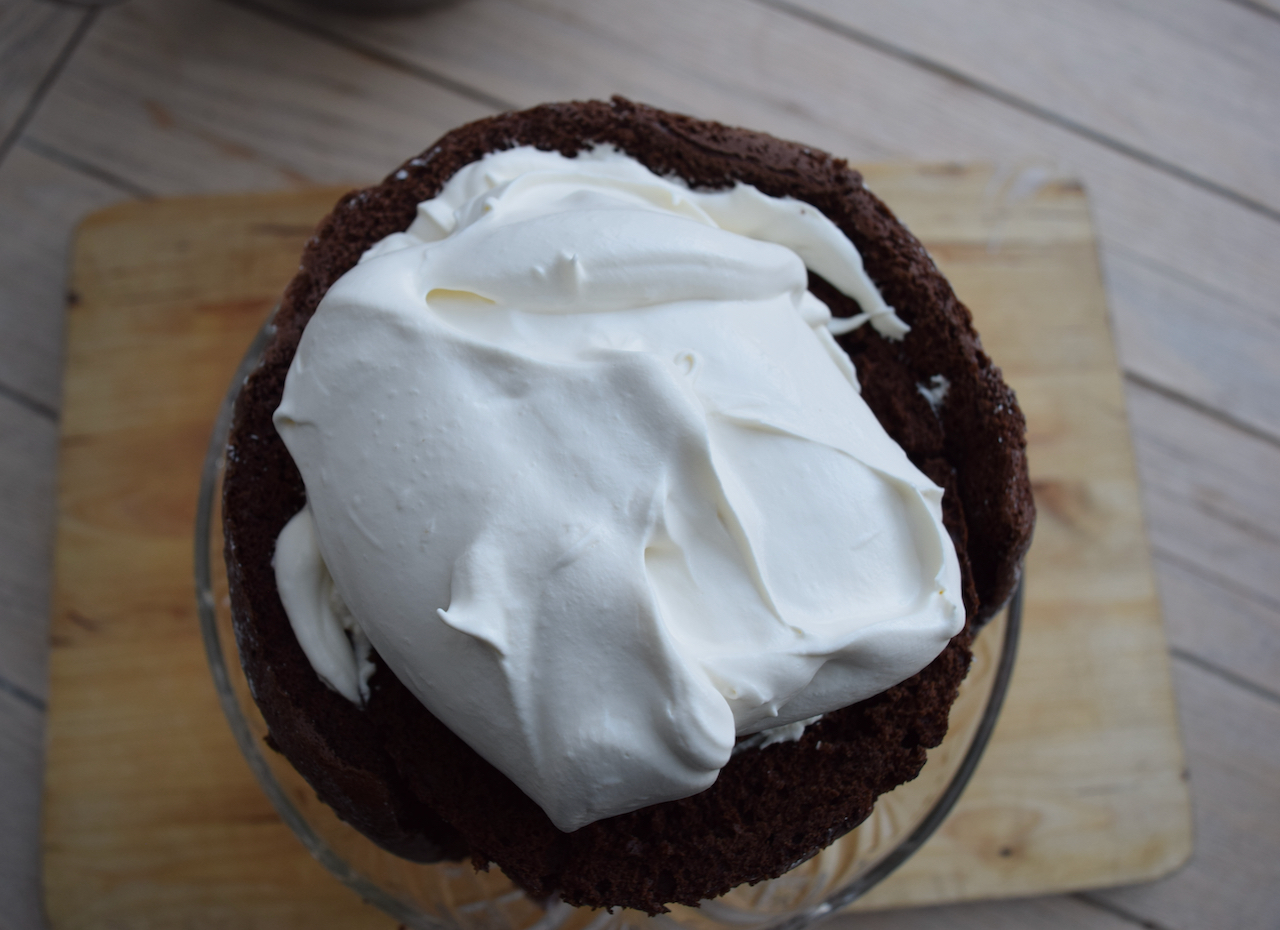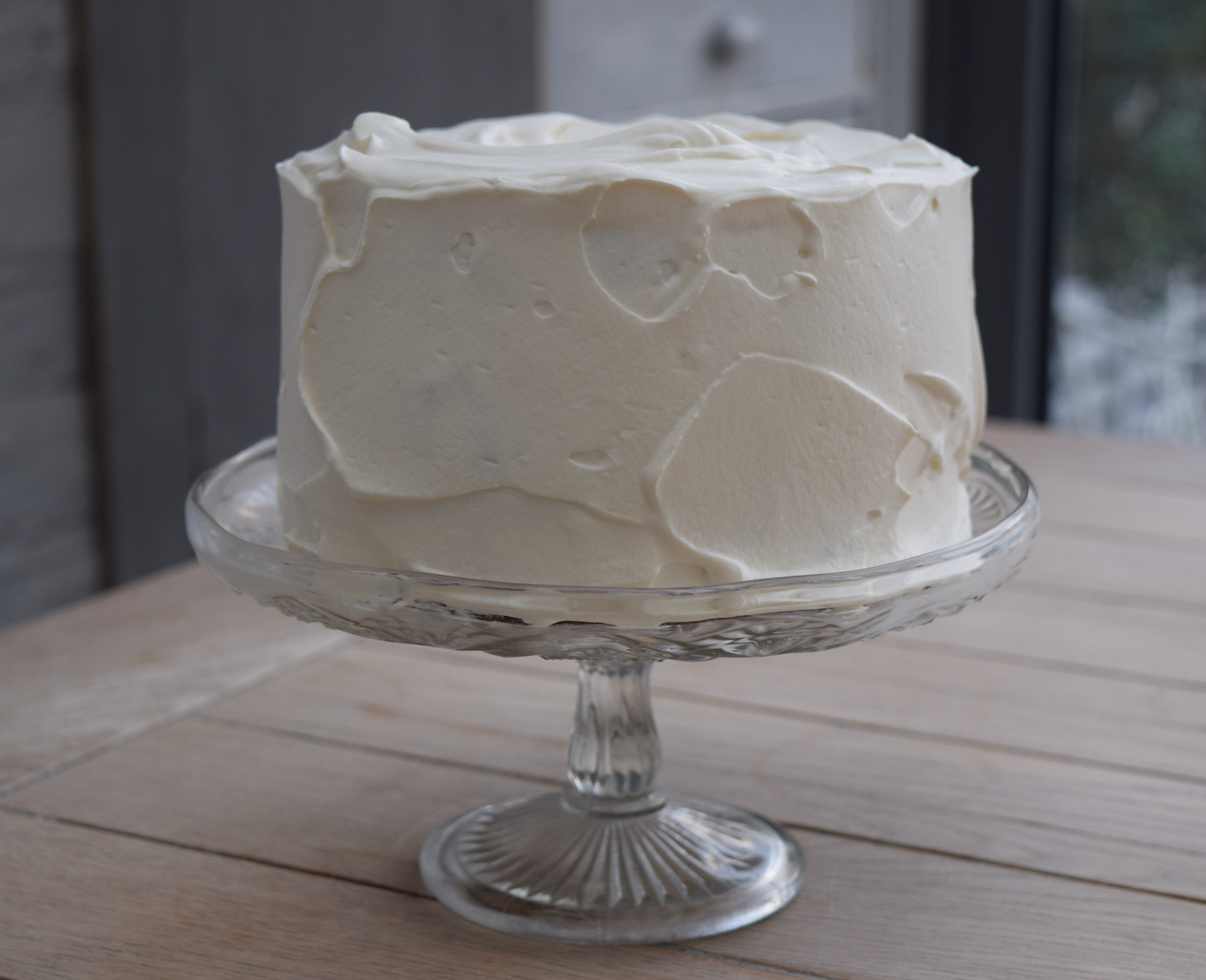 You can chill this now until needed. When you're ready to serve, decorate with the traditional espresso martini 3 coffee beans, or some cocoa powder or grated chocolate, if tradition's not your thing. Large slices of the roulade can be served with more boozy cream, if you like, and I do like cream.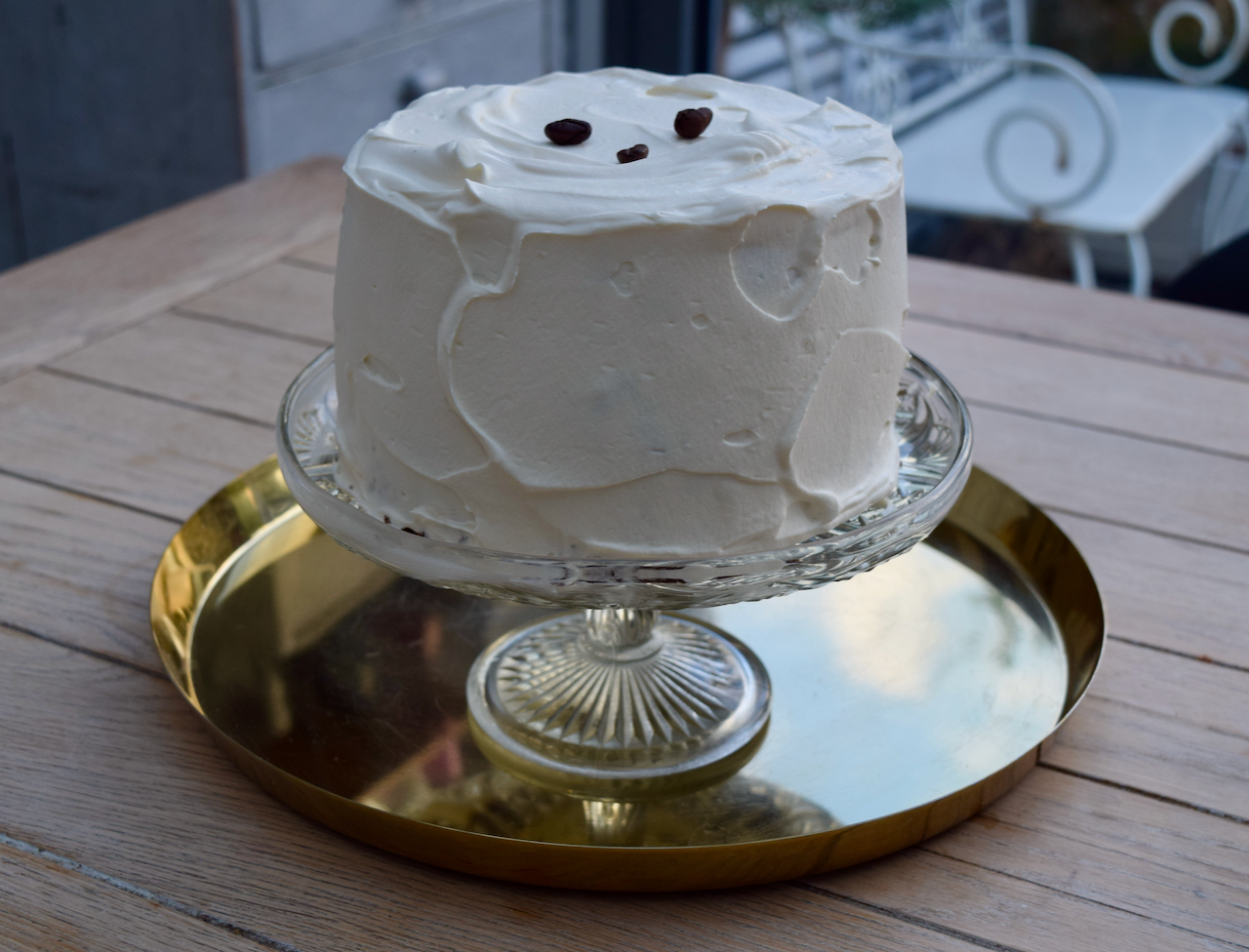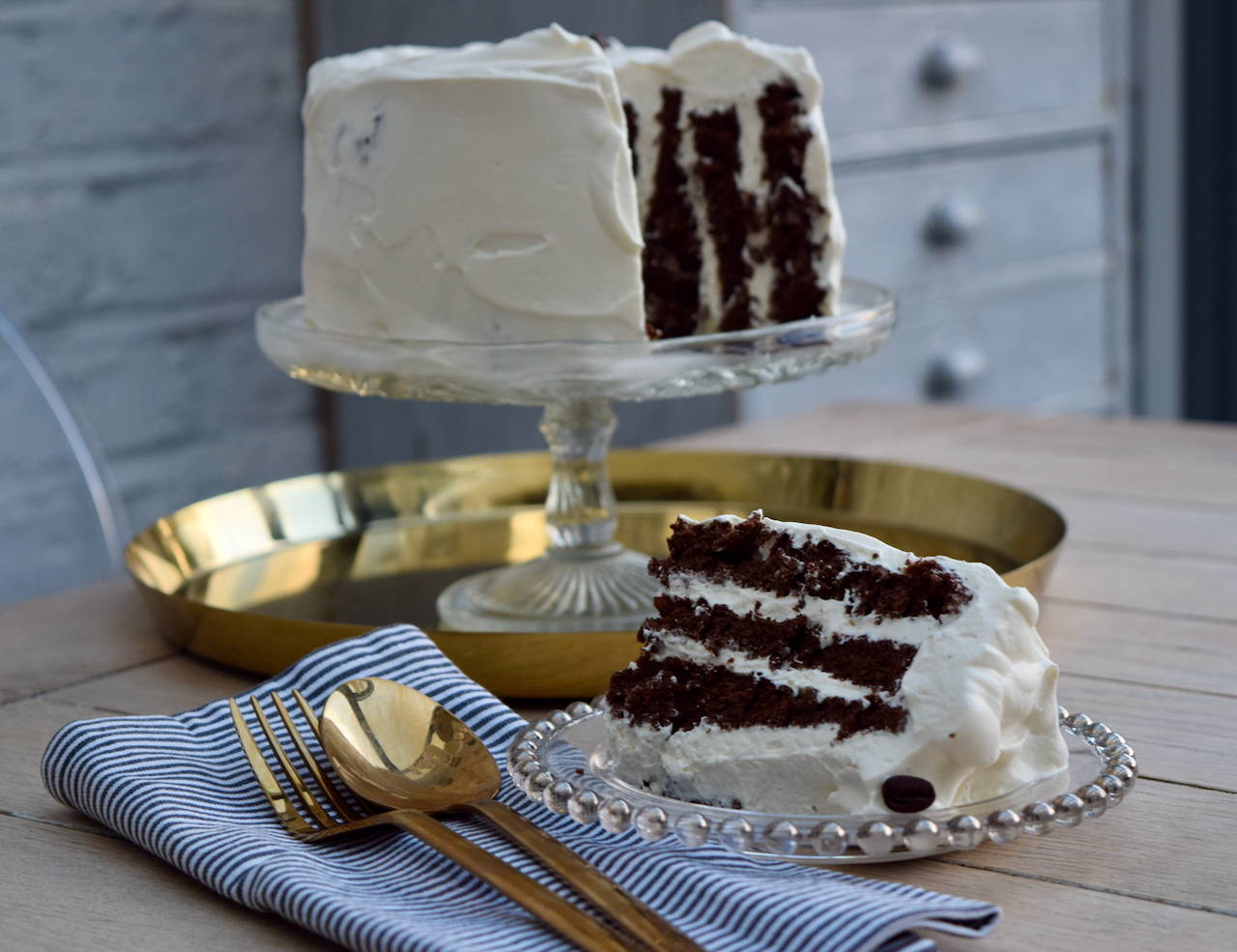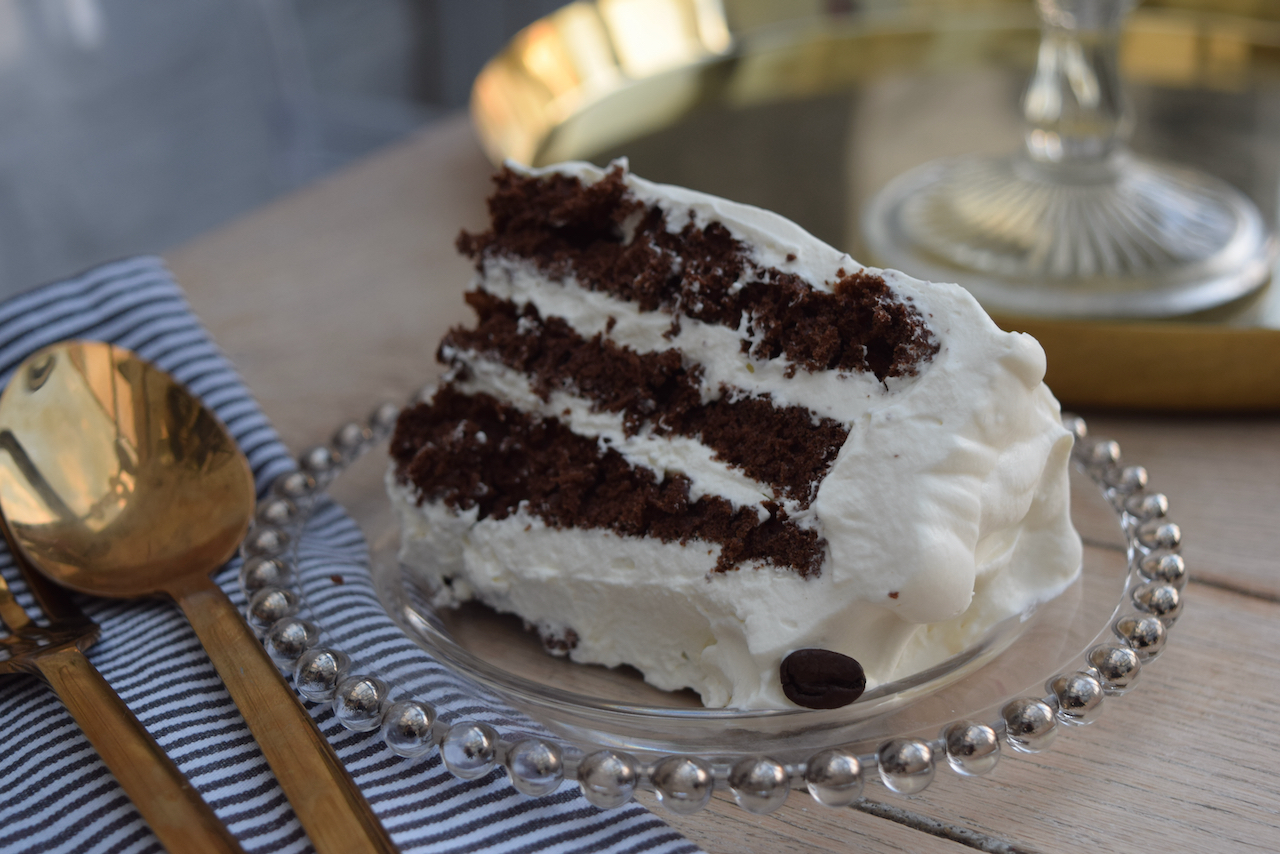 It's time to eat, drink and be merry. And luckily for us, this dessert allows us to do all three.
Merry Christmas, stay safe, and my love to you and yours.
Lucy x
Espresso Martini Vertical Roulade recipe
Serves around 6 to 8, or less if your guests are porkers
You will need a stand, or hand whisk
For the roulade
4 eggs
100g caster sugar
65g self raising flour
40g cocoa powder
1 tablespoon espresso coffee powder
For the topping and filling
400ml double cream
2 tablespoons icing sugar
4 tablespoons coffee liqueur like Tia Maria or Kahlua
3 coffee beans to decorate or a dusting of cocoa or grating of chocolate
Pre heat your oven to 170 degrees fan assisted and line a 33cm x 23cm rectangular baking tray.
In a stand mixer or in a bowl with a hand mixer, whisk the eggs and the caster sugar until light and foamy and the mixture holds a trail when you lift the whisk out. Sieve in the flour, espresso powder and cocoa, gently, using a metal spoon, until the mixture is smooth and light and no flour is visible.
Pour this into your lined tin, smoothing into the corners and creating an even-ish layer. Place in the oven for 8 to 10 minutes until the sponge is just firm and starting to come away from the edges of the paper. Take out of the oven and allow to cool for a moment.
Taking another sheet of baking paper, lay this onto the work surface and dust with icing sugar or cocoa. Turn the warm sponge out onto the paper and carefully peel the backing paper off. Trim off any uneven edges then, with the shortest side towards you roll up the sponge, with the paper inside. Roll into a tight log and leave, rolled up, to one side to cool.
In the bowl of your stand mixer, or with hand hand whisk, whip the 400ml double cream with the 2 tablespoons of icing sugar and coffee liqueur until it forms soft peaks.
When you're ready to assemble the roulade, unroll the sponge and spread with a thin layer of the coffee liqueur cream. Cut the sponge into 3 equal pieces, I did actually get the ruler out to make sure each piece was the same width. Take a plate or cake stand and roll the first slice up and place, upright, onto the middle of the plate. Take the next slice of roulade and roll that round the first roll, butting the second slice up against the first one. Finally wrap the last slice round the roll, gently pressing the roll together.
Using the rest of the cream, with a palette knife, cover the whole roulade not worrying too much about precision here. Decorate with the traditional 3 coffee beans, or a dusting of cocoa. Serve in large slices, fruit on the side optional.
Any leftovers will keep in the fridge for 2 to 3 days.