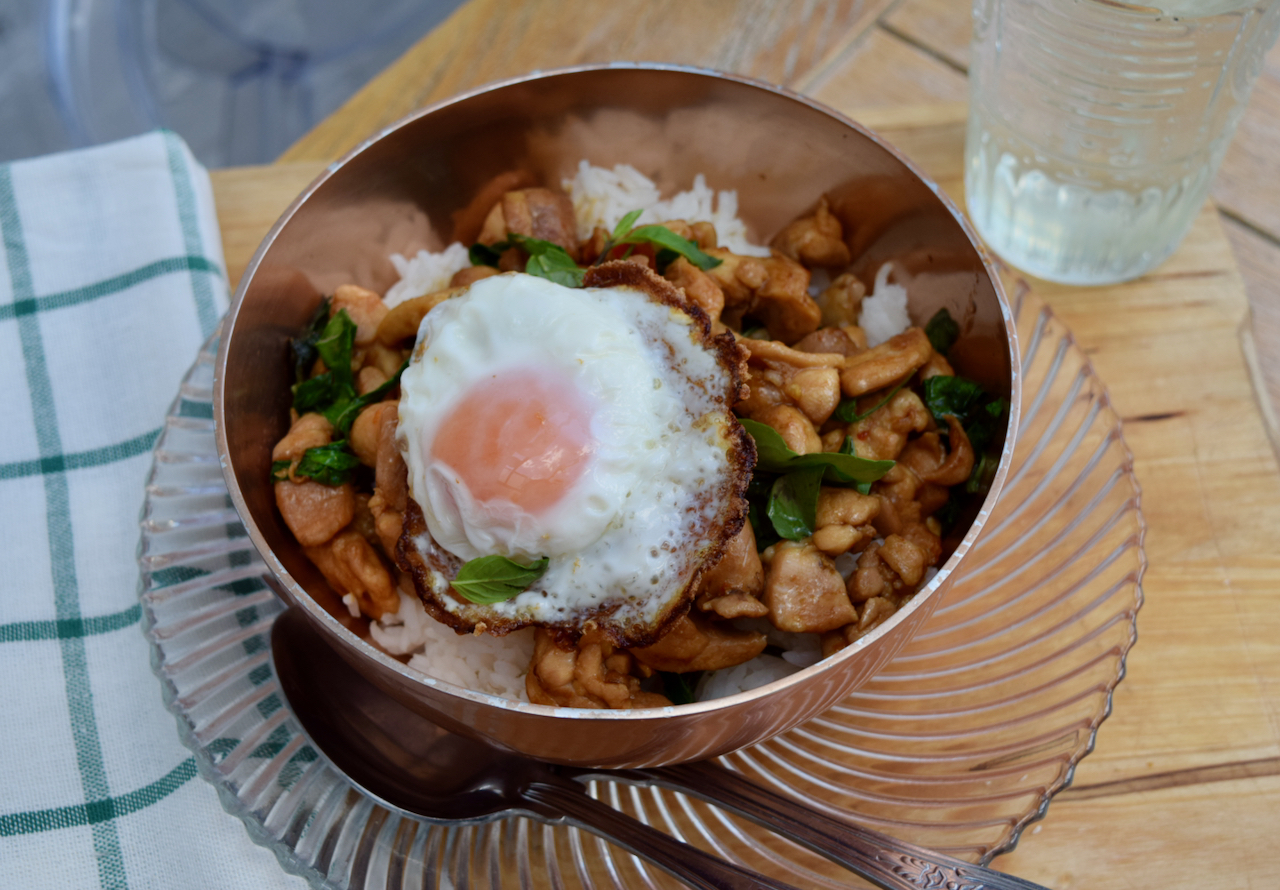 Chicken with Chilli and Thai Basil recipe
At least once a week I find myself with a kilo of boned chicken thighs and a family not wanting another curry. It's a predicament I'm sure you find yourself in too. Thank God for my Pinterest obsession and my Chicken section full of recipes I never get around to making. One of which is this brilliantly easy Thai restaurant classic Pad Krapow Gai, or as I have fondly renamed it for fear of constant misspelling Chicken with Chilli and Thai Basil.
When we were allowed to eat in restaurants and not have the monotony of cooking for our ungrateful families every night a lovely friend and I would regularly visit a brilliant Thai restaurant in Earlsfield. Their Pad Krapow Gai is unrivalled and with my Chicken with Chilli and Thai Basil I bloody hope I've done it justice. This recipe is quick, everyone ate, and dare I say, loved it and it's incredibly tasty. The chicken is fried off with plenty of garlic and as many birdseye chillies as your family can tolerate. The sauce is sweet and light soy sauce with a oyster sauce for an added savoury hit. Thai basil, with its whiff of aniseed, is stirred through at the end to just wilt. A crispy edged fried egg is an optional extra, but hugely appreciated in our house. A big thank you to the Inquiring Chef for the inspiration for this recipe.
It's always a win to find something delicious to do with boneless chicken. The fact it was devoured by the whole family is akin to winning the lottery in these home-based lockdown times.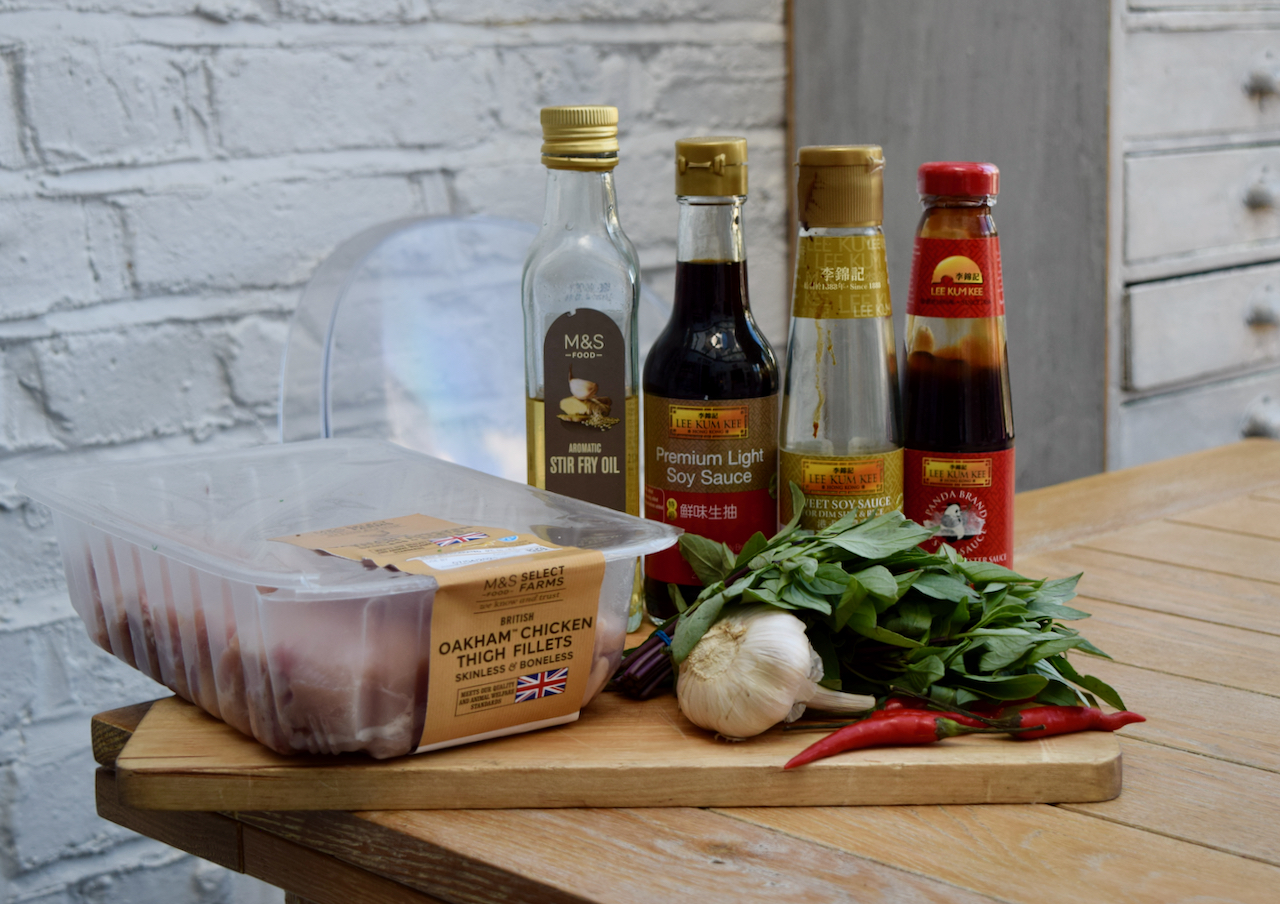 Simple but amazing flavours for this Thai chicken classic. The Thai or Holy basil is brilliant, adding a bright, fresh flavour to the dish. I went for 4 birdseye chillies for my recipe which gave a medium hot heat, but if you prefer things a little spicier or less so, then add or remove accordingly.
Start by chopping your chicken into bite sized pieces; smaller than you would, say, for a stir fry.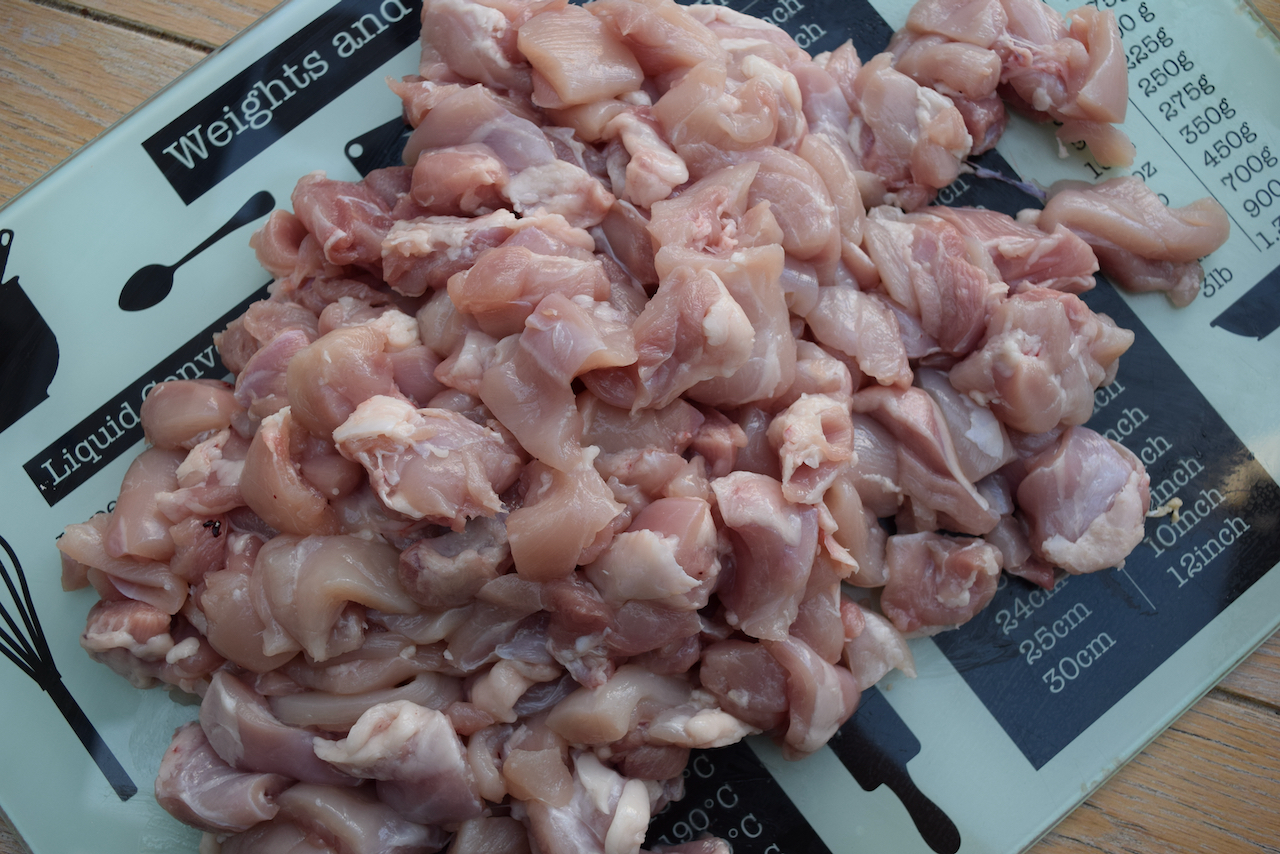 Pop this to one side for the moment. Next, cut the tops off your birdseye chillies and roughly chop, peel your garlic then add to the pestle or mortar.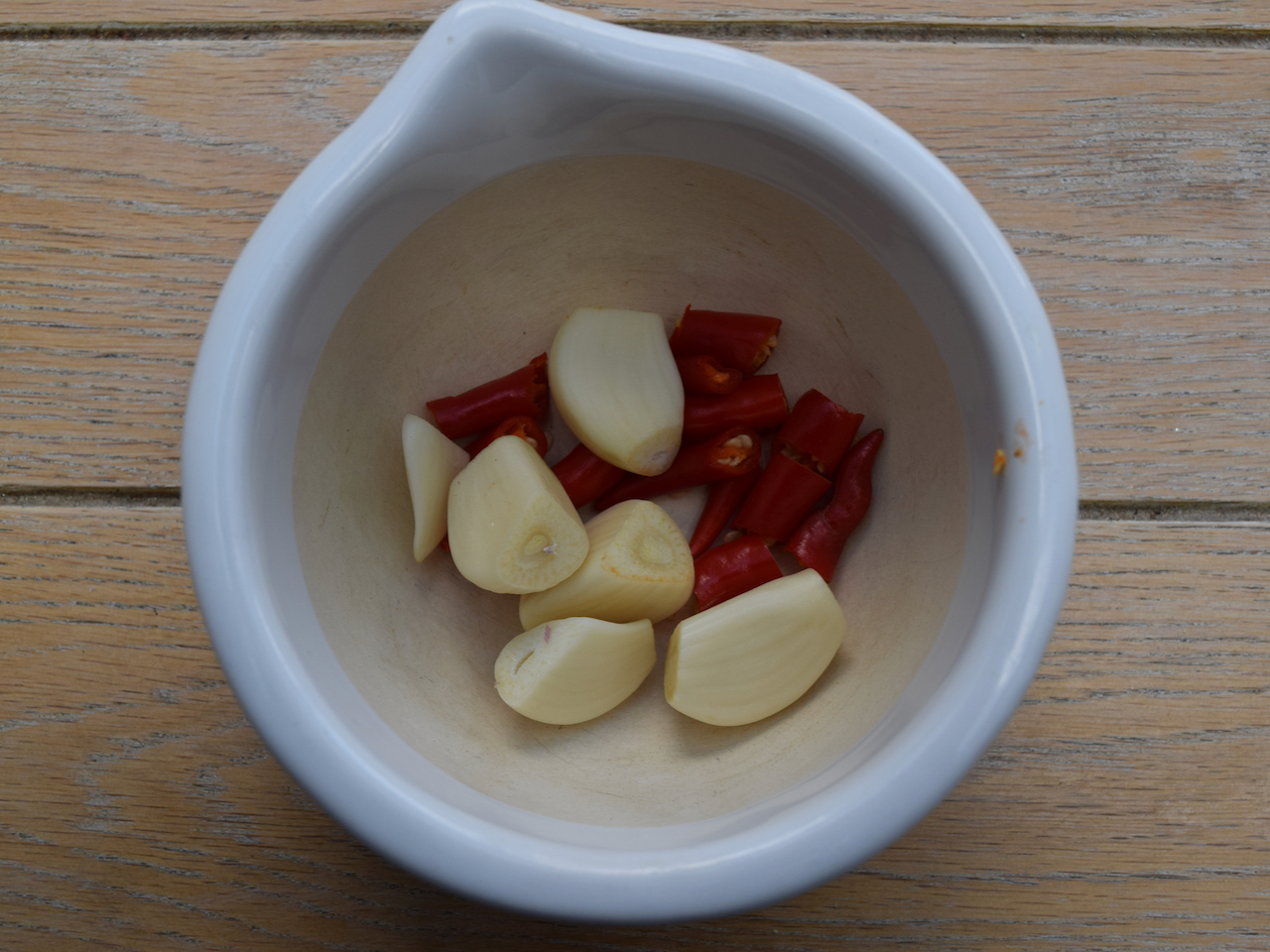 Now pound the chillies and garlic to just chop and mash them together. You don't need to go so far as a paste, but break the chillies and garlic down.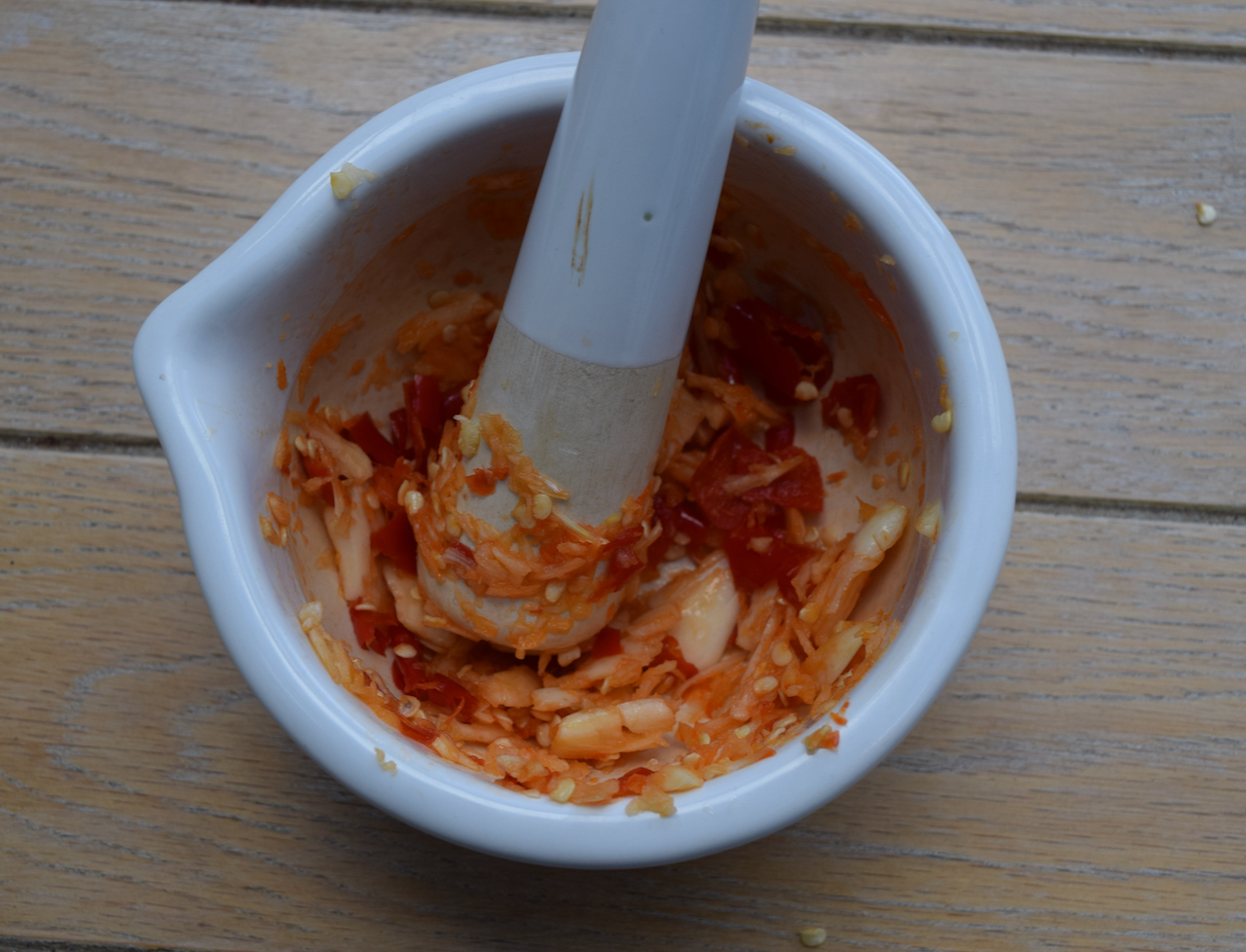 Pop this to one side while you make the sauce. Simply stir together the sweet soy, light soy and oyster sauces until well mixed.
You're now ready to cook your dinner. Heat a tablespoon of oil over a low to medium heat in a wok or high sided frying pan. Stir in the chilli and garlic mixture and cook for a minute or so. Keep it moving, you don't want to burn this mixture.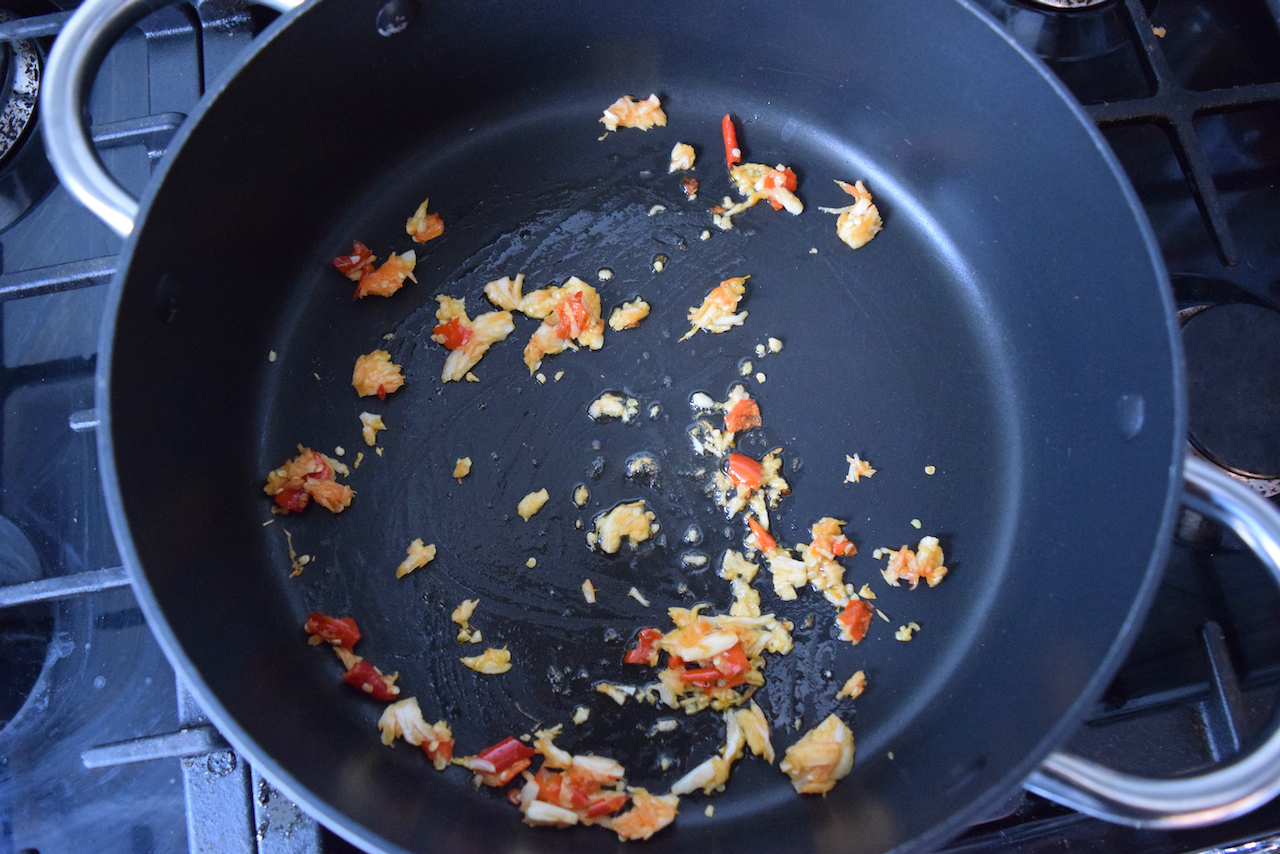 Turn the heat up and add your chopped chicken and stir, mixing with the chilli and garlic, until the chicken is almost cooked through.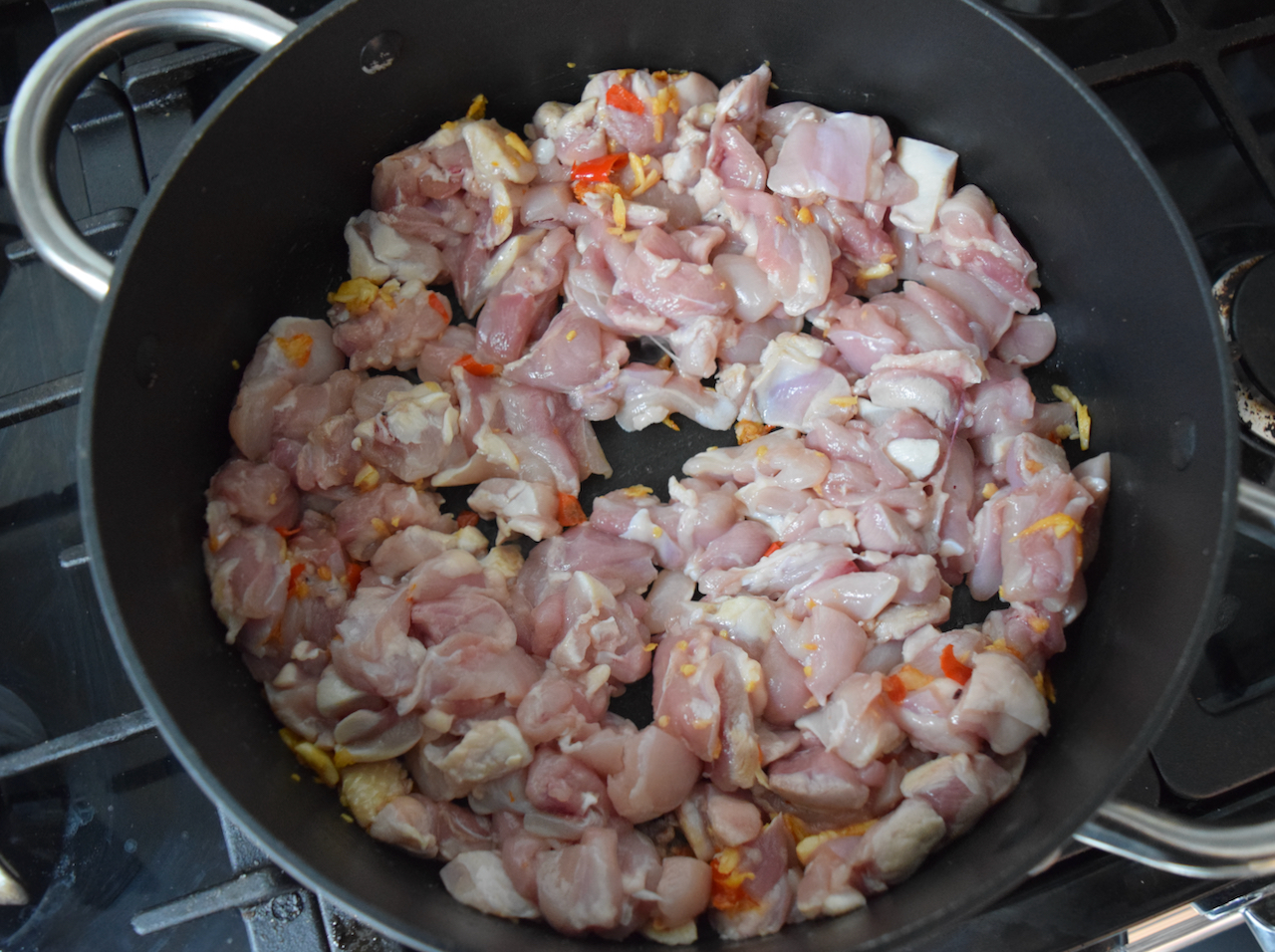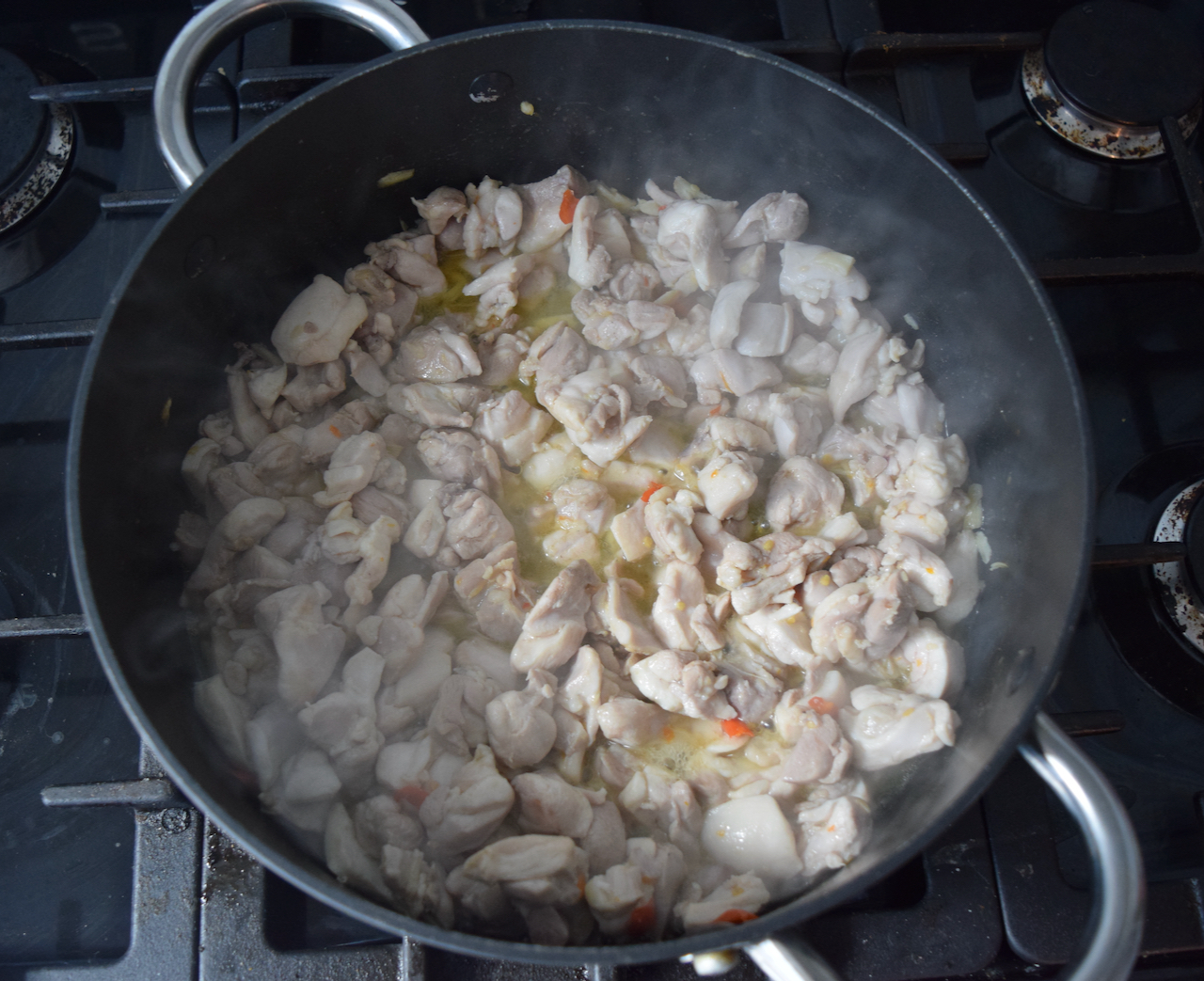 Pour on the soy mixture and stir again. Turn up the heat and reduce the sauce a little, so it coats the chicken.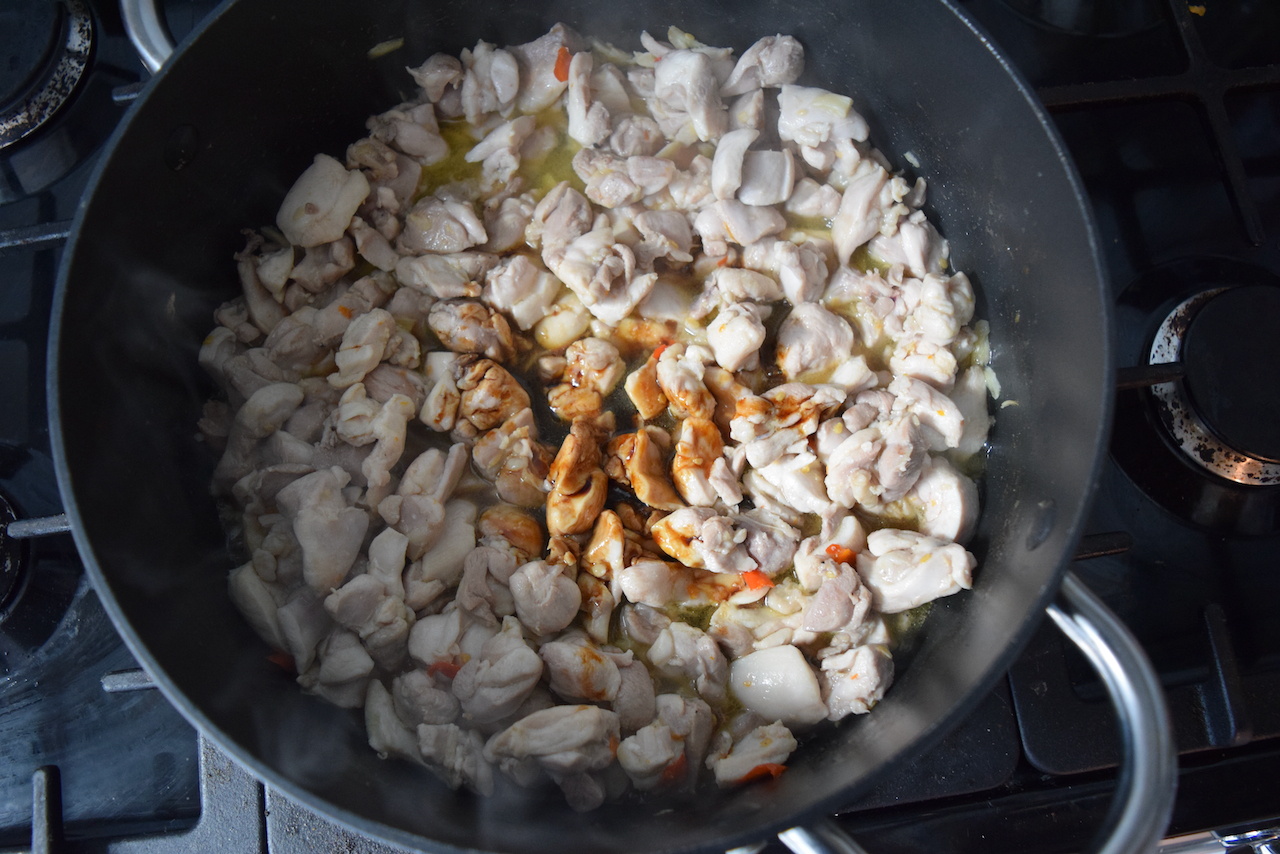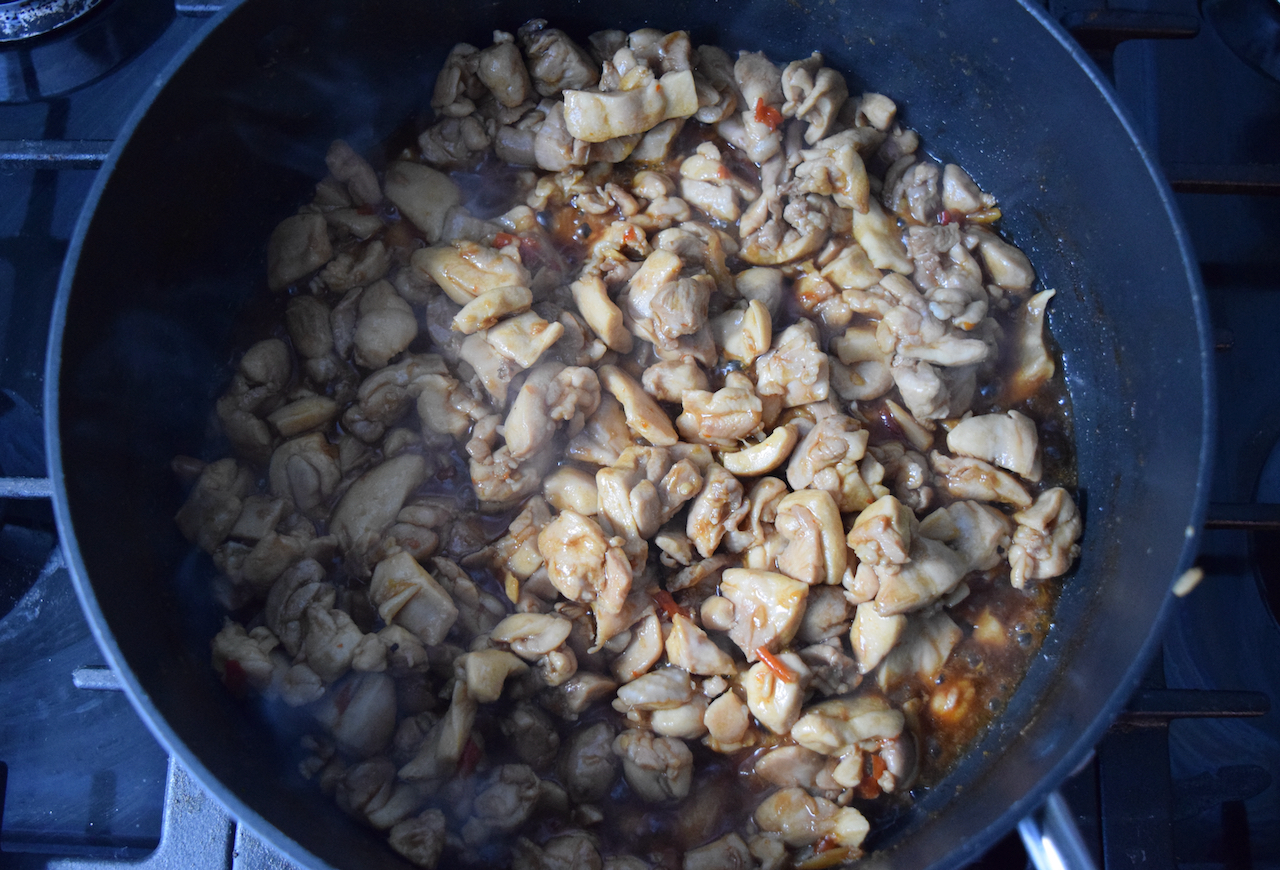 Remove the Thai basil leaves from their stalks then stir it through the chicken.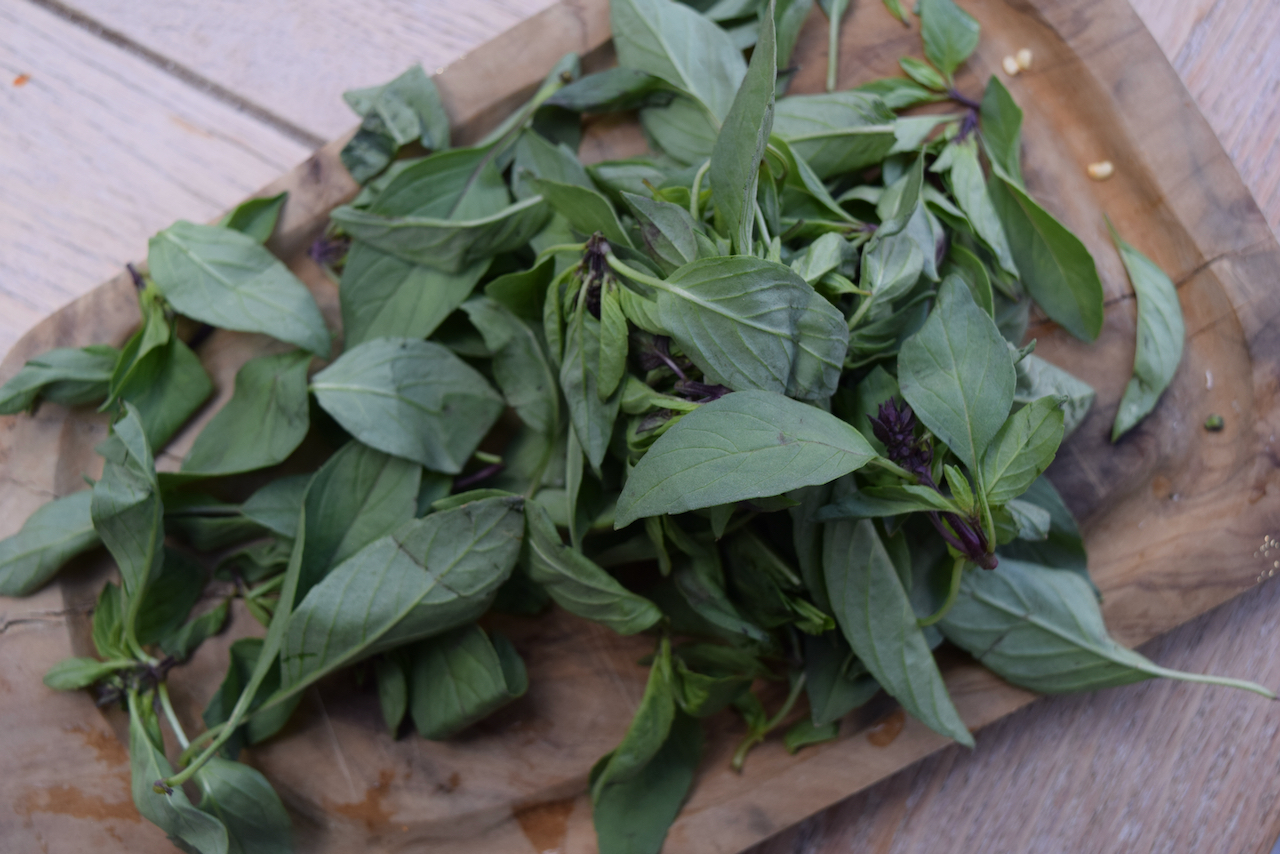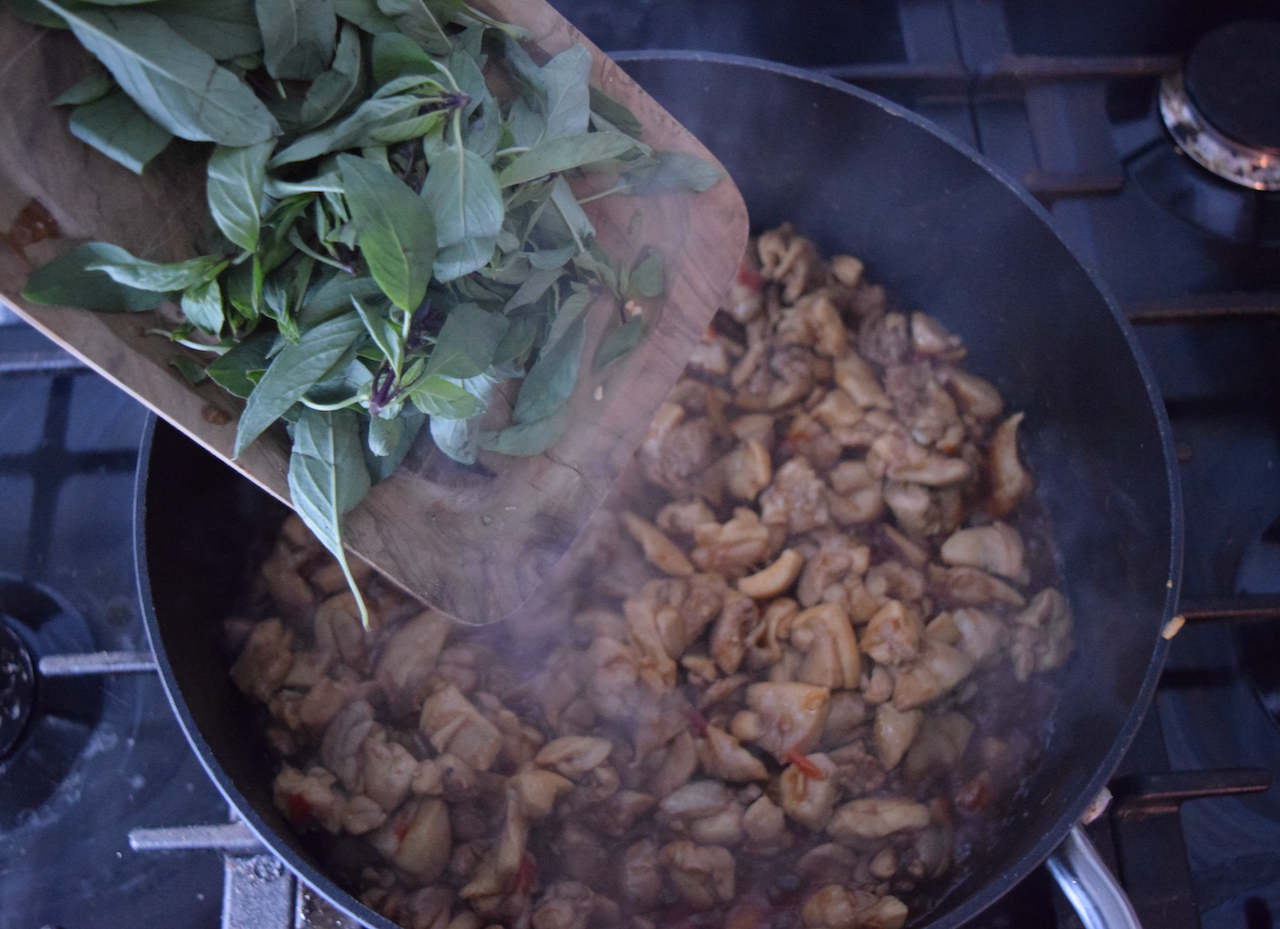 Serve this over plenty of rice with some extra Thai basil to garnish. A crispy edged fried egg is a must for me, but it's up to you.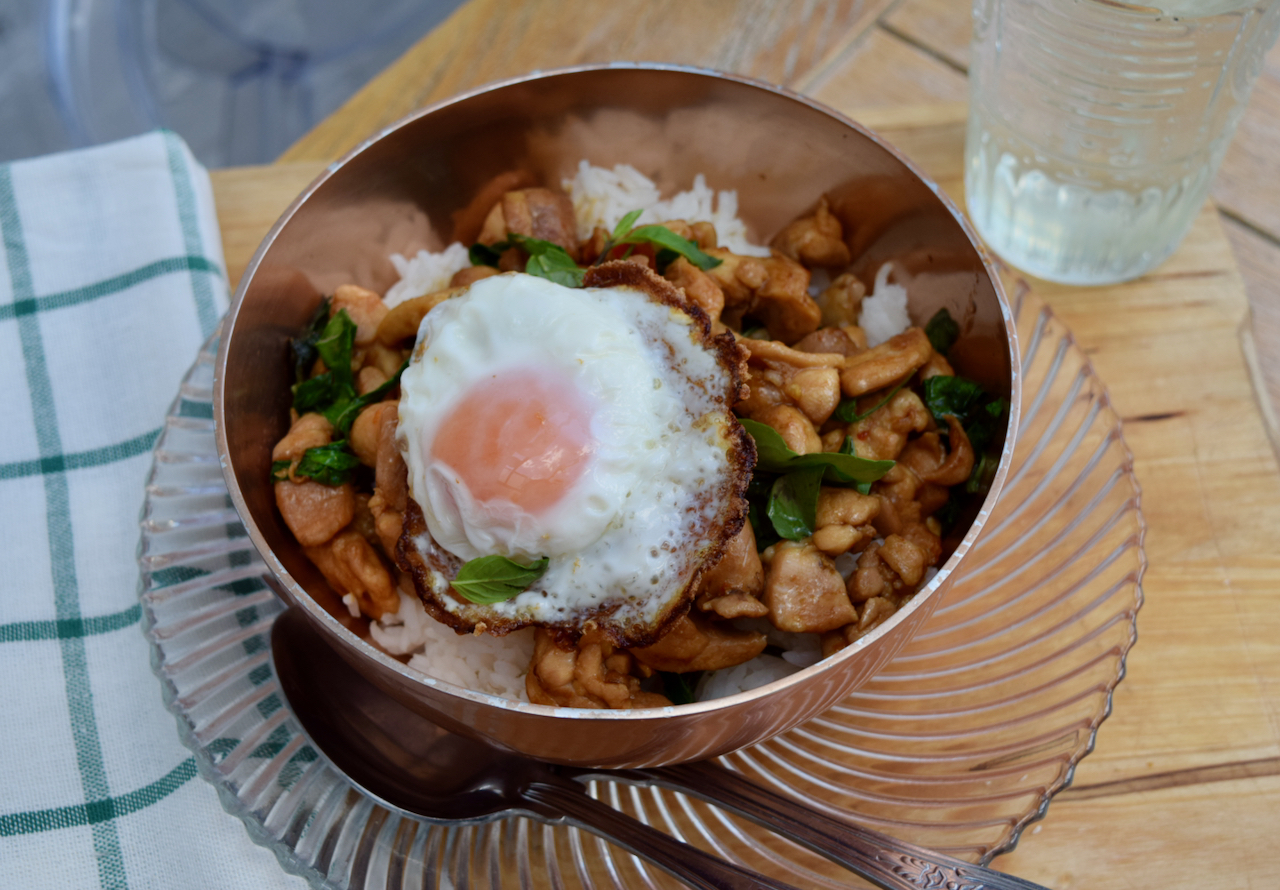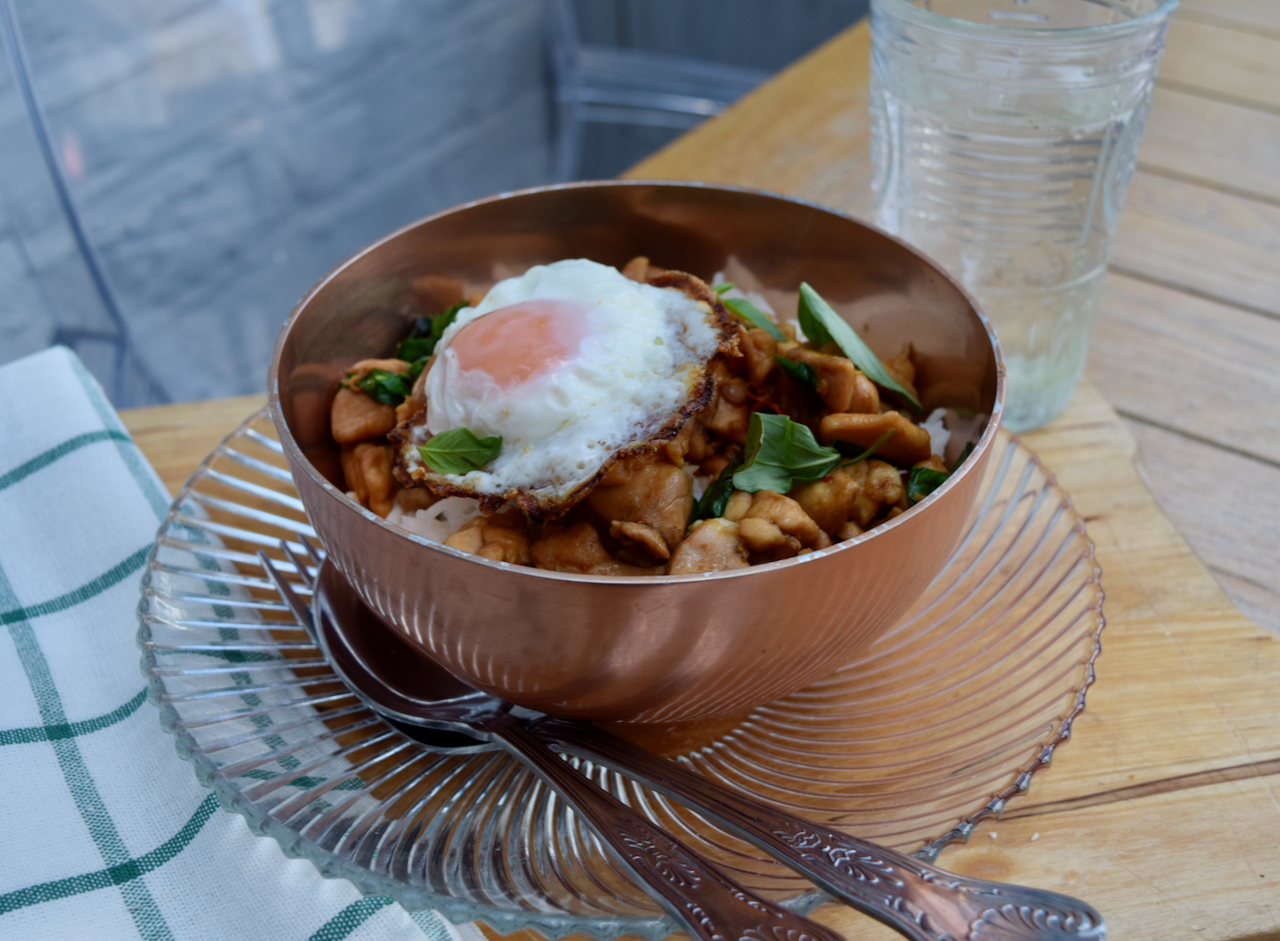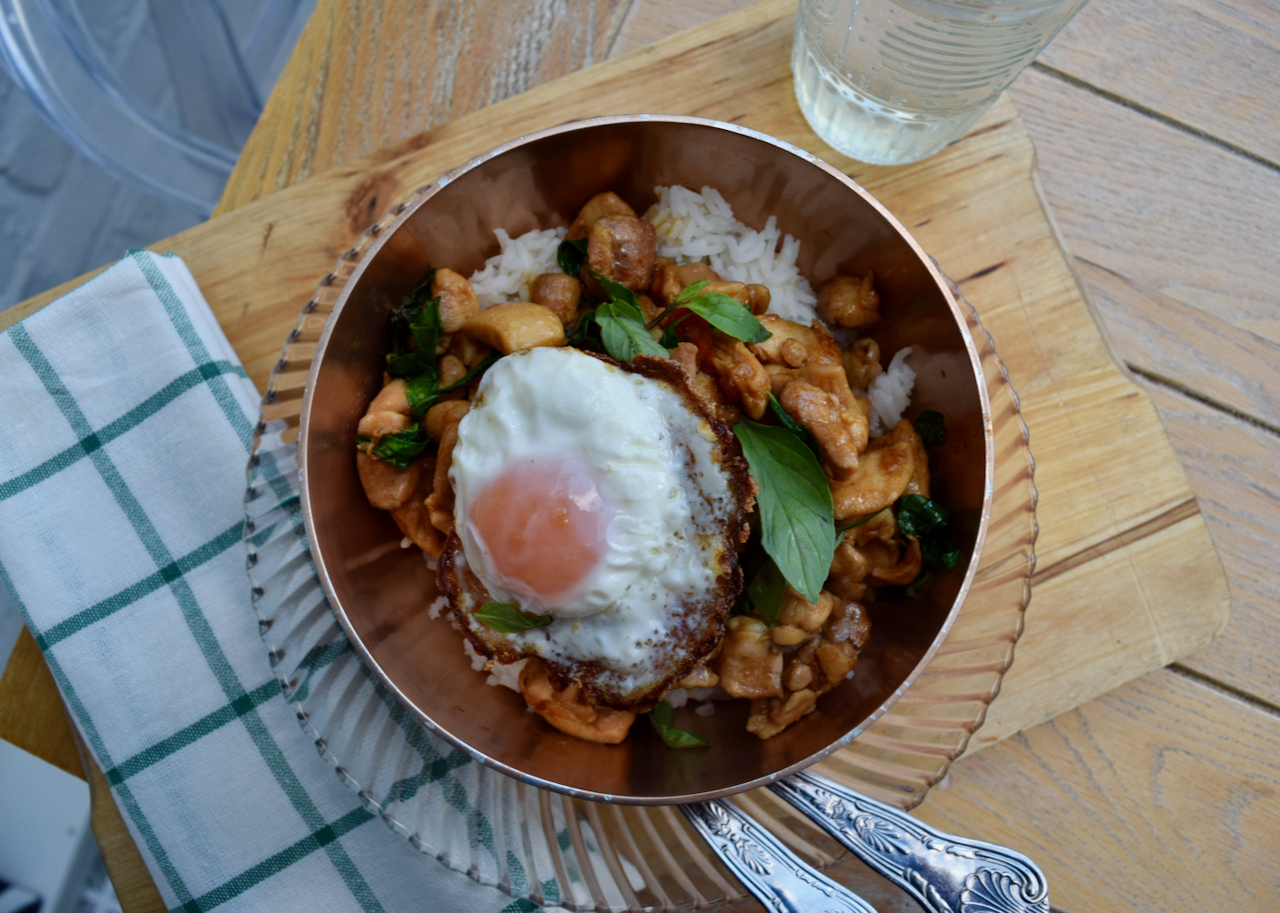 There's still several more weeks to go before we can eat at our favourite restaurants again. In the meantime, you can recreate this classic Thai dish and ask your children/partner to serve you and wash up for the full experience. Just don't forget to tip them, or they'll give you a bad review on Tripadvisor.
Lucy x
Chicken with Chilli and Thai Basil recipe
Serves 4, generously
You will just need a wok or high sided frying pan for this
1 tablespoon oil, I used flavoured Wok oil
1kg boneless chicken thighs
6 cloves garlic
4 to 6 red birdseye chillis, use more or less dependent on your spice tolerance
2 tablespoons sweet Thai soy sauce
4 teaspoons light soy sauce
2 teaspoons oyster sauce
1 bunch Thai basil, leaves removed from the stalks
1 fried egg per person, optional
Extra Thai basil leaves to garnish
Rice and green beans to serve
Make a start by cutting the chicken into small pieces, around an inch big. Pop to one side.
Cut the tops off the chilli, chop roughly then add to your pestle and mortar with the peeled garlic cloves. Pound until you have smaller pieces, no need to mix to a paste.
For the sauce, mix the sweet soy and light soy with the oyster sauce and stir to mix.
Heat a wok or high sided frying pan over a medium heat with a tablespoon of oil. Add the crushed chilli and garlic and cook for a minute or so until just starting to colour. Add your chopped chicken and cook for 4 to 5 minutes or until almost cooked. Pour in the soy sauce mixture, stir well, and cook over a higher heat to reduce the sauce slightly until it coats the chicken.
Stir through the Thai basil until just wilted then serve over plenty of rice with some extra basil to garnish. A crispy fried egg is a total added bonus.