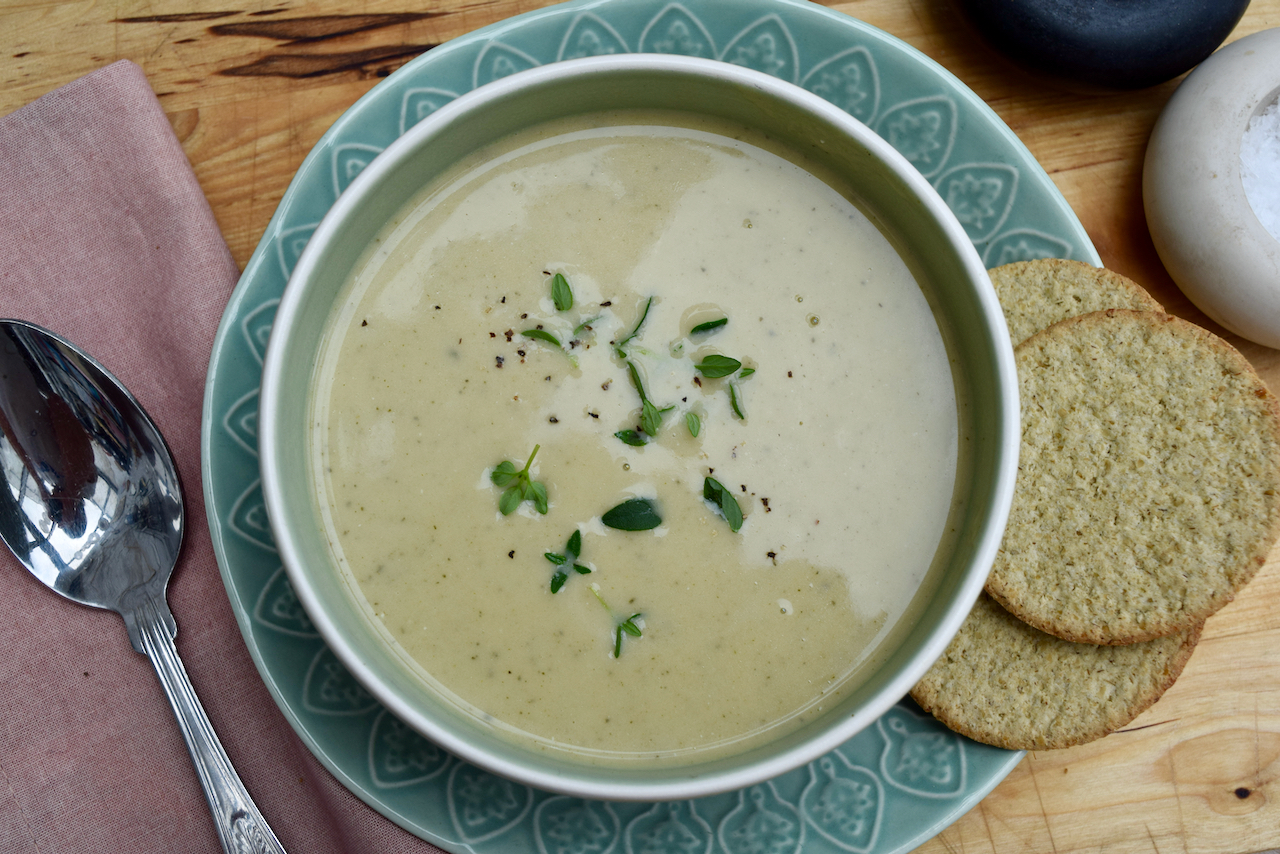 Summer Courgette and Parmesan Soup recipe
This is quite a sentimental recipe for me, soppy old thing that I am. When Dad died in February last year Mum came to stay with us and randomly brought with her 3 courgettes that were almost past their best. We drank a lot of wine and ate comfort food to feed our sadness and the three courgettes played their part in keeping our spirits up in the form of this Courgette and Parmesan Soup.
Courgettes are in lush supply at the moment, unlike February, so are perfect utilised in this summer soup. Not that it feels particularly summery at present; more rain is falling and I'm hunting around for a cardi as we speak. I used my Instant Pot to make this dish because I love it, but it can equally, be made just as well on the stove. The soup is fresh with a hint of white wine but then comforting with the addition of cream and parmesan. You can serve this as a comforting first course or with chunks of buttered crusty bread for lunch. It freezes wonderfully too, so whip it out in true domestic goddess style. Thank you to the jauntily entitled Whatcha Cooking Good Looking for the inspiration.
Food is all about love for me; I love making dishes to comfort and nourish. Unless it's a Tuesday night when I don't feel like cooking at all and you'll get sausages, chips and beans.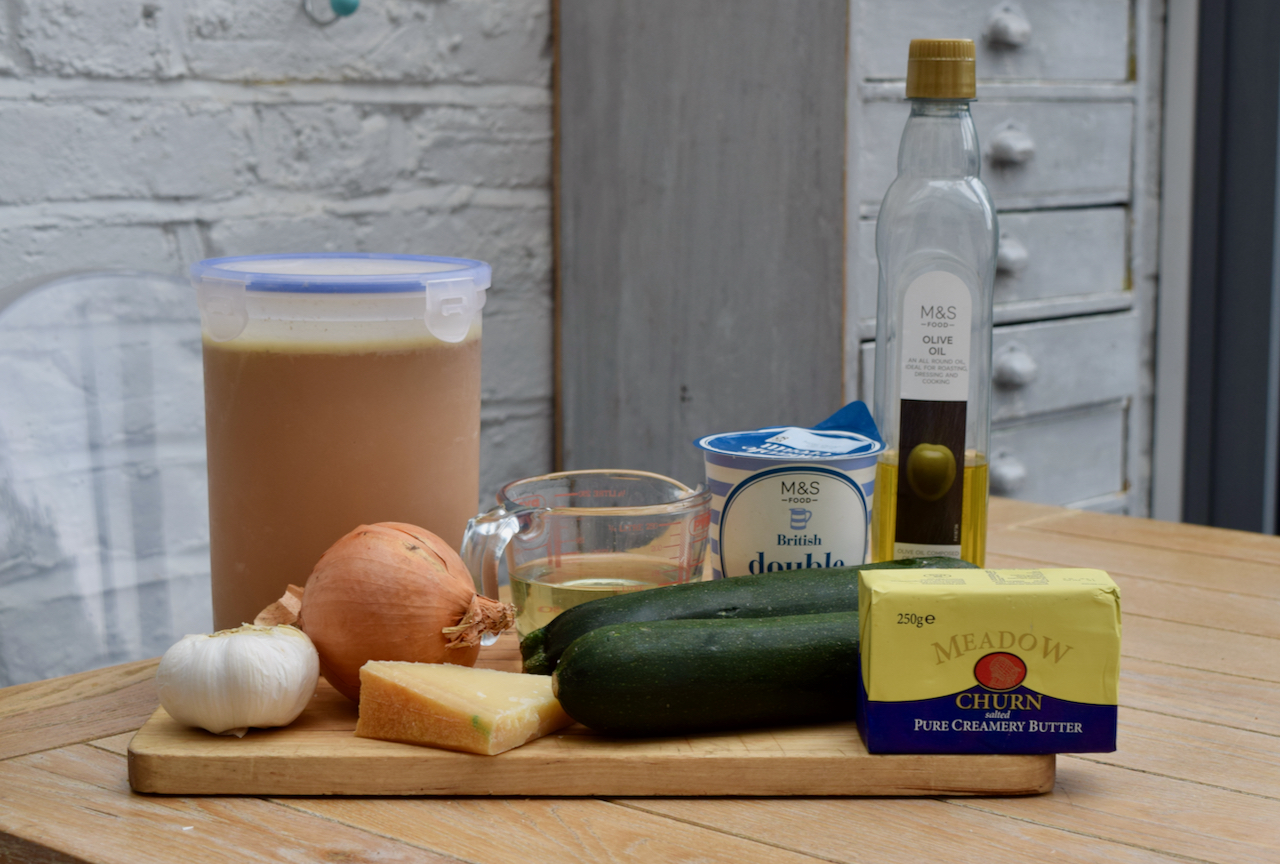 Now, call me an overachiever but yes, that's homemade chicken stock right there. I do love my Instant Pot for making chicken stock when we've had a roast, which is another reason why I love my electric pressure cooker. Parmesan is perfect for this soup, but I have also made it with some blue cheese and strong cheddar, so don't panic if you don't have parmesan to hand.
Make a start with your Instant Pot in sauté mode, or with a large saucepan over a medium flame. Add the olive oil and butter and leave until it's just sizzling.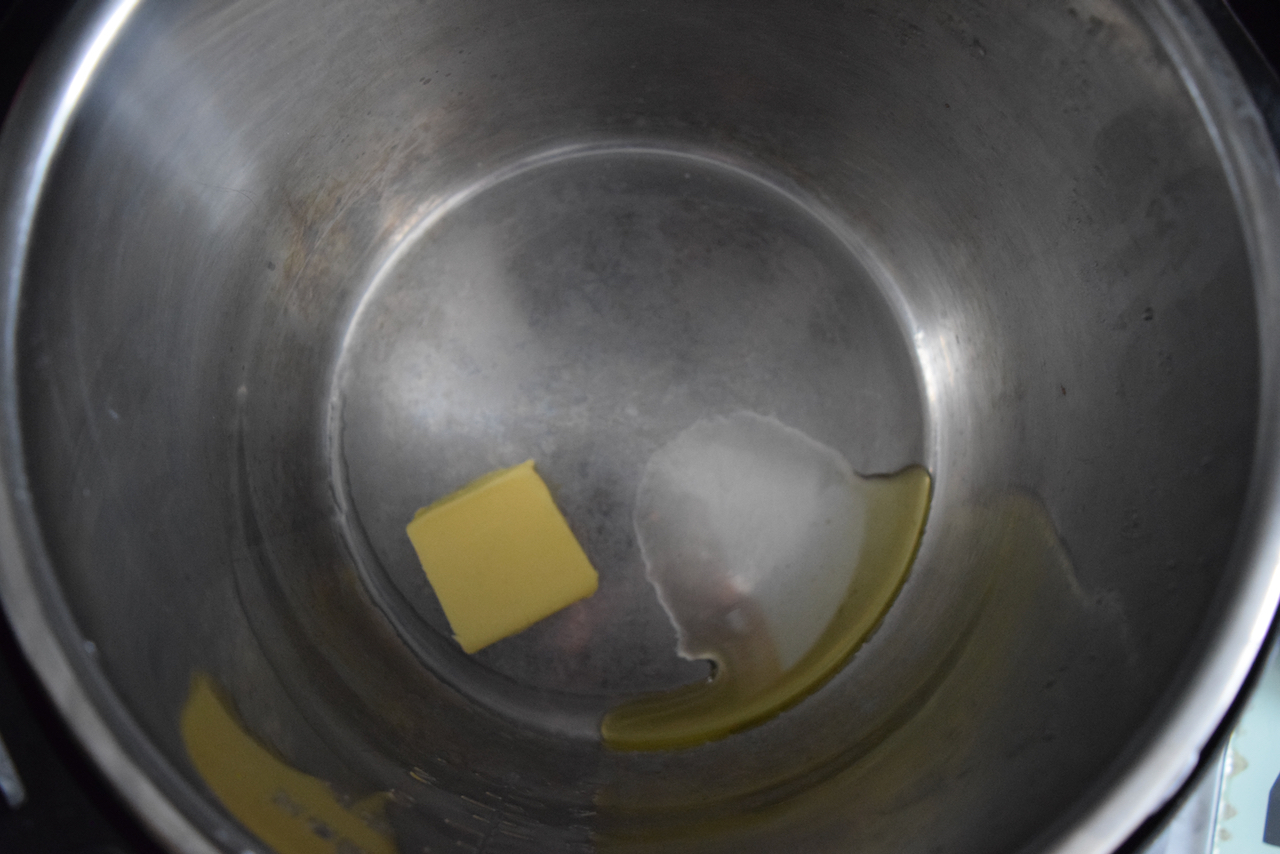 Add the sliced onion and cook until just softening and starting to colour.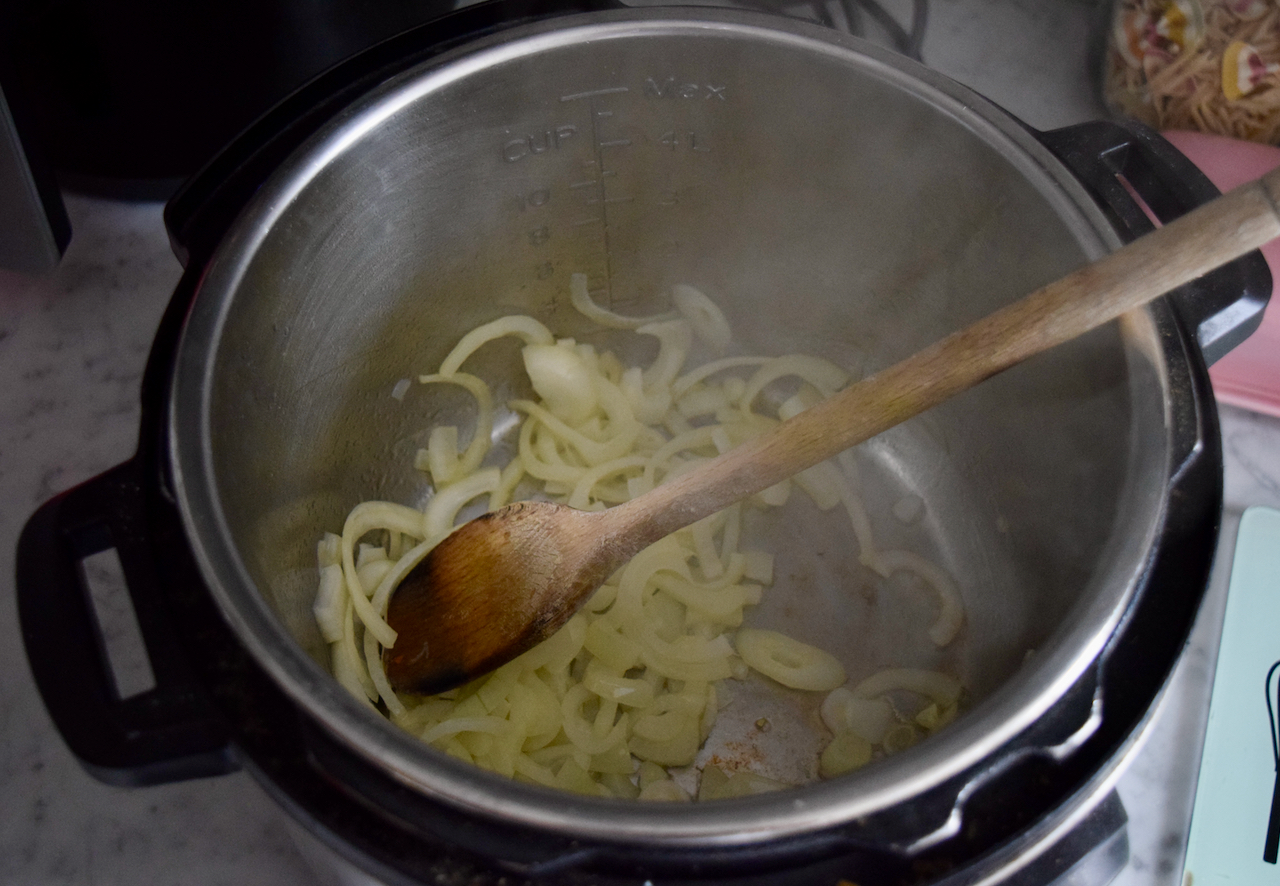 Add the garlic, cook for a minute, then tip in the sliced courgettes and stir well.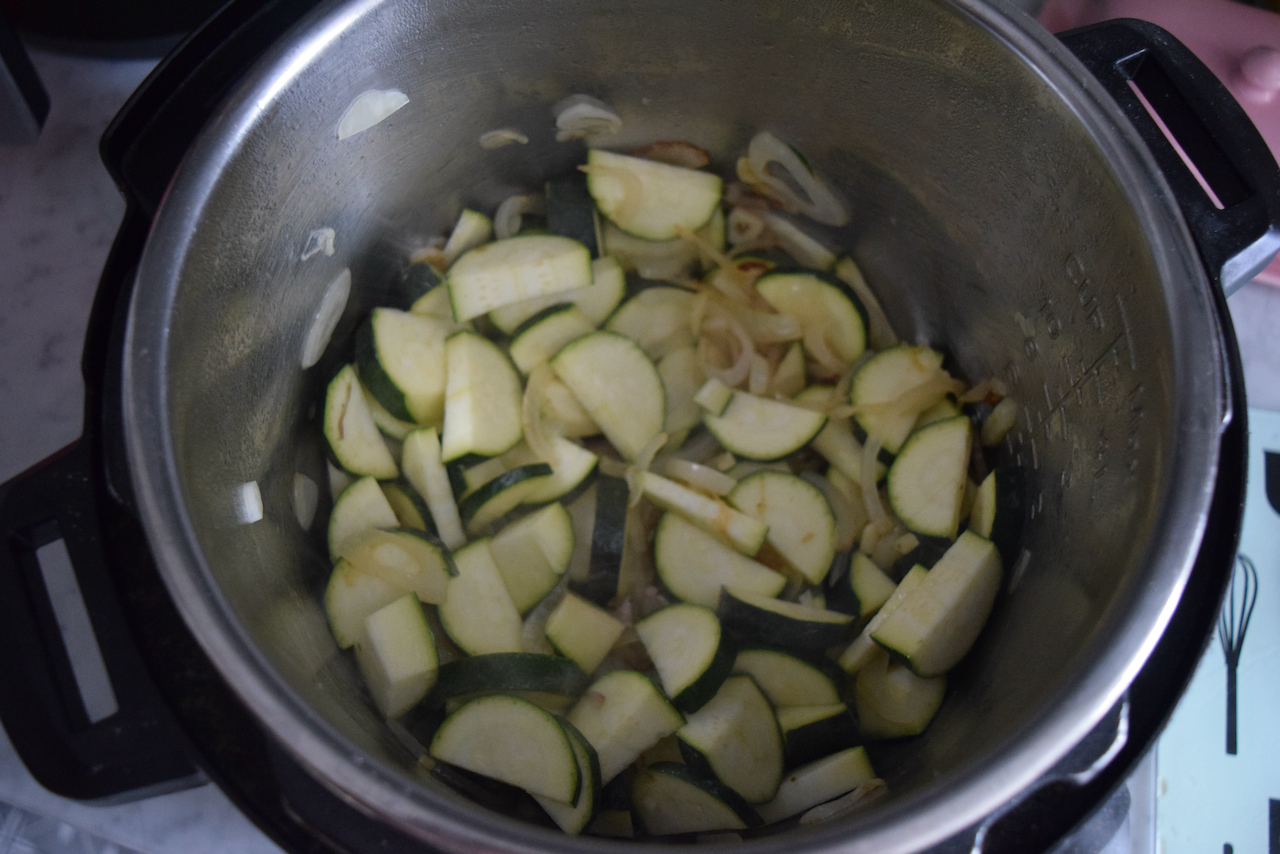 Cook for a minute before pouring in 125ml of white wine. May as well pour yourself a glass while you're at it. Cook for a couple of minutes to burn off the alcohol then tip in the chicken or vegetable stock *even if it's not showy offy homemade like mine*.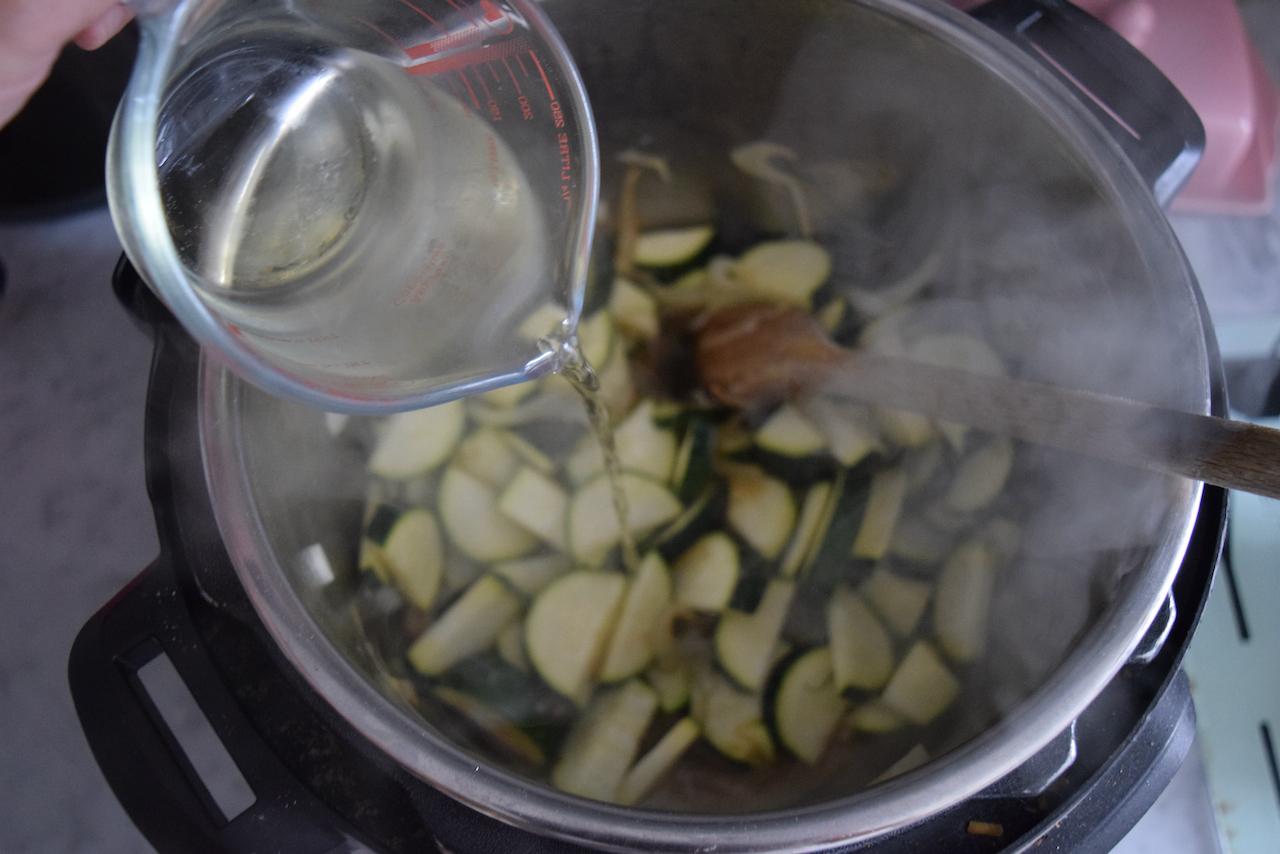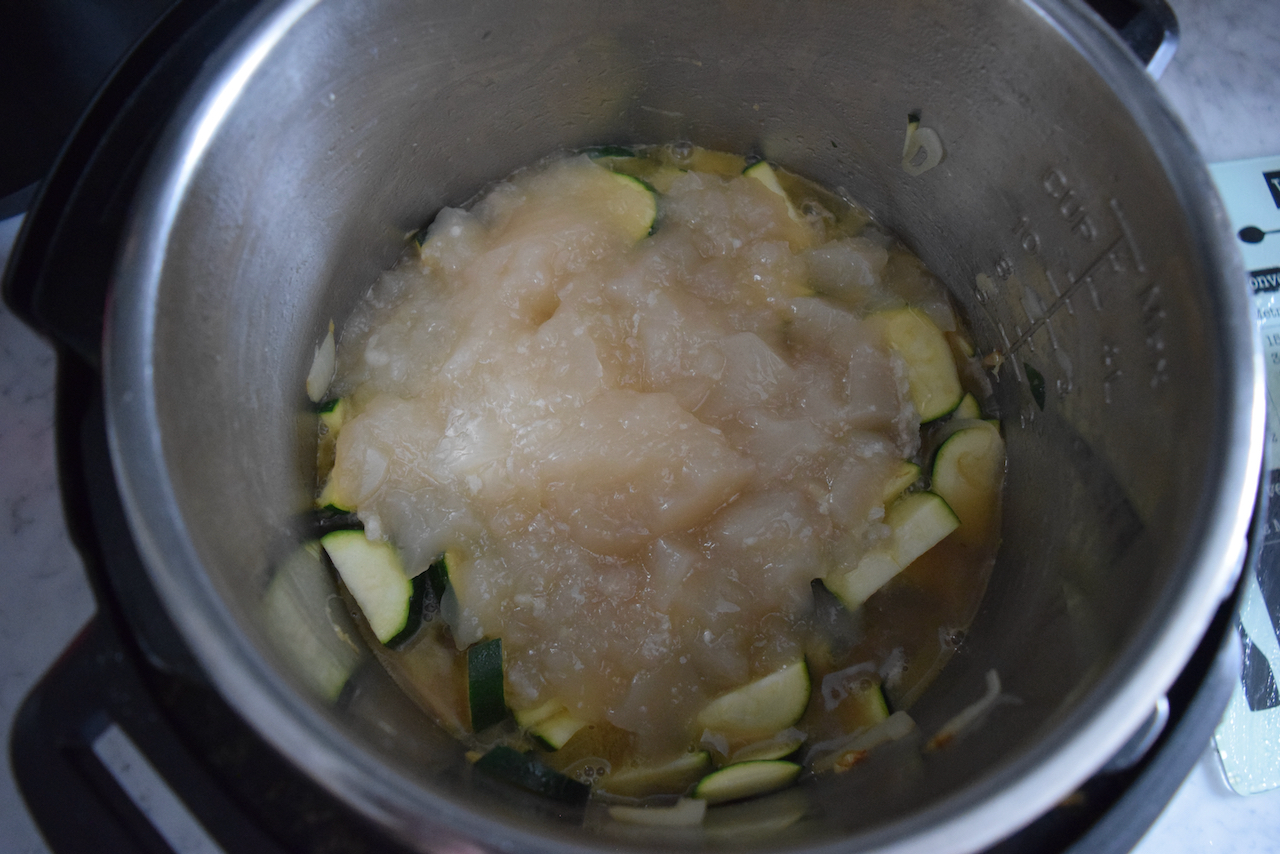 If you're using your IP then turn the sauté mode off at the point, if on the hob, just turn down to a simmer. Seal the lid of your Instant Pot or put a lid on your pan and programme the Soup setting for 20 minutes or simmer in your saucepan for 15 minutes.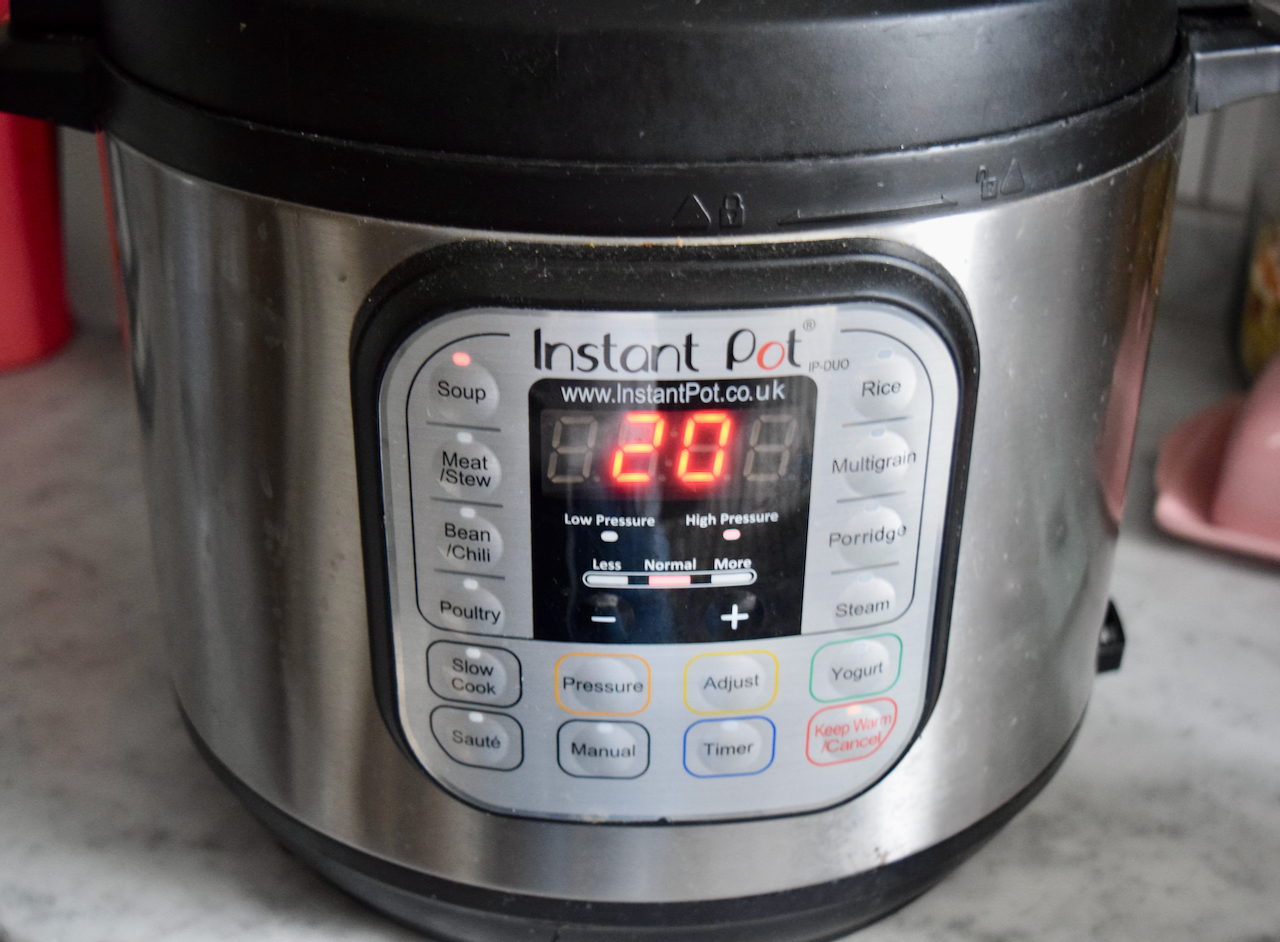 When the time's up, release the steam manually and take the lid off. Stir well then blend until smooth with a stick blender or process in batches in your blender.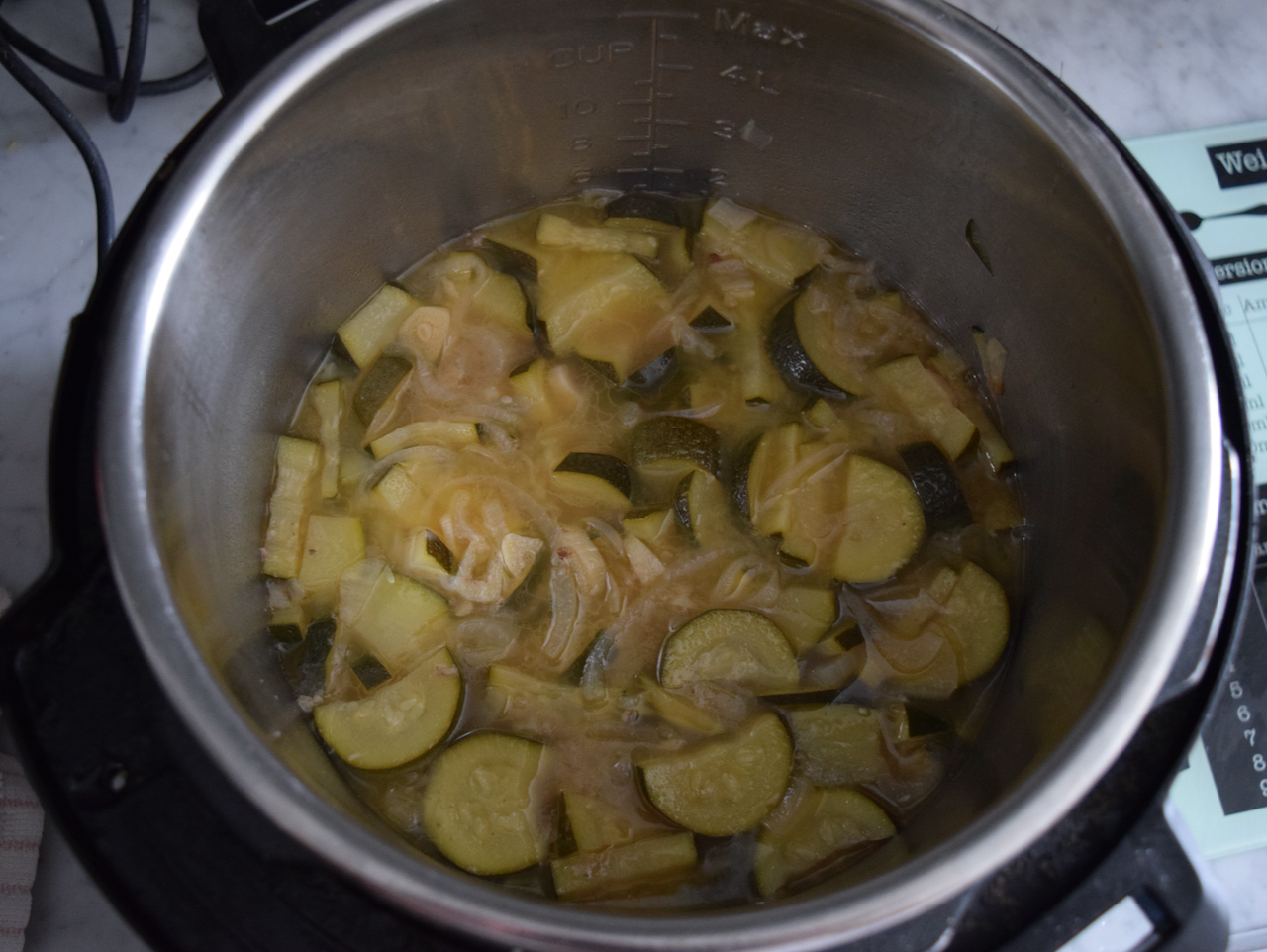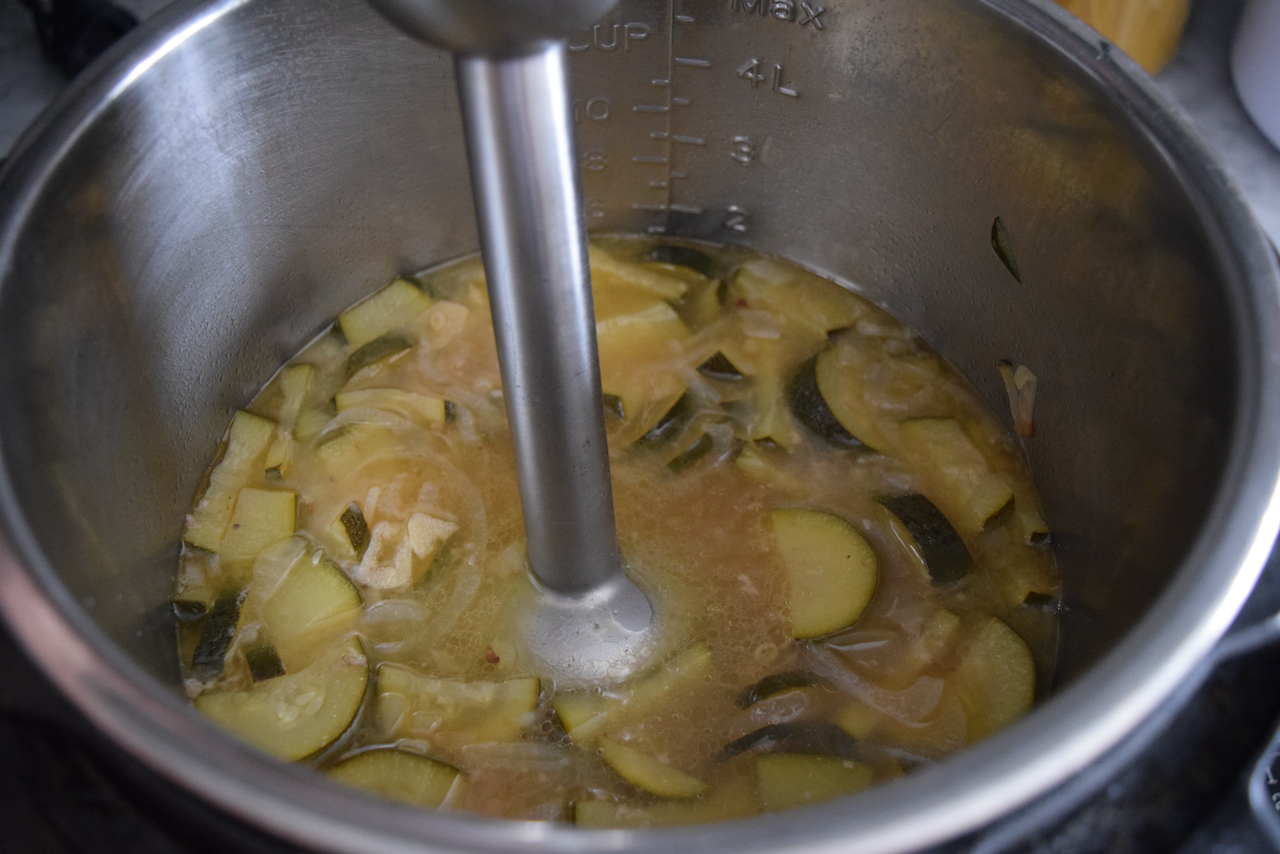 Pour in the cream and sprinkle on the parmesan and give the soup a good stir.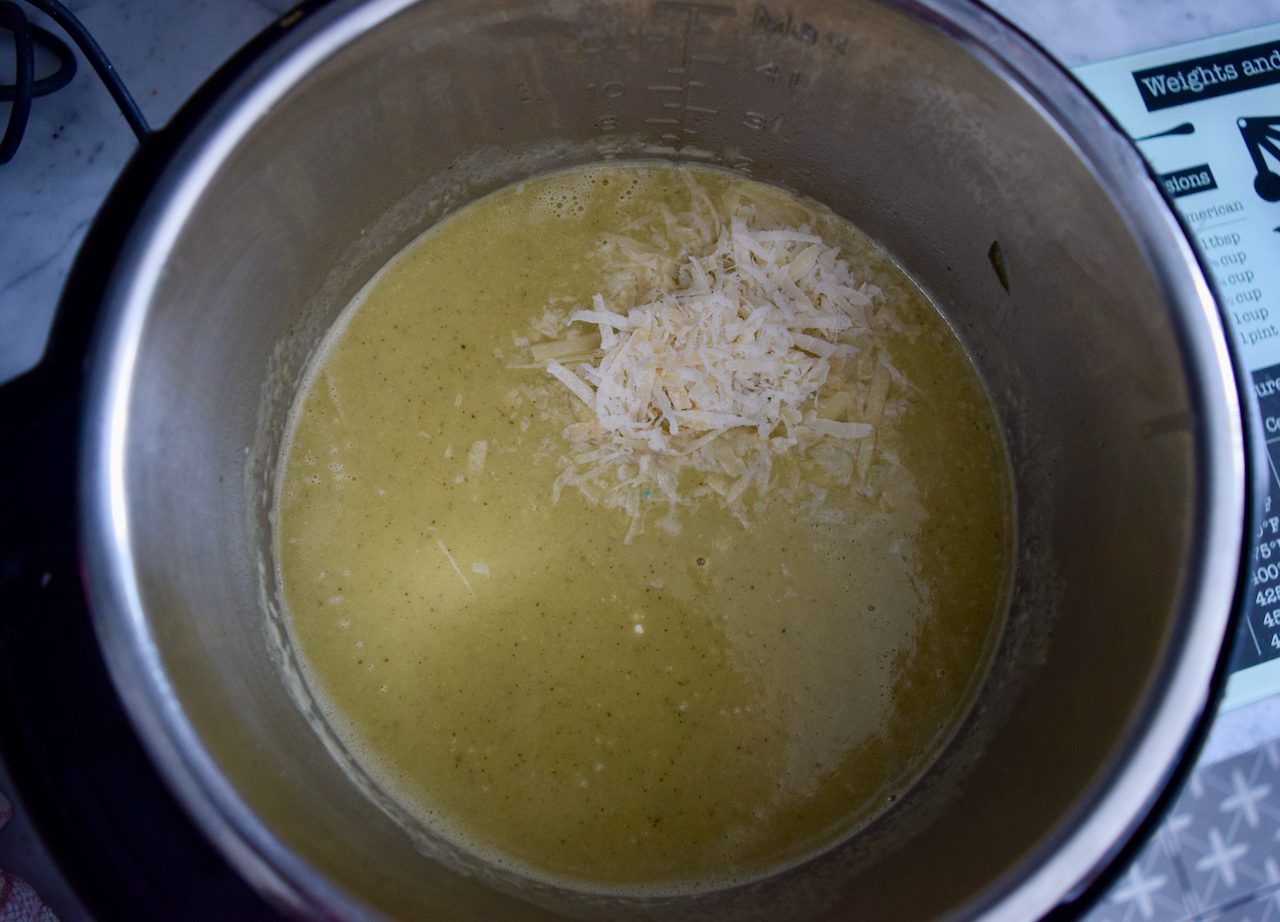 Have a lovely big mouthful to check for seasoning then serve in piping hot bowlfuls. Add some crusty bread and butter; I didn't have any so it was a pile of oatcakes for dipping.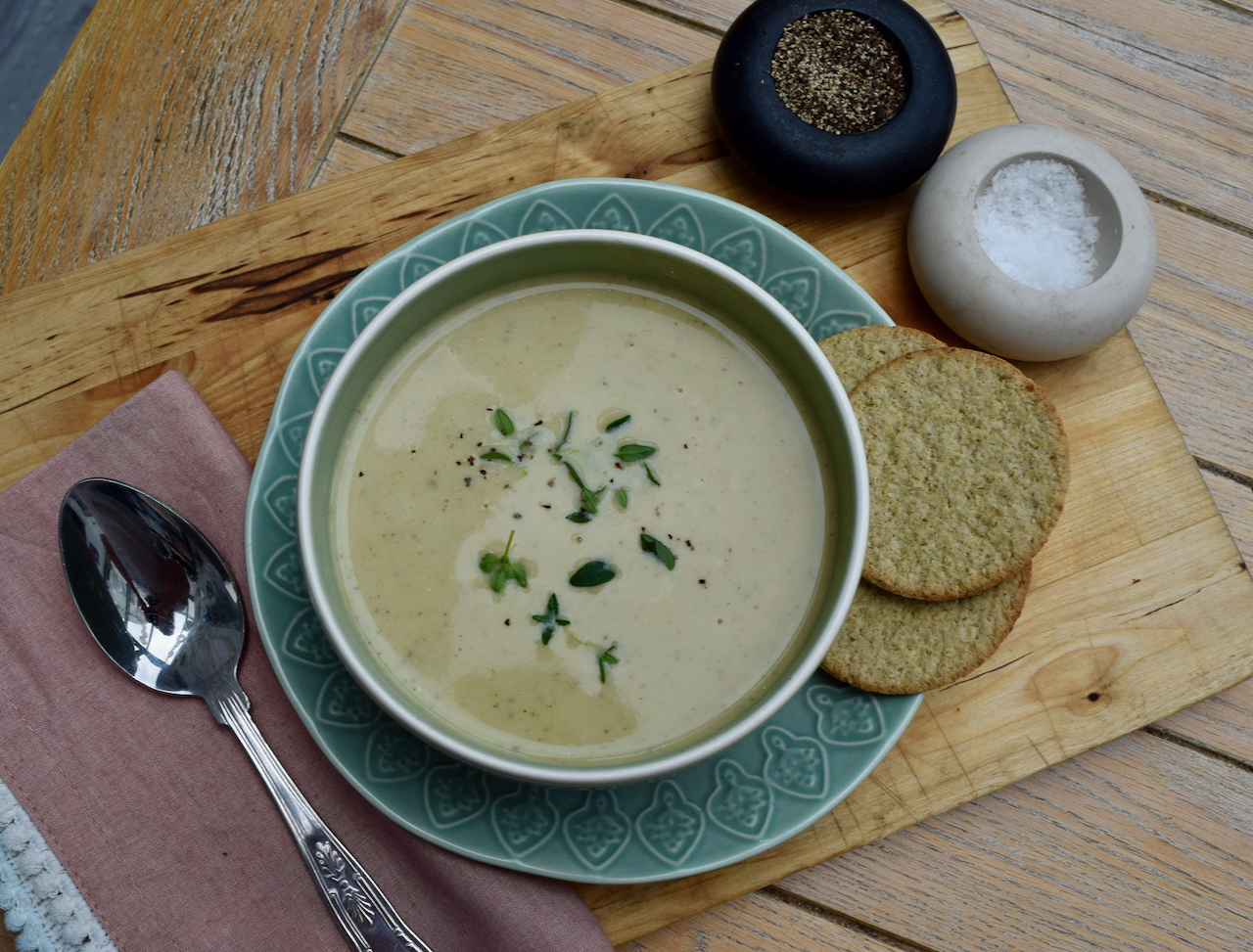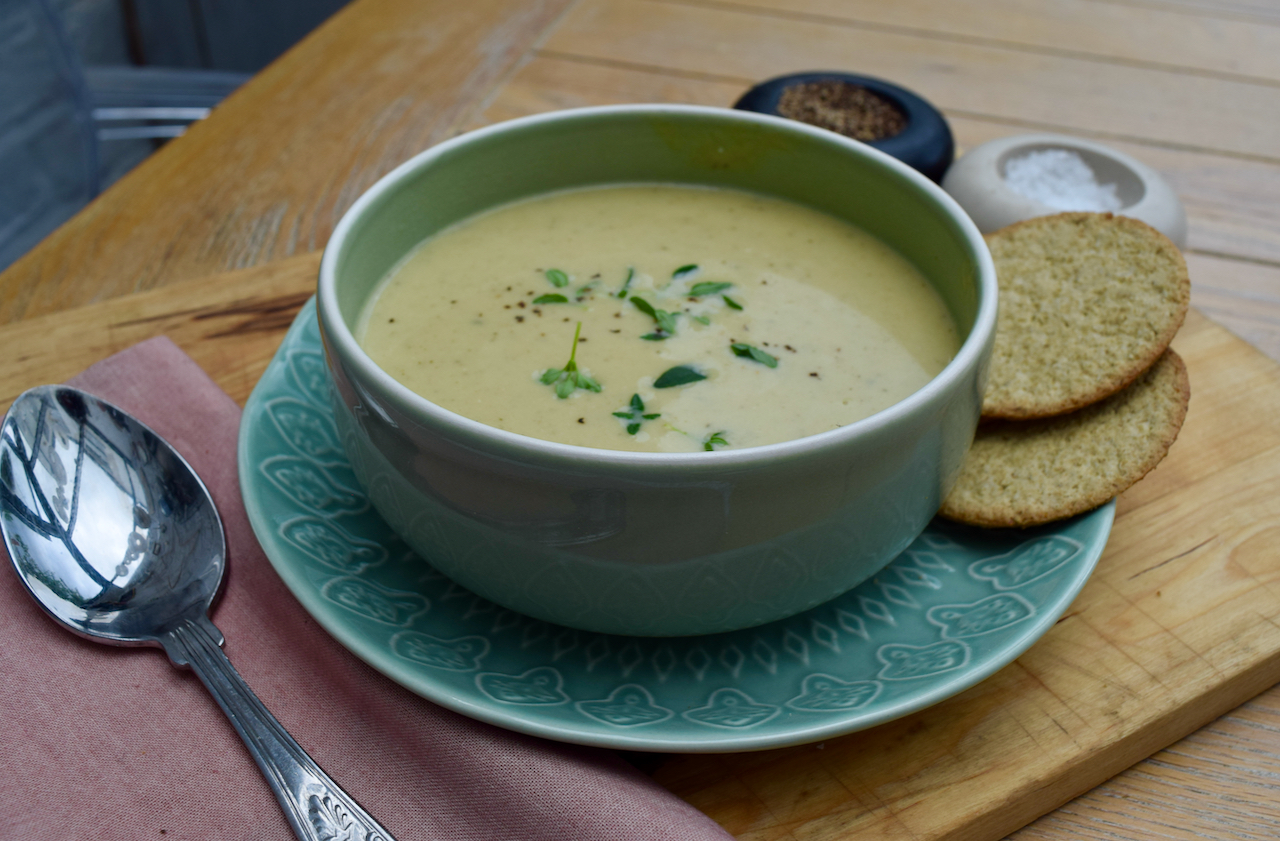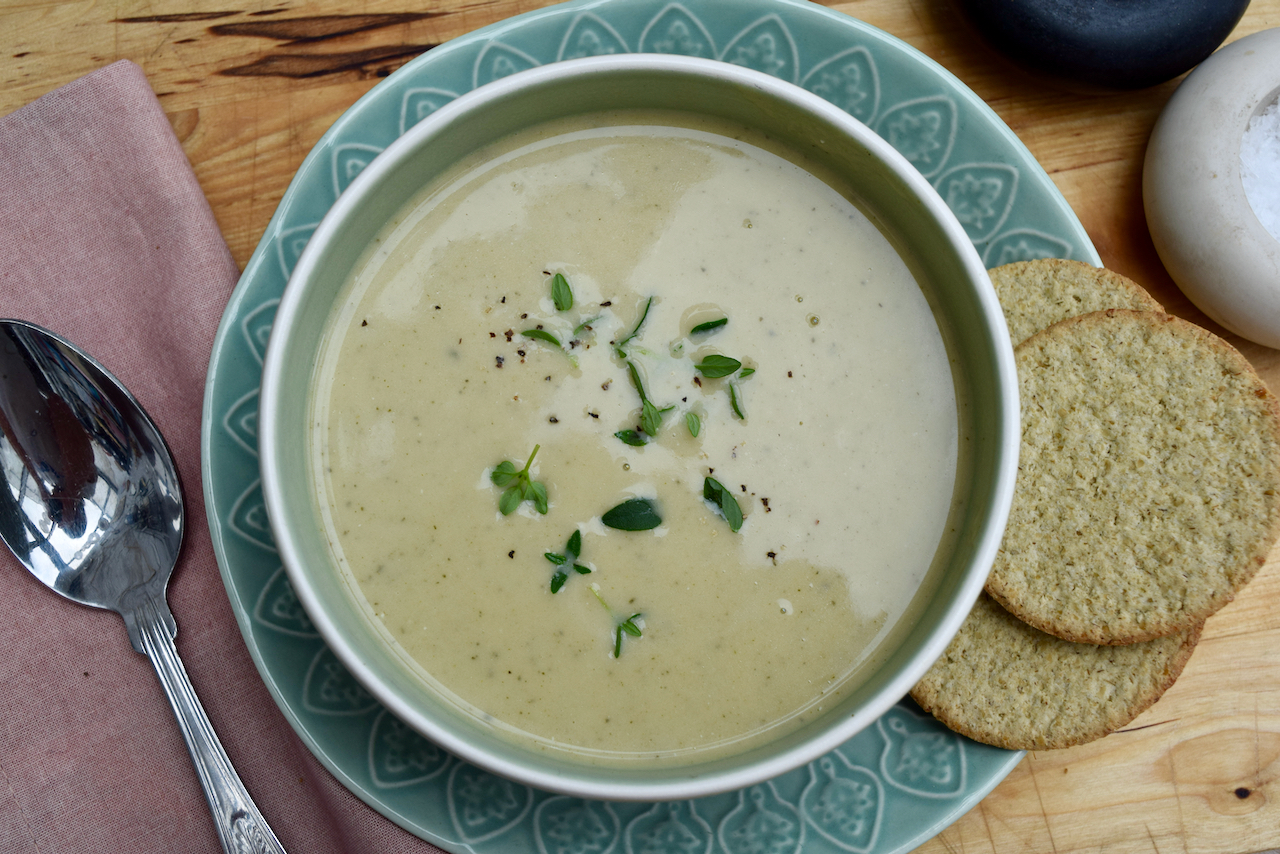 Who knew 3 humble courgettes could create such a tempting, comforting bowl of soup. I've made this recipe a lot over the last year and it's always made with love and a bloody great big slug of double cream.
Lucy x
Summer Courgette and Parmesan Soup recipe
Serves at least 4
You will need an Instant Pot or a large saucepan for this recipe
2 tablespoons olive or garlic infused oil
15g or a large slice butter
1 large or 2 smaller onions
2 good sized cloves garlic, finely chopped or crushed
3 large courgettes, sliced
125ml white wine, something you have open
750ml chicken or vegetable stock
60ml double cream
50g parmesan cheese, grated
Salt and pepper to taste
Fresh thyme, chives or parsley to garnish
Switch your Instant Pot onto sauté mode and add the olive oil and butter and heat until just sizzling. Add the sliced onions and cook for around 3 minutes until softened but not browned. Stir in the garlic and cook for a minute before adding the sliced courgettes and cooking for another minute. Pour on the white wine and let it bubble away to burn off the alcohol. Turn sauté mode off, pour on the stock, stir well then place the lid on and turn the valve to seal the pot.
Set the soup mode for 20 minutes and leave the Instant Pot to do it's thing.
When the time's up, release the steam, then remove the lid. Stir well then use a hand blender or normal blender and blend the soup until there are no lumps. Pour in the cream and the grated parmesan and allow it to melt and combine. Check for any additional seasoning requirements by eating a big mouthful.
Serve piping hot with some lovely bread and butter, crackers or oat cakes. Any leftovers can be carefully reheated another day or frozen and defrosted before heating.
To make this recipe on the hob, sauté as above but in a large saucepan, then pop a lid on and simmer for 15 minutes, before blitzing and stirring as in the Instant Pot instructions.