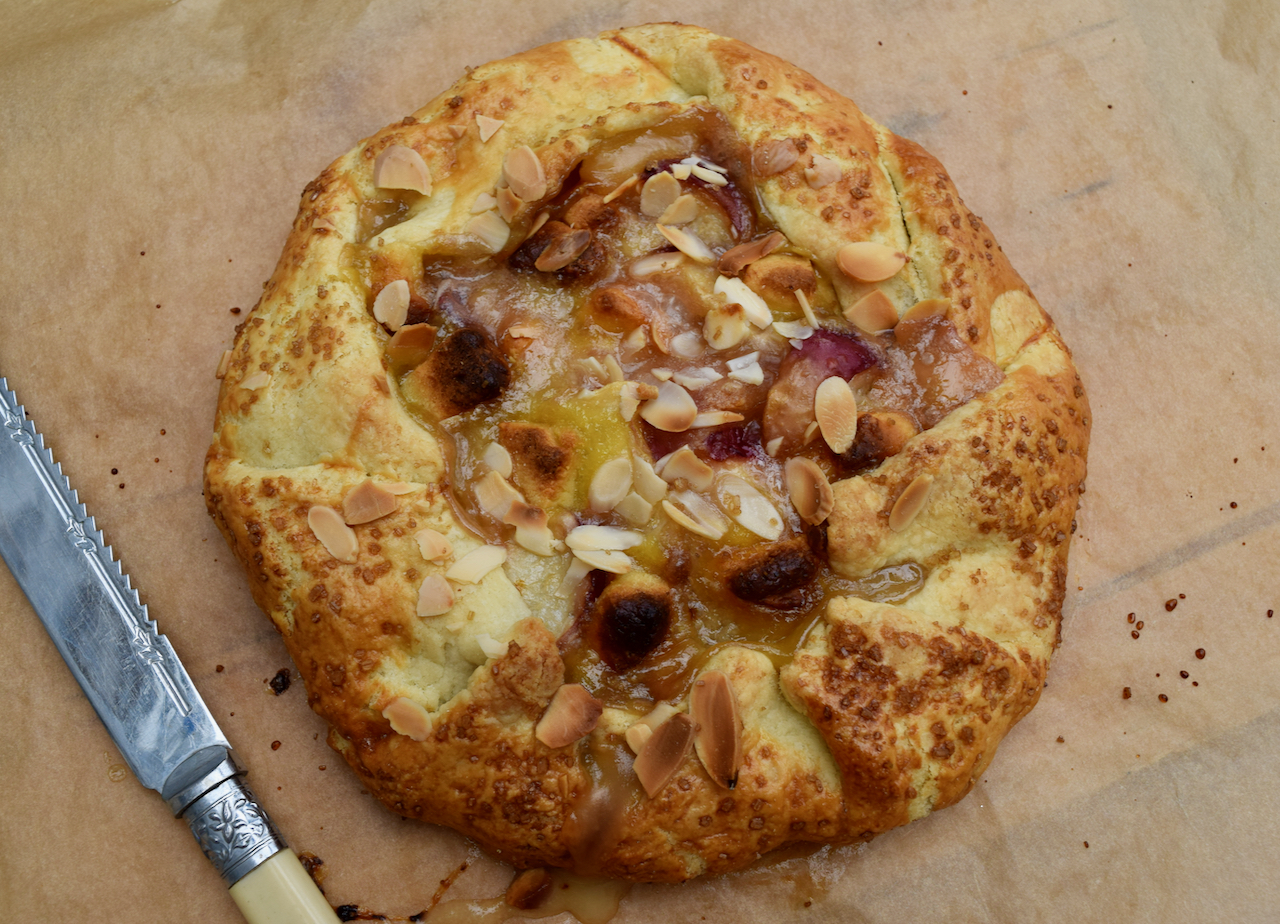 Peach and Almond Galette recipe
I'm not a natural peach fan, I'm more of a nectarine lover if you ever get asked which is my favourite in a quiz. The furry skin of a peach can often be upsetting, but not when they're cooked. And they couldn't be more delicious when baked in this Peach and Almond Galette which pairs them with just a touch of my beloved marzipan.
Peaches are super fragrant and great value at this time of the year. I got a huge punnet of flat peaches recently for £2.50 and managed to not gobble them all up before I decided to fashion this tart for you. They're sweet, juicy and make a wonderful filling for this easy tart. I adore marzipan, so felt, because I could, I'd add it to this recipe and I'm so glad I did. It sort of melts into the fruit adding nuttiness and sweetness and a general marzipanness to this simple dish. The pastry is a brilliant one, not difficult to make, but if you can't face it, go with a packet of all butter shortcrust or puff instead. Serve with the standard lake of double cream or custard or ice cream, or, of course, you have the option of having all three.
Serve this Peach and Almond Galette for pudding, take it on a picnic or hide it from your family and eat a slice everyday when no one's lookings *or is that just me?*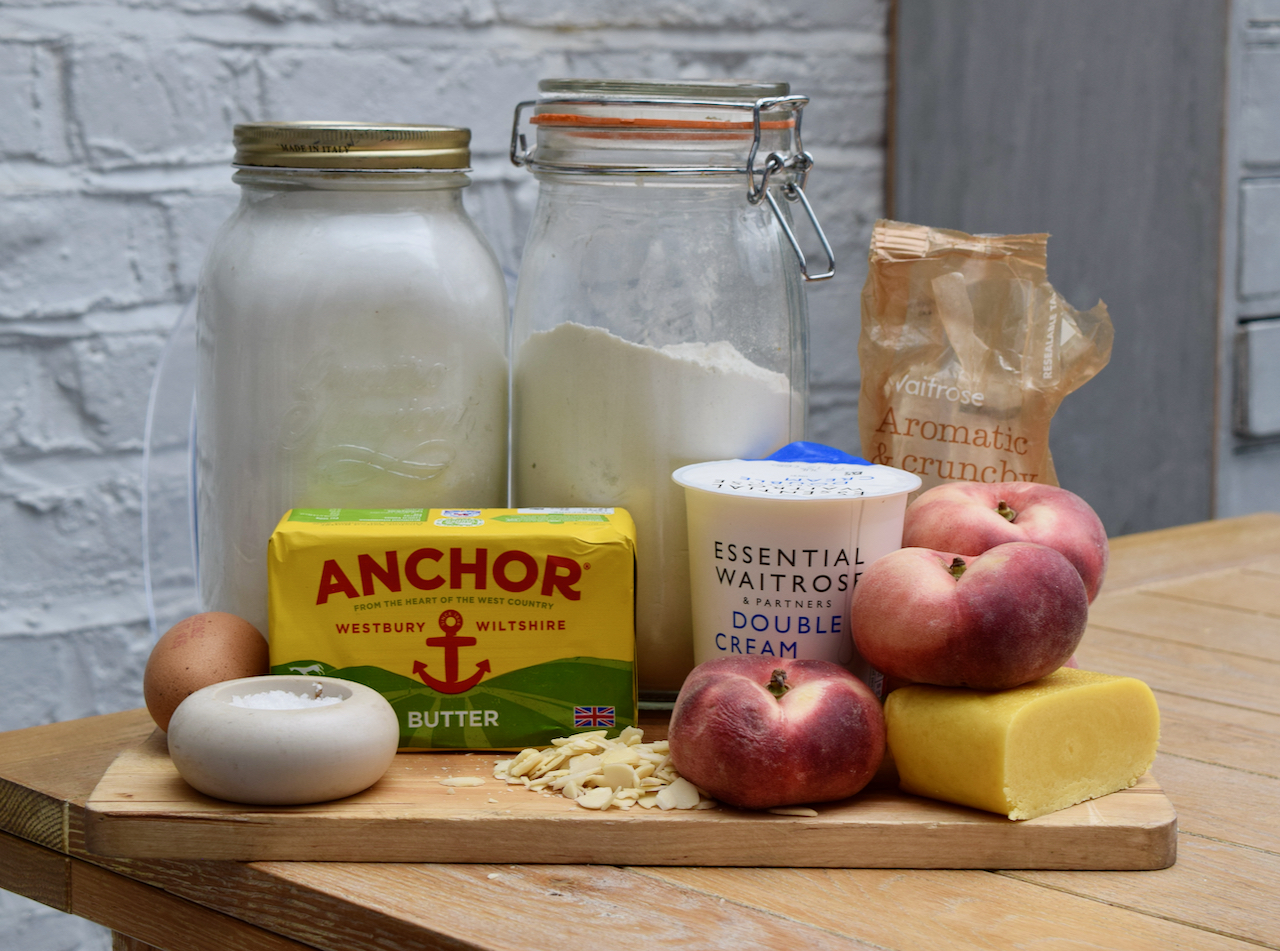 What a lovely summer line up for this rustic galette. Don't panic about the pastry making, it's a simple one you can make by hand, using my new favourite toy – my pastry cutter – or in the food processor. The peaches speak for themselves, juicy and ripe.
Start with the simple pastry. Measure the flour, sugar, salt and butter into a large bowl or your food processor. Rub, or process, the butter into the flour mixture until it resembles chunky breadcrumbs.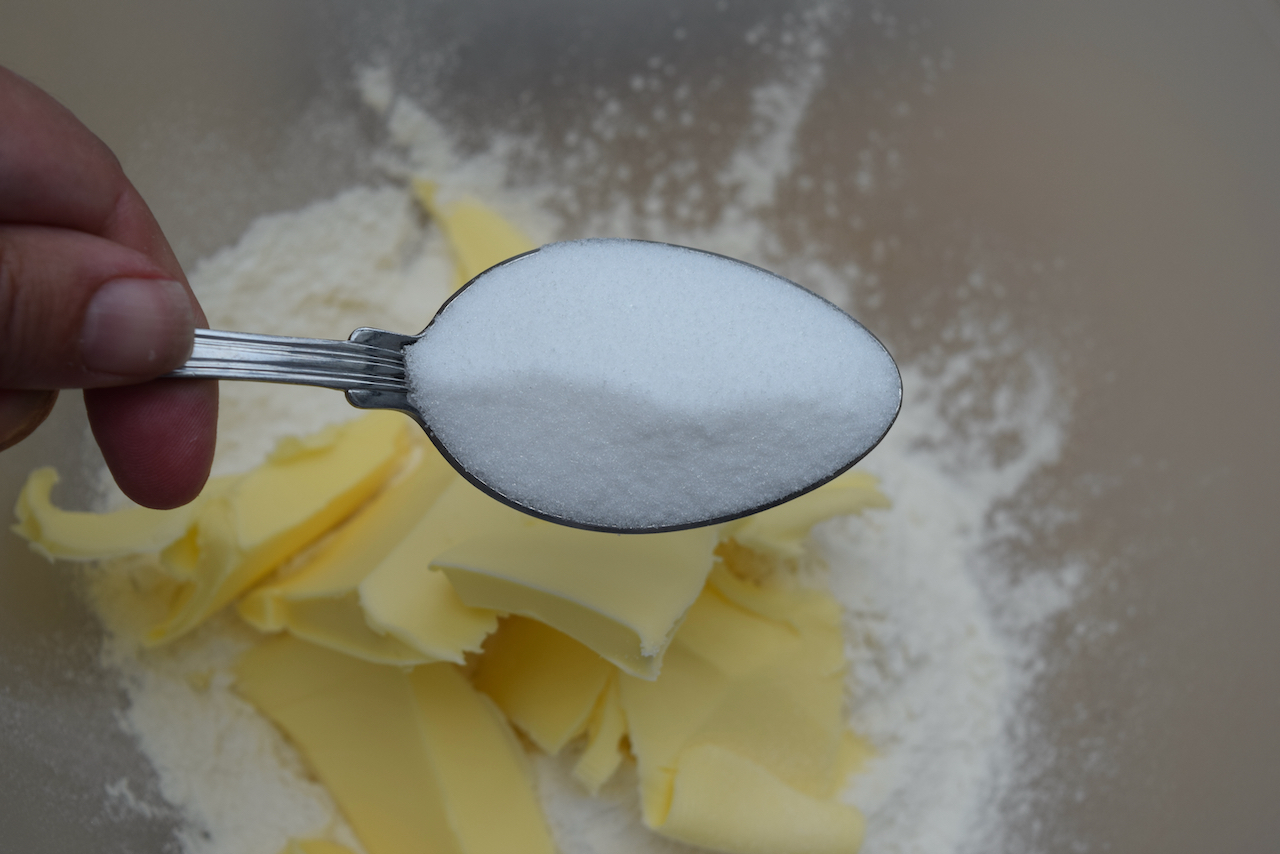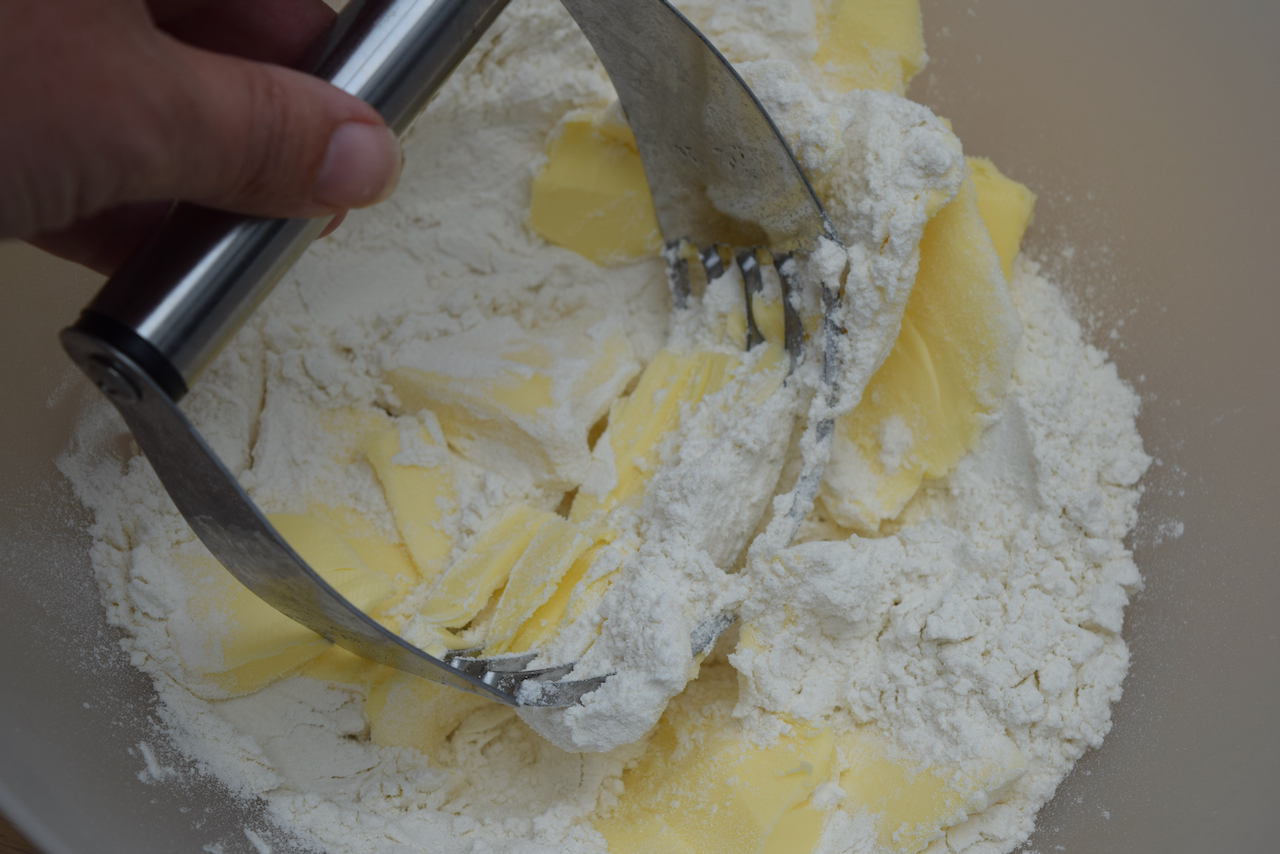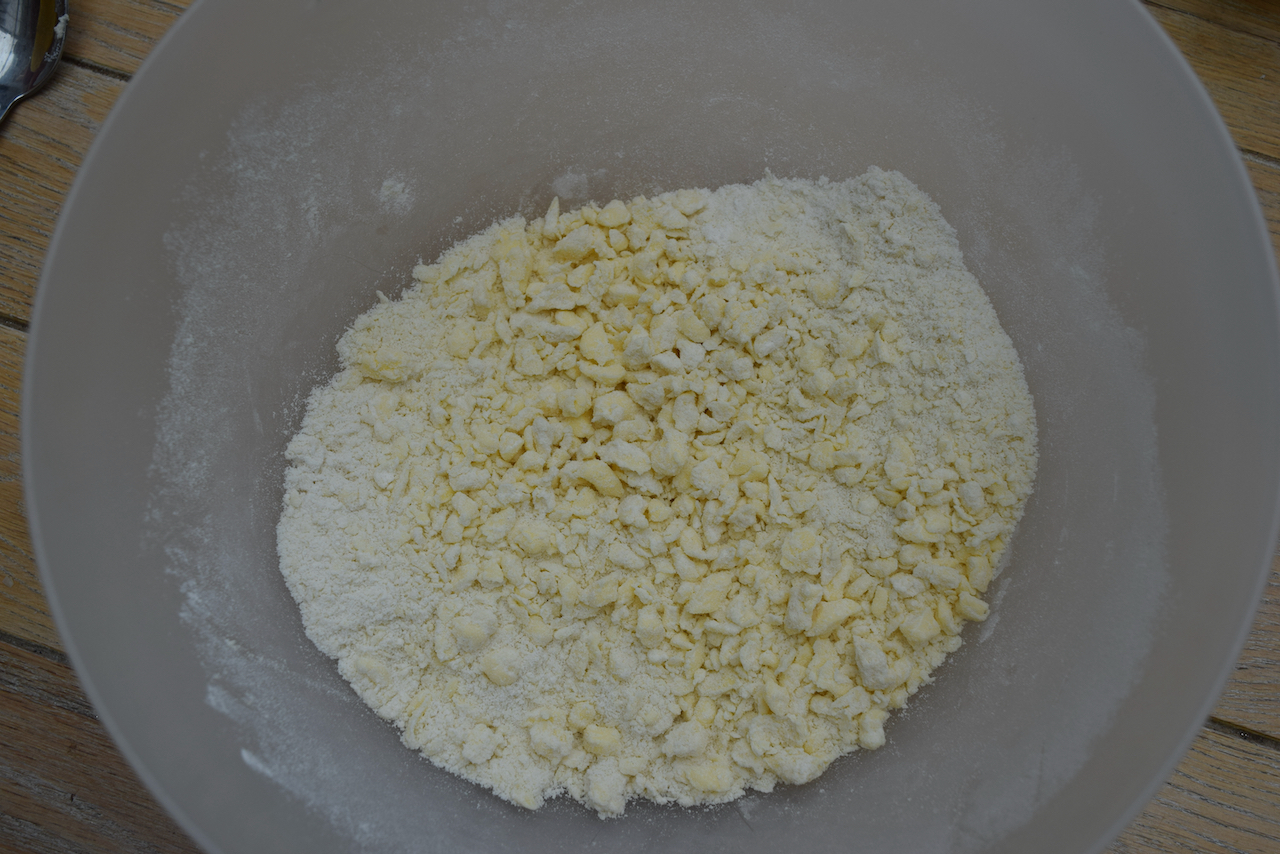 Add the double or sour cream, a tablespoon at a time, until your pastry comes together in a ball. Knead briefly to bring together. Then wrap in cling and pop in the fridge for an hour to chill.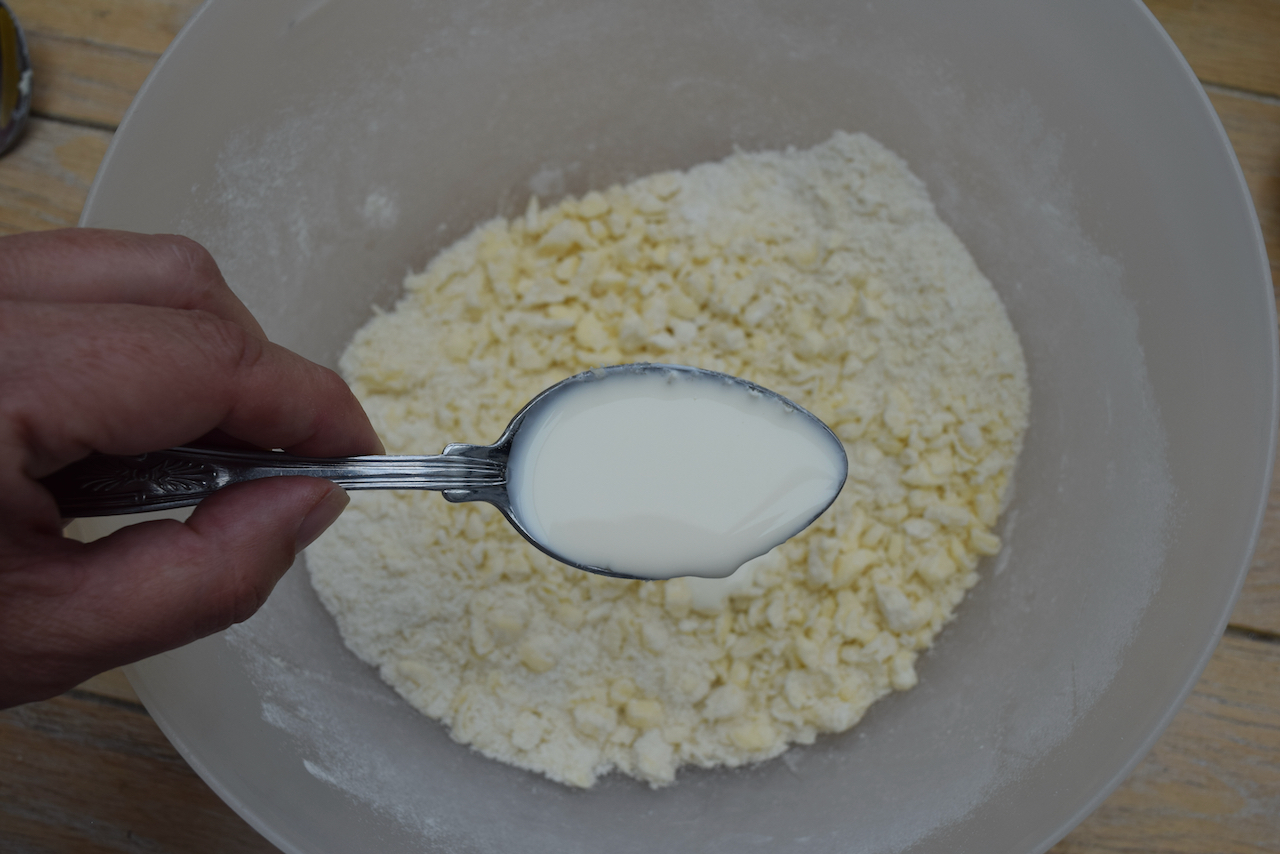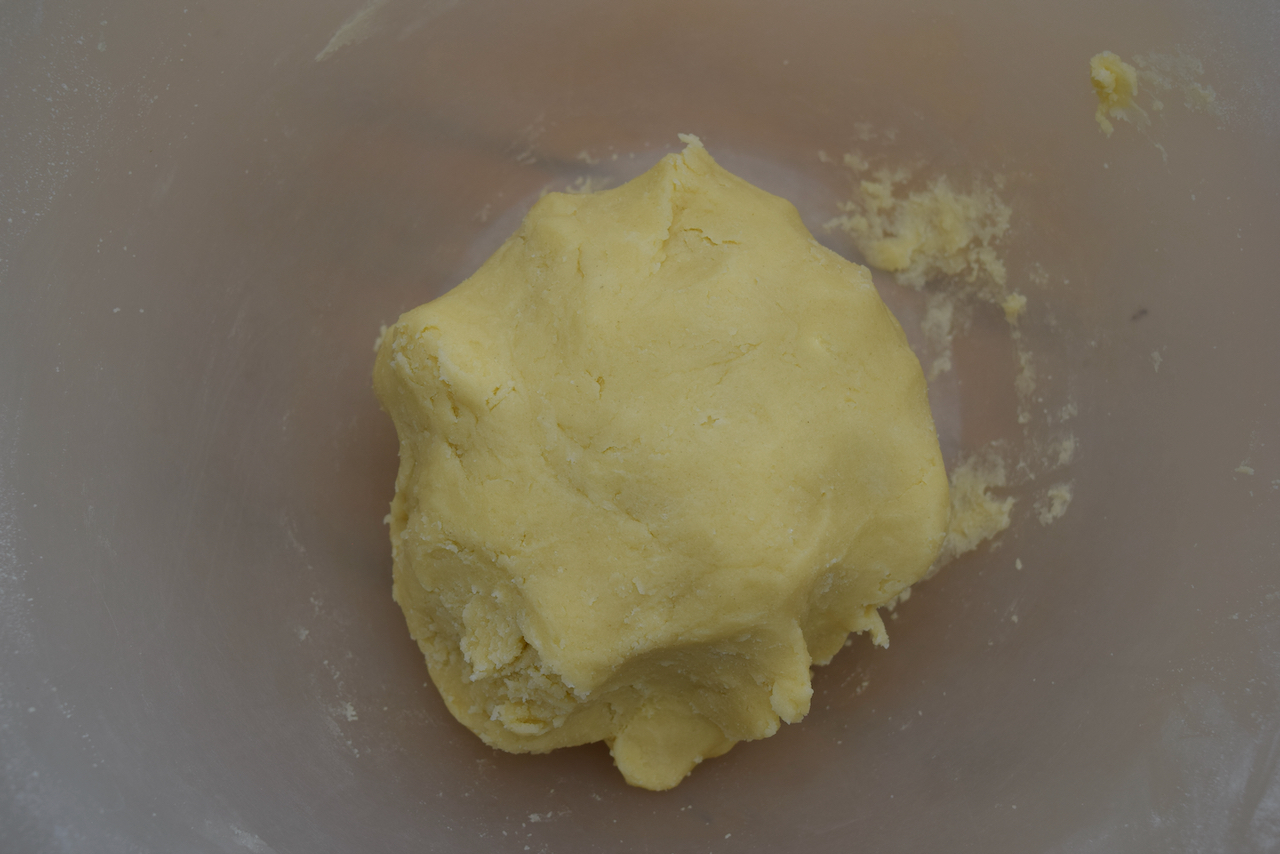 While it's resting, stone and slice your peaches and add to a bowl with a tablespoon of both caster sugar and flour. Stir and pop to one side. Chop your marzipan into cubes.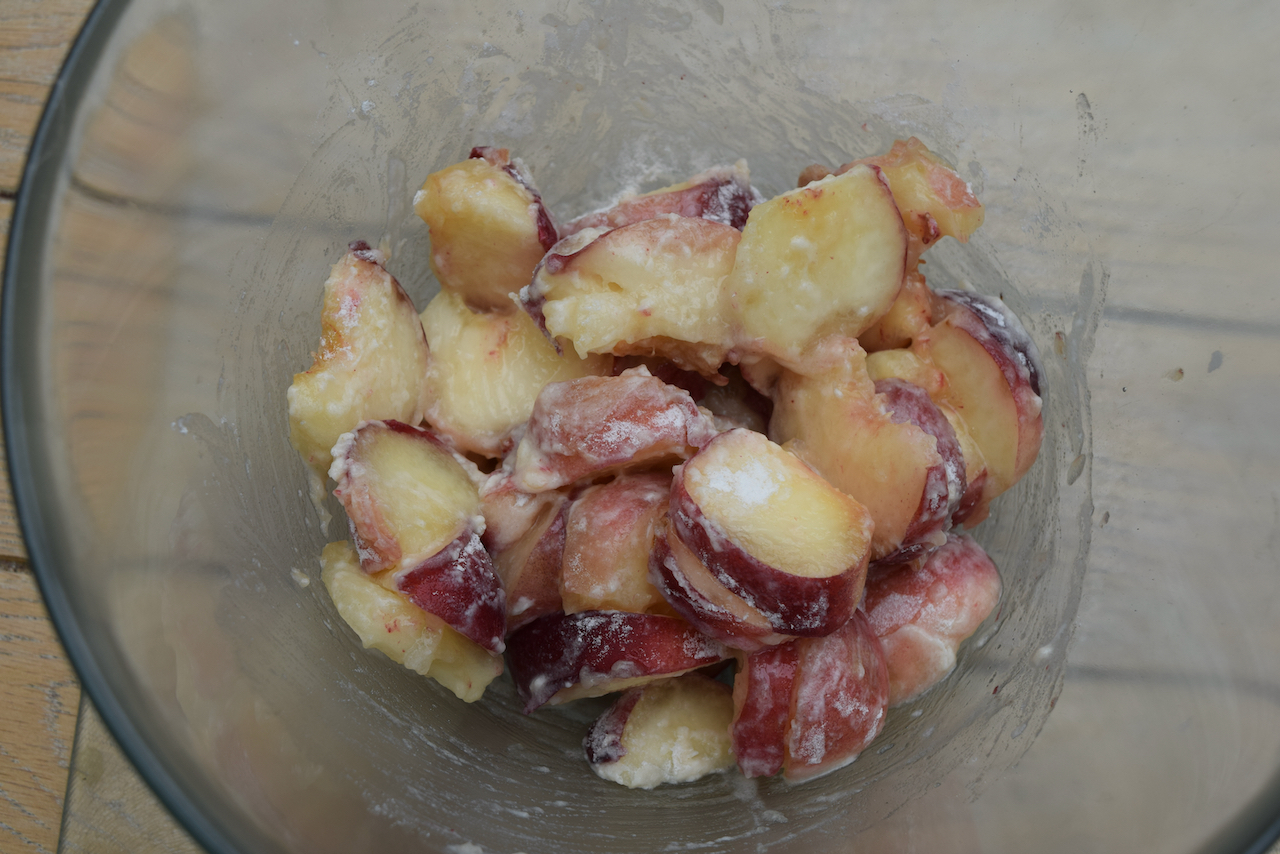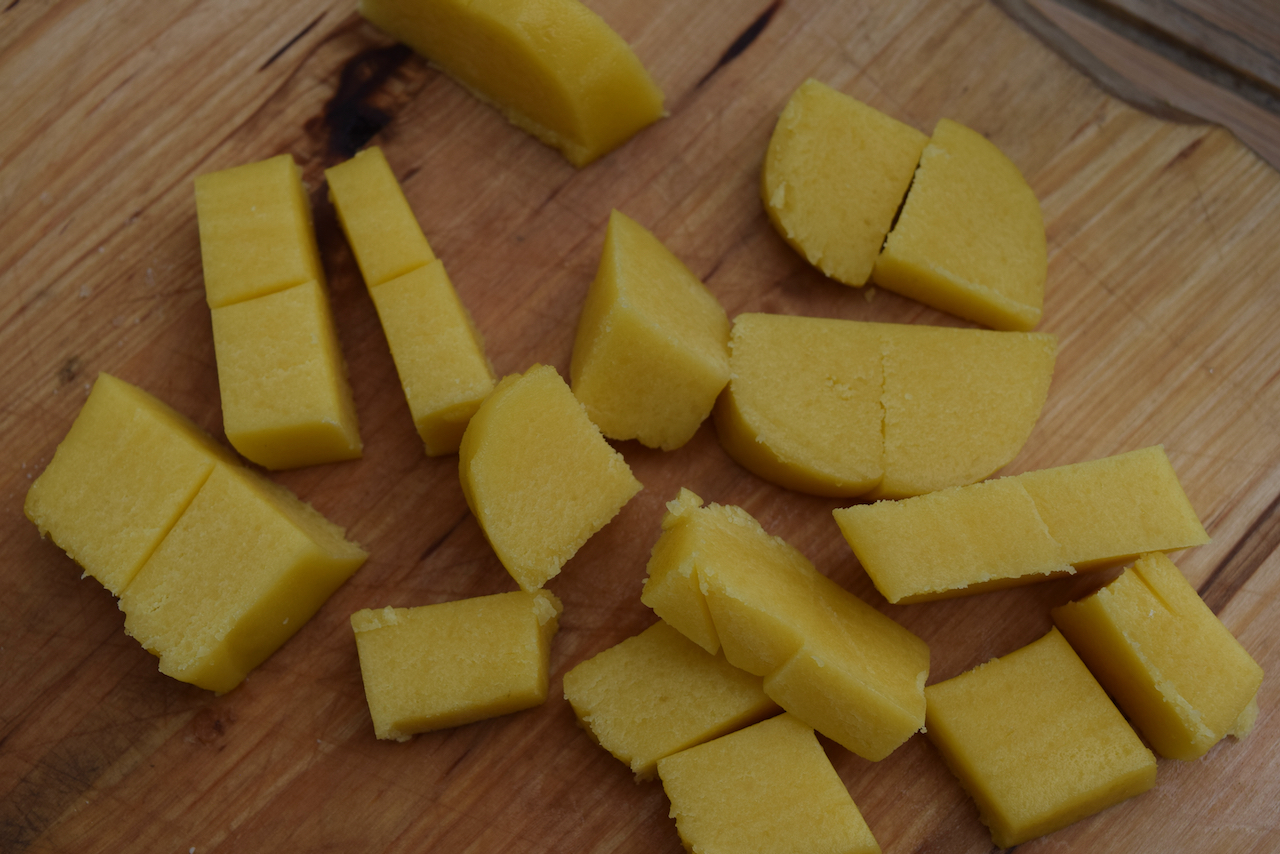 When your pastry's chilled, form it into a flat disc, then on a floured board, roll into a rough circle around 35cm in diameter. Don't be too precise, this is meant to look rustic. Lay the circle of pastry onto a large lined baking sheet. At this point, pre heat your oven to 160 degrees fan assisted.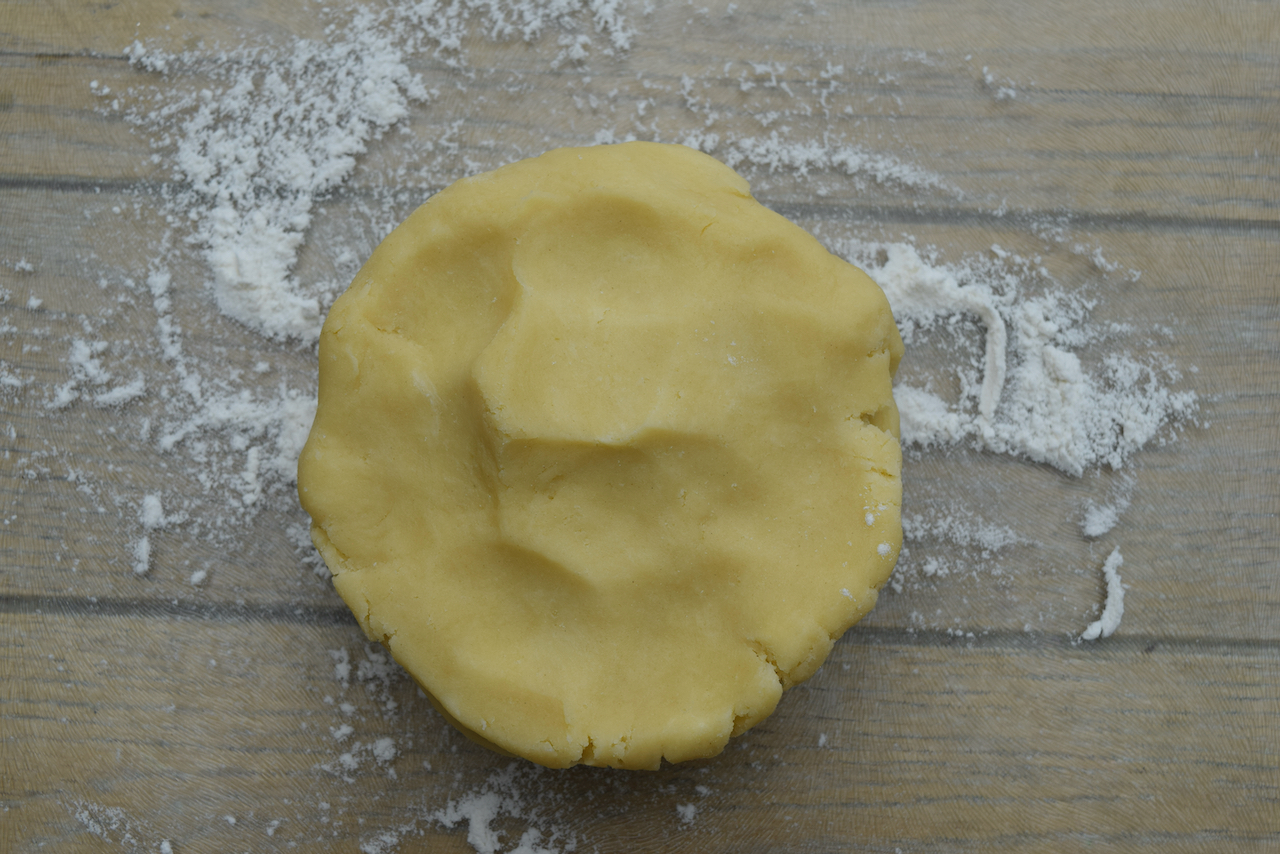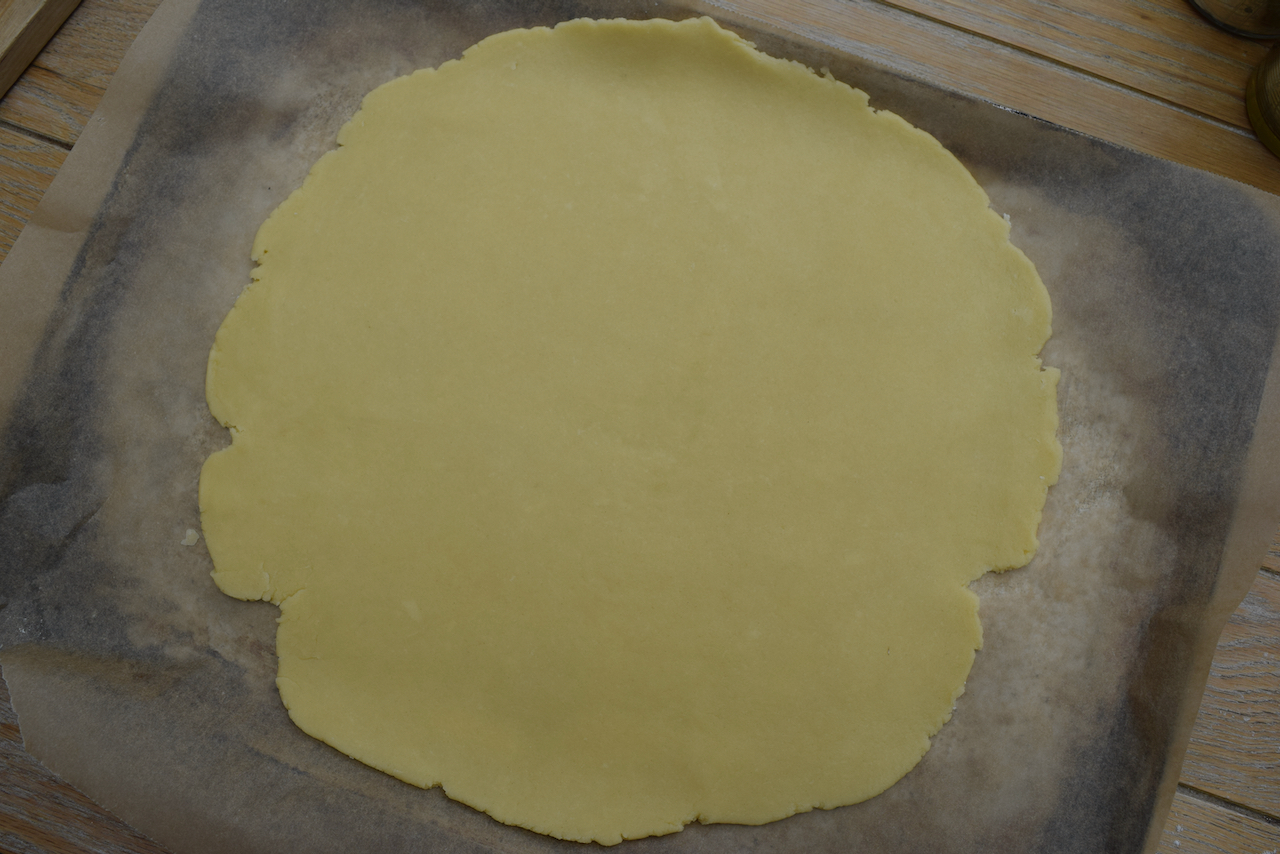 Pile the peach mixture into the middle of the pastry then dot on the cubes of marzipan.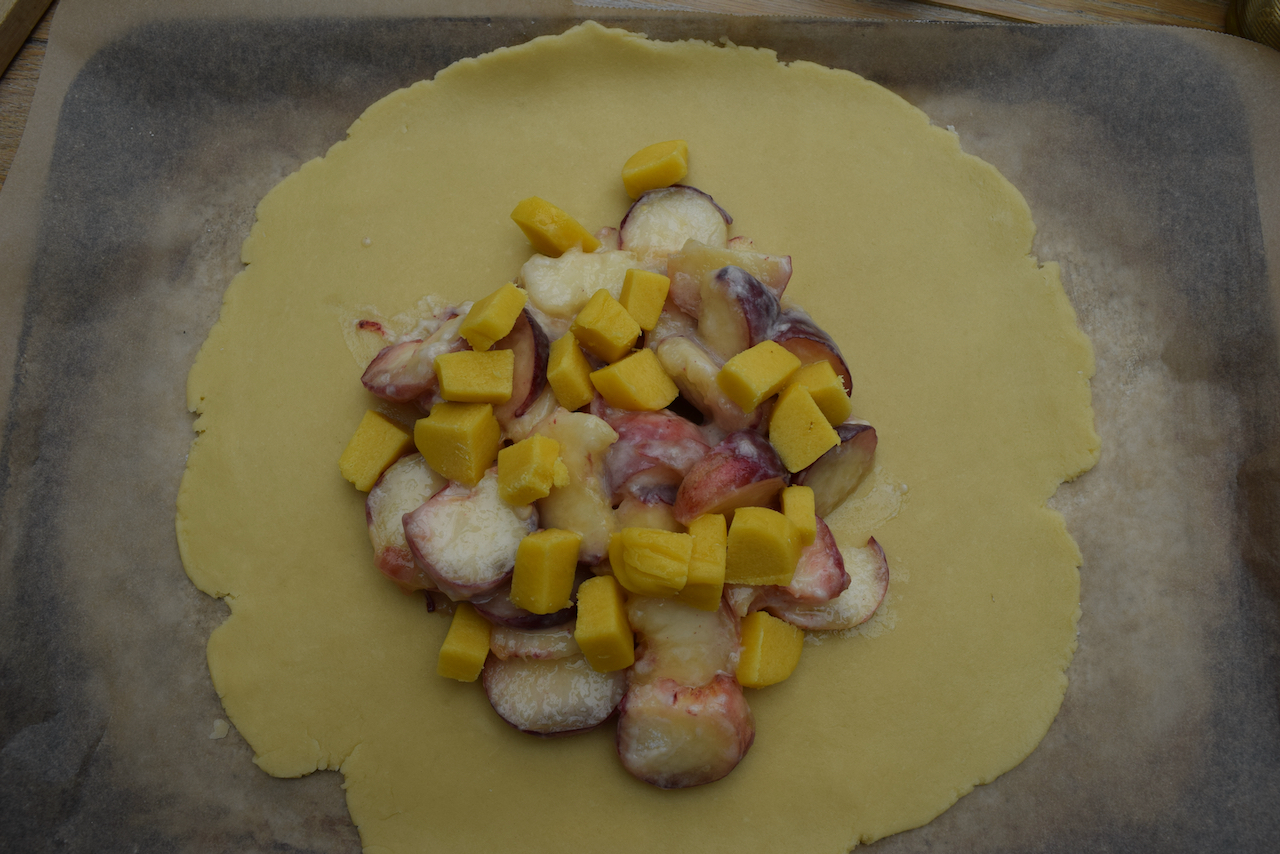 Roughly fold the pastry into the middle of the tart, leaving some of the peach mixture exposed.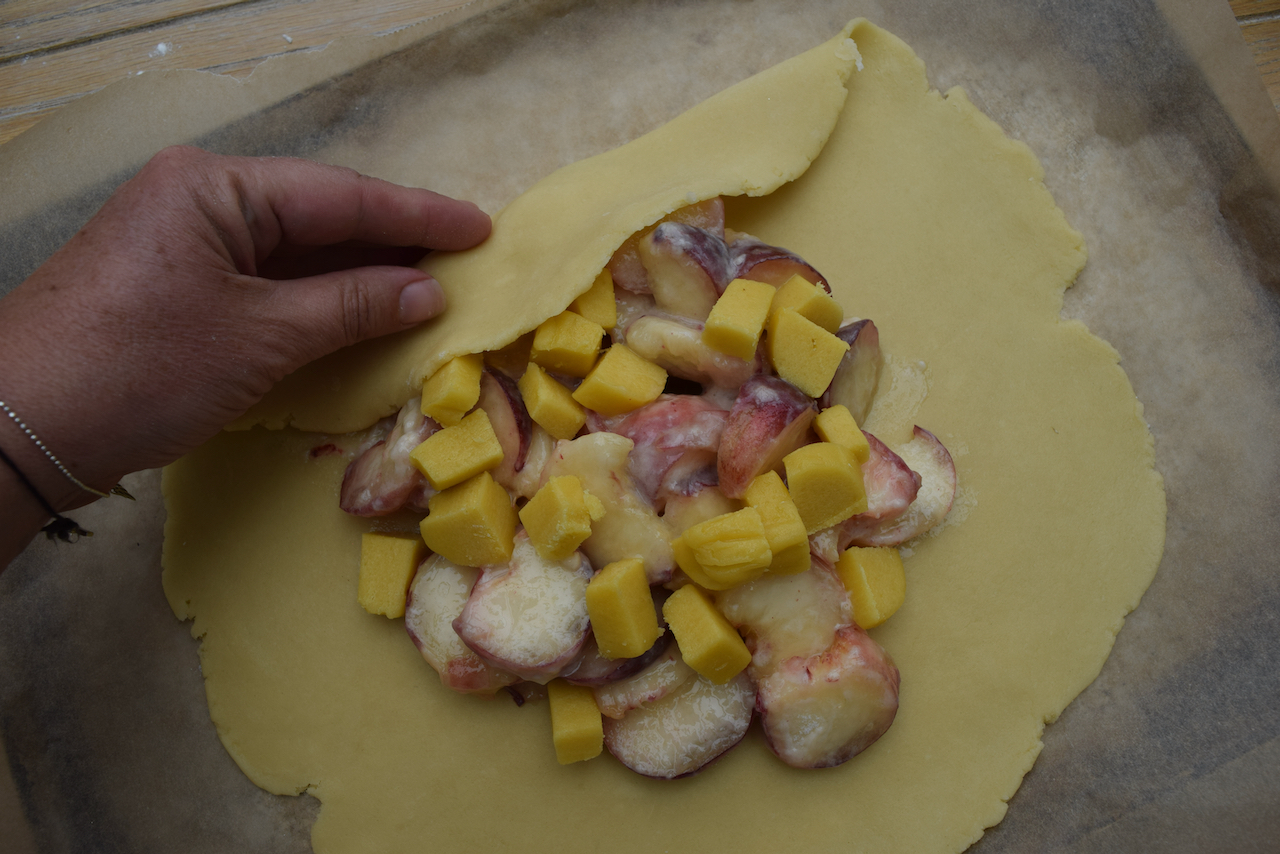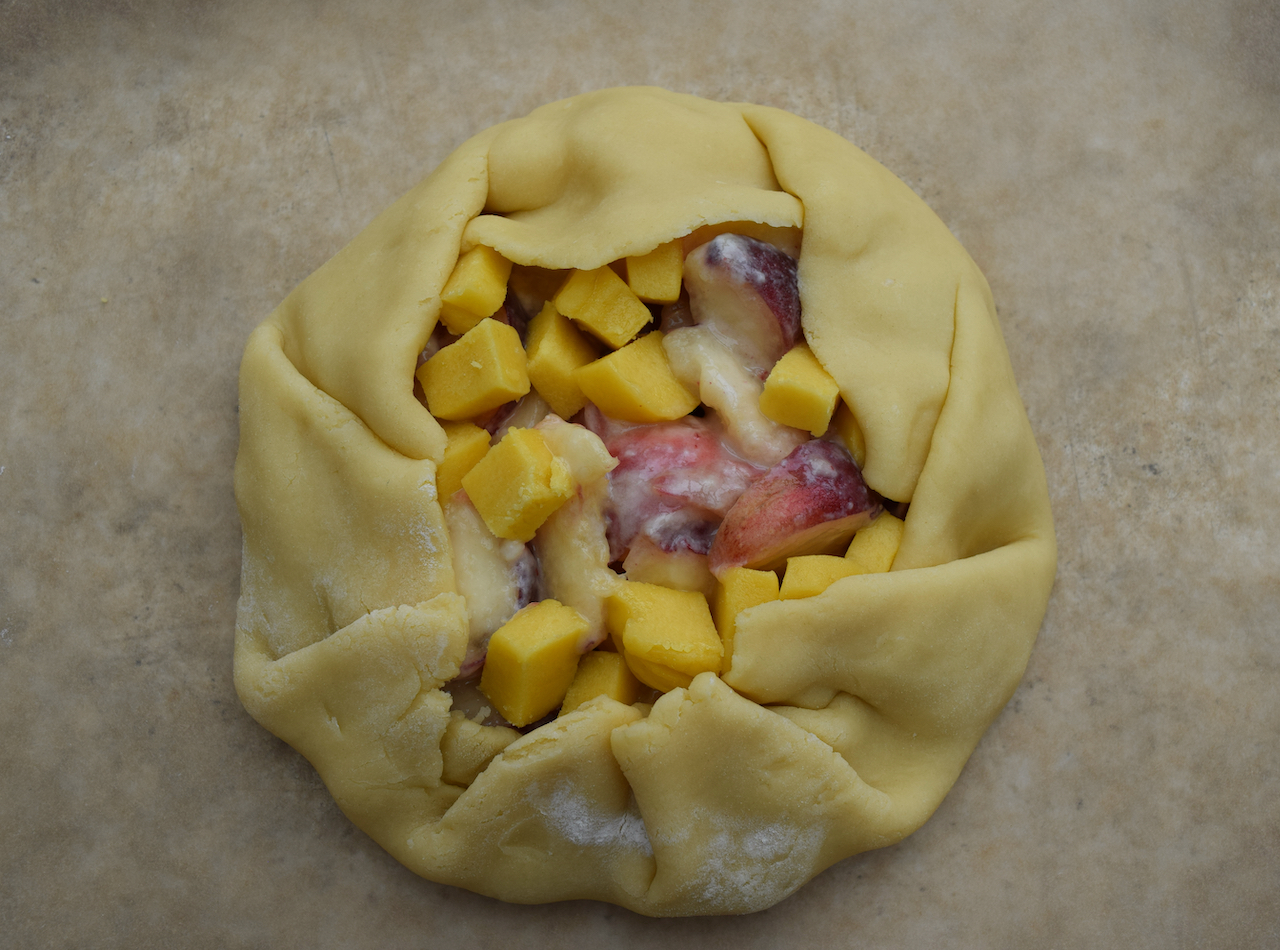 Brush the whole business with some beaten egg, sprinkle on some flaked almonds and finally, decorate with a scant teaspoon of demerara sugar.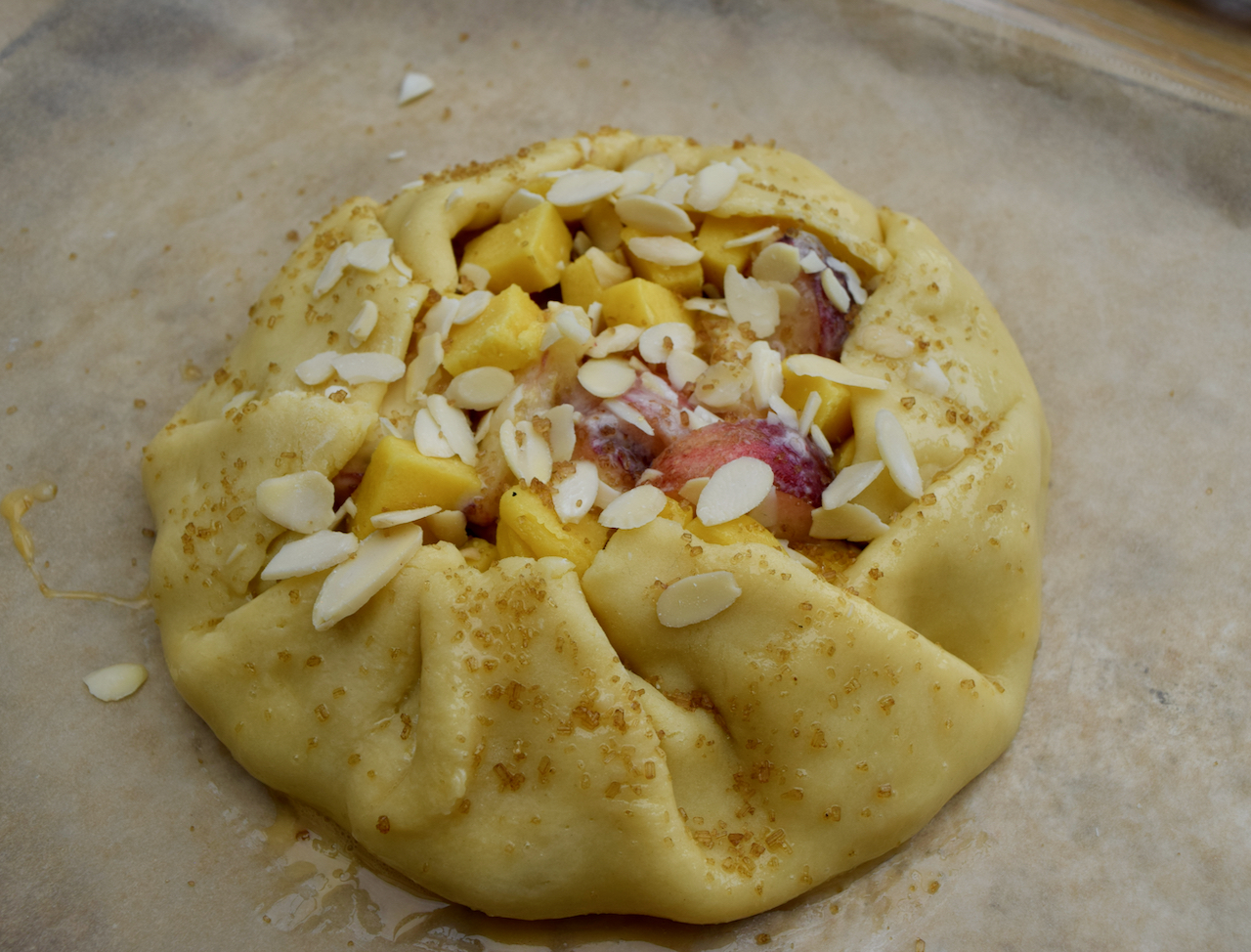 Bake this beautiful creation for 40 to 50 minutes or until your galette is golden, the pastry is crisp and the fruit is oozing. Should your pie be getting too brown mid way through, cover the top with foil.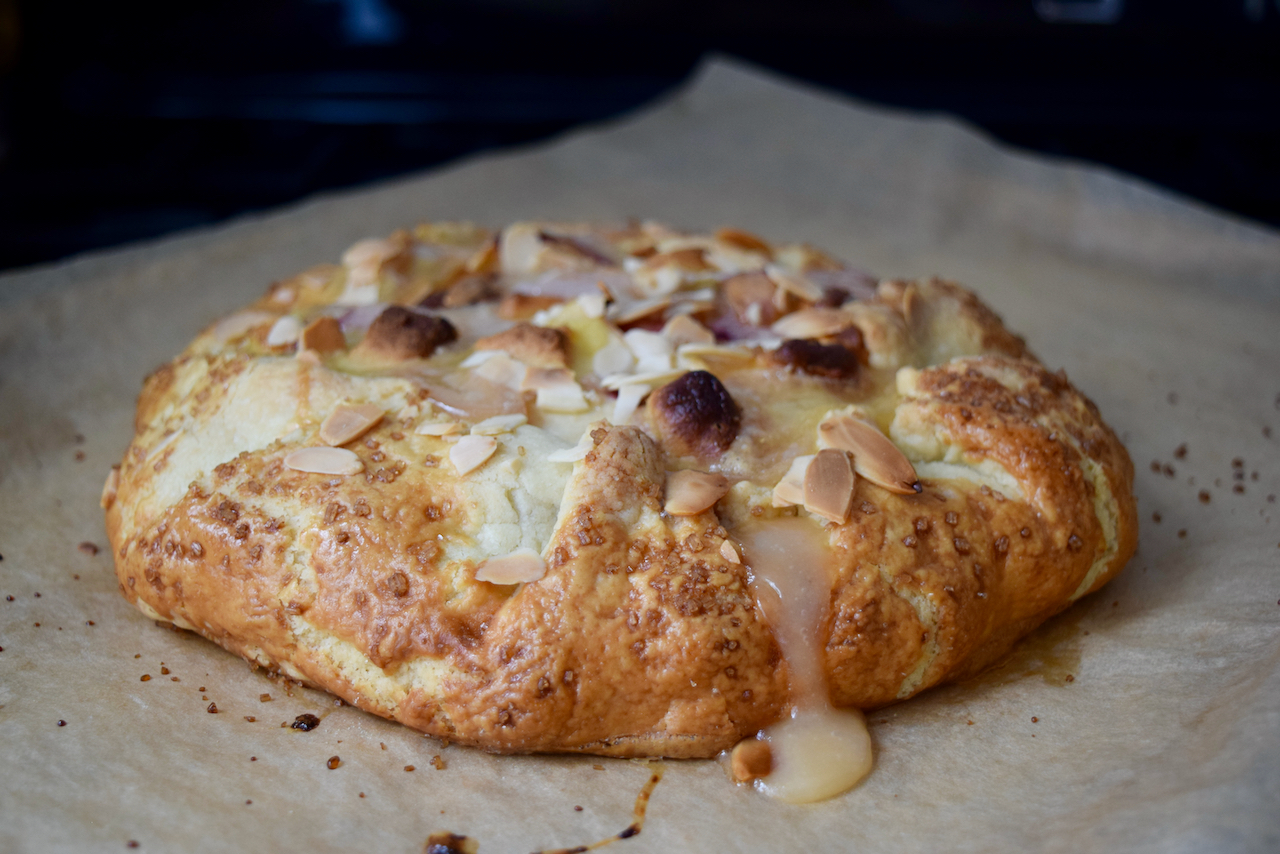 Leave your creation to sit for an agonising 10 minutes, before serving with the creamy accompaniment of your choice. This is also perfectly delicious at room temperature or cold.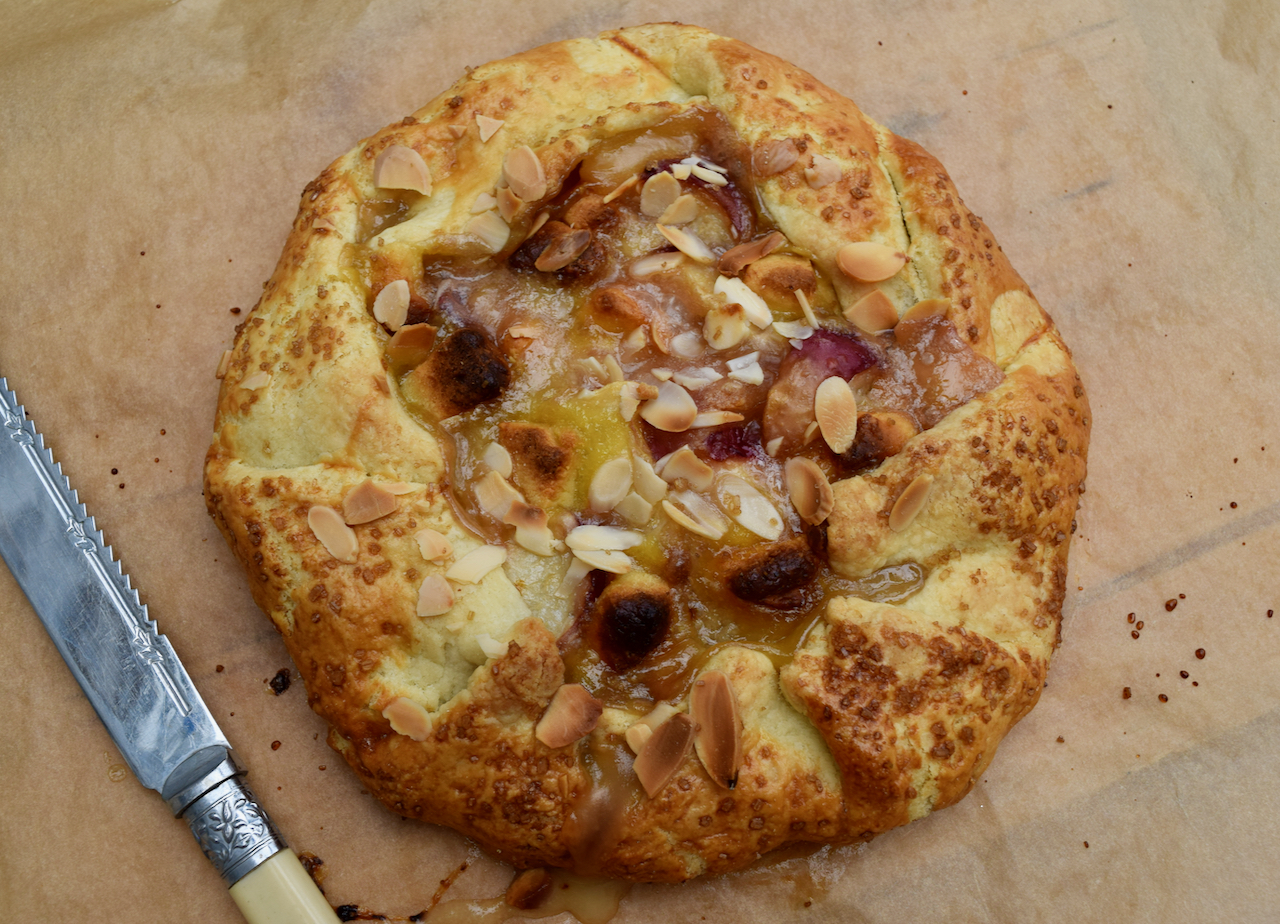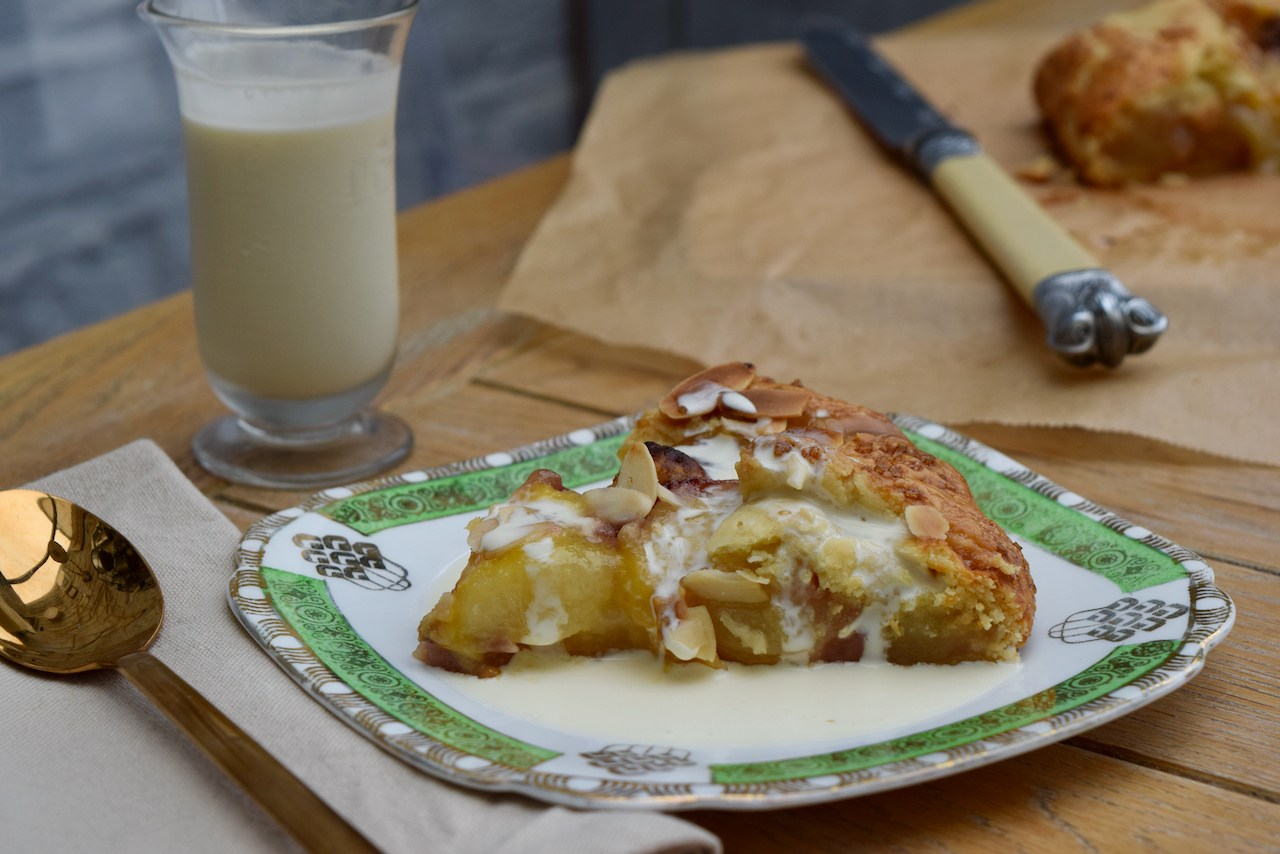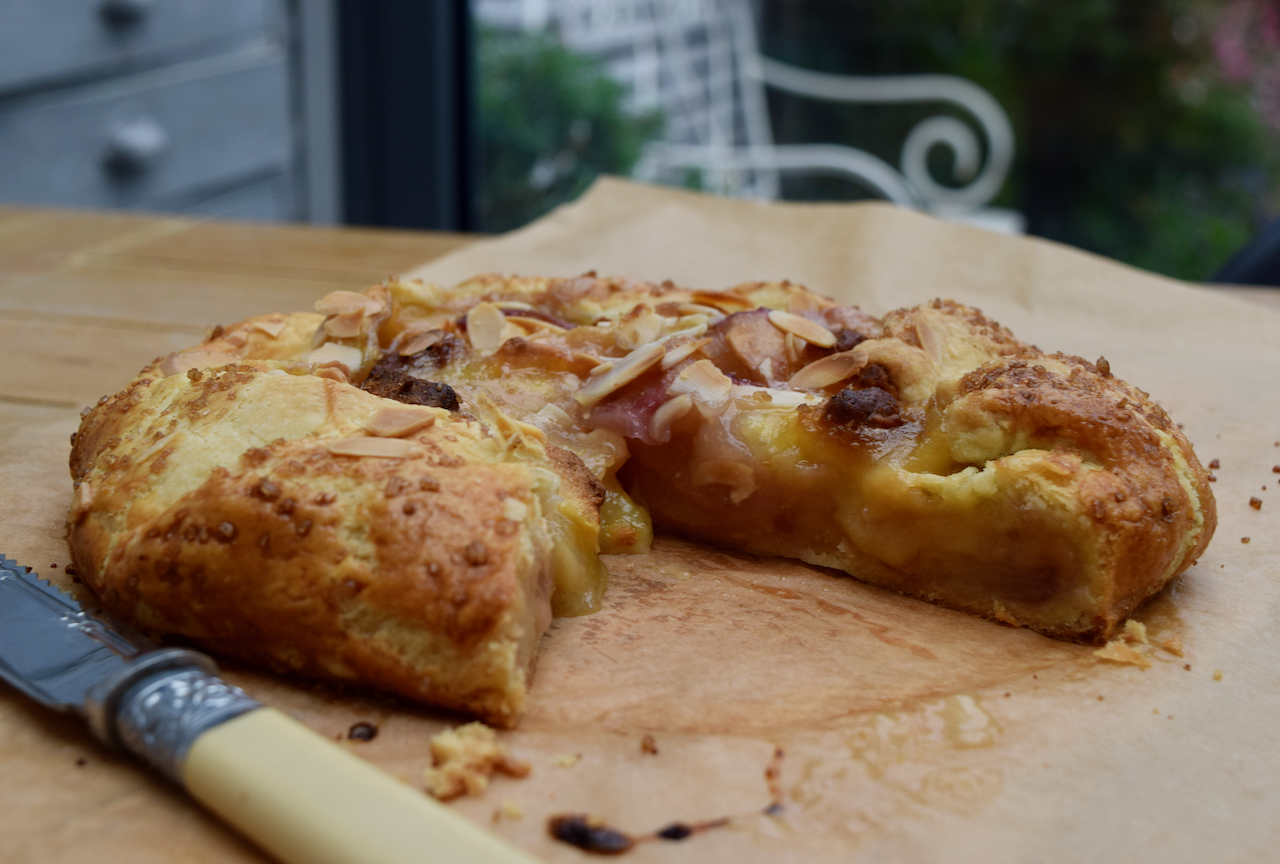 This summer treat is fruity and nutty in equal measures. And not a soggy bottom in sight; well only mine, that is.
Lucy x
This post contains an affiliate link to Amazon. Should you choose to buy via this link, Lucy Loves will receive a tiny commission, at now extra cost to you. Thank you.
Peach and Almond Galette recipe
Serves 4 to 6, portion control dependent
You will just need bowls and a lined baking sheet for this
Pastry
160g plain flour
110g cold butter
1 tablespoon caster sugar
1/2 teaspoon salt
2 to 3 tablespoons sour or double cream
Beaten egg for brushing and demerara sugar for sprinkling
Peaches
3 good sized peaches, stoned and sliced
1 tablespoon caster sugar
1 tablespoon plain flour
100g marzipan, cubed
1 tablespoon flaked almonds
Cream, ice cream or custard to serve
Make your pastry, either by hand or in a food processor. Take the flour, salt and sugar and rub in or process your cold butter until the mixture resembles chunky breadcrumbs. It will be quite soft as the pastry is buttery. Mix in the sour or double cream, one tablespoon at a time, until you form a soft dough. Knead briefly to bring the pastry together then wrap in cling film and pop in the fridge to chill for an hour. Or, you could happily use a sheet of good quality shop, all butter pastry.
Stone and slice the peaches then put them in a bowl. Spoon over the sugar, and flour, stir, then put to one side while you roll out your now chilled pastry.
Pre heat your oven to 160 degrees fan assisted and line a baking tray with baking paper. Roll out your chilled pastry into a large circle, approximately 35cm in diameter, but it doesn't have to be neat at all.
At this point, carefully place your rolled out pastry onto your lined baking tray. Pile your peach slices in a pile in the centre of the pastry leaving a border of around 6cm around the edge. Dot the cubed marzipan around on top of the peaches. Fold the edges of the pastry in to seal the peaches and marzipan but leaving them exposed in the middle.
Brush the tart with beaten egg then sprinkle on the tablespoon of flaked almonds and around a teaspoon of demerara sugar. Bake in the oven for 40 to 50 minutes or until the pastry is crisp and golden and the peaches and marzipan are caramelised and bubbling. If the tart is getting too golden cover the top in foil. Leave to cool slightly before serving, drowned in double cream, custard or ice cream, or all three. This is also wonderful cold.
Any leftovers will keep nicely in the fridge for a couple of days.