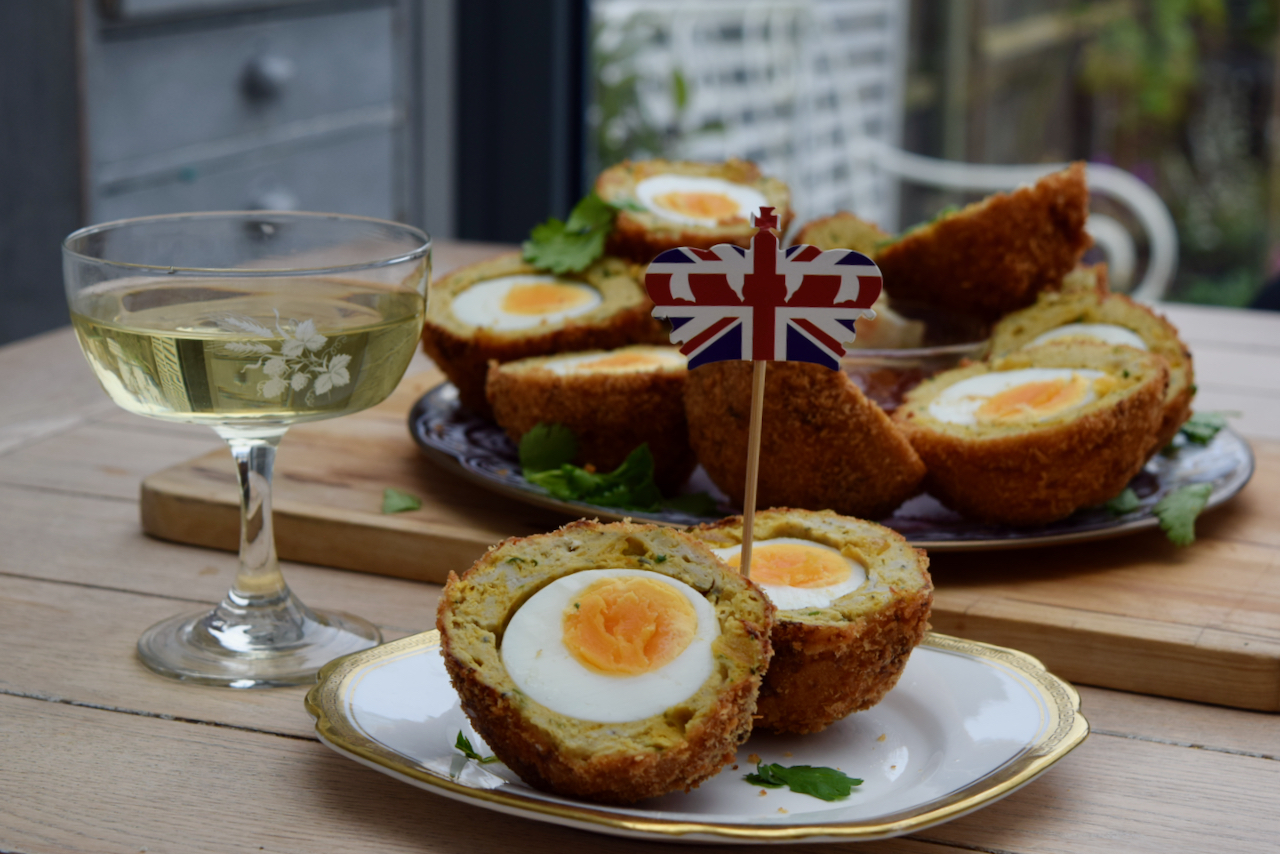 Coronation Chicken Scotch Eggs Recipe
We have had more than our fair share of Royal situations in recent years; plenty of jubilees, weddings, a massive queue and a funeral. For 95% of these occasions I whip up a batch of Coronation Chicken, at the behest of my family, but for King Charles III forthcoming crown wearing and orb holding ceremony, I'm mixing things up with these Coronation Chicken Scotch Eggs.
Scotch Eggs are top of my family's list of most requested food; even I made my own for my 50th birthday lunch. I have been thinking about this Coronation Chicken version for a while now and once you've tasted them, you will be too. I used chicken sausages, easy to come by and tasty, they're perfect for these Royal scotch eggs. Lightly spiced with curry paste and fresh coriander; I added chopped dried apricots because raisins are, and always have been, a no in Coronation Chicken for me. They add sweetness and are perfect with the curry, in a 1970's kind of way. The rest is a standard egg and breadcrumb affair, deep fried to crisped perfection.
These Coronation Chicken Scotch Eggs make a great brunch, lunch, nibble or if you're my family, something to be enjoyed all day, everyday, if you can just find someone to make them for you.
Chicken sausages are just perfect for these Coronation Chicken Scotch Eggs. Ocado had these Jolly Hen ones and Heck do a variety too. The rest of the ingredients don't differ hugely to standard SE's, apart from the aforementioned fresh coriander, curry paste and dried apricots, obviously.
First and foremost, start with the soft boiled eggs. Take a medium sized pan and fill with cold water. Bring to the boil then add the 6 eggs. Simmer for 6 minutes only then immediately run under cold water to cool.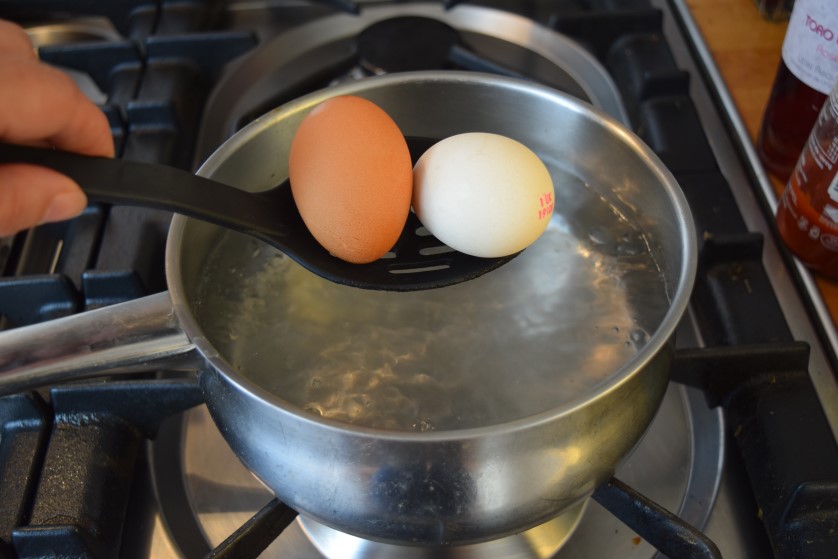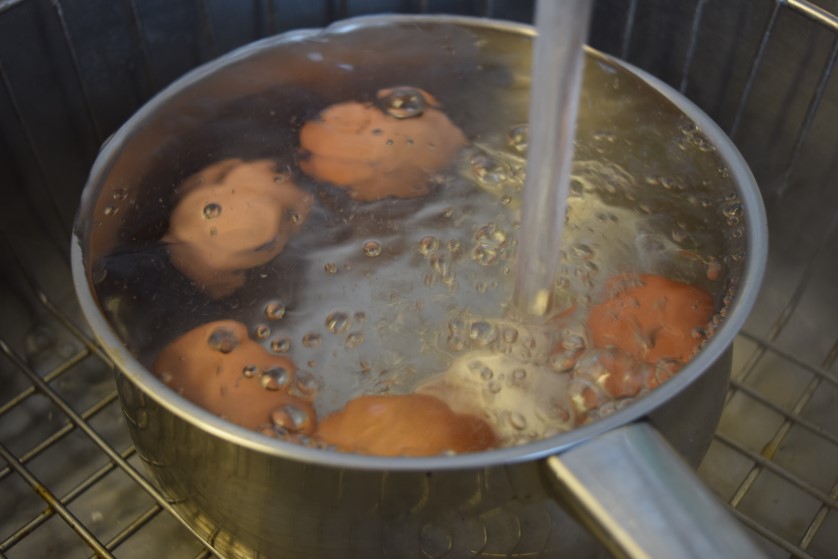 Once cooled enough to handle, peel the eggs then pop to one side whilst you get on with the sausage element.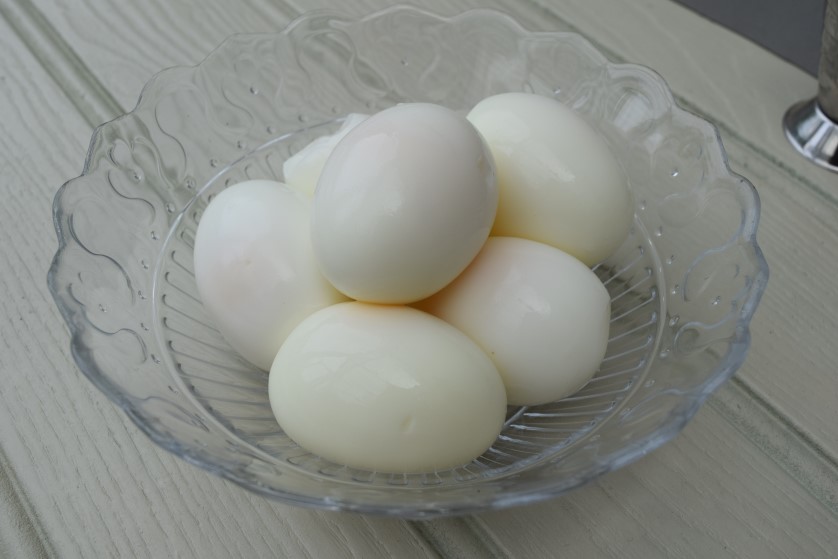 Skin the chicken sausages, which is one of my worst jobs ever, then add the meat to a good sized bowl. Add the chopped coriander and apricots then dollop on the curry paste and a little salt and pepper.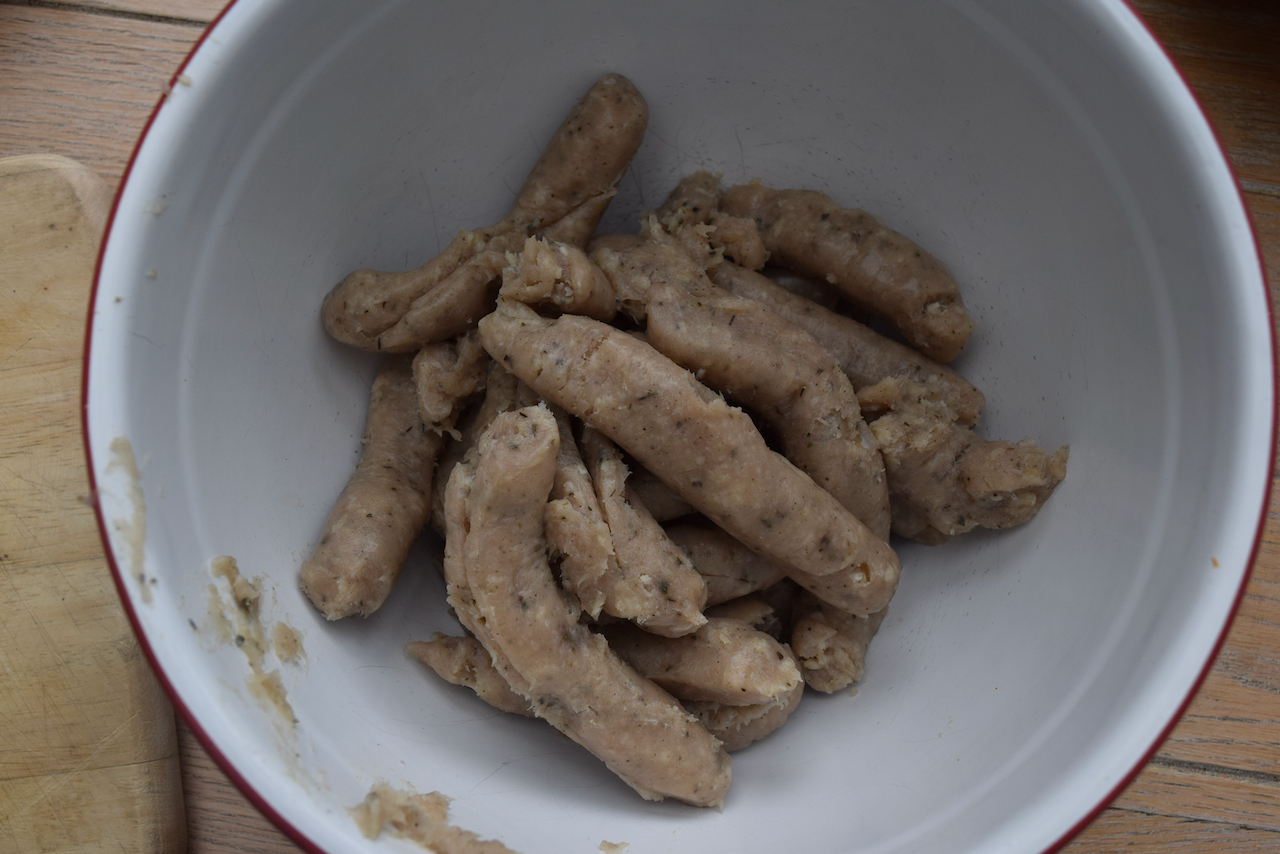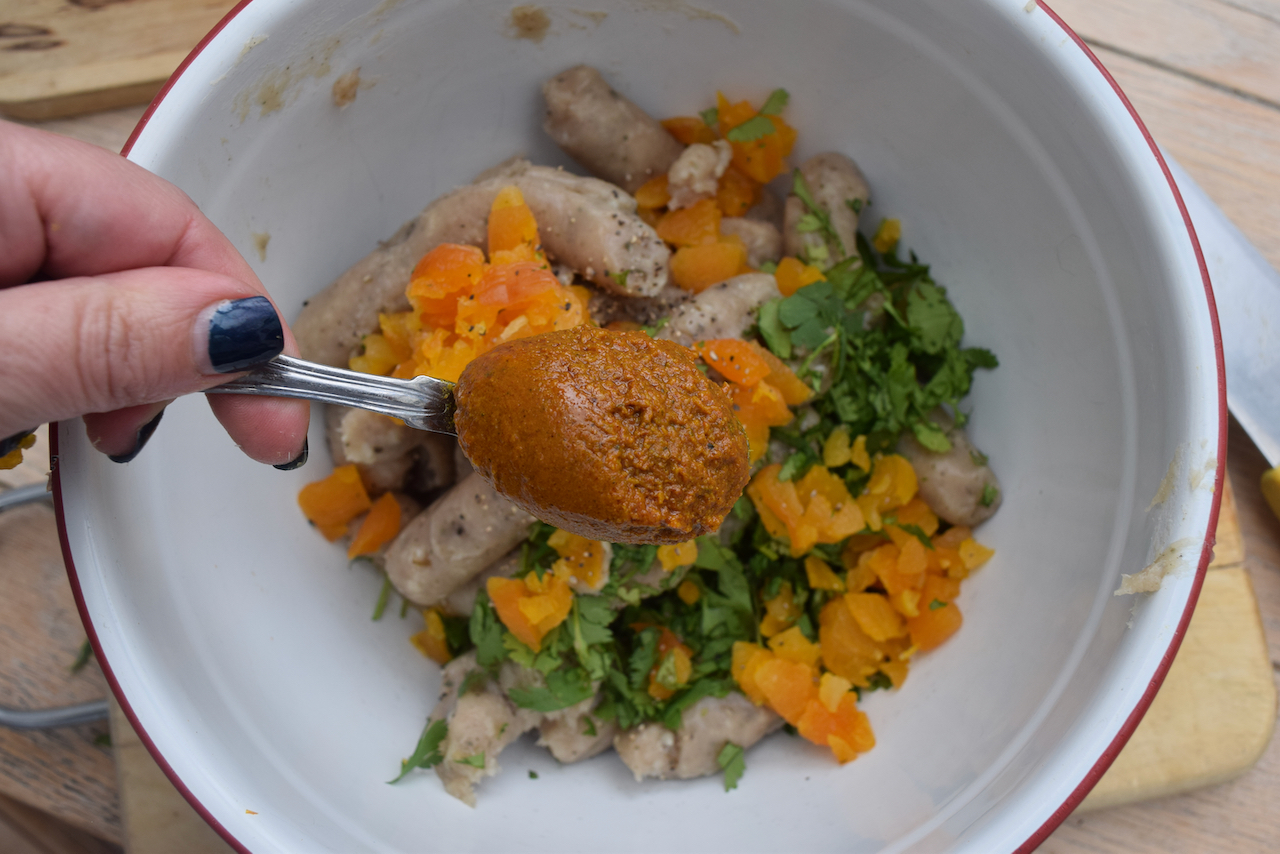 I would ordinarily advocate going in with your hands to mix at this stage, but unless you want curry paste stained hands, I'd combine these delicious ingredients with a spatula here. Mix well and then divvy the sausage meat up into 6 even-ish sized portions.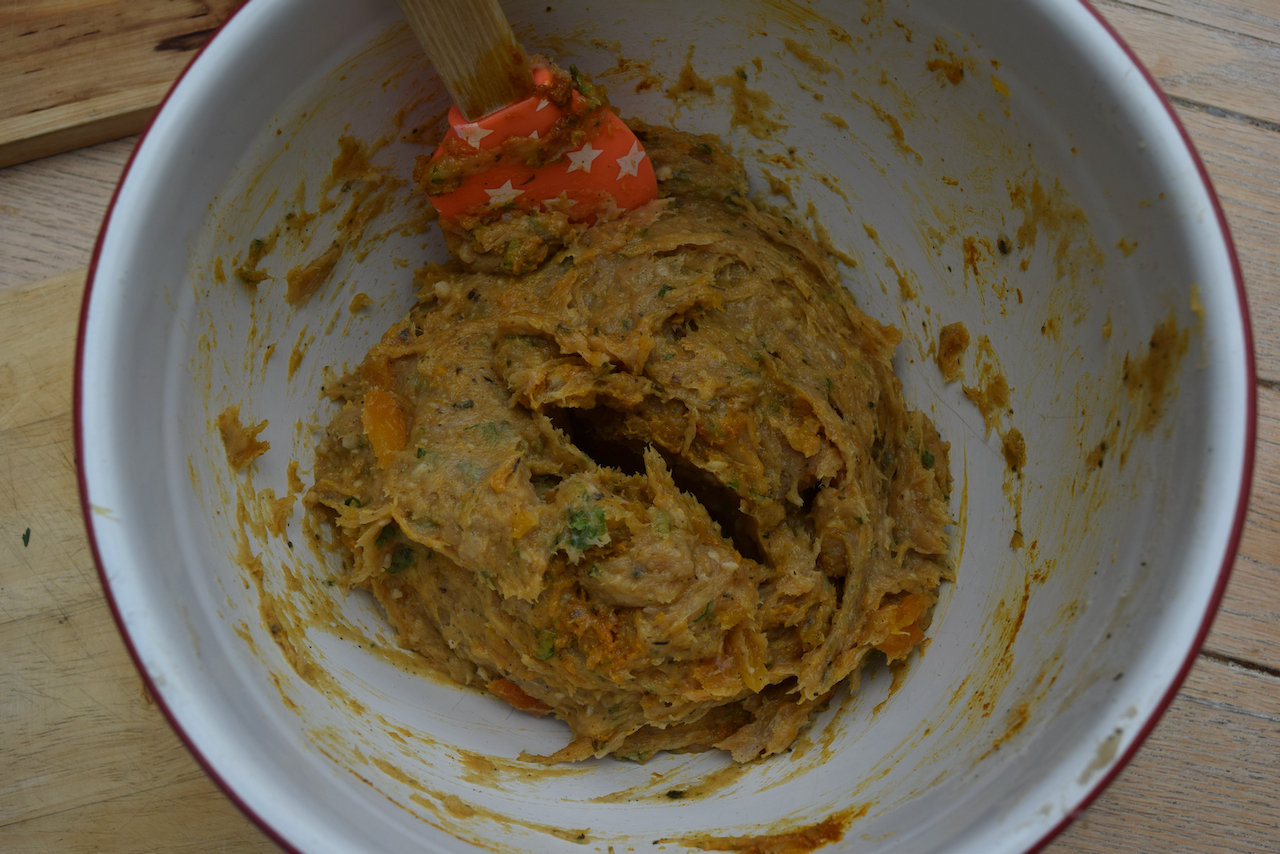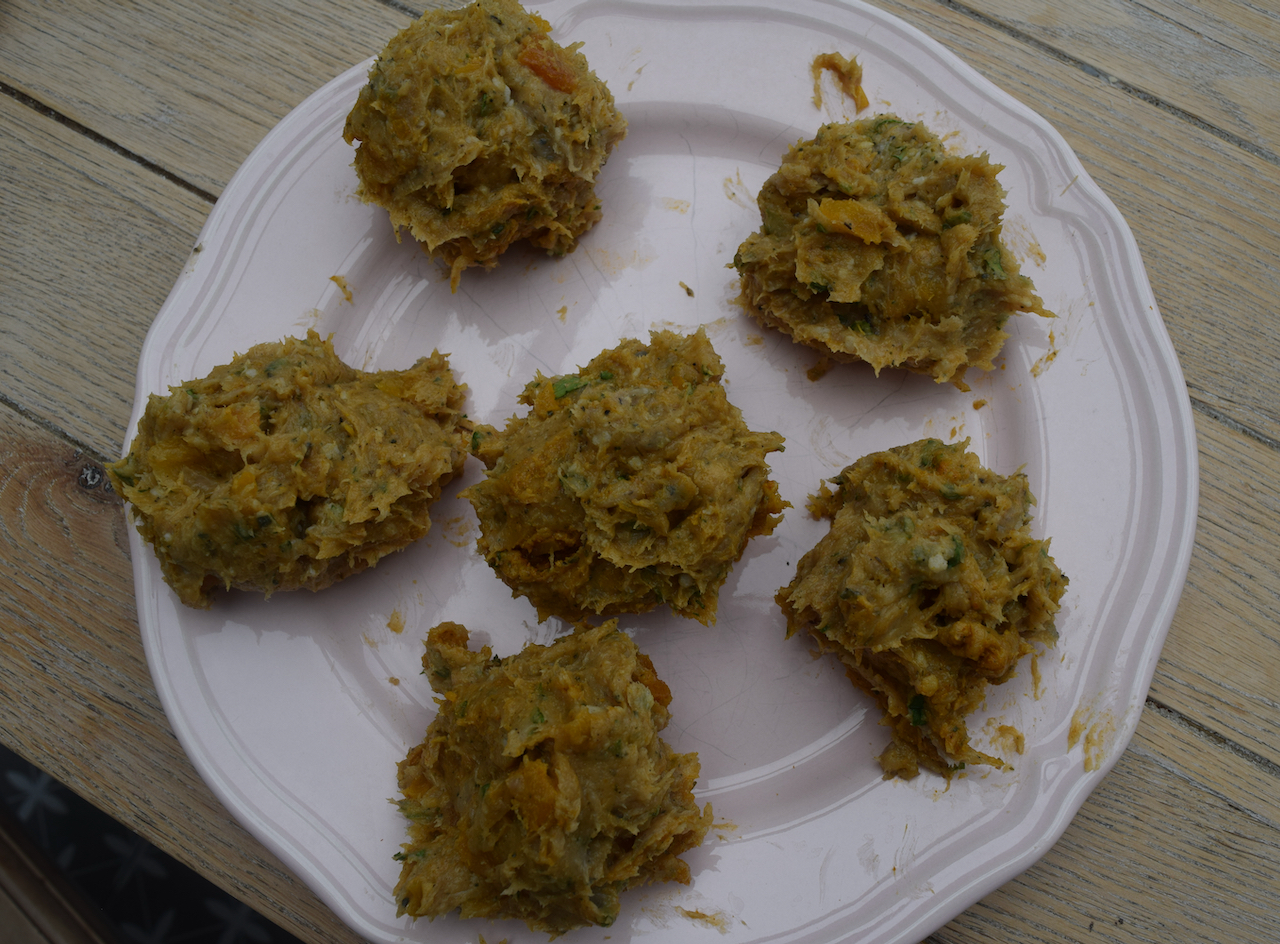 Flatten each ball of sausage into a circle then fold this round your egg, patching and moulding to ensure the egg is fully and evenly covered. It's not difficult, just a bit sticky. Repeat with the other 5 eggs. Don't panic if they're not desperately round at this stage, you can tidy them up once rolled in the flour later.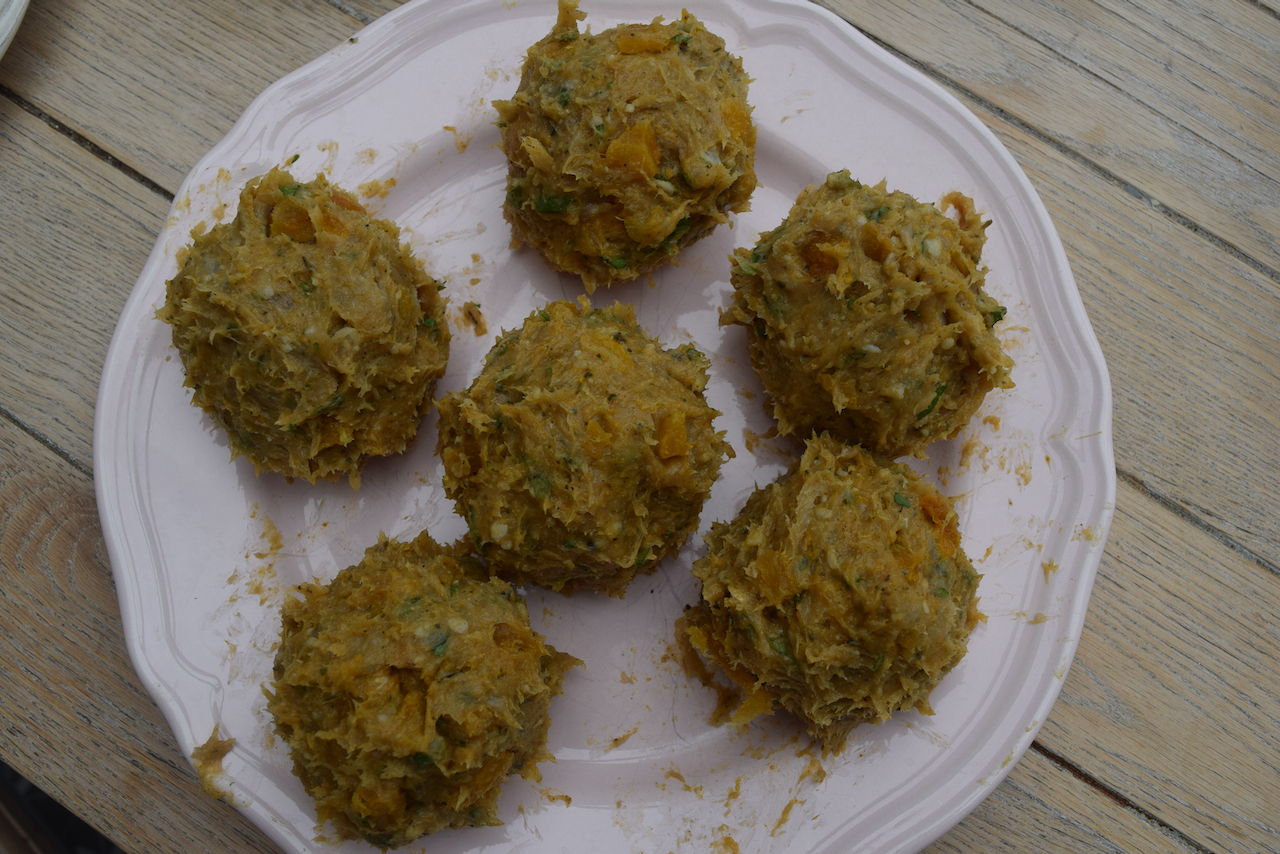 Take three plates for the flour, two remaining eggs, beaten, and the panko breadcrumbs.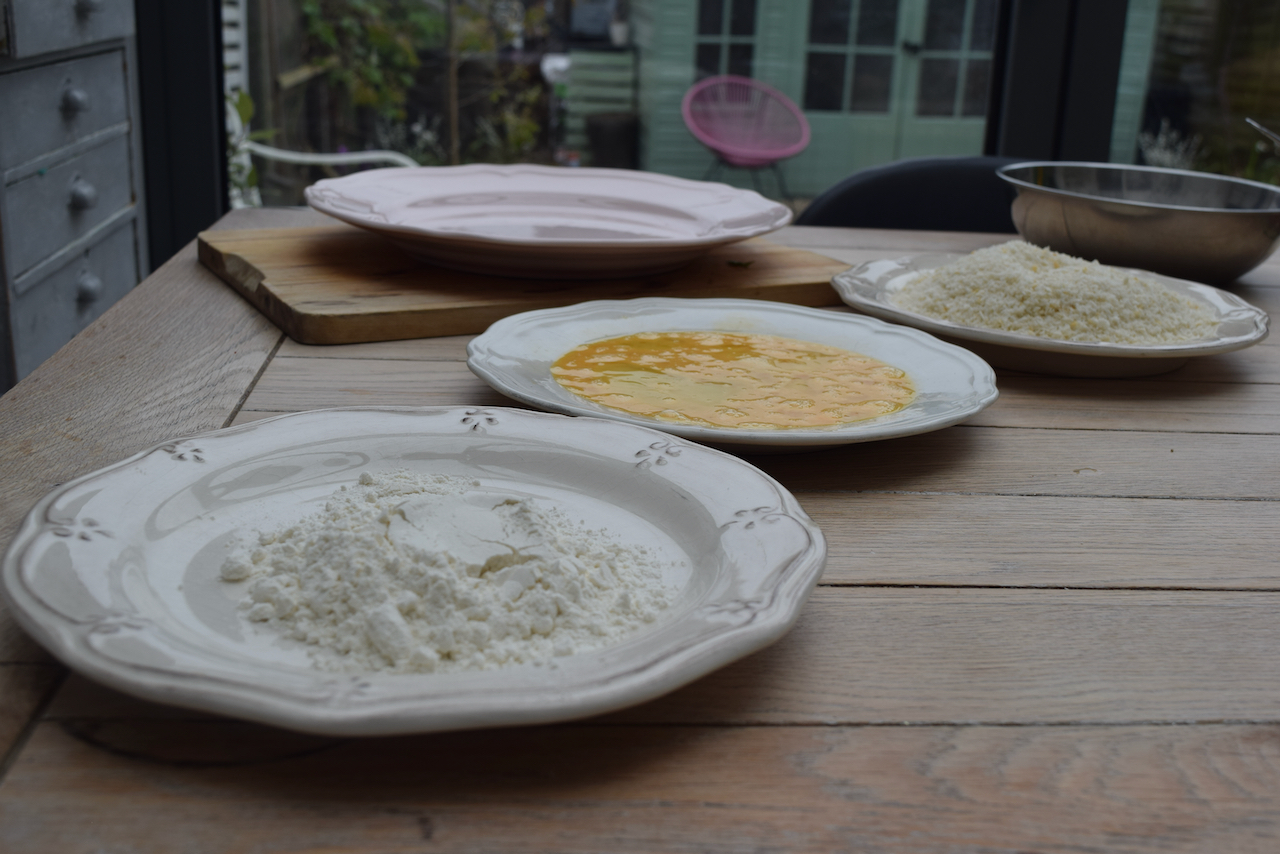 Apologies for the lack of photos of the coating process, I was home alone and didn't want to make my camera even dirtier than it is already with my sticky, crumbed hands. However, use your imagination to envisage the eggs being rolled in flour, dipped in egg then getting a final coating of panko crumbs.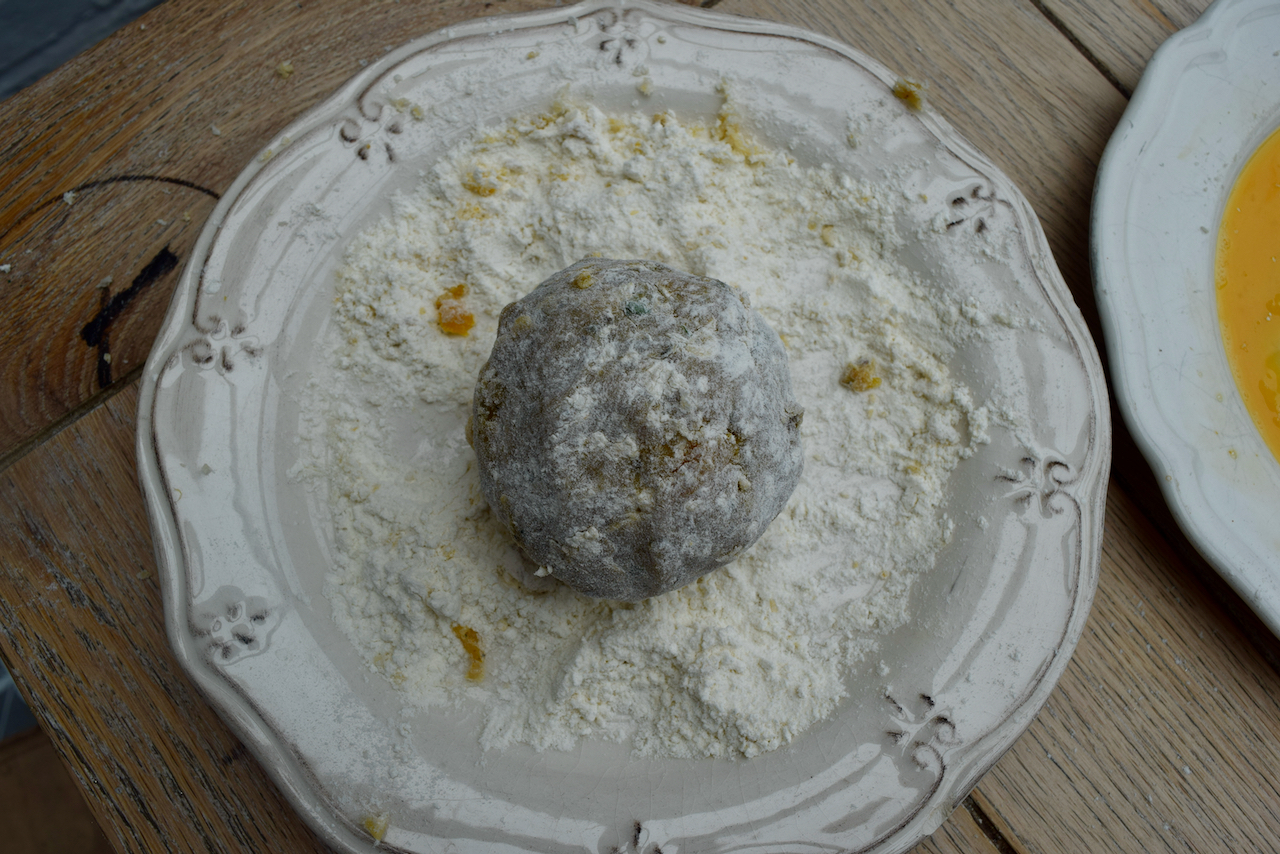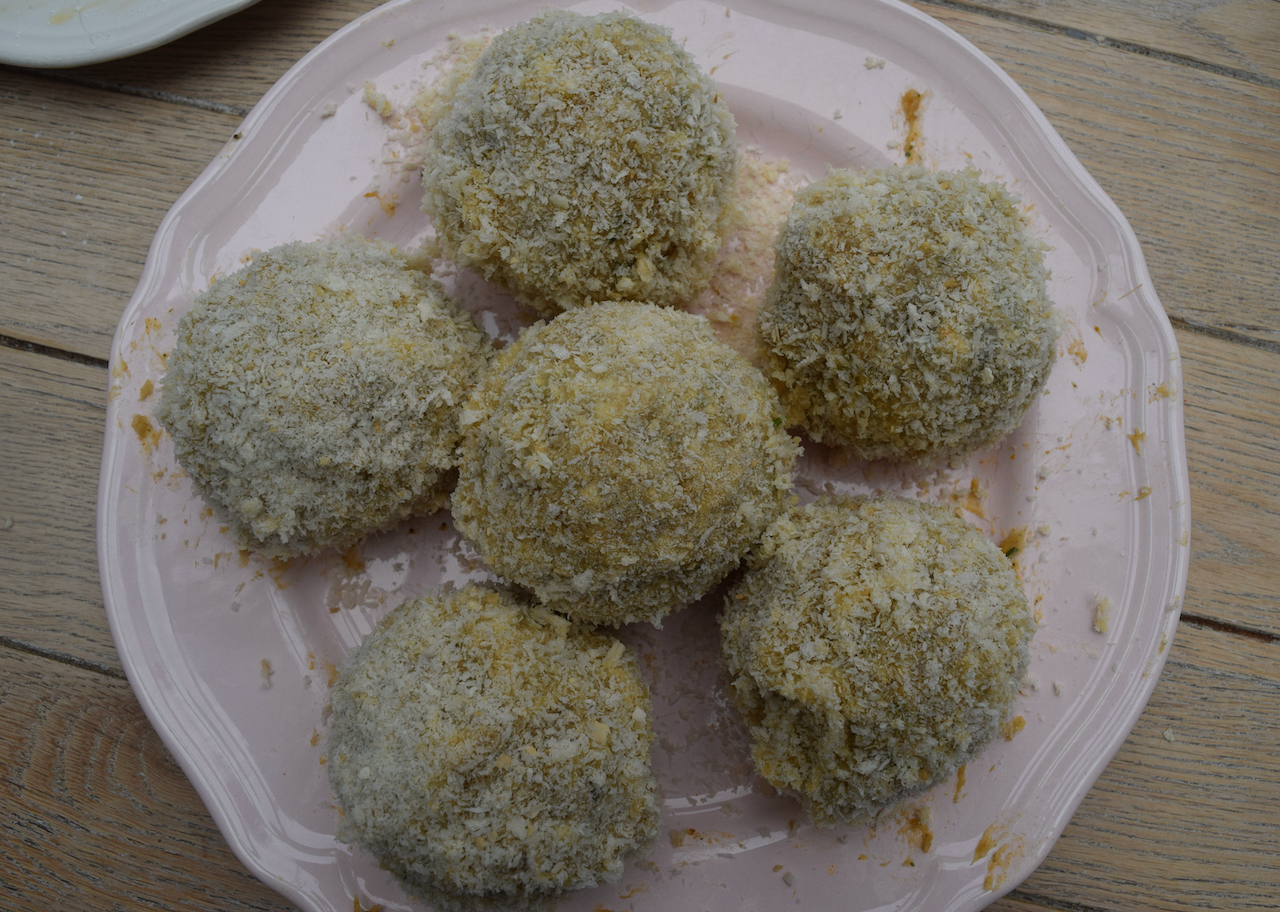 Ta dah. Here they are
In readiness for cooking these celebratory spiced egg and sausage balls of joy, take a large saucepan and pour in a couple of inches of vegetable oil; I used around a litre. Heat this gently, keeping an eye on it at all times. Test to see if your oil is hot enough by dropping in a bread crumb and if it sizzles, it's ready. Then, carefully put the eggs into the oil using a slotted spoon, and cook two at a time. Keep them moving for 5 to 6 minutes or until cooked through and an even golden brown all over.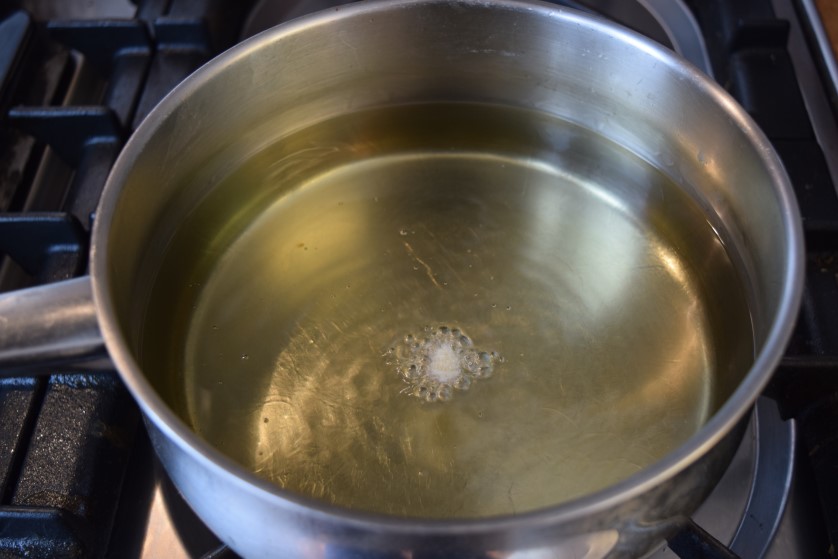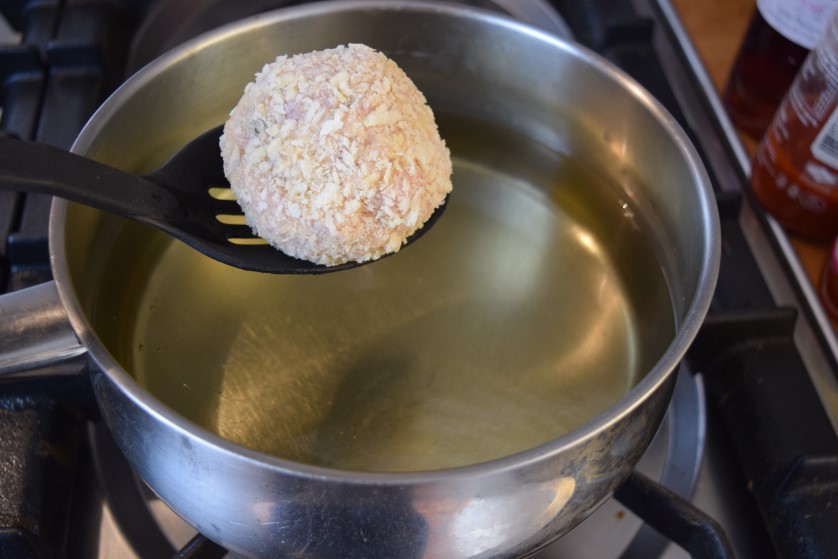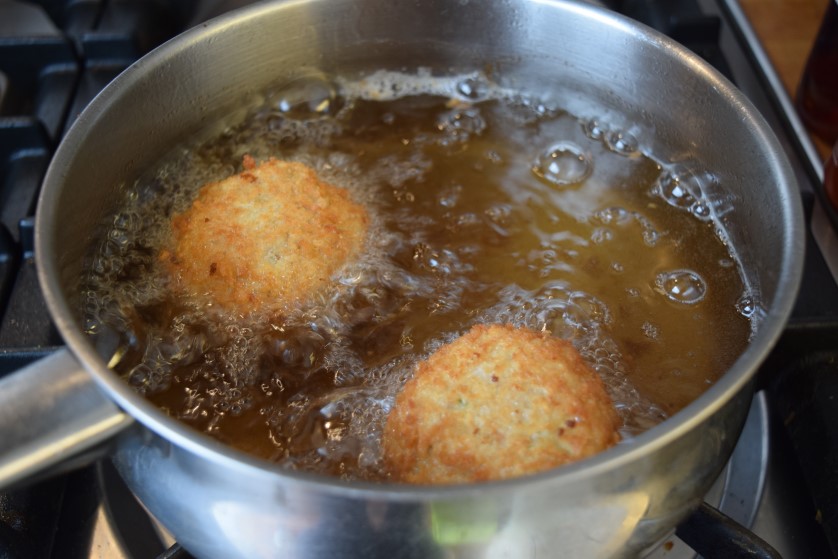 Place the cooked SE's on a lined tray then finish cooking the rest of the batch. Try not to eat the first two while you are cooking the other four, it will be quite the test of your will power.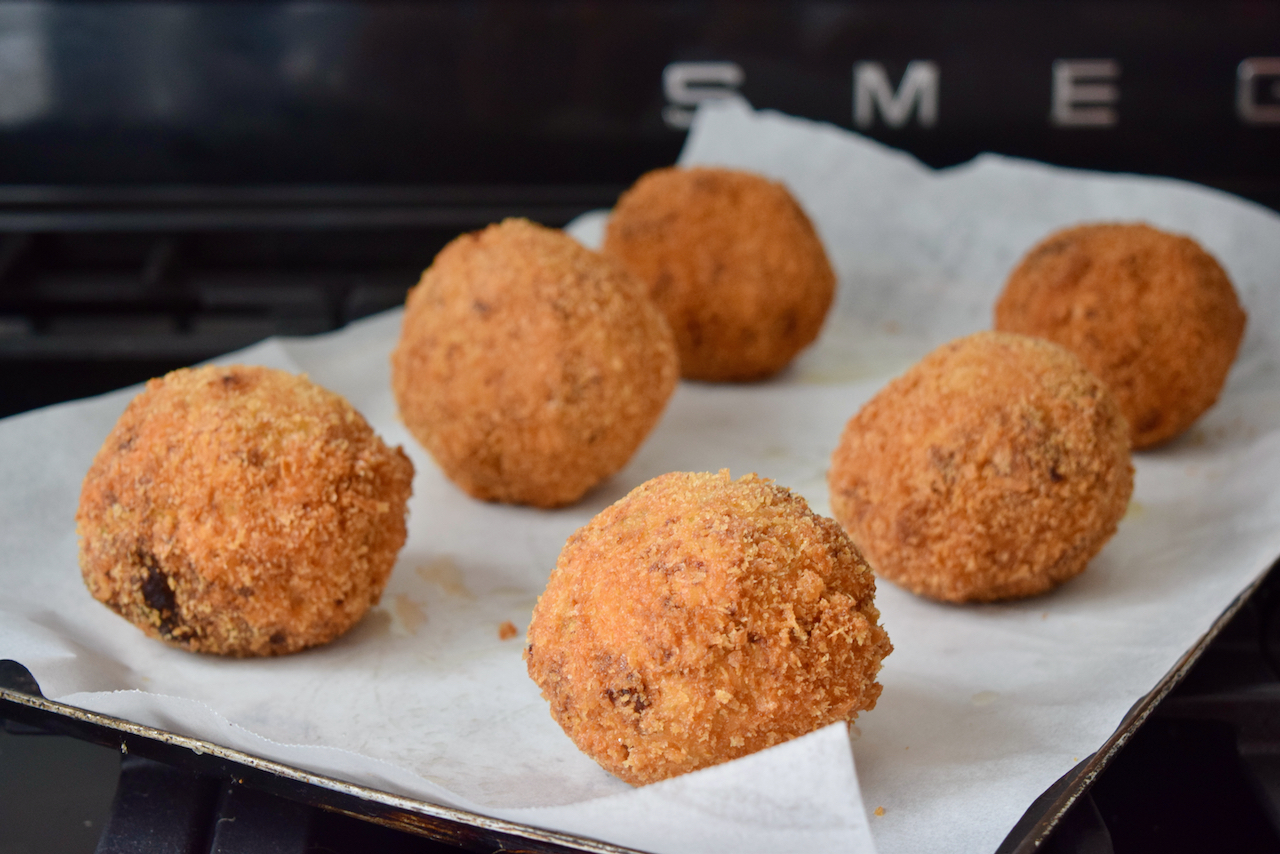 The rest is up to you. Eat these hot, warm or cold. I can highly recommend some more fresh coriander to garnish and giant dollops of mango chutney to serve.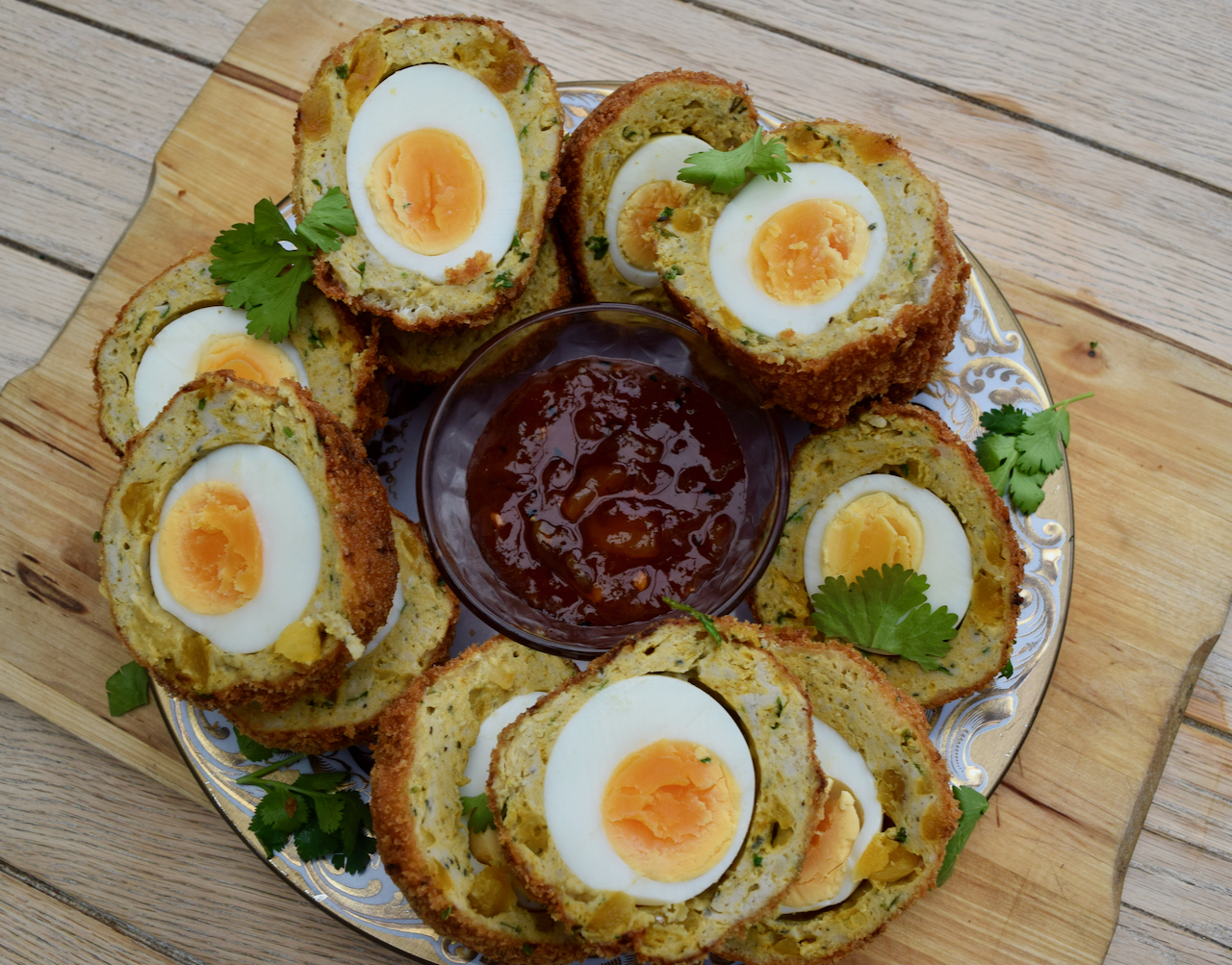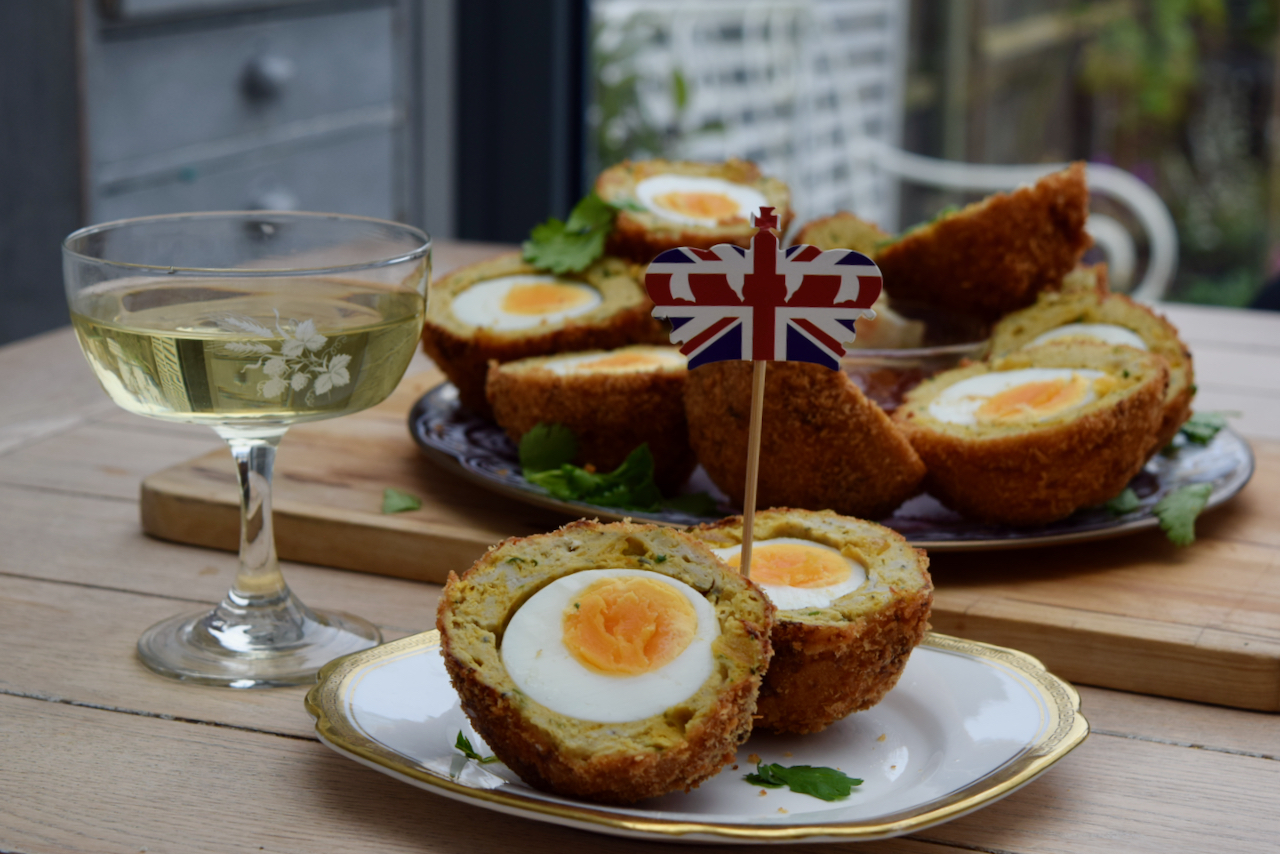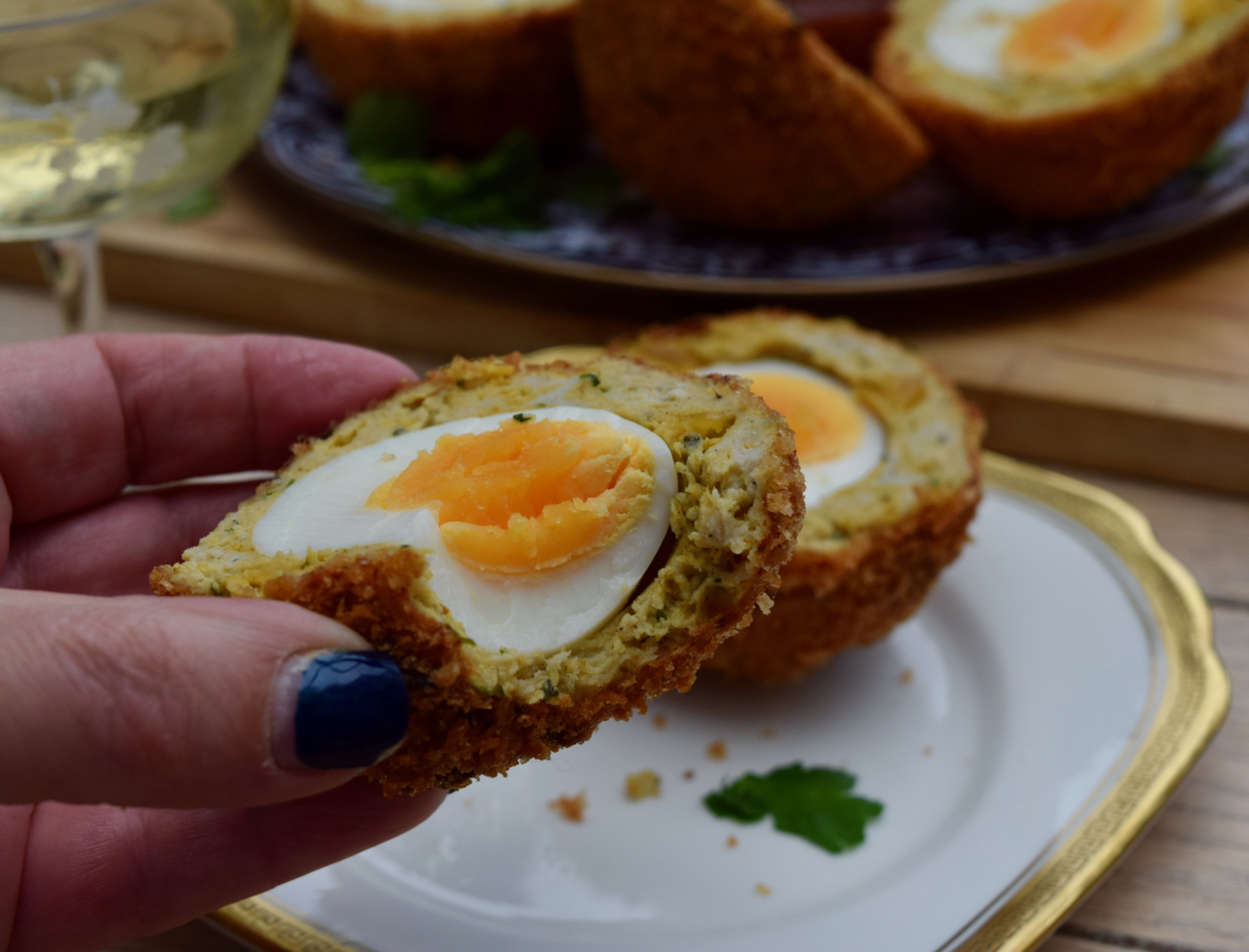 These are, dare I say it, moist, delicately flavoured and have all the charm of Coronation Chicken, but deep fried and crispy for a change. You would be foolish not to make these part of your Coronation Day/picnic/brunch or lunch menu, in my humble, and hungry, opinion.
Lucy x
Coronation Chicken Scotch Eggs Recipe
Makes 6
You won't need any exciting equipment just bowls and pans
6 eggs for hard boiling, plus 2 eggs for coating
700g chicken sausages, skinned, I used two packets of Jolly Hens
2 tablespoons fresh coriander, finely chopped
75g dried apricots, chopped well
3 heaped teaspoons curry paste, mine was Pataks Korma
Salt and pepper
3 tablespoons plain flour
100g breadcrumbs, panko would be great
Vegetable oil for deep frying, approx 1 litre
More fresh coriander to garnish, plenty of mango chutney, to serve
Take a medium sized sauce pan and fill with water. Bring to the boil then add the six eggs. Boil for exactly 6 minutes then take off the heat and run under cold water. Leave to cool before peeling then popping to one side.
Take a large bowl and add your skinned chicken sausages. Tip in the fresh coriander, chopped apricots, curry paste and salt and pepper and mix well with a spatula, or your hands if you don't mind them being curry yellow for a while. Divide the sausage meat into 6 equal-ish portions then flatten into a flat disc. Wrap this around the egg, smoothing the sausage around the egg, making sure there are no holes. The mixture is quite sticky, but you can refine the balls when you roll in the flour later. Repeat with the rest of the curried sausage and eggs.
Put a large saucepan on the hob and heat around 2 to 3 inches of vegetable oil.  Be careful here, keep an eye on it and never leave unattended.
Take a plate and beat the remaining two eggs. Then take another two plates and measure out the flour on one and the breadcrumbs on the other. Take each Scotch Egg and roll in the flour, then the egg, then the breadcrumbs then pop on a plate whilst you finish the other eggs.
Check the temperature of the oil by dropping in a crumb, if it sizzles, the oil is hot enough. Carefully place in two Scotch Eggs and cook for 5 to 6 minutes or until golden brown and cooked through. Keep turning the eggs in the oil. Drain on kitchen paper whilst you cook the rest of the batch.
Serve these wonderful Scotch Eggs hot, warm or cold, garnished with more fresh coriander and plenty of mango chutney for dipping.