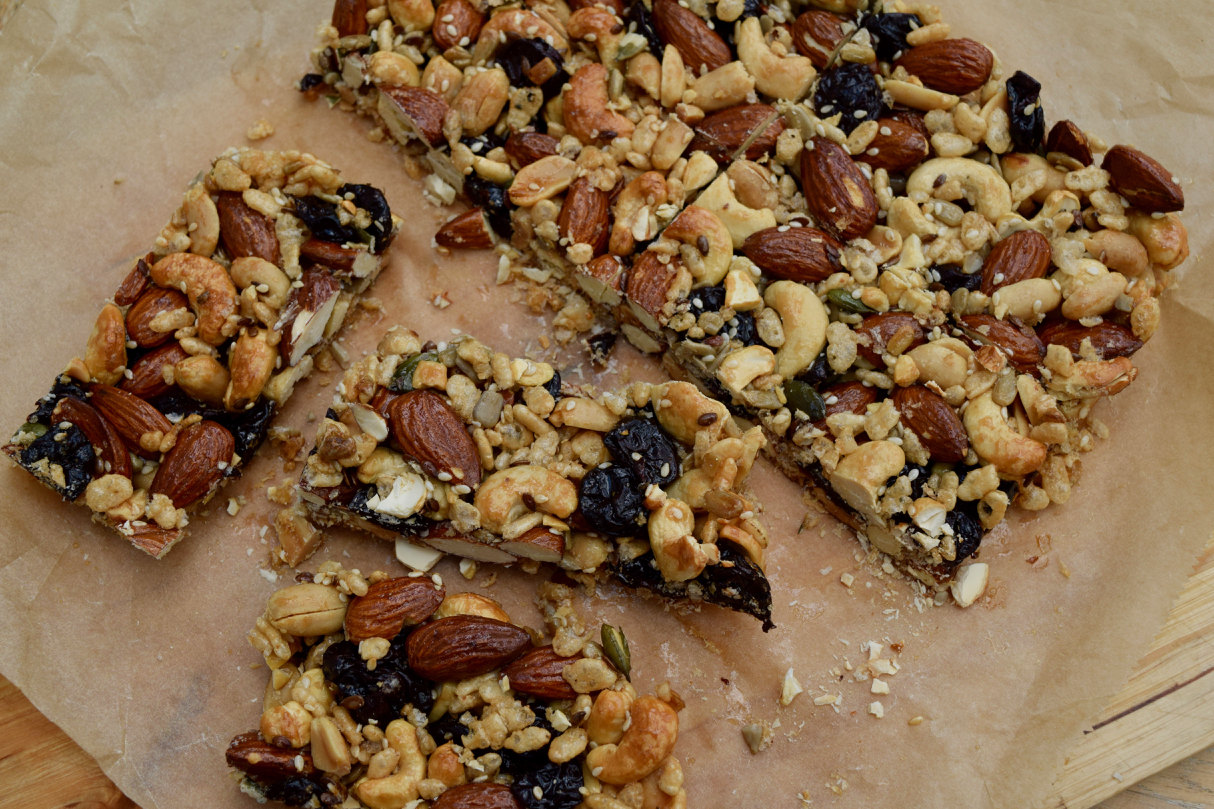 Homemade Fruit and Nut Kind Bars Recipe
I spend a lot of money on shop bought fruit and nut bars. They are handy, mostly sugar free and I don't feel bad eating them, well not as bad as say, having a Mars Bar. But, they are expensive, which is annoying, because as it turns out, they are bloody easy to make. I love recreating shop treats into homemade versions, because a) I'm skint and b) if you make them yourselves you know exactly what's in them. Rambling aside, here are my version of a Homemade Fruit and Nut Kind Bar.
Kind Bars are a real vice of mine, but they are upwards of £1 each, which is a lot if you can eat one every time a sweet craving hits. Once you have discovered how simple they are to make, you too will have extra cash to spend on, well, holiday Aperol Spritz's or a new bikini *I need one*. These are just basically a mixture of nuts, some seeds, a handful of rice cereal and the dried fruit of your choice. I had some almonds, cashews and peanuts to hand which I mixed with some sour dried cherries. These are all bound together with brown rice syrup. According to the original recipe, thank you to Five Heart Home, you could use honey or maple syrup; this has not been trialled by the Lucy Loves test kitchen, but do give it a go if you like and let me know the results. The brown rice syrup adds a sticky quality and it's not horribly sweet. The syrup is flavoured with some vanilla extract and a bit of sea salt for my favourite salty sweetness. These are then baked for a scant 15 minutes then left to cool completely before cutting into wholesome, but bloody delicious bars. Coat the bottoms with dark, milk or white chocolate if you like. I have got to unveil my 48 year old body to the good people of Greece in a week, so I decided not to, but fill your boots.
Anything that tastes amazing, saves me money and reduces the amount of sugar I eat is my best friend at the moment. If you are in search of an NBF then these Homemade Kind Bars are just the pal for you.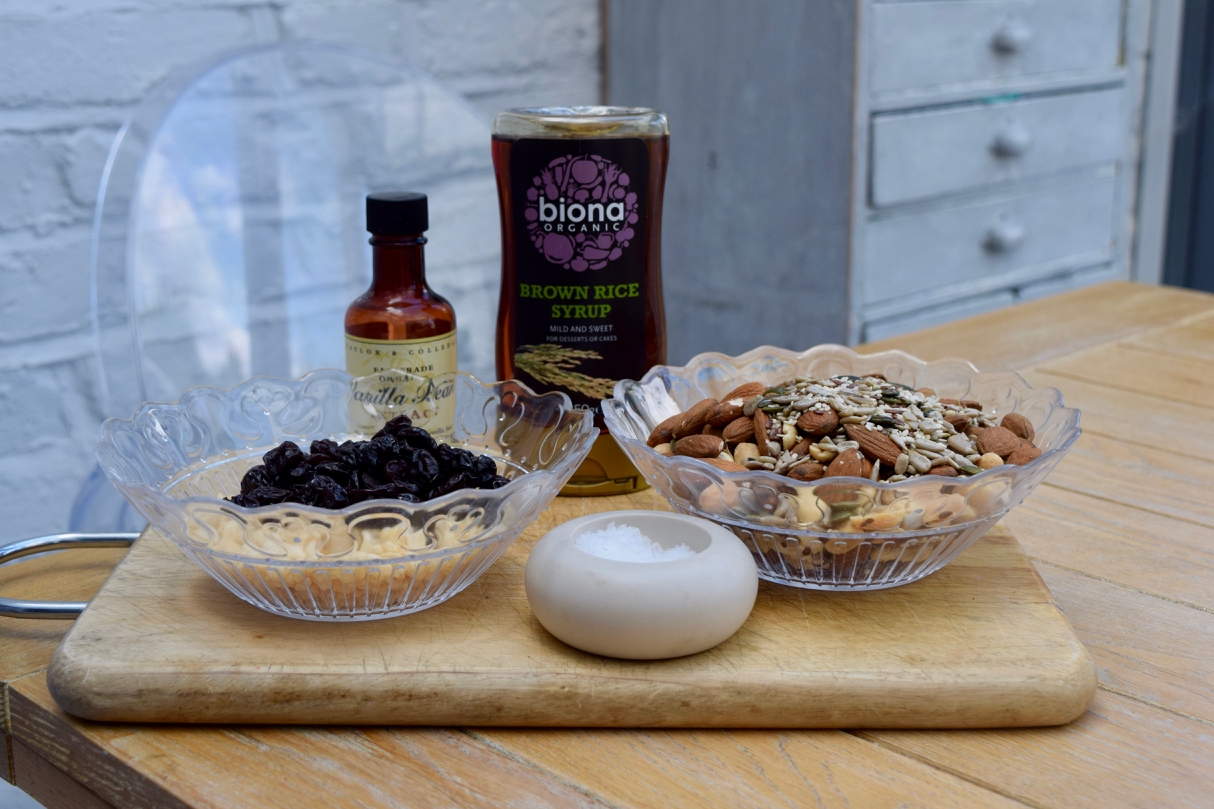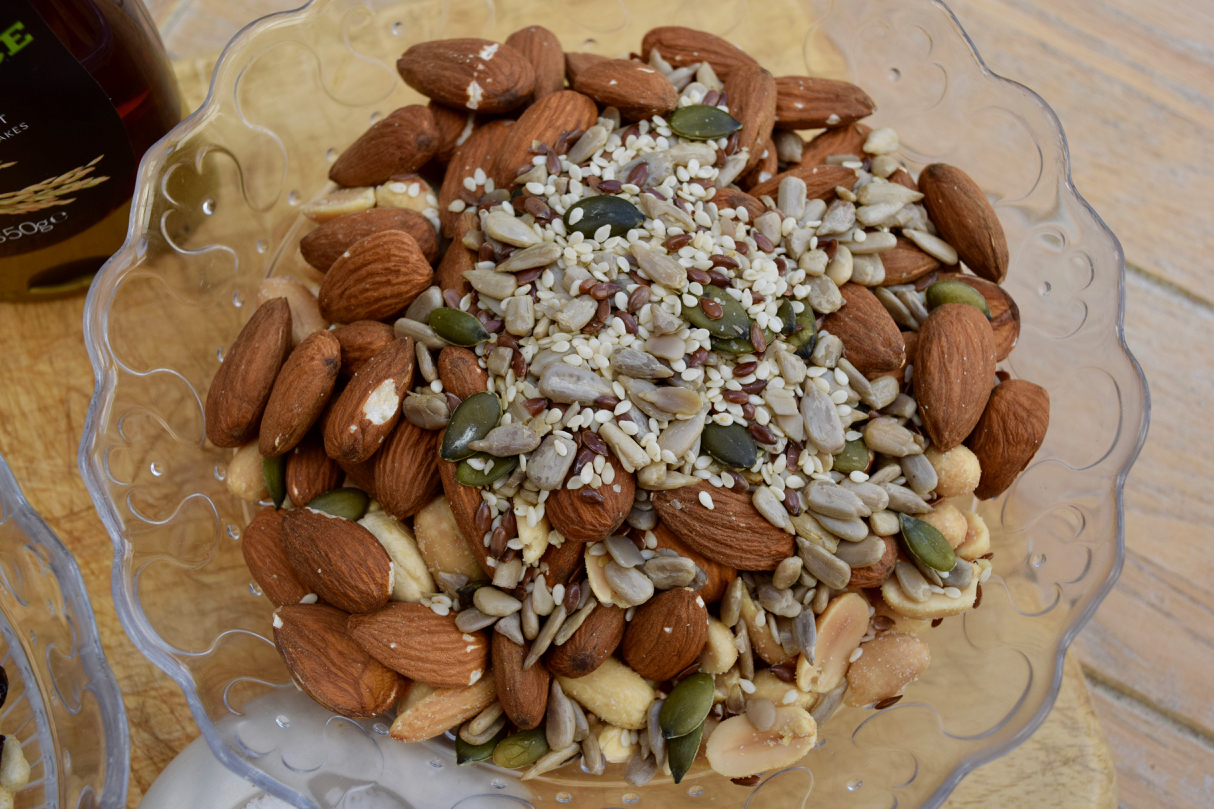 Here's the line up for these money saving, super tasty treats. Don't panic about the brown rice syrup, I got this easily from Ocado and suspect they sell it at health food shops and bigger supermarkets. Mix up your nut, fruit and seed choices too, just use what you have in your cupboard. I think dried apricots would work brilliantly in these.
Make a start on these frugal fancies with a lined 20cm square tin and by pre heating your oven to 160 degrees fan assisted. Next, take a large bowl or jug and measure in the brown rice syrup. Heat this for 20 to 30 seconds in the microwave or over a pan of boiling water, just to loosen it up.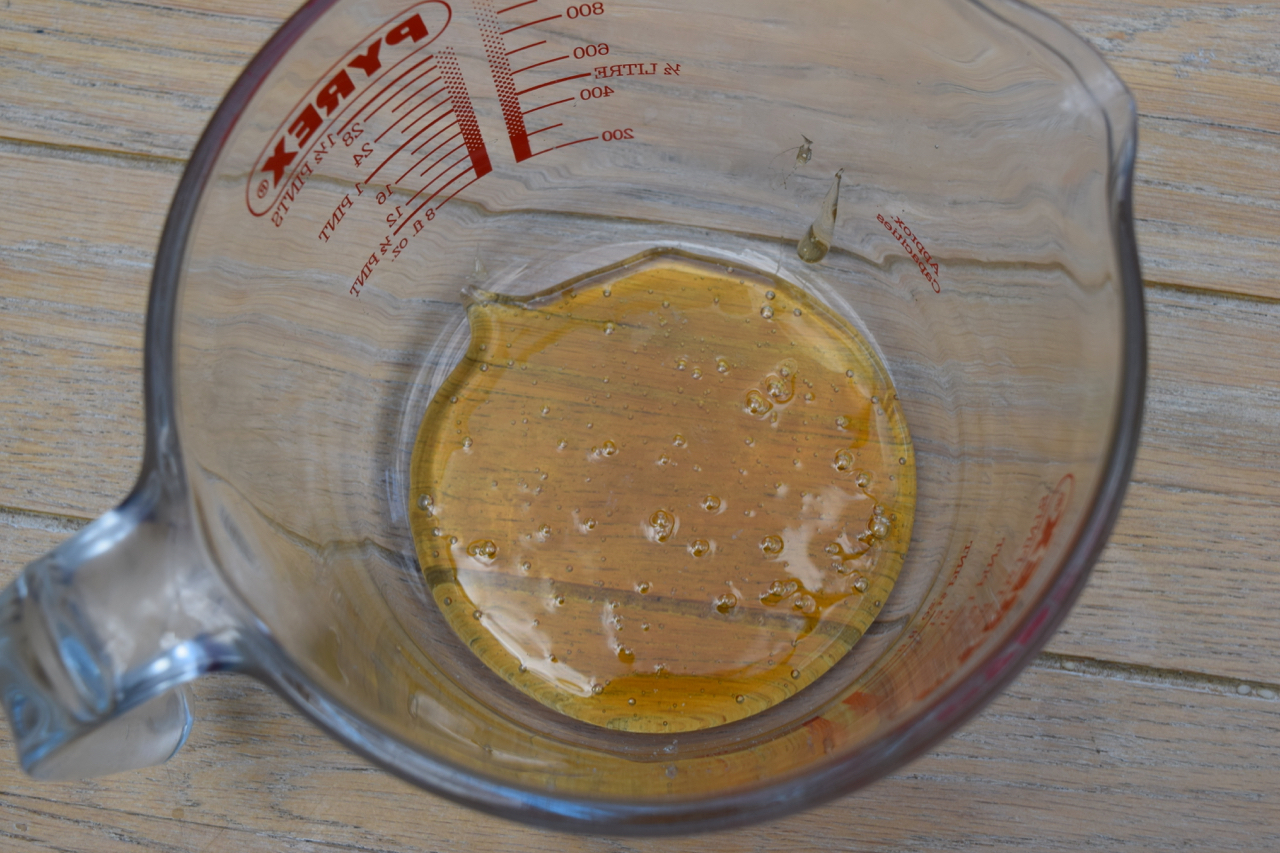 Once heated, add the sea salt and vanilla and stir. Next, tip in the mixture of nuts and seeds.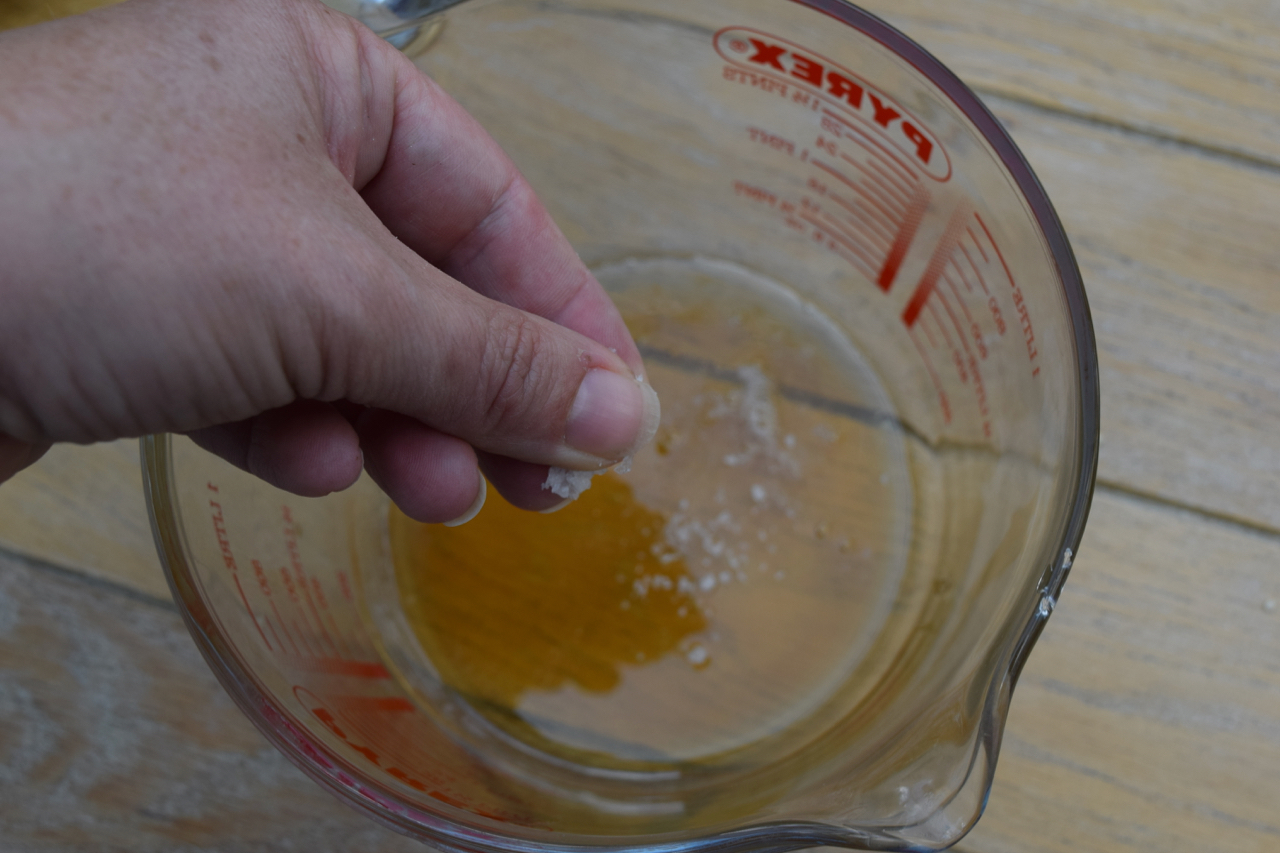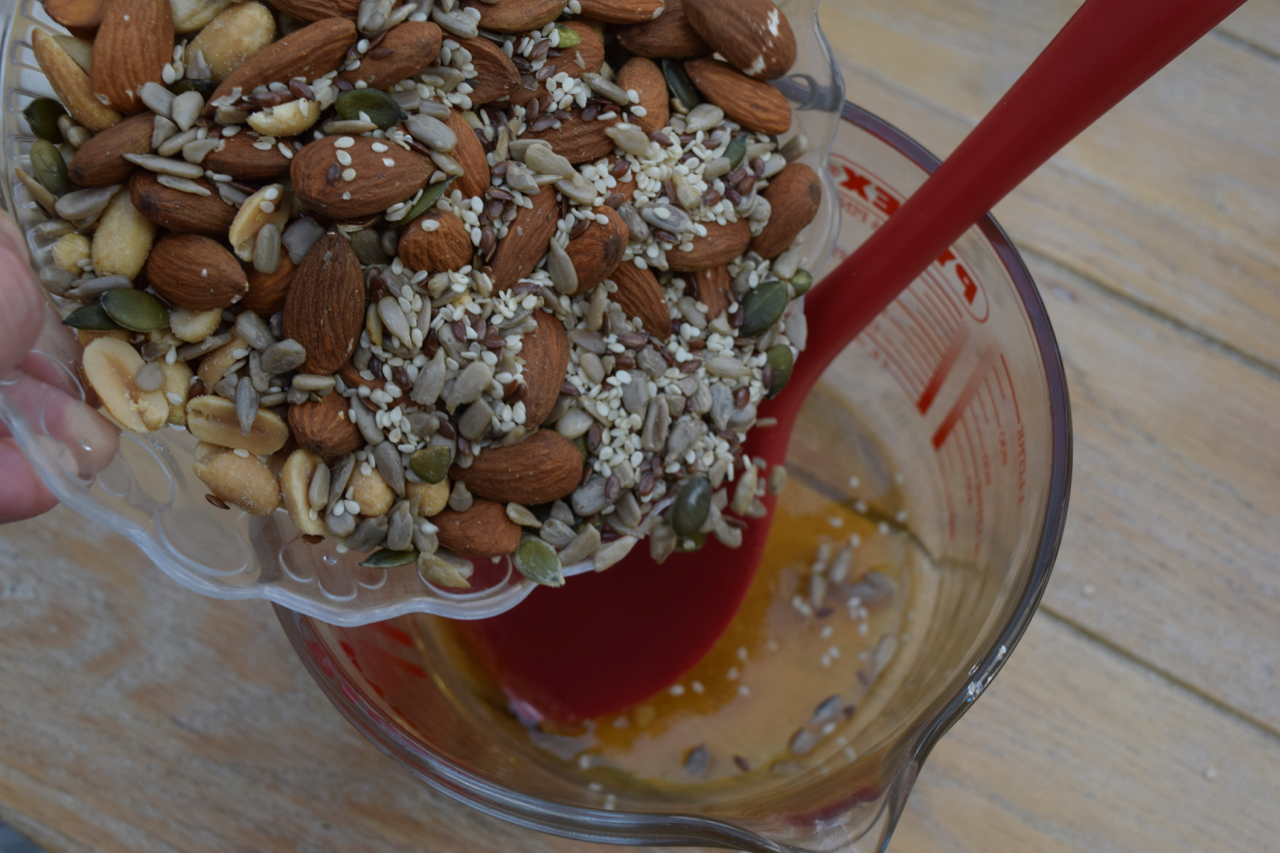 Now add in the dried fruit and rice cereal and give the whole lot an almighty stir. Make sure everything is well coated and sticky.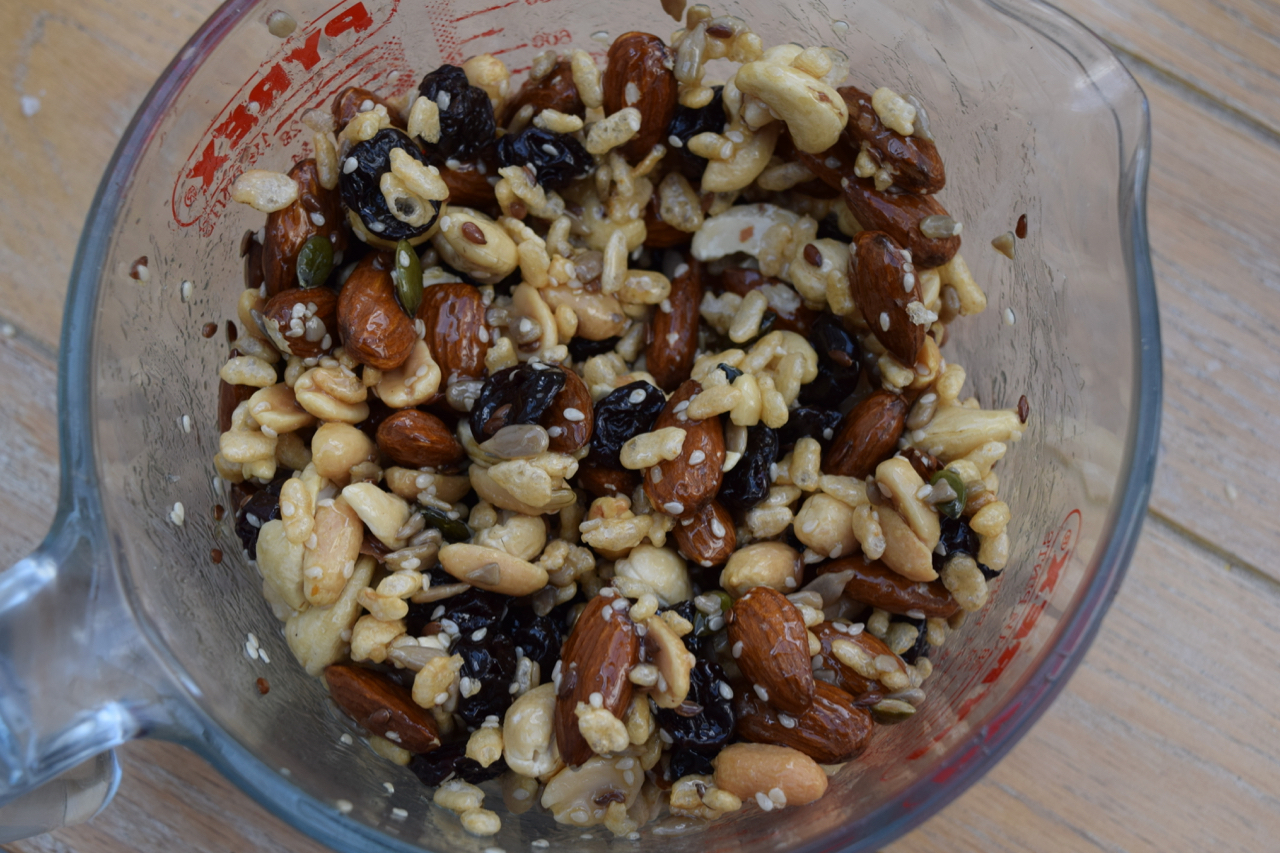 Scrape out every last nut and seed into your lined tin then carefully press the mixture into the corners. I used an oiled cup measure to make sure the surface was reasonably level. If you don't pack the mixture in, there is a danger of your faux Kind bars falling to pieces, so make the effort now to avoid disappointment later.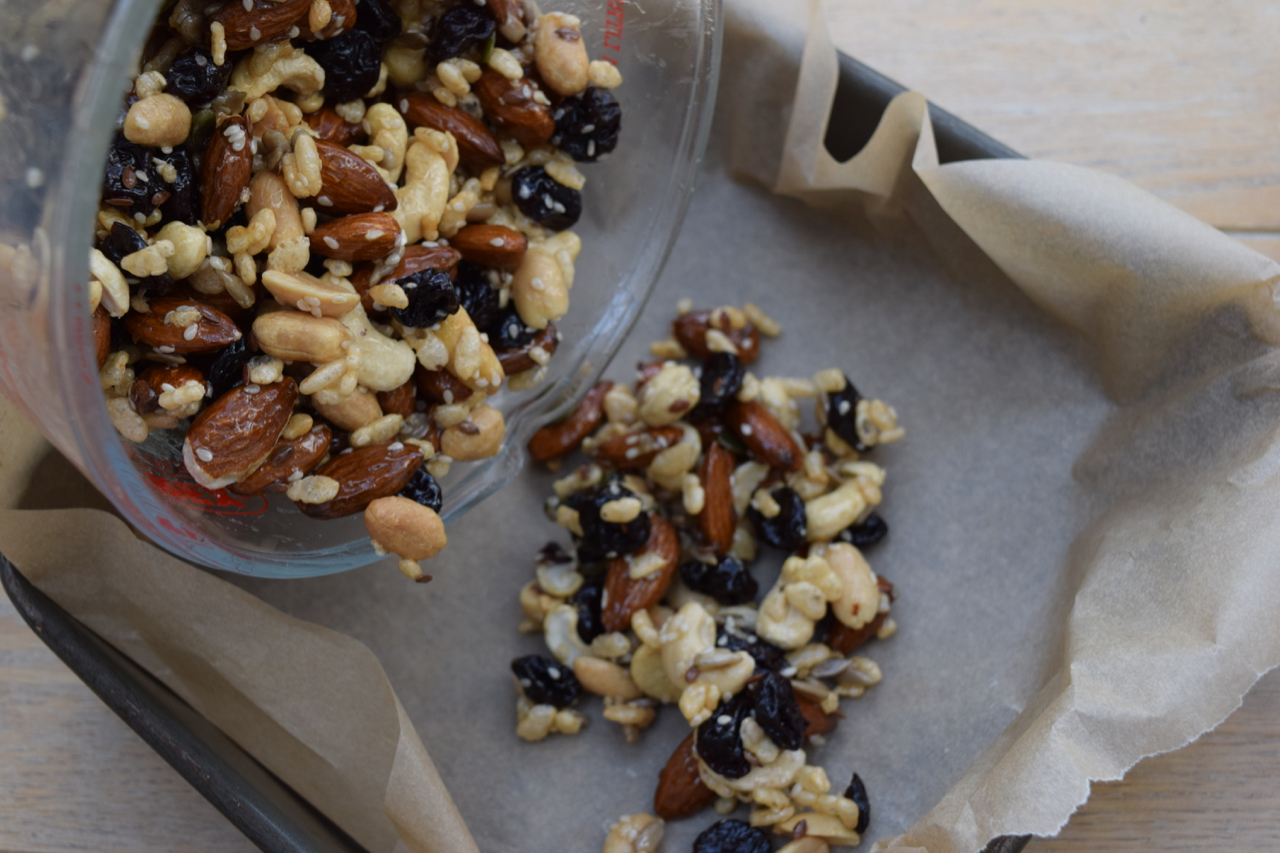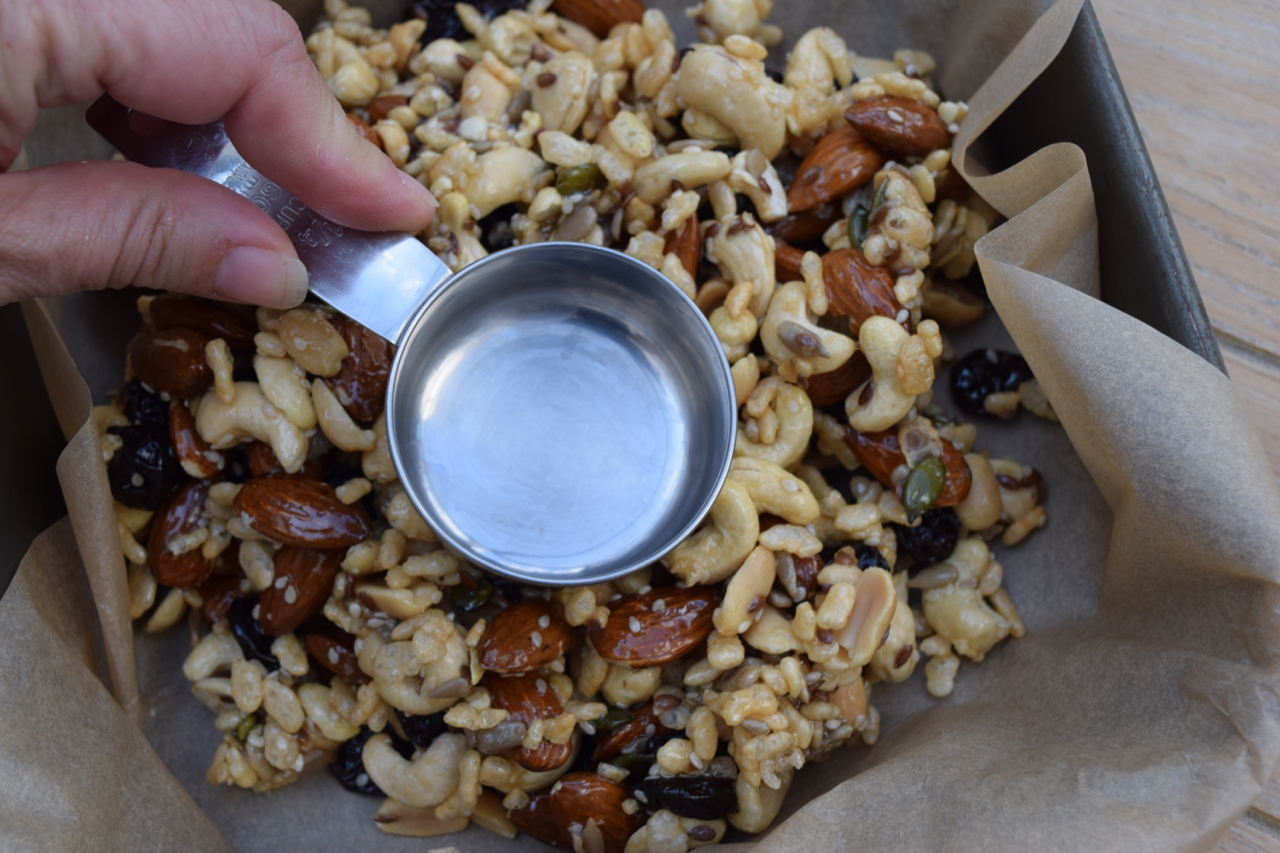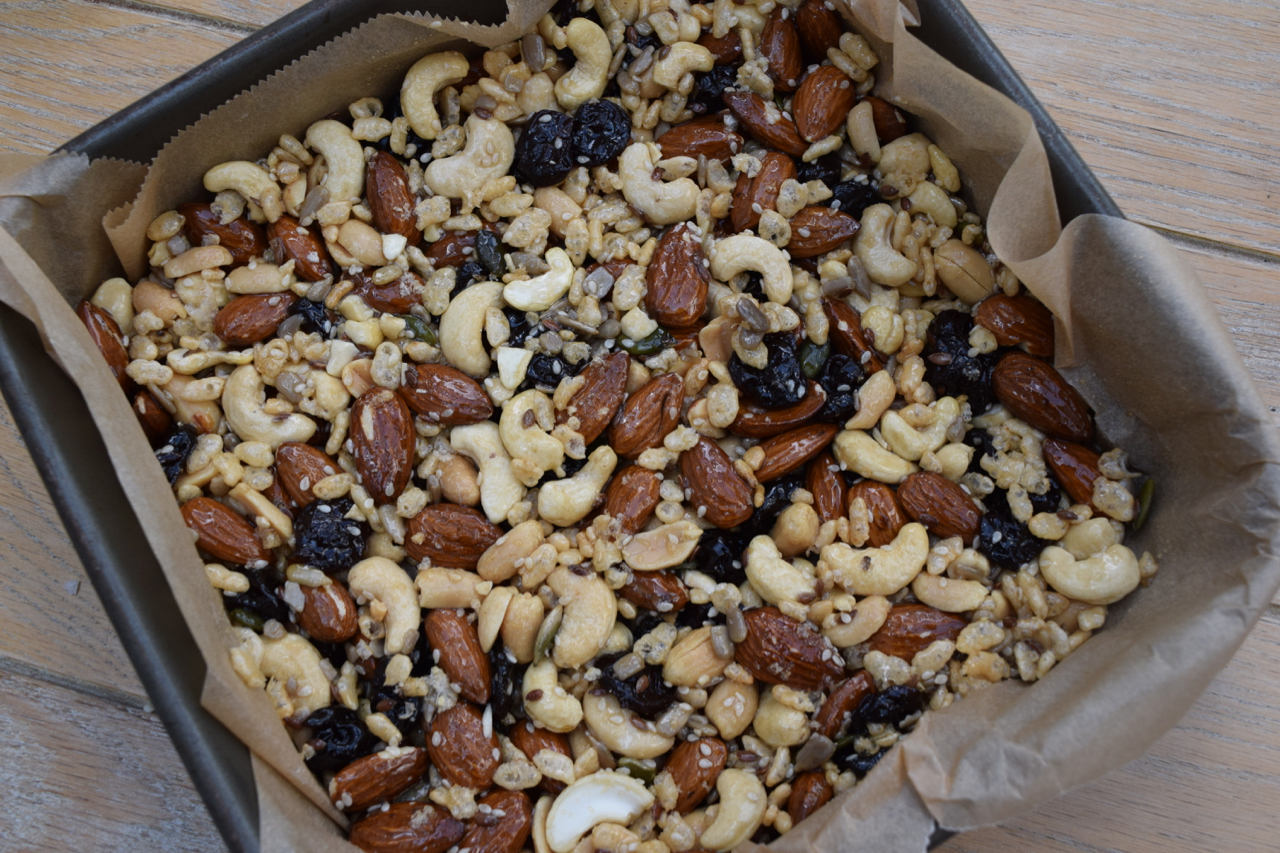 Bake this tray of wholemeal deliciousness for around 15 minutes or until just turning golden and smelling amazing.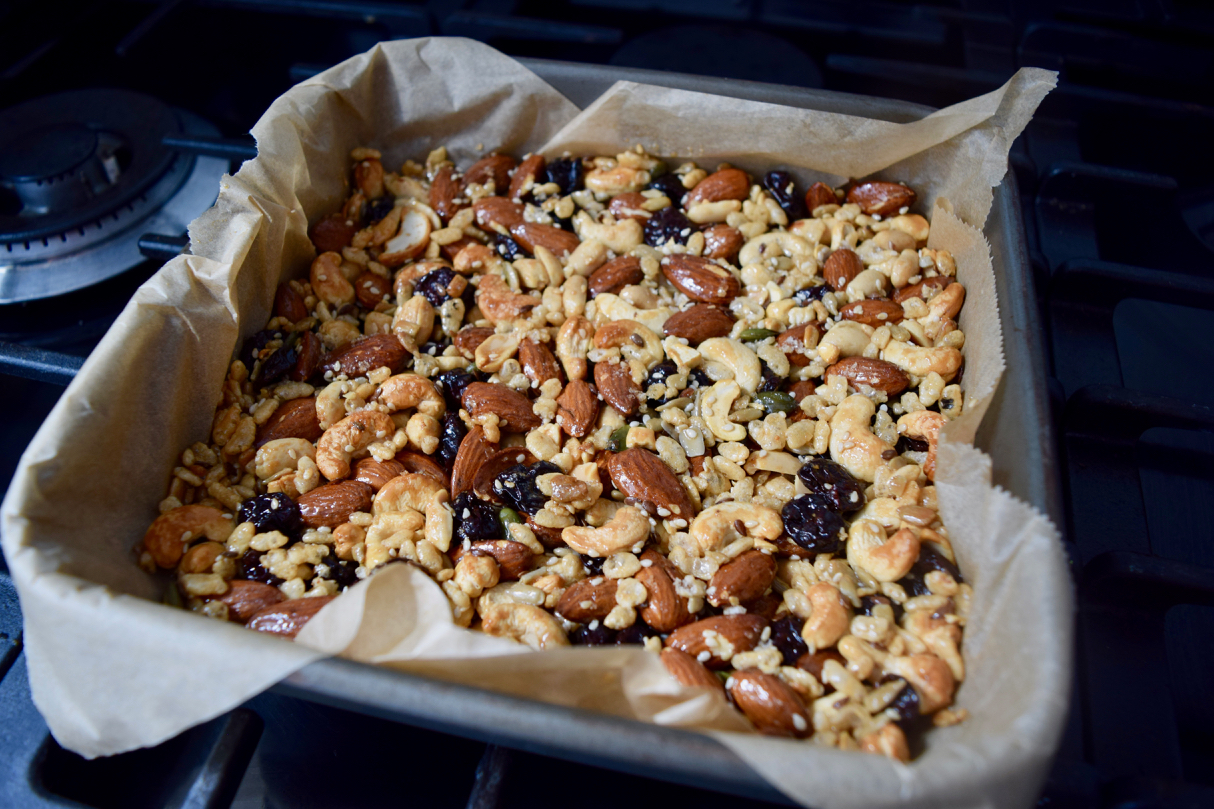 Leave to cool for a good half an hour before taking out of the tin and placing on a wire rack to finish cooling completely. Once cool, cut into 8 to 10 bars, depending on if you're cutting big chunky ones or smaller more modest affairs.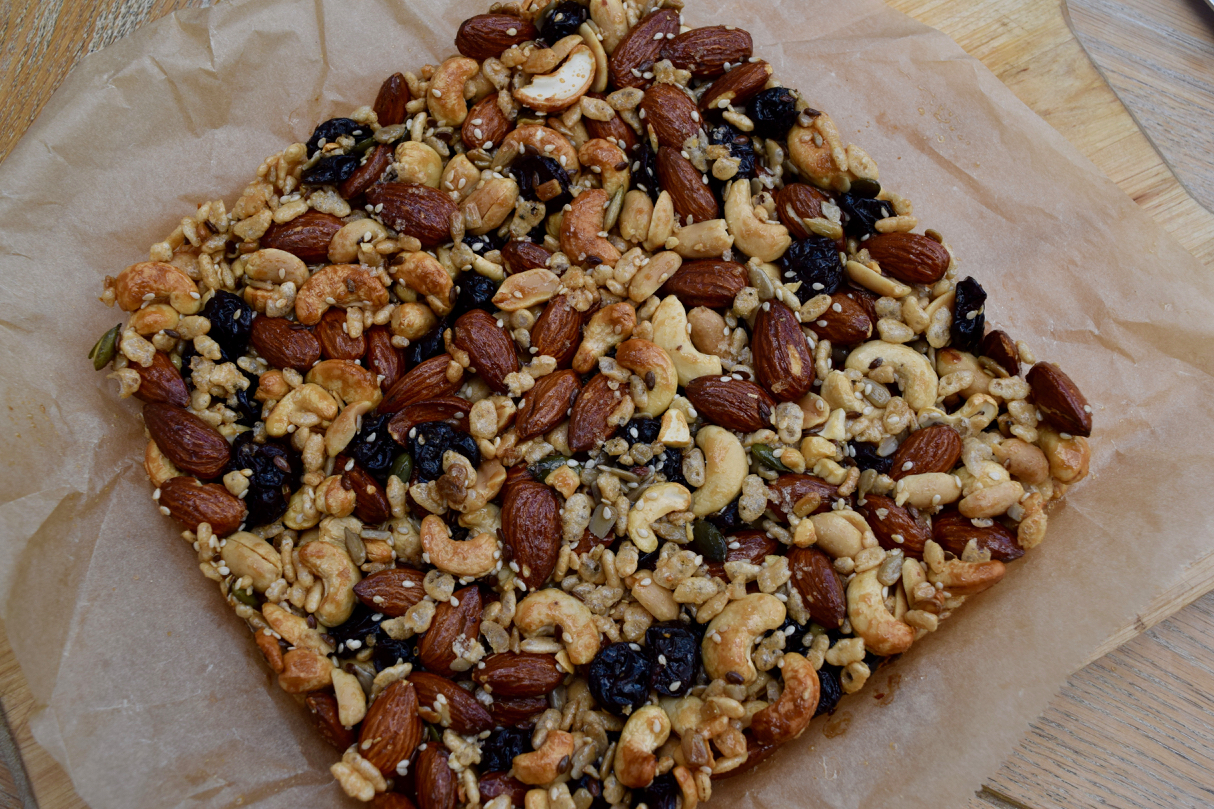 These keep well in an air tight tin, but layer up with greaseproof paper to prevent the whole lot turning back into one huge bar again.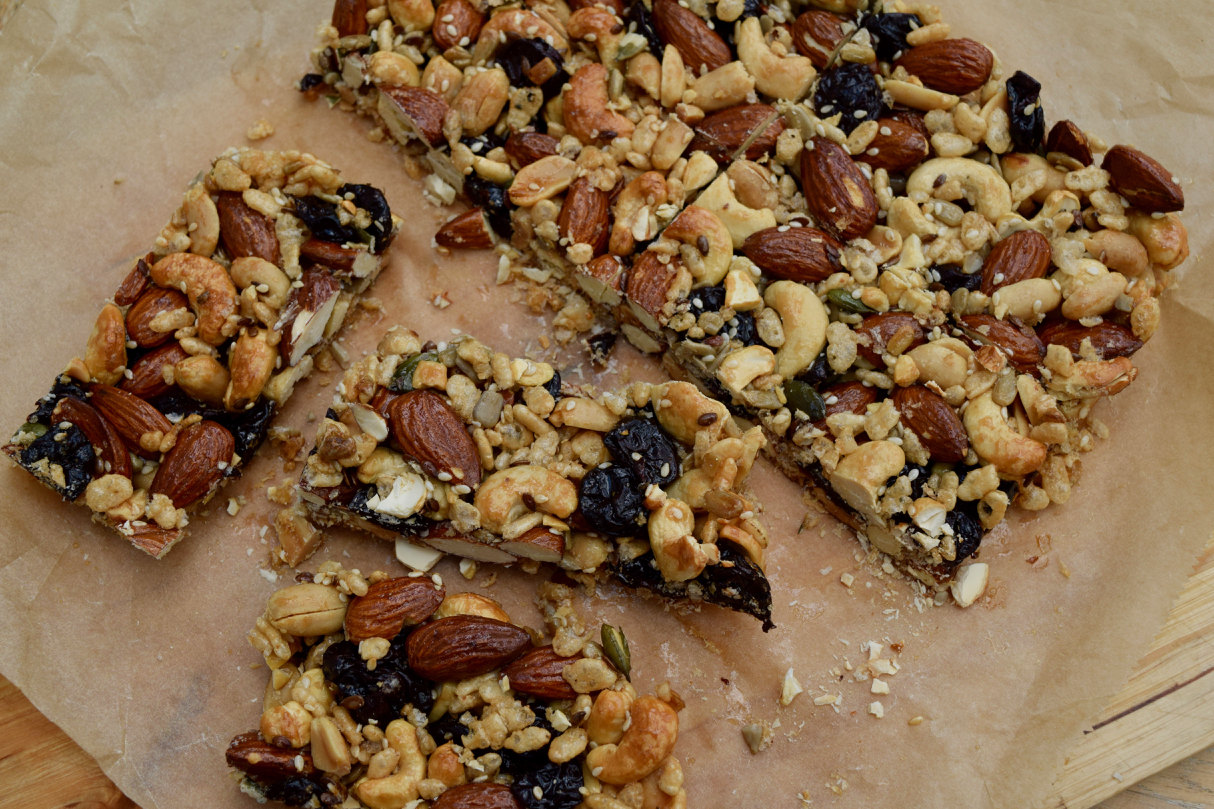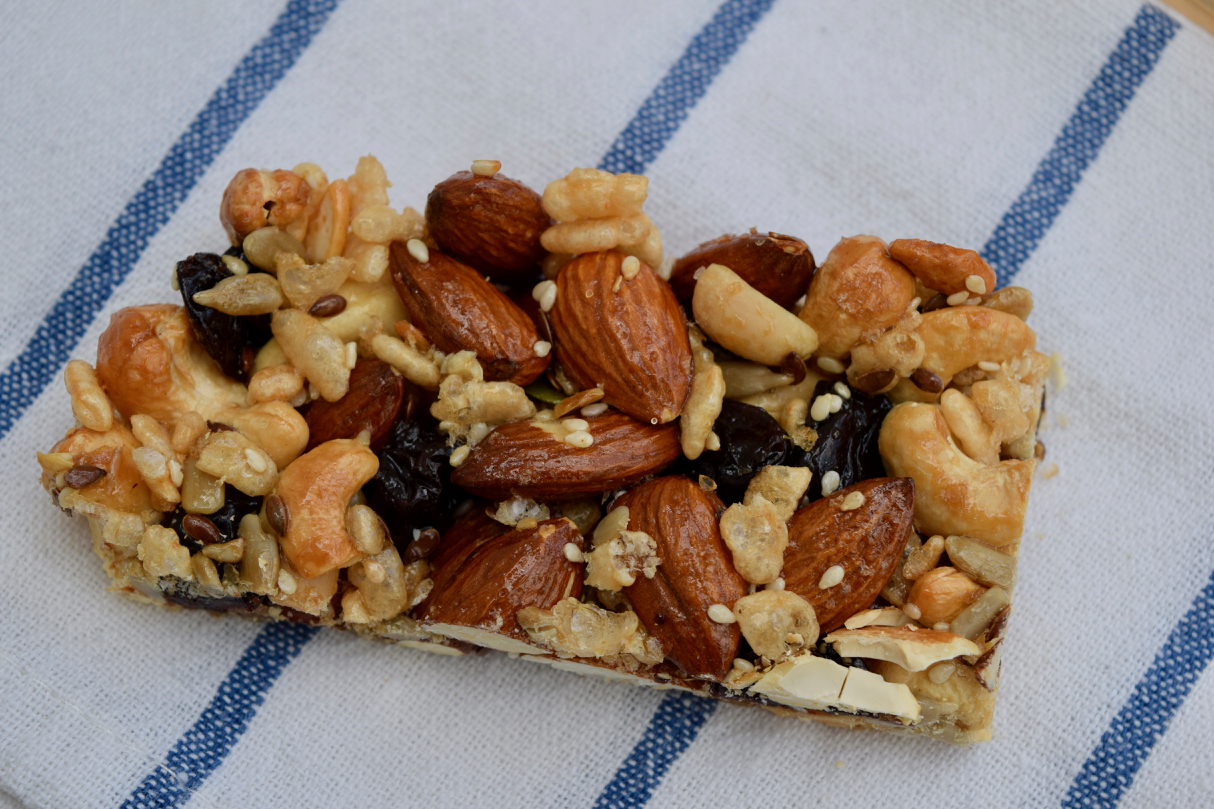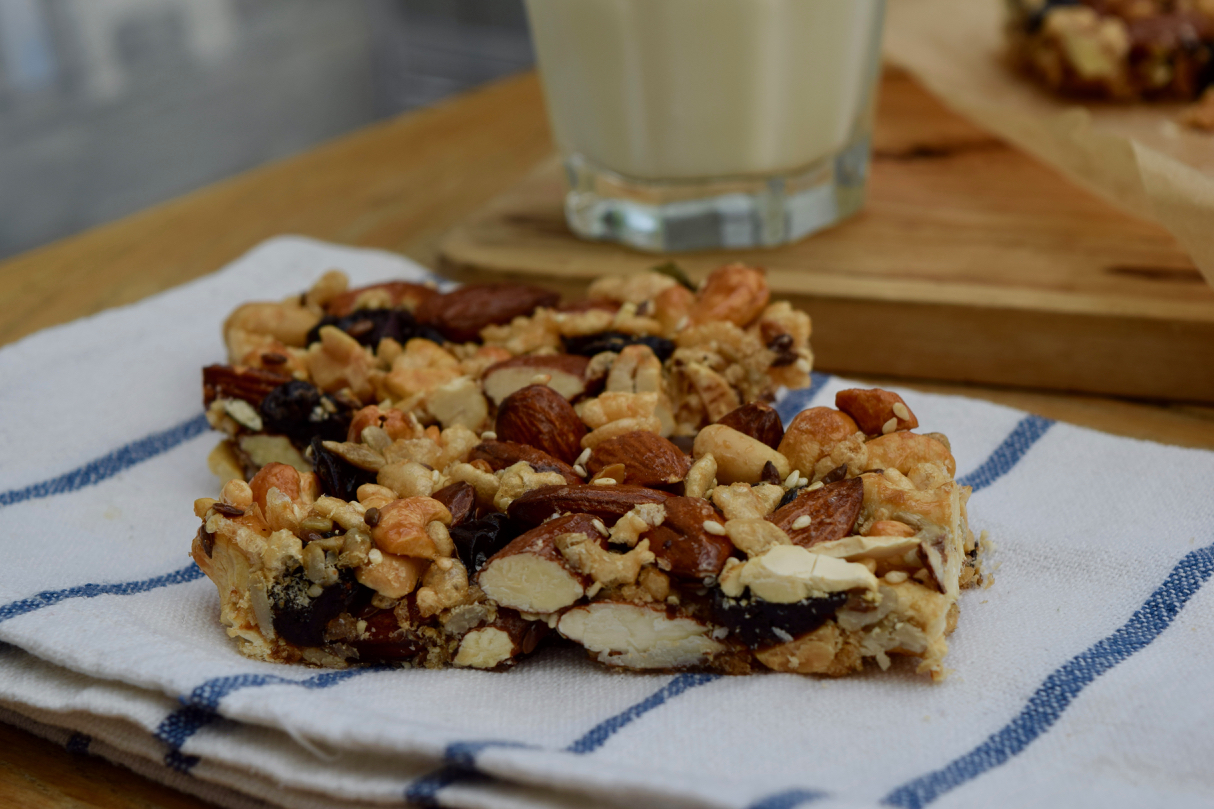 These are sticky, chewy, nutty, fruity and refined sugar free. And cheaper than buying ready made ones, so that's you winning all round by my reckoning.
Lucy x
Homemade Fruit and Nut Kind Bars Recipe
Makes 8 to 10 bars, dependent on size
You will just need a bowl and a lined 20cm square tin
260g mixed nuts, I used a mix of almonds, cashews and peanuts
3 tablespoons seeds, I had a bag of mixed but use pumpkin, sunflower, you choose
15g rice cereal
65g dried fruit, I used sour cherries, but cranberries, chopped apricots or raisins are also good
60ml brown rice syrup
1/4 teaspoon sea salt
1 teaspoon vanilla extract
Pre heat your oven to 160 degrees fan assisted and line a 20cm square baking tin with greaseproof paper.
In a bowl or large jug, heat the brown rice syrup in the microwave for around 30 seconds to make it easier to mix. Add the salt and vanilla and stir well.
Tip in the mixture of nuts, rice cereal and dried fruit. Mix together really well to ensure everything is covered in the syrup. Tip into your lined tin and then press down to form an even, compacted layer. I used an oiled measuring cup to do this.
Place into the oven and bake for 15 minutes until golden and smelling toasty. Leave to cool for around 30 minutes then remove to a wire rack to cool completely. Cut into 8 to 10 bars. Devour, trying not to eat more than one, good luck with that.
Store in an airtight tin between layers of greaseproof paper to prevent sticking.