Fried Chicken with Waffles and Sriracha Maple Syrup Recipe
I have been wanting to make Fried Chicken and Waffles for the blog for ages. I got given a waffle making machine over a year ago and we went through a phase of making waffles every 5 minutes. Ben even went so far as making omelettes and toasted sandwiches in it, so it was waffle central for about 3 months. I then forgot about the machine as it got overshadowed by egg poachers and air fryers. But now, with a rather large scale Anglo American wedding in the offing this weekend, I have decided to whip up a batch of Fried Chicken with Waffles and Sriracha Maple Syrup for the awaiting crowds. Well it won't really be a crowd at our party, it will be 8 maximum, and they'll inhale this wonderful dish without a backward glance.
My sister is throwing a Royal Wedding party this weekend and hooray, I am doing the cooking *surprised cat face*. We are embracing the Anglo American nature by serving my Fried Chicken with Waffles and Sriracha Maple Syrup followed by a very British afternoon tea with scones and my Lemon and Elderflower Cupcakes *recipe coming tomorrow*. Yes, correct, I have fallen off the Weight Watchers wagon again with quite a loud thud. This dish looks like a drama, but it really is more of a production line, and once you've got everything in hand, it's really rather simple. Get the chicken in the buttermilk marinade while all the wedding preamble is on, prepare the waffle batter and syrup then just before the guests start to arrive at the church, heat up the waffle machine and get the frying oil up to temperature. The chicken and waffles can both be made in advance and reheated at your leisure, so no need to miss a moment of Harry and Meghan's big day. Or a minute of the FA Cup Final, Saturday really is a big day all round. The whole dish is finished off with a generous drizzle of the sweet and spicy Sriracha Maple Syrup. I adore sweet and savoury, but if you can't abide it, just serve with a large squirt of some other sauce of your choosing. The inspiration for these two beauties came to me via the Food Network and Inspired Taste, with enormously fattening thanks.
This dish is all things to all people. I have yet to meet anyone who doesn't love fried chicken, and to enjoy it perched on top of a waffle drizzled with spicy maple syrup may just make it the dish dreams are made of. A happy ever after, if you will *how many more times do I have to tell you Lucy Loves is not just thrown together you know*.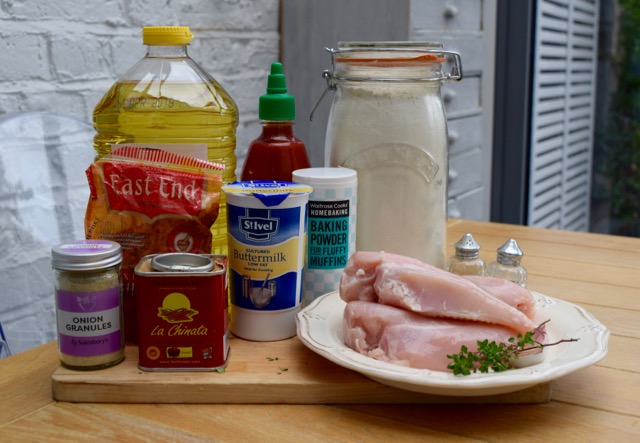 It's a two tier ingredients line up for this post as the photo would have had to have been a foot wide otherwise. This little lot makes up the fried chicken without any real drama. The onion granules were not hard to find *Sainsbury's* and make a fab addition to any coating recipe.
Make a start with the marinade, starting at least 2 hours in advance, if not 4. Take a sealable food bag and pour in the buttermilk. Follow in with the Sriracha for just a hint of spice, you can't really taste it too much in the end product, the bashed garlic cloves and the thyme sprigs.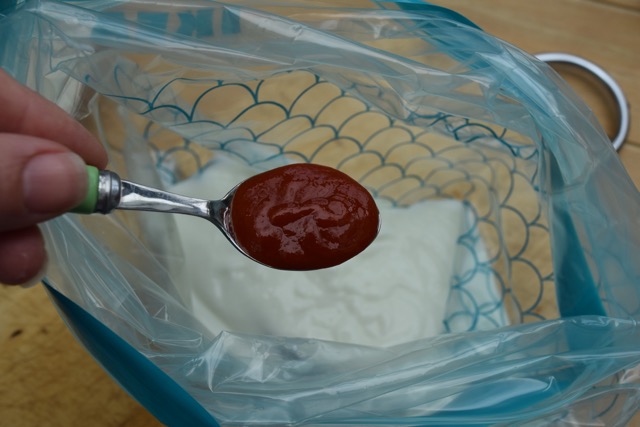 Cut each chicken breast into 3 to 4 good sized pieces then pop into the bag with the marinade, season well, then give it all a good squidge around so everything is well coated.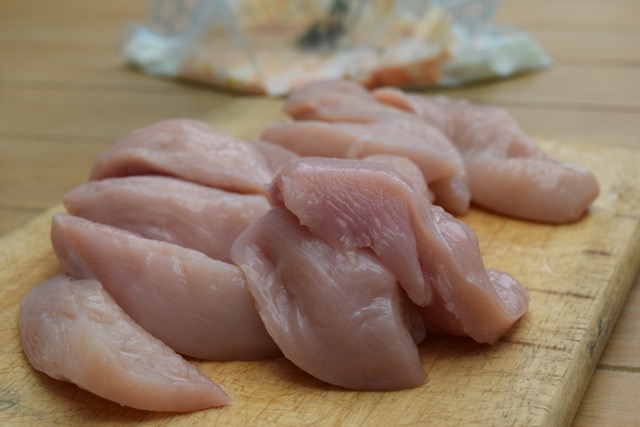 Leave the bag in the fridge for 2 to 4 hours to tenderise and add flavour.
While this is happening, keep yourself busy with some other minor chores. To make the coating add the flour, baking powder, onion granules, smoked paprika, chilli powder and plenty more salt and pepper.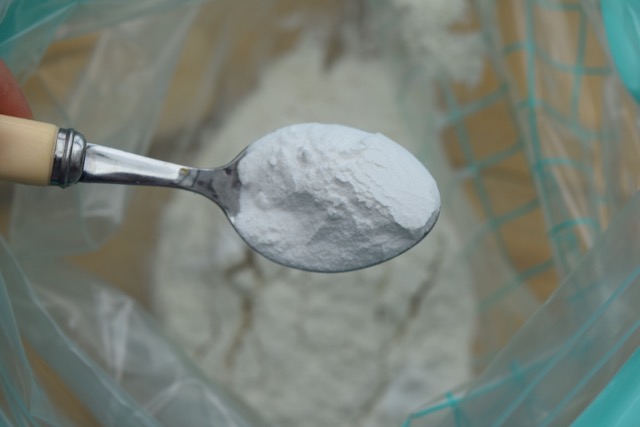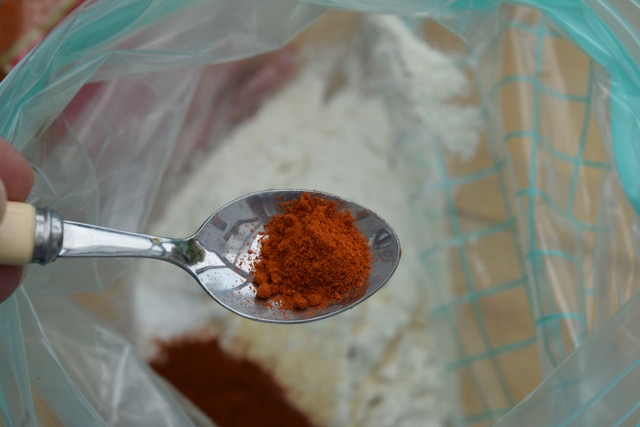 Give it all a good mix then pop to one side while you prepare the waffle batter.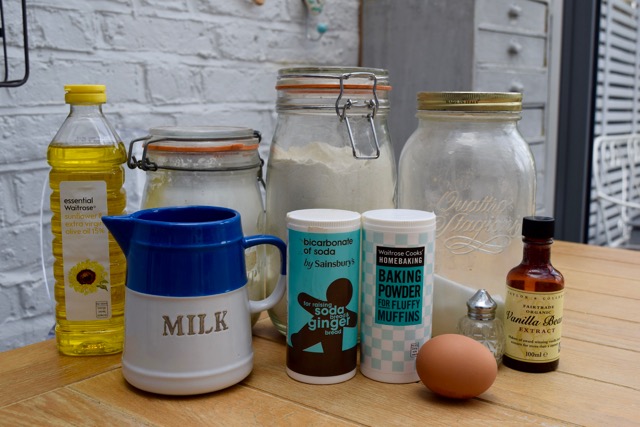 Here's the waffley good line up. Don't be alarmed by the inclusion of a touch of sugar and vanilla, these aren't overly sweet and go oh so well with the very savoury chicken.
Take a bowl and measure in the flour, cornflour, baking powder, bicarb, sugar and salt and give them all a little mix.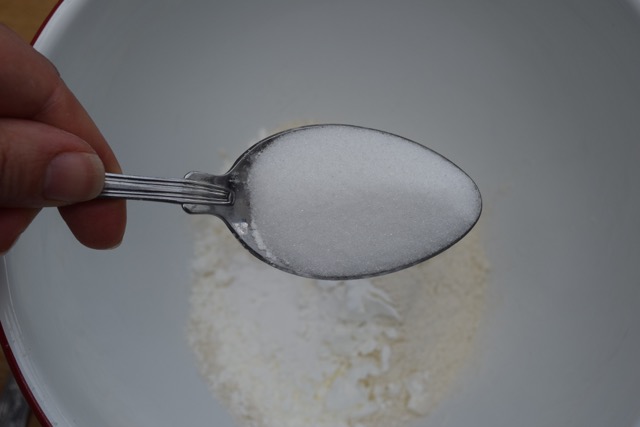 For the liquid ingredients, measure into a large jug the milk, the egg, oil and vanilla extract. Give it all a little whisk to mix then whisk this into the dry ingredients to fashion a smooth-ish batter.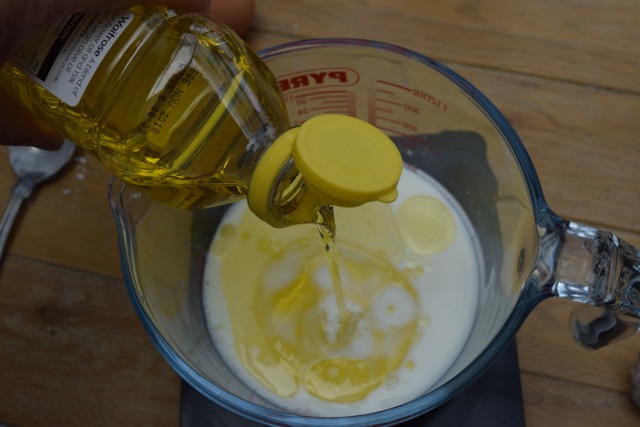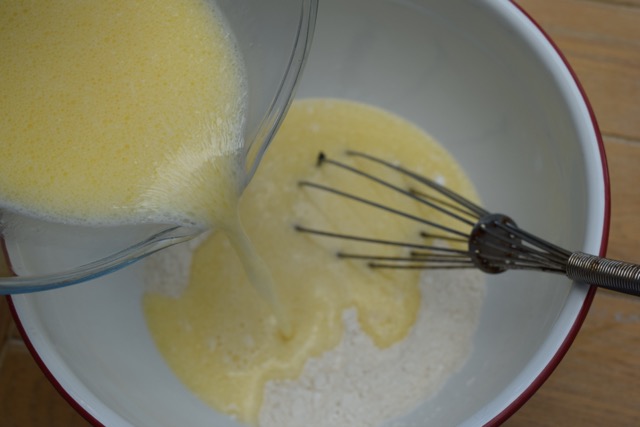 Leave the batter to sit for around 15 minutes before heating up your waffle pan ready for action.
I used a bit of spray oil on my waffle machine then I heated it up to it's highest temperature, but follow the instructions on your waffle machine. Pour in around a quarter of the batter into the pan and close the lid. My waffles cooked in around 2 to 3 minutes but keep an eye on yours. The finished waffles will be golden and crisp.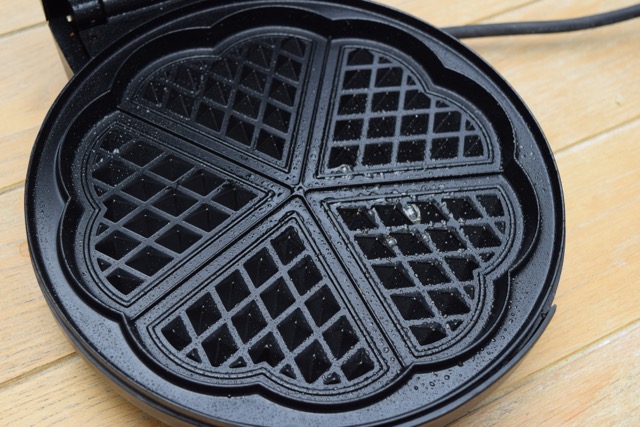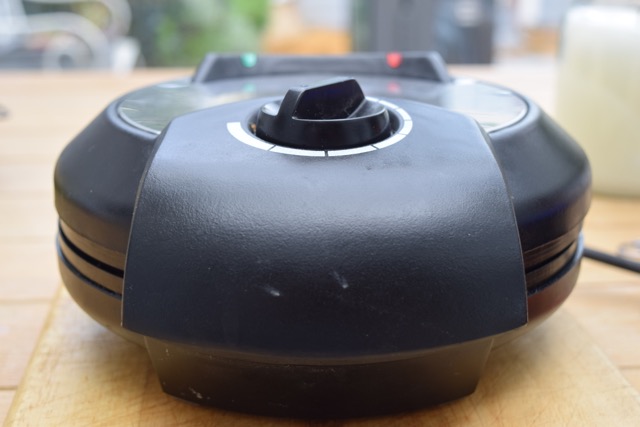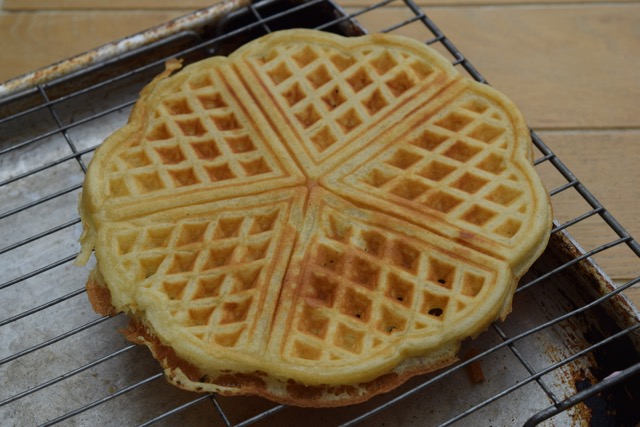 Pop the crisp waffle onto a rack while you make the other 3. These can be re-heated in a hot oven once you have fried off the chicken, just keep them in a single layer, they may go soggy if you pile them up.
Finally, the chicken is ready to cook. Pre heat your oven to 160 degrees fan assisted in preparation for keeping everything piping hot then remove your marinated chicken from the fridge and retrieve your coating you made earlier.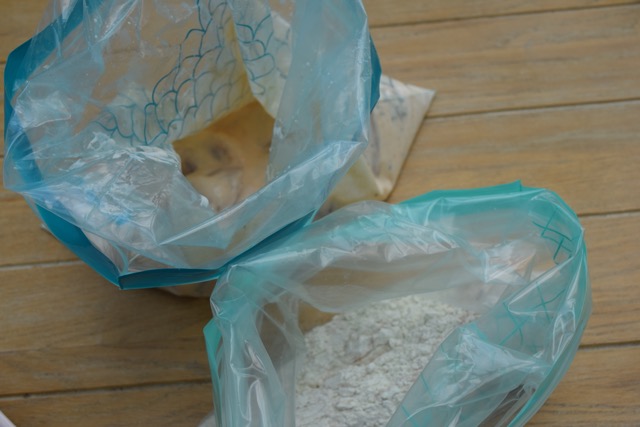 As this was quite a messy job and almost impossible to do whilst photographing, here's what I did next. Take half the chicken from the bag, shaking off any excess marinade then drop it into the bag of coating.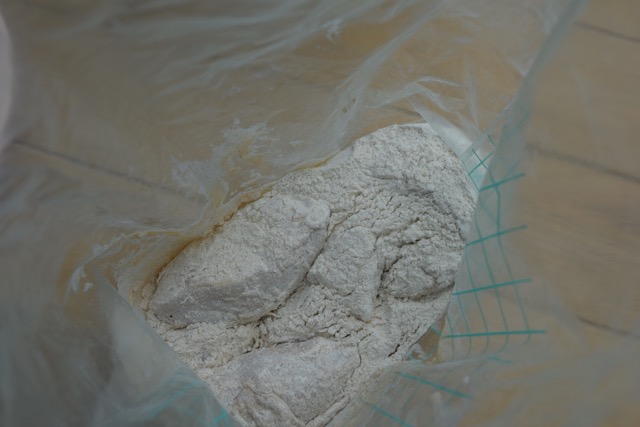 Lay the coated pieces onto a plate while you repeat with the rest of the chicken.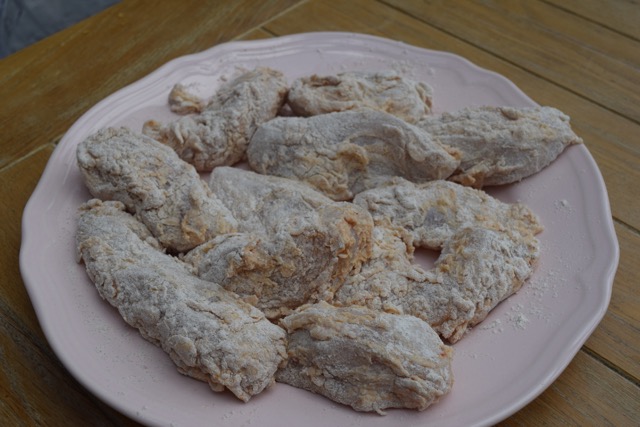 Take a large saucepan or high sided frying pan and pour in a good 2 to 3 inches of vegetable oil.  Heat over a medium to high heat until the oil is shimmering and sizzles when you drop in a tiny crumb of bread.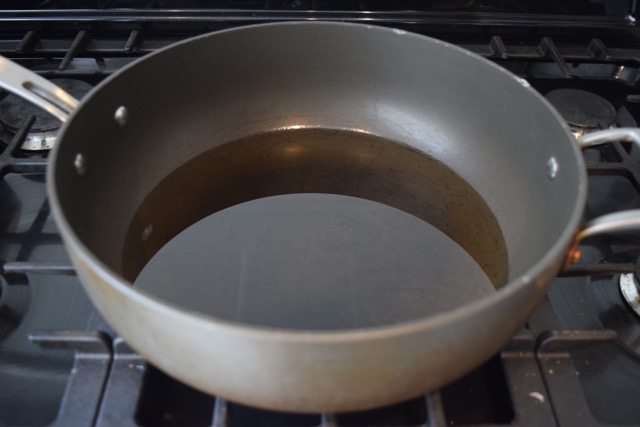 It's now time to gently drop in 3 to 4 pieces of the chicken and cook for 1 minute without moving so a wonderful crisp coating can form. Turn the chicken over so it browns evenly and until it is no longer pink in the middle. This will take around 5 to 8 minutes, depending on the size of your chicken pieces.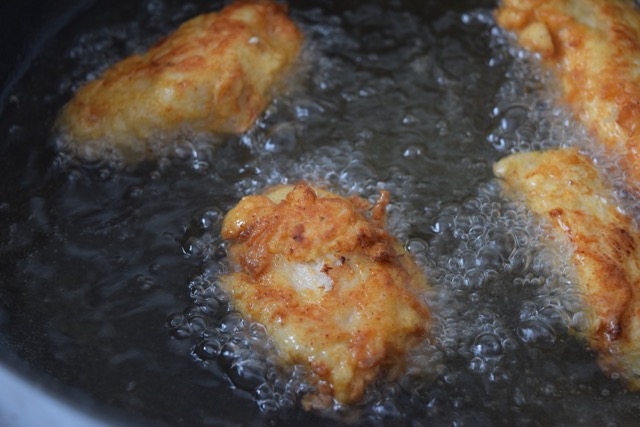 Once cooked. remove the chicken from the oil and place on a tray then put in the oven to keep warm while you cook the rest of the chicken pieces.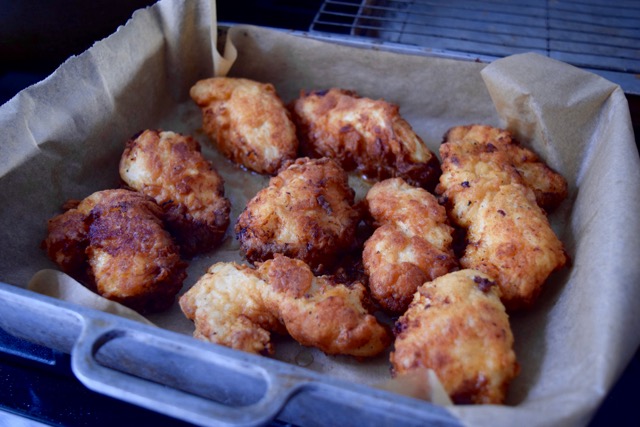 Pop the cooked waffles into the oven along with the final batch of chicken to re heat them for a couple of minutes all ready for serving.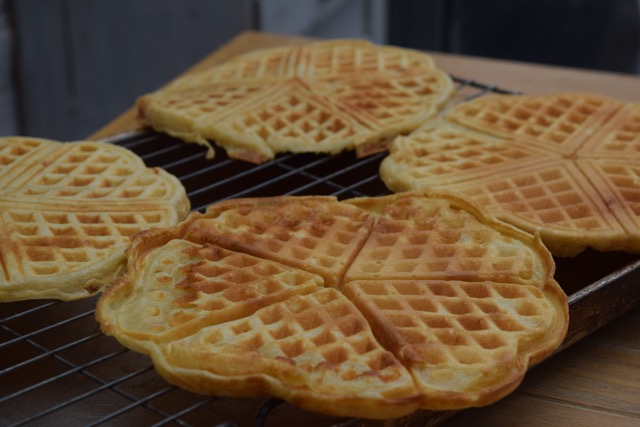 For the Sriracha Syrup, simply stir through 1 to 2 teaspoons of Sriracha into the maple syrup and mix well. Add less or more depending on your spice tolerance.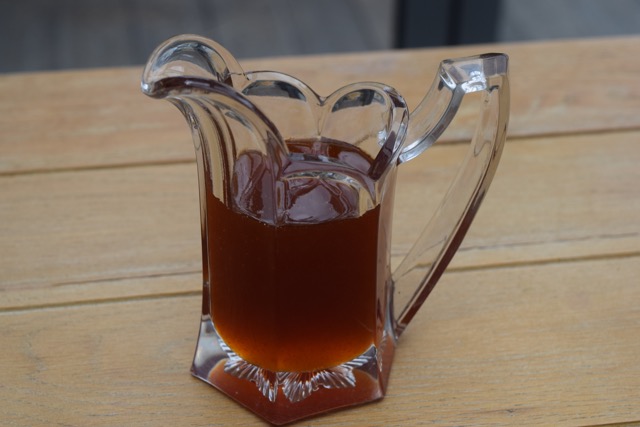 With everything hot, crisp and golden there's nothing more to do other then plate up. Place a waffle on a plate, tower with fried chicken then pour on a generous drizzle of Sriracha maple syrup. Dive right in.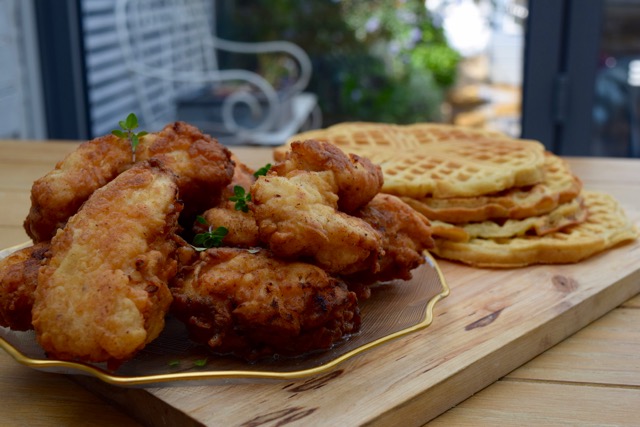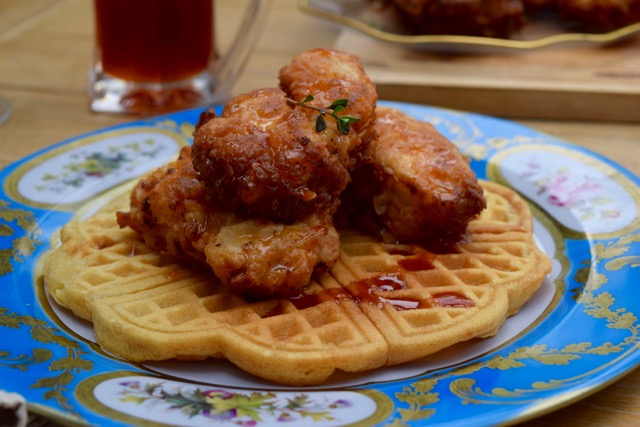 Some things are worth a bit of effort and Chicken with Waffles is one of those things. All sorts of crispness with all sorts of *eek* moist chicken and a slathering of spicy and sweet syrup.
This is perfect Royal Wedding brunch party fodder, or if you're swerving any patriotic festivities, just perfect brunch fodder.
Lucy x
Fried Chicken with Waffles and Sriracha Maple Syrup Recipe
Serves 4, generously
You will need a waffle make or waffle pan and a large deep sided saucepan for deep frying
Fried Chicken
650g chicken breast
250 to 300ml buttermilk – the pot I had was 284ml randomly
1 teaspoon Sriracha sauce
2 cloves garlic, peeled and smashed
3 sprigs fresh time
salt and pepper for the marinade and coating
120g plain flour
1 teaspoon baking powder
1 teaspoon onion granules
1 teaspoon smoked paprika
1/2 teaspoon cayenne or chilli powder
Plenty of vegetable oil for frying
Waffles 
100g plain flour
30g cornflour
1/2 teaspoon baking powder
1/4 teaspoon bicarbonate of soda
1 tablespoon caster sugar
1/4 teaspoon salt
235ml milk, whole, semi skimmed or skimmed
80ml vegetable oil
1 egg
1 teaspoon vanilla extract
Sriracha Syrup
100ml maple syrup
1 tablespoon sriracha
A few thyme sprigs to garnish
Start by marinating the chicken. Take a large ziplock bag or a bowl and pour in the buttermilk. Add the Sriracha, peeled and smashed garlic cloves, thyme sprigs and generous amounts of salt and pepper. Cut each chicken breast into around 3 or 4 pieces then drop these into the bag of buttermilk. Give the bag a good squidge to ensure the chicken is all coated then leave in the fridge to marinate for up to 4 hours, less if you're pushed for time.
Take another bag and add the ingredients for the chicken coating.  Mix the flour, baking powder, onion granules, smoked paprika and cayenne or chilli powder. Pop to one side while you make the waffles.
For the waffle batter, take a bowl and mix the flour, cornflour, baking powder and bicarb. Add the sugar and salt and mix well. Now in a jug pour in the milk, oil, egg and vanilla and give it all a little whisk.  Pour the wet ingredients into the dry ones and whisk together to form a smooth batter. Leave to sit for at least 15 minutes before using.
Pre heat the oven to around 160 degrees for keeping the chicken and waffles warm. For the Sriracha Maple syrup, simply mix together the maple syrup and sriracha sauce until well blended.
For the waffles, pre heat your waffle make or pan, spray with a little oil and then add around a quarter of the batter per waffle. Cook until golden and crisp on both sides then allow to cool on a wire rack while you prepare the rest of the waffles. Don't layer the waffles or they may become soggy.
For the chicken take a deep, high sided frying pan and pour in your chosen oil. Mine reached around 3 inches high in the pan. Heat up over a medium high heat, keeping a close eye on it, the temperature is right when you drop a tiny corner of bread into the oil and it sizzles and rises to the top.
Remove the chicken from the marinade, let most of the buttermilk drip off then drop half the pieces into the flour. Toss around to coat then place onto a large plate. Finish off coating the second half of chicken.
Once the oil is hot, add around 4 pieces at a time leaving them to sit for at least a minute so a crust forms. Carry on cooking until golden and cooked through, this should take around 5 to 8 minutes, just keep an eye on it and ensure the chicken is cooked through. Place on a baking tray and pop in the oven to keep warm while you carry on cooking the whole batch.
Add the waffles to the oven to re heat for around 3 to 5 minutes before you serve.
Serve the waffles, topped with hot fried chicken and generously drizzled with the sriracha maple syrup. Add a couple of fresh thyme leaves for garnish.
SaveSave
SaveSave
SaveSave
SaveSave
SaveSave