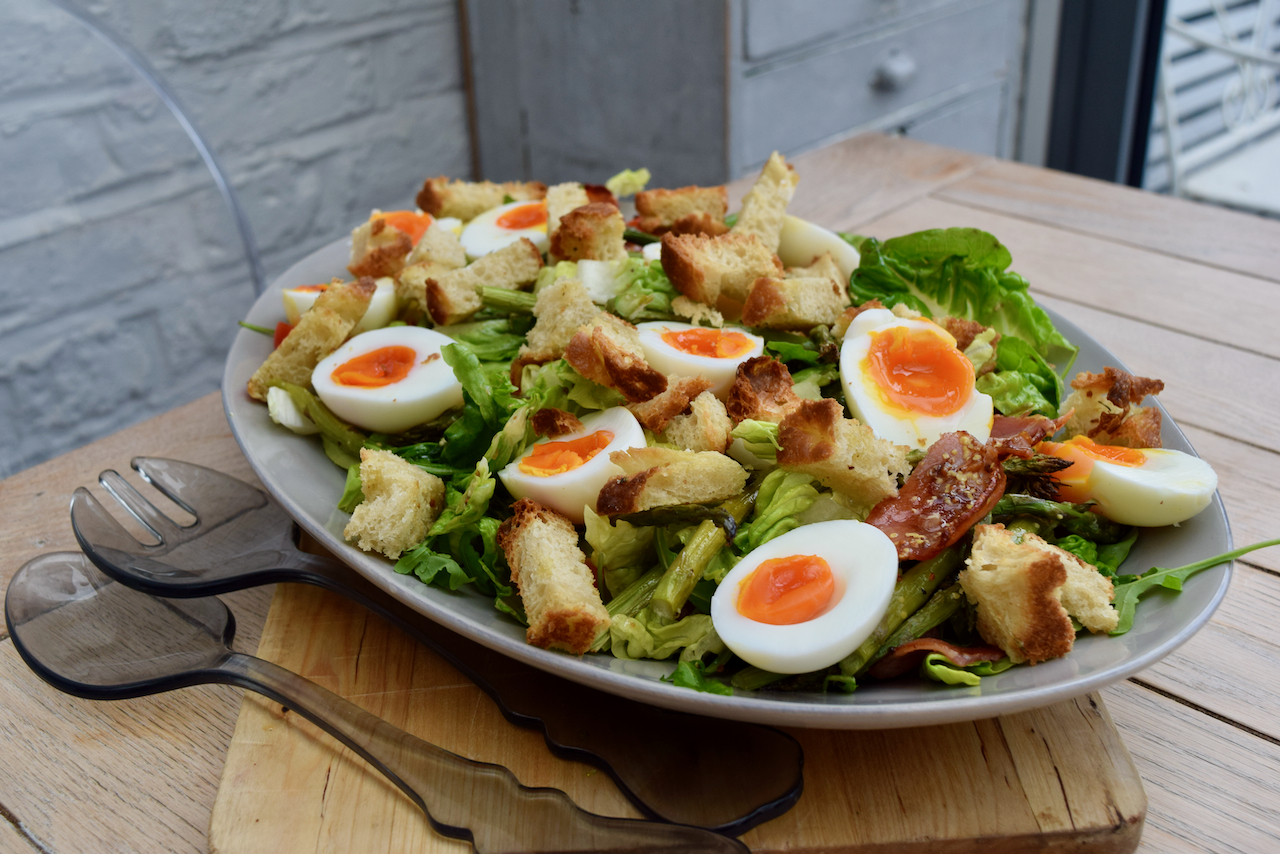 Egg and Bacon Summer Salad recipe
My family are not famous salad lovers. George is a conscientious objector, Clyde doesn't like tomatoes so that just leaves Ben and I happy to enjoy a leaf based meal. They all will however partake, of course, when you pack it with all tempting goodies the likes of which feature in my Bacon and Egg Summer Salad.
This salad is so good, I could have eaten the whole batch myself. It's a full meal in itself; no relegation to a side plate for this tasty dish. It's not even really a recipe, just an idea, you can include what you and your family love, but I fear the bacon and egg element are non negotiable. The bacon is crisp and salty, roasted in the oven alongside the asparagus to add flavour and save on washing up. I added focaccia croutons for a crispy carb element and then drizzled the whole business in a grain mustard dressing. The rest is up to you; tomatoes, olives, cucumber, radishes, sling in anything lurking at the back of your vegetable drawer.
Picnic fodder, portable lunch or a throw together summer supper, this may look like breakfast, but you can eat it whenever you bloody well fancy.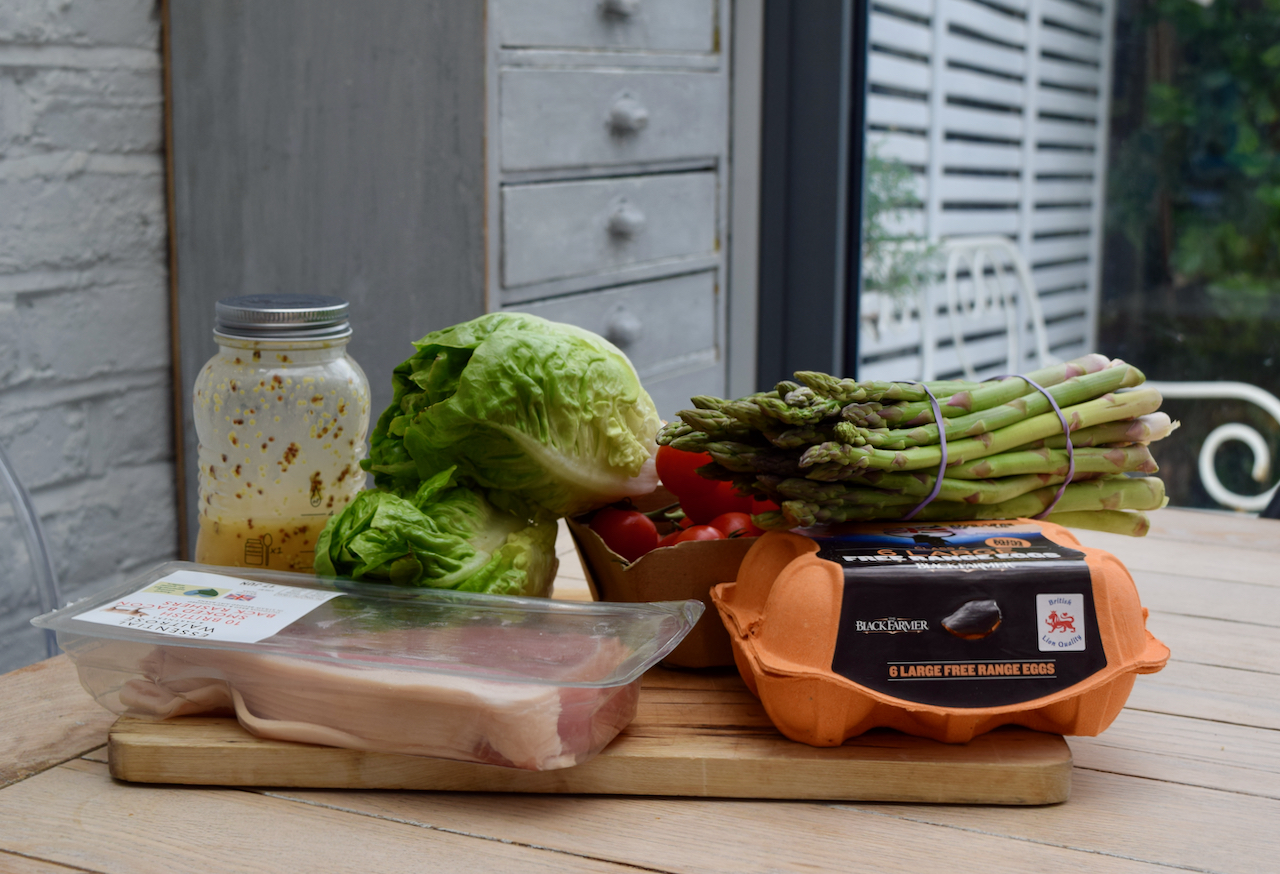 Like I said, this really is just an idea, rather than a recipe, but decent eggs and a bunch of wonderful summery asparagus really make this special. You can make your own croutons if you like; I had a crust of homemade focaccia hidden in the freezer which did a lovely turn with plenty of olive oil, salt and pepper and a place in the oven while you cook the bacon and asparagus.
And here's where we start, with the aforementioned bacon and asparagus. Line a large baking sheet, pre heat your oven to 180 degrees fan assisted then lay the rashers out in a single-ish layer. Beside them, once you've snapped the woody ends off where they naturally break, place the asparagus, drizzled in olive oil and a scattering of salt and pepper.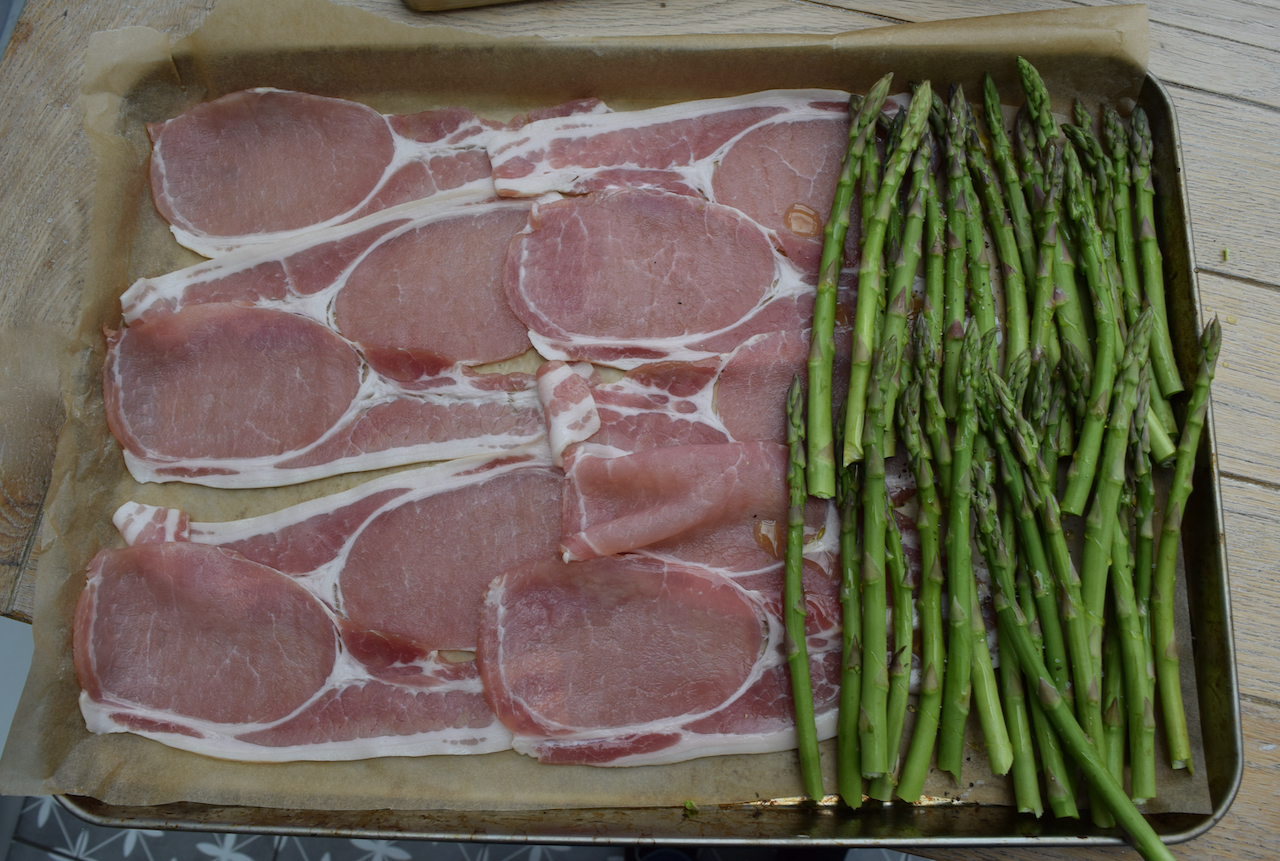 These will take 15 to 20 to crisp up, become golden edged and to smell amazing.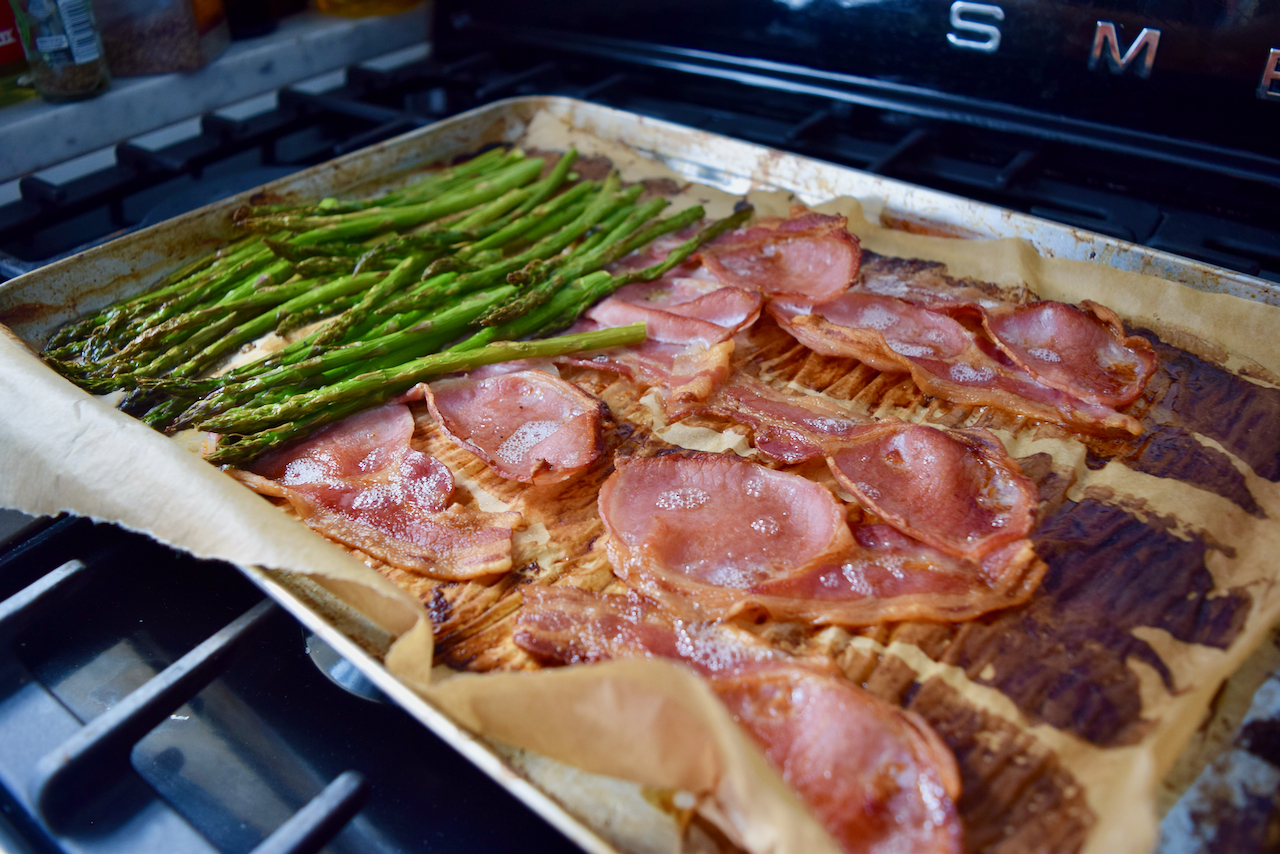 While this magic happens, soft boil the eggs. Bring a large pan of water to the simmer then pop the eggs in for 6 and half minutes. This will give you the perfect soft egg. Turn off the heat and cover in cold water until they've cooled down enough to peel and halve.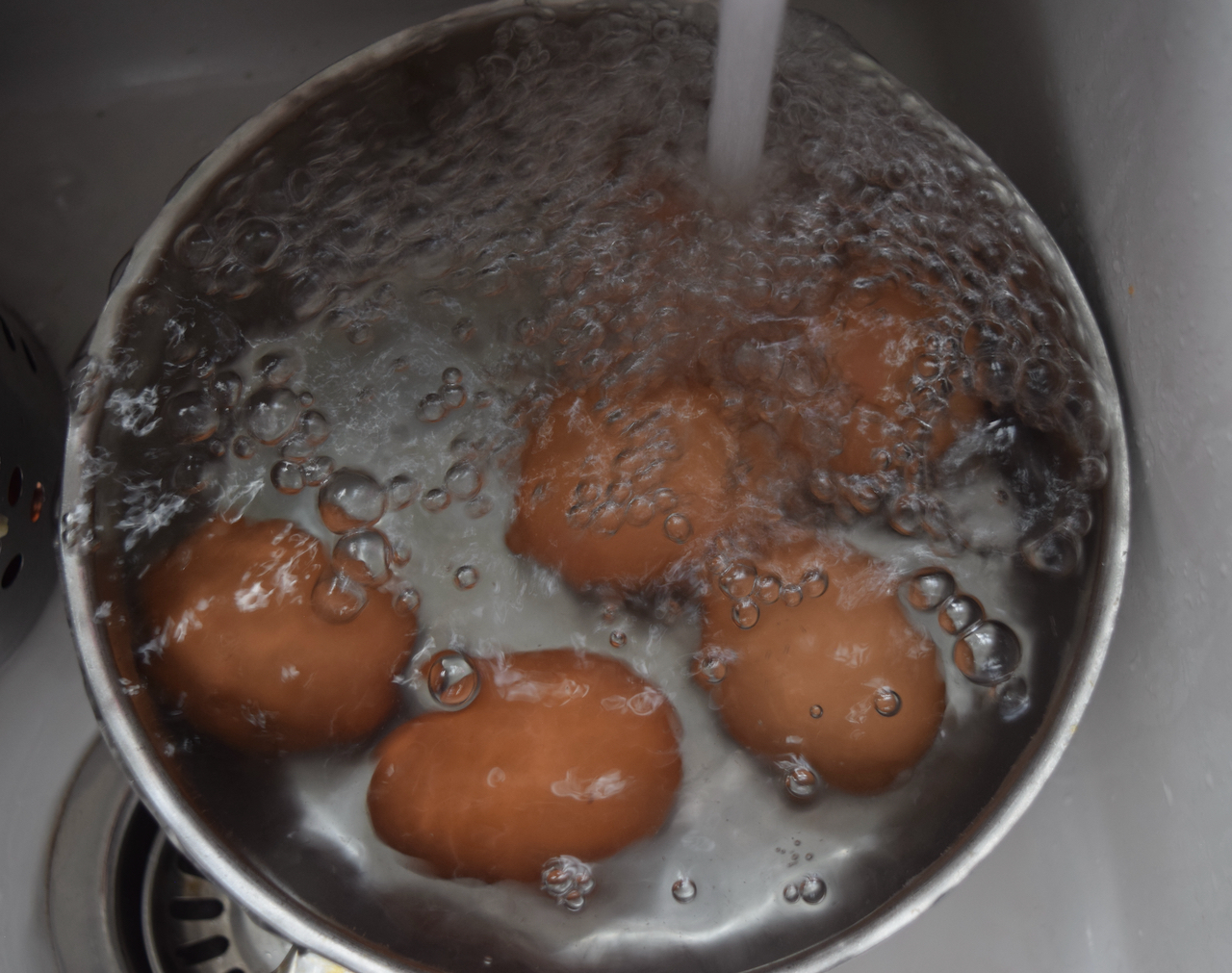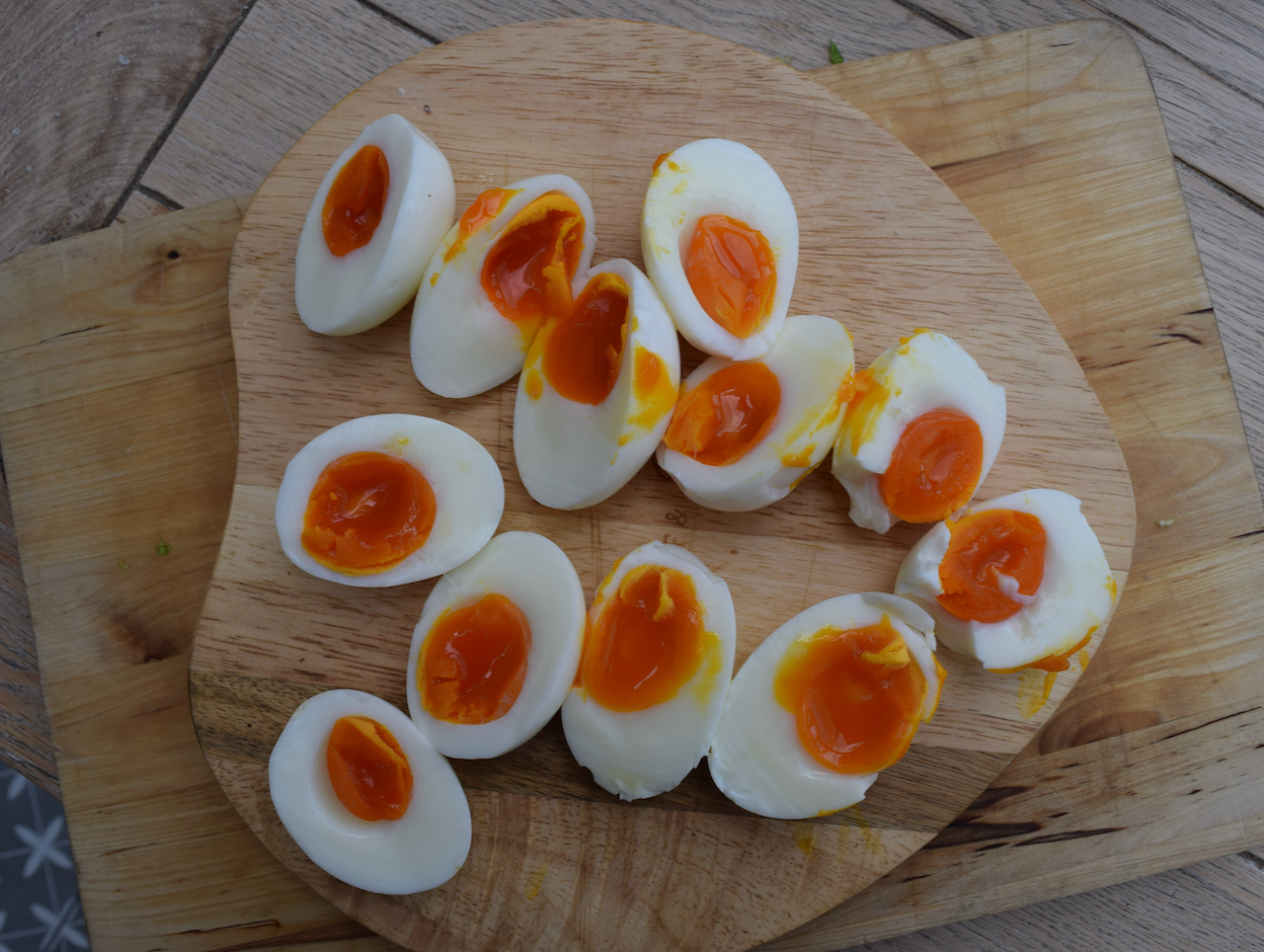 As you can see I made a right fist of cutting mine *raised eyebrow emoji*
Make your wholegrain mustard dressing by shaking the whole lot together in a jar, or buy something lovely from the shops. Then it's time for a bit of minor assembling. Lay the leaves onto a large platter, scatter with your chosen add ons, and drizzle on some dressing then toss accordingly.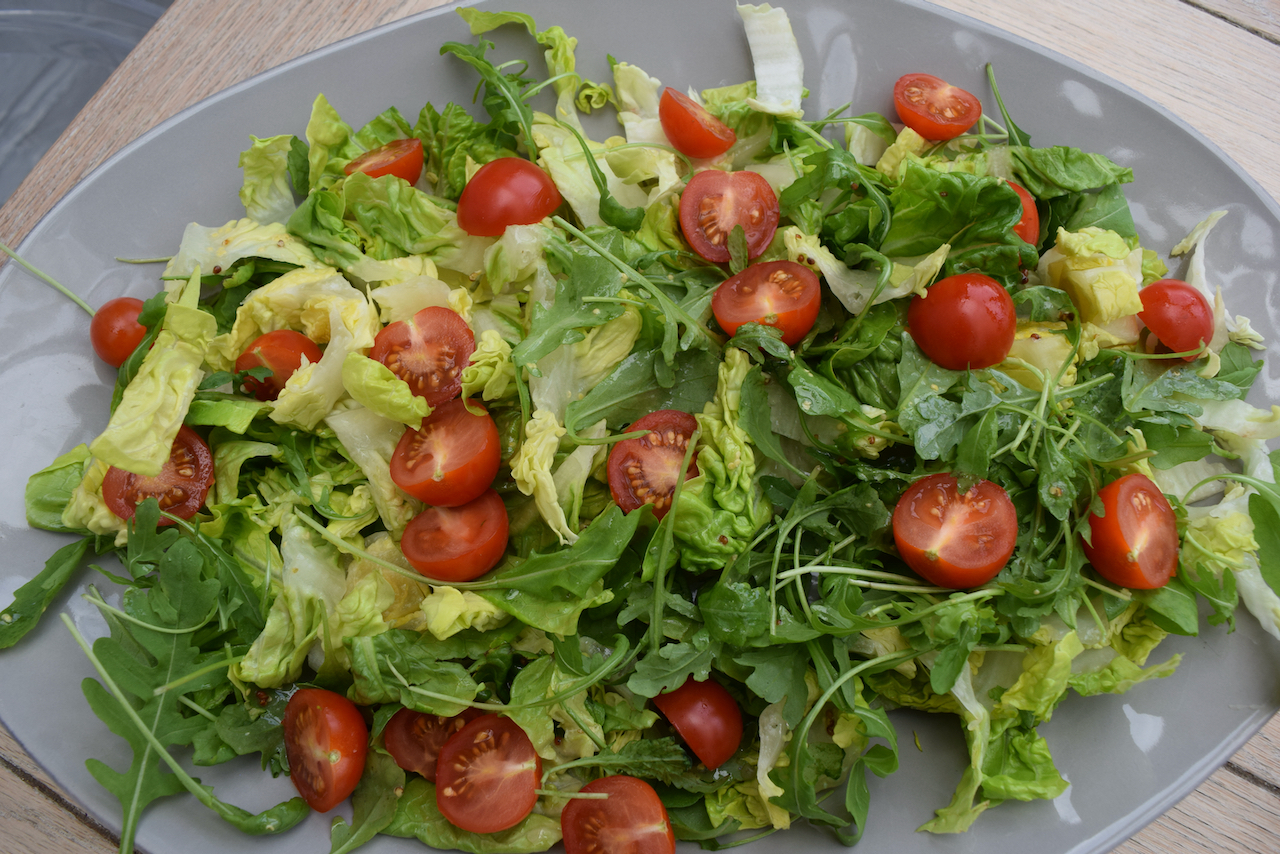 Lay on the asparagus and roughly chopped/torn bacon.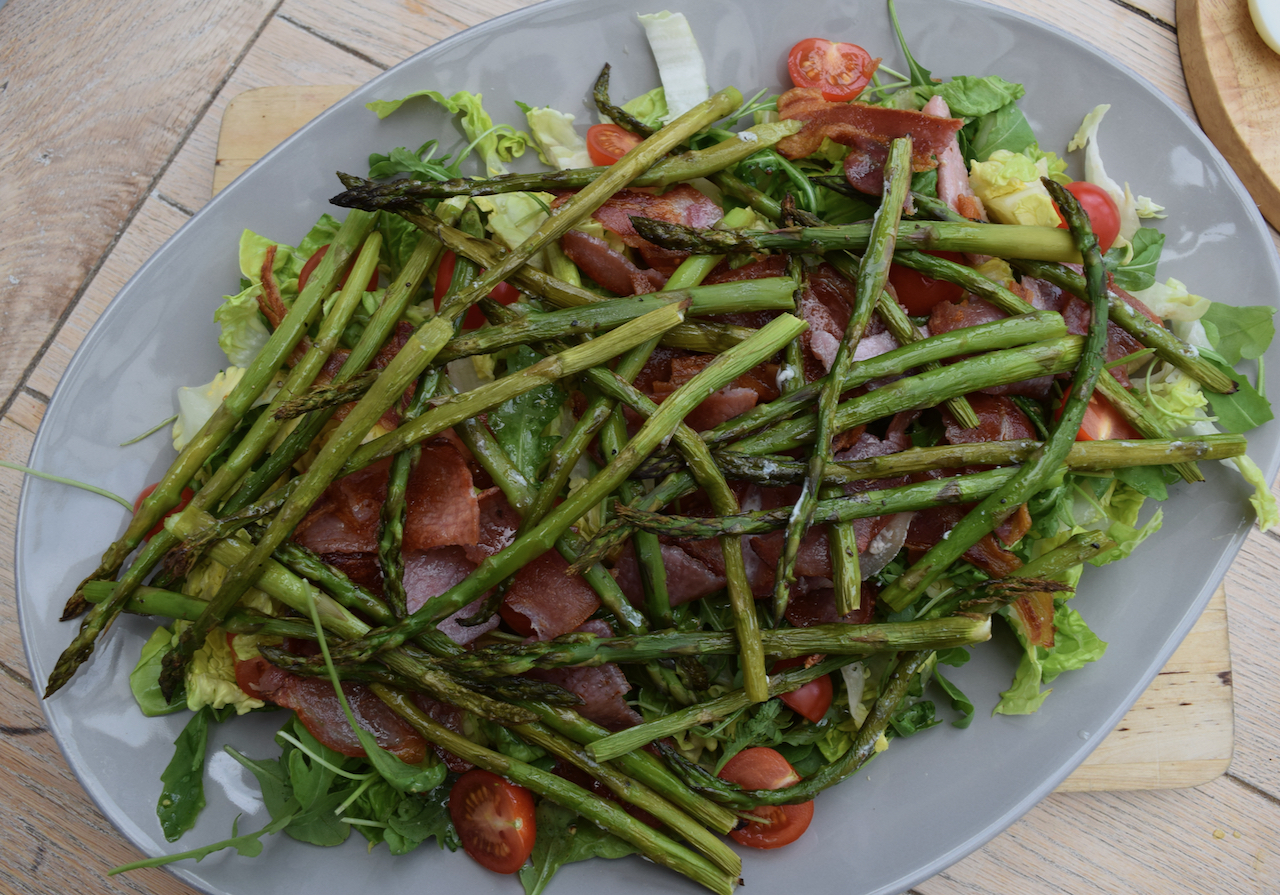 Dress again, toss again, then finally lay on your halved eggs and artfully dot the croutons around.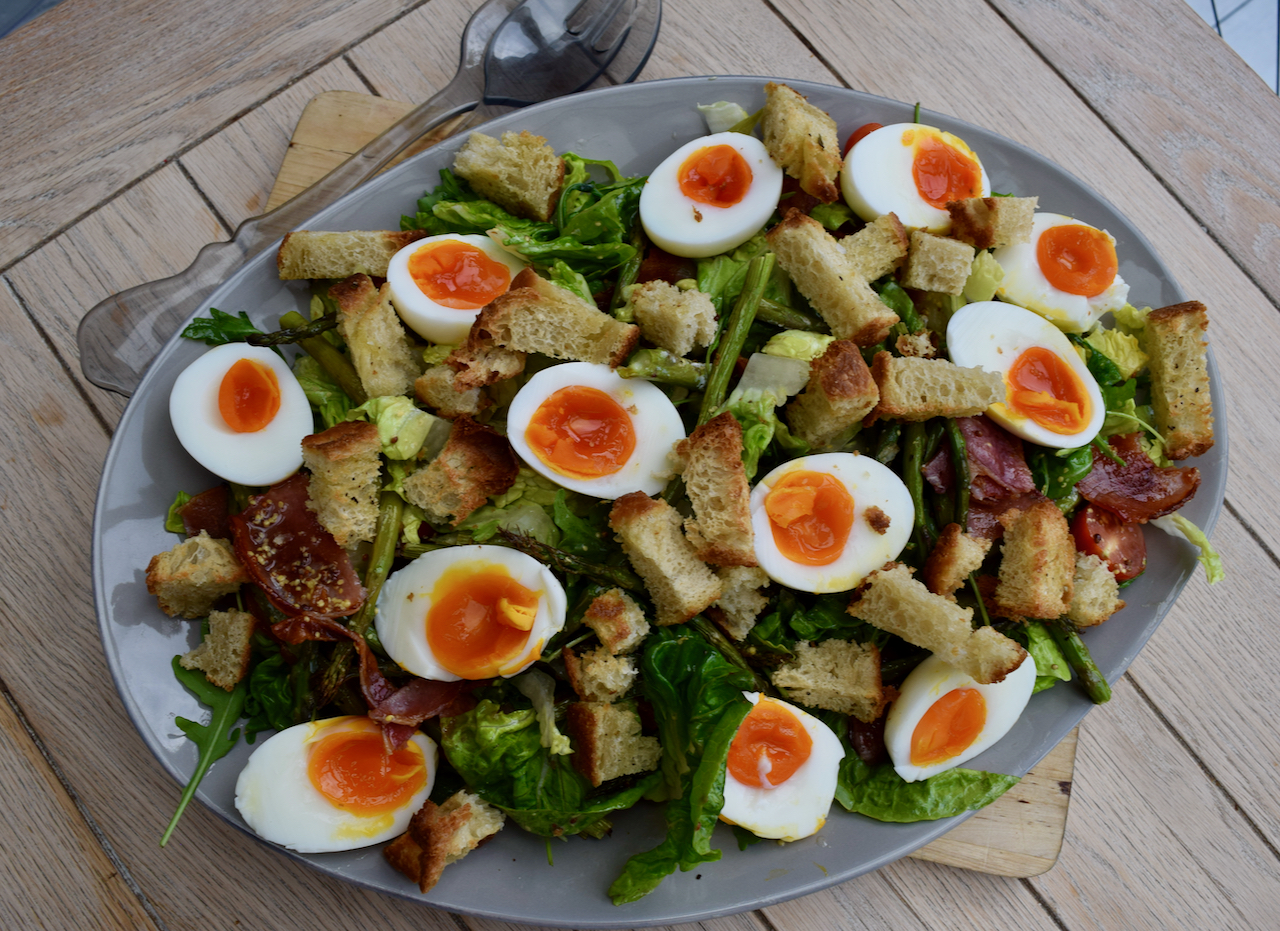 Go in with a very big spoon and eat the whole business yourself, or share with a crowd if you must.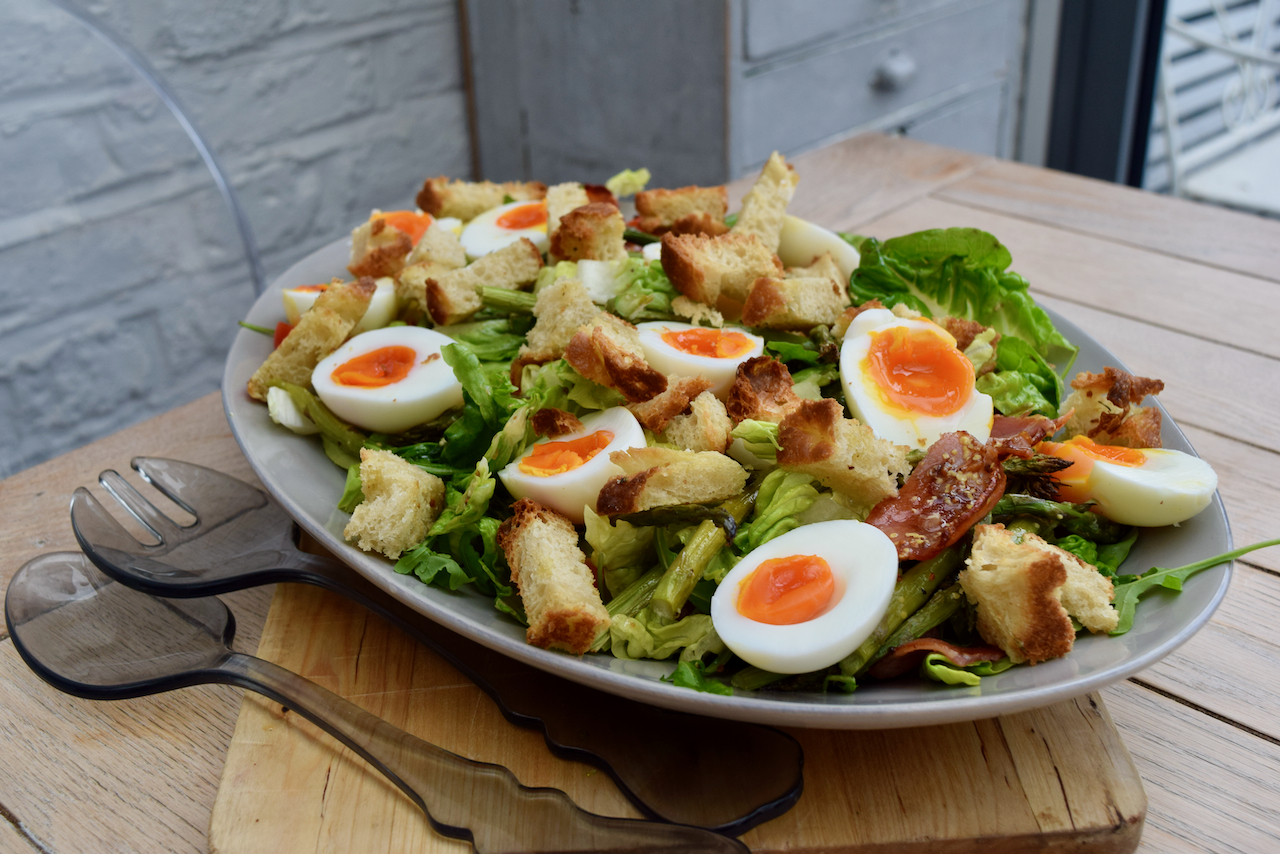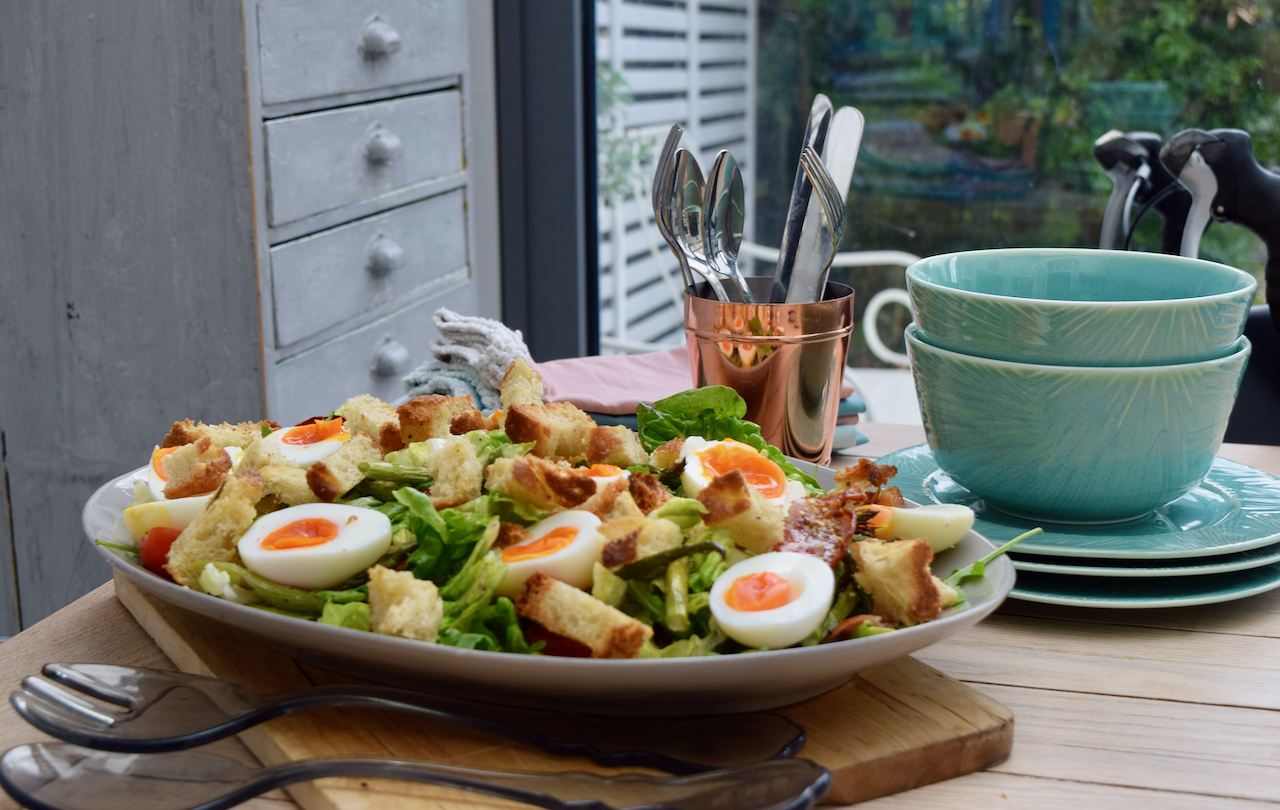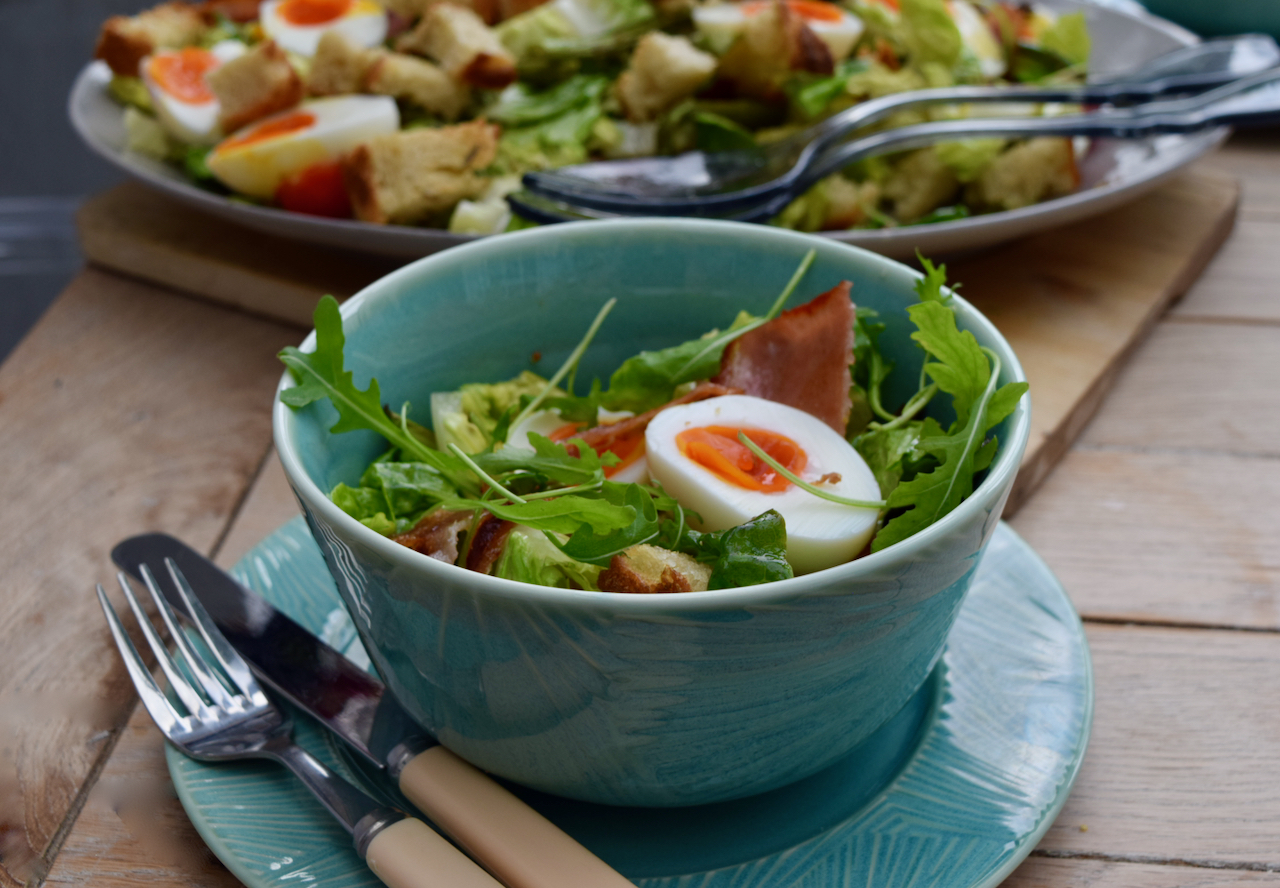 This is the salad haters salad; at a push they can leave the leaves and just inhale the egg, bacon, asparagus and croutons.
Lucy x
Egg and Bacon Summer Salad recipe
Serves 4, generously
You will just need a large serving plate for this and a baking tray
400g asparagus
A splash olive oil
8 rashers bacon, streaky or back to your preference
6 eggs
Salad leaves, I used two little gems and half a bag of rocket, but you choose
Cherry tomatoes, radishes, cucumber, olives, to taste
Grain Mustard Dressing
1 tablespoon grain mustard
1 tablespoon red or white wine vinegar
60ml ground nut oil
Salt and pepper, to taste
Chunky croutons, to serve
Make a start by lining a large baking sheet and laying on your rashers of bacon in a single layer. Beside it add the asparagus (remove the woody ends by snapping off the bottoms where they naturally bend and break), drizzle them with olive oil then put into your oven and turn the heat up to 180 degrees fan assisted and cook for 20 minutes or until the bacon is crisp and the asparagus are just turning golden and tender.
At the same time, if you're making your own croutons, toss some leftover bread, I used focaccia, drizzled in olive oil and salt and pepper into a baking tray and bake for around 15 minutes until crisp and golden.
While these bake, bring a pan of water to the boil then add your 6 eggs, turn down the heat and simmer for 6 and a half minutes. When the time's up, cover the eggs in cold water and, once cool enough to touch, remove the shells and cut into halves.
For the dressing, add all the ingredients to a jug or jar and whisk or shake until blended.
On a large platter spread out your chosen leaves. Scatter on your cherry tomatoes, sliced radishes, olives or choice of add ons. Drizzle over enough dressing to lightly coat the leaves. Once the bacon and asparagus are baked, roughly chop the bacon, scatter over the salad then lay on the asparagus. Drizzle on a little more dressing, gently toss, then place the halved eggs and croutons on the top.
Serve in huge bowlfuls with extra dressing on the side.