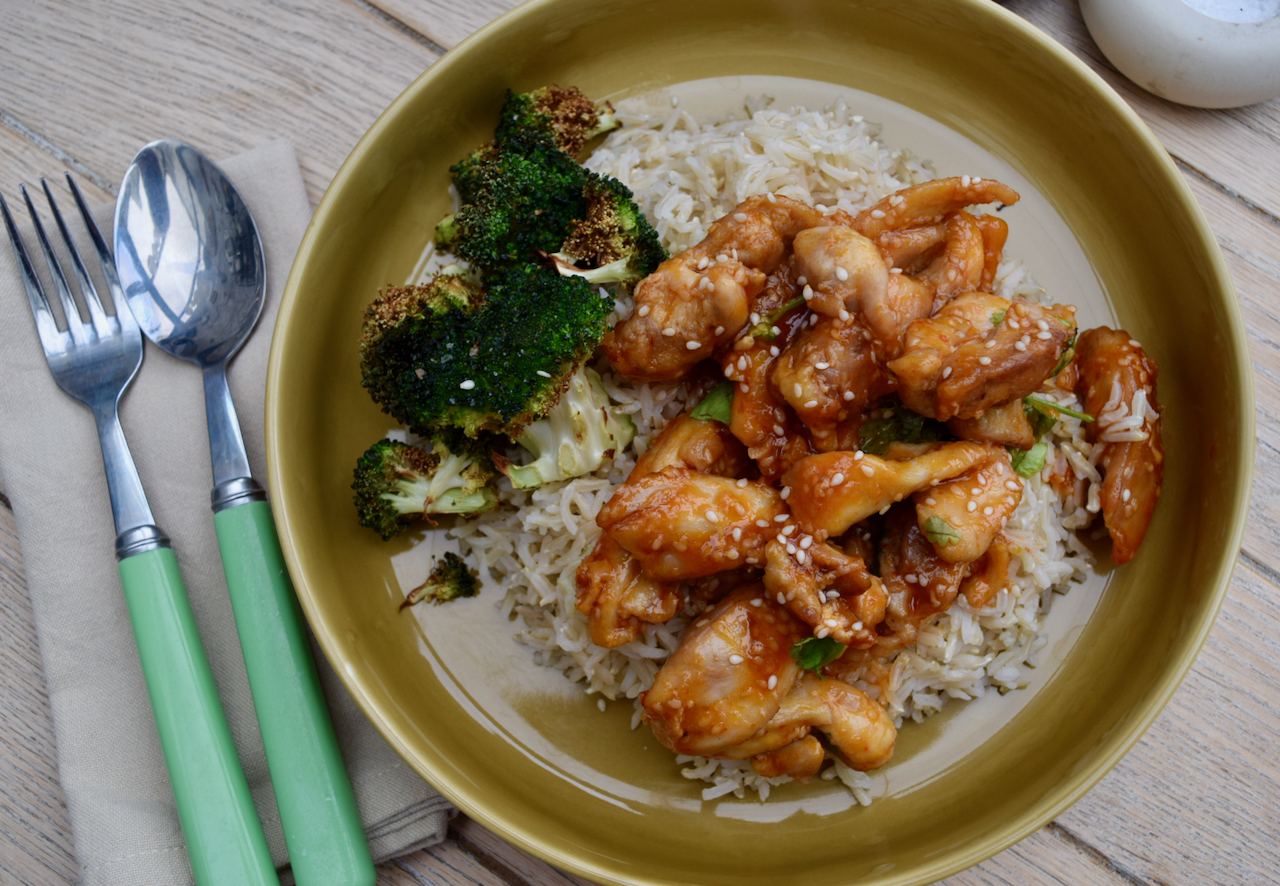 Honey Sriracha Chicken recipe
For the first time in weeks, I've spent all afternoon in the kitchen. We've had a ridiculously busy time socially recently, so cooking has rather been on the back burner. But today was cold and wet so time in the kitchen felt comforting, and with the oven on, by far the warmest place in the house. Not that my Honey Sriracha Chicken needs all day in the kitchen; this could be on your table in less than 25 minutes.
Sriracha is the family condiment of the moment *apart from my beloved Salad Cream*; we have mulitple bottles open at all times and it adorns most of Ben's meals. This super spicy house favourite when paired with honey and sesame seeds creates a sweet, sticky sauce which is my new best friend. Pour this over some beautifully browned boneless chicken thighs and you've got an effortless dinner right there. In a moment of piety I served mine with plenty of brown rice and some air fried broccoli, but noodles would be just as good.
This one pot, almost 5 ingredient recipe is quick and really gives the illusion you've made an effort, when really you haven't.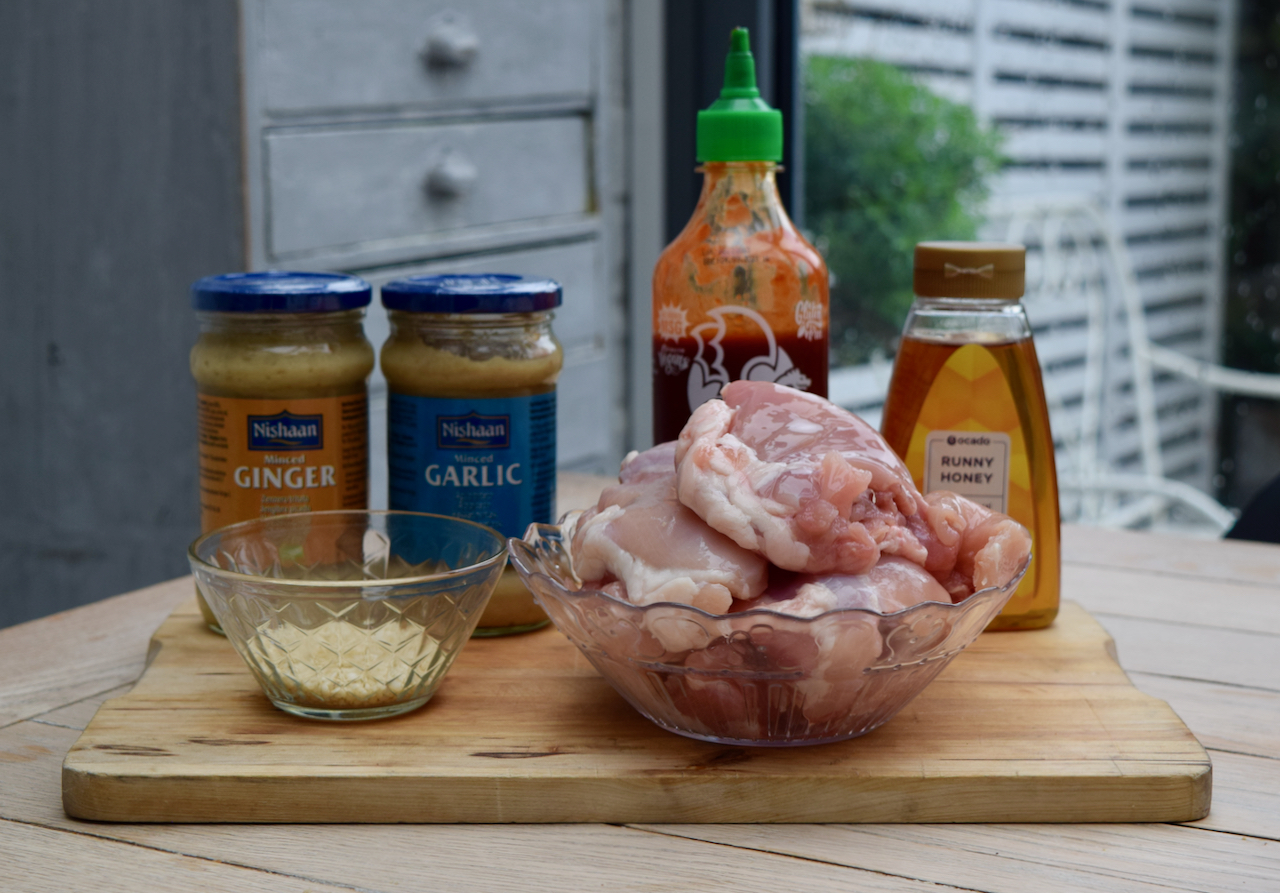 I mean it's six ingredients really, but who's counting? Plus a splash of sesame oil and some salt and pepper but don't dwell, what's important here is the simplicity and speed with which this delicious supper gets to the table. Such is my way when time is of the essence, I used my lovely jars of garlic and ginger; but if you have fresh then tuck in.
Make a start with a lovely big pan, a tablespoon of sesame oil and a medium high heat. Slice your boneless chicken thighs into strips then put them into the hot pan in a single layer.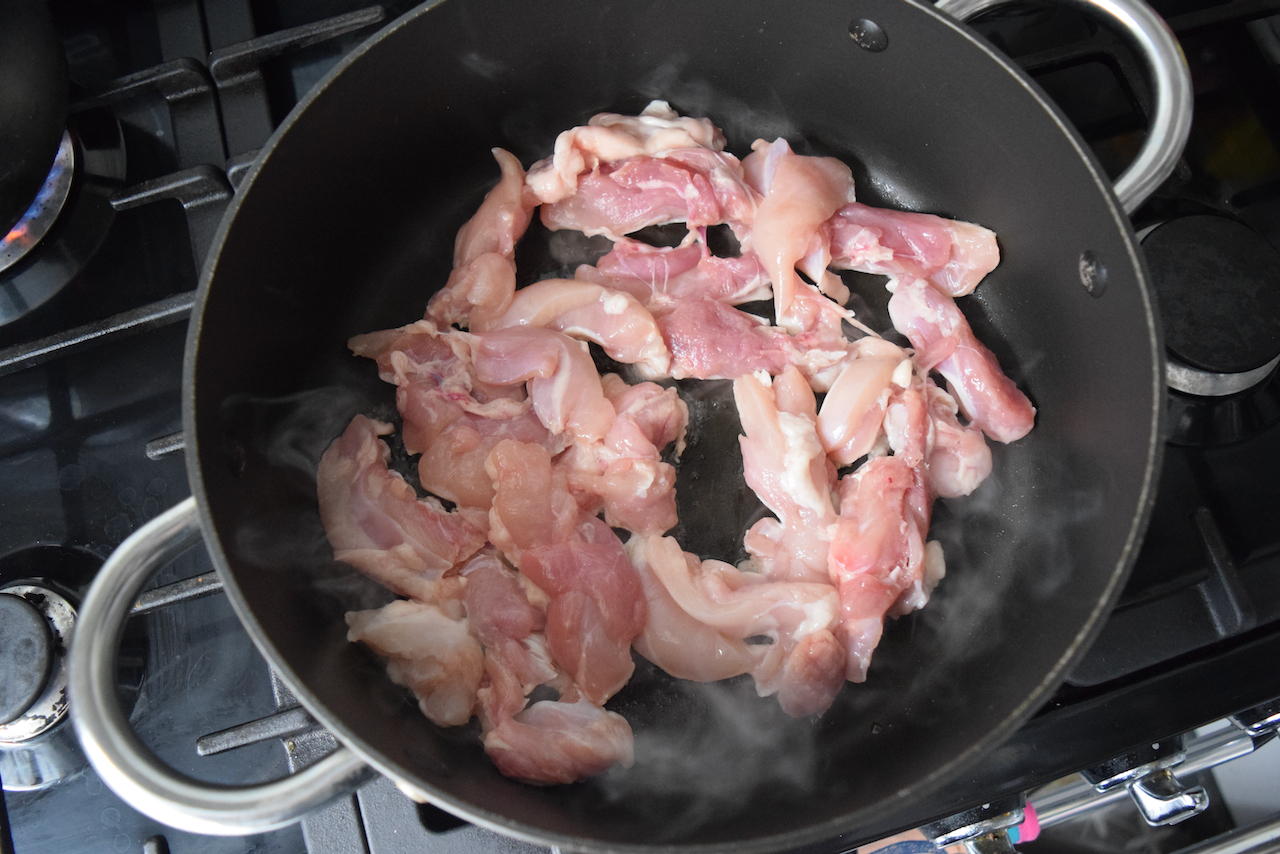 Leave the chicken to brown, don't be tempted to meddle with them, for around 5 minutes. Once golden, turn and cook for another 5 minutes on the other side until crisp and almost cooked through.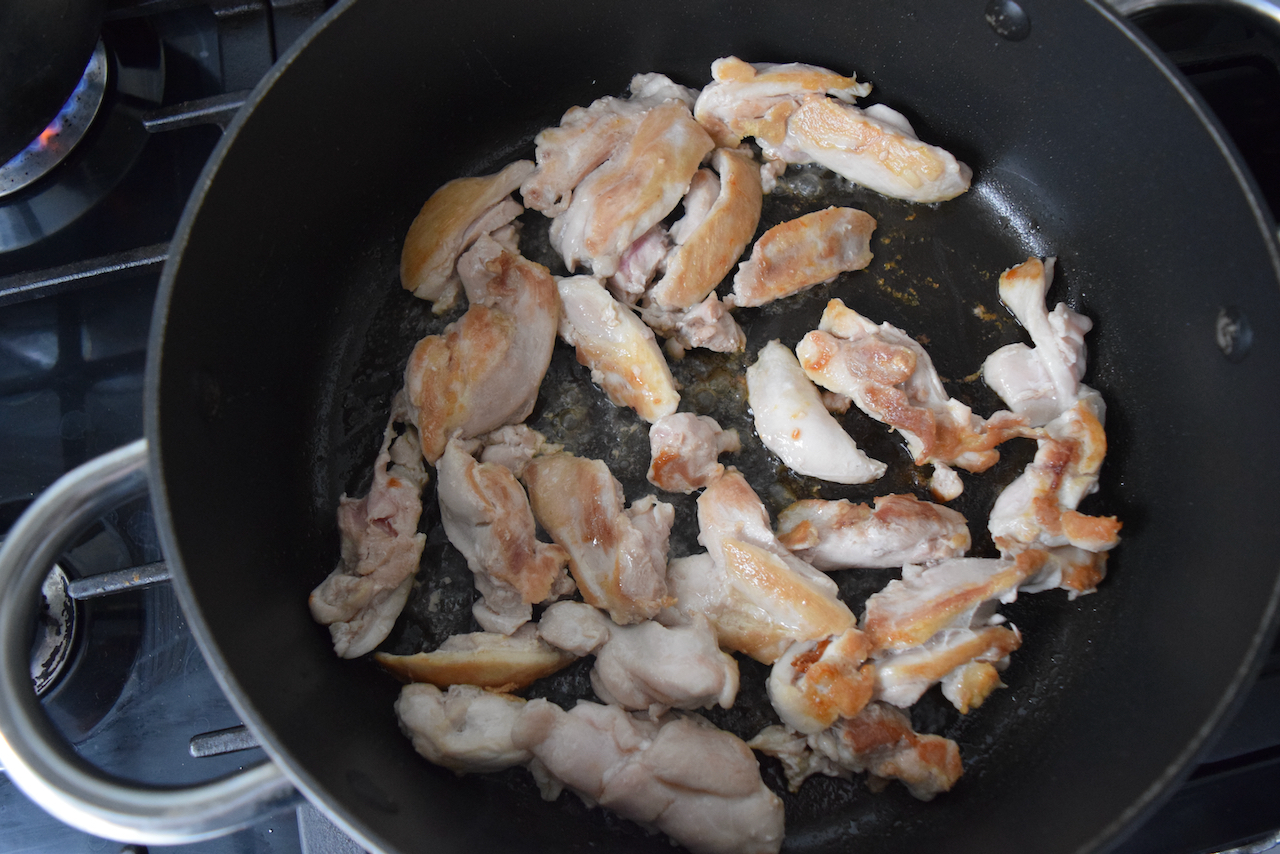 While the chicken's cooking, effortlessly make the sauce. Mix the sriracha, honey, garlic and ginger with 3 tablespoons of water and two tablespoons of sesame seeds. Season with salt and pepper, to taste.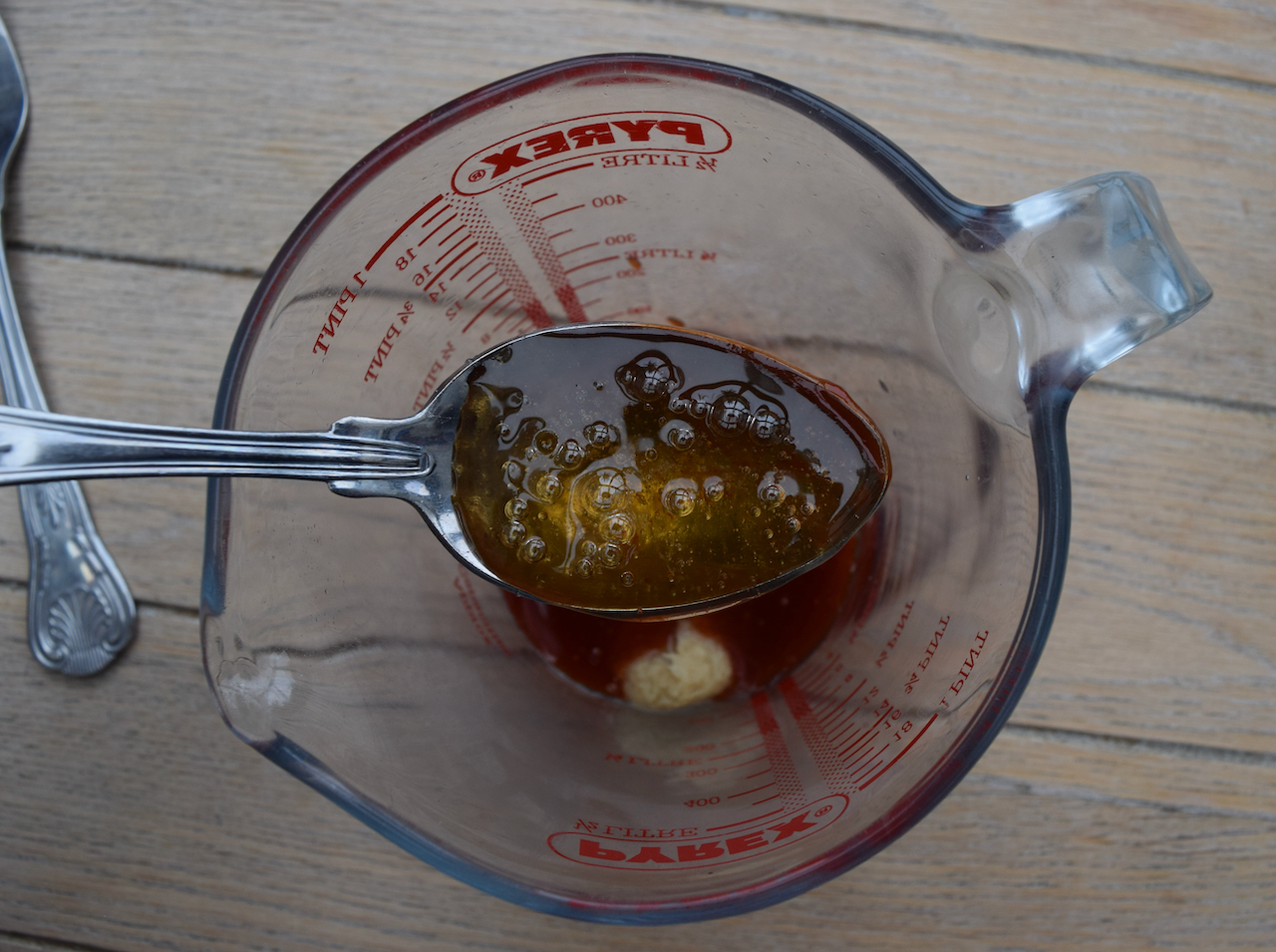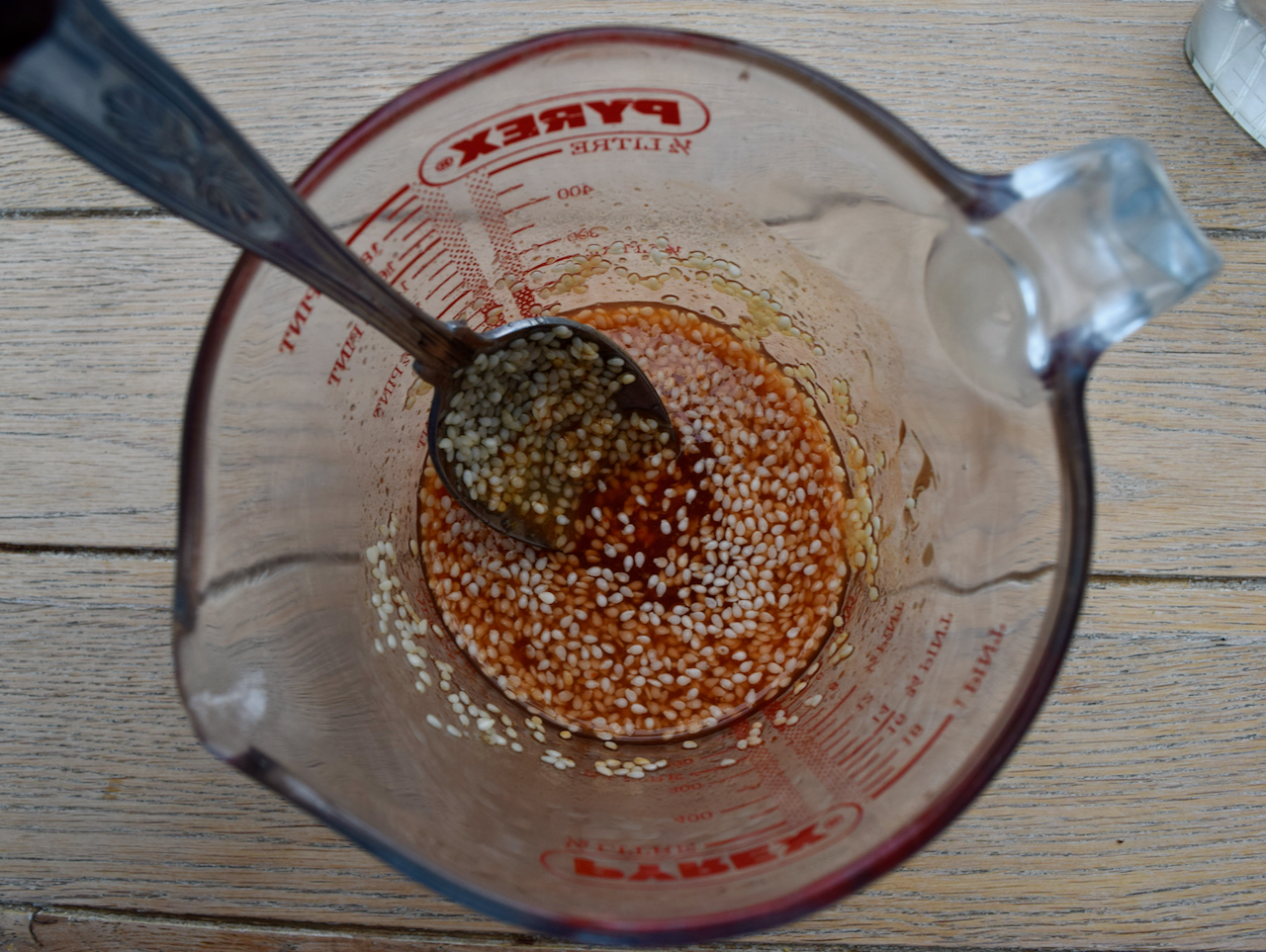 Once the chicken has had it's browning time, turn the heat down slightly and pour on the sauce, stirring well.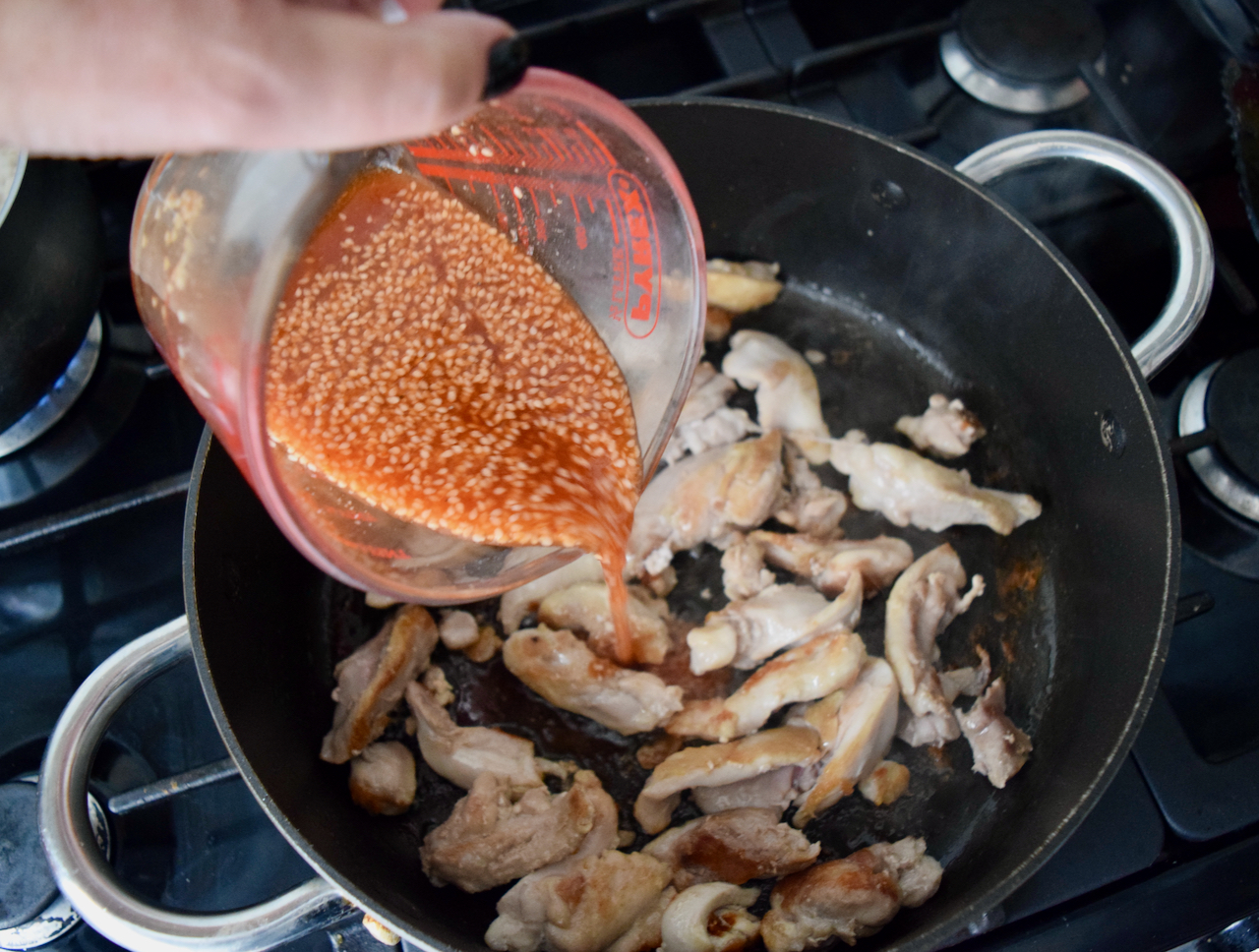 Let the whole business simmer away for a further 3 minutes, until the sauce is sticky, but not totally disappeared and the chicken is cooked through.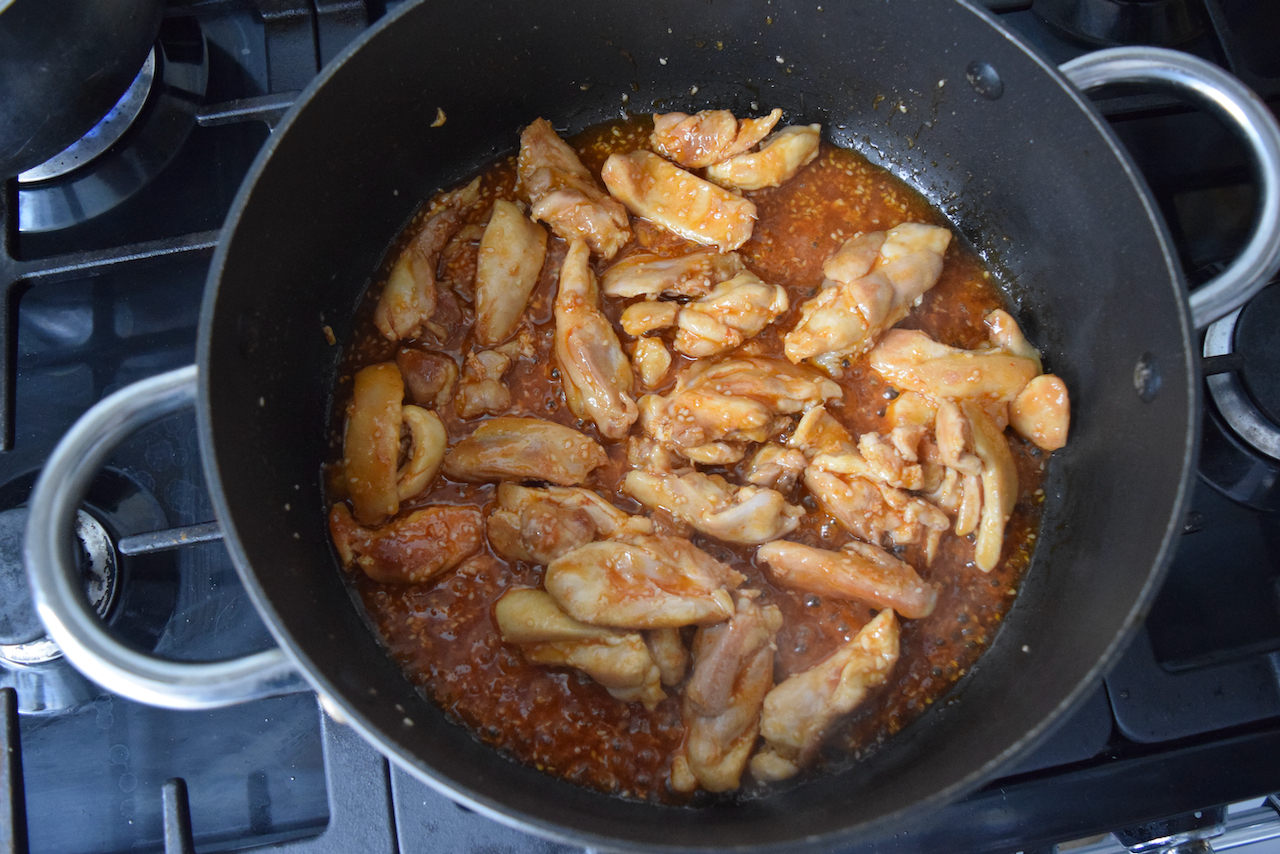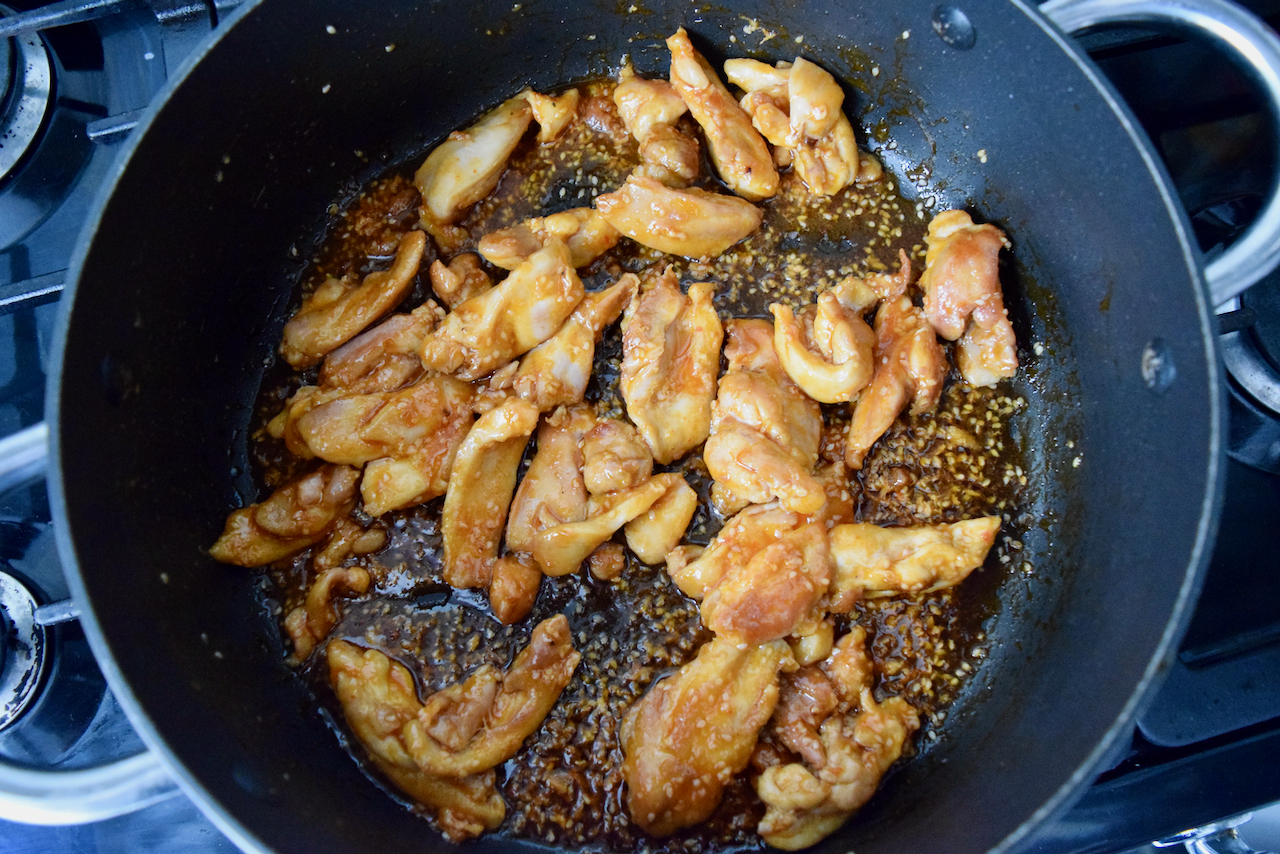 And that's it. Spoon the piping hot, spicy, sweet chicken over your chosen carb, sprinkled with a few more sesame seeds, and some coriander if you like. Inhale accordingly.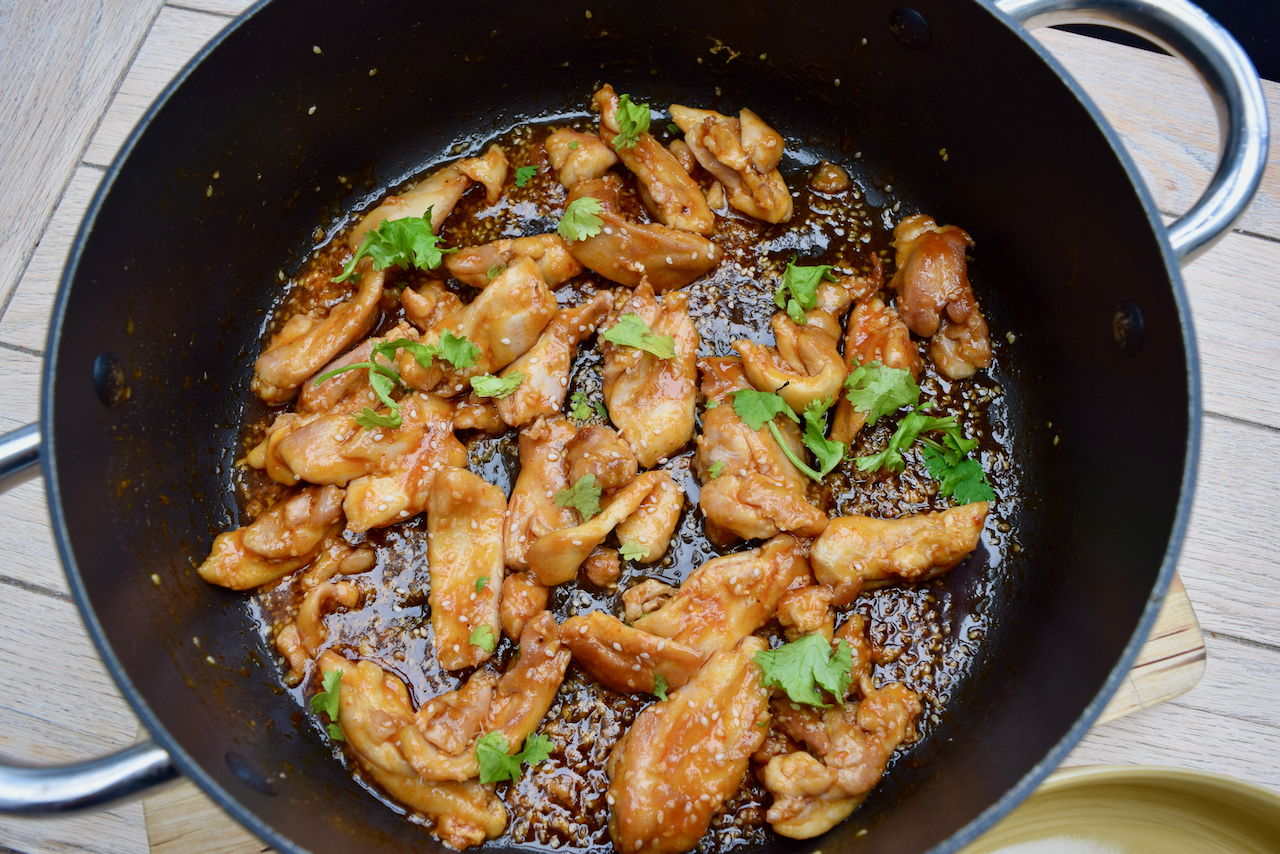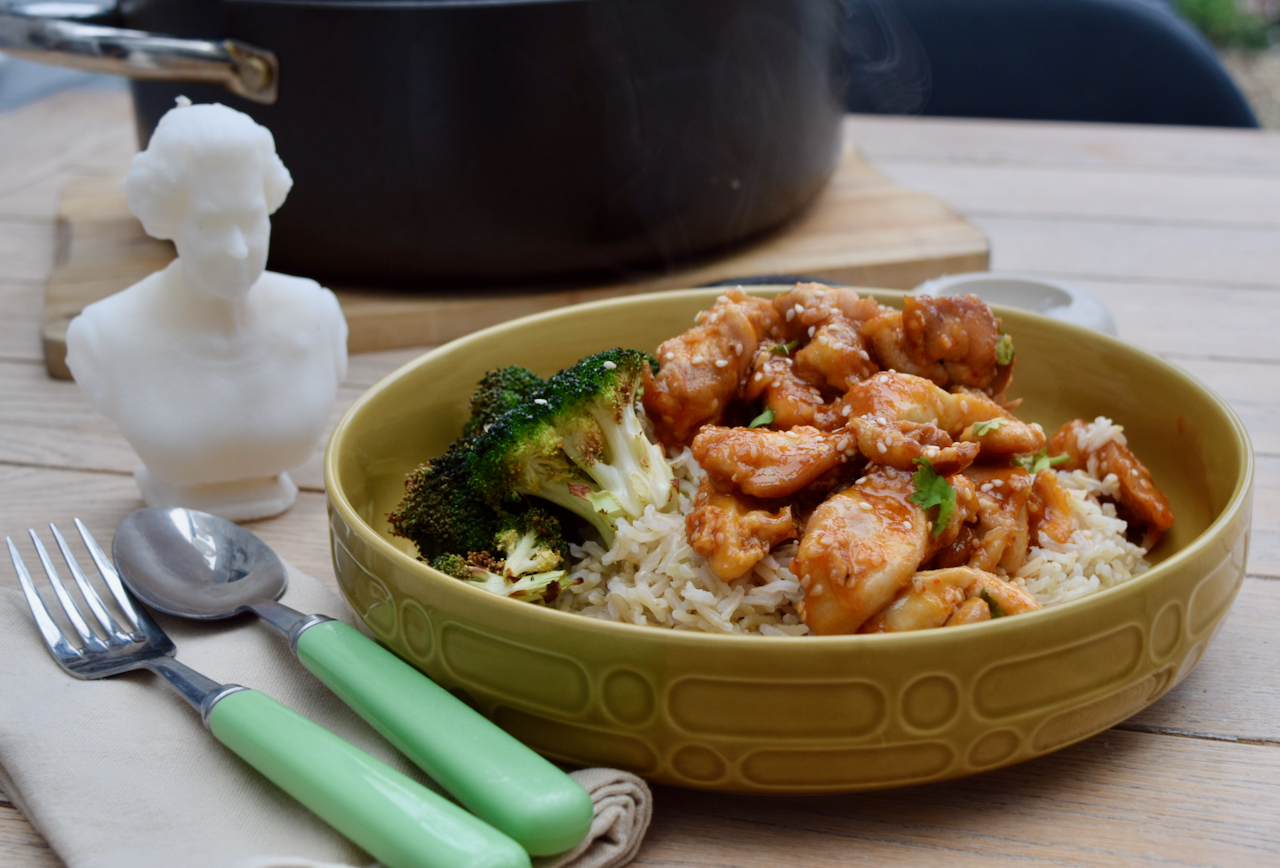 My Queen Elizabeth II candle looking approvingly at the chicken.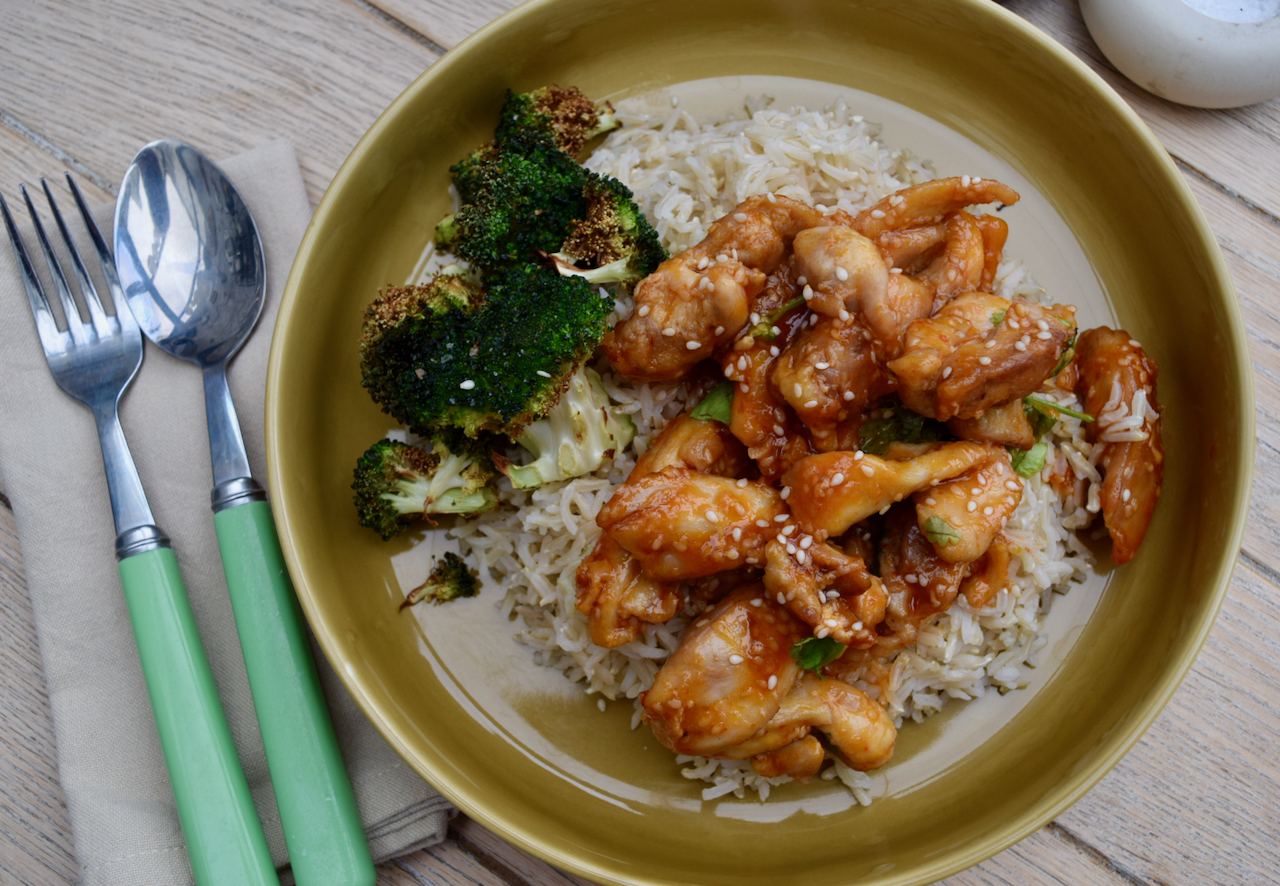 This recipe is so loved by my family I barely got a look in, even with George back at uni, I still didn't get much more than a mouthful.
Lucy x
Honey Sriracha Chicken recipe
Serves 3 to 4, appetite/greed dependent, easily doubled
You will just need one pan and a jug for this
5 to 6 boneless chicken thighs, approx 650g
1 tablespoon sesame oil
4 tablespoons Sriracha
4 tablespoons honey, runny is best
3 tablespoons water
2 small cloves garlic, crushed, or a teaspoon of garlic from a jar
1 teaspoon fresh ginger, grated, or use ginger from a jar
2 tablespoons sesame seeds
Salt and pepper, to taste
Extra sprinkle of sesame seeds and fresh coriander to garnish and rice and some charred greens to serve
Take a large frying pan and heat a tablespoon of sesame oil over a medium high heat. Slice your boneless chicken thighs into strips. Add to the hot oil, spread into an even layer, then leave, undisturbed to cook and turn golden on one side for around 5 minutes. Turn and cook on the other side for a further 5 minutes.
For the sauce measure the sriracha, honey, garlic and ginger into a jug. Mix together with the 3 tablespoons of water and sesame seeds until well blended. Season with salt and pepper to taste.
Pour the sauce onto the browned chicken, turn the heat down slightly, and stirring well, cook the chicken and it's sauce for another 3 minutes until the sauce has reduced slightly and become sticky.
Serve, piping hot, scattered with a sprinkling of sesame seeds and some fresh coriander. Brown rice and some *charred broccoli go so well with this.
*For the charred broccoli I use my air fryer. Toss some small broccoli florets in a tiny bit of oil, season with salt and pepper then air fry for 5 to 6 minutes until just tender and charred slightly.