Homemade Carrot Cake Nakd Bars Recipe
I do feel slightly hypocritical writing about these sugar free Homemade Carrot Cake Nakd Bars when today, I have mostly eaten cake. It's not been a great eating day for me as there was a work birthday which involved two types of cake, one made by me, and two tubs of M&S treats. Suffice to say, the days meal plan went rather tits up and finished with me eating half of one of George's toasted cheese sandwiches washed down with a glass of red wine for dinner. But, tomorrow's another day, and as I have a batch of these Homemade Carrot Cake Nakd Bars in the fridge, I think I should only eat these with nothing else but water.
My other Nakd Bar recipe here on Lucy Loves is super popular and on a weekly basis, rank as one of my top 5 recipes. So no, this is not a cheap shot to increase readership *it is*, but a chance to share this new and super tasty, and healthy, variety of sugar free treat with you. I do love a shop Nakd Bar, but as I have mentioned before, they are a bloody expensive habit to have. Making your own is not only frugal, but also ensures you know exactly what's in them. These have a great flavour and are packed full of all sorts of healthy goodies. Dates, carrots, peanut butter, cashews and a touch of cocoa for added treatiness. They have more than a whiff of Carrot Cake flavour, with none of the naughties. These make a great mid afternoon snack; take them to work with you to keep you from being distracted by office cake. They are also brilliant pre or post exercise fodder, not that I can class reaching out for a second slice of cake as exercise. It's with thanks to Sweet as Honey blog for the inspiration.
These are so easy to make, just sling everything in the food processor, press and slice into bars to create these fibre and vitamin C laden treats. They taste like cake, just without the thigh expanding qualities.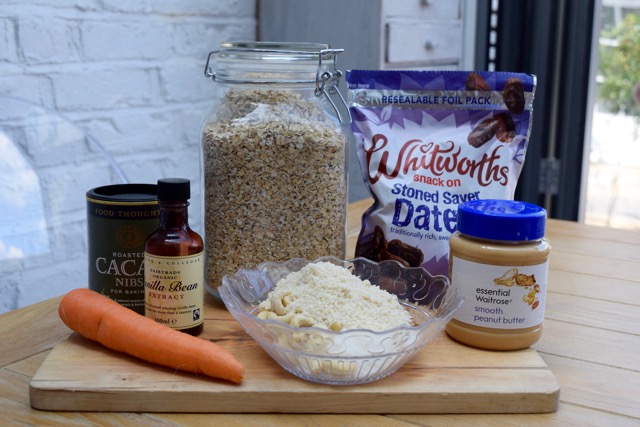 The ingredients line up for these just screams delicious as well as nutritious. Minus the cinnamon, which you can't see, because it's not there *sorry*.
This is a simple recipe, with simple instructions, so fire up your food processor, line a loaf tin with cling or greaseproof paper and let's get started. But before you start, take your dates, add them to a bowl and pour over some boiling water to soften them up. And then grate your medium sized carrot.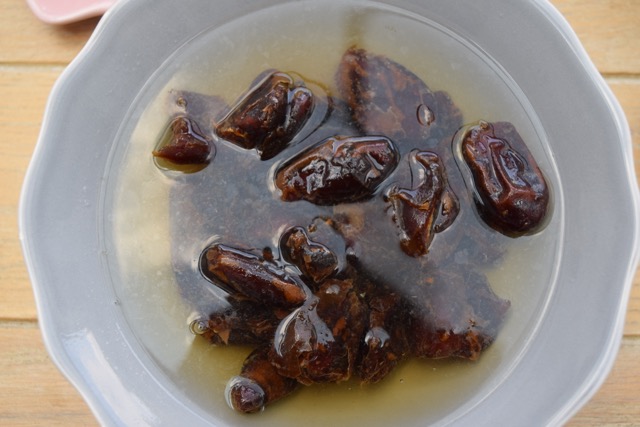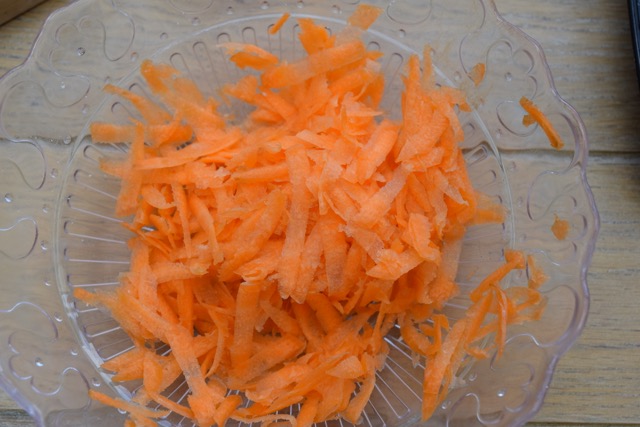 While the dates are soaking, add the oats, ground almonds, desiccated coconut, nuts, peanut butter and carrot to your food processor. Just a note on the nuts here. I used cashews as I had them in my cupboard but I have used walnuts too and pecans would be perfect, so just utilise those nuts you have to hand.
Drain your dates then add to the food processor along with the cocoa nibs, vanilla and cinnamon. Again, I had cocoa nibs to hand from a previous recipe, if you don't have them, then cocoa powder is also good.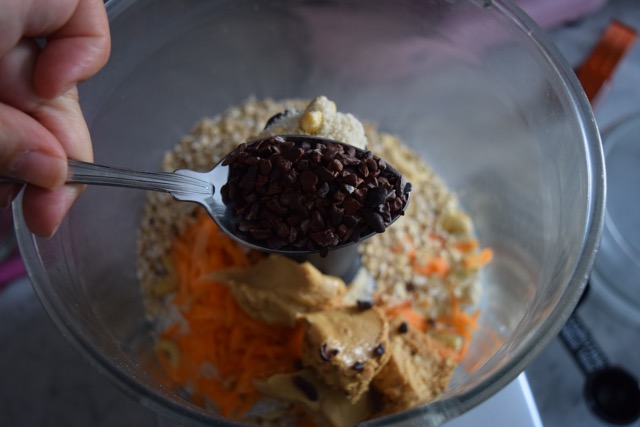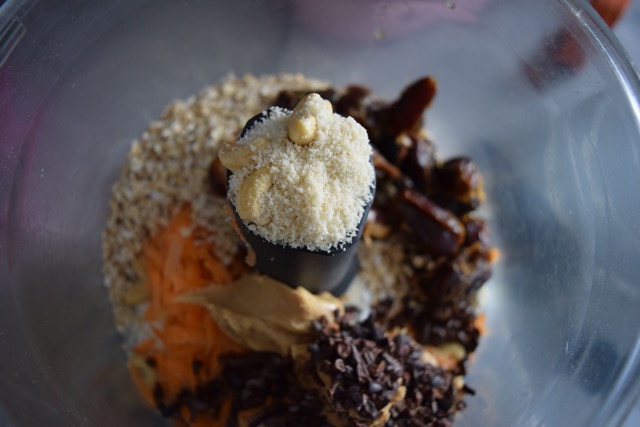 Process this divine tasting mixture for a couple of minutes or until well blended and you have a soft dough like consistency.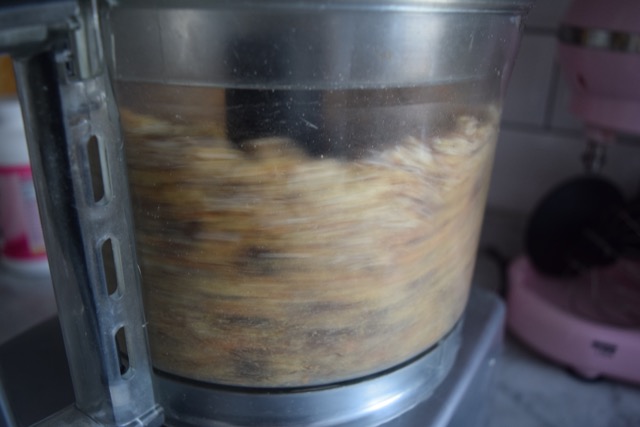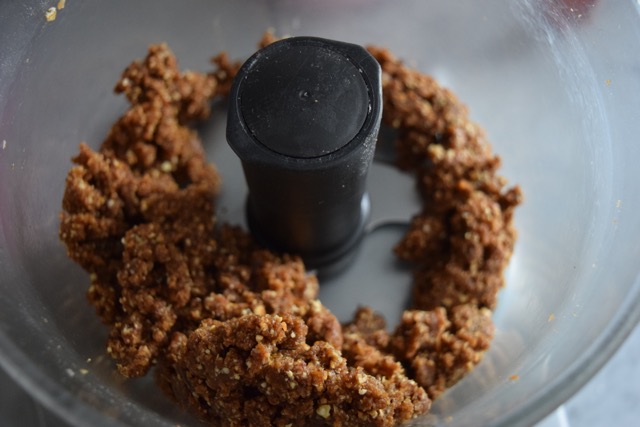 Press this nutritious dough into your lined loaf tin and fashion a sort of even layer of one large Nakd bar.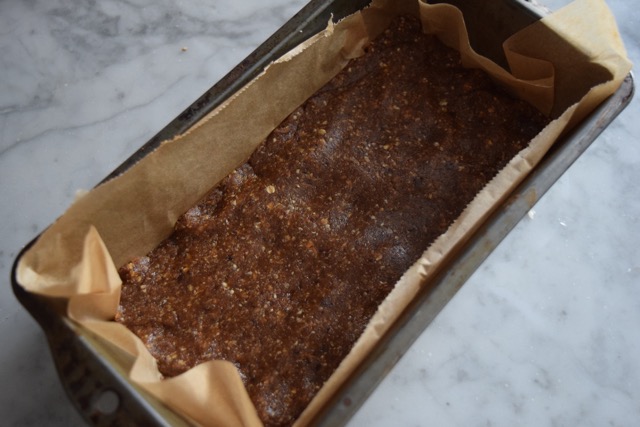 Pop this into the fridge for at least an hour or until set firm. Remove from the tin and slice into 10 to 12 bars.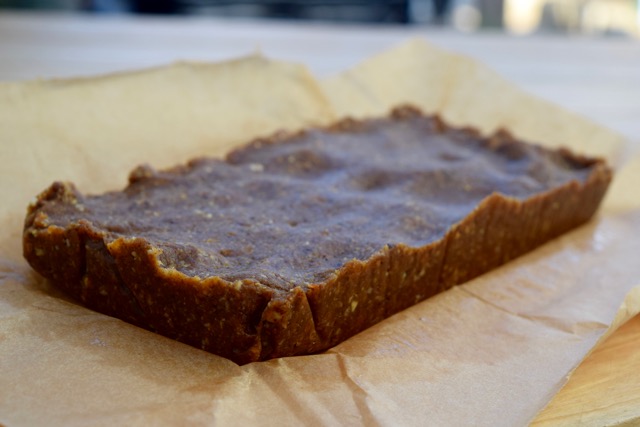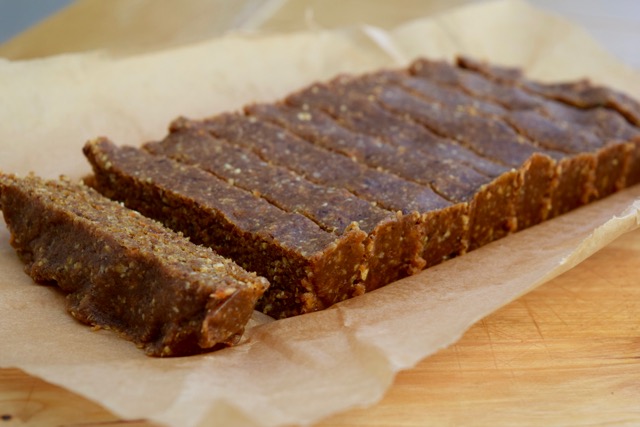 Wrap each bar in a rectangle of greaseproof paper and store, for up to a month *they won't make it that far*. Or devour, straight from the chopping board.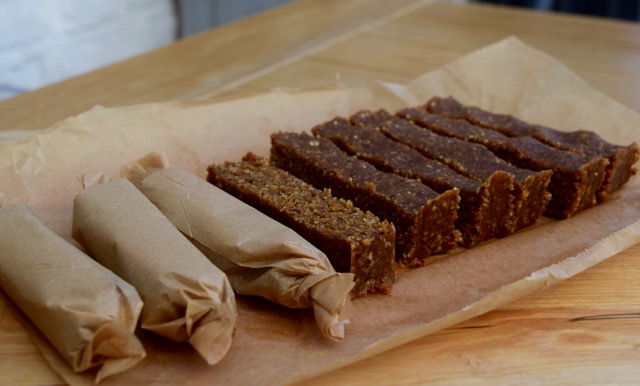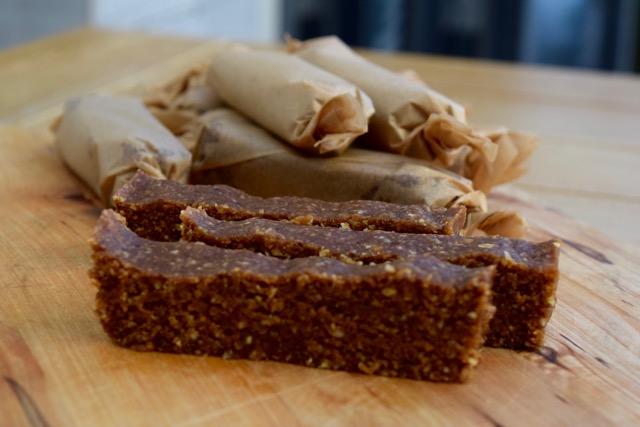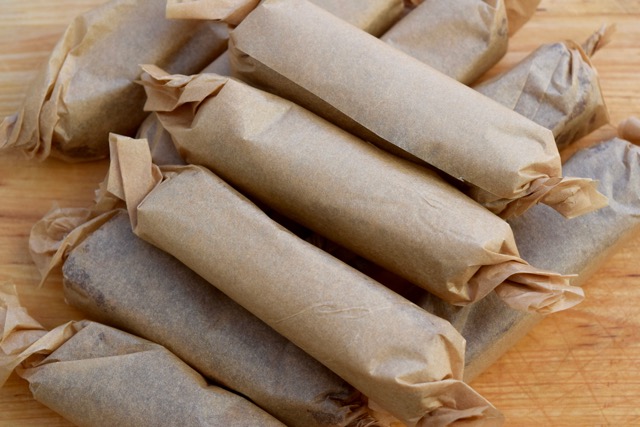 I love a money saving tip and these Homemade Carrot Cake Nakd Bars are not only great value but also bloody delicious. I try and limit myself to one of these a day, but as you know from my cake eating exploits today, that sort of restraint is not always my strong point.
Lucy x
Homemade Carrot Cake Nakd Bars Recipe
Makes around 10-12 bars, size dependent
You will need a food processor and a lined 1kg loaf tin
90g porridge oats
50g ground almonds
35g desiccated coconut
1 medium sized carrot, grated
40g cashew nuts, or pecans or walnuts if you have them
4 tablespoons peanut butter, or almond or cashew butter
175g dates, soaked in boiling water
1 heaped tablespoon cocoa nibs or cocoa powder
1 teaspoon vanilla extract
1/2 teaspoon cinnamon
Put your dates into a bowl and cover with boiling water. Leave for 5 minutes until softened then drain.
Add the oats, ground almonds, coconut, grated carrot, cashews, peanut butter, drained dates, cocoa, vanilla and cinnamon. Process until you have a soft dough like consistency.
Press the mixture into your lined loaf tin making an even layer. Leave to set in the fridge for at least an hour.
When the mixture has set, slice into around 10 to 12 log like pieces and wrap in greaseproof paper. These tasty treats will keep in the fridge for around a month.