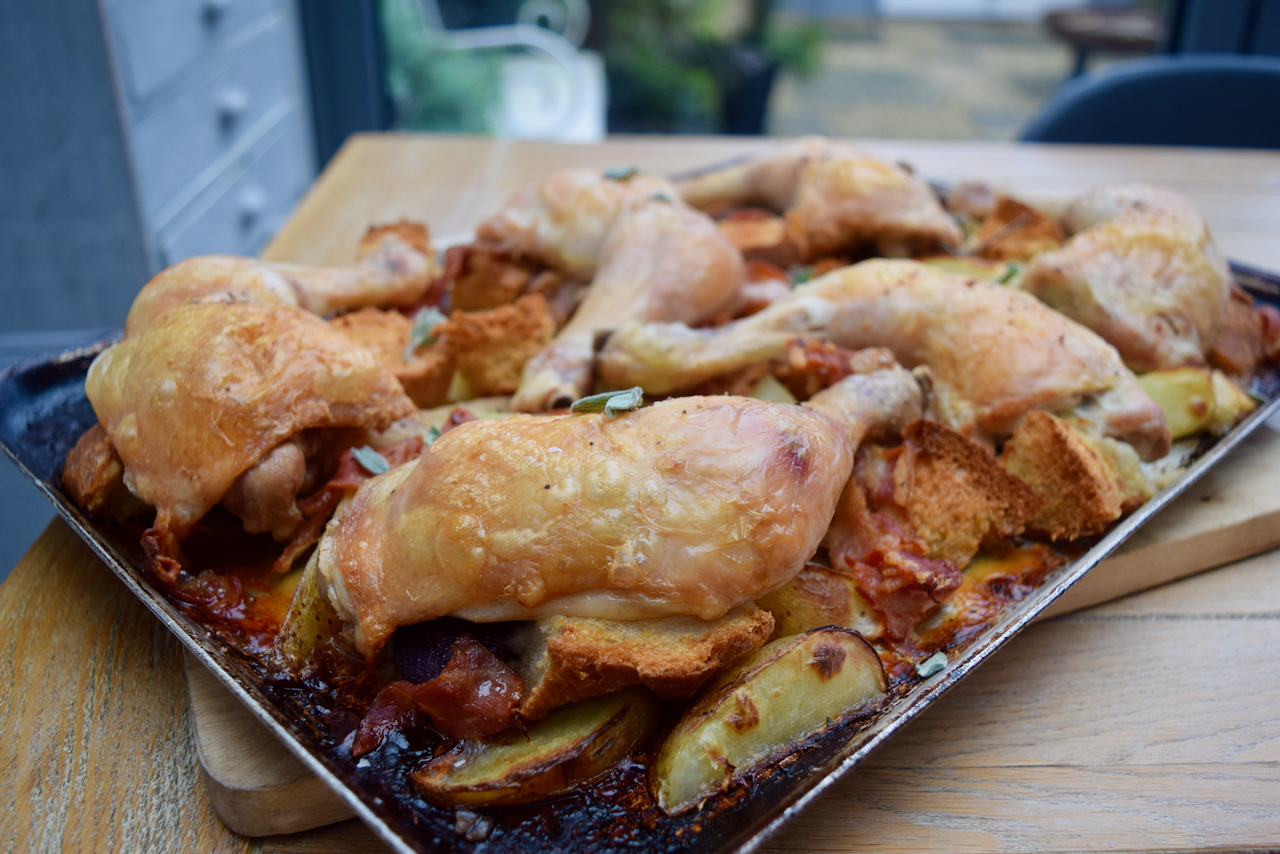 Roast Chicken with Bacon and Sourdough recipe
It's February at last, after what always is the longest, leanest month of the whole year. Pay day has been and gone, so at least there's more than just a half a bag of macaroni and some beans in my cupboard. Ok so it's still grey and cold, but let's celebrate the new month by eating the comforting, no effort supper that is my Roast Chicken with Bacon and Sourdough.
I love a chicken leg myself. Much more satisfactory than a chicken breast and quite a bit cheaper. Throwing several onto a tray with some torn up bread, bacon, herbs and potatoes elevates them into something even more special. Don't feel you have to lash out on sourdough for this, any sort of rustic unsliced loaf you can manhandle into large chunks will be just lovely. The chicken and bacon juices mingle with just a touch of butter to make so many golden crispy bits, you will be picking from the tray long after you've finished your dinner. A huge thank you to Food and Wine for the inspiration for this dish.
This recipe has so many things going for it I could go on for hours. But one of the best things is we all devoured it in one sitting. Mainly based on our family's love of all things chicken and bacon based and also the lack of anything offensively green in it.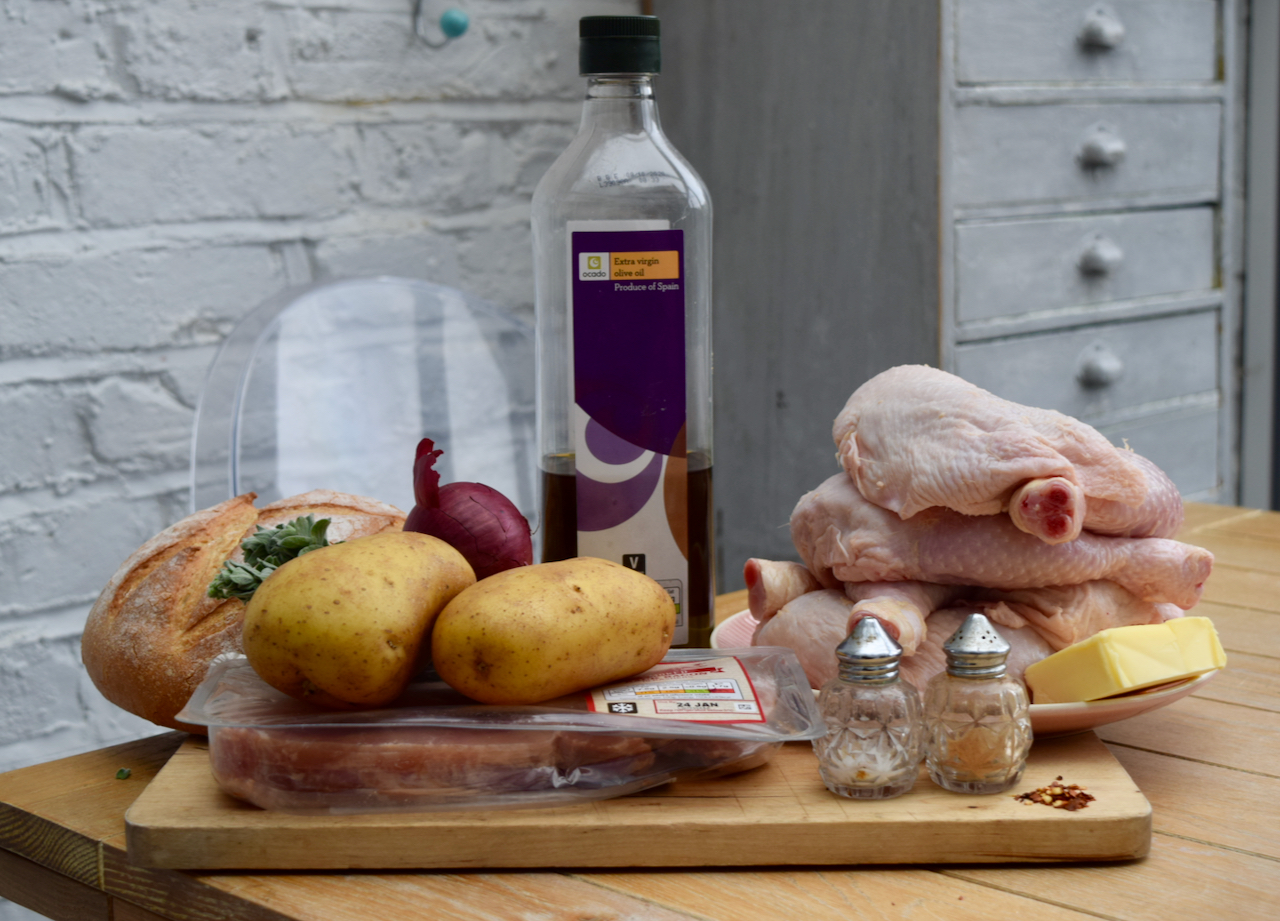 Simple, rustic, all my favourite words come into play with this dish. No poncing about here, just wholesome things like chicken, good bread and bacon slung together and baked until golden. A little pinch of chilli flakes livens up the proceedings and oregano brings a whiff of far off summer.
Make a start by finding your biggest baking tray and pre-heating the oven to 170 degrees fan assisted. Next, cut your potatoes into chunky wedges and sling onto the tray. Tear the bread into large bite sized pieces and toss on the cubes of butter.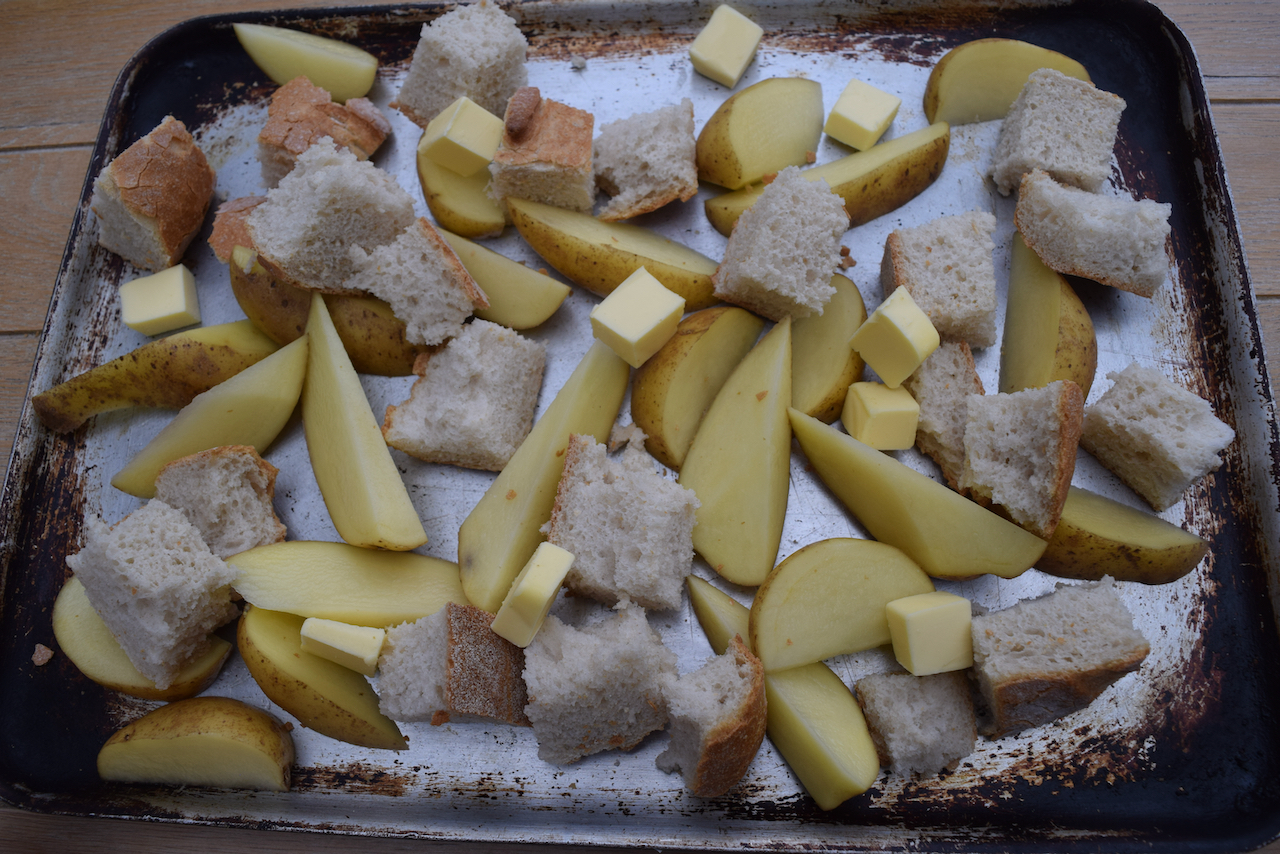 Chop your bacon into thick strips and add to the pan with the onion pieces and the fresh oregano.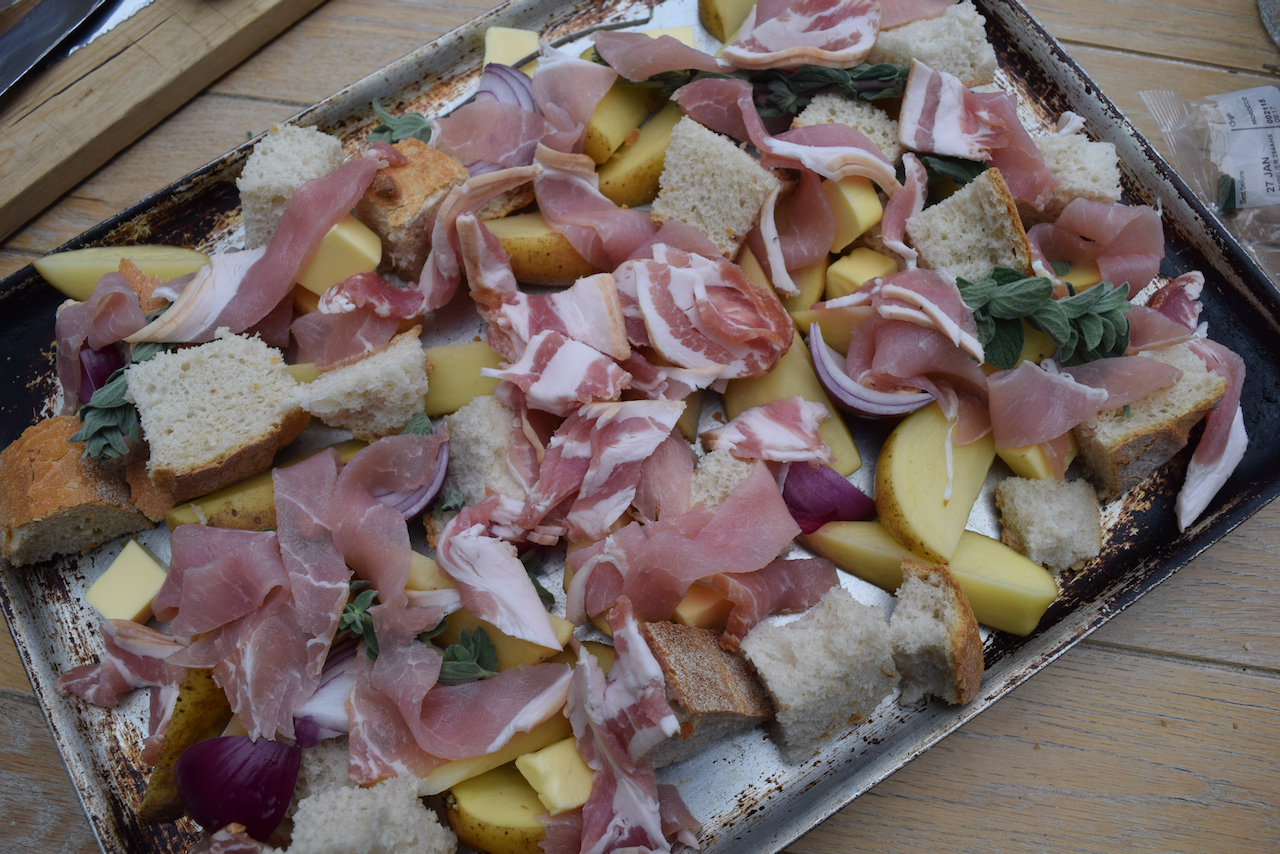 Give it a generous slick of olive oil then sprinkle the whole thing with the chilli flakes and season with plenty of salt and pepper. Toss it all together.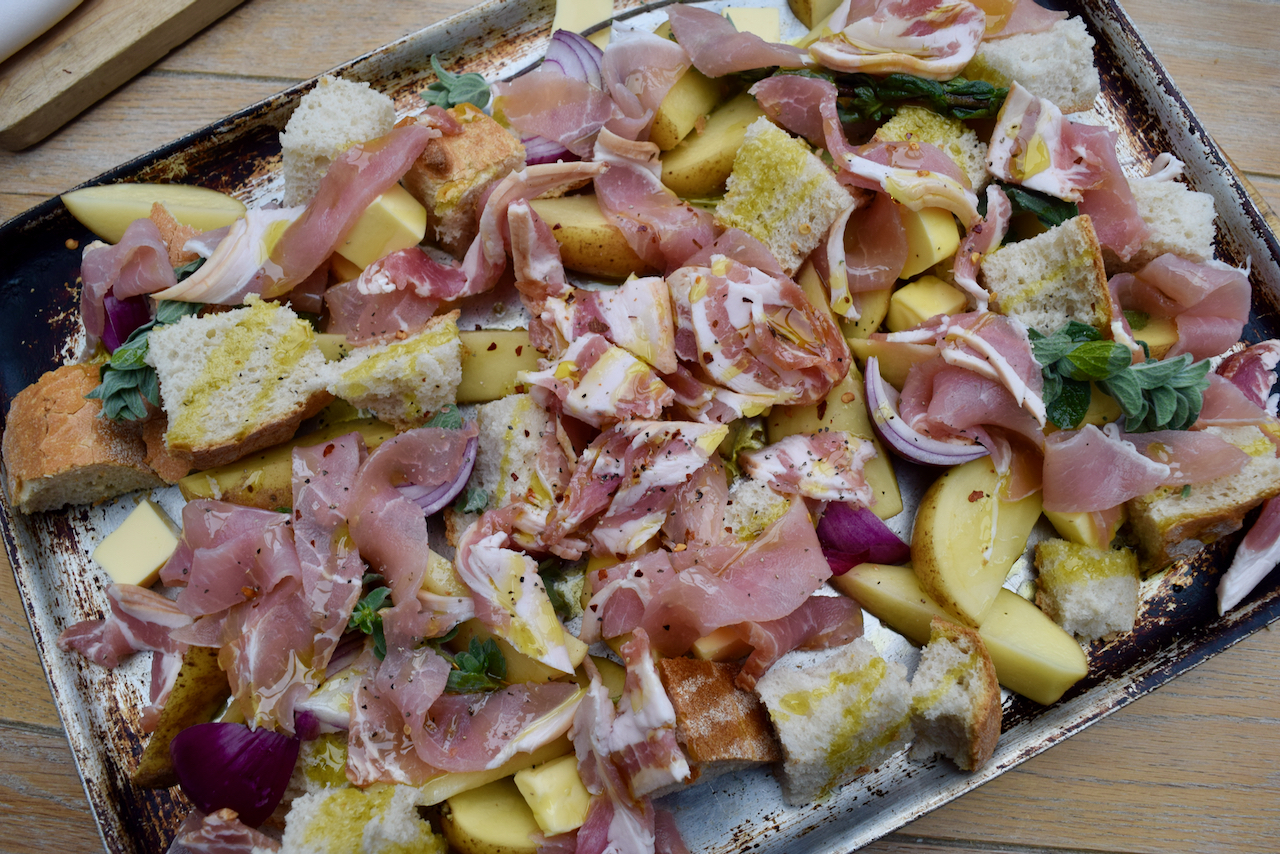 Lay your chicken legs on top of the colourful mix and season, then drizzle in another tablespoon of olive oil. Place the whole lot in the oven for around 45 to 50 minutes.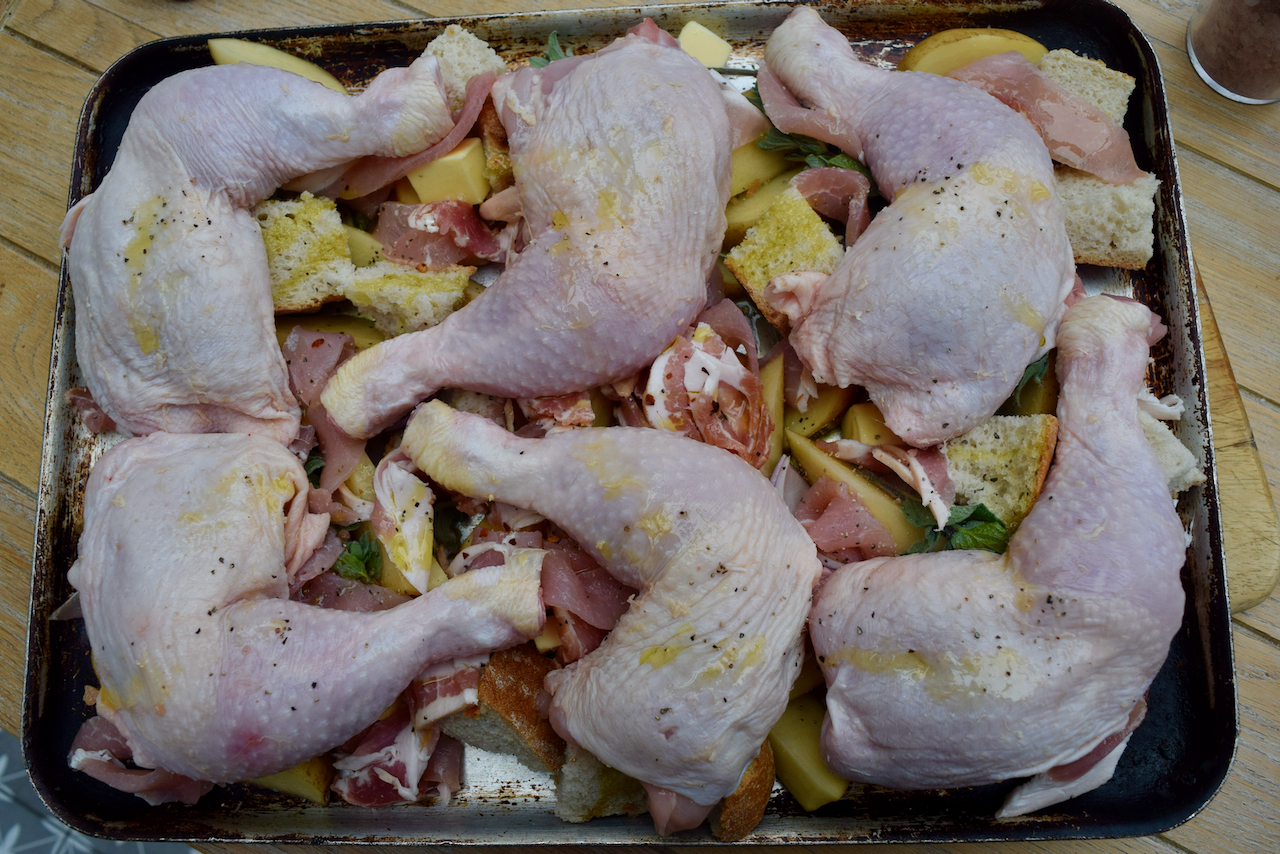 Your tray of deliciousness is ready when the chicken is cooked through, golden and the bread and potatoes are crispy and divine.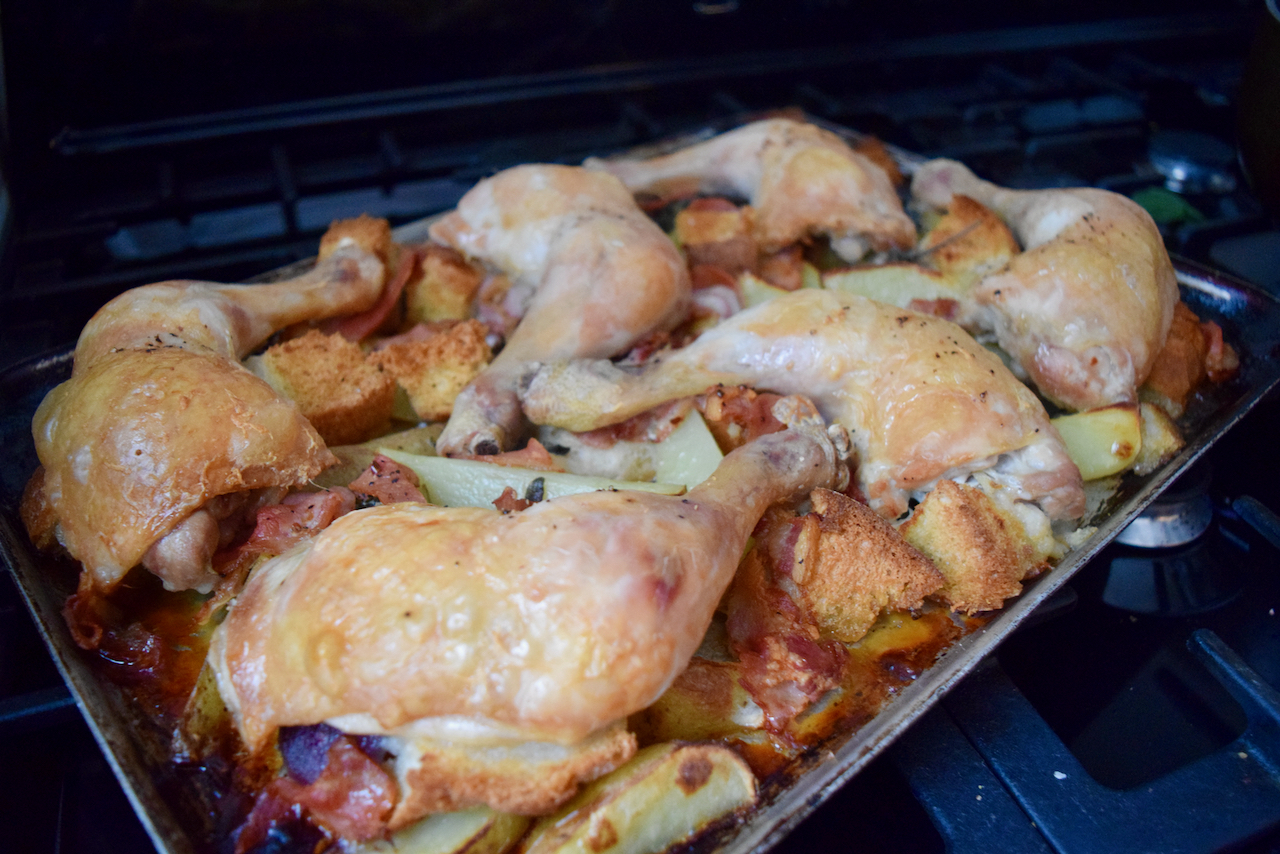 Serve in generous portions, trying not to steal all the crispy bread before it gets to the table. It's tough, I can assure you.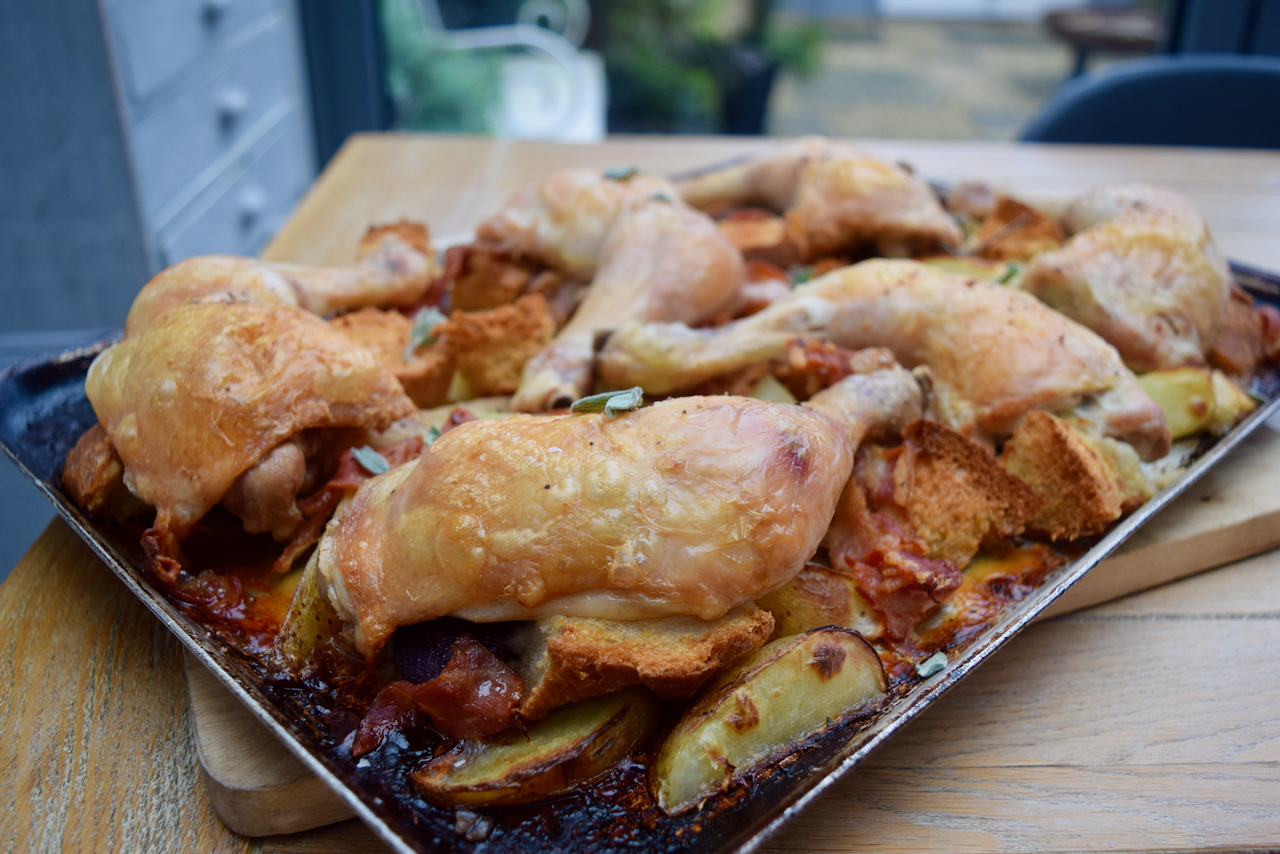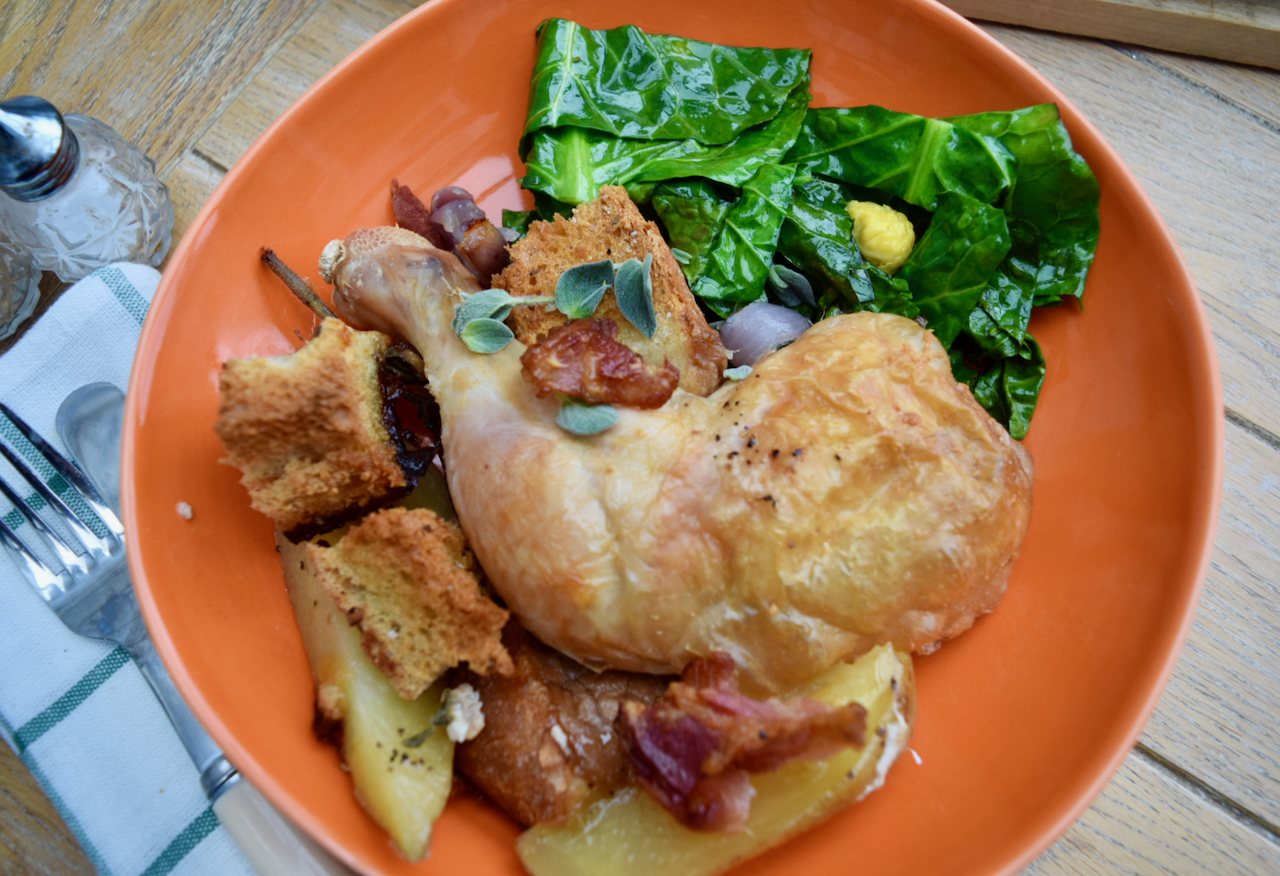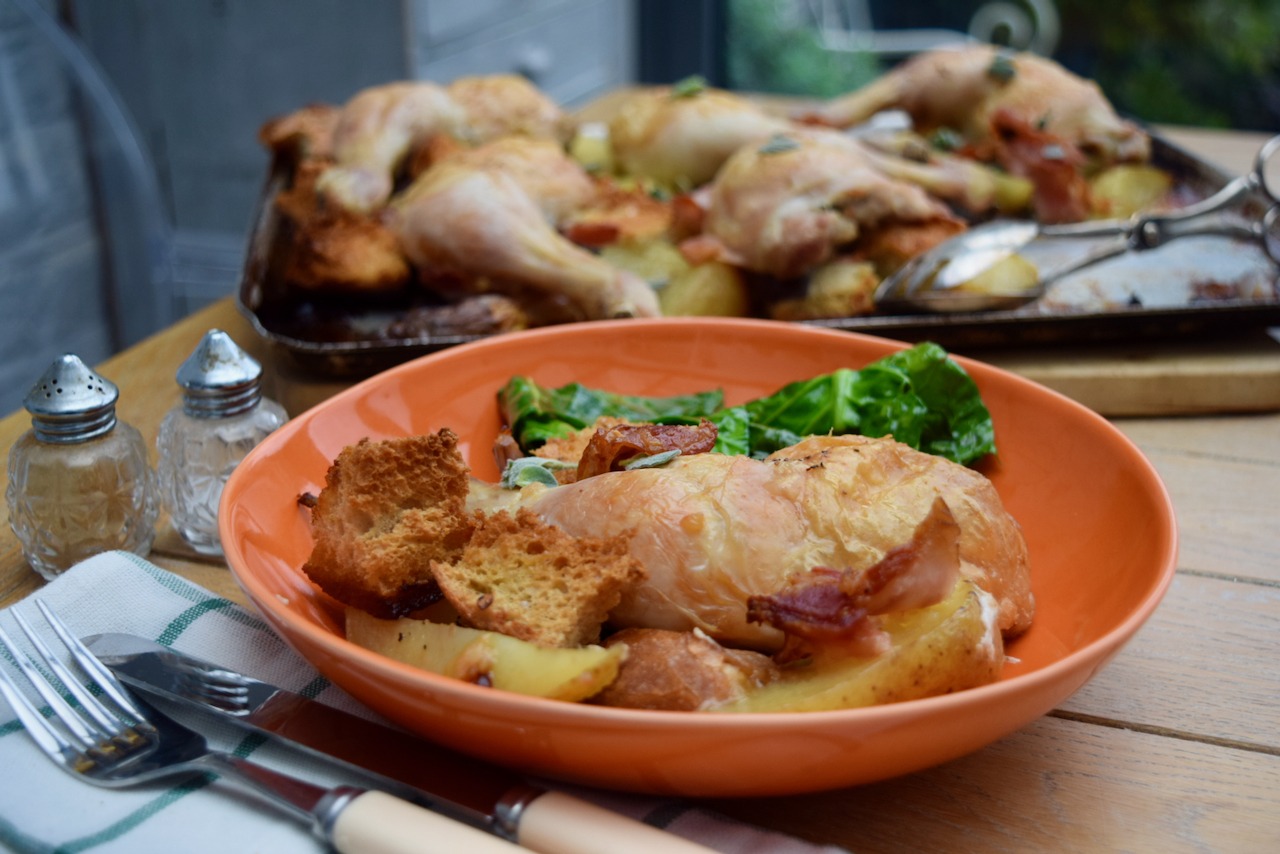 Simple, tasty and rustic sums this dish up a treat; it's my very best style of cooking too. I'm no good at foams and decorative sauces, but I can do golden chicken with bacon flavoured, buttery crispy bread. And so can you now, and you are very welcome.
Lucy x
Roast Chicken with Bacon and Sourdough recipe
Serves 4 to 6
You will need a large baking sheet only
Approximately 250g sourdough or rustic country bread
3 small or 2 larger potatoes, skin on
250g bacon, streaky or back, it's up to you, chopped into chunky bits
1 large or 2 smaller red onions, peeled and cut into chunks
Roughly 30g butter cut into cubes
Fresh oregano, a couple of tablespoons
4 tablespoons olive oil
6 chicken legs
A generous pinch chilli flakes
Salt and pepper
More fresh oregano to serve and some sort of green vegetable if you like
Take a large baking sheet and pre-heat your oven to 170 degrees fan assisted.
Wash your potatoes then cut into good sized wedges, add these to your baking sheet with the bread, torn into large bite sized pieces. Chop the bacon and add to the pan along with the cubes of butter and the red onion. Add the fresh oregano then drizzle the whole lot with roughly 3 tablespoons of olive oil and season well with salt and pepper. Sprinkle on the chilli flakes.
Toss the mixture around then lay the chicken legs on top. Drizzle them with the remaining tablespoon of olive oil and season well with salt and pepper.
Put the tray into a pre heated oven and bake for around 45 to 50 minutes or until the chicken is cooked through the potatoes and bread are golden and crisp.
Sprinkle over some more fresh oregano to garnish and serve with some sort of green vegetable.