Malteser Biscuit Cake
Quite a few years ago one of my main internet search obsessions was to find a recipe for a Lyons Golden Syrup cake. It is one of my favourite shop bought cakes, and I wanted to recreate it myself from scratch. I searched for months, but to no avail, however, my search did, randomly, unearth the recipe for Malteser Biscuit cake. I don't know how or where I found it and I don't even have a link to the original recipe, it was pre Pinterest and the like, I just have a scribbled note of the ingredients.
It has since become a family and friends favourite and the recipe has been passed on more times than I can remember. There are all sorts of versions of Malteser Biscuit Cake in the ether now, but I like to think I have been making it from its inception. The cake itself is a simple no bake fridge cake, no rocket science required, but the Maltesers add a crunch and chew that makes it irresistible.
Just to complete the story, I have since recreated the Lyons Syrup cake, with great success and  I will share this with you too on Lucy Loves soon.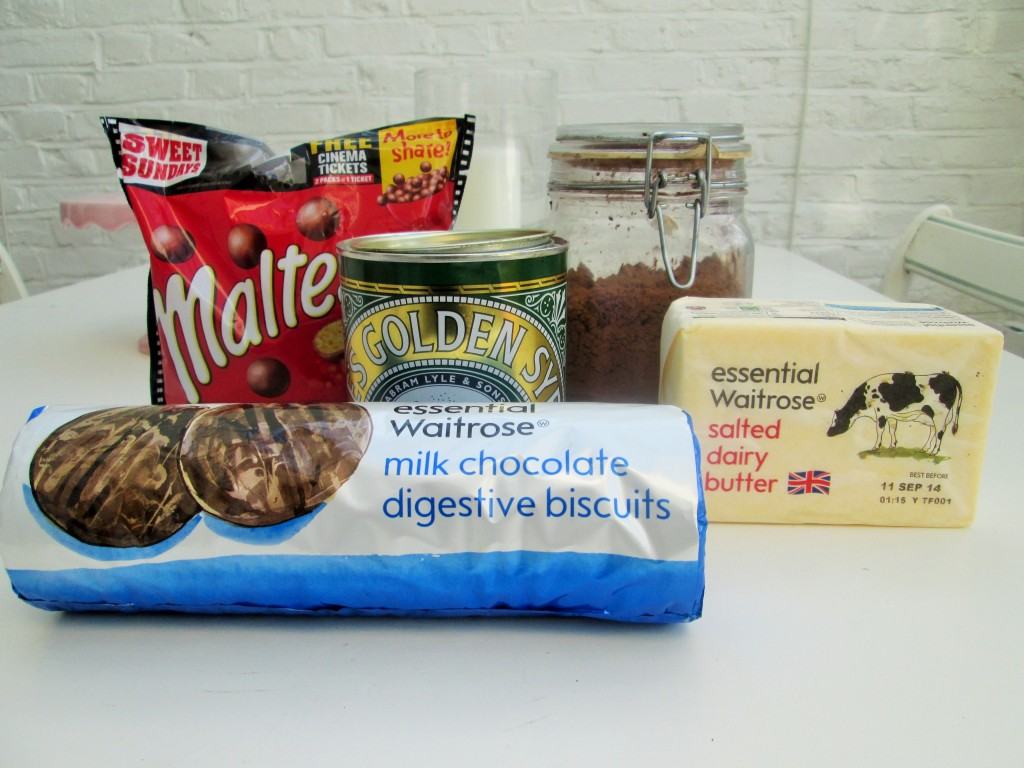 Nothing not to like here in the ingredients list. You could use plain or milk chocolate, chocolate chip or just standard Digestives if those are what you have to hand, no dramas.
Line a 9 x 13inch rectangular pan with cling film, leaving an overhang on each side of the pan, for easy removal later.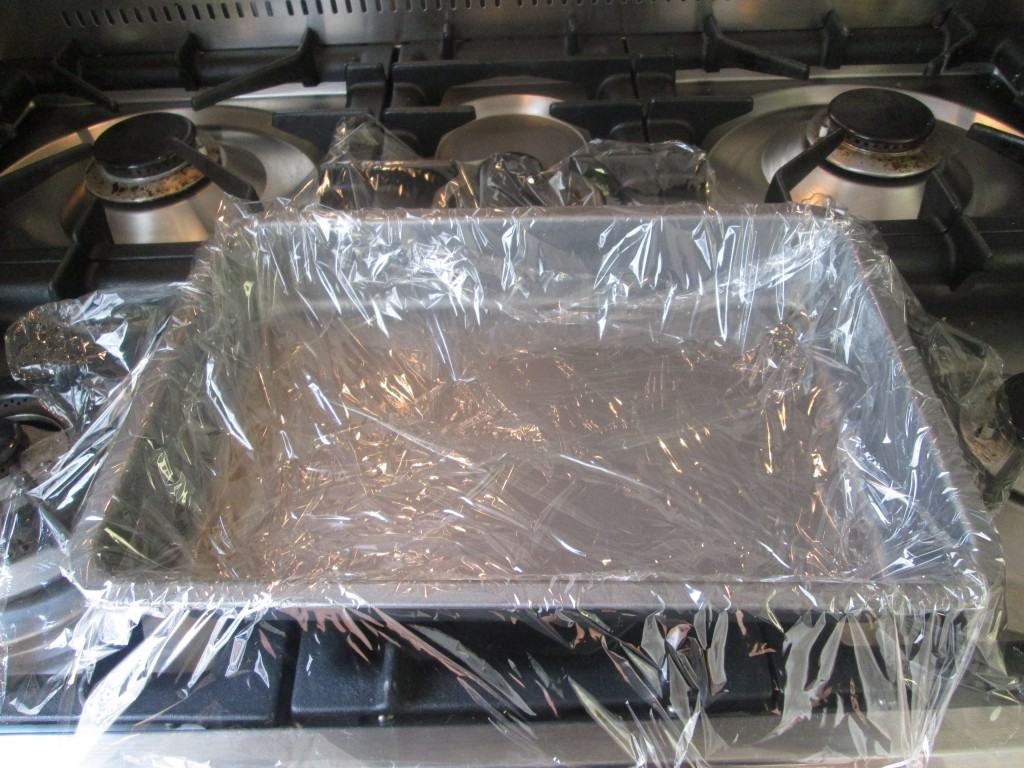 Take the butter and syrup and add to a saucepan or microwaveable bowl. I was bored with photographing my dull mixing bowl collection so I used a saucepan this time.
I like the way this recipe uses tablespoons to measure most of its ingredients, there's nothing messier than weighing golden syrup. Heat until the butter has just melted then give them a good stir.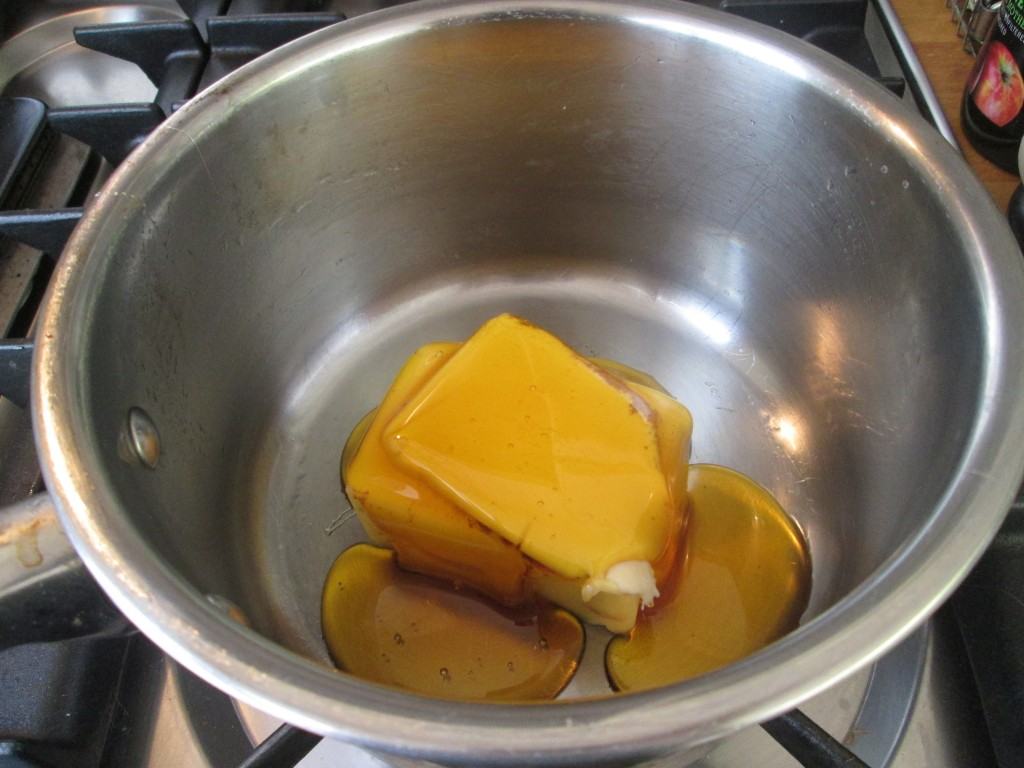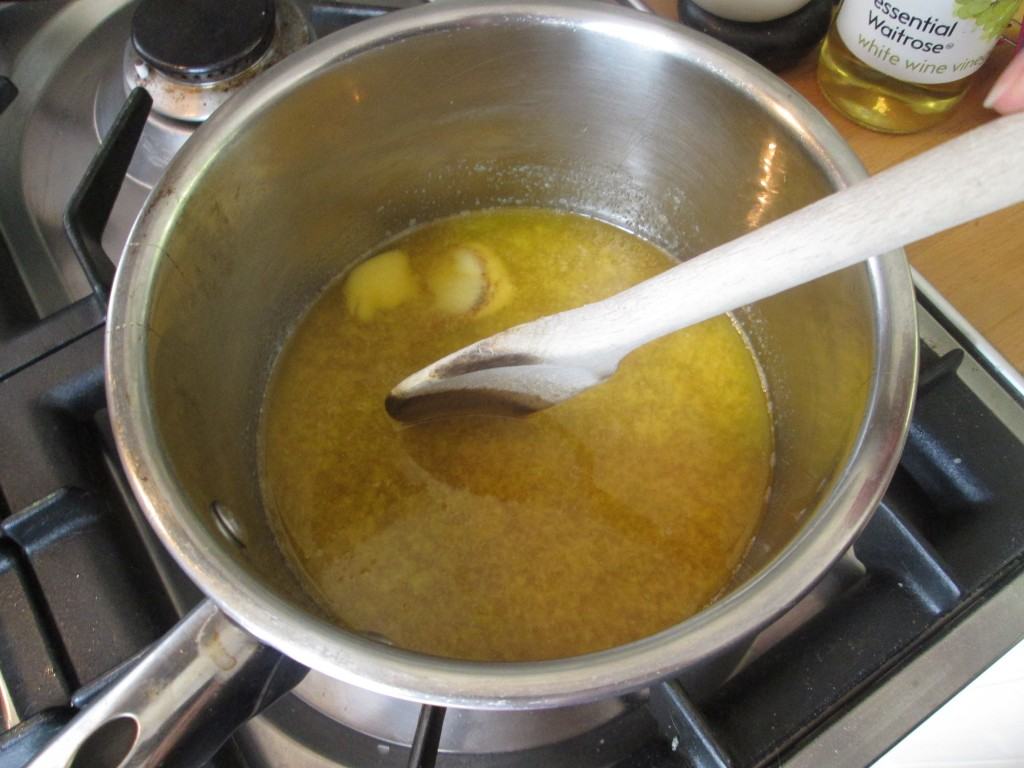 Stir in the four tablespoons of cocoa powder and give it a good mix to ensure there are no lumps. You'll notice (or not) there's no photo of this stage, as I was having one of those days when frankly I shouldn't be in the kitchen and forgot to add it until later. But you get the picture, or not, tee hee.
While all this is going on take your chocolate digestives, eat one like I did, weigh out 525 grams and then put them in your food processor and crush to a fine rubble. Or if you are processor-less go old school and bash them in a sealed bag with a rolling pin.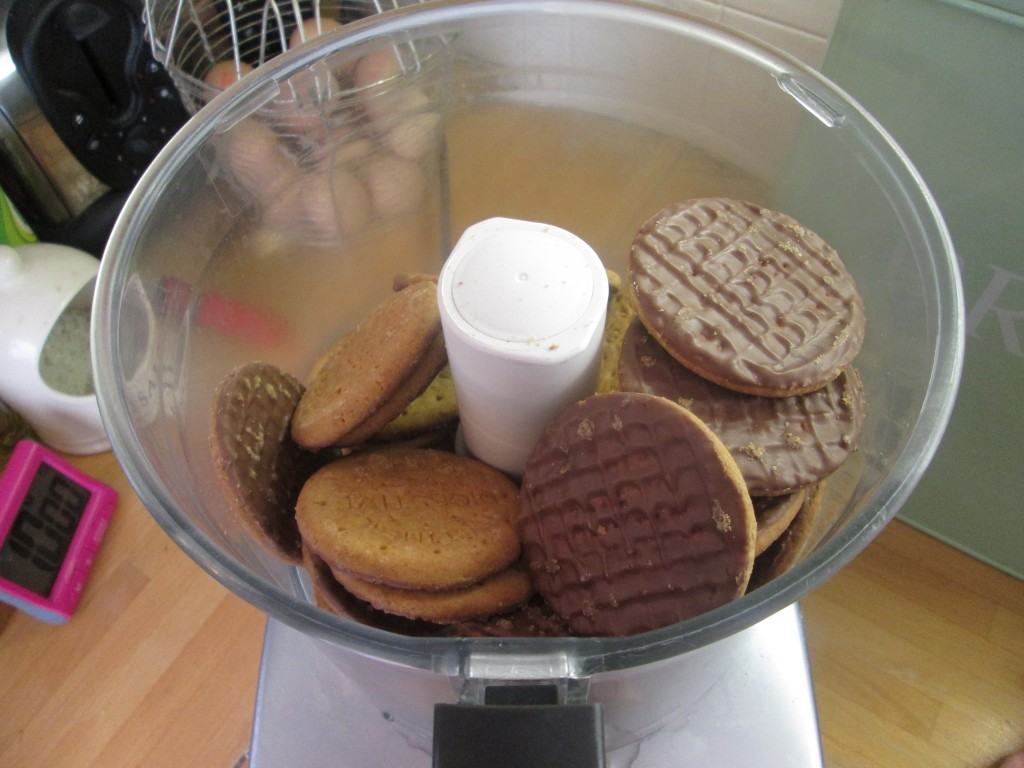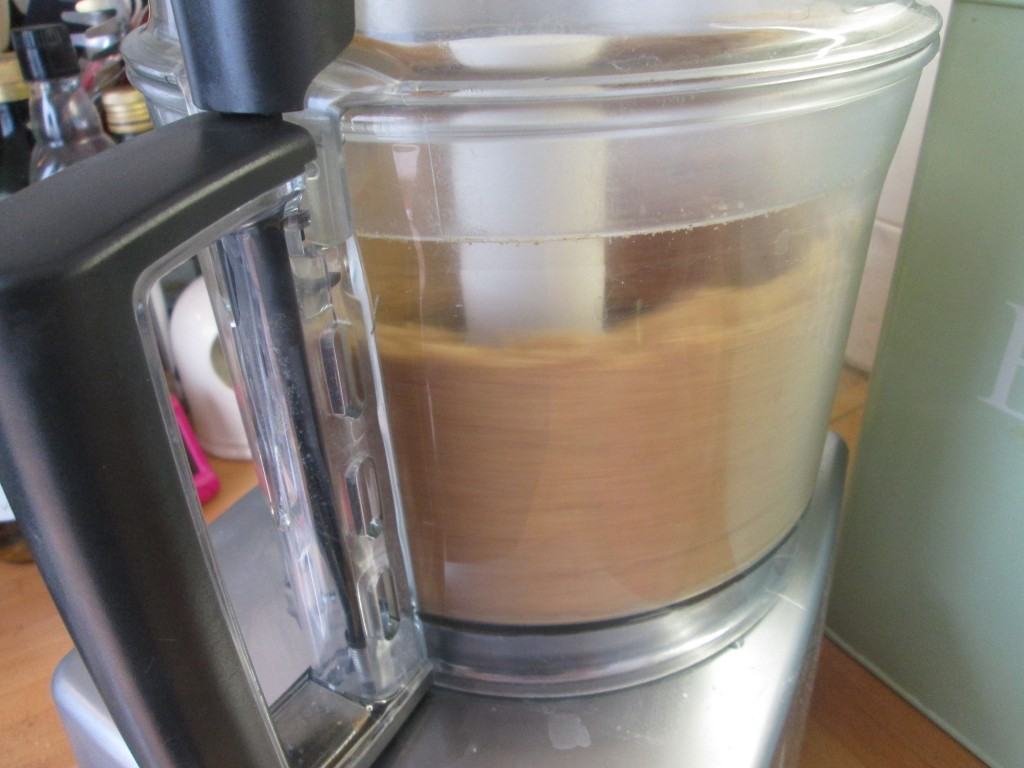 Add these sandy sweet crumbs to your cocoa, butter mixture and stir it all until well combined.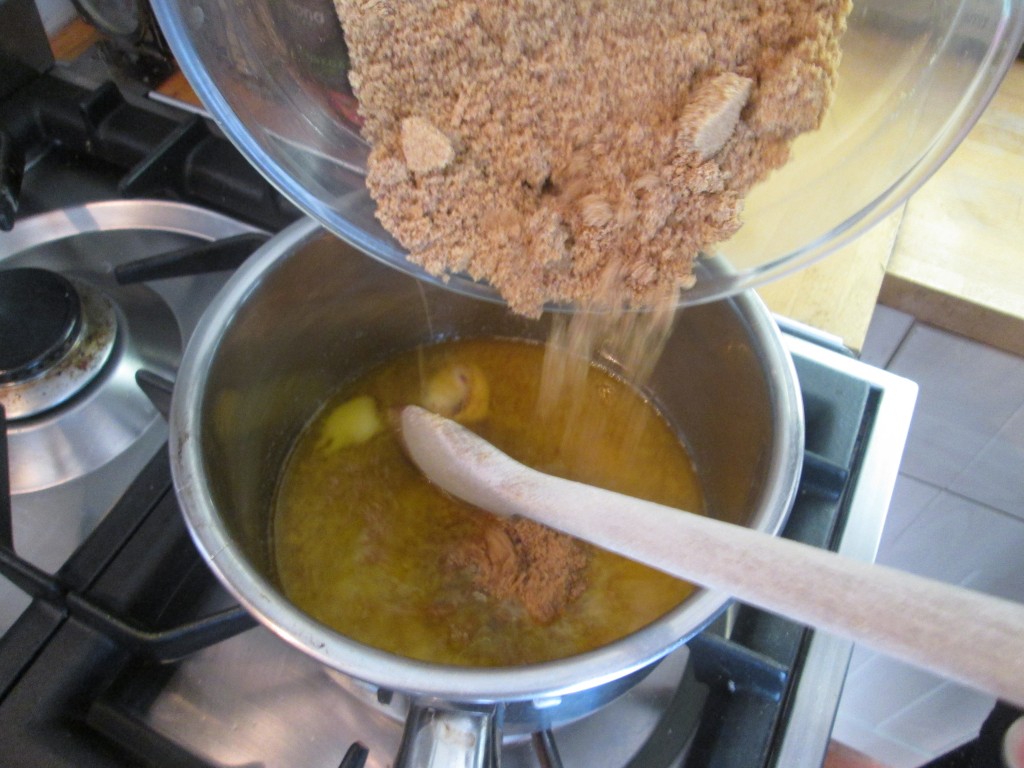 Just pretend the cocoa's been added to butter and syrup here, thank you. *mental note to buy Photoshop to cover up these cock ups in the future*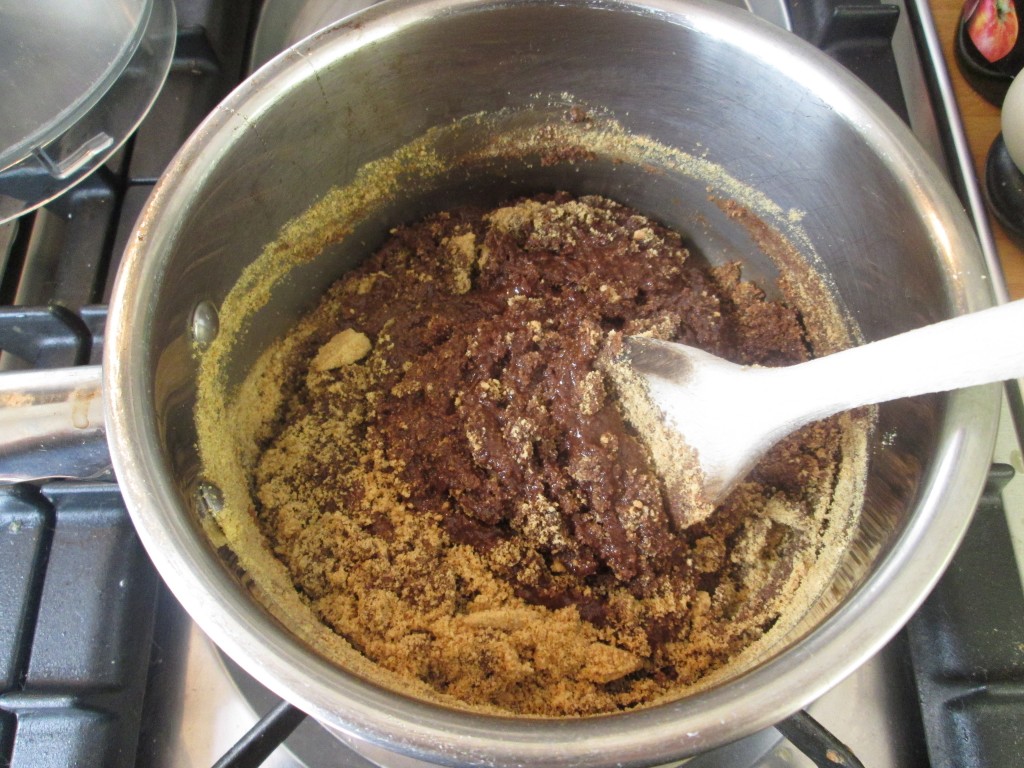 Ooh look, the cocoa's there now.
When well mixed, tip this chocolatey concoction into your cling film lined pan. Spread it out so it covers the base.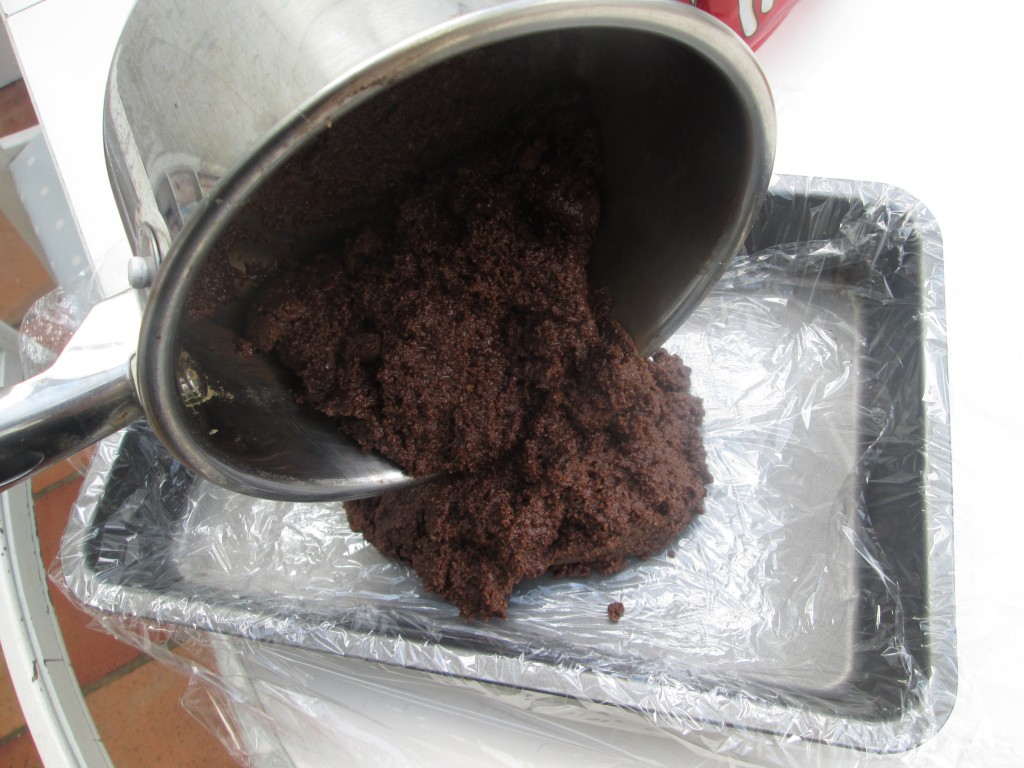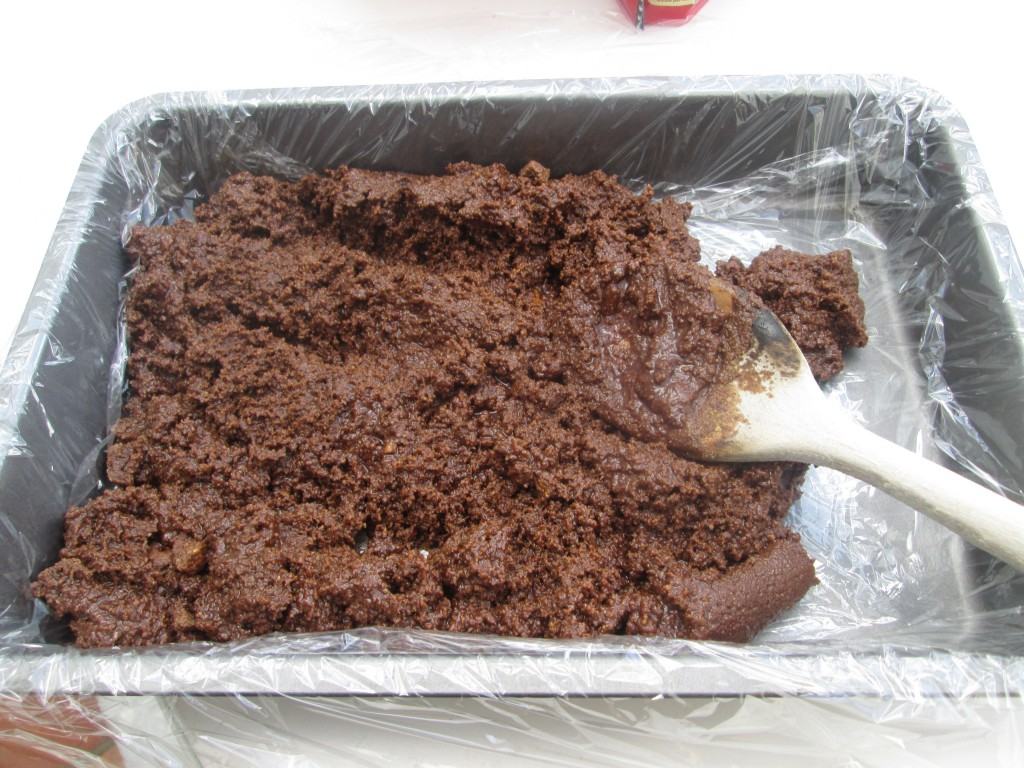 Open your bag of Maltesers, resist the urge to eat a handful like I did, then pour them into the tin and press into the mix with the back of a spoon.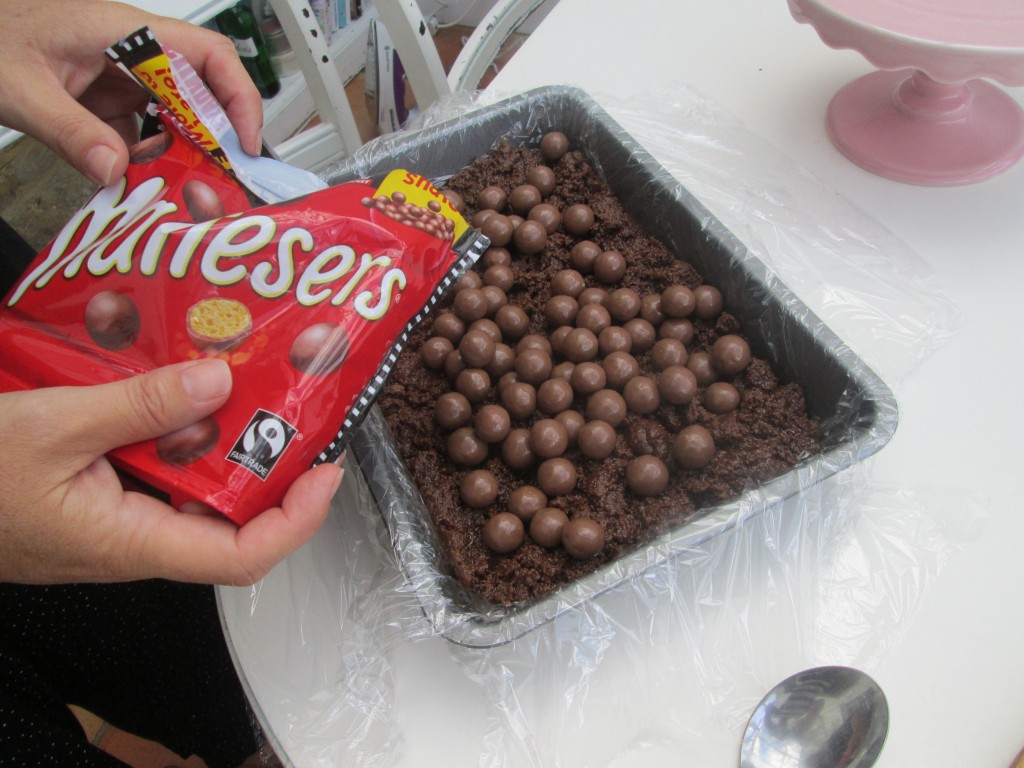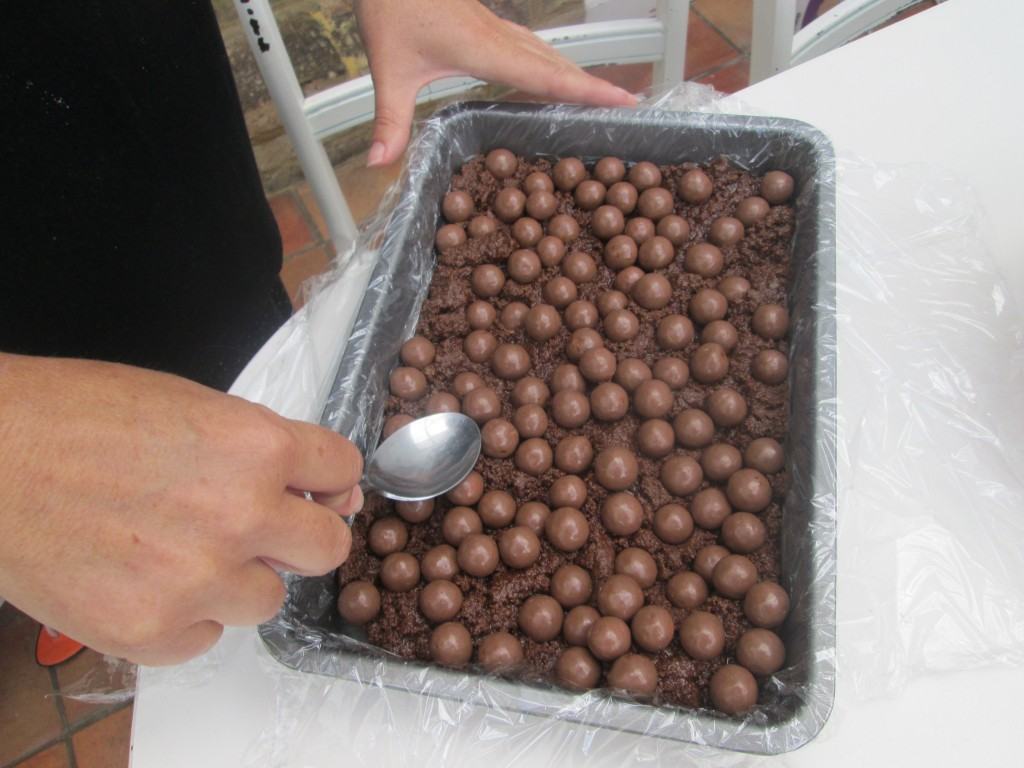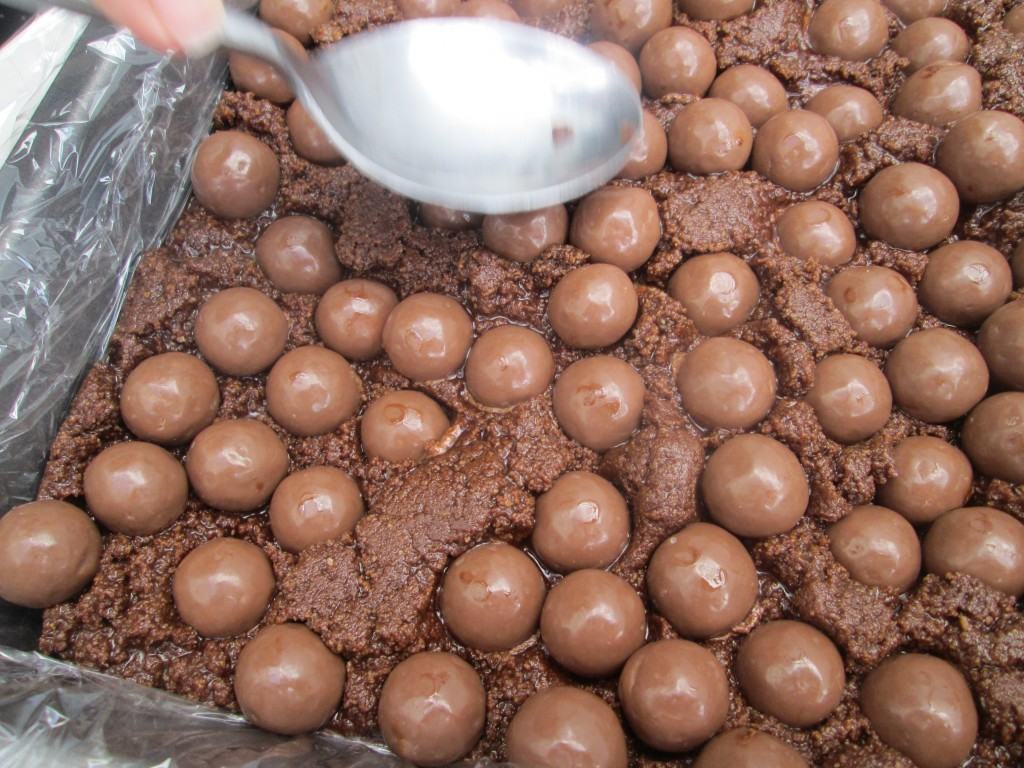 Mmm, shiny balls of chocolatelyness in buttery, syrupy biscuit.
Fold over the cling film to cover the mixture and give it another good press to ensure the Maltesers are firmly embedded in the biscuit.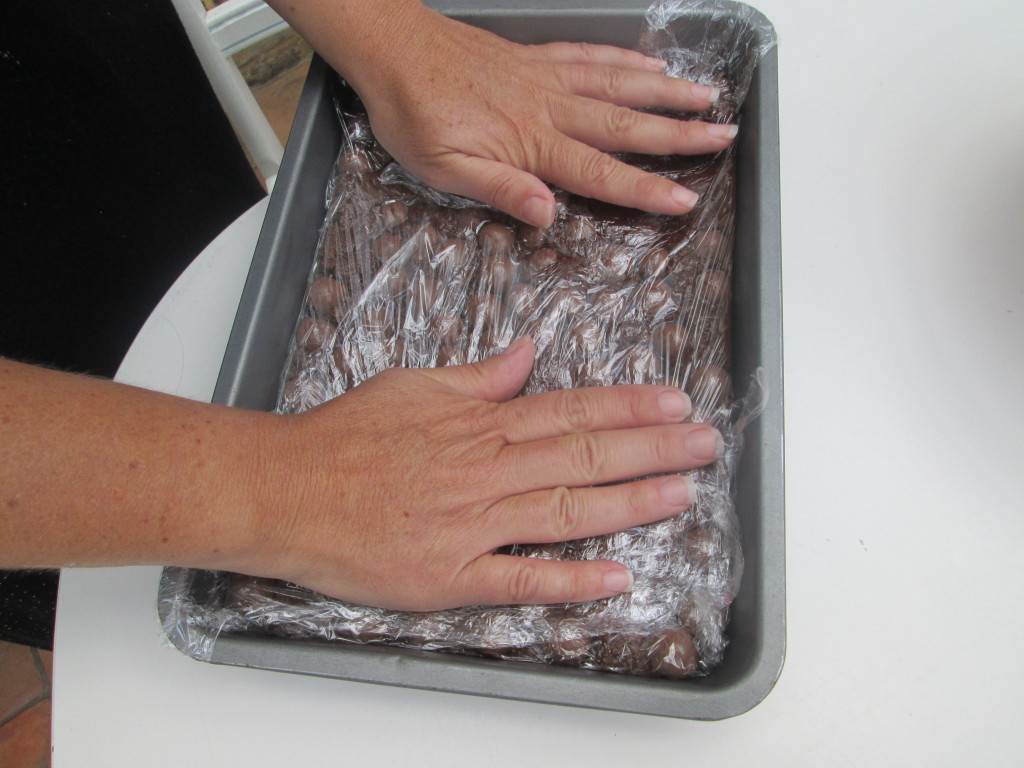 Pop in the fridge for at least two hours, then peel off the cling, cut into modest squares or bloody great big chunks, your call.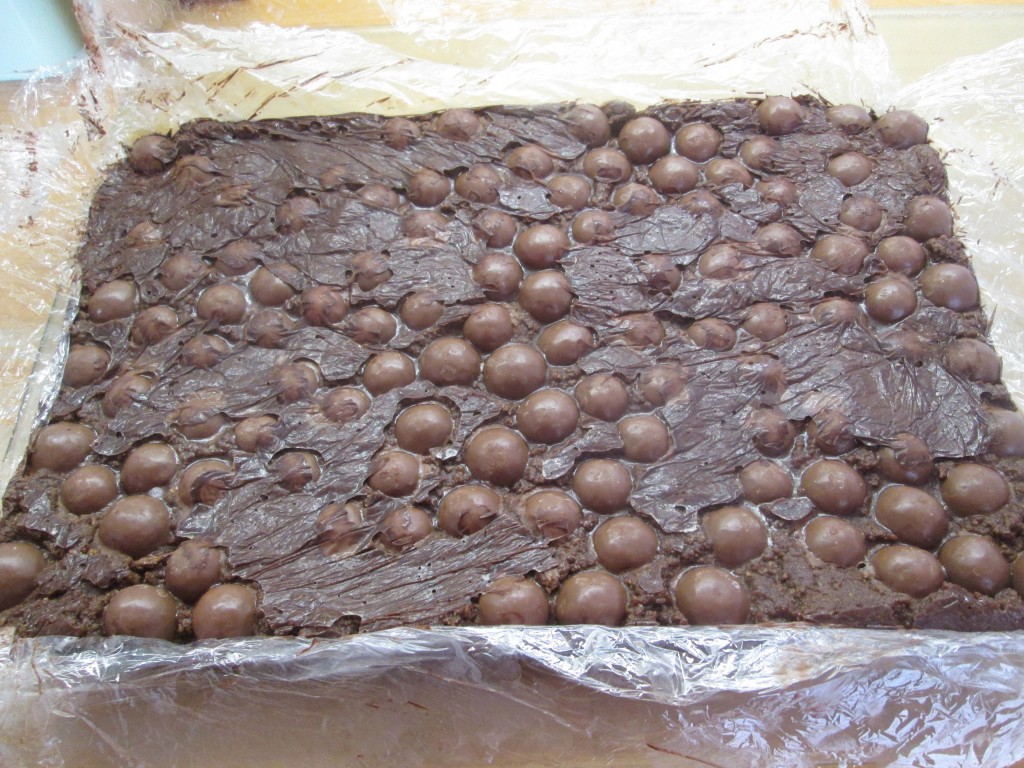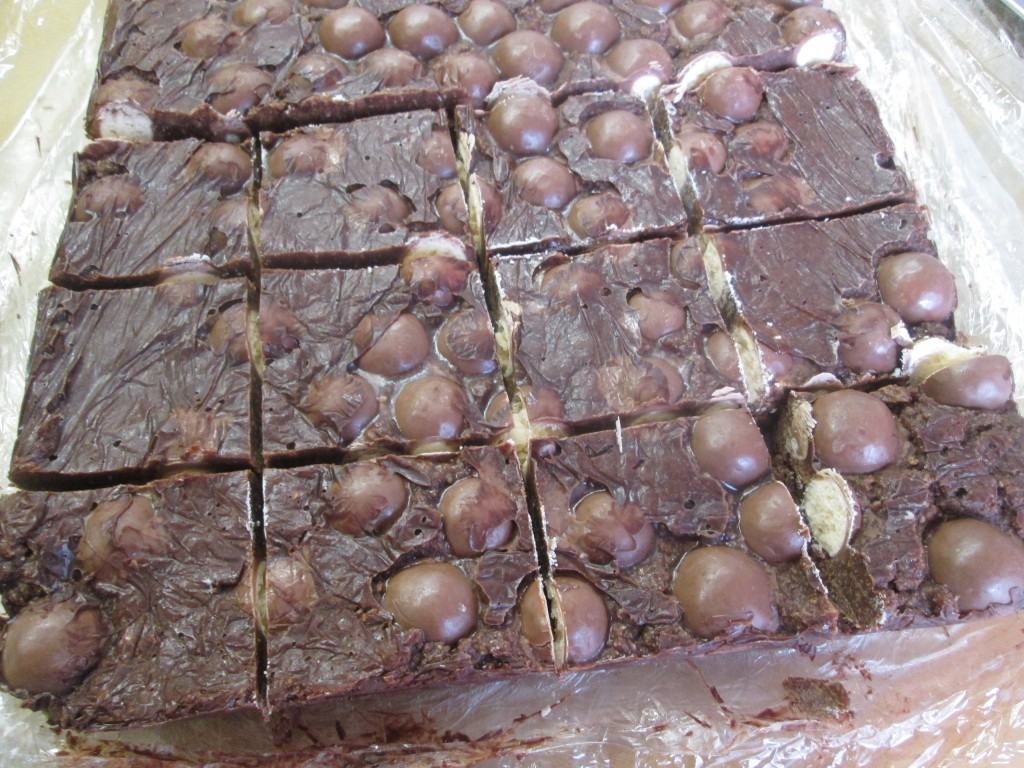 This is so simple, but so completely irresistable. I can assure you, you will make this over and over again.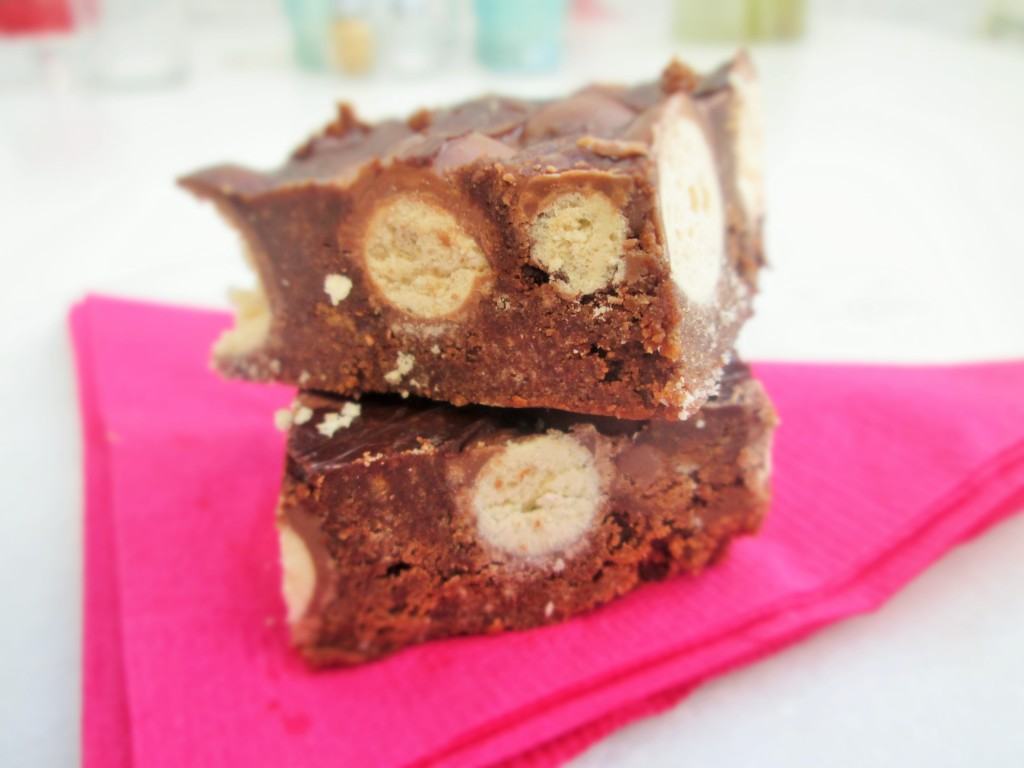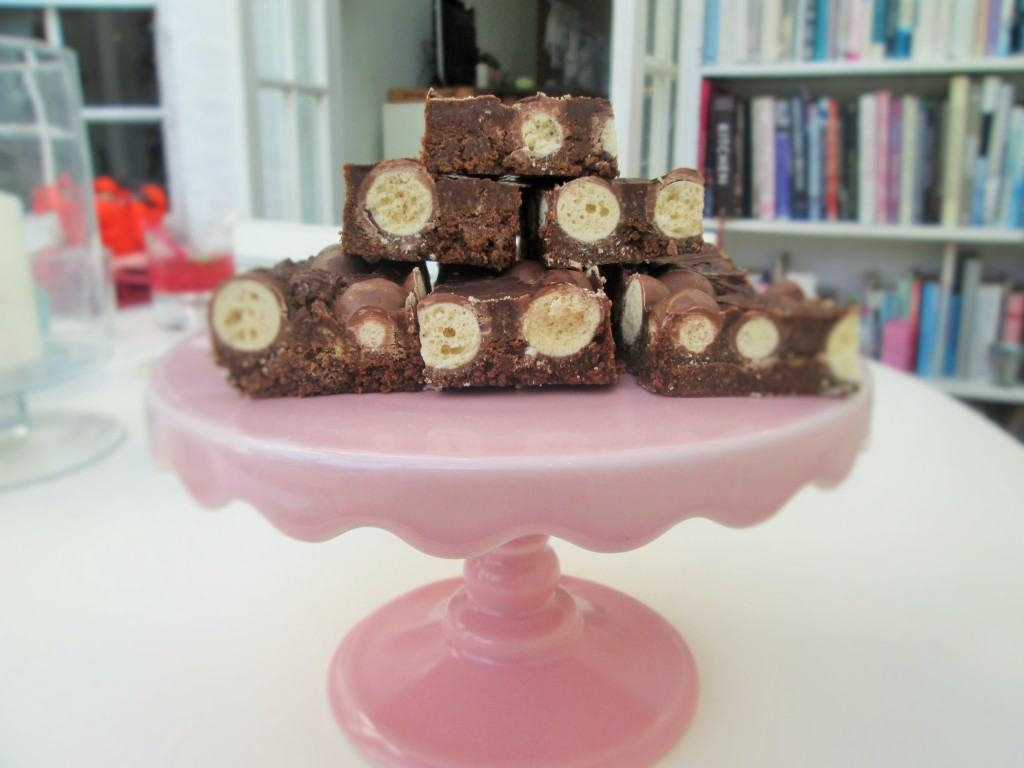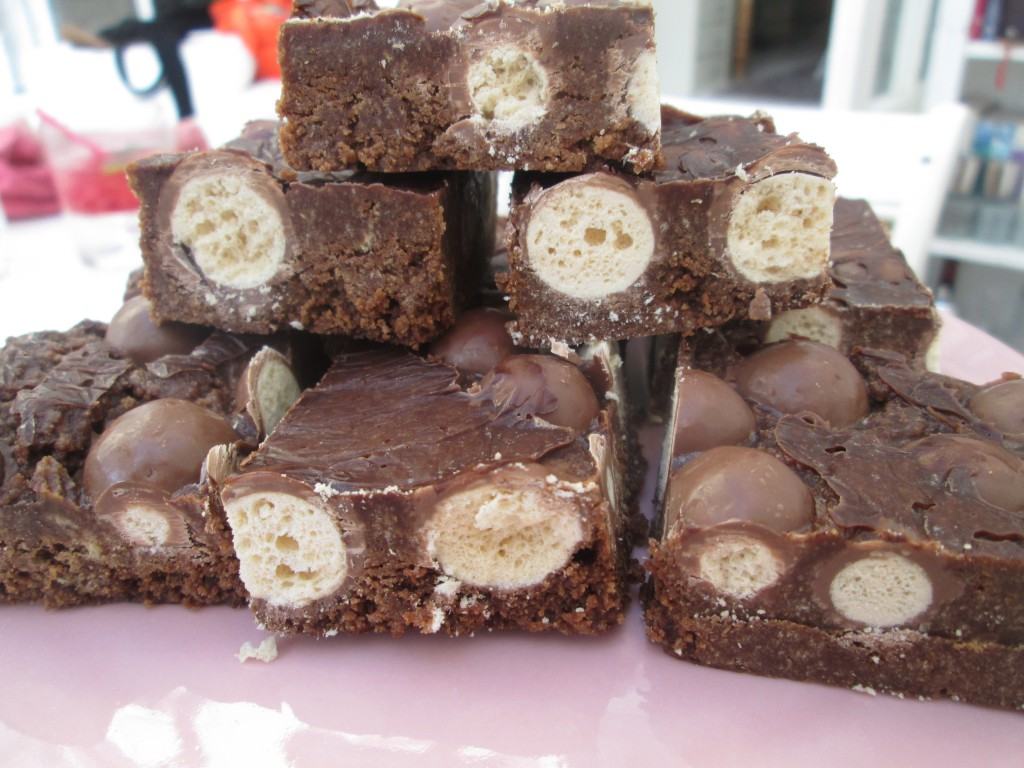 This recipe is definitely a keeper, I've hung onto it for over 10 years now, I hope you agree.
Lucy x
PS big thank you to Lizze C for my new cake stand, love it.
Malteser Biscuit Cake Recipe
*Recipe update
I have recently amended the biscuit quantities on here as I this was coming out way too dry even though I have been making this for 1000 years?
Line a 9 x 13 inch swiss roll style tin with cling film
170g Butter
6 tablespoons Golden Syrup
4 tablespoons Cocoa powder
400g chocolate covered Digestive Biscuits (milk or plain chocolate, chocolate chip or standard)
A big bag of Maltesers, either 170g or 230g bag
Take a saucepan or microwave proof bowl and add the butter and golden syrup. Heat on your hob or microwave until the butter has melted and then stir well to combine with the syrup. Stir in the cocoa powder and mix well again. Crush the Digestive biscuits either in a food processor or in a sealed bag, crushing them well with a rolling pin. Add these crumbs to the melted butter mixture and given them a hearty stir.
Spoon the biscuit mix into your tin and spread to roughly cover the base. Empty the bag of Maltesers onto the mixture and press them in with the back of a spoon. Fold in the sides of the cling film to cover the cake and give it another press down to push the Maltesers into the biscuits. Leave to chill, covered, in the fridge for around 2 hours then peel off cling film and cut into generous squares. Store in the fridge, keeps for a good week to ten days.