Slow Cooker Creamy Chicken and Dumplings Recipe
Dumplings are one of my most favourite foods. I feel disappointed in a casserole if it doesn't have them and feel elated if they're included.  I don't get to eat them very often as casserole is one of the least appreciated and anticipated meals in our house. When the boys were little they loved nothing more than Annabel Karmel's beef with carrots, but the minute they kissed toddlerhood goodbye their love of casserole was over. Until now, that is. Well apart from George, of course, he's beyond stubborn. This Slow Cooker Creamy Chicken and Dumplings has got even Clyde excited. And I am hoping it will have your family drooling too.
Have I bored you before with talk of how much I love my slow cooker? It's a brilliant invention for lazy cooking days. Pop in all the ingredients and let the slow cooker do it's thing. This Creamy Chicken and Dumplings is family cooking at it's finest, unless George is in your family. The chicken is tender and melting, the sauce is creamy and savoury. It's laden with vegetables then finished with buttery, soft dumplings which are just the icing on the cake. It's a one pot dish so no need to bother with anything else but a sprig of 70's parsley as a garnish. All this while you get on with your day. I have made this on a couple of Sunday's now, and I would make it every Sunday if I could. It beats the drama of a full roast any day. It's with huge thanks to the Kitchn and there amazing recipes for the inspiration.
It's not quite time to dust off the hot water bottles yet, but it's October now, so we can legitimately eat dumplings. Thank God for that, I've missed them. My thighs haven't, however, but everything in moderation.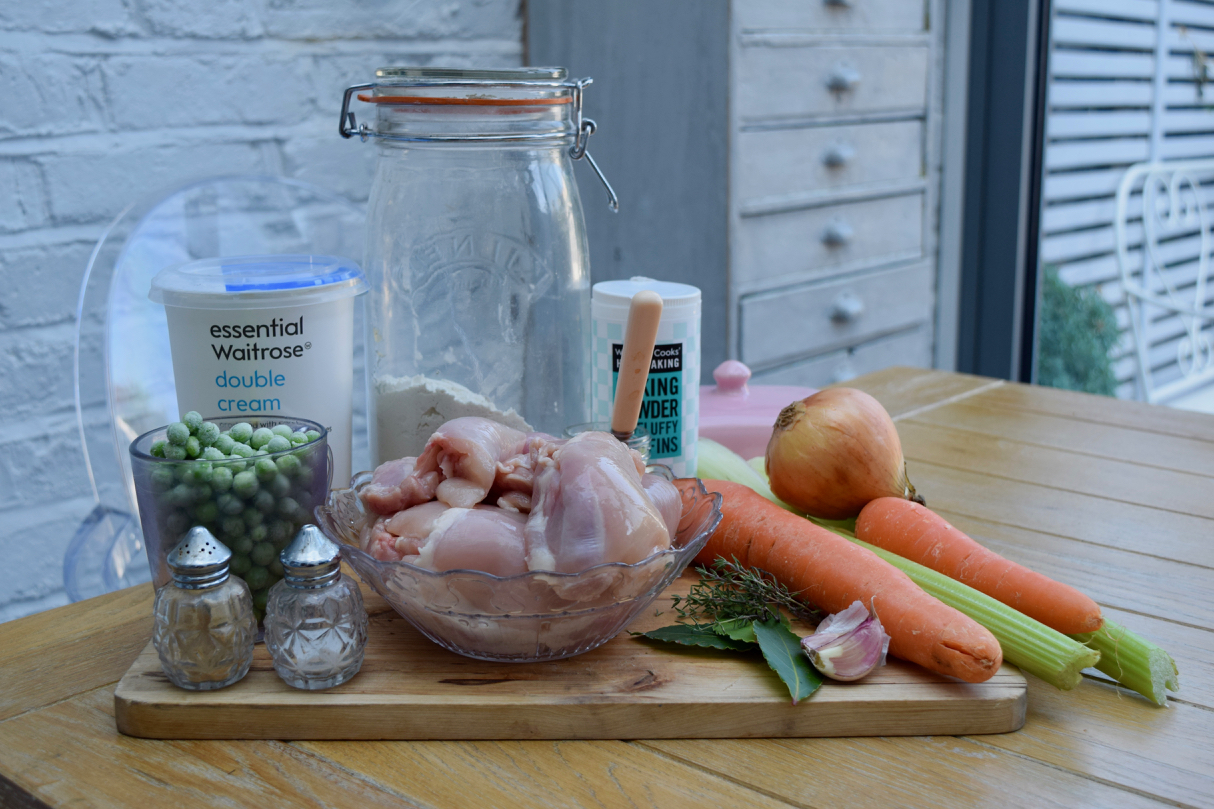 This is quite the harvest festival of line ups, minus the unwanted tins of soup and beans. It is also missing the parsley, which I generously left out because Ben was eating this version and he hates parsley. Bloody family's, eh?
Make a start by lightly oiling your slow cooker bowl. Next, pour in a random 375ml of the 500ml of chicken stock.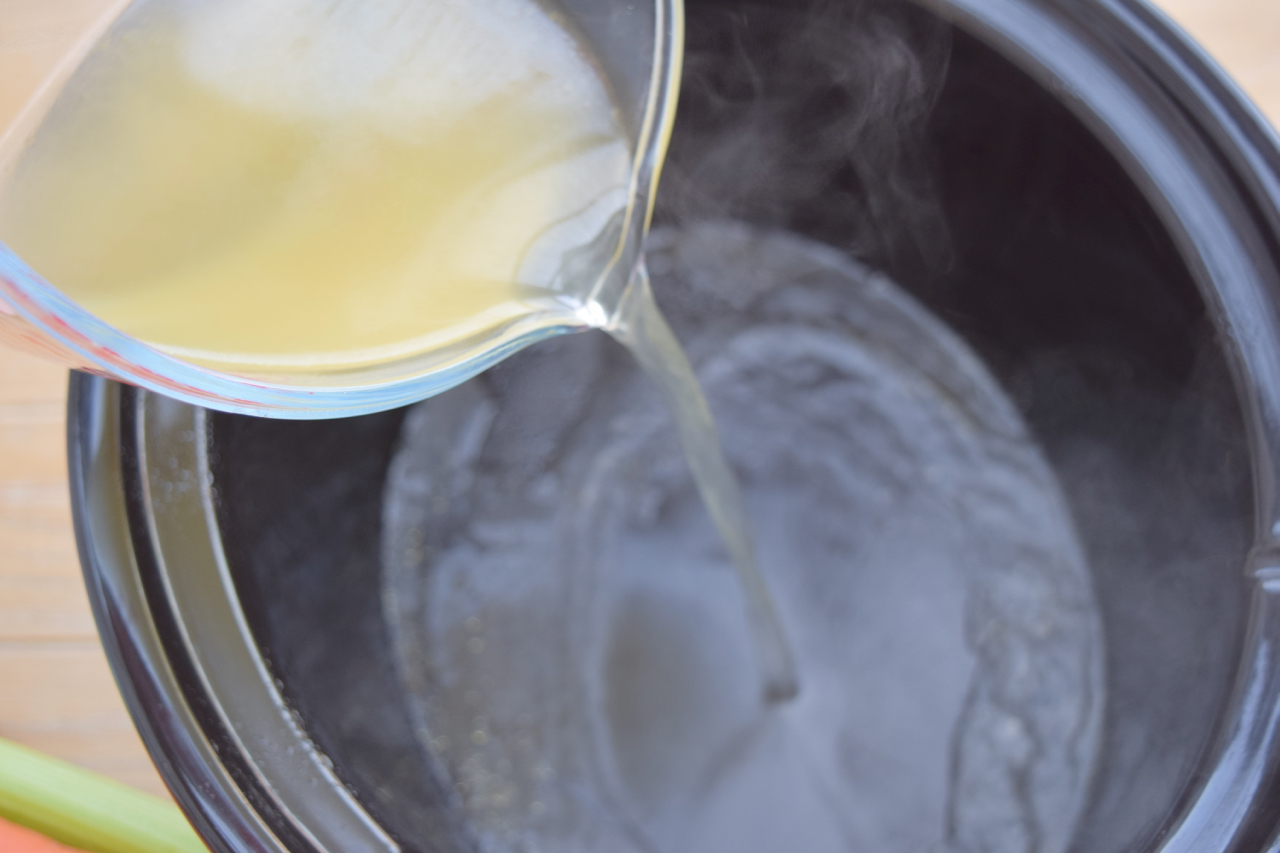 Tip in the chopped onion, celery, garlic, bay leaves and thyme sprigs.
Add the carrots and a teaspoon of salt. Then lay the boned chicken thighs on top of the vegetables and season them with salt and pepper.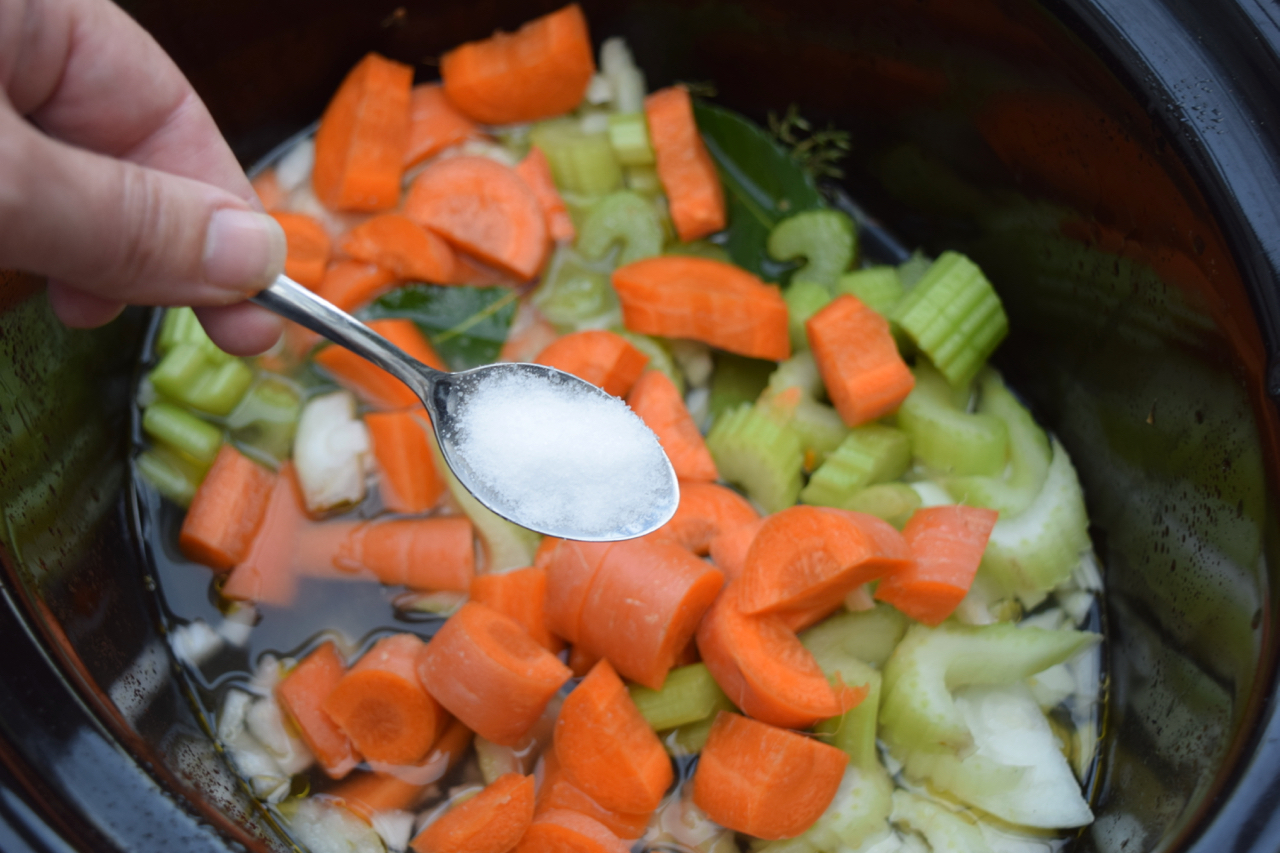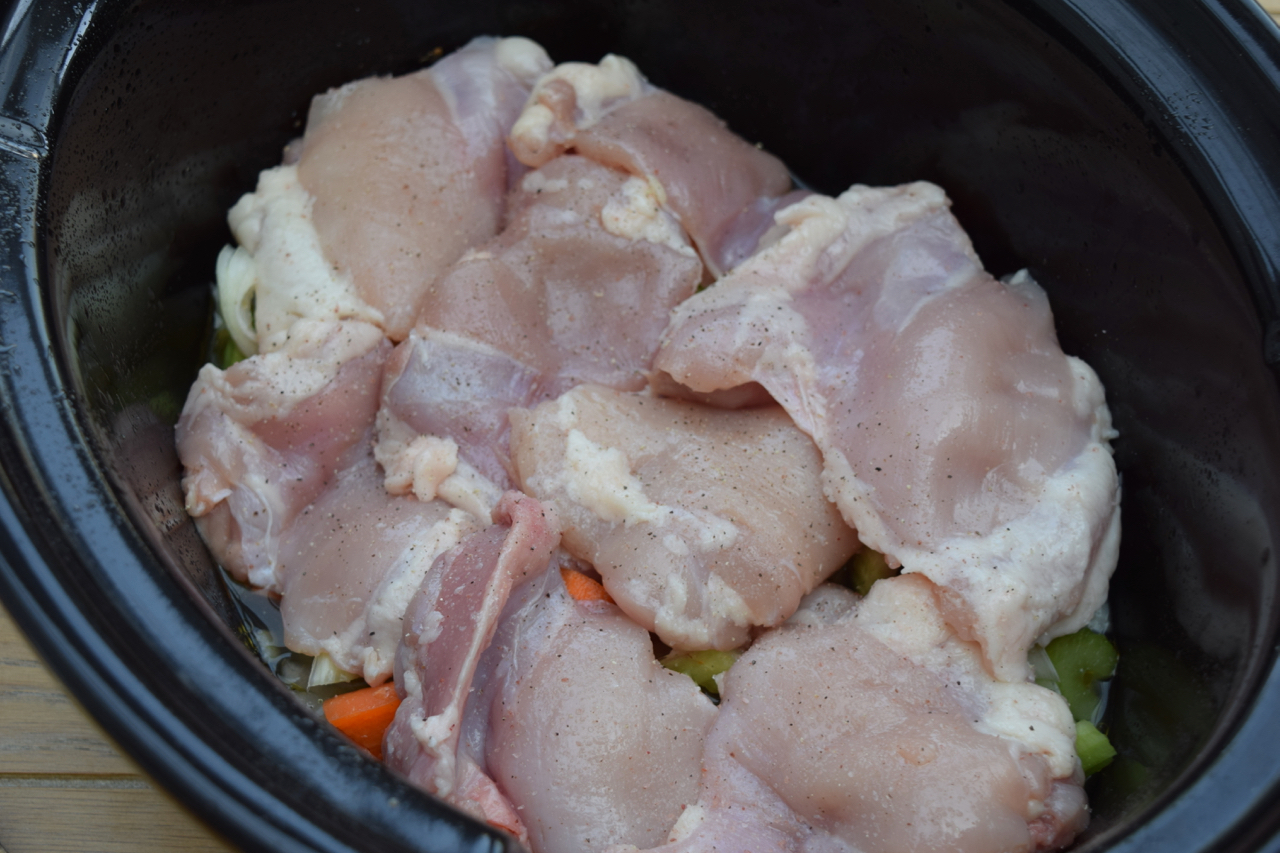 Put the lid on your slow cooker and cook on low for around 5 hours.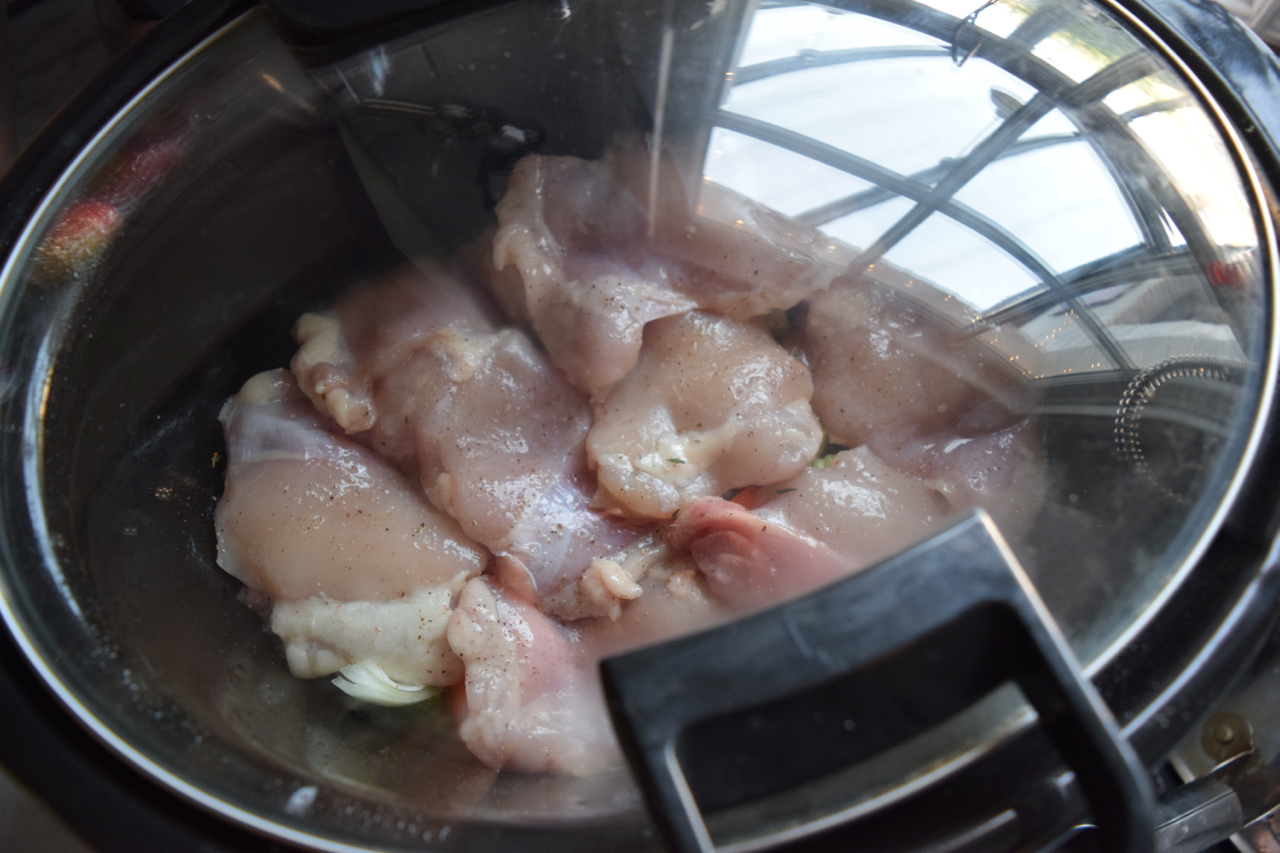 When the 5 hours is up, the chicken should be cooked beautifully. Remove it from the slow cooker and put on a plate where you can shred it using 2 forks.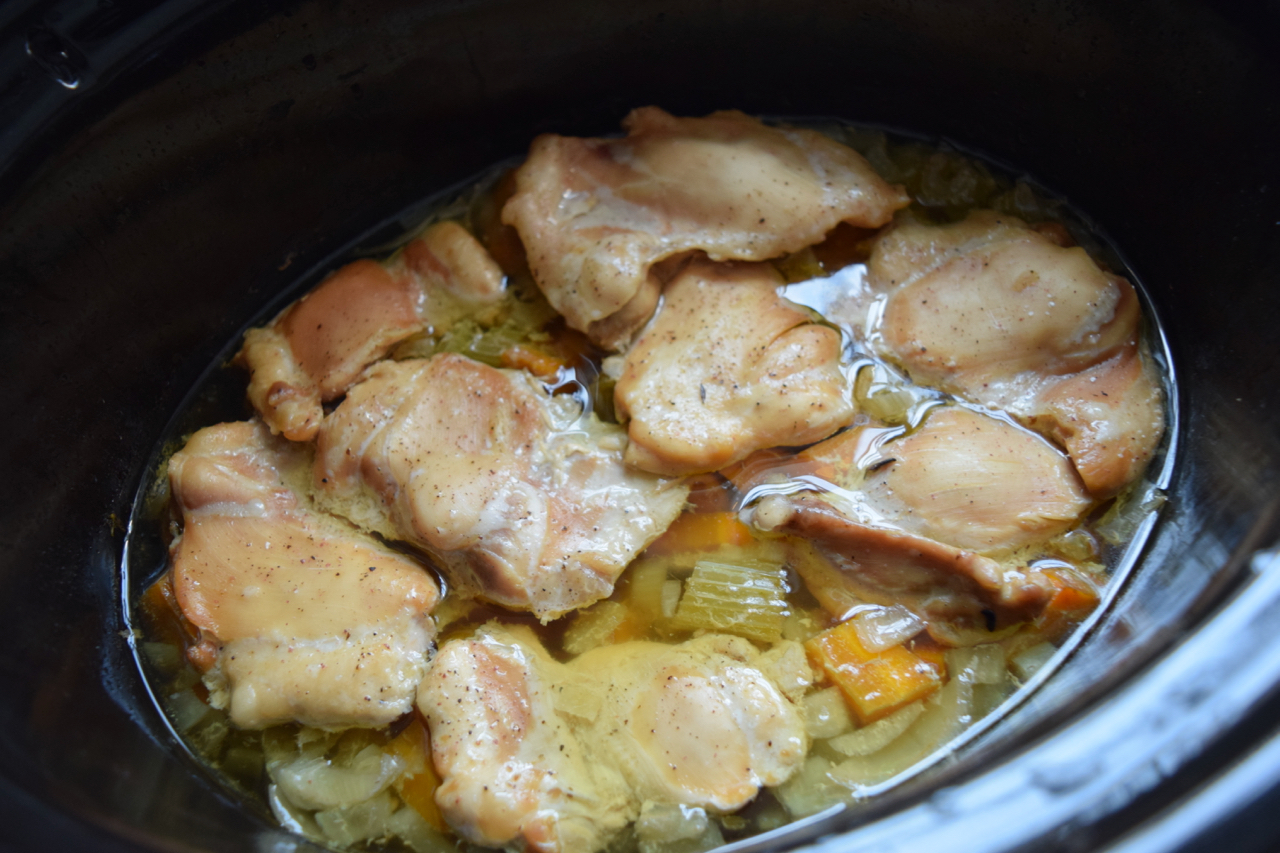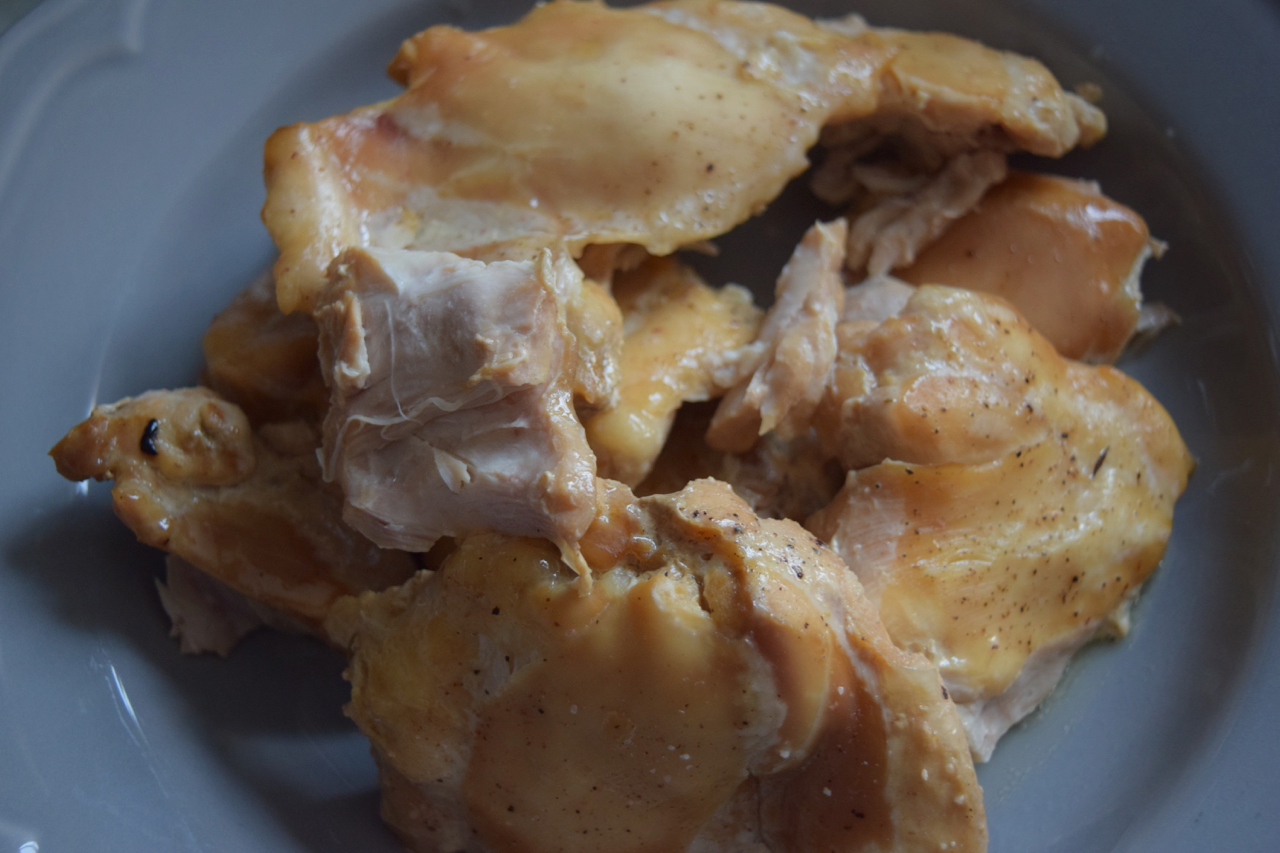 Leave the shredded chicken to one side. Pour the remaining 125ml of chicken stock and the 125ml cream into a bowl or jug and gradually whisk in the flour until blended and lump-ish free.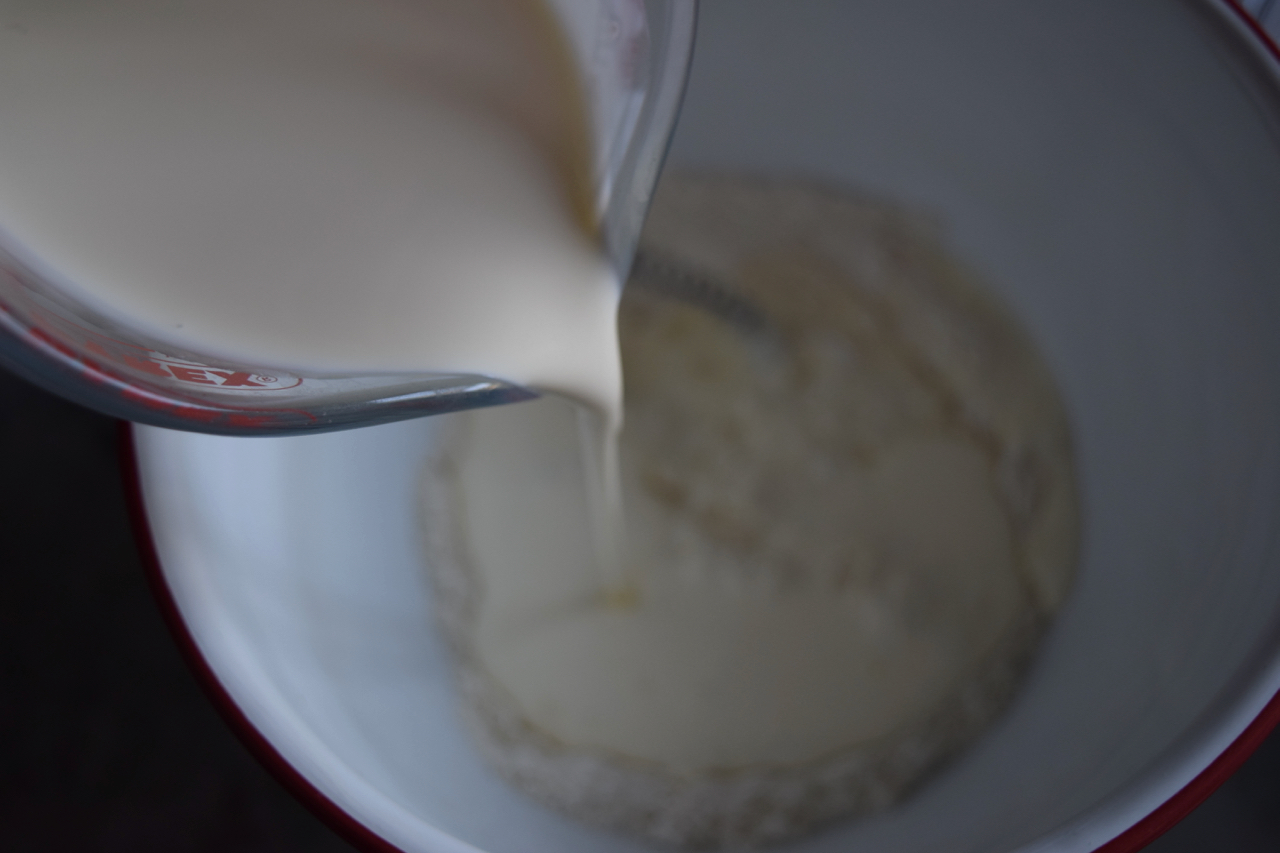 Add the peas, parsley, if you using, and the cooked, shredded chicken back into the slow cooker along with the cream and flour mixture. Stir well and check for the need for any additional seasoning.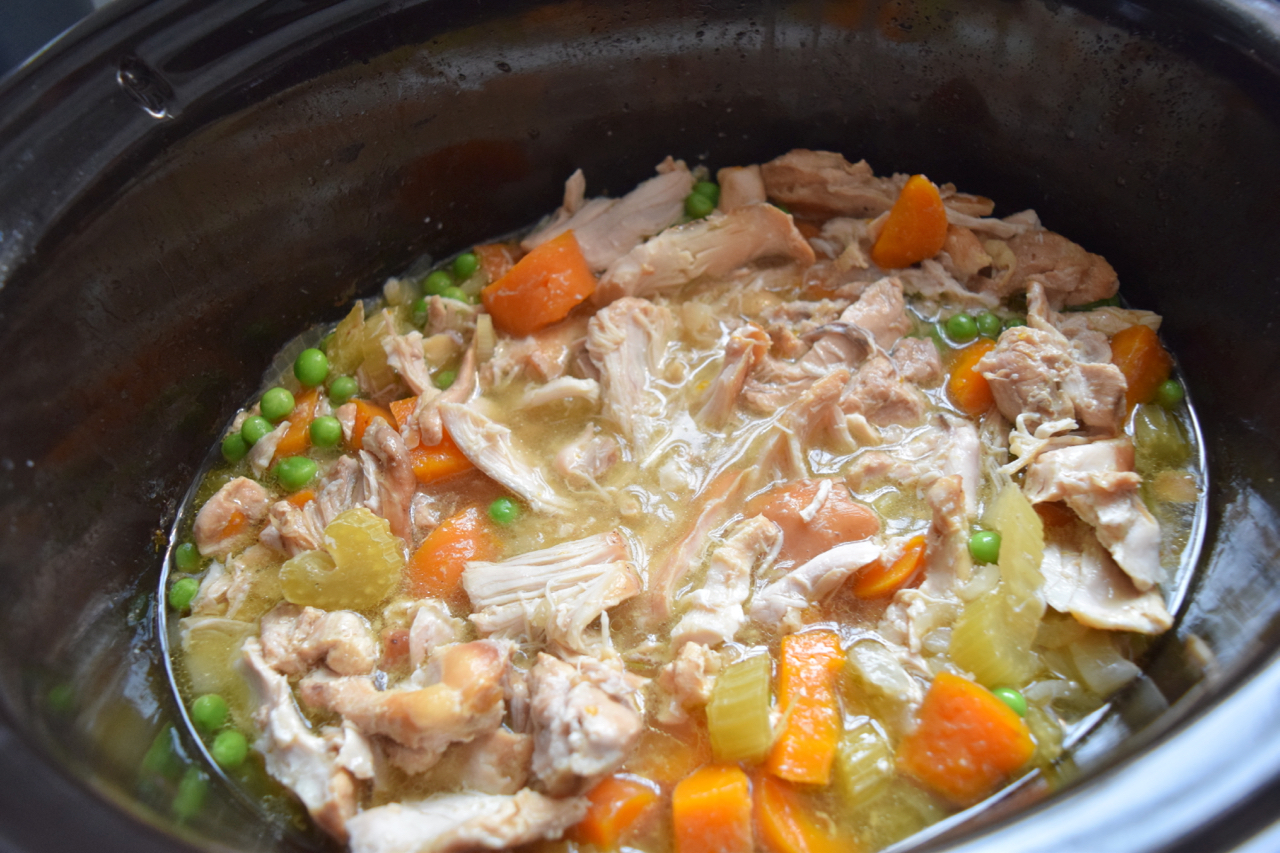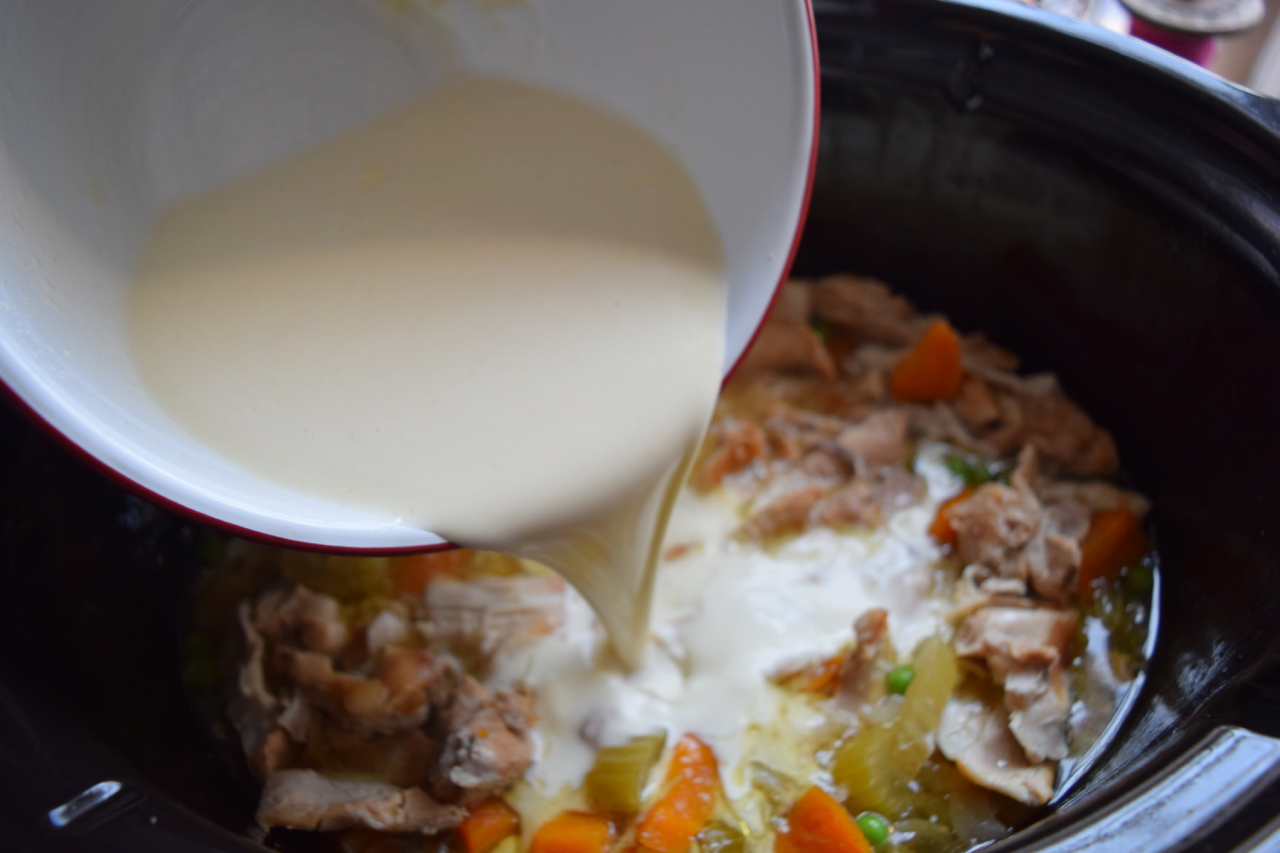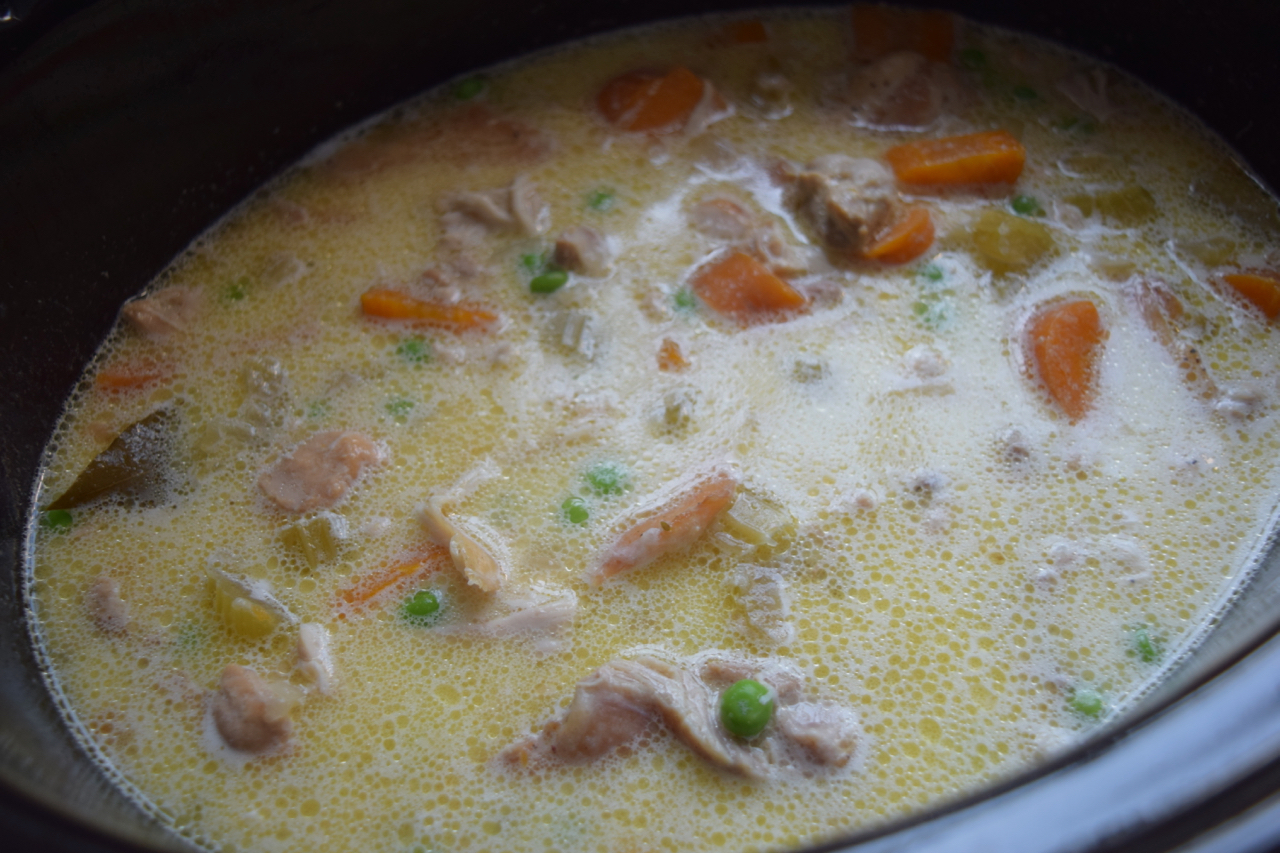 Put the lid back on whilst you make the dumplings. For these, mix the flour, baking powder, sugar and salt in a medium sized bowl.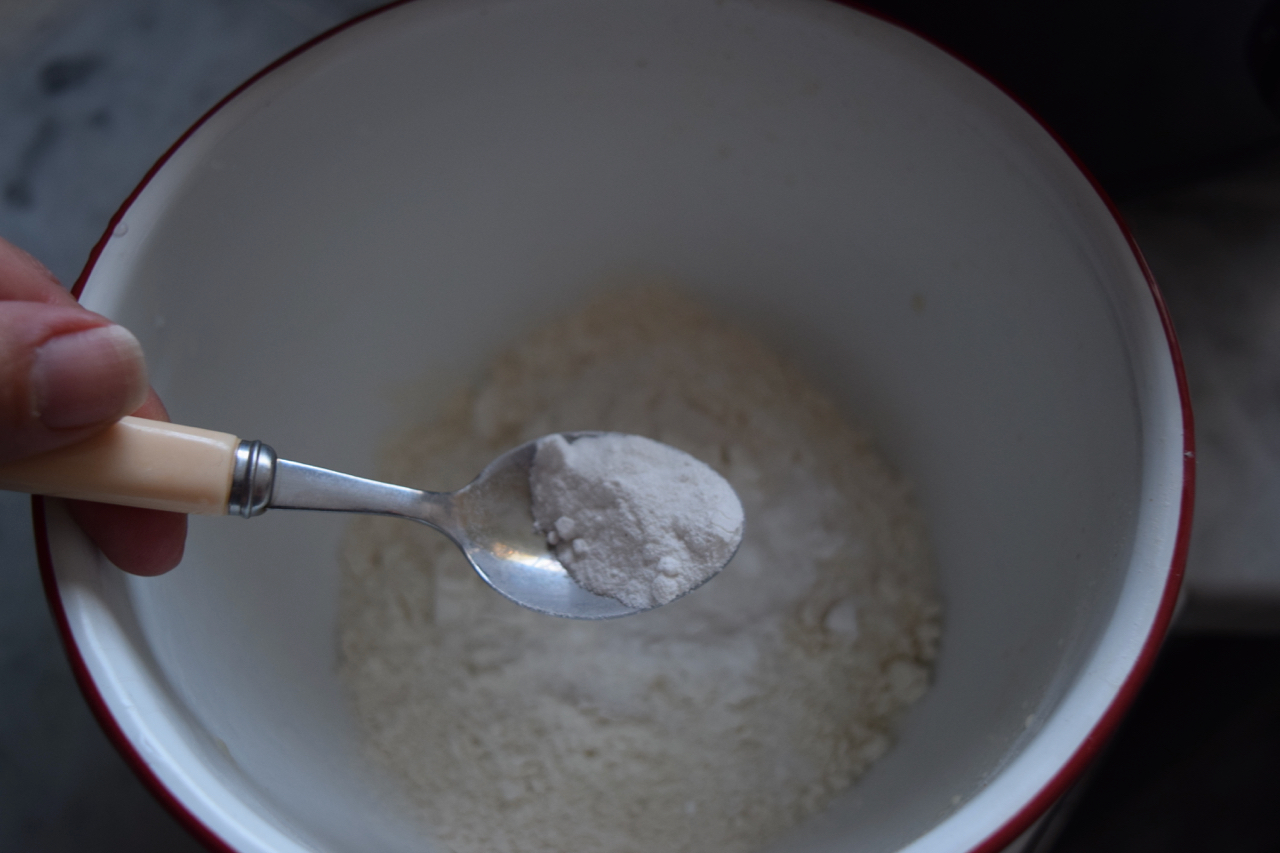 Slowly blend in the cream and melted butter until you have a soft dough consistency.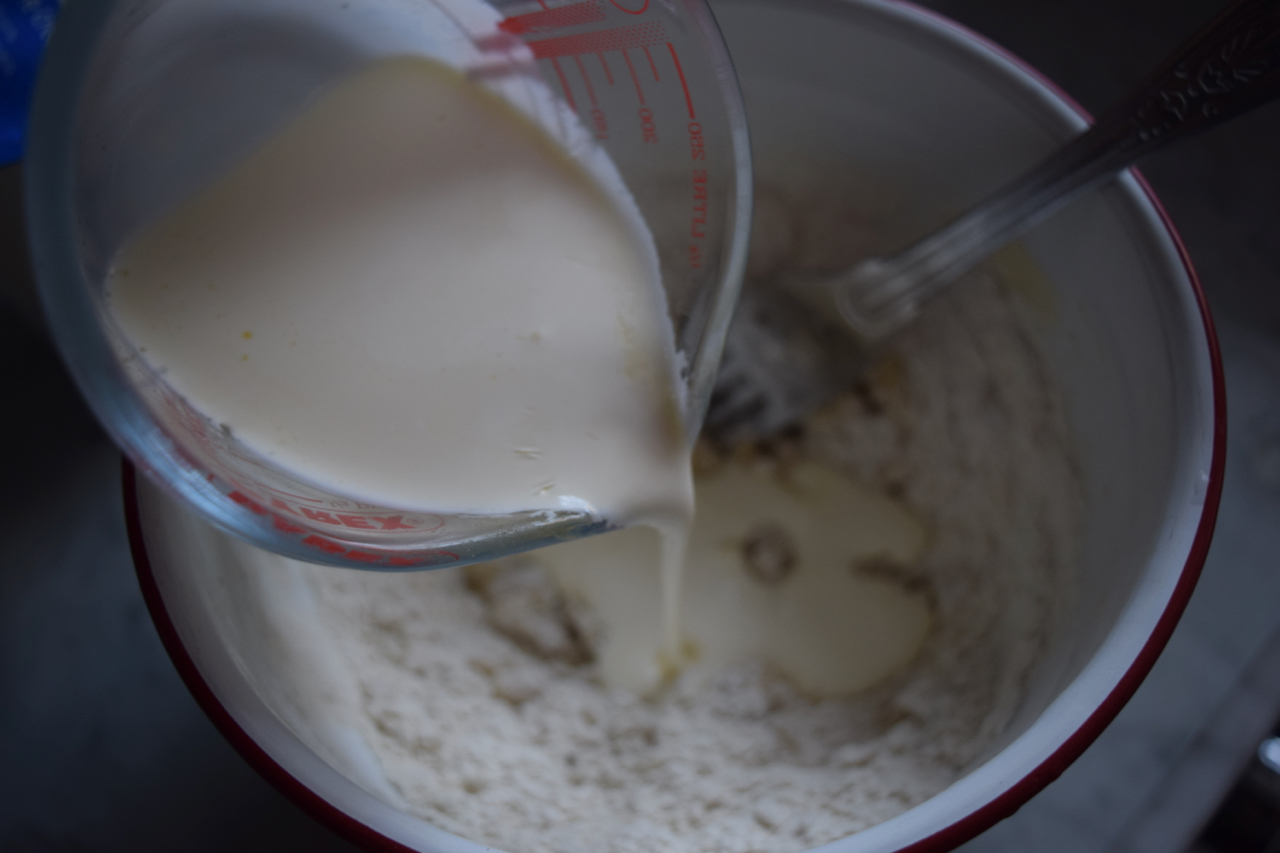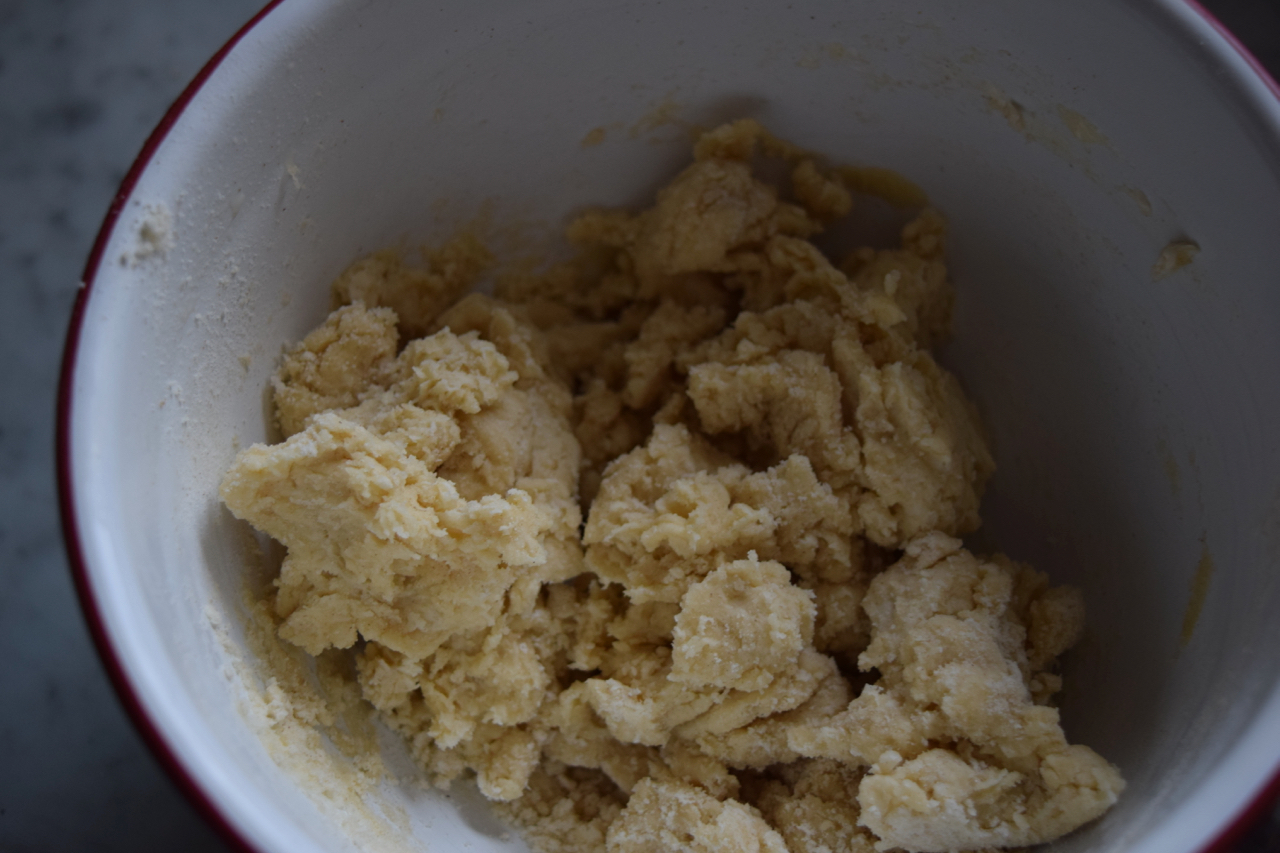 Fashion tablespoons of this soft dumpling dough into balls and drop them into the casserole. Put the lid back on and cook for a final hour and a half.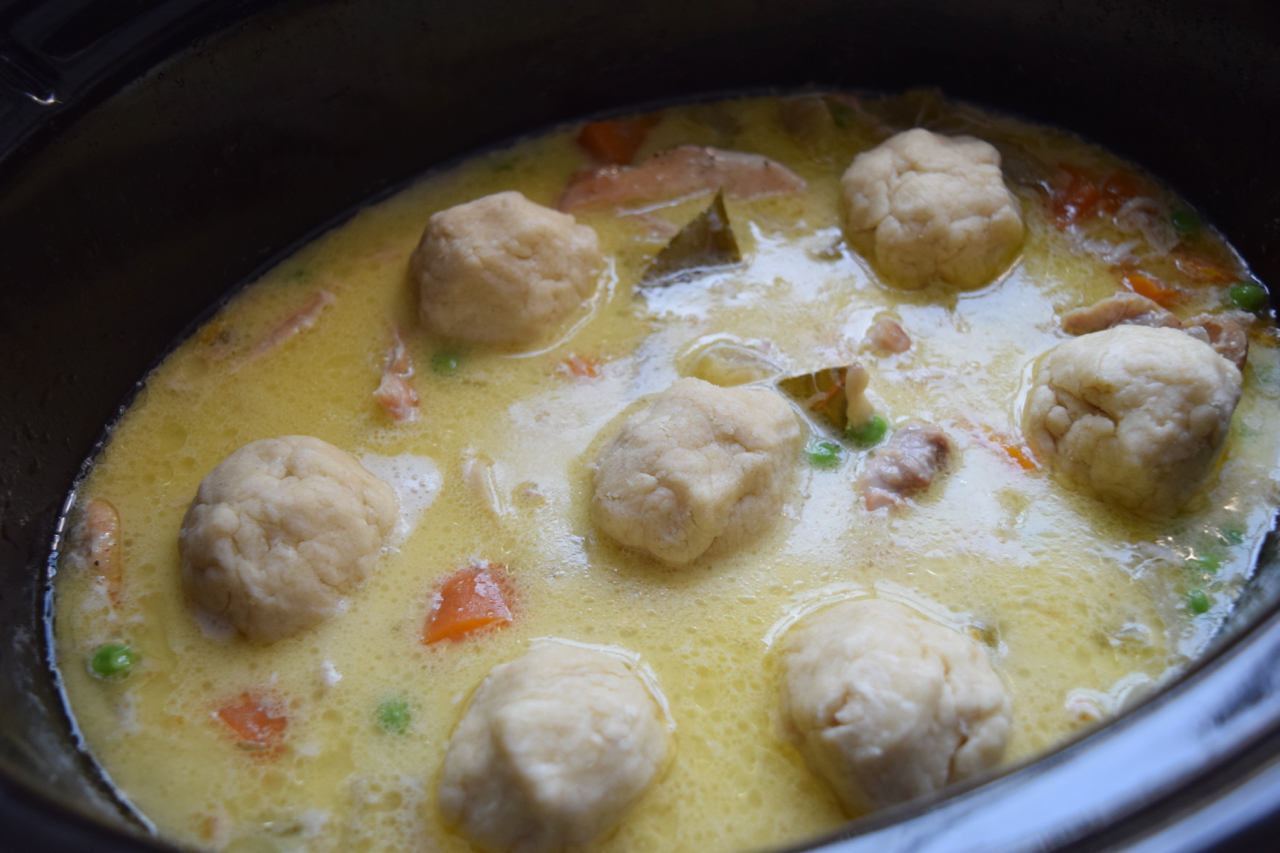 By which time the dumplings will be plump and soft and buttery. Give the dish a final 15 minutes, lid off, while you chop a parsley flourish.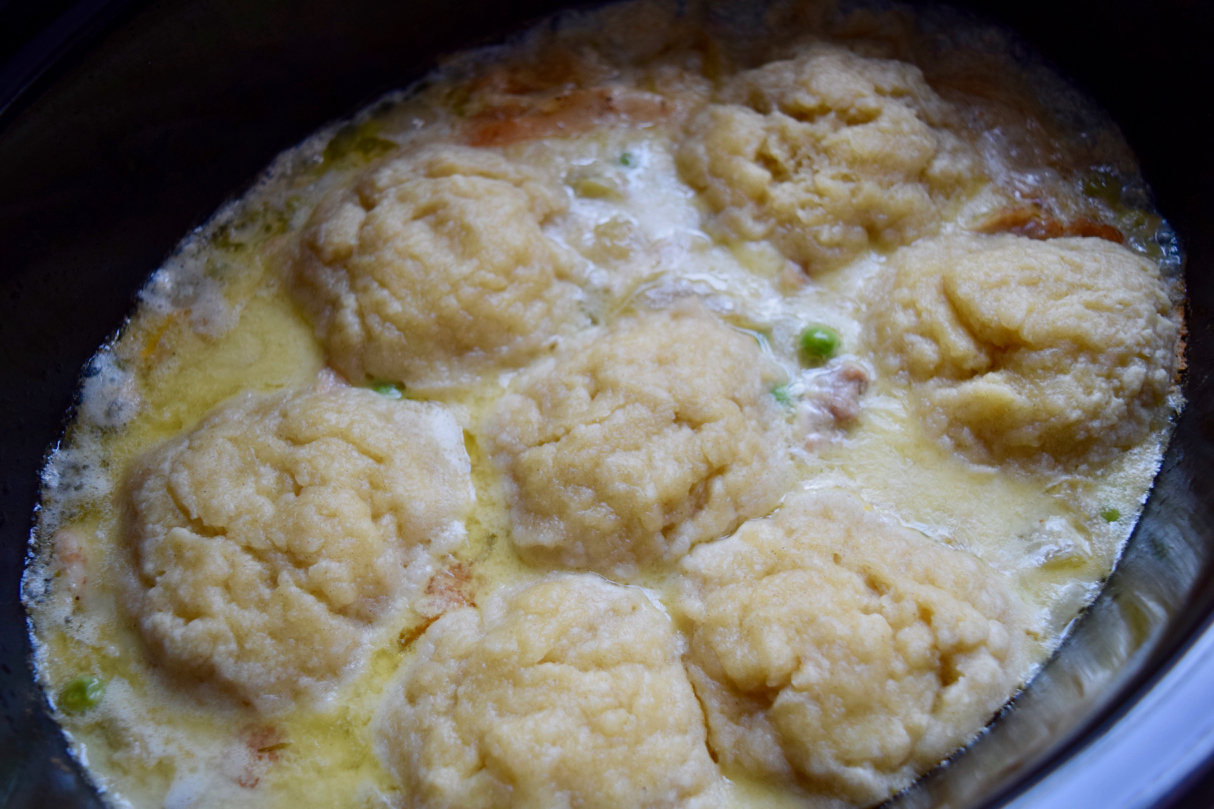 Fish out the bay leaves and serve in large bowlfuls garnished with some more parsley. Then dip in for a second bowl, I can almost certainly guarantee you'll want seconds.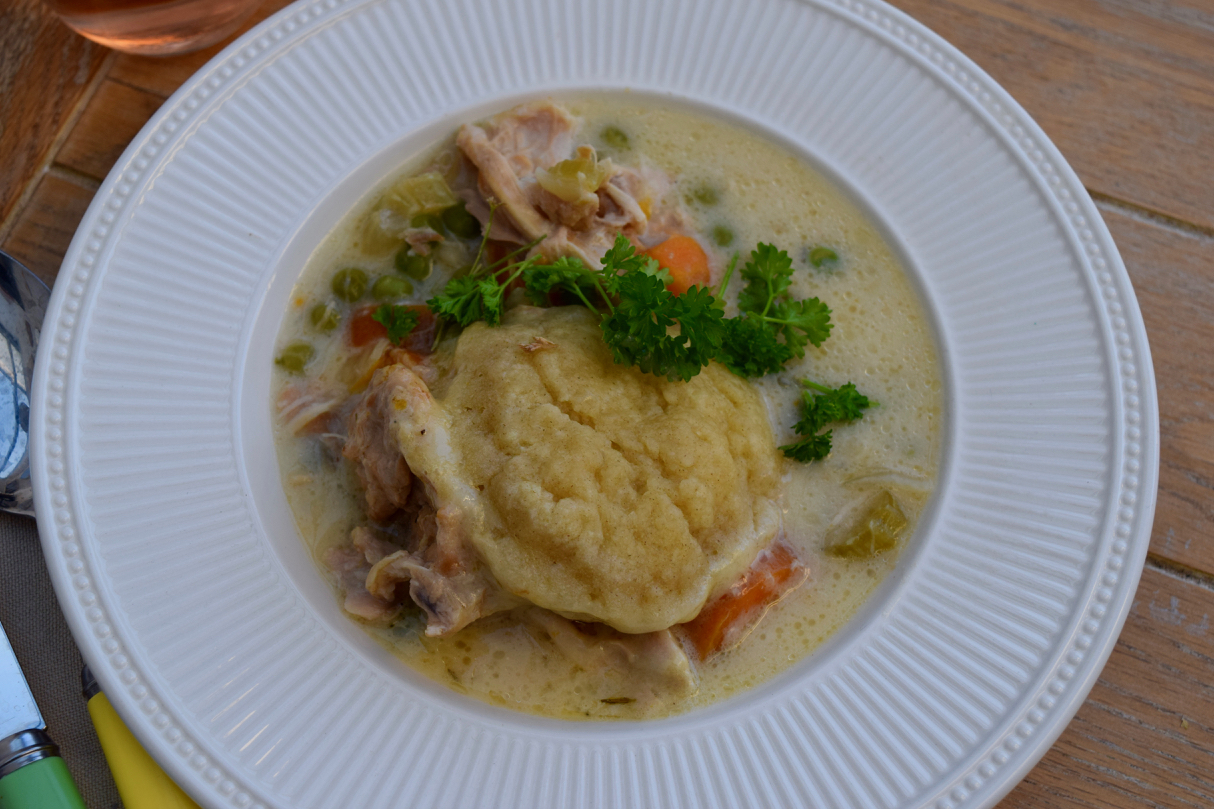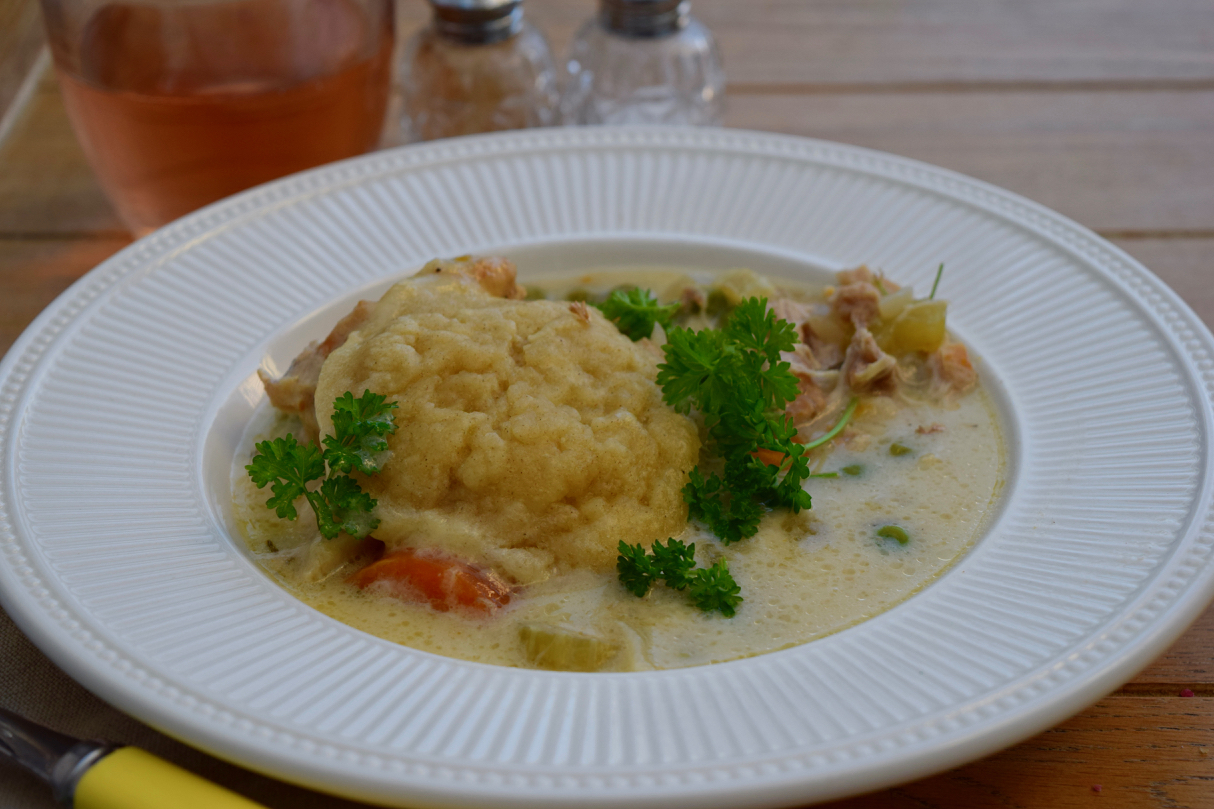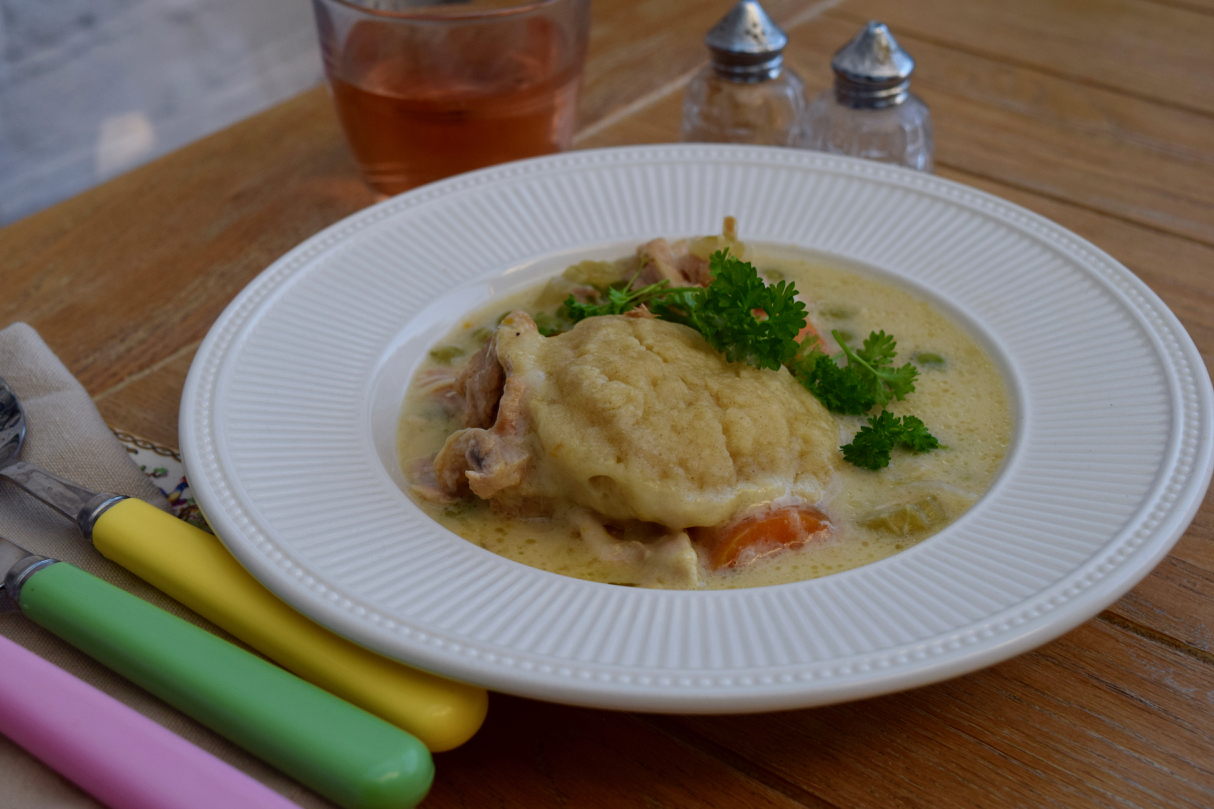 *Audible stomach growl*. I have just got back from an hours bootcamp and am bloody starving. And it's chilly, and this is warming and soothing. And the dumplings are all buttery. I think I may have to leave it here and go and see if I have the ingredients for another batch of Slow Cooker Creamy Chicken and Dumplings for supper tomorrow.
Lucy x
Slow Cooker Creamy Chicken and Dumplings Recipe
Serves 4
You will need a slow cooker, or this could be made on the stove in a casserole dish
Chicken
Oil to oil the slow cooker bowl
500ml chicken stock
1 onion, finely chopped
2 to 3 carrots, size dependent, peeled and chopped
2 stalks celery, finely chopped
2 cloves garlic, finely chopped
4 sprigs fresh thyme
2 bay leaves
1 teaspoon salt, plus extra for seasoning
750g boneless, skinless chicken thighs
1/4 teaspoon freshly ground black pepper
125ml double cream
45g plain flour
150g frozen peas
a handful chopped fresh parsley
Dumplings
150g plain flour
1 1/2 teaspoons baking powder
1 teaspoon caster sugar
1/2 teaspoon salt
125ml double cream
30g butter, melted and cooled
Take the bowl of your slow cooker and oil lightly to prevent sticking.
Pour in 375ml chicken stock then add the chopped onion, carrots, celery, garlic, thyme, bay leaves and 1 teaspoon of the salt. Stir well. Lay on the chicken thighs, season with some extra salt and pepper. Cover and cook for around 5 hours on low.
When the time is up, remove the chicken to a plate and, using 2 forks, shred the meat. In a small bowl mix the final 125ml chicken stock, 125ml of cream with the 45g plain flour and whisk until smooth-ish.  Pour this into the slow cooker along with the shredded chicken, frozen peas and the chopped fresh parsley. Stir well and pop the lid back on while you make the dumplings.
For the dumplings mix the flour, baking powder, sugar and salt then stir in the melted butter and double cream until you have a soft dough. Remove the lid and drop in tablespoons of the dough, rolled into balls, on top of the chicken. Put the lid back on and cook for a further 1 hour and a half. After this time, remove the lid for a final 15 minutes, check for seasoning then serve in large bowlfuls with extra parsley. Don't forget to remove the bay leaves, I always do.
Any leftovers can be kept for a couple of days and reheat beautifully.