Roasted Tomato Soup and Grilled Cheese Recipe
Well, I know it's 17 degrees outside but there's always time for soup. And let's face it this weird warm spell will never last. I will just about make the effort to shave my legs and it will dip to below freezing again. I have been super keen to share this recipe with you, so to hell with the early spring, let's still eat comfort food. What could be more divine than a bowl of Roasted Tomato Soup with a Grilled Cheese to dip into it. It's not obligatory to eat soup while wearing a bobble hat, a t-shirt is perfectly acceptable.
I eat a lot of soup. I try to take soup to work with me to avoid eating the delicious, but often fattening, lunch our chef cooks for us everyday.  It's portable, warming and always tasty. I love tomato soup, even the Heinz variety, but homemade trumps shop-bought any day. Add to this a crisp grilled cheese sandwich, and you are rewarded with a comforting lunch which will bring a smile to anyone's face. Even the grumpiest individual who can't believe it's still February *me*. Tomatoes are so watery and tasteless at this time of the year, tinned really are best for this soup. Roasting them with plenty of garlic first makes for a brilliant base along with slow sautéed onions and chicken stock. The end result is rich, smooth and full of flavour. My tip for the best grilled cheese, to serve alongside this, is to spread your bread with mayonnaise instead of butter. I can't remember where I got the tip from, but whoever it was, I thank you. The mayo makes for a crisper sandwich and doesn't burn as easily as the butter. Making it perfect for dipping into your Roasted Tomato Soup. This divine soup recipes comes to me via the ever brilliant Bon Appetit, with huge heart, and stomach, warming thinks.
If you are trying to be good, just stick to the flavourful soup, but if you feel like something crisp and cheesy, whipping up a batch of these genius Grilled Cheese may make the end of February fly by and see you well into March.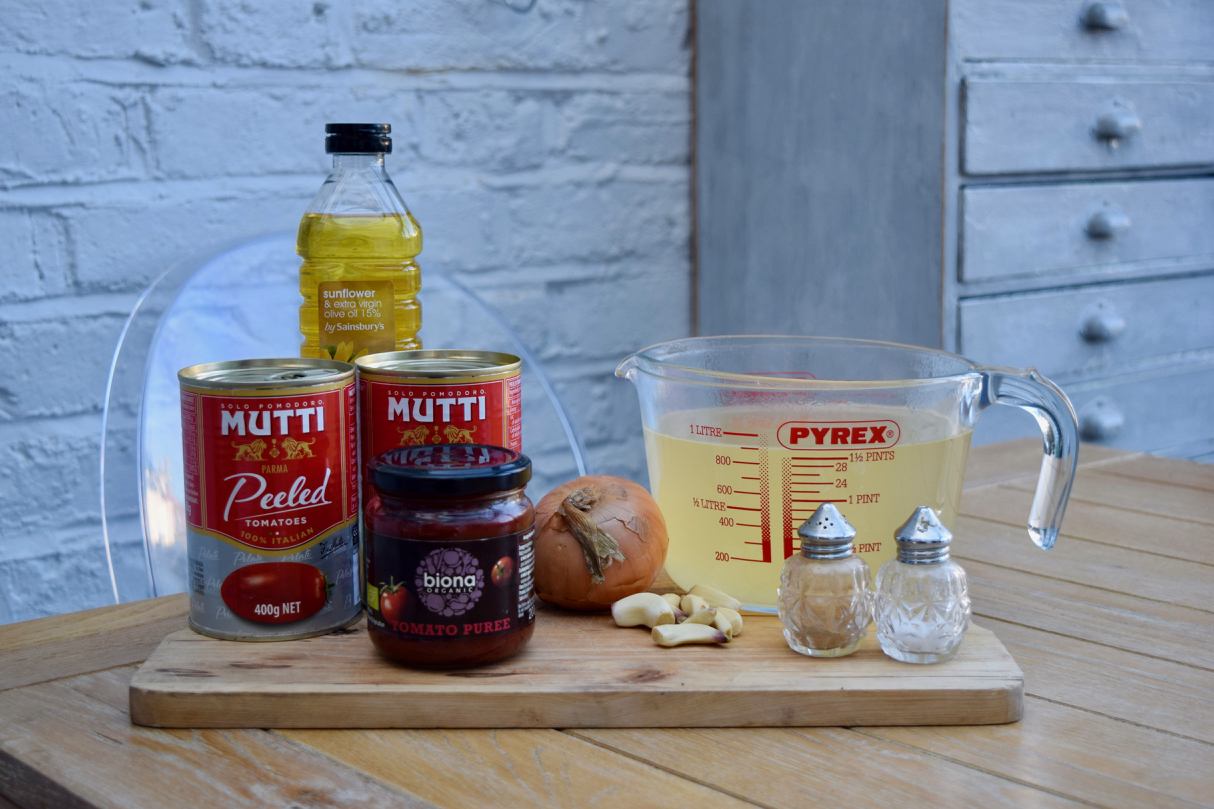 What a stylish line up for what is really just a simple soup. The only thing missing is the pinch of sugar, but you know what that looks like.
And here's the best ever Grilled Cheese line up featuring the mystery mayonnaise. It really does make the toasties so crisp and delicious, I will never use butter on mine again.
Make a start by pre heating the oven to 180 degrees and getting out a baking dish. Tip in the whole tinned tomatoes, juice and all, then give them a squidge with your hands to break them up. Spoiler alert, you will get tomato juice everywhere if you're not careful.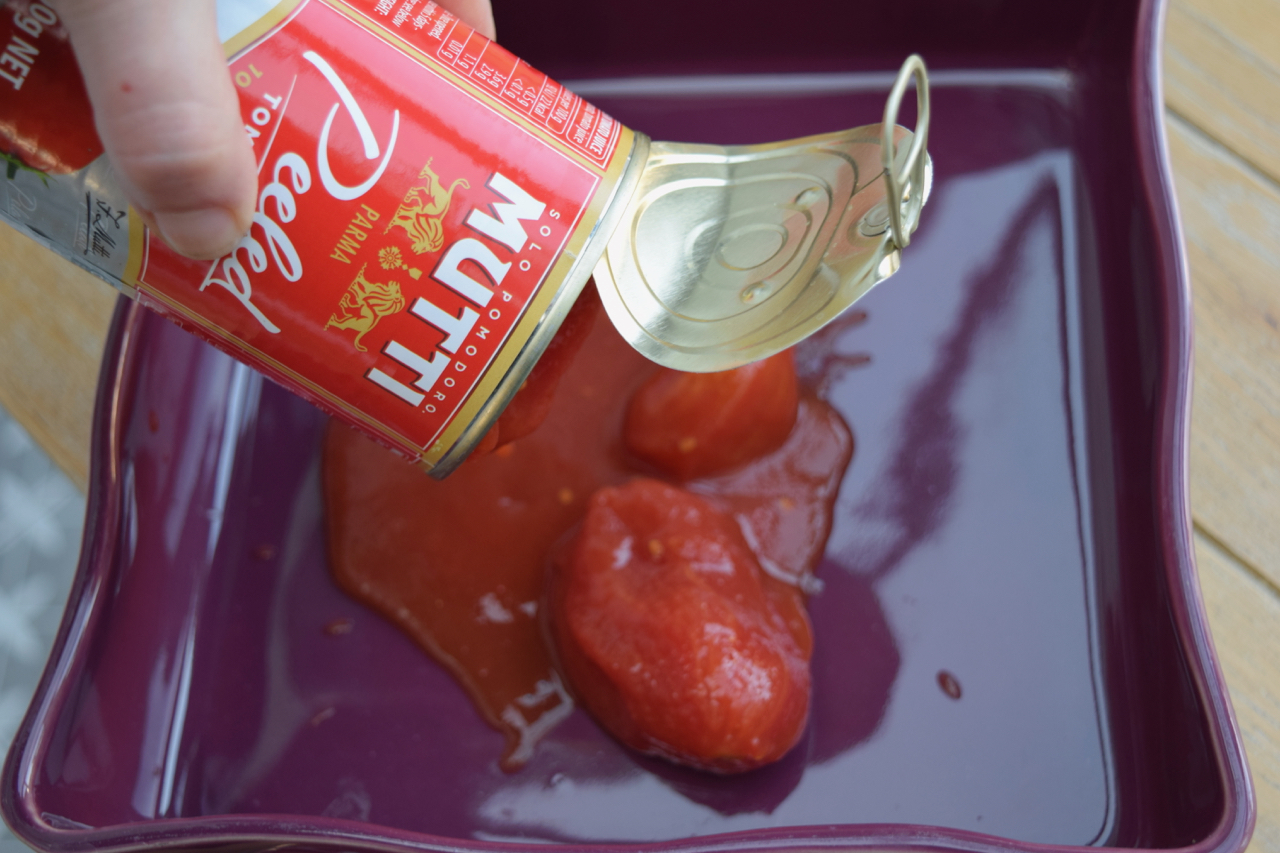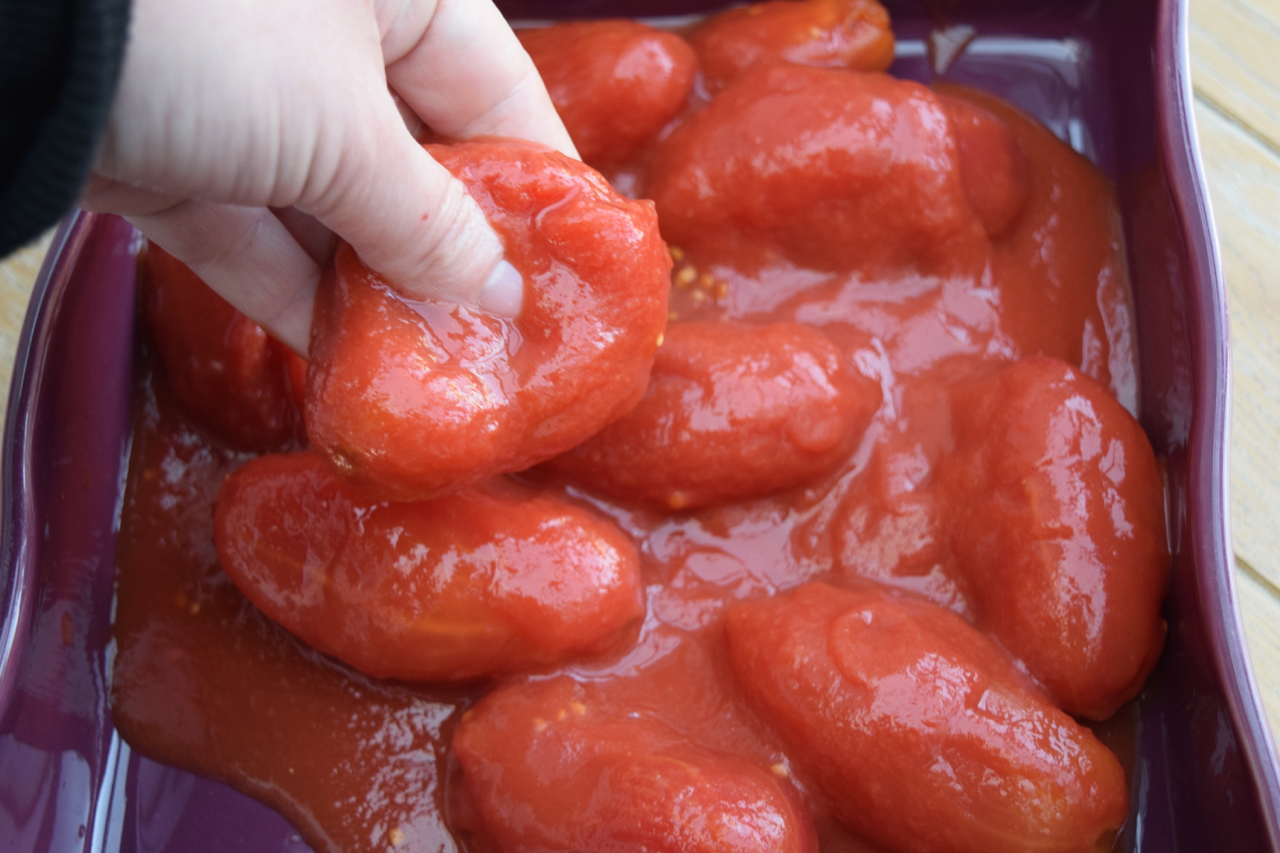 Drop in the peeled, whole garlic cloves, measure in the 2 tablespoons of oil and season well with salt and pepper. Pop into the oven for around 40 minutes or until the tomatoes are bubbling and the garlic has softened.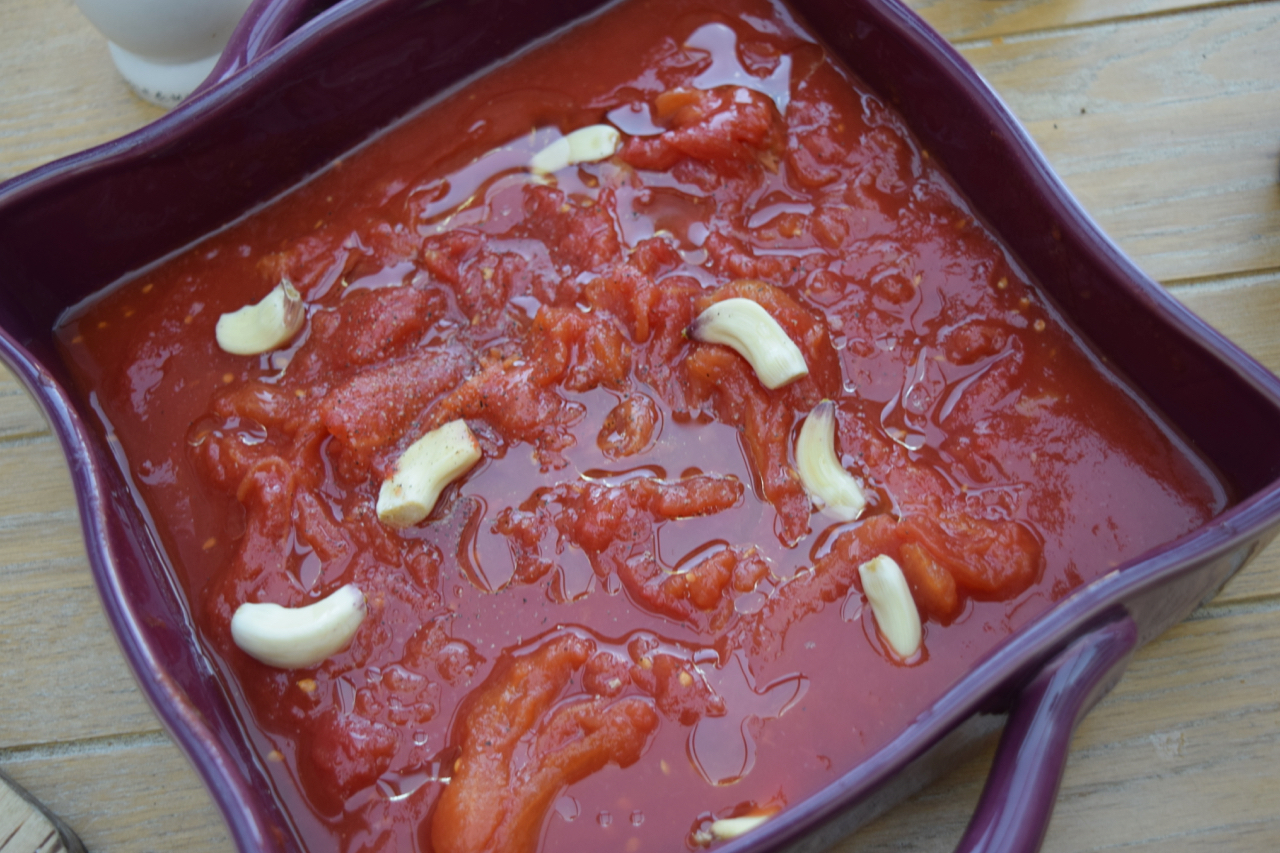 While the tomatoes are roasting away, make a start on the soup base. Add your chopped onions to a pan over a medium heat with a couple of tablespoons of oil. Cook for about 5 minutes or until just starting to soften.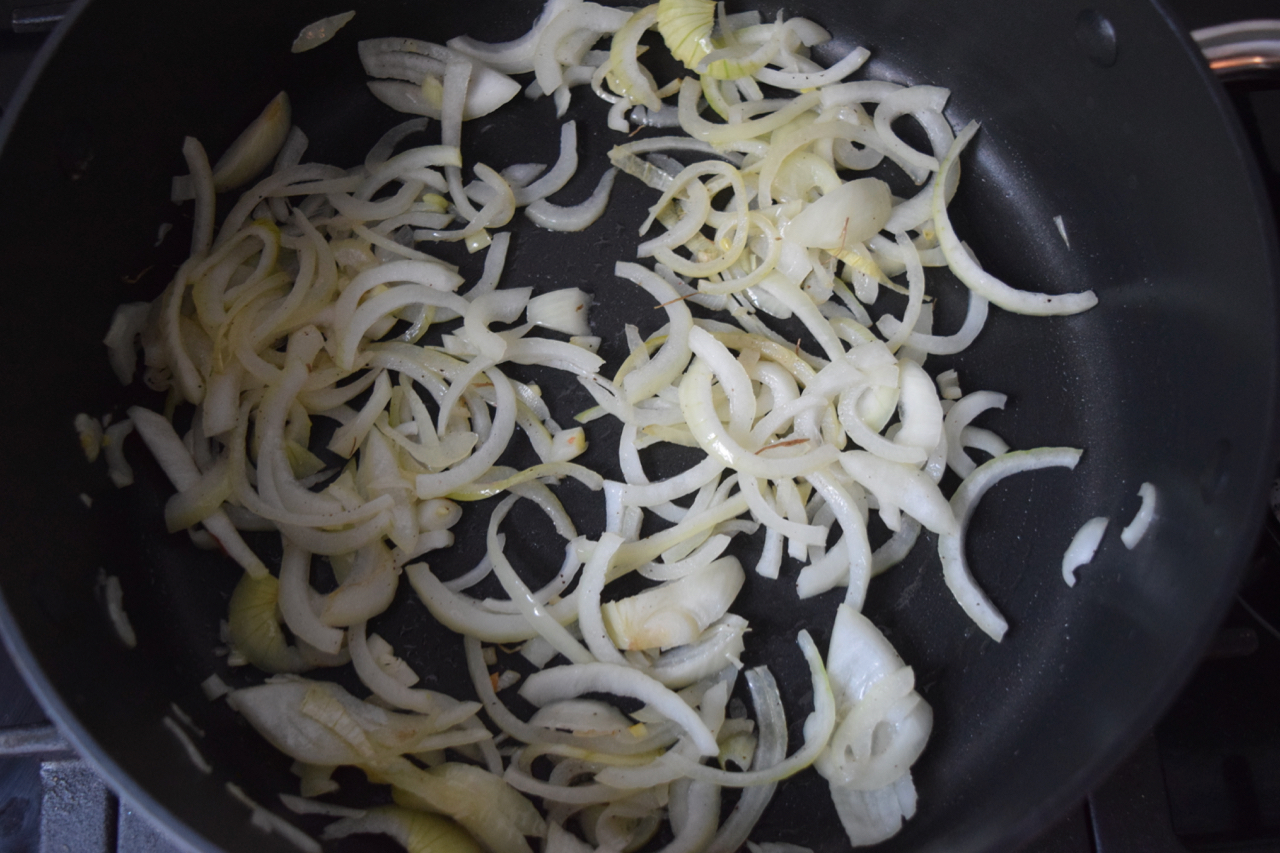 Season well then put a lid on and cook for a further 20 minutes, stirring occasionally. The onions are ready when they're golden and soft.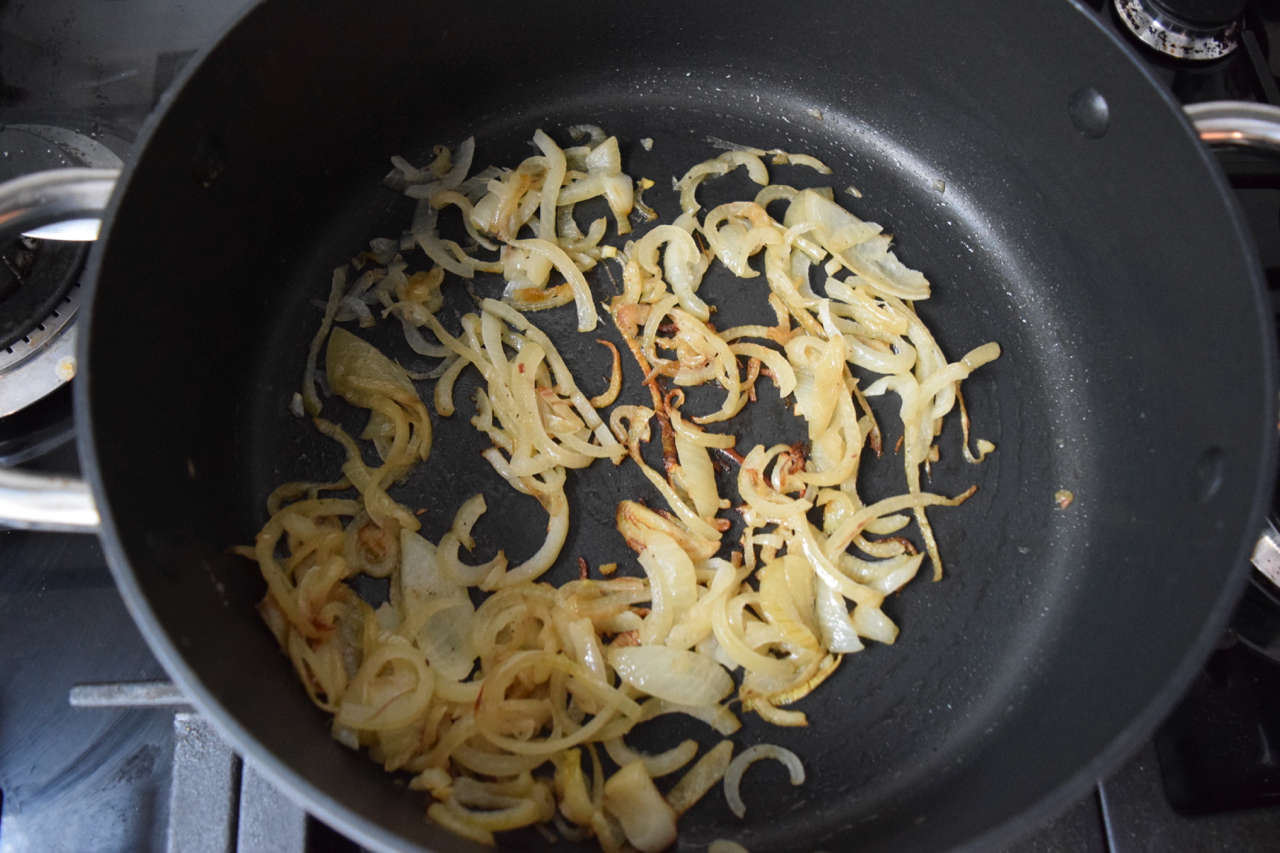 Turn the heat up and stir in the couple of tablespoons of tomato paste and cook it for a couple of minutes. It will darken in colour and reduce slightly.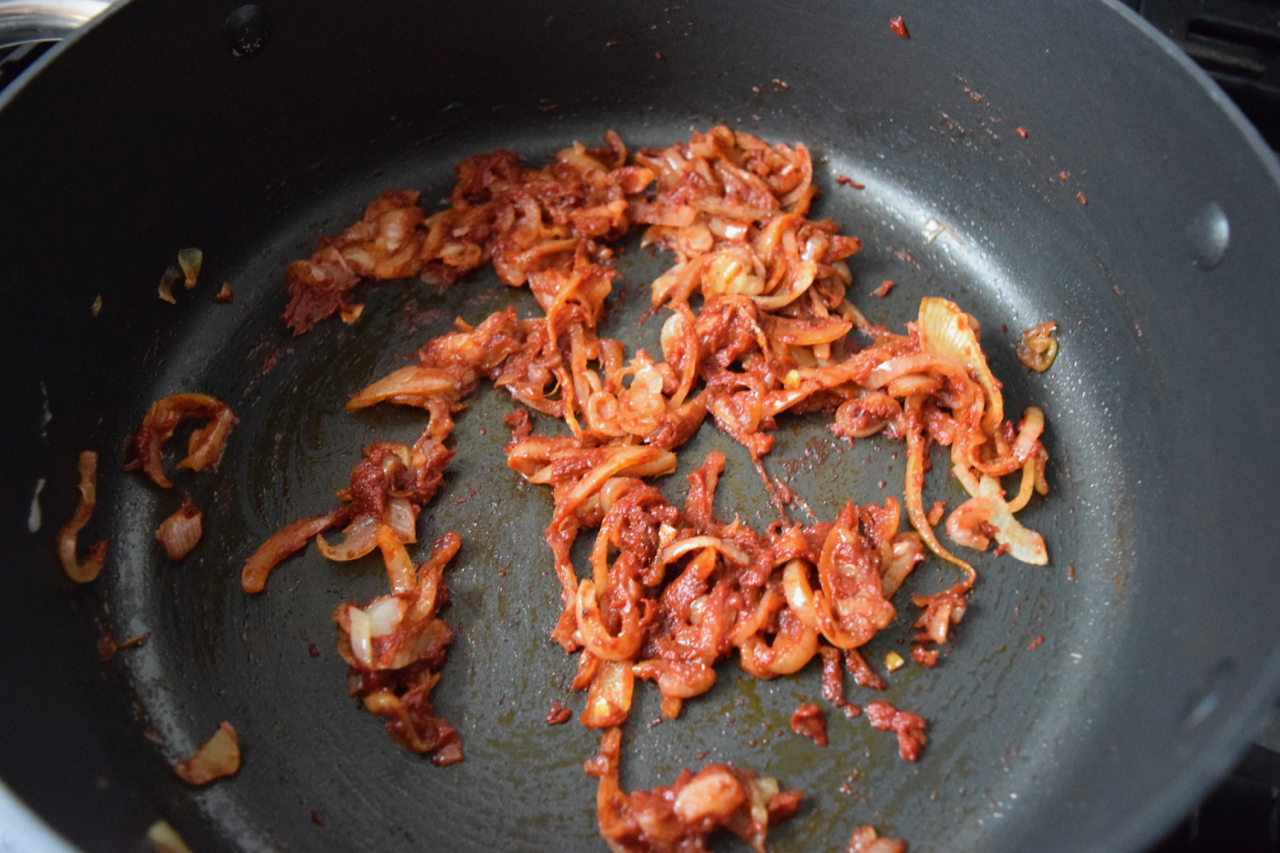 By now your tomatoes will be roasted and smelling amazing. Tip these into the onions and stir well. Then pour on the stock.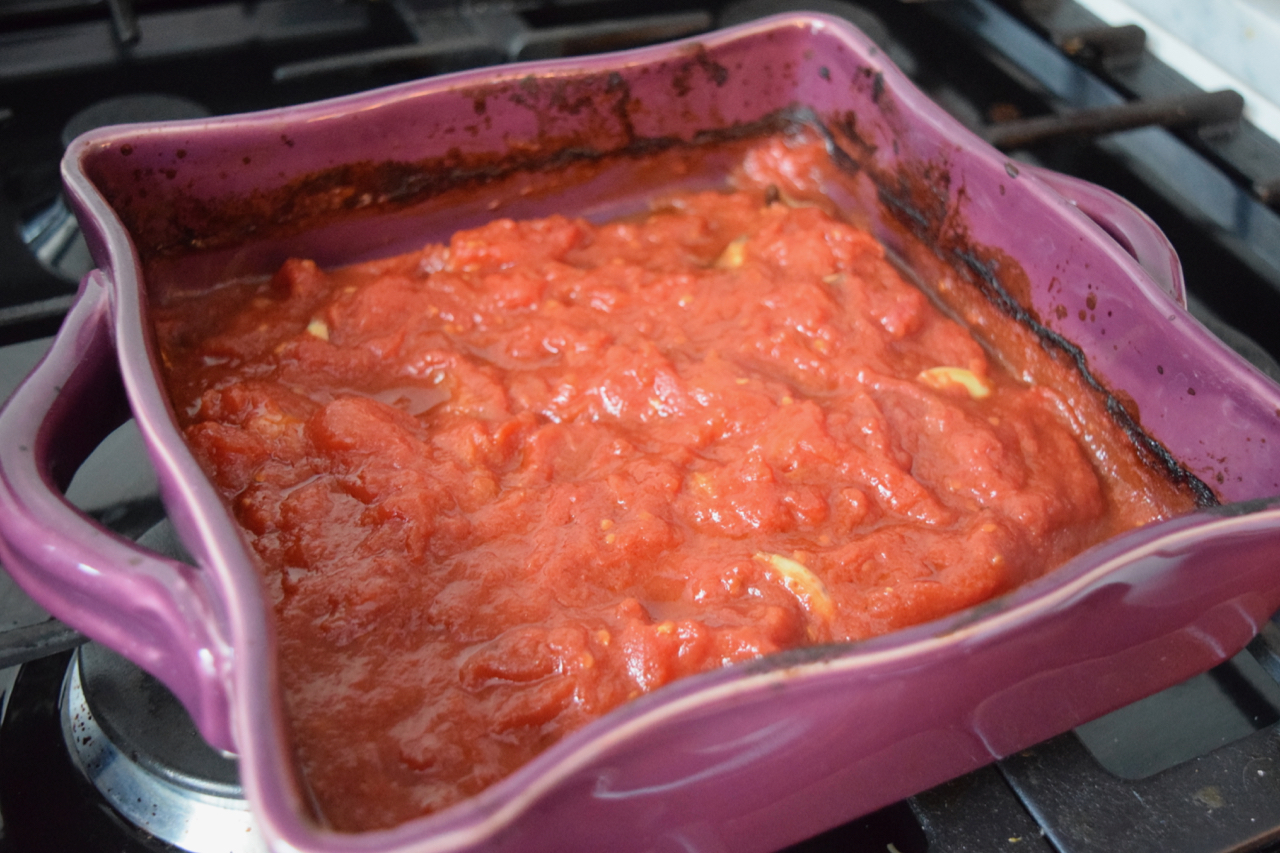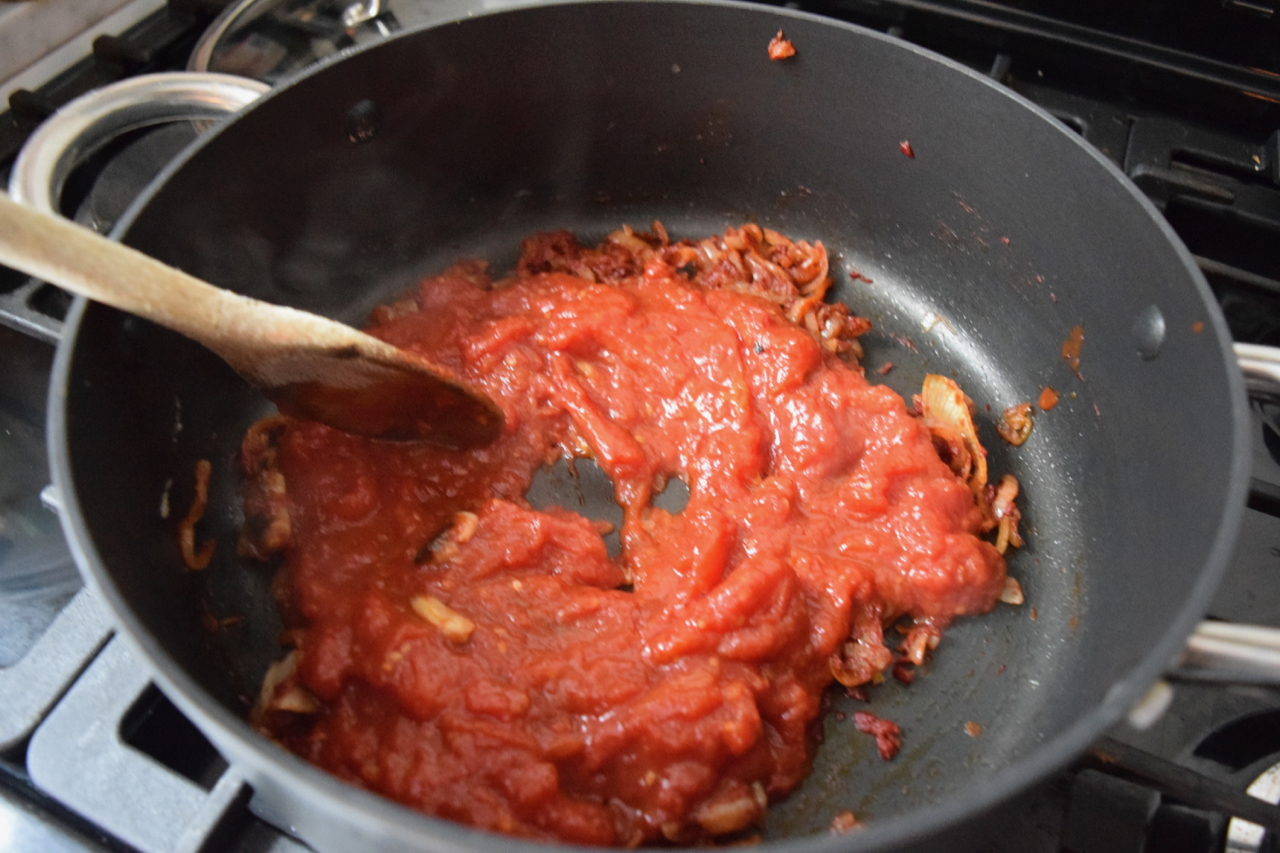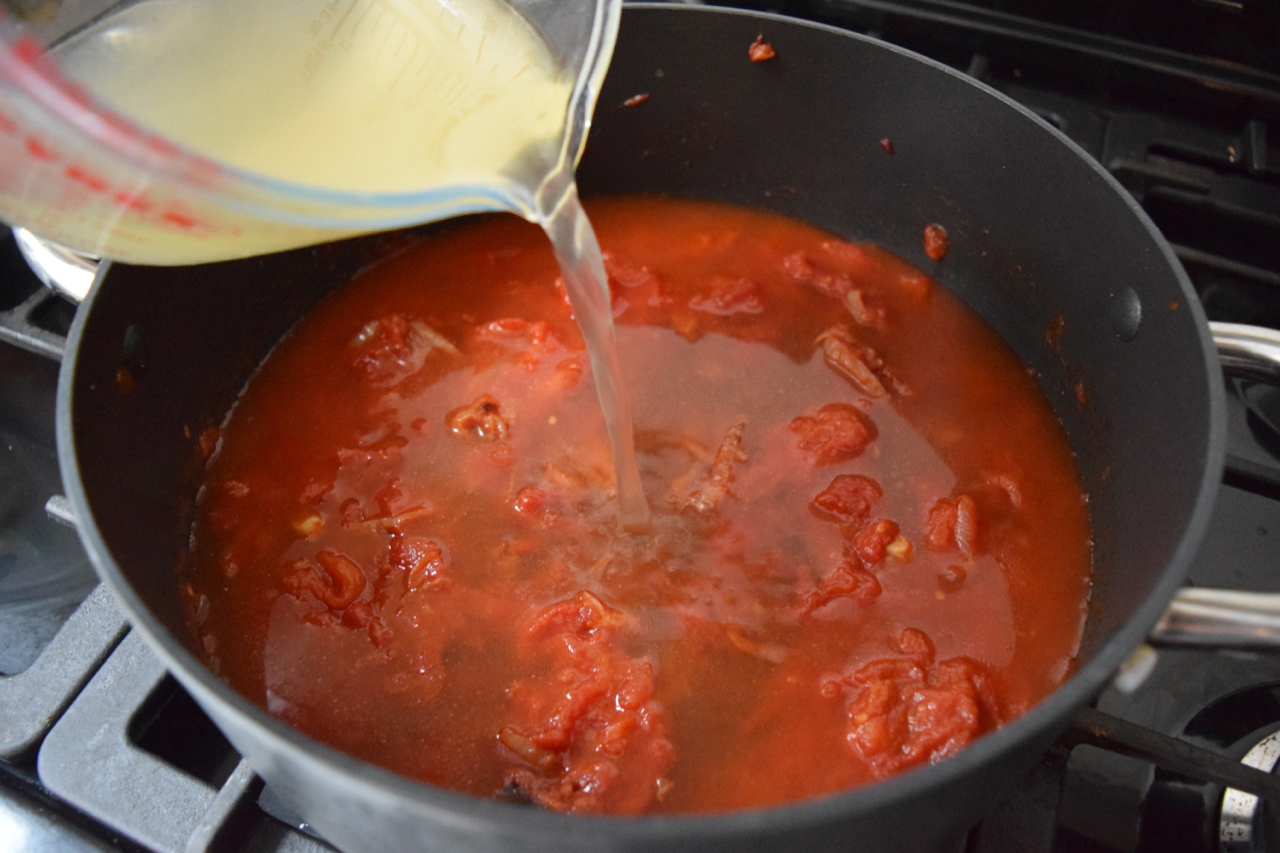 Stir well then put the lid back on and simmer for a further 15 to 20 minutes. This gives you the perfect opportunity to make your best ever grilled cheese.
Simply spread one side of your bread with mayo then lay a slice of cheese on the non-mayo-ed side. Top with another slice, mayo side up. It's not as complicated as I've made it sound, I assure you.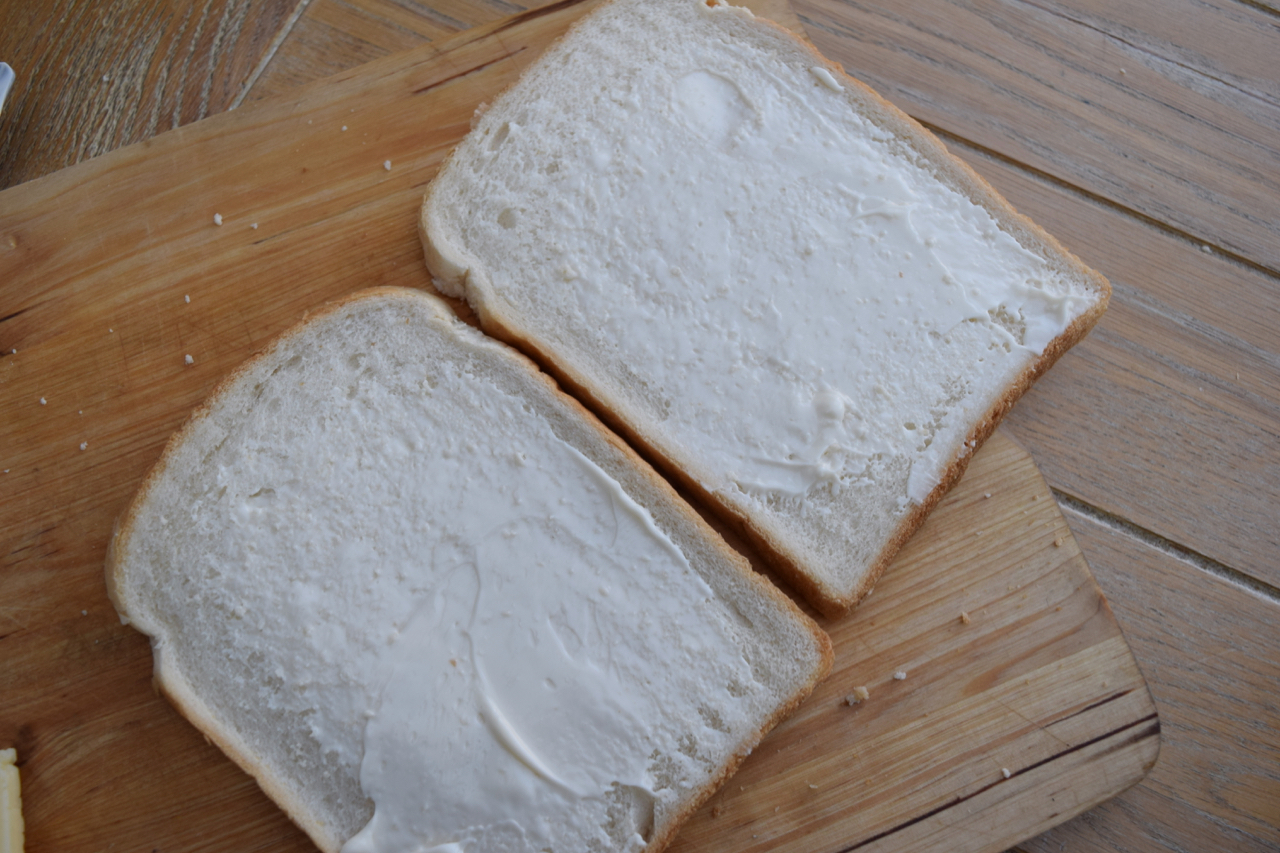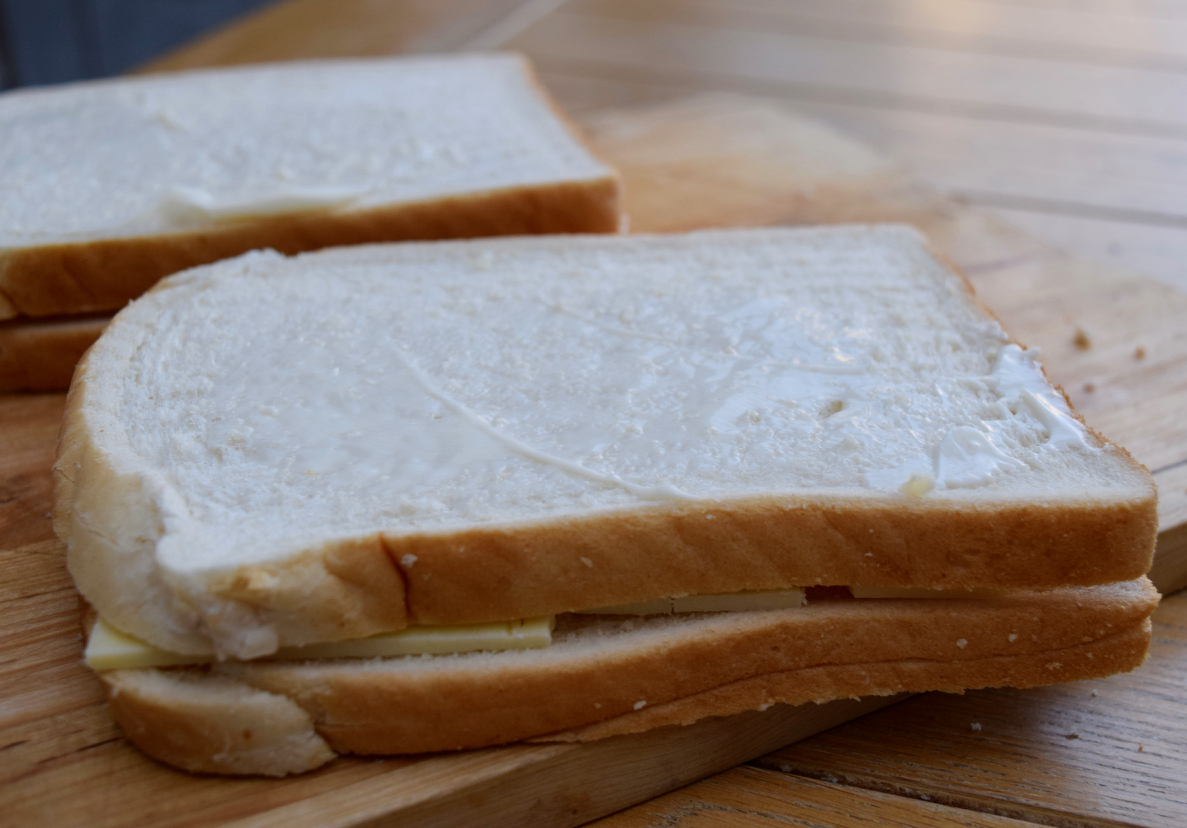 Heat a large frying pan over a medium heat with a small splash of oil then add your sandwich. Cook for a couple of minutes or until golden on one side, then flip, press down with a spatula, and cook for a further minute or so. The grilled cheeses will be crisp and smelling beyond irresistible. Keep warm/try not to eat them while you finish the batch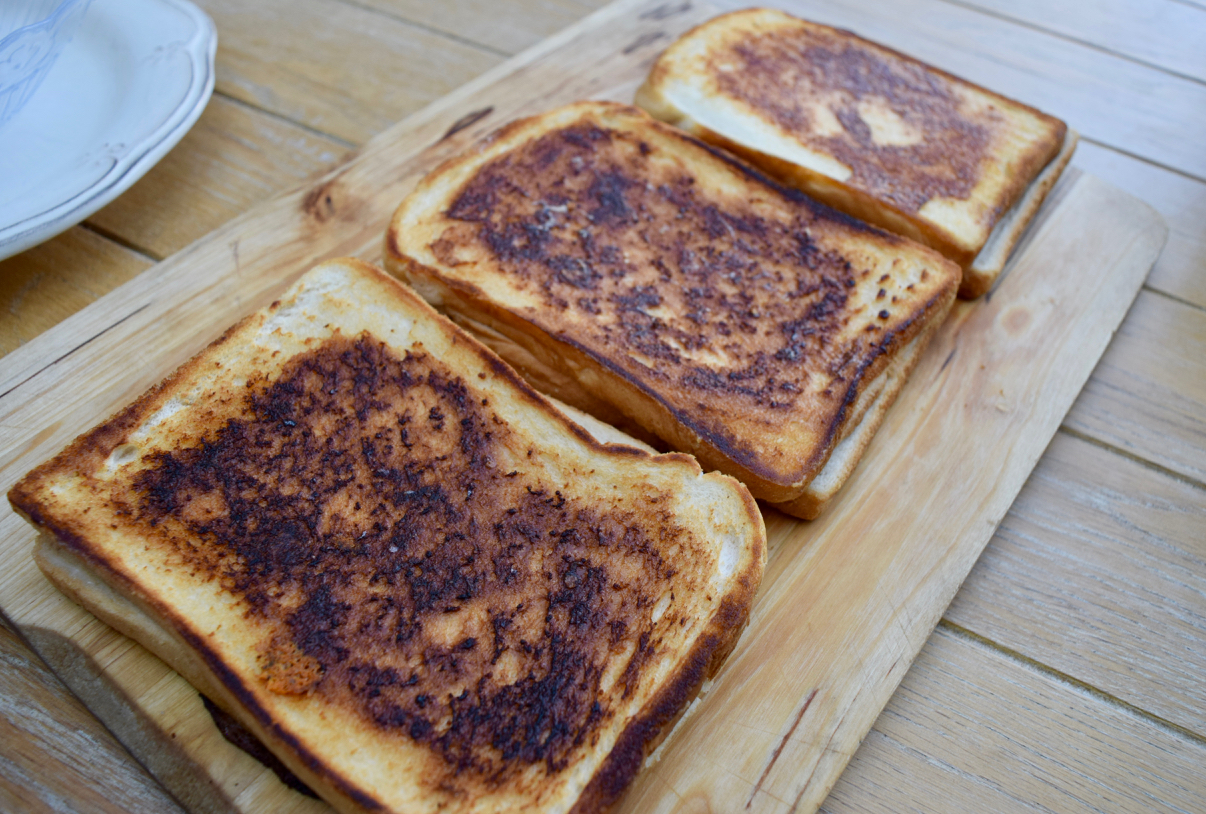 Now, take your soup and blend using your appliance of choice. I went for my stick blender. Blend until smooth then check for seasoning. Put back on the hob and bring back up to the simmer.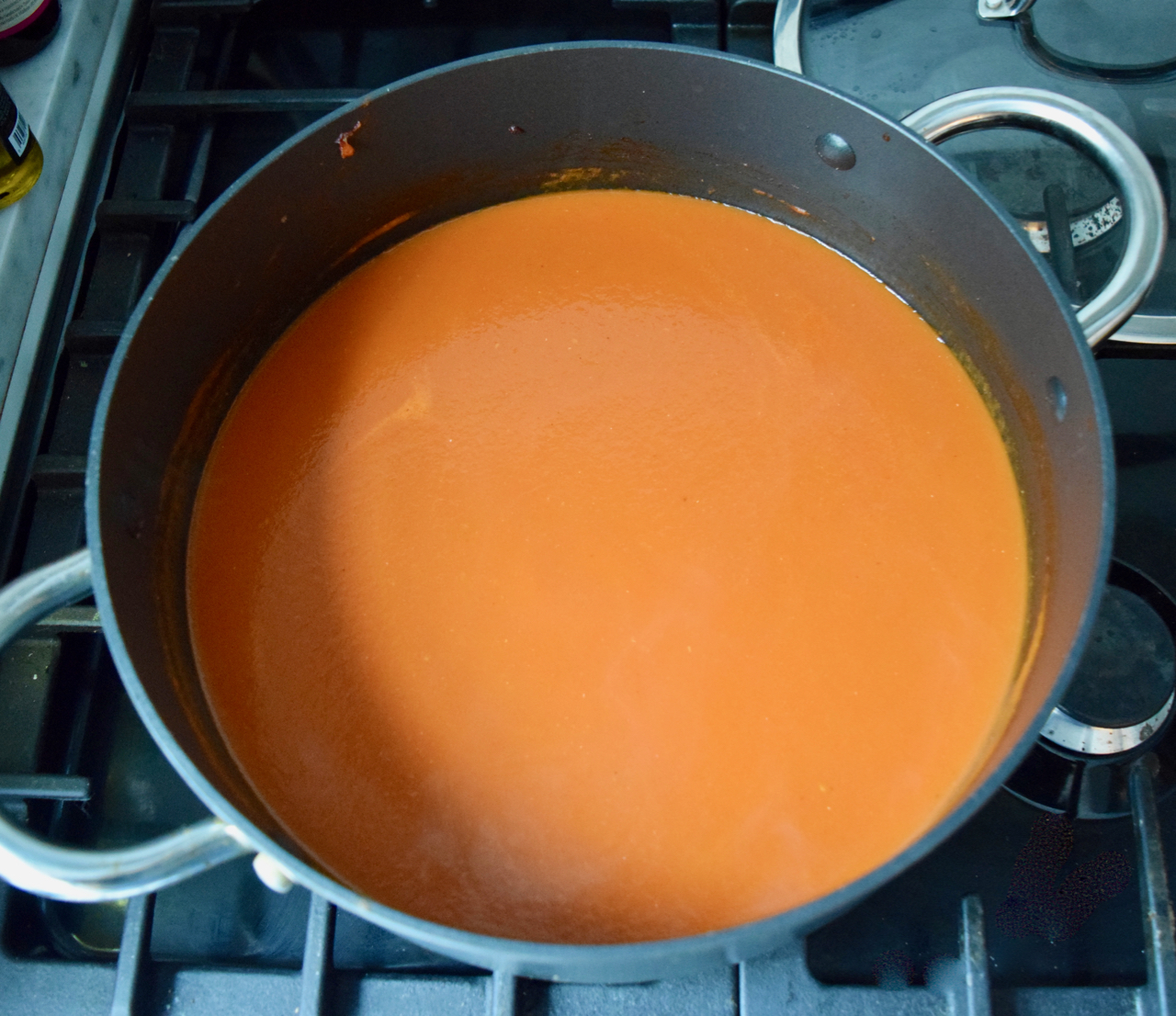 Now it's time to assemble your comfort food.  Cut your grilled cheeses into quarters and serve alongside a large bowl of piping hot Roasted Tomato Soup. Garnish with some fresh basil and a splash of cream if you're feeling extravagant. Then dip away.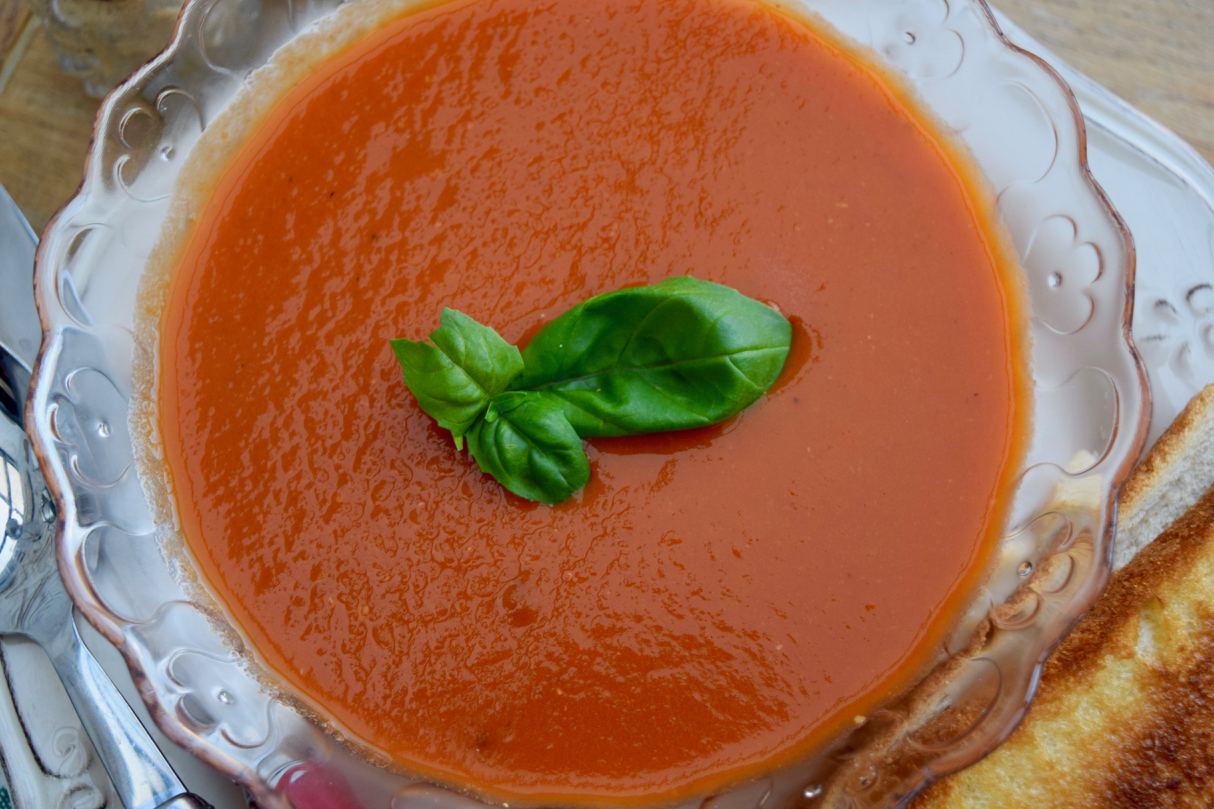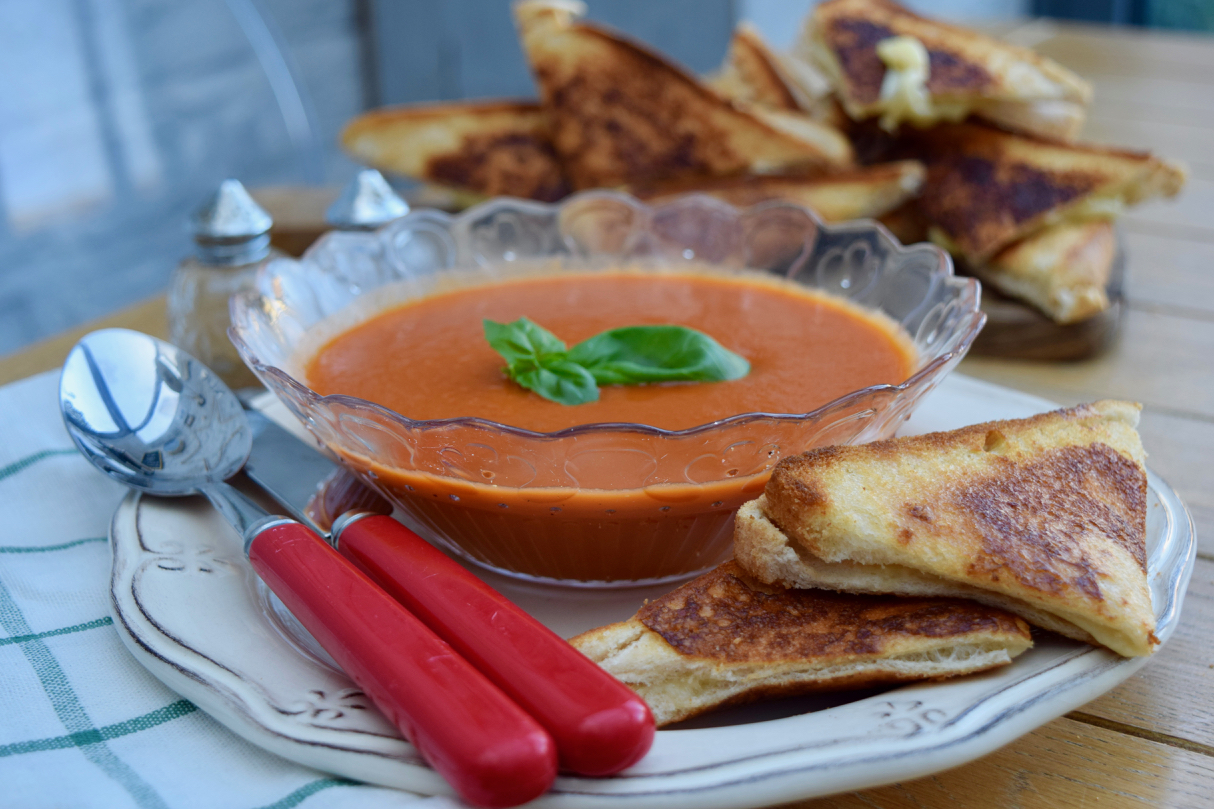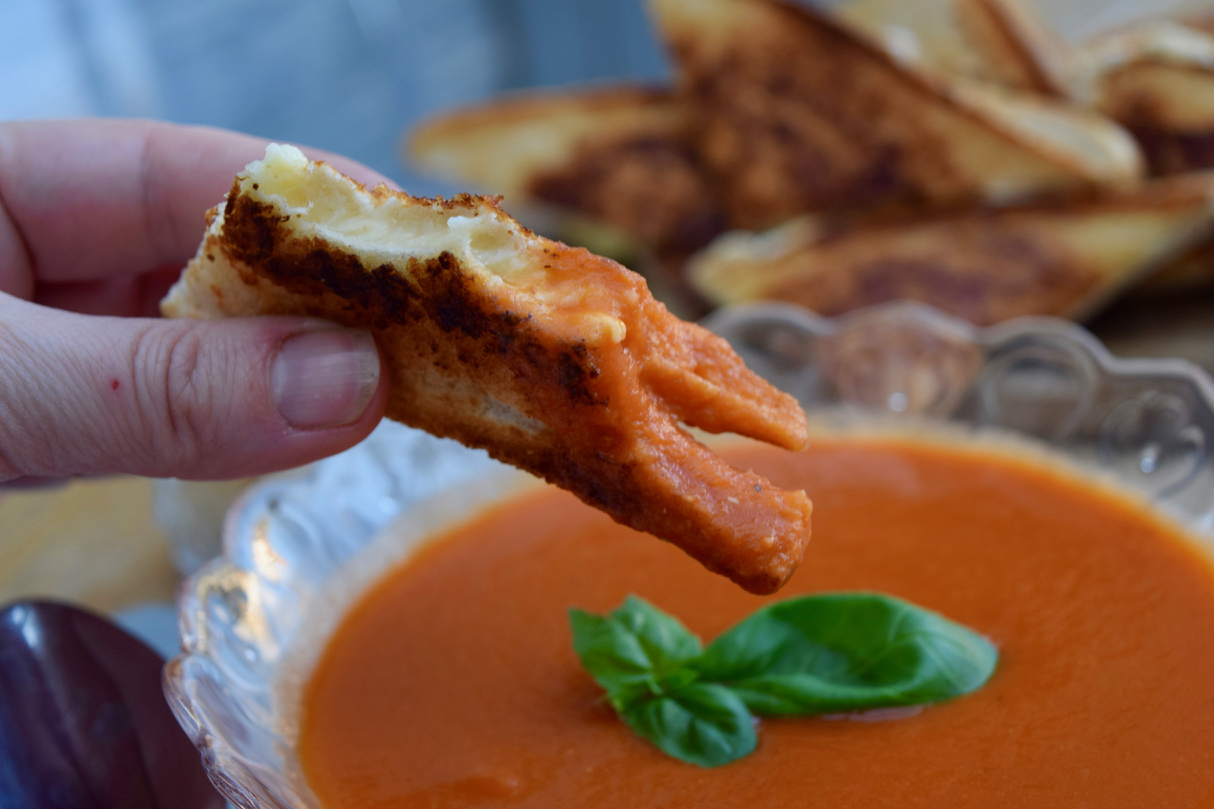 Writing a food blog on a Monday night after an exercise class is pure torture. These grilled cheese really are the best, in fact, I am going to cut this short now so I can go and whip one up. I have just run around for an hour, so it's perfectly legal.
Lucy x
Roasted Tomato Soup and Grilled Cheese Recipe
Serves 4 for lunch or as a first course
You will just need dishes and a hand blender or stick blender
Soup
2 x 400g tins whole tomatoes
8 garlic cloves, peeled but left whole
4 tablespoons olive oil
Salt and pepper
1 large onion, or 2 smaller, chopped
2 tablespoons tomato paste
900ml chicken stock
A good pinch caster sugar
Grilled Cheese
8 slices white bread, or brioche
4 slices strong cheese, or used grated
Mayonnaise, around 8 teaspoons
Splash olive oil
Basil to garnish, and maybe a drizzle of double cream
Pre heat your oven to 180 degrees fan assisted.
Take a baking dish and tip in the tinned tomatoes with the juice. Give them a squeeze to break the apart, being careful not to squirt tomato juice everywhere.  Drop in the garlic cloves, season well with salt and pepper, stir well then drizzle with 2 tablespoons of olive oil. Place the dish into the oven for around 40 minutes, stirring halfway through.
While the tomatoes roast, roughly chop the onion and place into a large saucepan with 2 tablespoons of olive oil. Season well with salt and pepper then cook for around 5 minutes or until starting to soften. Put the lid on, turn the heat down and cook for a further 20 minutes, stirring occasionally, until they are golden and full of flavour.
When the 20 minutes is up, turn up the heat and stir into the tomato paste. Cook for a couple of minutes or until it turns darker. Tip in the roasted tomato and garlic and stir well, pour in the stock and simmer for 15 to 20 minutes, lid on, stirring occasionally.
When the time is up, blend with your hand blender or in a jug blender then return to the pan to keep warm.
For the grilled cheese sandwiches, take the bread and spread each slice with around a teaspoon of mayonnaise. Place a cheese slice on the side without mayonnaise then top with the other slice of bread. Add a splash of oil to a large frying pan and heat over a medium flame. Place the sandwich into the pan and cook for a couple of minutes or until golden. Turn over and press down with a spatula and cook the other side for another minute or two. The cheese will be bubbling and the sandwiches will be crisp. Pop them into the warm oven while you cook the rest of the batch.
Serve the soup, piping hot, with a garnish of basil and a splash of double cream, if you like. Cut the grilled cheese sandwiches into quarters and serve along side the soup for dipping.
Any leftover soup will keep in the fridge for a couple of days or it freezes well.