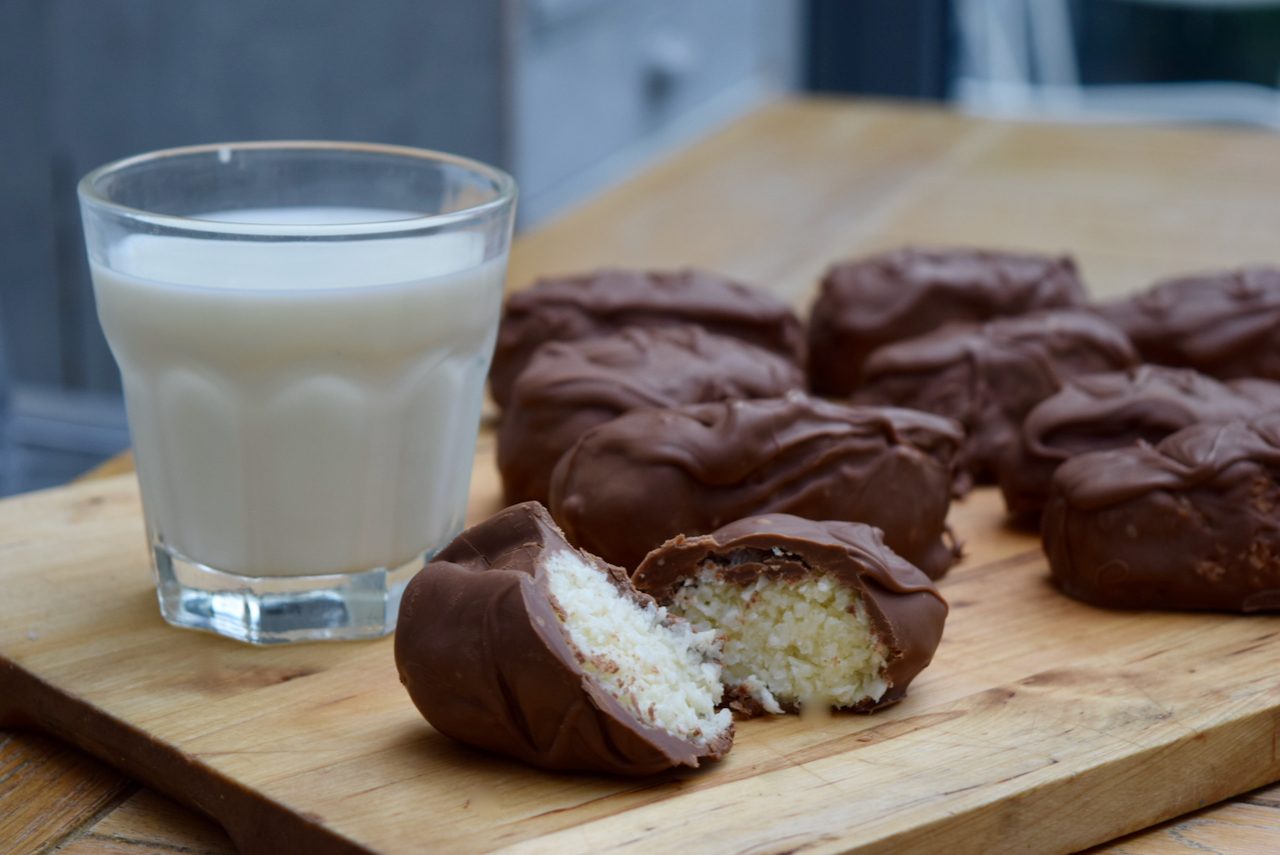 Homemade Bounty Bar recipe
I love making my own versions of shop bought favourites. Clyde has a long list of things I have made from scratch which have ruined bought versions for him; including Scotch Eggs, Sausage Rolls and Arctic Roll to name but a few. Add to that list these simple and beyond delicious Homemade Bounty Bars.
Now, this recipe has been on my Pinterest must-make list for a while, but why would I bother making a Bounty when you can buy a perfectly acceptable one for less than a pound? Now I've made these, I know why you'd bother; these three ingredient *vanilla doesn't count* treats are amazing. Soft centred, sweet and literally slathered in the chocolate of your choice. I went all out and used Dairy Milk, as however much he loves a Bounty, Clyde's true love is a bit of Cadburys. Coating the sweet coconut bars is a messy business, but you do get to lick all the melted chocolate from your hands once you're done, so it's a win win situation. I have a friend who's Dad loves a dark chocolate Bounty, so if you're the same, then go for something with at least 50% cocoa. A big thank you to Tastemade for this so much better than shop bought recipe.
This recipe makes a super generous 12 bars at least. This seems like a lot. Until you've tried one, and then you may think it's not quite enough.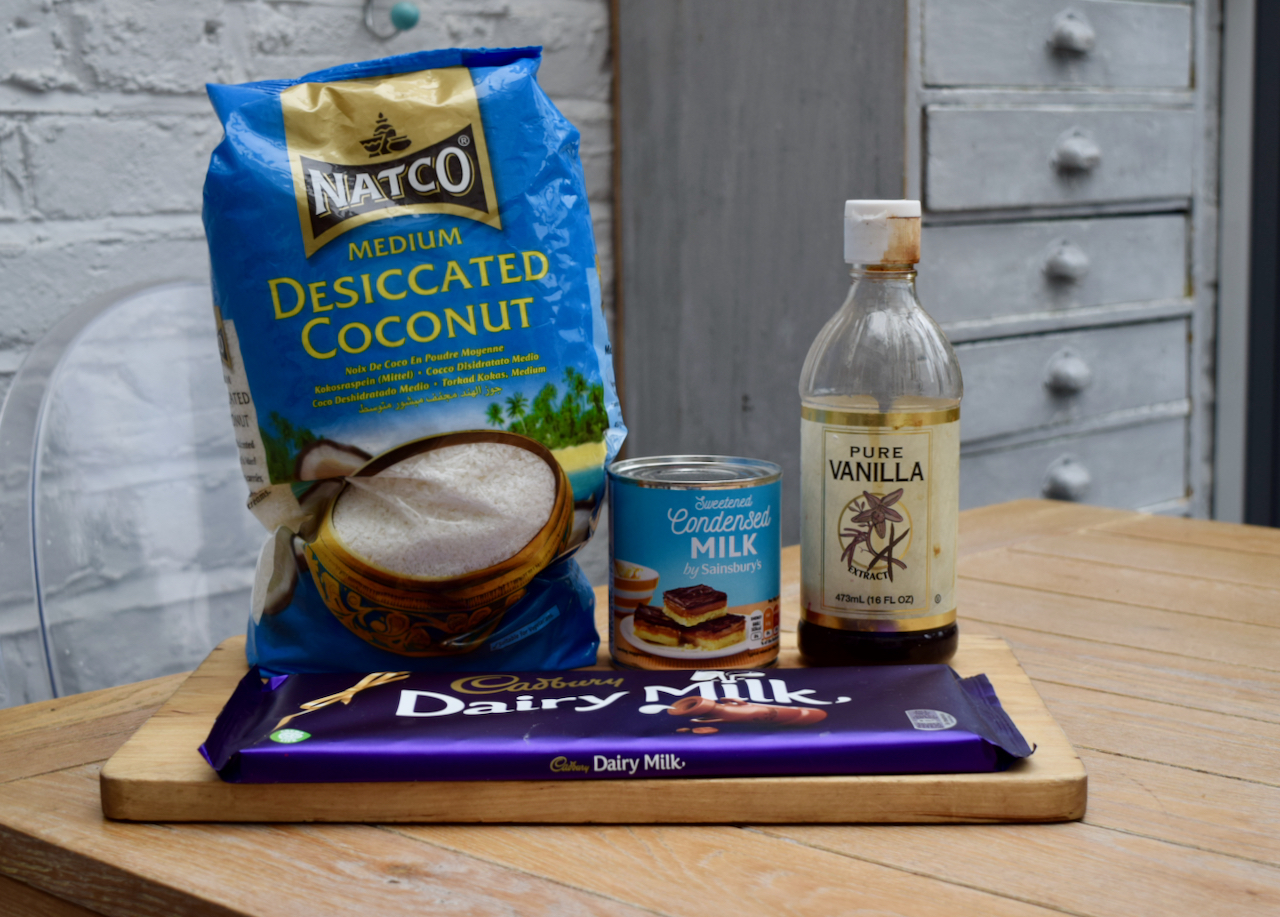 These Bounty Bars couldn't be much simpler with these 3/4 ingredients. I got this bloody great big bag of coconut in preparation for making a lot of Bounty's, it won't last long.
Make a start by lining a large baking sheet with greaseproof paper for chilling the Bounty's on later. Then take a large bowl and measure in the coconut. Pour in 250g of condensed milk.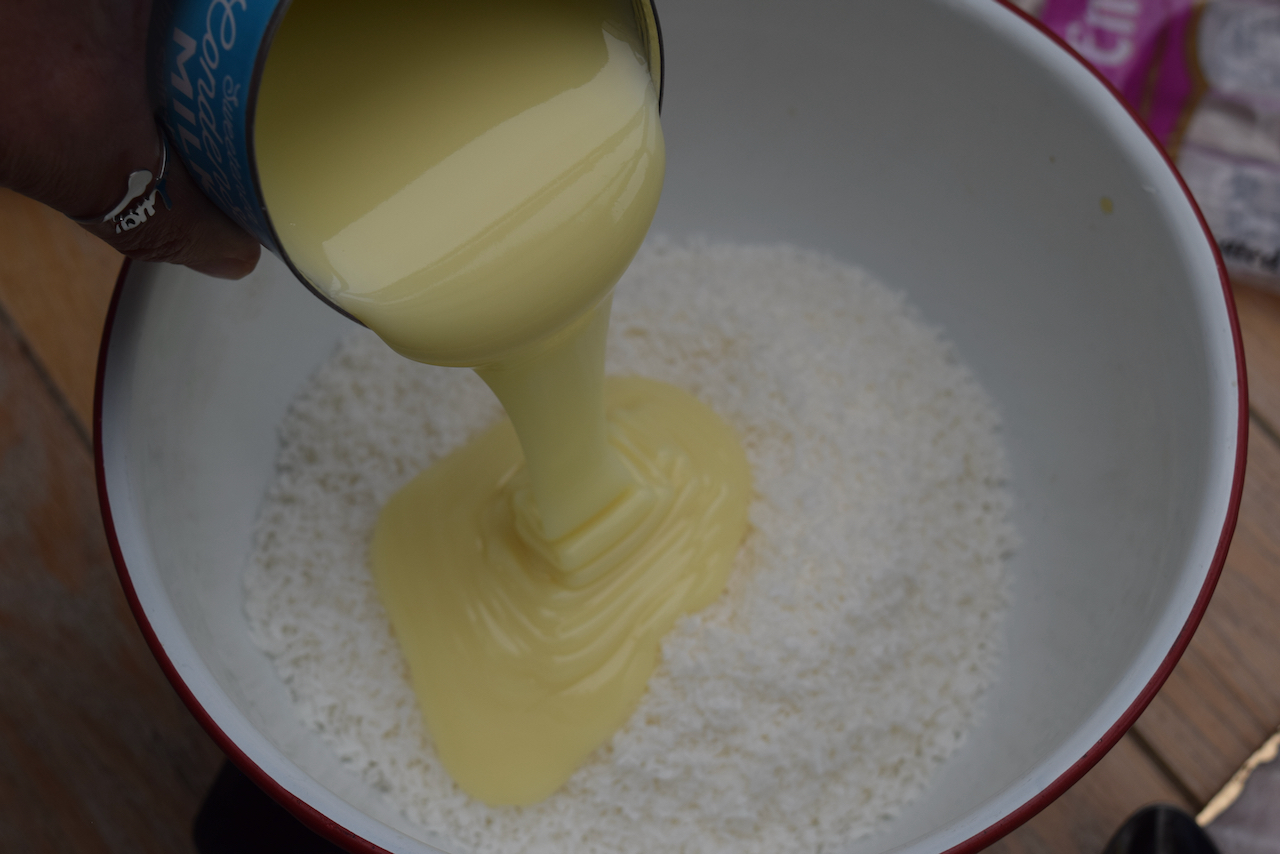 Measure in the vanilla extract then stir until you have a stiff but well coated mixture.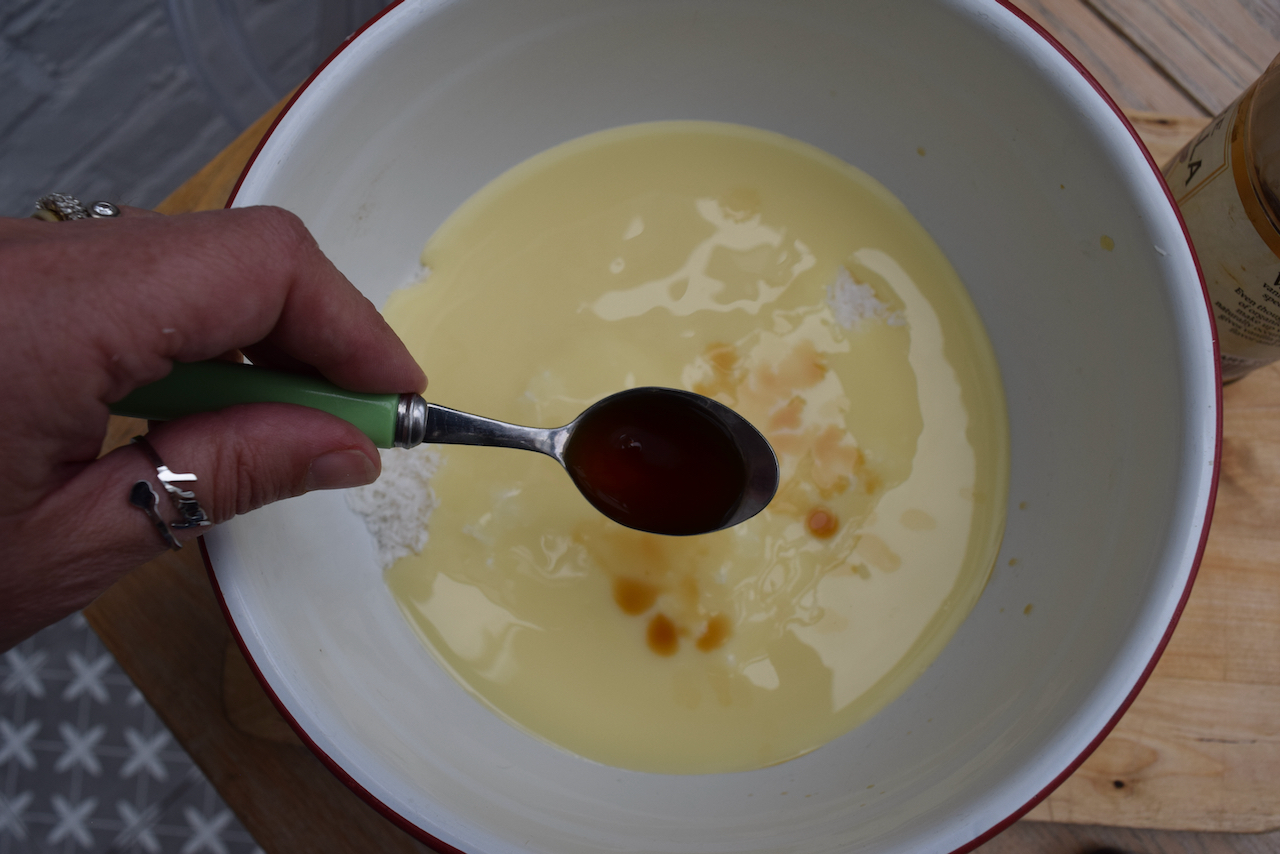 I was so overexcited about making the mixture into bars I forgot to take a photo of the big bowl of coconut.
Mould the aforementioned mix into vague bar shapes using damp hands to stop it sticking and place on onto the lined baking sheet.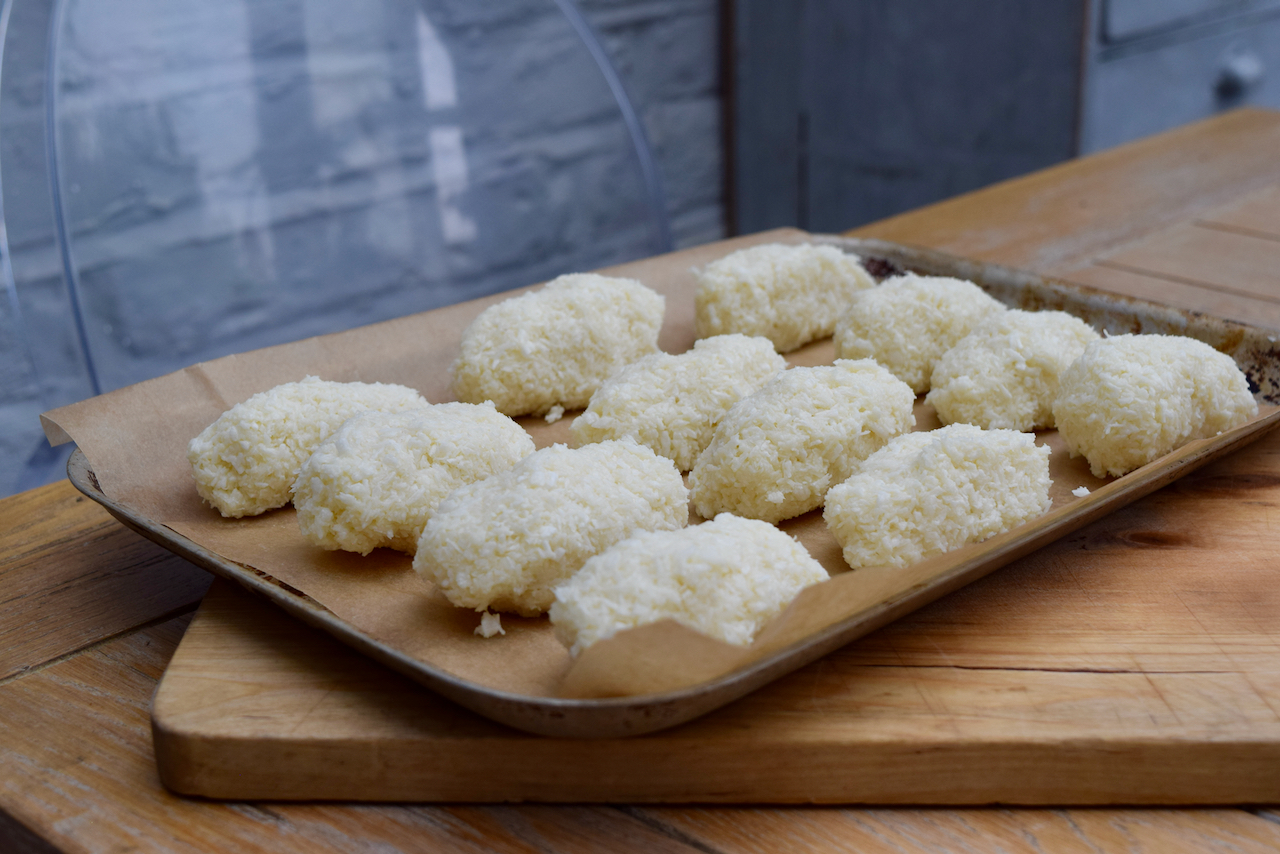 Mine were admittedly quite big and quite rustic, but that's just the way we roll in our house. Pop them into the fridge to set for about an hour. They should be firmer and well chilled.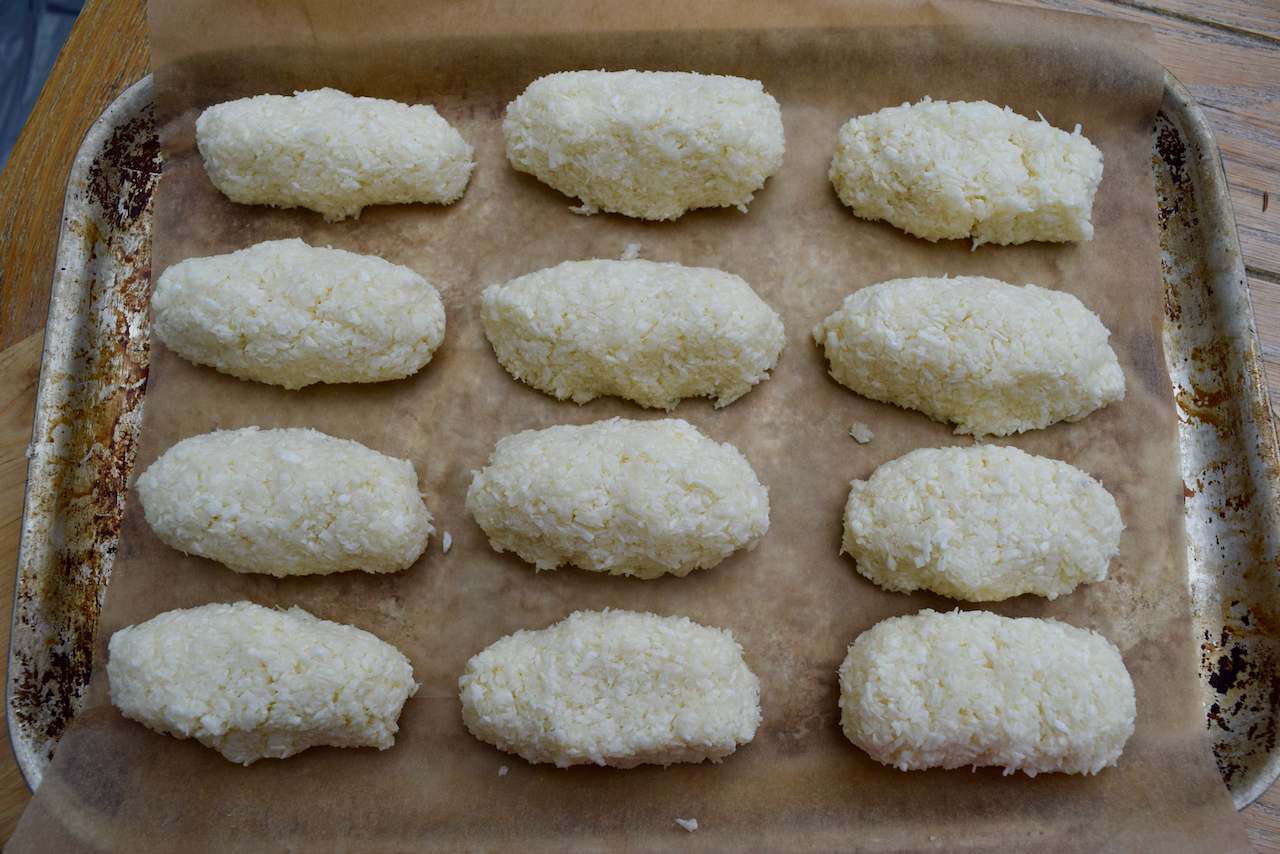 When the bars are set, melt your chosen chocolate either in the microwave in short bursts or in a bowl over a pan of simmering water until it's just started to melt. Stir until glossy.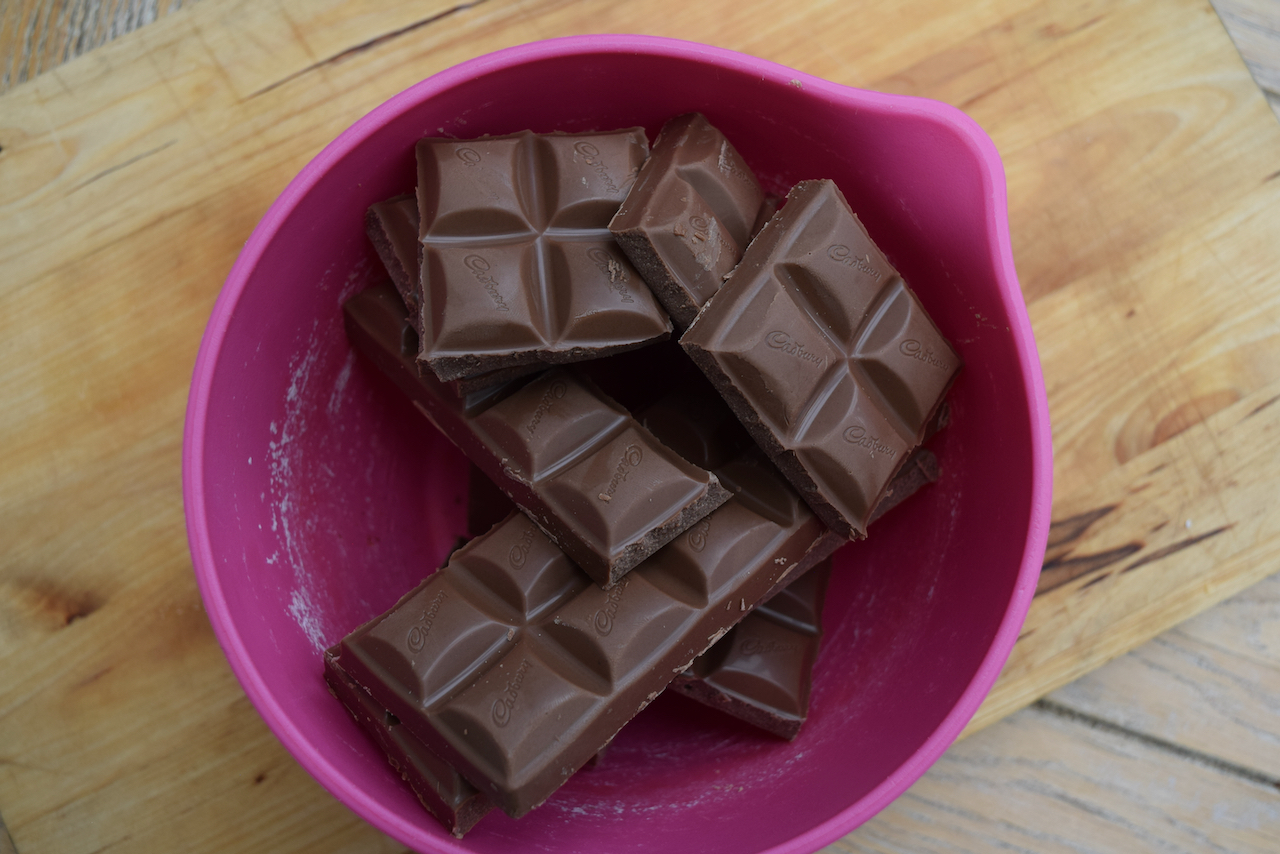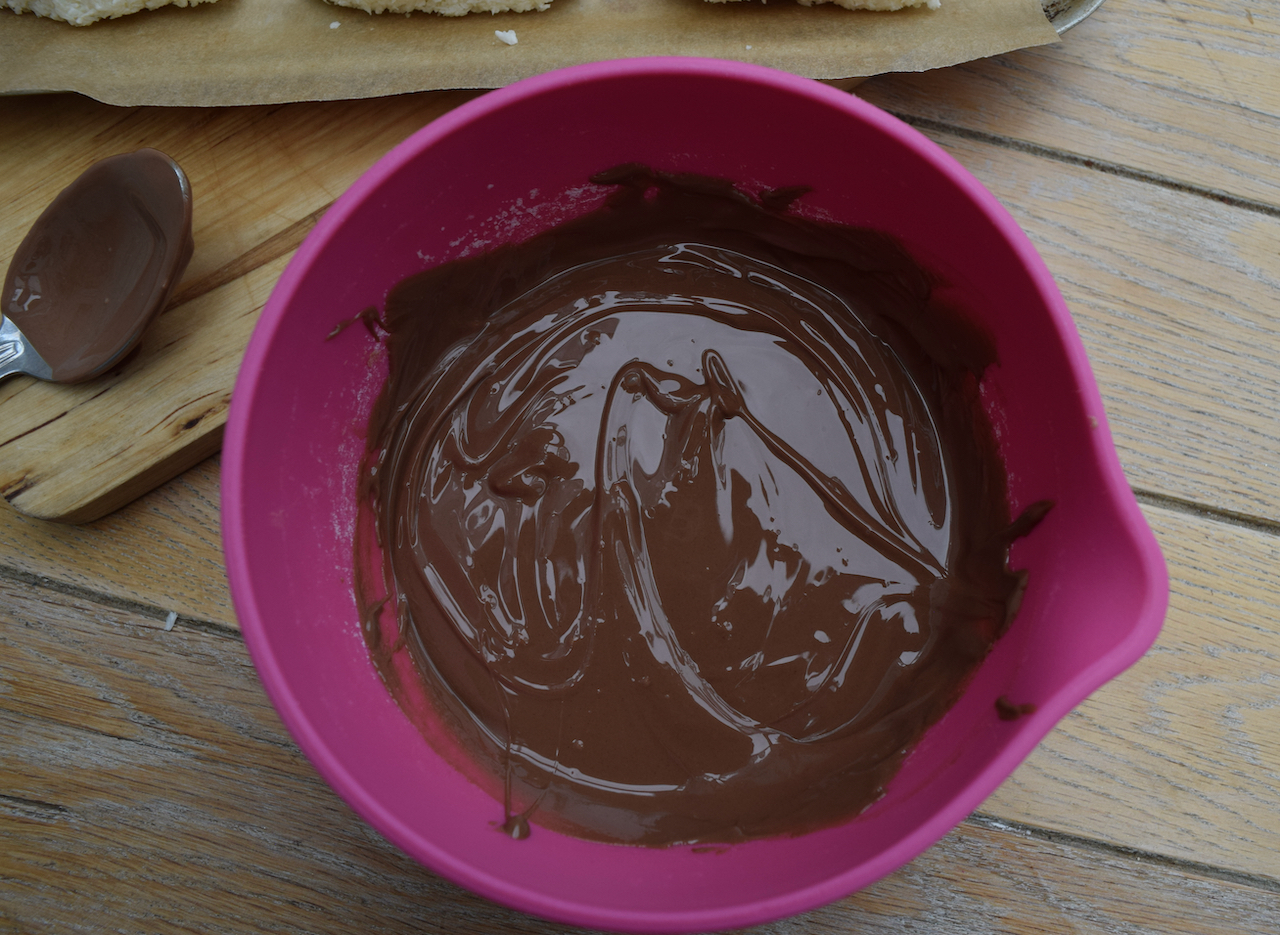 Now here's where it gets a bit messy. I used a fondue fork to skewer my coconut bars and dunk them in the chocolate.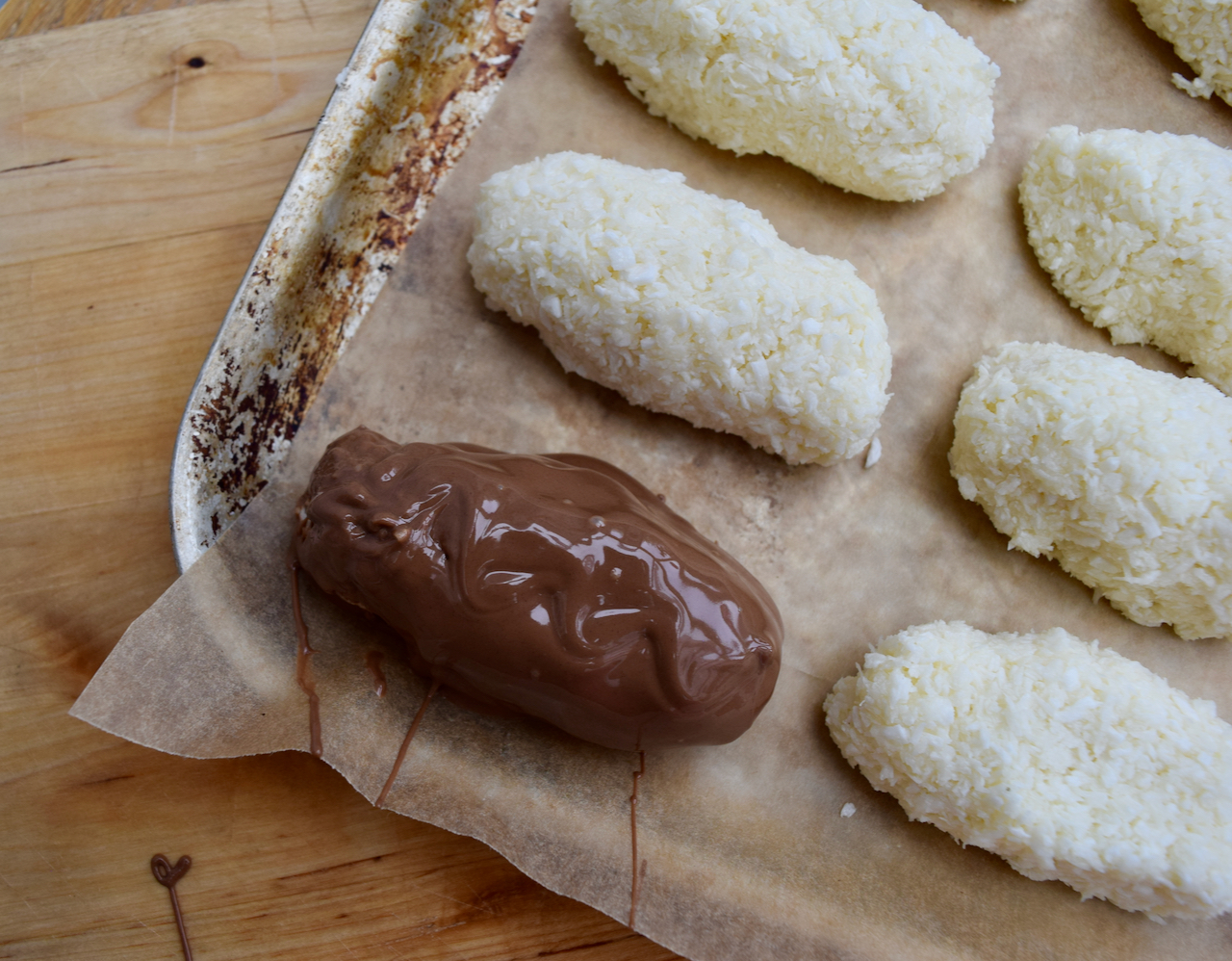 Use a spoon to cover up any bits you've missed and then make a swirly pattern on the top in true Bounty style.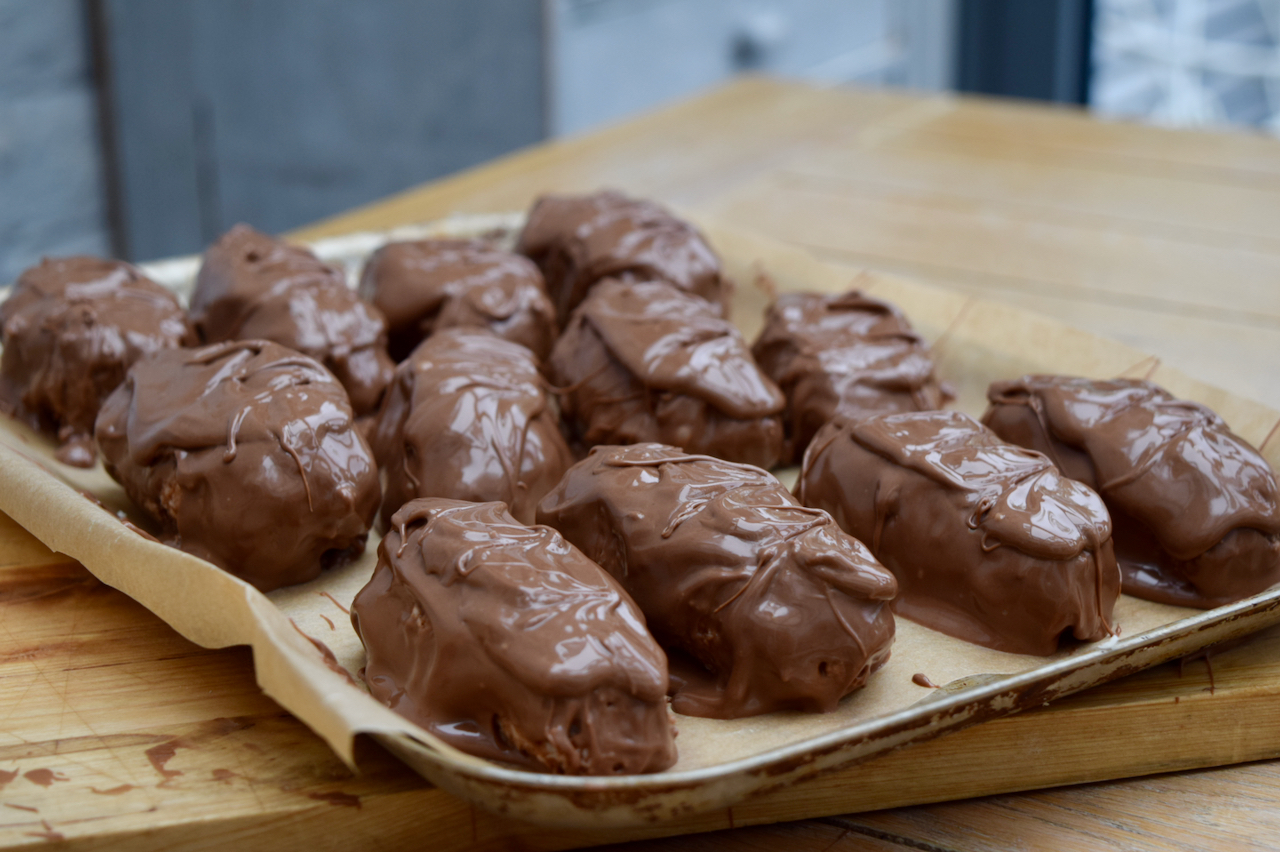 These look anything but perfect, but I am very happy with rustic, because they taste delicious. Pop the bars in the fridge for a couple of hours until the chocolate has set.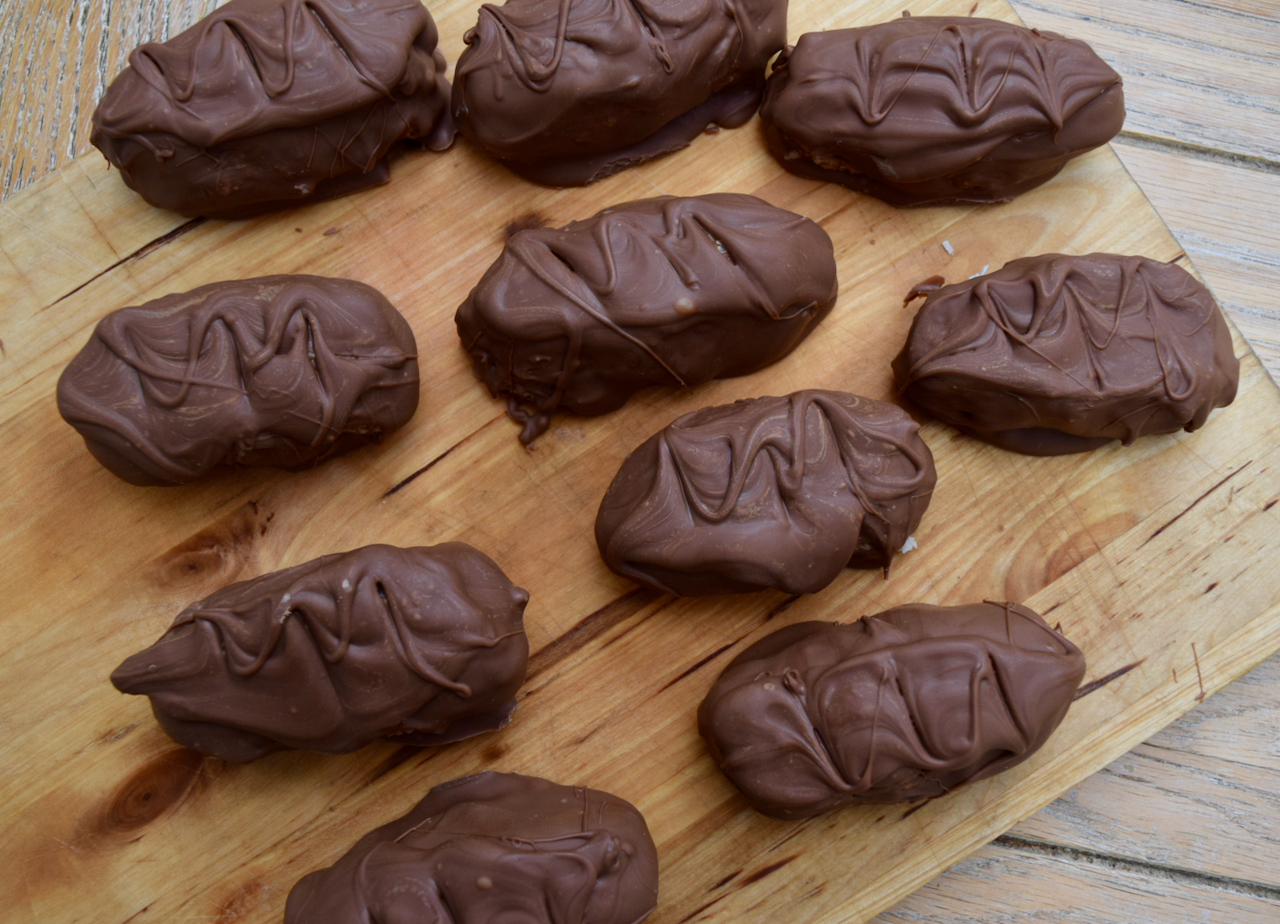 And that's it. Tuck in, keeping your Bounty Bars in the fridge between nibbling.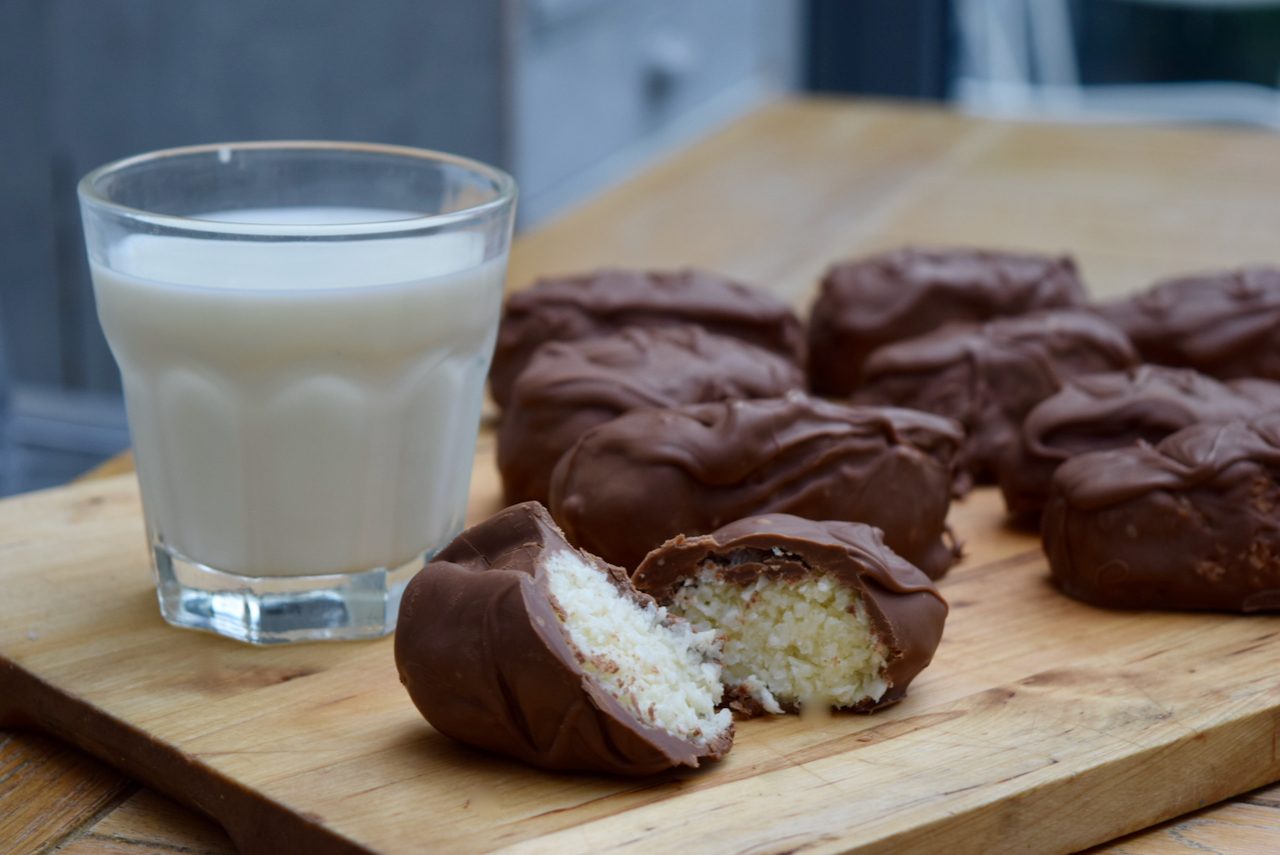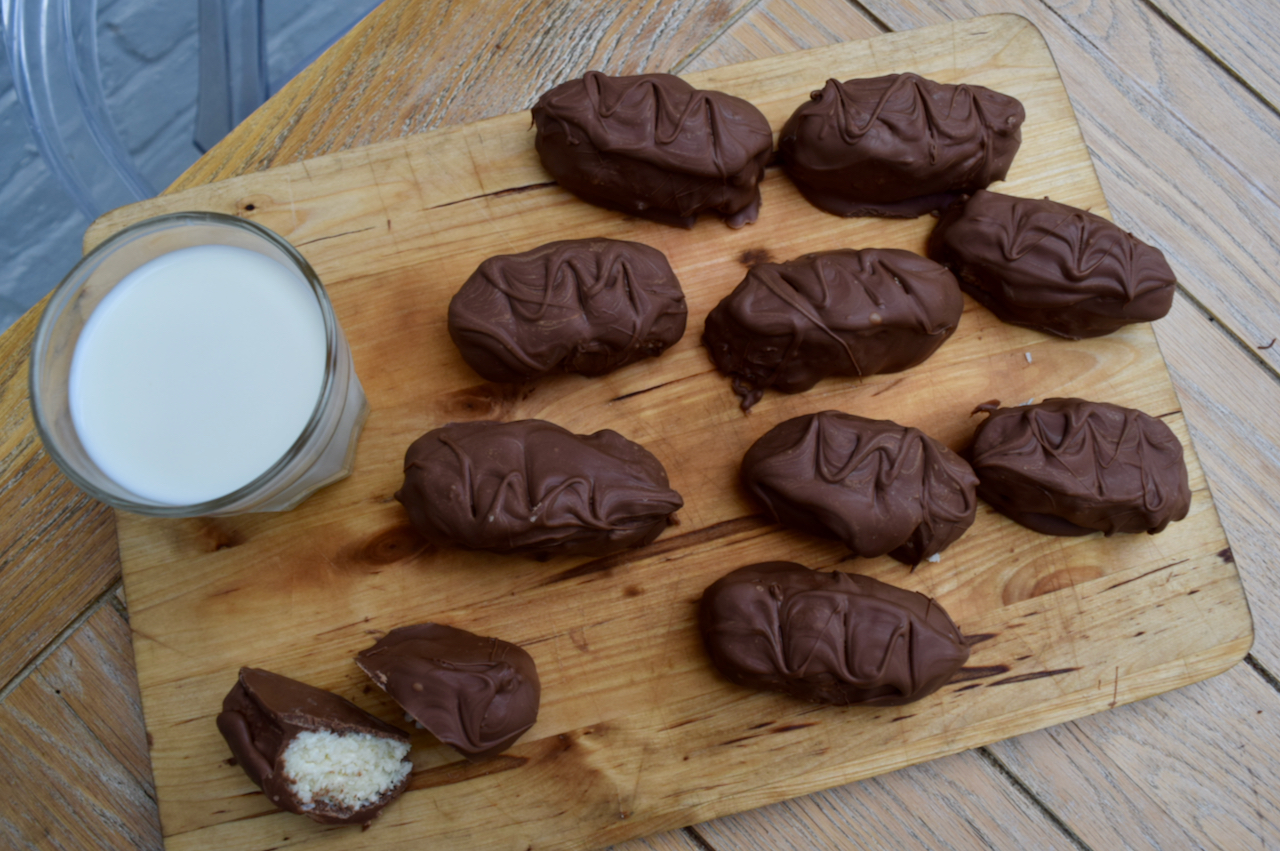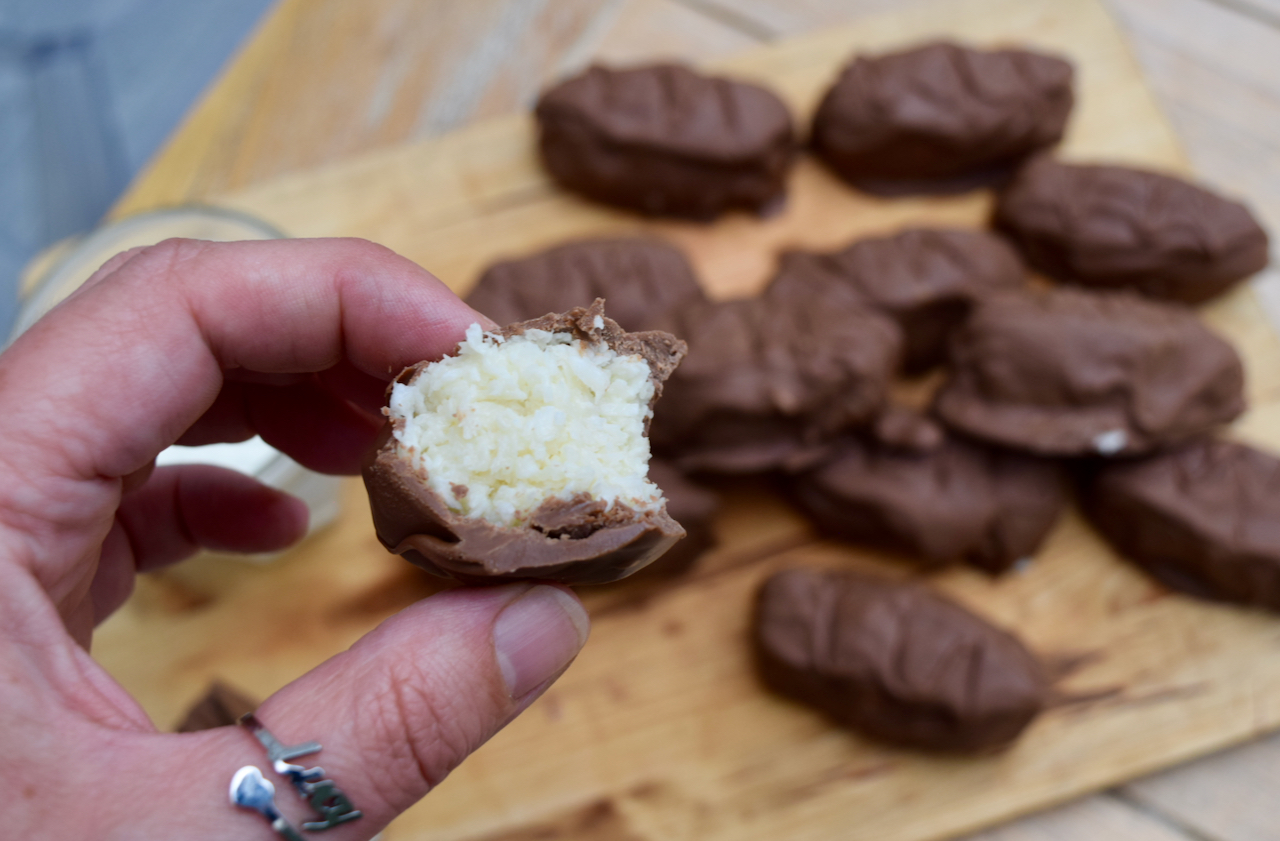 I found if I cut the bars in half it made me feel better about eating a whole one. Or a whole two.
Lucy x
Homemade Bounty Bar recipe
Makes at least 12 big bars
You will just need bowls for this and a lined baking tray for chilling them on
250g desiccated coconut
250ml condensed milk
1 teaspoon vanilla extract
350g milk or dark chocolate
Take a large bowl and mix together the coconut, condensed milk and vanilla. Stir well until you have a soft mix, making sure the coconut is well coated.
Shape the mixture into bars using damp hands to prevent it sticking, you'll get around 12 good sized bars. Place them on a lined baking sheet and put into the fridge for an hour or so, until set firm.
Melt the chocolate in the microwave in short bursts or in a bowl over a pan of water. Stir until its smooth.
Using a skewer or small fork, pick up the bars and dunk into the melted chocolate. It's a messy business but a delicious one. Place the bars back on the paper and back in the fridge until the chocolate is firm.
Devour once chilled and then return to the fridge in between nibbling. These will keep brilliantly for at least a week, but it's unlikely they'll last that long.