Foot Long Sausage Rolls Recipe
In true British summer style, 5 minutes ago we were sitting in the garden enjoying a glass of rosé with our supper. Now, it's absolutely pissing it down and thundering. In a mad panic I had to run upstairs and close our bedroom window as our mattress has only just dried out after leaving it open during Saturday's thunder and lightening-a-thon. I don't want to take the blame for this odd weather but it may well be my fault having had my thoughts turn to warmer times and the picnics ahead. We are staycationing this summer as funds are low, so that in itself will herald  the wettest summer on record for 30 years. But bugger it, I don't mind if it rains, as along as there is wine and my Foot Long Sausage Rolls, I will be happy.
What is not to love about sausage and pastry?  A match made in heaven and with a touch of piccalilli chutney added for good measure these giant picnic treats are surely the food of champions. These are perfect for sharing, just arm yourself with a knife and cut off as little *ha* or as much as you like. This recipe makes two feet of sausage roll, ample for a family picnic or two, or pop one in the freezer for another time. My book group makes an annual pilgrimage to Richmond Park for Pimms, fizz and a variety of finger food and these crisp, lengthy treats will definitely be accompanying me this year. Weather permitting that is. These are based on a my traditional sausage roll recipe, with a hint of this one from the evergreen Good Housekeeping, with thanks.
The storm has passed now and it's sunny again, such is the joy of an English summer coupled with a Bank Holiday weekend. Don't limit these Foot Long Sausage Rolls to a picnic, however, they would make a brilliant sharing nibble at a dinner party, just don't let your guests fill up  on these before you've unveiled your main course. Speaking from experience there, coupled with a terrible addiction to anything pork and pastry based.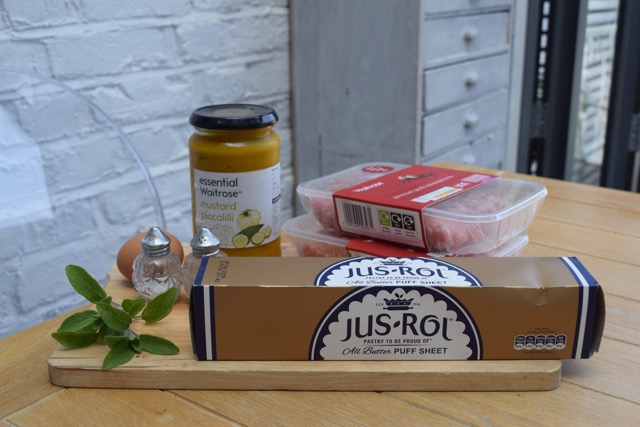 Such a small line up for such huge pastry based reward. Feel free to make your own pastry, shortcrust would do I am sure, but bought is fine as long as it's buttery. I added Piccalilli to my giant sausage rolls, but a caramelised onion or fig chutney affair would also be lovely. I have about 100 jars sitting in the top of my fridge, I imagine you are the same.
Start on this simple dish by lining a large baking sheet with greaseproof paper and pre heating your oven to around 160 degrees fan assisted. Next, take a medium sized bowl and add your sausage meat. Feel free to use sausages, without the skins, instead, just choose something with a bit of flavour. I added chopped sage to mine, as I have tons in my herb box, but if you have dried or another fresh herb, such as thyme, then use that.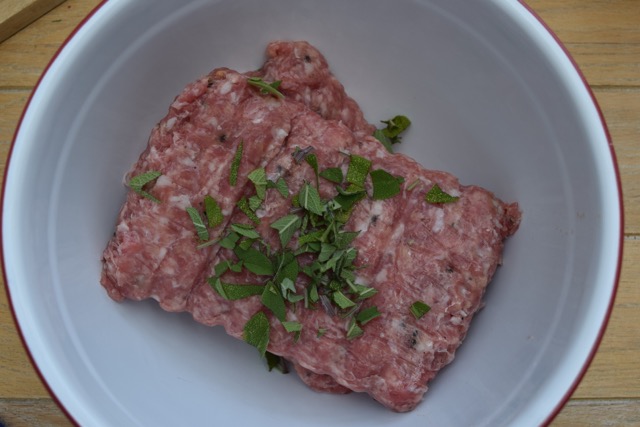 Season, then go in with your hands and mix the whole lot together well.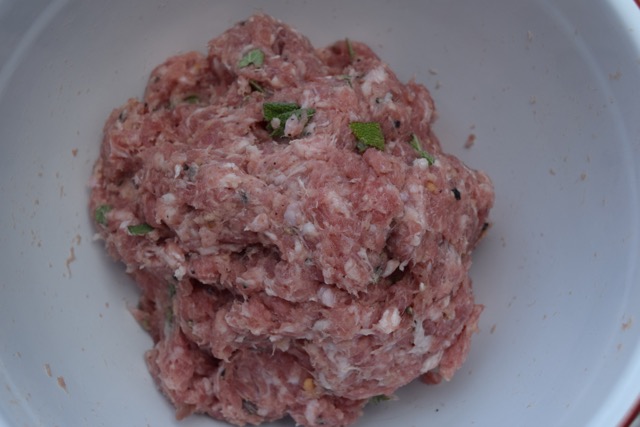 Next, remove your pastry from the packaging or fashion your own homemade. Give the bought stuff a bit of an extra roll out with your rolling pin just to make sure you have a lovely large rectangle. With a sharp knife, cut the pastry in half across the middle.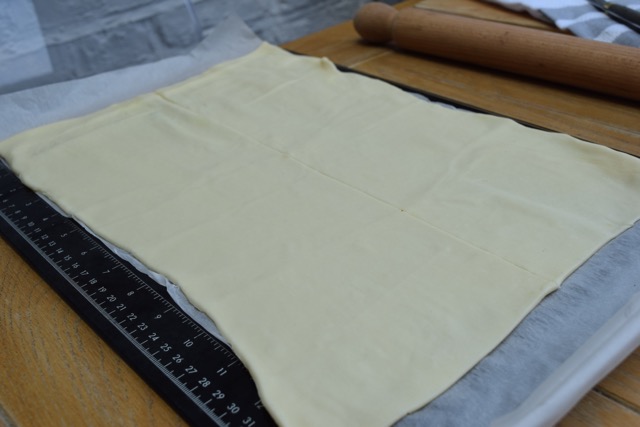 Now, if you are using pickle or chutney, spoon a tablespoon along the middle of each section of pastry.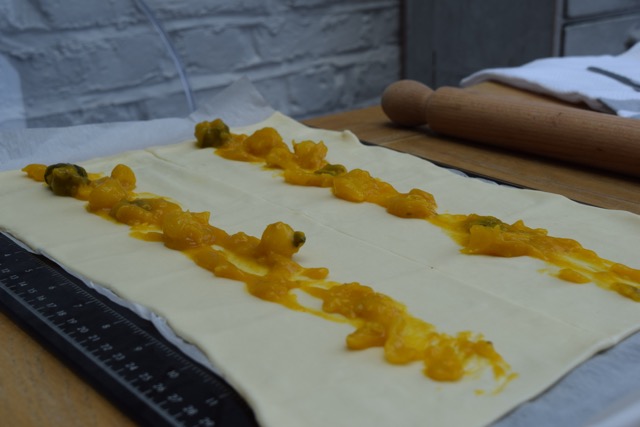 Now, divide the sausage and sage mixture into two portions and form a line of sausage on top of the chutney along the length of the pastry.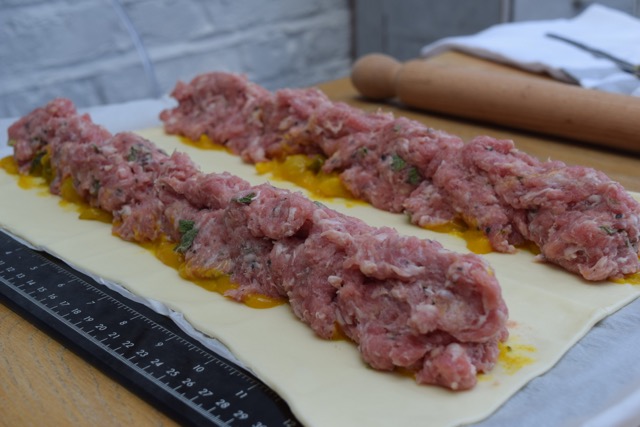 Leave a gap at the ends of each roll for folding purposes. I did rather over fill mine, but then I am greedy.
Tuck the ends of the pastry up over the sausage meat then bring the sides in over the top and roughly pinch them together to seal both rolls. This is quite a tight business, and don't worry too much as you are going to turn them over so the join will not be visible.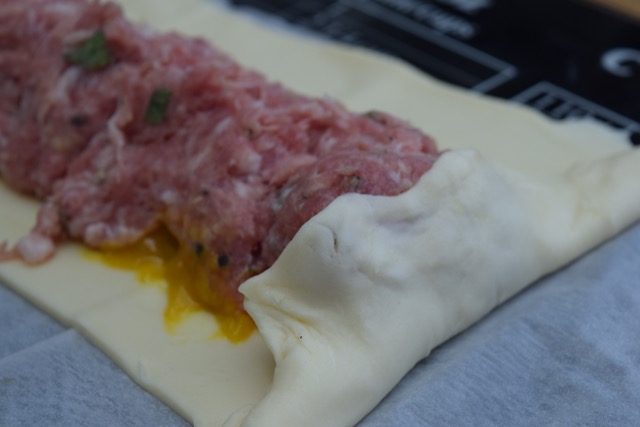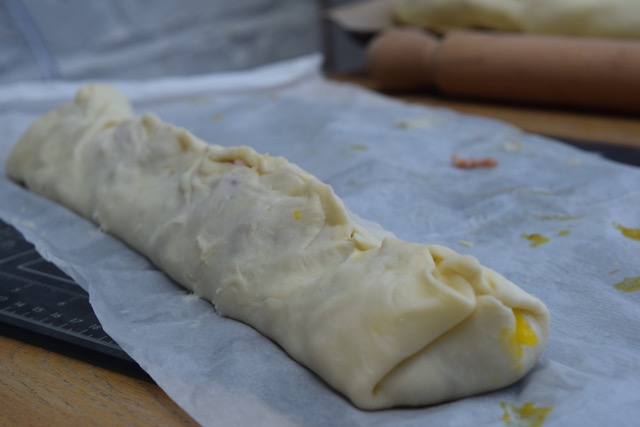 Carefully, turn the sausage rolls over, ensuring they weren't stuck to the pastry paper like mine were, then place them onto your lined baking sheet.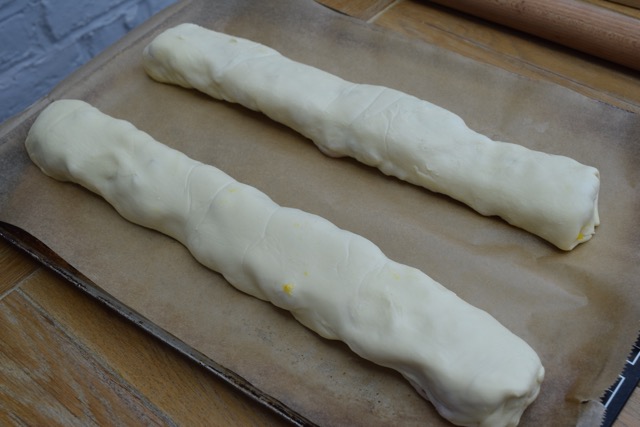 Brush them both, thoroughly, with beaten egg then make slashes in the pastry with a sharp knife about an inch or so apart.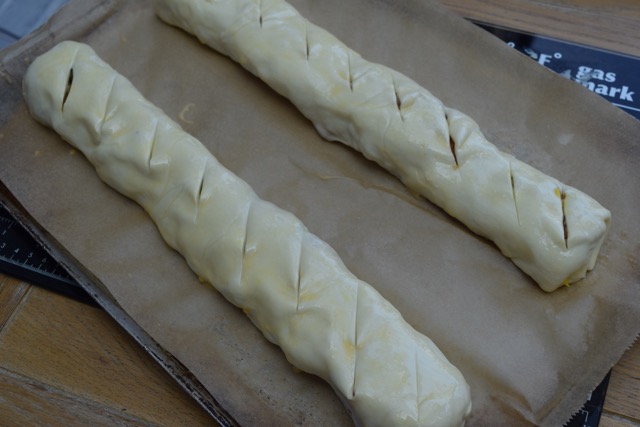 I happened to have some black sesame seeds so decided to sprinkle some onto my rolls, but some grated cheese, poppy seeds or nothing would be just as good.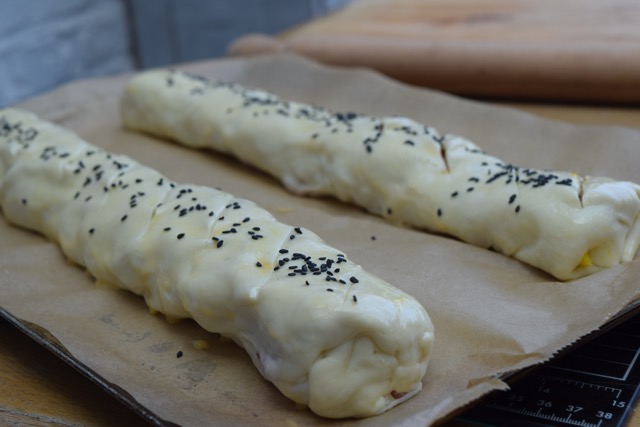 Bake these lengthy beauties for around 45 minutes. They will be smelling divine, be golden and crisp and cooked right through.
Like this.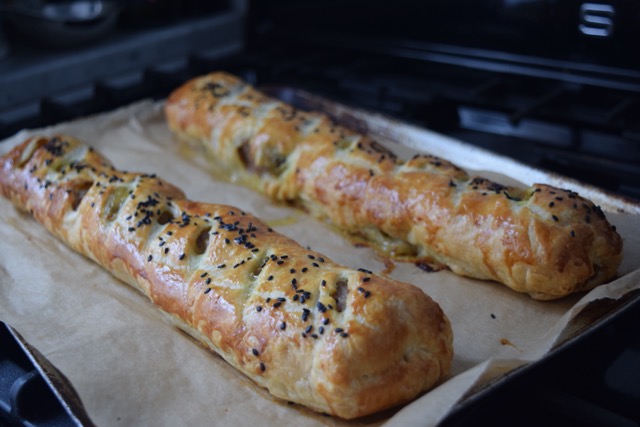 The temptation to hack into these when they are burning hot is strong, however, show a whiff of restraint by allowing them to cool to at least room temperature before you move them. They will firm up as they cool and be less likely to break up when you cut them.
When you are ready, cut large slices of sausage roll or wafer thin slivers if you are not as greedy as me, and serve with extra pickle or chutney if you like.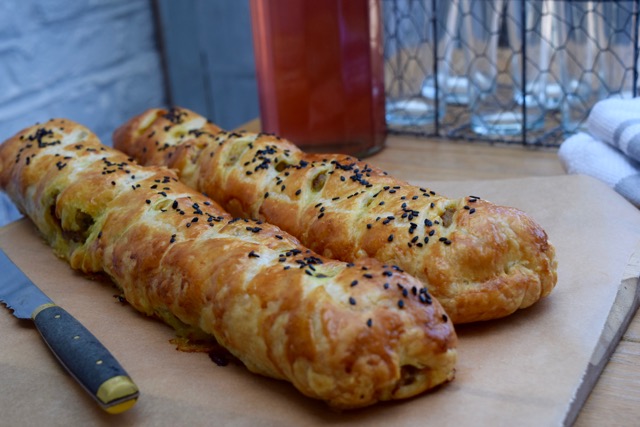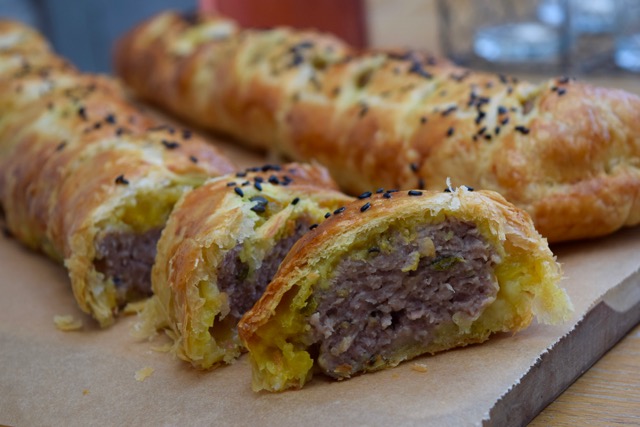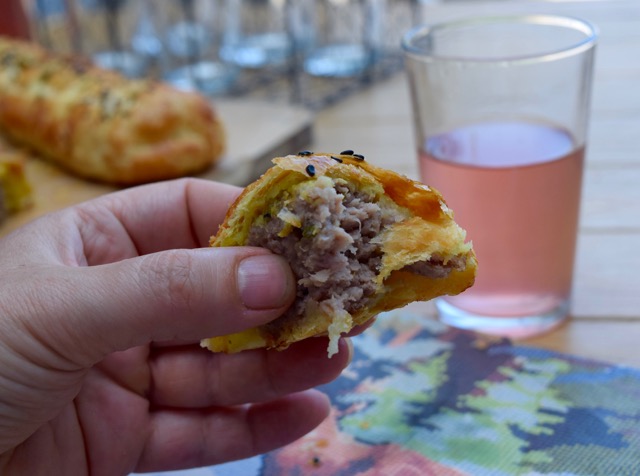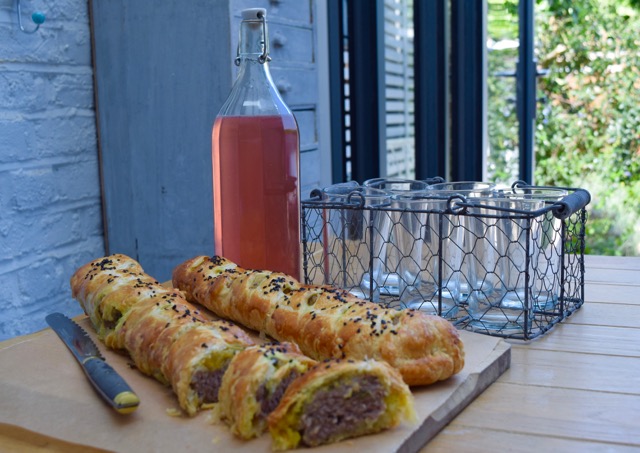 There's a lot of research that goes into Lucy Loves you know. I had to ask Clyde how long a foot was in centimetres before I led you all astray with my Foot Long Sausage Rolls. It's 30cm evidently, and even though one of mine was at least 35cm, I ate the extra 5cm, so no one would suffer.
Lucy x
Foot Long Sausage Rolls Recipe
Makes 2 foot long rolls serving around 8 to 10 people
You will only need a lined baking tray
700g sausage meat or sausages with their skins removed
2 tablespoons fresh sage leaves, chopped
Salt and Pepper
320g packet all butter puff pastry
2 tablespoons piccalilli chutney or a chutney of your choice
1 egg, beaten
Optional sesame or poppy seeds or grated cheese to garnish
Line a large baking sheet with baking paper and pre heat the oven to 160 degrees fan assisted.
Take a medium sized bowl and add the sausage meat. Add the chopped sage and some generous salt and peppering then go in with your hands and mix the whole lot thoroughly. Pop to one side while you sort the pastry out.
Remove the pastry from it packaging, and give it a bit of a roll out with a rolling pin to make it just a touch bigger. Using a sharp knife, cut the pastry into two pieces across the middle.
Along the middle of each piece of pastry, spoon and spread out a tablespoon of your chosen chutney. Divide the sausage meat mixture into two portions and fashion a sausage shape of meat along the length of the pastry, on top of the chutney.
Fold in the ends of the pastry first then bring each side in and pinch the edges together along the top. Turn the long sausage shape over so the seam is underneath then lay on a lined baking tray. Repeat with the other pastry and other portion of sausage meat. Lay this sausage roll alongside the other on the baking tray.
With a sharp knife, make slashes along the top of the sausage rolls around an inch apart. Brush with the beaten egg then sprinkle with some sesame or other seeds or grated cheese. Bake in the pre heated oven for around 45 minutes or until golden, smelling divine and cooked through.
Leave to cool to room temperature before slicing into generous portions and serving with extra chutney on the side.
SaveSave
SaveSave
SaveSave